This Dress is Out of This World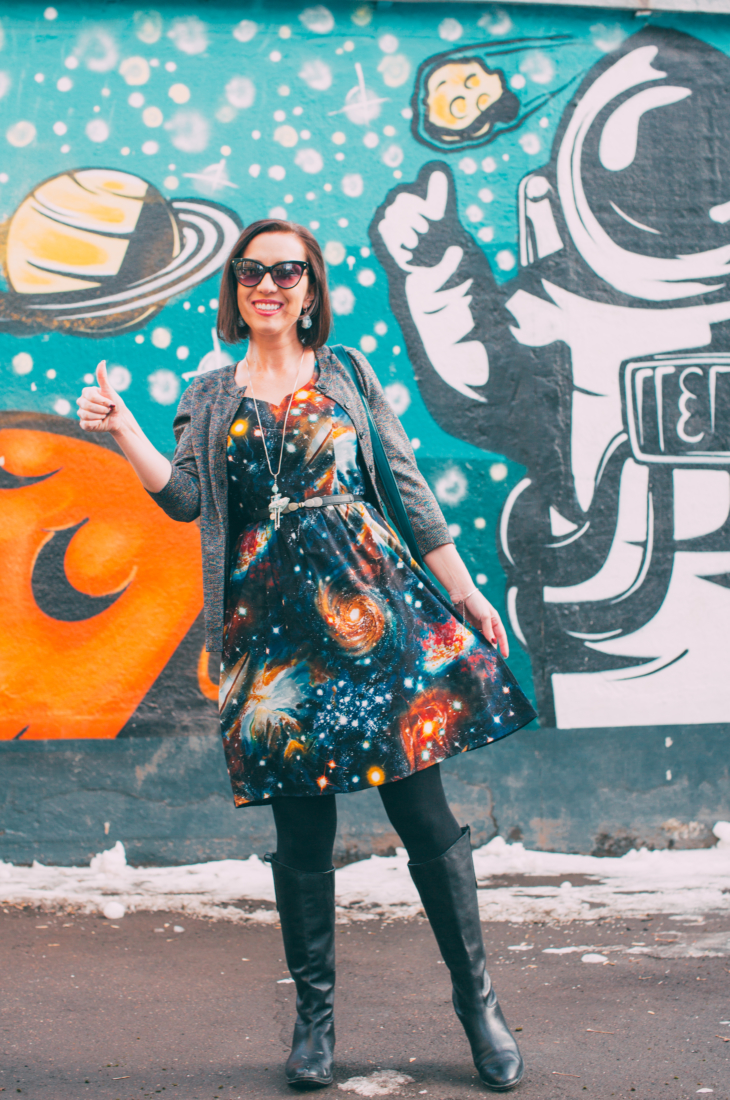 Dress c/o* | Cardigan c/o* | Boots | Bag | Belt | Sunglasses (Similar)
There were many different things I wanted to be when I grew up and astronomer was among my list of dream professions at 6 years old. I loved looking at the stars and learning the constellations. Turns out, though, there's a bit more to being an astronomer than that…and I'm terrible at science. So, being an astronomer never really worked out.
However, a dress with a galaxy print brings up fond memories of my first telescope and those funny dreams of one day making a living by gazing through it. I've been drooling over this dress for years. I finally ordered it after I tried it on at ModCloth's FitShop when I was in Washington, D.C. a while back. It was SO cute in person, and I even had random strangers commenting on how cute it looked when I came out of the dressing room. Needless to say, that was all the motivation I need to click "add to cart."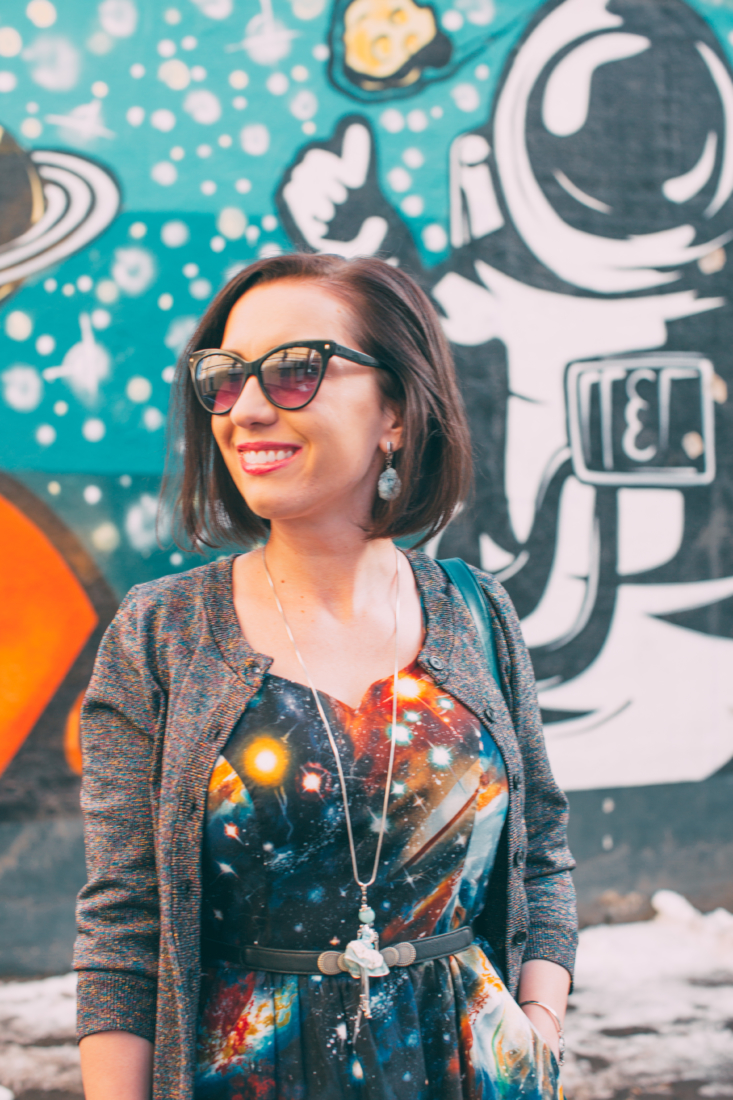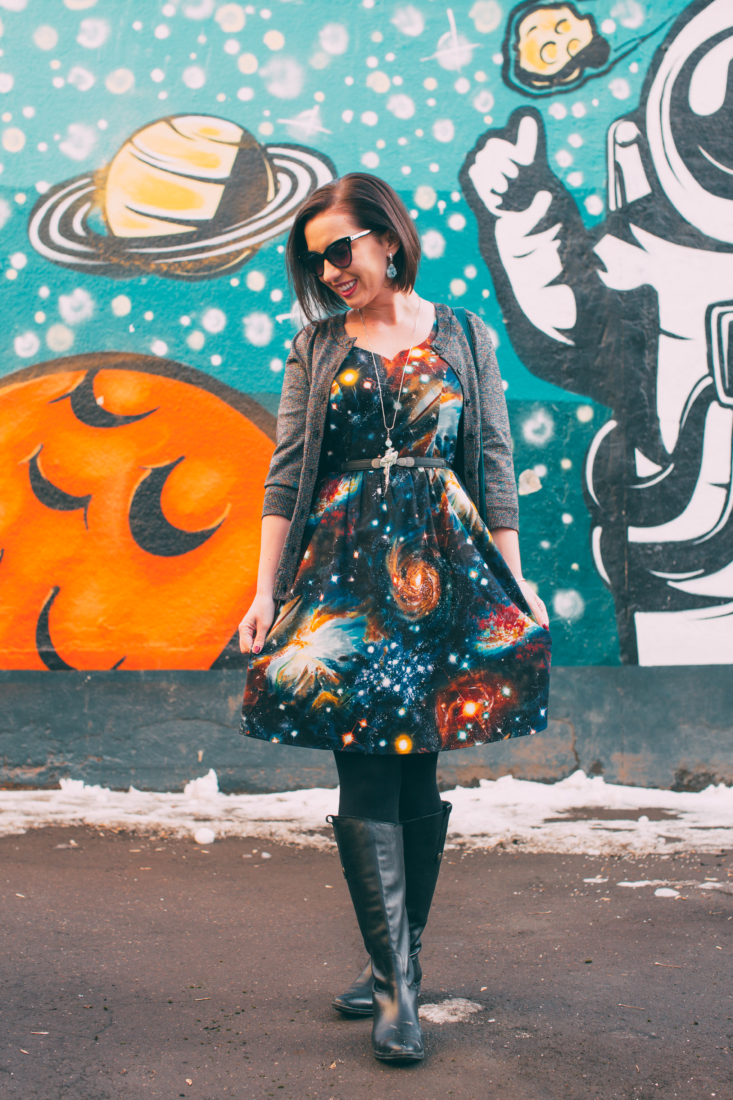 However, I swear when I tried this dress on in DC, it was more fitted. Or perhaps I've lost weight (highly unlikely as the rest of my clothing fits normally) or maybe I had tried on a small or maybe I just have a really bad memory? Whatever it may be, my normal size medium is just a little baggy on me. I felt the need to add a belt with it. I honestly think sizing up would've been too tight through the bust on me, though, as that fits comfortably.
Even when I tried it on in DC, though, I did notice the armholes have a bit of a gap to them. Which means I'll have to get a little creative with the bra I wear once it's too warm to wear this dress with a cardigan.
But all that aside – I love this dress. It's fantastic quality, it HAS POCKETS and it's a one of a kind piece. (Who doesn't want to grow up and dress like Ms. Frizzle?!) I can't wait to try styling it again. For this time around, I wanted to pair it with my sparkly cardigan and boots because I haven't had a ton of chances to style this cardigan yet… and it's a big slushy mess on the streets of Moscow, so I really need to wear my boots!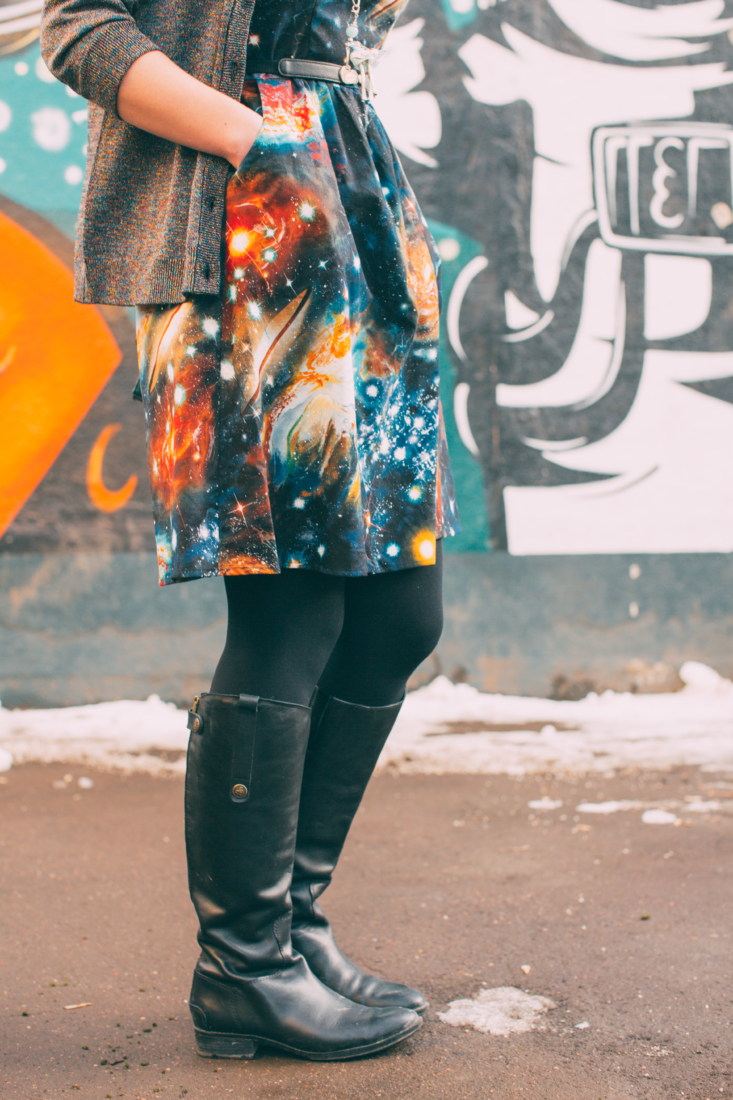 Reminder about these boots, they are amazing and everything I ever wanted in a black boot. However, you really should consider sizing up a half size. I can't fit a thick sock in them because my normal size 8 is too tight of a fit otherwise.
The jewelry I chose is not necessarily space-related, although, I like to think my earrings have an other-worldly look to them. My husband had surprised me with this jewelry not long ago as a "just because" gift. He had seen me admiring this lady's work when we were at the market a couple months ago. He went back and bought it for me. (She handmakes these little ballerina necklaces & the matching earrings and sells them at Izmailovsky Market!) I love it! Isn't he the best?
This turned out to be the perfect outfit for a trip to the Museum of Cosmonautics here in Moscow! (Funny enough, that cute, blue, space mural I did these outfit photos by has nothing to do with this museum – it just happens to be behind one of my favorite coffee shops in the city. Haha.)
What did you want to be when you grew up? Would you buy a dress related to it? Or is that just me? Haha. Let me know in the comments!
Where to find it:
Dress: c/o* ModCloth
Cardigan: c/o* ModCloth
Boots: Nordstrom (Size up a half size!)
Belt: Amazon
Sunglasses: Old (Similar here)
Jewlery: Gift from my husband
Bag: ModCloth (This exact color is no longer available)

*Disclosure: some of these links are affiliate links. Meaning, if you click a link and make a purchase, Have Clothes, Will Travel gets a very small commission at no extra cost to you. Thank you for supporting the brands that make this blog possible! I am also a participant in the Amazon Services LLC Associates Program, an affiliate advertising program designed to provide a means for us to earn fees by linking to Amazon.com and affiliated sites.
*c/o = courtesy of, meaning the company gave me the product to be used on my blog, and I did not pay for it. All opinions are my own, and I am not being compensated for a positive review.