Shinesty Reviews for Matching Couples' Christmas Pajamas & Festive Dresses
This year, instead of fancy cocktail dresses and suits, my husband and I are celebrating the holidays in cozy matching pajamas and quirky festive attire. 2020 is a year that most of us have spent at home in our PJs and comfy clothes, anyways… so, why change that now?
The matching couples' Christmas pajamas and festive dress that I'm featuring in this post are from the website Shinesty. Shinesty is a goofy clothing company that specializes in quirky/loud prints…and sometimes downright outrageous clothing. Their mission is…
To bring you the most outlandish collection of clothing the world has ever seen. ~ Shinesty
With that in mind, the clothes featured in this post are some of their more mellow designs! I'll be reviewing Shinesty's quality, comfort and overall style in this post. I'm happy to answer any questions anyone has in the comments section at the end of the post, too!
*Disclosure: some of these links are affiliate links. Meaning, if you click a link and make a purchase, Have Clothes, Will Travel gets a very small commission at no extra cost to you. Thank you for supporting the brands that make this blog possible!
Shinesty Matching Couples' Christmas Pajamas
These matching Christmas pajamas are the "Scotch on the Rocks" sets from Shinesty. These jammies feature:
Henley style neckline with button closure
Buttons at sides for snack pocket creation and enjoyment
Chest pocket
Remote pocket on the upper left sleeve
Hidden pocket in the sleeve cuff for hiding small secrets
Click here to shop my husband's PJs. And click here to shop my PJs.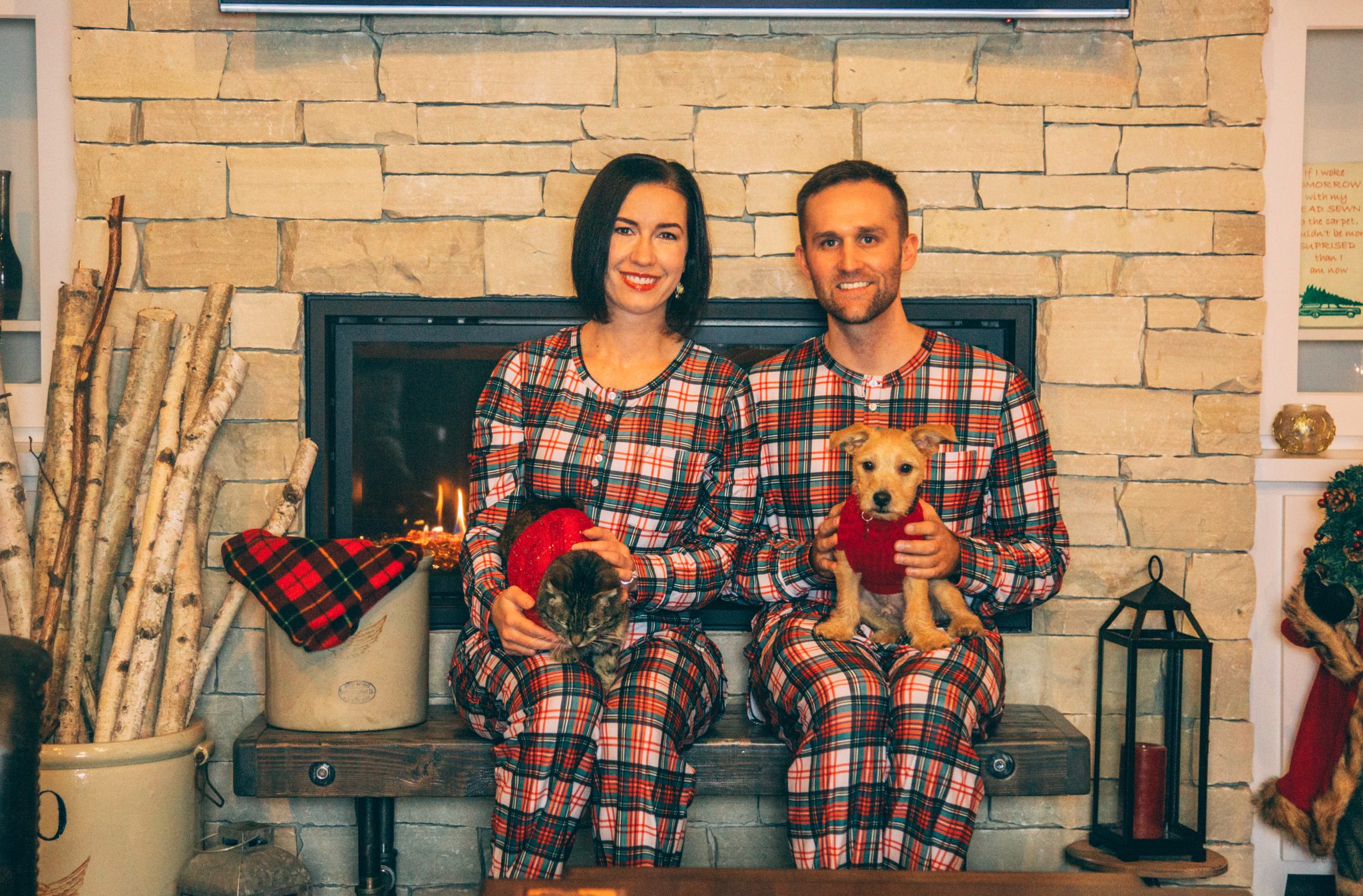 Shinesty Reviews of Pajama Quality
So, my husband and I both agree that these are easily the nicest pajamas we both own. The material is SUPER soft, and they have an almost weighted feel to them. They are also very breathable. We've been living in them since they came in the mail in October. (My husband even wears his for Zoom meetings now.)
The length is fantastic as well. I'm 5'5″ and am an all-around "average" size, but PJ bottoms are almost always short on me… but not these bottoms from Shinesty! I also love that they have pockets!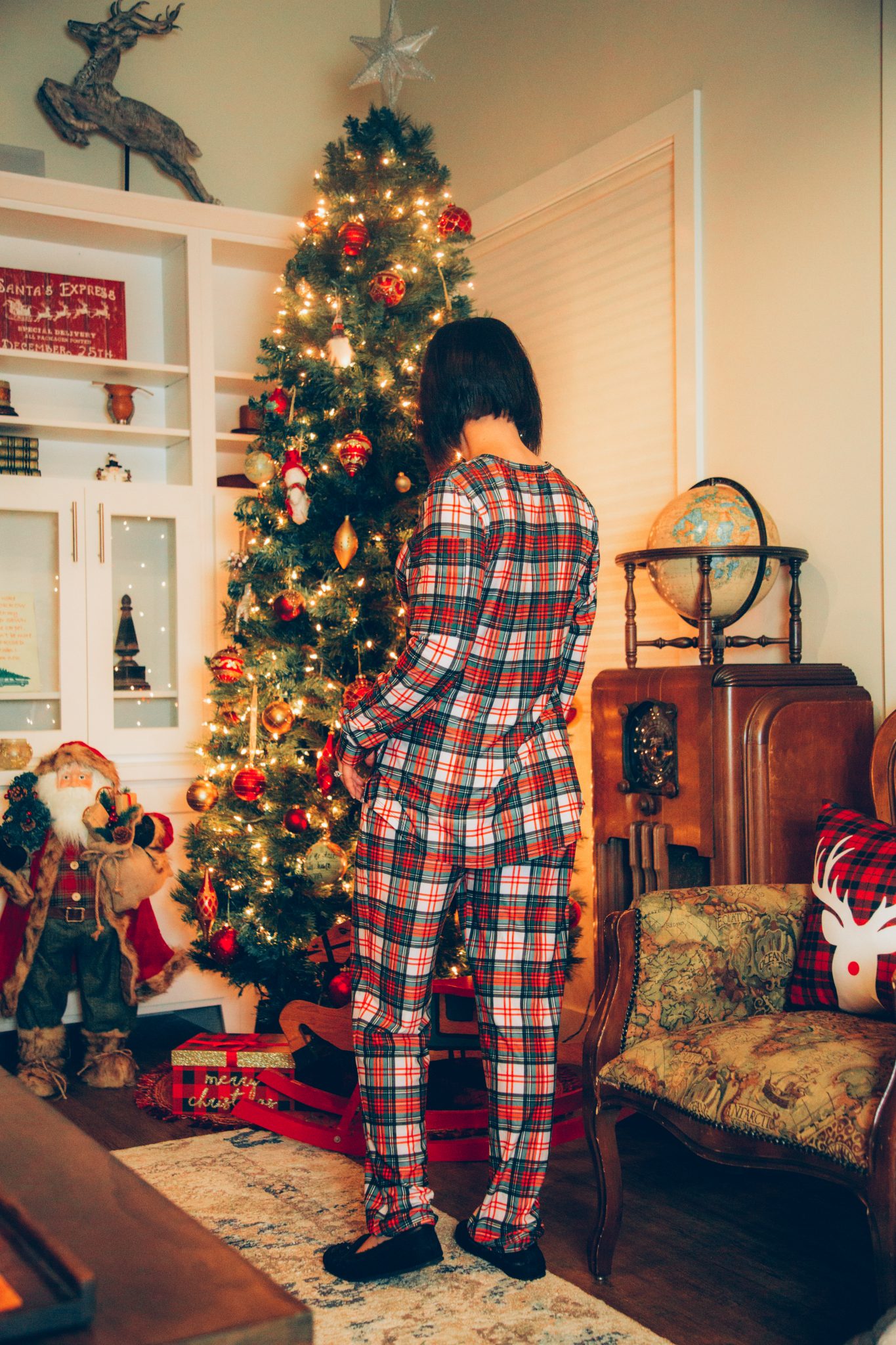 These pajamas are also supposed to be washed on gentle cycle and then air dryed. I did accidentally throw them in the dryer the first time I washed them, though, and they were OK. Given that we REALLY like these jammies, I will be careful to not dry them in the future, though.
For sizing, be sure to look closely at the size chart. While I was my usual size medium in these, my husband ended up sizing down to a small in his… and we were both happy with how these fit.
Price
While these are the nicest pajamas my husband and I own, they are also the most expensive. The tops are $29.99 and the bottoms are $49.99. So, for us both to order this set is about $160. I do feel this is a bit excessive for PJs. However, these are REALLY nice PJs, that are fantastic quality.
Note about Shinesty Customer Service
When looking at Shinesty reviews from other customers, I noticed that while many really liked the quality of the products, as I did, Shinesty does NOT have a good track record with customer service. All of their negative reviews were due to poor (or more accurately – nonexistent) customer service. I was fortunate that our order fit and we were happy with it, so I never had to deal with Shinesty customer service.
That being said, I did want to point this out to anyone who is considering ordering. I can assure you that you will be happy with the quality of these PJs, but if the size doesn't work for you, it may be a real pain in the butt to return or exchange your order.
Shinesty Christmas Dress Review
This cute white Christmas reindeer wrap dress features:
100% mid-weight polyester crepe
Inspired by the classic DVF wrap dress, classic fitted style
Elastic cuff in sleeve, easily adjustable
Pockets.
Above the knee skirt, tie waist
Click here to shop this Shinesty Christmas dress.
Shinesty Dress Quality
So, this dress is cute and comfortable. However, for a dress that's meant to be worn in winter, it's pretty thin and flimsy feeling. I live in Wisconsin, so I prefer my Christmas dresses to be a little warmer. This material is also cool to the touch, and not at all cozy. When looking at it on the website, I thought it would be more of a sweater-like dress material. That's not the case at all, though! (So, if you live in a warm climate – this dress would be great!)
It's also worth noting, that is a true WRAP dress. Wrap dresses tend to give me anxiety, as one wrong move can cause the whole darn thing to fall open. So, it requires carefully placed pins before being worn out for a night. Wrap dresses are super flattering on absolutely every body shape, though!
I would say the sizing is true to size. I'm wearing my normal size medium, and it fits well. Always double-check the size chart, though!
Price
So, the price of this Shinesty dress is $69. I don't mind spending that on a dress – especially a cute and flattering one. I do really like the print on this dress too!
However, I think this dress is a wee bit overpriced. I own an obscene amount of dresses, and a dress like this is something that I would typically spend about $50-$55 on – maximum. So, if you ever see this dress on sale – snap it up!
Final Thoughts
The synopsis of this Shinesty review is – my husband and I both LOVE their pajamas. They're pretty expensive, but we're OK with the price tag, given the quality. We'll likely order another pair from them.
My dress is super cute, but I think it's a tad overpriced. This is a thin, screen-printed dress that I do like… but I'm not sure I would be willing to spend $69 on another one.
All of our items fit, so we didn't have to return or exchange anything. Therefore, we can't comment on how Shinesty customer service is. There are A LOT of negative reviews about it online, though, so it's something to be aware of before ordering.
We're happy to answer any questions anyone has about these Shinesty items in the comments section at the end of the post! I'm also curious, have you ever ordered from Shinesty? Let us know in the comments!
Read next: 15 Amazing, Ugly Christmas Sweaters You Can Buy Online