15 Amazing, Ugly Christmas Sweaters You Can Buy Online
Gone are the days of raiding our grandparents' and parents' closets for ugly Christmas sweaters. Online retailers have caught on that our want for more and more kitschy Christmas attire, doesn't appear to be going anywhere soon. And my goodness are there some real gems out there! With Christmas sweaters featuring everything from dinosaurs to our favorite Christmas movies and TV shows and even sloths…you can showcase your Christmas spirit with a sweater as unique as you are. (How cliche? is that? Haha.)
I've rounded up 15 of my favorites, below…and not surprisingly, there are quite a few movie centered ones included! I also put a couple of bonus clothing items at the bottom, in case sweaters just aren't your thing. Enjoy! And let me know your favorites in the comments section!
*Disclosure: some of these links are affiliate links. Meaning, if you click a link and make a purchase, Have Clothes, Will Travel gets a very small commission at no extra cost to you. Thank you for supporting the brands that make this blog possible!
15 Amazing, "Ugly" Christmas Sweaters You Can Buy Online
1.) Darth Vader vs. Luke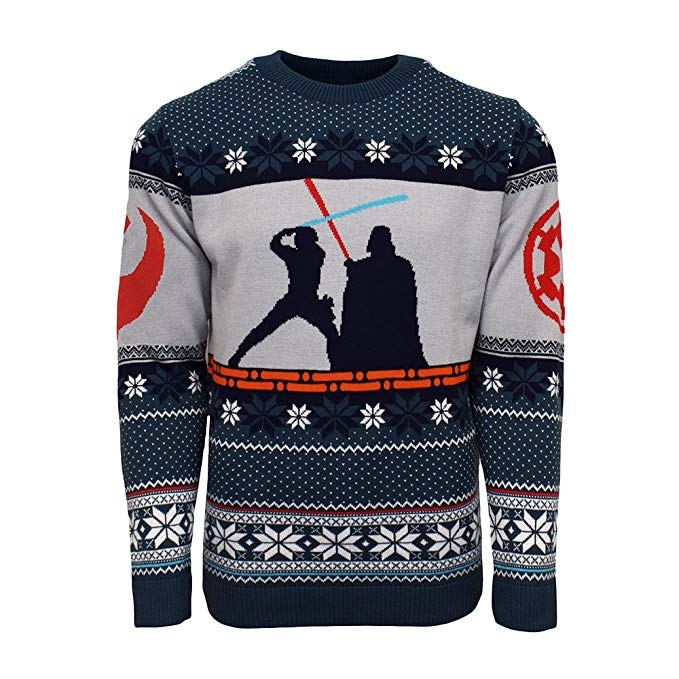 Of course, a Star Wars-themed Christmas sweater is going to be at the top of this list! I love that this one comes in sizes ranging from small – 2x too.
Click here to shop the Darth Vader vs. Luke sweater.
2.) Sloth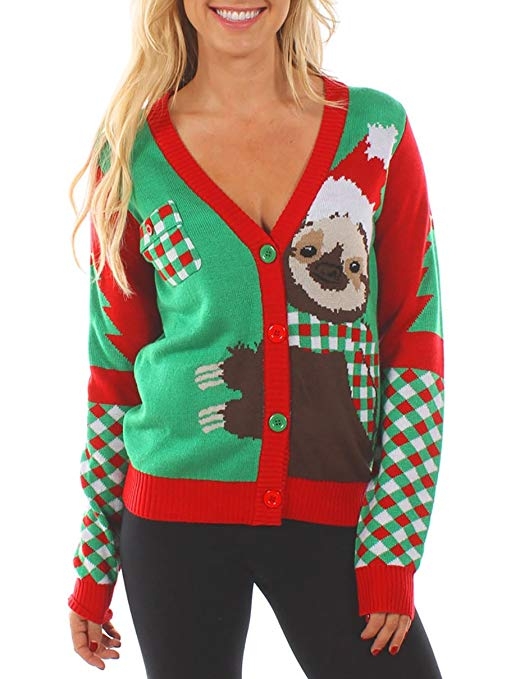 I know this is a ridiculous cardigan, but out of all these sweaters/cardigans/sweatshirts, this is the one I'm currently most serious about buying! I mean…how often do you see a sloth, Christmas cardigan?
Click here to shop the sloth cardigan.
3.) A Wine Christmas

Why yes, I am dreaming of a wine Christmas! Sorry, there are going to be a couple sweatshirts squeaking their way in here. (They were just too good not to share!) Hopefully, you guys aren't too picky about that. 😉
Click here to shop the wine sweatshirt.
4.) Rugrats!

So, Rugrats was perhaps the best television series of my childhood. How awesome is it that I can even buy a Christmas sweater to show off my love of this show? Haha.
Click here to shop the Rugrats sweater.
5.) Snoopy

There is nothing better than Snoopy at Christmas time. I do already own a Snoopy Christmas sweater too, and it's one of my most complimented pieces of clothing!
Click here to shop the Snoopy sweater.
6.) Stranger Things

Could it get any more perfect? A Christmas lights-themed Stranger Things sweater with a reference to The Upside Down? Yes, it can! Because those Christmas lights actually light up and blink! (And if you haven't watched Stranger Things yet, stop what you're doing and get on Netflix!)
Click here to shop this Stranger Things sweater.
7.) Cats

There are A LOT of cat-themed sweaters and cardigans out there! I am all for kitty sweaters and sweatshirts!
Click here to shop the cat sweatshirt.
8.) Griswold Family Christmas

And while I love it, I don't know if I have the guts to wear this one. Haha. Either way, Christmas Vacation is the best Christmas movie ever, and who wouldn't want a Griswold Family Christmas sweater?
Click here to shop the Christmas Vacation sweater.
9.) A Christmas Story

And if you were shaking your head disagreeing with my previous statement of Christmas Vacation being "the best Christmas movie ever"… it's likely because you think "A Christmas Story" is the best Christmas movie ever. Don't worry, this leg lamp sweater has you covered!
Click here to shop the leg lamp sweater.
10.) Home Alone

Ok, or maybe Home Alone 2 is the best Christmas movie? I don't know. But feel free to let me know your thoughts in the comments!
Click here to shop this Home Alone 2 sweatshirt.
11.) Jon Snow

Is anyone sick of Jon Snow puns, yet? No? Good. (I assume you're all cool like me and still find them endlessly amusing. Haha.)
Click here to shop this Jon Snow sweatshirt.
12.) Rawr! Dinosaur!

I totally own this sweater and it's the best thing ever! It's so comfortable and I get so many compliments on it. (I also bought it in an apple print too.)
Click here to shop the dinosaur sweater.
13. Reindeer

You can't get any more traditional than a reindeer sweater and Christmas lights! The Christmas lights actually work on this sweater too!
Click here to shop this reindeer sweater.
14. Llama sweater

I'm on a llama & alpaca sweater kick lately, so I couldn't help it, I had to include this sweater. Isn't he cute?
Click here to shop the llama sweater.
15.) Penguins

Oh my gosh – and how cute is that penguin sweater? I know it's a sweater for guys, but I would totally wear it too!
Click here to shop the penguin sweater.
***Bonus Round – Other Awesome, Christmas clothing items that aren't sweaters!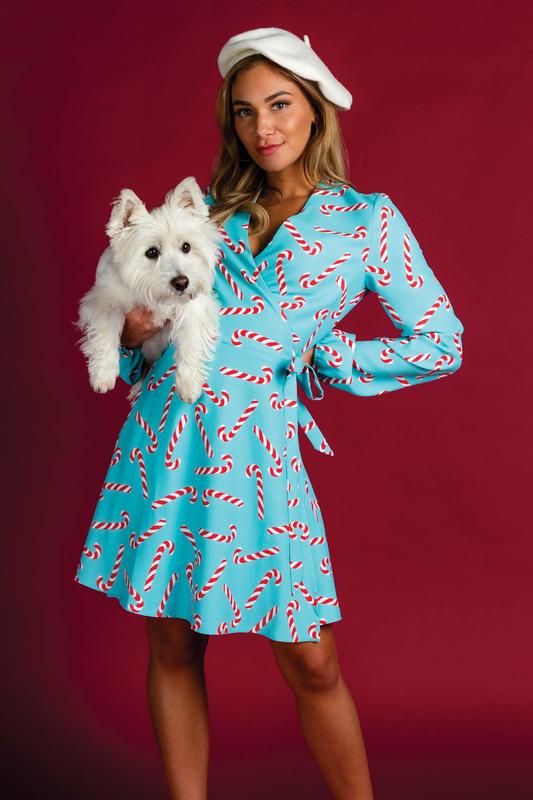 I have this dress in a reindeer print and I absolutely love it! But now… I just might need to invest in this adorable candy cane print one too! (Love it with the beret as well!)
Click here to shop this candy cane dress.
Speaking of reindeer… how ridiculous are these "sexy" reindeer undies? Oh, and don't worry, there are plenty of options for men too!
Click here to shop these reindeer undies.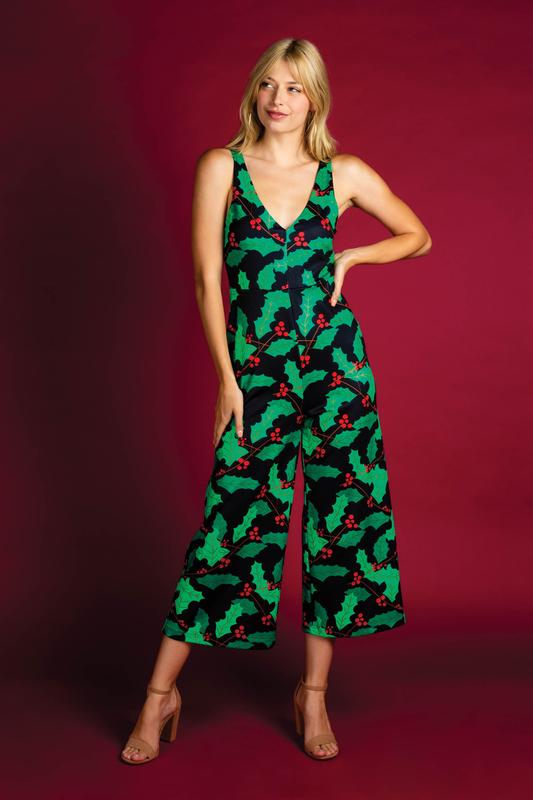 Jumpsuits are all the rage right now, so you might as well try a holiday-themed one for your next party!
Click here to shop this holly pattern jumpsuit.
The holly to your jolly, dolls! How cute are these holly pumps? Admittedly, though, these are some expensive pumps! (Maybe they'll go on sale after Christmas.)
Click here to shop these holly pumps.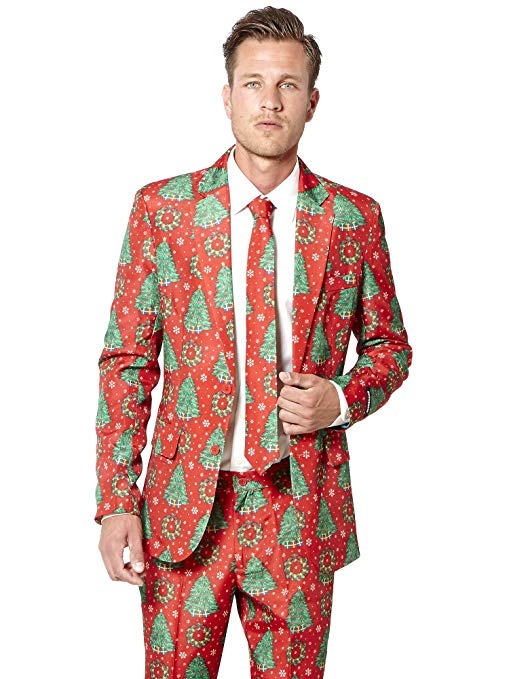 And for the dudes, how about a Christmas suit? You'd be the coolest guy at the Christmas party!
Click here to shop this Christmas suit.
Will you be wearing any "ugly" Christmas sweaters this year? And which one was your favorite from this list? Let me know in the comments!
If you liked it, Pin it!
I am a participant in the Amazon services LLC Associates Program, an affiliate advertising program designed to provide a means for us to earn fees by linking to Amazon.com and affiliated sites.