50+ Cute Christmas Outfits for Women From Dressy to Casual Ideas
Searching for cute Christmas outfits to rock this holiday season? Look no further! Whether you're looking for dressy outfits for Christmas pictures or cozy outfits that are comfortable to wear snuggled up by the fire… this post has you covered!
Christmas—the busiest season of the year but also the most festive in terms of dressing up. As the year comes to a close, it's the best time to go all out in your holiday outfits as there will be plenty of gatherings to show your glitzy and glamorous style until the New Year. Expect office parties, family celebrations, reunions, fancy galas, and dinners, to Secret Santa exchanges—then the actual Christmas day itself—there are just too many events to dress up for!
You want to make sure the insides of your closet work just as hard as you're going to this holiday season, whether you're staying in with the family in your comfy clothes or going out for a fancy Christmas soirée with friends—the key is to always look good.
Planning ahead is essential and a capsule wardrobe works wonders, so are statement pieces like sequin dresses, crimson knit sets, and luxe blazers—these are fashion staples that can solve your I-don't-have-anything-to-wear conundrum, and best of all, they're festive and dazzling. Celebrate in style and get inspired by these 50+ Christmas outfit ideas!
Cute Christmas Outfit Ideas for Women
Lilysilk Classic Turtleneck Cashmere Dress in Red
This is a dress that is timeless and will work for a variety of events. It is made of 100% A-grade Mongolian cashmere, which makes it super soft and comfortable. You can wear it with over-the-knee boots for a sexy street-style look or with fleece-lined tights and a blazer for a warmer look. See more ways to style this dress, here. (I love it paired with this YSL camera bag too!)
Read next: 7 Ways to Style LilySilk's Winter Collection
Target | Textured Stitch Crewneck Pullover Sweater
Target's "cheers, but make it chic" holiday party pieces for women include the trusty sequin dresses and jumpsuits in classic silver and gold color, as well as brightly colored midis and cocktail dresses for casual events. For a truly standout staple, however, the multi-colored Crewneck Pullover Sweater is the one to get. It's cold-weather gear and a statement piece you can easily throw over your favorite black dress or jeans to complete the look when going out or seeing the festive holiday lights with the family.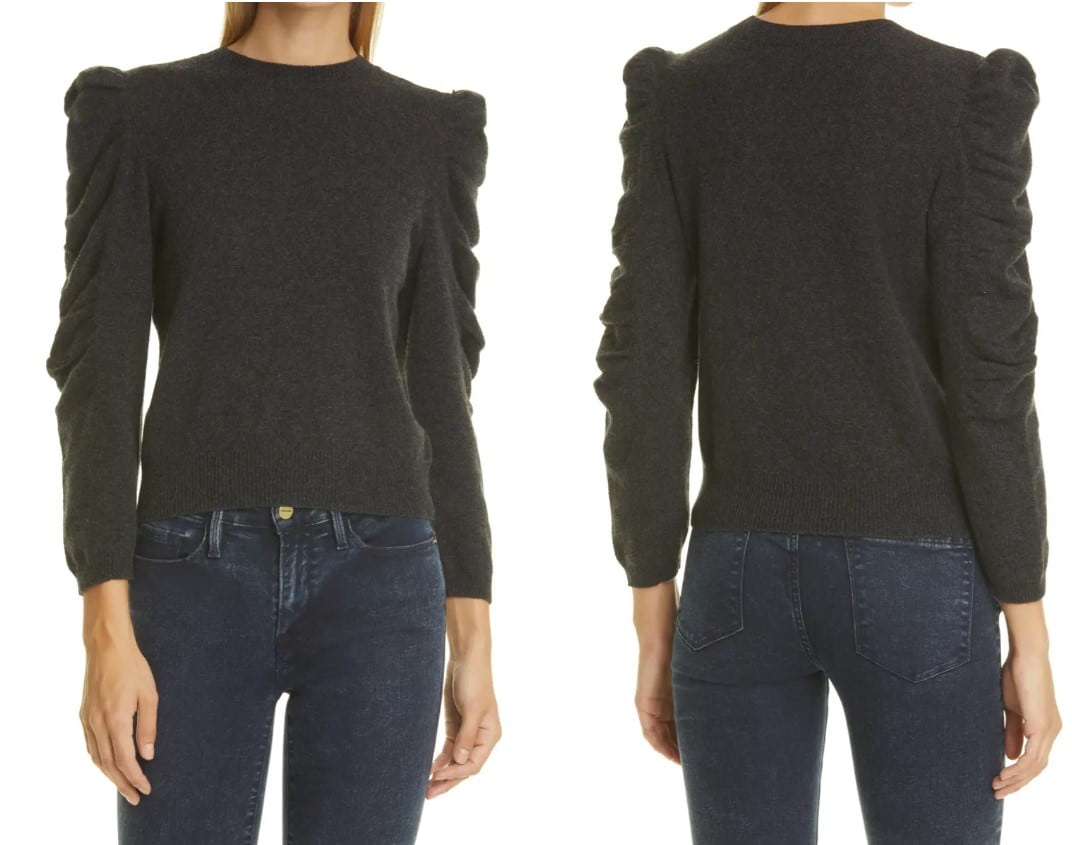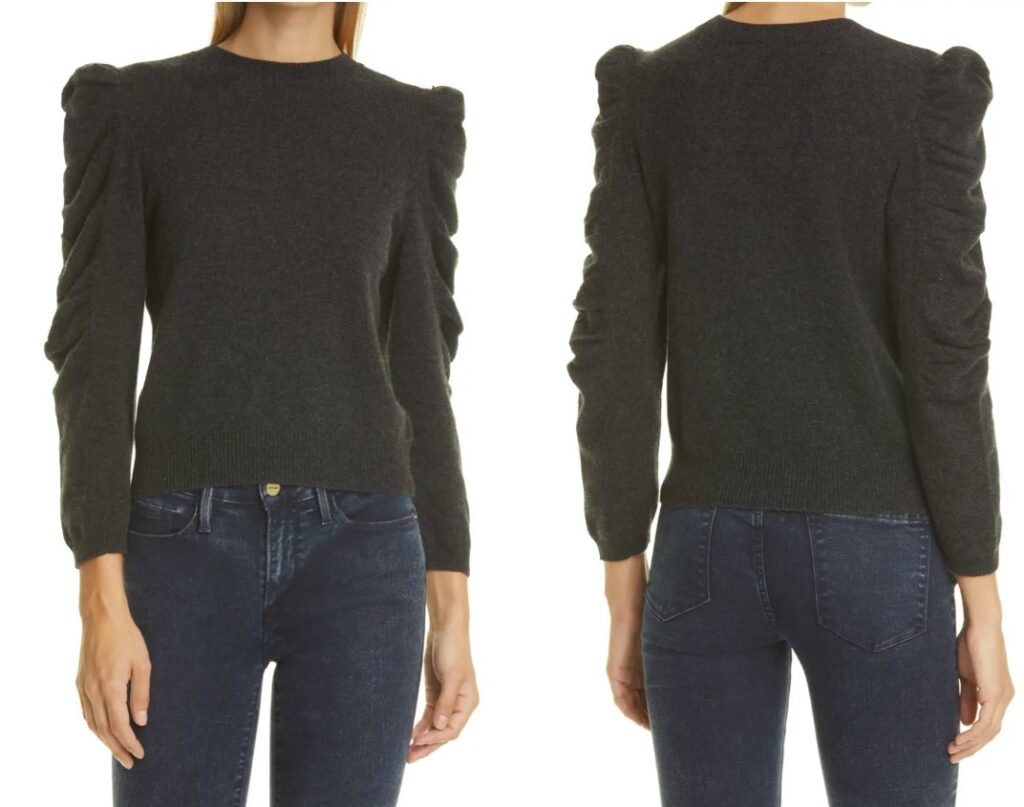 Nordstrom | Ruched Sleeve Cashmere Sweater
A fan favorite for its French-inspired wardrobe classics, you can never go wrong with FRAME's Ruched Sleeve Cashmere Sweater. Its ruched sleeves add a romantic appeal to the wearer while the luxe cashmere material is an opulent statement, even if it's just for a casual night in. It comes in versatile charcoal heather and noir color that you can effortlessly pair with well-structured jeans.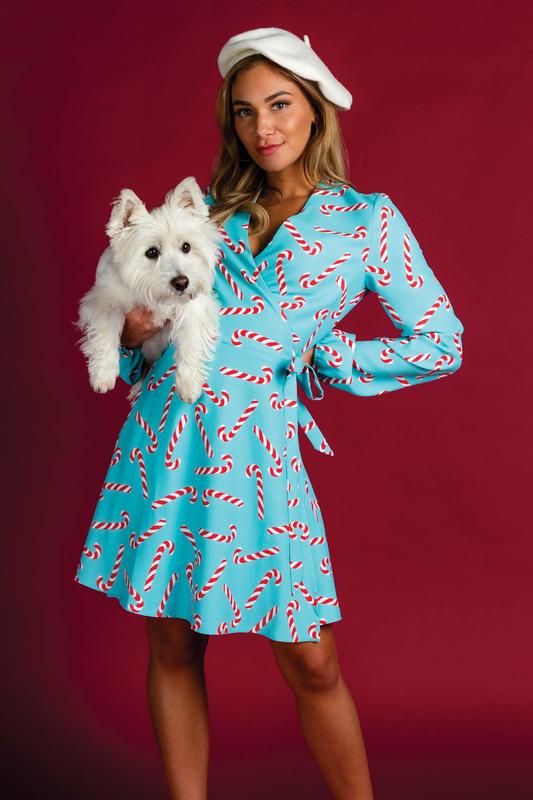 Shinesty Candy Cane Print Christmas Wrap Dress
My Shinesty Christmas dress is one that I get the most compliments on during the holiday season! It's comfortable and easy to pair with tights and boots for a warmer look. Plus, Shinesty's holiday prints are fun conversation starters to wear for your next holiday party.
Read next: Shinesty Reviews for Matching Couples' Christmas Pajamas & Festive Dresses
Lulus | True to Heart Black Floral Embroidered Maxi Dress
Show up in a novel look and let this True to Heart Black Floral Embroidered Maxi Dress from Lulus help you stand out at any holiday parties you attend. This elegant tiered maxi dress features a sheer mesh with flattering princess seams and a surplice bodice decorated with cream, green, and plum purple floral embroidery. The adjustable strap and chiffon ruffles add a flirty flair to the dress—add a black ankle strap heels and you're sure to get tons of compliments for the night.
Amazon Fashion | BCBGMAXAZRIA Women's Short Sleeve Floor Length Gown with Side Slit
For party-ready looks, Amazon Fashion has plenty in store you can mix and match to be the best-dressed at every gathering. This Short Sleeve Floor Length Gown with Side Slit from BCBGMAXAZRIA is glitzy and sophisticated featuring a sexy side slit and short sleeves; it's an evening gown you'll want to wear to formal parties and events. Made from high-quality polyester and spandex, the dress is designed for maximum comfort that you can pair with your favorite party heels.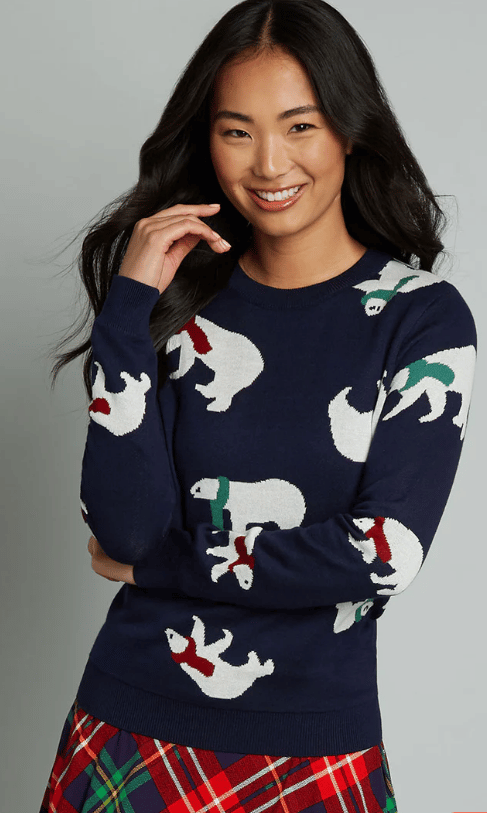 Polar Power Sweater By ModCloth
ModCloth's holiday sweaters are also favorites of mine. I live in them during the month of December! They're great for daily wear or for more relaxed holiday gatherings. Pair with jeans for a casual look or your favorite plaid skirt for a more festive outfit!
Shein Simplee Notched Neck Velvet Dress
You can never go wrong with a velvet dress during the holiday season! Fortunately, Shein makes a variety of affordable velvet dresses, like the elegant maxi dress above.
Read next: Is Shein Legit? Honest Shein Review: MUST-READ Before Ordering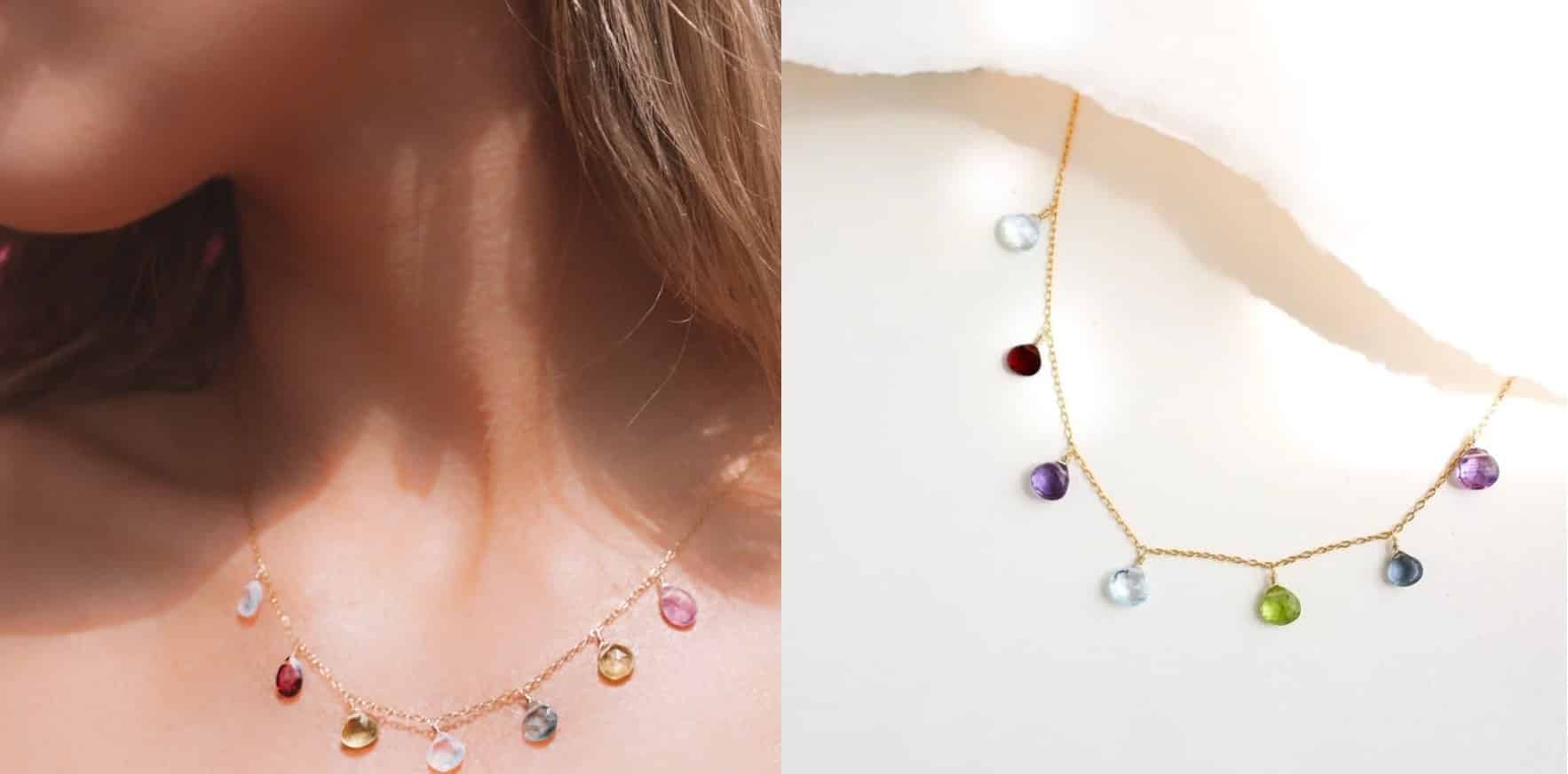 Etsy | Rainbow Gemstone Necklace
On the hunt for uniquely creative and handcrafted goods? You're sure to find one in Etsy's wide range of extraordinary items and vintage treasures like this statement Rainbow Gemstone Necklace. Ideal for gifting and personal use, the necklace features iolite, garnet, peridot, and amethyst gemstones—all in dainty holiday colors—crafted on a 14k gold plated chain. It's lovely and delicate to be worn with any casual or formal attire.
Showpo | Manika Sequin Bodysuit
Even before the Christmas season starts, Showpo already has a Sequin and Sparkle category at the ready to keep you looking radiant and gleaming year-round. Choose from sequin maxi gowns, two-piece sets, high-shine dresses, to embellished mini dresses in sparkly fabrics and glitter lurex. This Manika Sequin Bodysuit can be worn under pants or skirt; it comes in black and silver color and is not only body inclusive but is always ready to party with you on the dancefloor.
Nasty Gal | Will Broome Fair Isle Cropped Jumper
Make sure the bold and colorful rebel in you gets to party, too! Nasty Gal's Christmas statement pieces are sure wow every festival and night out you attend to as there's no shortage of trophy pieces like Christmas tees, sweatshirts, tops, and jumpers. This Fair Isle Cropped Graphic Jumper is designed by London-based artist Will Broome and is a limited-edition jumper. It has the signature Nasty twist you can team with a sequin mini skirt for the ultimate dopamine dressing.
Read next: Is Nasty Gal Legit? Honest Nasty Gal Review of Clothing, Shoes, & Accessories
Pretty Little Thing | Off White Brushed Feel Cable Open Jumper
Whether you're keeping it chilled yet chic or you want to look fierce, Pretty Little Thing's festive collection of Christmas Day Outfits will have you celebrating the big day in style. The Off-White Brushed Feel Cable Open Jumper and Trousers can be styled up or down with sparkly accessories and chunky boots. It's cozy to lounge around in while sipping your favorite eggnog and chic enough to wear for a fancy dinner with the family.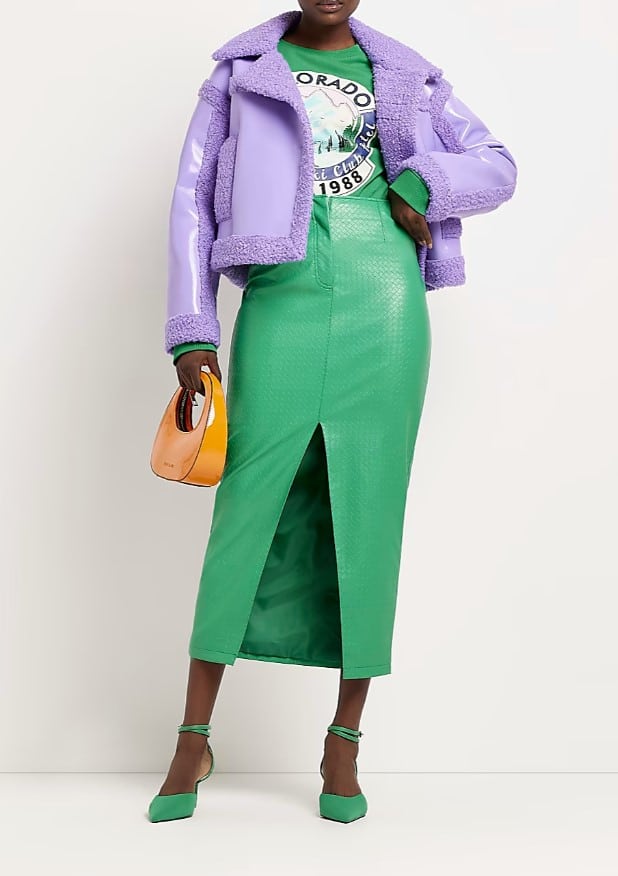 River Island | Green Faux Leather Midi Skirt
This Green Faux Leather Midi Skirt from River Island is as ready as you'll ever be when it comes to rockin' that glamorous Christmas Instagram pic. You can wear it dressed down with a matching green casual sweater or elevate it with a knitted frill or satin top and heels. This midi skirt is high-waisted with a zip fastening and comes in sizes 6-18.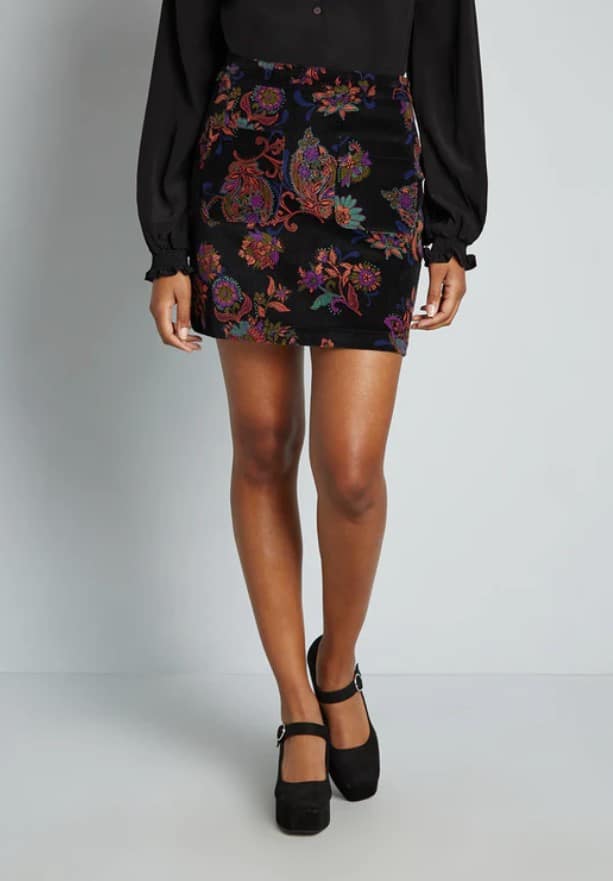 ModCloth | Informed Ensemble Mini Skirt
Fit for any jolly parties this season, this corduroy Informed Ensemble Mini Skirt features a great fabric and beautiful autumnal pattern with patch pockets. Exclusively designed in-house, this vintage-inspired A-line skirt has the jewel tones of emerald green, orange, purple, olive green, blue, and burgundy red that complements any top you pair it to. You can also match it with the Paisley Habit Puff Sleeve Blazer and Chelsea boots for a cute vintage Christmas look.
Ugly Christmas Sweater Novelty Jumper Top From Amazon
This Christmas outfit list wouldn't be complete without at least one "ugly Christmas sweater." This Dinosaur sweater is sure to be a hit at your next family gathering! I currently have this one in my Amazon cart too, as I think it's hilarious.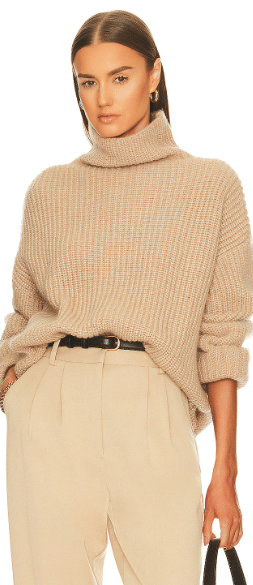 Sydney Sweater by ANINE BING
But, if kitschy Christmas sweaters aren't your jam, this divine oversized sweater by Anine Bing is just the ticket. This sweater is cozy and warm and perfect to pair with dress pants for a more formal look but looks casual and chic paired with jeans. This is currently my most worn sweater this winter. I LOVE it.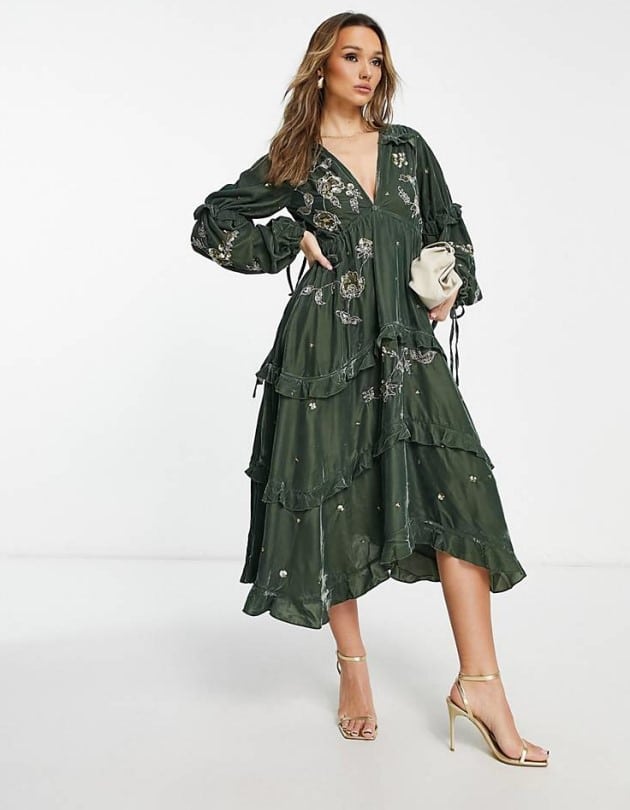 ASOS | Ruched Tiered Midi Dress
Pull out all the stops with this green Ruched Tiered Midi Dress from ASOS DESIGN, a sure party pleaser with velvet and floral embellishment details. With a relaxed fit, you can mingle and dance the night away at any party with friends and coworkers. It also features a tiered and V-neck design and a tie-keyhole back. Consider adding statement earrings, heeled mules, and an embellished clutch to celebrate the season in full festive style.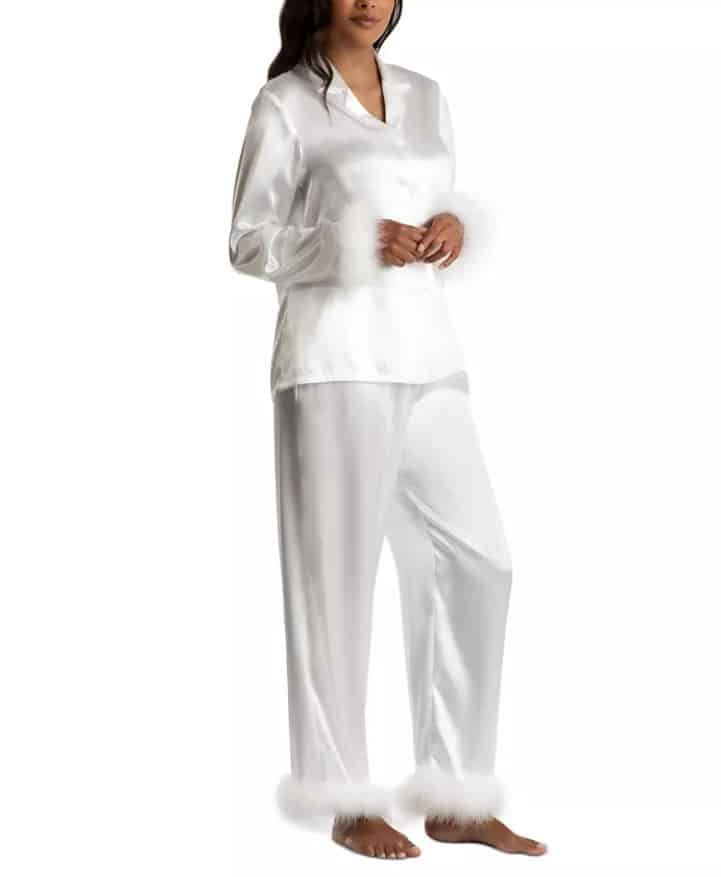 Macys | Women's Marabou Feather Satin Pajama Set
Christmas is pajama season, too, and Macy's version is quite fancy. This Marabou Feather Satin Pajama Set is ideal for sophisticated nights or as a post dinner slump outfit. It's embellished with Marabou feathers and has button-front closures. Its elastic waist can accommodate sizes medium to large; the set comes in ivory, black, ice blue, and powder pink color.
The Scotch On The Rocks Matching Couples Christmas Pajamas Set by Shinesty
If you're looking for a more festive PJ set, look no further. Shinesty has a fantastic variety of Christmas PJs that are incredibly soft and also has matching male PJs if you want to match your significant other. My husband and I have worn the Scotch on the Rocks set for the last few years and love how soft and comfortable their jammies are!
Read next: Shinesty Reviews for Matching Couples' Christmas Pajamas & Festive Dresses
Boohoo | Petite Fairisle Christmas Jumper Dress
What's Christmas without the classic jumper dress? This red number from boohoo is cozy, chic, and festive! The best part is that you'll stay snug all throughout the season while looking absolutely fire. This woven Petite Fairisle Christmas Jumper Dress can take you from day to night sipping hot chocolate in your living room to catching up with friends at brunch. Get the full festive look and pair this with a long coat, chunky belt, and knee-high boots.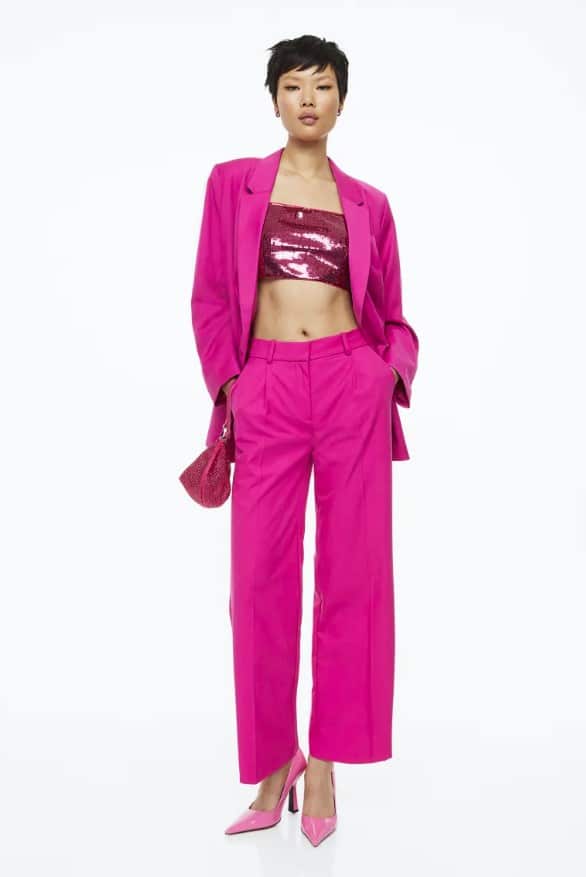 H&M | Tailored Trousers with Double-breasted Jacket Set
H&M's party-ready collection includes an element of barbiecore that's fun, colorful, and feminine. This Tailored Trousers in fuchsia features a twill pattern with pleats at the top, a zip fly, diagonal front pockets, and a wide, straight cut with creases. It can be paired with the Double-breasted Jacket in the same color, Sequined Crop Top, and silver slingbacks for a casual yet playful holiday party vibe.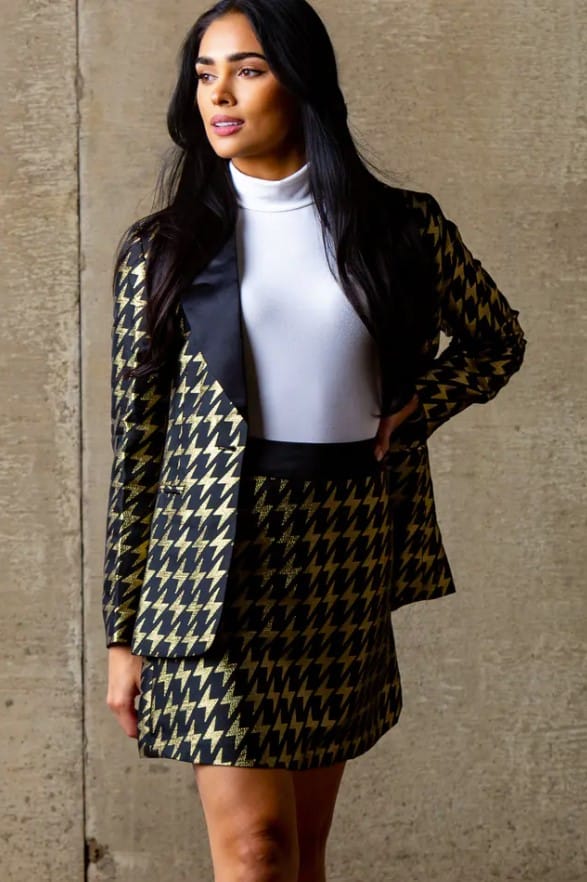 Shinesty | Caviar and Cocktails Gold Jacquard Black Label Women's Skirt
Ideal for caviar and cocktails night, this Gold Jacquard Black Label Women's Skirt gives a flashy yet polished look for just that event or at your next office Christmas party. The gold houndstooth pattern is an elegant touch that gives instant red-carpet vibes. It features a high-waisted fit for comfort and an A-line shape just above the knee. Layer with the Gold Jacquard Black Label Blazer for a killer combination.
Unique Vintage | Dusty Blue Devore Stripe Velvet Flare Dress
Unique Vintage's collection of novelty to vintage dresses is sweet, chic, and holiday-ready, and this Dusty Blue Devore Stripe Velvet Flare Dress is no exception. It's easy to style with suede peep toe heels and drop earrings, and classy to wear at any function. The Devore striped pattern and sparkly metallic threading give a subtle glam, but showstopping nonetheless.
Saks Fifth Avenue | Jimmy Choo Aveline Tulle Bow Suede Sandals
Even a pair of flirty, festive sandals need their moment, and this adorable number from Jimmy Choo will give you just that. Saks Fifth Avenue's designer dressing edit includes this black Aveline Tulle Bow Suede Sandals that feature an open toe, leather lining, and sole design with a dramatic mesh bow. It's ideal for when you're rockin' a simple yet classic ensemble at the top—whether it's a satin pleated minidress or jumpsuit—but still want to make these glamorous heels do the talking.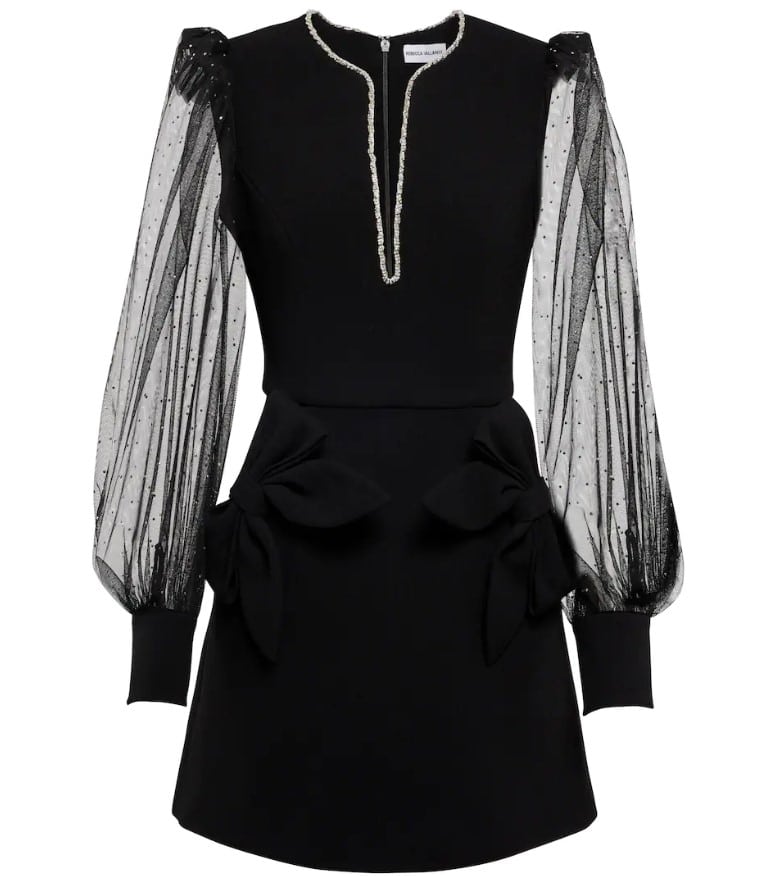 Mytheresa | Rebecca Vallance Alyssa Embellished Minidress
If black is your color 24/7, one way to show up in elevated style for the holidays is with this Rebecca Vallance Alyssa Embellished Minidress from Mytheresa. Dress up in opulence as this minidress features a sparkling diamante-trimmed neckline, bow detailing, fitted bodice, and glittered tulle blouson sleeves. You'll be feeling like the glammed-up winner that you are during celebratory dinners or schmancy galas.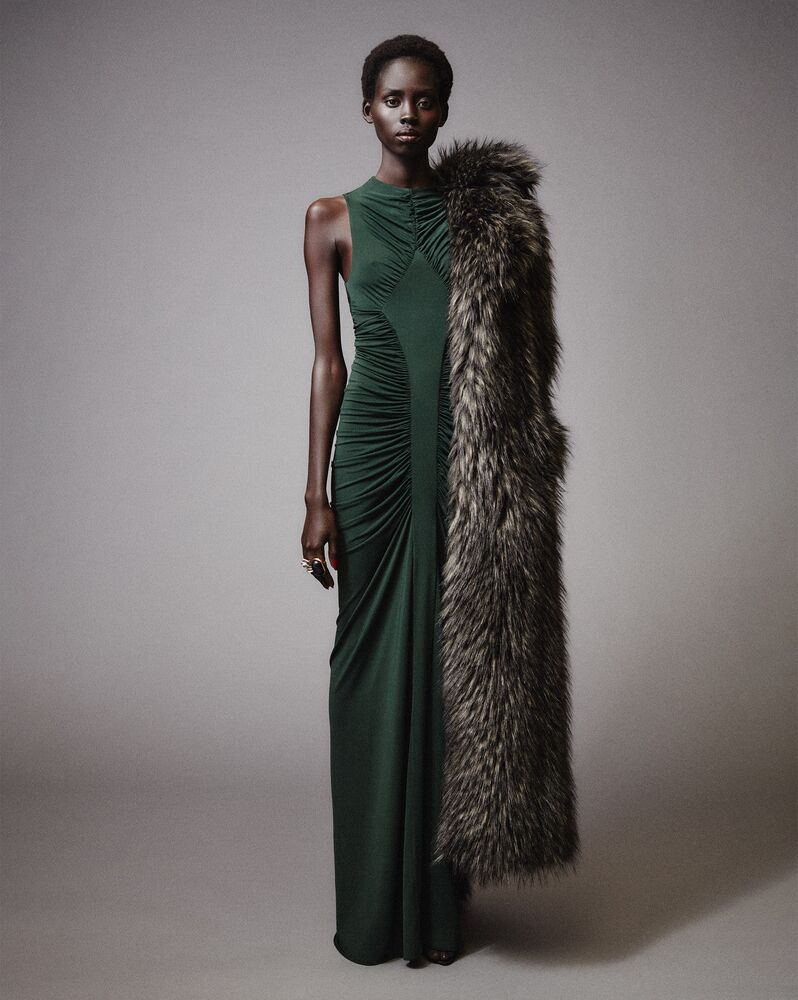 Saint Laurent | Long Sleeveless Dress in Jersey
Sleek and sophisticated, this Long Sleeveless Dress in Jersey from Saint Laurent will make you an absolute standout at any formal gathering. Made with sustainable viscose, this designer staple features a round neck and ruched seams for an elegant and sexy look. It also works best with one of Saint Laurent's animal-free fur long coats to keep you warm en route to the party.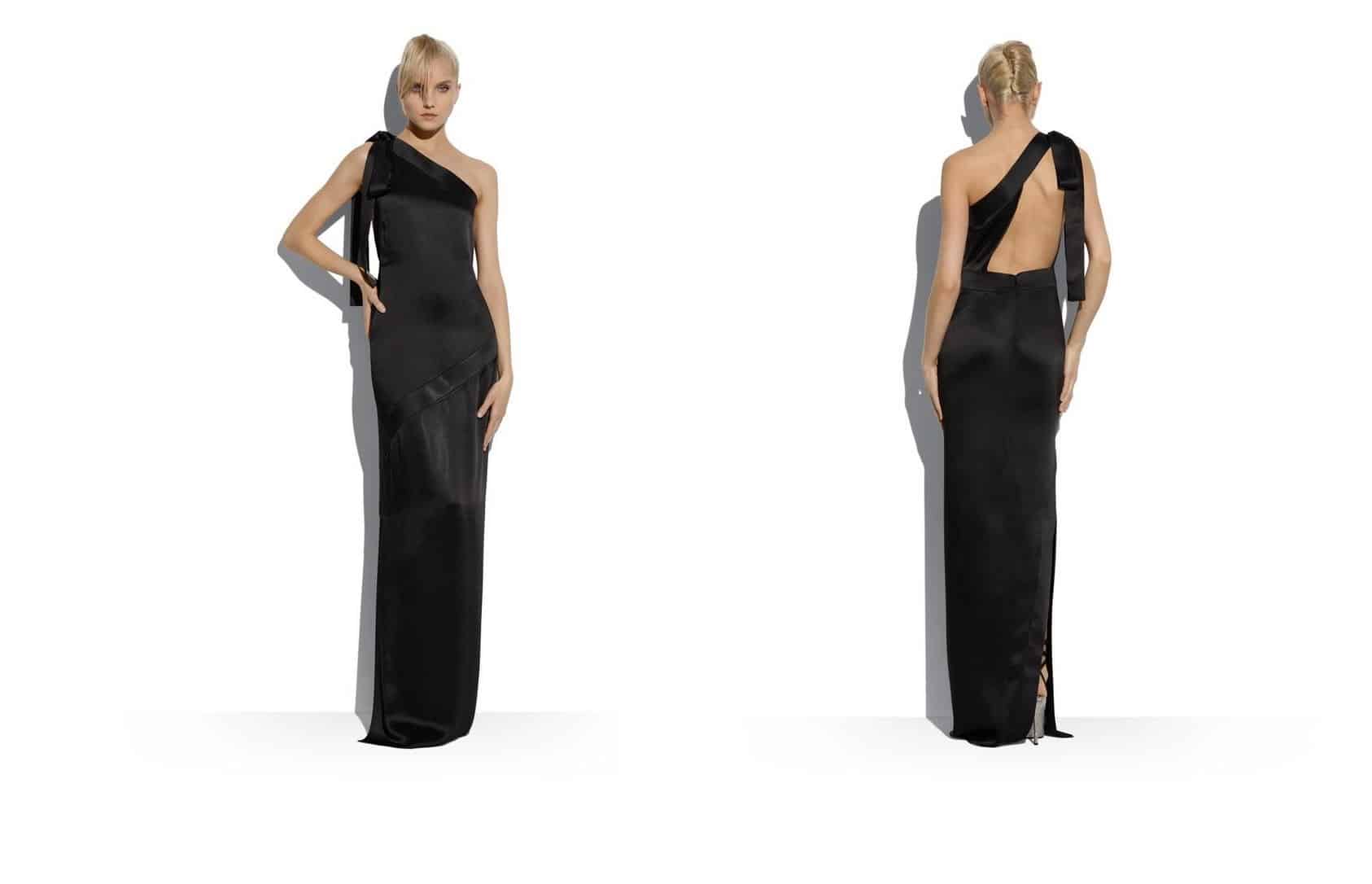 Tom Ford | Fluid Double-faced Satin One Shoulder Dress
Holiday dressing at Tom Ford is all about classic simplicity (with understated sexiness), and this Fluid Double-faced Satin One Shoulder Dress exemplifies that. For evening events where the mood is romantic and lights are a bit low, the luminescence of the satin fabric does all the talking. The open back and side slit also helps in making you the ultimate showstopper.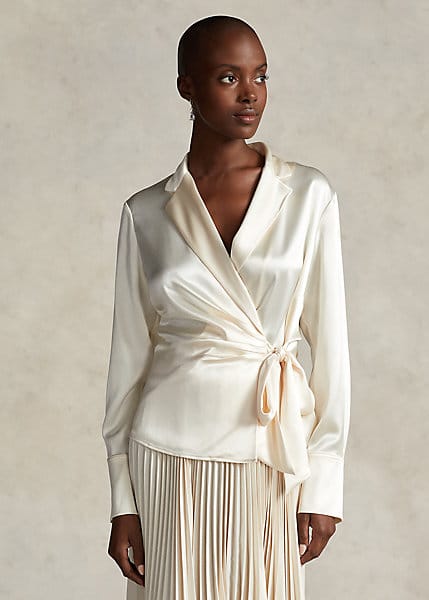 Ralph Lauren | Satin Wrap Blouse
Top off your causal look with this sophisticated number from Ralph Lauren. This Satin Wrap Blouse features the elegance of a blazer and wrap silhouette that could take you from office meetings in the morning to fancy cocktails at night with the gals. The lustrous cream satin and mother-of-pearl embellishment at the cuffs render a seductive look from start to finish.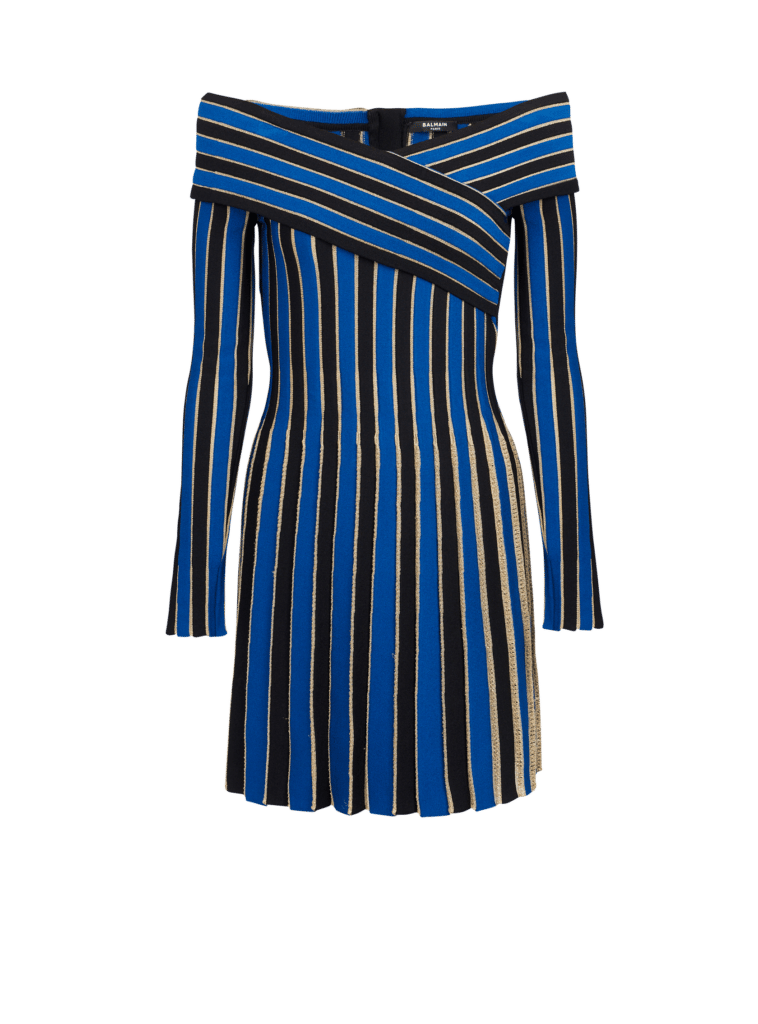 Balmain | Metallic Striped Knit Dress
Balmain's take on luxury party dresses infuse a refreshed French style with architectural silhouette, and this high-shine Metallic Striped Knit Dress gets it right. The bare shoulders, pleated mesh, long fitted sleeves, vertical stripes, and gold embellishments make it a winner at parties. There's no need to accessorize, since a pair of gold leather sandals is all that's needed to show off.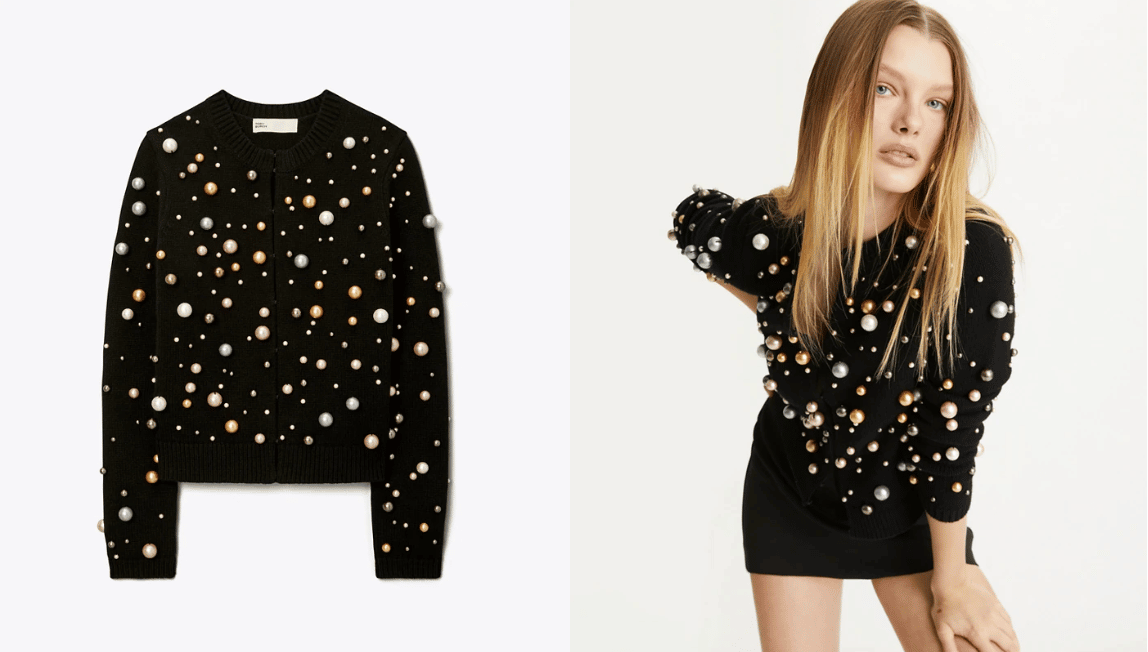 Tory Burch | Pearl Embellished Cardigan
Staying cozy while looking good is possible with Tory Burch's Pearl Embellished Cardigan. The multi-colored pearl embellishments add a flair of retro vibe to this fashionable winter staple. Made of 100% wool, you can wear this with t-shirt and jeans as a cute day outfit or layer over satin midi dresses for extra warmth in the evenings.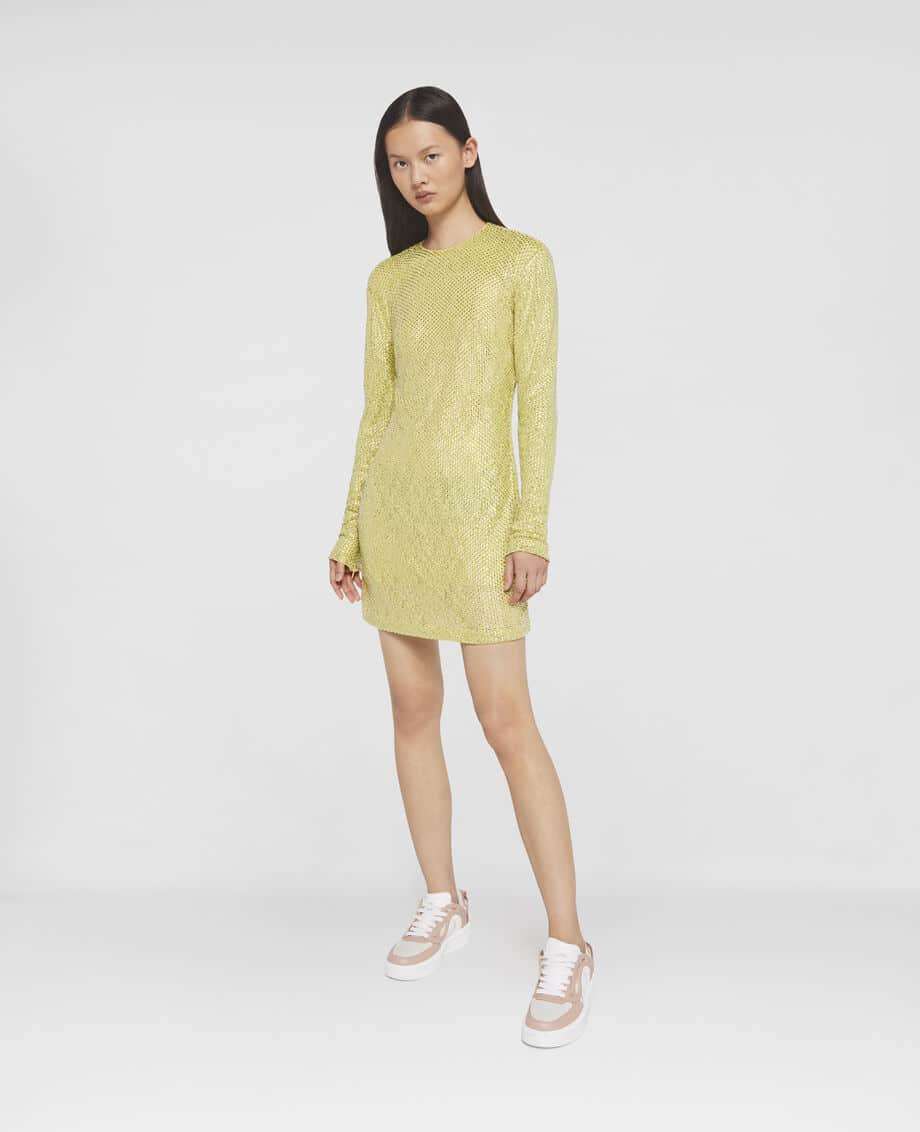 Stella McCartney | Crystal Lace Long-Sleeved Mini Dress
Finally, a holiday dress that looks nifty when paired with trainers. It may defy, but this Crystal Lace Long-Sleeved Mini Dress by Stella McCartney is fashion-forward nonetheless. You can wear this to your next Kris Kringle or office parties where the mood is a bit laid-back. The muted lime green color is on-theme for the holidays, while its sheer mesh overlay and lead-free glass crystals add a dimensional effect to the whole ensemble.
Zimmermann | Celestial Zodiac Mini Dress
When you want a cute yet over-the-top wardrobe for a holiday-themed costume event, Zimmermann's Celestial Zodiac Mini Dress may be right up your alley. This star-studded piece in romantic lipstick color features long sleeves with gathered tulle (in the shoulders and at the base) and a unique zodiac embroidery. What's not to love?
Tiffany & Co. | Hexagon Pendant in 18k Gold with a Citrine
Whether you're going out or staying in, the wide selection of dream-worthy jewelry from Tiffany & Co. is sure to elevate your holiday outfit. This Hexagon Pendant in 18K Gold features a stunning citrine you can wear solo or layered with a tanzanite pendant from the same Paloma Picasso collection. Wear it with a classic button-down or velvet dress—there's no doubt this adds a bit of vivid luxury to your wardrobe.
Chanel | Glittered Muslin Coat in Navy Blue
There's no better time than the holidays to break out the best of your designer pieces, and this luxury piece from Chanel is guaranteed to get you in the best-dressed list even after the New Year. This Glittered Muslin Coat in Navy Blue can be worn as is or can be layered with your favorite dress. Accessorize with a choker and turquoise belt to complete the signature Chanel look.
Versace | Red Corset Midi Dress
Nothing gets you quite into the holiday spirit like a well-fitted red dress, and this floor-length Red Corset Midi Dress from Versace is nothing short of seductive. Featuring a V-neckline, ruched detailing, long sleeves, and a defining coset construction, it's The Dress that will make you the star of the night. Pair with the red pin-point pumps and clutch from the same label to lock in the gorgeous Lady in Red look.
Prada | Prada Cleo Brushed Leather Shoulder Bag
Stunning and luxurious, this Prada Cleo Brushed Leather Shoulder Bag is the perfect companion to your holiday outfits. It's the kind of gold that gives the 'wow' factor and is a sleek nod to the brand's iconic design in the '90s. Modern and versatile, it can be worn over the shoulder or as a crossbody. Wear it with your favorite dress, long coat, or casual jeans for an alluring statement.
Louis Vuitton | 3D Feather Boxy Dress
A high-shine metallic number is already a statement, but Louis Vuitton takes it further with this 3D Feather Boxy Dress. It features a 3D feather effect jacquard, textured metallic tones, and a mesmerizing trompe l'oeil (optical illusion) front panel not seen in any other cocktail dresses. It's an investment piece you can wear at any casual or corporate parties for years to come.
Dior | Orange Dioriviera Mid-Length Dress
Stand out amongst a crowd of red, green, silver, and gold by wearing something bold and colorful like this Orange Dioriviera Mid-Length Dress form Dior. Crafted from 100% orange cotton voile, this dress features a Toile de Jouy Reverse motif and an elegant pleating at the waist. It also has a front button closure and mother-of-pearl buttons.
Net-a-Porter | Lumière Feather-Trimmed Metallic Stretch-Knit Maxi Dress
Being cozy in knitwear never looked so good, and this Lumière Feather-Trimmed Metallic Stretch-Knit Maxi Dress proves just that. Designed by Oséree, this maxi piece exudes chic sensuality; it's made from metallic stretch-knit and features pin-thin shoulder straps and a nifty feather trim at the base that says you're ready to party.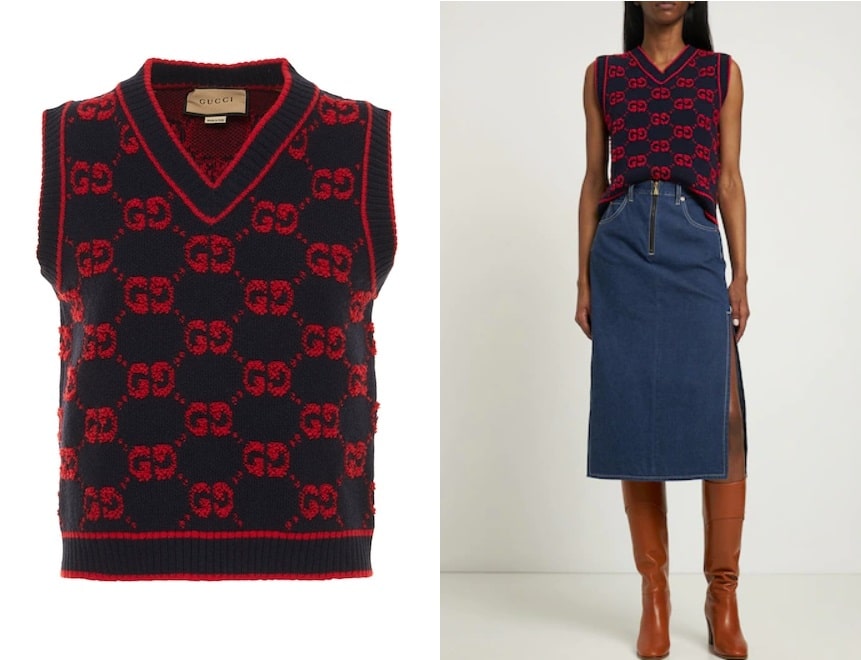 Luisaviaroma | Wool Jacquard Vest
A fashion must-have that can add a stylish drama to any casual outfit, this Wool Jacquard Vest from Gucci looks causal chic when layered over a shirt or button down. Ideal for day time dressing or running holiday errands, it can be paired with your trusty fitted jeans or a long skirt. The red jacquard pattern in Gucci monogram is an added flair to level up your basics.
Read next: Is LUISAVIAROMA Legit? My Honest LUISAVIAROMA Review (With Photos)
Verishop | Stevie Jumpsuit in Electric Blue
Easy, stylish, and fun—jumpsuits are heaven-sent to those who want to look elegant and effortless at the same time. Even if you're on the last minute, this Stevie Jumpsuit from Dress the Population delivers style icon vibes. It features a bodycon silhouette and center back zipper for a snug fit, and it comes in an electric blue color that screams confidence in any informal or formal occasion.
Toward | Closed Jacquard Sweater
This season is all about dressing down, too, so when you don't have anything special booked for the night, you can cozy up and just chill with this Closed Jacquard Sweater from Toward. Known for its luxury and sustainable fashion, this sweater features an elaborate jacquard check pattern with contrasting cuffs and is made of Italian alpaca mix yarn.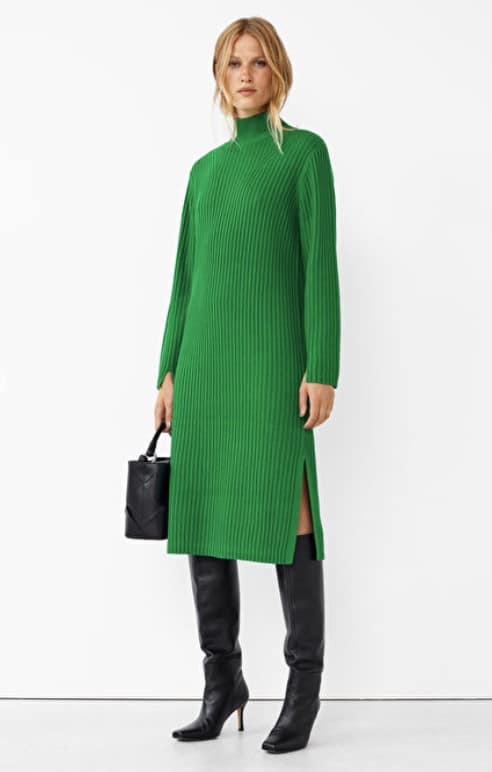 & Other Stories | Turtleneck Knit Midi Dress
Going for a sleek and casual look is easy with this Turtleneck Knit Midi Dress from & Other Stories. The brand's holiday edit includes soirée-ready silhouettes and classic styles for laid-back styling, and this piece in particular comes in green, grey, and beige. Wear this to your next holiday shopping spree and pair it with knee high leather boots and bucket bag for a no-fail combo.
Revolve | Rhodes Coat
Traveling for the holidays? You'll want pieces that are stylish and practical to wear on planes, trains, or automobiles. If you already have the sleek basics underneath like a black turtleneck shirt and flared jeans, the Rhodes Coat from Revolve can make your outfit pop. The notched lapels and slant pattern design give it a high style vibe that would put you in a good traveling mood.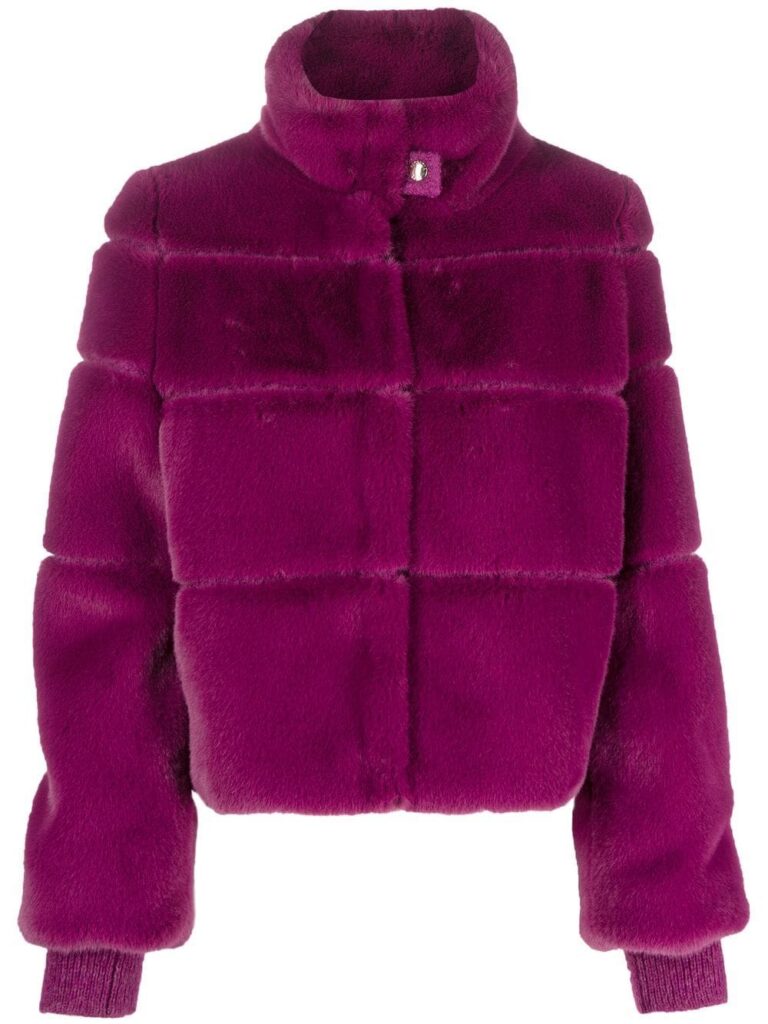 Farfetch | Patrizia Pepe Faux-fur Long-Sleeve Jacket
You can never have enough knitwear when you are home for the holidays. While laid-back outfits seem like the easier choice, you may want to try a semi-dressy look this time, and this Patrizia Pepe Faux-fur Long-Sleeve Jacket in hypnotic purple is certainly hypnotizing. Featuring a faux-fur trim, ribbed cuffs, and front button fastening, this cozy number can cheer your mood up at family dinners or Christmas festivals.
Madewell | SANCIA Celoni Dress
A low-key soirée with the girls calls for a relaxed but refined ensemble, and you can never go wrong with a SANCIA Celoni Dress from Madewell. It features a textural knit, glamorous silhouette, edge-to-edge neckline, and a sexy fit. Available in caramel color and sizes XS-L, this is one casual piece you won't regret wearing to brunch.
SSENSE | DRIES VAN NOTEN Multicolor Viscose Maxi Dress
For after-dark looks that slay and inspire, this Multicolor Viscose Maxi Dress from SSENSE delivers. The viscose and silk-blend velvet with multicolor graphic pattern gives the whole look spark and dimension—especially when you're hitting the dance floor. Glam the look up with accessories and your favorite heels for a glamorous night to remember.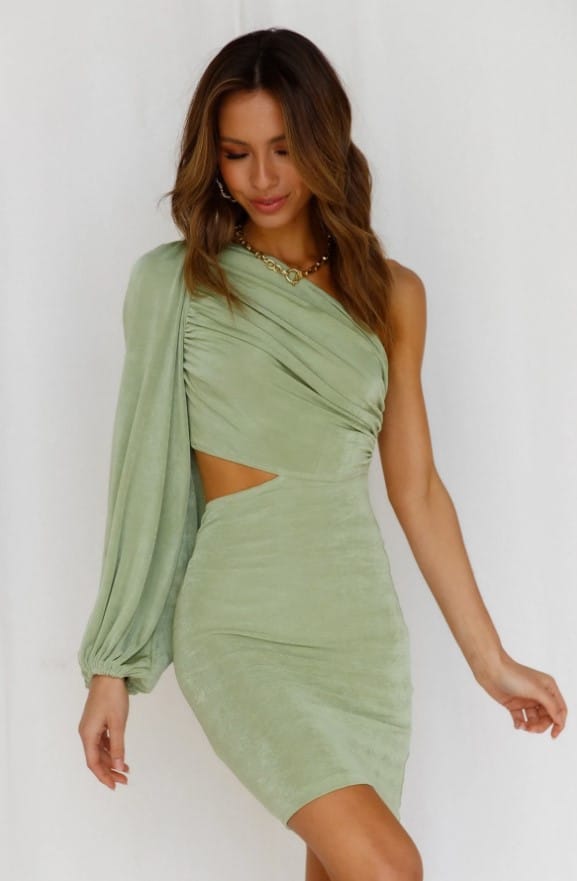 Hello Molly | Ambitious Girl Dress Green
It's also a time to celebrate you this holiday season, and the iconic one-shoulder dress is an all-rounder piece that stuns day to night. The asymmetrical neckline, side cut out, and gathered design on the bust of this Ambitious Girl Dress Green from Hello Molly is flattering in all sizes. Ambitious is right, and by adding your favorite thin nude or black heels with some accessories, you'll soon be turning heads for all the good reasons.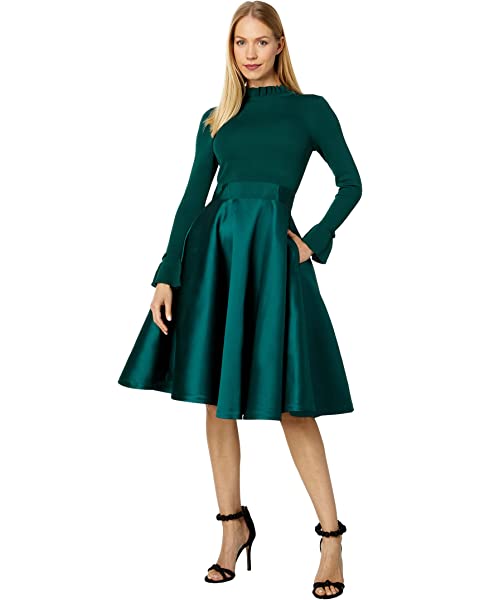 Zappos | Zadi Knitted Full Skirt Dress
'Tis the season for decadent dressing, as well. Think luscious fabrics, Audrey Hepburn-inspired fits, and crystal earrings—this Zadi Knitted Full Skirt Dress from Ted Baker is giving all of that and more. It features a midi-length style, knit bodice, long sleeveless with ruffle detail, belt with bow, and flared satin for a simple yet elegant look that's sure to impress anyone.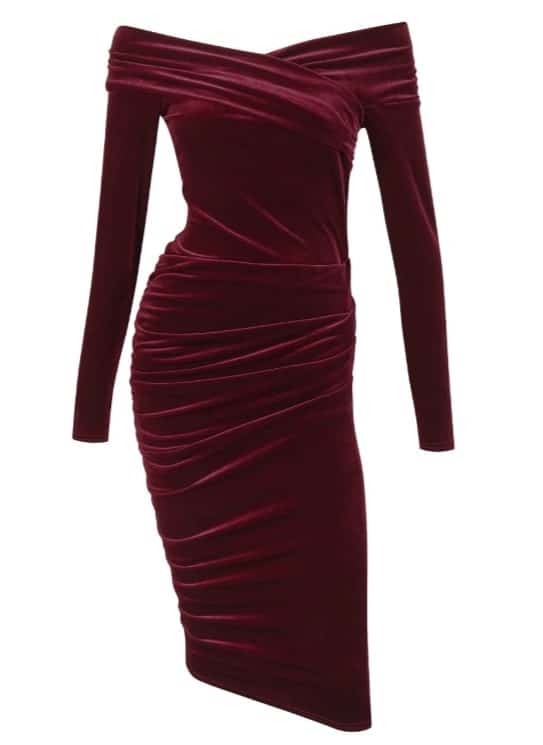 Wolf & Badger | In A Heartbeat Wine Velvet Bardot Dress
Be the talk of the party in a classy and timeless look. This chic Wine Velvet Bardot Dress form Wolf & Badger certainly lives up to the standards. It features a bardot neckline, clever ruching, and a flattering fit that falls just below the knee. This limited-edition piece has a good fabric stretch like all designer pieces that leaves you feeling chic and luxurious any time of the day.
Reformation | Argentia Knit Dress
Dazzle the crowd with this fabulous Argentia Knit Dress featuring a high neckline, side slit, and a form-fitting silhouette. It's a simple style that glistens up the room—either in emerald or gold sparkle. This is the dress to go for when you're feeling fab, femme, and ready to party until the New Year.
Read next: 15 Best Places to Buy Christmas Decorations Online