7 Ways to Style LilySilk's Winter Collection
If you're looking for easy-to-style, elegant clothing items to add to your wardrobe this winter – Lilysilk has you covered. I am a big fan of Lilysilk's timeless style and am really excited to share how to style their winter collection in today's post.
The items I'm featuring in today's post from Lilysilk are The Incana Knit Blazer, Classic Double-Breasted Slim Blazer For Women, the Classic Turtleneck Cashmere Dress, and the Heavy Crepe Silk Iris Pant. (All pictured below.)
This post is sponsored by Lilysilk. All opinions are my own, and I am never compensated for a positive review. This post also contains affiliate links, which means, if you click a link and make a purchase, Have Clothes, Will Travel gets a very small commission at no cost to you. Thank you for supporting the companies that make this blog possible!
Ways to Style LilySilk's Winter Collection
1.) The Incana Knit Blazer + Jeans + Booties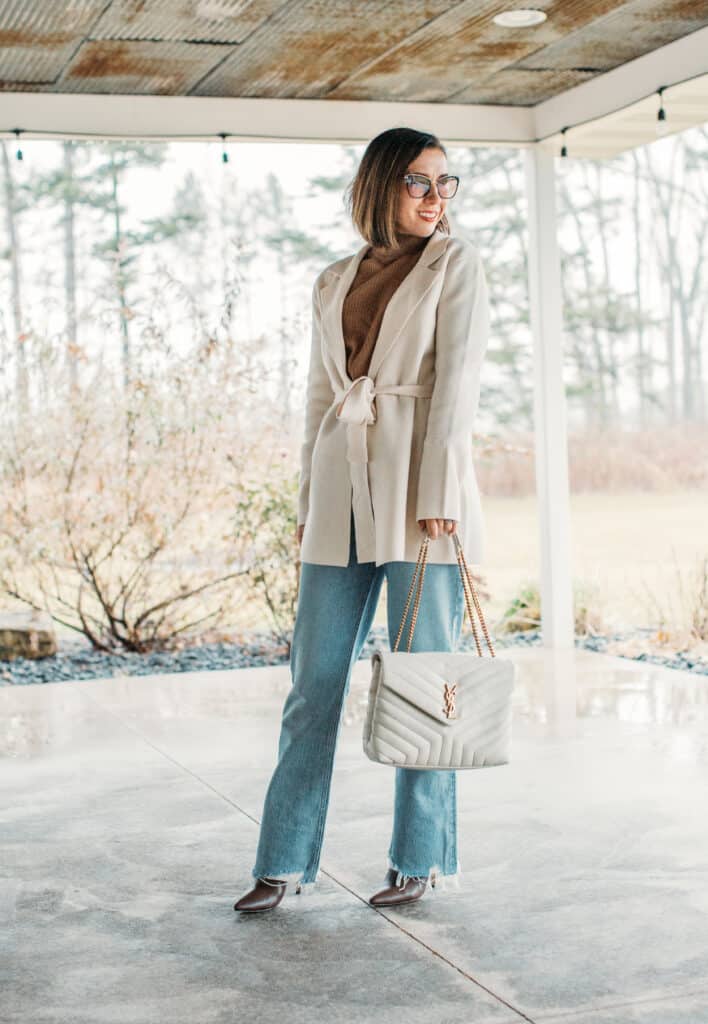 I'm starting this post off with the Incana Knit Blazer from Lilysilk's winter collection, styled with relaxed bootcut jeans and heeled booties. This knit blazer is made from 100% wool knit and is incredibly warm and cozy. It also isn't overly itchy – like many wool sweaters can be.
This is a versatile winter outfit that can be worn for everything from running errands to grabbing drinks with friends to curling up next to the fire with a glass of wine at the end of the day.
Did I mention how comfortable this blazer is?!
2.) Classic Double Breasted Slim Blazer + Heavy Crepe Silk Iris Pant + Pumps
The perfect work-appropriate blazer paired with Lilysilk's silk pants. I LOVE black and gold color combos, so this outfit just might be my favorite out of them all. Of course, it works well for the office, but could easily transition to cocktails after work or an office holiday party.
3.) Lilysilk Classic Turtleneck Cashmere Dress + Over-the-Knee Boots
Want to kick your holiday outfit up a notch this year? This is the dress for you! This 100% cashmere dress from Lilysilk's winter collection is divine and just the right amount of sexy (in my opinion). The OTK boots make it a little extra sassy, too. This outfit would be great for a party or a date night.
4.) Cashmere dress + tights + booties
Of course, if over-the-knee boots aren't your thing, another great way to style this dress is with fleece-lined tights and a comfortable pair of booties. It's still a spicy look but a little more subtle.
5.) Cashmere dress + knitted blazer + silk pants + booties
This layered look is super cozy yet chic. This dress I think can work has a regular sweater too, as it's fitted enough and works well to layer under additional garments.
This outfit is versatile enough for the office, running errands, dinner, or even a business casual holiday party. You'll be comfortable and warm too!
6.) Lilysilk knitted blazer + silk pants + fitted sweater
Another option is to pair this knit blazer with a fitted black top underneath for a more relaxed look.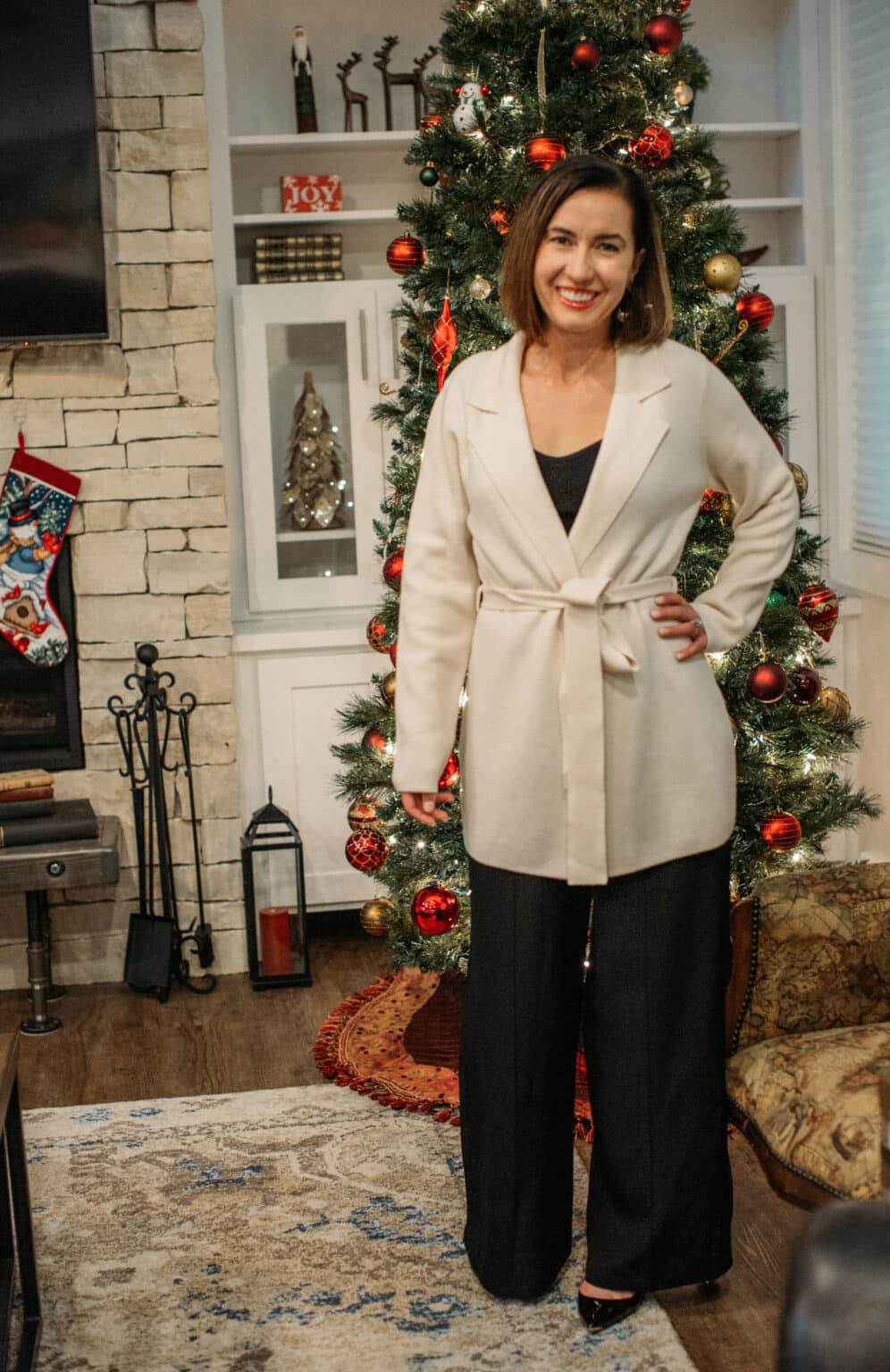 7.) Blazer + dress + booties
Last but not least, pairing Lilysilk's cashmere dress and double-breasted blazer for a fun holiday outfit. This look is giving me 80s vibes but in the best possible way!
I love a fun holiday outfit that will also keep me warm. And of course, if you get too toasty, you can always remove the blazer. It's great how well these Lilysilk items can be mixed and matched!
Final thoughts
Lilysilk is a great company to buy from if you're interested in getting items that are classic and will last for years to come. This is the perfect clothing line for someone who is looking to build a capsule wardrobe and not chase trends every year.
These are not my first items from Lilysilk either, I have another post dedicated to reviewing Lilysilk's summer clothing, pajamas, and pillowcases.
Lilysilk also makes a great gift and comes packaged BEAUTIFULLY, so you wouldn't have to wrap it either.
I would love to hear which outfit from the Lilysilk Winter Collection is your favorite! Let me know in the comments at the end of this post.