Is LILYSILK Legit? Honest Review of LILYSILK Clothing & Pillowcases
Are you wondering if LILYSILK is a legit place to buy silk clothing, pillowcases, and more? This post is my honest review of LILYSILK for their pillowcases, dresses, pajamas, blazers, pants, and blouses.
Disclosure: some of the links in this post are affiliate links. Meaning, if you click a link and make a purchase, Have Clothes, Will Travel gets a very small commission at no extra cost to you. Thank you for supporting the brands that make this blog possible!
What is LILYSILK?
LILYSILK is a company that has been making silk clothing for 12 years as of this month. Their products can best be described as simple and classic. They are the sort of clothing items that won't go out of style and will work for a variety of events.
LILYSILK also offers unique tailoring services with their clothing items. You can change the length of their dresses and skirts or embroider your name on a product. (Just note that this does come with an extra cost, around $25-$30.)
They are based in China and their products are made in China. I know, some folks are not a fan of made-in-China products, so I wanted to mention that right away. (However, as I mentioned in my last review, not every company based in China is inherently evil. More on that, here.)
Celebrities such as Gwenyth Paltrow and Anne Hathaway are fans of their clothing. Plus, they have also been recommended by publications such as Vogue, Reader's Digest, Allure, Glamour, and Town & Country… just to name a few.
This post will explain whether or not Have Clothes, Will Travel recommends them as well…
Is LILYSILK Real Silk?
Yes, LILYSILK uses 100% real silk in their items. The silk type LILYSILK uses in the majority of its clothing is Mulberry silk. Mulberry silk is a 100% natural fiber and is sourced from silkworms that feed on Mulberry leaves in captivity. Any silk fabric leftover from making a garment gets used in the creation of scrunchies and silk eye masks.
Honest LILYSILK Review of Clothing & Pillowcases
This part of the post will discuss my overall opinion of the quality, sizing, and versatility of the items I have from LILYSILK. I will individually review a dress, blouse, pair of pajamas, and pillowcase.
*Update December 2022: Lilysilk sent me a few items to try from their winter collection (a cashmere dress, 2 blazers, and silk pants) for a separate blog post. I figured it would be worth adding and reviewing them in this post as well. I have included these winter collection items at the end of the post.
I will share styled photos of the items with my DSLR camera, as well as less professional photos from my phone of the items just on hangers (to help you decide what the products would actually look like if you ordered them). I will also share my opinion at the end of whether I think LILYSILK is a legit company or if I do NOT recommend ordering from them.
Review of LILYSILK Dress – Ruffle Trim V Neck Silk Dress
This dress is the first item I got from LILYSILK several months ago. I've been wearing it constantly since it arrived. It's a very versatile piece that works for a lot of different occasions – from work events to coffee and dinner dates and more It's a very versatile piece.
You can tie the sash at the front or the back. I've been opting for the back, but it really works either way.
Is it true to size?
It's nice because on the LILYSILK website, you can just type your measurements into the size chart and it will tell you which size to order. I did that and ordered a size small – and this dress fits perfectly.
However, looking on their site now (I had ordered this dress months ago) the sizes are no longer "small, medium, large, etc." but are now 2, 4, 6, 8, etc. So, their sizing chart may have changed since I ordered this dress?
That said, I did find the suggested size by the size chart to be accurate at the time I placed my order.
Any Negatives?
The first negative about this dress is the buttons kind of droop. I don't know if you can notice that as well as I can in the photos? But it drives me bonkers. If it wasn't for the weird way these buttons lay, this dress would be nearly perfect.
This dress is also sheer. Which isn't the end of the world, though. I just wear a white slip under it and nude-colored undergarments. (If you're not a fan of having to wear slips, though, this is not the dress for you – at least this color is very see-through!)
Do I like and recommend this dress?
Yes, despite the negatives mentioned above – this has been my most-used dress so far this summer. It's incredibly cute and versatile, plus it's very comfortable to wear. I am becoming a big fan of silk dresses in warm weather! I do recommend this dress if you don't mind wearing a slip under it (or buying a different color, it also comes in navy blue and pink).
Review of LILYSILK Knit Polo
Next up is this LILYSILK knit polo. This has become my new favorite shirt to wear tucked into skirts. It looks fine untucked and with a pair of pants… but it seriously seems as though it were made just for tucking into skirts. It's perfect for it.
Is it true to size?
Again, I followed the LILYSILK size chart, and based on my measurements, it said I was a small in this polo. I would say this top fits me perfectly. It is quite fitted, but the fabric is stretchy. (I also wanted something more fitted for tucking into skirts.)
So, yes, I would say this polo is true to size if you're looking at the LILYSILK size chart.
Any negatives?
So, on the website, this top is said to be "navy blue" in color. The photos on the website, though, look black. And honestly, looking at this top in person… it also looks black.
Putting it against a pair of black pants I can KIND OF see the difference, but it is still such a dark shade of navy it looks way more black than blue.
For me, personally, this isn't a negative. I wanted a black top and knew I would get more use out of something black in color. However, if you're ordering this polo hoping to get a navy-colored top… then you would likely be disappointed.
Do I like and recommend this polo?
Yes, I do. I REALLY like this polo. It is incredibly versatile… it looks fantastic with skirts. Plus, it is very breathable and soft… so it's comfortable to wear all day. I am very happy with this polo and hope they make it in more colors because I'll be buying them all!
Review of LILYSILK Pajamas
Silk pajamas always scream "luxury" to me, and I have always been afraid of owning a pair. The thought of having to take delicate care of my pajamas and pay more than a $100 for them was something I just could not wrap my mind around. (My pajamas are mostly 15+-year-old t-shirts and sweatpants that were from Old Navy or hand-me-downs that I wash in hot water and dry on high.)
However, I've spent more time at home in my pajamas in the last couple of years than I have in my entire life. So, I have become acutely aware of that is high time to rethink my pajama philosophy.
The pajama set I chose from LILYSILK is their best-selling 22 Momme Full-Length Silk Pajamas Set in Rosy Pink.
Are they true to size?
Again, I went with a size small based on my measurements and these pajamas fit perfectly. The sleeves and the pants are slightly short on me, though. However, looking at the photos on the LILYSILK website, it does look like that is how these pajamas are supposed to fit (and it doesn't bother me).
But, if you don't like having high-water pajama pants, you may want to size up. You'd likely be fine doing so too… because the waist is elastic, plus it has a drawstring, so you could easily tighten them up.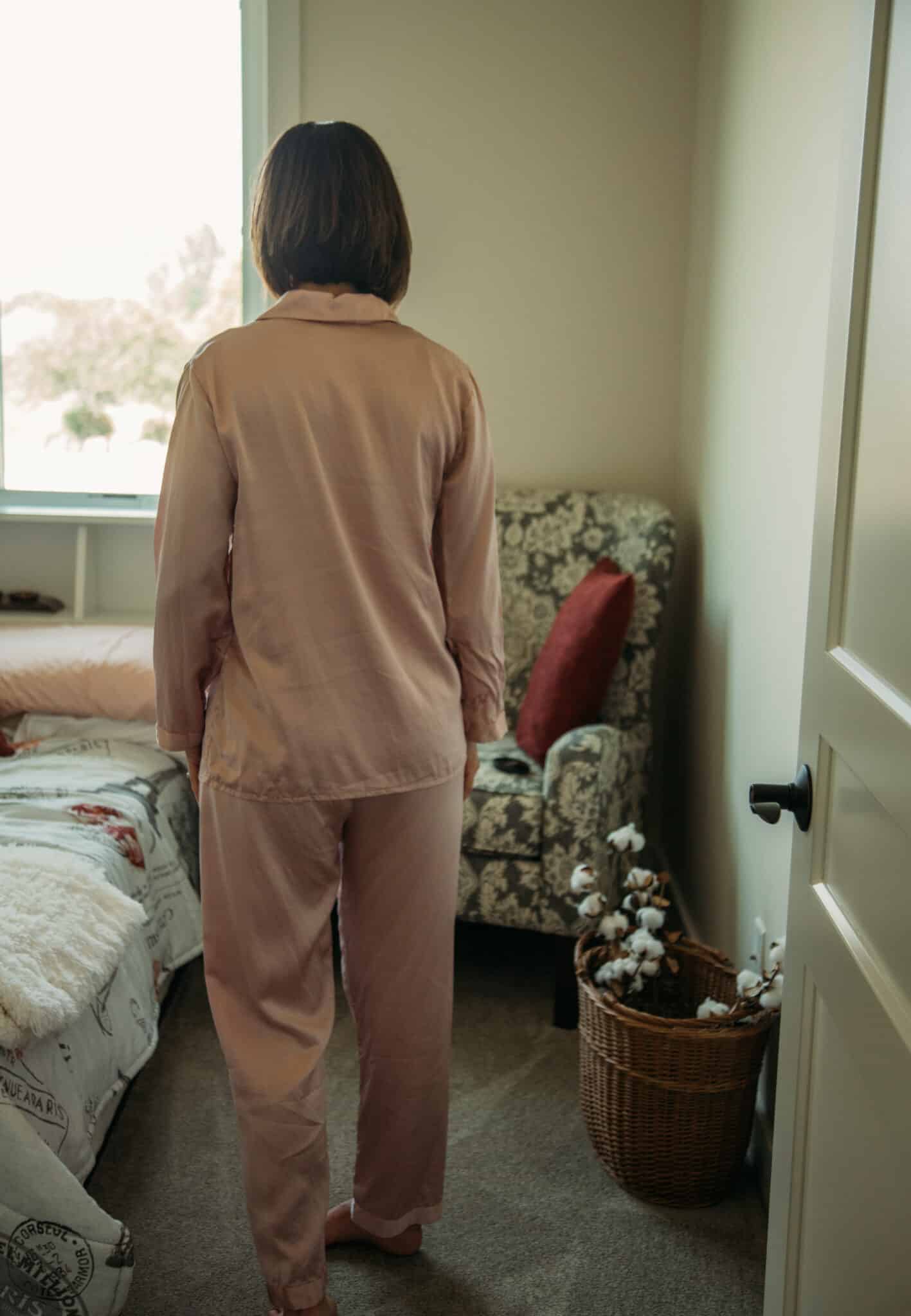 Any negatives?
The only negative about them, in my opinion, is the price. Not that they aren't worth it. I mean, they are 100% silk, so they're going to be more expensive than my Old Navy flannel PJs. The thought of spending over $100 on pajamas, though, is still something that makes me a little queasy.
Oh, also, they get wrinkled quite easily. I toss and turn quite a bit in my sleep. So, when I wake up, these PJs are basically all just a big wrinkle.
Do I like and recommend these pajamas?
I do love these pajamas and think they are incredibly comfortable. I love how well they breathe too. As someone who is a "hot sleeper" but doesn't like sleeping naked, these are fantastic pajamas for me. They feel incredibly luxurious to wear!
I think they would make a fantastic gift for a hard-to-shop-for person in your life. You can also get them embroidered with a custom monogram for an extra special touch.
Review of LILYSILK Pillowcase
Now, I've been faithfully sleeping with silk pillowcases for the last year. So, this wasn't my first time ordering a silk pillowcase.
I have this pure silk one from Amazon and this one also from Amazon. I've been sleeping with silk pillowcases mainly because I started getting eyelash extensions again and this helps them last longer.
Silk pillowcases are also allegedly good for your skin and help your hair look less crazy in the morning. (I don't know for sure if my skin has improved from using silk pillowcases, but I can say that my hair is still a rat's nest when I wake up in the morning! So, that doesn't work for me.)
This 19 Momme Terse Envelope Silk Pillowcase from LILYSILK is one of their best-selling items on their site, so I decided to see if it lived up to the hype for myself (my pets helped too)!
Any negatives?
This isn't a negative regarding this specific pillowcase, but silk pillowcases, again, wrinkle easily. This is the case with most natural fabrics, though.
Other than that, though, I don't have anything negative to say about this pillowcase.
Do I like and recommend this LILYSILK pillowcase?
YES. Especially for the price! This 100% silk pillowcase is $19. For that price, this is a great pillowcase.
I have a 25 mm mulberry silk pillowcase that I spent $50 on last year. I really don't feel that that pillowcase is any better than this one. I mean, if I had to run out and buy another silk pillowcase again, I would go for this one from LILYSILK vs the expensive Amazon one.
This LILYSILK pillowcase is so silky and comfortable. Plus, it's been holding up well in the washing machine (on gentle cycle). I'm not about to dry clean or handwash my bedding, so it all gets thrown in the wash!
Again, this is something that would also make a great gift for someone who is hard to shop for… and it won't break the bank. You can also have it monogrammed for a fun personal touch!
Lilysilk Winter Collection Review – Sweater Dress
This sweater dress was one that was sent to me a couple months ago by Lilysilk to style for winter. Unlike the other items in this post, this dress is NOT silk. It is 100% Mongolian cashmere. So, Lilysilk doesn't just sell silk items.
The dress is very soft, and the red color is perfect for the holiday season! I've gotten a ton of compliments on this dress.
Is it true to size?
According to the Lilysilk size chart, I am a small in this dress too. The small fits me well.
Any negatives?
When I first took this dress out of its packaging it WREAKED. It smelled like it had been dipped in some sort of chemical. I ran in through my washing machine on gentle cycle twice before I could stand to wear it. The smell was THAT strong.
I don't know what caused that smell, but the rest of this order did not smell like that. Just this one sweater dress.
My other negative is that this dress is rather form-fitting, and I don't love that you can tell whether or not I just ate a big meal when I wear it! That said, I couldn't have sized up to avoid that, but I don't think the dress would have looked the greatest oversized on me either.
Do I like and recommend this dress?
I do like it for something a little different this holiday season. It's a mix of classy and sexy and is not my normal kitschy holiday attire. It is also VERY soft and cozy to wear.
It's not my absolute favorite item from Lilysilk, but not because it isn't great quality – it's just outside my realm of normal winter attire.
Incana Knit Blazer Review
Another item from Lilysilk that is not silk! The Icana Knit Blazer is 94% wool & 6% nylon. This is a blazer that's easy to dress up or down, and has a very luxe look to it, in my opinion.
For being made of wool, I am also VERY impressed with how soft this blazer is. I would not have guessed it was wool, as every other wool item I own is scratchy!
Is this blazer true to size?
Yes, I followed the Lilysilk size chart and got this in a small as well. It fits very well. Plus, the waist-tie design makes it adjustable.
Any negatives about this blazer?
I really don't have any negatives about this one. This blazer very much aligns with my style and I've been getting a lot of use out of it. Except my husband jokes that this blazer looks like a fancy bathrobe, and now that's all I can see when I look at myself in the mirror when I wear this! Haha.
Do I like and recommend this blazer?
Yes! This blazer is one that I really like and have been getting a lot of use out of. It's the perfect cozy and versatile addition to my winter wardrobe. I think the quality of this blazer is amazing as well. I love it!
Lilysilk Classic Double-Breasted Slim Blazer For Women Review
A more traditional "blazer" in comparison to the last one! This is another wonderfully versatile piece that can be worn to the office or paired with jeans for a night out.
This was the item in the Lilysilk Winter Collection that I was most excited about. I LOVE a good blazer and black and gold are my favorite colors together. This blazer is also giving me some serious Balmain vibes (with a more affordable price tag) – I've been drooling over their blazers for a while, so I was very happy with a more affordable option that looks VERY similar.
Is this blazer true to size?
So, I am typically a size 6 in US sizes. However, for this blazer, I am a size 4. That is according to Lilysilk's size chart. The size 4 fits me just right.
Any negatives about this blazer?
One negative I have is that the buttons on this blazer kind of "droop." I might be able to fix this though by resewing them. I also don't love these buttons up close. They look a bit cheap compared to how well the rest of this blazer is constructed. This is me getting very picky, though.
This also isn't the most comfortable blazer that I own. It's a bit difficult to move my arms in this one.
Do I like and recommend this blazer?
While this isn't the most comfortable blazer that I own, I do really like the way this blazer looks and despite the droopy buttons, the blazer itself is very well-made. I am excited to wear it more with jeans this winter too!
Heavy Crepe Silk Iris Pant Review
Now, it's time to talk about the pants! These are the only items I have from the Lilysilk Winter Collection that are 100% silk. I never thought I would be a big fan of silk pants, but these have me singing a new tune!
Are these pants true to size?
No! These I had sizing issues with. I am typically a size 28 in pants, but based on the Lilysilk size chart – it said I should order a size 27. However, I looked like a stuffed sausage in a size 27 and they were way too short on me. So, I exchanged them for a size 28 – which fits perfectly. So, I would say to order your normal pants size in these and ignore the size chart.
Any negatives about these pants?
Not really a negative, but just something to be aware of… these will not keep you warm in frigid weather. They are silk and will work fantastic in blistering hot weather, though.
Do I recommend these pants?
I do! I never thought I would want a pair of silk pants, as I always pictured them being so thin and fragile. However, these are very well-made and super comfortable. They won't be getting worn a ton during my freezing Wisconsin winter, but I am looking forward to using them more this spring and summer.
How do I care for my LILYSILK items?
So, silk is something that, in a perfect world, you would let a dry cleaner handle cleaning. However, that is WAY too pricey for me, especially for things like pajamas and pillowcases that are getting used frequently.
So I wash all of my silk items (and cashmere and wool) on gentle cycle in cold water and hang them to dry. I'll then steam them to get out any wrinkles.
LILYSILK suggests using their special detergent that is formulated specifically for silk. I haven't personally tried this yet, as I'm pretty picky about detergents. My favorite is Puracy detergent. I use it on everything from my stinky gym clothes to delicate silk dresses and it works SO well. I'll be using this detergent on everything until they stop making it!
Is LILYSILK True to Size?
I know I discussed this for each individual item I reviewed, but as an overall, I do feel LILYSILK's size chart is true to size. Based on my measurements, I am a size small on the LILYSILK size chart, and all of the items I ordered fit.
That being said, in most brands I'm typically a size medium or a size 6. So, going off that I would say you should size down.
But your best bet with LILYSILK (and anytime you order any clothing online) is to know your measurements and go off their size chart.
Is LilySilk a Good Company?
I haven't come across anything to suggest LILYSILK is a bad company. They are creating beautiful, classic products and they've been doing so for more than 12 years.
I like that they've started a TerraCycle process too. This is where you can send your old LILYSILK items in to be recycled and keep them out of a landfill. You can read more about it here.
Another thing I like is that they are OEKO-TEX® Certified. This means that their items are guaranteed to not contain harmful substances at levels that can be dangerous to the human body.
Is LILYSILK worth it?
I do think LILYSILK prices are worth it. These are items that are 100% silk, that are high-quality, and they look and feel amazing in person. They are also holding up very well in the wash. I also like that the items they are making are classic and can be used for years to come… vs trendy pieces that only are "in style" for a season.
If you are interested in purchasing any sort of silk product I would absolutely recommend going straight to LILYSILK for it.
I know my review posts are typically a little harsher on the items I'm reviewing… but I am super impressed with LILYSILK and really had to get nitpicky to find any negatives to say about this company and its clothing.
I will absolutely be going to LILYSILK again when I'm ready to buy another silk product. I highly recommend them to anyone who is interested in purchasing silk clothing or silk bedding.
If anyone has any questions at all about LILYSILK or this LILYSILK review, please feel free to reach out in the comments.
Thank you to LILYSILK for sending the products featured in this post for me to try, in exchange for potentially sharing them on my social channels. LILYSILK is not paying me for this post. I wrote it because I thought my readers would find it helpful.