Is Shopbop Legit? My Honest Shopbop Review (With Video & Photos)
Are you wondering if Shopbop is legit and a trustworthy place to shop? This post is my honest review of Shopbop for their products, shipping, customer service, and return process.
What is Shopbop?
Shopbop is an online fashion store that carries a variety of brands and designers that range from affordable to luxury. They carry everything from shoes to handbags to dresses and athletic clothing. Shopbop is primarily geared toward women, but they do have a men's section as well.
Is Shopbop Owned by Amazon?
Yes, Shopbop is owned by Amazon (like Zappos is), so you can use your Prime shipping perks on Shopbop.
My Experience Shopping With Shopbop
The order featured in this post is the first order I've ever placed with Shopbop. And I don't know WHY I waited so long, as I love the majority of the pieces featured on their site.
I also love Zappos, and in my mind, Shopbop is very similar to Zappos in the sense that they have such a great variety of brands and designers, and you get all the perks of Amazon shipping and returns.
I finally made a purchase from Shopbop during a recent sale where quite a few new items were heavily discounted. I ordered a pair of sandals, earrings, and flip-flops.
My Experience With Shopbop Shipping (During a Sale)
This wasn't the smoothest shopping experience I've ever had. To start, I actually had ordered 2 pairs of flip-flops and only got 1 pair… because they oversold the white color that I wanted. But again, this was a big sale… and it happens.
I also didn't hook my Amazon shipping up to this order when I did it, and I have no idea why I didn't. (Oops!) But my shipping was still free, and it still only took 2 days from the time it left the warehouse to arrive on my doorstep. BUT the processing of this package took 10 days before it shipped. So, while the shipping was fast… the processing took forever.
Again, I think that might have been due to the sale that Shopbop was having at the time I placed my order. Just my guess. I want to give Shopbop the benefit of the doubt on this…
What I Had All Ordered From Shopbop & My Thoughts
I was SO excited about the things I had ordered from Shopbop! First up are these incredibly cool Cult Gaia sandals.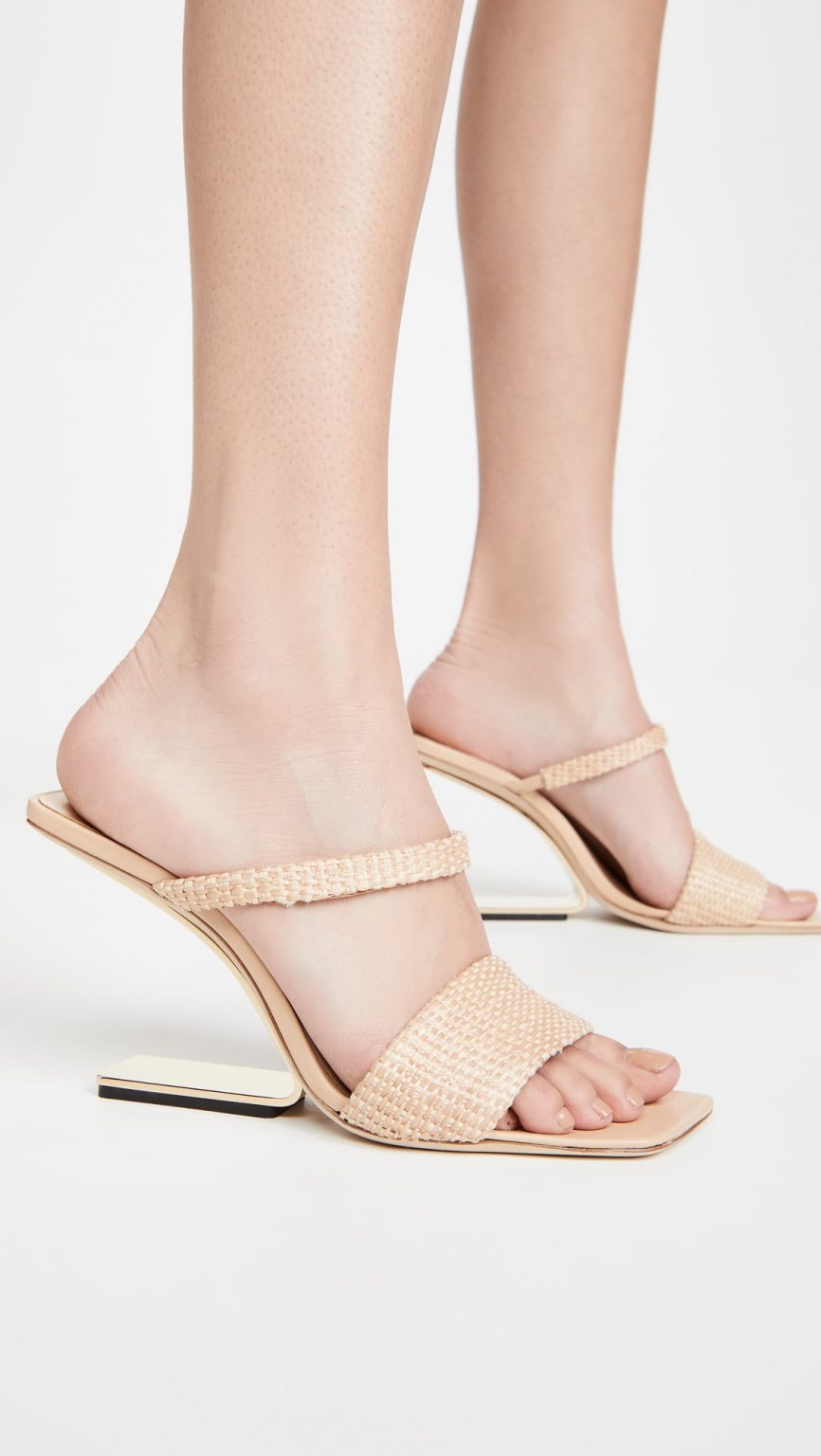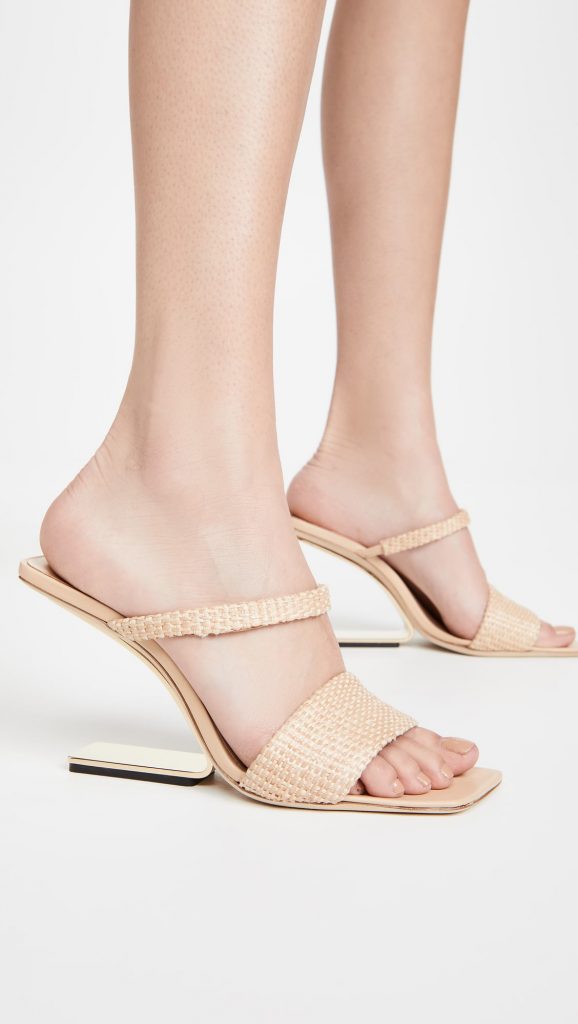 This is also my first time buying anything by Cult Gaia, I am a huge fan of their unique designs, but hadn't worked up the courage to buy anything until these sandals. I love the invisible heel design!
BUT I don't know if these were just heavily used display shoes or if these are just horrific quality… but look at this…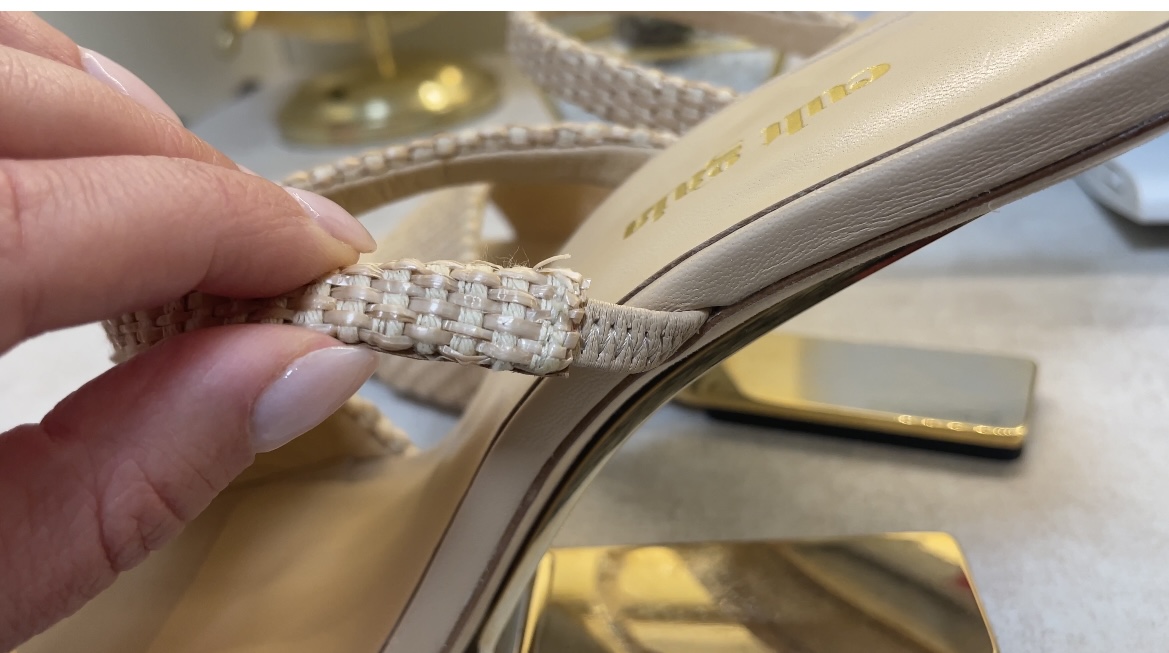 Someone clearly wore these. You can see the toe indents (in my video), the bottom is scuffed, there's some fraying, and it looks like the glue is coming apart!! (This is easier to see in my YouTube video featuring Shopbop.)
I mean, I had gotten these sandals on sale… but if you were to go buy these right now these are $548 sandals. This is NOT acceptable.
I'm going to exchange these for the exact same shoes and size. (I have pretty wide feet and these are true to size, FYI.)I hope they send a pair of shoes that knocks my socks off…because this is alarming. I'm a little miffed that Shopbop didn't catch this quality issue. I think this is pretty bad… but again, I really want to give Shopbop the benefit of the doubt, and chalk this up to sale madness.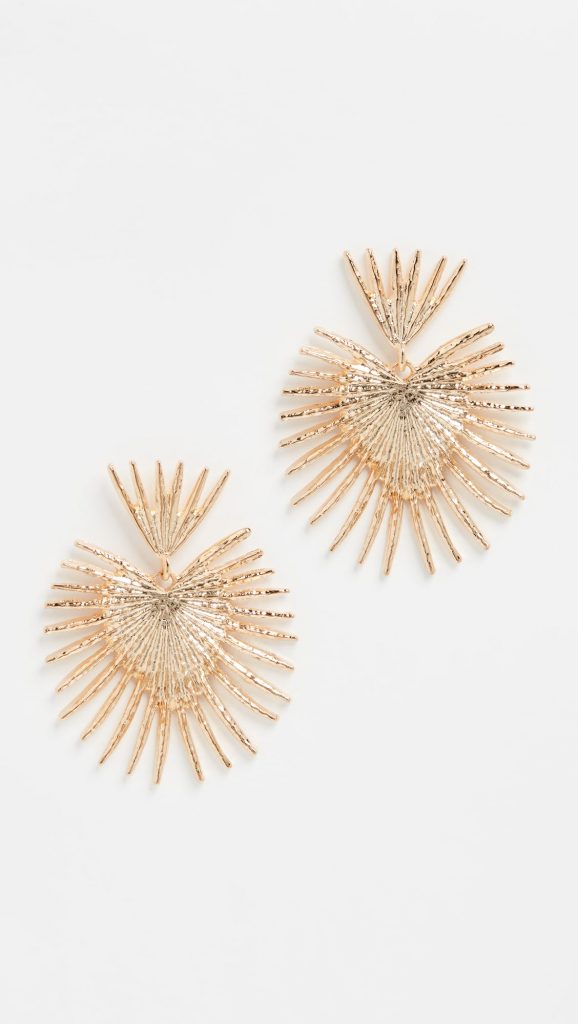 Next, I got these crazy Kenneth Jay Lane Gold earrings. These are, again, so cool looking, I think! These are fantastic quality as well. BUT, these are THE heaviest earrings I've ever worn in my life. My earlobe practically hits my shoulder when I have these on. (Evidence of this is in my YouTube video.)
I told myself I was going to wear these for a half hour before I made any decisions because I think they look so darn cool. But I made it 10 minutes before I had a headache. So, these earrings are sadly going back too.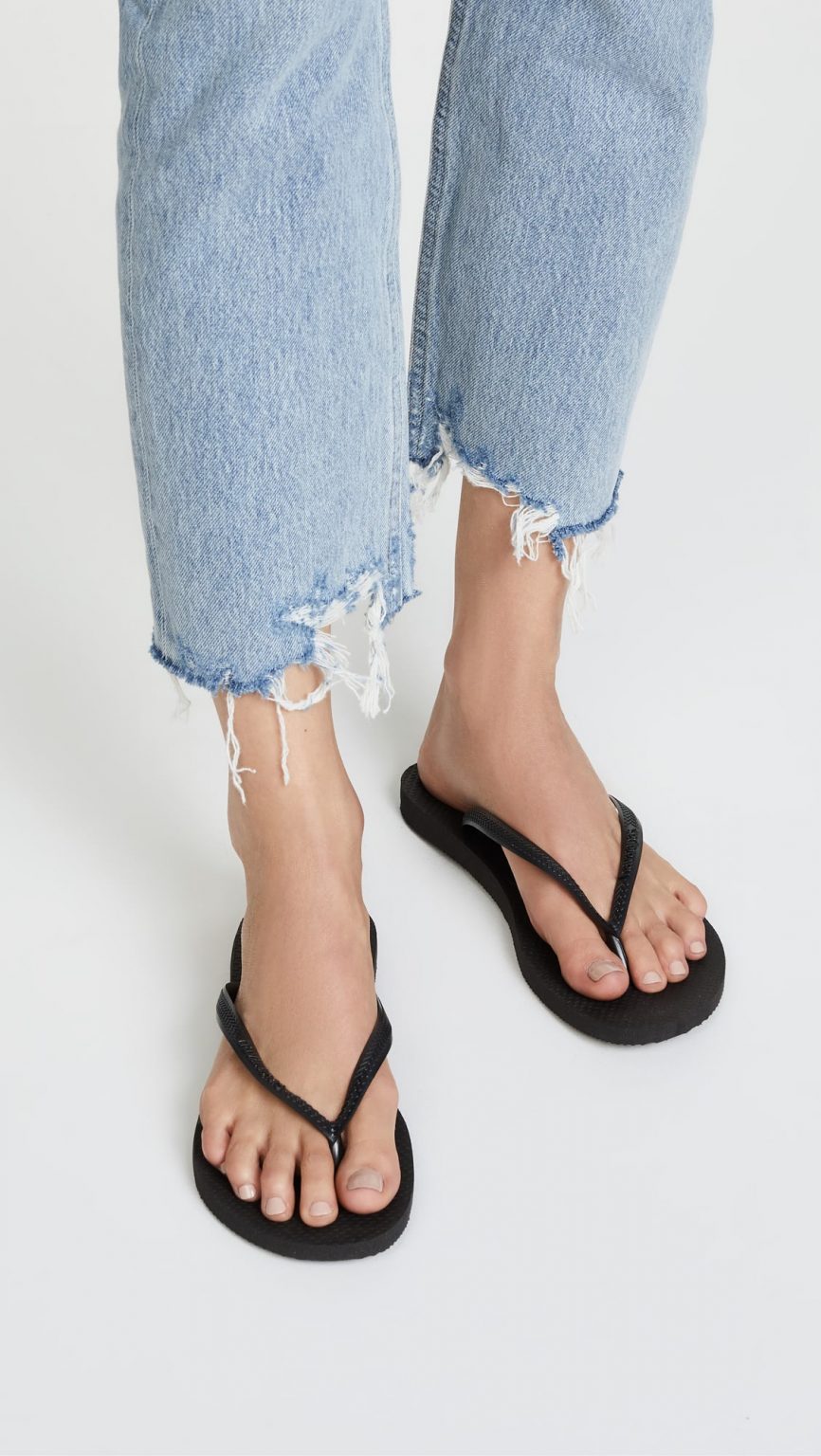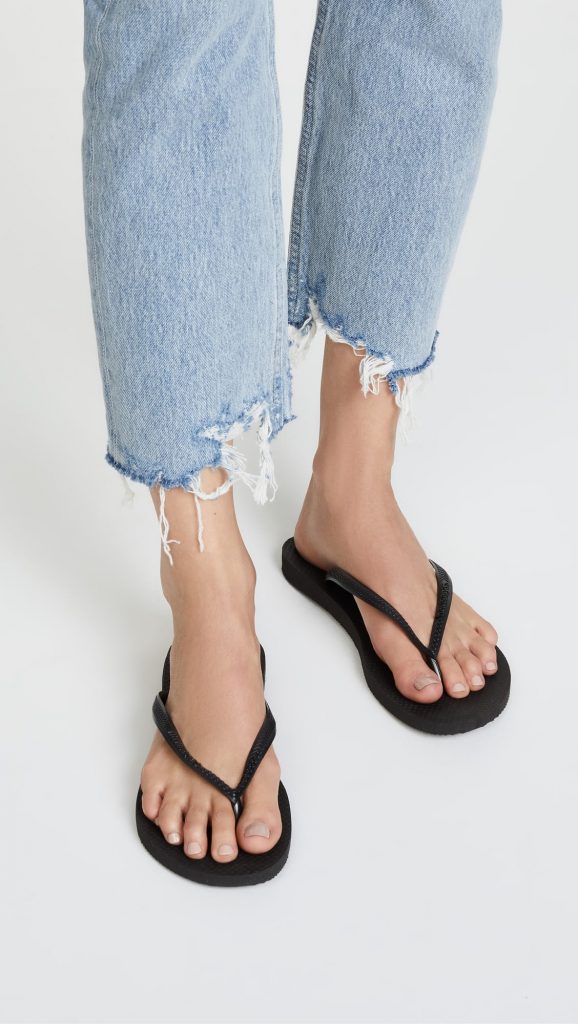 Then, I have these Havaianas flip-flops. I had received a pair as a gift from my friend in Brazil, and I absolutely loved them. Unfortunately, Buddy chewed them up on me! So, I ordered this pair from Shopbop to replace them.
I'll be keeping my Havaianas flip-flops… (You can't really screw up rubber flip-flops.)
Shopbop Return Process
I returned the Kenneth Jay Lane earrings to Shopbop. This was also a bit of an ordeal too. A full week had gone by since I had received an email confirmation stating that Shopbop had received the earrings, and they were processing my return… and I still hadn't heard anything back since that initial email.
So, I sent them an email asking what the status of my return was, and they sent me an email back within a few hours to say "sorry" and that they would look into this. Then, they sent me an email the next day saying they had refunded the amount for the earrings to my bank account.
I just asked them what the delay was (as a full week seemed kind of long), and they said they were super backed up with orders right now, and they typically ask for 5 business days to process a return. So, my return had taken longer than was normal, and they were sorry.
IMPORTANT: In order for your return to actually be "free", you have to send your Shopbop items back within 15 days, or Shopbop will charge you a $10 fee. You have 30 days total to send back items, but for the return to actually be free, they have to be sent back within 15 days.
Shopbop Exchange Process
So, I know I said I was going to exchange my Cult Gaia sandals – but little did I know, Shopbop doesn't actually let you exchange products. What they want you to do is just return the item, and then order the size, color, whatever, that you wanted.
BUT, I had bought these sandals on sale… and if I bought them now, I would have to pay full price. I did NOT want to do that.
So, I sent their customer service a quick email, just explaining the situation, and gave them my order number.
Again, I got an email back a few hours later, that was extremely apologetic about the whole situation. They then shipped me a replacement pair of sandals right then and there – even though I had yet to ship back the worn pair. I am VERY impressed with their customer service!
Oh, and you might be thinking too – well, Lindsey, you have a blog and now you also have a YouTube channel where you review clothing stores – OF COURSE they were nice to you. But, I promise you that I was using my personal email for this order, and has nothing to do with my blog or YouTube. I also didn't have an email signature – so, I was just another random Shopbop customer to them.
Again, I was very impressed by their customer service.
The Replacement Sandals Shopbop Sent Me
So, I have the new pair of sandals now – and I'm happy to say they were brand new when I took them out of the box. There was no scuffing or any part that was falling apart.
I also realized that whoever had the other pair of sandals before me had broken those sandals in… because despite these sandals being the exact same size… my wide feet had a bit harder of a time squeezing into them. I've been wearing them around my house to break them in!
Wearing my new Cult Gaia sandals – I love them so far!
But hey, at least I know they do eventually stretch with some wear. So, that was the upside to getting those used sandals the first time around!
Overall, I am super happy with these replacement sandals – I can't wait to get some more use out of them this summer. I am very glad Shopbop was able to easily resolve this issue for me.
Bottom line: I am willing to try shopping on Shopbop again. Despite getting off to a bumpy start with them, I was really impressed with how their customer handled this situation. They were phenomenal. I really appreciated it, and look forward to trying them again in the future.
If anyone has any questions about Shopbop or this Shopbop review – please reach out in the comments section at the end of the post.