Is Mytheresa Legit? My Honest Mytheresa Review (With Photos + Video)
Are you wondering if Mytheresa is legit? This post is my honest review of Mytheresa after spending thousands of dollars with this online retailer. If you are wondering whether Mytheresa is selling fake designer items, what their shipping and return policy is, and whether or not I recommend shopping on Mytheresa… this is the post for you.
What is Mytheresa?
Mytheresa is an online luxury fashion store that is based in Germany. They feature a variety of designer clothing, shoes, handbags, and jewelry for women, men, and children. Designers they feature range from Valentino to Dolce & Gabbana, Gucci, Balmain, and beyond.
*Disclosure: some of these links are affiliate links. Meaning, if you click a link and make a purchase, Have Clothes, Will Travel gets a very small commission at no extra cost to you. Thank you for supporting the brands that make this blog possible!
My Honest Review of Mytheresa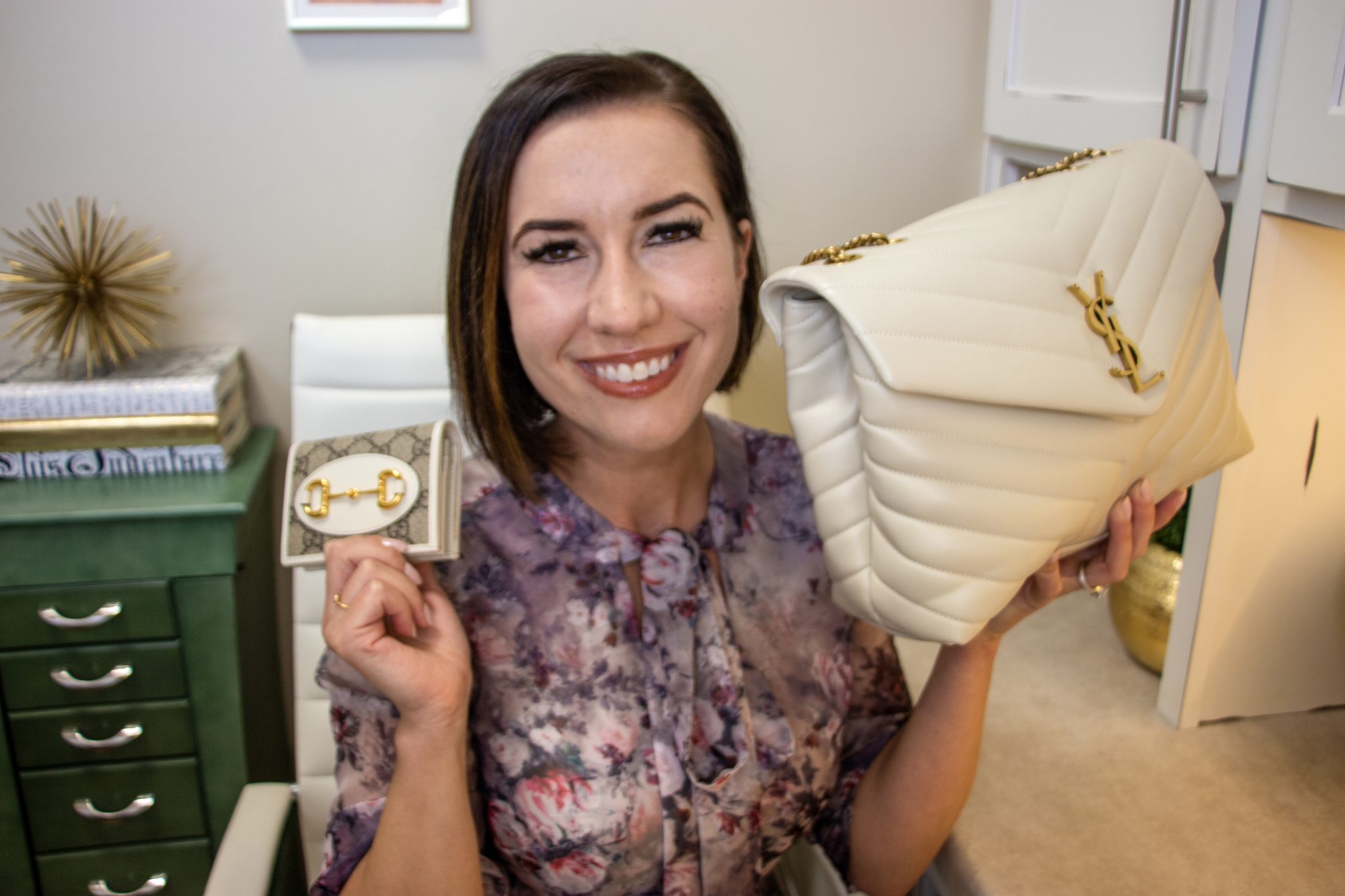 I recently ordered from Mytheresa because they had the color and size I was interested in for a designer handbag, and they are supposed to have really fast shipping, as well as free returns.
I live in the middle of nowhere in Wisconsin, USA, and we do not have stores near where I live that sell luxury handbags. So, I order items like this online.
I ordered a couple of things from MyTheresa. I ordered the YSL Loulou in small (above) and a Gucci horse-bit leather-trimmed wallet (above).
Ordering From Mytheresa – My Experience
Shopping on the Mytheresa website was incredibly easy and straightforward. I already knew exactly what I wanted for a handbag, as I've been researching the YSL Loulou for ages. But I was having a harder time finding a wallet I liked to match it.
Mytheresa's website did make it easy to search for the color and size of wallet I had in mind. I was able to find my perfect wallet without any issues!
Then, when I went to check out, the total price included all duties and taxes. So, there weren't any extra fees after it shipped from Germany to my address in the US.
I also received an order confirmation in my email immediately after checking out.
WATCH MY MYTHERESA REVIEW + UNBOXING
Check out my MYTHERESA video for a more in-depth look at this website + the items I ordered.
How long does shipping take for Mytheresa?
It took less than a day for Mytheresa to then pack my order and ship it.
My order shipped from Germany. I opted for FedEx as the shipping carrier, DHL was also an option I could have chosen.
Shipping with Mytheresa is supposed to take 3 days. However, the site had a disclaimer before I checked out saying that they were experiencing some shipping delays and that my order would be delayed up to 1 business day.
I'm not sure what happened (the tracking info just said "operational delay"), but my order was indeed delayed. It was also over a weekend, so I had to wait an additional 2 days. However, the package did arrive promptly on that Monday – which made it 1 business day late. So, their shipping estimates are spot on.
Make sure someone is home to sign for your package!
It's also important to note, that you (or someone) will have to sign for your Mytheresa package. They won't leave it without a signature!
My Mytheresa Order
Also, just a heads up, when you check out on Mytheresa you have the option to choose to have your order packaged in one of their signature yellow boxes, or you can choose their "eco-friendly" box option, which is just a plain box. See the photo below.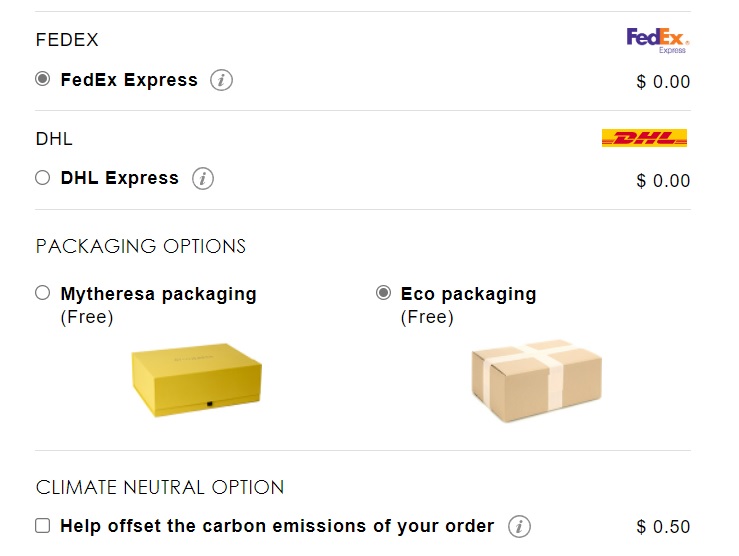 I saw "eco-packaging" and just went with that. I included a photo gallery of this below, and you can see my unboxing in my Youtube video if you're interested.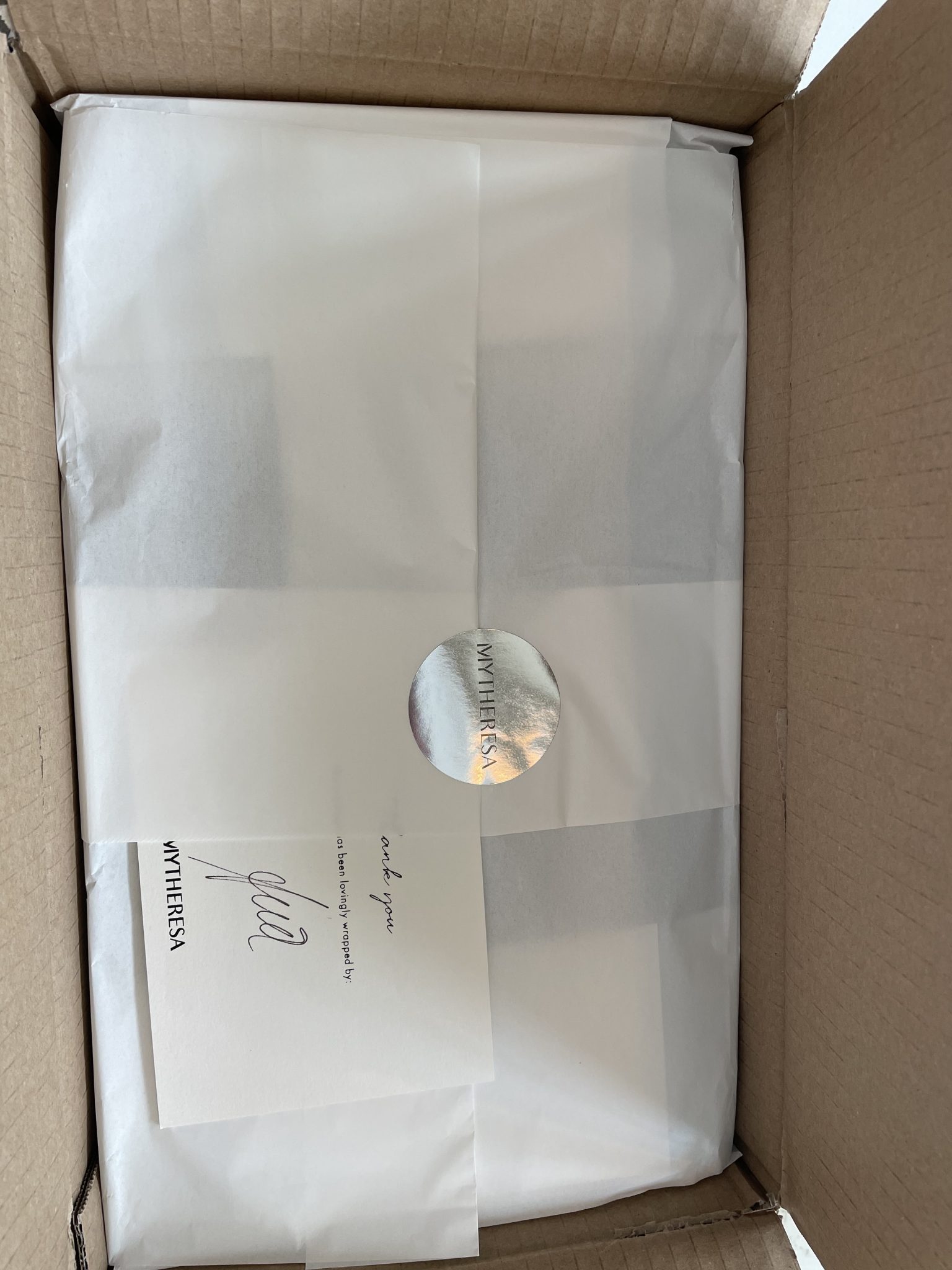 Despite not having the signature yellow box, the packaging was very nice. They had a nice card inside, along with a cute folder with a quote that had all of the return paperwork and shipping labels inside. Everything was packaged with care too.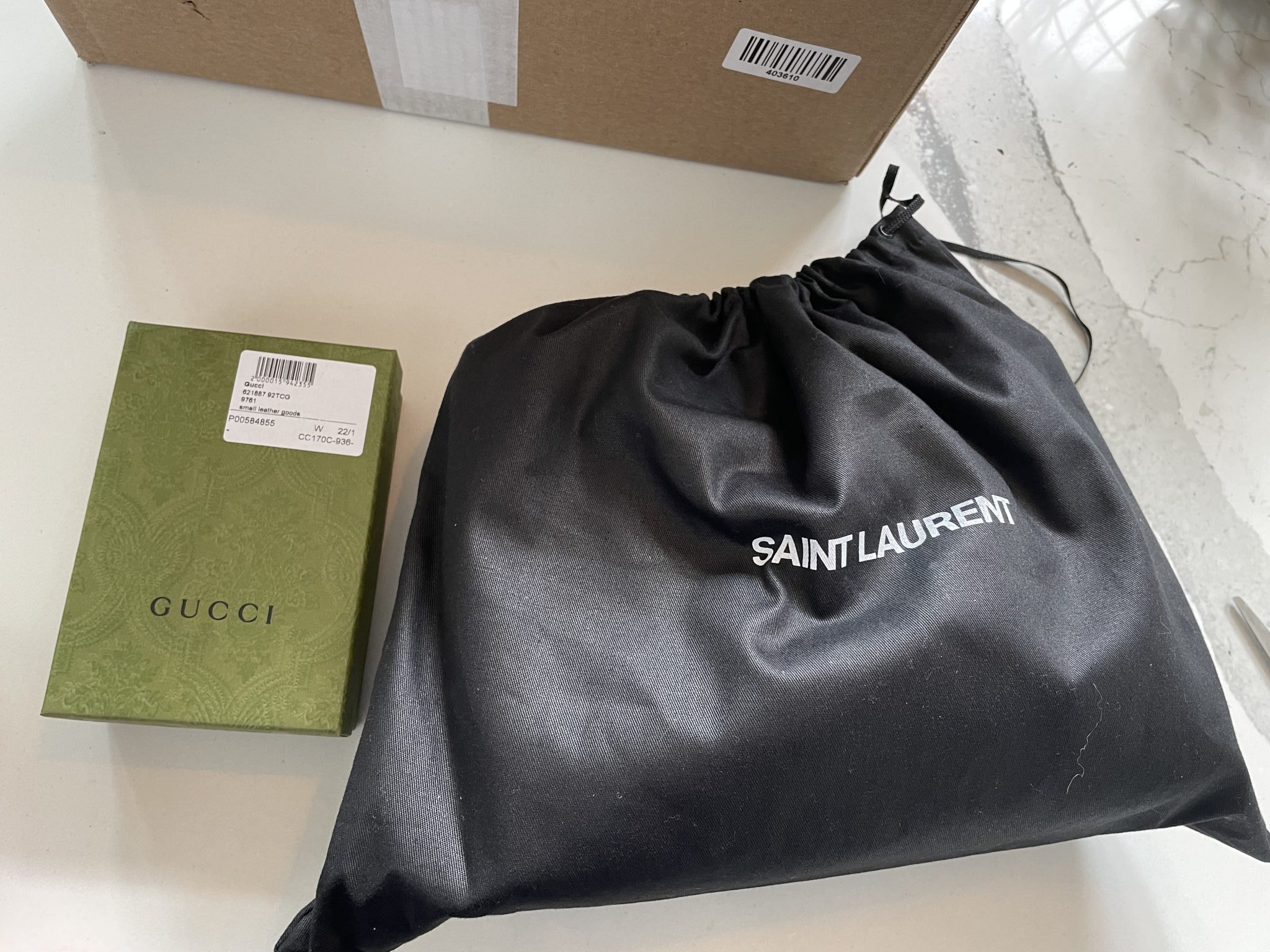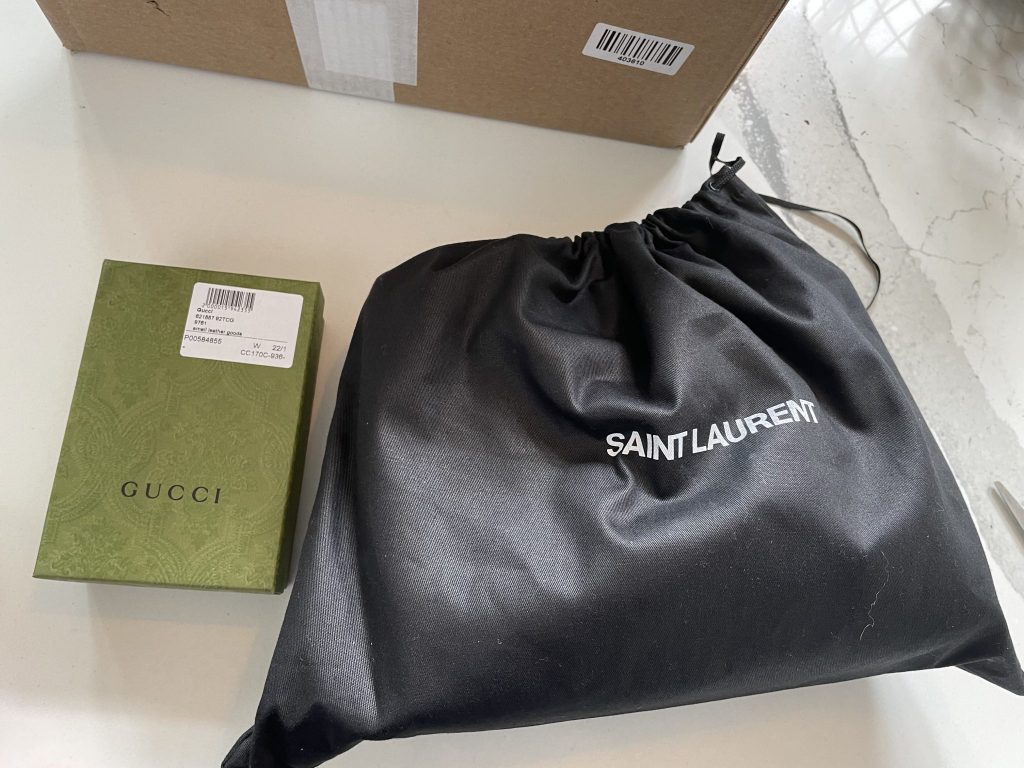 Each item also came with its own dust cover and authenticity paperwork. The Gucci wallet also came with its designer box.
However, I do want to point out, that they did not send a YSL box. I believe this is the case no matter which online retailer you order a YSL bag from, though (unless you order directly from Saint Laurent). So, this isn't just Mytheresa that doesn't include the box – Neiman Marcus, Nordstrom, Farfetch, etc. also do not include the YSL box with their order. (I point this out because I've seen quite a few upset reviews online regarding this!)
So, the YSL Loulou was my first luxury bag purchase. I have been thinking about this and researching it for forever and the Loulou is the bag for me – it will be getting its own review post once I get to use it some more.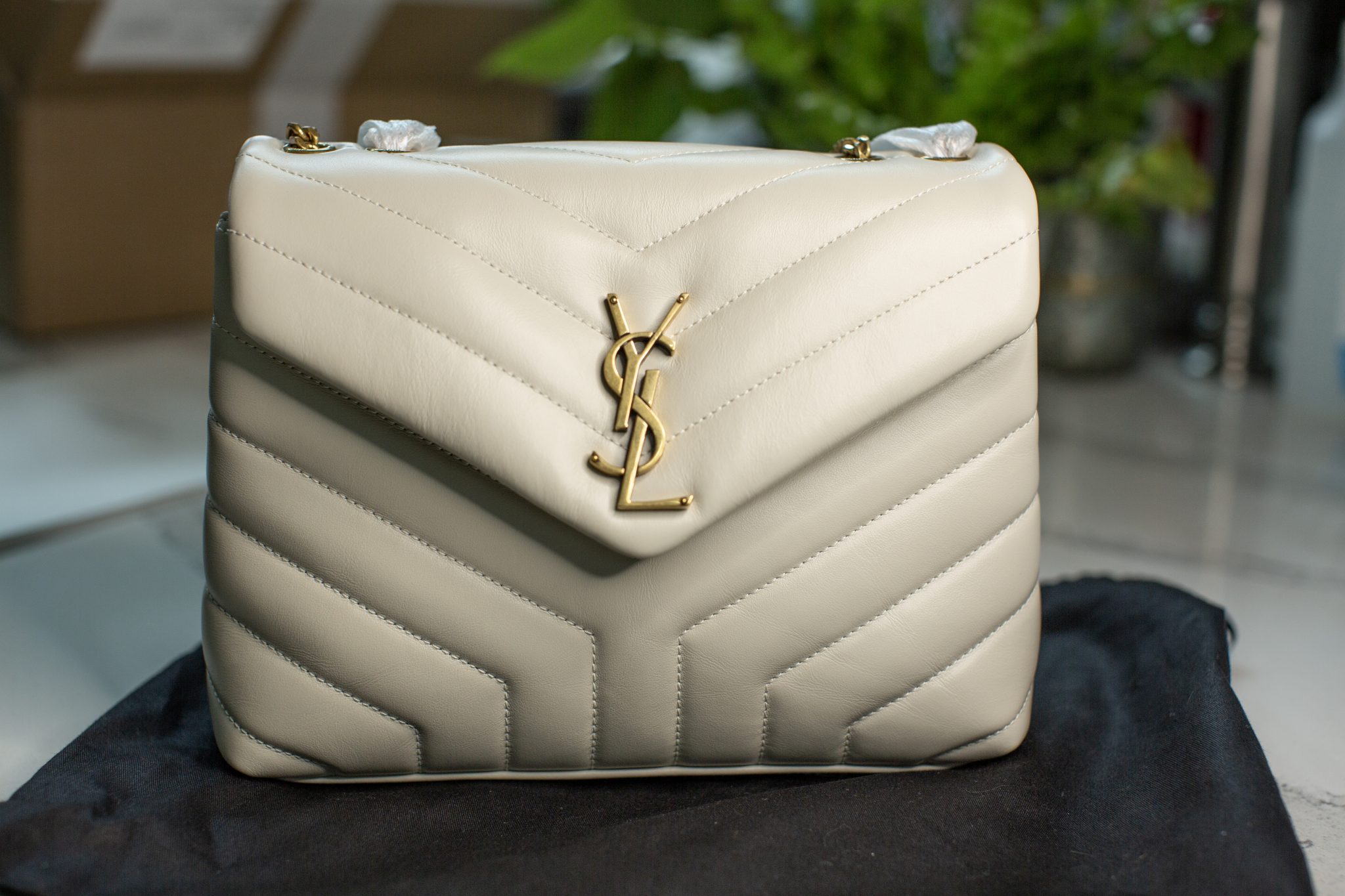 But I didn't know if I wanted the Loulou in a small or a medium – so, I ordered both sizes to compare them. I had a feeling the medium was going to be more of the size I was looking for, but when making this big of a purchase, I wanted to be 100% sure. So, I also ordered the Loulou in medium from Neiman Marcus. (Mytheresa didn't have the color I wanted in the medium at the time I had ordered.)
Mytheresa has free returns, so I felt confident that if the small didn't work for me I could easily return it.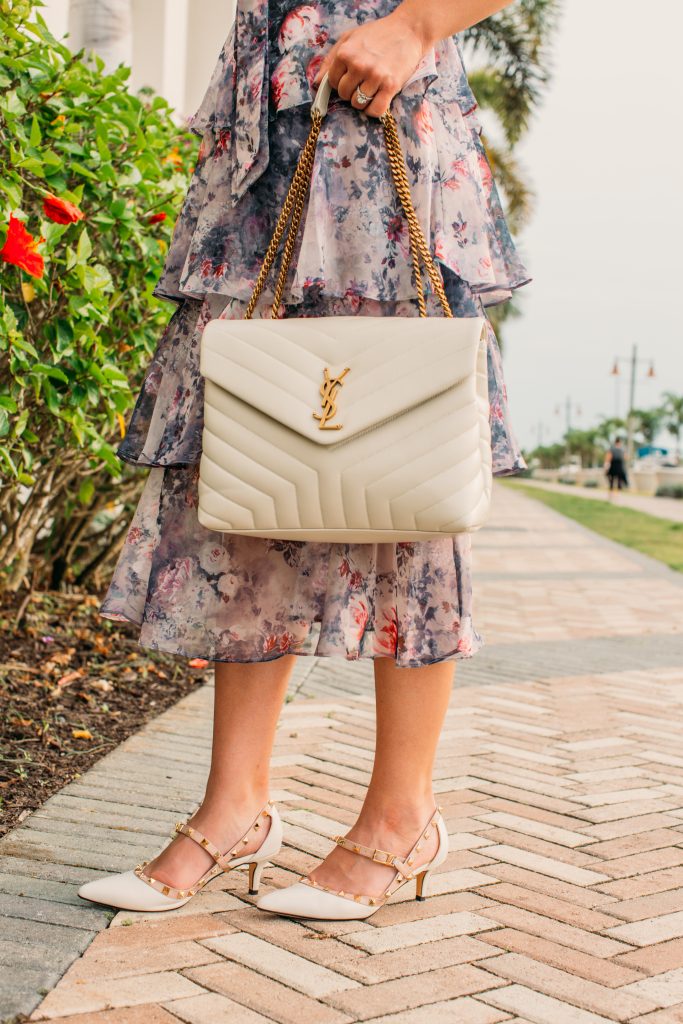 So, after seeing these bags side by side, I knew the medium was what I wanted for sure. What can I say, I like big bags!
Does Mytheresa Sell Fakes?
Because I had also ordered the YSL LouLou from Neiman Marcus, this gave me a chance to compare the two bags side by side to see if there were any noticeable differences. (This is easier to see in my YouTube video.)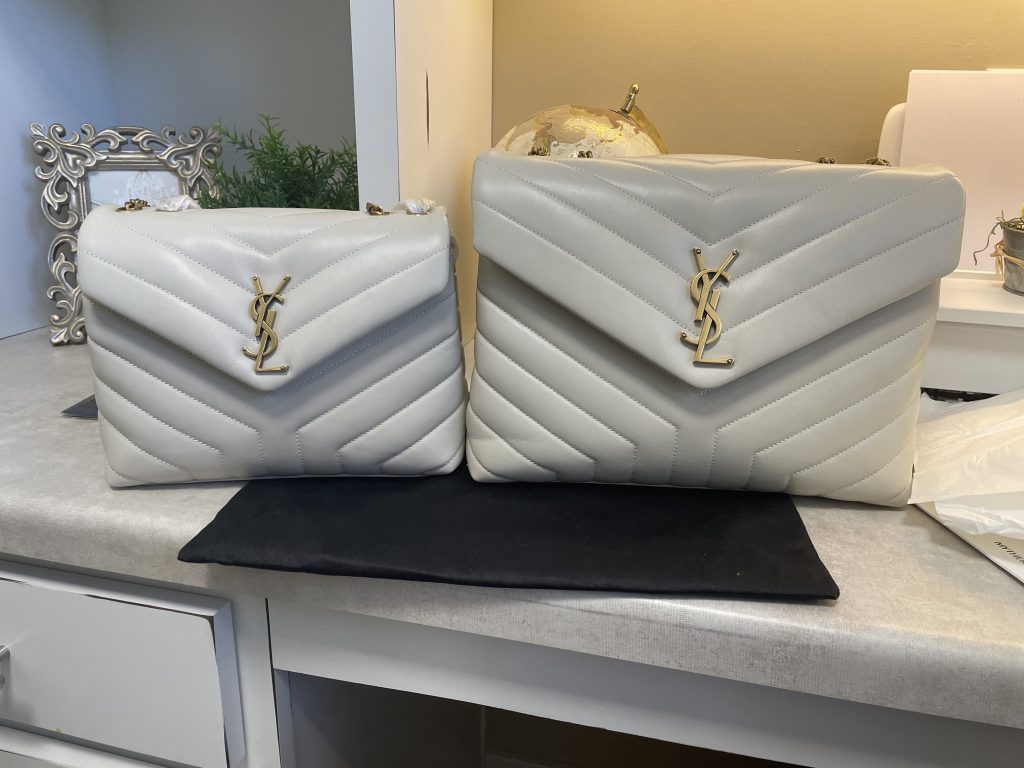 They look identical to one another, except one is smaller. The hardware, the stitching, the leather, the color, the authenticity paperwork – it all looked the same with these bags.
There is also absolutely nothing to suggest that my Gucci wallet is not authentic. The quality is amazing, and it came with all of the authenticity paperwork and tags.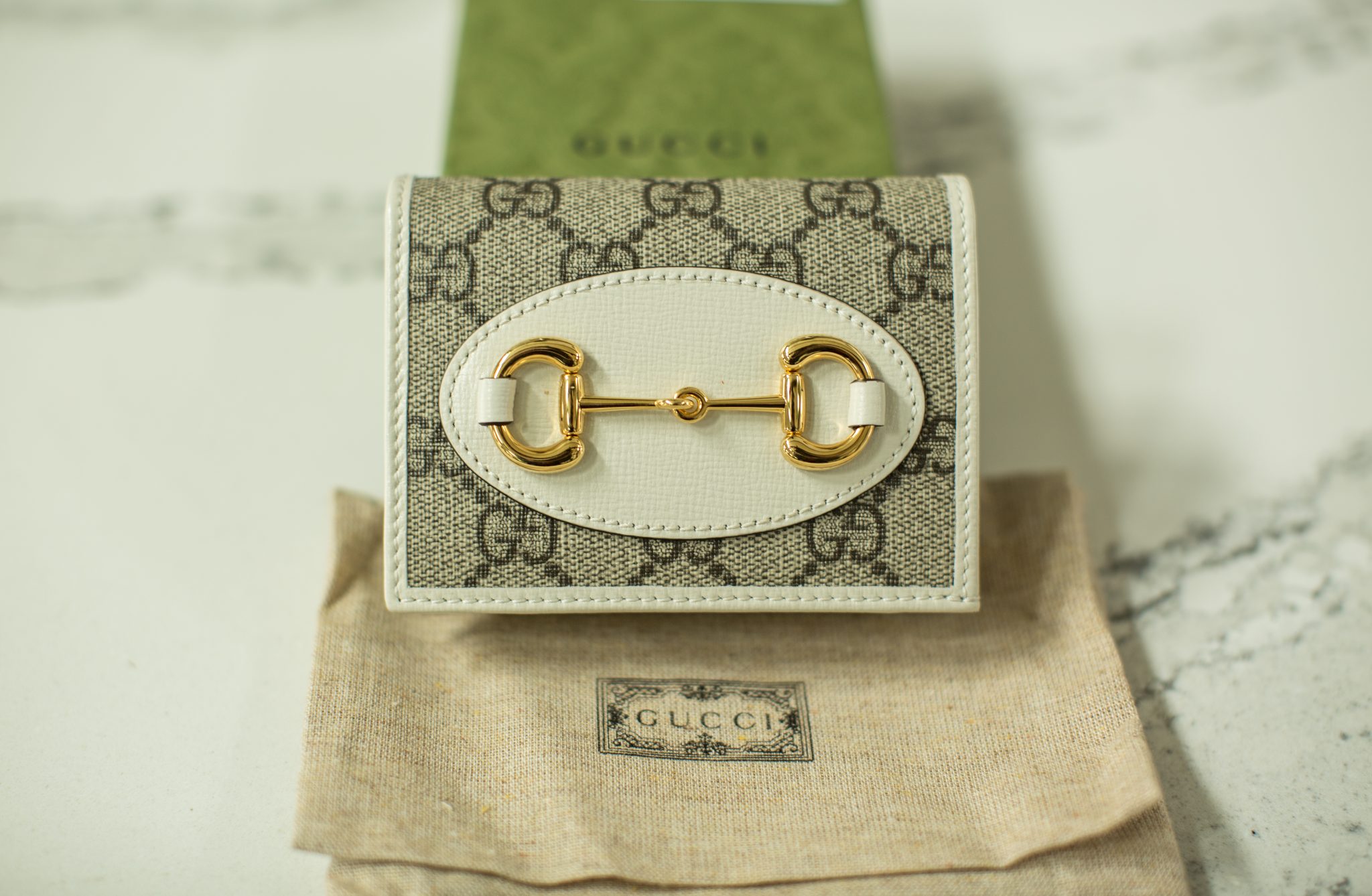 I think it's safe to say MyTheresa is absolutely selling authentic luxury items. These are not fakes by any means.
Mytheresa Return Process – My Experience
So, I ended up returning the small YSL Loulou, but I did keep the Gucci wallet. I love it! It's exactly what I was looking for and will match and fit in the other handbags I have.
I dropped off the YSL Loulou at my local FedEx Friday night just before they closed.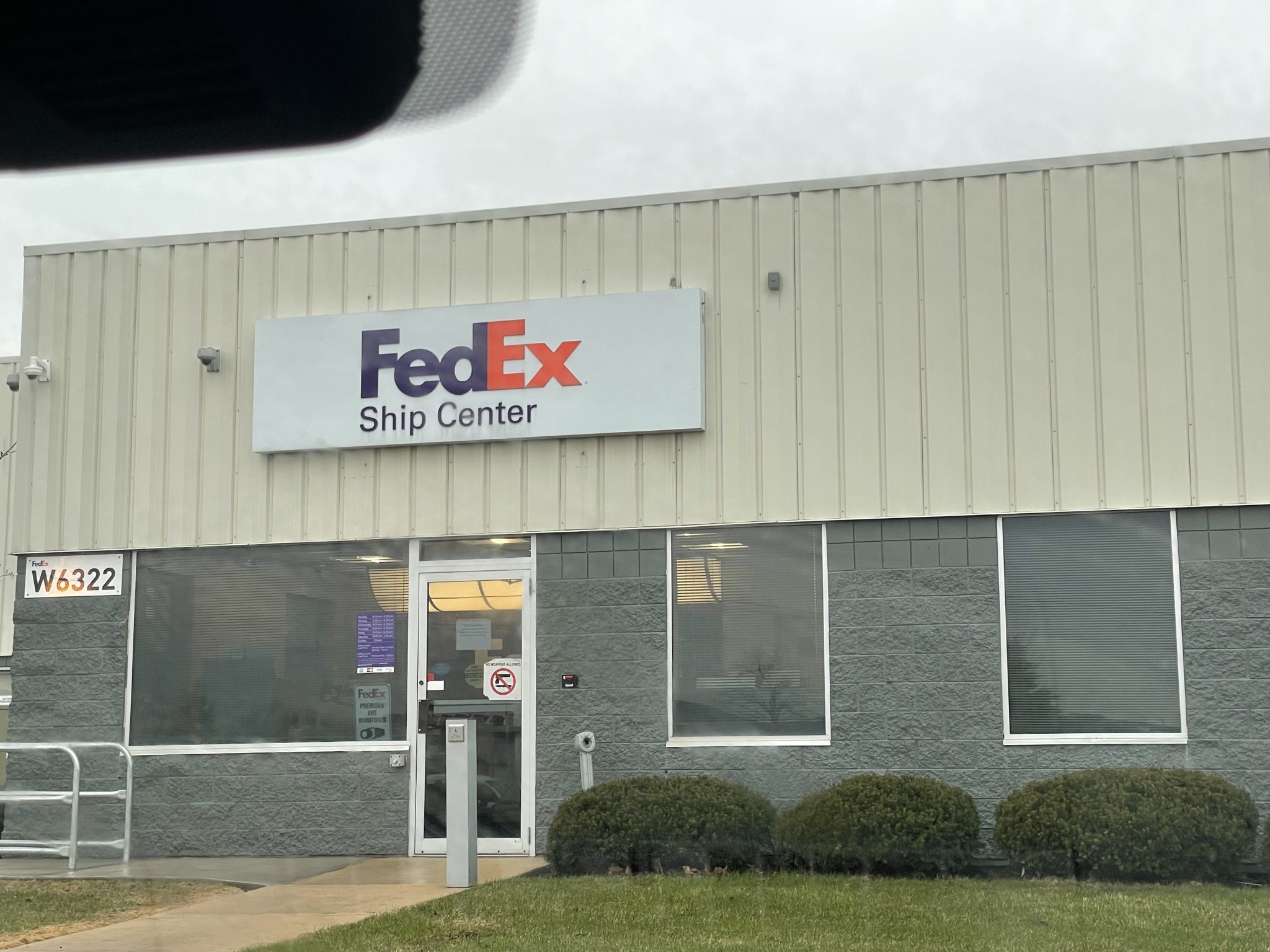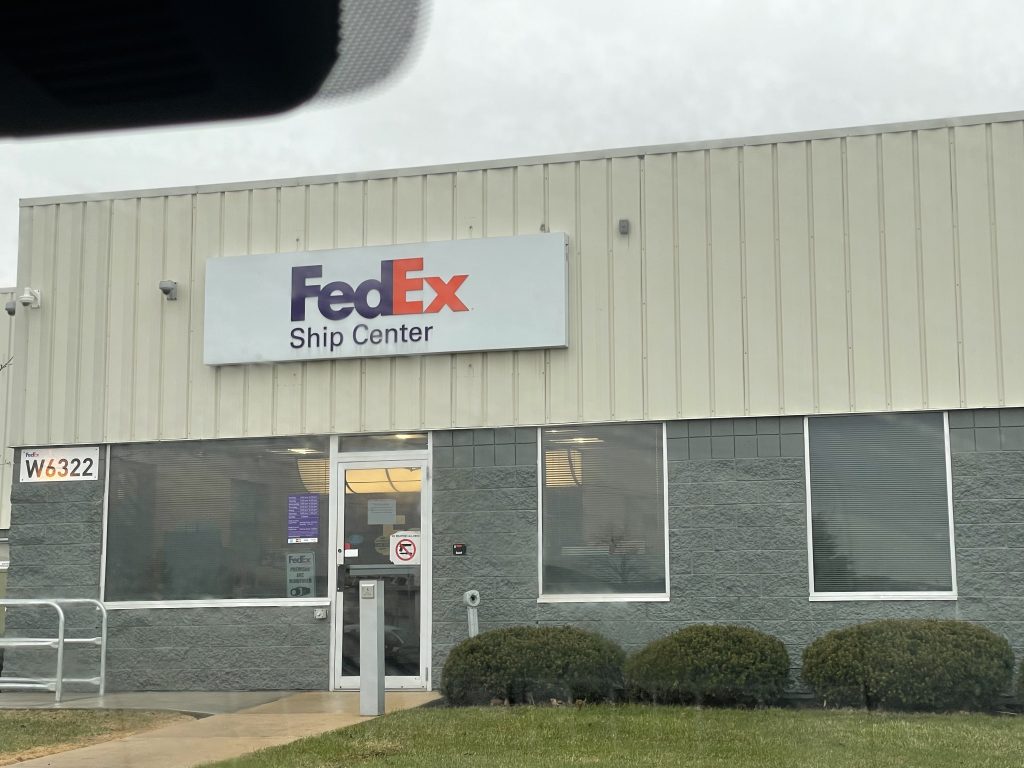 Mytheresa had me fill out a few simple forms that I had to attach to a clear envelope to the outside of the package. (FedEx helped me with this, and it was super easy.)
The return package was in Germany by Monday and made it through customs and everything with no issue. Mytheresa sent me an email on Wednesday letting me know they were processing my return. Then I had an email and refund by Friday morning.
So, it took less than a week from the day I dropped my package off at FedEx to the day my refund was in my bank account. I was impressed! That was a fast turnaround time, especially given that it was going from Wisconsin to Germany.
So, Is Mytheresa Legit?
Yes, Mytheresa is legit. They are selling authentic designer items and their shipping and returns are incredibly efficient and fast.
I also appreciated how well my items were packaged, and that Mytheresa was sending me emails at every step of the buying and return process. Given that this was my first luxury handbag purchase, I was pretty darn nervous! So, having the level of communication that Mytheresa was providing was really important to me.
Bottom line: I 100 percent recommend Mytheresa. I will absolutely order from Mythersa again.
Thank you so much for reading this Mytheresa review post. If anyone has any questions please feel free to reach out in the comments section at the end of the post.
WATCH MY MYTHERESA REVIEW + UNBOXING
Check out my MYTHERESA video for a more in-depth look at this website + the items I ordered.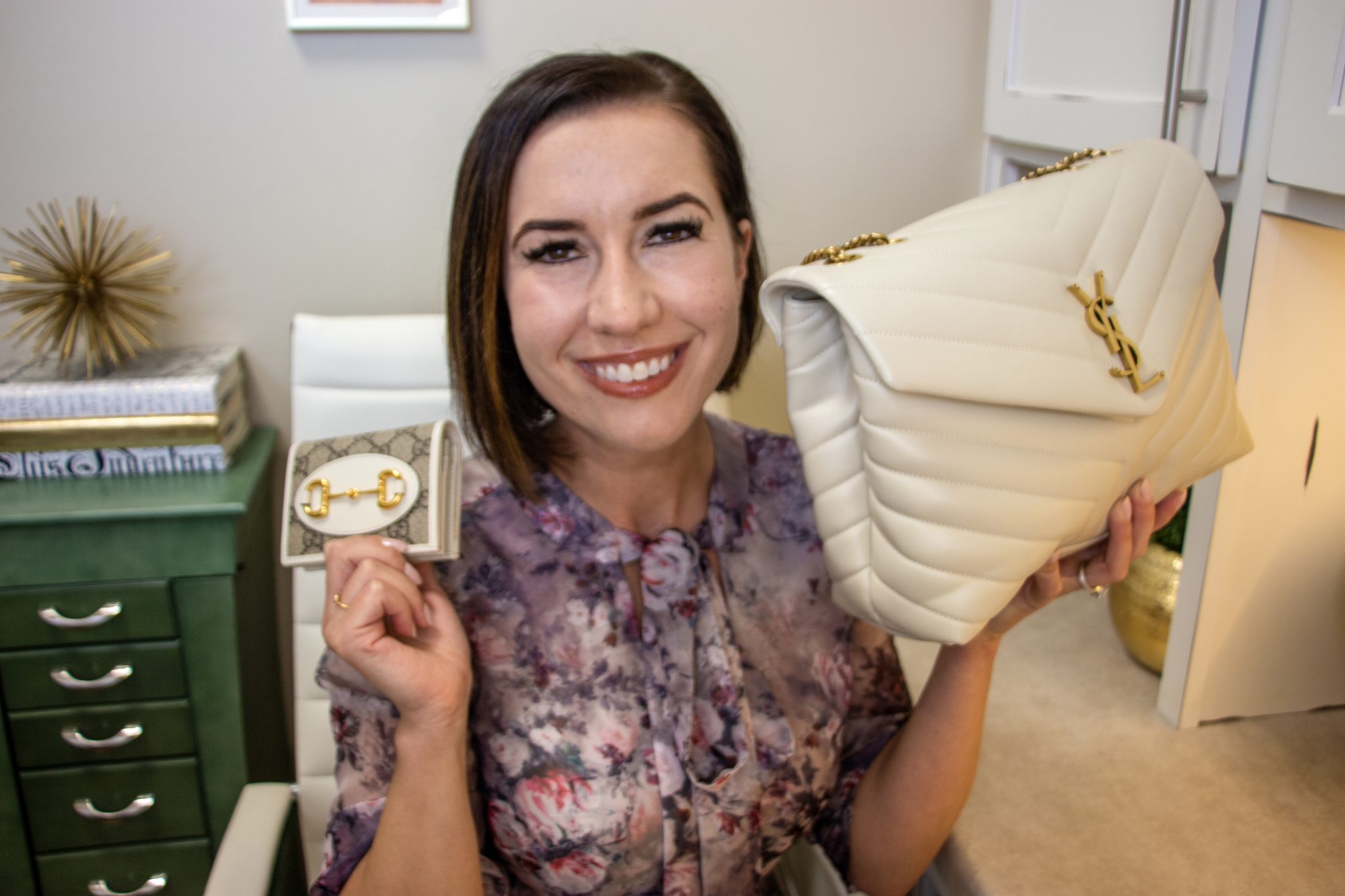 If you're interested in any of the items from my YouTube video, please check out the links below.
Clothing
My 1st dress in the video (mauve floral) via Marchesa Notte (Use code CLOTHES for 20% off your Marchesa order + free shipping!)
My 2nd dress (grey Megan dress) via Karina Dresses
YSL Cardholder (Color on video sold out)
2D Jump From Paper bag (sold out, similar options)
Black Kate Spade chain wallet
Office stuff
Books (sold out, similar option)
Jewelry armoire (sold out, similar option)