16 of the Best Quiet Luxury Handbags That Are Understated & Stylish
Have you ever heard the term "quiet luxury"? Whether you have or you haven't you might like to know what it means! Quiet luxury is a way of showing off one's wealth and success, but in a very subdued manner.
When you see these types of luxury items you know that someone has spent a fair amount of money on them. However, quiet luxury means that while tasteful and recognizable, the items aren't boldly emblazoned with the brand or designer's logo.
Quiet luxury, occasionally referred to as "stealth wealth" replaces prominent branding and logos with quality craftsmanship, stylish but timeless designs, and luxurious materials. While these handbags may not be "branded" those who know fashion will be able to recognize them quickly because of their high-quality details. This includes items like signature clasps or unique silhouettes that "show" the brand inconspicuously.
These items are tasteful and timeless and not boldly in your face, like some luxury items. The term "quiet luxury" has become more popular in the wake of the wildly popular HBO series Succession, which features loads of quiet luxury shoes, handbags, and clothing.
Now, let's take a look at some of the best quiet luxury handbags that you can add to your collection.
*Disclosure: Have Clothes, Will Travel uses affiliate links. Meaning, if you click a link and make a purchase, Have Clothes, Will Travel gets a very small commission at no extra cost to you. Thank you for supporting the brands that make this blog possible!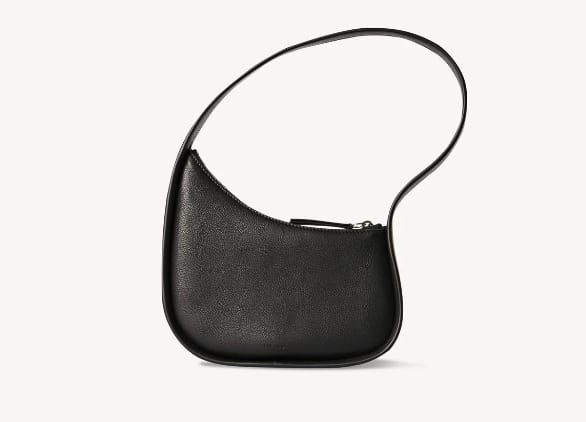 The Row Half Moon Bag
This luxurious handbag is made of buttery soft Italian leather and has a sleek and timeless asymmetric silhouette perfect for an evening out. The looping shoulder strap makes carrying the items you need for an evening out easy. The bag has a zippered closure and the interior of the bag is lined with suede leather. This luxury handbag is available in both black and white leather.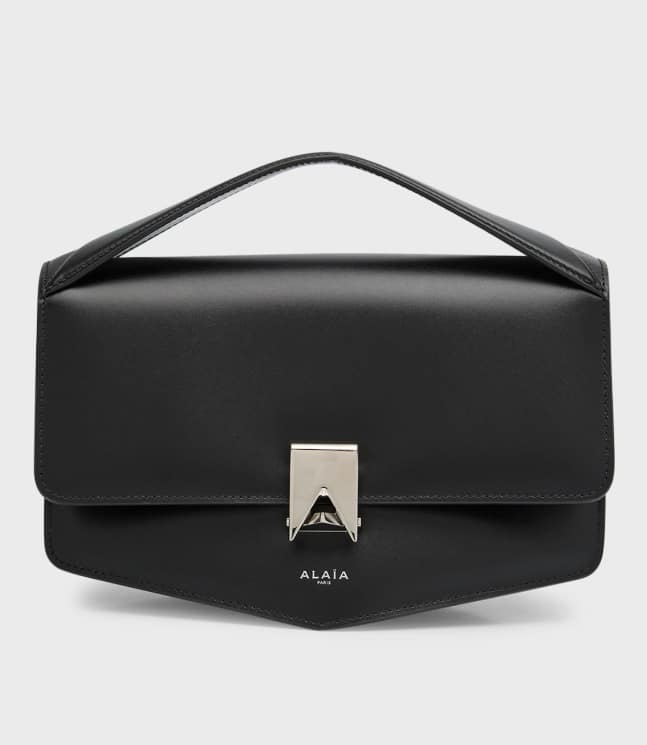 ALAIA Le Papa Top-Handle Bag
This top handle bag is made from soft calf leather and has a push lock top closure. There is a divided interior lined with suede so that you can find the items you need quickly and a back slip pocket.
This bag can be carried by its top handle or worn in cross-body fashion with the included detachable leather strap. This purse is available in both ivory leather with a gold closure, or black leather with a silver closure.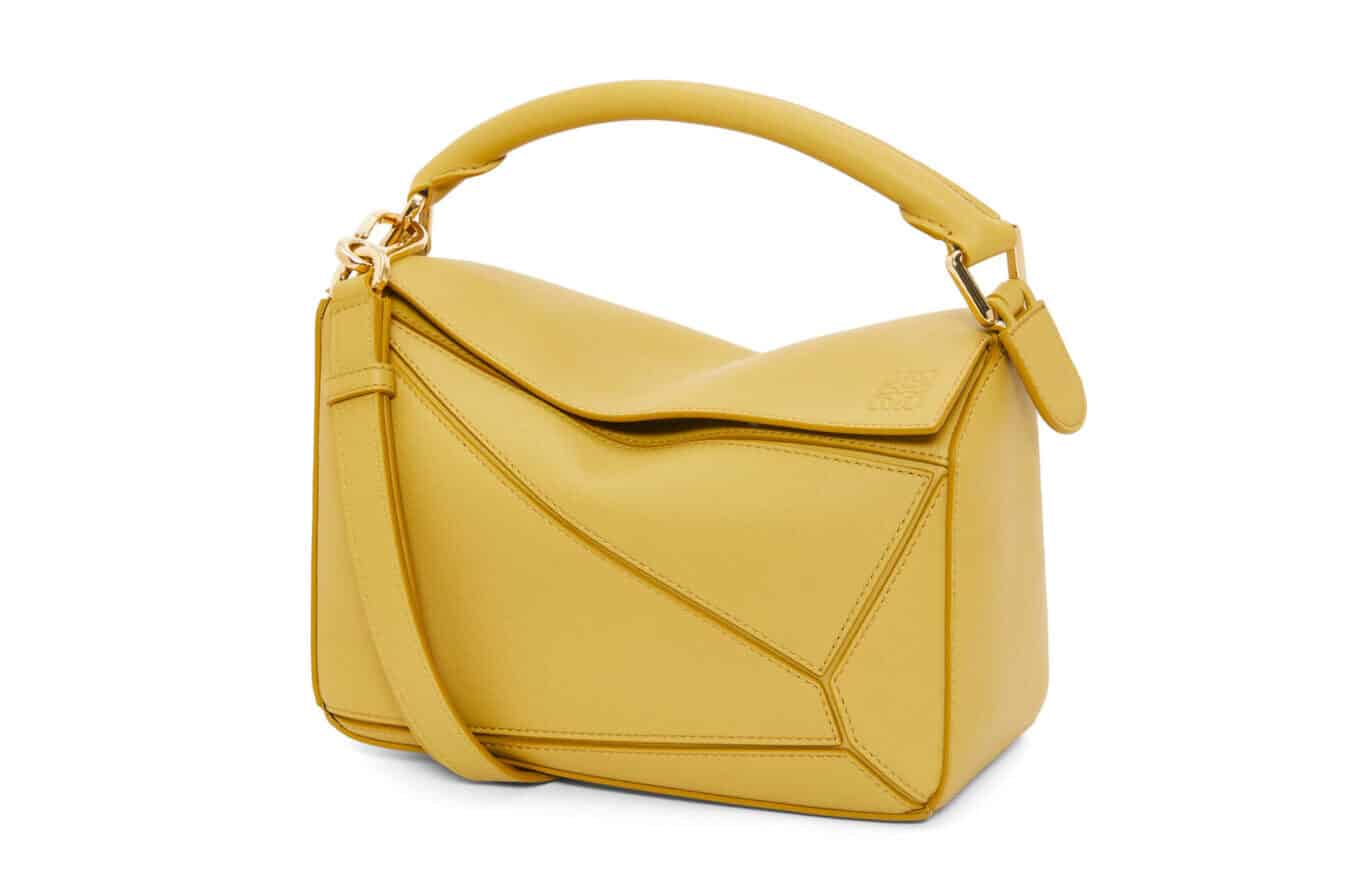 LOEWE Small Puzzle Bag in Classic Calfskin
This is a small bag with a lot of room inside! Made with a cuboid shape from calfskin, this is the debut bag of creative director Jonathan Anderson. This bag has very distinctive geometric lines and the purse can be carried as a crossbody, clutch, or a top-handle.
The lining is made of herringbone cotton canvas, and the roomy interior can hold a wallet, cell phone, sunglasses, and other small personal items. The bag has a zippered closure, an adjustable and removable shoulder strap, an interior slip pocket, and an external zip pocket on the backside. You can get this in seven colors including wild berry, orange, black, and pearl gray.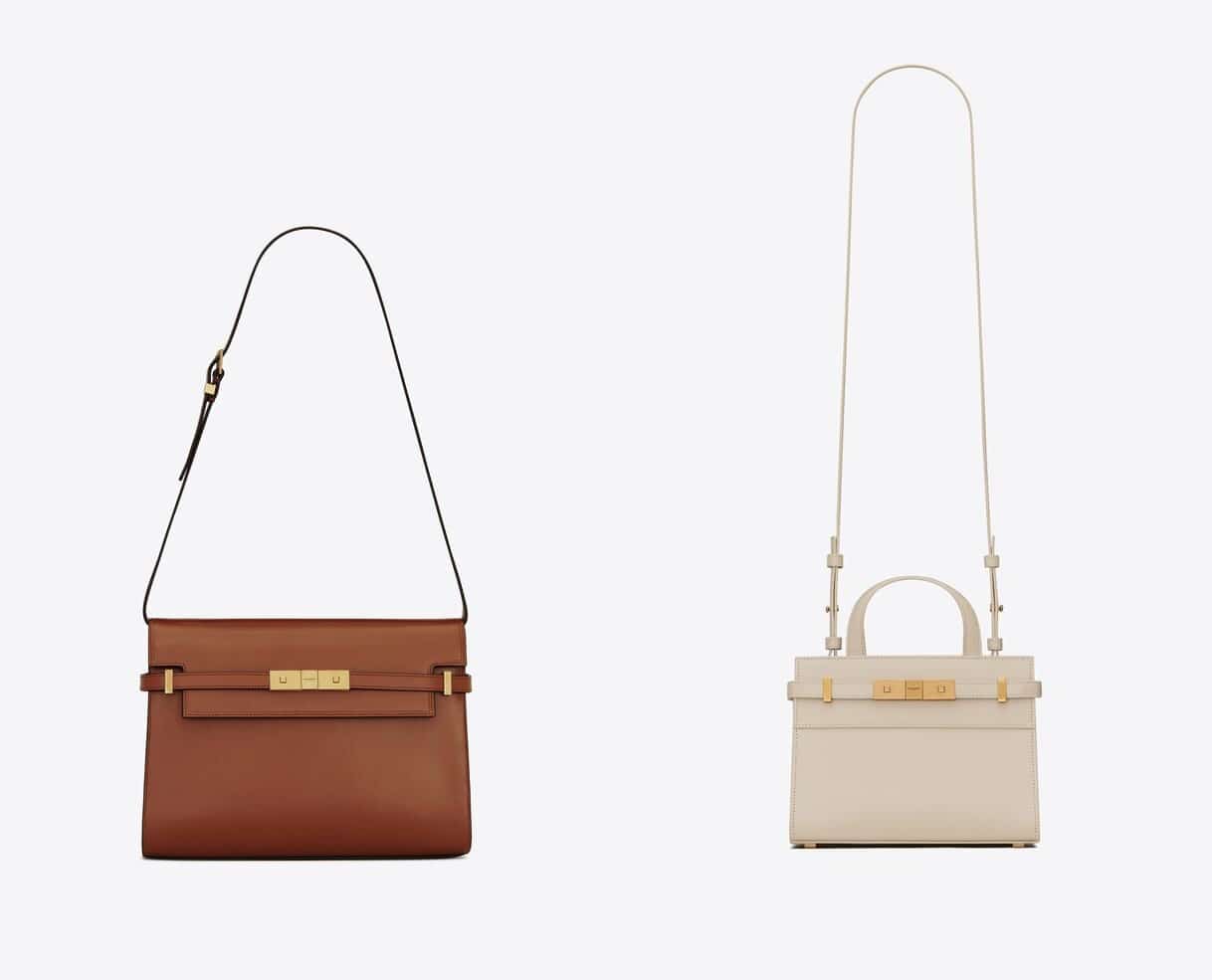 Saint Laurent Manhattan Shoulder Bag in Box Leather
This Saint Laurent quiet luxury handbag is made from calfskin leather with a single interior compartment with one flat pocket. The interior is leather lined with a magnetic metal closure. There is an adjustable and removable leather strap, or you can carry this purse as a clutch.
This medium-sized handbag can also be purchased in a small size, and there are seven different colors of leather bags to choose from. There are also larger bags in similar styles available in the Manhattan collection.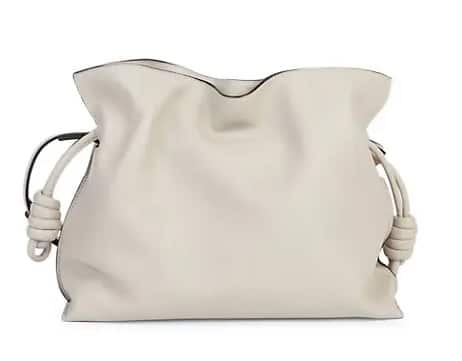 Loewe Flamenco Leather Drawstring Clutch
If you are looking for a unique quiet luxury handbag then you might enjoy this one. This clutch-style purse is made of leather with a drawstring top and an interior magnetic closure.
This bag comes in neutral and earth-tone colors, and it is designed to resemble the ruffled skirts of Spanish flamenco dancers. There is an adjustable, detachable shoulder strap so you can wear this purse in a variety of ways.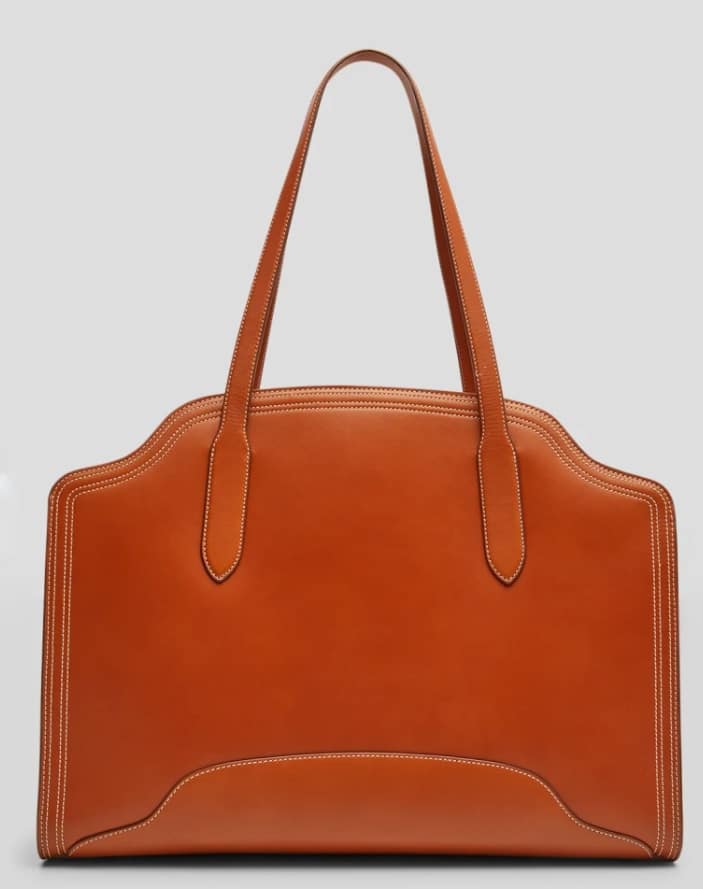 Loro Piana Alba Cabas Leather Handbag
If you are looking for a quiet luxury handbag that is perfect for work or travel that will stand the test of time then this bag is a good choice for you. The bag is made of tan calf leather and is a top carry purse with feet on the bottom.
The bag has contrast stitching, an exterior zippered pocket, an interior pouch, and an interior zippered pocket. The spacious interior is lined with leather, and the bag comes with logo charms and a key chain. This stylish bag will fit in anywhere.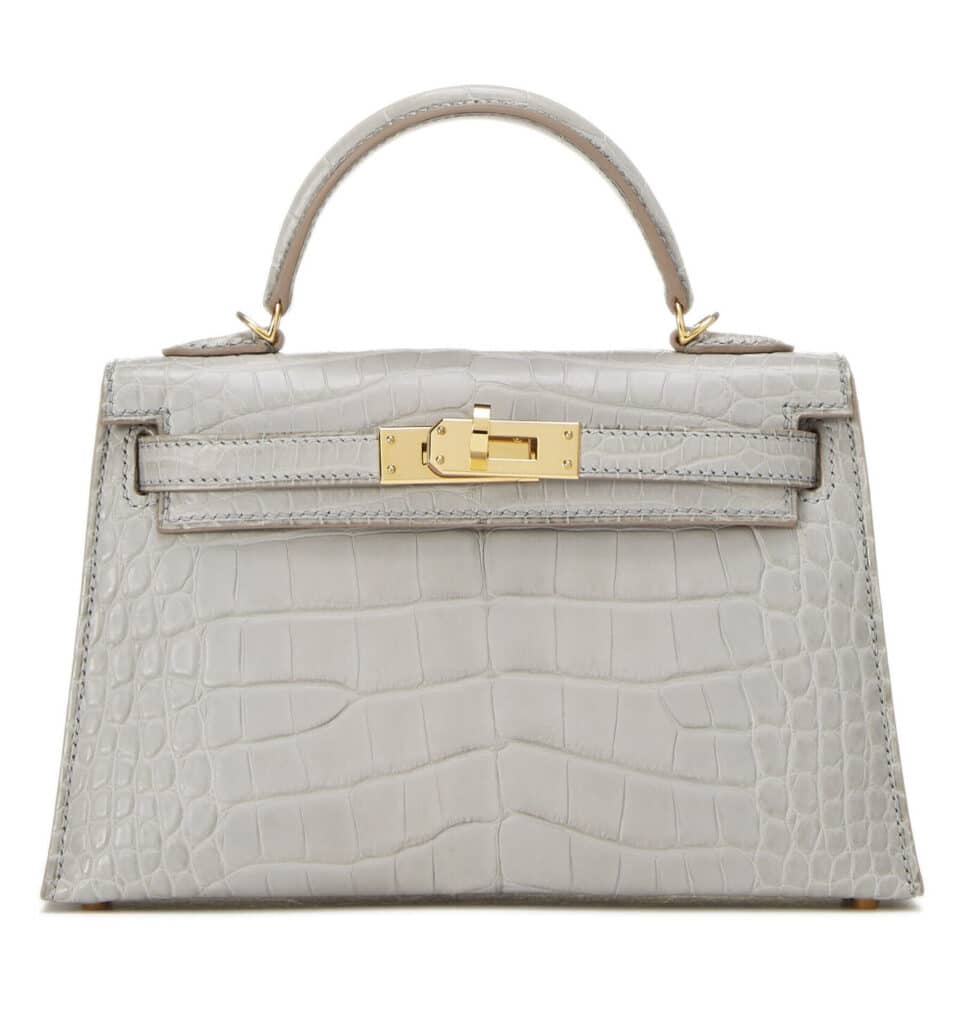 Hermès Kelly Bag
When it comes to quiet luxury handbags you can't go wrong with Hermès. The Kelly bag, originally named the Sac à Dépêches, was made famous by Grace Kelly. Kelly was an American actress and Princess of Monaco and the bag was a part of her wardrobe for the film "To Catch a Thief".
Each Kelly bag is handmade by one artisan and consists of 36 pieces of leather and 680 precision saddle stitches. The bag is classic and will be a staple of your wardrobe for years to come. The bag now comes in eight different sizes and a variety of colors, leathers, and skins.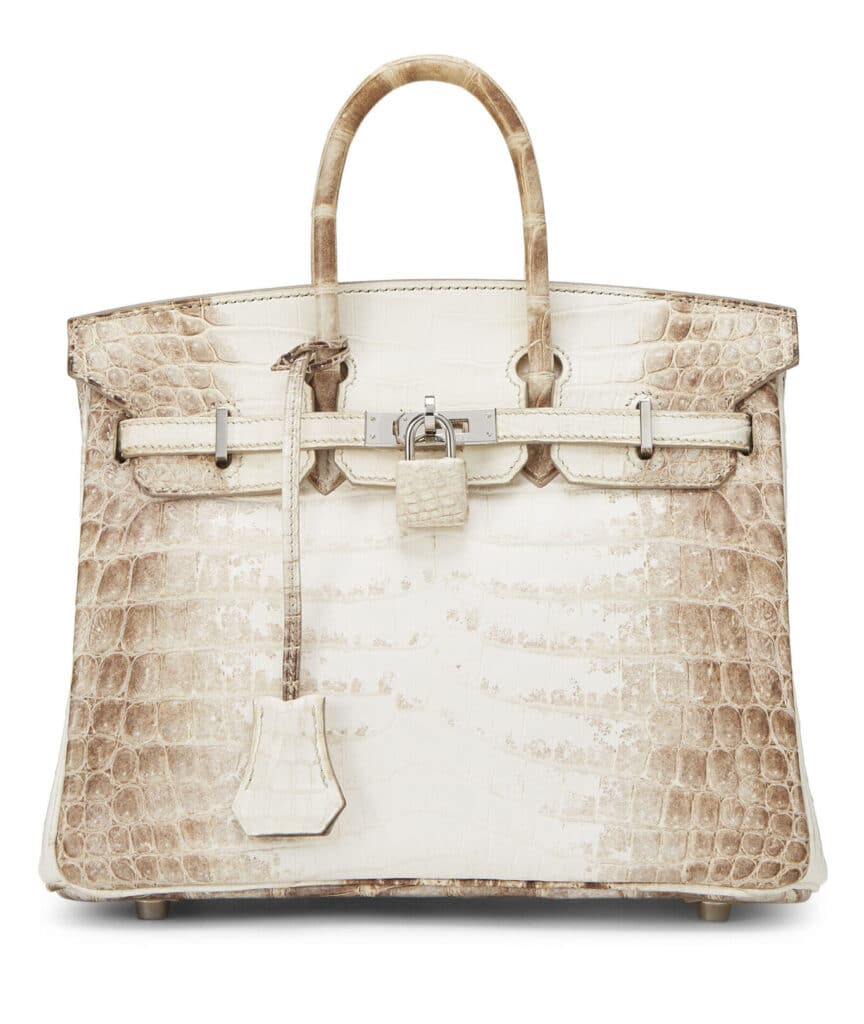 Hermès Birkin Bag
The Hermès Birkin bag is another classic quiet luxury handbag that was also inspired and named after an actress. As the story goes she was seated next to Jean-Louis Dumas on an AirFranceflight when the contents of her handbag spilled out.
Dumas told Birkin she needed a bag with pockets and she said the "day Hermès makes one with pockets I will have that" to which he replied, "But I am Hermès, and I will put pockets in for you". He then sketched out an idea for the bag on the plane, and Birkin received her bag in early 1984.
Birkin bags are some of the most highly coveted handbags in the world. Each bag is carefully handmade by a single artist with the very best materials. Today the Birkin bag is available in a variety of sizes, colors, finishes, and hardware.
Read next: 8 Affordable Birkin Bag Dupes and Look-Alikes You Can Buy Online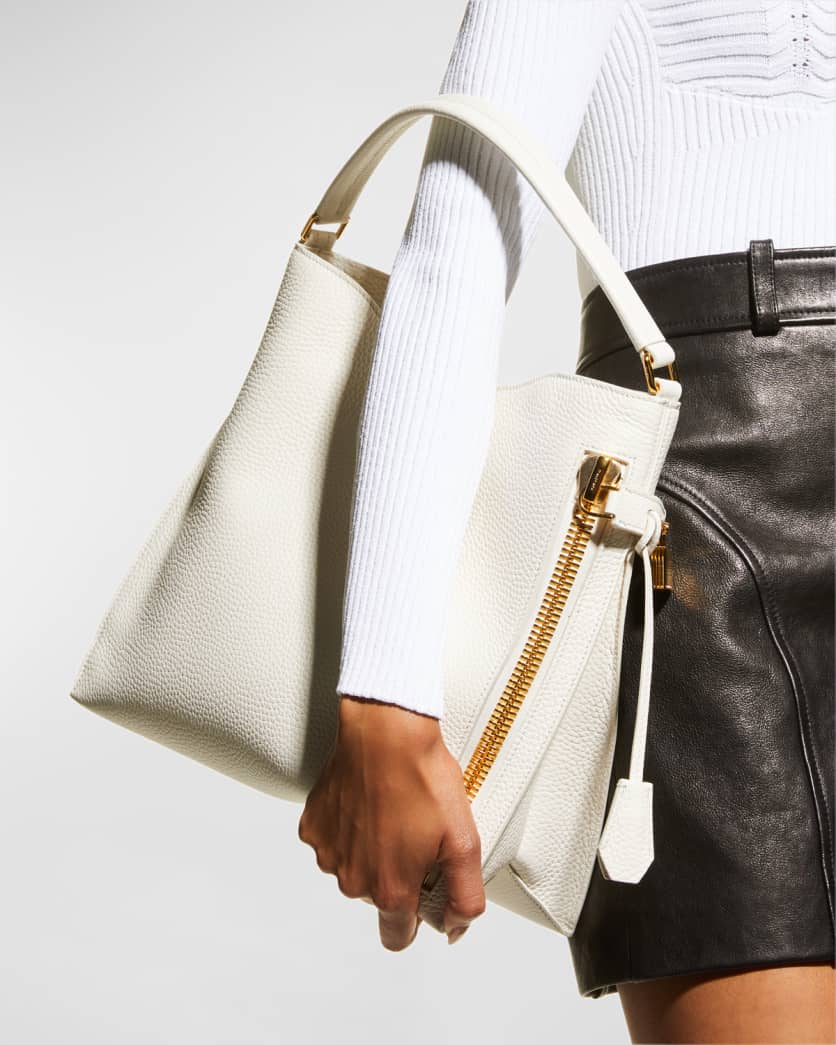 Tom Ford Alix Small Calfskin Hobo Bag
This calfskin shoulder bag is soft and slopes with the signature Tom Ford golden-yellow hardware including the padlock and key bell. This bag has a cotton lining with a large exterior front-zip pocket, an interior zip pocket, as well as a removable zip pouch.
This shoulder bag has flat top handles and an open-top magnetic closure. The purse is roomy enough to meet your needs in quiet luxury and comes in four different neutral colors.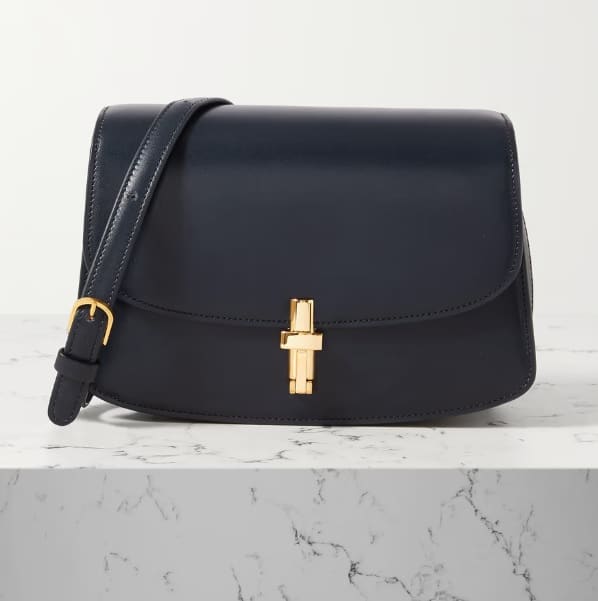 The Row Sofia Handbag
The Row is a luxury brand founded by the Olsen twins Ashley and Mary-Kate and their entire brand is based around quiet luxury, well before it was a trend. The Sofia handbag is made in Italy with soft leather and has a top handle and metal clasp for keeping your belongings securely inside. This bag is a classic design and style that will serve you well for years to come.
The Sofia handbag does come in a variety of colors, and it is currently offered in two sizes: the 8.75-inch bag and the 10-inch bag. The Sofia bag comes with a handle, a crossbody design, and a shoulder bag design.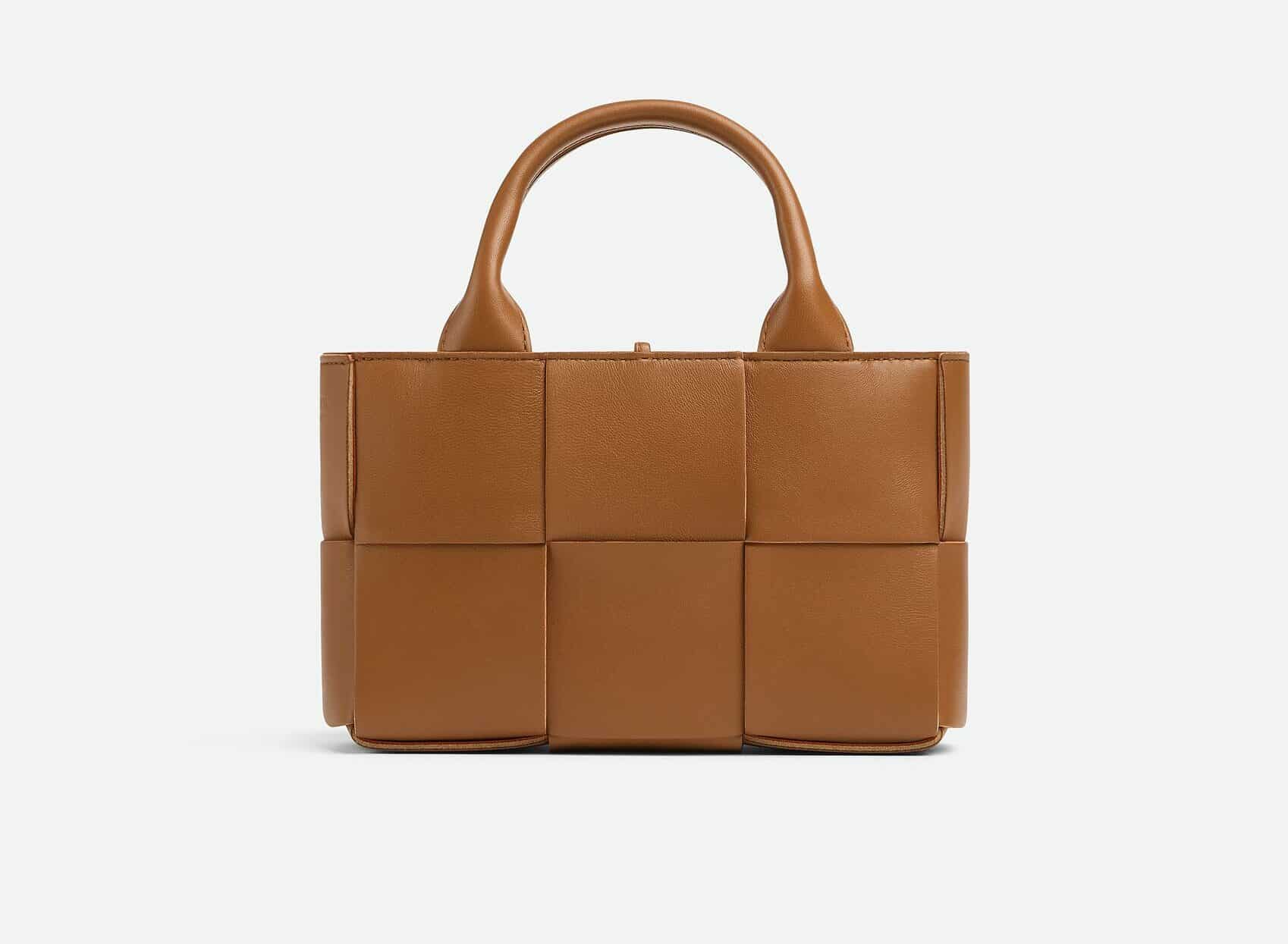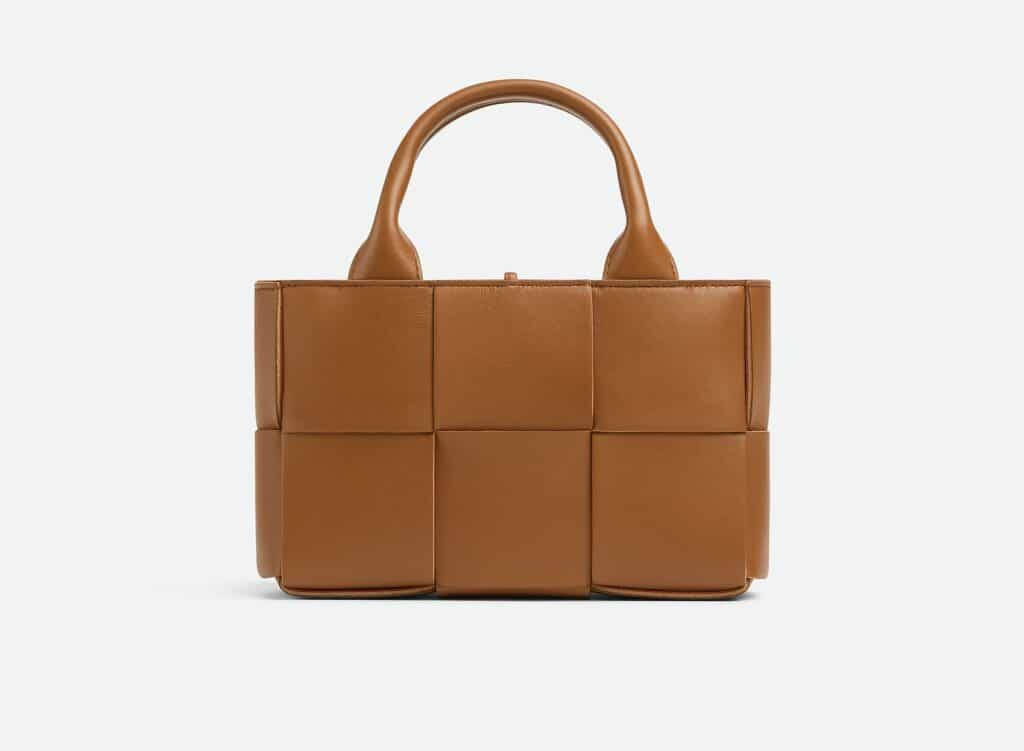 Bottega Veneta Arco Leather Tote
The Bottega Veneta Arco leather tote is a timeless quiet luxury bag that can be carried in any season, so you can use it all year long. Intrecciato means braided, so this signature Bottega Veneta design is made with strips of leather that have been woven together to create an intricate design.
These leather tote bags come in a variety of sizes, colors, types of leather, closures, and handles. You are sure to find one that fits your style and wardrobe that will serve your needs for years to come.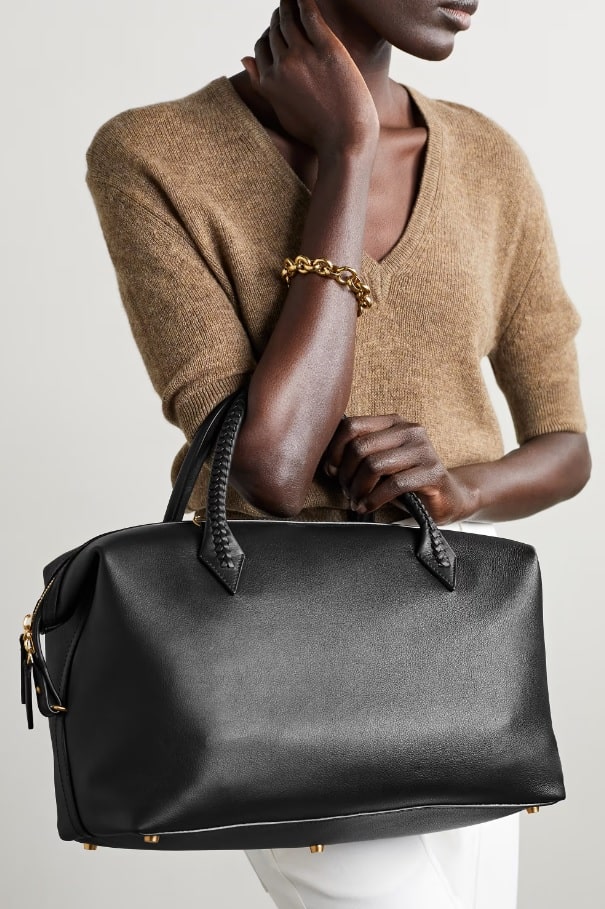 Metier Perriand City Bag
If you travel often or have lots of things that you need to carry with you like your laptop for a commute to work, then the Metier Perriand City bag is the choice for you. All of the Metier bags are designed with style and travel in mind. This large bag is elegant and roomy and it's comfortable to carry throughout your day as well.
There is a hidden exterior pocket with a magnetic closure to keep your important items close. This bag is actually two bags in one since the center compartment snaps out and can be carried separately as a shoulder bag. The larger bag has hand-braided handles that make it easy to carry.
This bag comes in a variety of different finishes and colors. There are also smaller and larger bags to meet all of your luxury travel handbag needs.
Read next: Is Net-a-Porter Legit? My HONEST Net-a-Porter Review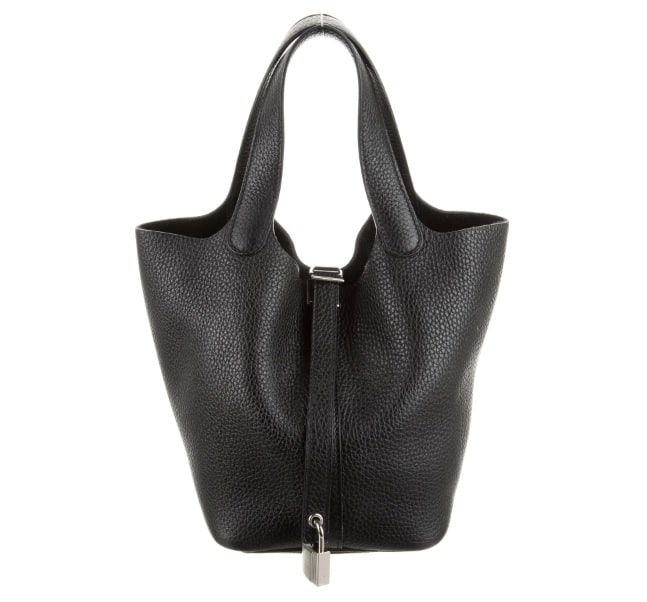 Hermès Picotin Lock Bag
The Hermès Picotin lock bag was introduced in 2002, this simple, understated bag was designed to look like a horse feed bag. The simple lines of this handbag make it the perfect complement to any outfit.
These unlined bags come in a variety of sizes, colors, and patterns. Each bag comes with a signature padlock in gold or palladium. The most recent release with a daisy pattern is in very high demand.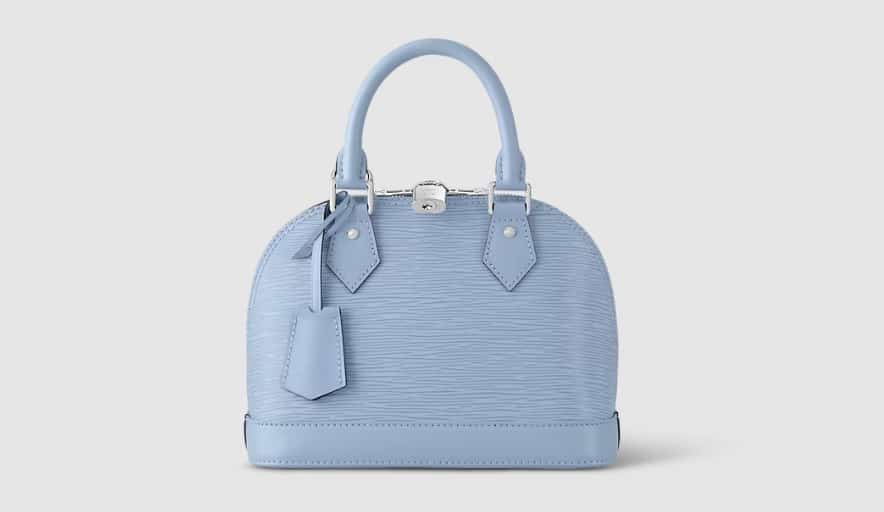 Louis Vuitton Alma BB
Louis Vuitton is probably not a designer name that you think of when shopping for quiet luxury handbags, they do however, have a few that aren't emblazoned with the well-known logo.
The Alma BB is a small handbag that has plenty of room for your daily essentials and a variety of carry options. You can use the top handles or the removable shoulder strap to carry it on your shoulder or cross-body.
The bag has four metal feet, a double zip closure, an interior pocket, a padlock, and a key bell with the Louis Vuitton logo. You can get this bag in many different colors and some pretty amazing patterns too.
Gucci Jackie 1961 Bag
This classic luxury handbag has a half-moon shape and is made with the highest quality materials and craftsmanship, exactly what you would expect from Gucci. This handbag was introduced in 2020 and it's a smaller version of the original Jackie 1961 bag.
The original Jackie Gucci bag was called the Fifties Constance. It was renamed after First Lady Jackie Kennedy, who was famously photographed using the sleek bag to shield herself from the paparazzi.
The miniature version still has plenty of room for your daily essentials, and it comes in a lot of beautiful colors. The bag has a buckle closure, an interior pocket, and a detachable shoulder strap. You can carry it by the top handle, wear it on your shoulder, or as a crossbody purse. You can also have this bag monogrammed with your initials.
Tory Burch Lee Radziwill Handbags
We can't mention a handbag made famous by Jackie Kennedy, without mentioning Tory Burch bags that were inspired by her sister Lee Radziwill. The Lee Radziwill collection has two different styles of bags: the double bag and the cat eye bag.
Lee Radziwill was unapologetically unique, and the bags in this collection reflect that. The double bag has a layered structure that unfolds like the collar of a trench coat, you can wear the purse open, half open, or fully closed. The bag comes in a variety of colors in leather and suede and all come with the signature lock and key hardware.
The cat eye bag brings bag retro charm with its unique trapezoid shape and accordion gussets and hand-painted edges. There are three interior pockets and a belt closure clasp with lock and key hardware. The bag comes in a variety of colors with an optional strap in case you want to wear it crossbody style.
Quiet luxury handbags aren't just good fashion, they are a good investment too. These purses retain their value and may even increase in value over the years. Not that you are going to plan to sell yours of course, but it's nice to know that their value is retained.
Do you already own any of these quiet luxury or "stealth wealth" handbags? Are there some here that you would like to add to your collection?