Chanel Boy Bag Review: The Ultimate Guide to the Iconic Fashion Accessory
If you're a fashion enthusiast, you've likely heard of the Chanel Boy bag. Since its introduction in Chanel's Fall/Winter collection in 2011, this bag has become an iconic piece in the fashion world.
But is the Chanel Boy bag still worth the investment? In this comprehensive review, I'm delving into the history, design, sizes, price, and styling options of the Chanel Boy bag to help you make an informed decision.
I also, personally, purchased the Chanel Boy Bag instead of the Chanel Classic Flap and will explain the differences, and why I made this decision.
*Disclosure: Have Clothes, Will Travel uses affiliate links. Meaning, if you click a link and make a purchase, Have Clothes, Will Travel gets a very small commission at no extra cost to you. Thank you for supporting the brands that make this blog possible!
The History of the Chanel Boy Bag
The Chanel Boy bag (or Boy Chanel) was designed by the late Karl Lagerfeld, paying homage to Gabrielle "Coco" Chanel's love for incorporating masculine elements into her style. Lagerfeld described Coco Chanel's boyish attitude as the very spirit of Chanel, which inspired the creation of this bag. Named after Boy Capel, Coco Chanel's first love and longtime companion, the Boy bag exudes a masculine-chic vibe with its structured silhouette, boxy shape, and sharp corners.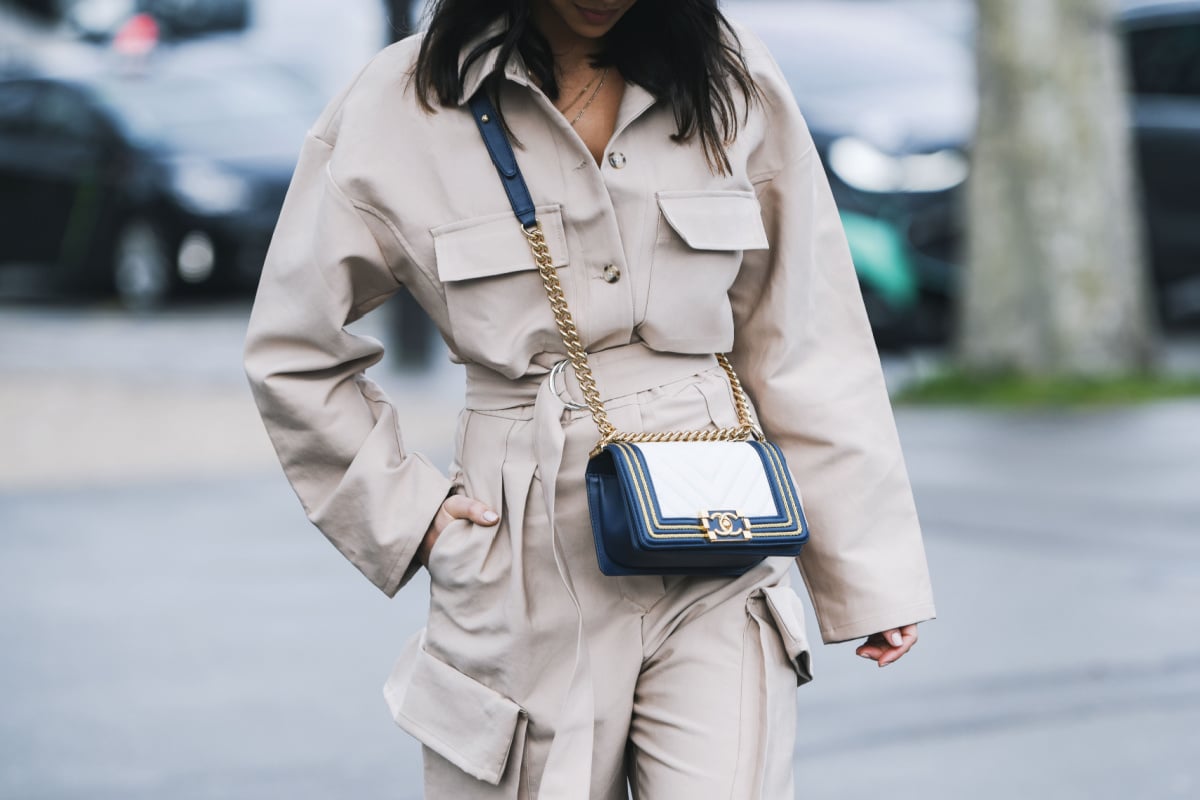 Chanel Boy Bag Sizes: Finding Your Perfect Fit
One of the amazing aspects of the Chanel Boy bag is the range of sizes available. Over the years, Chanel has introduced six different sizes, so there are plenty of different options out there depending on your needs and the look you are hoping to achieve.
Let's take a closer look at some of the sizes available:
Mini: the Mini Boy bag is the smallest option at 3.9 inches high, 6 inches long 2.3 inches deep Despite its compact size, it still offers enough room for your essentials and adds a touch of elegance to any outfit.
Small: Slightly larger than the Mini, the Small Boy bag measures 7.75 inches in length, 4.75 inches in height, and 2.5 inches deep. This size strikes a perfect balance between functionality and style, making it a popular choice among fashion enthusiasts.
Medium: If you prefer a slightly roomier option, the Medium Boy bag might be the perfect fit for you. With a length of 9.75 inches, a height of 5.5 inches, and a depth of 2.75 inches, it provides ample space for your essentials without compromising on style. (This is the one I, personally, went with.)
Large: For those who need even more space, the Large Boy bag, measuring 11 inches in length, and 6.5 inches in height, with a depth of 2.75 inches, it offers generous room for all your belongings. It's a great choice for those who prefer a statement piece.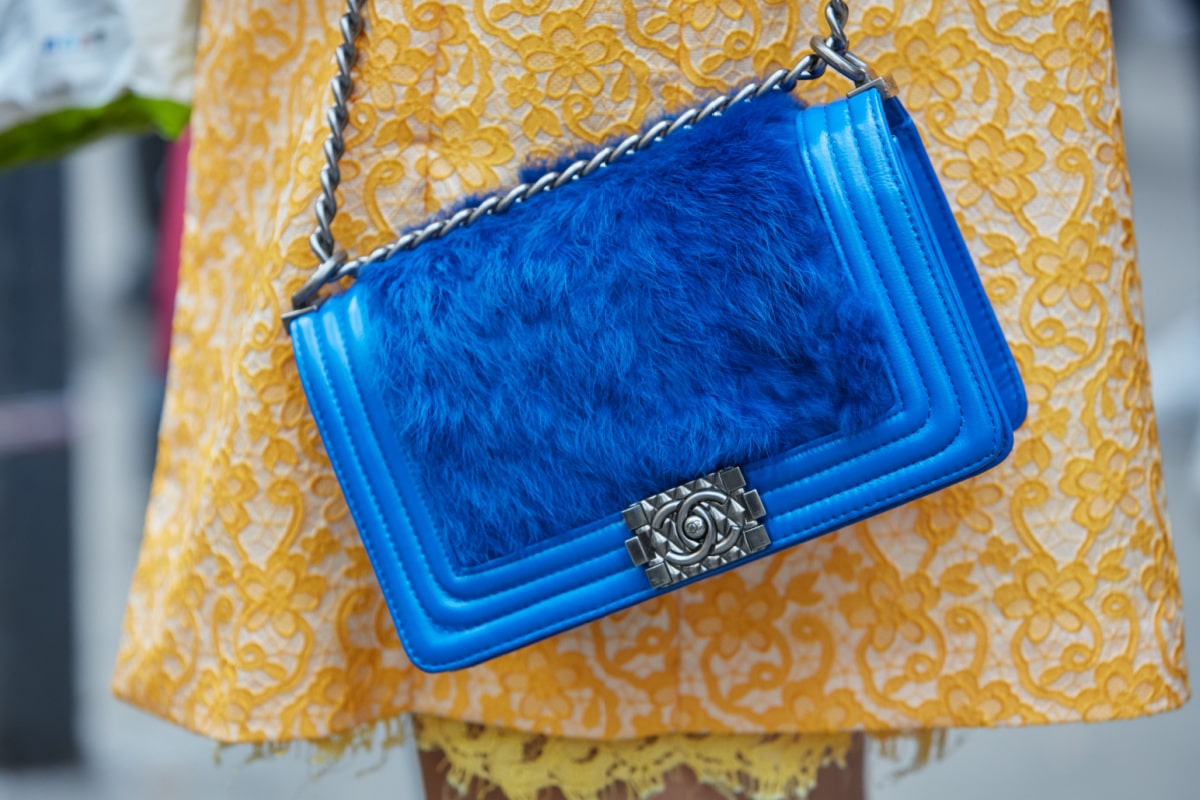 It's important to note that Chanel often introduces new colors and textiles each season, adding even more versatility to the already extensive range of sizes. They also have released different mini and wallet-on-a-chain versions of the Boy bag over the years.
Personally, the Medium was "just right" for me and is incredibly versatile. This size is great to use during the day to carry my belongings but isn't so large that I can't also use it as an evening bag.
See everything I can fit in my Medium Chanel Boy Bag in the photo below (+ my iPhone 13 Pro).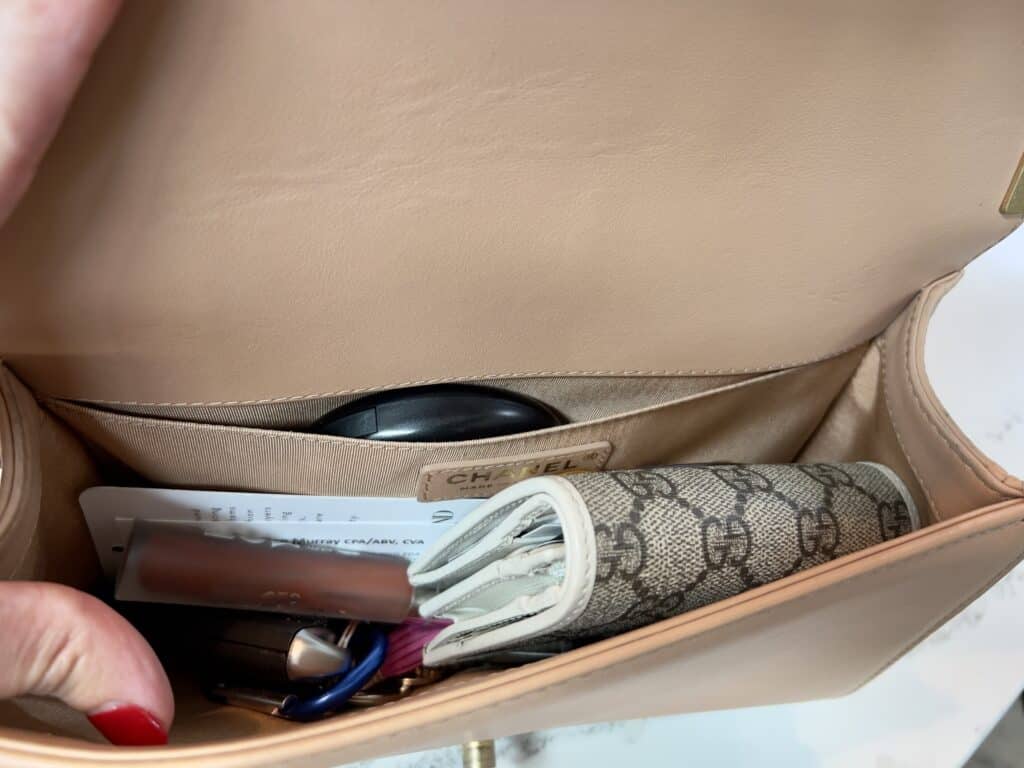 The Design and Features of the Chanel Boy Bag
The Chanel Boy bag is known for its unique and distinctive design elements that set it apart from other Chanel handbags. Let's take a look at the key features that make this bag such a coveted fashion accessory:
Quilted Pattern: The Boy bag features a quilted pattern, which is a signature design element of Chanel. The quilting adds texture and depth to the bag and gives it a luxurious and timeless appeal.
Lego Brick Lock: One of the coolest features of the Boy bag is its lego brick lock. This chunky, rectangular lock adds a modern and edgy touch to the bag's overall design and makes it an eye-catching accessory. (It's my, personal, favorite part of the bag.)
Chunky Chain Strap: The Boy bag is adorned with a chunky chain strap, which adds a touch of elegance and sophistication. The chain can be worn as a shoulder bag or as a crossbody, making it very versatile to style.
Boxed Silhouette: Unlike the classic flap design of the Chanel 2.55 bag, the Boy bag features a more structured and boxy silhouette. This design is ultimately what made me purchase the Boy bag over the Classic Flap. I prefer how structured the Boy bag is in comparison, and that it will sit upright even when I have it filled to the brim with stuff.
Variety of Materials: Chanel offers the Boy bag in a variety of materials, including lambskin, caviar leather, and exotic skins like python and alligator. These different materials contribute to the bag's unique look and feel, and let you choose the one that best suits your personal style.
Interior Organization: The interior of the Boy bag is designed with functionality in mind. It typically features a small open pocket that can comfortably hold essential items such as credit cards or small accessories.
Is the Chanel Boy Bag Still in Style?
Fashion trends come and go, but the Chanel Boy bag has managed to maintain its status as a timeless and coveted accessory. You really can't go wrong with purchasing any handbag from Chanel.
While the popularity of the Boy bag may not be as great as the Classic Flap, the Boy bag has established itself as a fashion staple. A whole slew of celebrities, ranging from Beyonce to Sarah Jessica Parker, have been spotted rocking it over the years.
The style of the Chanel Boy bag is decidedly more casual than the Classic Flap, making it easier to style with a variety of outfits. I, personally, feel you get more "bang for your buck" with the Boy bag, as it works with so many different outfits, and therefore gets a better cost per wear.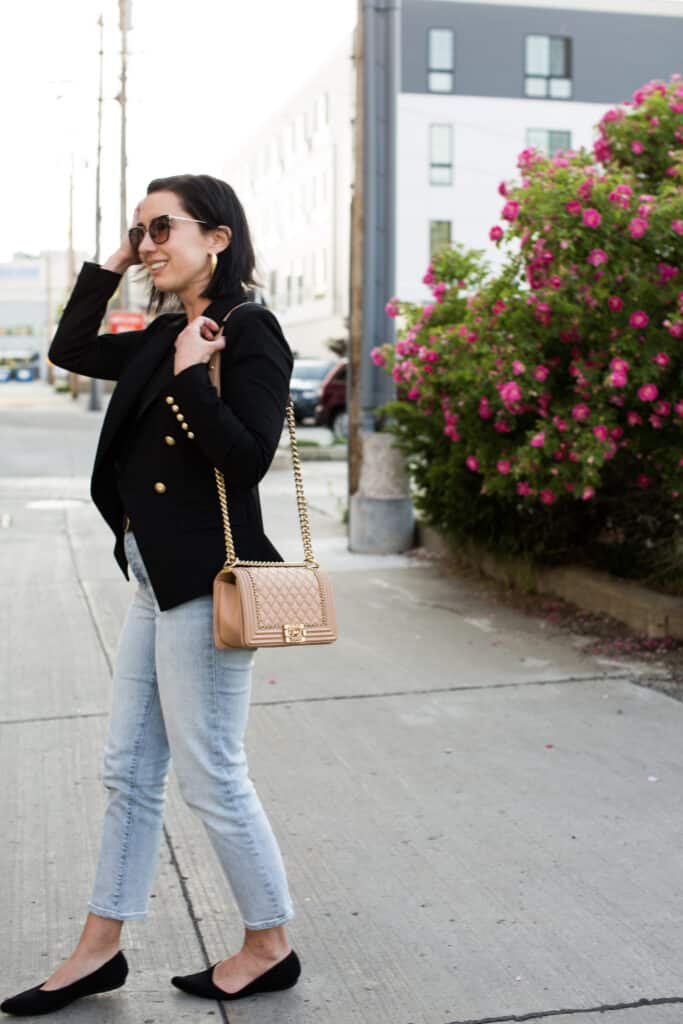 Chanel Boy Bag: Price and Investment Value
As with any luxury fashion item, the Chanel Boy bag comes with a hefty price tag. The prices can vary depending on factors such as size, material, colors, availability, etc. However, Chanel bags, including the Boy bag, tend to hold their value well over time. In fact, Chanel bags have even seen an increase in value, making them a potential investment piece.
That said, if your sole reason for purchasing a Chanel bag is to one day resell it, historically, the Classic Flap prices have increased at higher rate than the Boy bag. Therefore, I would say the Classic Flap is a better "investment" at this time. But, if you are actually planning to use the bag, I would not let its potential resale value weigh too heavily on your decision, or it will end up collecting dust in your closet. (Speaking from experience here!)
When considering the price of a Chanel Boy bag, it's essential to keep in mind the exceptional craftsmanship, quality materials, and the brand's prestigious reputation. While it may require a significant investment upfront, the timeless appeal and enduring value of a Chanel bag make it a worthwhile purchase for many fashion enthusiasts.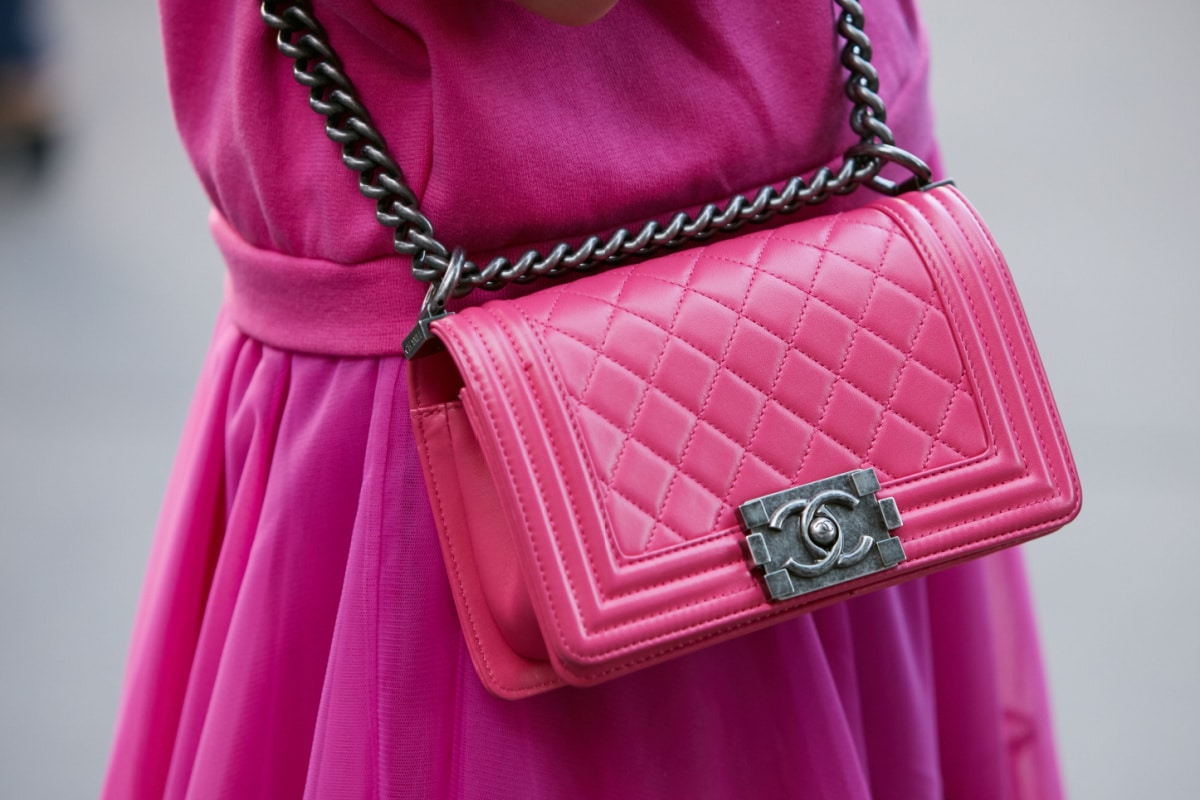 How to Style the Chanel Boy Bag
One of the reasons why the Chanel Boy bag has captured the hearts of fashion lovers (myself included) is its versatility in styling. Whether you prefer a casual, streetwear-inspired look or a more polished and elegant ensemble, the Boy bag can effortlessly complement a wide range of outfits. Here are a few ideas on how to style this iconic bag:
Casual Chic: Pair your Boy bag with a simple white tee, high-waisted jeans, and sneakers for a chic and relaxed daytime look. The bag adds a touch of sophistication to the casual outfit, elevating your style effortlessly.
Glamorous Evening: For a glamorous evening look, opt for a little black dress and style it with a statement belt, killer heels, and your Chanel Boy bag. The bag's sleek design and luxurious details will enhance your overall ensemble, making you feel like a true fashion icon.
Business Attire: The Boy bag can also be the perfect accessory to style with your business attire. Pair it with a tailored blazer, a crisp white shirt, and tailored trousers for a polished and sophisticated look that exudes confidence and style.
Streetwear Edge: Embrace the edgy side of the Boy bag by pairing it with a leather jacket, distressed jeans, and ankle boots. This combination creates a cool and effortless streetwear look that showcases the bag's versatility.
Remember, the key to styling the Chanel Boy bag is to let it be the focal point of your outfit. Allow the bag to shine by keeping the rest of your look relatively simple and let the bag become the statement piece that ties your entire ensemble together.
Where to Buy the Chanel Boy Bag
When it comes to purchasing a Chanel Boy bag, there are several options to consider. Chanel boutiques are the most obvious choice, offering a range of sizes, colors, and materials to choose from. However, keep in mind that Chanel boutiques may have limited stock, and certain styles may be in high demand, leading to waiting lists or limited availability.
Also, you can only purchase Chanel bags at the boutique. They do not allow online shopping for their bags. This is a bummer for someone like me, who doesn't live near a Chanel boutique.
However, another option is to explore reputable resellers or consignment stores that specialize in luxury handbags. These platforms often offer pre-owned Chanel Boy bags (usually) at a lower price point, allowing you to potentially find a great deal. However, it's crucial to ensure the authenticity of the bag and verify the reputation of the seller before making a purchase.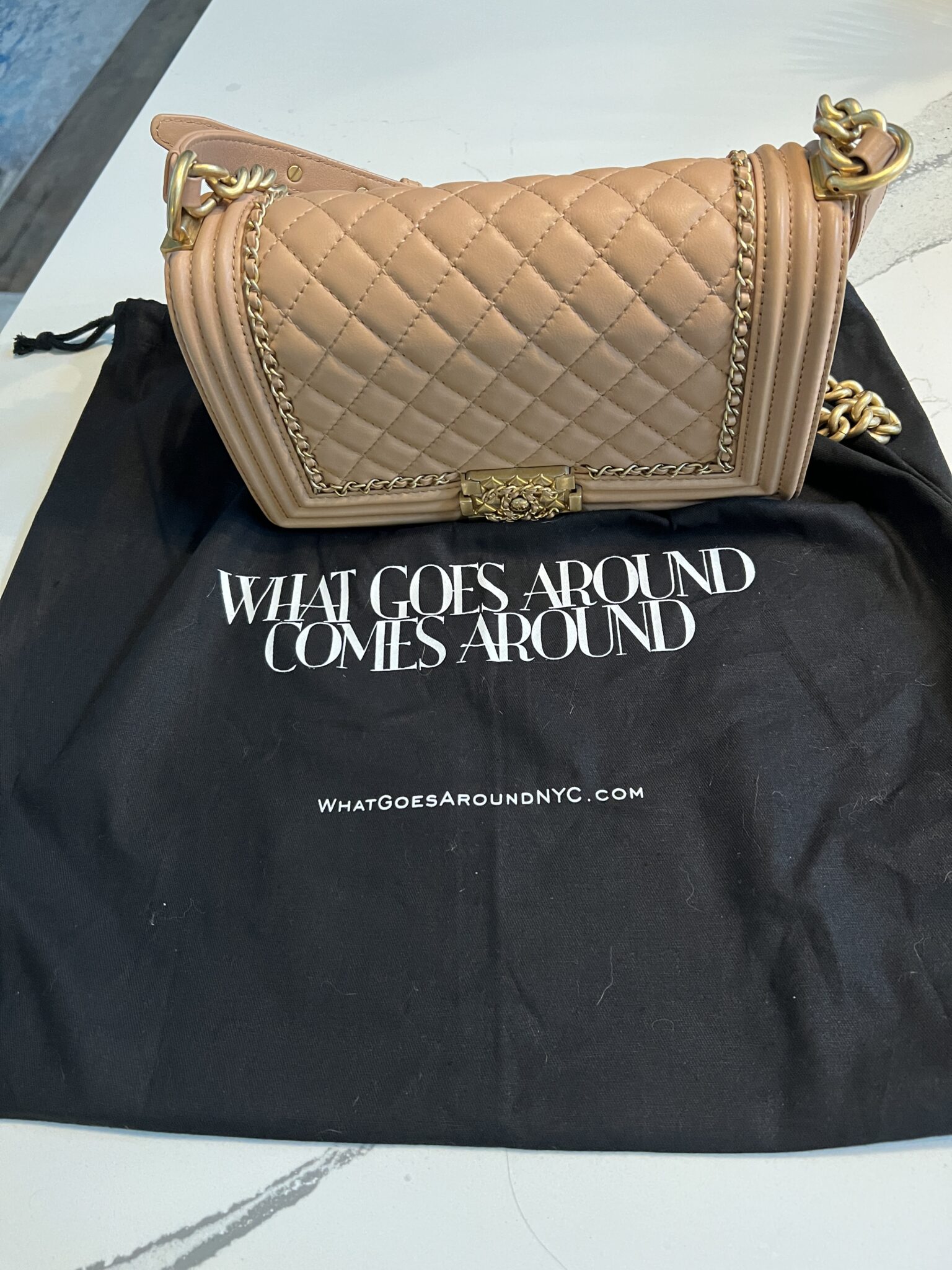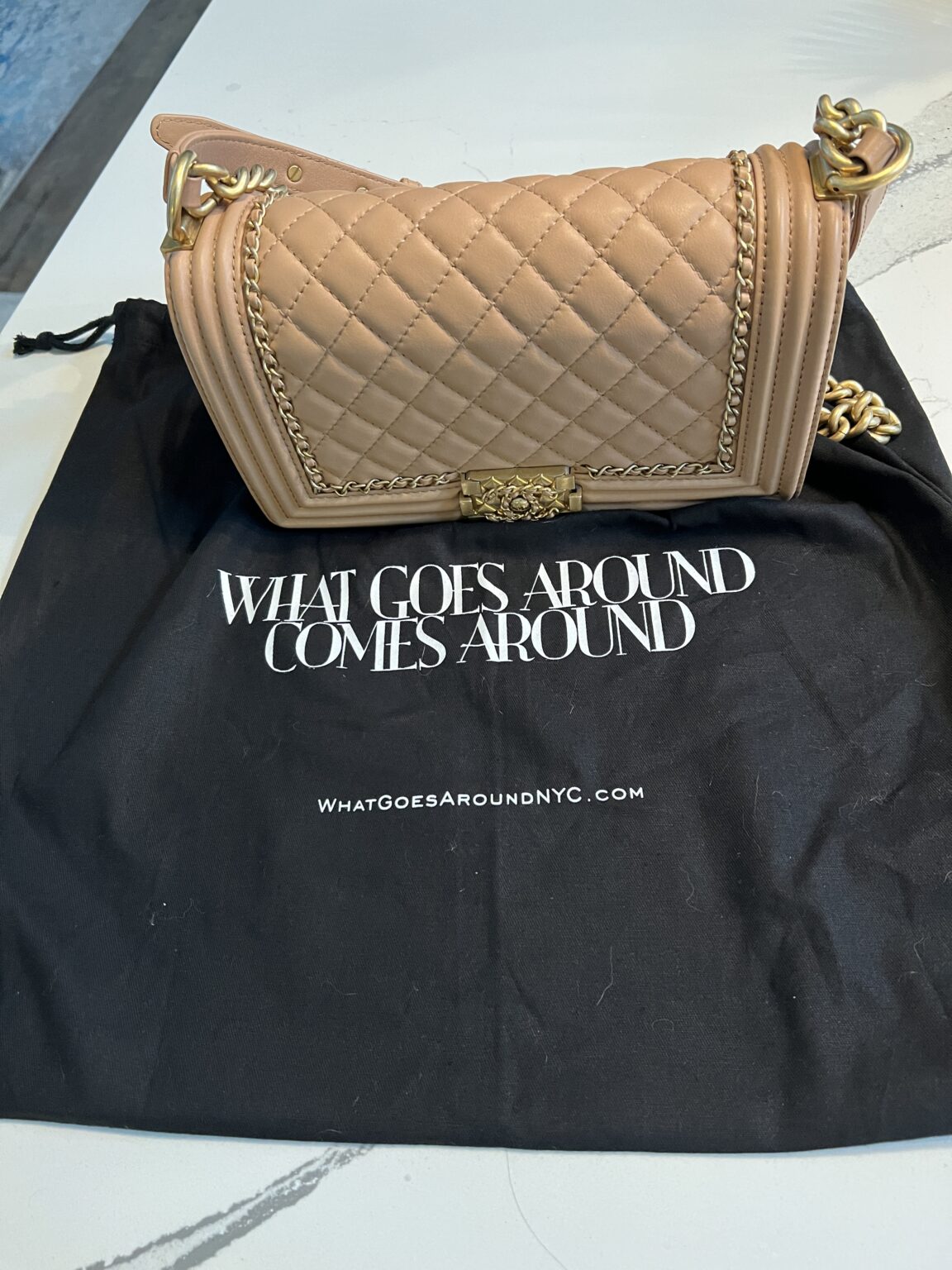 I, personally, purchased my Chanel Boy bag from What Goes Around Comes Around. I highly recommend shopping on WGACA for your secondhand Chanel purchases. (Read my full review, here.)
Final Thoughts: Is the Chanel Boy Bag Worth It?
After considering the history, design, sizes, price, and styling options of the Chanel Boy bag, the question remains: Is it worth the investment? Ultimately, the answer depends on your personal preferences, style, and budget. The Chanel Boy bag offers a unique blend of classic elegance and contemporary edge, making it a timeless fashion accessory that is likely to remain relevant for years to come.
If you're someone who appreciates the craftsmanship, heritage, and luxury associated with Chanel, investing in a Boy bag can be a rewarding experience. It's a statement piece that exudes sophistication and adds a touch of glamour to any outfit. However, it's essential to consider your lifestyle, fashion preferences, and budget before making a decision.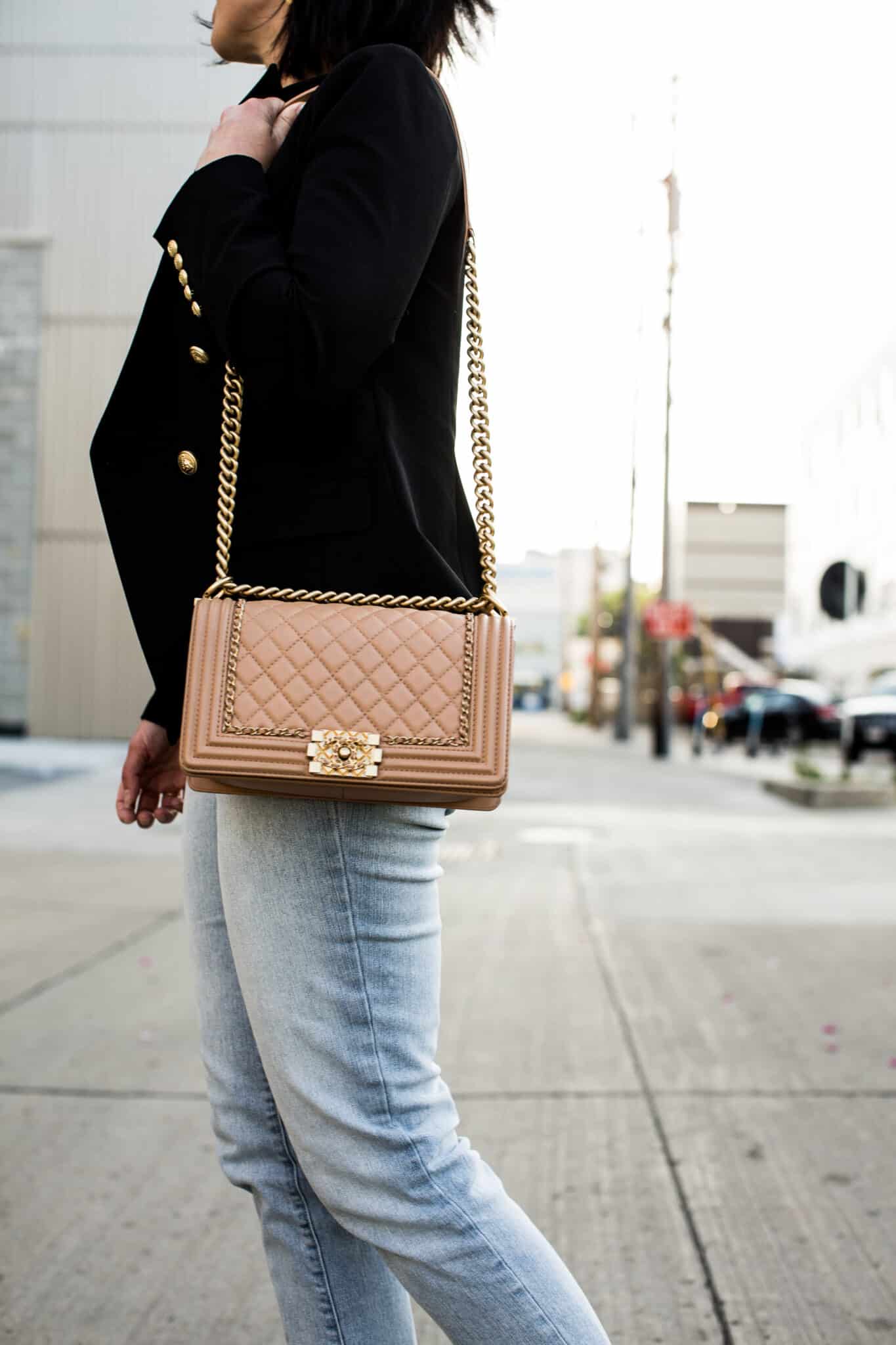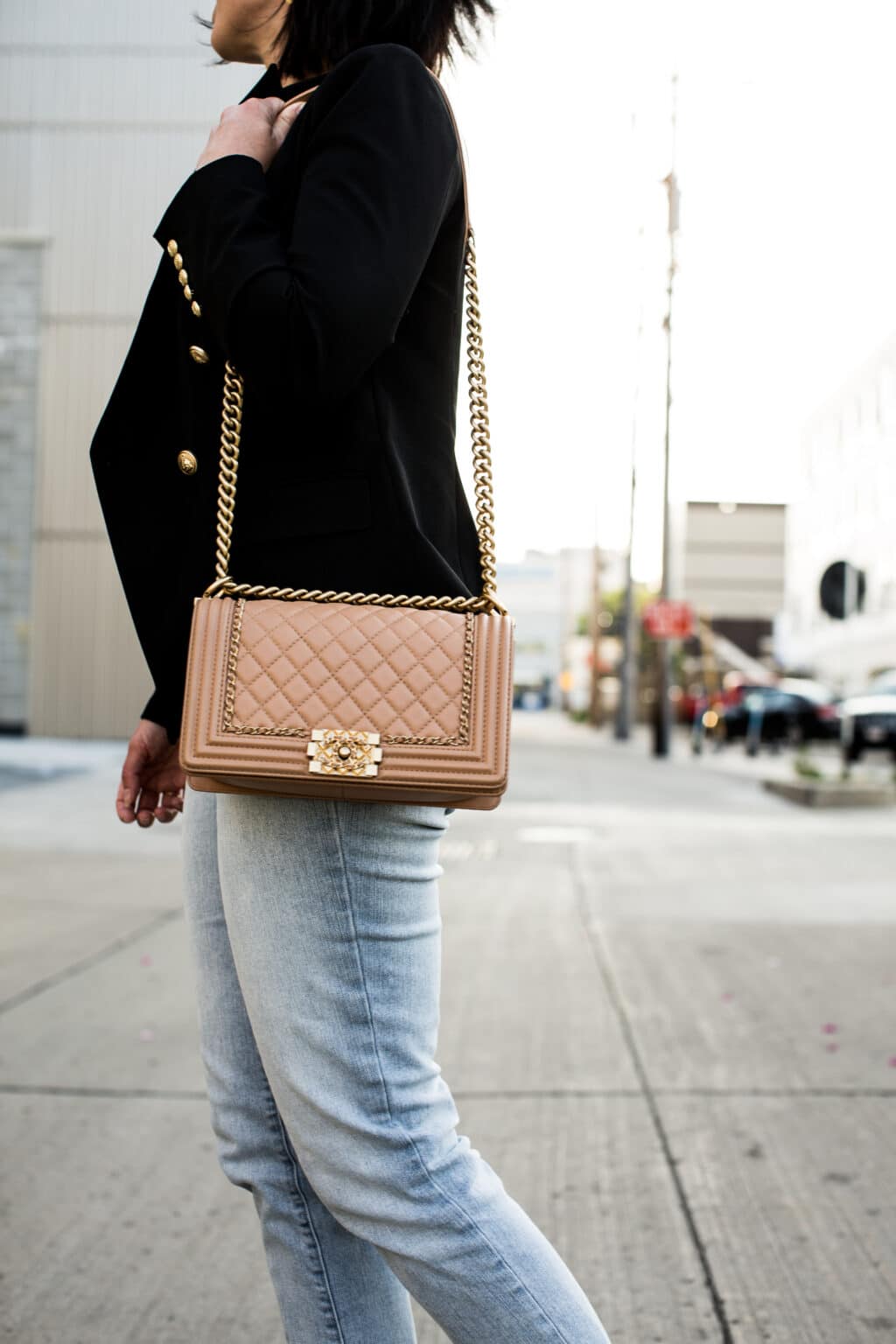 For me, the Boy bag fits better for my personal style. I like the hint of edginess it has. Plus, the Classic Flap is incredibly popular. I've always been a fan of the slightly lesser-known styles when it comes to my purchases.
Regardless of whether you choose the Chanel Boy bag or opt for another Chanel design, investing in a Chanel handbag is more than just owning a fashion accessory—it's owning a piece of fashion history. So, if the allure of owning an iconic piece of Chanel speaks to your fashion-loving soul, then the Chanel Boy bag may indeed be worth the investment.
Read next: Honest What Goes Around Comes Around Review (Website) Featuring My Chanel Order
Read next: The Best Chanel Bags to Invest in for 2023: Timeless Elegance & Style