The Best Handbags to Buy From Bloomingdale's This Fall
Discover the epitome of style and functionality this fall with my curated selection of handbags, all conveniently available at Bloomingdale's. Whether you're searching for a timeless investment piece, a versatile everyday tote, or a chic and luxurious accessory, my handpicked collection has something to suit every taste and occasion!
From the understated elegance of Bottega Veneta to the iconic designs of Chloé and Tory Burch, these handbags offer a perfect blend of fashion-forward aesthetics and practicality. Explore my top picks for the season and elevate your fall wardrobe with these exquisite handbag choices, all just a click away at Bloomingdale's!
This post is sponsored by Shoplooks. All comments and opinions are my own. Some of these links are also affiliate links. Meaning, if you click a link and make a purchase, Have Clothes, Will Travel gets a very small commission at no extra cost to you. Thank you for supporting the brands that make this blog possible!
Bottega Veneta Wallace Mini Leather Shoulder Bag
The Bottega Veneta Wallace Mini Leather Shoulder Bag is undoubtedly a stellar investment choice for this fall, and here's why. Bottega Veneta has garnered an exceptional reputation in the world of luxury fashion, renowned for its high-quality craftsmanship and understated elegance. This handbag exemplifies the brand's commitment to excellence with its meticulously crafted Italian leather construction.
The 4.13-inch drop shoulder strap adds both style and functionality, making it a versatile accessory for any occasion. With its zippered closure, it ensures the safety of your essentials while exuding an air of sophistication. Embracing the essence of quiet luxury, this bag perfectly complements the modern woman's desire for both substance and style, making it a must-have addition to your fall wardrobe from Bloomingdale's.
Saint Laurent Gaby Studded Leather Shoulder Bag
The Saint Laurent Gaby Studded Leather Shoulder Bag stands out as a remarkable investment choice for the upcoming fall season. The striking quilted leather and mini stud detailing at the front, coupled with silver-tone hardware and logo hardware, add an edgy yet sophisticated touch to your ensemble. This bag combines style and practicality effortlessly. Its dimensions, measuring at 10.5 inches in width, 1.25 inches in depth, and 7 inches in height, offer a spacious yet compact design that's perfect for daily use.
HEREU Calella Extra Large Suede Tote
The Calella Extra Large Suede Tote is an amazing investment option for this fall season from Bloomingdale's. This tote bag bears a striking resemblance to the high-end and luxurious Khaite Lotus Bag, yet it comes at a considerably more accessible price point. This bag is sure to turn heads this fall and winter!
Its open top design allows for easy access to your belongings, while the inclusion of a removable zip pouch adds a layer of versatility to your organization. Crafted in Spain from high-quality suede, it exudes a sense of luxury without the extravagant price tag.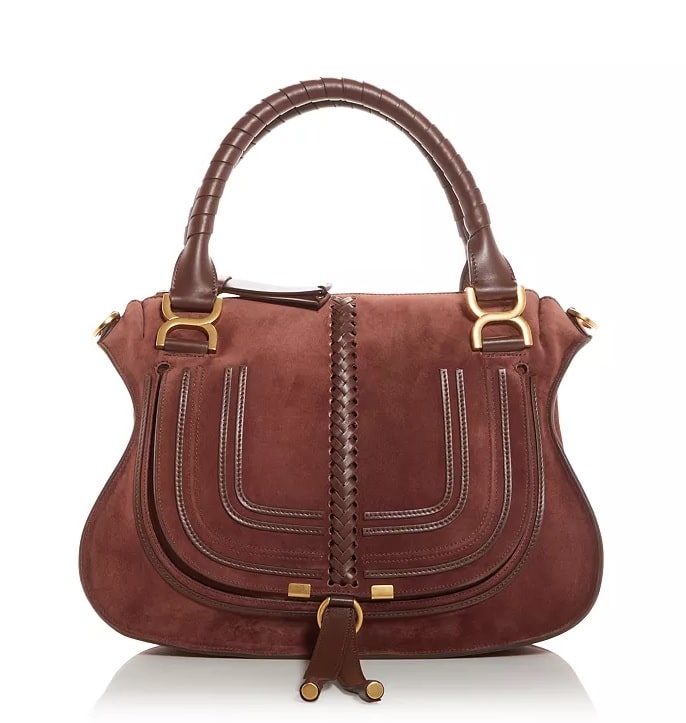 Chloé Marcie Double Carry Medium Suede Shoulder Bag
The Chloé Marcie Double Carry Medium Suede Shoulder Bag is the perfect everyday fall bag. This exquisite shoulder bag boasts a versatile design, featuring double handles with a 6-inch drop and a removable shoulder strap with a 14-inch drop. With dimensions of 14 inches in width, 4.5 inches in depth, and 11 inches in height, it offers a spacious interior to accommodate all your daily essentials.
What truly sets this bag apart is its signature woven leather, tassel, and ring hardware at the front flap, along with the iconic Chloé logo at the handle hardware. These elements combine to create a timeless and elegant look that exudes luxury.
Plus, it's worth noting that the Chloé Marcie Shoulder Bag is B Corp Certified. This certification reflects a brand's dedication to positive impacts on workers, communities, and the environment.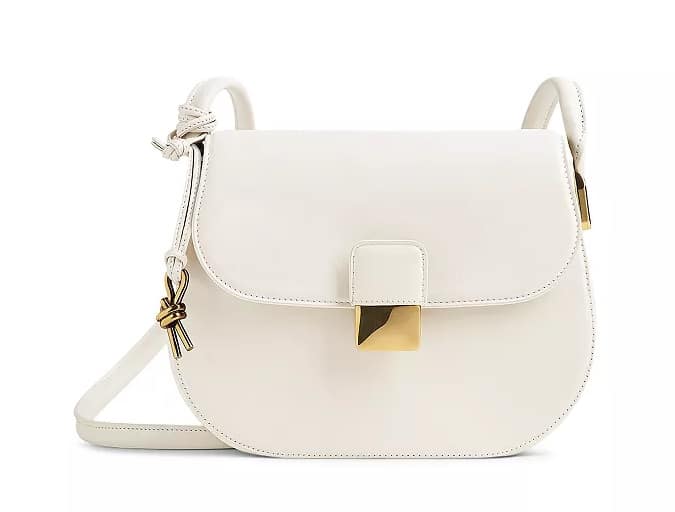 Bottega Veneta Desiree Crossbody Bag
The Bottega Veneta Desiree Crossbody Bag is a personal favorite of mine and an excellent investment for handbag enthusiasts looking for versatility and timeless elegance. This bag effortlessly transitions from day to night, and it complements a wide range of outfits throughout the year. It's also one of my favorite designer bags to travel with.
The flap with a magnetic closure ensures both security and ease of access, making it a practical choice for daily use. Plus, the removable leather and hardware detail on the strap adds a touch of customization and style to the bag, allowing you to adapt it to different looks and occasions.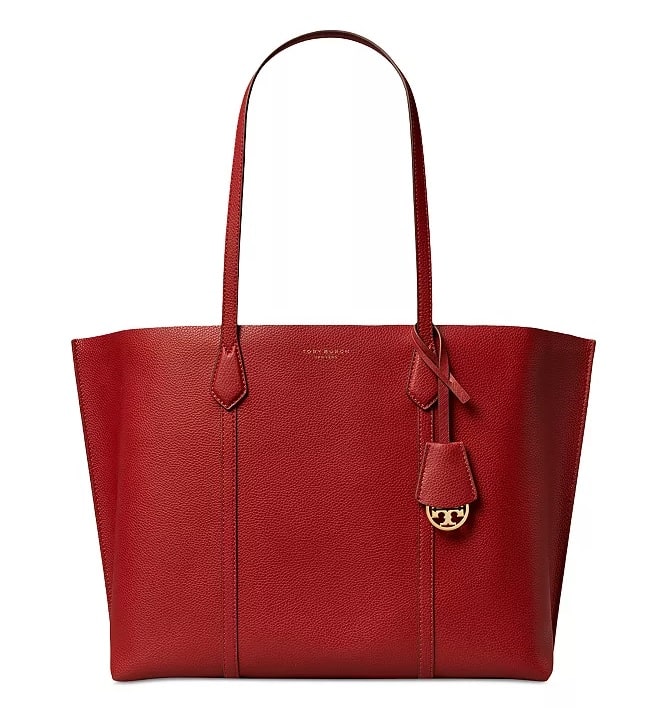 Tory Burch Perry Triple-Compartment Tote Bag
Last but not least, the Tory Burch Perry Triple-Compartment Tote Bag is a wonderful bag to invest in this fall. With double handles offering a comfortable 10.4-inch drop, it combines both style and practicality, making it a versatile accessory for everyday use.
The brick red color is eye-catching, yet quite versatile. The gold-tone hardware and logo details not only add a touch of elegance but also showcase the brand's commitment to quality and style. Crafted from leather, this tote boasts a luxurious feel.
Now, I'm curious, which of these handbags from Bloomingdale's is your favorite? Let me know in the comments!
Read next: 16 of the Best Quiet Luxury Handbags That Are Understated & Stylish
Read next: The Best Bloomingdale's Fall Dresses to Buy in 2023