8 Affordable Birkin Bag Dupes and Look-Alikes You Can Buy Online
Do you love the way the Hermès Birkin bag looks, but can't afford its hefty price tag? I've found 8 affordable Birkin bag look-alikes for those of us who can't spend $10,000+ on a bag.
What is a Birkin Bag?
The Hermès Birkin bag is the most sought-after designer handbag on the planet. The Birkin bag was born in 1984, when British actress Jane Birkin was sitting next to Jean-Louis Dumas, the Executive Chairman of Hermès, on a flight. She was complaining to him that she couldn't find a bag that was able to carry everything she needed as a young mother.
He sketched, what is now known as the Birkin bag, right then and there. It was a spacious rectangular bag with saddle stitching and a burnished flap.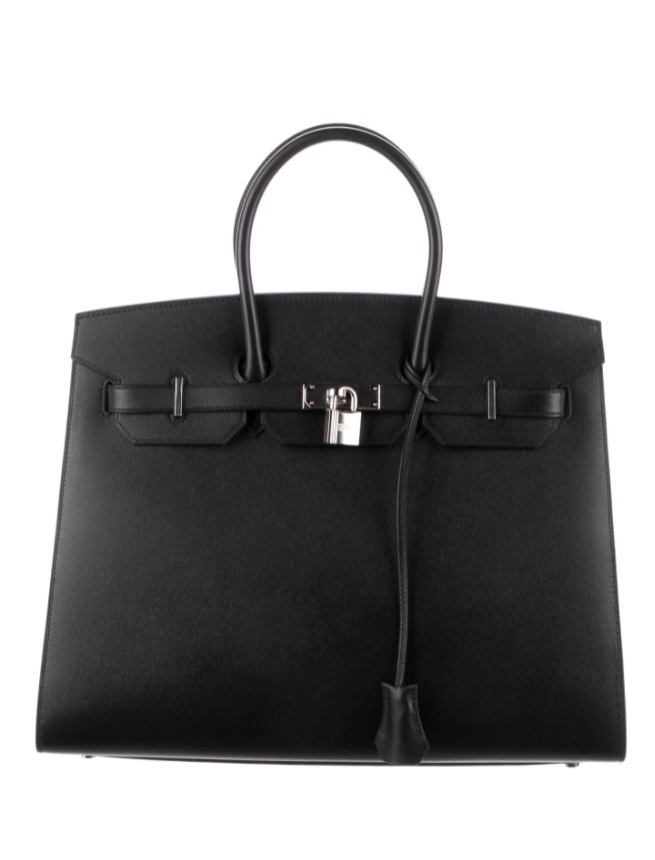 There are only a limited number of these bags every year and getting your hands on one is like winning the lottery – and that's if you can afford their hefty price tags. The least expensive Birkin starts at $8,500, and used Birkin bags can sometimes retail for even higher prices – due to the scarcity of these bags. (What Goes Around Comes Around has a great selection of used Birkin bags.)
Now, here are some bags that have a similar look to the Birkin bag but MUCH more affordable price tags. Happy shopping!
*Disclosure: some of these links are affiliate links. Meaning, if you click a link and make a purchase, Have Clothes, Will Travel gets a very small commission at no extra cost to you. Thank you for supporting the brands that make this blog possible!
8 Affordable Birkin Bag Look-Alikes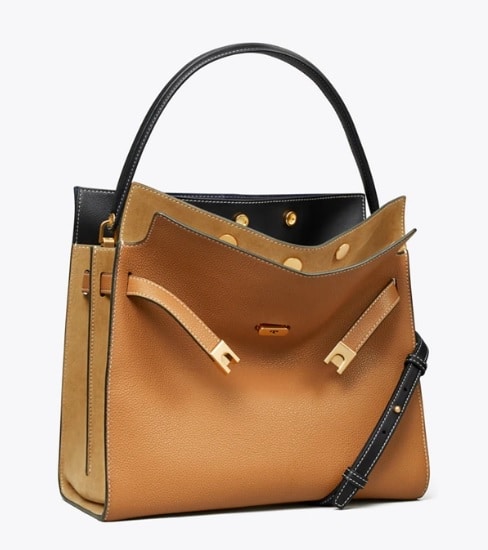 1.) Tory Burch LEE RADZIWILL PEBBLED DOUBLE BAG
This Tory Burch Lee Radziwill bag is what inspired me to write this post in the first place! I adore the look and quality of Tory Burch handbags – I've had mine for years and couldn't be happier with it. The Lee Radziwill Bag is crafted in Italian leather and has a very Birkin look and feel to it (it comes in a few different colors too, if you don't like this one).
Now, Tory Burch is by no means "cheap" – at least not in my book. But their handbags will be considerably less expensive than a Birkin, and they are great quality for the price!
2.) MICHAEL KORS Emilia Large Pebbled Leather Satchel
This Michael Kors Emilia Pebbled Leather satchel is a less expensive alternative to the bag above and a good everyday bag. It opens up to reveal a spacious interior with a center zip pocket for easy organization. It also has an optional crossbody strap.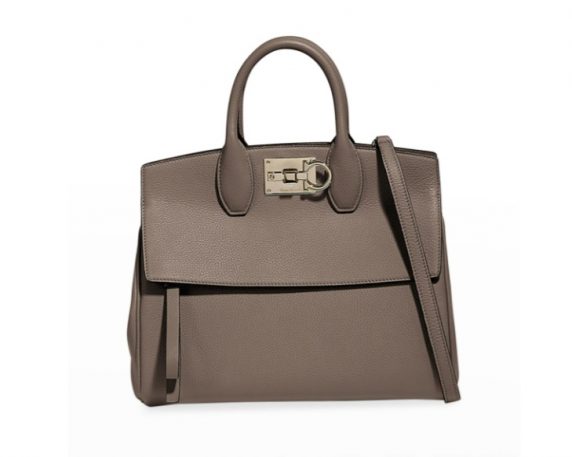 3.) SALVATORE FERRAGAMO Studio Top-Handle Bag
Heads up, this is the most expensive Birkin "look-alike" in this post! I realize "affordable" is a relative term, and am categorizing it as anything that's less than a Birkin (which is pretty much every bag in the world). This BEAUTIFUL Salvatore Ferragamo bag is a luxury designer bag that will be sure to turn heads and last a lifetime – but its price tag is lower than a Birkin.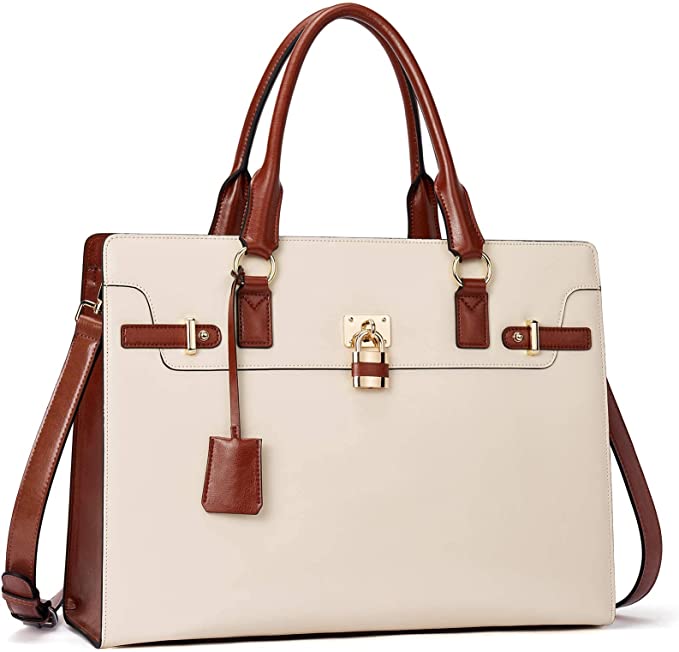 4.) BOSTANTEN Leather Laptop Handbag
This genuine leather bag has a main pocket and enough room for a 15.6-inch laptop inside, along with a separate document pocket, 2 pen pockets, and 2 interior open item pockets. It also comes in 5 other color options, if you're not a fan of this one. Plus, it's the least expensive bag I've listed so far!
5.) Dasein Top Handle Satchel Purse (2 piece set)
This is a highly-rated faux leather handbag with golden hardware that is available on Amazon. It also comes with a matching wristlet and is available 9 other colors! This is a great "bang for your buck" bag!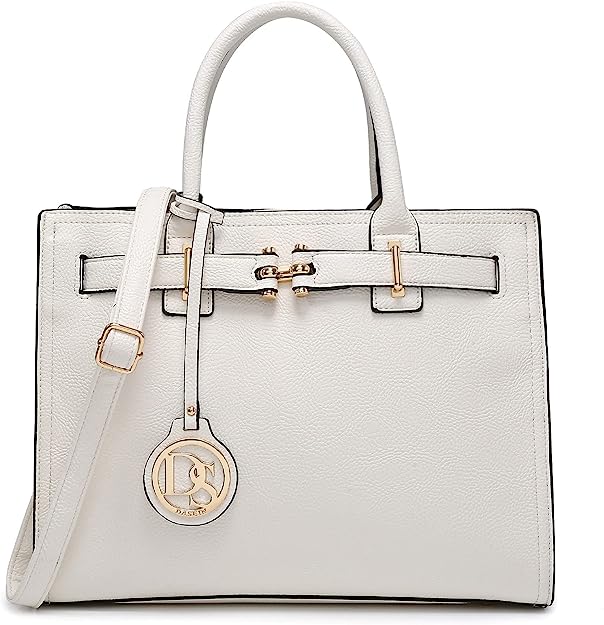 6.) Dasein Top-handle Work Tote Shoulder Bag
Another fabulous bag by Dasein, that comes with a price tag of less than $40. It is also available in 7 other colors.
7.) ALDO Adraree bag
This beautiful handbag is made by Aldo and is sold via Zappos. I love buying from Zappos because the shipping is fast and free, and returns are also easy and free. Plus, the main materials that make up this bag are made from at least 20 percent recycled content, and it comes in 2 other colors.
8.) Shein Metal Decor Satchel Bag
Saved the cheapest Birkin bag look-alike for last! This faux leather bag from Shein is just $21. I've bought handbags from Shein in the past, and they are ridiculously cheap. While they are fine if you plan to only use them once in a while, they aren't the best quality for daily use. Just something to be aware of. I have an entire post dedicated to Shein shopping tips as well as a VERY detailed Shein review post.
Now I'm curious, which of these Birkin bag look-alikes is your favorite? Let me know in the comments!