The 10 BEST Tips for Shopping on Shein in 2023 + How to Wash Shein Clothing
Ever since I posted the outfit below on my blog over 7 years ago I've been getting questions about shopping on Shein.
"Is it safe to order from them? Are the clothes actually that good of quality? How long does shipping take? What is sizing like?"
So, I thought it might be helpful to make a post featuring my tips for having a successful shopping experience on Shein, plus the clothes I've ordered from them over the years, and how I wash my clothing from Shein.
I started shopping on Shein over 10 years ago after I noticed one of my favorite bloggers (A Clothes Horse) was featuring many items from them, and they were SUPER affordable. The skirt above was my first order from them, and it was just over $20.
Full disclosure, in the past, Shein had been a sponsor of mine and had sent me some clothing to feature on my blog. However, this post is in no way related to that. And as always, all opinions are my own.
What is Shein?
Before I get into my Shein shopping tips, I should probably explain what kind of store Shein is in case you haven't heard of them yet! Shein is an online women's clothing store based out of China. They feature fast-fashion pieces…meaning, many items will look similar to pricey designer pieces, but will be VERY inexpensive but also not as high of quality (obviously) as the original pieces. At first glance, Shein's prices seem too good to be true, and there is always a negative stigma about ordering online goods from overseas companies.
However, if you follow these tips, you can have a fabulous time shopping on Shein!
Read next: Is Shein Legit? Honest Shein Review After $600+ in Orders
*Disclosure: some of these links are affiliate links. Meaning, if you click a link and make a purchase, Have Clothes, Will Travel gets a very small commission at no extra cost to you. Thank you for supporting the brands that make this blog possible!
The BEST Shein Shopping Tips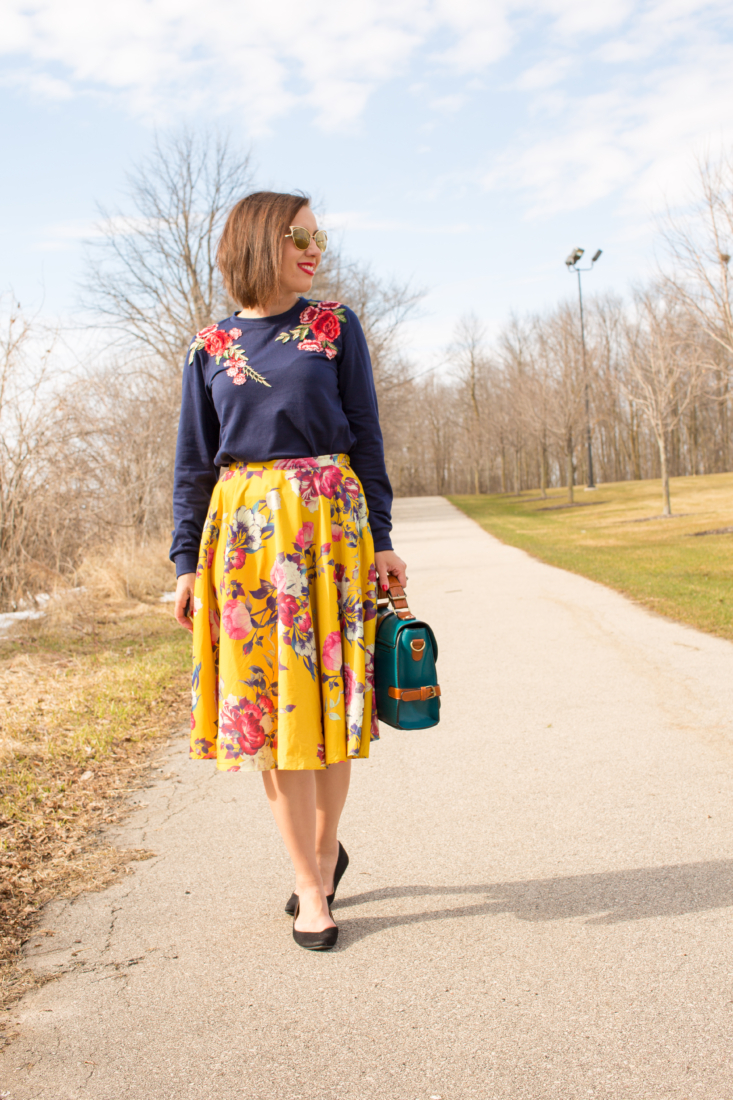 1.) Look at Sizes for EVERYTHING & Know Your Measurements
The sizes on Shein's website vary…A LOT. I am anywhere from an XSmall – XLarge, depending on the clothing item I'm ordering. It really does vary that much!
So, know your measurements before ordering from Shein. If you aren't sure what your measurements are, take a look at this helpful article about how to take your own measurements.
Once you know your measurements, you'll want to compare them to the Shein item's body measurements, which you'll see in the photo below. These are not the default measurements shown on Shein products – you'll have to click "body measurements" to get the proper measurements.
Product measurements are the default setting on Shein items – which are the measurements of the product itself. This is good to know if you want to know the length of an item, for example.
2.) When in Doubt, Size UP
If you're in between sizes on an item on Shein, and you're not sure what to order…always size up. I have yet to have this method fail me. The majority of items do seem to run on the small side. (They also just recently started carrying plus sizes!)
3.) Be Wary of Items that Don't Have Customer Photos
Looking at the photos and reviews uploaded by customers can be very helpful in determining what an item will look like. In my experience, Shein items DO look like the product photos on the website – but there have been times when this has NOT been the case for me!
The PJs I ordered above did NOT have any customer photos when I ordered them… and I see why now. They didn't look or fit quite like the product image!
4.) Check Shein Promo Codes
Shein is always running some sort of sale or promo code on their website. Be sure to check their homepage for the latest sales and promo codes before you checkout.
Another option is to use Rakuten to save you money on your Shein orders!
5.) Order Several Weeks Before Any Event You're Trying to Shop For
Shipping on average takes 2 weeks. I've ordered from them while in the US, Japan, Australia, and Russia. No matter what country I was in my order took about 2 weeks. So, their shipping estimates are quite accurate.
However, if you're trying to dress for a specific event, don't risk it! Order at least 3 weeks in advance! Also, shipping costs are quite reasonable. It's free for US orders over $9.90 and only $3.99 for orders less than $9.90. Click here to see other countries' rates.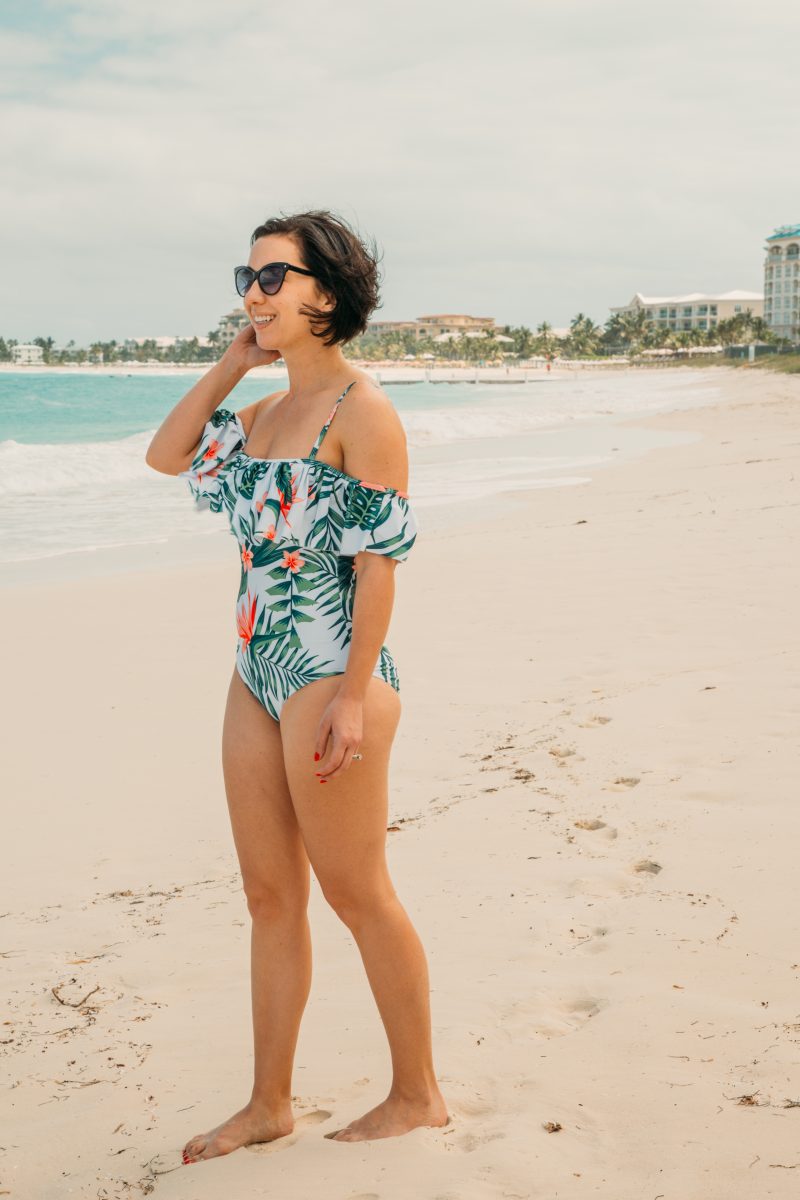 The photos above are from some of my favorite Shein orders – I LOVE Shein swimwear & athletic clothing.
6.) For Best Results – Order Swimsuits, Athletic Clothing, Skirts or Tops
I've had the best luck with swimsuits and Shein activewear. (Their skirts and tops have also, generally, been of good quality in my experience.) My Shein swimsuits and workout clothing have lasted through countless wears and washings now. I am very impressed!
However, I've always been underwhelmed with outerwear and accessories from Shein, and my friend Shannon recently ordered their shoes. While they are nice-looking shoes, she, unfortunately, had the heel snap off after a few months of wear. So, I do not recommend Shein shoes, accessories or outerwear.
I also discuss the quality of Shein's clothing by item in my Shein Review.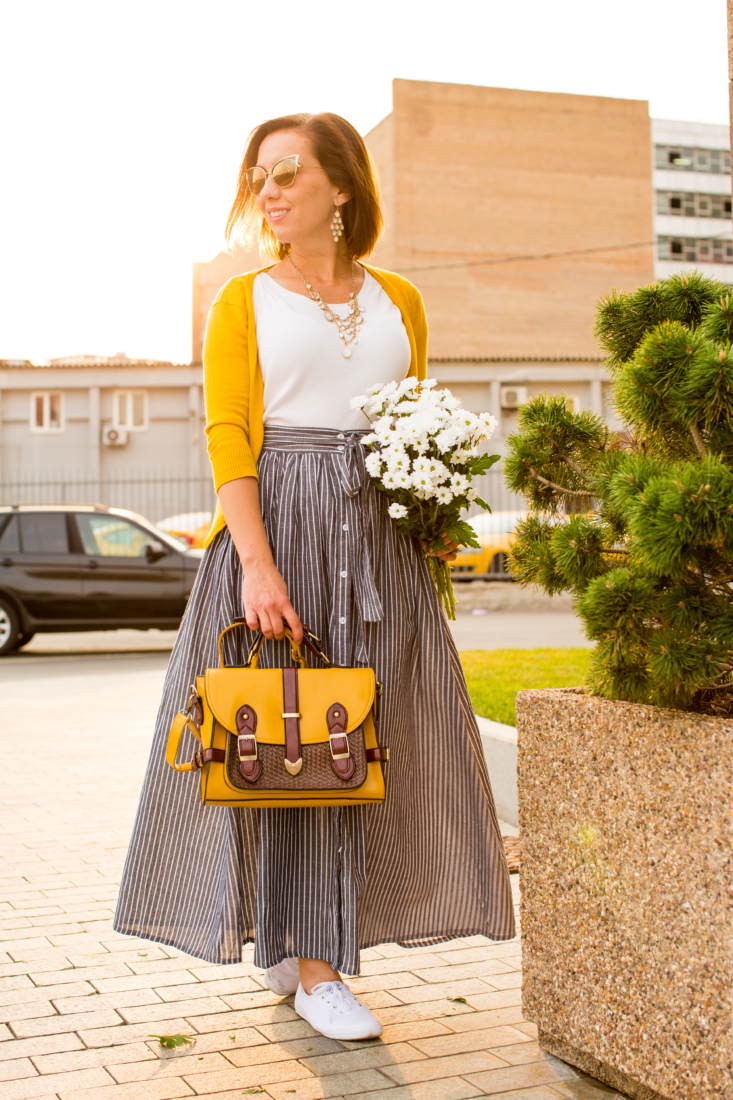 7.) Adjust Your Expectations
If you're someone who normally spends $30+ on a top and then you order a $9 top from Shein… there are going to be some noticeable differences in quality compared to what you're used to. However, for $9, it's going to be a quite nice top. Just don't expect it to be on the same level as its designer counterpart or the $95 top you just bought from Nordstrom. I'm 9 times out of 10 really happy with the quality of the product I get based on the price.
8.) Be Aware of Shein's Return Policy
Here is Shein's return policy per their website as of January 4, 2023
You have a maximum of 35 days from the date of your purchase to make a return. Your return package must be postmarked within 35 days after the purchase date. Returns postmarked after 35 days from the purchase date will not be accepted.
Return Shipping is free on your 1st return package for any order. You must use the return label ("Return Label") we provide (See "How do I make a return?" section for details), then ship the return package postmarked within 35 days from the purchase date.
If you have already returned item(s) from an order but would like to make additional returns of item(s) in the same order, you can use the Return Label we provided, and a $7.99 shipping fee will be deducted from your refund.
Please note that any additional returns must be postmarked within 35 days of the purchase date.
Click here to read the full Shein return policy.
The first time I returned something to Shein, they actually told me to KEEP the clothing and refunded me the value of my order in 24 hours! (See the pink highlighted part below.)
.
9.) Wash your Shein Clothing Before Wearing
Personally, I think it's a good idea to wash ANY new clothing before you wear it. This is especially a good idea, though, if you are buying clothing that is made from polyester or nylon, as the dyes used on these clothing items can cause allergic reactions, according to dermatologists. (Most of Shein's clothing is made from polyester, too.) Washing your new Shein clothing can help prevent any unwanted allergic reactions to the dyes used on the clothing.
How To Wash Shein Clothing
Now, you do have to be careful when you wash your Shein clothing. This is how I've been washing my Shein clothing over the years…
Washing Shein Dresses, Tops, Skirts, Swimwear, and Other Delicate Items
I wash these items on COLD and GENTLE Cycle. I do NOT dry these items. I hang them up and allow them to air dry. I also recommend using a mild detergent when washing these items.
Then, if there are any wrinkles, I use a steamer (not an iron) to get rid of the wrinkles. Some of the materials Shein clothing is made of will melt if you are using an iron and are not careful! So, I prefer using a steamer.
Washing Shein Exercise Clothing
Now, I am super hard on my exercise clothing from Shein. I wear it on a weekly basis, and I sweat like crazy. So, I wash these items on WARM and a Normal Cycle on my washing machine. However, I do NOT dry my exercise clothing from Shein either. I hang it up and allow it to air dry. My exercise clothing from Shein is holding up very well despite this abuse, too!
10.) Shein is also available on Amazon
If shopping on Shein is still a bit intimidating for you… you CAN order Shein on Amazon now! The selection of Shein clothing on Amazon is not as good as it is on the Shein site. However, you will have access to Prime shipping & free returns then!
My Shein Orders Over the Years
Looking through my blog, I have A LOT more pieces by Shein..more than I realized. So, I'm only going to chat about my top 6 favorite pieces, and then I'll make a gallery of all the items I have. I'm also going to show the one and only time I had an order not match the photo on the website. (I get questioned a lot about whether the items look like they do on the website, so I can definitely say yes, except for one time several years ago.)
You can click here to see all my blog posts featuring Shein clothing.
1.) Tropical Floral Print Ruffled One-Piece Swimsuit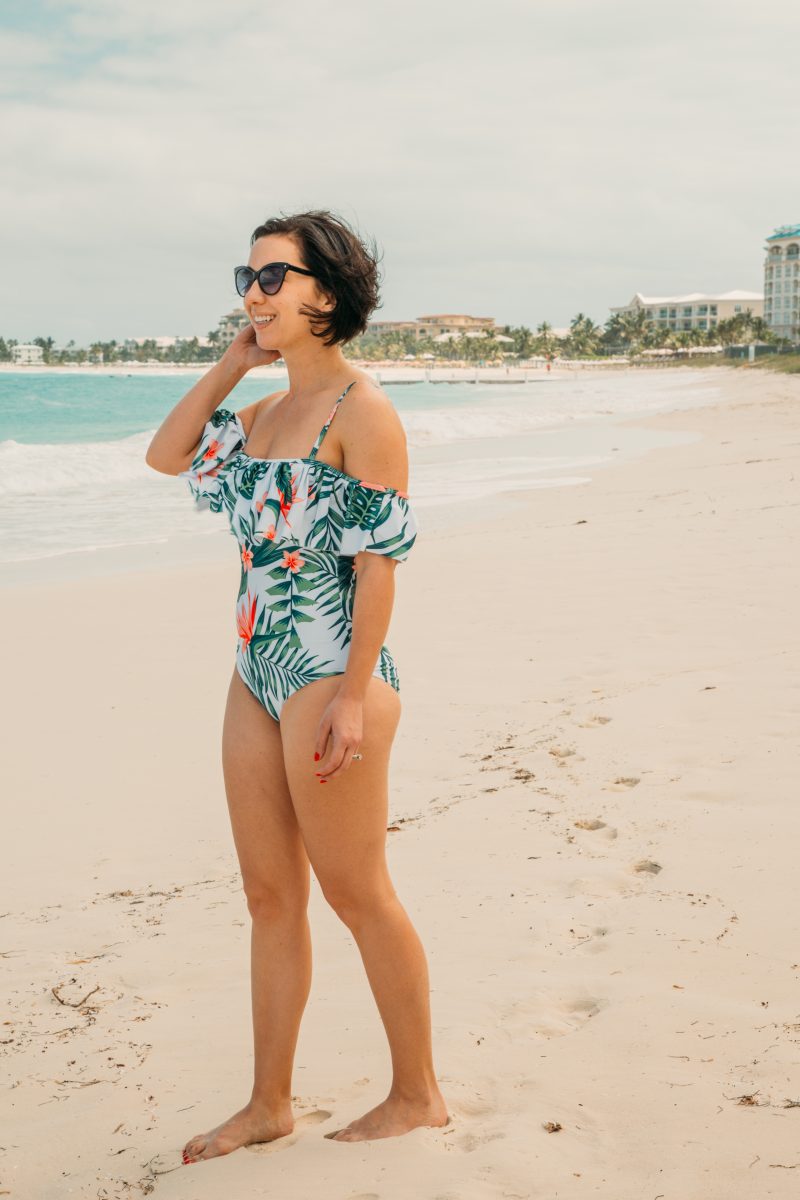 I actually love all of the swimwear I've ever ordered from Shein. This swimsuit I had packed for my recent trip to Turks and Caicos, and I got so many compliments on it. It's true to size and great quality! It's super comfortable to wear too.
Click here to shop this suit. Click here to see the outfit post it's featured in.
2.) White Eyelet Midi Skirt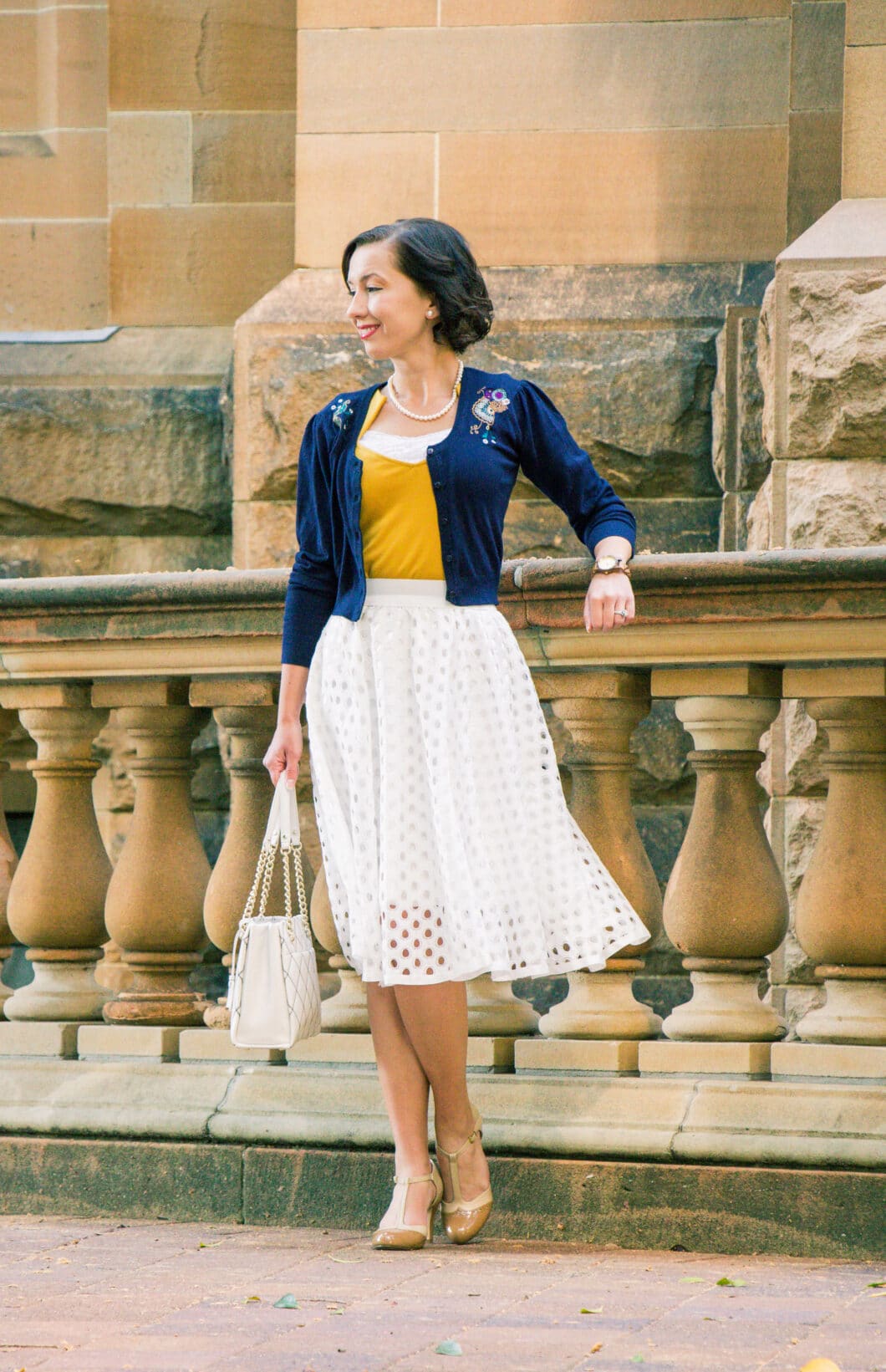 I've had this midi skirt for over 2 years now, and it gets A LOT of use. It's versatile, it's held up well in the wash and I am pleased with the quality, especially for the crazy low price tag.
Click here to shop it. Click here to see the outfit post featured above, and click here to see all the ways I've styled this skirt over the years.
3.) Color Block Shirt Dress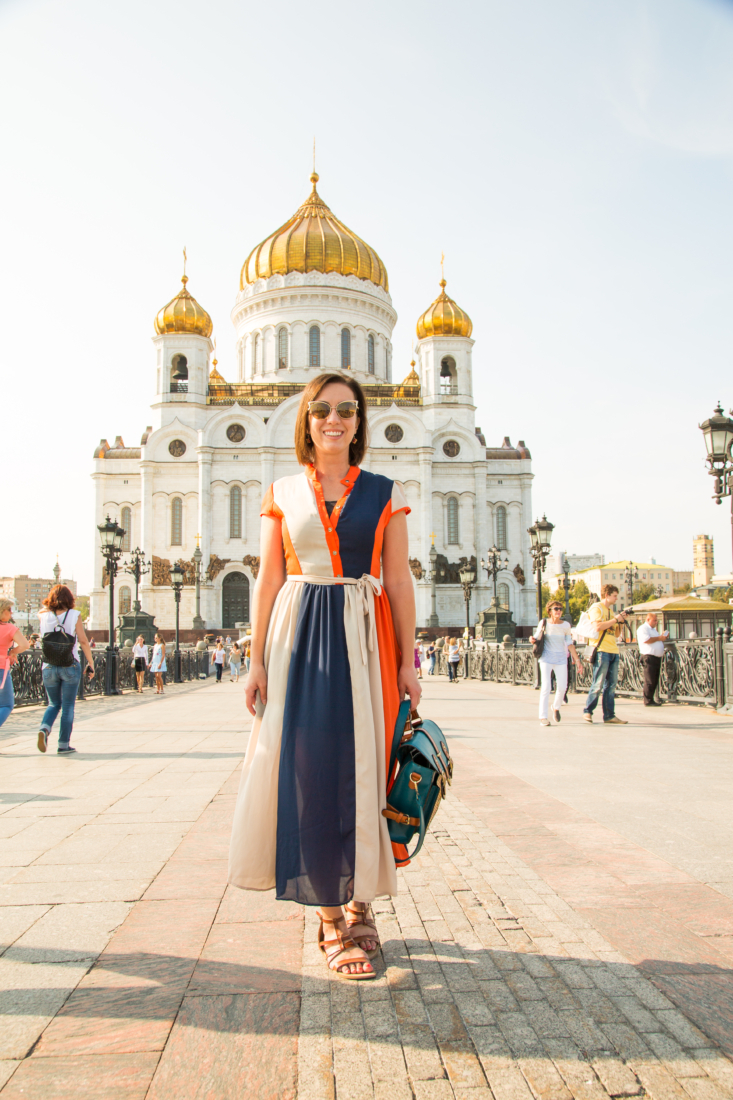 This shirt dress is honestly probably my most used Shein piece. I wear it for EVERYTHING. Corporate events, dinner dates, parties, exploring, everyday life, etc. I've had it for a couple of years too, and it still looks like new, despite all the washing it's gotten over the years.
Click here to shop this dress, and click here to see the outfit post pictured above.
4.) Floral Maxi Dress
I've had this maxi dress for years and have worn it on countless adventures! It works great for hot weather, as it's breathable, but can easily be layered for fall. (You can see how I style if for fall in this post or in this post.)
Click here to shop this dress, and click here to see the outfit post pictured above.
5.) Exercise tank top and leggings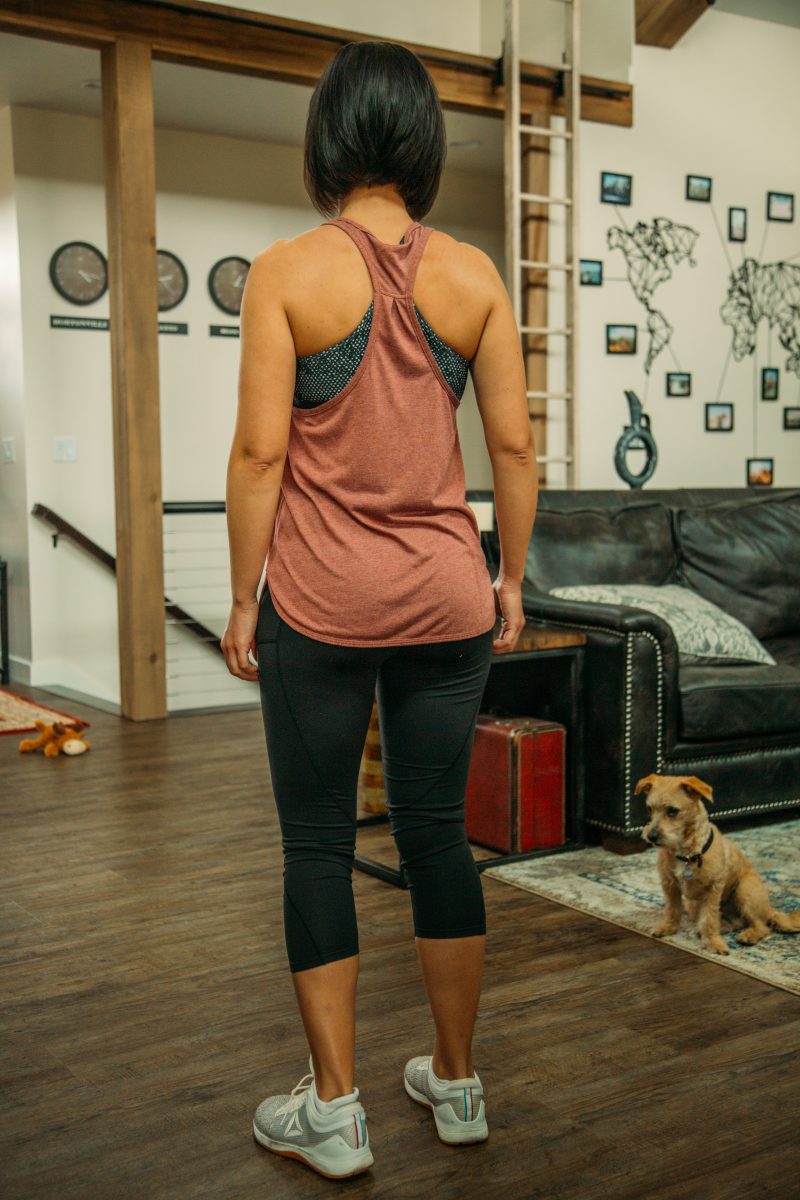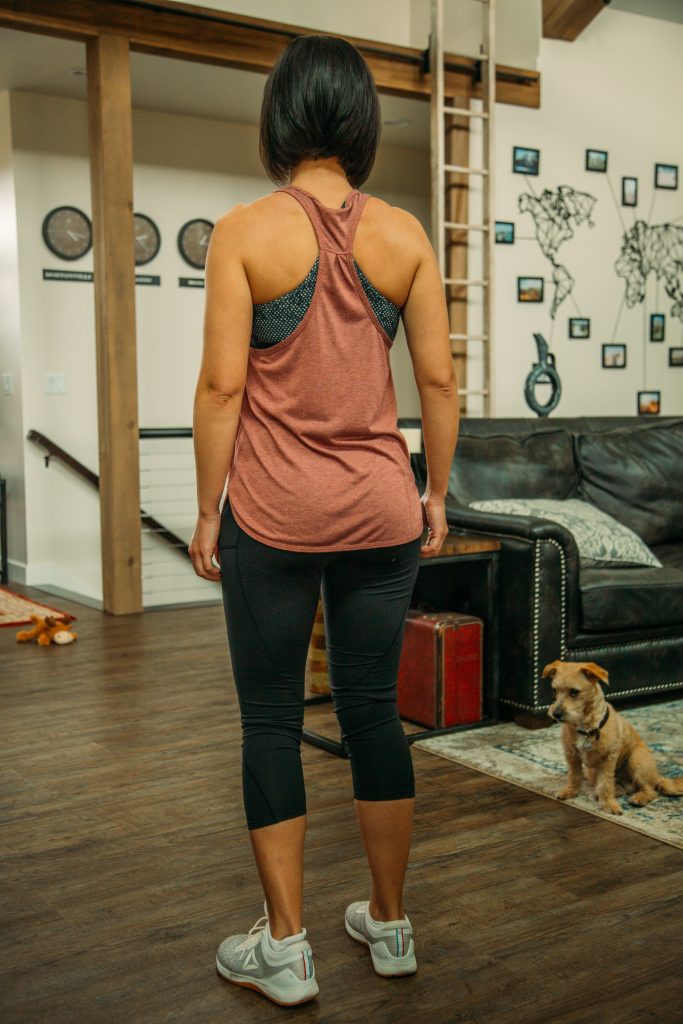 I am super impressed with Shein's activewear section! The tank top and the capris above are from Shein, and they are AMAZING quality. The tank top is really soft and breathes well. (It runs a little large, though.)
However, the leggings are my favorite. These are just as good of quality as a pair I had ordered from Nordstrom last year, and these Shein leggings are less than half the price. I like that the Shein pair also has usable pockets! Just note, they are a heavier fabric, though (which I, personally, like).
Click here to shop my tank top. Click here to shop my leggings.
6.) Tropical & Floral Striped Mesh One Piece Swimsuit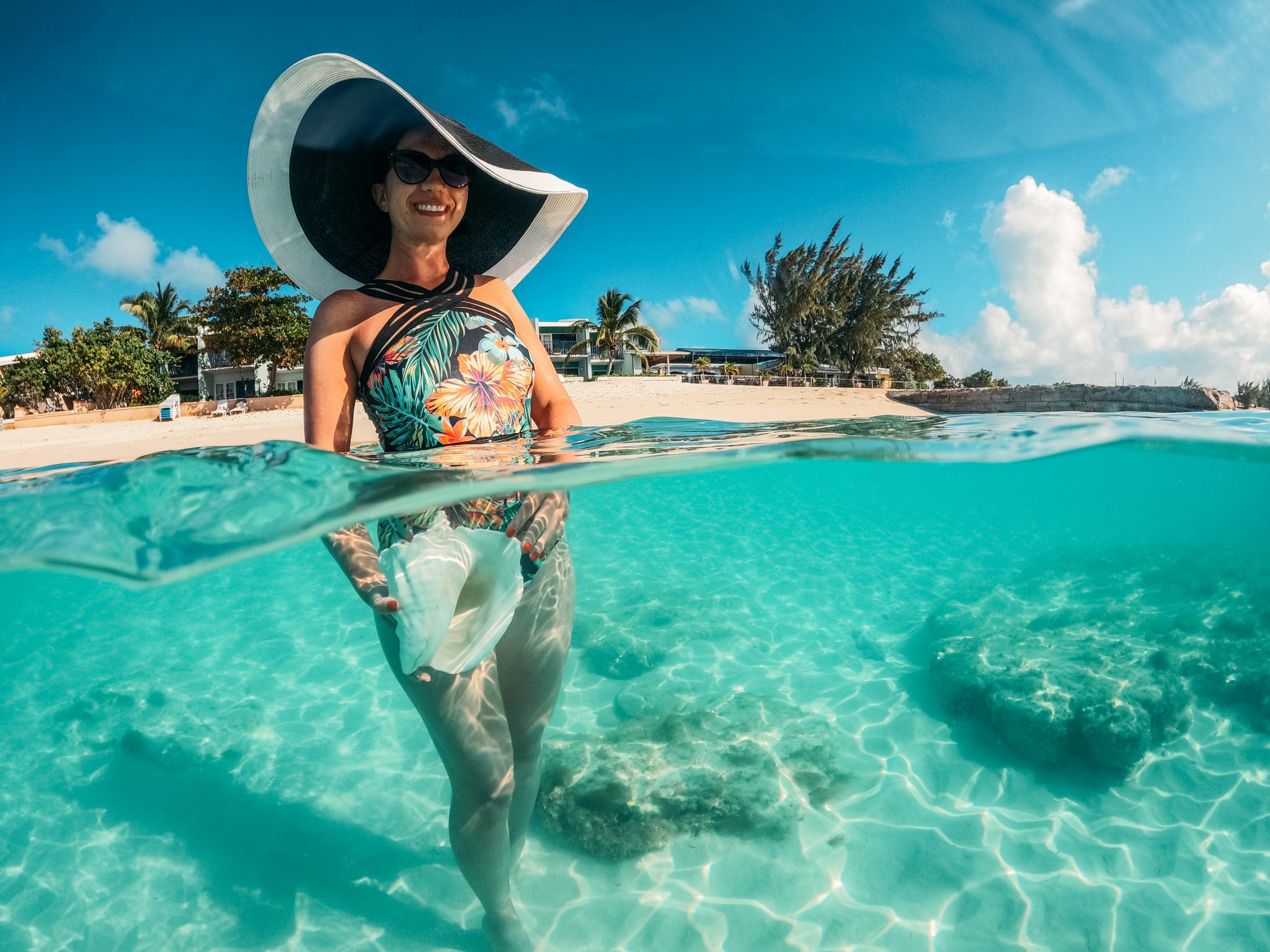 This is another swimsuit I had packed for my recent trip to Turks and Caicos that I absolutely loved. The neck is a little bit scratchy but other than that it was comfortable to wear all day hanging out on the beach and snorkeling. I get a lot of compliments on this one too!
Click here to shop my swimsuit. Click here to shop Shein swimwear.
My only item that didn't match the website photo…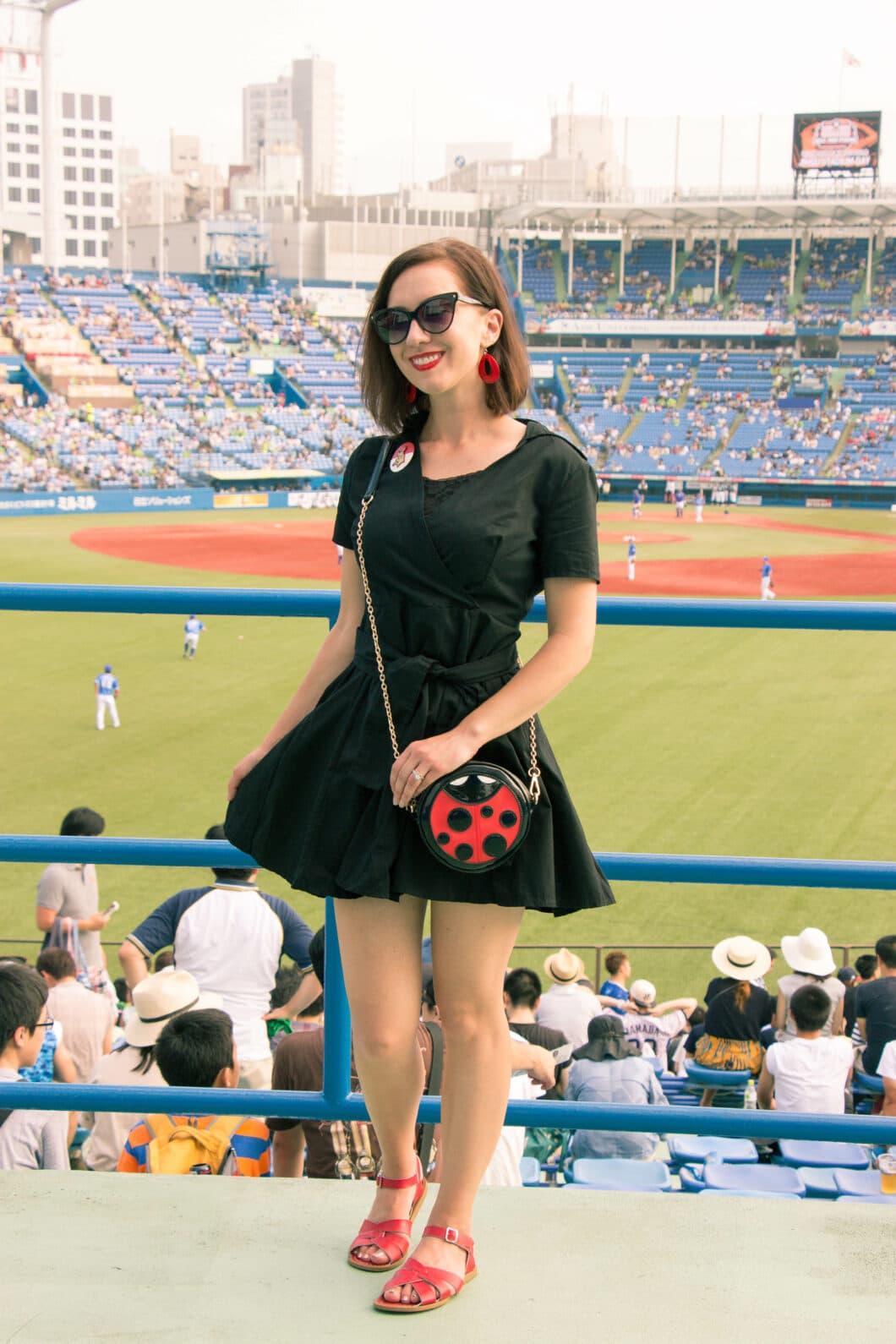 This dress looks A LOT longer on the website. In reality, it's quite short. The material was also a lint magnet and always looked kind of wrinkled. This one I ended up donating to charity.
Click here to see it on the website, and click here to see the outfit post above.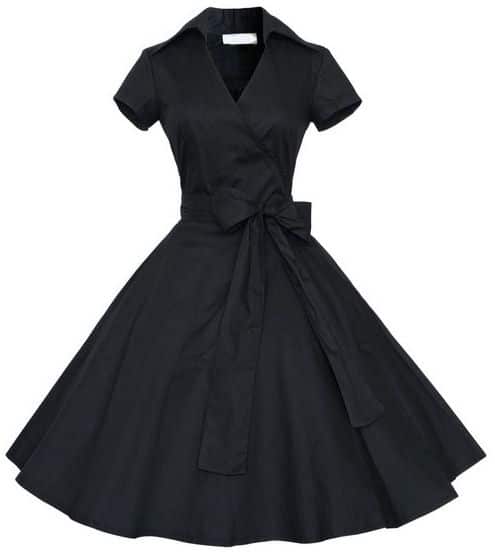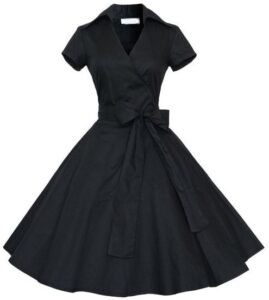 Check out all my Shein pieces in the gallery below!
You can see all my Shein outfit posts by clicking here
Click here to shop Shein.
Have you ever tried shopping on Shein before? What was your experience like? And if not, would you consider trying this site? Let me know in the comments!