Capes Aren't Just for Superheroes – Wear One This Fall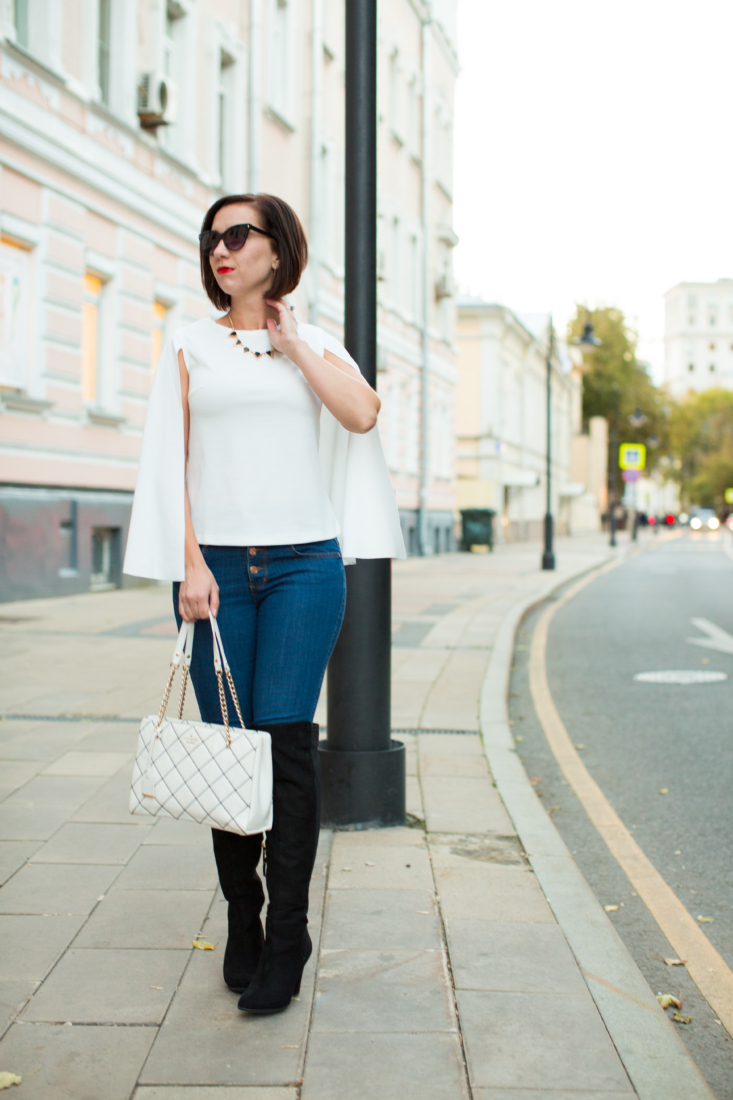 Cape c/o* | Boots c/o* (similar) | Bag | Jeans | Sunglasses c/o* | Necklace (similar)
While capes often bring to mind images of Superman and Batman, you don't have to be able to fly or drive a Batmobile to rock one this fall. There are so many fun options! I've very pleased that capes appear to be here to stay for a while longer. They're such a classy and simple look, in my opinion.
Wearing one as a coat can be a great option in fall. (I really love this one!) One of my favorite looks is as a dress, like this one I wore a few years back. However, there's nothing simpler and classier than a cape blouse.
The blouse I'm wearing is true-to-size, and it's not see-through. I thought that was nice for a white blouse! I almost always have to wear a cami under anything white, but that's not the case with this one.
The best part, though, is that this blouse is just $12!! You can't beat that price. For that price, it's not the world's greatest quality and I don't think it will last for too many years of wearing and washing. However, for $12, I'm more than satisfied with it. (I'll just be extra careful when washing it.)
Pairing boots with a cape is one of my favorite looks as well. You can sort of pretend you're actually a superhero then. Break out your cape and your butt-kicking boots, and go save the world!
Speaking of boots, these are my current favorites from DSW. They're from last year, and this year's version has a little extra bling to them. However, I still think they look great. Plus, they're easy to walk in and they fit my wide feet!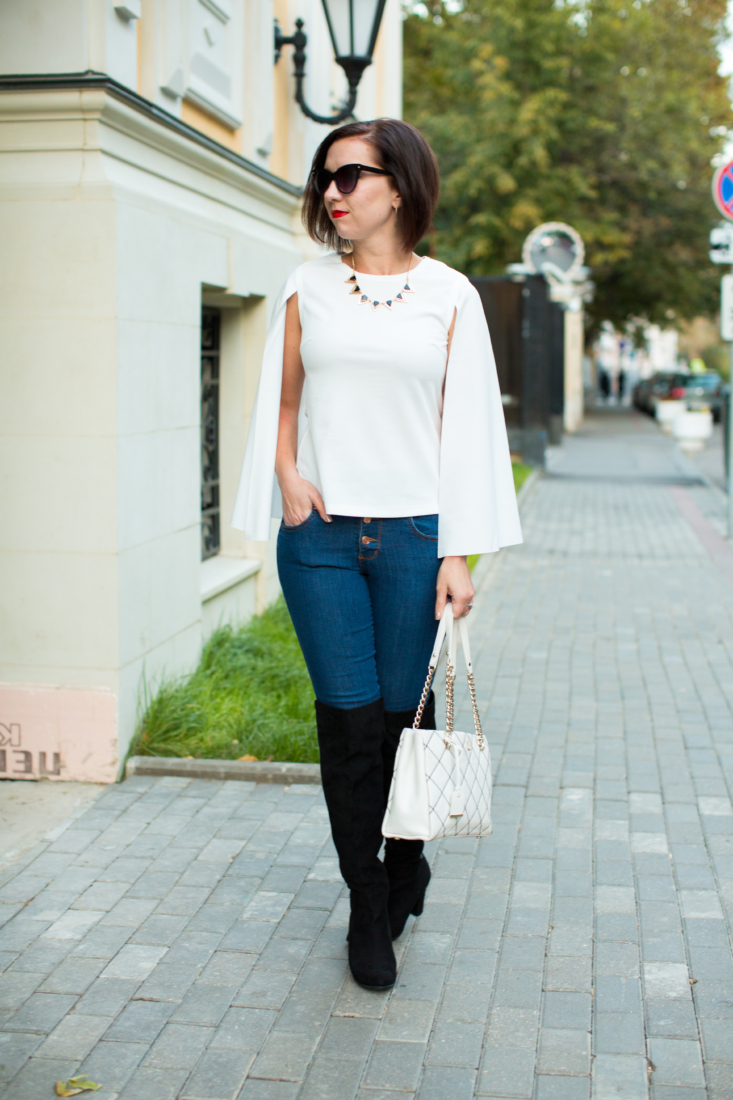 What are your thoughts on wearing capes? Love 'em or leave 'em? Let me know in the comments!
Where to find it:
Cape: c/o* Shein
Boots: c/o* DSW (similar)
Bag: Kate Spade
Jeans: ModCloth
Sunglasses: c/o* Polette
Necklace: Gift from my mom (Similar here)

Links à la Mode, November 22nd, 2018
*Disclosure: some of these links are affiliate links. Meaning, if you click a link and make a purchase, Have Clothes, Will Travel gets a very small commission at no extra cost to you. Thank you for supporting the brands that make this blog possible! I am also a participant in the Amazon Services LLC Associates Program, an affiliate advertising program designed to provide a means for us to earn fees by linking to Amazon.com and affiliated sites.

*c/o = courtesy of, meaning the company gave me the product to be used on my blog, and I did not pay for it. All opinions are my own, and I am not being compensated for a positive review.