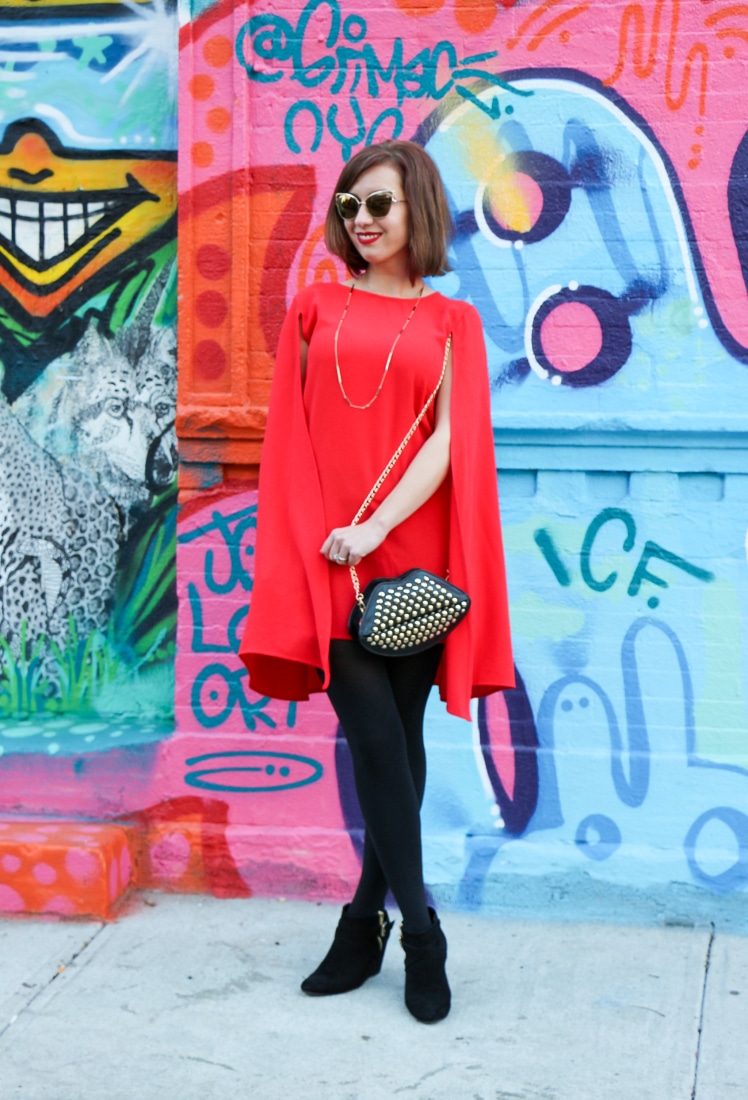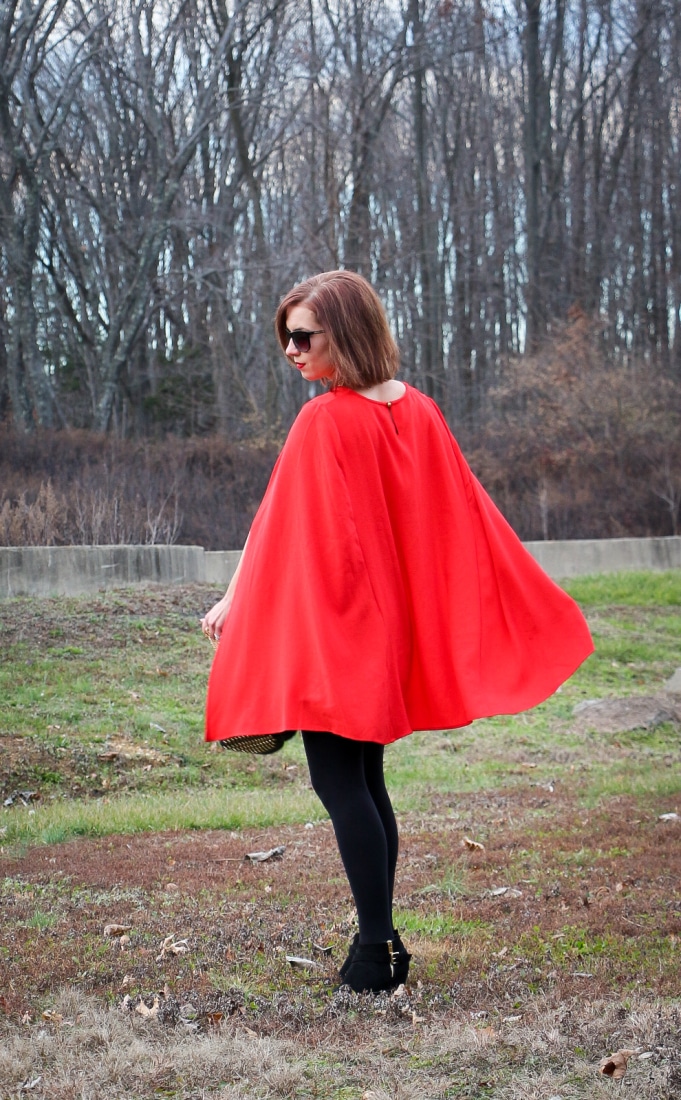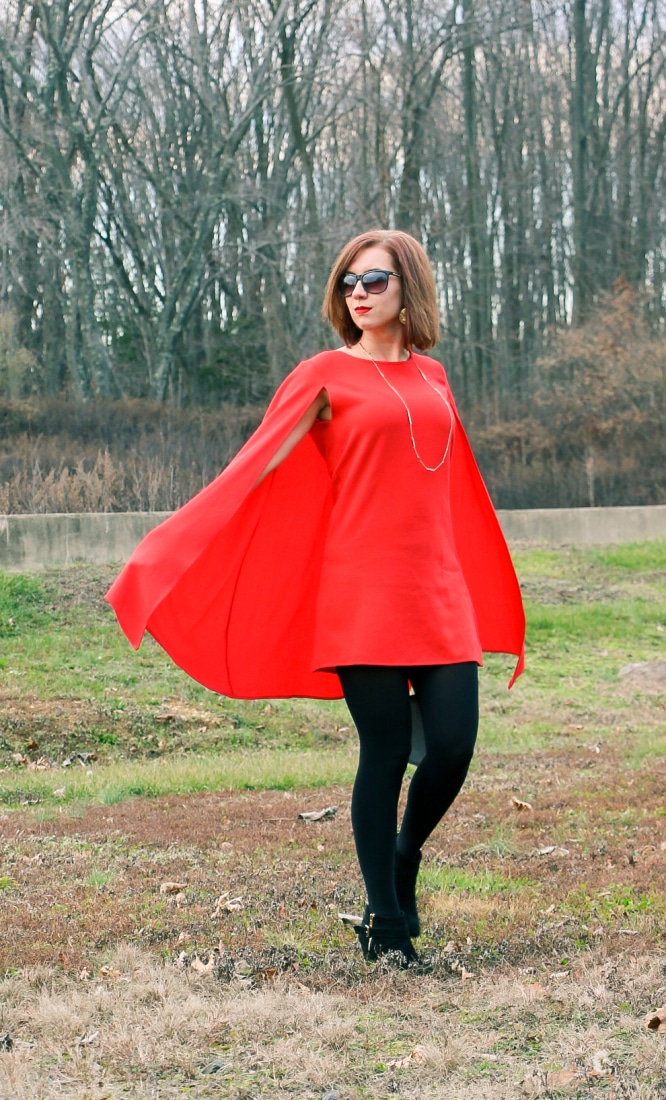 Shop the look:

This weekend my husband and I were sucked into the black hole that is Netflix and managed to finish watching the entire season of Marvel's Jessica Jones. Once the depression of finishing a show began to sink in, I took it upon myself to find a way to fill the void in our lives, now. (Ok, I'm being a bit dramatic..but bear with me. And I swear I'll talk about this awesome cape dress in a second. Haha.) After Googling around for a while, I stumbled on Luke Cage's bar's location in New York.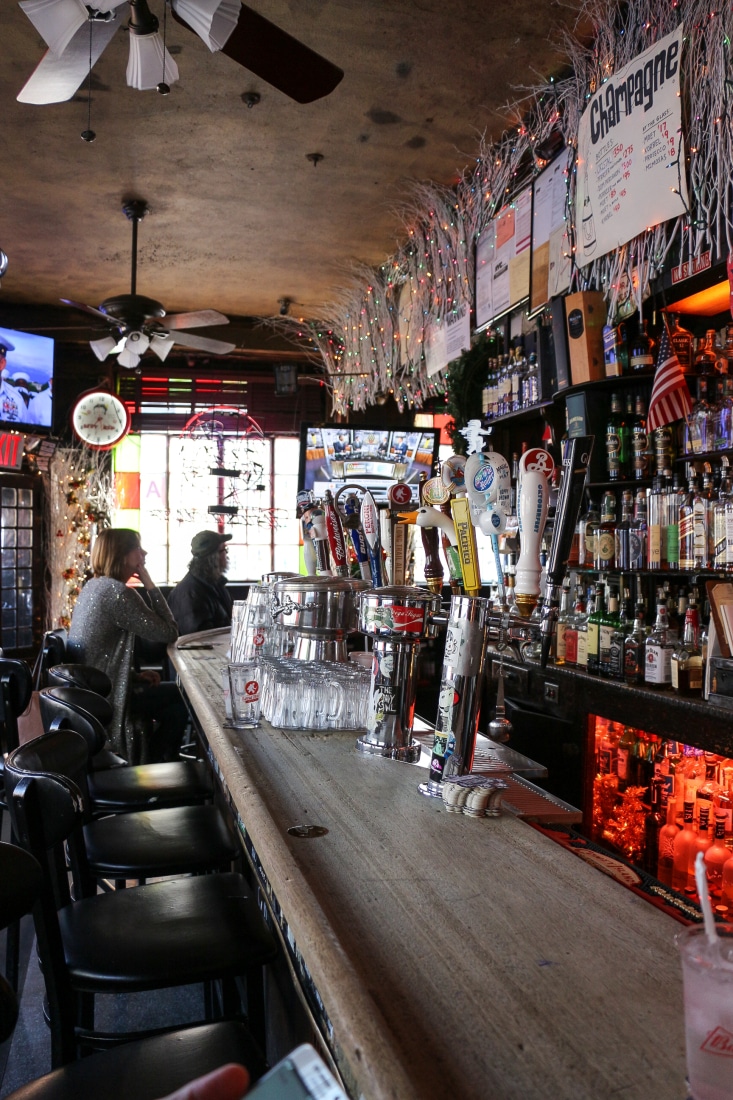 If you're wondering who Luke Cage is…he is a Marvel Superhero, and has unbreakable skin and superhuman strength…and he and Jessica Jones have a thing going on (I think he's actually her husband in the comics). And in the first season of Jessica Jones he is bar owner "to the cleanest dive bar in the city." I happen to love dive bars, so this was a dream come true that Luke's bar is actually a real place in the city. It's called "7B Horseshoe Bar aka Vazacs" in real life. And there's actually been quite a few movies shot here…from the Godfather to Crocodile Dundee to that new Seth Rogen movie that I think looks terrible (The Night Before?). But the bar is actually just a no frills, clean, dive bar. It's not a tourist trap, and just about everyone who was there appeared to be a regular stopping in to watch that day's football games. Oh, and while the bartender was not actually Luke Cage…he did manage to make me the best Bloody Mary I have ever had, so I'll forgive him for not being a superhero with unbreakable skin. Haha.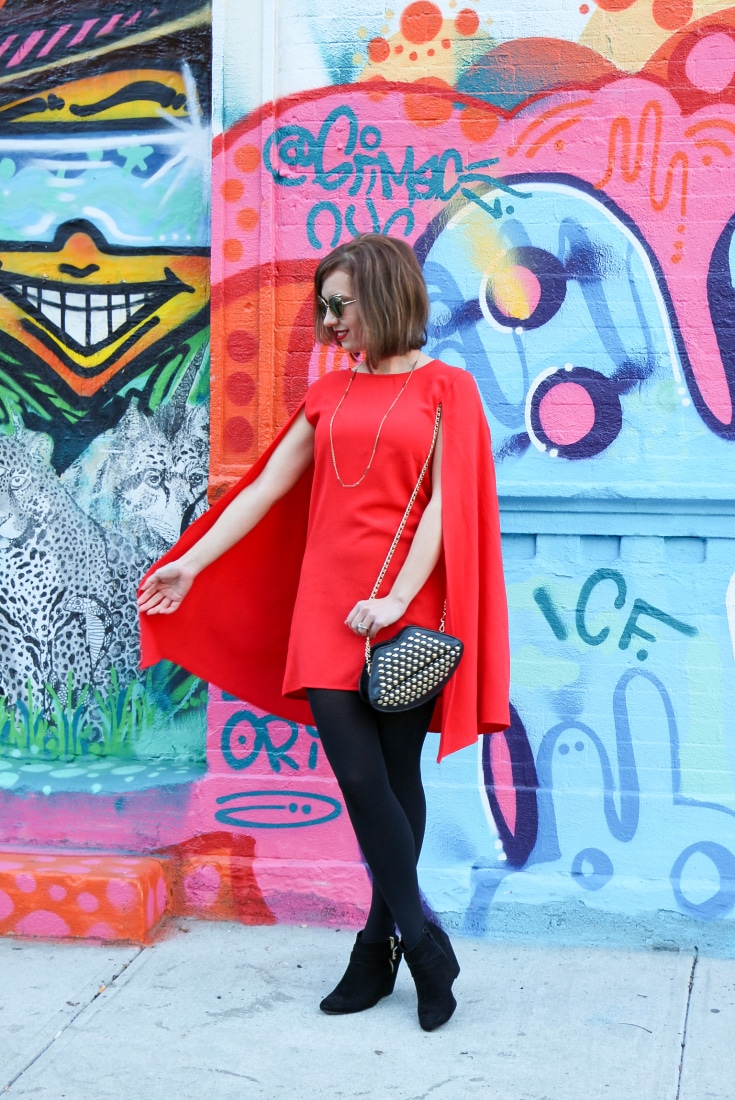 So, what does one wear to a superhero's bar? Well, a cape of course! Haha. I know – even though Jessica Jones and Luke Cage do not actually wear capes, in the comics or the show… But I had been waiting for the perfect moment to break it out…and this seemed like the best one so far! I also really liked how it looked with my new hairdo, and that I now had some appropriate shoes and accessories to match it. The best part about this cape too, is that it is less than $20 from Shein! I think it looks like it is way more expensive than that! Granted, this doesn't feel like the highest quality piece of clothing I own, but for $17…I think it is more than ok!
Speaking of inexpensive, my purse is just under $7 from DealSale! DealSale is actually a clothing store app, they don't have a website…which when I found that out I was immediately turned off to the idea. I don't ever buy my clothes off apps, I may browse, but I usually wait until I'm on my laptop to make any purchases…all clothing store apps just seem so glitchy. However, I have to say, DealSale's app worked just fine for making this purchase. And I love this purse!
Also, in case you were wondering…I did shoot these cape photos on two separate days. The super cool graffiti photos are right next to Luke Cage's bar in the East Village. However, I was sad that none of them showed off how cool this cape looks when I'm moving and walking…so I wore it again yesterday and snapped some photos in an abandoned lot over by our apartment. I'm glad you can see how cool it looks in action, now!
Are there any other Jessica Jones & Luke Cage fans out there? Let me know in the comments!
Where to find it:
Cape dress: Shein (Sold out – Sorry! Similar here & here)
Booties: Target
Tights: Express
Coat: Forever 21 (old)
Sunglasses: Quay (Similar)
Necklace: Rocksbox (use code "haveclotheswilltravelxoxo" for a free month.)
Lips purse: c/o* Dealsale (Similar here)
Here's where to download the DealSale app:
DealSale Website
IOS
Android