Cute & Comfortable Exploring Outfit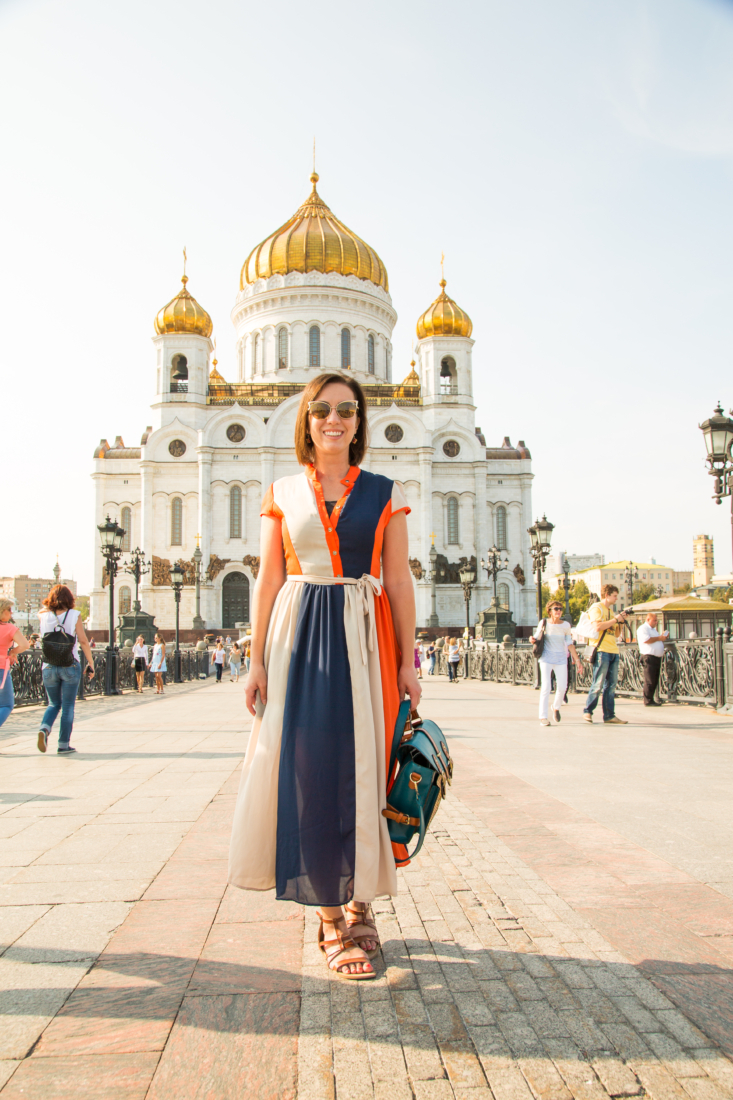 Dress c/o* | Bag | Sandals (similar) | Sunglasses (similar) | Earrings
It's certainly taken me long enough to figure out, but I'm getting much better at putting together exploring outfits that are both comfortable yet cute looking. It's really not too difficult either!
The formula basically comes down to having a dress that breathes well (you can sweat in it all day and still be comfortable), a comfortable pair of walking shoes/sandals that are versatile and also stylish, a crossbody bag and sunglasses. Voila! A cute and comfortable exploring outfit.
I've had this dress for years and always saved it for dressier occasions, usually pairing it with heels or wedges. For some reason, it never dawned on me to pair it with comfortable sandals and wear it during the day. But this last weekend, I tried it out…and I was so glad I did! It was so comfortable to wear in the sun all day walking around, and it also looks nice to boot!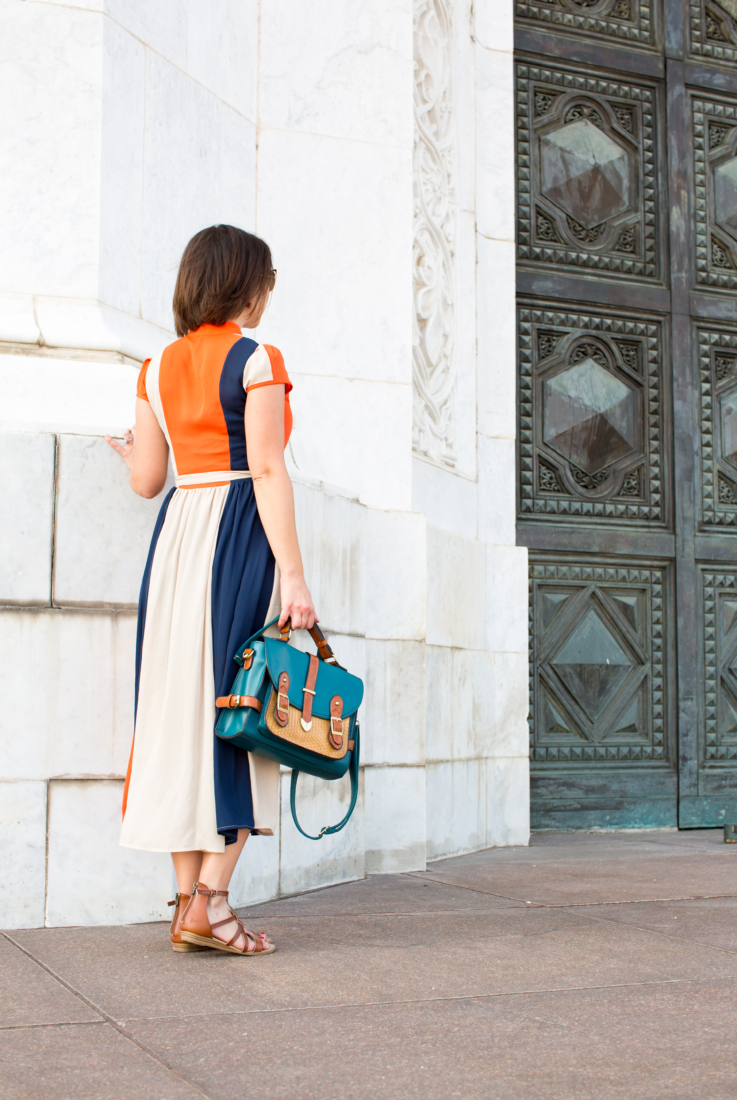 This dress does run a tad small, though. It's a bit tight on me through my shoulders and arms. So, if you're in between sizes, I would definitely say to size up. I don't notice it when I'm wearing it, but my husband thinks it's hilarious when I try to put this dress on because I have such a hard time getting both my arms in it! Haha. But once it's on, I'm good to go.
These sandals I found on sale a couple months. The brand name is Blowfish. This is my first pair by them, and I don't think it'll be the last. They're super comfortable, and I can walk in them all day long. I didn't have to break them in, either…which was a nice bonus. They were comfortable right away. However, the sizing was a bit wonky with these too. I ended up ordering up a half size because my normal size 8 was way too small. These 8 1/2s are slightly large on me, but I can tighten the straps…so, it's no big deal. (This exact pair is sold out, but they do carry an almost identical pair, here.)
Photos don't do these little, book earrings justice! My husband and I bought them a couple weekends ago at a market in Moscow. A lady handmakes them, and you can actually write little notes on the inside of them! I love them. (I found a really similar pair on Etsy, here!)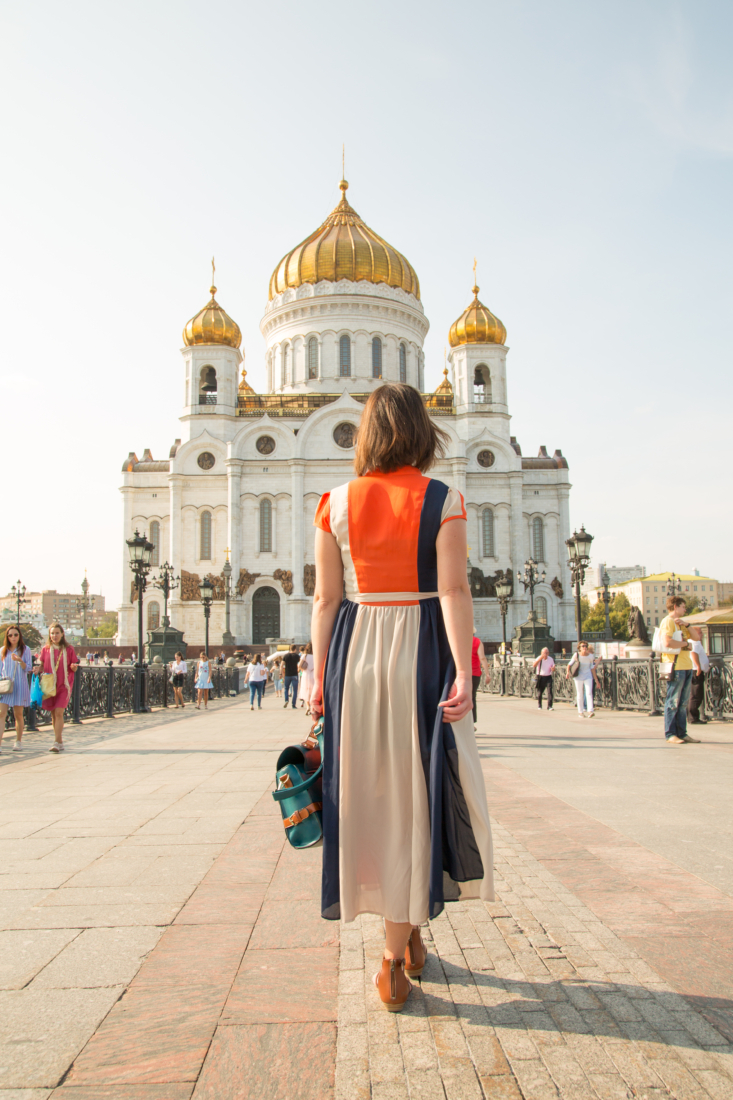 I wore this outfit to check out The Cathedral of Christ the Saviour here in Moscow. It's incredibly beautiful on the outside. However, we weren't allowed inside because my husband was wearing shorts! (Doh!) We'll have to go back once it's a little cooler. (They enforce a very strict dress code here, that I didn't realize until it was too late.) So, we took photos of the outside and then wandered over to a little gastropub for snacks and drinks. We then walked all the way over to Zaryadye Park by the Red Square…and then to our subway station. Sorry, I know that means probably nothing…but suffice to say, it was a lot of walking! But I was perfectly comfortable in this here outfit.
What's a cute and comfortable exploring outfit you like wearing? Let me know in the comments!
*Last chance to enter my $100 ModCloth gift card giveaway! It ends on Friday. Click here to enter.
Where to find it:
Dress: c/o* Shein (Does run a little small – be sure to check the sizing chart!)
Sandals: Blowfish (similar)
Bag: ModCloth
Earrings: Handmade (similar)
Sunglasses: Quay (similar)
Cami: Maurices

Links à la Mode, September 6th, 2018
*Disclosure: some of these links are affiliate links. Meaning, if you click a link and make a purchase, Have Clothes, Will Travel gets a very small commission at no extra cost to you. Thank you for supporting the brands that make this blog possible! I am also a participant in the Amazon Services LLC Associates Program, an affiliate advertising program designed to provide a means for us to earn fees by linking to Amazon.com and affiliated sites.
*c/o = courtesy of, meaning the company gave me the product to be used on my blog, and I did not pay for it. All opinions are my own, and I am not being compensated for a positive review.