Styling a Floral Smock Dress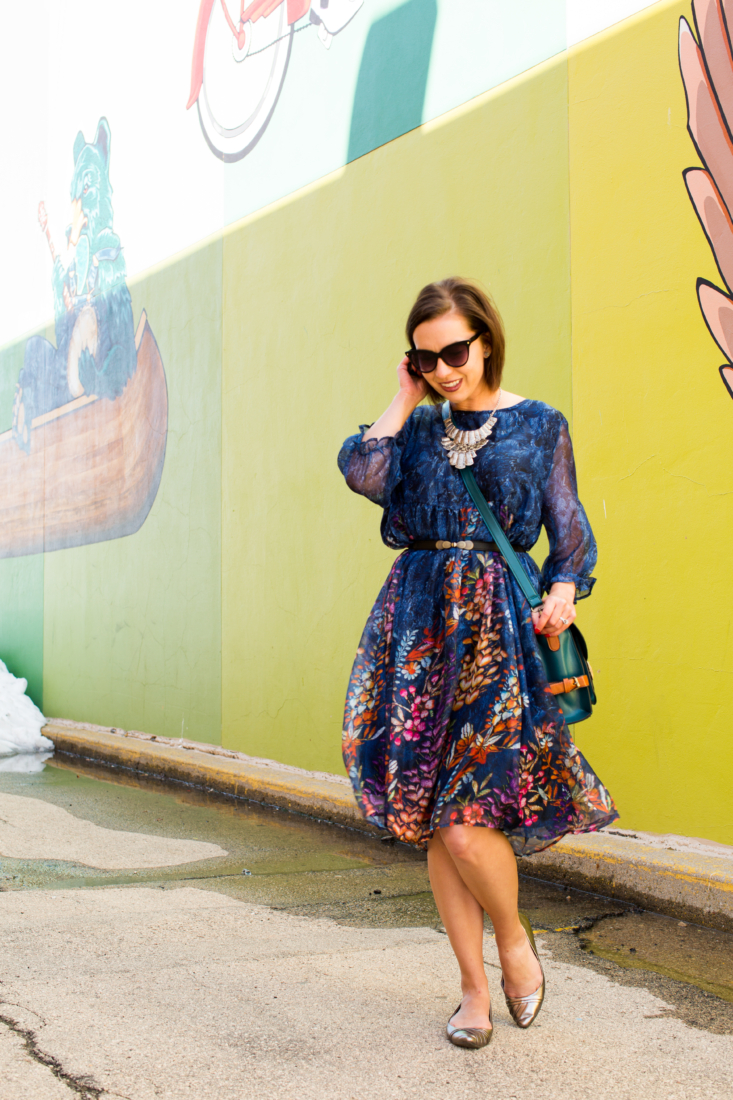 Dress c/o* Use code LP15 for 15% off (Also here)| Flats (Similar here) | Bag | Necklace (similar here) | Belt
Here we go! Styling a smock dress round 2! This is a more casual and versatile dress than my previous smock dress adventure, though. However, with this dress, I really didn't care for it without the belt.
I know that's my personal preference, I like something with a little more structure. But just note, that this dress looks this way because I found a nice belt to go with it! I've been having awesome luck finding waist belts to go with my dresses on Amazon. And I've also found that this makes me much more open to adding smock dresses to my wardrobe.
This is another smock dress from my friends at EvaTrends. (Use code LP15 for 15% off your order on EvaTrends.) They make such lovely, comfortable dresses! This one will be perfect for summer. It's such a light and breathable fabric. I love how it moves when I walk, and I thought the sleeves were fun too. This dress does have A LOT of room in it, though. This dress feels much larger on me than the other smock dress I have. (I had ordered my normal size in both.) That's because this top has less structure and is more tent-like without the belt.
I personally felt styling it with a belt and statement necklace helped to minimize the abundance of fabric. Not that that is a bad thing, but again, I'm still warming up to the whole smock dress idea.
I liked how my new purse paired with this dress too! I've it for a couple weeks and had debated returning it…because I really didn't need another purse, let's be honest. But gosh, this one is such a unique piece! (Although, my husband says it reminds him of a blue pineapple? Darn boys! Haha.) It's a nice size for me to carry all my essentials, and I like that it comes with an adjustable crossbody strap. It's really fantastic quality too! My only complaint was I wish it was a smidge larger so I could put a notebook in it. It's not quite large enough, despite looking kind of briefcase-like. And unfortunately, the teal version of this bag sold out almost instantly, but there is a mint version available now!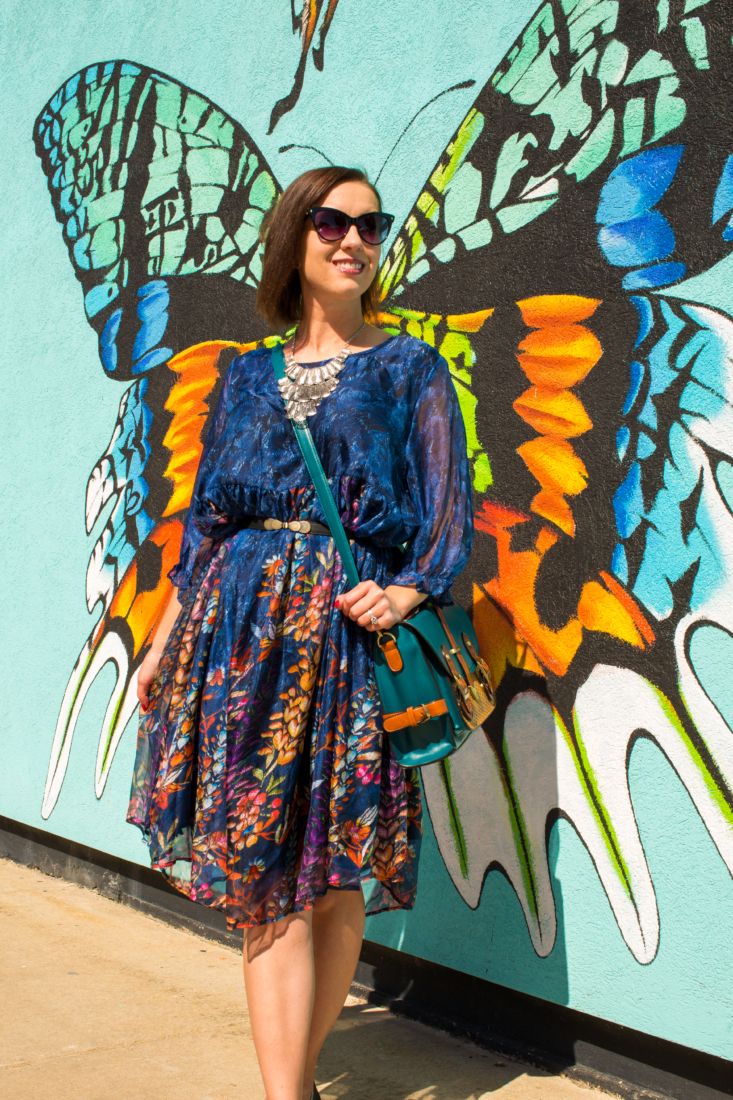 And just in case you were wondering, these photos were taken in Appleton, Wisconsin (near my hometown). This area has gotten so many amazing murals since I had last been here! It's a blogger's paradise, haha. I need to come back to get more photos of this butterfly mural when my husband can help me. (This was a tricky one to capture in a high-traffic area with a tripod, haha.)
Have you added any fun new pieces to your wardrobe lately? And does your city have some fun murals too? Let me know in the comments!
Where to find it:
Dress: c/o* Evatrends Use code LP15 for 15% off (Also available here.)
Bag: Modcloth
Flats: Old (Similar here)
Necklace: Old (Similar here)
Belt: Amazon
Sunglasses: c/o* Polette

*Disclosure: some of these links are affiliate links. Meaning, if you click a link and make a purchase, Have Clothes, Will Travel gets a very small commission at no extra cost to you. Thank you for supporting the brands that make this blog possible! I am also a participant in the Amazon Services LLC Associates Program, an affiliate advertising program designed to provide a means for us to earn fees by linking to Amazon.com and affiliated sites.
*c/o = courtesy of, meaning the company gave me the product to be used on my blog, and I did not pay for it. All opinions are my own, and I am not being compensated for a positive review.