How to Have a Relaxing DIY Spa Day at Home
I don't know about you all, but right now, I am in major need of some self-care. And given that our favorites spas and salons are closed, it's up to us to get creative at home with our spa days!
DIY spa days were something I used to do frequently before I got my own house and started my business. Now, it always feels as though I should be working on something. However, with the current situation, it's never been more important to take a break from it all and just RELAX.
So, today's post is sharing my steps for having a lovely DIY spa day at home! I hope you enjoy it, and I would love to hear how you are practicing self-care right now in the comments section at the end of the post.
*Disclosure: some of these links are affiliate links. Meaning, if you click a link and make a purchase, Have Clothes, Will Travel gets a very small commission at no extra cost to you. Thank you for supporting the brands that make this blog possible!
A fun way to do at-home spa days is with a monthly self-care subscription box!
Click here to check out some awesome self-care boxes that will be delivered right to your doorstep.
A Relaxing DIY Spa Day at Home – How to Set the Mood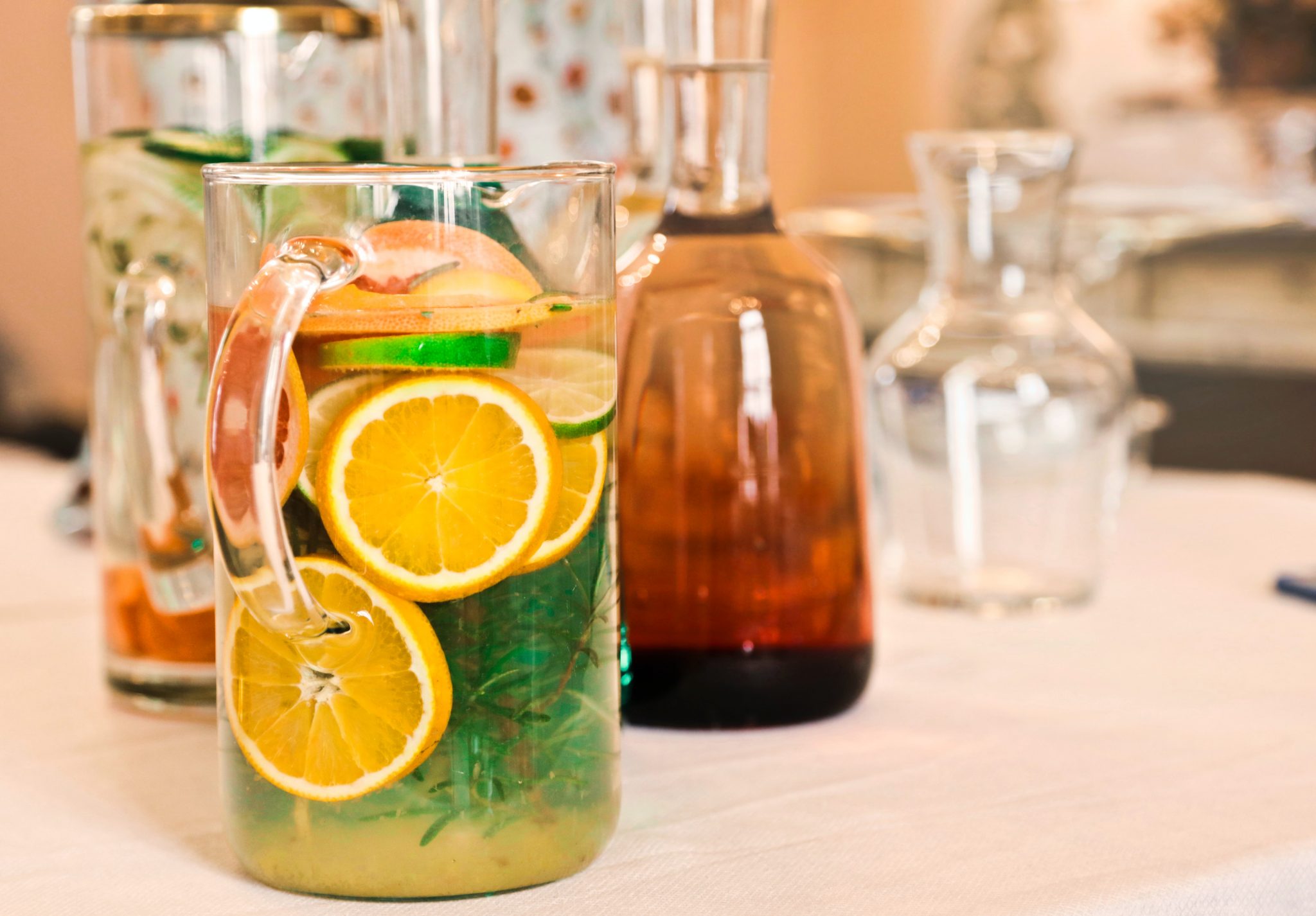 1.) Prepare a beverage for your at-home spa
Many spas have beverages on hand to enhance your relaxation, and they offer them to you the moment you walk through the door. So, for your at-home spa day, have your favorite "spa beverage" prepared or on hand before you start.
A few ideas include:
Tea
Champagne
Wine
Infused water
I, personally, enjoy infused water for my spa days. It's easy to make at home too! Just throw some of your favorite cutup fruits in a pitcher of water and let chill in the fridge for a few hours.
My favorite combo is this one:
Cucumber + lime + strawberry + mint
Or just cucumber (and you can use the leftover cucumber slices for your eyes)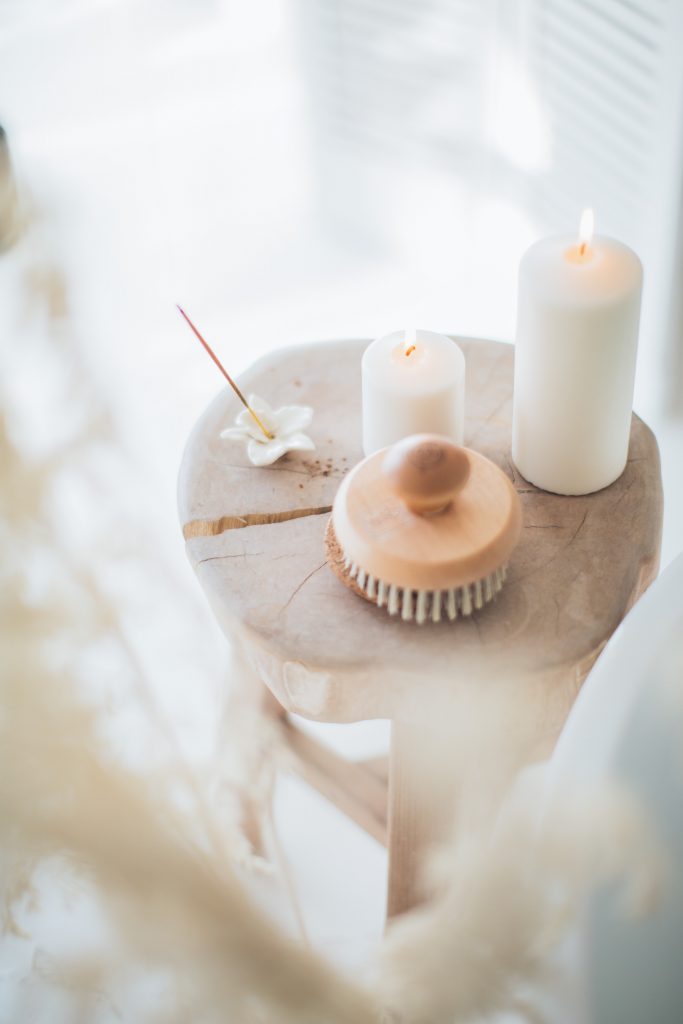 2.) Light some scented candles
Candles really set the mood for your at-home spa day! If you have a candle that's scented, such as lemongrass, eucalyptus, lavender, etc. – that would be best to create your spa experience! (Click here for some online options.)
However, any candle you have in your home would work!
3.) Play some relaxing spa music
Grab a speaker or your phone and play some relaxing spa music. I like to use Spotify playlists of spa music to set the mood.
Step-by-Step DIY Spa Day at Home
4.) Apply a face mask
Pampering your skin is a must on a spa day! Start with opening up your pores. The easiest way to do this is to get a washcloth and run it under hot water, wring it out (so it's not dripping wet) and press to your face for a few minutes until it's no longer warm. Then apply your favorite face mask!
I, personally, prefer to buy my face masks versus making them myself. My skin is sensitive and breaks out REALLY easily. (I like using this pearl mask.)
However, I have made my own face masks in the past. The DIY oatmeal one below worked the best for me, but it is super messy! If you make this one, lay down some towels and be sure to not rinse this mask down your sink, as it will clog it!
DIY oatmeal facemask
Combine 1/2 cup hot—not boiling—water and 1/3 cup plain oatmeal.
After the water and oatmeal have settled for two or three minutes, mix in 2 tablespoons plain yogurt, 2 tablespoons honey, and 1 small egg white.
Apply a thin layer of the mask to your face, and let it sit for 10 to 15 minutes.
Then rinse with warm water.
5.) Apply cucumber slices to your eyes
You can apply your cucumber slices to your eyes at the same time as your face mask, or you could use them while you soak in the tub. I, personally, prefer to use these after my face mask while I soak in the tub. (I like to soak for a LONG time, and most face masks should be rinsed off in 10-15 minutes. That's why I use the face mask before I get in the bathtub.)
I've also used these eye pads to reduce puffiness on my eyes while I soak in the tub. They're really moist and can stick on your eyes a little better than cucumbers. But, either of these will work fine!
6.) Apply a hair mask
Don't forget about your hair on your spa day! I also prefer to use a professional hair mask for my hair, as my hair is really thin and really damaged. (I like this Kérastase one for damaged hair.)
However, I've also used DIY masks that don't work too bad! Like the DIY face masks, though, then can get messy. The one below has worked the best for me.
DIY banana hair mask
Mash one ripe banana using a fork and add to it 2 tablespoons of extra virgin olive oil.
Mix well until there are no lumps.
Apply all over the hair using a brush (one that you can easily wash after this)
Cover with a shower cap and wash with shampoo after 20 minutes. (Clarifying shampoo works best to get this mask out of your hair!)
7.) Run a bubble bath
A bubble bath is an absolute must on a DIY at-home spa day! Run some warm water and your favorite bubble bath or bath bomb. (I've been liking bath bombs lately because they're rather entertaining… and it doesn't take much to amuse me these days, haha.)
Epsom salt also works great to ease sore muscles and can come in a variety of scents.
Or, if you happen to not have any of this stuff on hand – fret not! Just put some shower gel or shampoo in your bathtub to create some bubbles. This can work just as well to set the mood. (I've done this enough times as well!)
8.) Exfoliate your body
I prefer to exfoliate just before I'm about to get out of the tub, but it's up to you! There are tons of different body scrubs out there, or you can also make your own body scrub with the recipe below.
DIY sugar and olive oil scrub
Mix together:
3 tablespoons extra virgin olive oil
2 tablespoons honey
½ cup organic sugar

Massage to skin in circular motions.

Rinse off.
9.) Take a shower
After your bath, rinse off your hair mask and body scrub by taking a shower. Using a scented body wash such as Eucalyptus, lemongrass or lavender can be a great way to end your spa experience!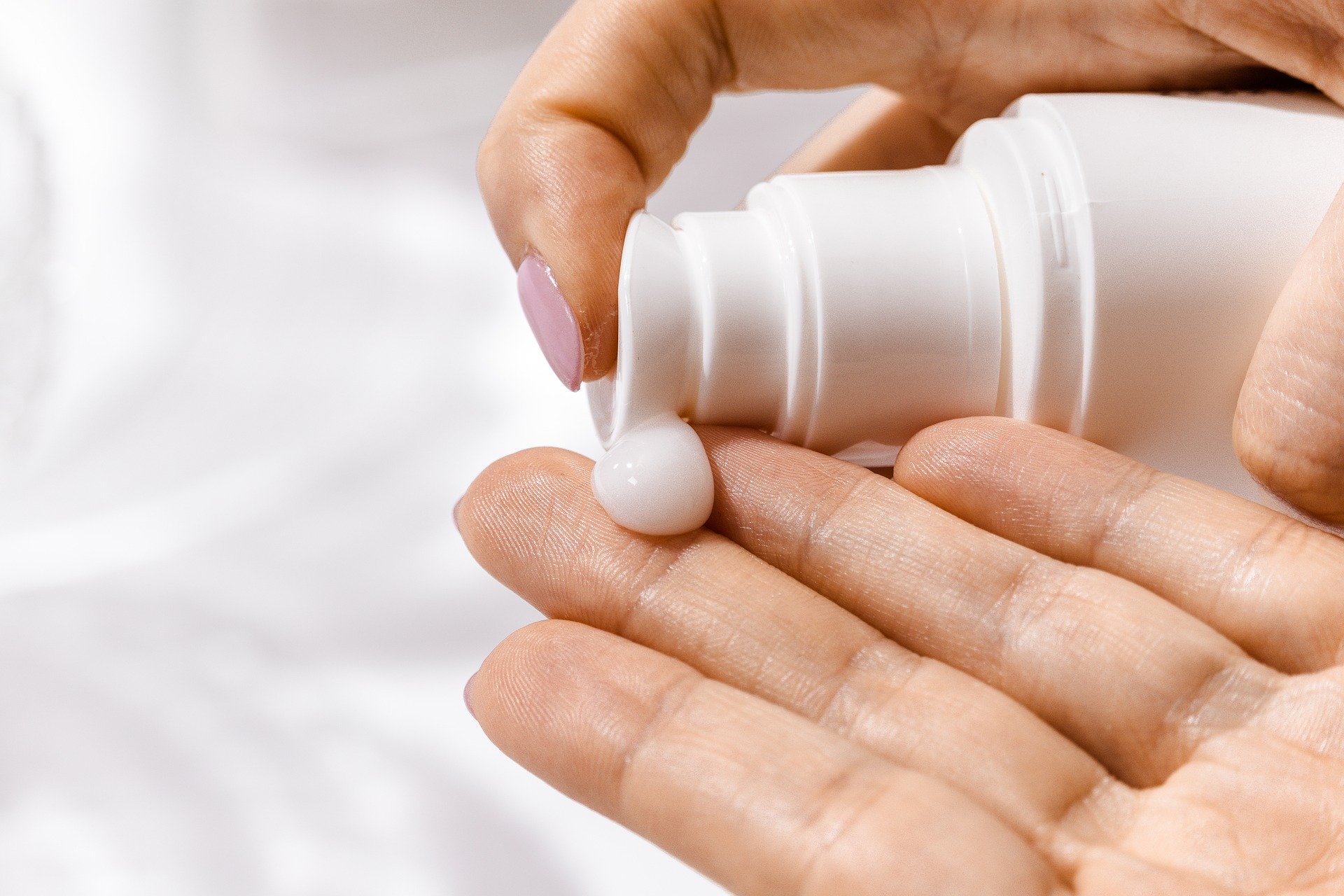 10.) Apply warm lotion
After your shower, apply some of your favorite scented lotion to your body. For an even more luxurious touch, heat up your lotion! There are literally heated lotion dispensers these days. But, if you're like me and don't have one of these fancy doohickeys, you can put a few pumps of your lotion in a small, microwave-safe bowl, and heat it up in the microwave for a few seconds.
11.) Wrap yourself in a bathrobe and relax!
Wrap yourself in your bathrobe, and emerge from your bathroom a more relaxed version of yourself. Spend some time relishing your relaxed state by reading a book, or watching a movie.
What are some ways you are practicing self-care at home? Let me know in the comments!
A fun way to do at home spa days is with a monthly self-care subscription box!
Click here to check out some awesome self-care boxes that will be delivered right to your doorstep.
Receive a fragrance sample set with any order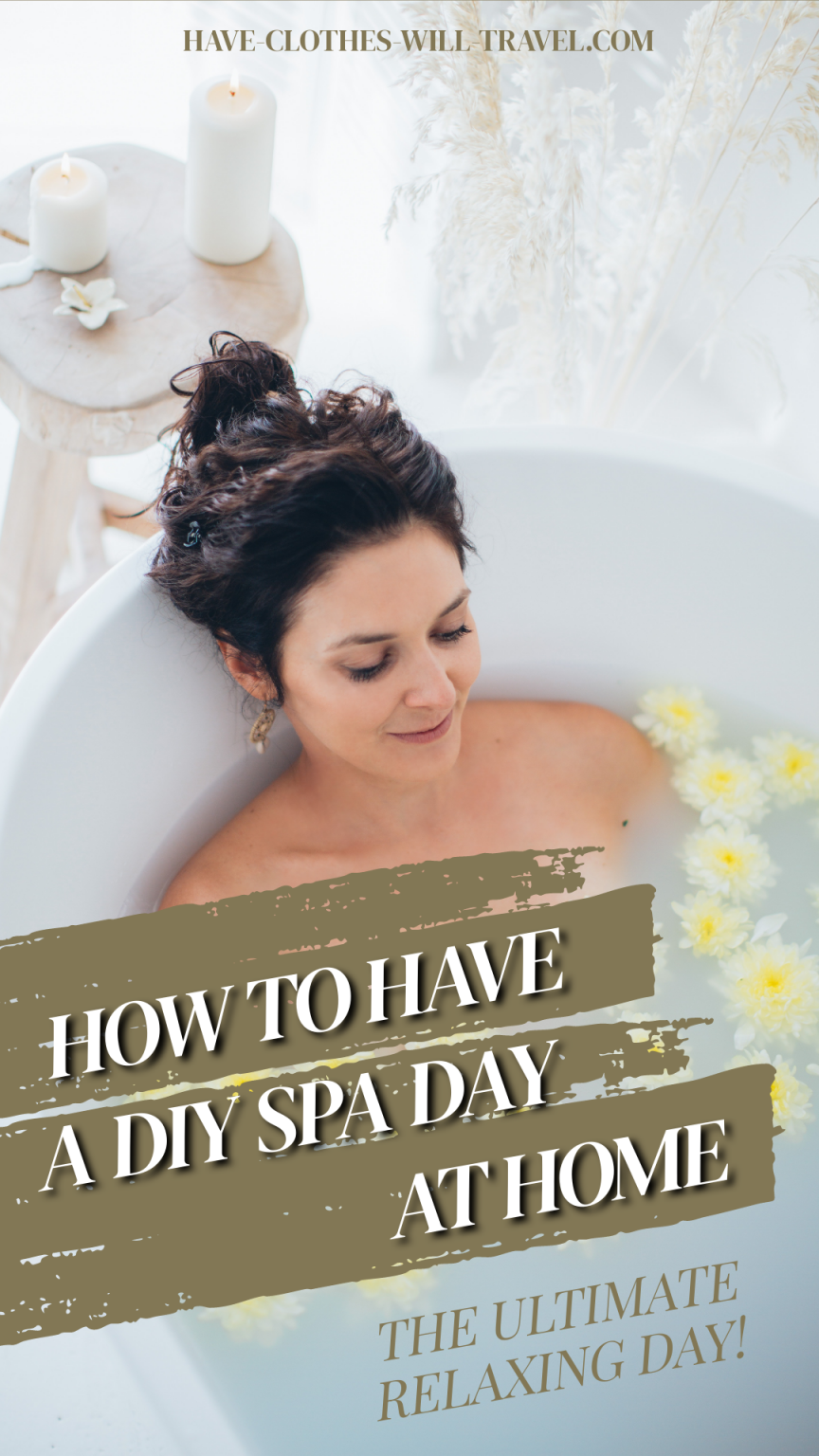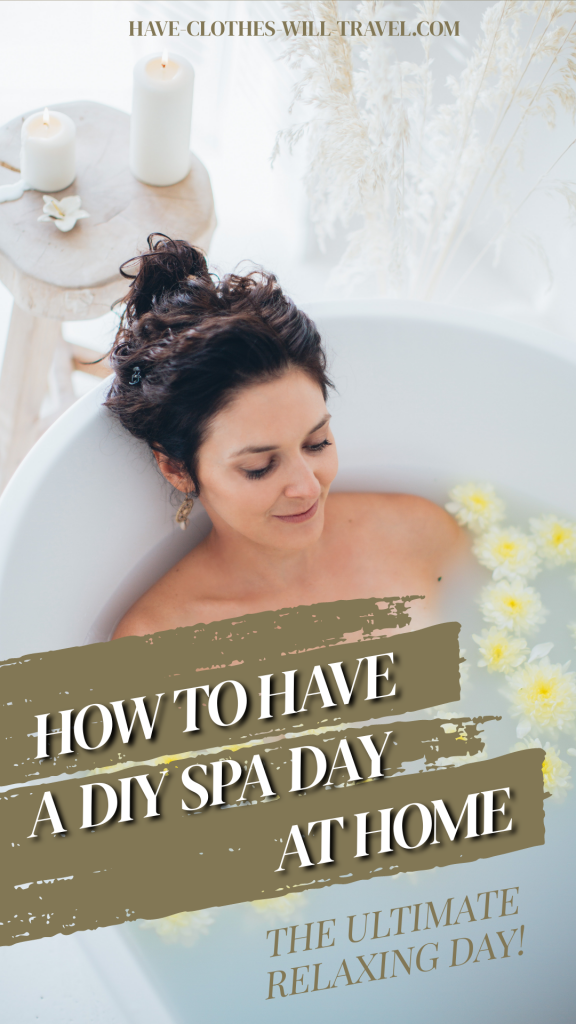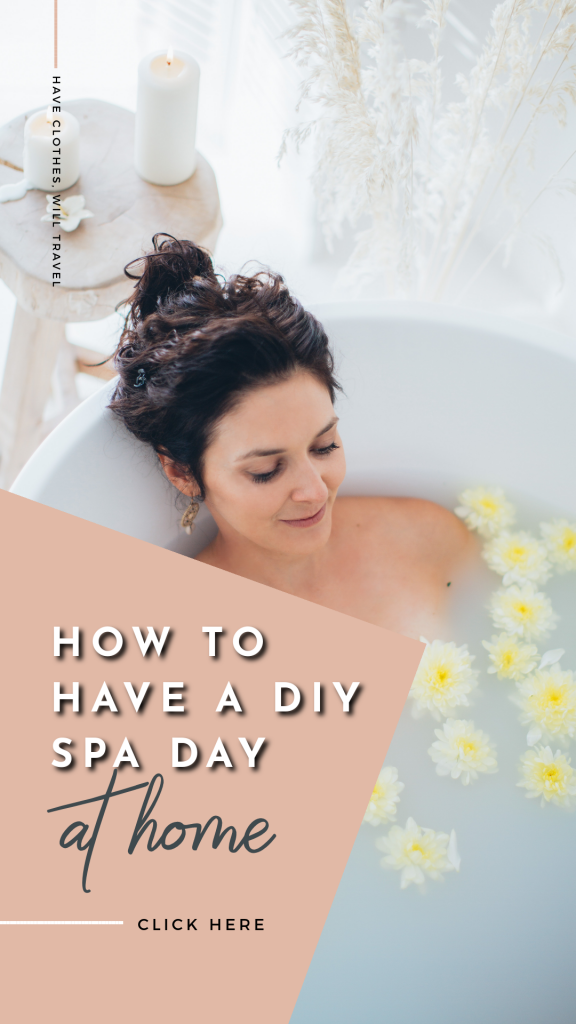 I am a participant in the Amazon services LLC Associates Program, an affiliate advertising program designed to provide a means for us to earn fees by linking to Amazon.com and affiliated sites.