What to Pack for Turks and Caicos in 2023 for Men & Women
Wondering what to wear/pack for your trip to Turks and Caicos? This post features must-bring items for both men and women in 2023.
Turks and Caicos was an interesting destination to pack for. Not because the dress code is too crazy or anything – it was just a place where I really didn't want to have to buy anything I had forgotten to pack. Everything is imported here and prices are about 3 times what you pay at home in the US (and prices are still allll in USD, so you won't have any conversion rates going in your favor). This is the first vacation of my life I actually packed food in my luggage! I'll explain more about that at the end of the post…
So, whether you're the classic beach bum or you're hoping to be a bit more active on your vacation, this post will help you decide what to pack for Turks and Caicos.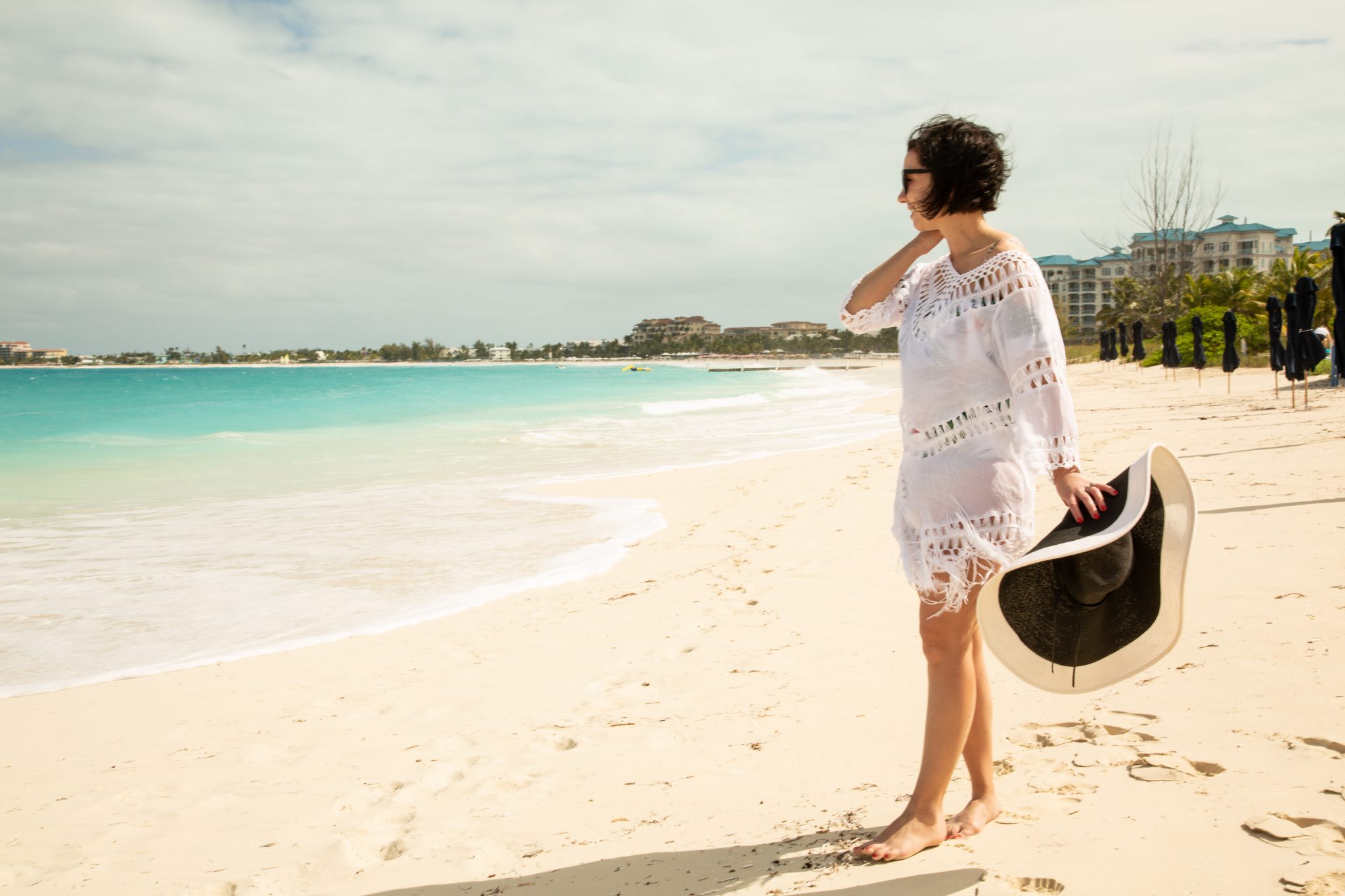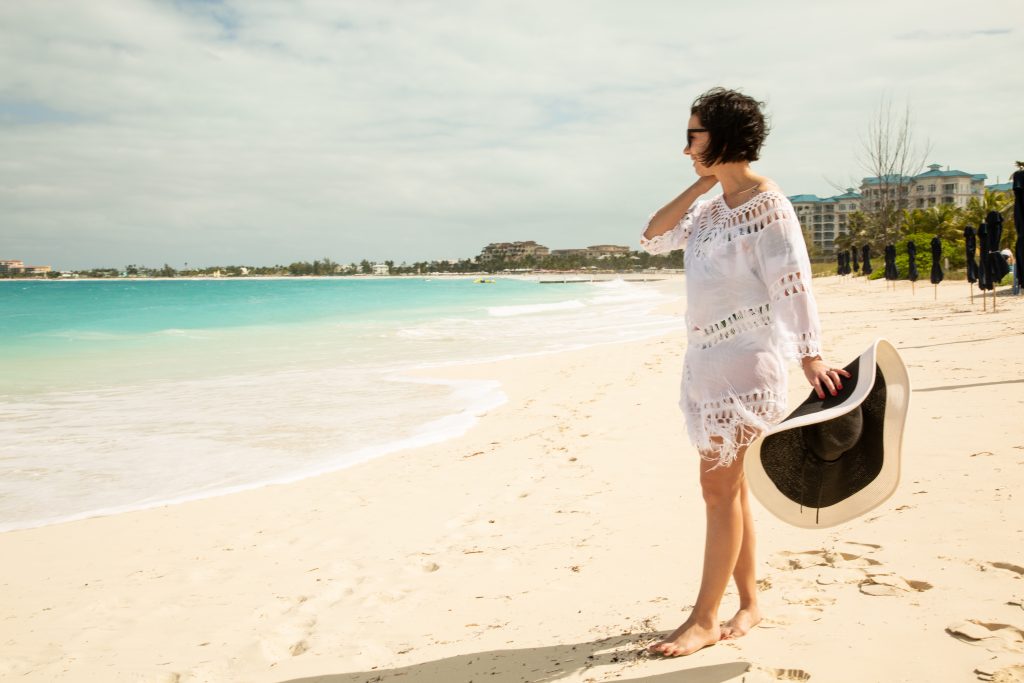 What to Pack for Turks & Caicos
Luggage
If you're heading to a resort to lounge in the sun for a week – you could easily pack everything you need in a carry-on. We are fans of Standard Luggage's carry-on, as we can use these bags on the small regional jets we have to fly, and we don't have to gate-check them!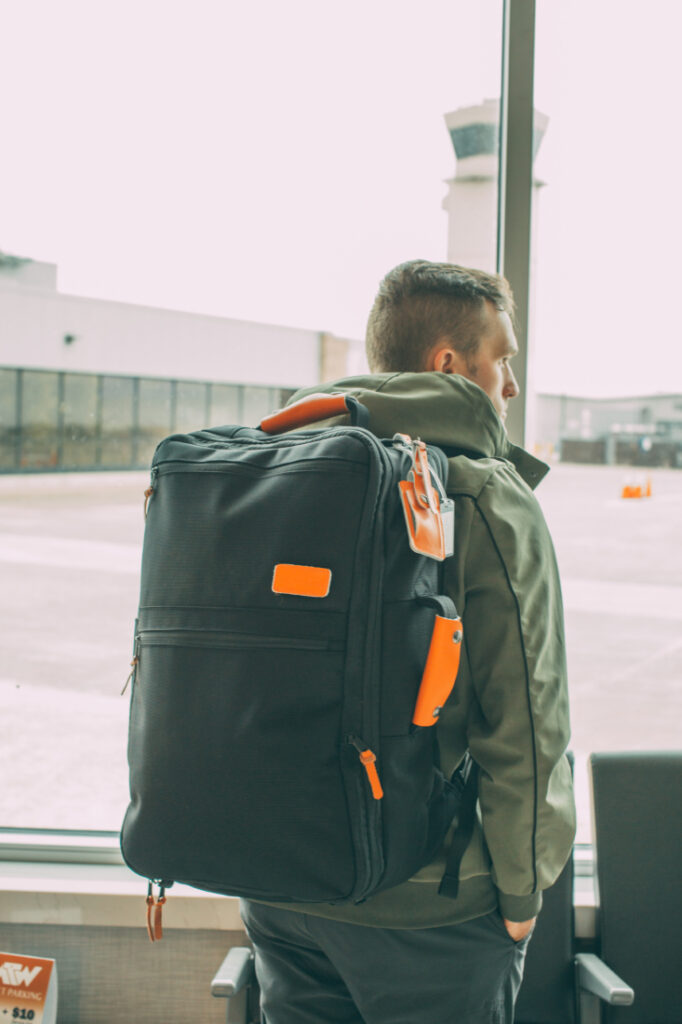 However, because I was staying on Salt Cay for a week and then moving over to Grand Turk and then Provo to lounge on the beach. I took my American Tourister suitcase to check. (These are such great budget-friendly hard-shell suitcases. I've used their checked bags for almost all of my travels around the world.) I checked a bag because we were also packing food, which was a new addition to my packing routine!
I also swear by Carry Courage's sustainable luggage tags!
Packing Cubes
After this trip, I 100% swear by using packing cubes. (I don't know why I resisted for so long!) Here's why… on our boat ride from Grand Turk to Salt Cay we had 2 humpback whales following alongside our boat. Our captain killed the engine and asked if we wanted to snorkel with them right then and there. OF COURSE, we wanted to!
Thanks to my packing cubes, it took me 2 minutes flat to quickly pull out the cube that had my swimsuits in it and change. I ended up seeing both whales, crystal clear, under the water! It was unreal!
I swear by packing cubes now! I was so much more organized and packed so much more efficiently for this trip to Turks and Caicos.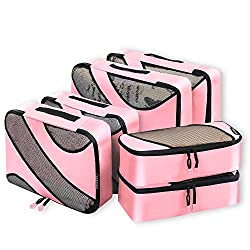 Carry-on Essentials for Turks and Caicos
Pro tip: all of the things listed here are also good things to throw in your beach bag!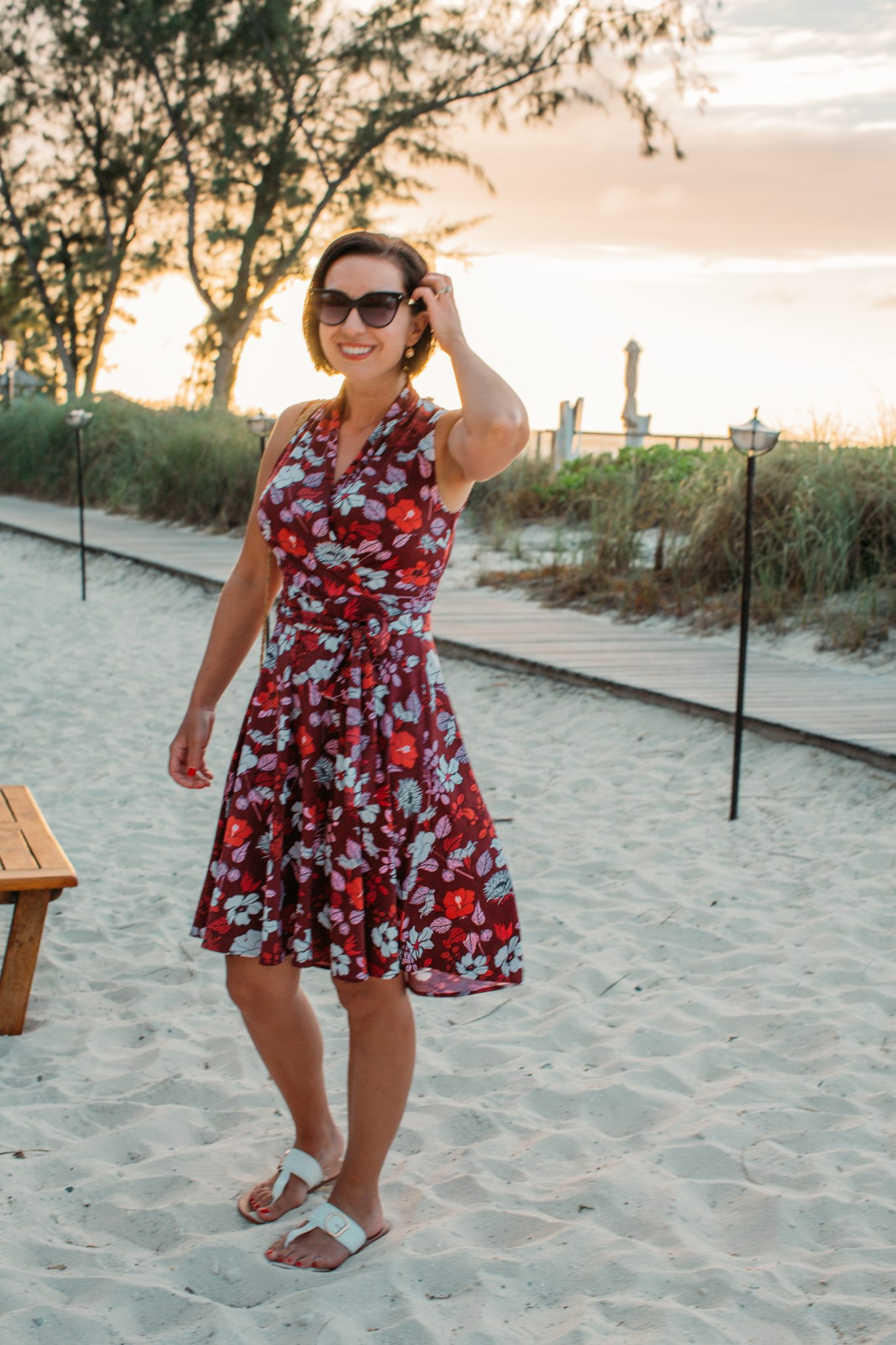 Turks and Caicos Packing Essentials for Women + What to Wear
1.) Dresses
Personally, I'm a big fan of dresses. I only wore lightweight dresses on this trip because they take up less room in my luggage and are SO comfy to wear in the warm weather. (Shorts are always riding up in places I'd rather they didn't!)
Really, you would only need to pack a few casual and comfortable sundresses for a week-long trip to Turks and Caicos. I like to dress up a bit, though, so I also packed a couple of "dressy" dresses. Below, are a few dresses I swear by for traveling (and wore on this trip).
Versatile Dresses – Can Go From Day to Night
Lilly Pulitzer – these are the perfect dresses for a Caribbean vacation. I am obsessed with the colors and how comfortable these dresses are in warm weather. I also think they look so much better in person than they do on the website – their website photos do not do them justice!
ScotteVest Dorothy Dress (use code HCWT for 15% off your order) – this is my favorite warm-weather flying dress as it has so many pockets. I can also wear it at night when paired with a belt and some jewelry. It also doubles as a beach coverup because it's so lightweight and dries so quickly. (I wore this several times and washed it in the sink!) Size down if you buy this, though – mine is a bit big on me.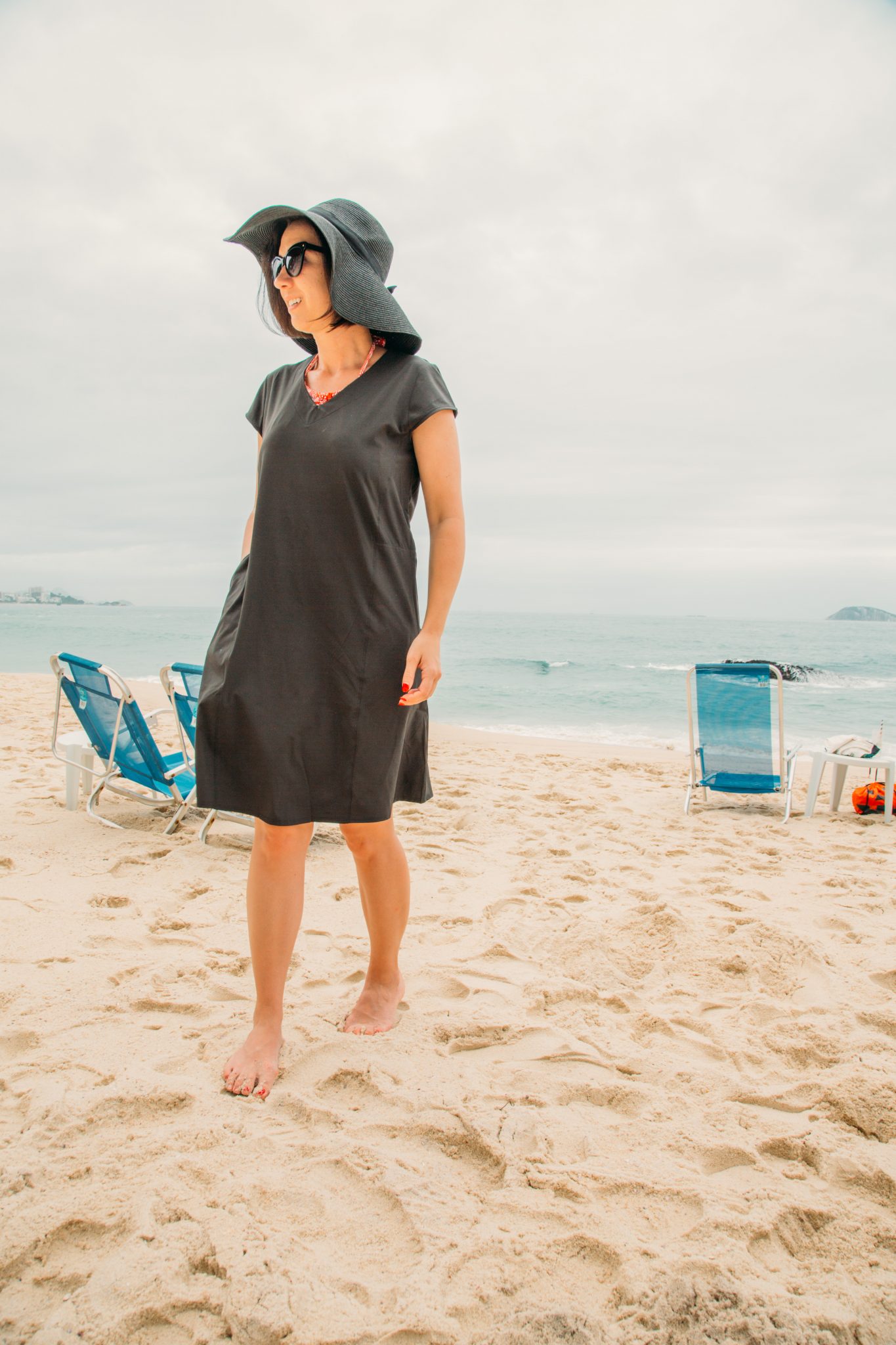 "Dressy" Dresses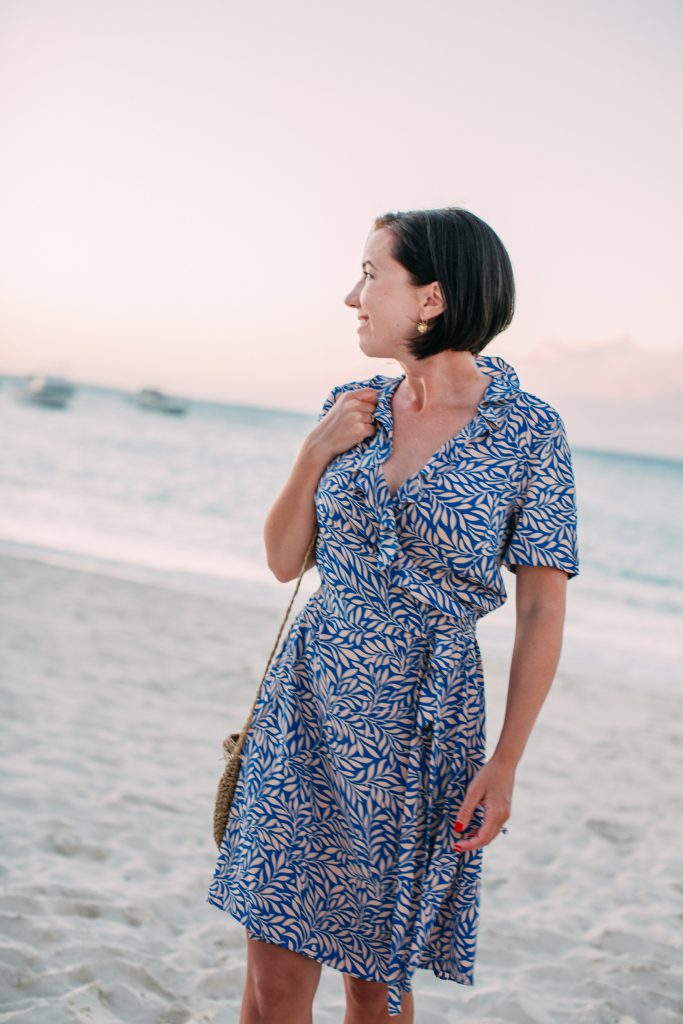 2.) Not a fan of dresses? Here are other must-bring clothing items!
Shorts – any length goes! Wear whatever you are comfortable with. (I would pack 2 pairs, just to be safe.)
Pants or Capris – you may want 1 pair of lightweight capris or pants along. There were a couple of nights it was quite windy, and I was chilled wearing a dress. This may come in handy at night, too, if the bugs are unbearable or you get sunburnt. Also, I used pants + a travel top for my plane outfit to go home. (I live in Wisconsin and would freeze wearing a dress right now.) I, personally, used this travel shirt and these pants for this trip.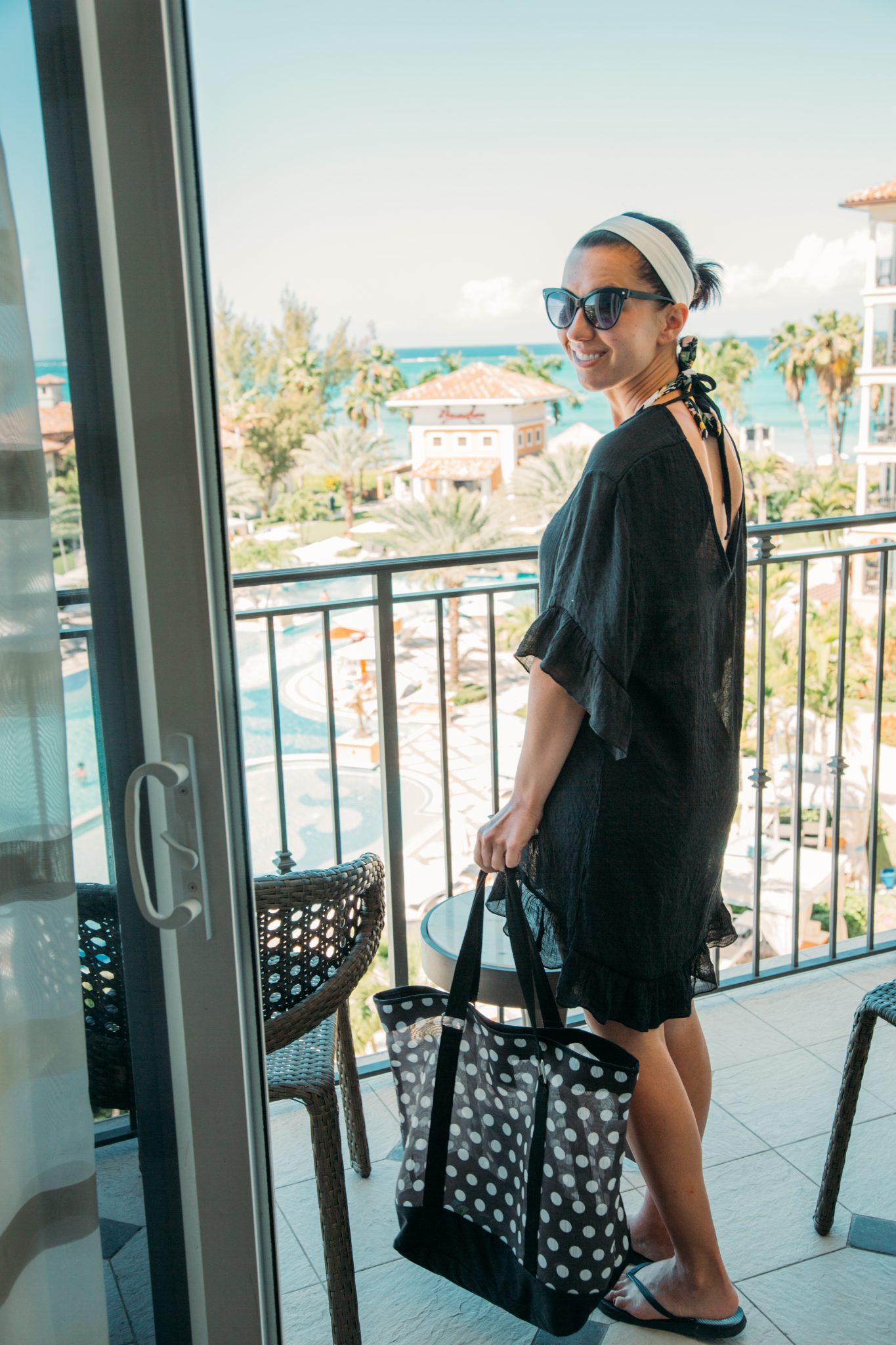 3.) Swimsuits + Cover-ups!
If you only pack one thing for this trip, make sure it's a cute swimsuit and a coverup! These are the most important clothing items you can bring to Turks and Caicos. I packed WAY too many swimsuits. You really only need to bring 2 (maybe 3) – just enough so one can be drying while you're wearing one. If they start to get a little gross, wash them in the sink with these laundry soap sink packets. (I swear by these laundry soaps! They work great for handwashing delicate items too.)
4.) Cardigan or Lightweight Jacket
There will likely be a couple of nights where it feels a little chilly (or you're eating inside somewhere where the AC is blasting). It's a good idea to have a light travel jacket or a cardigan.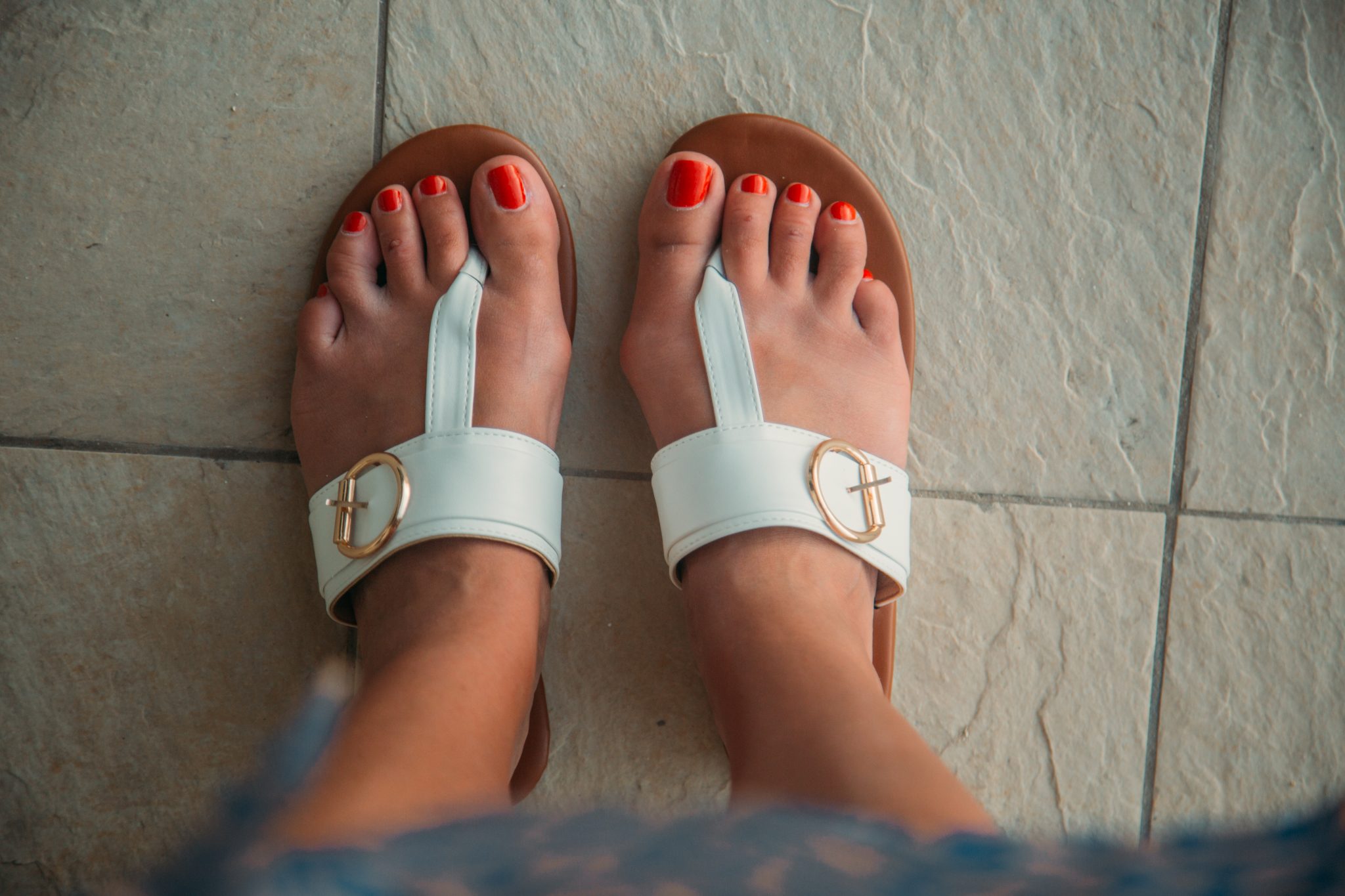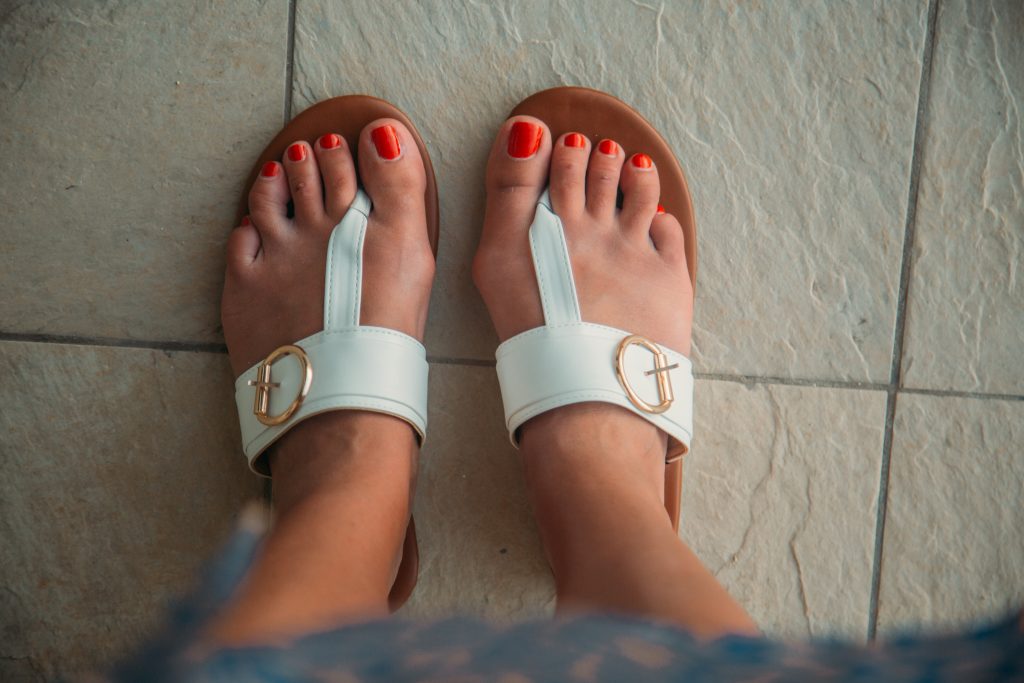 5.) Shoes
6.) Accessories
Note: I know some people recommend bringing a beach towel. I would only do this if you are staying in a villa that, for some weird reason, doesn't have towels. All hotels (and almost all villas should) have towels for you to use. They will likely just be the plain white ones, but it beats packing a big beach towel!
If you REALLY want to bring your own beach towel, then I recommend bringing a linen beach towel. These will be easier to pack and take up far less space in your bag.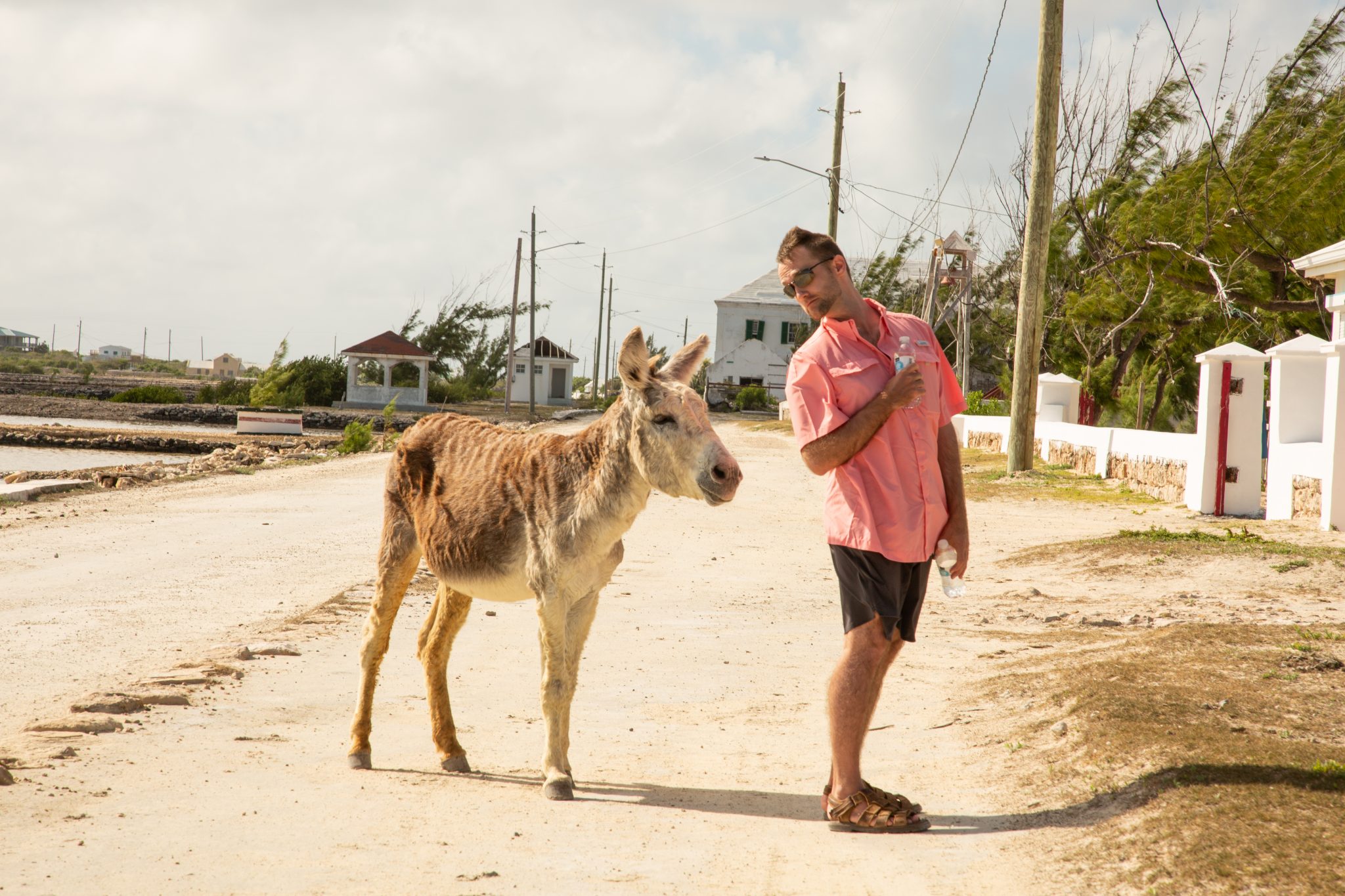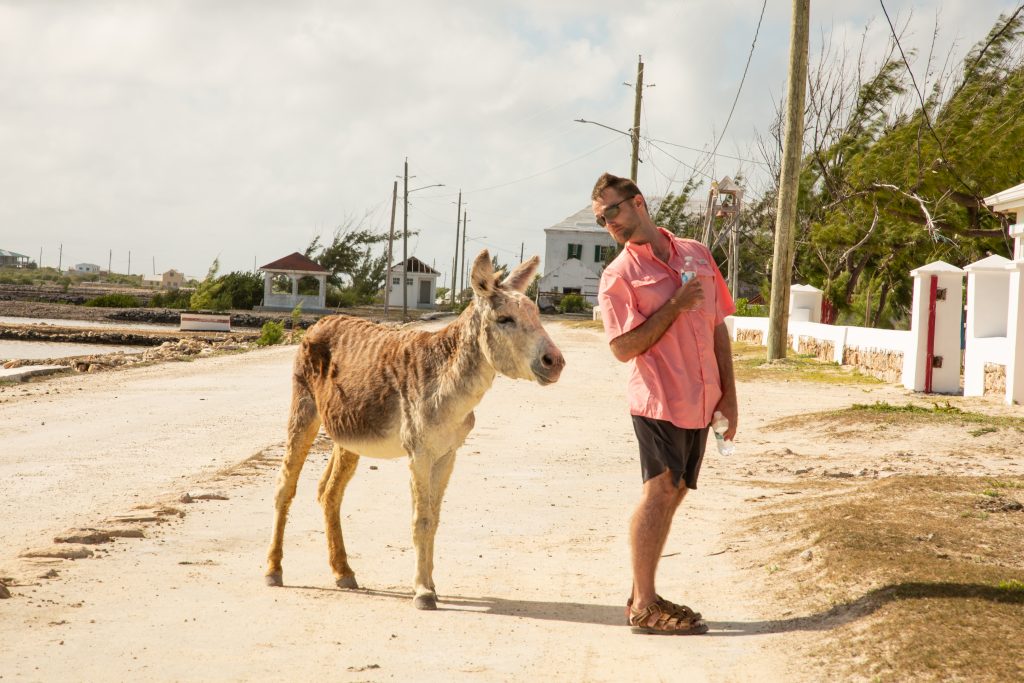 Turks and Caicos Packing Essentials for Men + What to Wear
1.) Button-downs + T-shirts
For during the day, my husband liked wearing short-sleeved button-down shirts. (Pictured above.)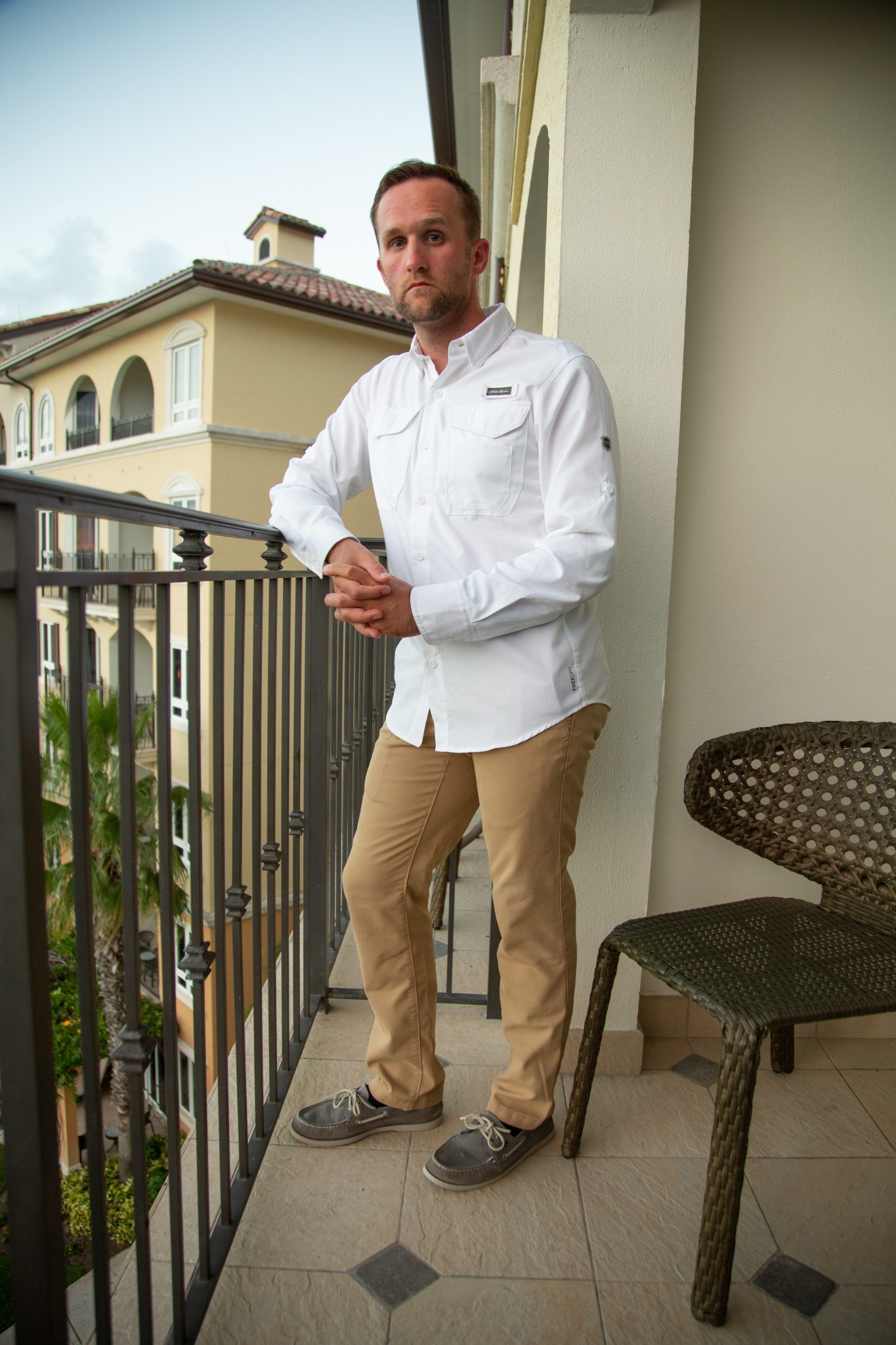 2.) Shorts + Pants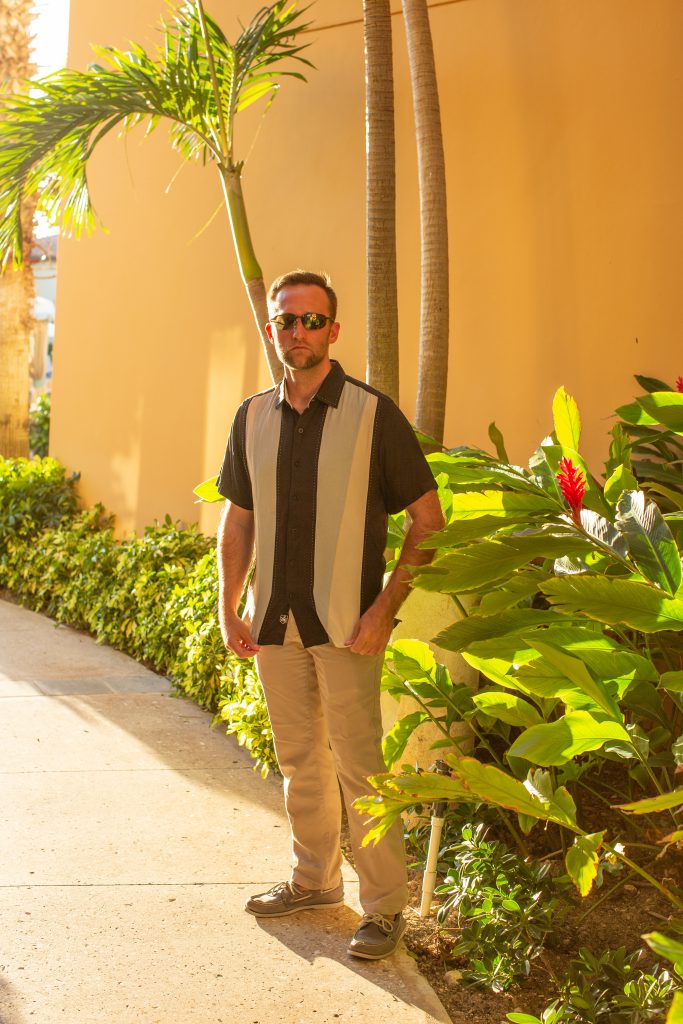 3.) Swim Trunks
During the day, he was usually wearing his swim trunks with one of the button-downs mentioned above. He packed 3 swim trunks for this 16-day trip but says if we would have only been here a week he would have only used 1, maybe 2 because they dried so fast.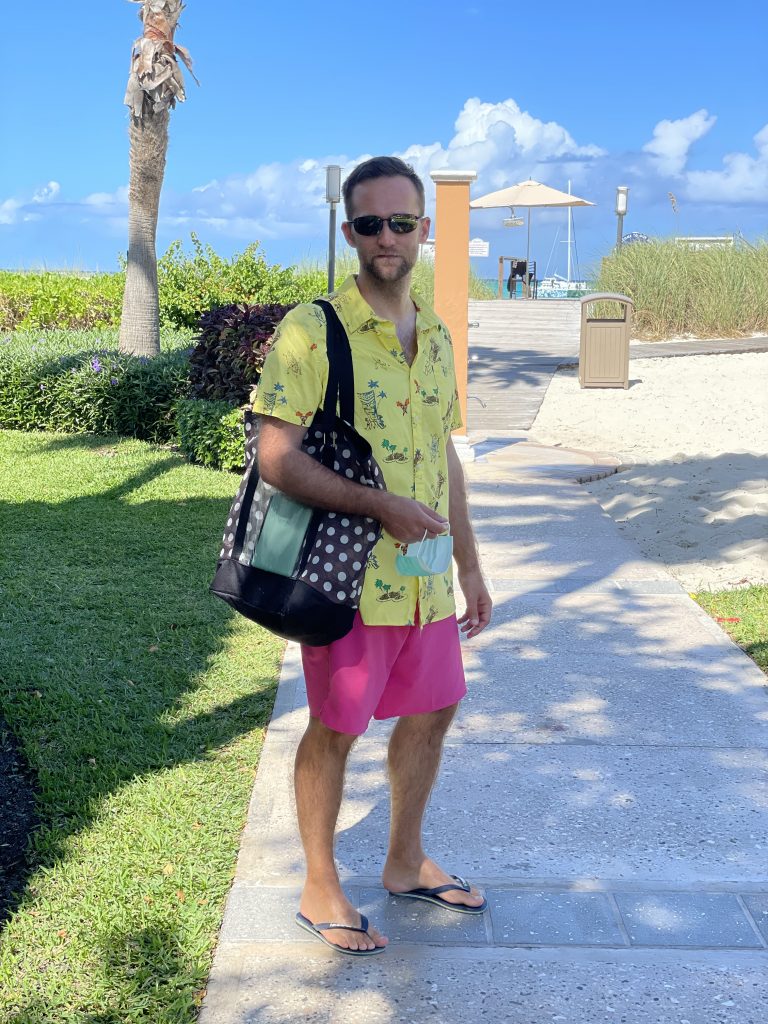 4.) Shoes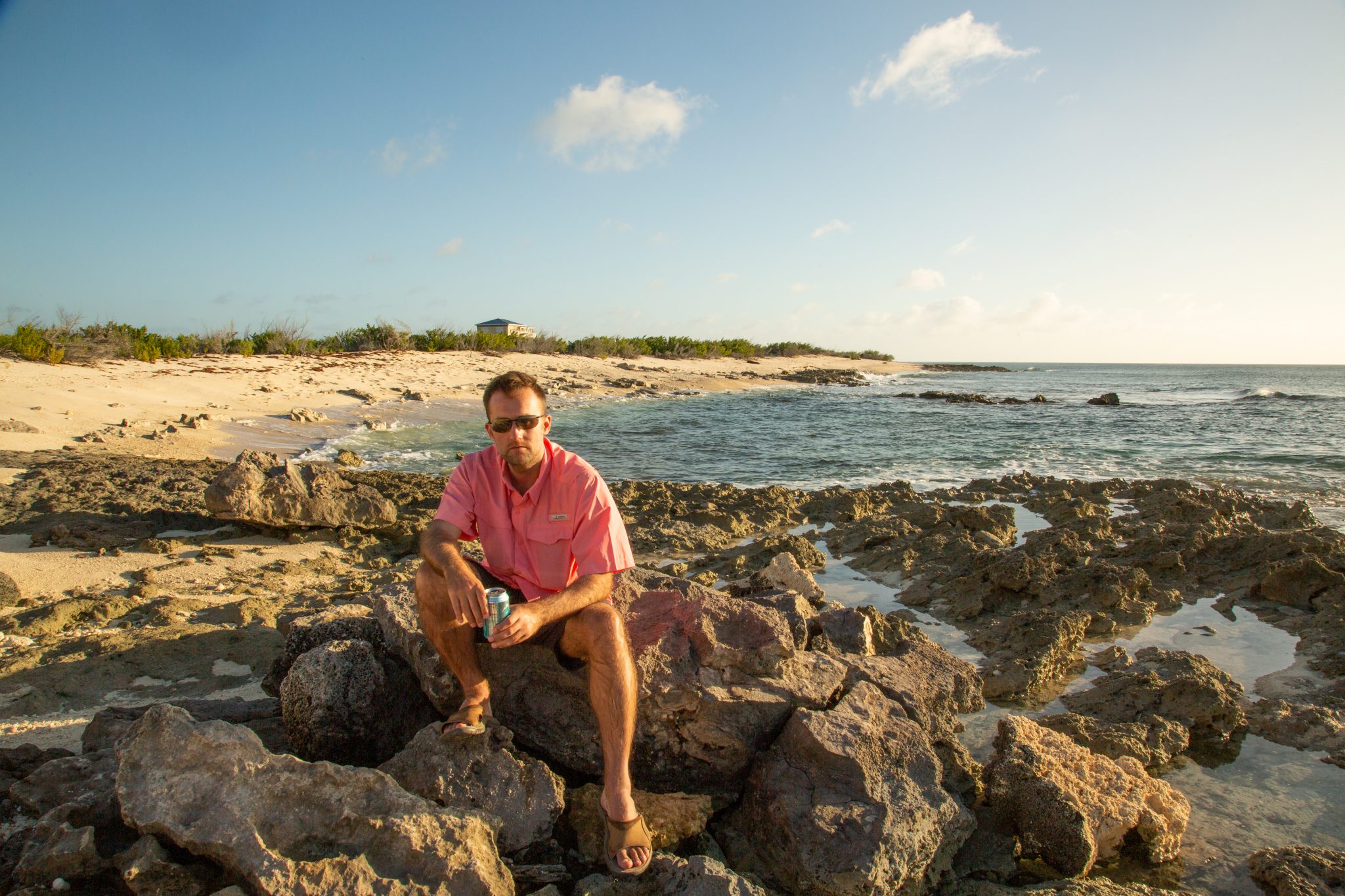 5.) Accessories
What to Pack Toiletries & Medications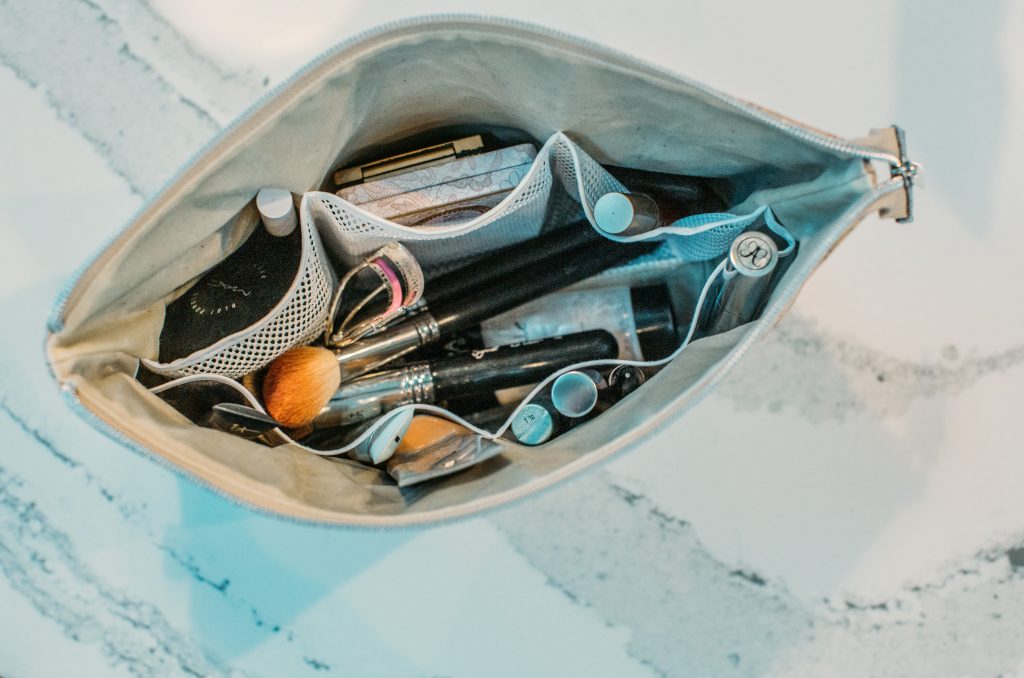 Reef safe sunscreen – please protect the delicate reefs in Turks and Caicos and pack reef-safe sunscreen. (I LOVE Maelove sunscreen. It is the one sunscreen that if I forget to reapply, I won't get a nasty burn – perfect for vacation.)
Chapstick with SPF in it – Don't forget to protect your lips!
Aloe – trust me, you're going to need it.
Bug Spray – there are plenty of mosquitoes and other bugs that attack at night.
Anti-itch stick – I had welts from the bug bites I was getting! An anti-itch stick is a lifesaver. (Aloe helps a bit if you forget, though.)
Travel-sized shaving cream + razor
Toothpaste + toothbrush
Travel kit of face wash, moisturizer, exfoliant
Waterproof mascara and eyeliner (for me – this waterproof mascara is freaking amazing)
Bandaids + Neosporin
Medicines, such as Advil, Pepto, Immodium, Tylenol PM, Benadryl, etc.
Perfume – Pro tip: bring a new sample-sized perfume/cologne along for this trip that you don't normally wear! That way when you smell it afterward, it will remind you of the fun you had!
2-in-1 straightener/curling iron – great space saver when traveling! (This link gets you $10 off your purchase.)
Note: the voltage and outlets are the same as they are in the US. If you are traveling from the US you can use your own straightener/hairdryer and whatnot here!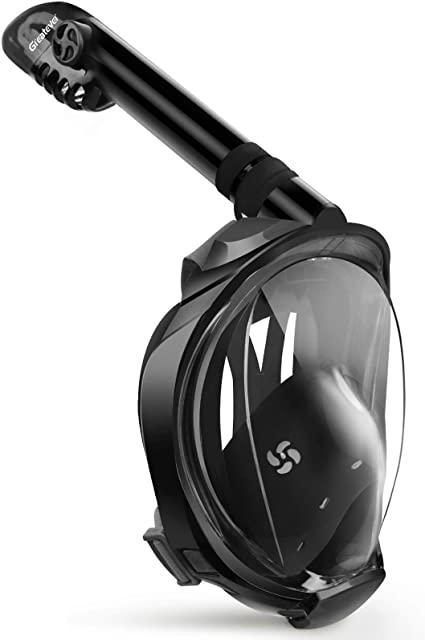 Snorkeling Equipment
Now, you can easily rent this once you get to Turks and Caicos. However, this is one of the things my husband and I regretted not packing. A lot of people had their own snorkel masks and fins. It's much more sanitary, and it's cost-effective if you plan to snorkel on more than one vacation in your life!
The snorkel masks I saw a lot of people using were the ones pictured above. Everyone seemed to love them!
Food I Packed for Salt Cay
So, food in Turks and Caicos is quite expensive (I have a whole post coming on this next week). If you are planning to cook for yourself or aren't staying at a resort – try to pack some stuff in your bag! (Only bring packaged food… NOT meat, veggies, fruits, bread, etc.) We had a week staying in a vacation rental in Salt Cay and this is what I packed in my checked bag:
Granola bars
Coffee
Packaged sauces I like (like this one for enchiladas)
Popcorn
Oatmeal packets
Noodles
A few spices I planned to cook with
Dried fruit
Ziploc bags
Basically, bring any breakfast food, snack food, etc. that you like. This was the first vacation I had ever used my suitcase space to bring food with me!
GoPro
You might also want a GoPro for underwater photos/videos. We have the GoPro HERO9 bundle. It worked really well for filming the whales we were swimming with on Salt Cay! I also used this dome lens to get some above/below water shots. (The photo with my sun hat in the water was used taking that lens.)
Below, is a video of the GoPro Hero 9 in action.
Using a VPN When Traveling to Turks and Caicos
VPN is short for "virtual private network." A VPN (like IPVanish) sets up a private connection between your device and whatever network you are connected to – so, no one can see your browsing data. It is important to use a VPN anytime you are connected to public Wifi (such as at a restaurant, resort, hotel, cafe, airport, etc.). This is because when you connect to a public network no matter where you are, you run the risk of a hacker grabbing your unencrypted data. Trust me, speaking from experience here…this can put a real damper on your trip if your banking, phone or email get hacked while you're traveling!
VPNs can also help you save on domestic flights, help you watch Netflix shows not available in the US and more! You can read more about using a VPN in my post "Why I Use a VPN When Traveling and at Home (And You Should Too)."
Need a house sitter while you are gone?
I, personally, recommend TrustedHouseSitters if you need to find a house sitter/someone to watch your pets while you are away.
How TrustedHouseSitters works is they connect home and pet owners with trustworthy, verified sitters who won't charge to look after your pets, in exchange for a unique place to stay. They have sitters and homes all over the world!
It's a fantastic way to find trustworthy people to watch your home and pets while you are away. (And on the flip side, it's a cool way to stay in different areas of the country and world without having to pay for accommodation! I have a friend who literally didn't own or rent a home for years, and only used TrustedHouseSitters to find the next spot she was going to stay.)
Click here for more information on TrustedHouseSitters.
Travel Insurance
Squaremouth is the only site that currently lets you filter travel insurance policies for COVID-19 coverage. I, personally, use Squaremouth for finding the best insurance policies for my travels. (I used them for this trip to Turks and Caicos.) They're also recommended by Forbes! You can click here to get your free travel insurance quote.