Honest Beaches Turks & Caicos Review: EVERYTHING You Need to Know
This post is my honest review of our stay at Beaches Turks and Caicos – an all-inclusive, luxury family resort. All photos and videos in this post were taken by me. NO stock photos or Resort photos were used in this post.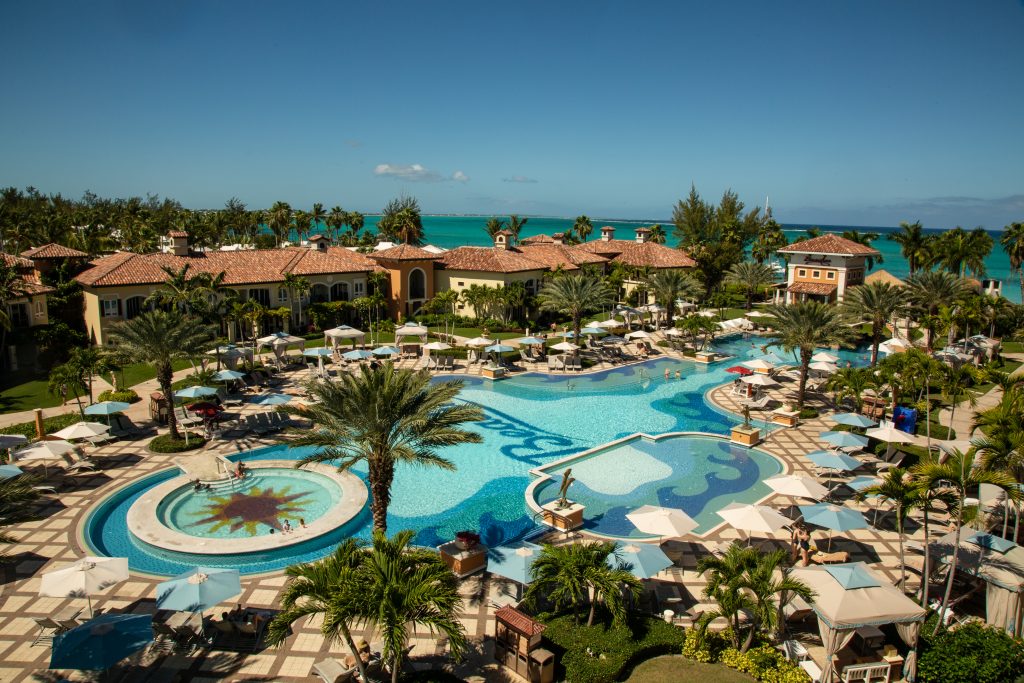 My husband and I decided for our first international trip since COVID hit, we wanted to take "the relaxing" route vs our normal jam-packed-with-activities vacation. Turks and Caicos is the destination we decided on! We actually spent 16 days in Turks and Caicos, which really gave us a great feel for this beautiful group of islands.
During our last 4 nights in Turks, we opted to try the luxury all-inclusive Beaches Turks and Caicos. We had stayed at several Sandals Resorts in the past and always loved them. (Beaches and Sandals are the same company – Beaches is geared toward families with children whereas Sandals is adults-only.) Plus, this resort sits on the most beautiful beach in the world – Grace Bay Beach!
Now, my husband and I do not have children. So, I am writing this review from the perspective of someone who traveled as a couple.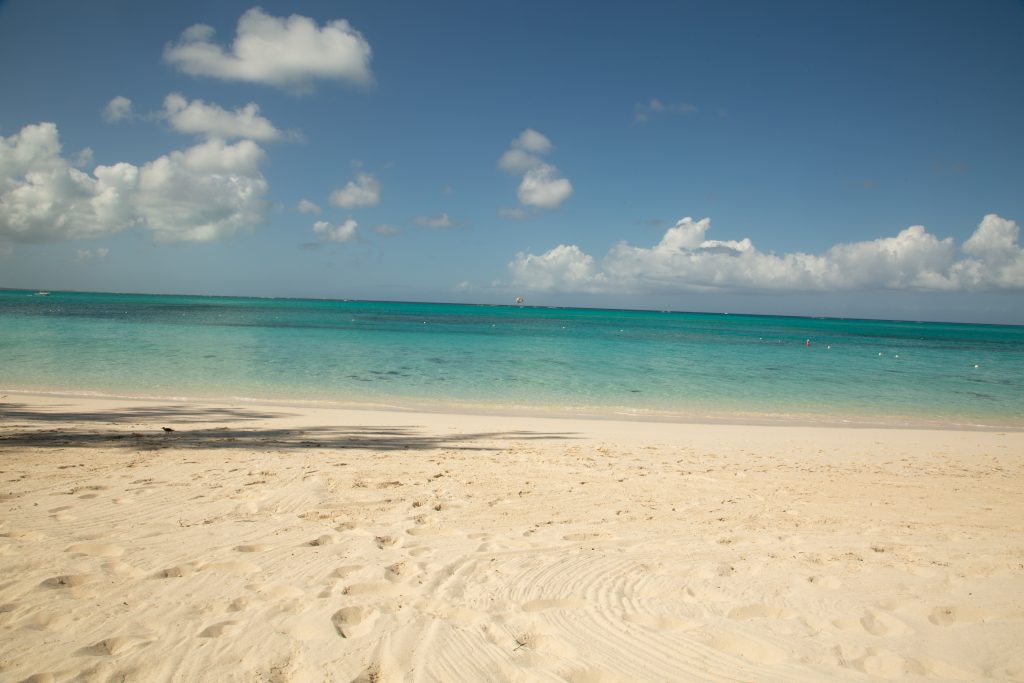 The questions this review of Beaches Turks and Caicos will answer:
What exactly is included at Beaches Turks and Caicos?
Which section of the resort should you stay in?
What are the best restaurants?
How are the spa and gym facilities here?
Is Beaches Turks and Caicos worth the price?
Is this a good resort for a romantic getaway as a couple?
What are the requirements to travel to Beaches Turks and Caicos during COVID?
I am writing this Beaches Turks and Caicos review because I think it will be helpful to my readers – Beaches Resorts does not compensate me for this review. However, I do make a small commission if you click my Beaches links in this post and make a purchase. I appreciate you supporting the businesses that make this blog possible!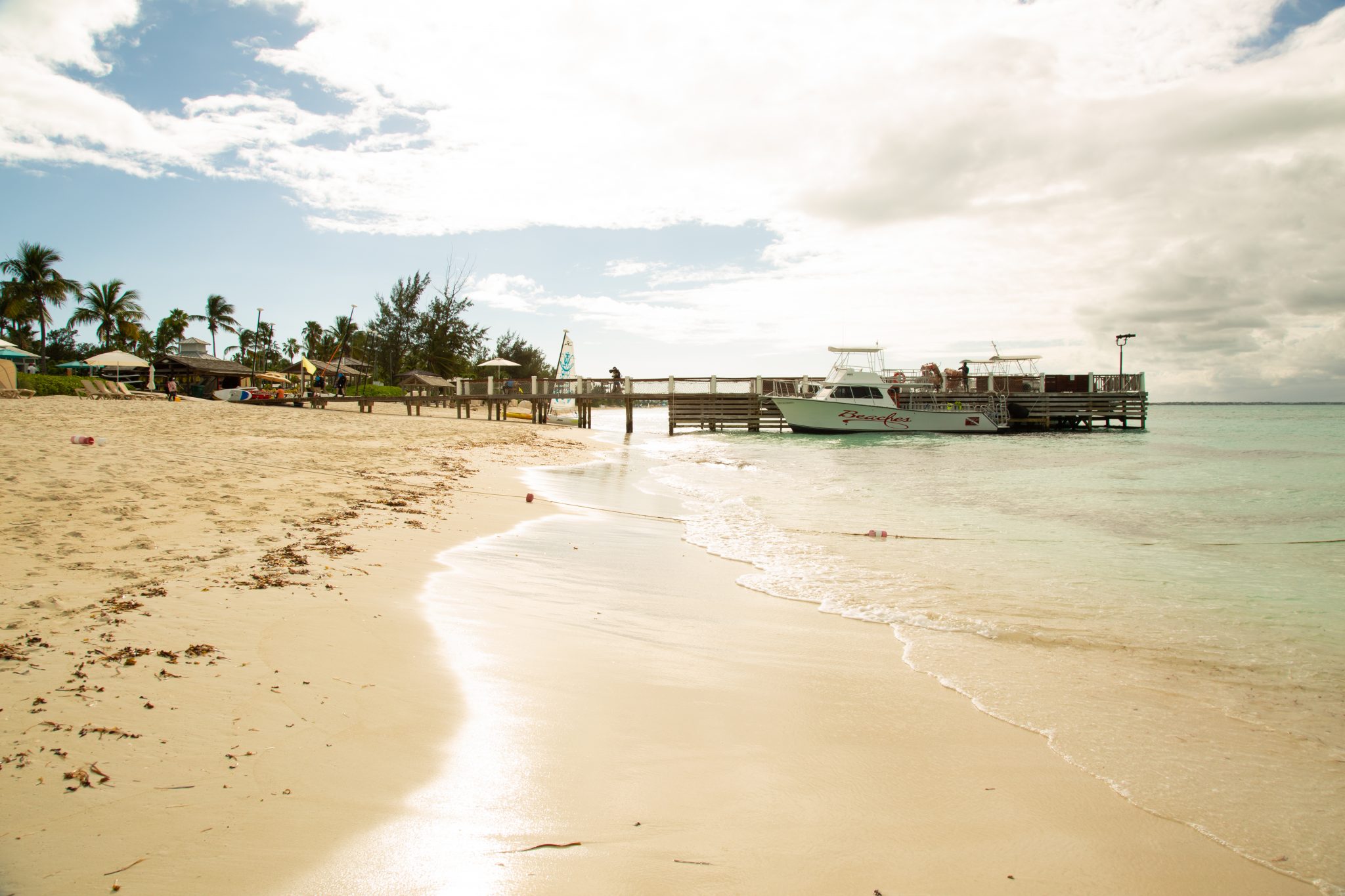 Beaches Turks and Caicos Key Features – What Exactly is Included in Your Stay
So, what are the features that are said to set Beaches Resorts above the rest? This is what you get when you book a stay at Beaches Turks and Caicos.
Unlimited dining at 21 restaurants!
Breakfast, lunch, dinner and anytime snacks
Unlimited premium liquors
15 bars, including swim-up bars
Stocked bars in every room
Unlimited Robert Mondavi Twin Oaks® wines
All tips, taxes and gratuities
Roundtrip airport transfers
Kids Camp with certified nannies
Pirates Island Waterpark
Caribbean Adventures with Sesame Street®
PADI-Certified scuba diving (and all equipment)
Snorkeling (and all equipment)
Hobie Cats, paddle boards, kayaks
Professional instruction for water sports
Beach volleyball, basketball, pool tables
Liquid at Beaches nightly teen club
Xbox Play Lounge
Day and night tennis
Fitness center with state-of-the-art equipment
Day and night entertainment including live shows
Free WiFi (in room and all common areas)
The Caribbean's first Certified Autism Centers
10 freshwater pools, 4 whirlpools & 1 scuba diving pool
Also, Beaches Turks and Caicos offers a day pass option for anyone staying at a different resort but wanting to experience Beaches for the day. The rates for this are:
Adult rate, full-day pass: $700.
Child rate. full-day pass: $180.
My Experience Staying at Beaches Turks and Caicos
I am going to go into great detail about every aspect of our stay at Beaches Turks and Caicos, now. However, if you want the short version of whether or not I enjoyed staying here as a couple – just scroll to the end of this post for my overall opinion and recommendation.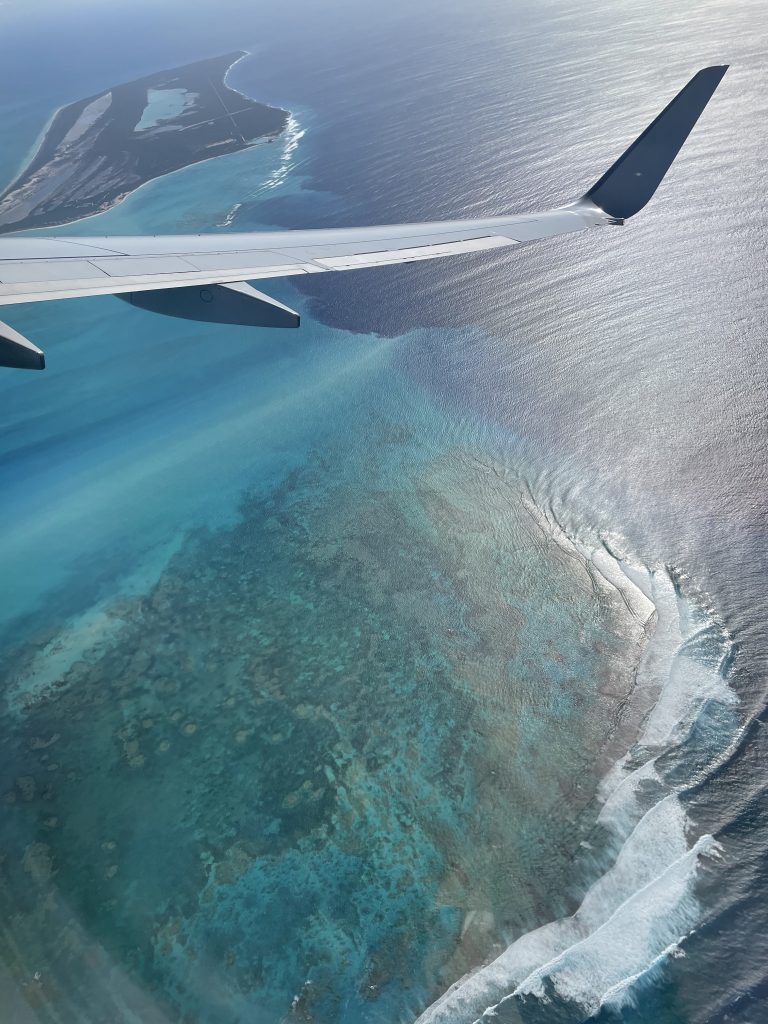 Airport Arrival to Turks and Caicos
If you're coming on an international flight, there will be a Beaches shuttle waiting for you (which, is actually a taxi service – it won't say Beaches on the side of the vehicle or anything, so don't be alarmed by this). You will just go to the counter for car rentals in the international arrival area, and let them know you are looking for a Beaches shuttle.
If you're coming on an early or late domestic flight (like us), then reach out to Beaches to let them know. We had to wait a bit to get a taxi. It wasn't a big deal, but I could have avoided it by notifying Beaches ahead of time.
Pro tip: CALL THEM with any questions or concerns. Their email system is a pain in the butt + it can take over a week to get a response. The number is 1-888-232-2437.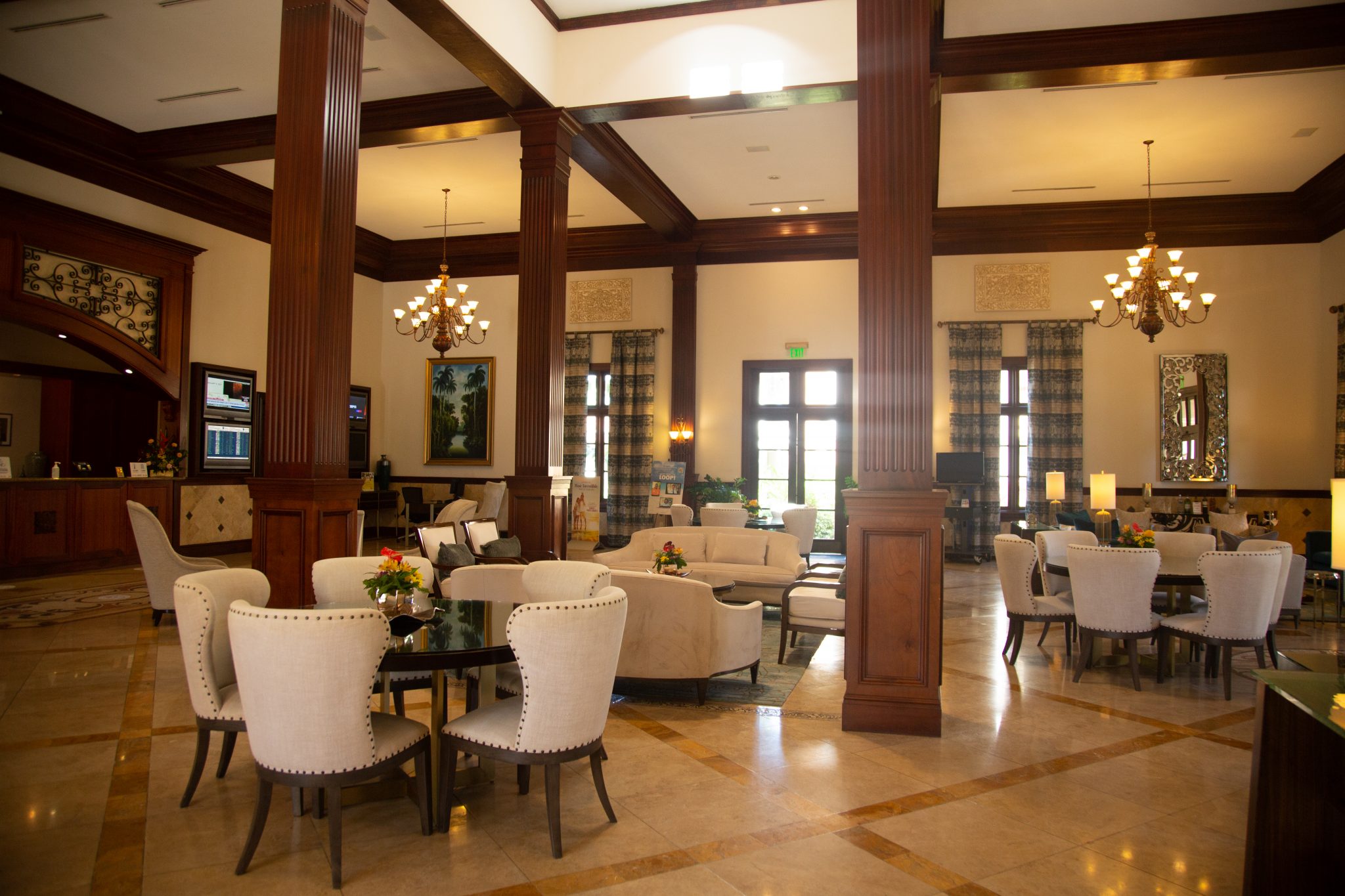 Check-in Process at Beaches
Again, we checked in super early. (I think we got to the resort by 10:30 am.) Rooms aren't ready until 3 pm. However, you do have access to the resort no matter what time you arrive. So, my husband and I went and had a late breakfast and sat by the pool. We were lucky, as the resort wasn't as busy this year as it typically is, so our room was ready within an hour of us arriving!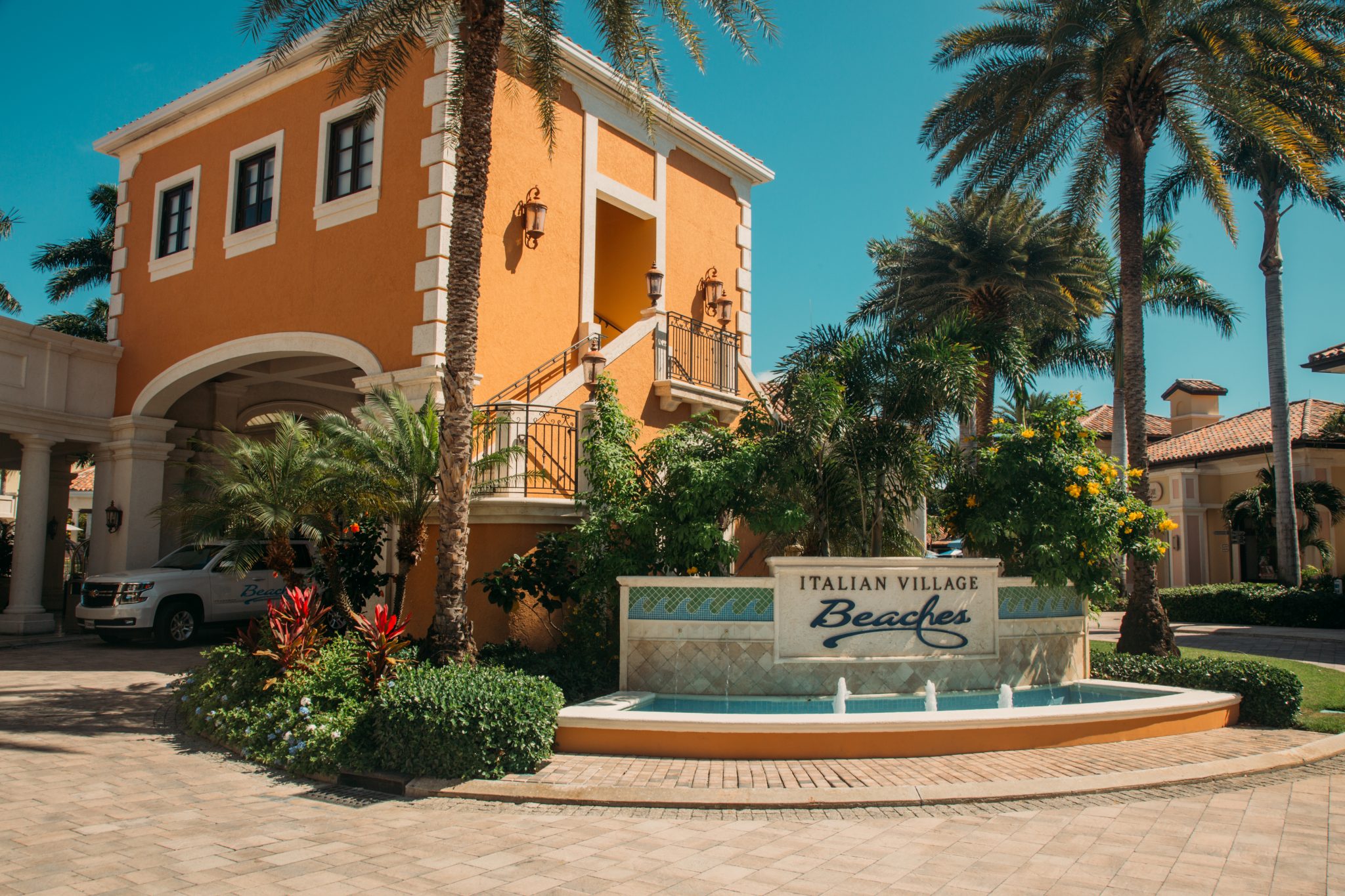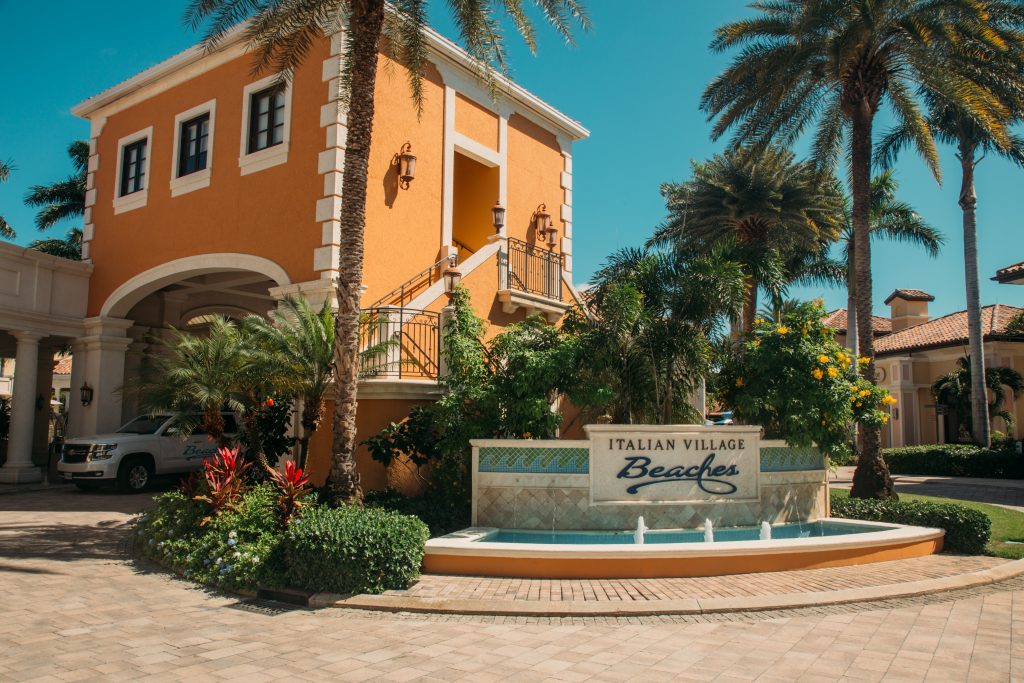 Our Beaches Turks & Caicos Room Review
Our room was the Italian Concierge Family Suite with Kids Room (this is the least expensive room in the Italian Village). There are 4 villages for you to choose from when staying here! This resort is HUGE. I had friends who had tried to emphasize just how large this resort is to me… but photos and descriptions don't do it justice until you see it for yourself. I was blown away!
Below is a little video I made of our room to give you a better idea of what it is like. (Sorry, my video skills are nonexistent… I also included a little photo gallery below.)
More photos of our room: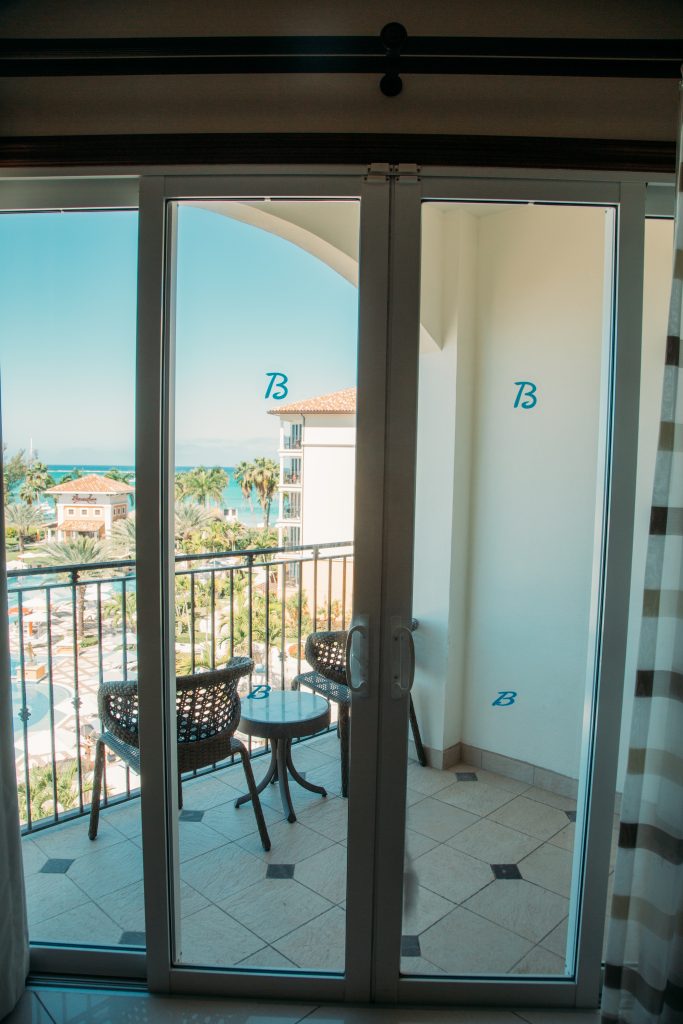 How to Decide Which Village to Stay in at Beaches Turks and Caicos
When booking our stay, I was a little stressed out about deciding which village to stay in. I didn't want to pick the wrong one, haha. There are 4 villages to choose from: The Italian Village, The Key West Village, The Caribbean Village, and The French Village.
It really comes down to what you and your family are interested in for your vacation, and what your budget is. Of course, you can read the descriptions of each village on the Beaches Turks and Caicos website… so, I'm going to give you my personal opinion of each village for this post.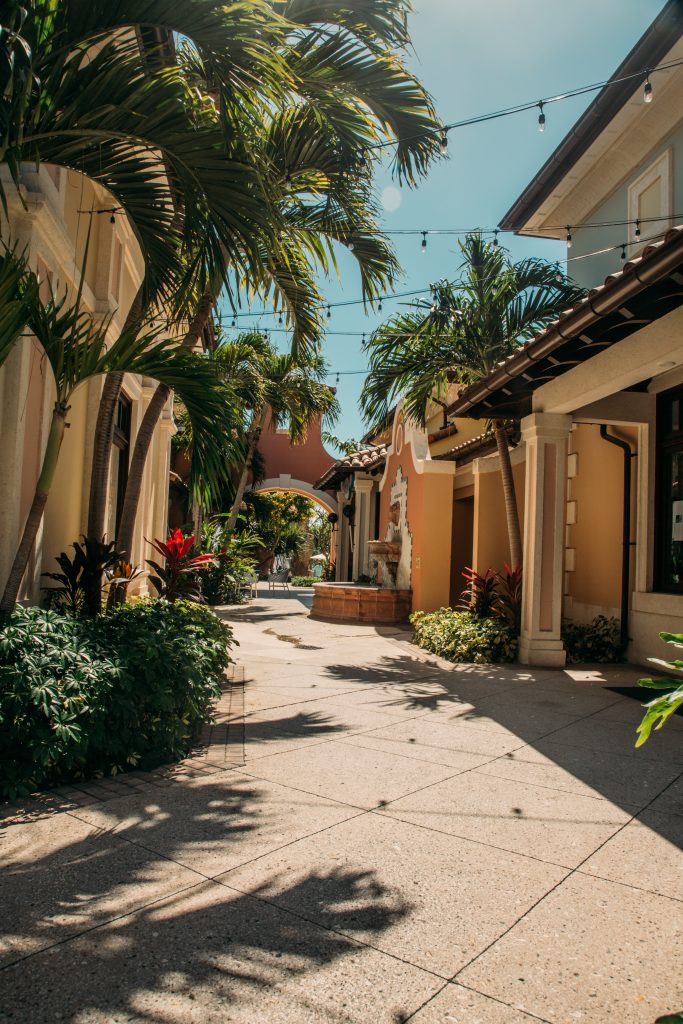 The Italian Village
This is where my husband and I stayed. Overall, I was happy with staying in the Italian Village. It's the most centrally located to everything and the rooms are great. You're close to the pool, the waterpark, the beach, etc. When you see photos of Beaches Turks and Caicos in ads… it's usually the Italian Village that you're seeing.
That being said, if you're looking for a "quiet stay" – the Italian Village may not be the best choice for you. You're on top of all the action here! Which, when we had our doors closed and the air conditioner on, we never heard any of the karaoke contests or music from outside (we were going to bed super early – around 9 pm. All the fresh air really took its toll on us, haha!) This is something to keep in mind, though.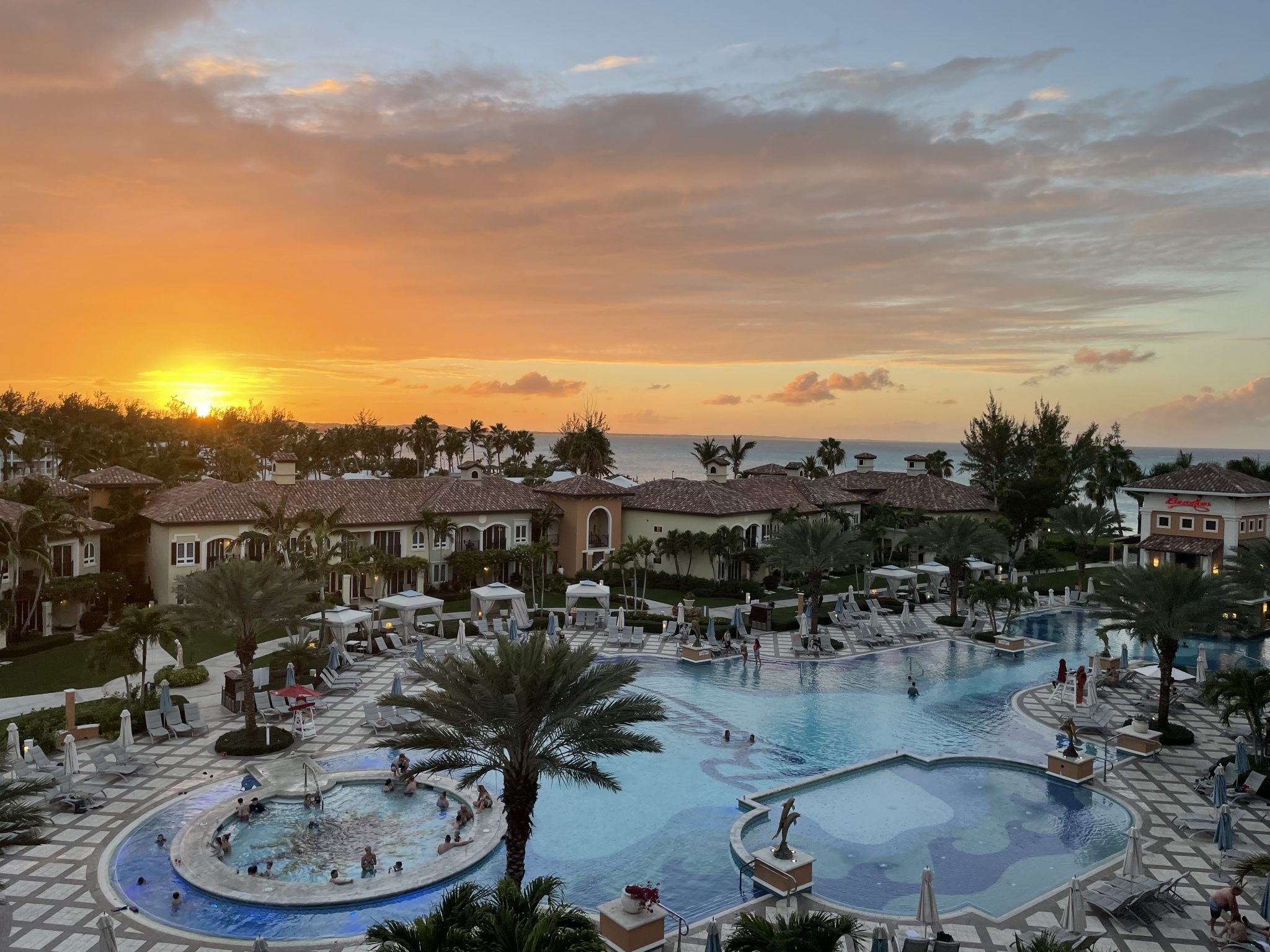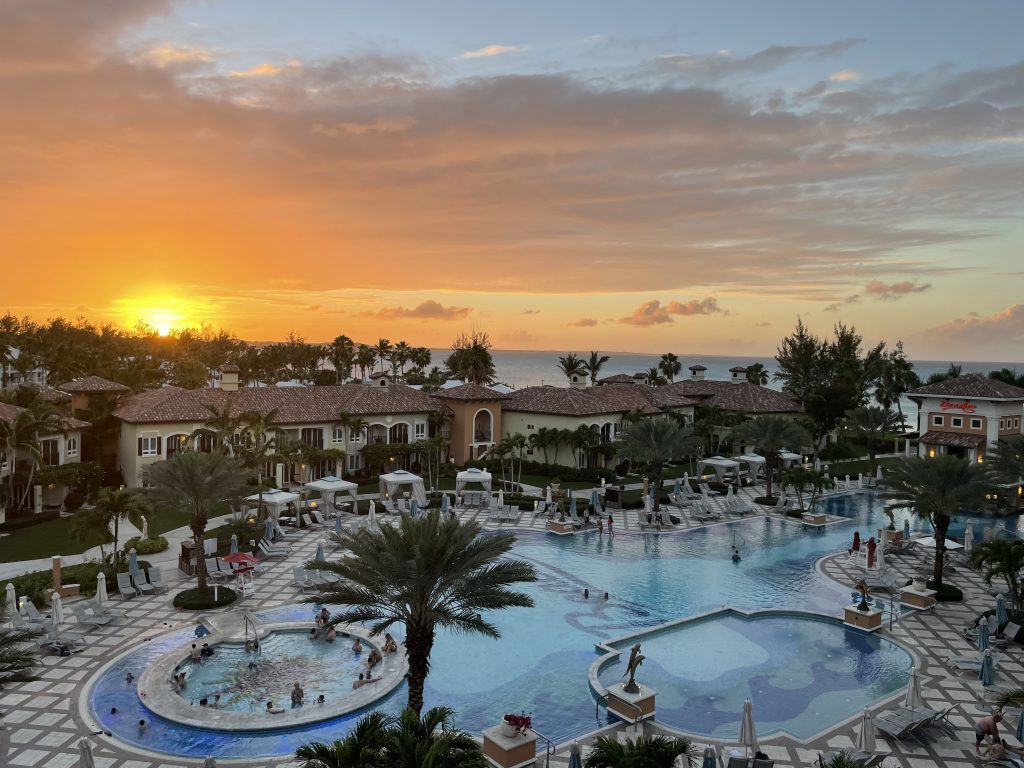 I also loved the view from our room! We'd get up every morning and have coffee on our porch and watch the sunrise… and come back for the sunset.
Stay in the Italian Village if you want to be close to all the action! The entry-level rooms here are also fantastic.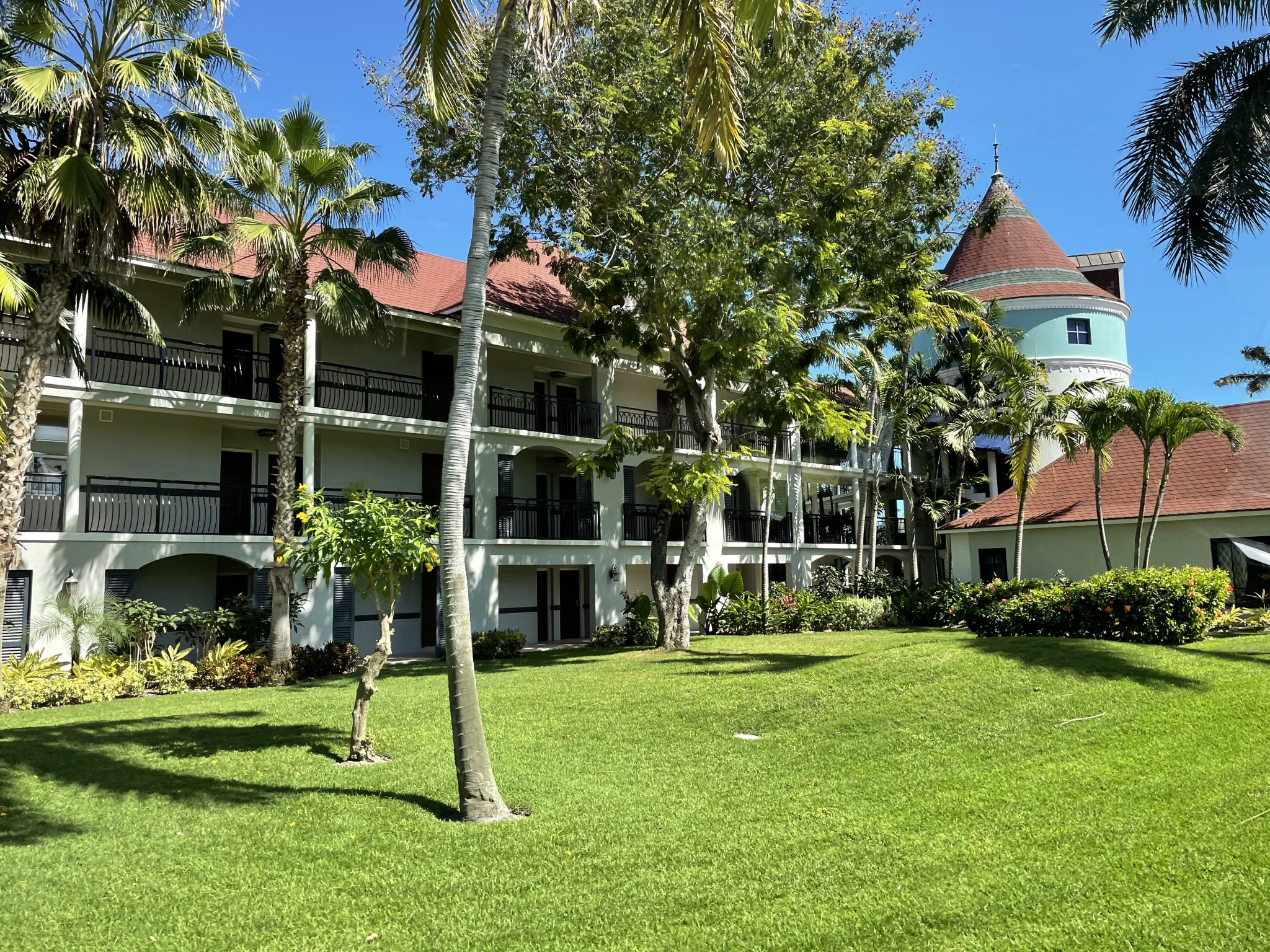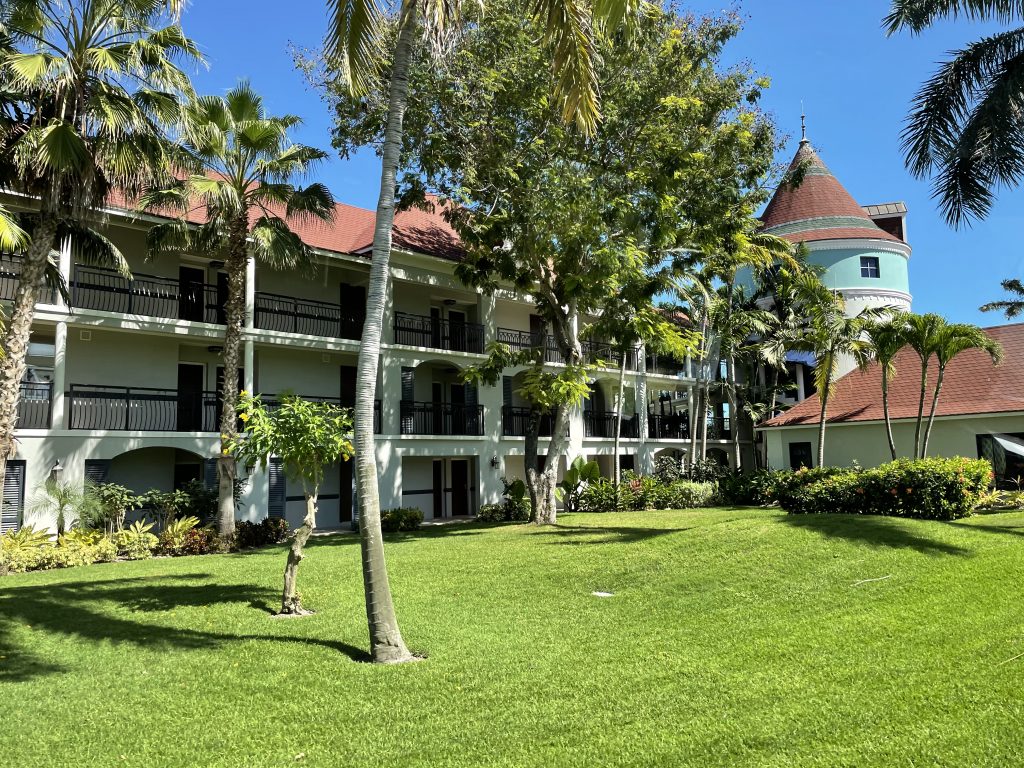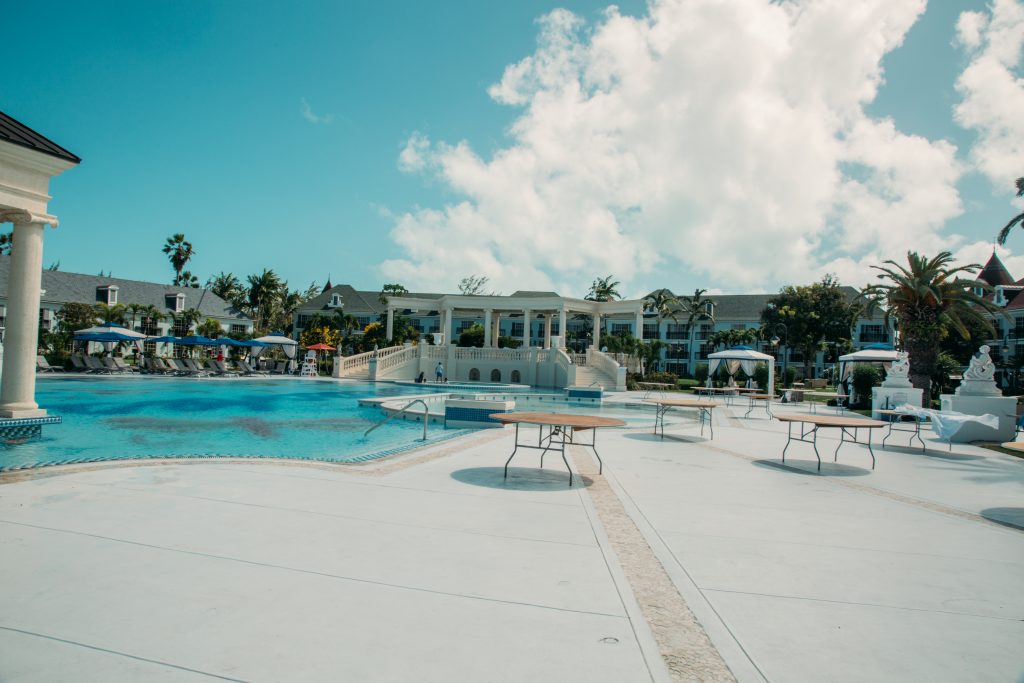 The French Village (pictured above)
The French Village is the village furthest away from the beach and is pretty quiet in comparison to the Italian Village. It's beautiful! I had actually seen a wedding reception taking place here one night, and it looked like a fairytale. (Keep this in mind if you're wanting to get married here.) The French Village is also the closest to the waterpark. So, kiddos will appreciate that! Rates are also lower in the French village than The Italian village.
I would stay in the French Village if you don't mind a walk to the beach and other resort pools, if you want a quieter room away from most of the noise and commotion, or your kiddos want to be as close to the waterpark as possible.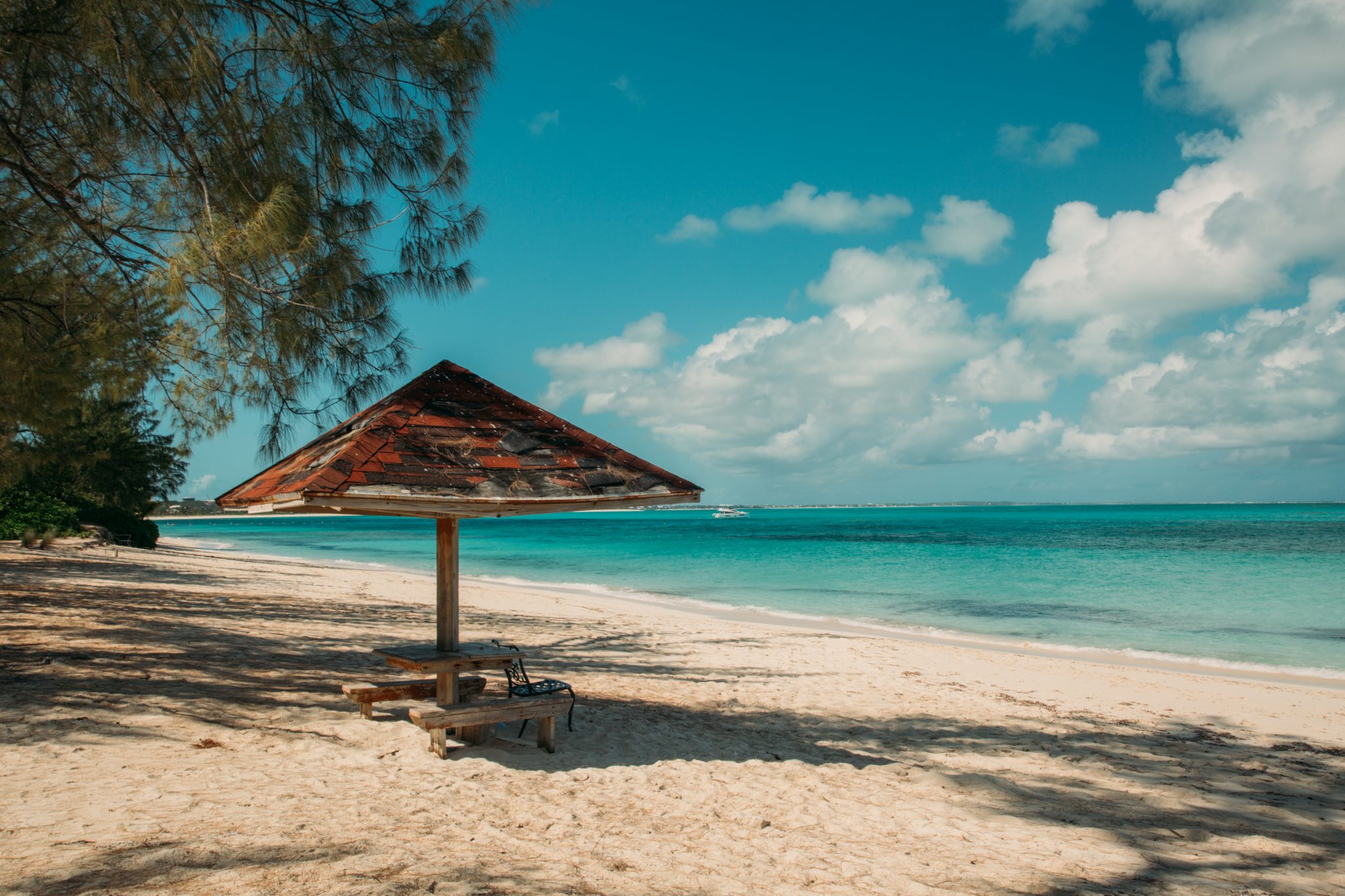 The Caribbean Village
So, I spent the majority of this vacation hanging out in the Caribbean Village. I LOVED the beach area over here. This section of the beach is quieter than the section in front of the Italian Village. (However, if you have kids there really isn't much for them to do over here).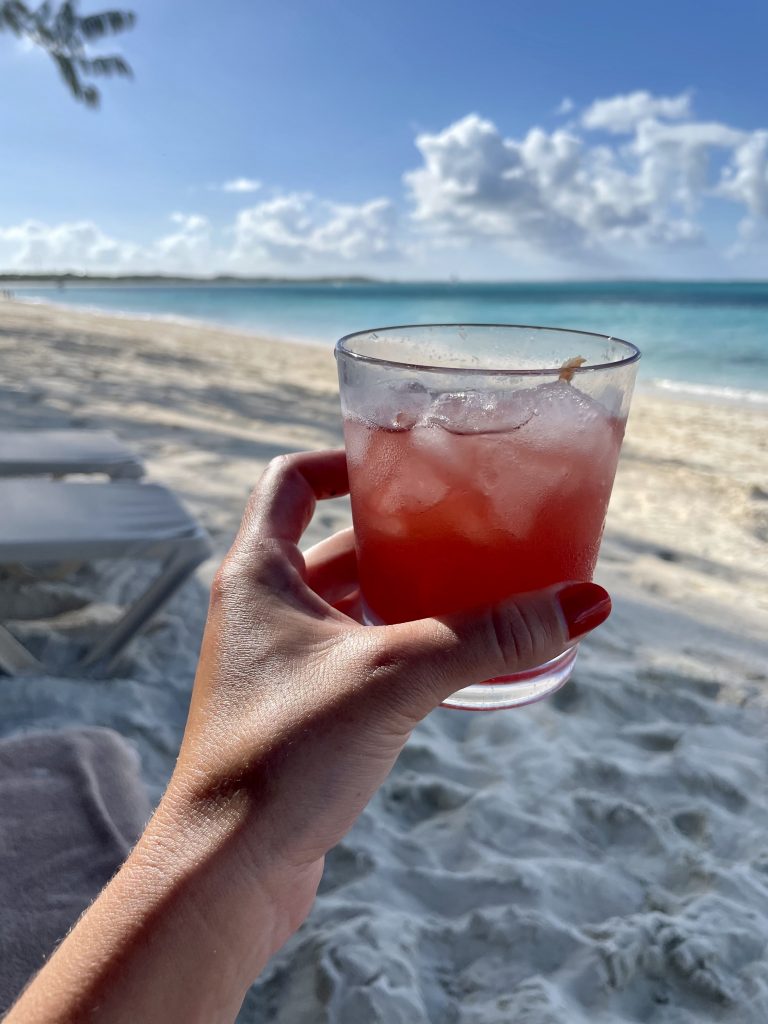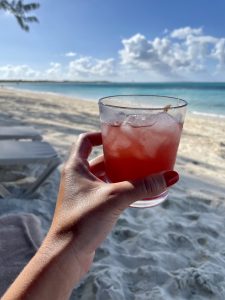 I also liked hanging out at this swim-up bar, as it was usually quieter than the Italian Village swim-up bar. My husband and I would head over here after breakfast, grab a set of beach chairs in front of the Jerk Shack and just relax. We could get lunch from the Jerk Shack or Arizona's and head right back to the beach. (The Jerk Shack also has a nice little drink shack where you can order beverages to take with you to the beach – highly recommend their Jerk Shack specialty drink!)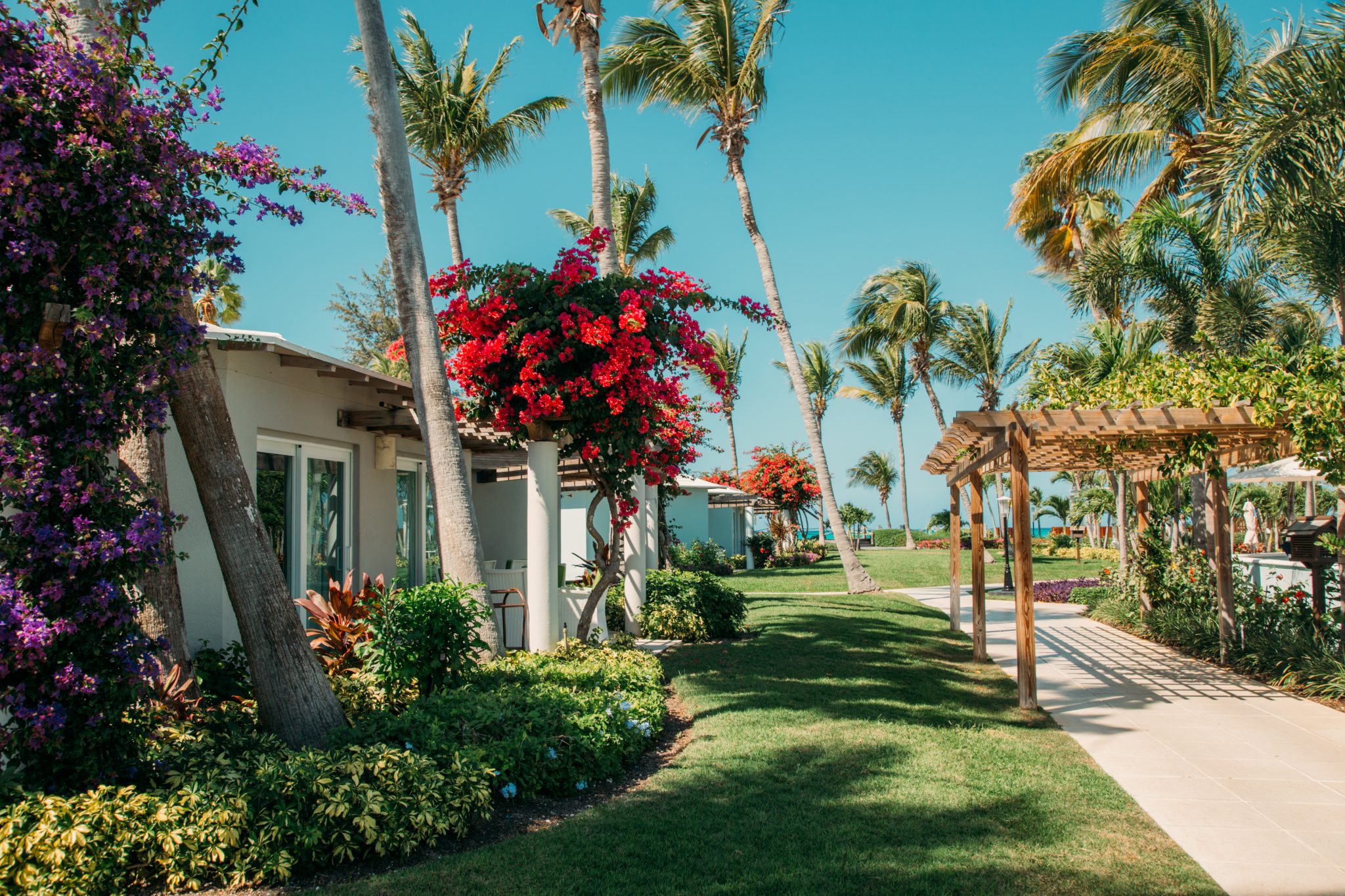 While I liked hanging out in this area, I wasn't as impressed by the rooms over here. They are the least expensive rooms on the resort, but they look a little run down in comparison to the rest of the resort (almost motel-like from the outside). The Honeymoon walkout rooms looked GORGEOUS, but you don't really have a ton of privacy. The sidewalk is right in front of your room. You will, however, be right by the beach!
I would stay in the Caribbean Village if you want to be as close to the beach as possible or are looking to maximize your budget while staying at Beaches Turks and Caicos (as entry-level room rates are typically the lowest in this village).
The Key West Village
I honestly didn't spend much time over here. This section is pretty removed from all the action – which is great if you're looking for a nice quiet stay. There are a couple of smaller pools over here that were generally pretty quiet too.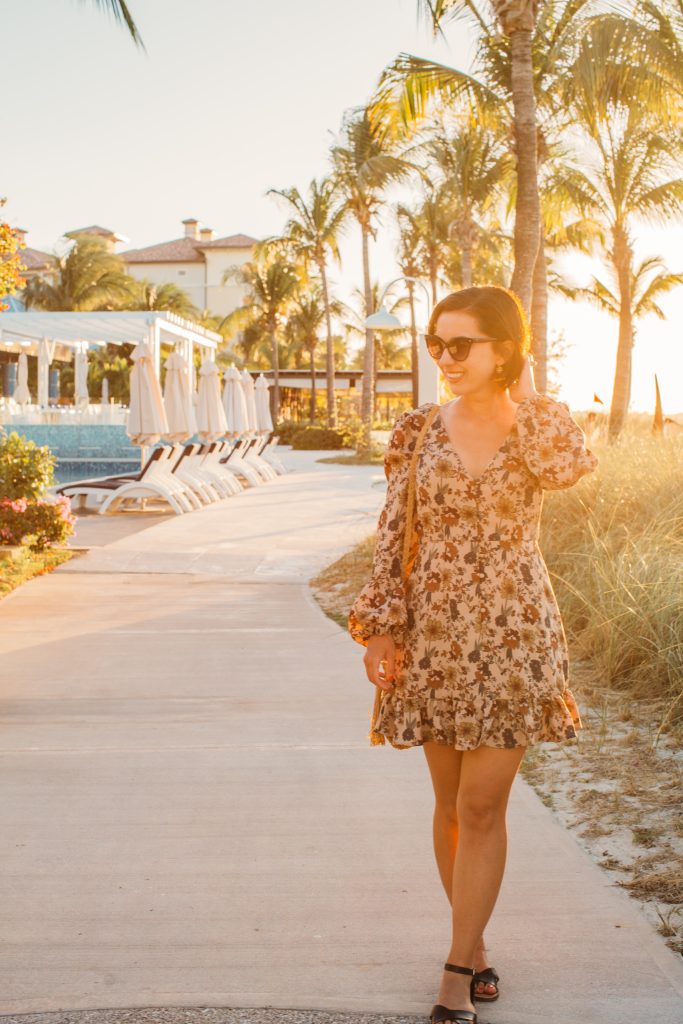 That being said, if you're looking to go all out for this trip… the Butler Villas with Private Pools here are absolutely DIVINE. (Sorry, I didn't take photos as they were all occupied, and I didn't want to make anyone uncomfortable). You'll be just steps from the beach… and the walkway in front of your villa is quiet… because the only reason anyone would be walking down this way is to get to one of these villas (there aren't any restaurants or anything past these villas, so there's hardly any foot traffic).
Stay in the Key West Village if you are wanting to splurge on a villa or want a quiet room away from all the commotion. (I would say this area is the quietest section of the whole resort.)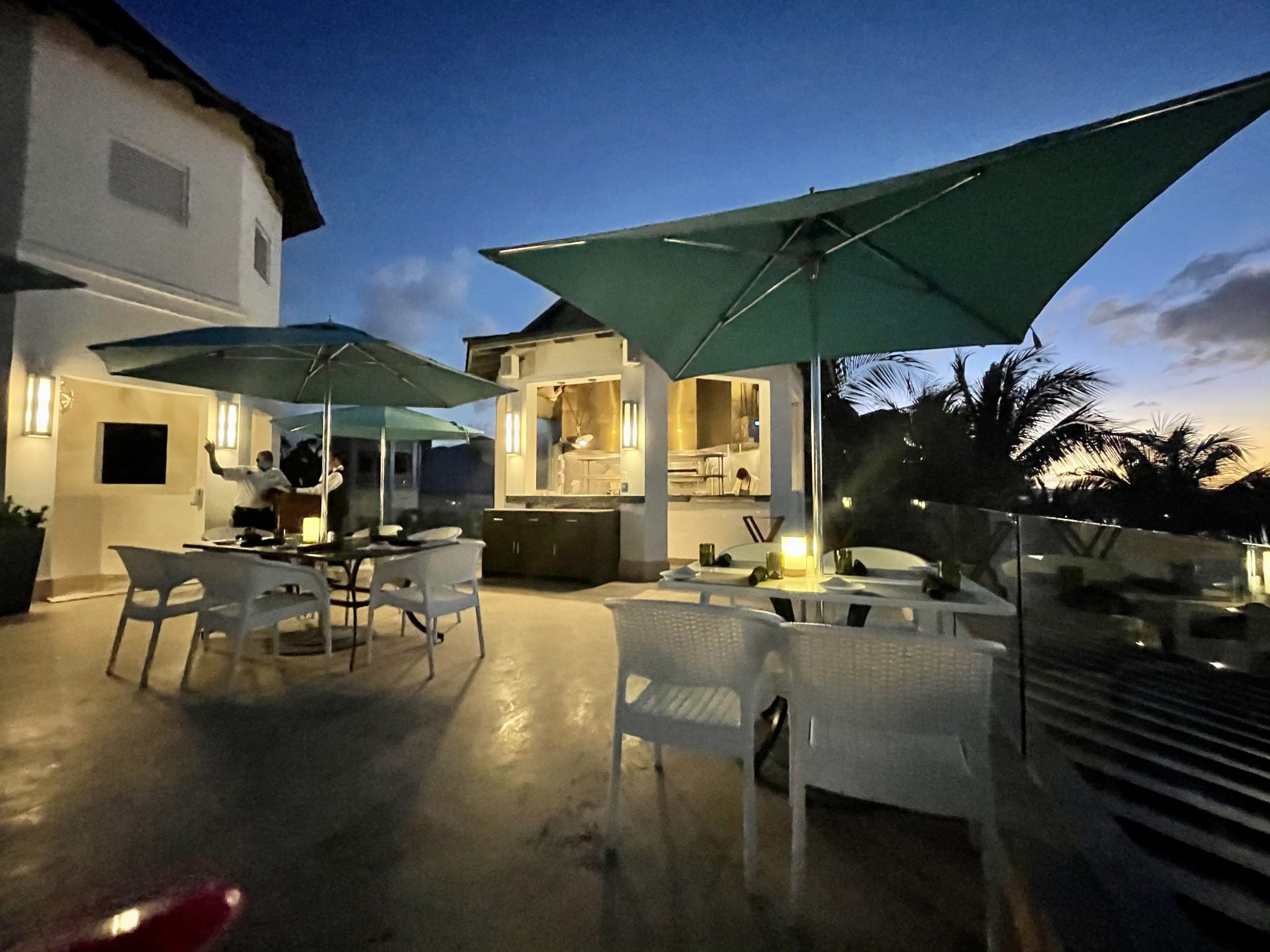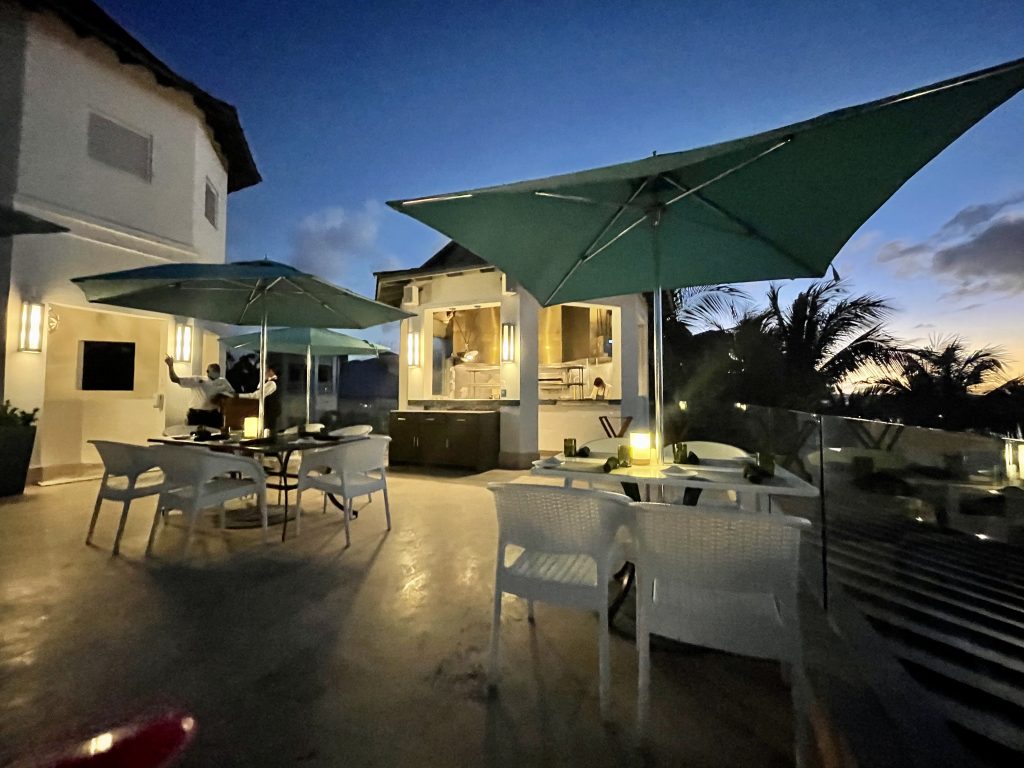 Our Guide to Beaches Turks and Caicos Restaurants
Every restaurant we ate at while at Beaches was good! I seriously have no complaints. I do, however, always love to read what other people's favorite restaurants are when staying at these resorts. So, here were our top picks:
Best Food & Service (in our opinion)
Sapodilla's
My husband and I both agreed that this was our best meal at the resort. I had the spiny lobster (seriously, lobster!) and my husband had the tenderloin beef.. loved the salads and desserts as well here. I also thought the service was the best here out of all the restaurants. (Note: this is an adult-only restaurant. There aren't any kids under 16 here.)
The dress code is resort evening here.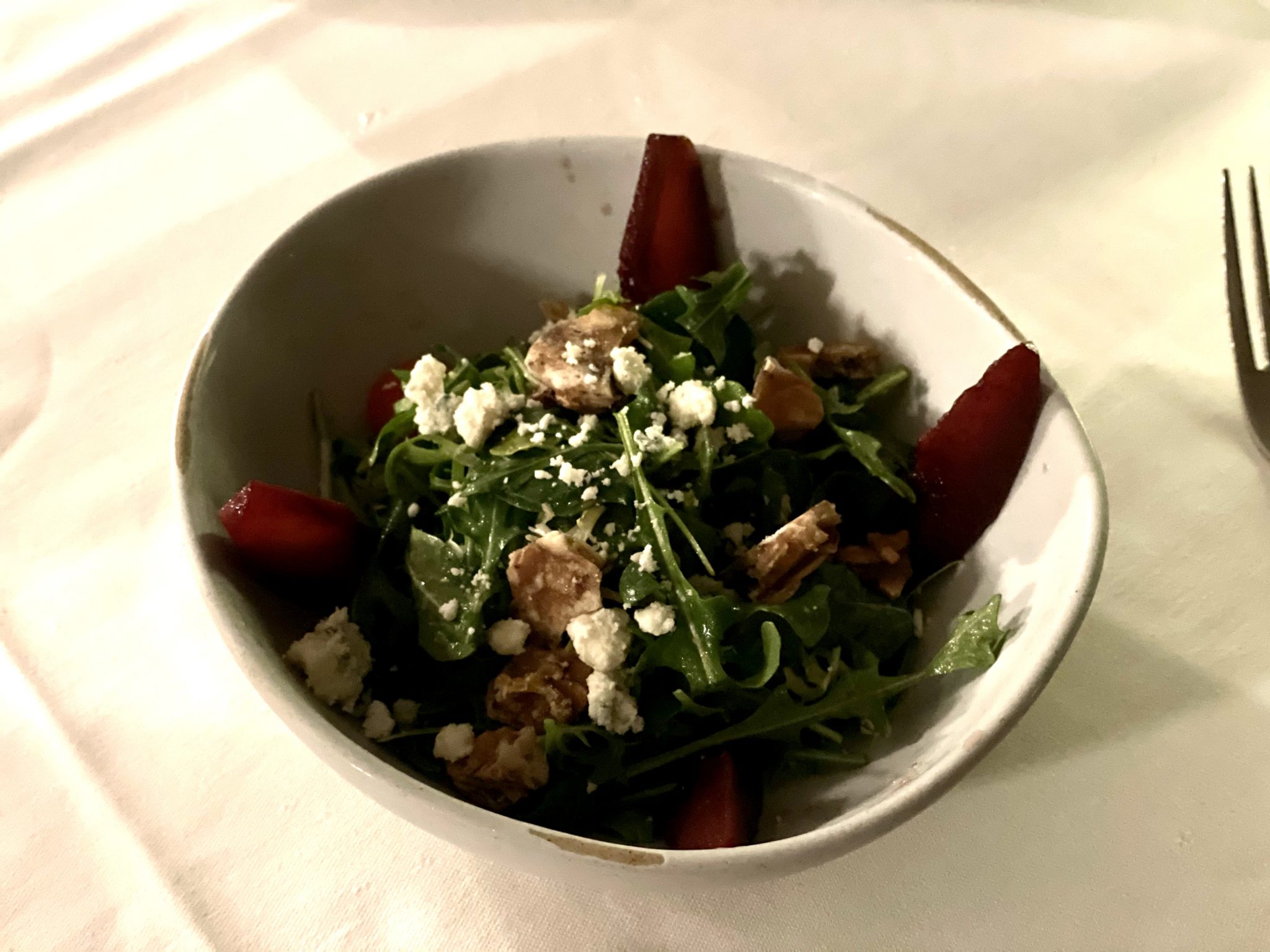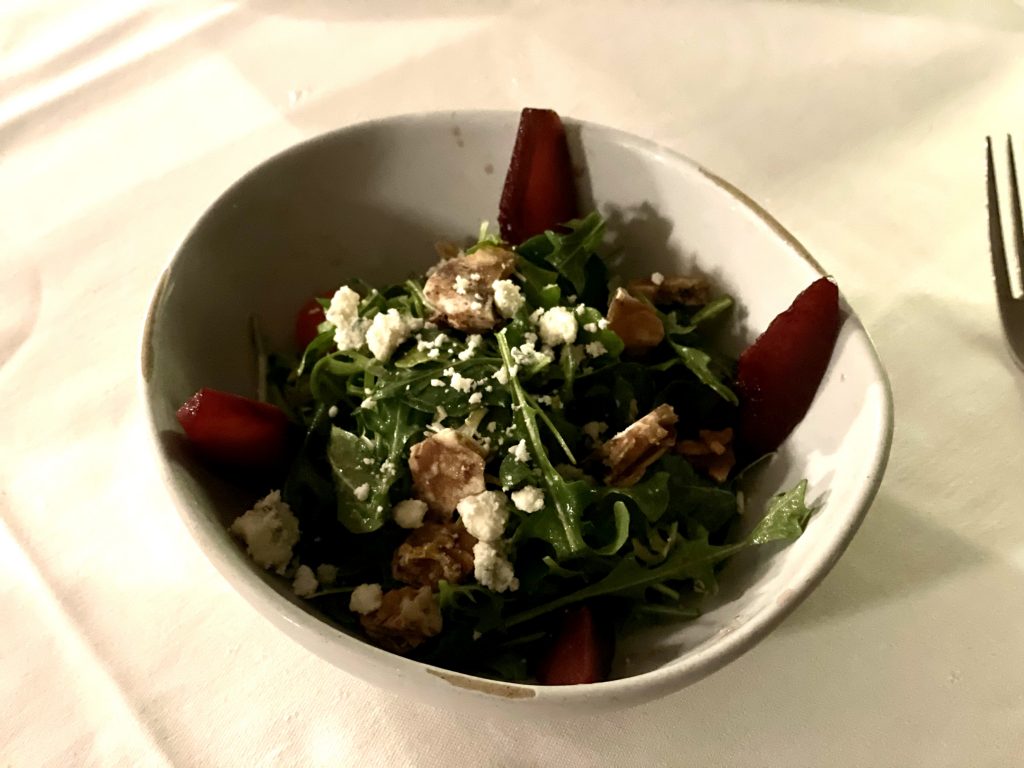 Restaurant with the Best View (in our opinion)
Sky
This is a rooftop restaurant that had a fantastic view of the ocean and beach. (Try to get a reservation around sunset!) The food here was good, but not the best we had during this stay. It's worth coming here for those views, though! (This is another adult-only restaurant.)
The dress code is resort evening here.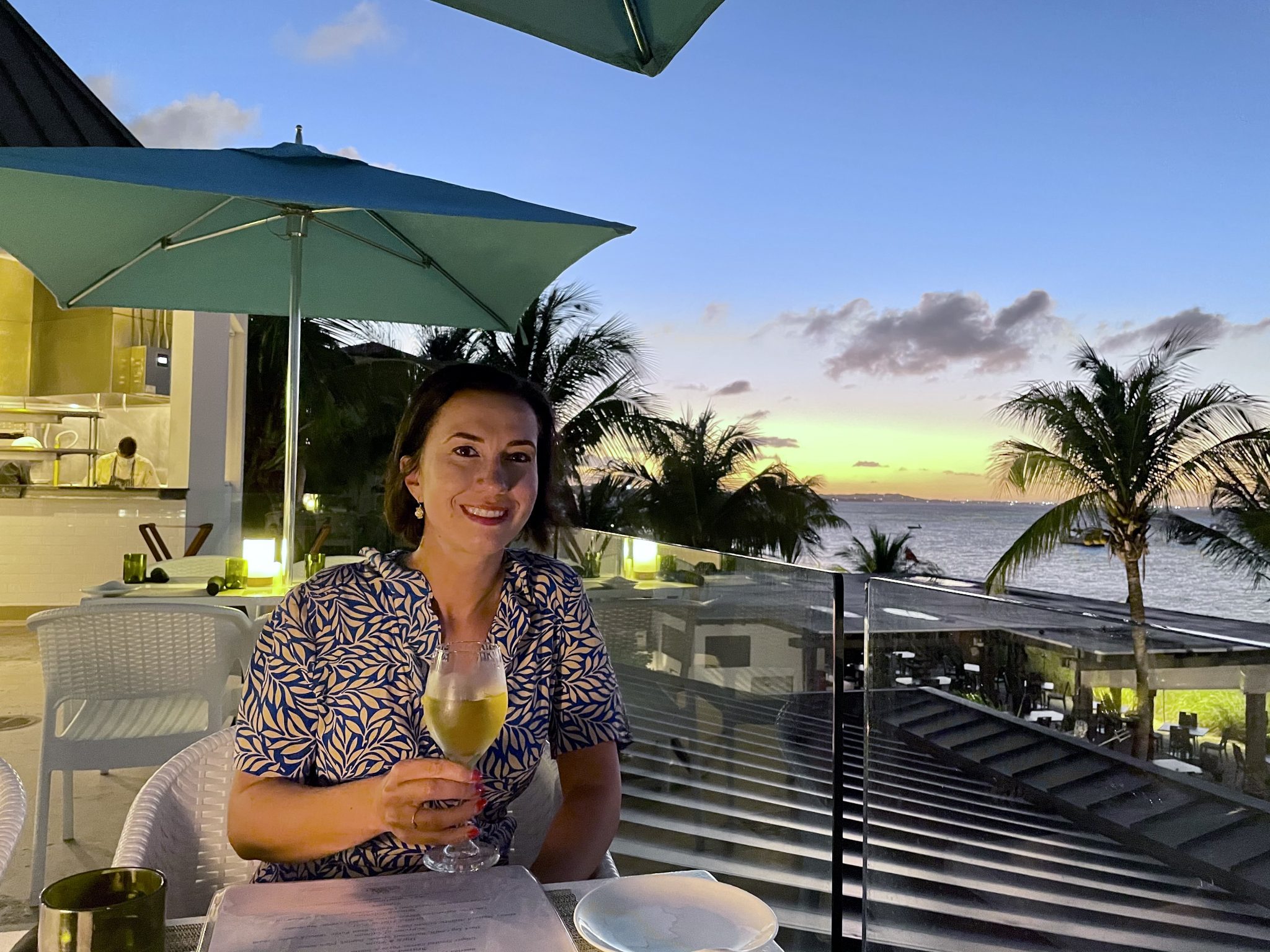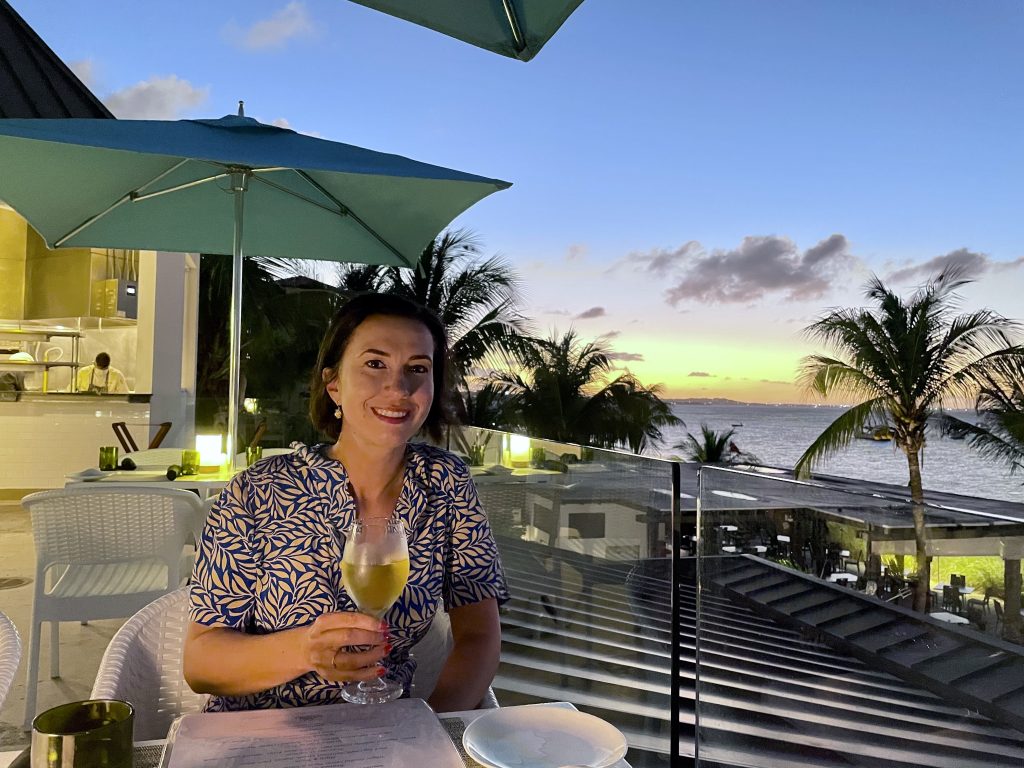 Most Fun Restaurant! (in our opinion)
Kimonos
This is a hibachi dining experience where the chefs are absolutely amazing entertainers. They are belting out tunes, making up games and just being all-around hilarious for the entire dining experience. Your kids will love it… and adults will too! (Again, we don't have kids, and I loved this dining experience.)
The dress code is resort casual here.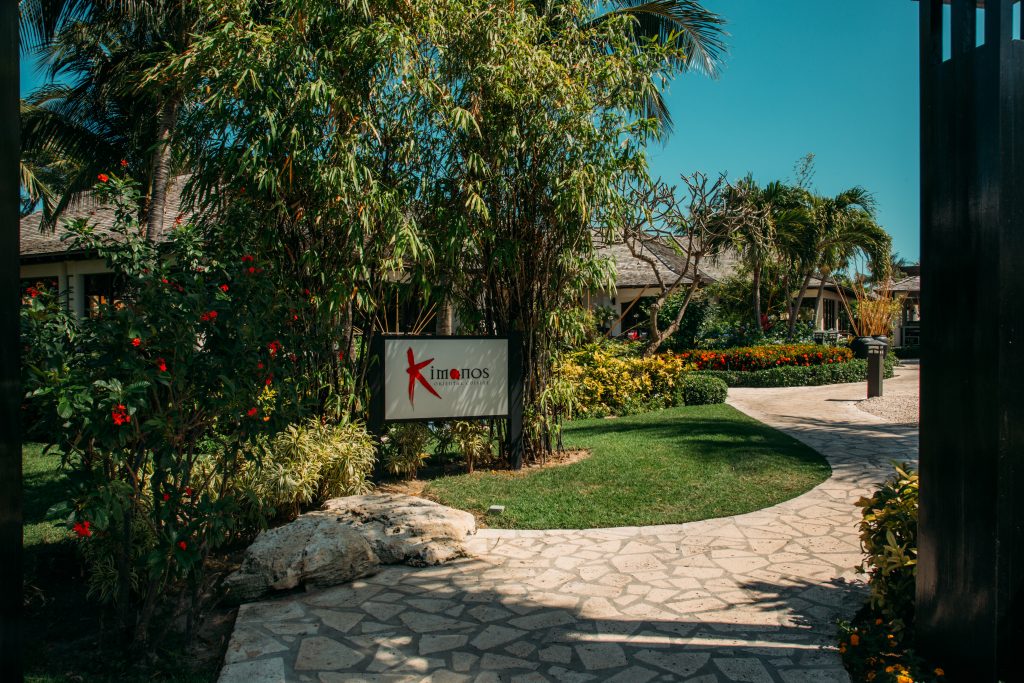 Best Breakfast
Mario's buffet breakfast was awesome! I loved the omelet bar and also the pancakes with Sriracha syrup. (I LOVE Sriracha and thought was so cool, haha.) Don't forget to get mimosas to start the day, too! It's vacation time, after all…
The dress code is resort casual here.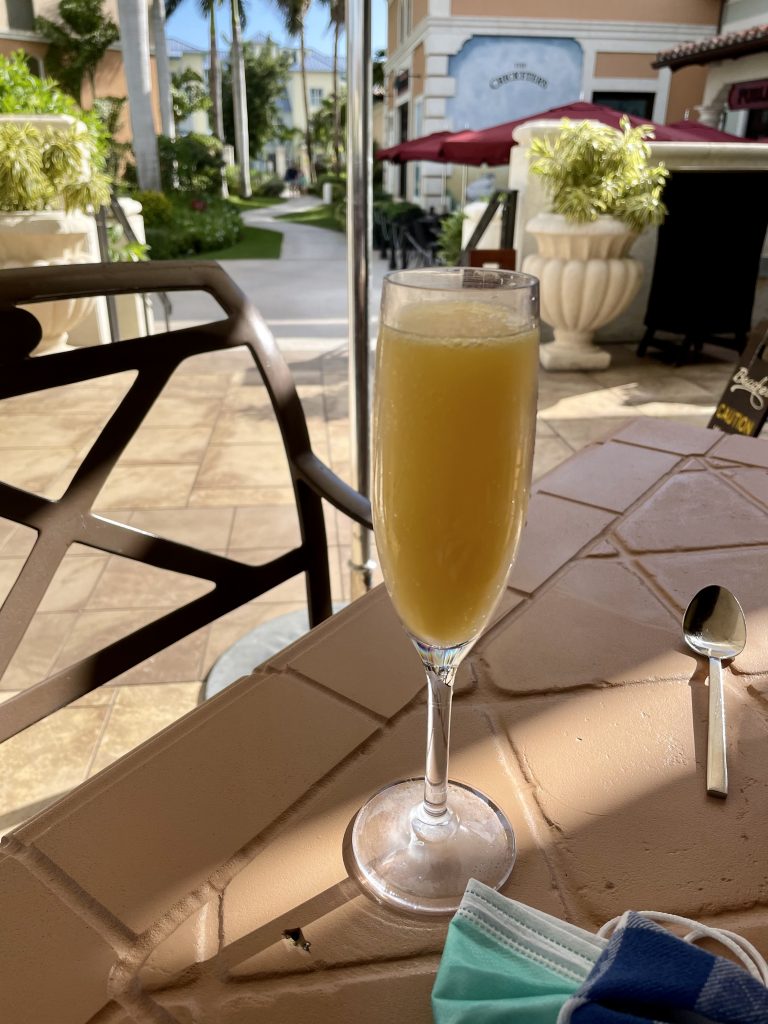 Great Spot for a Quick Lunch (in our opinion)
The Mac and Cheese truck!
You have to get lunch here at least once. This is set up in the waterpark by the French Village and is a must-visit if you love Mac and Cheese. (They even combined Mac and Cheese and Buffalo Wings – yum!)
The dress code is resort casual here.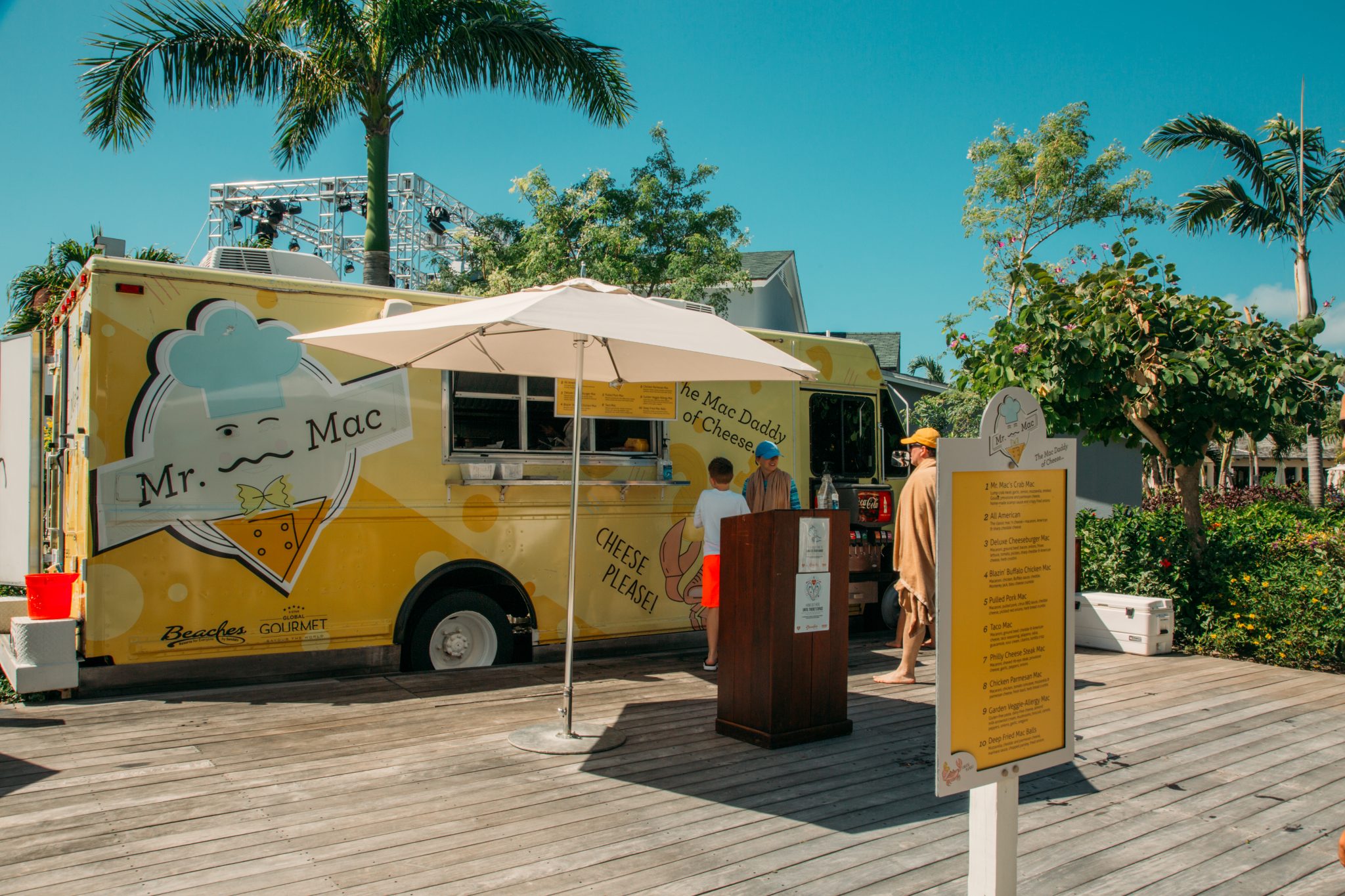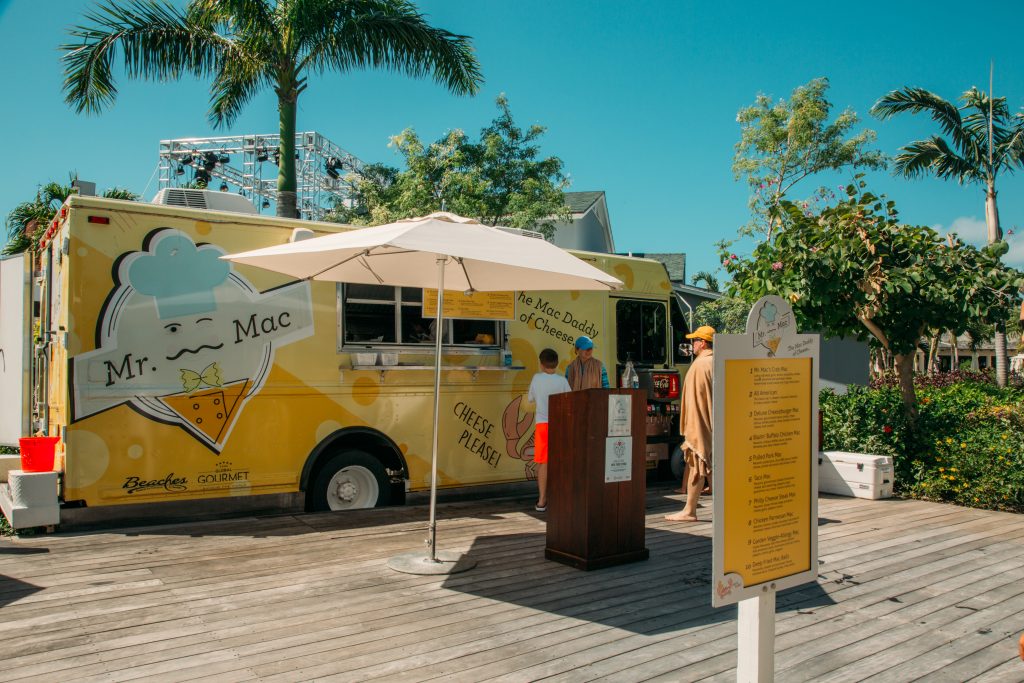 Where to Get Ice Cream
Bobby Dee's
Also in the water park, head to Bobby Dee's for a few scoops of ice cream. We were big fans of the cookie dough ice cream here!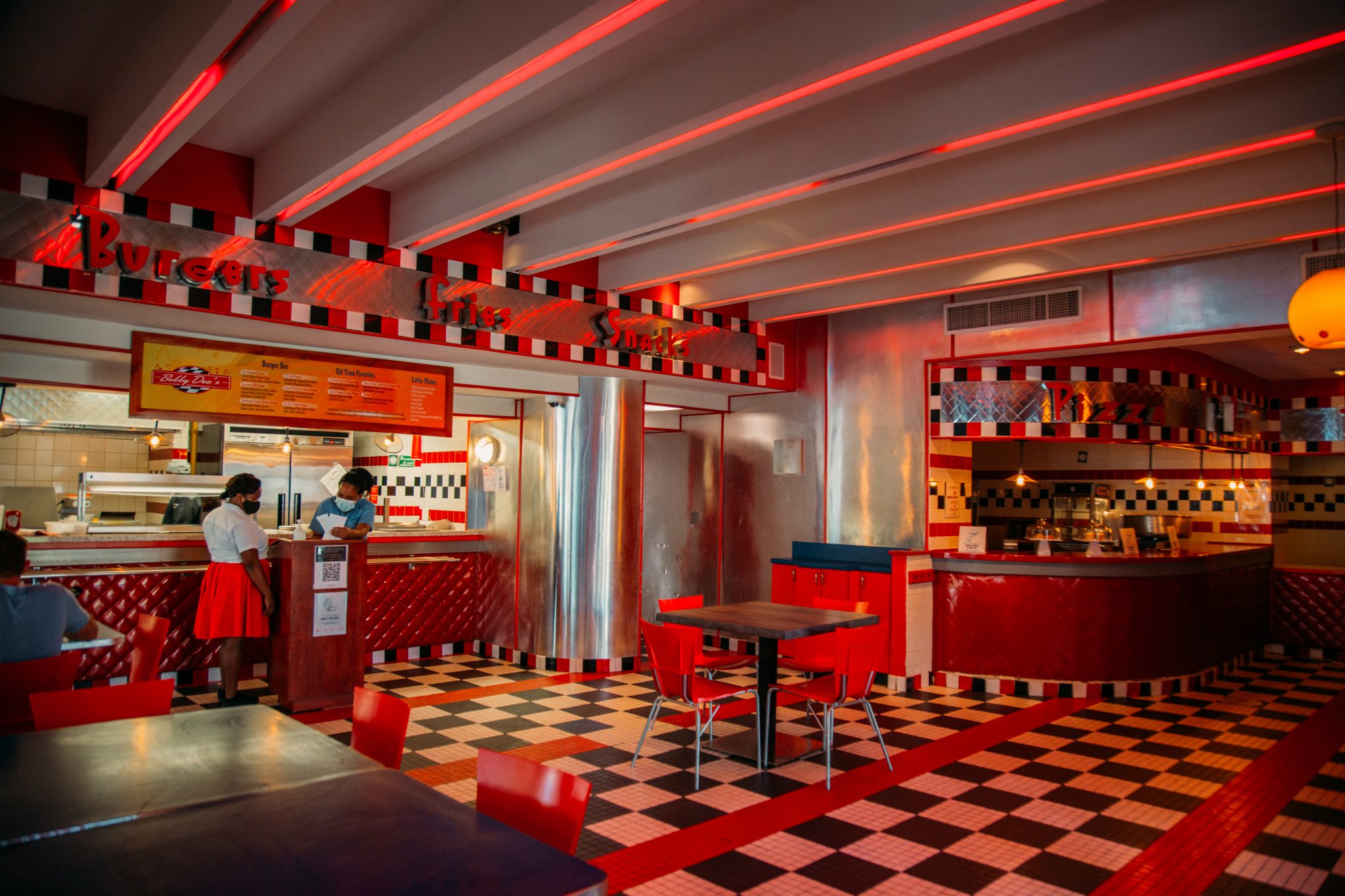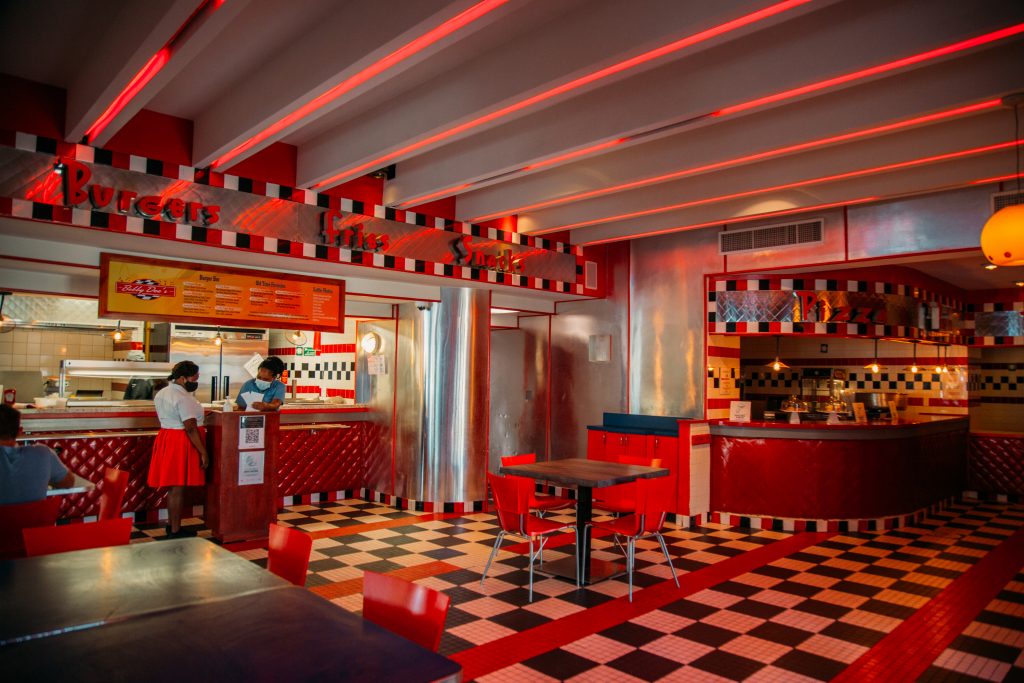 Where to get a drink to go
So, after we would get showered up after a day at the beach, we would head to the outdoor bar in the Italian Village for a drink to go for our walk to dinner. (This is in the Italian Village.) The bartenders here were super fun and made a mean drink as well!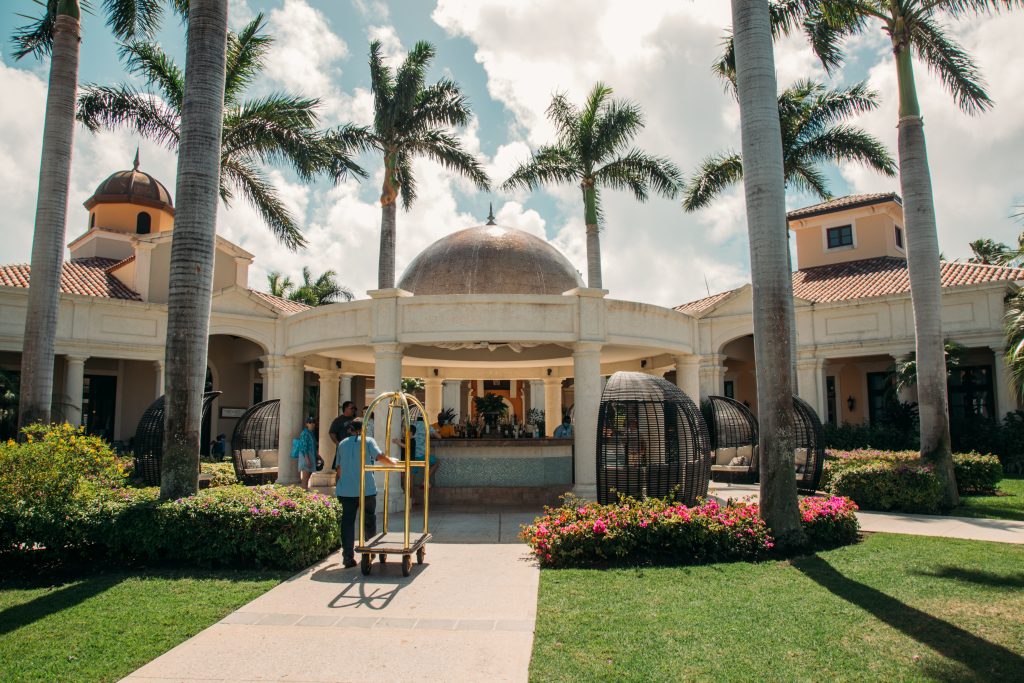 Best Spot For Late Night Fun…
The Cricketers Pub was always rocking and had karaoke contests, no matter what night of the week it was! As I said, we were bums and went to bed early for most of this trip, though. (We had closed down the Cricketers Pubs at the Sandals Resorts we had stayed at in our younger days, though. Ha!)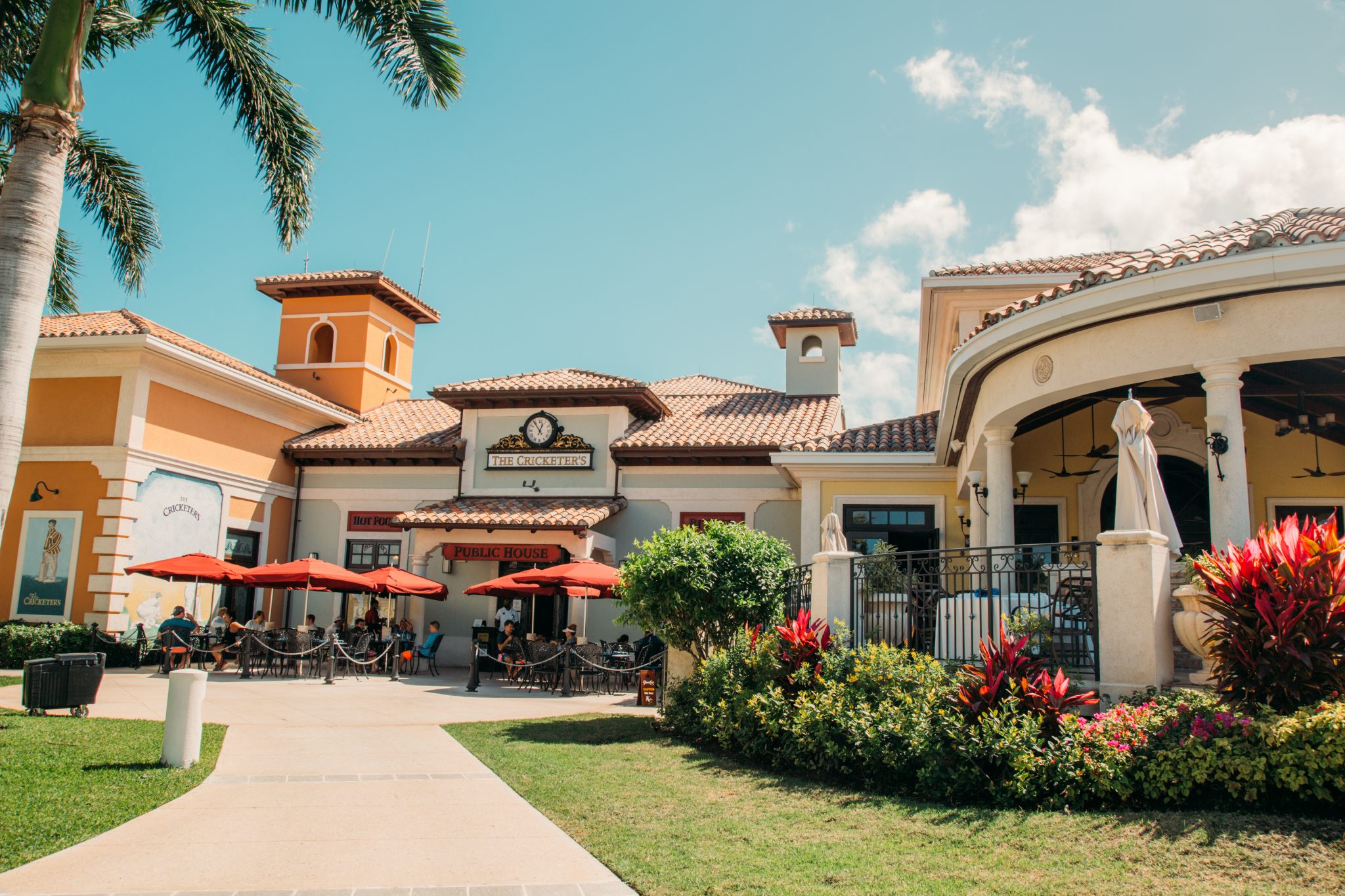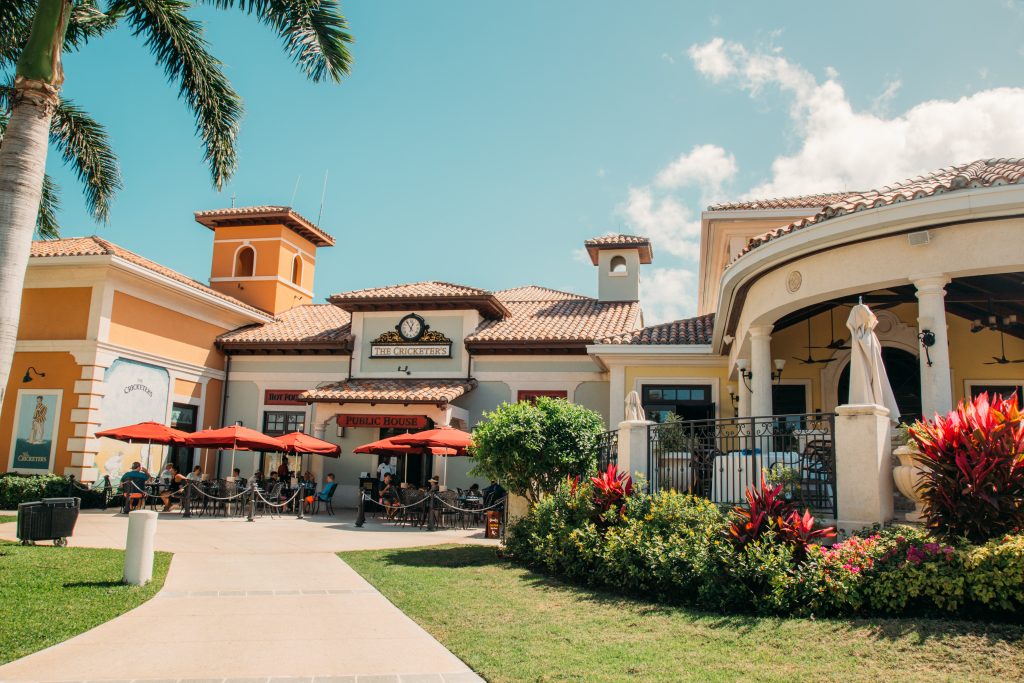 Our Experience at the Red Lane Spa
Spa services are not included in your stay at Beaches Turks and Caicos. However, you do have access to the hot and cold pools here. (Start in the hot pool and then dunk yourself in the cold pool. It's similar to sitting in a hot tub or sauna and then jumping in a snowbank. My husband loves it! I'm not a fan…)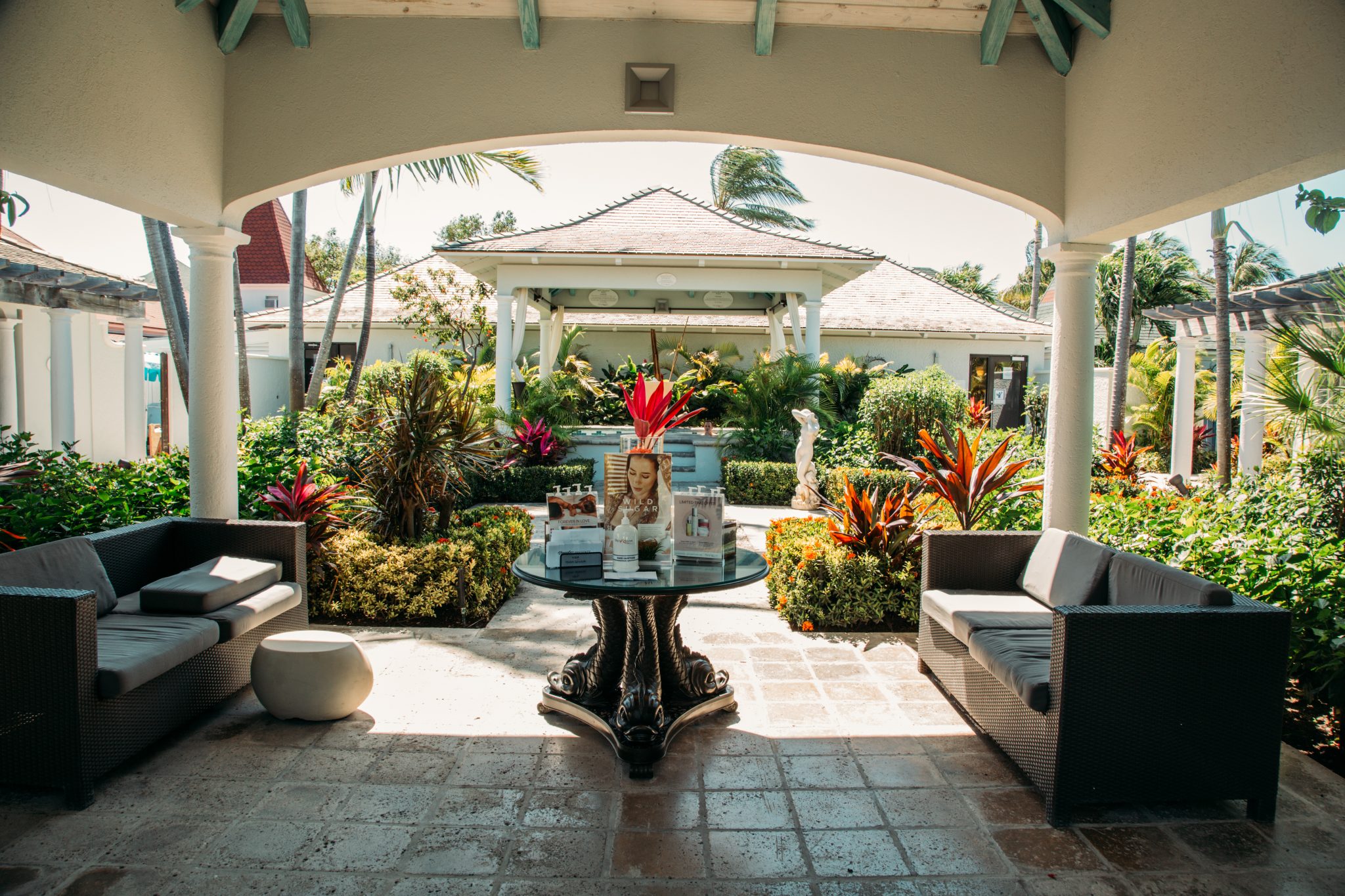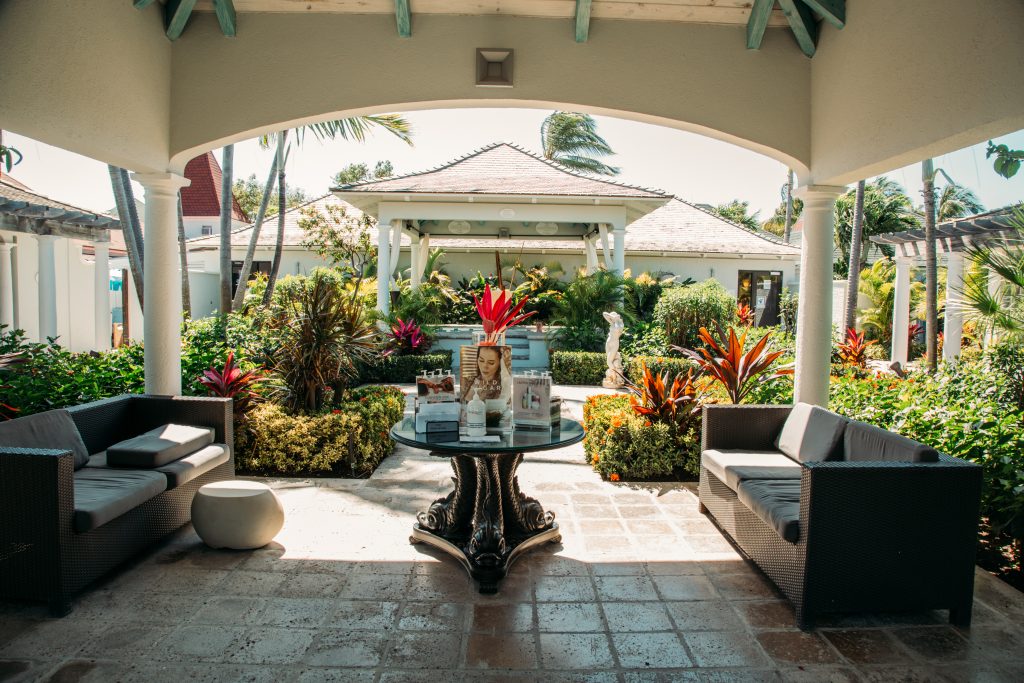 We splurged and did a massage one morning. I'm not a big fan of massages… my husband on the other hand loves them. We did the couples' massage by the beach, and he says it was one of the best massages he has ever had and was worth every penny. I have no complaints, but I'm still not a fan of massages! (They'll charge this to your credit card on file, then.)
I also recommend going directly to the spa to book your services vs having the concierge do it. They'll be better able to answer any questions and make sure you're getting booked for the service that's best for you.
Note: I would also recommend getting your massages right at the spa vs the beach. This is because Grace Bay Beach is a public beach, and there is no way for the resort to control the noise levels here! The spa would be much quieter and more relaxing.
.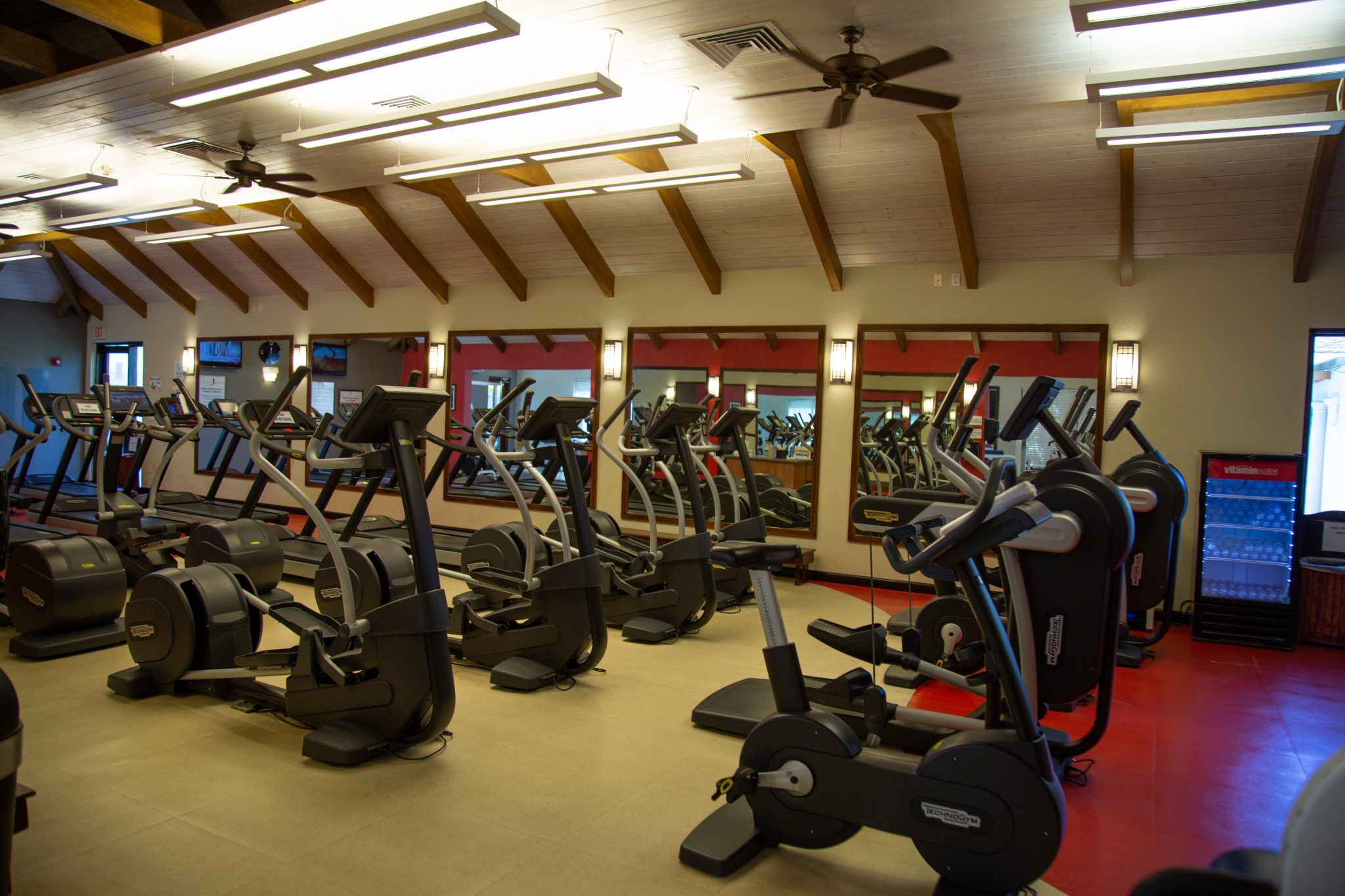 The Gym at Beaches Turks & Caicos
There are actually 2 gyms at this resort, and I can honestly say, I have never seen a hotel/resort have such a well-equipped gym area! I like to do Crossfit-style workouts and also kickboxing. I can usually scab together a workout with some dumbbells and cardio equipment at hotel gyms, but nothing overly dynamic.
Beaches Turks and Caicos, however, had just about every piece of equipment I needed to do my normal workouts! They had boxes (actual boxes, not those darn riser things), tons of free weights, barbells, kettlebells… and they even had a bag and gloves! (I've never seen this at a resort before.) I was very impressed!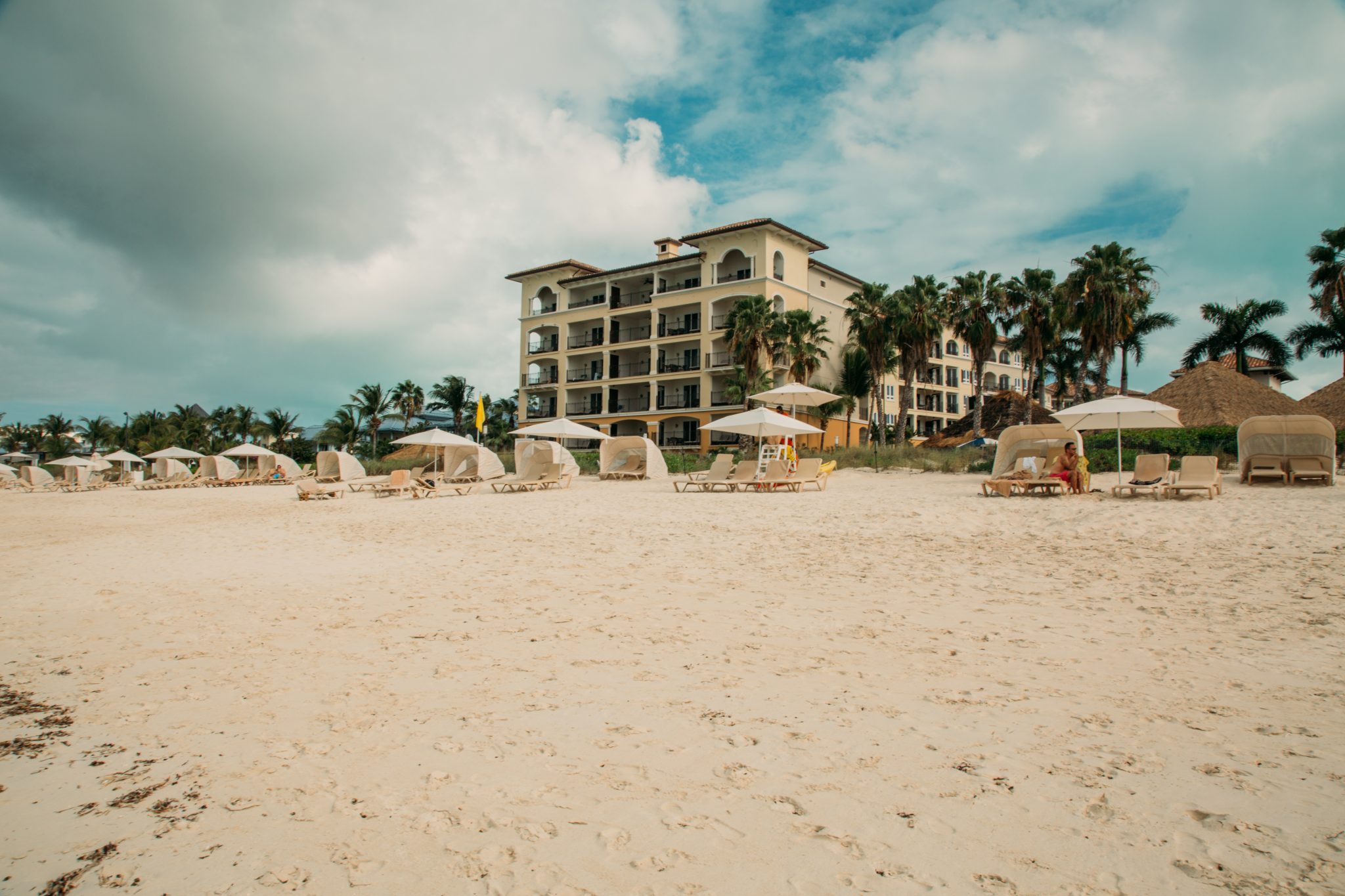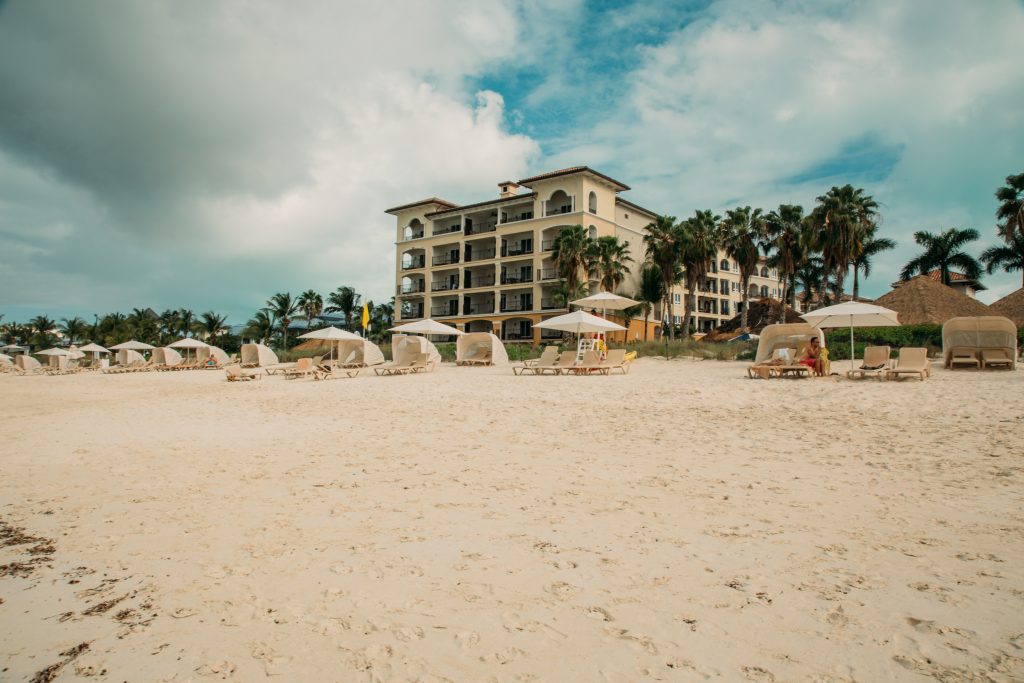 Is Beaches Turks and Caicos Worth Price?
Beaches Turks and Caicos is a luxury resort with a heavy emphasis on the world LUXURY. Therefore, it is also expensive.
If you don't want to worry about a darn thing on your entire vacation, other than which restaurant to eat at… this is the vacation for you. I also was blown away at just how many COOL activities and amenities they had for the kids. When I would hear "family resort" in the past, my mind always went to, well, this is a resort that will have its pools filled with screaming kids.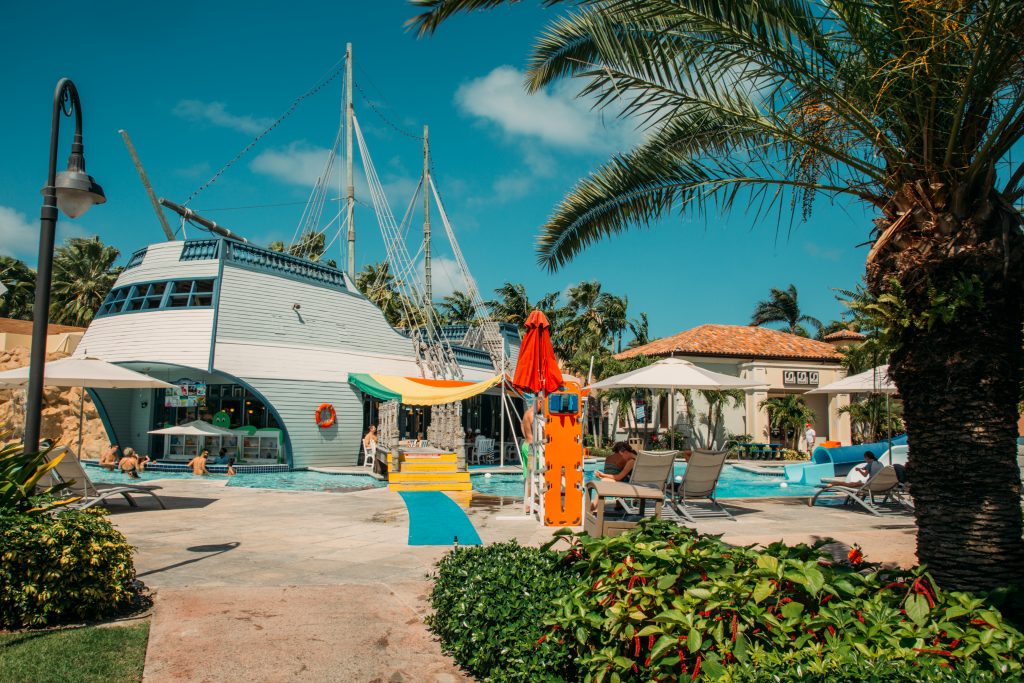 That couldn't be further from what Beaches is like! I mean, they have a 45,000 square-foot water park (that even has an adorable swim-up bar for the kids to order fruity drinks), an Xbox lounge for the kids/teens, and also a teen-only "club" for dancing at night.
They also have an exclusive partnership with Sesame Street and camps that include fun activities like Baking with Cookie Monster, Puppet Making with Bert & Ernie, Move and Groove with Zoe and Rosita, and much more.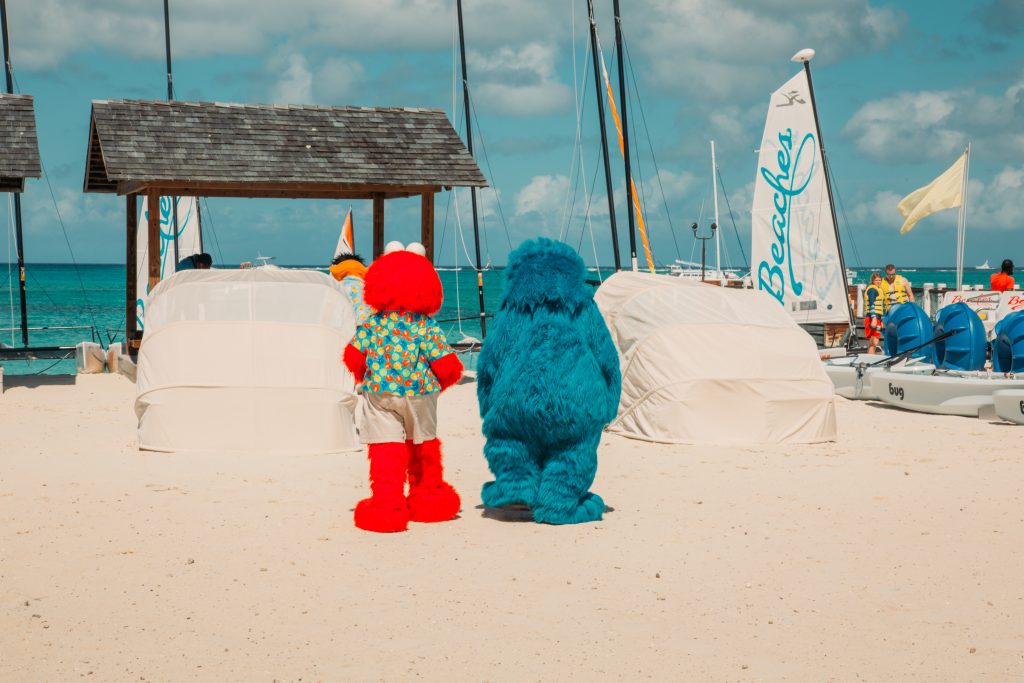 The coolest part, in my opinion, though, is the nannies and Kids Camps that are offered here. These staffers are members of the International Nanny Association. To become accredited, each nanny must meet the minimum requirement of 2,000 hours of child-care services. Their nannies have been trained in safety, nutrition and child development.
They are equipped to care for every age range from newborns on up to teenagers. This childcare and these camps are INCLUDED in your price. So, if you want to have an adults-only night out or day at the beach… you can at no extra cost! It is at no extra cost to you and your kids will be in great hands. (The only way you would spend extra is if you wanted private childcare – and this is $20 an hour.)
Another cool thing is that Beaches is the first resort company in the world to complete the rigorous International Board of Credentialing and Continuing Education Standards (IBCCES) training and Autism Certification! So, Beaches team members are able to offer families with children with autism and other special needs specialized services, engaging activities, and custom dining options.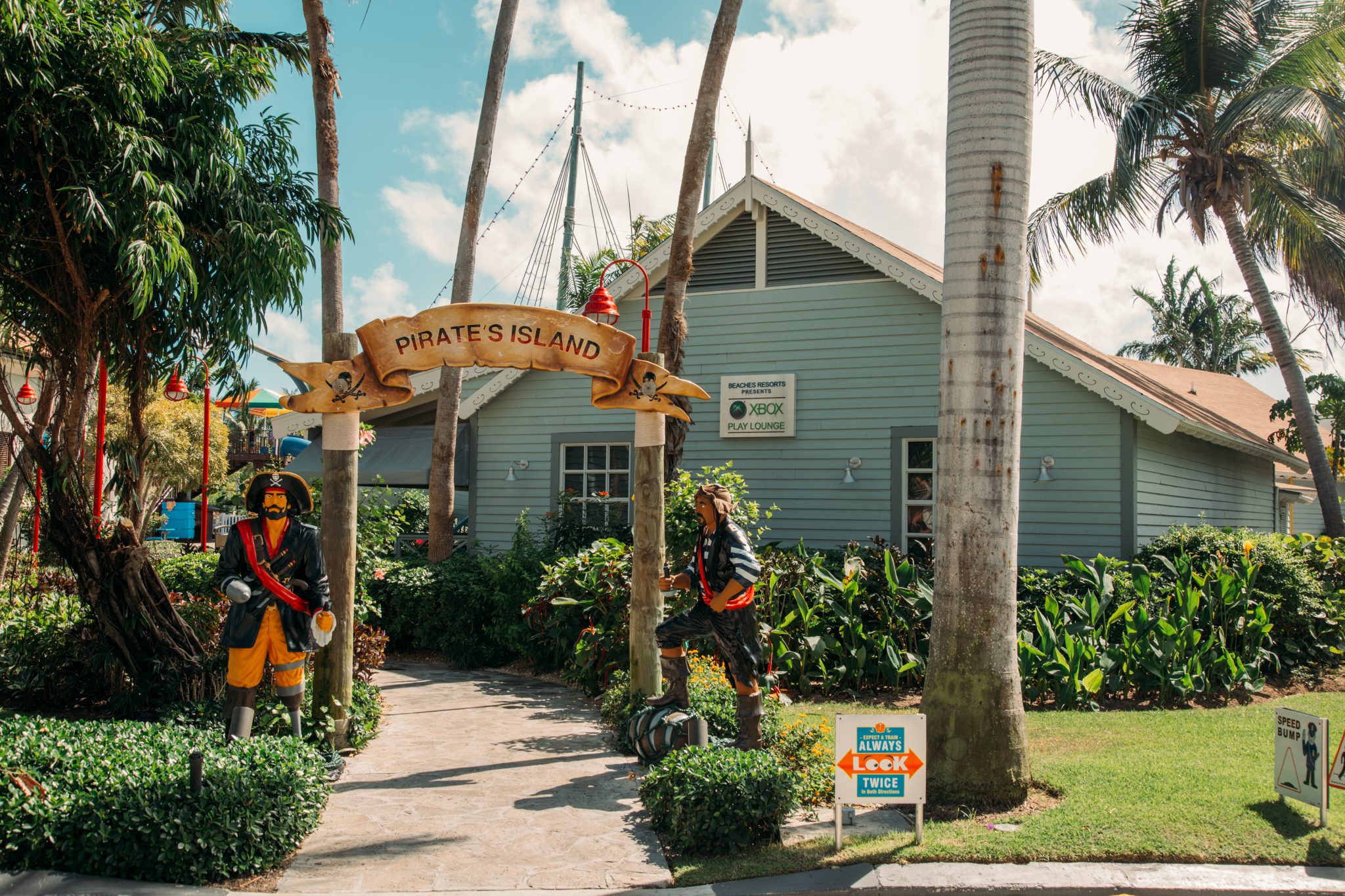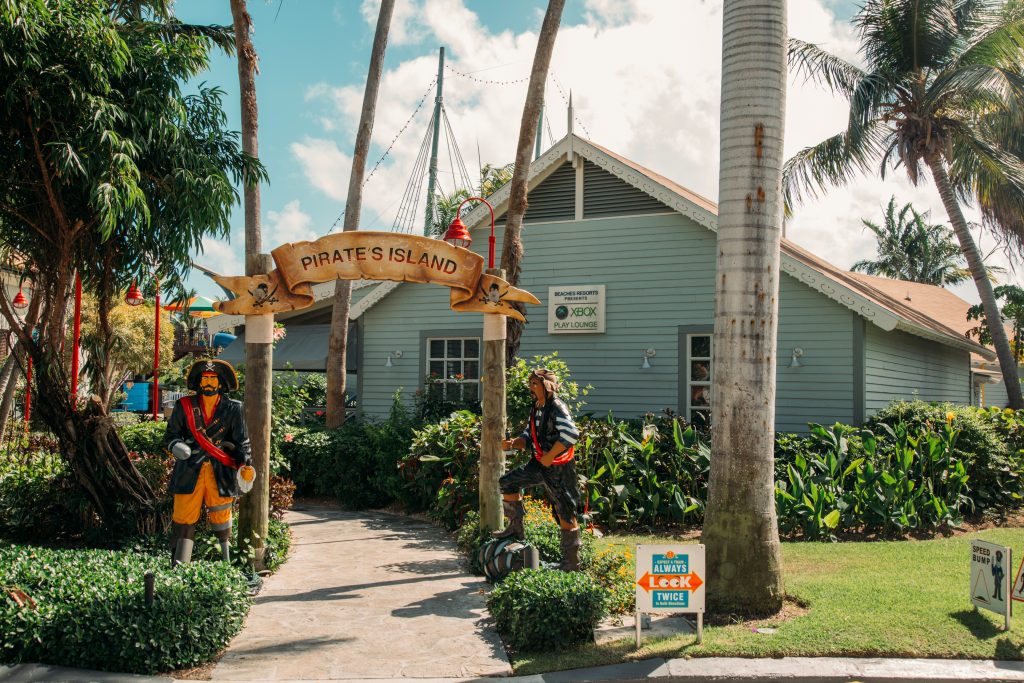 Now, for adults and older kids, I think it's awesome that Scuba diving and snorkeling are also included. Turks and Caicos has some AMAZING diving. Unfortunately, I'm super claustrophobic, so I only did the snorkeling option. It was nice, but nothing spectacular.
You also have access to all kinds of fun water activities – like kayaking, paddle boarding, Hobie cats, hydro bikes, etc.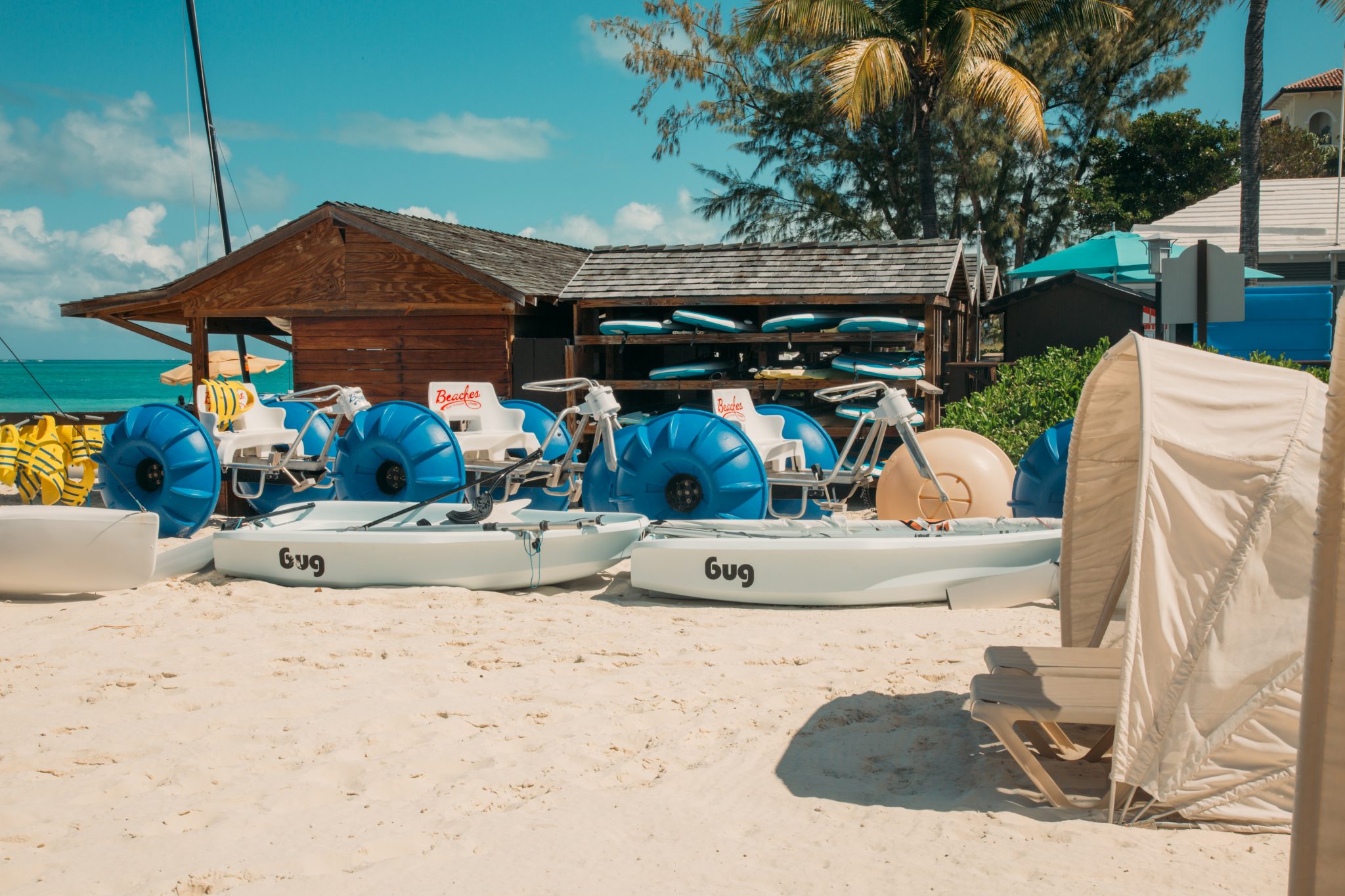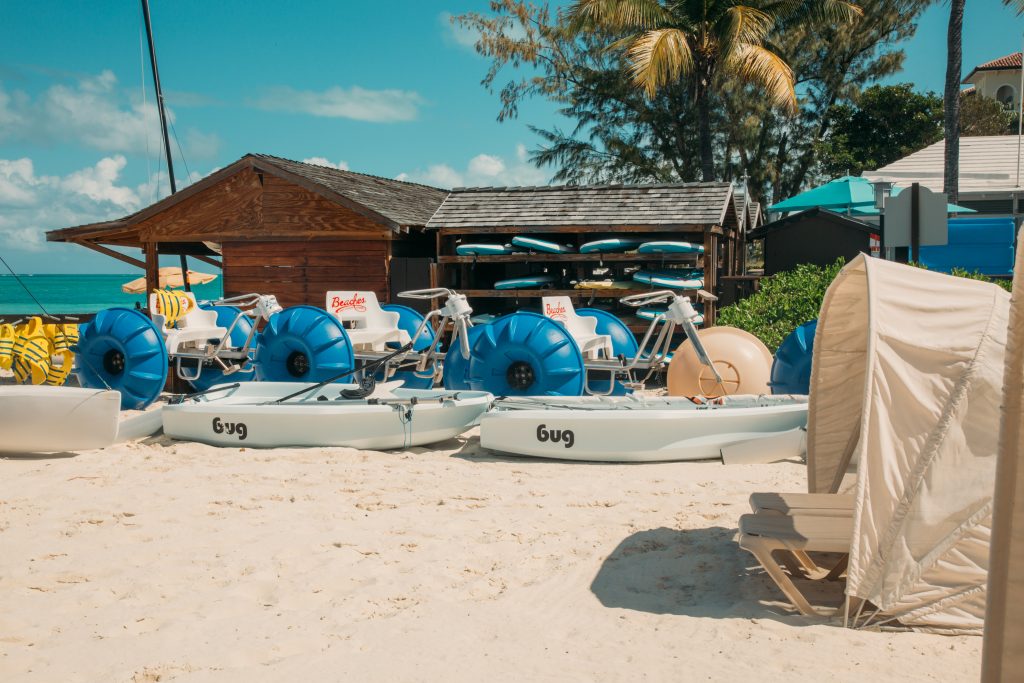 Before coming here, I was reading a thread where people were bashing other people who pay these high prices to stay here – these comments all ended with "you could spend that money and stay off the resort for X amount of extra days"… blah, blah, blah.
I think this is an absolutely silly way to compare… the reason you would stay at a resort like Beaches, vs a non-inclusive resort or Airbnb, is so you literally don't have to worry about a thing, especially if you're traveling with kids. They do EVERYTHING for you. You're not rationing your budget for the week on food, drinks, and activities – it's all taken care of! I'm also here to tell you, as someone who did the first portion of this trip staying in an Airbnb where I needed to buy groceries and such – food and drink prices in Turks and Caicos are bonkers expensive! (I did an entire blog post on food prices in Turks & Caicos, here.) Your budget isn't going to go terribly far staying off the resort in Turks.
So, bottom line, my husband and I both think the prices are warranted for what you get when staying at a Beaches Resort. This is especially true if you are traveling with your kids.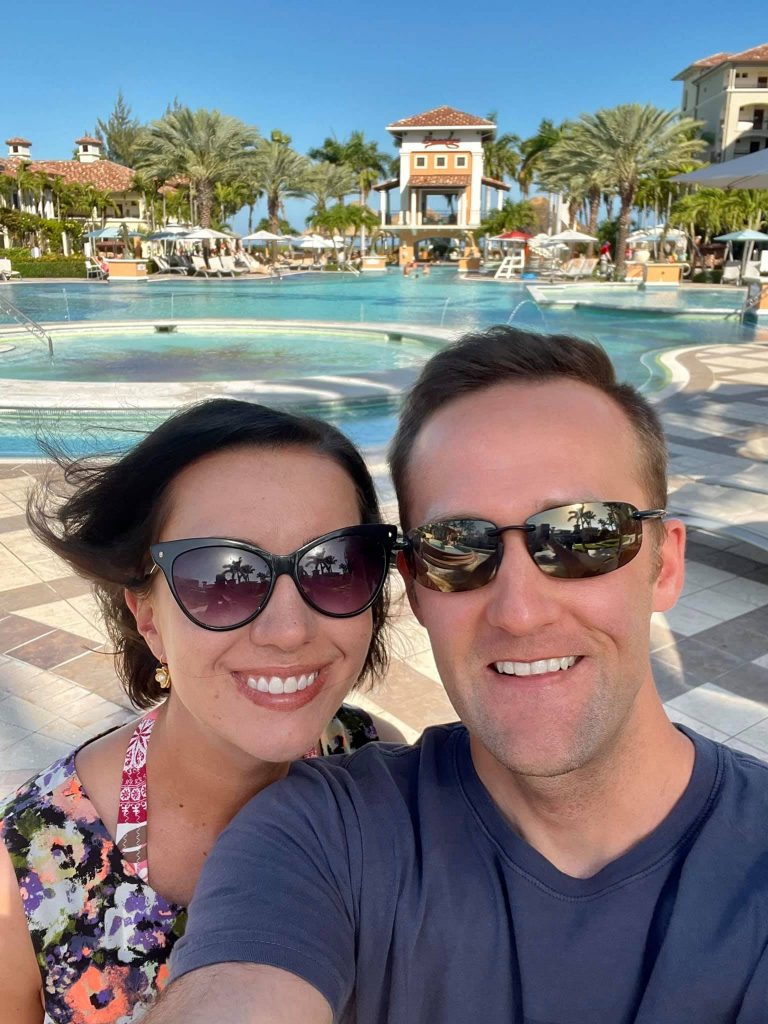 Can You Have a Romantic Getaway Here as a Couple?
Now, my husband and I had a lovely time here. We also ran into a couple of other couples who were here by themselves without children, and I had a friend who had vacationed here with just her husband a few years ago. We were definitely in the minority, though, almost everyone here was vacationing with children.
I also want to point out that my husband and I, and all the other couples mentioned above, work in the travel industry in some form. We all travel more than the average person and have been fortunate to experience other all-inclusive Sandals Resorts throughout the Caribbean. So, for us, going to a Beaches was something we were excited about because it was different from our past resort experiences.
Personally, if I was on my honeymoon or hadn't already had the opportunity to stay at other Sandals Resorts… I wouldn't recommend this as a romantic getaway for a couple without children. You can get a WAY more romantic vacation by staying at a Sandals Resort for your honeymoon or adults-only vacation. (Seriously, Sandals is literally made for "2 people in love.")
That being said I think a couple without children would enjoy Beaches Turks and Caicos if:
They are traveling in a group with other people who may want to bring their children with them.
If they want to have a destination wedding where children can be present. I saw a wedding taking place here, and it looked incredible!
If they have already visited other Caribbean Islands + Sandals Resorts and are looking for a different island to try.
If they are like us… and came to Turks & Caicos for whale season (SO COOL – WE SNORKELED WITH HUMPBACK WHALES on the island of Salt Cay for a week. But then we also had to cook our own food, do our own dishes, etc.)…. and want to have a vacation that ends with a few days of all-inclusive luxury.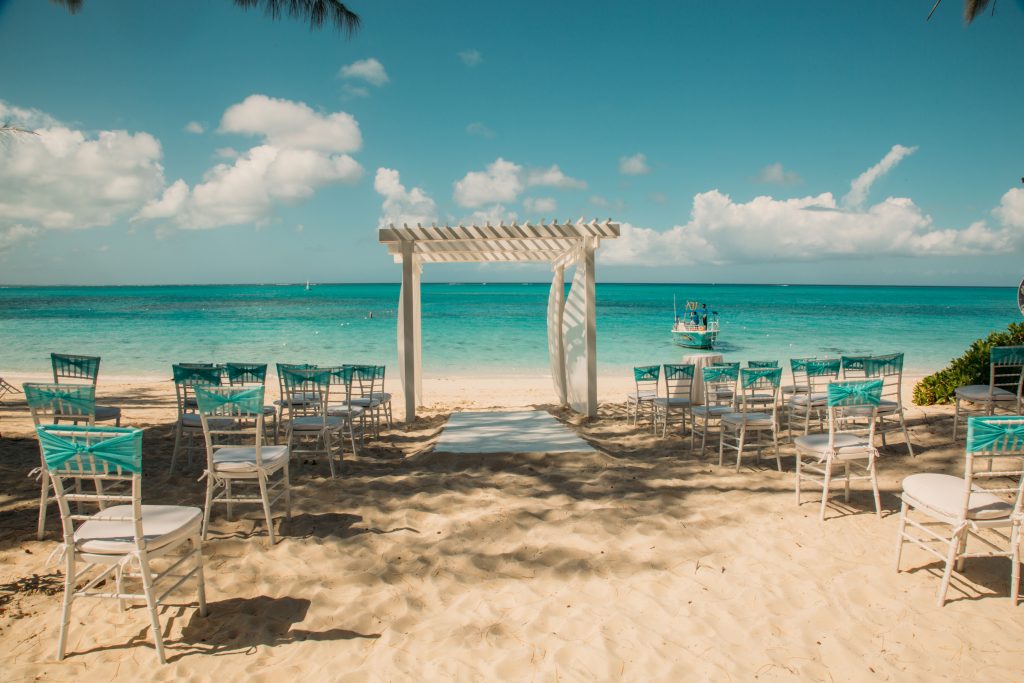 Beaches Turks & Caicos Requirements During COVID
**Update as of May 2023:
All COVID-19-related travel restrictions have been removed for travel to Turks and Caicos.
There is no vaccine, testing, or insurance requirement.
Check out Visit TCI for additional information.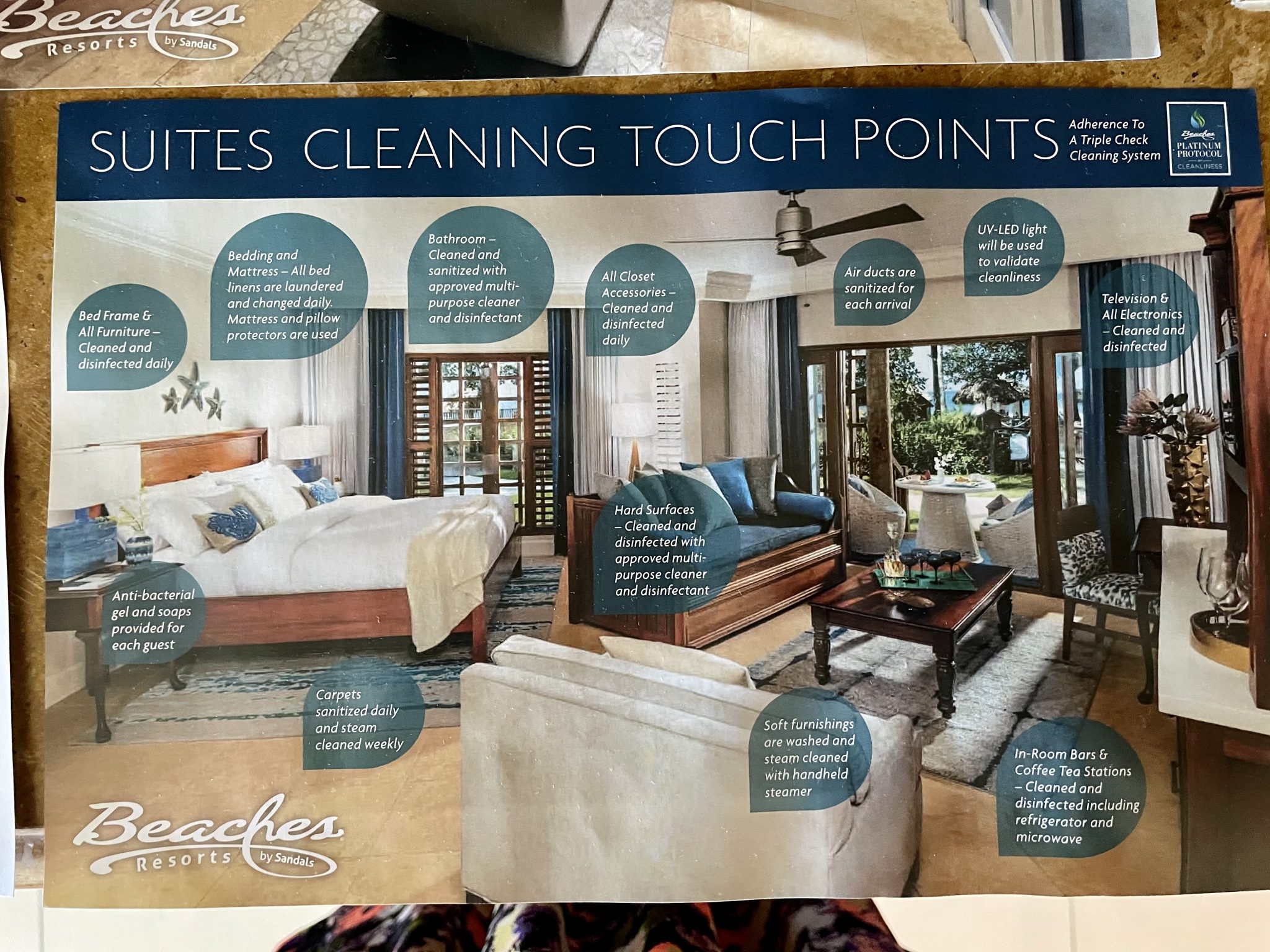 Beaches and Sandals are also taking cleaning and safety very seriously! Each room gets a "seal" after every square inch of it has been disinfected and cleaned between guests. Masks, hand sanitizer and social distancing were all enforced here as well. We felt very safe our entire time! (The Italian Pool swim-up bar was the only place I avoided, as social distancing didn't seem quite possible there…)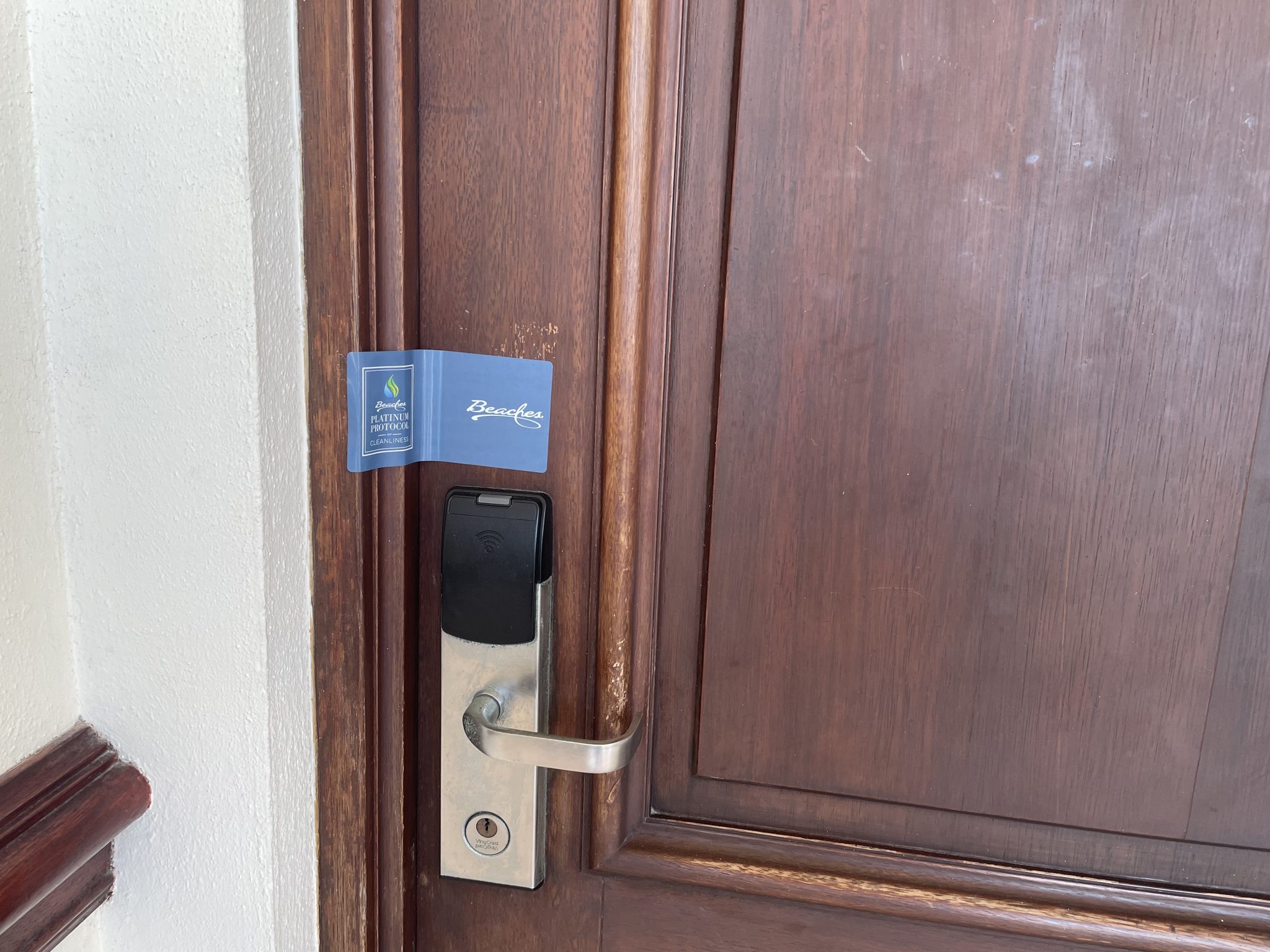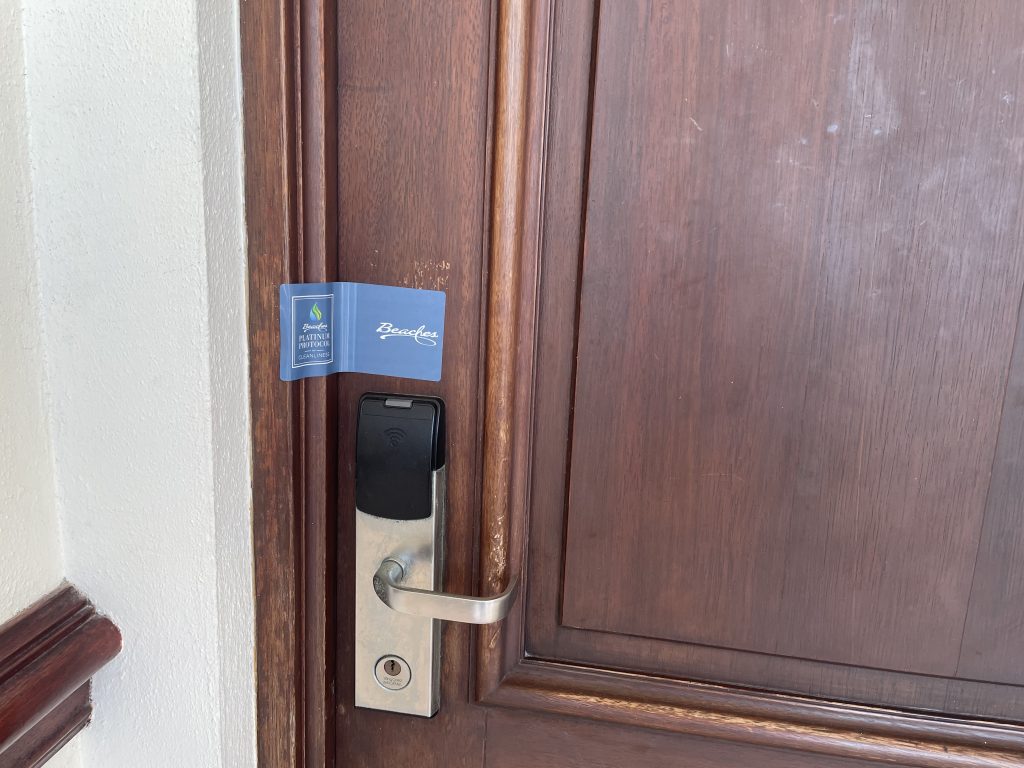 Bottom Line – Did I Enjoy Beaches Turks and Caicos?
I had a fantastic time at Beaches Turks and Caicos. If you are a family with children of any age you will have an absolutely AMAZING vacation at Beaches Resorts. I can't recommend them enough for those with kiddos! If you are a couple who is traveling alone (like us)…this is still a great resort, but it's not as romantic as a Sandals Resort. If you're looking for uninterrupted romance… Sandals Resorts are the way to go. There's no way around it… there will be kids at Beaches Resorts, and it's not nearly as romantic as a Sandals experience.
*If anyone has any questions at all about this Beaches Turks and Caicos review or traveling to Turks and Caicos in general, please reach out in the comments at the end of this post. I'm happy to answer your questions!
I am writing this Beaches Turks and Caicos review because I think it will be helpful to my readers – Beaches Resorts does not compensate me for this review. However, I do make a small commission if you click my Beaches links in this post and make a purchase. I appreciate you supporting the businesses that make this blog possible!
Need a housesitter while you are gone?
I, personally, recommend TrustedHouseSitters if you need to find a housesitter/someone to watch your pets while you are away.
How TrustedHousesitters works is they connect home and pet owners with trustworthy, verified sitters who won't charge to look after your pets, in exchange for a unique place to stay. They have sitters and homes all over the world!
It's a fantastic way to find trustworthy people to watch your home and pets while you are away. (And on the flip side, it's a cool way to stay in different areas of the country and world without having to pay for accommodation! I have a friend who literally didn't own or rent a home for years, and only used TrustedHouseSitters to find the next spot she was going to stay.)
Using a VPN When Traveling
VPN is short for "virtual private network." A VPN (like IPVanish) sets up a private connection between your device and whatever network you are connected to – so, no one can see your browsing data. It is important to use a VPN anytime you are connected to public Wifi (such as at a restaurant, resort, hotel, cafe, airport, etc.). This is because when you connect to a public network no matter where you are, you run the risk of a hacker grabbing your unencrypted data. Trust me, speaking from experience here…this can put a real damper on your trip if your banking, phone or email get hacked while you're traveling!
VPNs can also help you save on domestic flights, help you watch Netflix shows not available in certain countries, and more! You can read more about using a VPN in my post "Why I Use a VPN When Traveling and at Home (And You Should Too)."
If you liked it – Pin it!