Honest Sandals Montego Bay Resort Review + Butler Service Review
This post is my honest review of our stay at Sandals Montego Bay Resort – a luxury, all-inclusive, adults-only resort in Jamaica.
Sandals Montego Bay is a gorgeous, luxury resort that is much larger than the previous resort we had stayed at in Jamaica – Sandals Negril.
Sandals Montego Bay is also located VERY close to the airport in Montego Bay. So close it actually concerns some about staying here…It's also the very first Sandals Resort to ever open back in 1981! This might bring to mind images of an outdated resort – but is that really the case?
This post is breaking down our honest review of the resort and detailed experience staying at Sandals Montego Bay. I'll also be answering some of those frequently asked questions – is it too noisy to stay this close to the airport? Is this an outdated resort? How are the restaurants? Are Sandals butler suites worth it? This post explains!
Click here to see current Sandals Montego Bay rates and deals.
Click here to see current UK-specific Sandals rates and deals.
Sandals Montego Bay Features – What Exactly is Included in Your Stay
Unfortunately, the weather was a bit rainy while we were there (in October), but the amenities at this resort more than made up for the less-than-perfect weather. Check out all this resort includes, below!
Unlimited dining at 12 restaurants
Breakfast, lunch, dinner and anytime snacks
Unlimited Premium Liquors
6 bars, including swim-up bars (1 of which is the first swim-up bar EVER)
Stocked bars in every room
Unlimited wine
All tips, taxes and gratuities
Roundtrip airport transfers
BMW private airport transfers for all Butler and Club Elite Sandals guests
PADI-Certified SCUBA diving (and all equipment)
Snorkeling (and all equipment)
Hobie Cats, paddleboards, kayaks
Beach volleyball, bocce ball, pool tables
Day and night tennis
24-hour access to a state-of-the-art fitness center
Day and night entertainment including live shows
Can experience nearby Sandals Royal Carribean's dining & activities with free transfers!
Free WiFi (in room and all common areas)
Free weddings (for stays of 3 nights or longer)
I am writing this Sandals Montego Bay Resort review because I think it will be helpful to my readers – Sandals Resorts does not compensate me for this review. However, I do make a small commission if you click my Sandals links in this post and make a purchase. I appreciate you supporting the businesses that make this blog possible!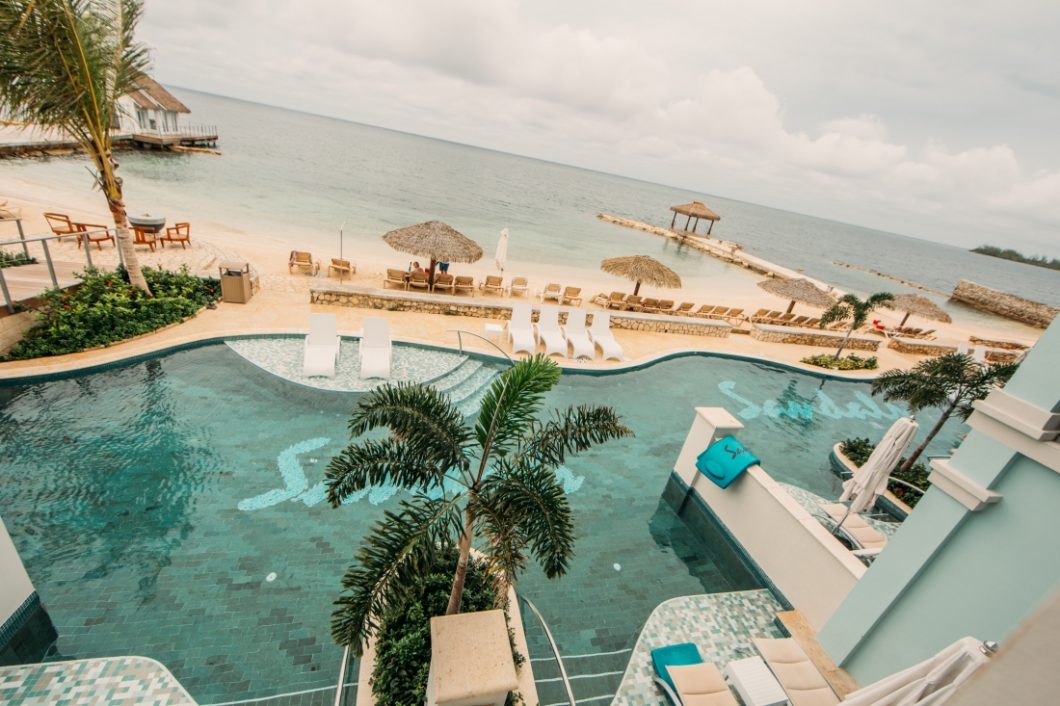 My Experience Staying at Sandals Montego Bay
I'll go into great detail about every aspect of this stay below. However, if you would rather just read my overall opinion of our stay at Sandals Montego Bay scroll to the end.
If you are curious about what it is like to visit a Beaches/Sandals resort during COVID, please read this post.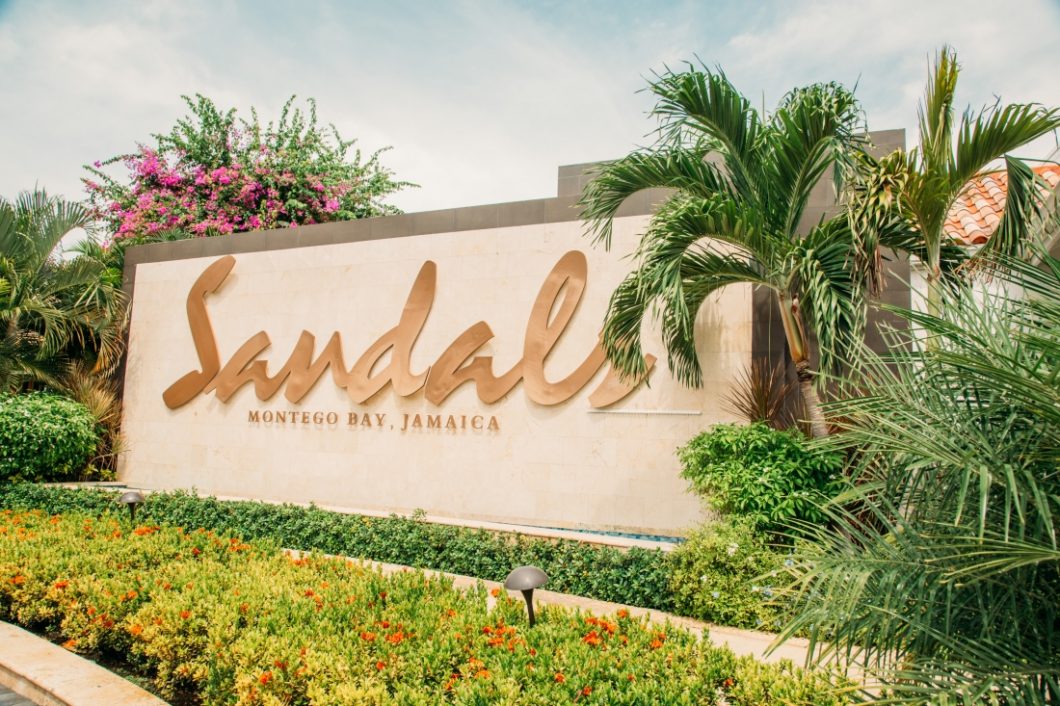 Checkin
We were once again greeted warmly and taken to a comfortable lounge to complete the check-in process. We were given our yummy welcome cocktails while we waited.
Unfortunately, though, for a couple of us in our group… the check-in process got a bit drawn out. Some of us waited for nearly an hour before we were taken to our rooms (this was rather frustrating). There were apparently some miscommunications as the staff was switching shifts for the day?
However, the wait ended being worth it because our rooms were upgraded to having a butler service suite!
Click here to see current Sandals Montego Bay rates and deals.
Click here to see current UK-specific Sandals rates and deals.
Butler service suite!!
Now, if I had booked this Sandals trip myself, I never would have booked a room with butler service. A room with butler service is quite a bit more expensive than one without, and I never would have dreamed it would be worth it.
That was until I met our butler Carlene – who we ended being dubbed "the super butler" by everyone in our group!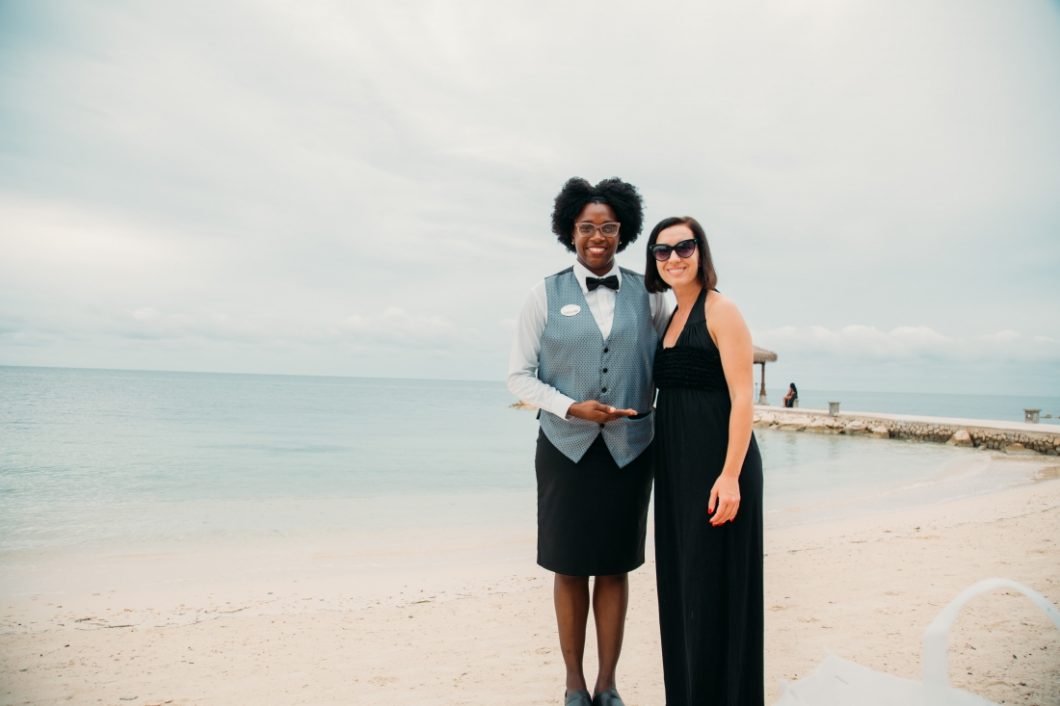 Carlene has now ruined me for any future resort experience I'm going to have! Haha. She was absolutely AMAZING. Having her as our butler absolutely made springing for a butler suite at Sandals worth it.
Here are some of the amazing things Carlene did for us:
Once we got to our room, she asked what our plans were (we were just going to hang out by the beach). So, she asked us if we would like a cooler to take with us. Yes, please!

So, she packed us a cooler AND she went out of her way to stock it with nonalcoholic beer for my husband who doesn't drink alcohol. (We didn't see any NA beer while we were staying here, so we honestly think she left the resort to buy it for him).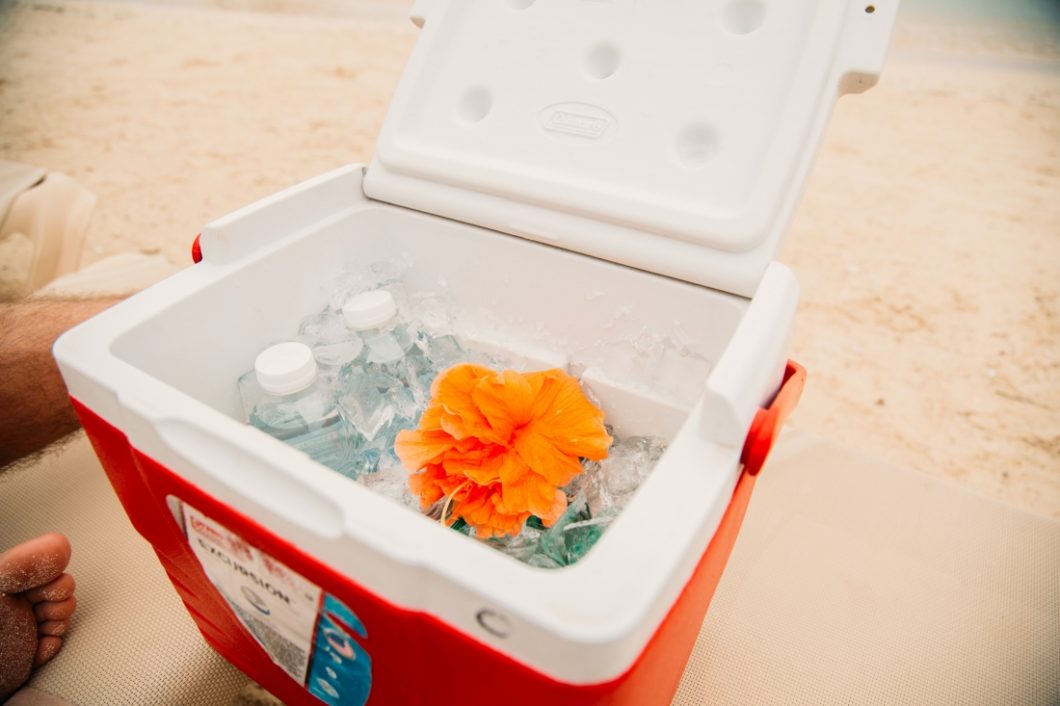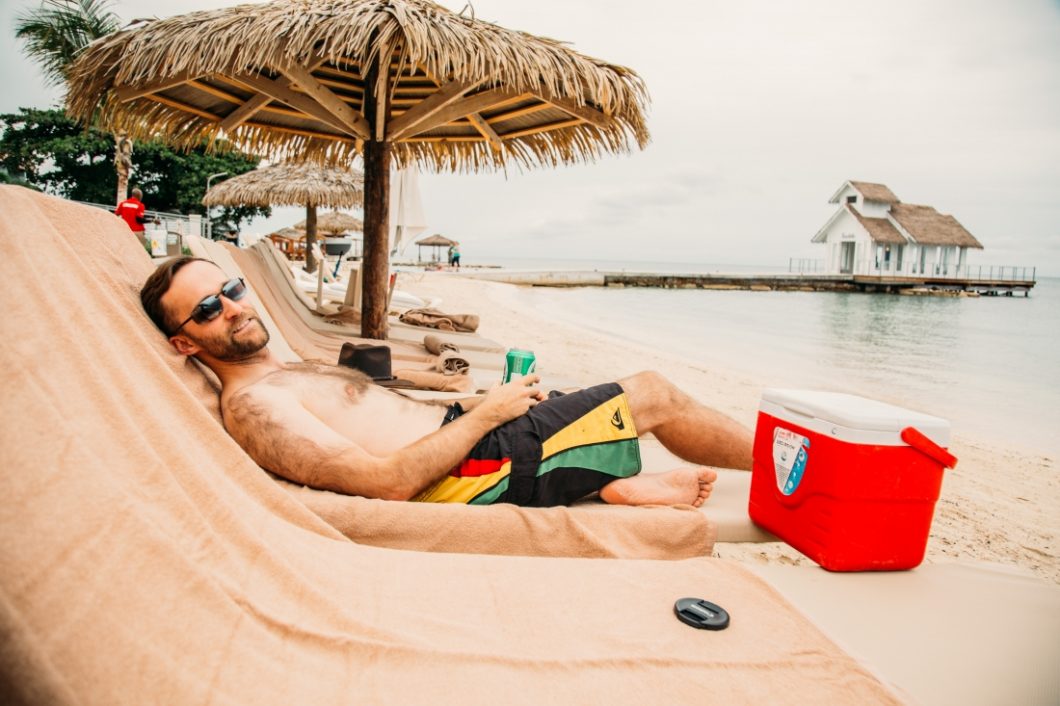 Then, my husband mentioned he liked fishing. Carlene set him up to go out on a charter fishing trip in the morning with a 3rd party service through the resort.
You're given a cellphone to stay in touch with your butler, should you need anything. Carlene called us on our cellphone a couple hours later to see what our dinner plans were – when we told her, she informed us the restaurant we were planning to go to was not available for dinner. So, she booked us at another restaurant and took into account the various food allergies in our group. She also came to the restaurant just before her shift ended to check on us and see how the meal was and if she could get any more NA beer or other beverages for our room!
The next night I had a dinner and cocktail hour with our group. However, Carlene thought it was worth it for my husband and me to try Butch's Steakhouse before we left. So she set up a reservation for us after our dinner with our group – so we could get the experience! (And it was SO good.)
Every step of the way she made sure our stay was pleasant and we felt as though we were being treated like royalty. Having her as our butler made it SO worth it. However, the group I was traveling with also each had a butler – and none of them were as good as Carlene. They had to actively be asking their butlers to do things in order for it to happen (unlike Carlene, who was always checking in and anticipating any issues before they even happened).
So, while our experience with a butler was PHENOMENAL, this wasn't the case for everyone staying at the resort with us… You may have to actively be asking your butler to do things – which I wouldn't personally enjoy ordering someone around while I'm on vacation. (Try to request Carlene if you're interested in a butler suite!)
*Note: Sandals has a strict no-tipping policy, however, they have loosened this somewhat for the butlers. If you really appreciated your time with your butler, you can leave them a tip at the end of your trip. There really isn't any set amount of what you "should" tip, it's whatever you think your butler deserves (but you are absolutely not required to do so). We tipped $30 a day, as we loved Carlene (and we honestly felt like we should have given her more).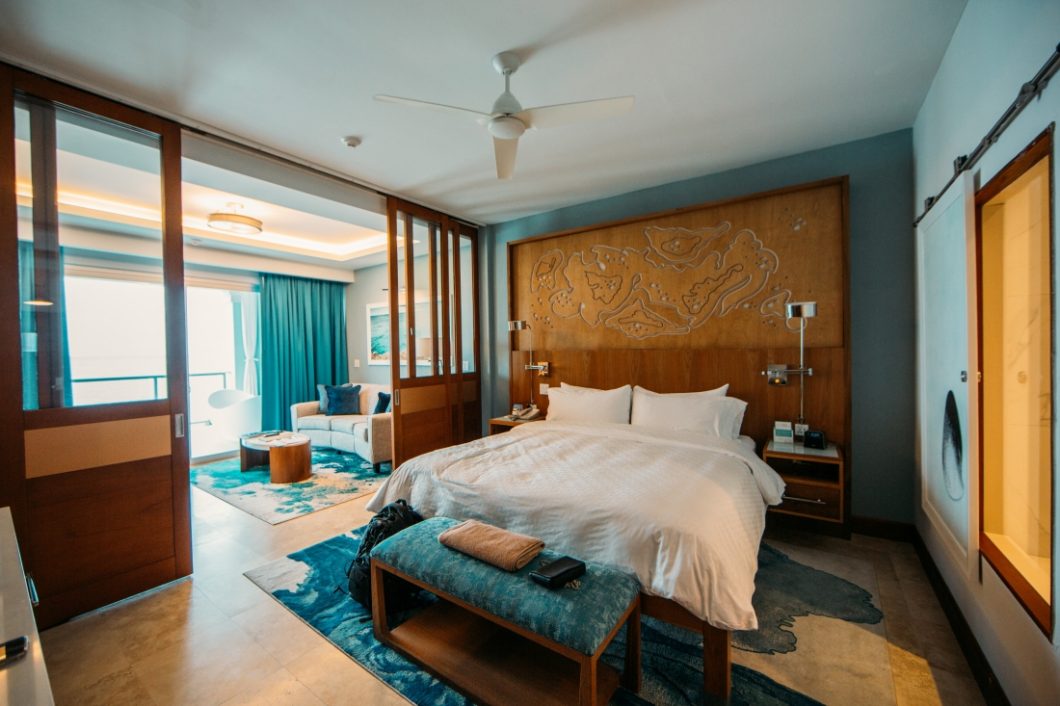 Our Room – The Beachfront Honeymoon Butler Suite With Balcony + Soaking Tub
The fact that this is the first Sandals Resort might make this resort sound like it is outdated, but that is not the case at all. Sandals has been doing a fantastic job of renovating this resort, with the most recent renovations happening just this year!
Our room was brand spanking new and SO luxurious! I also enjoyed this room more because we had more privacy than our room at Sandals Negril. Here in Montego Bay, we were still super close to the beach, but being up a little higher with a private balcony gave us a far more secluded feeling. It also made using our soaking tub way more enjoyable.
Click here for current Sandals Montego Bay room rates.
Click here to see current UK-specific Sandals rates and deals.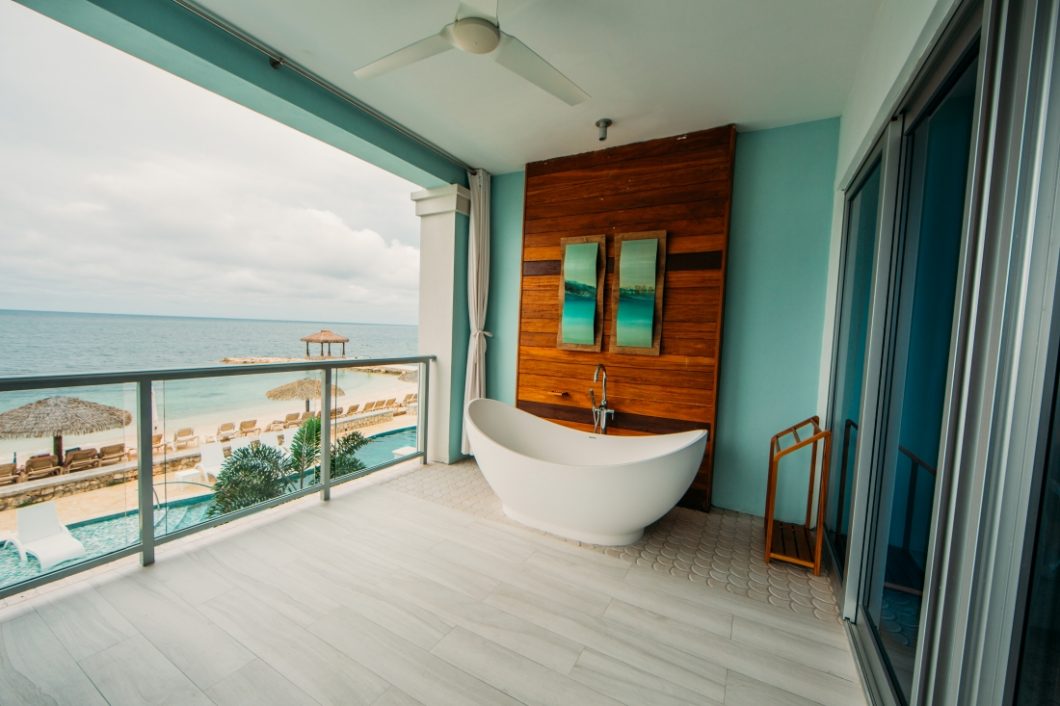 The bathroom in this room was phenomenal as well. I almost died laughing too when Carlene showed us that the sliding door next to the bed also opens up into a view of the shower – "she called it the naughty window." Too funny!
You can check out a little tour of our room in the video below.
Sandals Montego Bay Restaurants
I didn't get to eat at every single restaurant at Sandals Montego Bay (we had limited time here and also a couple of restaurants were being renovated, as we were there during the offseason) – however, we did get to eat at Tokyo Jo's, Stewfish, The Mariner, Cafe de Paris, The Jerk Shack and Butch's Steakhouse.
Tokyo Jo's
I thoroughly enjoyed each restaurant! Tokyo Jo's was my favorite for food as I enjoy stir fry dishes and the option to make my food extra spicy. I also liked the atmosphere at Tokyo Jo's – it was relaxed and on the water, but still had a classy feeling to it.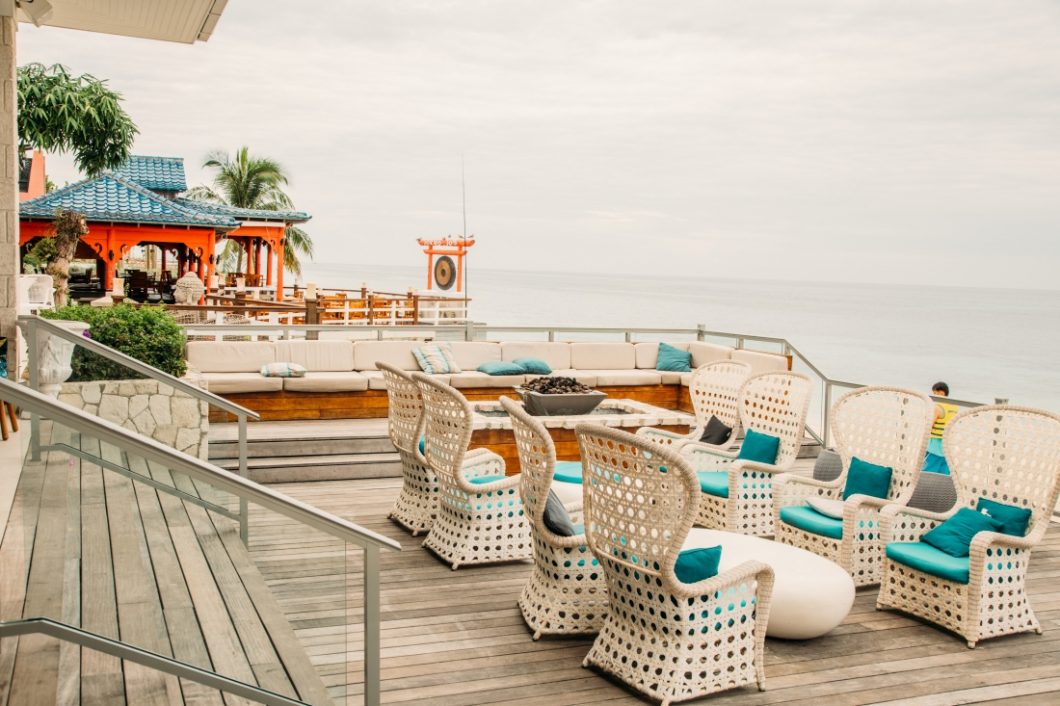 Butch's Steakhouse
It's worth it to make a reservation here right when you check-in as they do fill up quickly! This place is also fantastic for the atmosphere and the service was easily the best at Butch's. (You do have to dress up to eat here, though… click here for my "how to dress for resort evening.")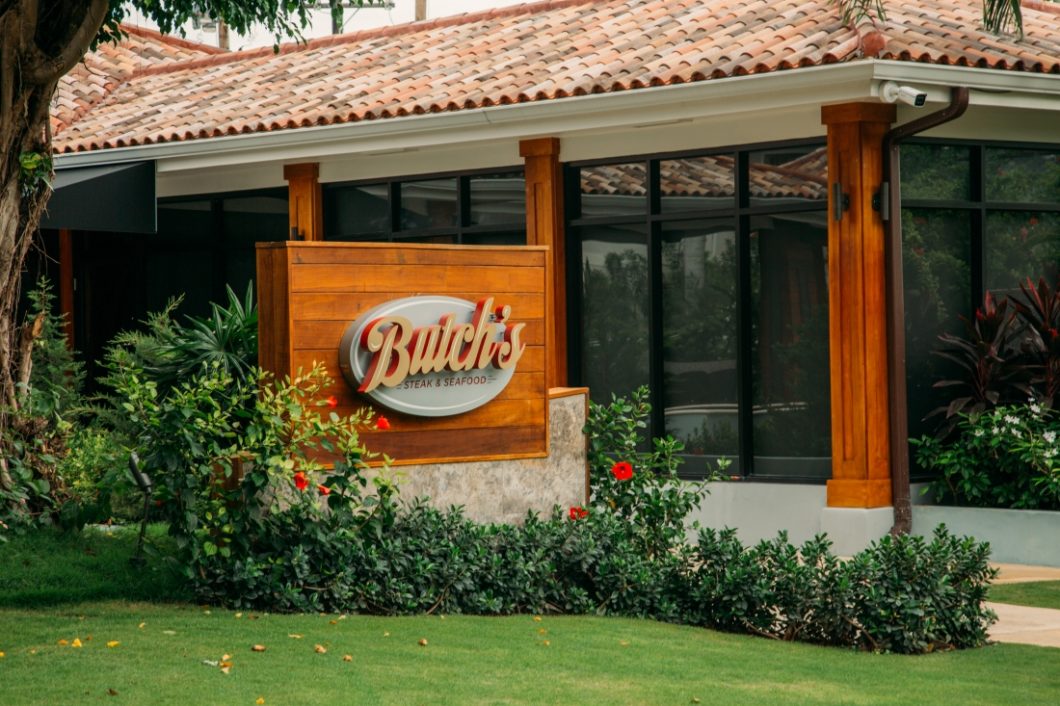 Stewfish
This is a beachside restaurant with a laid-back atmosphere. I wasn't in love with the food I had here that night and our service was just kind of "meh." However, eating dinner right on the beach was sure relaxing! (My husband liked that you had the option to get lobster tails here too! He's a big fan of lobster.)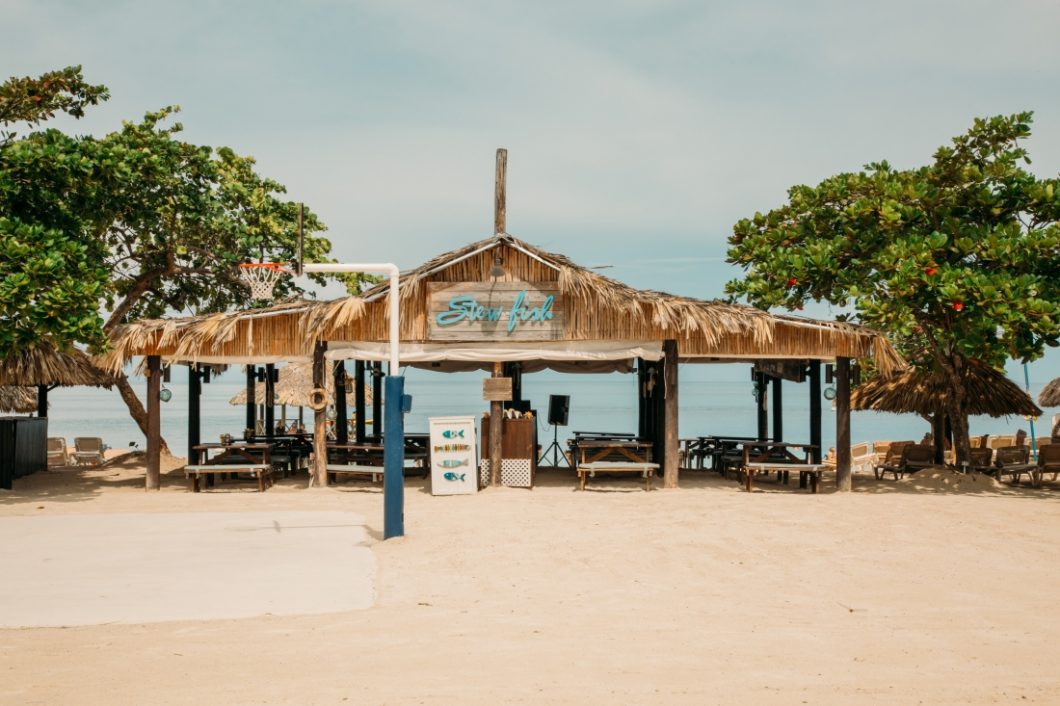 The Jerk Shack
You can't come to Jamaica and not try some Jamaican Jerk! This is a great spot to grab lunch. I really liked the Jerk Chicken… however, our group said the Jerk Pork was not very good (so, probably avoid that one).
Latitudes Over-the-Water Bar
We really enjoyed this bar because it had such a neat atmosphere… I mean, it's over the water! The hammocks in front of it were great as well. (No food is served here, though.)
Sandals Montego Bay Excursions – Which Ones We Recommend
Unfortunately, due to the weather and me being here on a press trip* (and being in meetings/tours) I didn't get to do any excursions myself. However, my husband did and another friend he made here also did quite a few of the excursions. Here are what they recommend doing:
Snorkeling – the snorkeling at Sandals Montego Bay is PHENOMENAL. Don't hesitate to go! You don't need to have any experience or even be able to swim. All gear is provided for you, and you'll also be given a foam "noodle" to use so you don't have to swim!
Tubing – Again, no experience is needed and all gear is provided. This is a fun way to get a little adrenaline going without being too physical (such as with water skiing).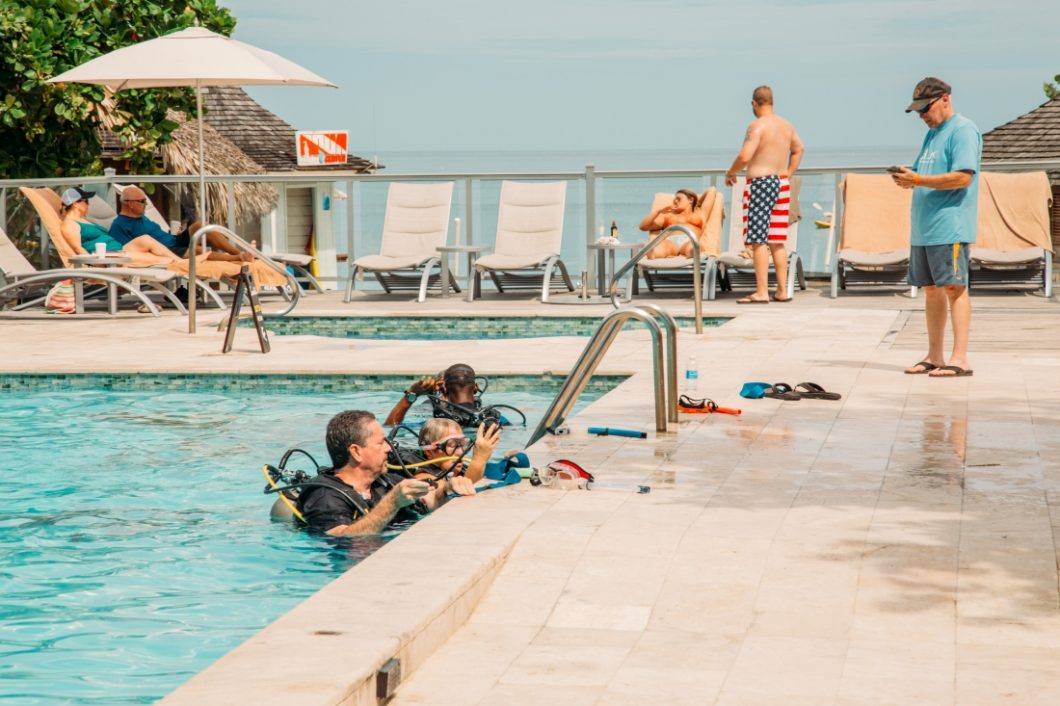 If you've never tried scuba diving – this would be the spot to do it too! Getting certified is included in your resort stay. So, if you end up not liking it (because you're claustrophobic like me), then you won't be out any money.
Here are what they DO NOT recommend doing:
Charter fishing – My husband had to pay extra to do this, and he said it was absolutely NOT worth it. They didn't catch anything, which is fine – as he said, "it's called fishing, not catching." And you can still have fun even if you don't get a single fish bite. However, the captain was a real butthead and flat-out rude. He also didn't go out of his way to even find them any fish (my husband and the other guys could see fish feeding and he wouldn't go over by these fish because "their time was up" and he was taking them back to the resort). *Bottom line: DO NOT book the charter fishing trip at Sandals Montego Bay – stick to the excursions that are included.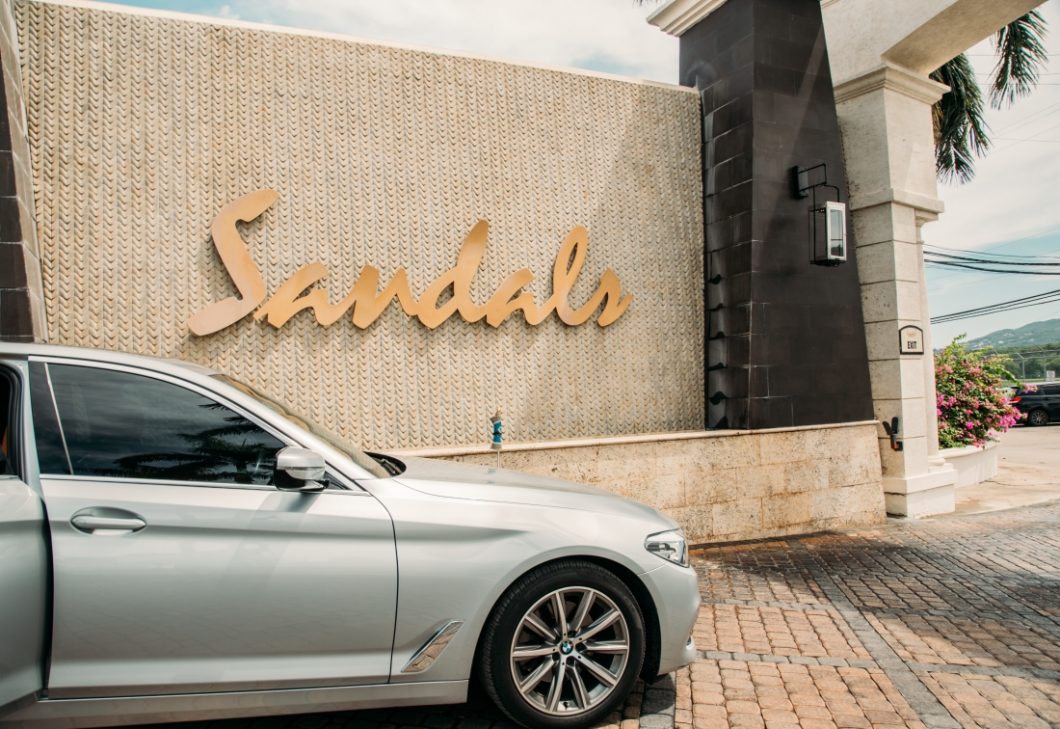 Airport Transfer
Because we had the Butler Suite – this also included a private airport transfer with a BMW. Now, this was certainly nice! Our driver was very friendly as well. This would be even nicer, though, if you were staying at a resort further away from the airport. Sandals Montego Bay is about a 15-minute drive away from the airport (at most).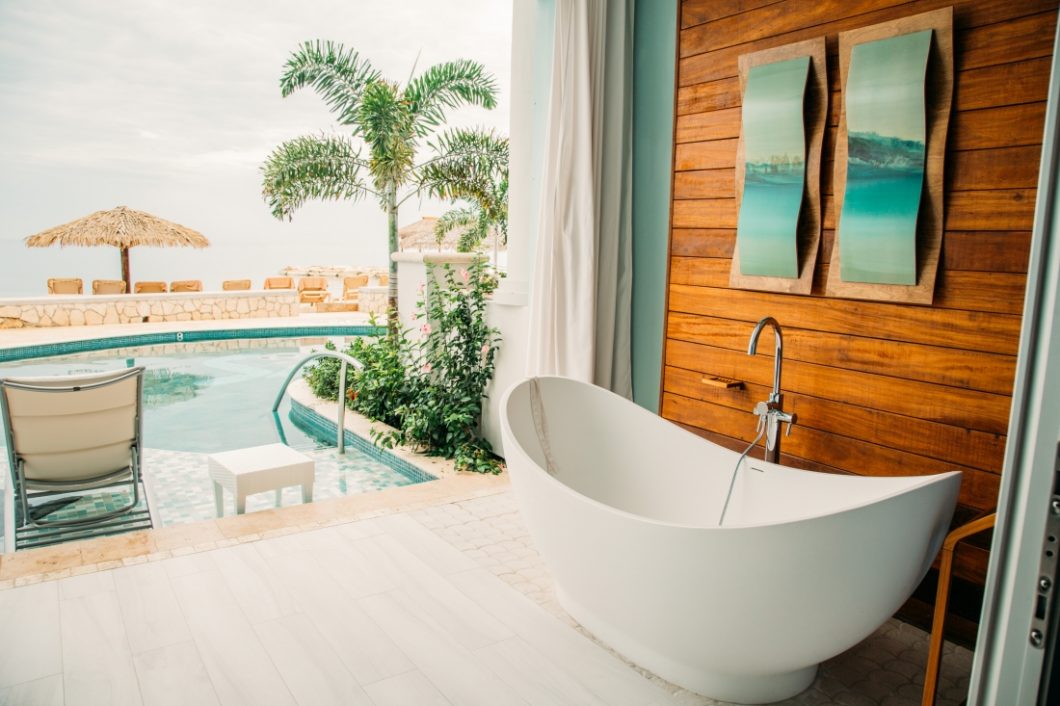 Is Sandal Montego Bay Noisy Being So Close to the Airport?
So, with it being so close to the airport… does that mean you hear airplanes all the time? That's a question we've gotten quite a bit and the answer is yes but also no.
You do hear the airplanes, and they are pretty loud. If you are outside and having a conversation – you will have to pause until the plane passes. However, this is Montego Bay – not O'hare. So, these planes aren't going very frequently. They also stop flying after about 7 or 8 at night and then don't start again until about 8 am. It's not constant. (It was between 5 – 8 planes an afternoon that I noticed.)
It's certainly something to take into consideration. While I wasn't personally bothered by it – I could certainly see how someone else could be. And as my husband said, it's also a reminder that you're eventually going to have to leave! (And who wants to think about that?)
This is also the same for Sandals Royal Caribbean – so, if you really want to be away from it all head to Sandals Negril instead.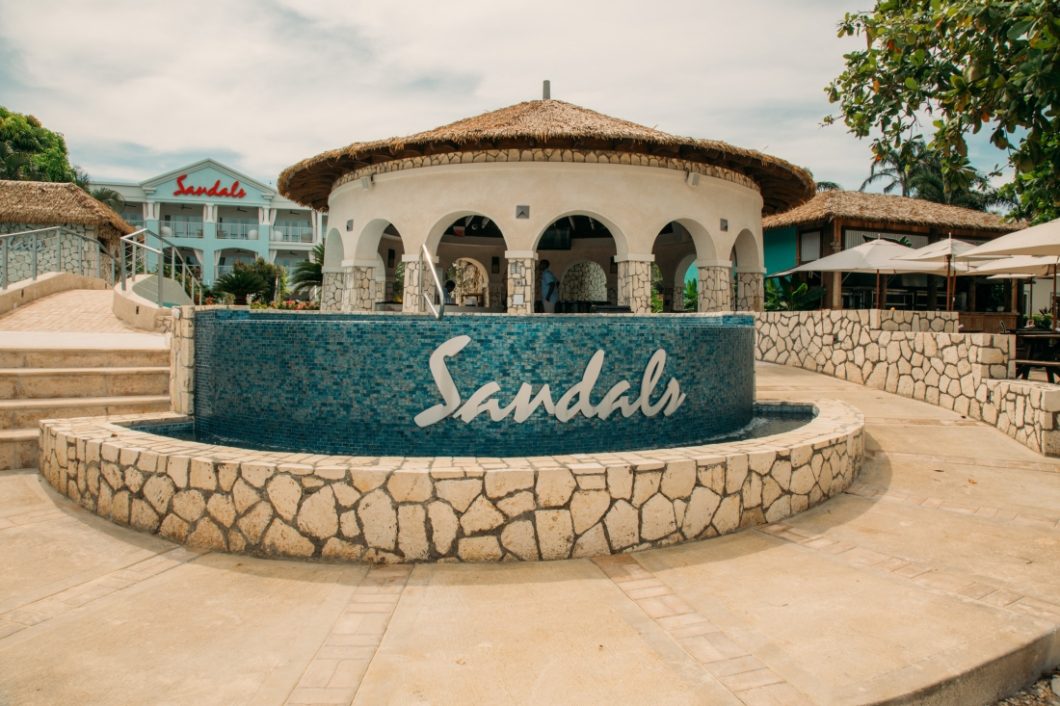 Final Verdict – Would I Stay at Sandals Montego Bay Again?
YES! I would love to get to experience this resort again. It is so luxurious, and I love how many different options it has for dining. I also like that it's larger… as this honestly gives it a more private feeling because you're not right on top of other people all the time.
Getting to experience a butler suite here was also PHENOMENAL. Wow! I can't get over what a fantastic experience we had with our butler and our butler suite room!
The only thing that is negative is that it is so close to the airport. This can also be a positive, though, as you are not wasting precious vacation time in a vehicle being transferred to resorts. You get there in no time!
Overall, though, I really enjoyed the staff, the food, the drinks and the atmosphere at Sandals Montego Bay. I would absolutely go back!
Click here for Sandals Montego Bay's current rates and deals!
Click here to see current UK-specific Sandals rates and deals!
If you are curious about what it is like to visit a Beaches/Sandals resort during COVID, please read this post.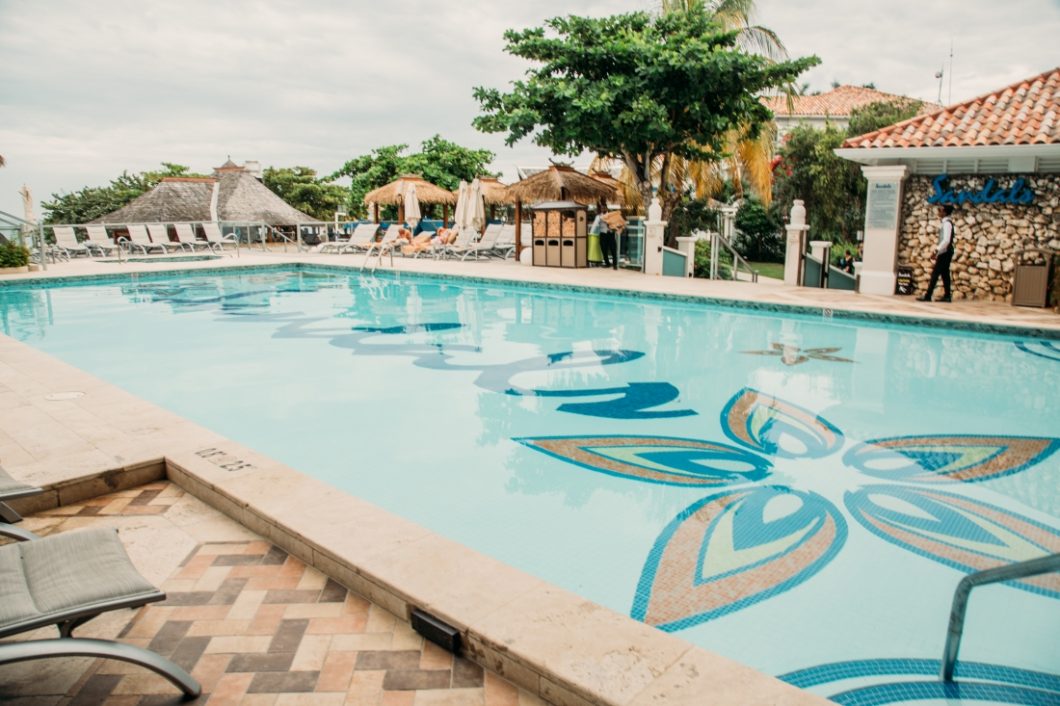 *Press trip (a.k.a. FAM Trip) – these are trips where I do not pay for my stay. The resort or hotel where I am staying pays for my stay and expenses. I am never required to write a positive review about my experience, and for this press trip with Sandals, I wasn't required to write anything at all! They just wanted Have Clothes, Will Travel to experience their resorts.
I am writing this review because I thought it would be helpful to my readers – Sandals does not compensate me for a positive review. I do believe this is a good place to go for an all-inclusive vacation! (If you need proof that I do indeed write negative reviews for trips like these that I do not enjoy, check out this post.)
However, I do make a small commission if you click my Sandals links in this post and make a purchase. I appreciate you supporting the businesses that make this blog possible!
If anyone has any questions about Sandals Montego Bay, please feel free to ask in the comments section at the end of this post! And I'm curious, has anyone else stayed at Sandals Montego bay? And if so, how did you enjoy your stay? Let me know in the comments!
Again, if you are thinking of purchasing a trip to Sandals Resorts – I appreciate you clicking my links before doing so. I make a small commission off any purchase made through my website. *Click here for the Sandals Montego Bay website.
Please feel free to click on the photos in the photo gallery below for more information too!
Travel Insurance
---
Many destinations require travel medical insurance that covers COVID-19. Squaremouth is the only site that currently lets you filter travel insurance policies for COVID-19 coverage. I, personally, use Squaremouth for finding the best insurance policies for my travels, and I have already used them for trips planned in 2023. They're also recommended by Forbes! You can click here to get your free travel insurance quote.
Visa Requirements
To check if your country requires a Visa for traveling to Jamaica, click here. (If you're from the US – you do NOT need a visa.)