I Stayed at Beaches Turks and Caicos During COVID-19 – This Was My Experience
Traveling to Turks and Caicos amidst COVID-19 is something I continue to get many messages and emails about – especially when it comes to the last leg of my trip, which was to the all-inclusive Beaches Resort in Turks and Caicos.
Did you feel safe? Was the resort clean? Were restaurants and excursions even open? Were there any people? How does testing work? What happens if you get COVID there? Is my trip refundable if I decide to cancel?
This post is going to answer all those questions and then some! Please feel free to ask any additional questions in the comments section at the end of this post. (Note: This post is specifically about staying at Beaches Resorts, if you are looking for a general overview of traveling to Turks and Caicos during COVID, see the post linked below.)
As always, Have Clothes, Will Travel recommends its readers check the CDC's website for the most up-to-date regulations and guidelines regarding COVID-19.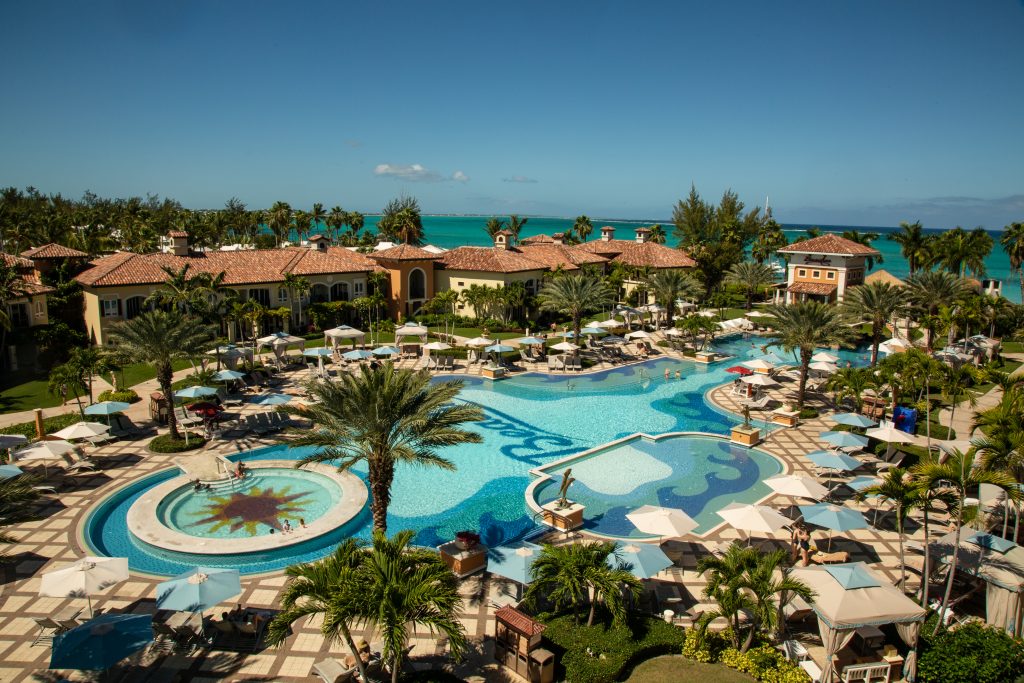 *Disclosure: some of these links are affiliate links. Meaning, if you click a link and make a purchase, Have Clothes, Will Travel gets a very small commission at no extra cost to you. Thank you for supporting the brands that make this blog possible!
Beaches Turks and Caicos During COVID – My Experience Staying Here
What was the flight and arrival to Turks and Caicos like?
My husband and I stayed at Beaches Turks and Caicos in February of 2021. We flew on American Airlines from Appleton, Wisconsin with a layover in Charlotte, North Carolina. I love the Appleton airport, as it is not overly busy and clean no matter when we fly out of here.
However, Charlotte's airport wasn't all that clean. Tables weren't being sanitized at all, the bathrooms looked the same as airport bathrooms typically do, and there were A LOT of people here. Wear your masks and bring LOTS of hand sanitizer and antibacterial wipes!
Our flight from Appleton to Charlotte was nearly full (and on the way back it was completely sold out). However, our flight from Charlotte to Turks and Caicos was less than half full. We were VERY spread out on that flight and the staff were taking all precautions to make sure we were safe.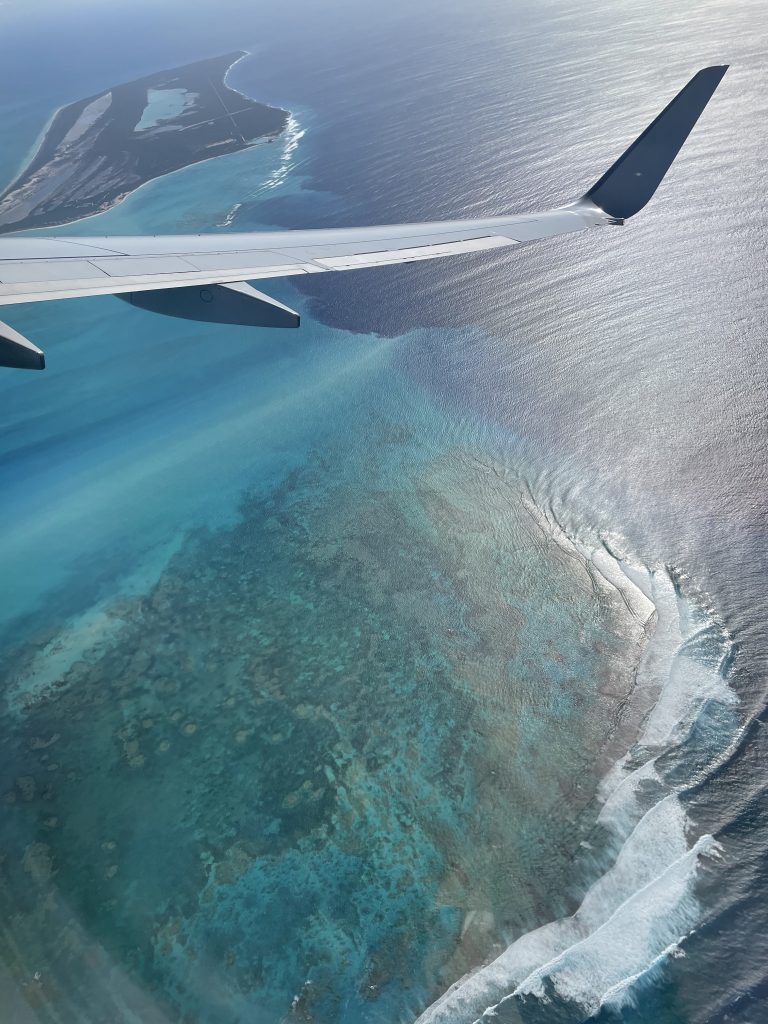 FYI: Masks are federally mandated on all US flights now.
When we were transferred from the Providenciales airport to Beaches Resorts, we were the only ones on the shuttle bus, other than the driver. (This might have been due to how early we arrived, though – more on that, here.) On our way back to the airport, though, the shuttle was nearly full. The drivers all wore masks and used LOTS of hand sanitizer, plus there were shields up between the drivers and the passengers.
When we arrived to Beaches Resort, our temperatures were taken and we were offered more hand sanitizer.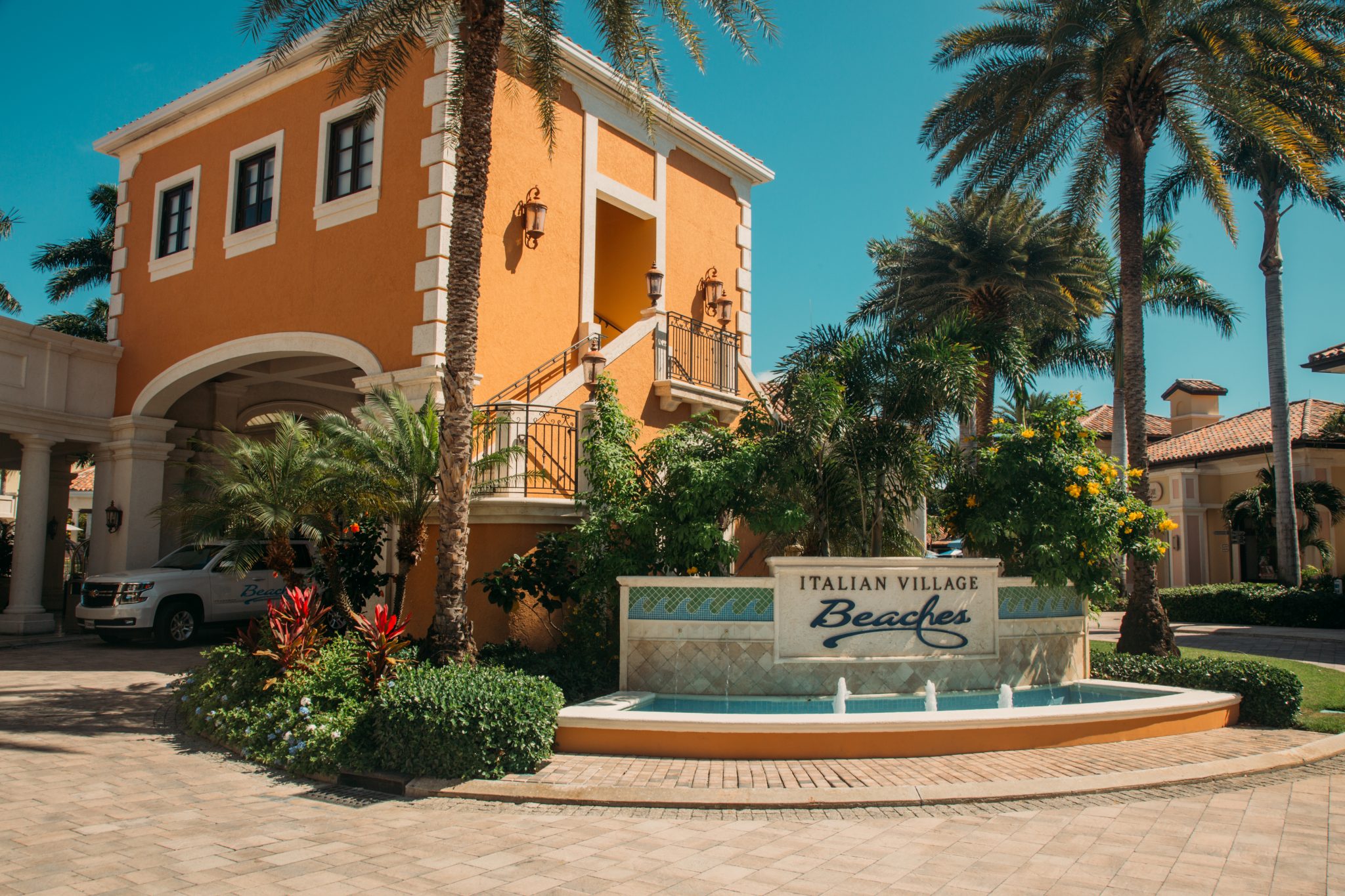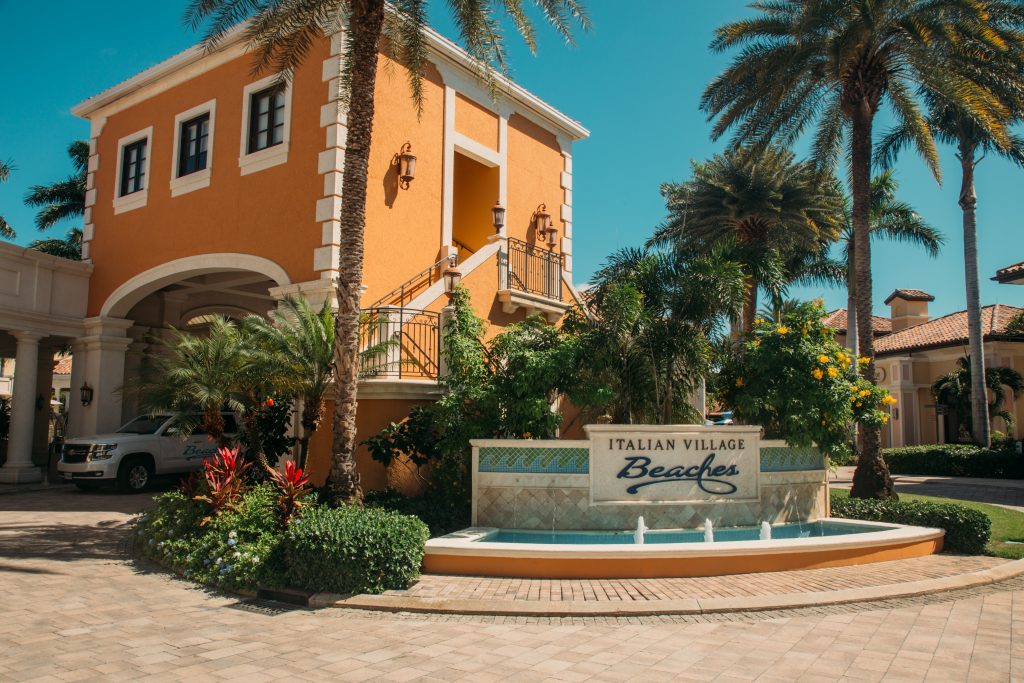 Was Beaches Turks and Caicos Clean?
Yes. Out of the 2+ weeks I was in Turks and Caicos, Beaches was by far the cleanest place I had stayed. The tables at restaurants and by the pools were constantly being wiped down and sanitized. There wasn't a speck of dirt in our entire room, you could tell the rugs were recently steamed, all decor/throw pillows had been removed (hard to sanitize this stuff on a regular basis), and our room had a "seal" to show it was cleaned to the new standards and no one had entered it since its cleaning.
Honestly, though, we've stayed at several Sandals Resorts (Sandals owns Beaches, they are the adults-only version of these resorts), and they've always been clean in our experience – even when there isn't a pandemic going on.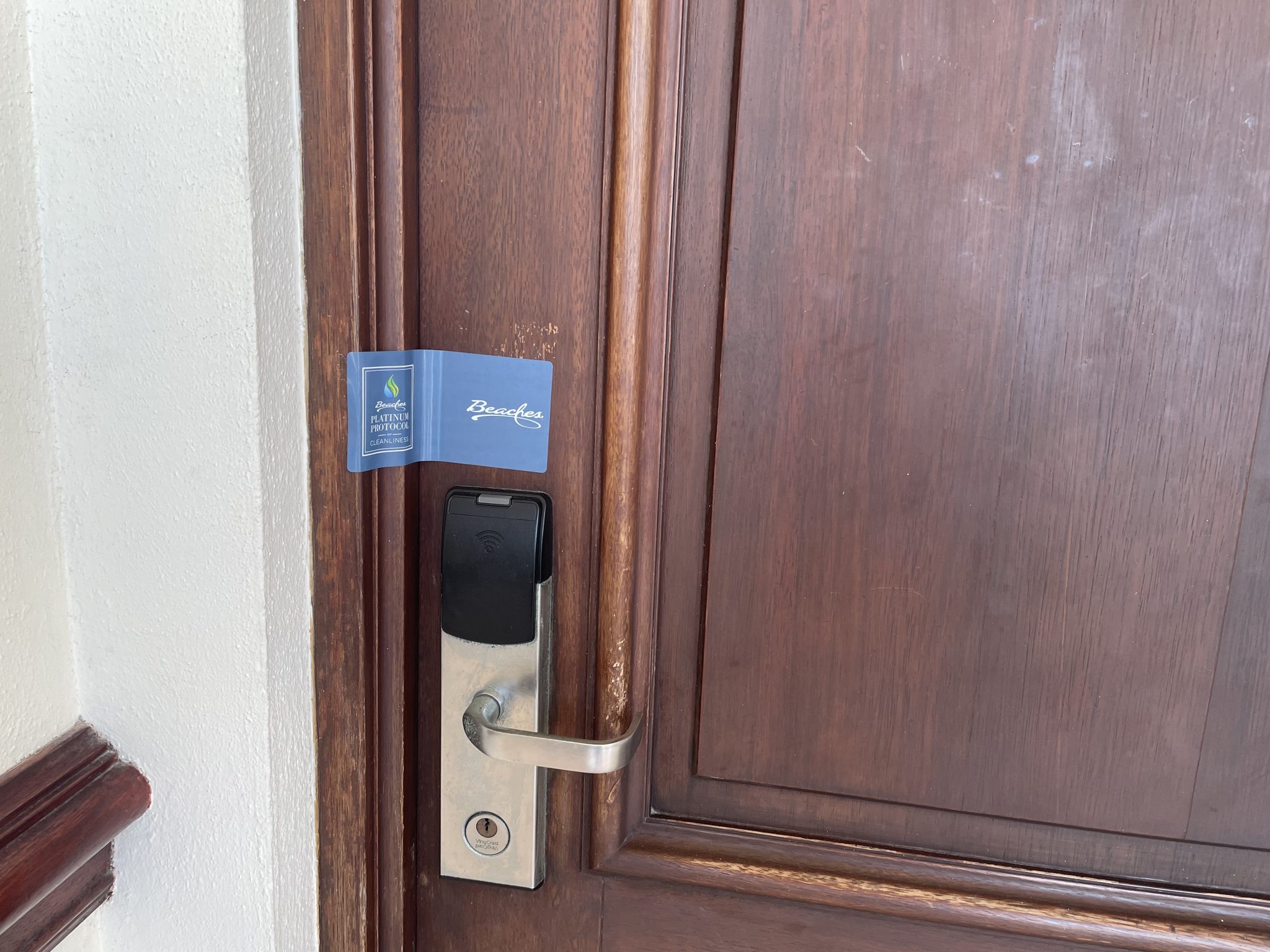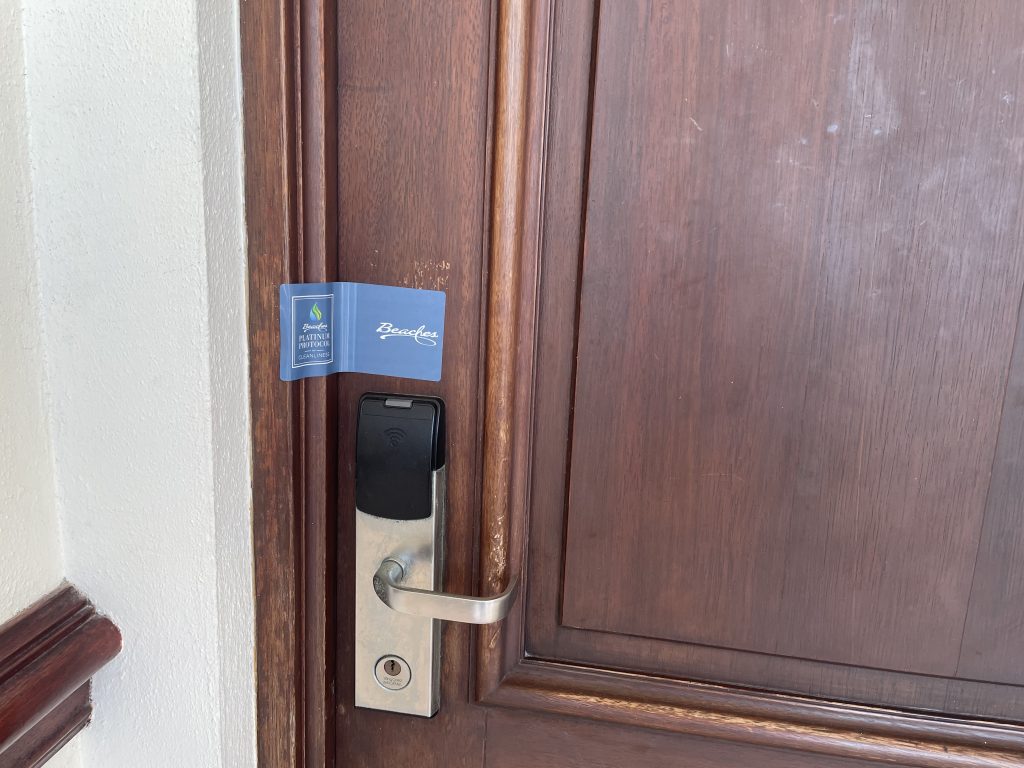 Below, is also a little video of our room after we first arrived.
Did I Feel Safe?
Overall, I did feel safe at Beaches Turks and Caicos. The staff were taking every precaution to make sure they were keeping their guests safe. Social distancing was in place, all of the staff were wearing masks, and hand sanitizer was required before entering any building.
Guests, overall, were doing a good job of wearing masks, social distancing, using hand sanitizer upon entering buildings, etc. Of course, there were a few folks who wouldn't wear masks, but almost all the dining we did was outdoors, and when it wasn't outdoors, Beaches had all the tables VERY spread out.
The beach was by no means crowded either. This was especially true for the beach in front of The Caribbean Village – most days we practically had this area to ourselves!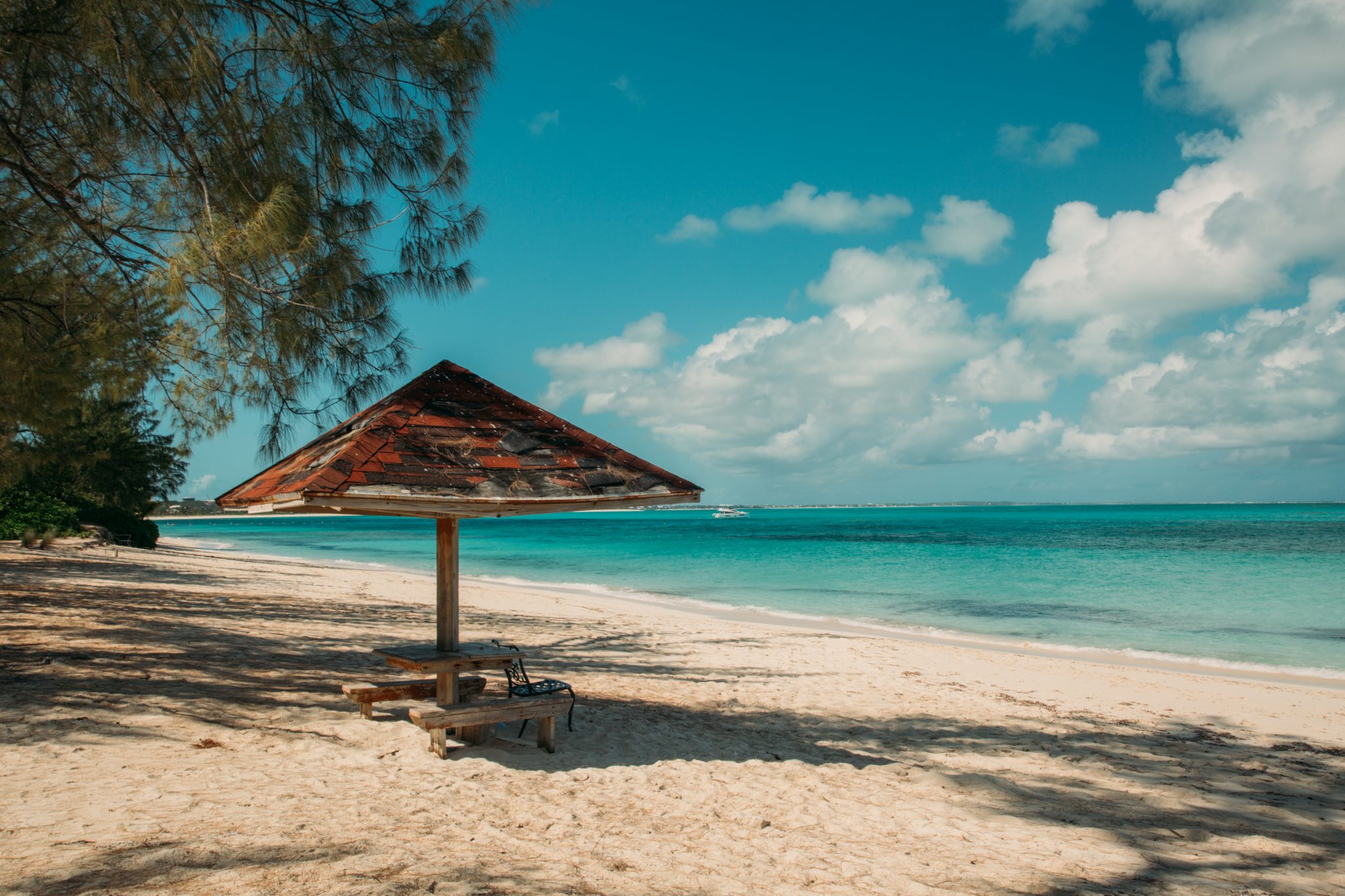 I did avoid the Italian Village pool (this is the main pool that you see in all the advertisements and the first photo in this post). This was because this did get a bit crowded during the day, especially at the swim-up bar. However, all the other villages' pools were practically empty. Again, I found the Caribbean Village beach and swim-up bar to be my favorite.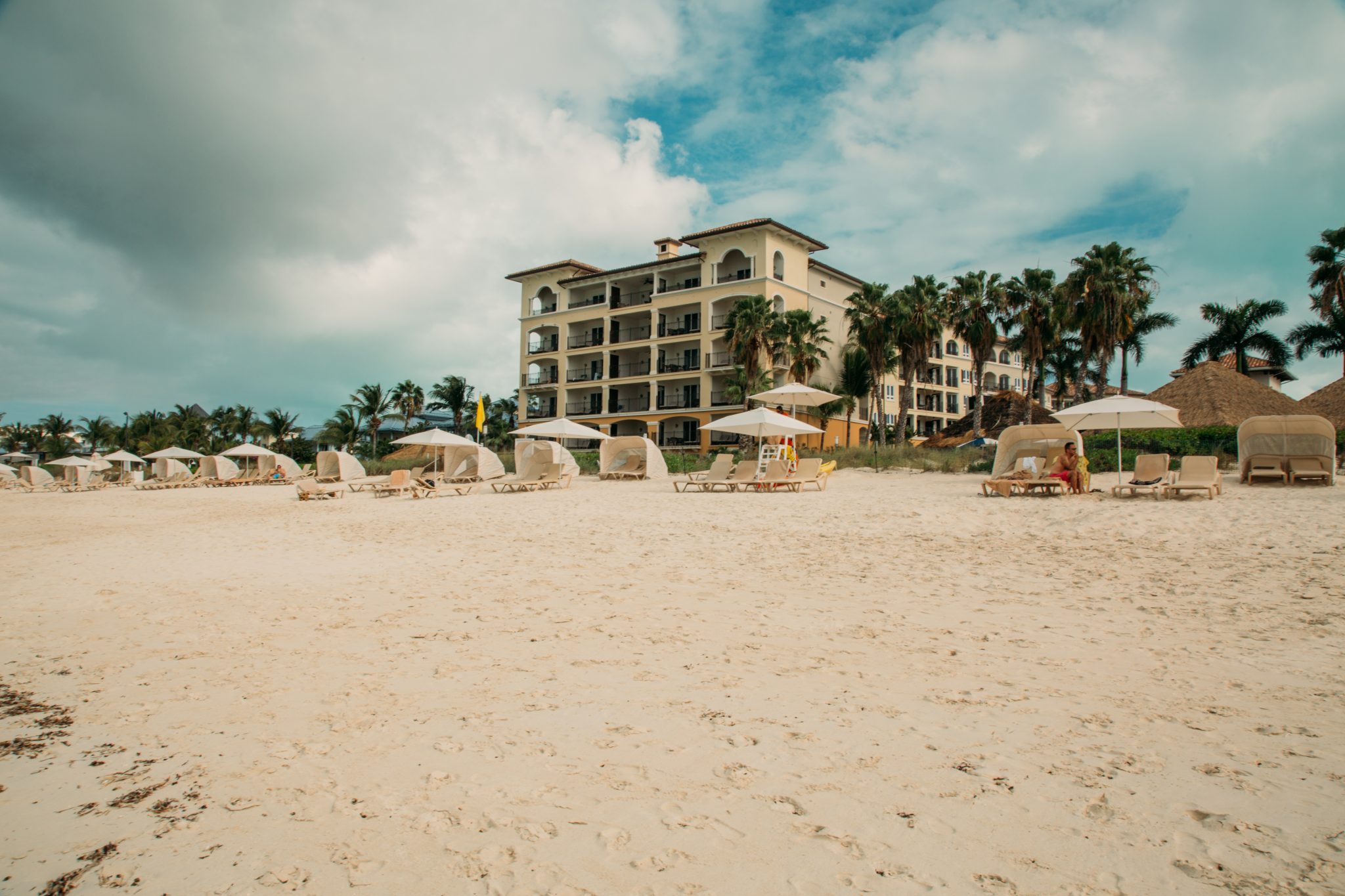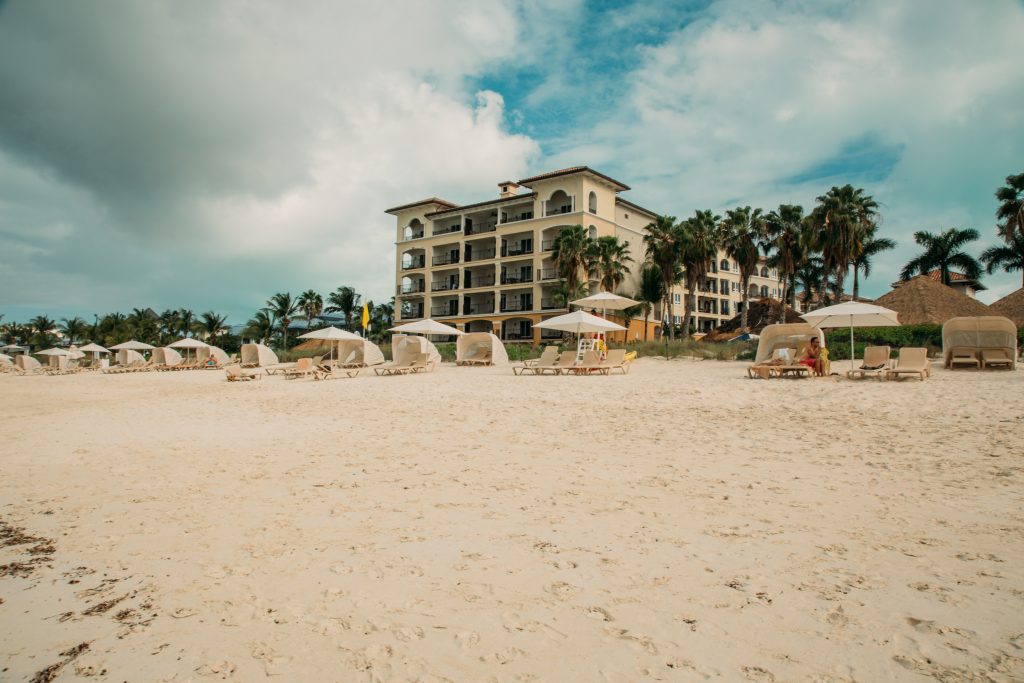 Were the Restaurants and Excursions Open and Operating?
Yes, all excursions were operating. They were running on a VERY limited capacity, though. When we went snorkeling, only 6 people were allowed to go total – and it was a huge boat. I suggest having an idea of which excursions you want to do before you come here and book them the day you arrive.
The restaurants, however, were not all open each night. Some of the restaurants were open on a rotating basis. If you are staying here for a week, though, you will have the opportunity to eat at each restaurant. Be sure to check with the concierge when you arrive for when restaurants are open and to make your reservations.
Also, the breakfast buffets were no longer serve yourself. There was an attendant at every food station, handing out food and beverages, so guests were not touching food or any handles.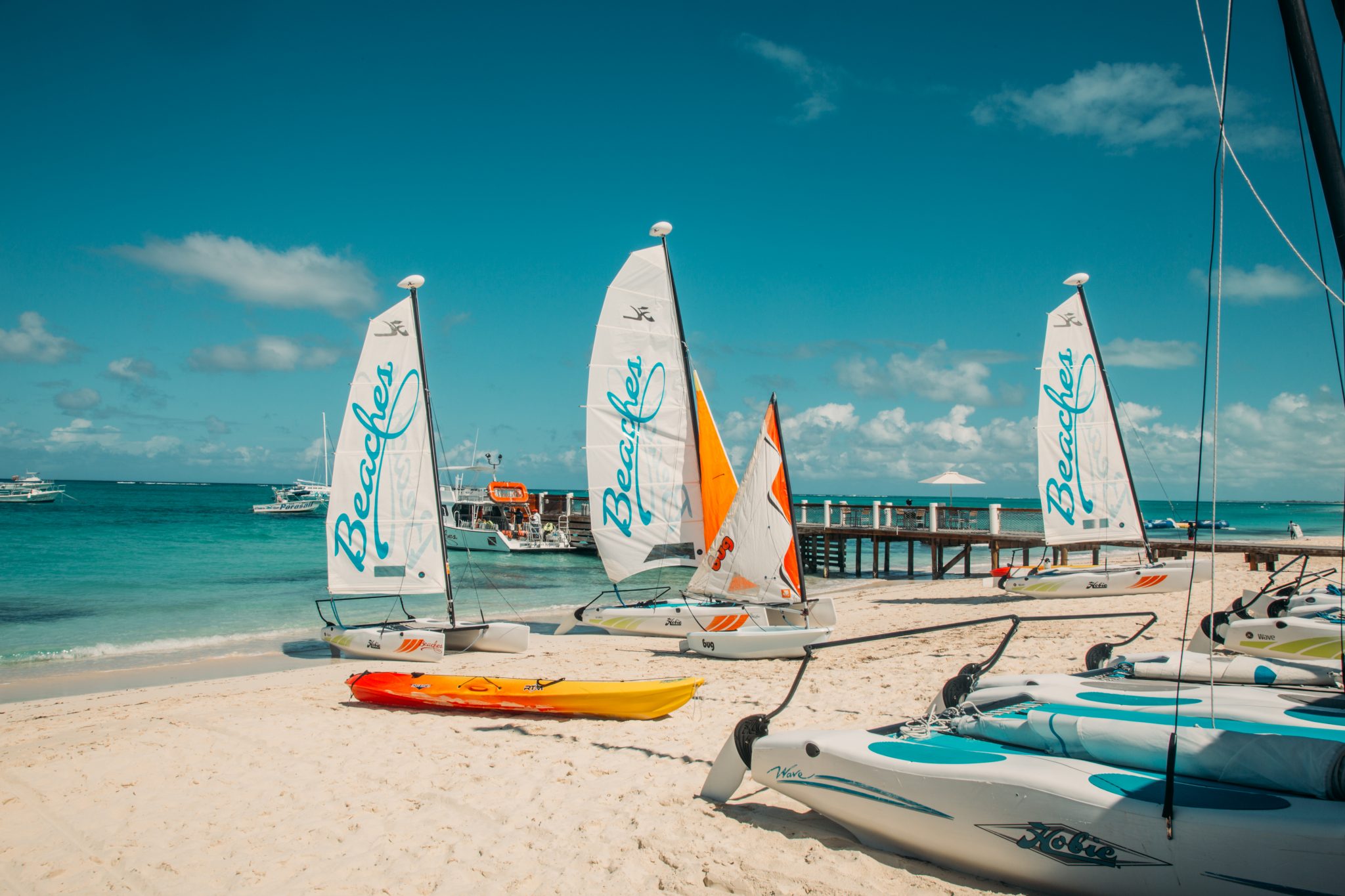 Were There Any People?
When we were at Beaches Turks and Caicos in February, the resort was maybe half occupied. It was busier than any other place we had been during the two weeks we were in Turks and Caicos, however, it by no means felt crowded. We had absolutely no issues with social distancing, but it wasn't a ghost town either.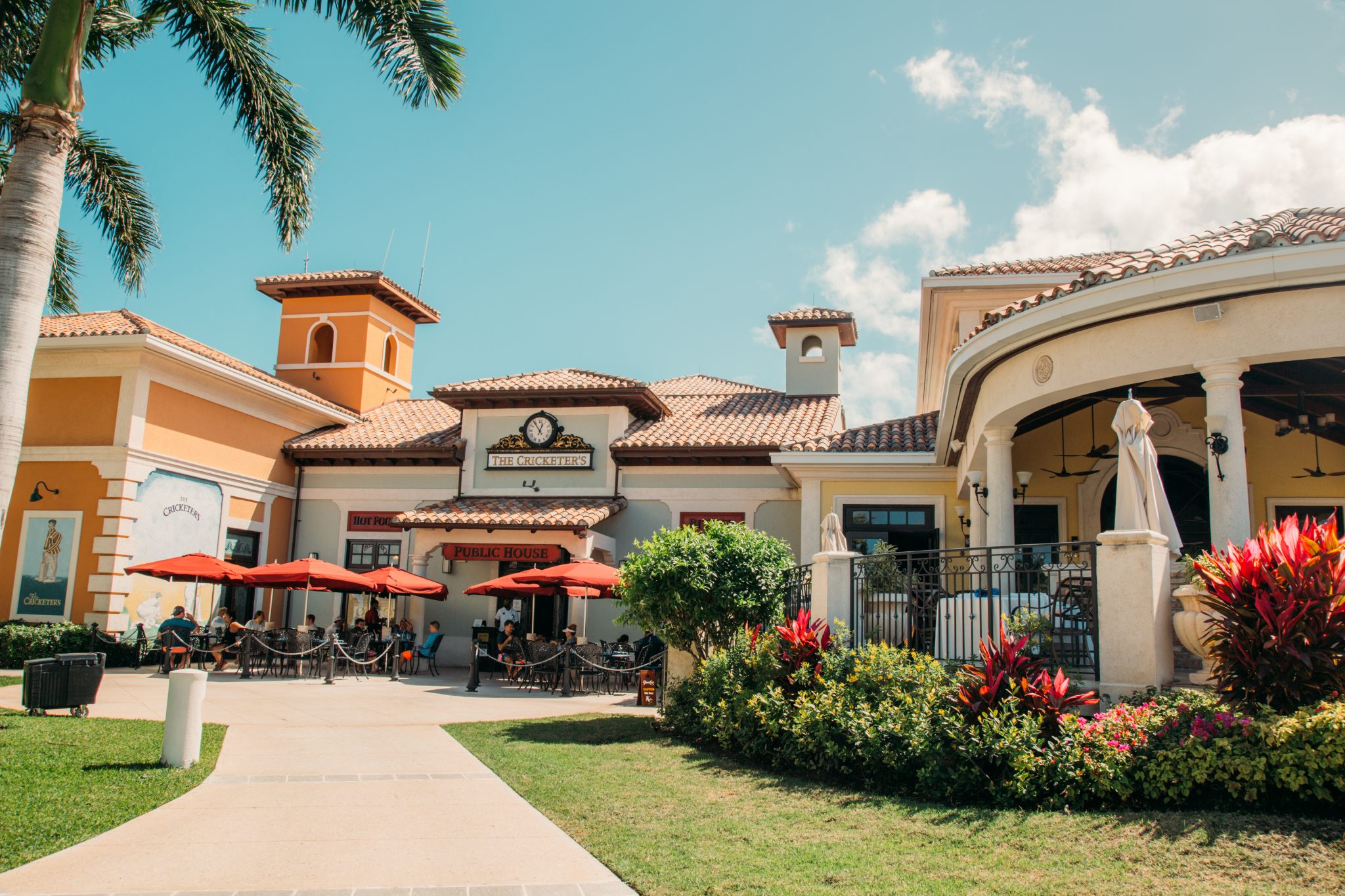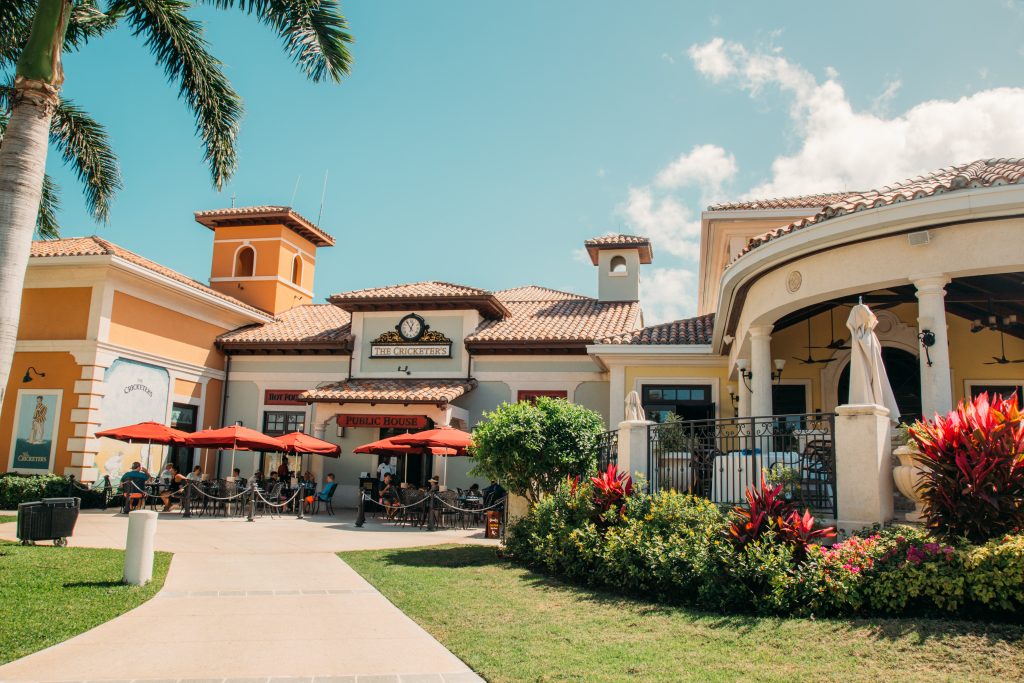 How Does Testing Work?
All US citizens need a negative COVID test in order to re-enter the US. Based on when your departure flight is, Beaches will schedule a rapid COVID test 48-72 hours prior to your flight. (Our flight left on Sunday, so we were tested on Friday.) This is included in your rate, and you will not need to pay extra for this.
When it is time for you to get your test, you'll simply head to the Nurses Station. The doctor will come out when it is your turn, swab you and you'll wait for your results. Our results were ready in 10 minutes. Then, they emailed the results to us the next day. Be sure to also PRINT these, though, before going to the airport.
What Happens if I Test Positive?
Fortunately, my husband and I did not test positive. However, according to the Beaches website, this is what would happen:
You'll have to self-isolate and delay your travel if symptoms develop or a pre-departure test result is positive until you have recovered from COVID-19. Airlines will refuse to board anyone who does not provide a negative test result for COVID-19 or documentation of recovery.

Should you test positive preventing your departure from our resorts, the Travel Protection Insurance Plan purchased on your behalf will cover you for up to $200.00 (USD) per night per person; up to $2,800.00 (USD) per person. Any additional room costs for the first 14 days will be covered by Beaches at no additional charge.
Is My Trip Refundable if I Need to Cancel?
As of right now, Beaches and Sandals Resorts are including a Travel Protection Plan and cancel for any reason with every reservation made now through August 31, 2021, for travel until December 31, 2022. So, yes, if you are booking within this timeframe, your trip is refundable if you need to cancel. If you cancel 31 days prior to your departure date, you'll get a full cash refund. If you cancel within that 31-day window, Beaches will issue you a travel credit you can use at a later date. Sandals and Beaches seriously rock!
Bottom Line
Overall, I was extremely impressed with the lengths Beaches Resorts went to in order to keep the resort clean and their guests safe. It also helped too, that there was hardly anyone at the resort – even though we were there during Turks and Caicos peak season.
If anyone has any questions at all about traveling to Turks and Caicos or Beaches/Sandals Resorts, I'm happy to answer them in the comments section at the end of the post!
Using a VPN When Traveling to Turks and Caicos
VPN is short for "virtual private network." A VPN (like IPVanish) sets up a private connection between your device and whatever network you are connected to – so, no one can see your browsing data. It is important to use a VPN anytime you are connected to public Wifi (such as at a restaurant, resort, hotel, cafe, airport, etc.). This is because when you connect to a public network no matter where you are, you run the risk of a hacker grabbing your unencrypted data. Trust me, speaking from experience here…this can put a real damper on your trip if your banking, phone or email get hacked while you're traveling!
VPNs can also help you save on domestic flights, help you watch Netflix shows not available in the US and more! You can read more about using a VPN in my post "Why I Use a VPN When Traveling and at Home (And You Should Too)."