The Ultimate Sandals & Beaches Dress Code Guide for Women & Men
Are you wondering what "resort evening" and "resort casual" mean? Fret not! This post is explaining the Sandals and Beaches Resorts Dress Code for both men and women.
Sandals and Beaches Resorts are owned by the same company, the difference between the resorts is that Sandals is adults-only and Beaches is family-friendly. Their dress codes are the SAME. What works at a Sandals Resort will also work at a Beaches Resort.
My husband and I are usually avid Sandals fans, but for our recent trip to Turks and Caicos, we tried Beaches Turks & Caicos. So, I've had the chance to try out the dress code at both Beaches and Sandals Resorts firsthand.
Click here to see current sales & promos for Sandals Resorts.
Click here to see current sales & promos for Beaches Resorts.
Click here to see current UK-specific sales & promos for Sandals Resorts.
How to Dress for Resort Evening as a Woman at Sandals & Beaches Resorts
Sandals/Beaches actually doesn't clearly define for women what is considered "resort evening." (It's pretty much all geared toward the men if you look on their website.) However, there is definitely still a dress code for women.
Below, I'll show you a few examples of my personal outfit recommendations for resort evening wear for women at both Beaches and Sandals.
What I Like to Wear for Sandals/Beaches Resort Evening
Dresses
Fortunately, my normal attire of a dress and comfy but cute sandals or flats are the perfect outfits for a "resort evening" dress code.
The dress I am wearing in the photo above was super comfortable and pairing it with some fun jewelry, it also looked perfectly dressy enough for resort evening. I had purchased it more than 5 years ago for a Luau but thought it would work great for wearing to dinner in Jamaica as well!
If you want some fun and comfortable resort dresses for your vacation – I am a huge fan of Lilly Pulitzer clothing. It's great quality, colorful, and the perfect look for a Caribbean vacation. (Above is my favorite Lilly dress for vacations!)
Click to shop:
Dress (Similar options) | Sandals (Similar option here) | Bag | Sunglasses | Necklace | Watch
You can also NEVER go wrong with a silk wrap dress for a beach vacation. They're so comfortable and classy looking! I wore this a few times for resort evening dinners while we were at Beaches Turks and Caicos, and it was perfect. I bought the Diane Von Furstenberg wrap dress above secondhand from The RealReal for less than $30 with tags still attached!
Click to shop:
Dress | Sandals | Earrings | Bag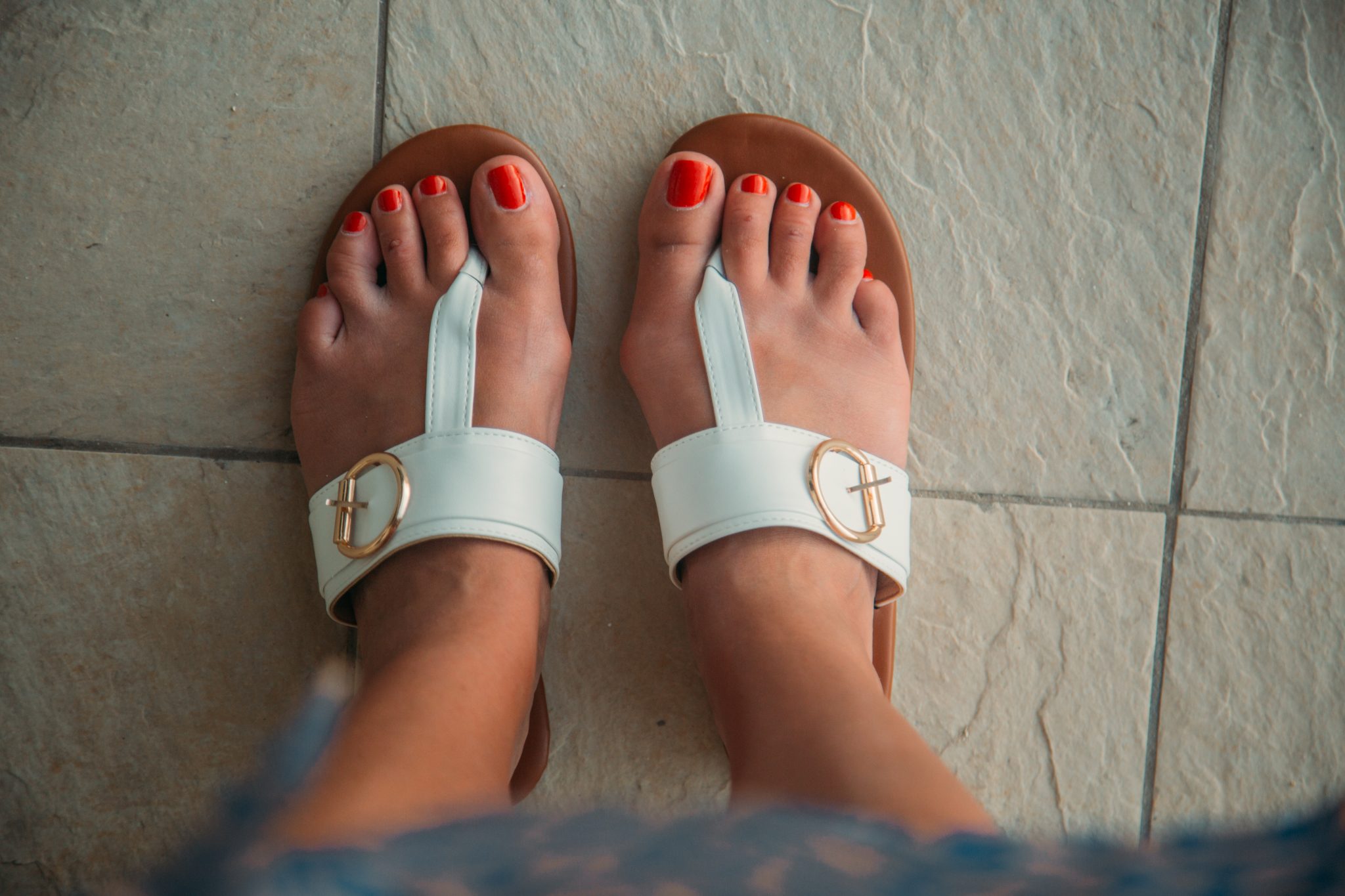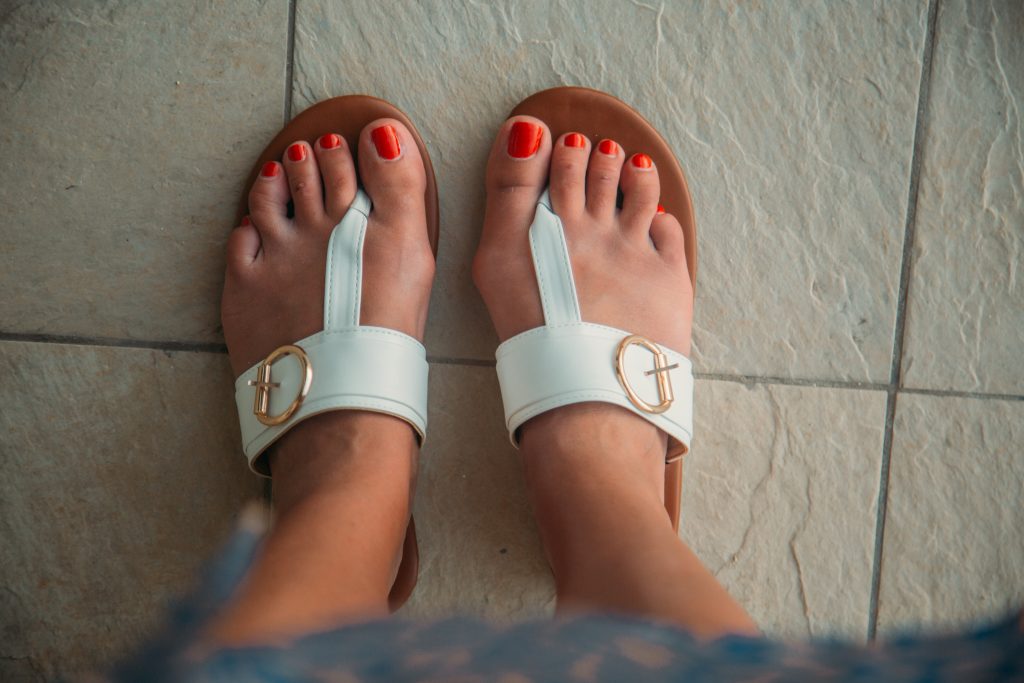 Shoes
Sandals/Beaches does suggest that the ladies wear nice sandals or heels. However, ladies, you are on vacation at a beach resort – personally, I would leave the heels at home! A cute pair of sandals or wedges are comfier and far more practical for a beach vacation (where, you know, you're going to be walking on sand and such!)… and sandals like the ones I am wearing above (and below) or wedges are completely fine!
*Click here to shop the sandals above. They are true to size.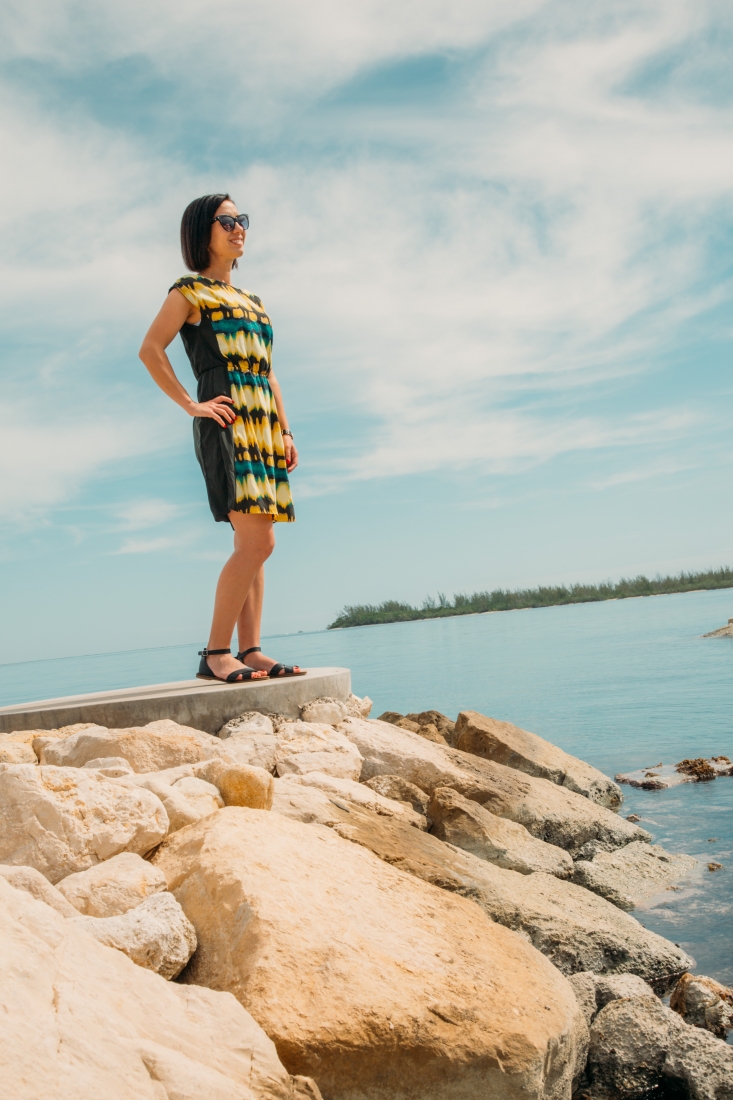 The Dos and Don'ts of the Sandals Resort Evening Dress Code for Women
As a woman, we have far more options than the guys do. A nice comfy sundress and cute sandals are more than adequate for "resort evening." You would also be fine wearing a cute romper (such as the ones below) or a jumpsuit (also below). Another option is to wear resort pants and a dressy top (this is my least favorite option, though, it's just not as comfy to me).
Rompers

Jumpsuits

Blouses

Pants

Do Wear:
Don't Wear:
Swimsuits
Swimsuit cover-ups
Jeans shorts
Flip flops
How to Dress for Resort Evening as a Man at Sandals/Beaches Resorts
Men don't get to have as much fun with what they wear, unfortunately. They can still be comfortable, though!
Click to shop my husband's outfit:
Shirt | Pants | Sunglasses | Shoes
What My Husband Wore
For shirts, the guys are supposed to wear long or short-sleeved dress shirts (with or without a collar). My husband swears by his Eddie Bauer button-ups because they look nice and are very breathable (some of them are also wrinkle resistant too). He also wore a couple polos too (like the ones pictured below).
Great Places to Shop for These Type of Shirts for the Guys:
Prana | Nordstrom | Amazon | SCOTTeVEST (Use code HCWT for 15% off your order)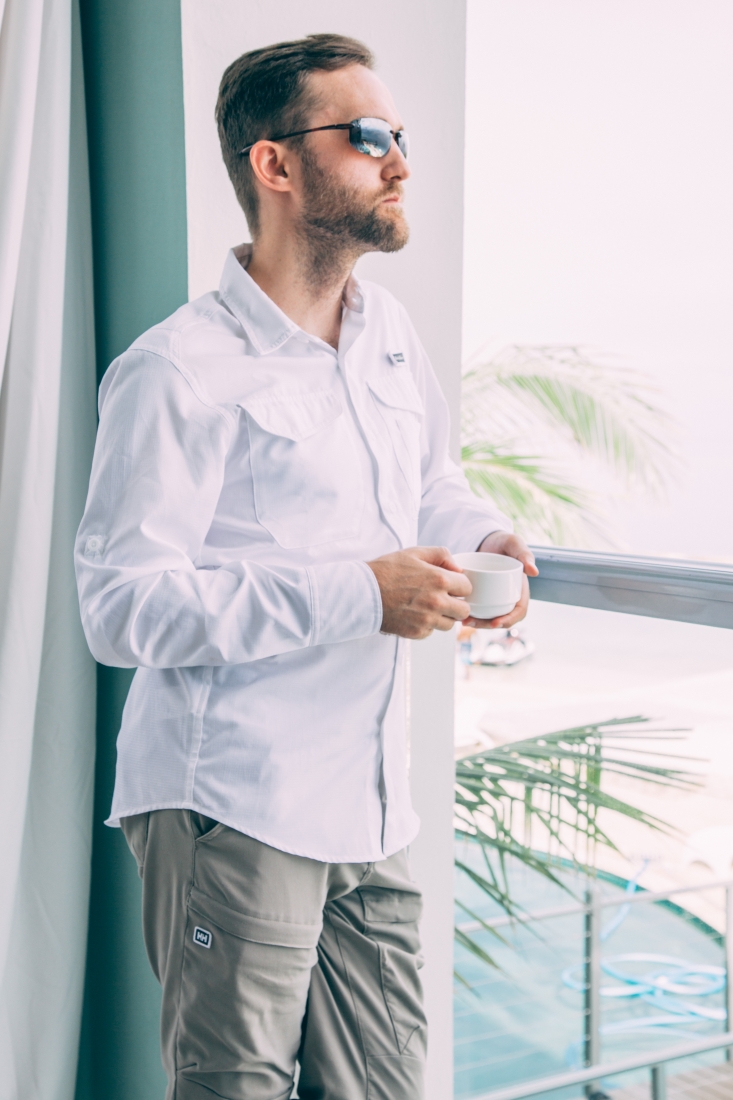 For pants, the guys are supposed to wear dress pants or jeans. However, jeans are the last thing you want to wear on a hot and humid night. (It never got below 80 degrees while we were here!) You can still look perfectly nice in breathable hiking pants, in my opinion. My husband wears these breathable hiking-ish pants for just about everything! (Click here to shop them.)
They look nice but are also comfortable to wear in the heat. (He wears them for work now and wore them pretty much the entire time we were in Egypt and Jordan too – proof of that if you click here.) He also packed these pants from Eddie Bauer and wore them too.
Pants

As for shoes, guys have to wear closed-toed shoes. So, no sandals for you guys – sorry! They're also not supposed to wear sneakers. Loafers or boat shoes are great for nights like this. My husband is obsessed with these Sperry boat shoes at the moment because he can now wear them for work in his new role. They also worked perfectly for "resort evening" style plus they are very comfortable to wear. (Click here to shop them.)
Shoe Options


The Dos and Don'ts of the Sandals Resort Evening Dress Code for Men
Do wear
Don't Wear
Sleeveless shirts
T-shirts
Shorts
Sandals or flips flop or sneakers
Hats
Just to be clear too – this isn't required for ALL Sandals restaurants, only some of them have the resort evening dress code. Others will have "resort casual" as their dress code.
If you want to know how many restaurants require "resort evening" for their dress code – simply click here for the Sandals website or click here for the Beaches Resort website. Then click on your resort and then "dining." You'll be able to then click on every restaurant at your resort and the dress code will be on the righthand side.
Resort Casual for Women
I know I went into a great big long-winded explanation of what Sandals and Beaches dress code is for evening wear… but that's because it's a little trickier (at least for men). Now, "resort casual" is FAR easier.
Basically, what resort casual means is that you should have your swimsuit covered (and not be dripping wet) and have some sort of footwear on. Resort casual for a restaurant means "no shirt, no shoes, no service." So, just be covered and have some sort of shoes on, and that's all you need to worry about!
Now, the swimsuit coverup I'm wearing above would work best for dining for lunch, when you're just coming in from the beach or pool.
Dresses that work for both resort casual and resort evening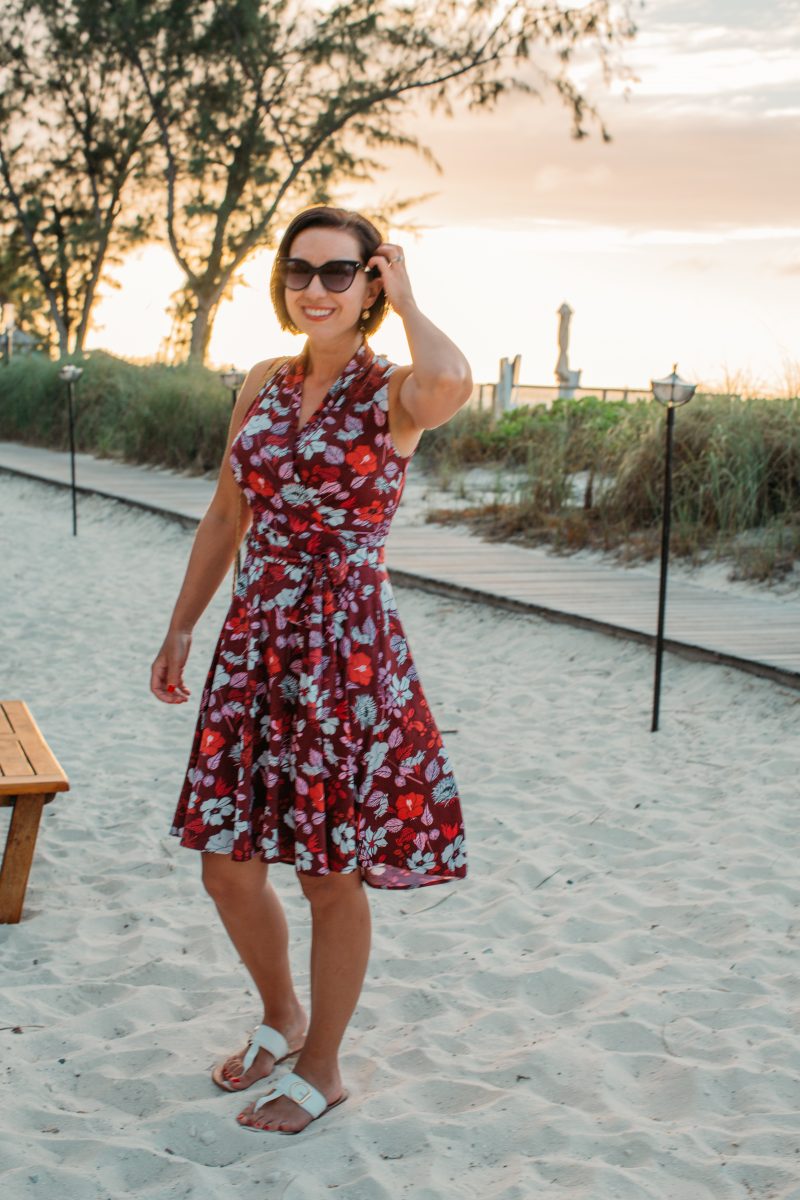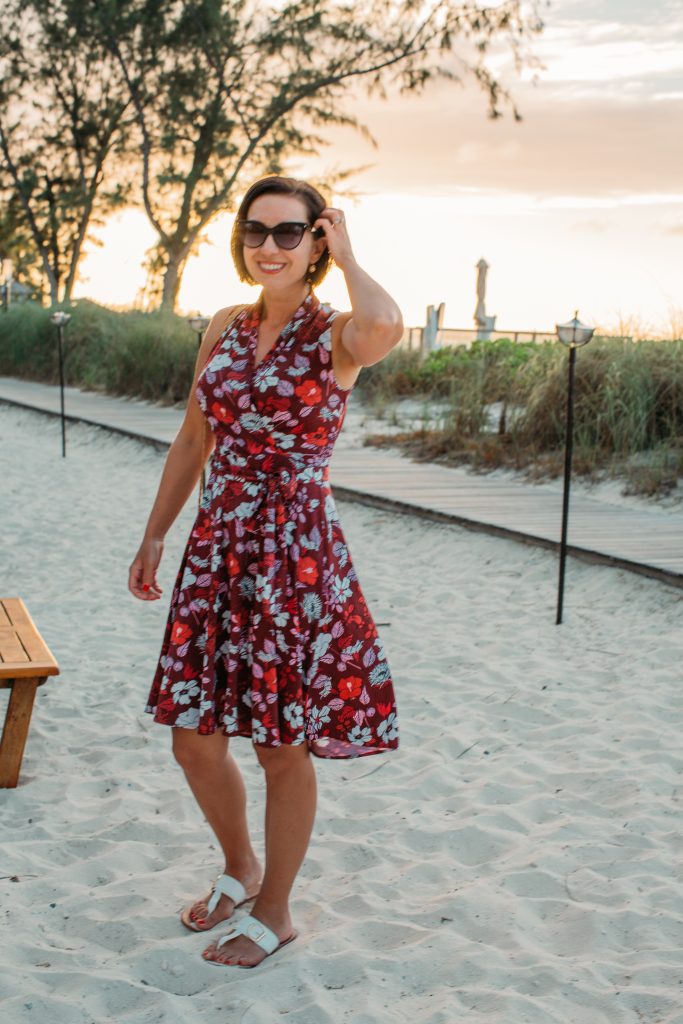 Again, I like dresses, so I'll also wear a dress and a pair of sandals for a resort casual restaurant at night. But really, you can wear anything you want – just so long as you're wearing SOMETHING other over your swimsuit.
The ScotteVest dress above is one that is super versatile for Sandals/Beaches vacations (or any tropical vacation). I use it as a beach coverup, as a resort casual dress, and as an evening wear dress (when paired with a belt and accessories). It has a whole bunch of hidden pockets, so you don't have to carry a bag. Plus, it is really easy to wash up in a sink with a soap packet, and dries in no time at all! (So, you can wear it nonstop while on vacation!)
Click to shop:
Dress (Use code HCWT for 15% off your order) | Sandals (similar) | Hat | Necklace | Belt | Earrings | Watch
Resort Casual for Men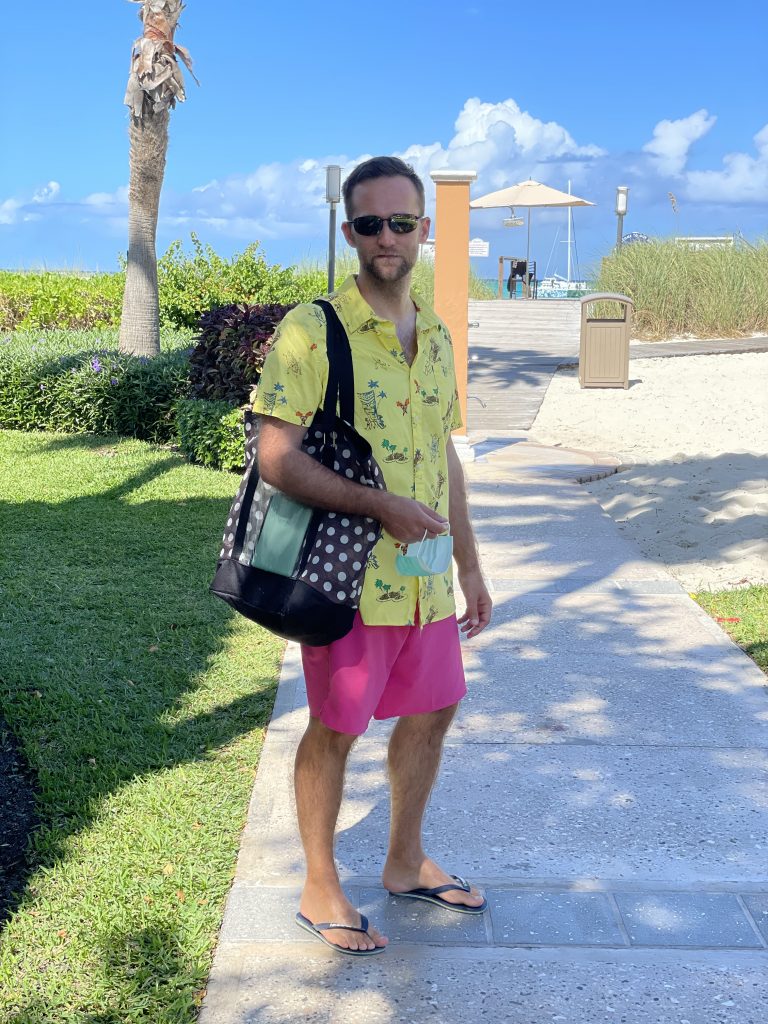 For resort casual, men only need to worry about wearing a shirt and a pair of shoes. (And also make sure their swim trunks aren't dripping we when they go into a restaurant.) That's it!
My husband is a fan of wearing obnoxious Hawaiian shirts during the day when he's on vacation.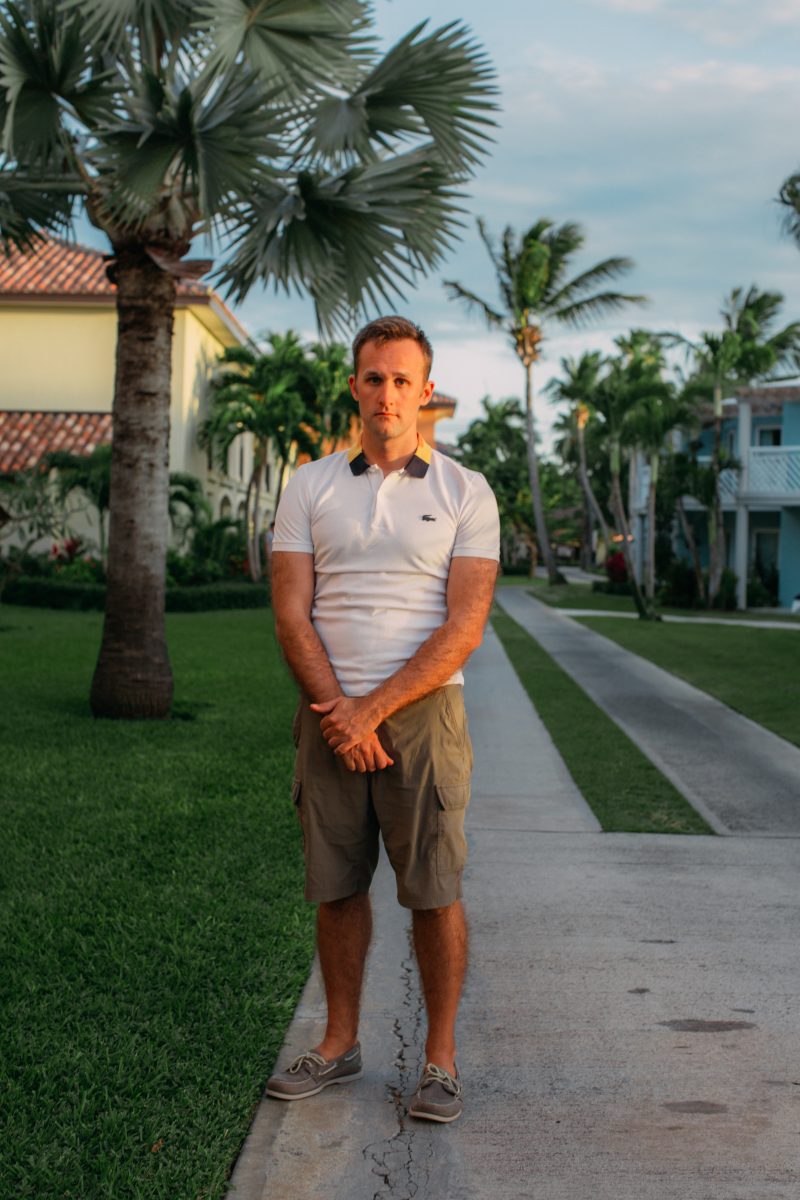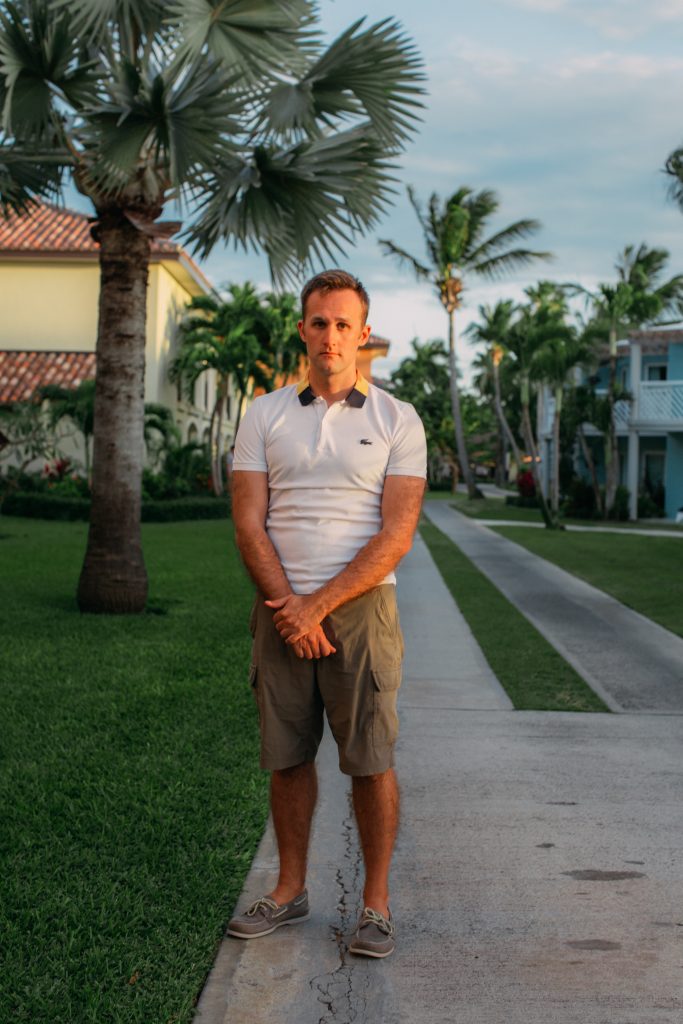 At night, he usually changes into a pair of shorts and a polo or T-shirt for dinner. However, any shirt, short and shoes are fine for dinner at a resort casual restaurant!
If anyone has any questions at all about the dress codes at Sandals Resorts and Beaches Resorts – please feel free to reach out in the comments section at the end of the post!
Click here to see current sales & promos for Sandals Resorts.
Click here to see current sales & promos for Beaches Resorts.
Click here to see current UK-specific sales & promos for Sandals Resorts.
Read next: I Stayed at Beaches Turks and Caicos During COVID-19 – This Was My Experience
Using a VPN When Traveling
---
VPN is short for "virtual private network." A VPN (like IPVanish) sets up a private connection between your device and whatever network you are connected to – so, no one can see your browsing data. It is important to use a VPN anytime you are connected to public Wifi (such as at a restaurant, resort, hotel, cafe, airport, etc.). This is because when you connect to a public network no matter where you are, you run the risk of a hacker grabbing your unencrypted data. Trust me, speaking from experience here…this can put a real damper on your trip if your banking, phone or email get hacked while you're traveling!
VPNs can also help you save on domestic flights, help you watch Netflix shows not available in the US and more! You can read more about using a VPN in my post "Why I Use a VPN When Traveling and at Home (And You Should Too)."
Travel Insurance
---
Many destinations require having travel medical insurance that covers COVID-19. Squaremouth is the only site that currently lets you filter travel insurance policies for COVID-19 coverage. I, personally, use Squaremouth for finding the best insurance policies for my travels, and I have already used them for trips planned in 2022. They're also recommended by Forbes! You can click here to get your free travel insurance quote.
Need a house sitter while you are gone?
---
I, personally, recommend TrustedHouseSitters if you need to find a housesitter/someone to watch your pets while you are away.
How TrustedHousesitters works is they connect home and pet owners with trustworthy, verified sitters who won't charge to look after your pets, in exchange for a unique place to stay. They have sitters and homes all over the world!
It's a fantastic way to find trustworthy people to watch your home and pets while you are away. (And on the flip side, it's a cool way to stay in different areas of the country and world without having to pay for accommodation! I have a friend who literally didn't own or rent a home for years, and only used TrustedHouseSitters to find the next spot she was going to stay.)
Click here for more information on TrustedHouseSitters.
---
*Disclosure: some of these links are affiliate links. Meaning, if you click a link and make a purchase, Have Clothes, Will Travel gets a very small commission at no extra cost to you. Thank you for supporting the brands that make this blog possible! I am also a participant in the Amazon Services LLC Associates Program, an affiliate advertising program designed to provide a means for us to earn fees by linking to Amazon.com and affiliated sites.
*c/o = courtesy of, meaning the company gave me the product to be used on my blog, and I did not pay for it. All opinions are my own, and I am not being compensated for a positive review.