Honest Sandals Negril Beach Resort and Spa Review + Photos
This post is my honest review of our stay at Sandals Negril Beach Resort and Spa – a luxury, all-inclusive, adults-only resort in Jamaica.
If you are curious about what it is like to visit a Beaches/Sandals resort during COVID, please read this post.
Now all-inclusive, relaxing and beachside are words that are not normally used to describe the kind of vacations my husband and I embark on. We're usually more of the scaling mountains, jumping out of airplanes, in need of at least 3 days of sleep after our vacation sort of people.
So… would you believe me if I told you the reason my husband and I got our first passport 10 years ago was to stay at a Sandals Resort in St. Lucia? Because it's actually the truth! Our first international journey together was to St. Lucia to stay at the Sandals Regency La Toc with my husband's coworkers (and our now good friends)!
Click here for current Sandals Resort sales + promo codes!
Click here for current UK-specific Sandals Resort sales!
Sandals in St. Lucia almost 10 years ago! (With blonde hair too, haha.)
When the opportunity to visit a Sandals Resort in Jamaica for a Press Trip* (a.k.a. FAM Trip) presented itself this fall – I was intrigued. (I'll explain what the heck that means at the end of the post.) This is not only because Sandals Resorts kick-started my international traveling, but also because after the last 6 years of nearly nonstop traveling, my husband and I are frankly getting a little tired. The idea of enjoying a beach for a little while didn't sound too bad at all!
So, I dug out my sun hat, ordered a new swimsuit and headed off to tropical Jamaica to check out Sandals Negril and also Sandals Montego Bay. For this post, I'm only focusing on Sandals Negril. (More on their Montego Bay Resort can be found in this blog post!)
Click here for current Sandals Negril rates.
Click here for current UK-specific Sandals Resort sales!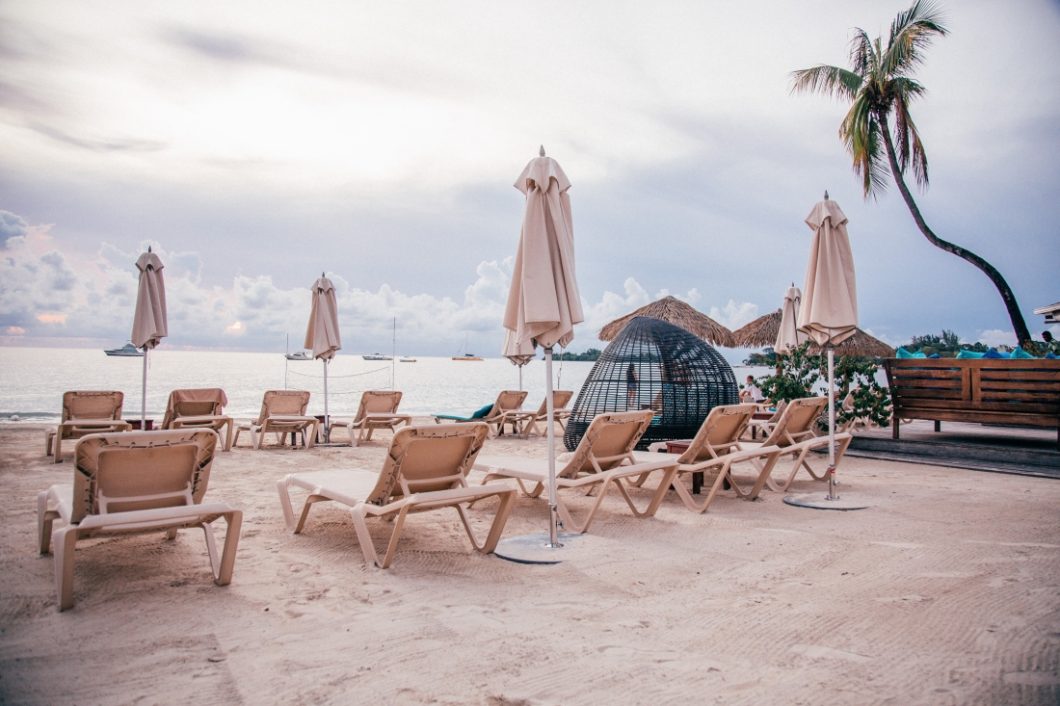 Sandals Negril Key Features – What Exactly is Included in Your Stay
So, what are the features that are said to set Sandals Resorts above the rest? This is what you get when you book Sandals Negril.
Unlimited dining at 7 restaurants
Breakfast, lunch, dinner and anytime snacks
Unlimited Premium Liquor, Wine and Beer
5 bars, including swim-up bars
Stocked bars in every room
All tips, taxes and gratuities
Roundtrip airport transfers
PADI-Certified SCUBA diving (and all equipment)
Waterskiing
Snorkeling (and all equipment)
Hobie Cats, paddleboards, kayaks
Professional instruction for water sports
Beach volleyball, bocce ball, pool tables, and a fitness center
Day and night tennis
Live shows at night
Free WiFi (in room and all common areas)
Free weddings! (for stays of 3 nights or longer)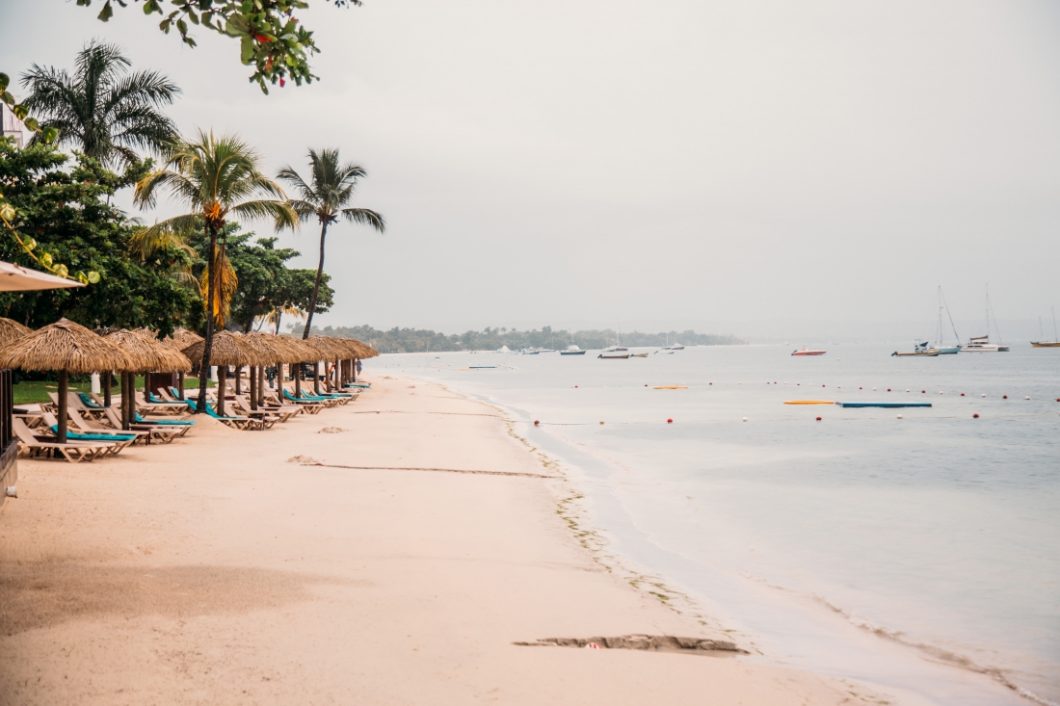 My Experience Staying at Sandals Negril
I'll go into great detail about every aspect of this stay below. However, as my husband likes to say… "if you would rather just have the baby and not the labor pains" then scroll to the end of this post for my overall opinion of our stay at Sandals Negril.
If you are curious about what it is like to visit a Beaches/Sandals resort during COVID, please read this post.
Airport Arrival
After we made our way through customs in Montego Bay and grabbed our bag, we went over to the Sandals desk to see how our transfer worked.
We checked in with the people in charge of transfers and were then sent to a very nice lounge that had snacks and refreshments for us while we waited for the shuttle bus. (For the life of me, I can't remember what they're called but the rum-soaked, Twinkie-looking desserts they had were SO good.)
Then, our transfer was called and our bag was wheeled to the bus. Here is where I was a little annoyed, though. The person who transferred our bag was not actually a Sandals employee. Therefore, he wanted a tip for wheeling our bag from the airport to the shuttle bus.
I know that's really not a big deal, but I was in the mindset of, "I don't have to tip anybody for this trip! It's all already paid for." (Sandals has a no-tipping policy – it's all included in your the price you pay for your vacation!) So, when one of my first interactions was with someone demanding a tip for wheeling a bag that I could have easily have wheeled myself, I was irritated. (I also was in need of a proper lunch – so, I was super hangry too!)
The transfer from the Montego Bay airport to Sandals Negril is supposed to take around 40 minutes. However, for some reason, traffic was REALLY bad that afternoon (around 2 pm), and it took us nearly 2 hours to get to the resort!
Which, that's not Sandals' fault! You can't control the traffic. It was also not a bad drive. I enjoyed seeing how many goats I could spot. They were everywhere! Our bus driver called them "Jamaican reindeer." Maybe it's because I was sleep-deprived…but I found that super funny.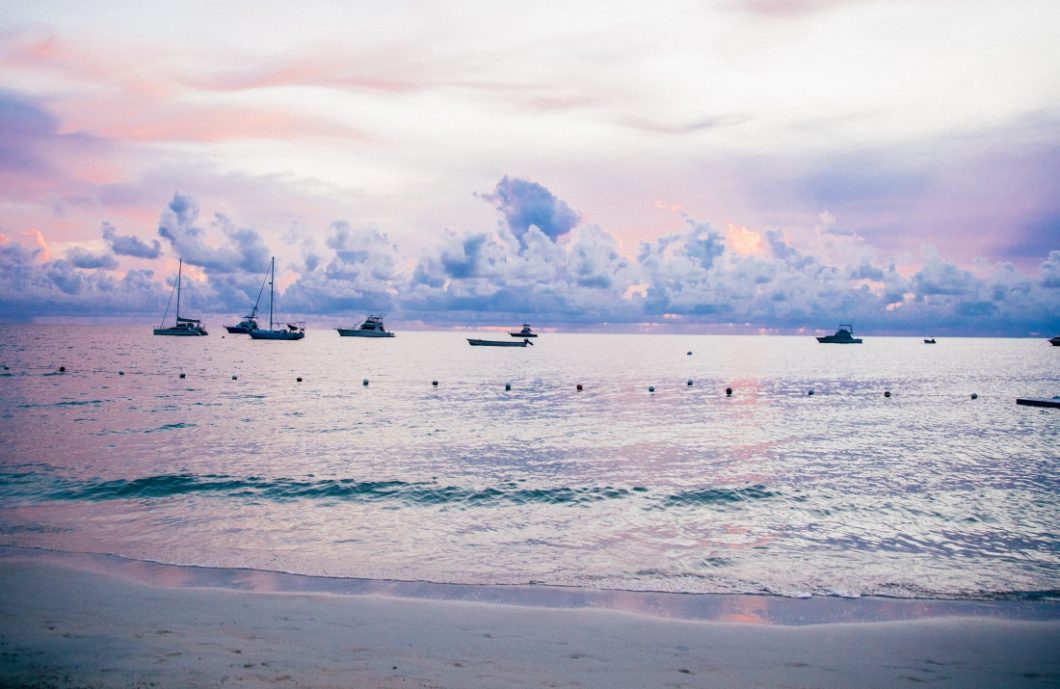 Checkin
Once we got to the resort, the check-in process was very nice! We were taken to a comfortable room and promptly given some sort of yummy rum cocktail while we waited to be escorted to our room. I also thought it was very nice because the gentleman who had brought us the cocktails was able to whip up a nonalcoholic cocktail for my husband in no time at all and didn't bat an eye about him requesting one without any alcohol. (My husband doesn't drink alcohol.)
Our Room – the Paradise Beachfront Walkout Club Level Room
This room was perfectly nice and comfortable. However, for me, its selling point was being right on top of the beach! Check out that view from our patio, below.
I liked being super close to the beach. However, this also meant that there is quite a bit of foot traffic outside your patio door. Not that it was ever a problem for us, it's just something to be aware of.
Here is a little tour of our room, below.
I also liked that this room came with the option of room service. By the time we got to the resort I was beyond hangry and could hardly form words, I was getting so hungry! I also needed to get cleaned up for a welcome cocktail hour/dinner that evening. So, ordering room service was really convenient.
Sorry, I have no photos of the room service food as I inhaled it faster than you can blink – but I can promise you it was really good and took just over a half-hour to get to our room.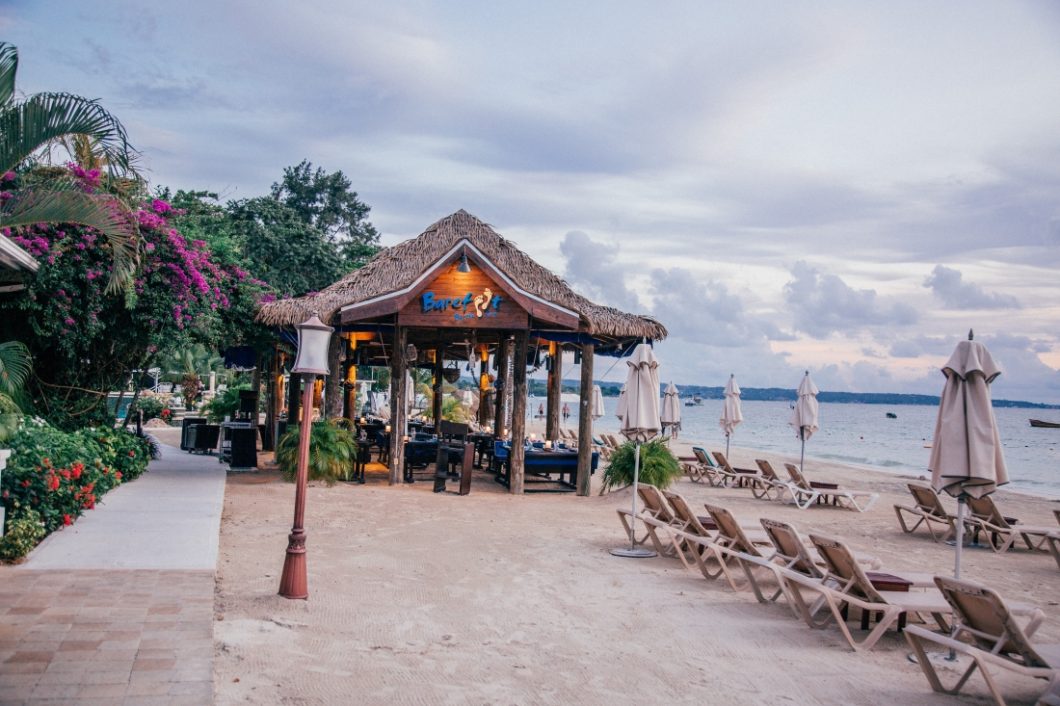 Restaurants
We were only at Sandals Negril for one night, so we didn't get the chance to dine at every restaurant on the resort. However, I was very happy with the large selection of breakfast food at the morning buffet. I'm also REALLY picky about my coffee, but Sandals Negril did not disappoint in the coffee department and even gives you your own personal thermos of coffee for your breakfast table. (So, if you're like me and drink an entire pot of coffee by yourself…you don't have to go on in search of refills!)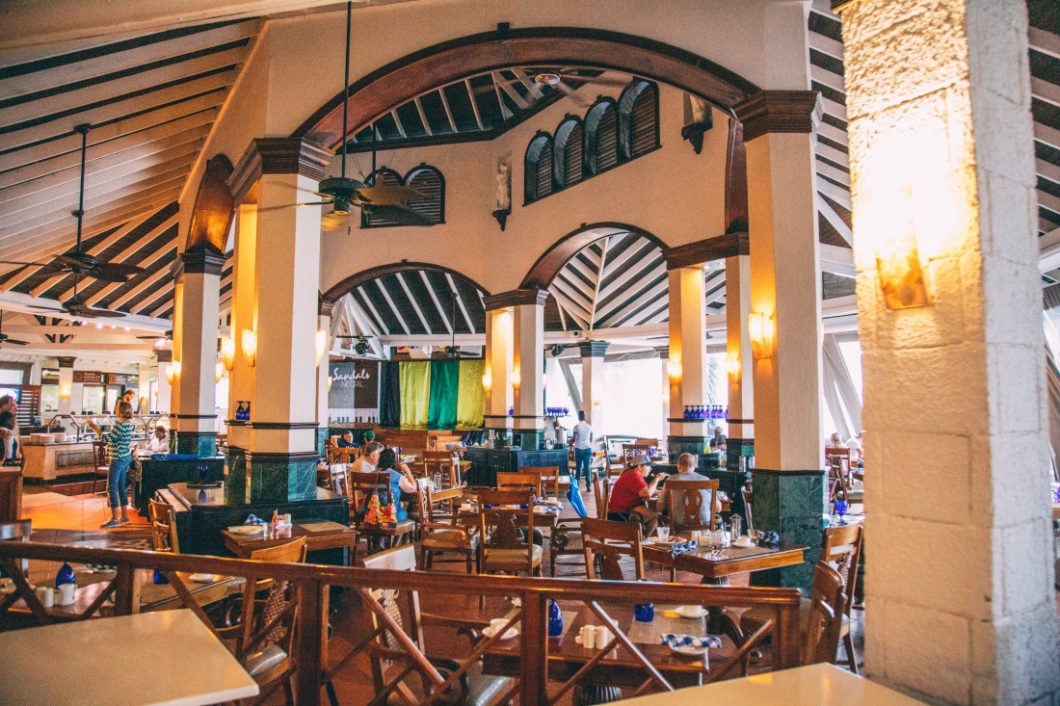 We had our cocktail hour at their beachside Piano Bar. It was really a nice atmosphere and watching the sunset over the ocean was breathtaking.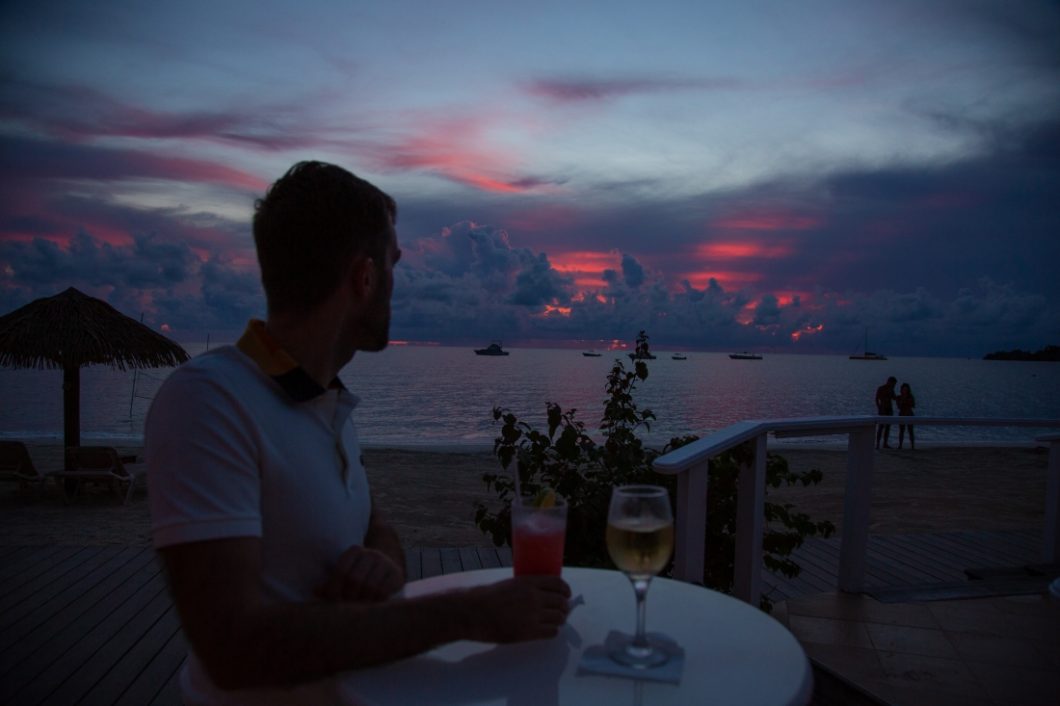 Private Beach Dinners
I didn't actually have a private beach dinner. However, I could not stop photographing the ones that were set up! They looked so romantic. I loved that they had flower petals leading up to the table!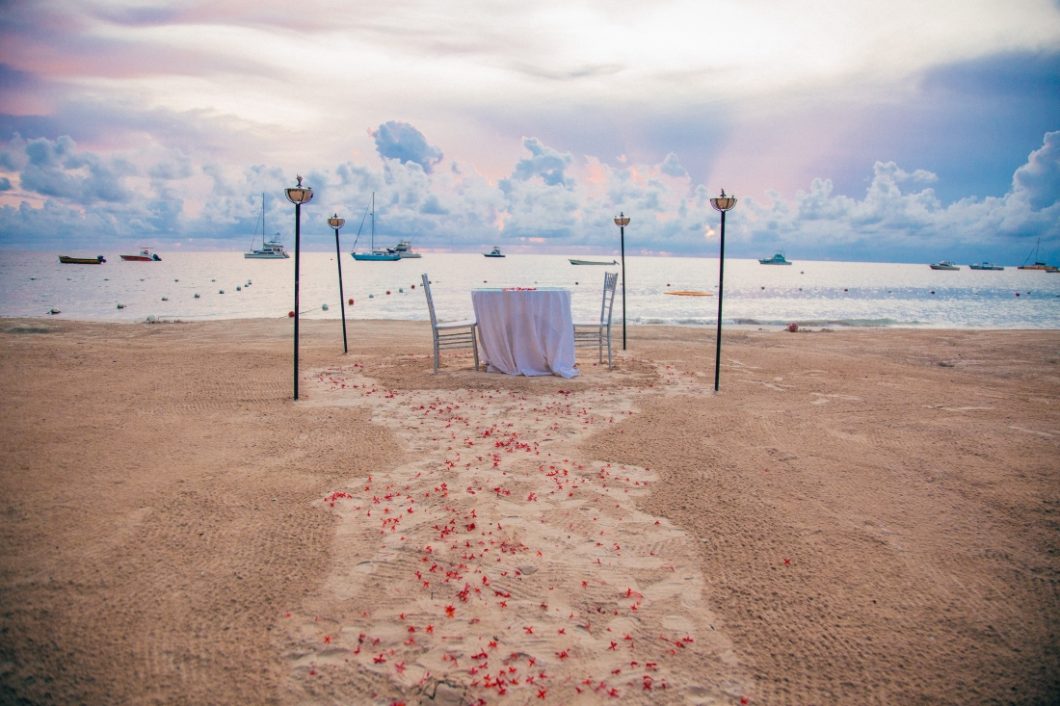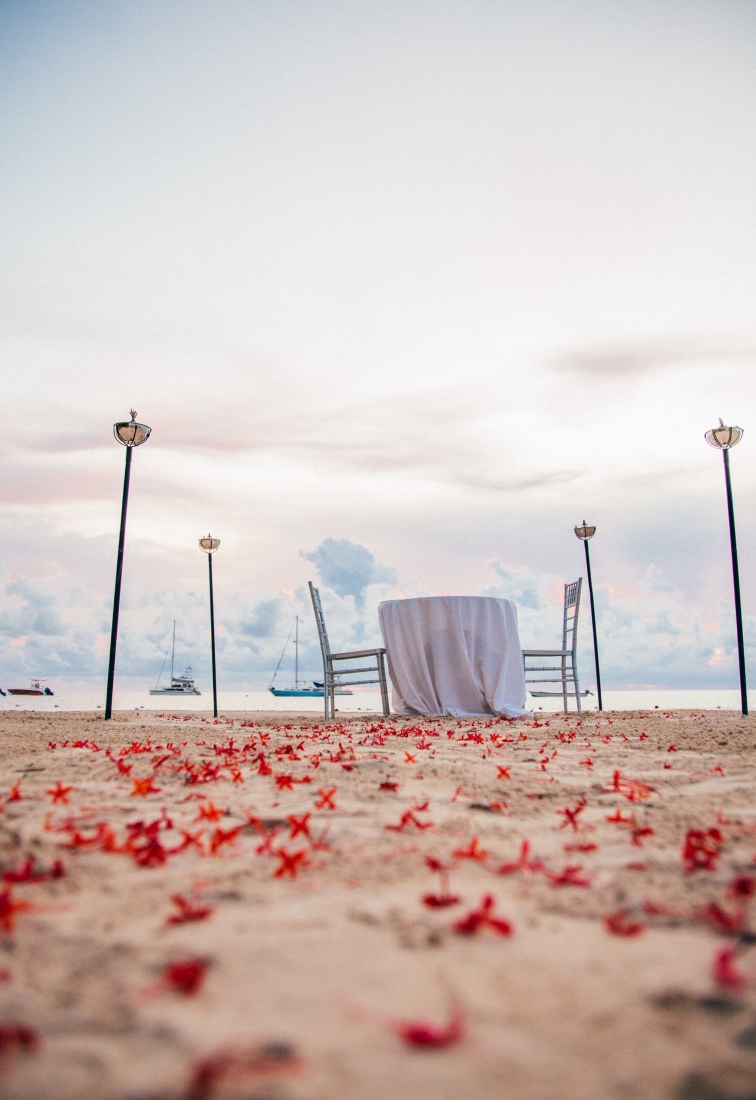 Dinner at Sundowner
Our dinner took place at Sundowner. This is a restaurant that offers some great Caribbean dishes with a relaxed, but classy atmosphere. I had the chicken that night, which was quite good… but I really screwed up. Sundowner's coffee-rubbed sirloin is some of the best steaks my husband and some of the other folks we were with had ever had! Be sure to try it when you eat here.
Because we were here on a press trip*, we were also lucky enough to dine in a small group with the resort's general manager – David Latchimy! Honestly, I would come back to Sandals Negril simply for the fact that it is run by David. He is such a kind and intelligent person, and he truly cares about his employees. He answered all of our questions openly and honestly and was also genuinely interested in our lives. I should have asked to take a photo with him, but I always feel so weird about doing that! So, below is a video of David chatting about how awesome Sandals Negril is.
The Staff
Given that we didn't get to stay at the resort for too long, we didn't get to know the staff as well here as we did at Sandals Montego Bay. However, I can say that the staff we interacted with all seemed very happy to be working here and they all went out of their way to make sure we were having a nice time!
A Look Inside the Honeymoon Beachfront Two Story One Bedroom Butler Villa Suite
I also had the opportunity to tour this fantastic butler villa suite at Sandals Negril! Check out how awesome the inside of this suite looks…
Final Verdict – Would I Stay at Sandals Negril Again?
Absolutely! I would love to get to experience this resort more…even if it's just to try out one of those amazing-looking beachfront dinners!
Sandals Negril has a very relaxed and intimate feeling compared to the other resorts I've experienced. I can see how Sandals Negril is a great destination for a wedding because of this. (Our friends were actually married here too! They had a fantastic experience!)
The only thing I can think of that would be a negative for some people is that the beachfront rooms will have quite a bit of foot traffic near them – as they are literally right on top of the beach. We weren't there during the busy season, we were here in October, so it wasn't overly busy at this time and never bothered us. I can see how during the busy season, though, this might bother some people. Just worth noting!
Overall, though, I really enjoyed the staff, the food, the drinks and the atmosphere at Sandals Negril. I would go back in a heartbeat.
Click here for current Sandals Negril rates.
Click here for current UK-specific Sandals Resort sales!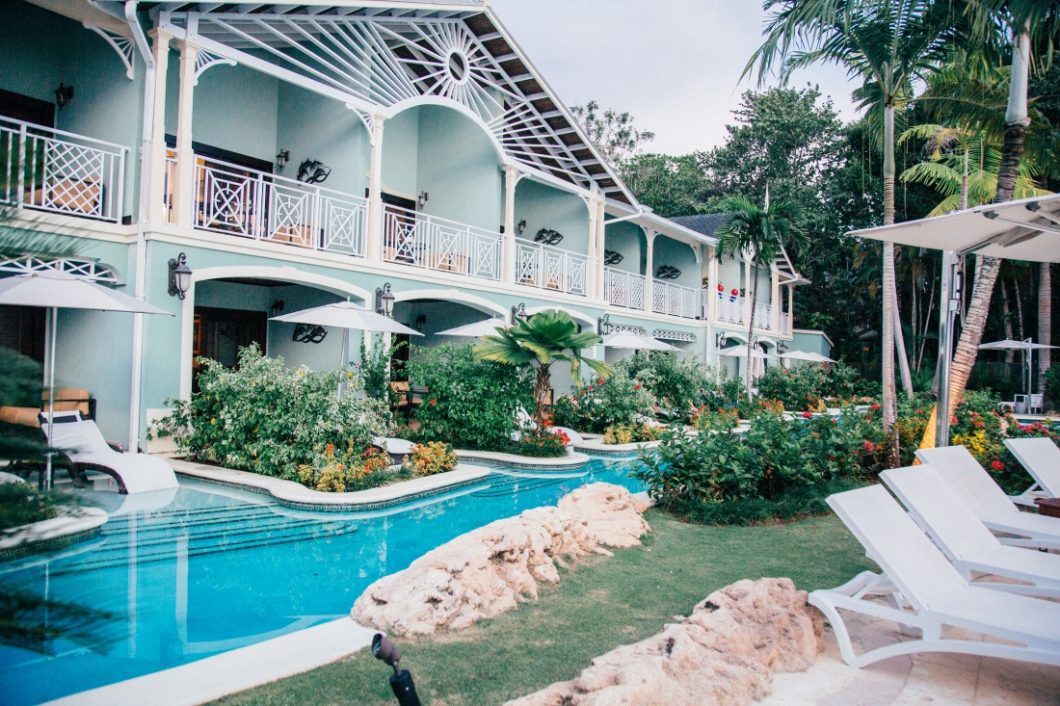 *Press trip (a.k.a. FAM Trip) – these are trips where I do not pay for my stay. The resort or hotel where I am staying pays for my stay and expenses. I am never required to write a positive review about my experience, and for this press trip with Sandals, I wasn't required to write anything at all! They just wanted Have Clothes, Will Travel to experience their resorts.
I am writing this review because I thought it would be helpful to my readers – Sandals does not compensate me for a positive review. I do believe this is a good place to go for an all-inclusive vacation! (If you need proof that I do indeed write negative reviews for trips like these that I do not enjoy, check out this post.)
However, I do make a small commission if you click my Sandals links in this post and make a purchase. I appreciate you supporting the businesses that make this blog possible!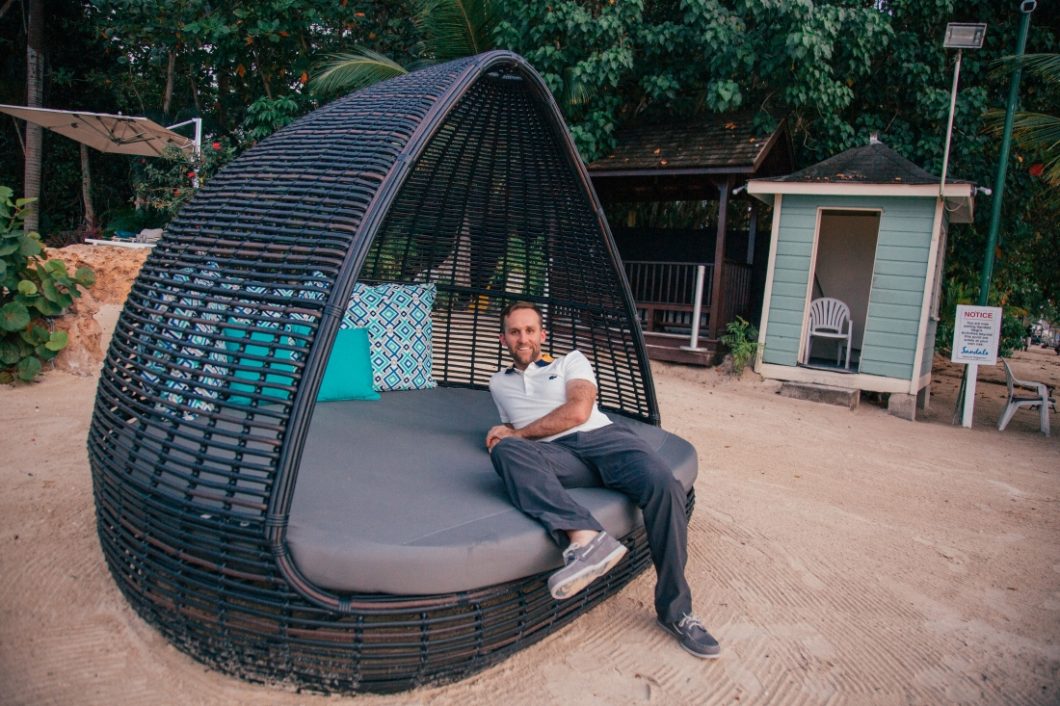 If anyone has any questions about Sandals Negril, please feel free to ask in the comments section at the end of this post! And I'm curious, has anyone else stayed at Sandals Negril? And if so, how did you enjoy your stay? Let me know in the comments!
Again, if you are thinking of purchasing a trip to Sandals Resorts – I appreciate you clicking my links before doing so. I make a small commission off any purchase made through my website.
Travel Insurance
---
Many destinations require travel medical insurance that covers COVID-19. Squaremouth is the only site that currently lets you filter travel insurance policies for COVID-19 coverage. I, personally, use Squaremouth for finding the best insurance policies for my travels, and I have already used them for trips planned in 2023. They're also recommended by Forbes! You can click here to get your free travel insurance quote.
Visa Requirements
To check if your country requires a Visa for traveling to Jamaica, click here. (If you're from the US – you do NOT need a visa.)