Skydiving at 15,000 Feet in Queenstown, New Zealand!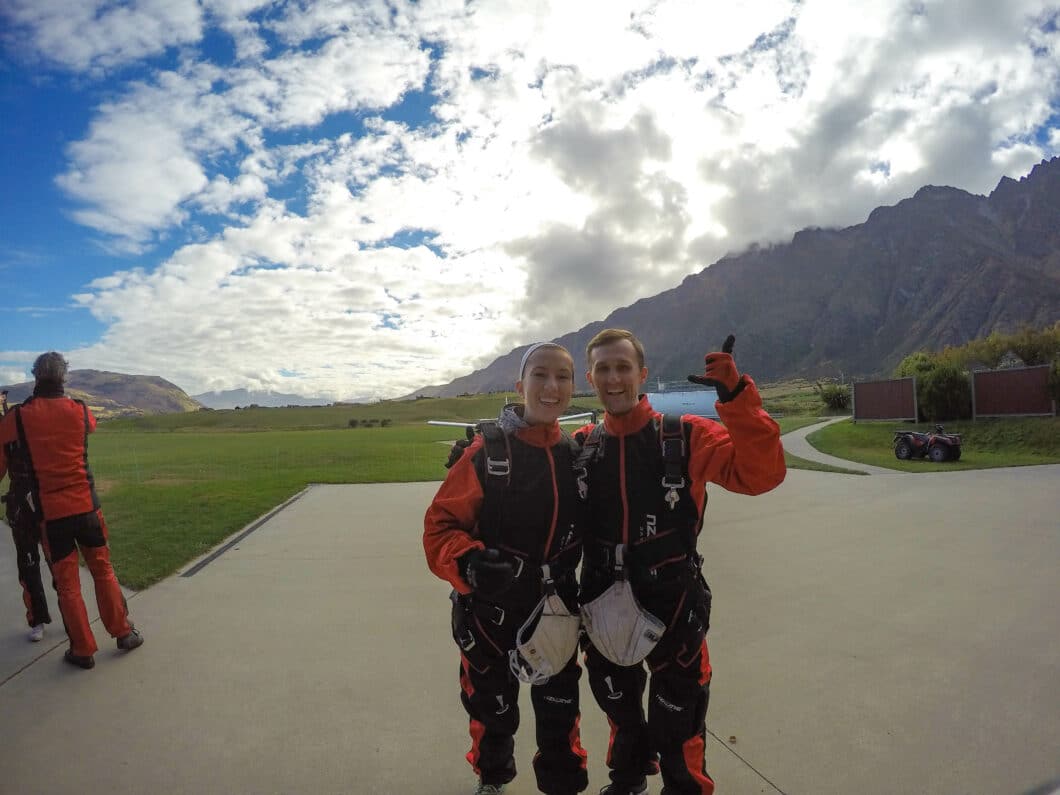 With Queenstown, New Zealand being The Adventure Capital of the World and all, jumping 15,000 feet out of an airplane seemed like a reasonable thing to do while we were there. Right? Plus, we had already gotten ourselves warmed up by going bungy jumping off the world's first bungy jump bridge while we were in Queenstown, and we were ready to try something even scarier!
Jumping at 15,000 feet is the highest option you can do at NZOne Skydive. (There are two lower options too.) My thought was – go big or go home for this one! I had no idea if I would be able to talk myself into doing this again. (I still don't like heights! Haha.) Who would have thought I'd be saying that I just wanted to jump. For someone who was terrified, that is an achievement.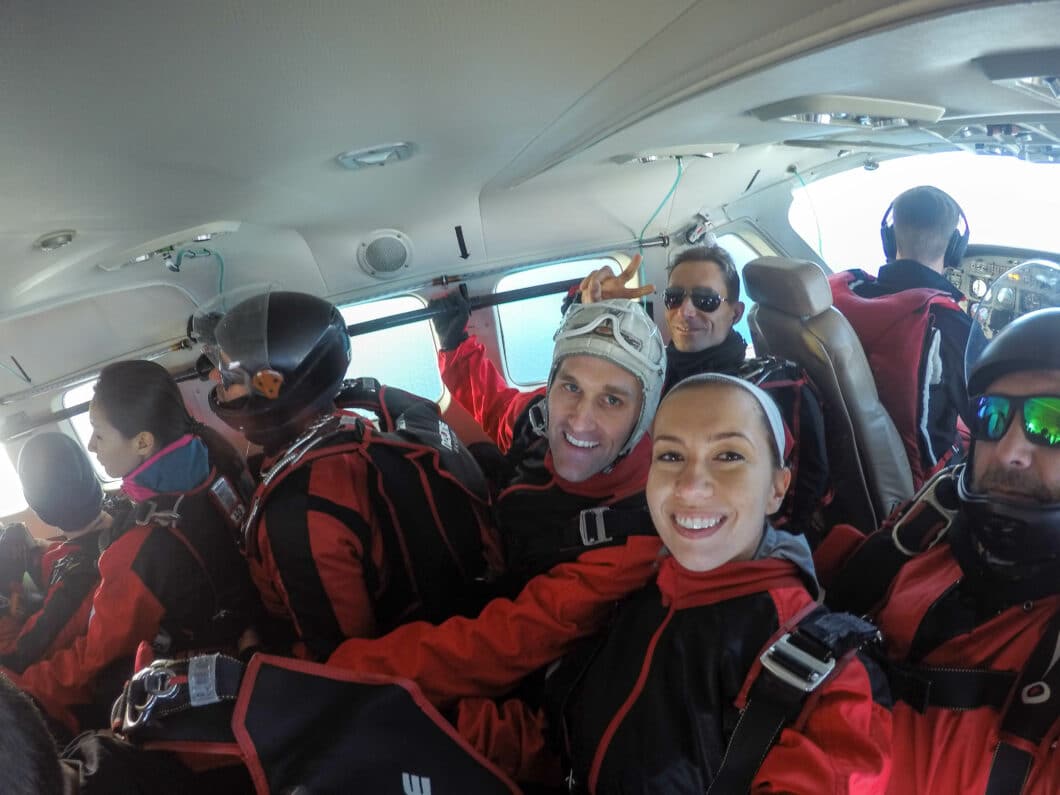 Tandem Jump
And your only option is to go tandem as well. Which, honestly, I preferred for my first skydive! I didn't want to have to worry about how to deploy my parachute or land properly. I just wanted to jump.
And everyone at NZOne was very professional and made us feel comfortable and safe. (These guys are jumping 10+ times a day!) As stupid as it sounds, the only time I had any anxiety was in the photo above because we were almost ready to jump, and I didn't like that I didn't have my goggles or helmet on yet! (I like to be prepared, haha.)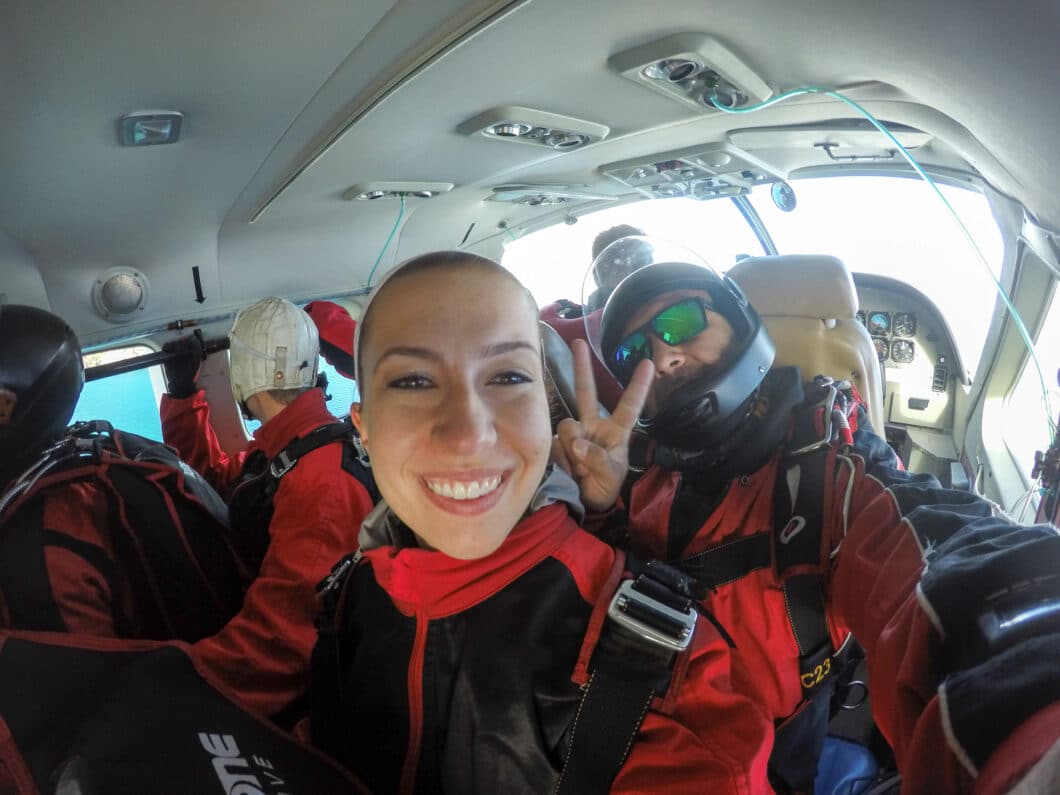 Our videos!
Below is my video of my jump! I'll go into details about your options for purchasing photos/videos and my thoughts on this at the end of the post. (Spoiler, though, I wasn't too pleased with the videos & re-edited them myself. More on that later, though.)
If you're just interested in seeing my face as I jump out of the plane and not all the stuff leading up to it – head to the 1:40 mark, haha. Do you think I cried or laughed? 😉
My video
I actually had a really good time! It felt like we were free-falling forever! I wasn't scared at all once we jumped out of the plane, believe it or not. And the only things I didn't like about the experience were my ears started to hurt really bad, and my lips were getting chapped. Haha. Granted, though, I'm kind of a wuss when it comes to my ears and pressure changes. (My eardrum burst a million years ago, and I swear it still bugs me when I fly, swim, etc., despite getting it fixed a half million years ago). I'm sure anyone else wouldn't be quite so concerned about their ears. Other than that, though, it was the experience of a lifetime! I also couldn't believe how smooth our landing was. It felt like I just sat down on the grass, no big deal!
But I, personally, liked the way my husband's video turned out a little better. He had some pretty cool shots in his! (I liked that we got to have a quick kiss before we jumped too in his video.) And if you're just interested in seeing his face as he jumps out of the plane – head to about the 1:45 mark! Check it out below.
Zac's video
The Views!
I still can't believe we did it! Haha. I don't know if I feel the need to ever do it again, but I'm really glad we talked ourselves into doing it while we were in Queenstown! And if there was one spot to do it…I don't know if you could beat the views of Queenstown from above. Seriously, the mountain range there (The Remarkables) and Lake Wakatipu are out-of-this-world beautiful!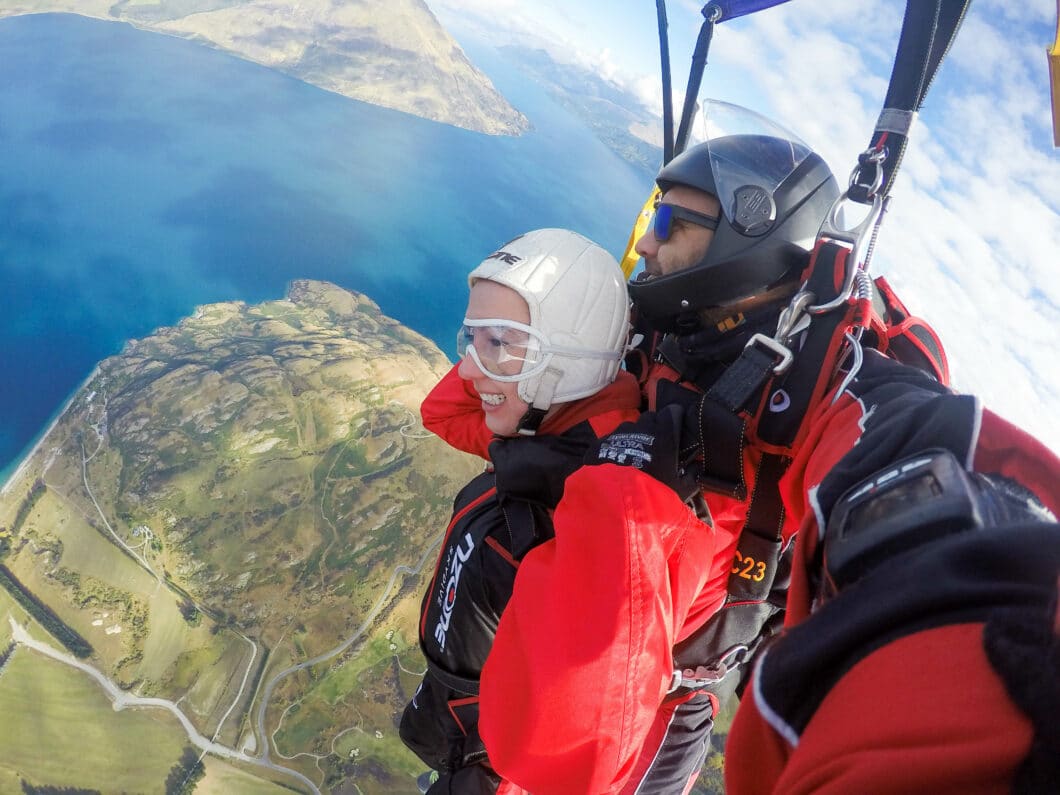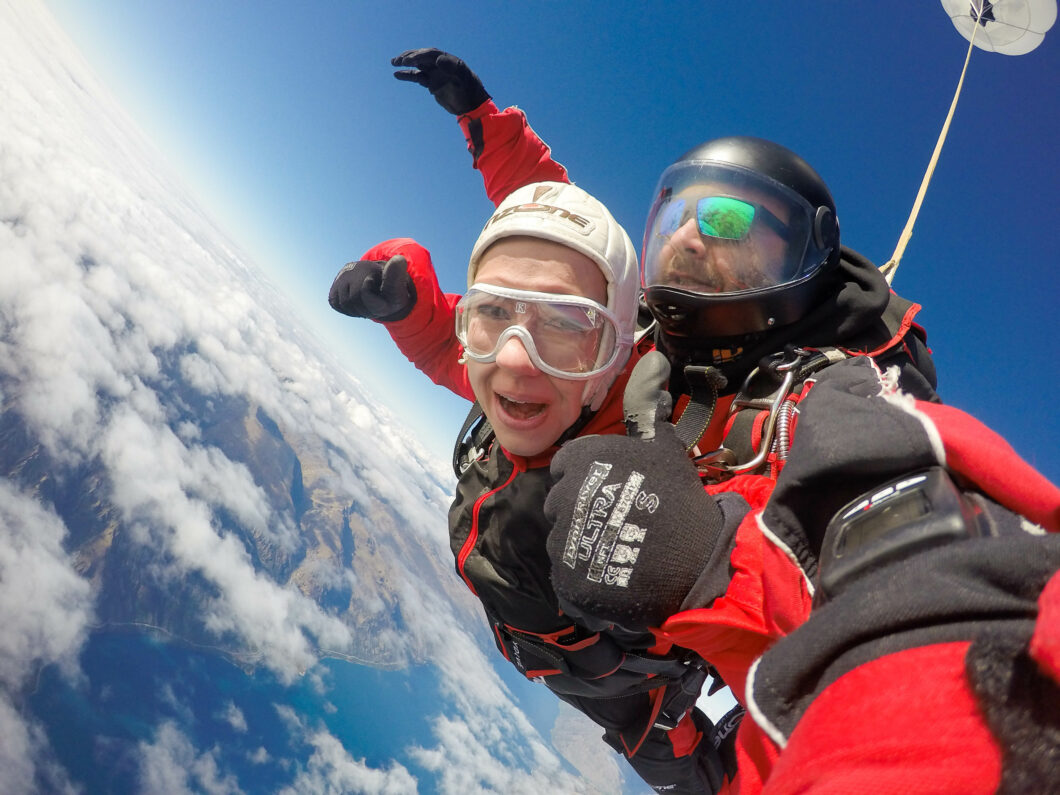 The professional skydive jumpers who went with us were a hoot too. They were cracking jokes and making us laugh the whole time – which I really appreciated!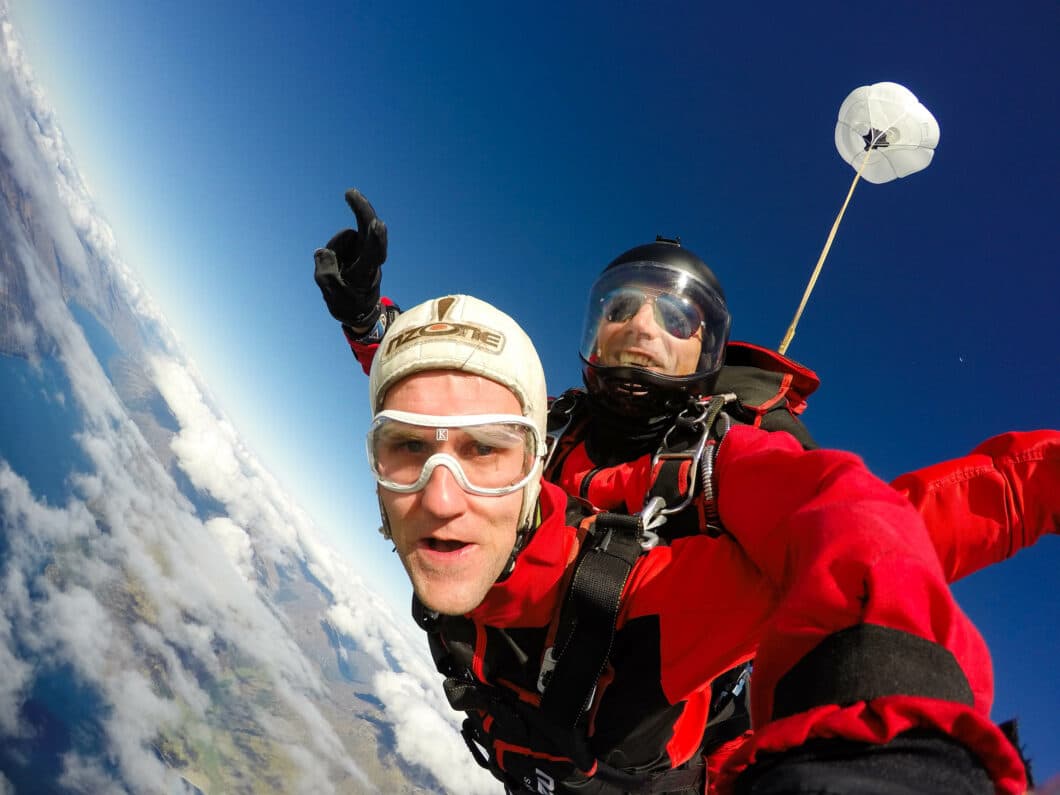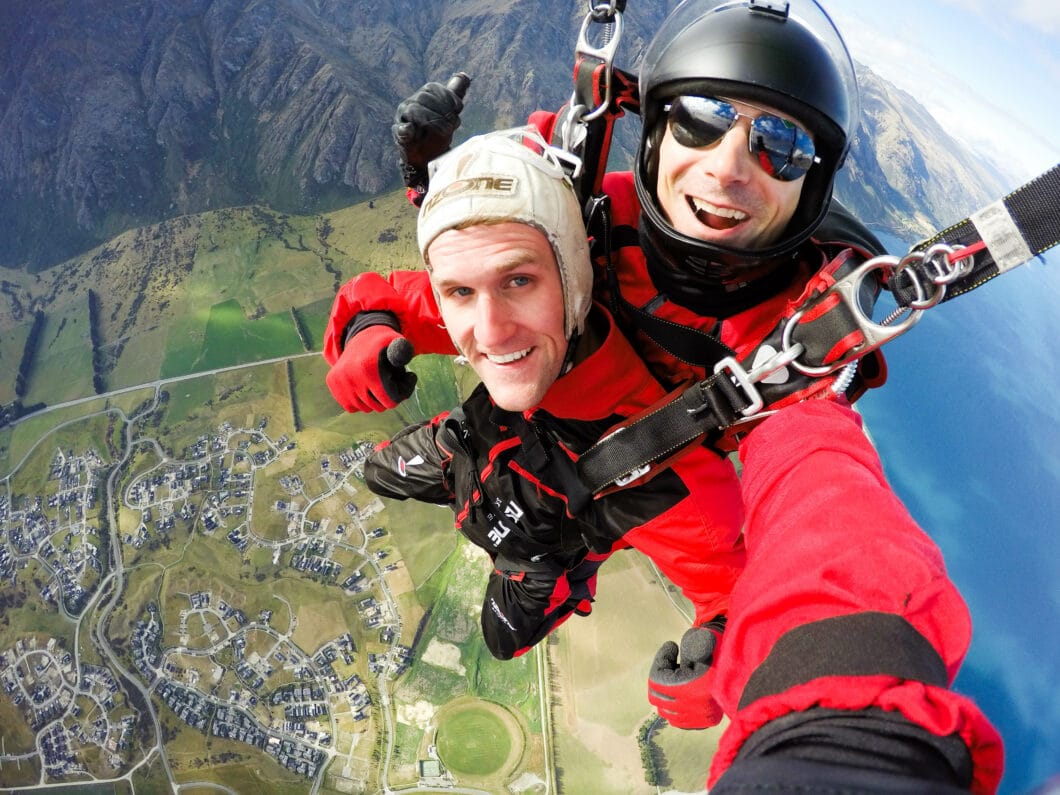 Keep your body like a banana!
Also, when you jump, you're supposed to keep your body in the shape of a banana – head back, hips out and legs back. That's why our heads were back just before we jumped out.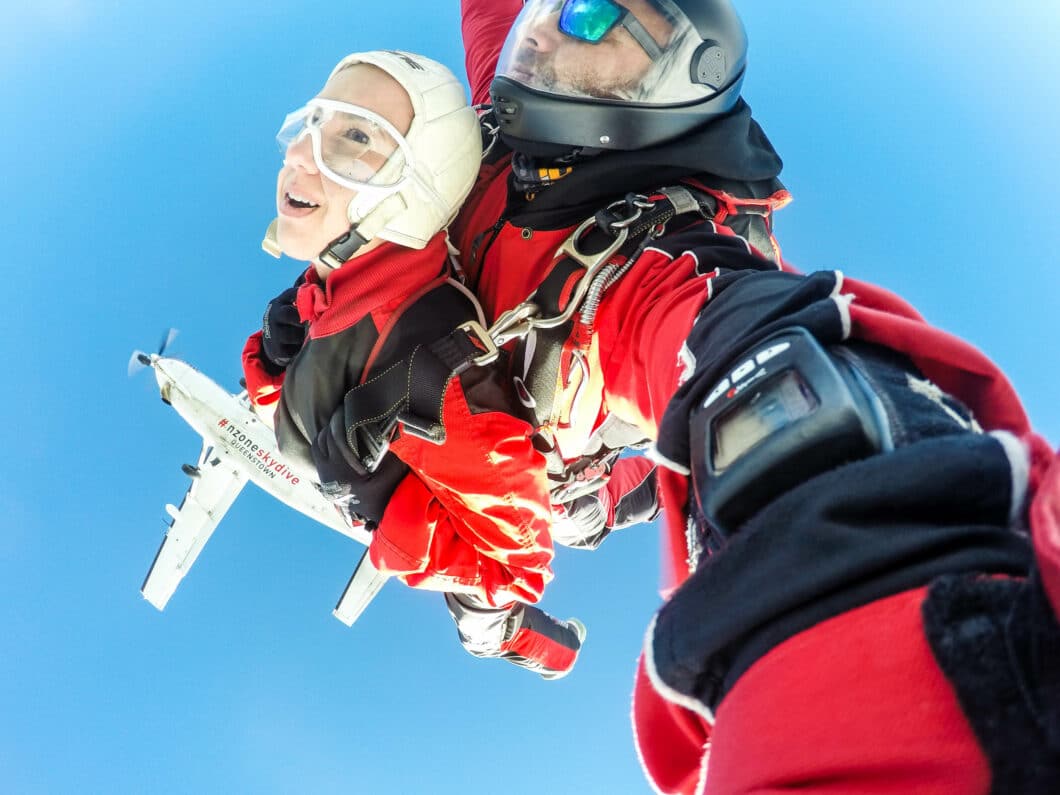 My thoughts on the videos
You're not able to bring your own GoPro with – so, you have the option to have your jumping partner just use a handheld one or have a photographer jump with you to take photos/videos from another angle. That last option I believe was more expensive than the jump itself, so we decided to just do the handheld one. And this was still really expensive, in my opinion. (I think it was $180 NZD if I remember right.) Granted, the guys are really doing a lot of work to get you some good shots, and video editing is never an easy task.
However, the video editor was apparently a new trainee that day and had a tough time editing our videos (especially with mine). They also put in over a minute of promotional material for the skydiving company – which I thought was bogus considering how much money we already spent on the video. So, I went ahead and edited that all out to the best of my ability. I had video editing software already on my computer..but I would've been SO mad about that if I didn't have my own software to edit it out. (More than a minute in video time feels like 10 years!)
Bottom line, though…it was amazing!
Other than my annoyance with the videos, though, this was an amazing experience! And I definitely recommend jumping with NZOne Skydive if you're a newbie skydiver. The views are amazing! Plus, going tandem makes it so much easier, and it was very freeing, in a way, to jump out a plane and know you had no control over what happened next. Quite the experience, I must say!
Have you ever gone skydiving? Or would you ever go skydiving if you haven't yet? Let me know your thoughts in the comments!
Here are a few more photos of our jumps. Feel free to click on them to make them full-sized and to read the captions.
Disclosure: some of the links in this post are affiliate links. Meaning, if you click a link and make a purchase, Have Clothes, Will Travel gets a very small commission. Thank you for supporting the brands that make this blog possible!