20 of the Coolest Villas in Turks and Caicos You Can Rent
Are you searching for the coolest villas in Turks and Caicos for your next vacation? This post has you covered. From luxury villas fit for the Kardashians to cozy 1-bedroom villas with private beaches, there is a villa in here for all tastes.
Staying in a villa while in Turks and Caicos is one of the top choices for vacationers to this gorgeous set of islands. Whether on your honeymoon or simply looking for a reprieve from winter with your family, staying in a villa gives you the opportunity for more privacy and to experience the white sand beaches of Turks and Caicos… away from the busy resorts and hotels.
If you're curious just what makes a villa worth the hype, check out the exquisite listings below!
*Disclosure: some of these links are affiliate links. Meaning, if you click a link and make a purchase, Have Clothes, Will Travel gets a very small commission at no extra cost to you. Thank you for supporting the brands that make this blog possible!
---
The Coolest Villas in Turks and Caicos to Rent for Your Vacation
---
Luxury Balinese Style 2-bedroom Villa with Pool on Smith's Reef
A newly renovated 2-bedroom Balinese-style villa that exudes modern comfort felt in its decorative lighting, tiled walls, pop art pieces, and teak ceilings. The living room and the pool are located on the second floor, lending to spectacular views of Turtle Cove and Smith's Reef. Guests are also encouraged to try snorkeling and paddleboarding since the reef has one of the best underwater sceneries on the island.
---

Luxury 6-bedroom Oceanfront Villa with Pool and Courtyard
The turquoise sea of Long Bay may be alluring, but this picturesque 6-bedroom villa also has enough charm to entice first-time travelers. The property is secluded by lush greens and white-sand beach, while exquisite hand-crafted tiles and unique designs adorn the villa. It has the amenities of an exclusive luxury resort featuring a private courtyard, heated pool, expansive terraces, and large baths.
---
6-bedroom Villa Blue Vista with Heated Infinity Edge Pool
All tranquil shades of blue can be seen in this 6-bedroom vacation villa in the Turtle Tail neighborhood. It has a gourmet kitchen and a large living room with glass walls to incorporate the dazzling views of the ocean outside. Another luxury feature is the 2600 square feet pool deck with an expansive cantilevered roof and the infinity edge heated pool that can be enjoyed by the whole family.
---
Tuscan-inspired 4-bedroom Villa Roi Soleil
A 4-bedroom villa inspired by Tuscan and Caribbean old-world charm. The centerpiece of the property is the curved infinity-edge pool offering unobstructed 180-degree views of the surrounding ocean. It has an outdoor cooking area for guests wanting to dine under the stars. There's also a gated wrap-around staircase leading to the villa's private beach with loungers and watercraft.
---
Spacious 4-bedroom Adam and Eve Waterfront Villa
Adam and Eve Villa is a modern 4-bedroom, 5-bathroom property strategically located near restaurants and hub spots for guests to explore the local fare but far enough for them to enjoy the solitude of beach life. It has a fully stocked gourmet kitchen, boat dock, outdoor barbecue grill, and a curved edge swimming pool with a swim-up bar.
---
7-bedroom Oceanfront Villa with Two Private Docks and Pool
Nestled on tranquil Taylor Bay is this 7-bedroom, 8-bathroom oceanfront villa spacious enough for family reunions, weddings, and get-togethers. It's furnished with decorative art pieces from around the world and has two private boat docks and tennis courts. It has a pristine pool and a private beach for those who want to enjoy the calm Taylor Bay waters.
---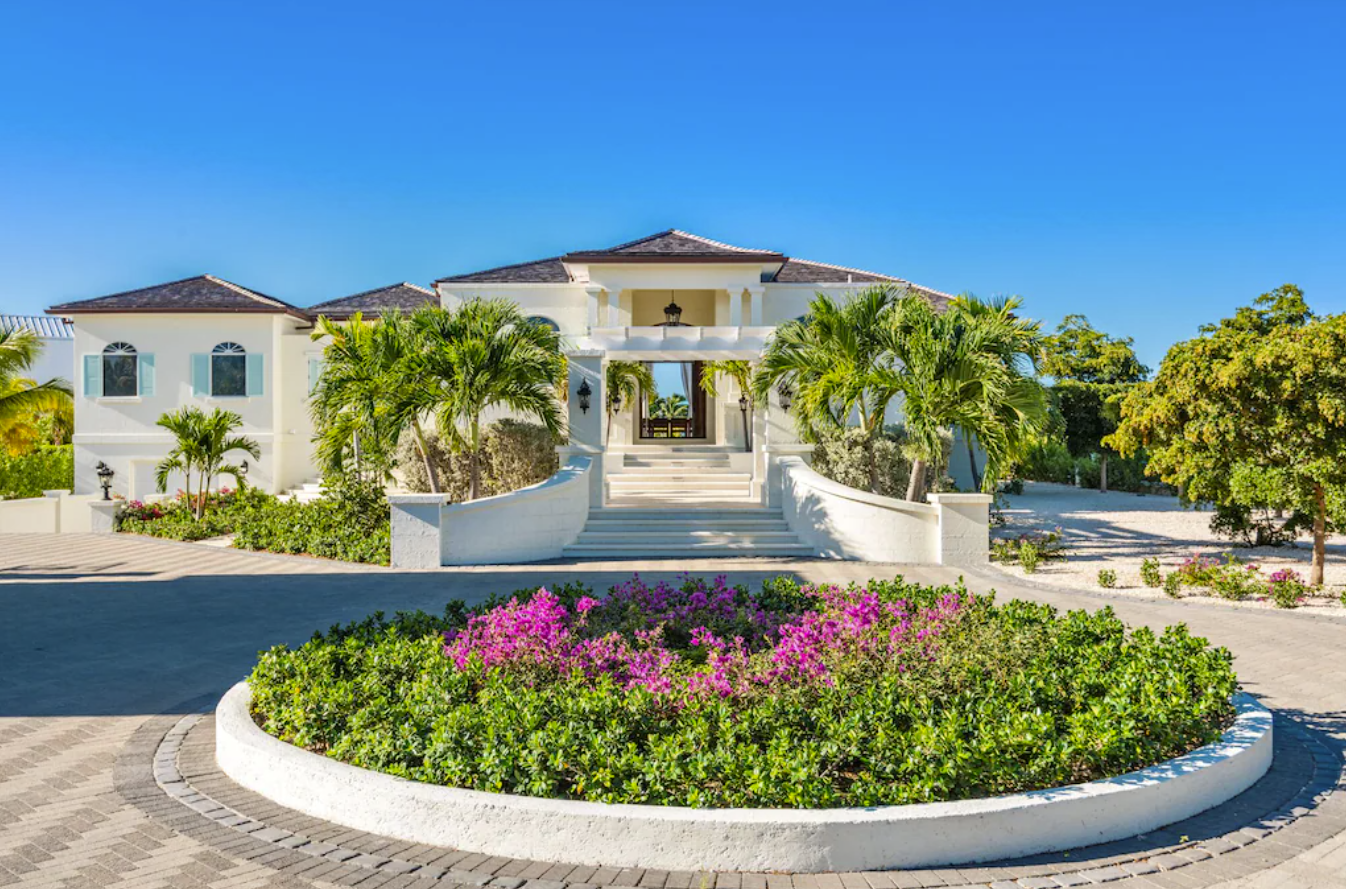 Newly Renovated 4-bedroom Villa with Infinity Pool
A luxury beachfront retreat with four bedrooms and six bathrooms that can accommodate up to 12 persons. The open living space is decorated with a soft and soothing palette enhanced further by the stunning ocean views. Guests can look forward to a beautiful cove with shallow turquoise waters just a few steps from the villa. It also has a large pool with a deck and loungers, an outdoor kitchen area, a guest house, and a volleyball court.
---
3-bedroom Caribbean Villa with 360-degree Ocean Views and Pool
Sunrise Ridge Villa is a 3-bedroom, 4-bathroom property situated on one of the highest points of Providenciales, thus affording a dazzling 360-degree view of the whole island. Guests can expect a cool breeze and magnificent sunsets all year round. Outside is a large swimming pool with a covered hammock and loungers for chilling.
---
2-bedroom Sunrise Ridge Villa with Pool and 360-degree Ocean Views
A 2-bedroom villa located on one of the highest points in Providenciales. No raucous neighbors or resorts surround the property, so guests can relax in complete solitude. The villa is equipped with modern amenities for a comfortable stay. There's a deck offering a spectacular 360-degree view of the ocean and landscape, an infinity pool, and a five-acre nature trail.
---
Kisiwa 6-bedroom Beachfront Villa with Pool
An East Africa-inspired 6-bedroom, 6.5-bathroom villa adorned with Kenyan furniture, elegant decors, and thoughtfully designed architecture. Hardwood floors, reclaimed beams, and a genuine thatch lend to the authentic Caribbean vacation experience. There's a private pool, shaded lounge/dining areas, a yoga deck, and unparalleled sweeping ocean views.
---
6-bedroom Luxury Cabuya Villa with Infinity Edge Pool
This 6-bedroom, 7-bathroom Cabuya villa exudes laid-back elegance as seen in its floor-to-ceiling glass paneling and infinity edge pool spilling onto a private beach with a dock. A shaded alfresco dining area with lush grass lawns and swaying palm trees makes for an exquisite cocktail party. There's also a wildlife preserve for outdoor enthusiasts to explore and kayak through nearby mangroves, bird sanctuaries, and uninhabited cays.
---
Cozy 1-bedroom Oceanfront Bougainvillea Villa
A cozy 1-bedroom villa perfect for couples or singles looking for a home base in Grace Bay beach. It's clean and cozy, with a beautiful French balcony overlooking a lush tropical garden; it's also a few steps to a private beach. It has every amenity a guest would need, including a kitchenette with appliances and a private bathroom. The villa also provides friendly staff for cleaning and other five-star services.
---
2-bedroom Caribbean Villa with Pool in Long Bay Beach
A modern villa mixed with bungalow-type architecture and coral-stone walls is ideal for a family holiday or tropical honeymoon. This 2-bedroom, 2-bathroom property is surrounded by lush flora for privacy. The sunny terrace has a private pool with loungers, a shaded dining area, and an outdoor kitchen with barbecue amenities. It's also close to Long Bay Beach, where guests can swim and watch kite-boarders surf through the turquoise waves.
---
Private 3-bedroom Villa with Panoramic Views and Infinity Edge Pool
A hidden gem away from the usual crowds of Grace Bay is this 3-bedroom, 4-bathroom villa with miles of white sand, turquoise waters, and unparalleled tropical sunsets. Guests will have the whole 2200 square feet rental to themselves, complete with a sleek infinity-edge pool, deck, outdoor shower, and full kitchen. A short drive leads to Taylor Bay and Sapodilla Bay—two of the most popular destinations in Turks and Caicos.
---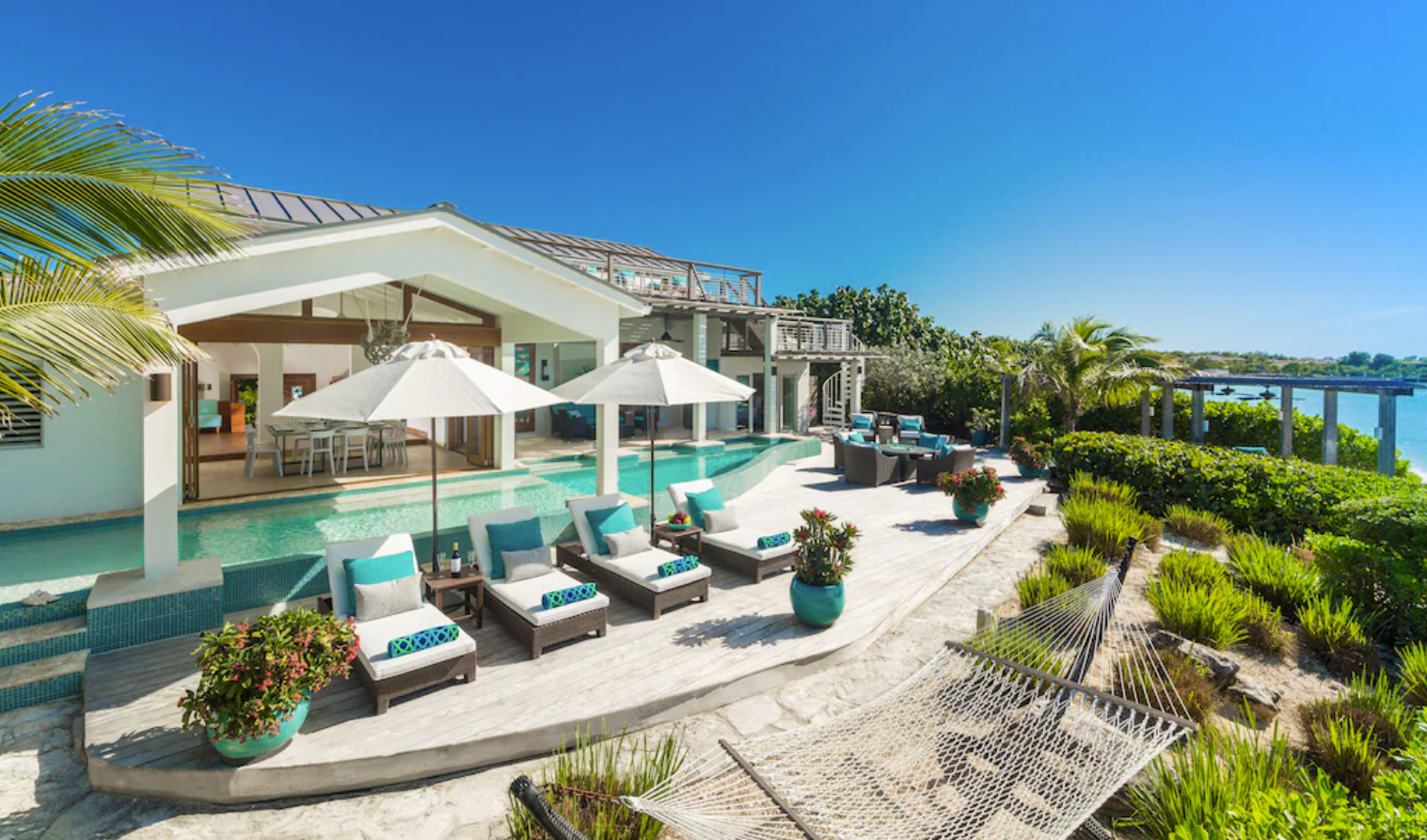 5-bedroom Luxury Villa with Pool on Sapodilla Bay Beach
A newly renovated luxury villa right on Sapodilla Bay Beach. Arched columns and tall glass doors in the spacious living area open up to incredible ocean and pool views. The villa has five bedrooms and four bathrooms that can accommodate up to 13 persons. Outside is a 50 ft. curved edge pool with a shaded area, and the beach is only 50 feet away from the property, where watersports rentals are also available.
---
Modern 2-bedroom Beachfront Villa with Pool
A newly built 2-bedroom, 2-bathroom villa with an open modern floor plan and 10-foot ceiling. Limestone coral French pattern lines the interior and exterior spaces, and the patio deck features a glass railing that offers unobstructed views of the ocean. This one-of-a-kind gem's other luxury feature is the pool with waterfalls; glass walls enable guests to view the surrounding space from underwater and from outside the pool area.
---
Mediterranean 3-bedroom Beachfront Villa with Pool – North Caicos
Nestled on the serene Caribbean Island of North Caicos is the 3-bedroom Villa Cecilia, complete with a pool and private beach. There's no shortage of fun and comfort in this private oasis; there's a gourmet kitchen complete with appliances and furniture. The foyer lends to spectacular panoramic views of the ocean, where there's also an integrated breakfast nook and a wet bar for intimate parties.
---
Modern 2-bedroom Luxury Villa with Pool in Long Bay Beach
A slice of paradise located in Long Bay Beach, this 2-bedroom, 3-bathroom white villa is designed to delight weary travelers eager to dive into some tropical fun. The villa is relatively new since it was just built in 2020; it's clean, spacious, and bright, with practical amenities found in a home. It's designed to mix outdoor bliss with indoor comfort and has a private pool with a patio and beach to boot.
---
4-bedroom Luxury Villa with Heated Pool and Jacuzzi
Come home to this cozy and modern 4-bedroom, 4-bathroom villa after a glorious day of exploring Turks and Caicos. Fire up the outdoor grill and hang back in the shaded outdoor lounge or dining area. Have cocktails by the heated pool and jacuzzi, or better yet, read a book and relax in the hammock grove. The villa is also close to the best beaches, restaurants, and cultural centers.
---
---
4-bedroom Villa YOLO with Pool on Grace Bay Beach
This 4-bedroom, 3-bathroom luxury villa will have guests living it up, as the name Villa YOLO suggests, You Only Live Once. It's in a prime location from Sunset Beach and Pelican Beach which are part of the world-renowned Grace Bay Beach. The property is custom-finished with bold Caribbean colors and features a palm-planted backyard, shaded cabana, fire pit, barbecue grill, a large pool, and a whirlpool.
---
Which of these villas in Turks and Caicos is your favorite? Let me know in the comments!