4 Ways to Style a White Eyelet Midi Skirt

You asked, and I have delivered! Haha. A couple of outfit posts ago, I had featured this white eyelet midi skirt and realized it could certainly be made into an outfit remix post if there was enough interest. And the comments section has spoken! An outfit remix post must be made! (Thank you for the feedback, everyone.)
A white skirt is basically a blank canvas – you can style it any way you choose. However, it's nice to have a little inspiration too! So, without further ado, here are four different outfits featuring one white eyelet midi skirt.
4 Ways to Style a White Midi Skirt
(In order of oldest to newest outfit post)
1.) Black & White: Black Top, White Eyelet Midi Skirt, & Heels!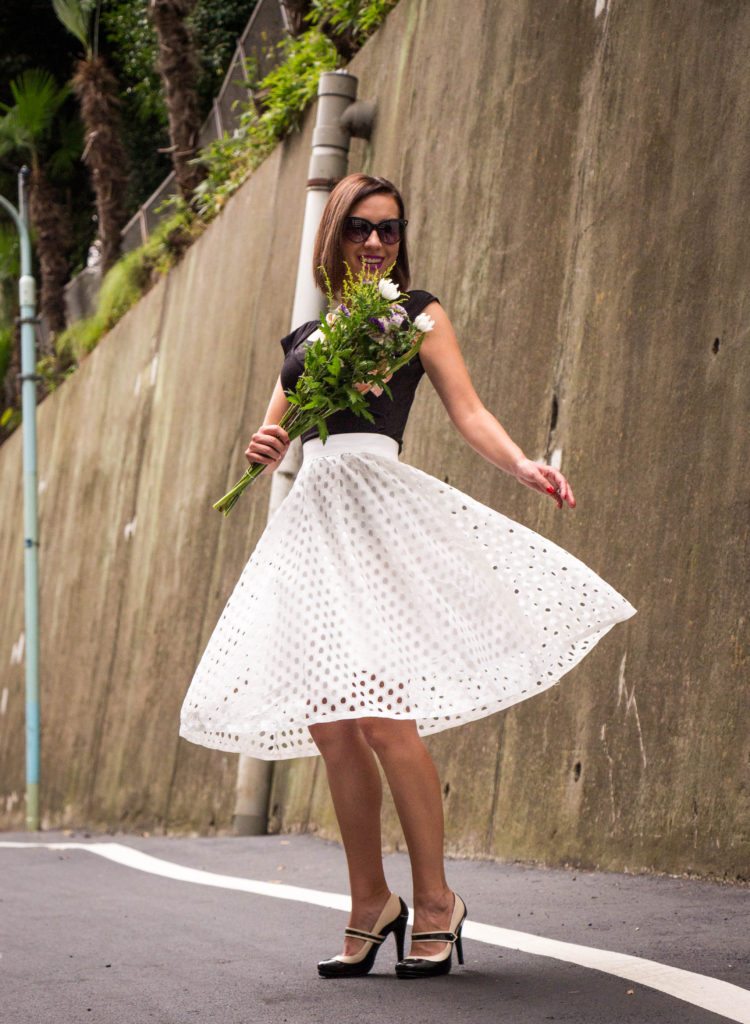 This was my first attempt at styling this midi skirt. My first thought when I saw it was to do a classic black-and-white look for my 2-year blog anniversary! This is also my most worn look with this skirt. (Although, I tend to swap out the heels for a pair of black wedges these days – much easier for walking!)
See the outfit on my 2-year blog anniversary post!
2.) A Vintage Flair: Navy Cardigan & Yellow Top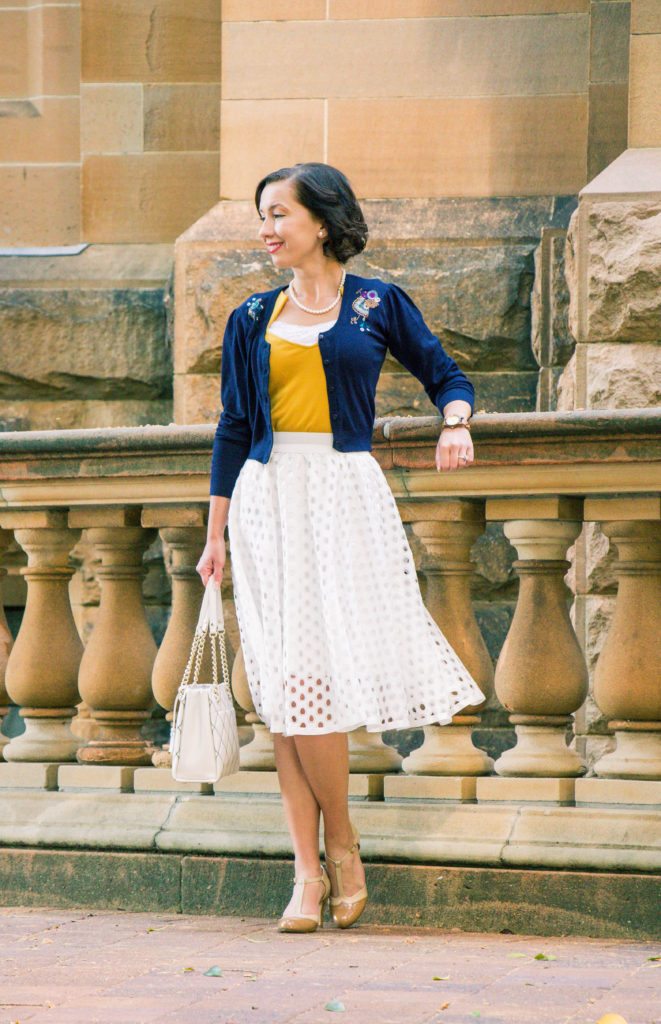 A resounding fan favorite, there are very few outfit posts that have received the level of love that this one did. And this was one of those posts that ended up happening because this cardigan and skirt were hanging next to each other in my closet – it was fate! And this outfit was worn for an inside look at the Sydney Opera House plus dinner at its restaurant.
Read all about this vintage-inspired outfit here!
3.) Team Instinct: An Everyday Casual Outfit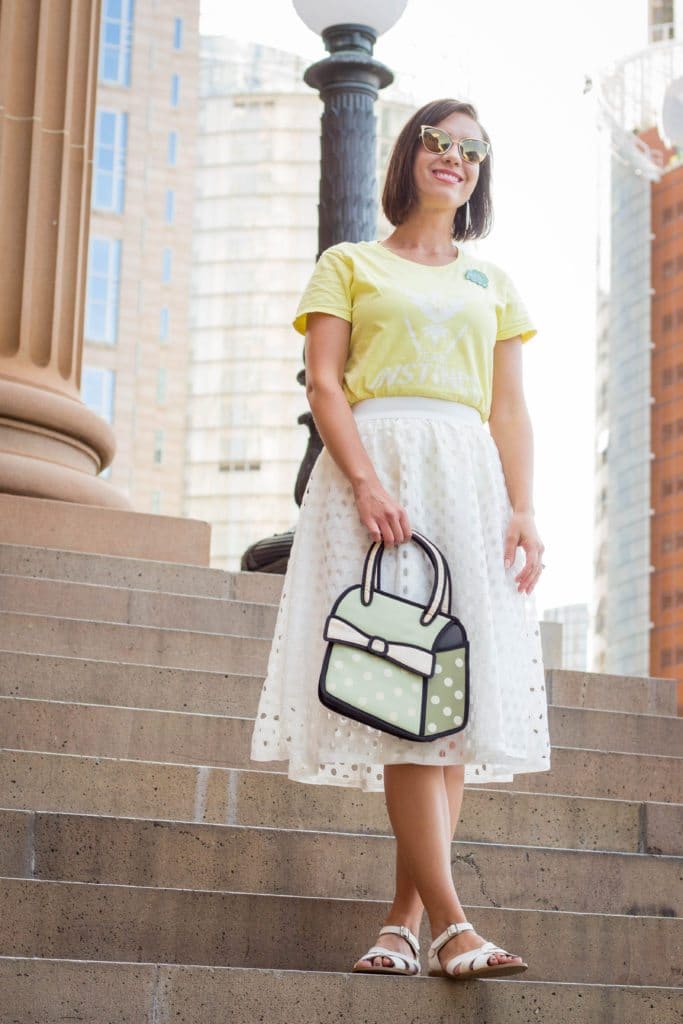 My husband and I both (still) play Pokemon Go. This outfit was a tribute to my Pokemon team – Team Instinct. (Nerd alert! As my sister-in-law would say, haha.) This skirt was a fun way to take a t-shirt and spice it up a bit!
Read all about my Pokemon Go Team Instinct outfit here!
4.) Bowdacious Bow Outfit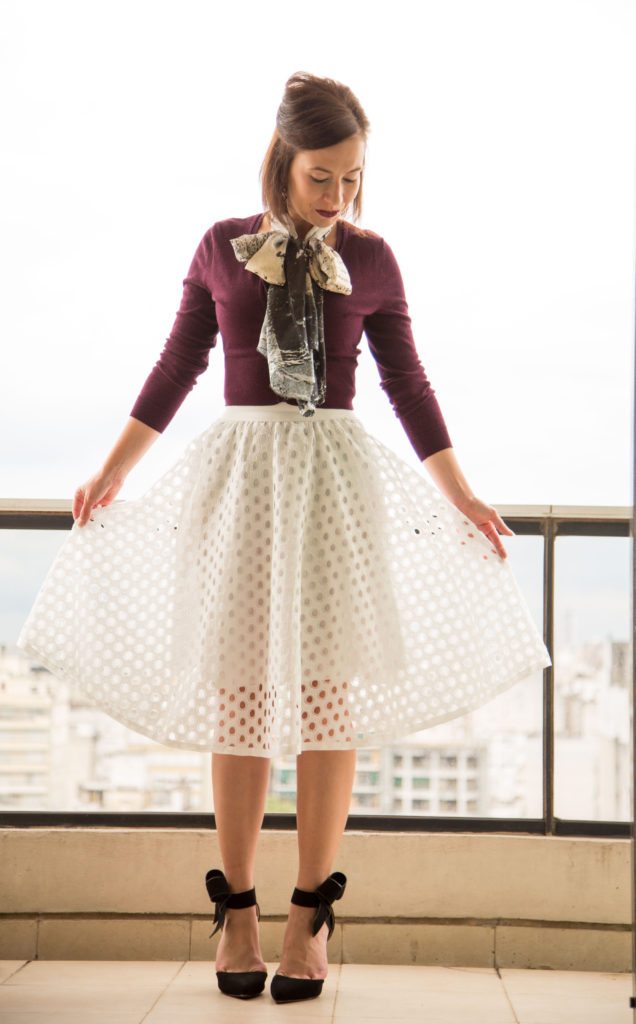 My most recent outfit post featuring this skirt is actually what sparked the outfit remix idea in the first place! There is something so classic and vintage-feeling when it comes to cardigans and midi skirts. I just loved the finishing touch of adding a scarf too!
Read all about my dressed-up bowdacious bows outfit here!
How would you style a white, eyelet midi skirt? Let me know in the comments! And don't forget to shop this skirt!

I am also very excited to have not 1, but 2 blog posts featured in Links a la Mode this week! This is also the first time I've been on the cover of Links a la Mode! 🙂
Links à la Mode, October 12, 2017
If you like it, Pin it!
Disclosure: some of the links in this post are affiliate links. Meaning, if you click a link and make a purchase, Have Clothes, Will Travel gets a very small commission. Thank you for supporting the brands that make this blog possible!