The Most Versatile Maxi Dress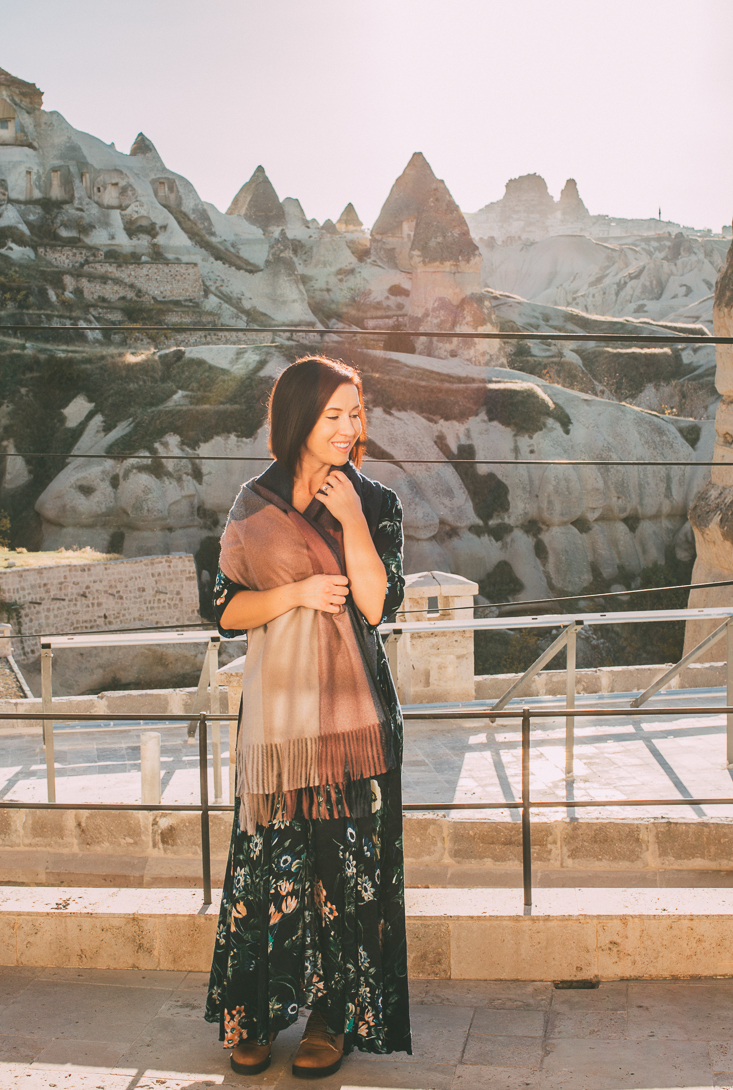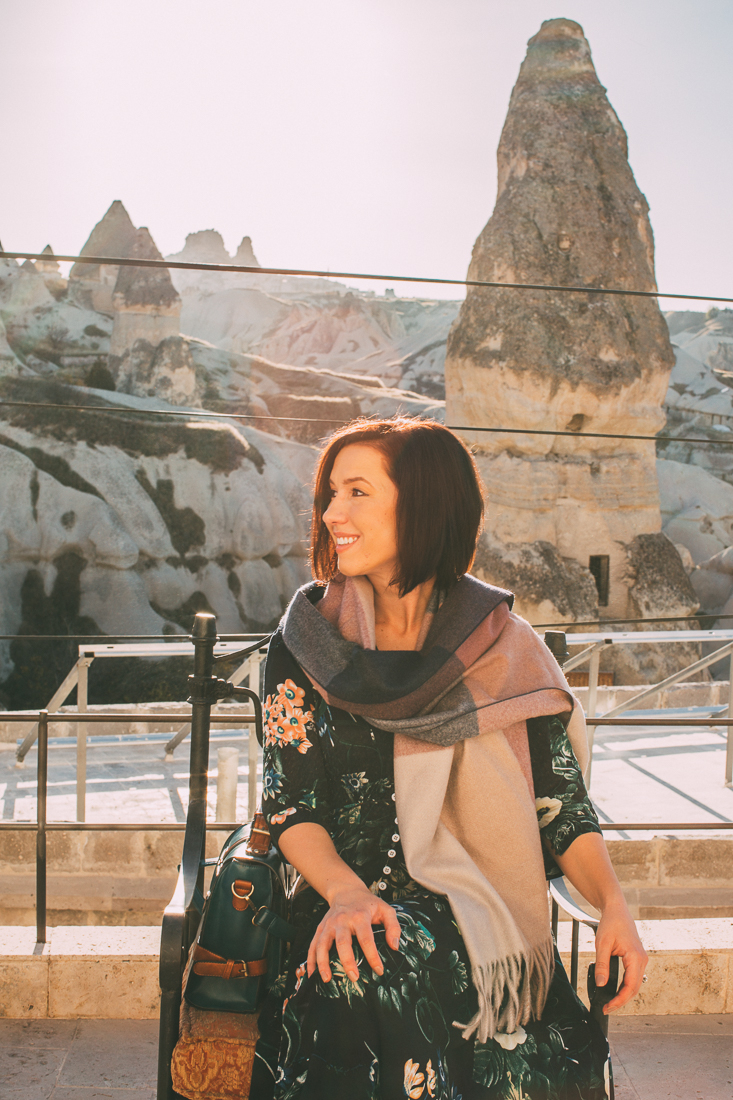 Dress | Scarf c/o* (Similar here & here) | Boots c/o* | Bag (similar)
This maxi dress continues to appear on my blog no matter what season or occasion it is. Sometimes it's being worn for dinner or drinks in the fall and winter, other times it's simply worn to run errands in the summer…and here it's being worn for an adventure in Goreme, Turkey! Yeah, sorry, we're going back to Turkey for the next few posts. I wasn't totally done with all my Turkey content back in November, but the holidays started, and I didn't want to miss out on all the festive fun…so, I took a little break from it.
And now, I'll be getting back to it! I also have to apologize, as I have not been the most responsive blogger on here and social media the past few weeks. I was home for Christmas with my family and then I came back to Moscow on the 29th of December with my brother-in-law and husband. We did all kinds of touring and exploring in St. Petersburg and Moscow and I've barely had time to sleep. But, now, (unfortunately), my brother-in-law has gone back home to the US, and I promise I'll be a far more attentive blogger from here on out!
But I digress…let's talk a bit more about this outfit! I had worn this dress to walk down and do some shopping in Goreme and then have dinner, before going to bed early for our hot air balloon flight in the morning! This dress maxi dress was perfect for the occasiion…it is so versatile and easy to dress up or down. (See other ways I've styled it, here & here.) It breathes really well, and I love the shape it has to it. For the winter and fall, I like to pair it with tights and boots and scarves. It was warm enough in Goreme that I didn't need my tights when I wore it, but a scarf was great to keep me warm after the sun went under.
Two things to note about this dress, though…1.) It does have a rather high slit. I have yet to have a wardrobe malfunction, though, despite the windy conditions I've worn it in. (It just makes me nervous sometimes!) 2.) This dress has A LOT of buttons on the front. They're lovely, but it takes me forever to button them, haha.
Also, I wasn't trying to make any fashion statements by pairing my hiking boots with a dress. These just happened to be the only shoes I had along for this trip! So, that's what I wore. I think it still looks fine enough, though. (Seriously, these hiking boots are the bomb too! So comfy to walk in, AND they're keeping my feet warm and dry through this snowy Moscow winter I'm experiencing.)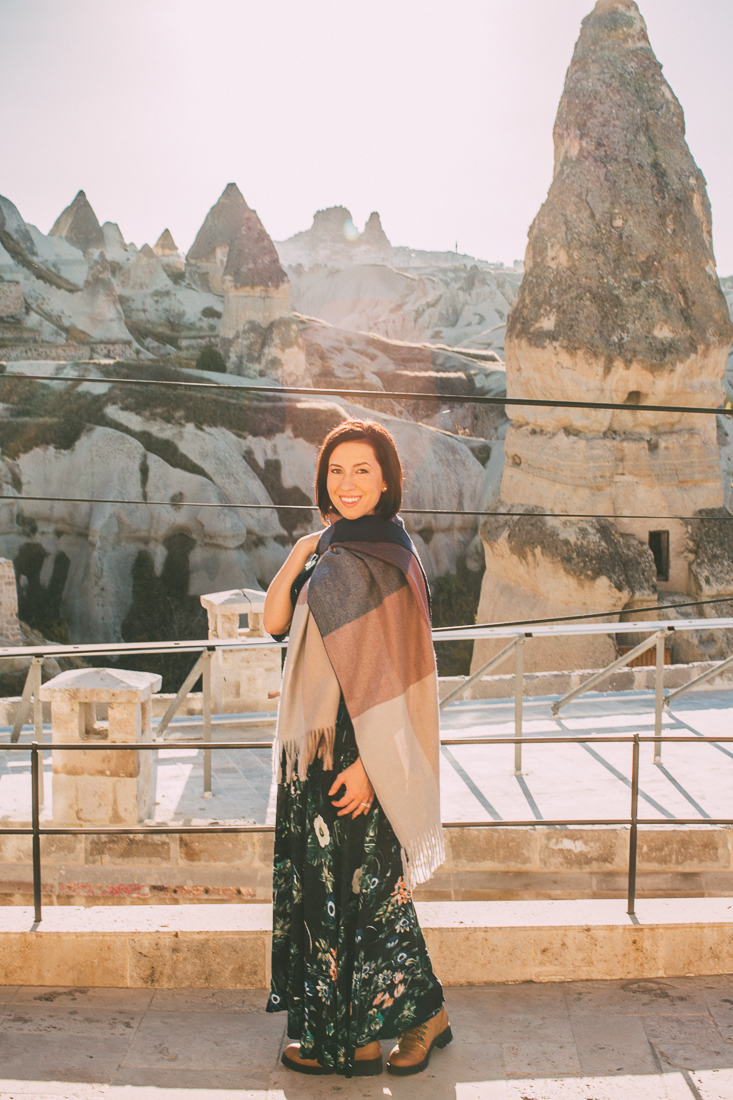 *These photos were taken on the terrace of our cave suite at the Sultan Cave Suites. You can click here to see all my posts from Turkey.
Does anyone else have a maxi dress in their closet they can't stop wearing? Let me know in the comments!
Where to find it:
Dress: Dress
Scarf: c/o* ModCloth (Also here & here)
Boots: c/o* ModCloth (Sold out. Also available here.)
Bag: ModCloth (Similar)

*Disclosure: some of these links are affiliate links. Meaning, if you click a link and make a purchase, Have Clothes, Will Travel gets a very small commission at no extra cost to you. Thank you for supporting the brands that make this blog possible! I am also a participant in the Amazon Services LLC Associates Program, an affiliate advertising program designed to provide a means for us to earn fees by linking to Amazon.com and affiliated sites.
*c/o = courtesy of, meaning the company gave me the product to be used on my blog, and I did not pay for it. All opinions are my own, and I am not being compensated for a positive review.