Marchesa Notte Dress Review – Is it Worth the Price?
Marchesa Notte is the sister brand of Marchesa. This American brand is loved by celebrities and has designed dresses for the likes of Cate Blanchett, Scarlett Johansen, Jennifer Lopez, and more. They feature beautiful cocktail dresses and gowns, as well as stunning bridal and bridesmaid dresses.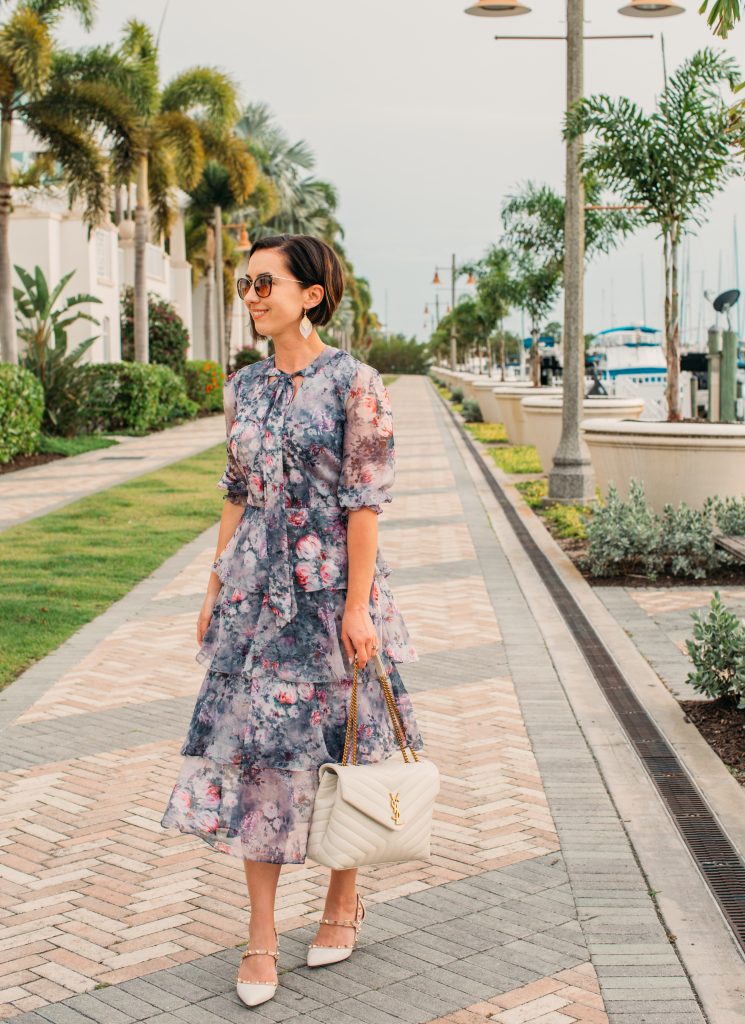 The dresses feature a vintage flair and timeless style. Marchesa is very much my personal style, so I was quite excited to try them for myself.
The dress this post is focusing on is the Floral Printed Chiffon Tiered Midi Dress by Marchesa Notte. It's a floral printed chiffon-tiered midi dress with a delicate neck tie detail, sheer balloon sleeves, and multicolor floral design.
I will be reviewing its overall quality, sizing, price, and versatility. I'm also happy to answer any questions anyone has in the comments section at the end of this post.
Use code "CLOTHES" for 20% off your Marchesa order + free shipping
Review of Marchesa Notte Floral Chiffon Dress
*Disclosure: some of these links are affiliate links. Meaning, if you click a link and make a purchase, Have Clothes, Will Travel gets a very small commission at no extra cost to you. Thank you for supporting the brands that make this blog possible!
Marchesa Notte Quality
I have had this dress for a couple of months but didn't get to properly wear it until my trip to Florida last week. The weather has been awful in Wisconsin this spring, even by our standards. (I mean, it was still snowing yesterday!)
So, I can't attest to the longevity of this dress yet, but I can say that it appears to be incredibly well-made. The details on this dress are divine – I love the necktie and the balloon sleeves.
This is a dress that even my now numb-to-my-style choices husband was impressed by. We both gasped when I took it out of its packaging. His first words on it were, "Wow, that is a really pretty dress. Can you wear that for our next company event? It's really cool." Absolutely!
Marchesa Notte Sizing – Is it true to size?
So, I am typically a size 6 in most brands. However, after looking at the Marchesa Notte size chart, it looked like I should order this dress in a size 4. The size 4 fits perfectly, and I would not want this any bigger.
I would just know what your measurements are and look at the Marchesa size guide before placing your order. Their size guide is spot on.
Use code "CLOTHES" for 20% off your Marchesa order + free shipping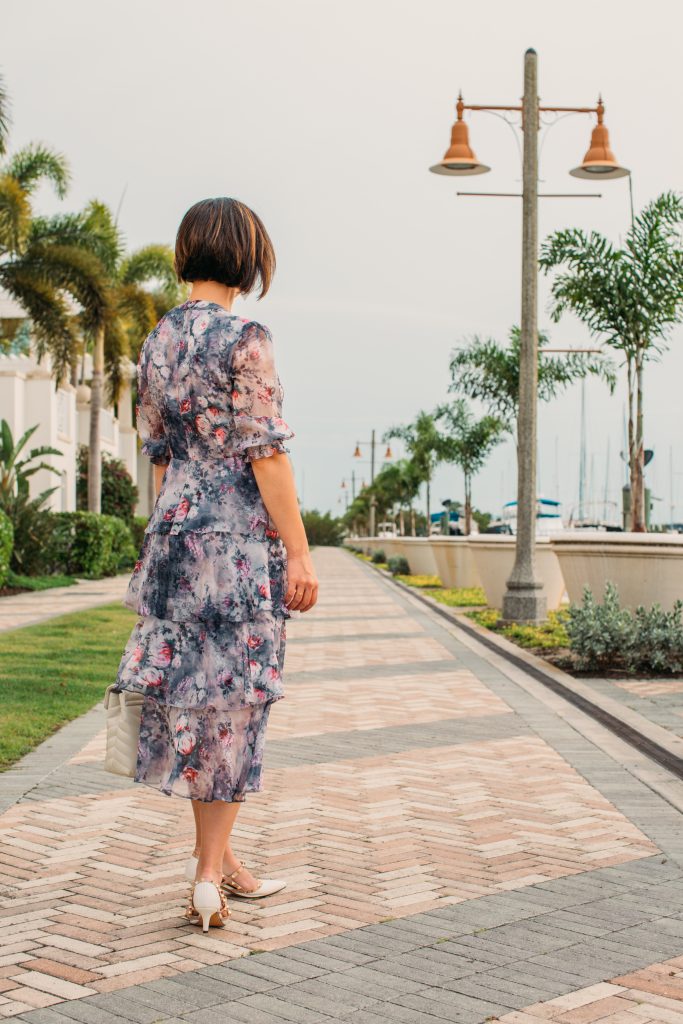 Versatility of Marchesa Notte Dresses
So, I would say Marchesa Notte dresses are definetly more "occasion" dresses than every-day dresses. This isn't a dress I would be wearing out for a day of running errands.
However, Marchesa Notte dresses are perfect to be worn as wedding guest dresses, or for a baptism, bridal shower, special dinner – really any special event. I love that the majority of these dresses are more modest in nature too, so you could wear them for a wide-variety of events.
Verdict: Are Marchesa Notte dresses worth the price?
In terms of the quality and fit – I do think that Marchesa Notte is warranted in the prices they have listed for their dresses. This is one of those dresses in my closet that stands out far above the rest. You can also get 20% off your Marchesa Notte purchase and free shipping by using code CLOTHES. Then, the prices are absolutely worth it.
I have been in the process of downsizing my wardrobe and changing my shopping habits to only include a handful of pieces that I truly love and know I will get many years of use out of. I am prioritizing high-quality, timeless pieces over and abudance of trendy, cheap pieces.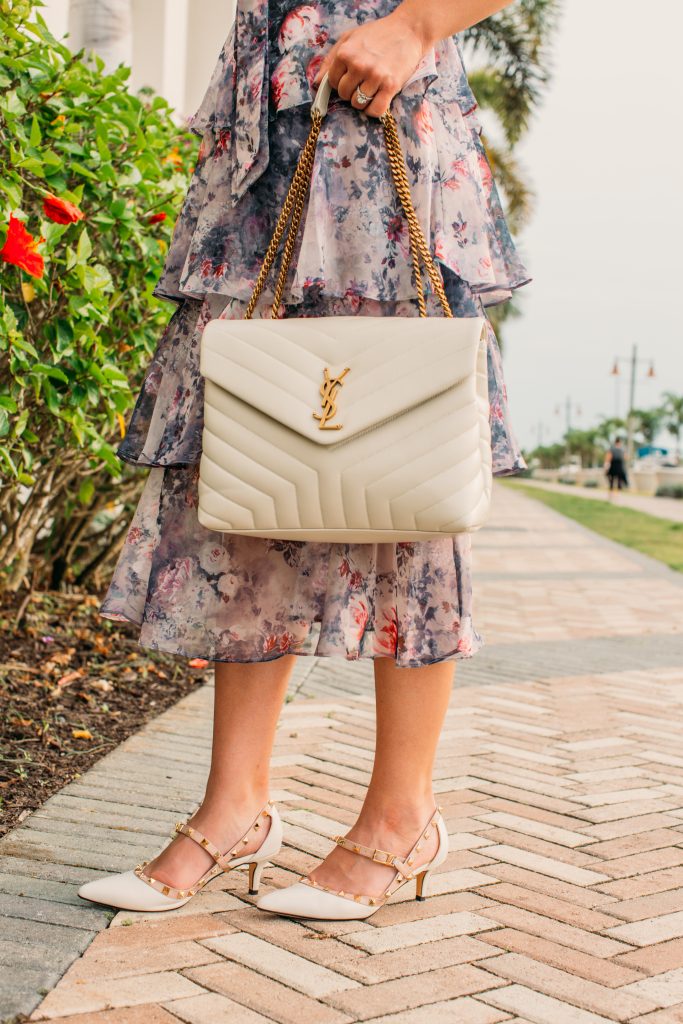 This is also true of my accessories. I have sold the majority of my handbags, in favor of a couple of investment bags – such as my Saint Laurent Loulou bag above. (This bag is getting its own post soon!)
Bottom line: if you're looking for a high-quality, timeless occasion dress – you can't go wrong ordering from Marchesa. Just be sure to double check the size chart and know your measurements before placing an order, and you should have a smooth shopping experience!
Use code "CLOTHES" for 20% off your Marchesa order + free shipping
If anyone has any questions about ordering from Marchesa, I am happy to answer them in the comments at the end of this post.