20 Best Sites to Shop Modest Dresses for Women
Are you searching the internet for adorable modest dresses for women? Stop what you're doing and read this post! I'm sharing my favorite sites that I use to shop for modest dresses online.
Normally, modest is my go-to style. Overly sexy and revealing clothing tends to make me uncomfortable… I feel far more confident in a classy and modest dress! (There's nothing wrong with sexy dresses, I wear them from time to time too – modest is just my personal preference.)
Now, I know modest can be a rather subjective term… so, this is how I describe dressing modestly when it comes to my dresses.
Midi or maxi length (some knee lengths can work too)
Not overly clingy (fitted is OK, though)
Not too low cut (the higher the neckline the better!)
Thicker straps or sleeves (no spaghetti straps)
Fabric isn't sheer
There are plenty of sites out there to find cute modest dresses for this summer. However, the sites below require little to no searching to find them! I, personally, like and shop on all of these for modest clothing.
*Disclosure: some of these links are affiliate links. Meaning, if you click a link and make a purchase, Have Clothes, Will Travel gets a very small commission at no extra cost to you. Thank you for supporting the brands that make this blog possible!
20 Best Places to Shop Modest Dresses for Women Online
1.) ModCloth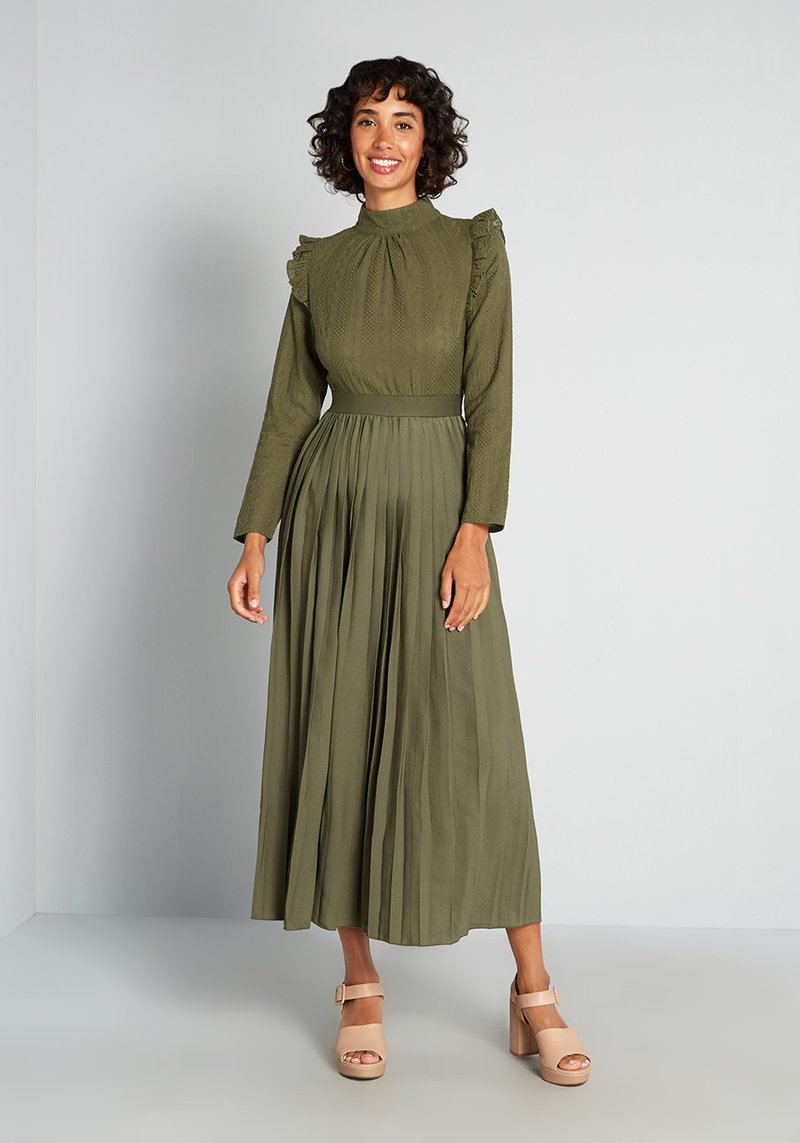 ModCloth is my #1 go-to site for finding modest clothing in general. They feature fun vintage-style and indie dresses, that you're unlikely to find anywhere else! I would say they have modest dresses that are on the dressier side as well as formal dresses. (They also have super cute modest swimwear, blouses, skirts, etc. in a wide range of sizes.) I have a serious ModCloth addiction… you can see the bazillion outfit posts featuring ModCloth clothing on my blog, here.
2.) J.Crew
J.Crew's clothing can best be described as "timeless." Their clothes will last you a lifetime and never be out of style. Their dresses are more on the casual side and are great for everyday wear.
3.) Unique Vintage
Unique Vintage is in the same vein as ModCloth with a plethora of gorgeous, vintage-style modest dresses to choose from. I would also describe Unique Vintage's dress selection as more dressy to formal too. I've been ordering from Unique Vintage for years and can say without a doubt that their dresses are fantastic and are holding up incredibly well over the years of constant wear.
4.) Shopbop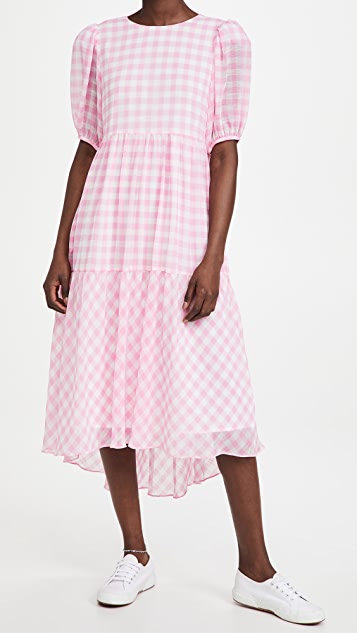 Shopbop is an online retailer owned by Amazon that features tons of different brands and designers – all with free 3-day shipping and free returns. I LOVE this site, especially since they added an entire section dedicated to modest dresses! Now, quite a few of these dresses are out of my price range, but with a little digging Shopbop does have plenty of affordable dresses to choose from too.
Read next: Is Shopbop Legit? My Honest Shopbop Review
5.) Anthropologie
Anthropologie features a beautiful selection of boho chic dresses that are loose-fitting, comfortable and modest! They also have a wide variety of formal dresses – however, these are a mix of less modest. (You'll find a better selection of casual modest dresses than formal ones on Anthro, typically.)
Read next: My top 5 tips for shopping on Anthropologie
6.) Marchesa
Marchesa is a luxury brand based out of New York that features the most stunning dresses. (Celebs like Scarlett Johansson, Cate Blanchett, and Anne Hathaway are known for rocking their dresses.) They feature romantic and timeless silhouettes and designs that are generally quite modest. I have the dress pictured above, and it is absolutely divine!
Use code CLOTHES for 20% off your order + free shipping!
7.) Ted Baker
Ted Baker has some of the classiest most feminine attire out there. While not all of it can be deemed modest, there is certainly a great selection. Ted Baker dresses can range from work-appropriate to formal wedding guest dresses. (I also LOVE Ted Baker skirts and heels.)
8.) Closet London
Closet London is a UK brand I was introduced to via ModCloth. They make the most beautiful midi dresses, in my opinion! I'm especially a fan of their selection of floral dresses. Closet London dresses range in style from office appropriate to formal.
9.) Nordstrom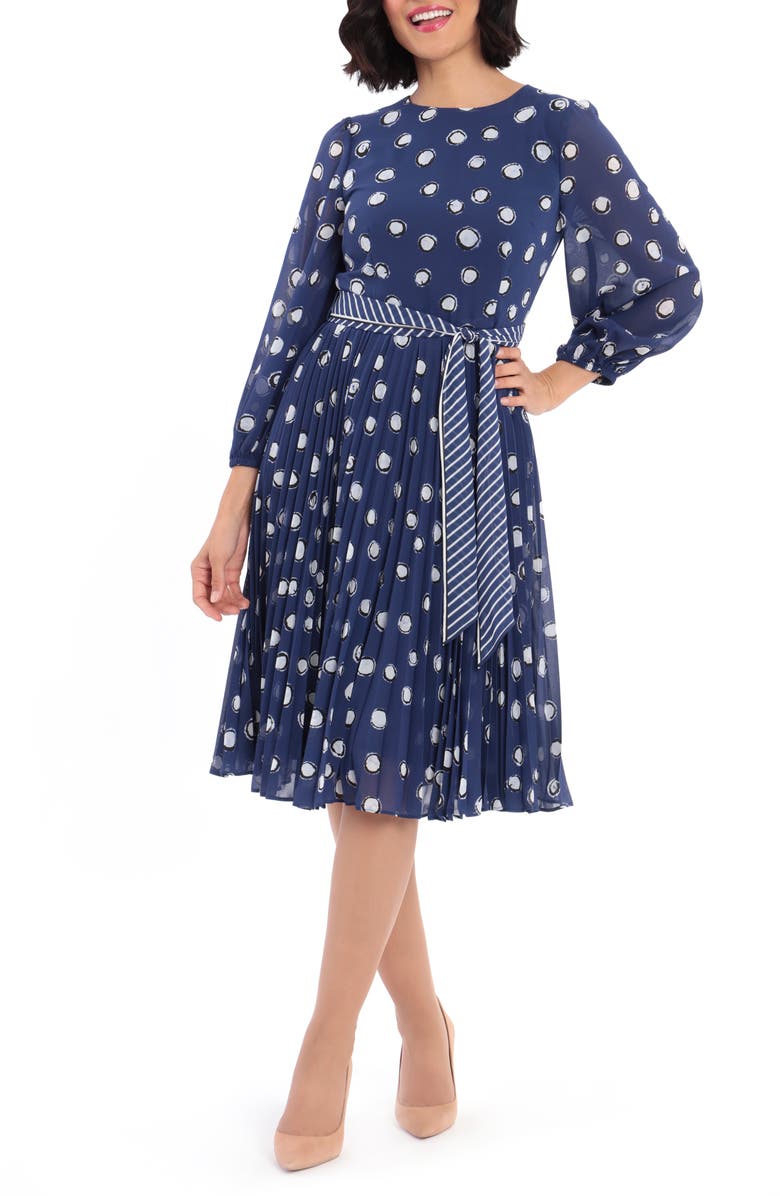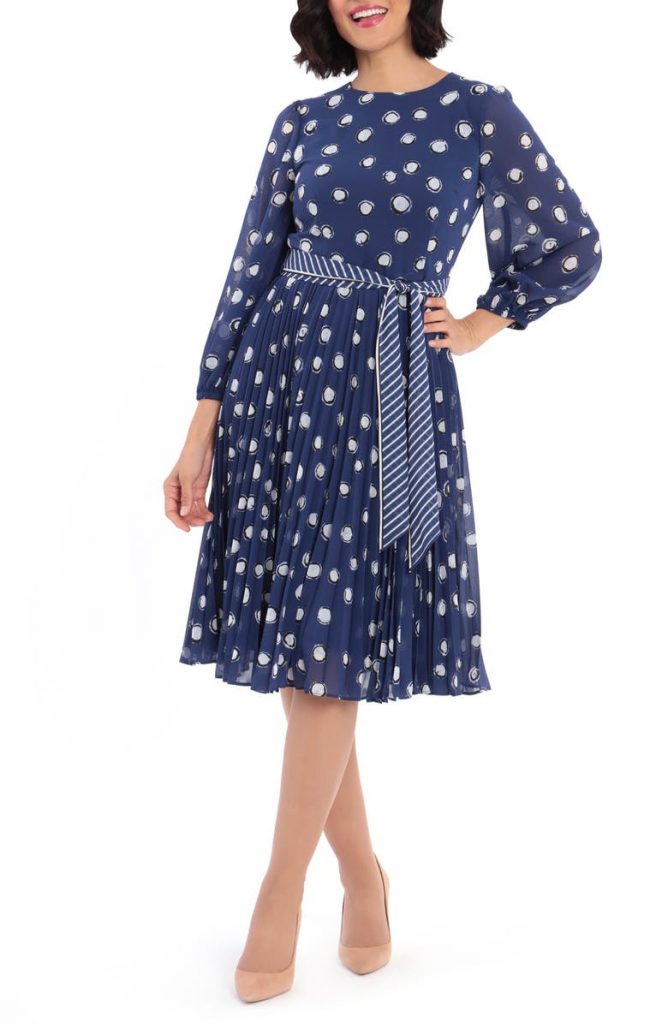 Nordstrom is another of my favorite stores to shop for modest dresses. They have nearly every style of dress under the sun! While Nordstrom does have its fair share of dresses that would decidedly NOT modest, they do have just as many modest dresses to choose from.
10.) Miss Patina
Miss Patina is another brand that specializes in vintage-inspired fashion. However, I'd argue Miss Patina has the best selection of vintage-inspired modest dresses. Nearly every dress on their site falls into my definition of "modest," and they are beyond gorgeous and well-made!
11.) Hearts and Found
Hearts and Found is a fabulous little shop also known for their beautiful vintage-inspired dresses (the vast majority are modest). And all of their items can be made to your exact measurements! Even better, they have a mission to support local businesses and tailors and source all of their fabrics from local Vietnam markets. (They're currently supporting an independent tailor in Vietnam named Co Thanh (Auntie Thanh). She has a small tailoring shop in an area called District 5 and currently employs 3 people.) How awesome is that?
12.) Chicwish
Chicwish has a seemingly never-ending selection of modest dresses, that range from boho to classic in style. Their variety of maxi and midi dresses is to die for. Plus, their prices are quite affordable, and they are constantly running sales. (I also love their selection of skirts!)
13.) & Other Stories
& Other Stories is a fantastic brand that carries classy dress styles that work well for the office or everyday attire. And while they will keep you up-to-date on the latest trends, they'll do so in a more subtle and classic way. & Other Stories dresses are meant to be worn for years to come, and not just for a single season.
14.) Oscar de la Renta
Oscar de la Renta dresses are a favorite among celebrities and A-listers. From romantic silhouettes and impeccable tailoring to intricate embroideries and exquisite detailing, each piece has the power to transport the woman who wears it. And fortunately, the majority of Oscar de la Renta dresses are quite modest!
15.) Tara Lynn's Boutique
Tara Lynn's Boutique is a family-owned clothing shop in Utah that ships worldwide. They make custom dresses for women of all shapes and sizes and work with top designers across the country to bring you one-of-a-kind pieces, without compromising comfort. Their sizes range from XS-6X and have a very boho and timeless style to the majority of their pieces. Their dresses range from casual to formal in style, too.
Note: They recently updated their name to Hazel Blues!
16.) Mata Traders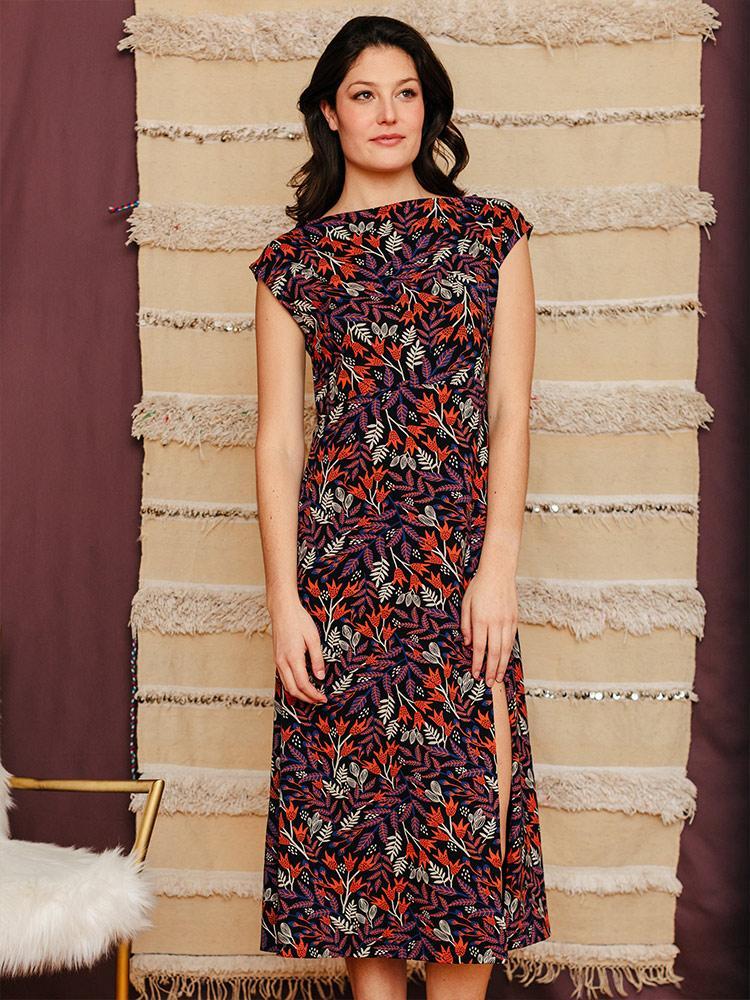 Mata Traders is an ethical fashion company that creates fabulous vintage-inspired and boho dresses in a fun array of prints. I am especially a fan of their fit and flare dresses! And best of all, many of these dresses have pockets.
17.) Boden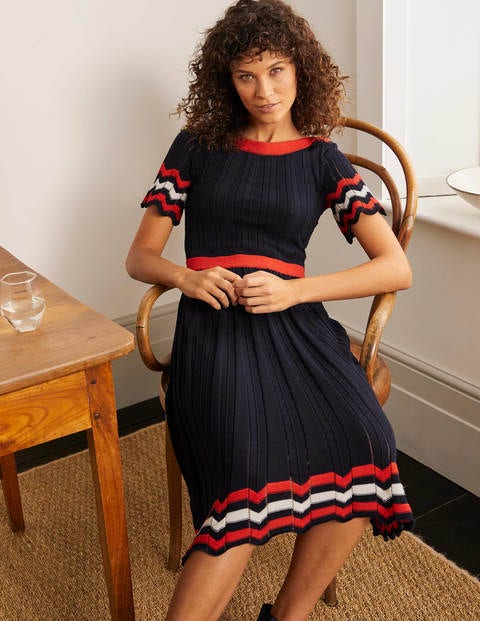 Boden dresses can best be described as timeless and classic. The majority of their dresses work great for daily wear and the office. They also have a section for dresses that are less than $100, so you don't have to break the bank!
18.) Amour Vert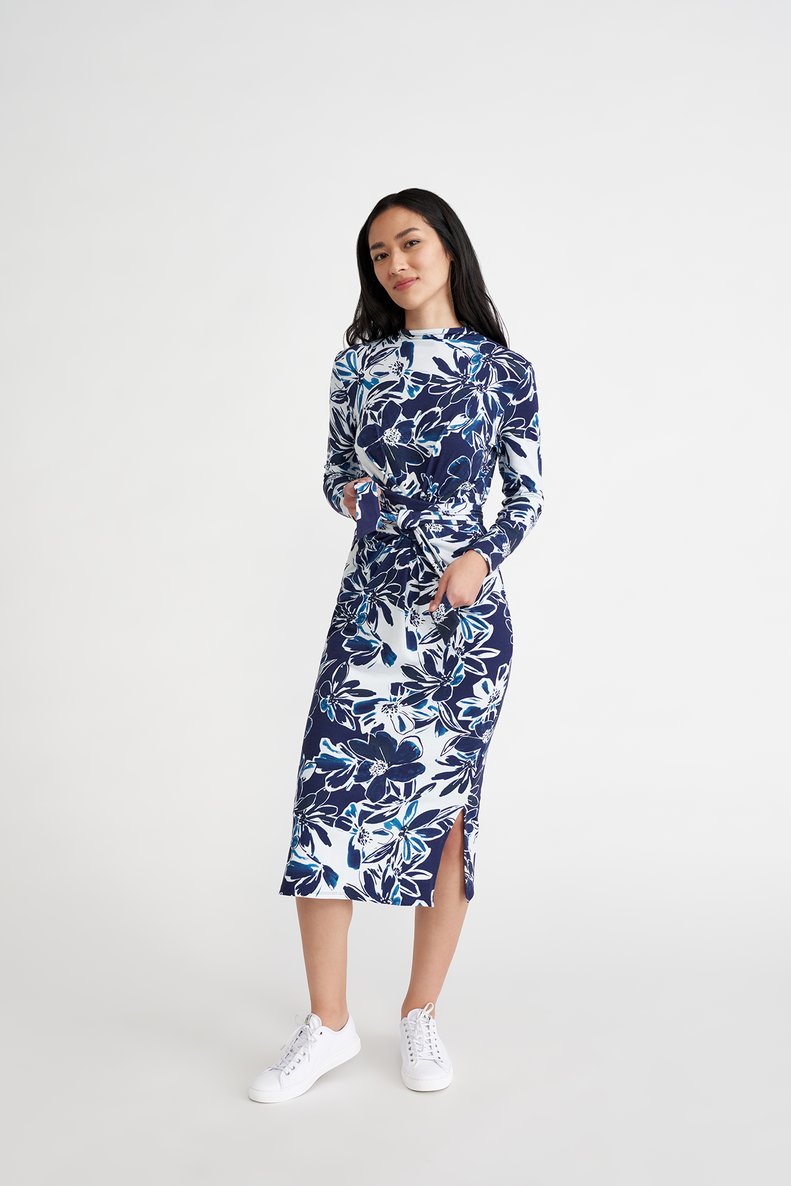 Amour Vert is a sustainable California-based brand that creates pieces in limited quantities to ensure high production standards and to eliminate any excess waste. Their dresses are great for daily wear and are wonderfully comfortable.
19.) Madewell
Madewell is most known for their killer selection of jeans, but they also have a great variety of dresses that are modest and super comfy! I also love that they have a wide variety of sizes that include plus, petite, tall, taller, and maternity.
20.) Mango
Mango is a trendy clothing fashion company out of Barcelona, Spain that features many contemporary pieces. Their dress style is similar to & Other Stories and Madewell – it's laidback yet fashionable. They're great for daily wear!
21.) Amazon
Amazon has everything – including cute modest dresses that are affordable to boot! I bought many of the modest maxi dresses I used for traveling through Egypt and the Middle East from Amazon. The prices are generally quite low, and the quality does reflect this. It's a good idea to take the time to read reviews before purchasing (but returns are always a breeze if it doesn't work out).
Secondhand Dress Sites
Want to save a little money and do the environment a favor? Buy your modest dresses secondhand! Below are a few of my favorite secondhand sites, that carry many of the brands listed in this article!
Read next: 28 Online Thrift Shops for the Best Vintage & Secondhand Clothing
Below, are sites I also have luck finding modest dresses on from time to time.
Honorable Mentions
*Passion Lilie
*Diane von Furstenberg
*Lilly Pulitzer
*Alice + Olivia
*Sister Jane
*Free People
*Asos
*Zappos
Are there any sites for modest dresses I missed? Let me know in the comments!