The Best YSL Bag Dupes You Can Buy Online
Love YSL handbags but not their hefty price tags? This post has the best YSL bag dupes and lookalikes for a cheaper alternative to their iconic handbags.
Sleek, sophisticated, and timeless—YSL handbags are a must for any luxury lover. While the French fashion house has been around since the 60s, the iconic handbags were only created under Tom Ford's brand direction in the 2000s and were quickly established in the realm of luxury handbags.
Trust YSL to make the most coveted investment pieces that channel Parisian chic to anyone who wears them, however, one well-crafted piece comes at a hefty price. Luckily, there are premium alternatives that exude the YSL designer look and feel. Here are the best of them!
Some of these links are affiliate links. Meaning, if you click a link and make a purchase, Have Clothes, Will Travel gets a very small commission at no extra cost to you. Thank you for supporting the brands that make this blog possible!
YSL Handbag Lookalikes – Cheaper Options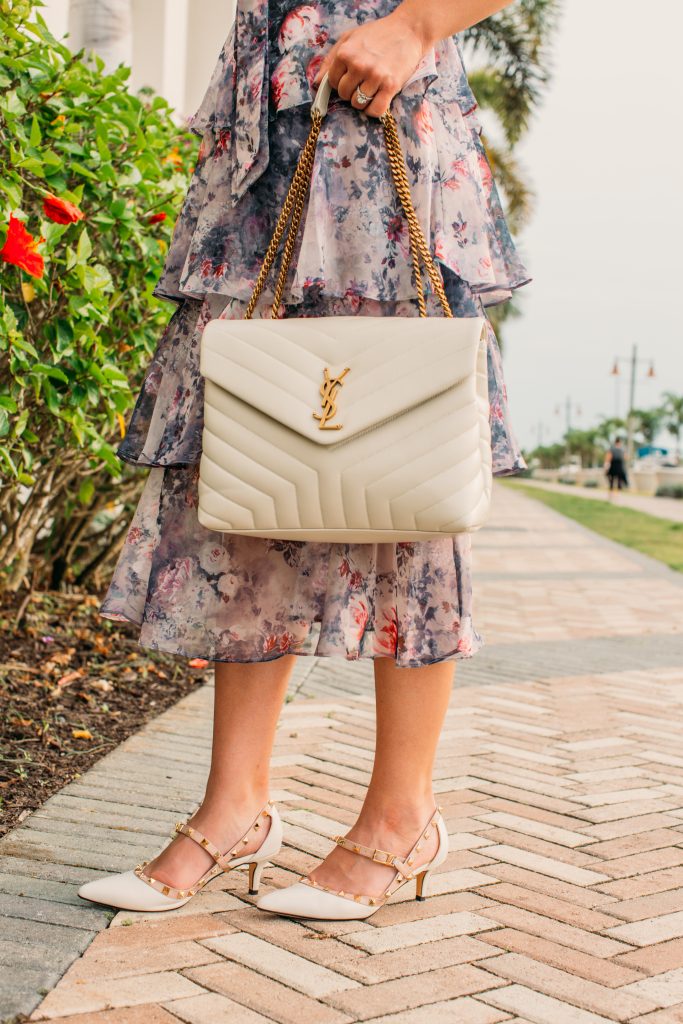 1.) YSL Bag LouLou
YSL's Loulou is a classic and is one of the designer's most coveted and recognizable bags. It comes in 3 sizes (small, medium, and large) and 14 different color choices. It features a front flap with metal YSL initials and a leather and metal chain strap that can be worn as a shoulder bag or as a cross-body.
I, personally, have the Medium Loulou in Blanc Vintage, and I absolutely love it. This bag is what inspired me to put this post together, though. Because, while this is a fantastic bag that is insanely well-made, it also comes with an insane price tag. I know not everyone wants to spend this kind of money on a handbag, so I also found some great alternatives to the Loulou.
YSL Loulou look alike #1: TORY BURCH SMALL KIRA CHEVRON CONVERTIBLE SHOULDER BAG
First up is the Tory Burch Kira handbag. While this one is a fraction of the price of the YSL Loulou, it is still a bit on the pricey side. However, the quality of Tory Burch handbags is incredible. I've had mine for nearly 5 years, and even after constant use, they still look new. This Kira bag has a very similar vibe to the Loulou and comes in several different colors and sizes.
For a far more affordable option, check out this PrettyGarden handbag on Amazon that is just $34!
2.) YSL Bag: The Lou Camera Bag
A modern take on the classic camera bag, the YSL Lou Camera Bag has an adjustable strap and features a square interior, a removable chunky side tassel detail, and the iconic YSL monogram logo at the front. Presented in a croc-embossed or quilted leather finish, the Lou Bag comes in classic black, cream, rogue opium red, and every chic colorway imaginable that goes well with any outfit.
Update: I just bought this bag via FWRD, and I like it even more than the Loulou. If you're going to splurge on the real thing… this is the bag to do it with. I use it for EVERYTHING, and it's making me contemplate selling my Loulou, as I've used it more in a couple of weeks than I've used the Loulou in months.
The Lou Bag Dupe #1: Tory Burch Fleming Bag
Similar to the YSL Lou Bag, this Tory Burch Fleming has a diamond quilted design, an embossed bombé logo, and a side tassel. The strap features a braided gold chain that's convertible so you can wear it short or long. The material is also made of soft leather and has two interior pockets and magnetic closure.
The Dupe 2: Quince Italian Leather Quilted Crossbody Bag
If you like the quilted look of the YSL Lou Camera Bag, then you'll love this bag by Quince. It is handcrafted from 100% Italian leather and features an adjustable strap and zip-top closure. This bag is the definition of luxury quality at an approachable price.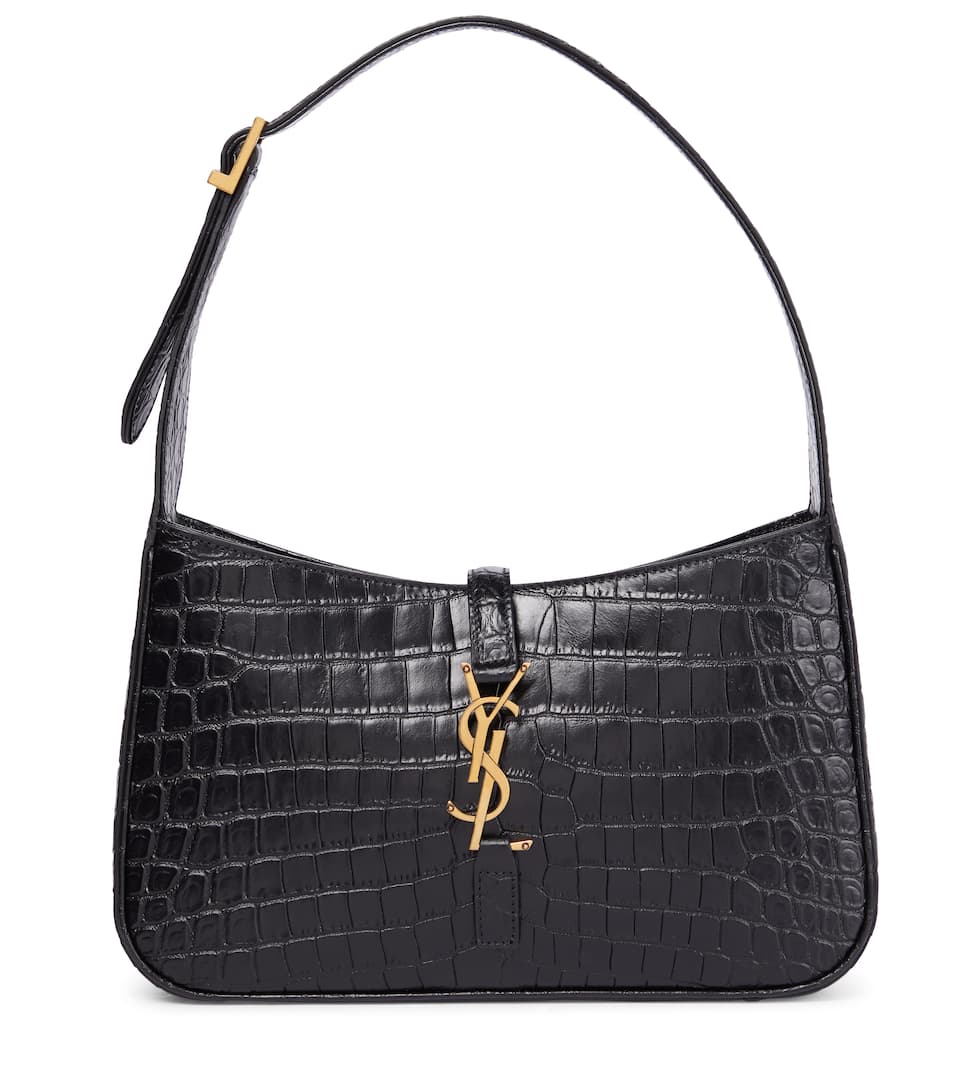 3.) YSL Bag: Saint Laurent Le 5 à 7 Bag
A petite shoulder bag with an ode to the 90s. It's sleek and minimalist in style but exudes casual elegance. Saint Laurent Le 5 à 7 is embellished with the iconic YSL hardware and has an adjustable shoulder strap that's ideal for day-to-night gatherings. It comes in nine colors and you can wear it by hand, on your shoulder, or in the crook of your arm.
The Dupe: STAUD Kaia Shoulder Bag
STAUD is an LA-based brand featuring modern and feminine wardrobe staples. Their take on the Le 5 à 7 Bag is the Kaia Shoulder Bag—all sleek and practical with an overlock detail at the strap as well as a suede lining. It comes in five colors (black, cream, tan, azure, and spice) and a non-adjustable leather strap.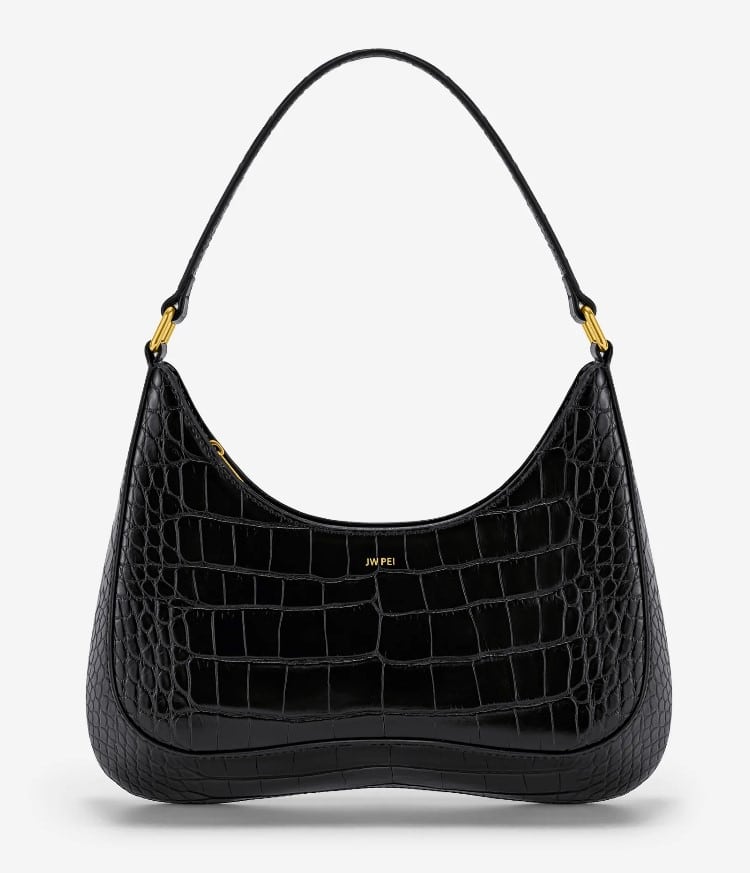 The Dupe 2: JW Pei Ruby Shoulder Bag
Another 90s-inspired piece that comes in croc-embossed vegan leather, this Ruby Shoulder Bag from JW Pei features a classic silhouette that goes well with your everyday staples. It has a zip closure, gold hardware, and fabric lining, and comes in seven colors.
4.) YSL Bag: Collège Shoulder Bag
One of Saint Laurent's pieces that's forever in style, the Collège Shoulder Bag is defined by its classic rectangular silhouette, envelope-style flap, and signature quilted leather exterior with a top handle and detachable shoulder strap. It's roomy, versatile, and can carry all your essentials from day to night.
The Dupe: Rebecca Minkoff Edie Quilted Bag
A thoughtfully designed accessory that features chevron quilting, this Rebecca Minkoff Edie Quilted Bag comes in a chic pebbled leather finish and dog-clip hardware. You'll love the edgy but playful design of the chain and leather pull-through strap that can be worn on the shoulder or across the body.
The Dupe 2: SHEIN Quilted Twist Lock Flap Square Bag
For the more affordable option, SHEIN's version is this Quilted Flap Square Bag with a twist lock and top handle. You have the option to switch the detachable chain strap with a canvas strap. It's medium and comes in an elegant black colorway.
5.) YSL Bag: Envelope Monogram Matelassé Leather Shoulder Bag
Another iconic YSL signature bag is the Envelope. It's light, compact, and fits just the essentials (ideal for a night out). It features luxury textured leather in chevron, diamond, and vertical quilted pattern, the YSL plaque at the front, and a patch pocket on the back. The Envelope's versatility can be worn as a clutch or wristlet as well.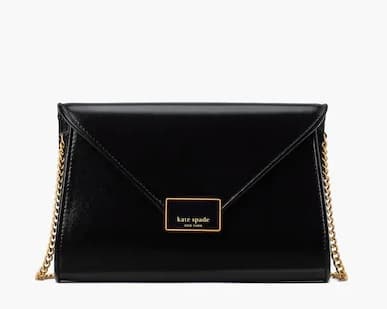 The Dupe: Kate Spade Anna Medium Envelope Clutch
Kate Spade's impeccable take on the Envelope is minimal chic. Its slim build can fit just the essentials. It comes in black and cream and has a snap closure and a removable crossbody chain.
The Dupe 2: Amazon Quilted Women's Envelope Clutch Bag
Amazon's Fold-over Envelope Leather Clutch is the perfect casual accessory for a wedding party, cocktail, or night out. It has a quilted effect and features a gold-tone magnetic button closure and a detachable metal chain (and a wrist strap too) that you can don as a shoulder or crossbody bag. It comes in black, dusty pink, ivory, and nude colorway.
6.) YSL Bag: Kaia Bag
Named after supermodel Cindy Crawford's daughter, Kaia Gerber, this simple but elegant satchel crossbody bag with a rounded bottom is ideal for the girl on the go. It features a smooth leather finish with strap and an oversized YSL plaque that's sure to make a fashionable statement. Available in milk, noir, and brown gold color.
The Dupe: Vince Camuto Kapis Leather Convertible Crossbody Bag
Vince Camuto's rendition of the Kaia satchel is cute and compact. It's made from luxe leather and features gold-tone hardware, snap closure, and buckle detail all in a smooth finish. It comes in black and is the perfect accessory for a nice evening out or a quick errand. (Amazon also features a similar, cheaper, version of this bag. See it, here.)
The Dupe 2: Brahmin Small Nadine
A stylish alternative to the croc-embossed patent leather Kaia bag in glossy black. Brahmin's version comes in Black Melbourne color in genuine leather. It has a magnetic closure, back slide pocket, interior organizational pocket, key clip, and an adjustable crossbody strap.
7.) YSL Bag: Kate Monogram
Glamorous and stylish, the YSL Kate's wallet-like silhouette and delicate chain tassel dangling from the YSL insignia make for a perfect evening bag. It's one of the brand's recognizable and coveted pieces complete with gold or silver-toned hardware and a chain-link shoulder strap in embossed shiny leather.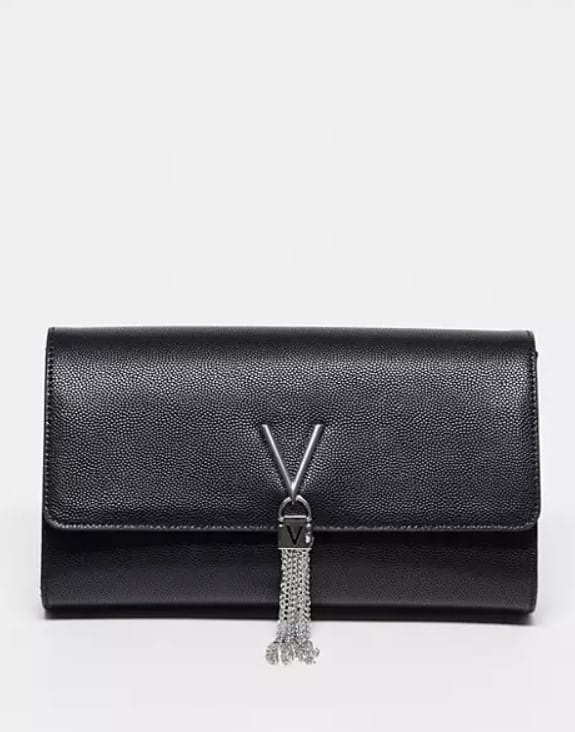 The Dupe: Valentino Divina Pebbled Clutch Bag
From luxury monogrammed totes to quilted crossbody bags, Valentino creates showstopper pieces that compliment any wardrobe. This Divina Clutch Bag is chic and glamorous, and like the YSL Kate, it has a chain strap and tassel hanging below the brand's emblem and can transform into a delicate evening clutch.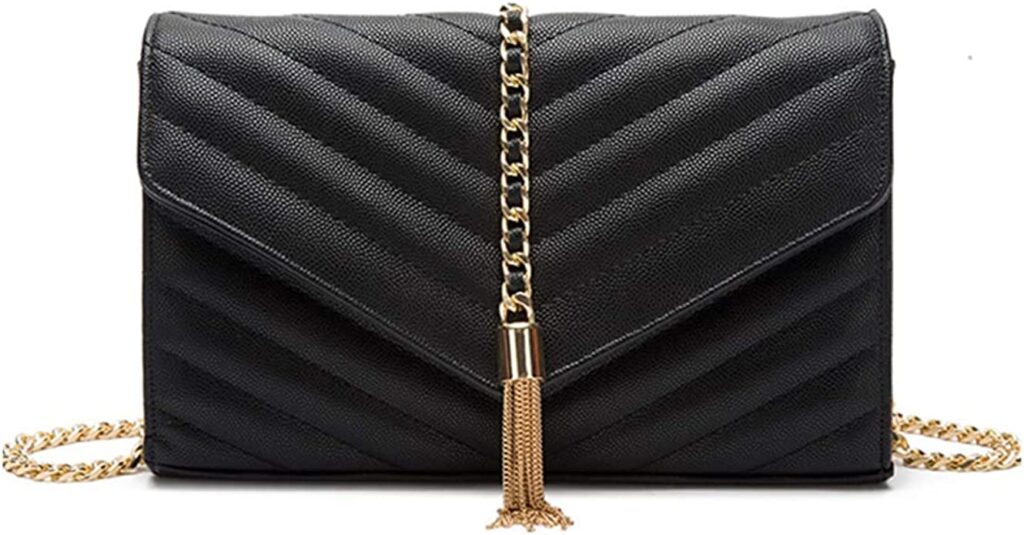 YSL Lookalike: YXBQueen Black Quilted Purse Shoulder Bag
A similar design with a MUCH cheaper price tag. This bag from Amazon features faux leather with quilted padding and a tassel decoration, an adjustable gold chain, and a magnetic button closure.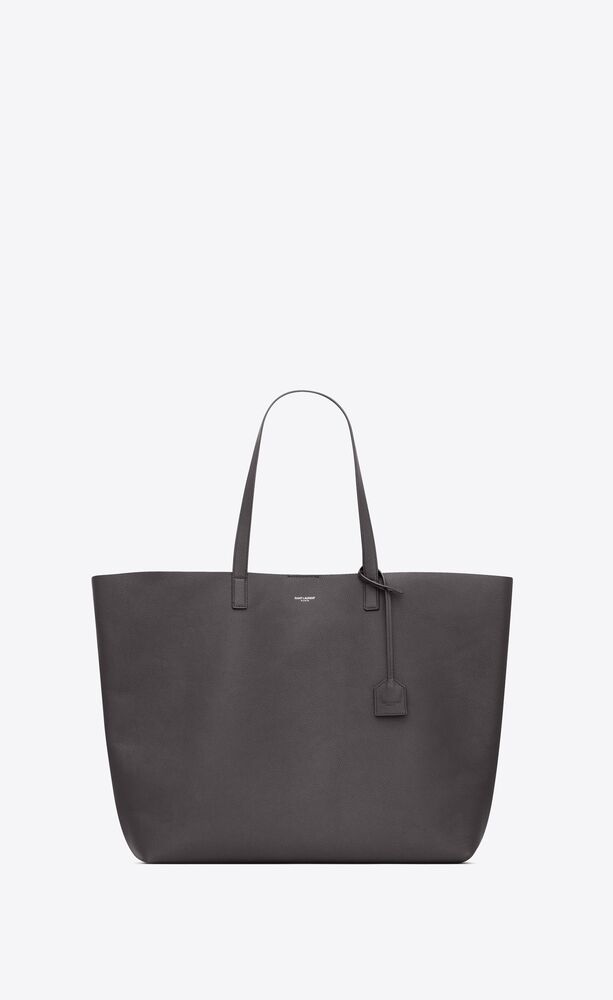 8.) YSL Bag: East/West Leather Shopping Tote
A designer carryall for when you want to bring various essentials—laptop, trainers, and documents all in one—but still want to look fashionable. This roomy YSL East/West Leather Shopping Bag has a subtle Saint Laurent Paris signature, leather-cased metal key holder, removable zip pouch, and extended leather handles for either hand or shoulder carry.
The Dupe: Mansur Gavriel Soft Tote
Mansur Gavriel's Everyday Soft Tote is roomy enough for packing weekend basics and has sturdy handles so you can easily carry it from work to an overnight getaway. Made from Italian calf leather in soft, minimal design, it can fit a 16" laptop and farmer's market essentials.
The Dupe 2: ASOS Design Tote Bag
ASOS' version has a removable laptop compartment, with a large size and fit you can lug around on the go. The tote has an open top style and comes in smooth faux leather with sturdy twin handles. It's available in black.
9.) YSL Bag: Sac De Jour
Translated from French as "Bag of the Day", the Sac De Jour is one of Saint Laurent's modern classic pieces with a structured silhouette and accordion sides similar to a Birkin. It has a chic padlock on a detachable lanyard, a subtle Saint Laurent logo, and a handy keychain. It comes in various styles you can carry from office to dinner and is a worthy investment.
The Dupe: Tory Burch SMALL PERRY TRIPLE-COMPARTMENT TOTE BAG
Highly functional and versatile, the Perry Triple-Compartment Tote Bag is a trusty accessory for work or errands. It has multiple pockets and compartments to fit in essentials. It's made from leather and features sturdy top handles, a removable luggage tag, and a crossbody strap.
The Dupe 2: Michael Kors Mercer Large Logo Accordion Tote Bag
This Michael Kors Large Logo Accordion Tote Bag exudes understated sophistication, and like the Sac de Jour, it has a luxe lock charm attached to a leather lanyard. It has gold-tone hardware, an adjustable crossbody strap, snap fastening, and several interior compartments (back zip and slip pockets, center zip compartment, and four front slip pockets).
10.) YSL Bag: Sunset Leather Bag
Ideal for any occasion, the YSL Sunset Leather Bag is an opulent investment piece for those who'd like to keep their essentials organized. It has two main interior compartments: the flat pocket at the back and the gusseted open pocket at the front. High-end touches also include a matte or glossy leather finish, YSL insignia, chain strap, and a detachable leather tag.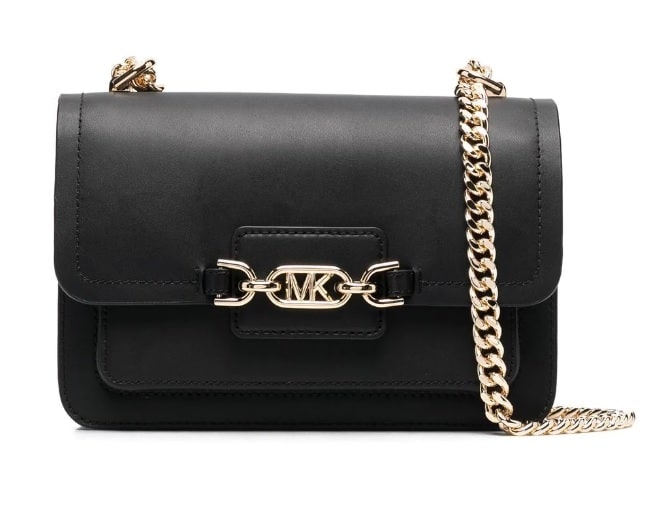 The Dupe: Michael Kors Heather logo-plague shoulder bag
Michael Kors' fuss-free version is the Heather logo-plague bag. Featuring gold-tone hardware, logo plaque, a foldover top, snap-fit fastening, a chain-link shoulder strap, a main compartment, an internal slip pocket, and logo-print lining.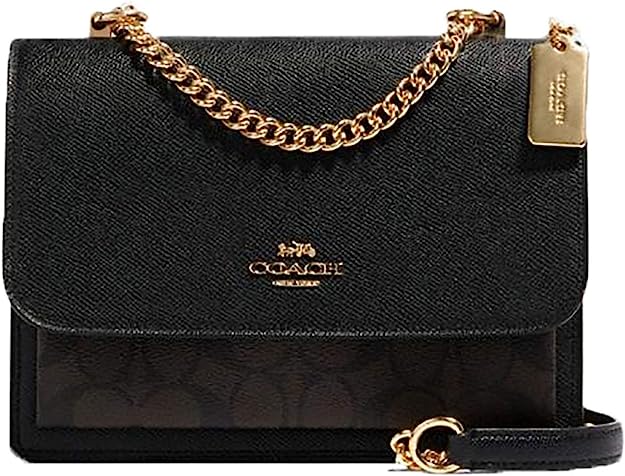 The Dupe 2: Coach Klare Crossbody Bag
Coach's version has an elegant chain strap that can be worn in three ways: crossbody style, and short or long on the shoulder. It has a snap closure, fabric lining, and an inside zip with multiple pockets. There's also an outside slip pocket, and the material is made from cross-grain leather and coated canvas.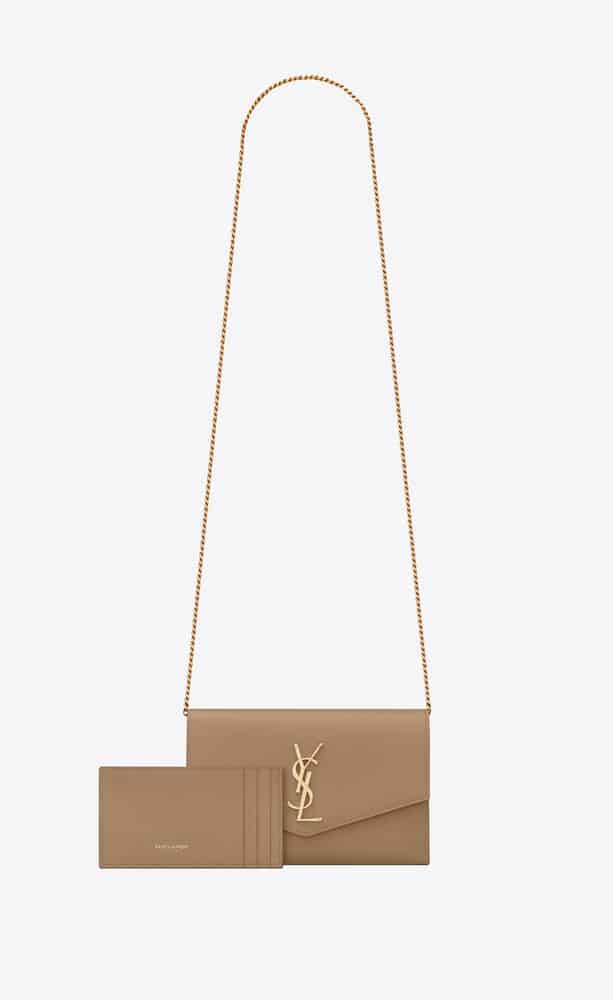 11.) YSL Bag: Uptown Clutch
Bringing Parisian glamour in a super slim classic envelope silhouette, the Uptown Clutch is best for carrying your phone, cards, and lipstick. It features a magnetic flap closure and the iconic YSL logo on the front. It easily transforms from clutch to shoulder bag and is within the affordable range.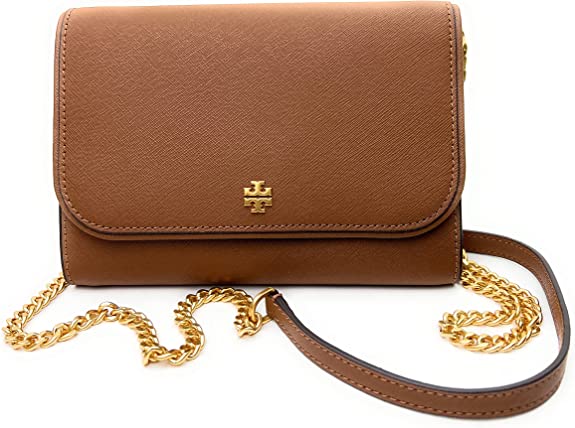 The Dupe: Tory Burch Emerson Chain Wallet Leather Cross Body Bag
The Tory Burch Emerson Chain Wallet is made from Saffiano Leather and features two compartments with up to eight card slots, one zip compartment, and a slip pocket. It also has gold-tone hardware with a removable shoulder strap that can transform into a chic clutch.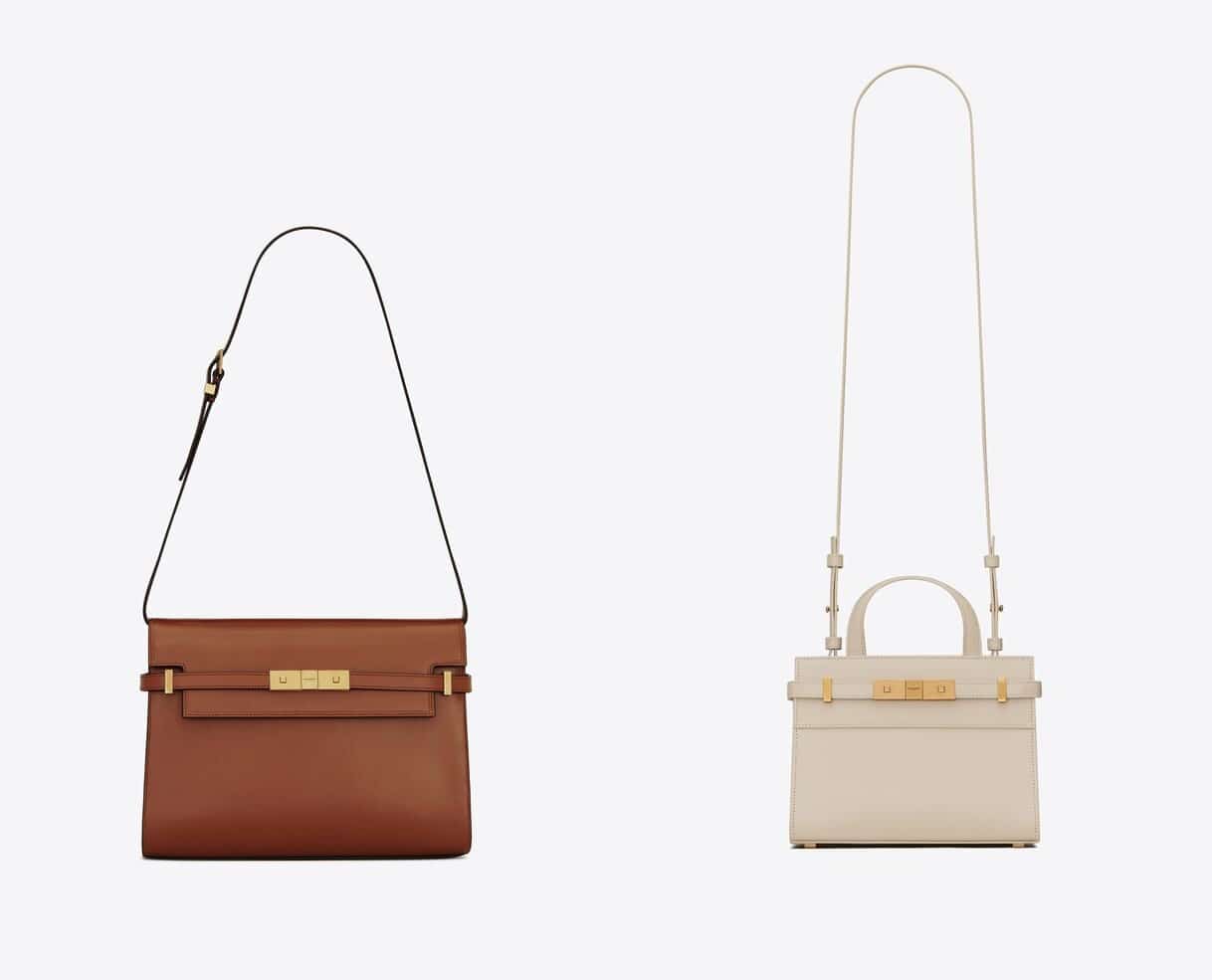 12.) YSL Bag: Manhattan Handbag in Box Saint Laurent Leather
YSL's Manhattan Bag has clean and minimal detailing but can serve the busiest city gal from AM to PM with sizes running from nano to large that can fit a laptop. It features a click-flap closure and unique buckle fastening, as well as an adjustable strap that you can wear close to the hip, over the shoulder, or as an oversized clutch by simply tucking the strap away. Contrary to the usual oversized YSL emblem seen in most handbags, the Manhattan is logo-less for a cleaner and understated look and only a trained eye can guess it's one of Saint Laurent's chicest pieces.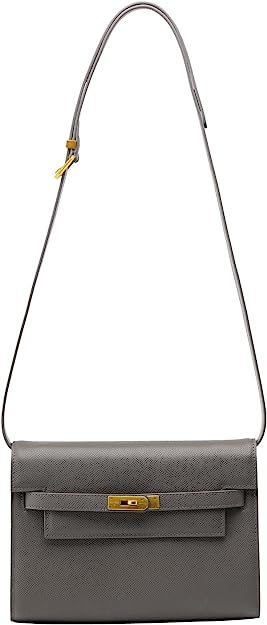 The Dupe: C.Paravano Tote Bag for Women
This is one of the closest dupes to the real thing on this whole list, in my opinion. This leather bag by C. Paravano is crafted from textured leather and features a gleaming gold lock-fastening front flap, that can be worn lock open or closed for equally stylish looks. It also features an adjustable strap and a roomy leather-lined interior complete with a wall pocket.