8 Best Tory Burch Handbags to Buy for This Fall & Winter
I know, it feels like we were just talking about incredible Tory Burch Spring bags…then we blinked, and fall fashion and handbags are upon us!
In true blogger fashion, though, fall is my favorite time of year for both fashion and weather. (I even enjoy winter like a weirdo.) I love the rich colors and textures at this time of year, and I'm all for bundling up with more clothing and accessories!
Fortunately, Tory Burch has delivered an incredible array of handbags that are perfect for fall and winter. Plus, they're hosting an amazing sale – up to 50% off Sandals, Totes, Dresses, and more.
To make your shopping a little easier, I've rounded up 8 of my favorite Tory Burch bags below. Happy shopping!
This post is sponsored by Shoplooks. All comments and opinions are my own. Some of these links are also affiliate links. Meaning, if you click a link and make a purchase, Have Clothes, Will Travel gets a very small commission at no extra cost to you. Thank you for supporting the brands that make this blog possible!
My Top 8 Handbags from the Tory Burch Fall/Winter 2022 Collection
1.) KIRA QUILTED SQUARE CROSSBODY
I am dying over the new Kira bags that Tory Burch has created. This quilted square crossbody in tempranillo is so stunning! (It also comes in black, but I prefer tempranillo for this one.) I LOVE that you can wear the chain strap doubled over your shoulder or long and crossbody – it's the perfect day-to-night handbag.
2.) SMALL KIRA CHEVRON CAMERA BAG
I had been debating ordering the Lou Camera Bag by YSL, until I saw Tory Burch's Kira Camera Bag in Classic Taupe. This is such a chic, classy bag for everyday use or for a night out (really this bag works for everything). It's a fantastic price point too. I also love, love, love the color of this one!
3.) LEE RADZIWILL PIPED DOUBLE BAG
Talk about the epitome of timelessness and top-notch quality! Tory Burch's Lee Radziwill bags are the sorts of bags that are incredible investment pieces and won't ever go out of style. (They remind me of Hermes Birkin bags, without the ridiculous price tag.) While I absolutely adore Tory Burch's double T logo, I do also like that the Lee Radziwill bags aren't emblazoned with logos – for a subtler look. Plus, this new Royal Fern color is just chef's kiss!
4.) ELLA MONOGRAM QUADRANT TOTE
However, as I said, I do LOVE Tory Burch's logo. And this monogrammed tote is a fabulously quirky addition to any fall/winter wardrobe. I am loving the color combo and the brass hardware. Plus, this tote can hold up to a 17″ laptop and any other work essentials you need to carry to the office. (I, personally, use my Tory Burch tote for everyday use and at night. I like being able to always have a plethora of my things on hand – including my camera.)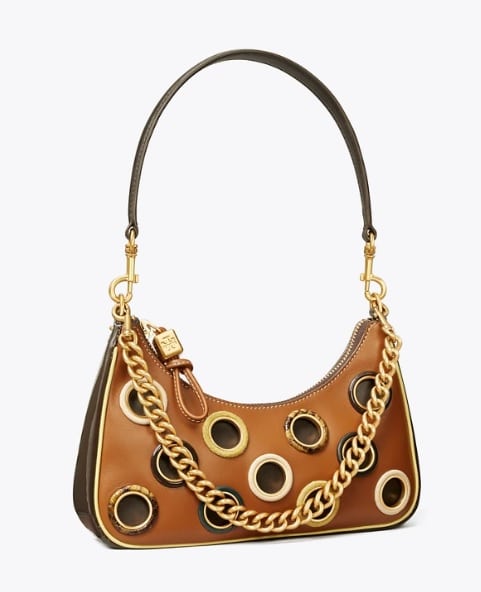 5.) MERCER GROMMET SMALL CRESCENT BAG
Speaking of fun, quirky bags… how incredible is the Mercer Grommet Crescent Bag?! It is crafted with Napa leather using metal grommets wrapped in a mix of materials. Plus, it has three carrying options: a removable chain, leather shoulder strap, and webbing crossbody strap.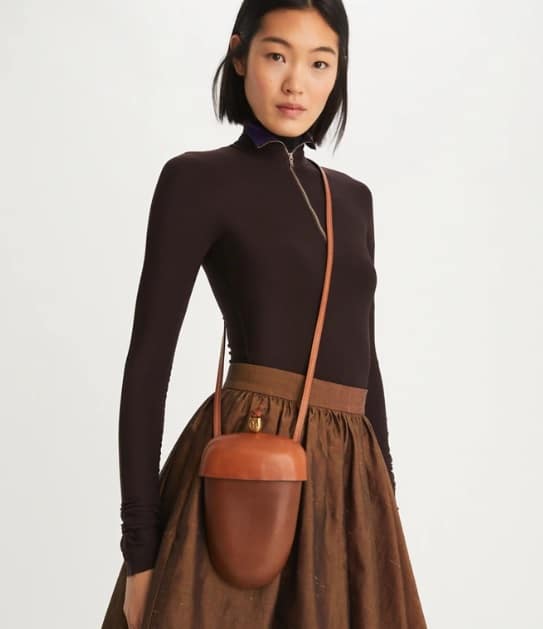 6.) LEATHER ACORN BAG
I don't know if there's anything that screams fall more than a cute Acorn Handbag! (With the exception of Pumpkin Spice lattes.) I, personally, love novelty handbags, and this acorn handbag is absolutely adorable. Plus, this one isn't too over the top (like my Jump From Paper handbag, for example) that you couldn't use it every day or for going out.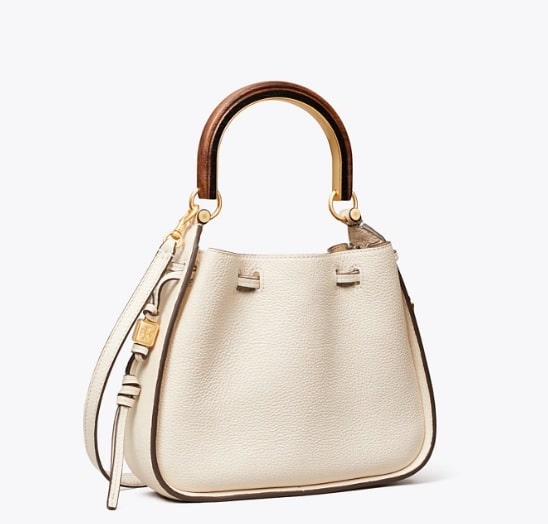 7.) MILLER CINCH BAG
Inspired by a vintage money pouch, the Miller Cinch Bag is a striking expression of workmanship and artistry. It features knotted leather drawstrings and embossed brass beads. Plus, it comes with a removable crossbody strap. Personally, though, I love its wooden top handle.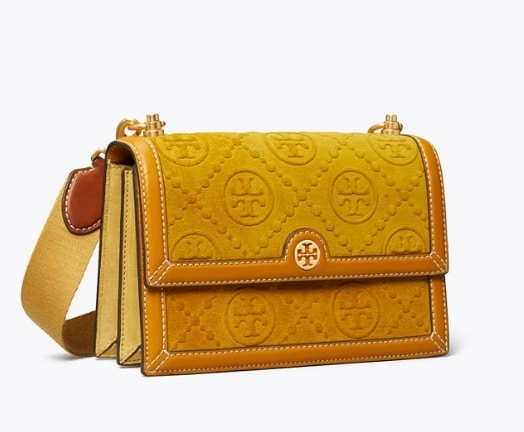 8.) T MONOGRAM SUEDE EMBOSSED SMALL SHOULDER BAG
Ah, the best color for fall, though, is this gorgeous deep sunflower color used for Tory Burch's suede embossed shoulder bag. It has a '70s feel, with a structured shape and sporty webbing strap. And, the interior has multiple pockets to organize your phone and other small essentials.