The Best Women's Sneakers for My Wide Feet (and Bunion)
Looking for the best women's sneakers that fit wide feet and a bunion and are comfortable? These are my tried and true favorite sneakers that I love for traveling, running, exercising, hiking, city walking, and more.
Finding shoes that fit my wide feet has always been a challenge, but the past few years have been even more challenging as I now have a bunion on my right foot, that continues to get larger and more painful every year. I know I'm not alone in this, as one of the questions I get asked most frequently on my site is "What are the best bunion-friendly shoes for traveling?"
I've finally put together a list to answer this question! I will be updating it as I discover new sneakers, and I'm happy to answer any questions anyone has in the comments at the end of the post.
Disclosure: some of these links are affiliate links. Meaning, if you click a link and make a purchase, Have Clothes, Will Travel gets a very small commission at no extra cost to you. Thank you for supporting the brands that make this blog possible!
My Favorite Wide Foot-Friendly Sneakers
Nike Experience Running Shoes
The Nike shoes pictured above are my favorite all-around walking, running, travel, and exercise shoes. They are comfortable to wear for an entire day of traveling and walking on a variety of terrain – from hiking trails to city streets.
I've had them for about 7 years now, and they are just finally starting to get too worn out to wear for walking or running long distances. (They're now my gardening shoes.) I've never been more happy with a shoe purchase! I've used these as my walking shoes for trips to Jordan, Egypt, Peru, Turkey, Jamaica, Argentina, and more. Plus, they were also my exercise shoes 3-5 times a week!
Now, this exact model of Nike Experience running shoes is no longer being made, but they are almost identical to the Nike Experience Run 11, below. This is what I just ordered in this year to replace my now worn-out Nikes. They are just as comfortable as my old pair.
I also ordered both pairs of these Nike shoes in REGULAR widths but one size larger than I typically get in other shoes. So, I am typically a size 8, but in Nike, I will order a size 9.
These are plenty wide enough for me to not even have to order these in wide! They do offer a wide option, though, which is great if you have super wide feet. I would say this is true for almost every pair of Nikes I've tried over the years, they tend to run very wide, and I love it!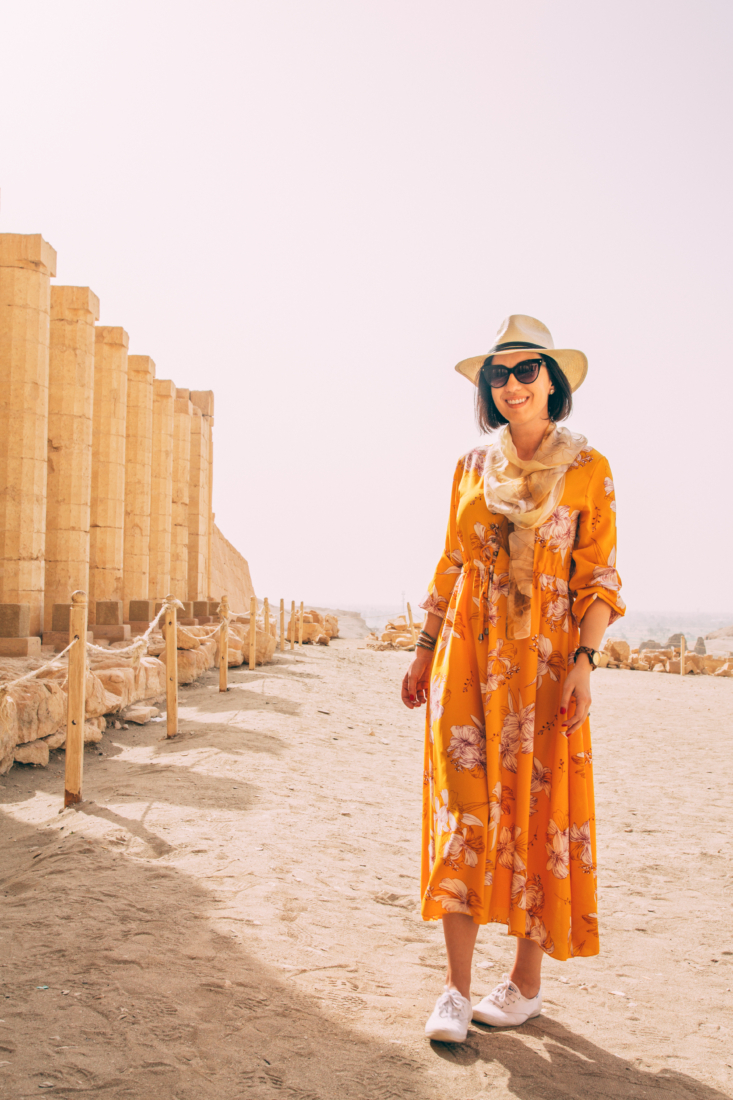 Keds Champion Canvas Lace-Up
These Keds are my second most-used sneakers in my closet. I have worn these for a variety of adventures, and as my city walking shoes when I lived in Moscow. I've had these Keds for just over 5 years now, and I'm still bringing them along on adventures! (I just used them for my trip to Greece last month!) I also wash them after every trip, as white sneakers get pretty dirty, plus I don't wear socks with these, so my feet get a bit smelly.
Now, these aren't as comfortable as the Nike shoes above, they don't have nearly as much cushion or arch support. That said, they are still plenty comfortable enough for me to wear for a day of exploring. I especially like them because I can pair them with dresses and skirts and still look relatively stylish.
Because the Keds canvas material has some give, I can fit into their regular-width shoes in my normal size. That is what I am wearing in the photos above. However, I ordered a pair in wide last year (they were on sale for $20 on Zappos over Black Friday!), and they are much more comfortable for me in the wide width.
Cariuma Catiba Low Suede Accent Sneakers
These Cariuma sneakers are a relatively new addition to my closet. I've had them for just over a year now. However, they are quickly becoming my favorite "fashion" sneakers. They are super cute, plus this pair is plenty wide for my feet and doesn't irritate my bunion at all.
They are almost too wide for me, my feet feel as though they are slipping around in them a bit. However, for someone who usually has the exact opposite issue with my shoes, this doesn't bother me all that much. I also love that the heel of these shoes does not rub or dig into the back of my heel. That is a common issue I also have with a lot of shoes.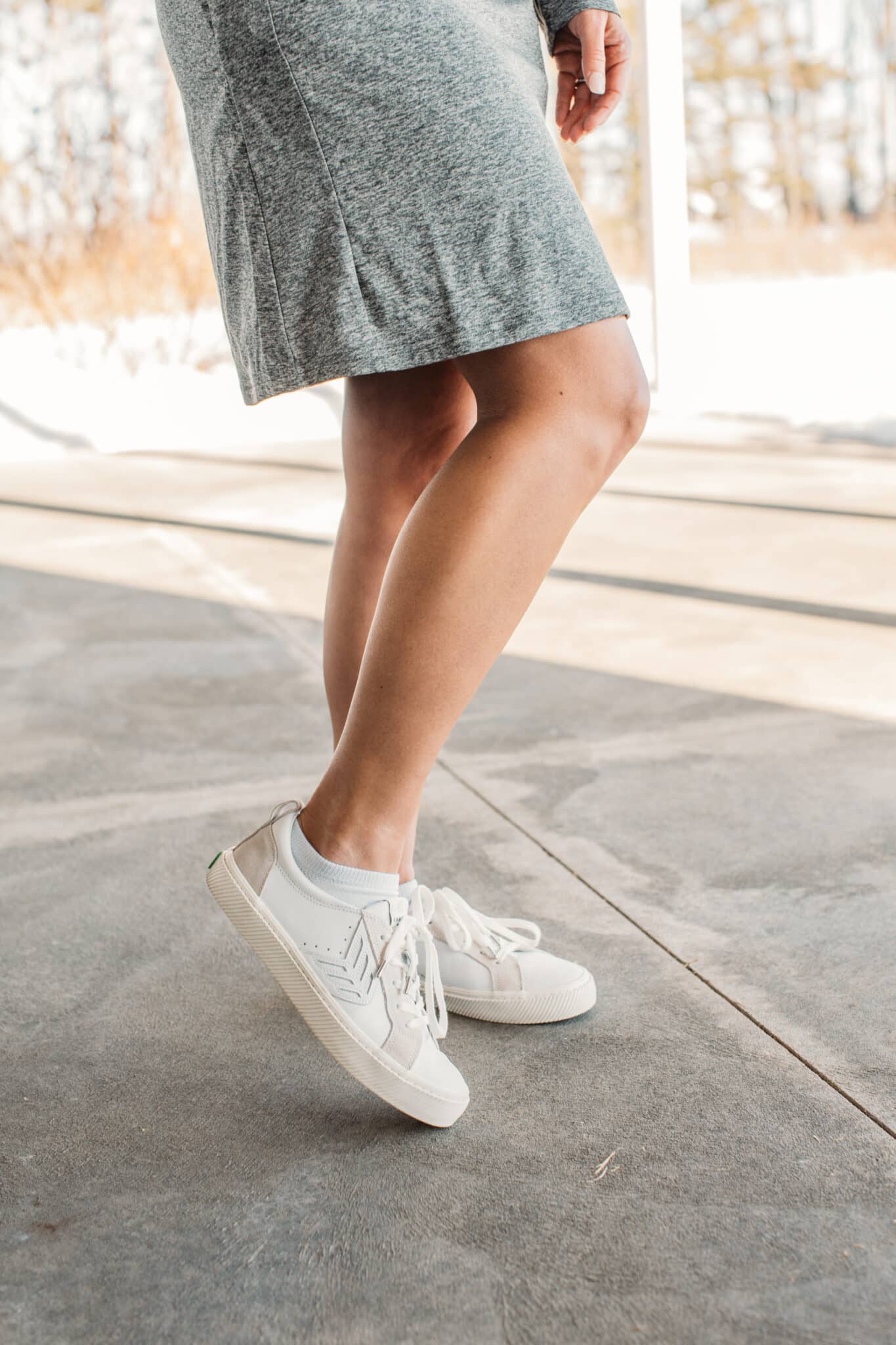 This pair of Cariuma sneakers does not have a wide width available. However, I didn't have an issue with their regular width at all. I ordered my normal size 8, but almost wonder if a size 7 1/2 or size 7 would have been better.
On Women's Cloud 5 Sneakers
I was talked into purchasing these shoes a couple of years ago when I was at Scheels looking for good all-around exercise and running shoes for wide feet. The sales rep was gushing so much over the brand On I ended up taking home the pair pictured above.
These shoes fit my wide feet beautifully, and they provide plenty of support for running and exercise. I think they look cool too! I also love them for safari vacations because they are really lightweight (there are some strict weight limits on bush planes!).
However, again, I am normally a size 8, but with these On sneakers – I sized up to a 10 in order for them to fit my wide feet.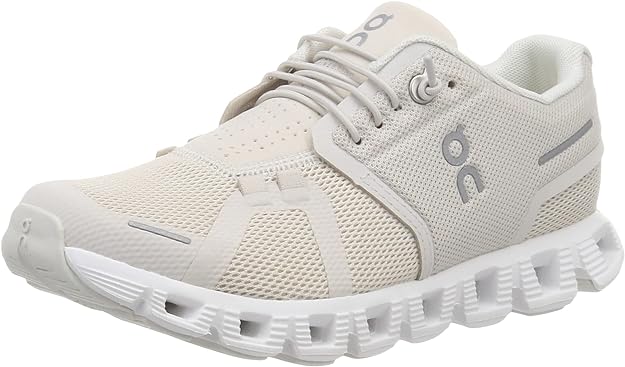 I do tend to grab my Nikes over these Ons because the back of these shoes dig into my heel, and if I am not wearing high socks, my heel will be rubbed raw. I am really sensitive about the backs of my shoes! I know not everyone has this issue with shoes, so I'm including them in this list. (I've talked to nearly a dozen people who have this exact pair and do not have this issue with them.)
These shoes also do not come in a wide width, but they do fit my wide feet just fine after I sized up.
ASICS Women's Gel-Nimbus Running Shoes
Everyone's feet are different when it comes to running long distances. I highly recommend going to a running shoe store to try on different pairs and get properly fitted.
When it comes to running long distances on the road, my Asics Gel-Nimbus running shoes are my absolute favorite. I also used them as my hiking shoes for years until I (very) recently invested in a pair of hiking boots. I've had about 6 pairs of them over the years, due to the amount of miles I put on them. They fit my wide feet and cause zero issues for me.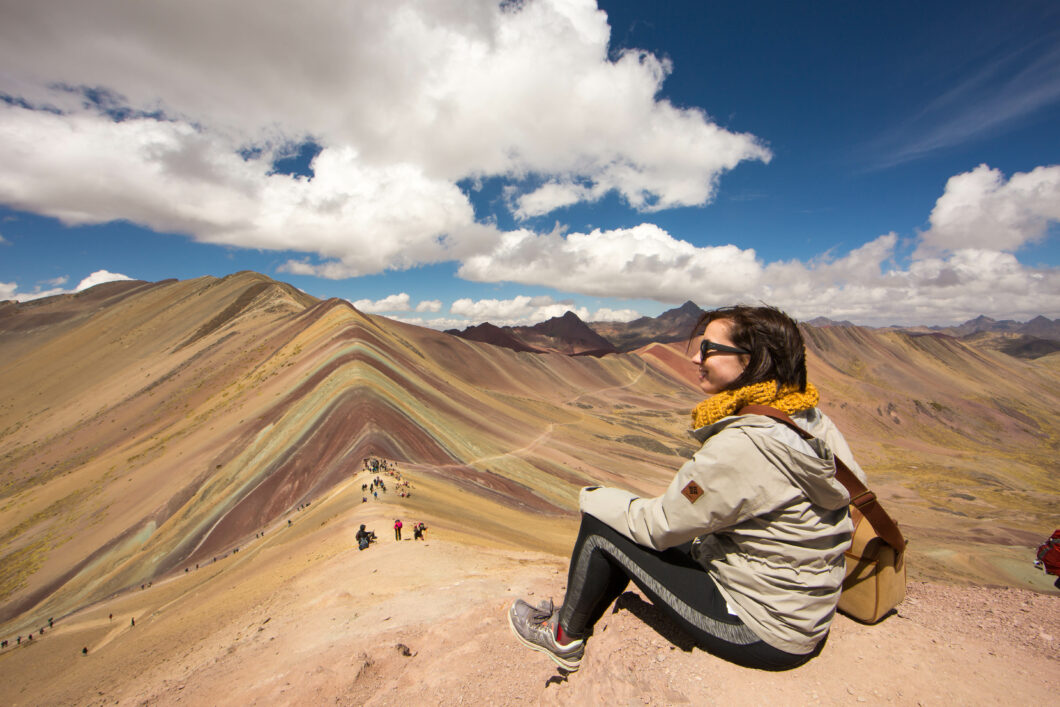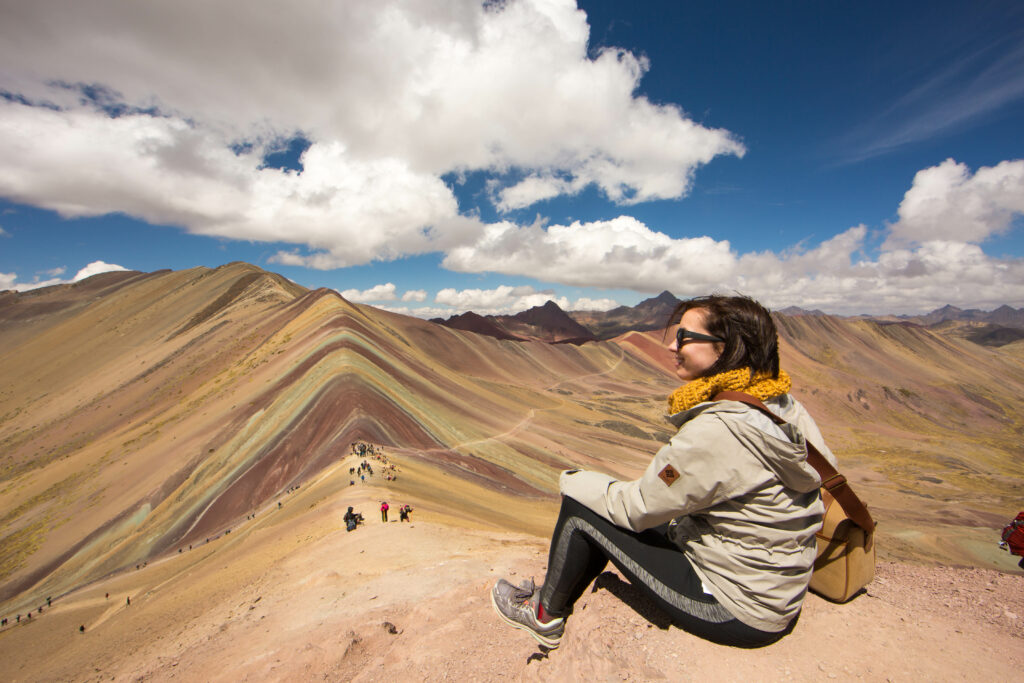 These shoes are incredibly bulky and have a ton of cushion – which not everyone loves. But it works really well for me. I also size up a full size in these, or else they are too narrow for my feet, and I will loosen the laces up considerably.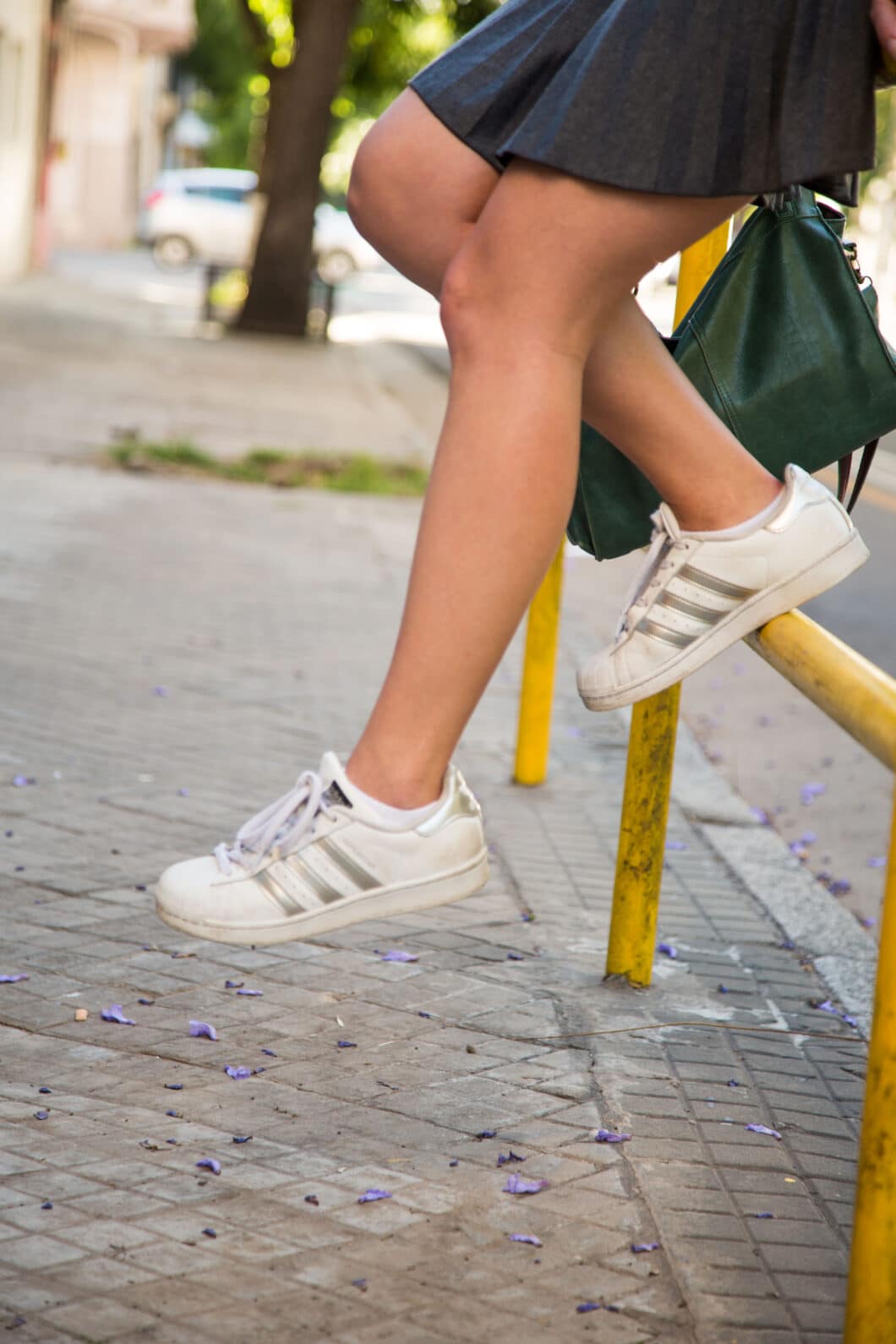 adidas Originals Women's Superstar Sneakers
I wore these sneakers all through high school and was beyond excited when I bought another pair 6 years ago. They are still quite comfortable, although, I would say they are a little more "stiff" feeling than other shoes on this list. However, they do fit my wide feet and they don't dig into my heel at all.
I specifically wanted these sneakers when I lived in Argentina because they have a hard rubber toe, which was great for walking on the rather treacherous streets of Rosario and Buenos Aires. There were always broken bits of sidewalk, glass, etc. to navigate, and having an extra barrier between my toes and that was a really nice feature. Plus, they look cool too, in my opinion!
I ordered my normal size 8 in these, and they fit very well. They aren't holding up quite as well as the rest of the sneakers on this list, but I also didn't really take the greatest care of them, and they've put on a lot of miles over the years.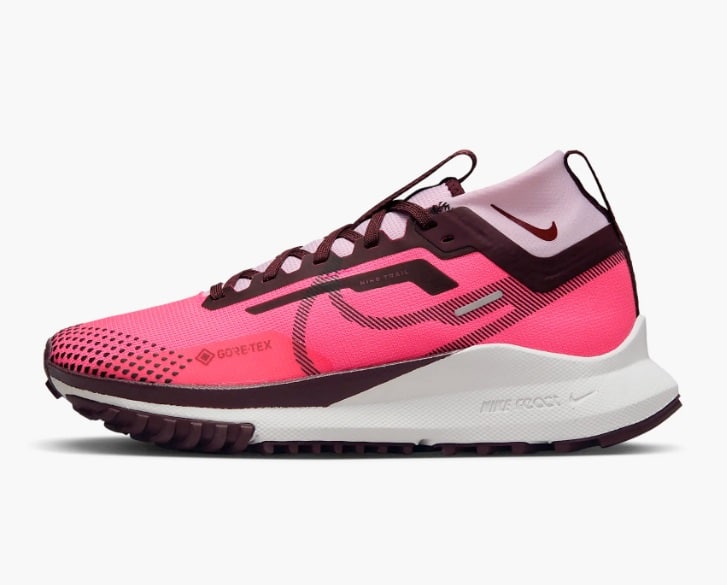 Nike Pegasus Trail 4 GORE-TEX
I just got these trail running shoes a few weeks ago, but I'm so excited about them, that I wanted to include them in this list. Once again, I sized up a full size in these Nikes. They are incredibly comfortable and fit my wide feet well.
I'm really excited because I've never had a decent pair of trail running shoes until now. AND these are actually waterproof! There is nothing worse than having wet socks on a long run or when you are out exploring.
While I'm using these for running now, I do foresee these making great travel and hiking shoes, due to being waterproof, plus having a lightweight design and responsive cushioning.
If anyone has any questions about this list of the best women's sneakers for wide feet, please reach out in the comments at the end of the post.
Read next: My BRUTALLY Honest Vivaia Shoes Review: MUST-READ Before Buying
Read next: Honest Gucci Sandals Review For Sizing, Comfort, & Quality