Honest Gucci Sandals Review For Sizing, Comfort, & Quality
This post is my HONEST review of Gucci sandals. If you are wondering if Gucci sandals run small or are even comfy – this post explains! I'm also sharing whether or not I think they're worth their hefty price tags.
*Disclosure: some of these links are affiliate links. Meaning, if you click a link and make a purchase, Have Clothes, Will Travel gets a very small commission at no extra cost to you. Thank you for supporting the brands that make this blog possible!
In early August, I ordered the Gucci Off-White Horsebit Sandals. If you're new to my blog, I'm a bit obsessed with Gucci's gold horsebit bag collection and have also been drooling over their horsebit sandals this summer.
I kept hoping they would go on sale, but before I knew it, they sold out of my size on Gucci's website, then on Luisaviaroma. So, I ordered my typical size 38 from Canadian-based retailer Ssense. I also ordered them in a size 38 1/2 from Luisaviaroma just to be safe! I REALLY wanted these sandals. (They match my YSL handbag so well!)
These are some of the key features of these Gucci sandals.
· Round open toe
· Signature horsebit hardware at vamp
· Adjustable pin-buckle ankle strap
· Logo embossed at tan leather footbed
· Rubber injection at stacked leather heel
· Leather outsole in tan
· Gold-tone hardware
And because I had liked the gold hardware and white leather combo so well, I also ordered a pair of leather flip-flops. The key features of these flip-flops are:
·Logo hardware at thong-style strap.
· Stacked leather sole. Open toe
· Rubber injection at heel
My Honest Gucci Sandals Review
Before we get too far into this review, I should mention I have rather wide feet. I can usually squeak my feet into shoes that don't come in wide but it can sometimes be a tight fit. I'm typically looking for shoes that have a little stretch (or will eventually stretch, like leather shoes and sandals).
I also wear my sandals for A LOT of walking. I'm a travel blogger and am all about comfort and versatility when it comes to my sandals.
These leather Gucci sandals looked like they would work well for me, so I was very excited when they arrived!
So, do Gucci sandals run small? My experience with Gucci sizing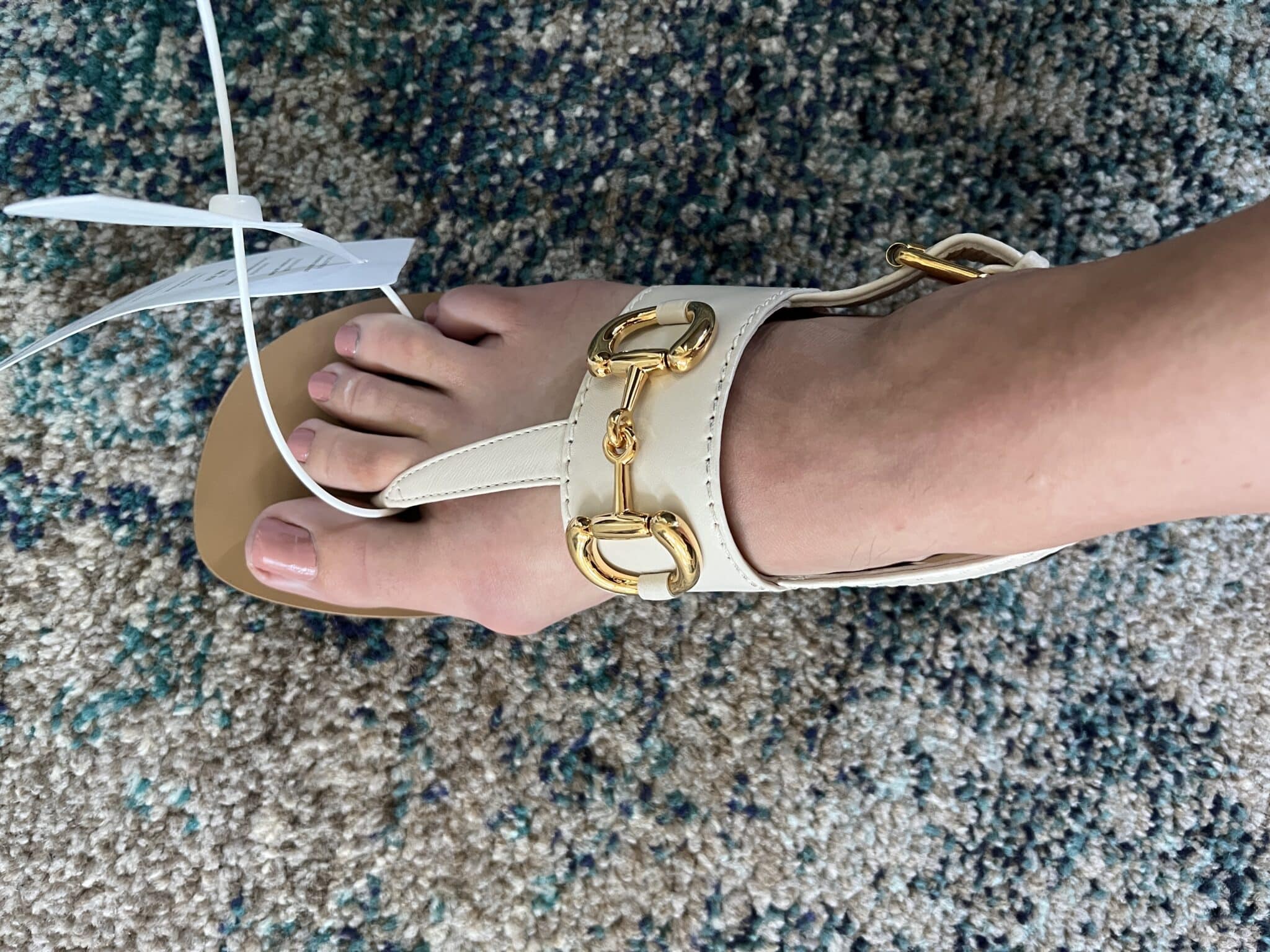 UGH. So, both of these Gucci sandals and flip-flops LOOK so nice. However, they run REALLY small. And by small, I mean they run really narrow.
Again, I have wide feet, but even if I had "average" sized feet, these would have been a tight squeeze. I tried them on multiple times and had to use quite a bit of muscle to even get them on my feet.
If you are someone who has especially narrow feet, though, Gucci may be the answer to your prayers!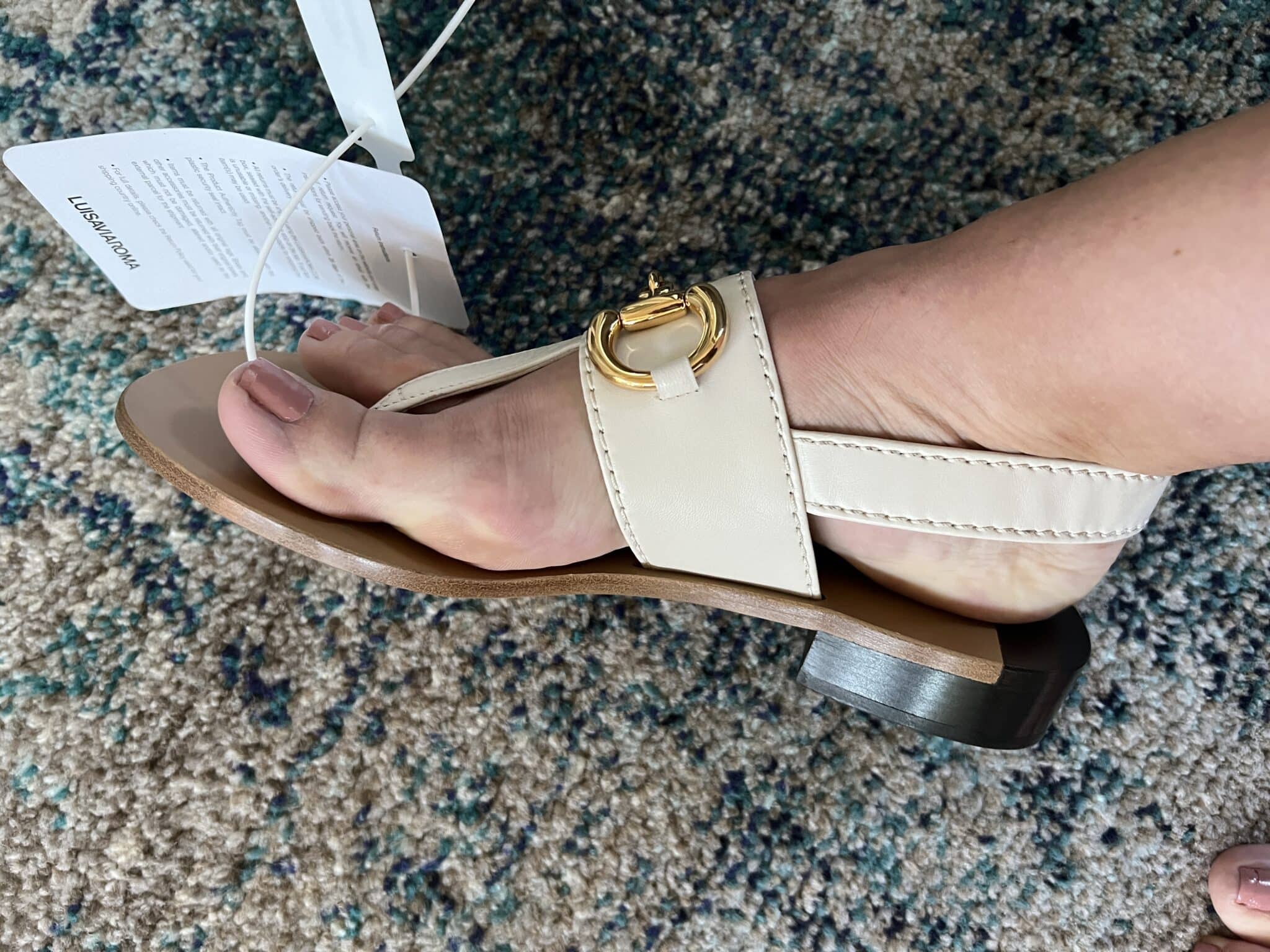 The sandals pictured above that I'm trying on are the size 38 1/2 because I could not even get the size 38 on they were so tight! (38 is my normal size in shoes.)
So, my verdict is – Gucci sandals/flip-flops run ridiculously narrow! If you're considering buying them, I would size up at least half a size.
Are Gucci sandals comfortable?
I generally have to go through a bit of a "breaking in" period with any shoes I buy due to having wide feet. However, I can tell pretty quickly whether it's worth going through this process or not.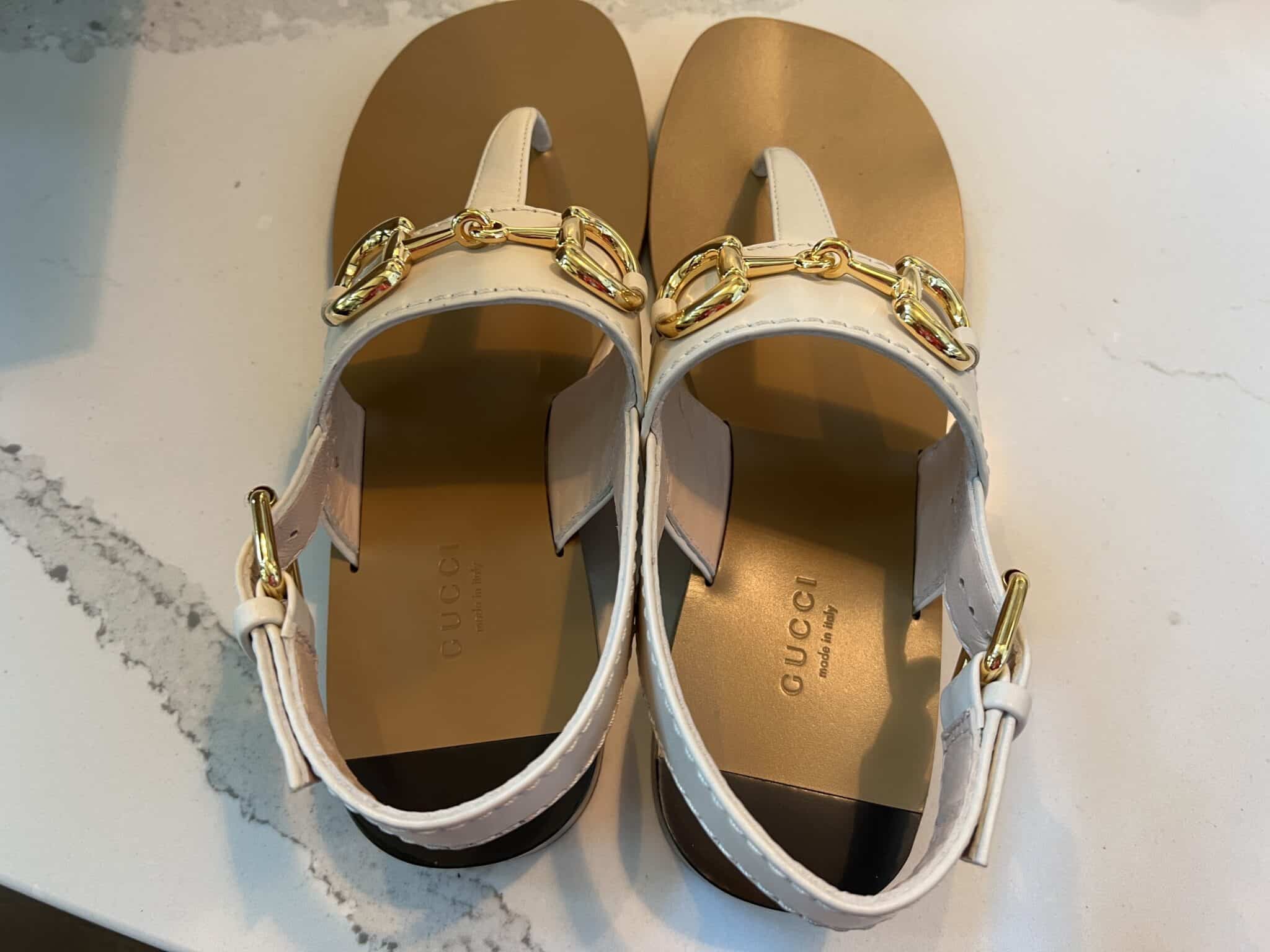 The leather both of these sandals are made from is SO stiff and just awful feeling I could not bring myself to try and break them in. They are some of the most uncomfortable sandals I have ever bought in my life!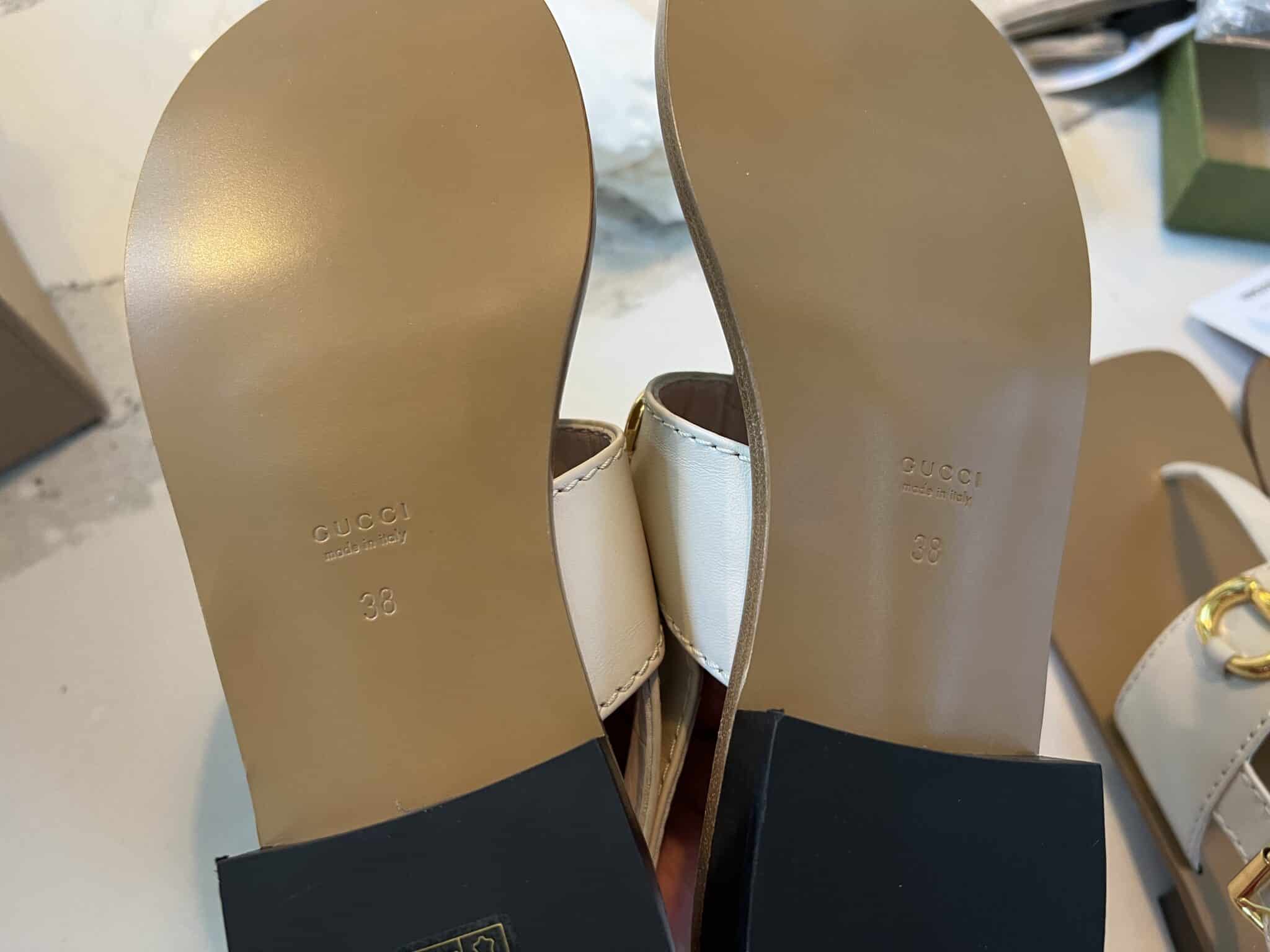 These sandals also have NO grip whatsoever on the bottom. If it rains out while you're wearing them, it'll feel like you're ice skating… Really not impressed by that.
Are Gucci sandals good quality?
This is a bit tricky to answer as I did not go through my normal process of using the product for at least several months before answering this. I ended up returning all of the Gucci sandals because they were so narrow and uncomfortable.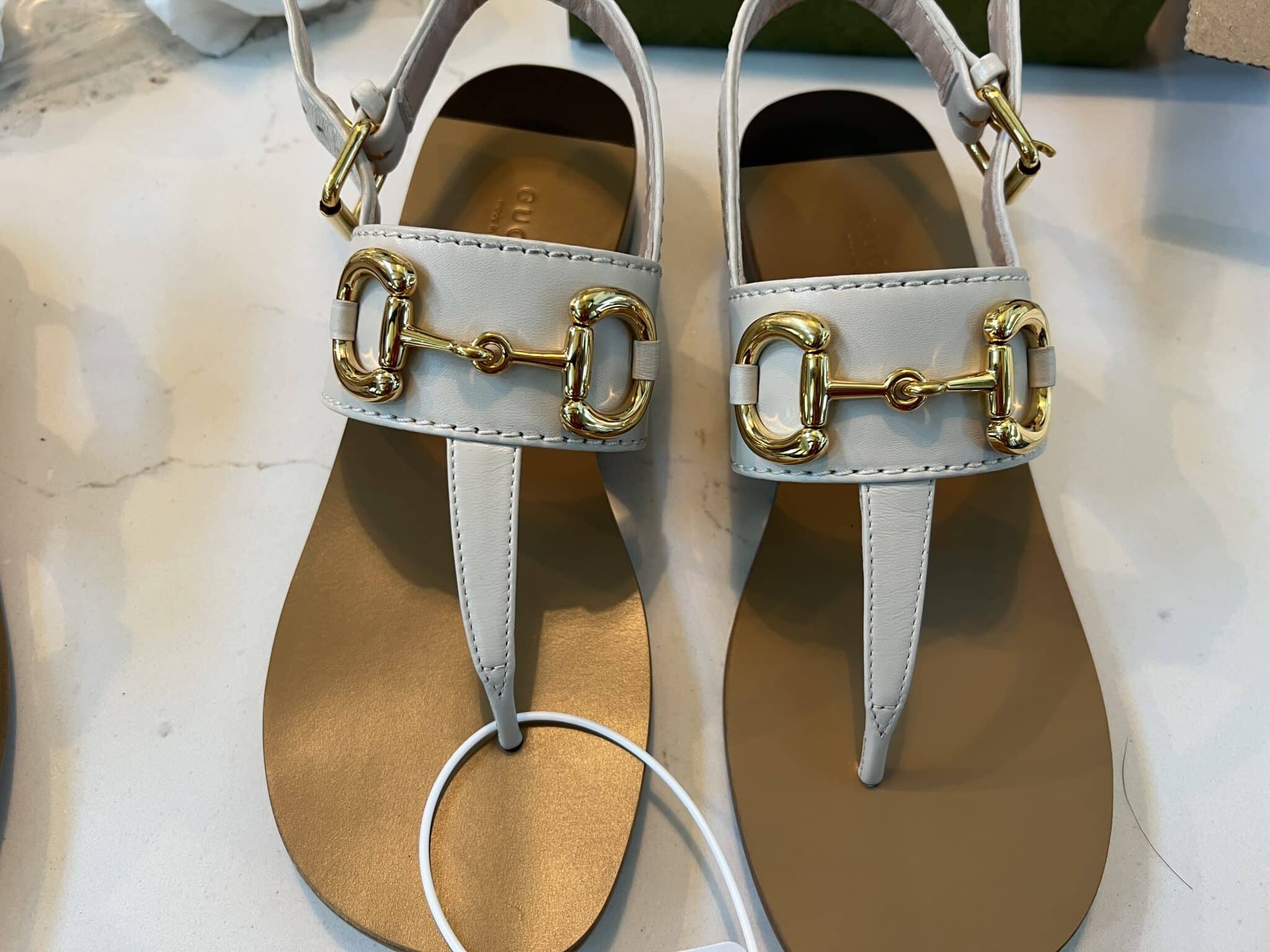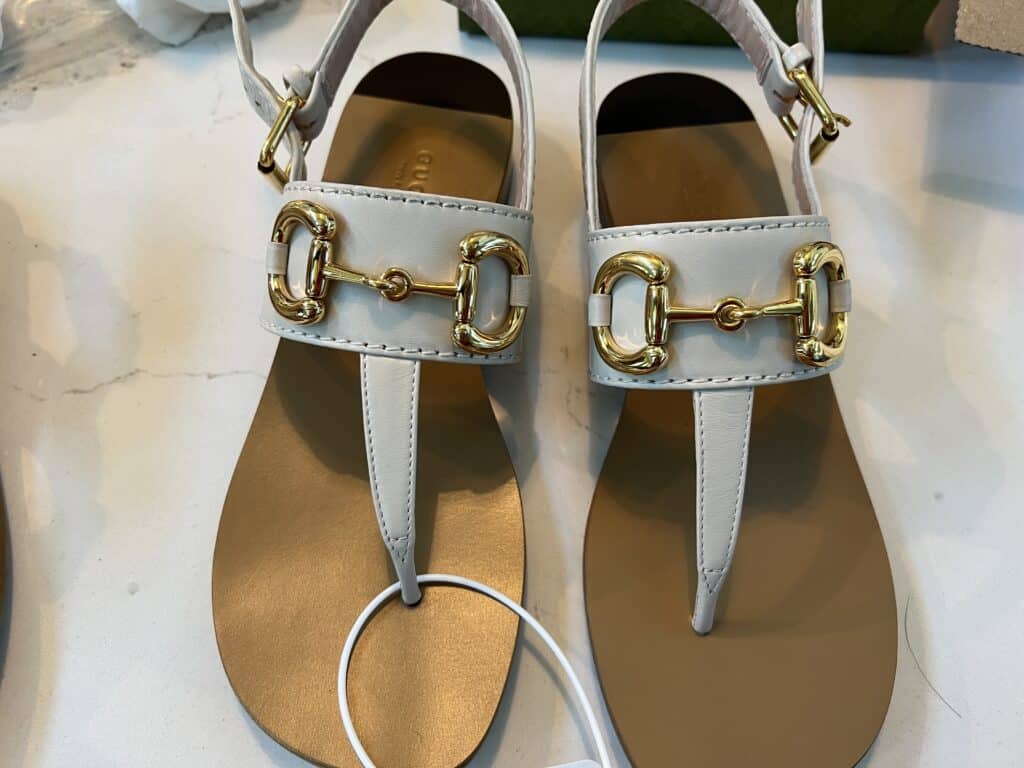 While I do think the leather, stitching, and hardware look high-quality, I have no idea, honestly, how well these sandals would hold up. They seem pretty sturdy and durable as far as first impressions go, though.
Final verdict – are Gucci sandals worth the price?
For me, neither of these sandals was worth the price. A pair of sandals that cost me over $800 by the time it's all said and done (and flip-flops that cost over $600), better feel as though I am walking on clouds and be VERY comfortable.
That was not my experience with Gucci sandals. They were wildly uncomfortable, narrow, and just impractical for daily use and travel. (I have been having really bad luck ordering shoes online lately!!)
That said, if you are interested in ordering Gucci sandals, I recommend buying your normal size and a half size up. Fortunately, Gucci's return policy is super easy (and free) and so is Ssense's return policy (I got my full refund from Ssense in less than a week after I shipped the sandals back. I have also ordered directly from Gucci and have gotten my full refund in less than a week). So, don't be afraid to buy both and return whichever doesn't fit.