Is Farfetch Legit? My Honest Farfetch Review + Photos of My Purchases
Are you wondering if Farfetch is legit? This post is my honest Farfetch review after spending thousands of dollars with this online retailer. If you are wondering whether Farfetch is selling fake designer items, what their shipping and return policy is, and whether or not I recommend shopping on Farfetch… this is the post for you.
How Does Farfetch Work?
Farfetch is an online luxury fashion marketplace that is London-based. They connect customers worldwide with more than 1,400 of the world's top brands, designers, boutiques, and department stores. Farfetch features items from designers such as Prada, Dolce & Gabbana, Saint Laurent, Balmain, and more.
Farfetch operates on a different business model than other 3rd party luxury websites and department stores, in that, they don't actually own the inventory that is being sold on the site. Farfetch works directly with brands and designers to sell their products on the platform, and many of the items ship directly from the designer or brand. So, to put it simply, Farfetch is aiming to become the Amazon of the luxury market, in a sense, with its technology.
See the next point to understand why you would order from Farfetch instead of just ordering directly from the designer/brand…
Have Clothes, Will Travel uses affiliate links. Meaning, if you click a link and make a purchase, Have Clothes, Will Travel gets a very small commission at no extra cost to you. Thank you for supporting the brands that make this blog possible!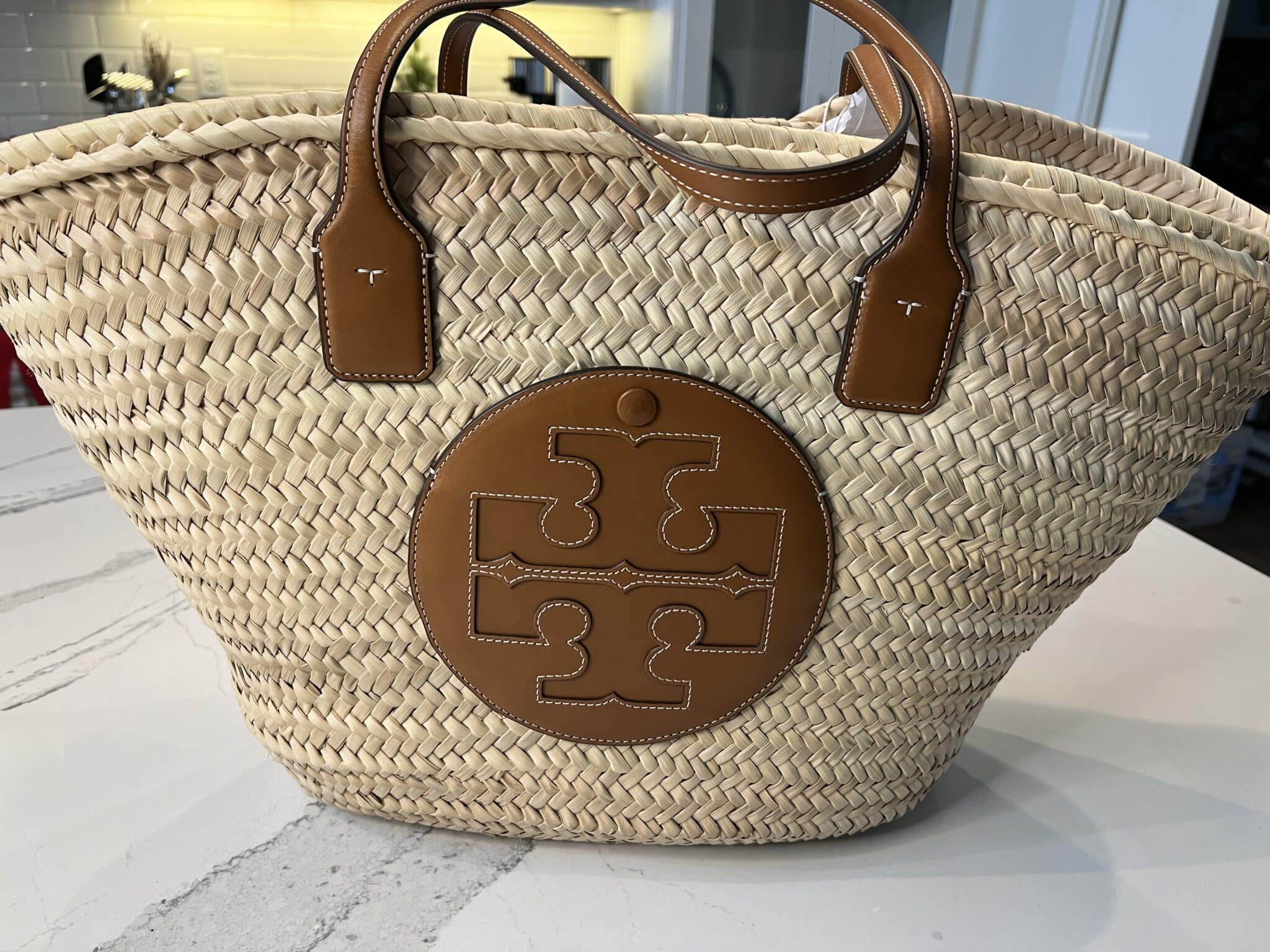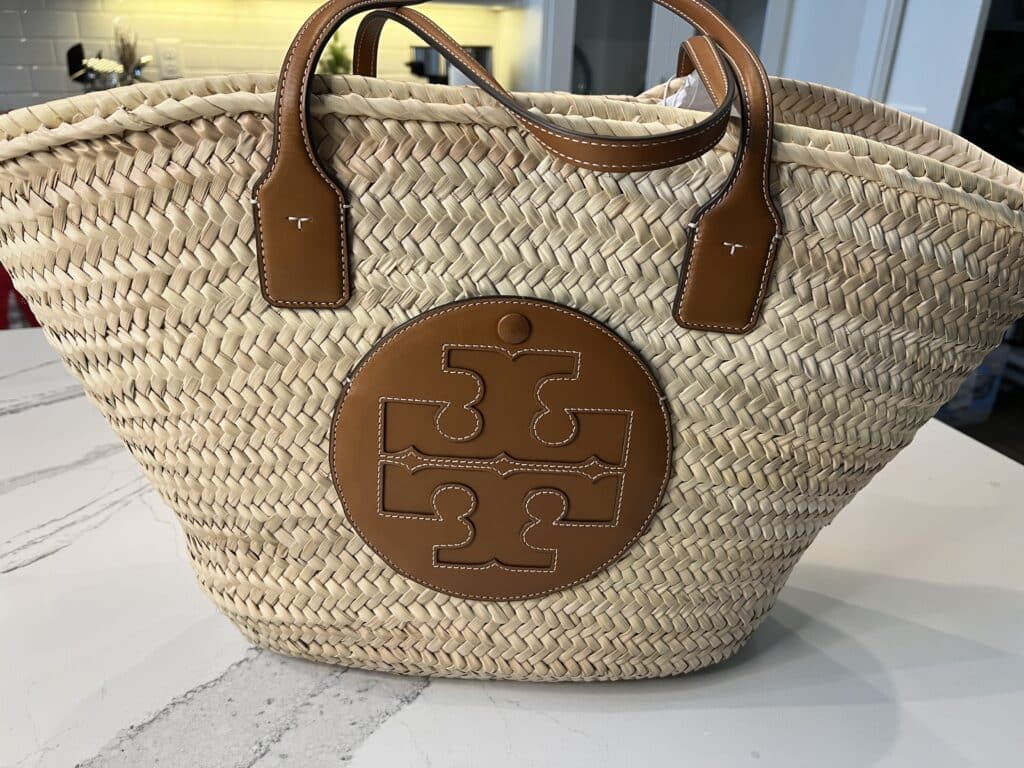 My Honest Farfetch Review
So, I ordered from Farfetch because they had the color I was interested in for a YSL bag and also a Tory Burch bag that was no longer available on the Tory Burch US website. As I mention in all of my blog posts like this, I do all of my shopping for luxury items online because I live in the middle of nowhere USA and don't have easy access to designer boutiques or high-end department stores.
This is a question I get frequently when ordering from sites like this…
The answer to that is that, usually, by the time I determine I am going to order whatever designer item I'm interested in, it's already been sold out on the designer's website in the color or size that I wanted.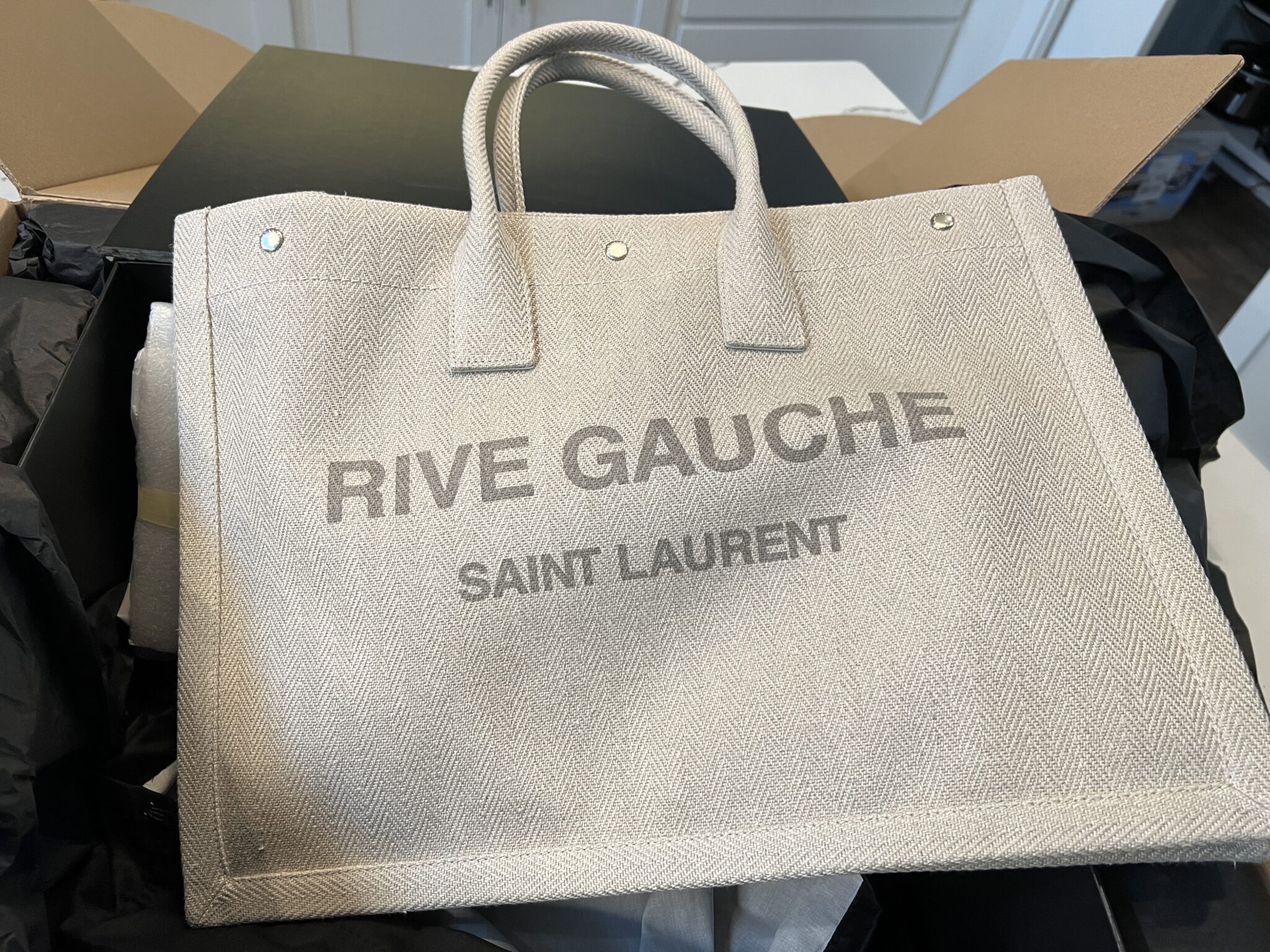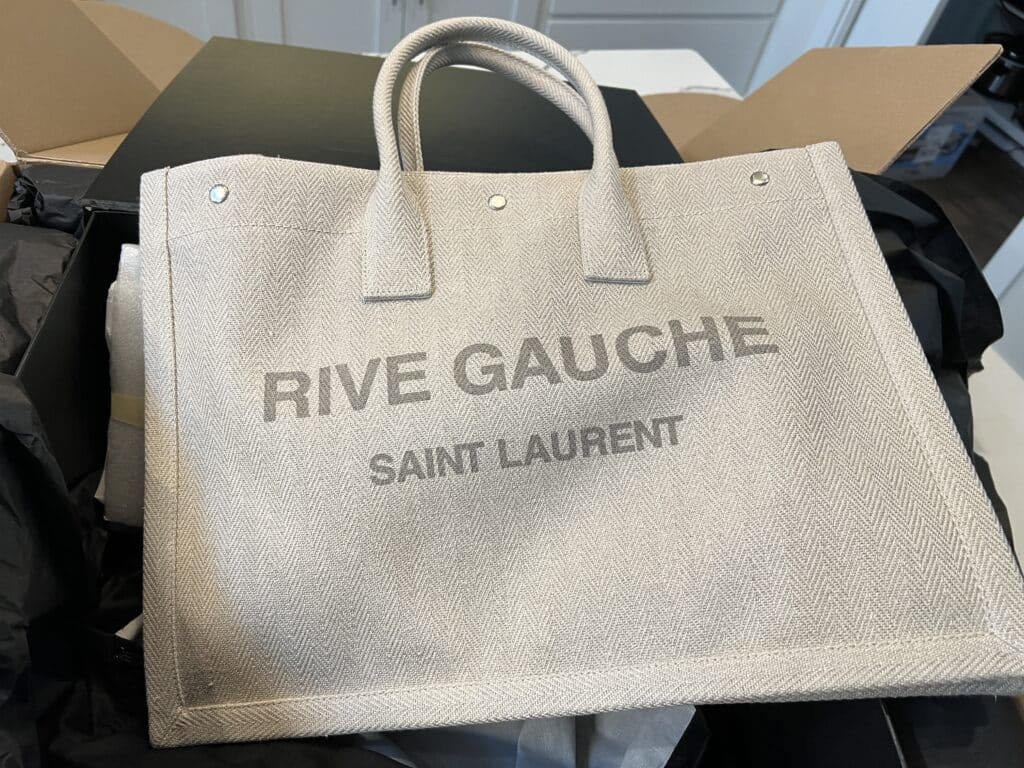 Whereas, these third-party sites tend to have access to items that are sold out at the time I am looking for them. In this case, the Tory Burch UK site still had this bag in stock. Whereas the US site did not. And it was cheaper for me to order this bag on Farfetch than directly from the Tory Burch UK website.
Sites like Farfetch too will usually have relationships with designers and brands and will release exclusive online designer items that you can ONLY buy on Farfetch. (Although, Farfetch does not have very many "exclusive" items in comparison to similar sites like NET-A-PORTER.) Farfetch also has its own in-house brand – There Was One. They also have a fantastic Pre-Owned section.
My Farfetch YouTube Video
Why is Farfetch Cheaper?
I am not 100% how it works out that Farfetch is cheaper than buying directly from the designer. If anything, I would think it should be more expensive. This is because, again, Farfetch doesn't own the products they are selling. They're making money by earning a commission selling items from designers and other boutiques. And the designers and brands set the prices you see on Farfetch.
HOWEVER, Farfetch can sometimes be cheaper than buying directly from the designer. As I mentioned above, I bought 1 YSL bag and 1 Tory Burch bag on Farfetch. The Tory Burch bag came from the Tory Burch in the UK (and I'm US-based). I actually saved about $240 ordering it from Farfetch instead of ordering it directly from Tory Burch UK. You can compare these prices for yourself too if you don't believe me…
But, the YSL bag I ordered was actually $100 more expensive than ordering from YSL. However, the color that I wanted in this bag is nowhere to be found on YSL.com. Farfetch is the only website I could find it on. Therefore, I was willing to pay the extra $100 to get the color that I wanted. (Again, this also baffles me that it's available on Farfetch by not YSL.com – it shipped directly from the same warehouse that YSL.com ships from.)
So, Farfetch CAN sometimes be cheaper (but, of course, not always). Why this is, I don't have the answer.
How long does Farfetch shipping take? And where does Farfetch ship from?
Farfetch shipping time and location will vary depending on what item you purchase. This is because Farfetch is (usually) not fulfilling the order. It will be whichever store or designer the item is being bought from.
Farfetch will give you an estimated delivery time for each item – this can be found right below the "add to bag button."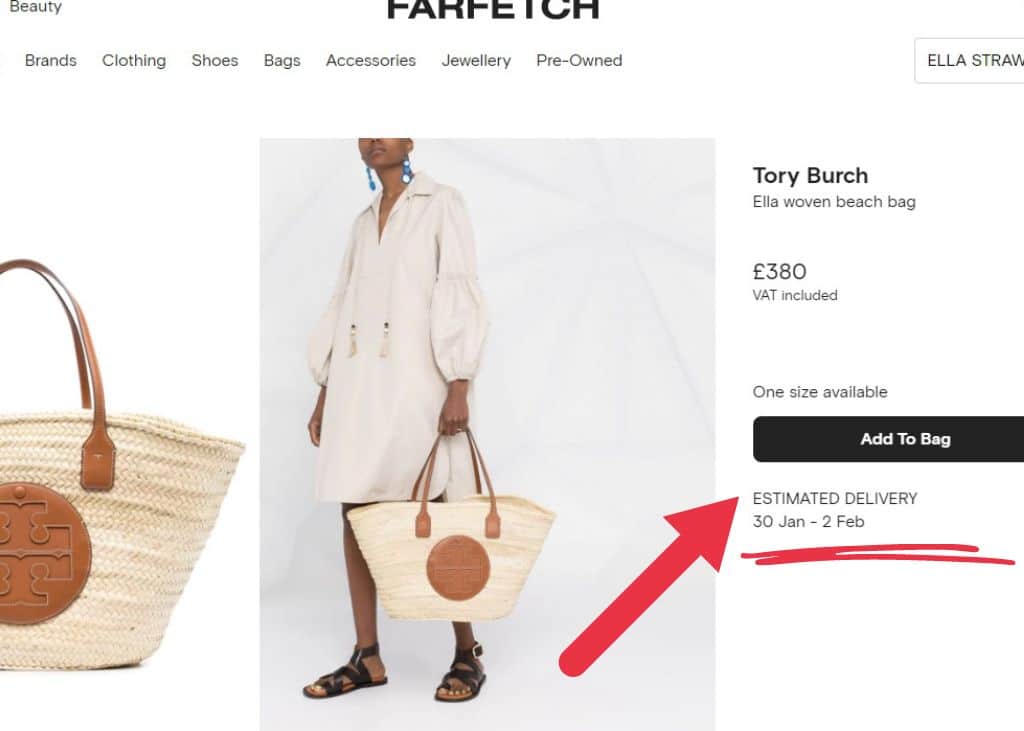 However, at least in my experience, that shipping estimate is not always accurate. The Tory Burch bag I ordered took an additional 5 days to reach me. Whereas the YSL bag did arrive within the estimated shipping time.
This might be because the YSL order shipped domestically, and Tory Burch was an international order (which, of course, can be trickier).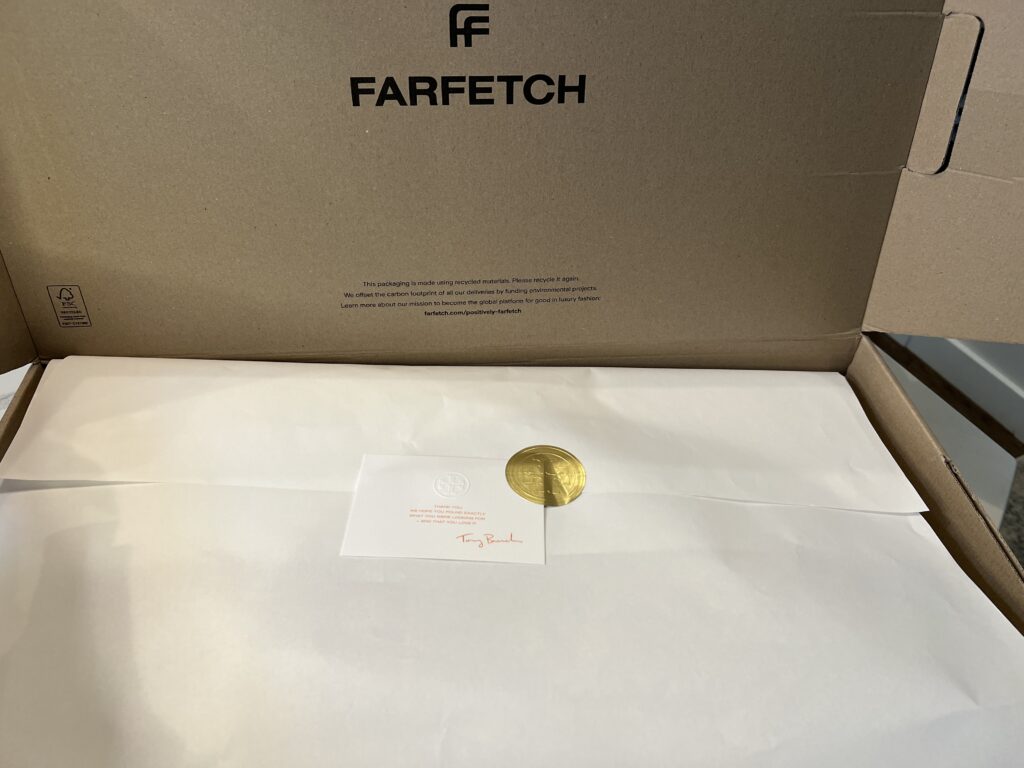 I also thought it was interesting that my Tory Burch order shipped in a Farfetch box, but my YSL order shipped in the same box as any other YSL.com order.
My shipping was also free because I had ordered over $200 in merchandise from Farfetch. Both items were also shipped with FedEx.
For both of these packages, I also had to sign for the packages. So make sure someone is home to sign!
Are Farfetch Items Authentic?
Given that the items are usually shipped directly from the designers themselves, you would think it would be safe to say they are authentic. However, as I always do with these posts, I did order a Rive Gauche bag directly from YSL at the same time so I could compare it to the Rive Gauche tote I ordered from Farfetch. (I also did this because I wasn't sure if I wanted a bag with leather handles or one with fabric handles.)
So, these bags will be different in that one will have leather accents and one will be fabric. The colors are, of course, different too. However, things like the stitching, the logo, and the interior can still be compared. Check them out in the gallery below.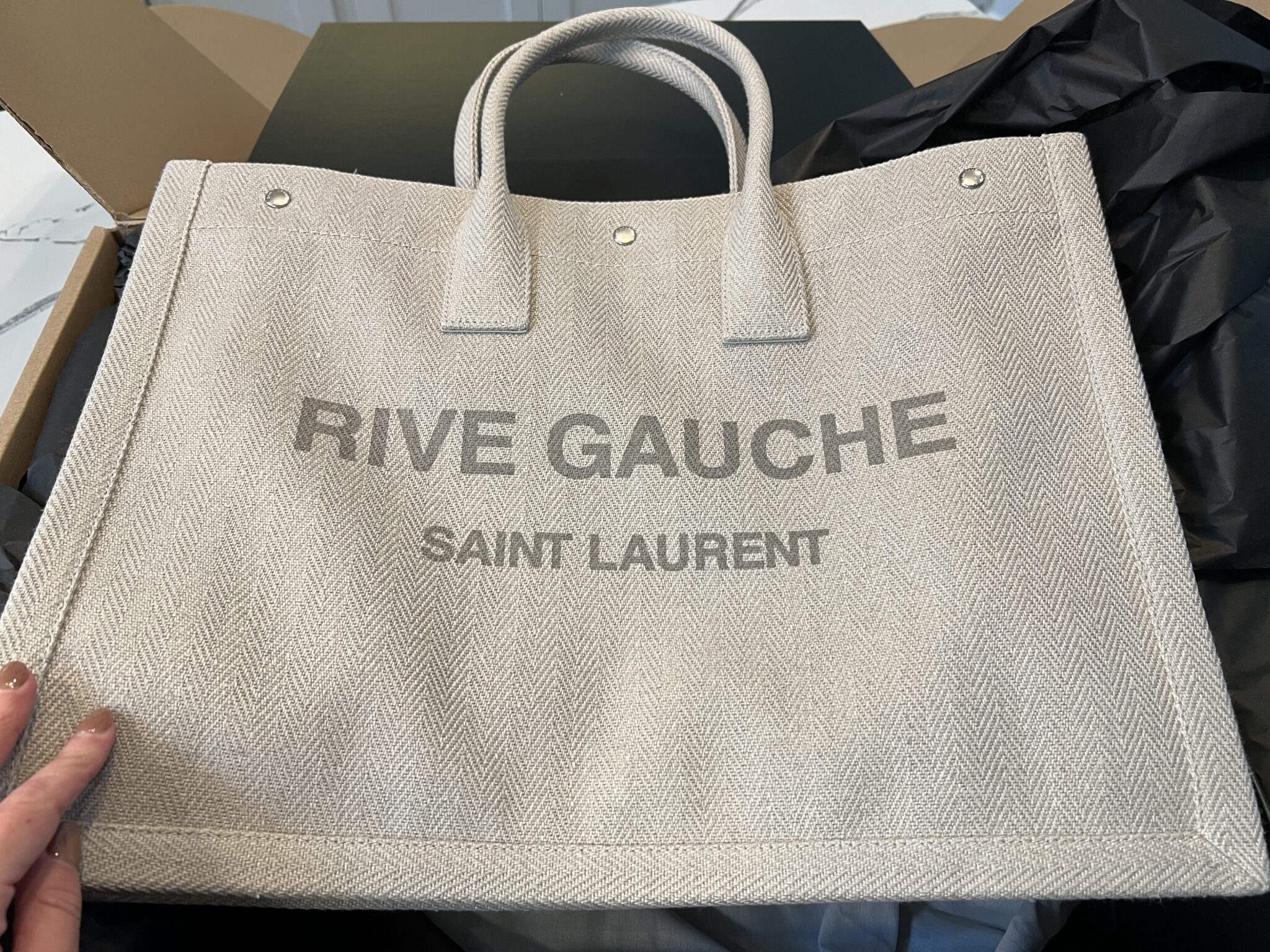 Personally, I can't see anything above that would suggest the bag that came from Farfetch is not authentic. Both items also came with an authentic YSL box and dust cover and had their authenticity paperwork inside the bag. They also shipped from the exact same address (and were both returned to the same address).
Farfetch's Return Policy – My Experience
So, I ordered all of these bags because I was on the hunt for a new summer/beach bag, and I wanted to have it before I leave for Curaçao in February. I only needed one bag for this, and I ended up liking the Tory Burch bag the best out of all of them (especially for the price).
I ended up returning both of the YSL Rive Gauche Tote Bags. Again, one was bought from YSL, and one was bought from Farfetch. They both were returned to the same address via FedEx.
Here's where things are different, though…
YSL's return policy states that they will accept items within 30 days of receipt of the products. Farfetch's return policy states that they will only accept items within 14 days of receipt of the products.
I also returned both of these items at the exact same time and can see that they arrived at the warehouse at the exact same time. It also took them almost the exact same amount of time to issue me a refund (only about 6 hours after the items were received).
However, YSL's refund appeared in my bank account within a couple of days after it was issued. The refund Farfetch sent me is still not in my account, and it's been a full week since it was issued. (But, Farfetch does state it can take up to 14 days before it shows up.)
Each item you order from Farfetch will have a different process for returning it, as every brand/designer is going to have different return paperwork, and it will be different if it's an international order vs a domestic one.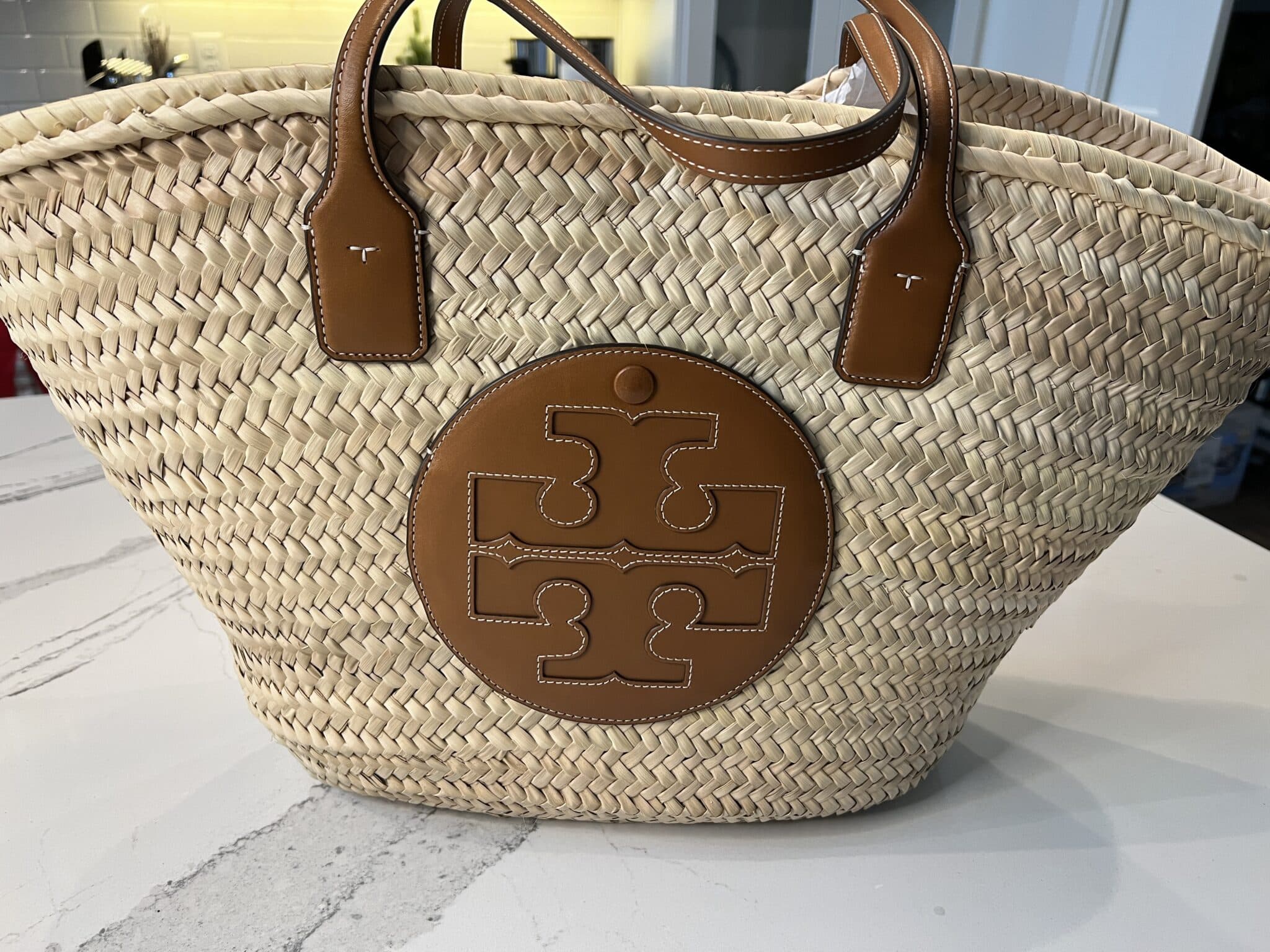 Farfetch Customer Service – My Experience
When I went to request a return of the YSL Rive Gauche bag, the Farfetch site was giving me an error message. I sent Farfetch customer service an email about it. The error message ended up resolving itself within a few minutes, though, and I then had no issues requesting a return via the website.
The Farfetch customer service did reach out to me, though, and they were very kind and helpful. However, it took between 6-12 hours for them to reply to an email. If you need a faster response I would contact them via phone.
So, Will I Be Shopping on Farfetch Again?
If I find myself in another situation where Farfetch is the cheaper option, or they're the only retailer that has an item in a color or size that I want, I would not hesitate to order from them again. I am not concerned that they are selling fake designer items, and their customer service seems good, in my experience.
That said, I won't be going out of my way to shop on Farfetch because a 14-day window to return an item is cutting it a little too close for me! I am so used to having 30 days to return an item, that I almost missed that return window. (I literally mailed it back on the last possible day I could to still be eligible for a fund.)
Due to that return policy, I will be ordering from sites like Mytheresa or SSENSE, if possible.