Is Nasty Gal Legit? Honest Nasty Gal Review of Clothing, Shoes, & Accessories
Are you wondering if Nasty Gal is a legit website or if it is a scam? This post is my honest review of Nasty Gal for their clothing, shoes, and accessories.
What is Nasty Gal?
Nasty Gal is an inexpensive, online fashion retailer that's based out of Los Angeles. You may have heard of them because there was a show on Netflix called Girlboss that was based on Nasty Gal's founder! This is also a brand that is heavily featured on social media.
Nasty Gal features a wide variety of styles on their site. You can find cute boho and cottagecore dresses to trendy and extra sexy/sparkly clubwear and crop tops.
Why I Ordered from Nasty Gal Twice(Updated 9/26/22) Does Nasty Gal send influencers higher quality items?
Earlier this year I partnered with Nasty Gal on this sponsored blog post. So, I got a few different outfits from them that I reviewed for this blog post. Overall, the clothes I received were fine quality for the prices. I wasn't over the moon about most things, but overall, it also was by no means terrible quality.
However, I went down a rabbit hole a little while ago on YouTube… and noticed a lot of discrepancies between the Nasty Gal videos I was seeing. It seemed if a person was sponsored by Nasty Gal they were perfectly happy with their products but if the person had bought the items themselves the products were awful quality.
This made me a little worried. As someone who is 100 percent honest in all of my reviews, I don't want to believe that the sponsored YouTubers were lying in their videos.. and heck, I was just sponsored by Nasty Gal through my blog and I thought the quality of their stuff was fine and had also written that in my review.
So, this made me wonder if perhaps those of us who were sponsored by Nasty Gal were getting sent better quality stuff by the brand… than what the rest of the world is getting sent.
This made me nervous because Nasty Gal doesn't have a review section on their site. Customers are relying on people like me to help them make their purchasing decisions here. I don't want to be giving anyone bad advice!
So to test this theory, I placed my own order through Nasty Gal with my husband's Paypal account and email address and had it shipped to my mom's address – so, Nasty Gal wouldn't realize it was someone they had sponsored in the past.
The items I ordered myself (undercover!):
Items I received during my Nasty Gal sponsorship:
A few of the items I ordered were the exact same products that Nasty Gal had sent me for my sponsored post. I did this so I could compare the items. I couldn't get everything though, because some items had sold out.
I also ordered a few additional items like pajamas, a swimsuit, and a dress just to see what the quality of these items is like. To see this, please check out my YouTube video, below.
Nasty Gal Clothing Quality Review
These are the items Nasty Gal had sent me earlier this year. I ordered 2 dresses and 1 blouse from Nasty Gal for the partnership. I will review each item individually, because the style, quality, and prices were quite different from item to item. To see them compared to items I bought myself, check out my YouTube video.
Floral Chiffon Wrap Cropped Blouse
So, I do not love wearing crop tops. It is just not my style! However, I thought this blouse was super cute, and I wanted to give it a shot.
Despite not loving crop tops, this blouse ended up being one of my favorite items out of this order.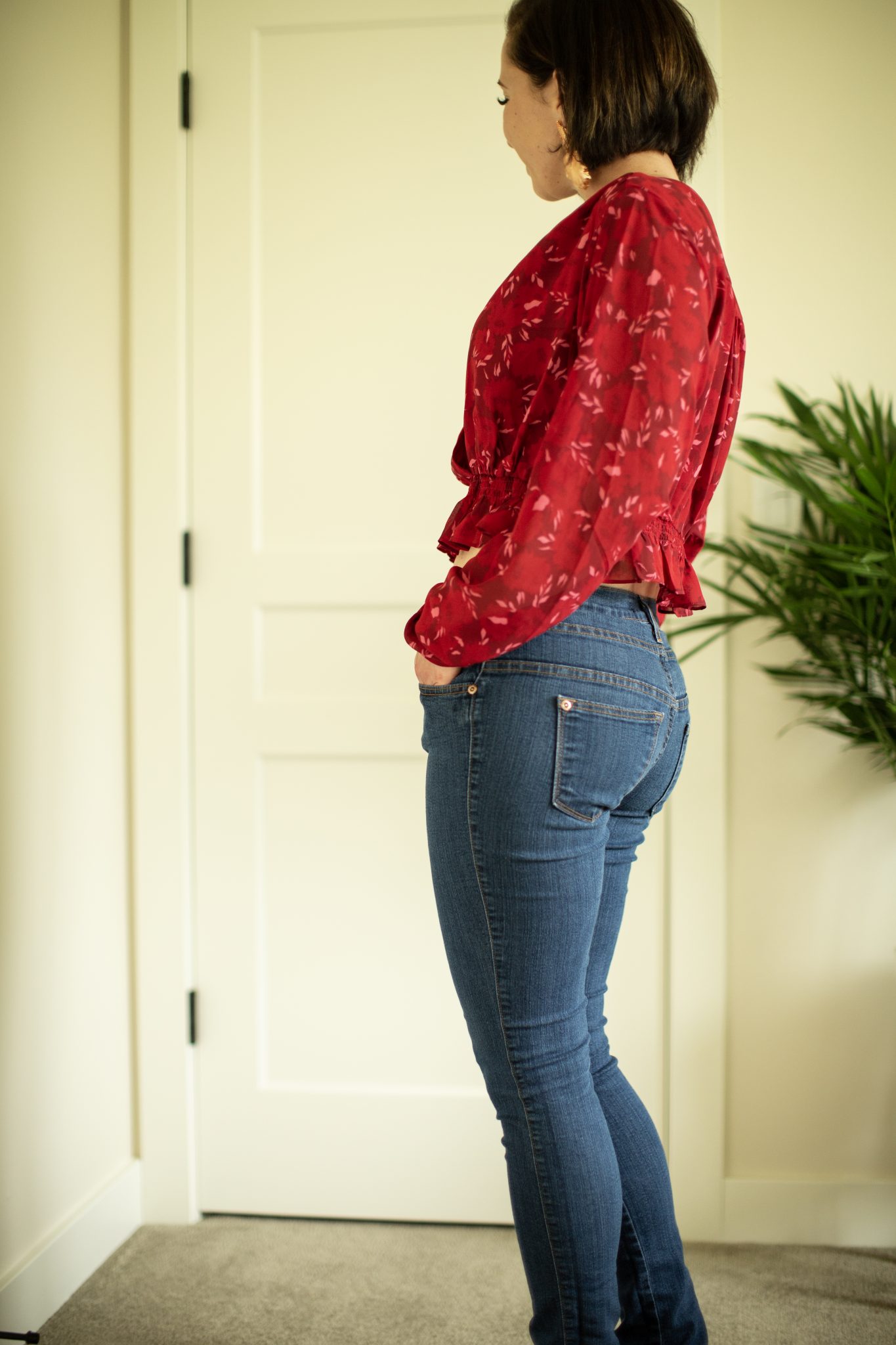 It looks just like the product photo, and I think the quality is fantastic – especially given that it was about $30. It's very comfortable to wear, and I'm excited to get some more use out of it this summer!
The only negative I have to say about this one is that the front of it is WAY too loose. I will be taping or pinning it shut before wearing it out and about. This is because it falls open super easily – see photo below.
That's an issue I can easily correct with a safety pin, though. (Or maybe I'll get ambitious and sew it shut.) So, overall this top is a winner in my book!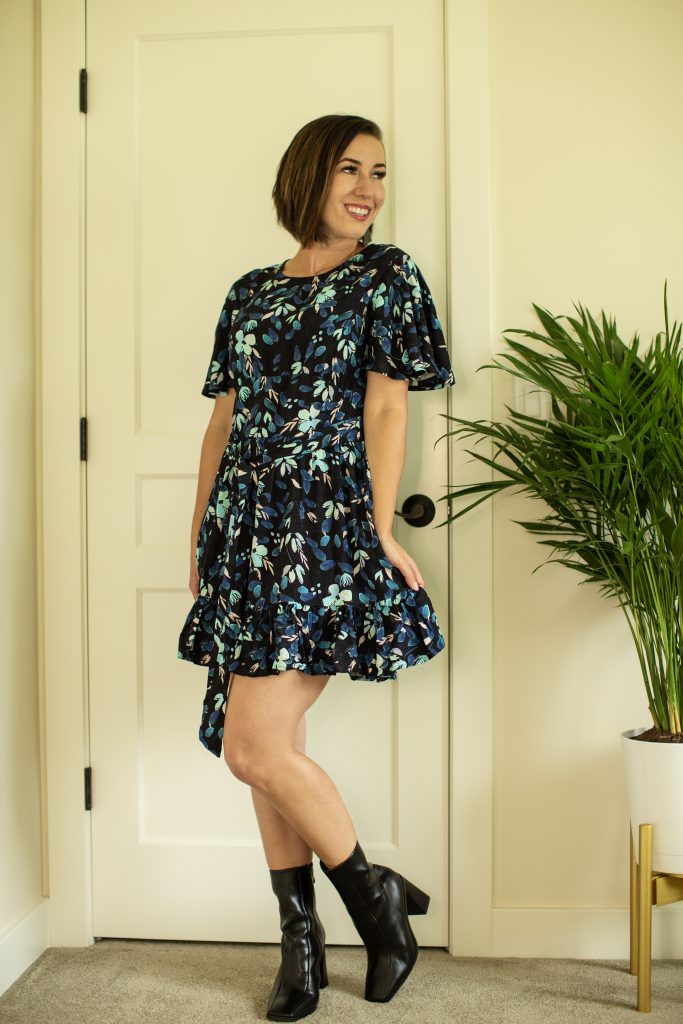 This dress is very much my personal style! And while I do really love the way this dress looks and fits, I am not as impressed with the quality of this item. The material is pretty thin, and this is one that I will be taking EXTRA care of when washing, so it doesn't end up disintegrating on me in the washing machine.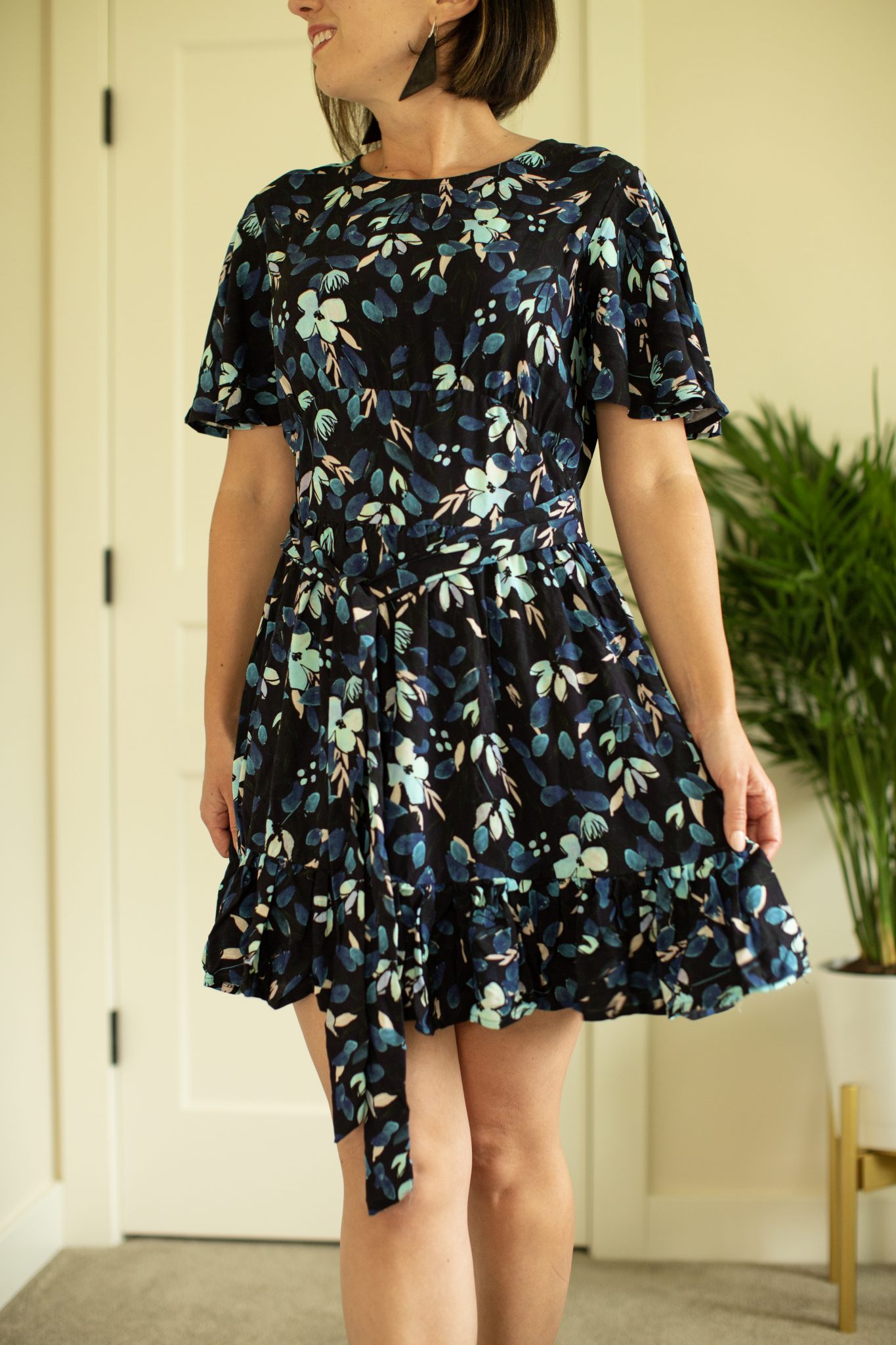 This dress was also about $30 when I purchased it. So, again, for that price – I'm not too upset about the quality of this one. It also does look exactly like the product photos on the website.
Embellished Sequin Fringe Trim Bodycon Mini Dress
Ok, so this dress is the one I was planning to wear out in Vegas. It's pretty "out there" and has an open back that doesn't let you wear a bra with it (see pic below). I knew this dress was a bit of a gamble because it is just not something that I would typically wear. (But hey, it's Vegas!)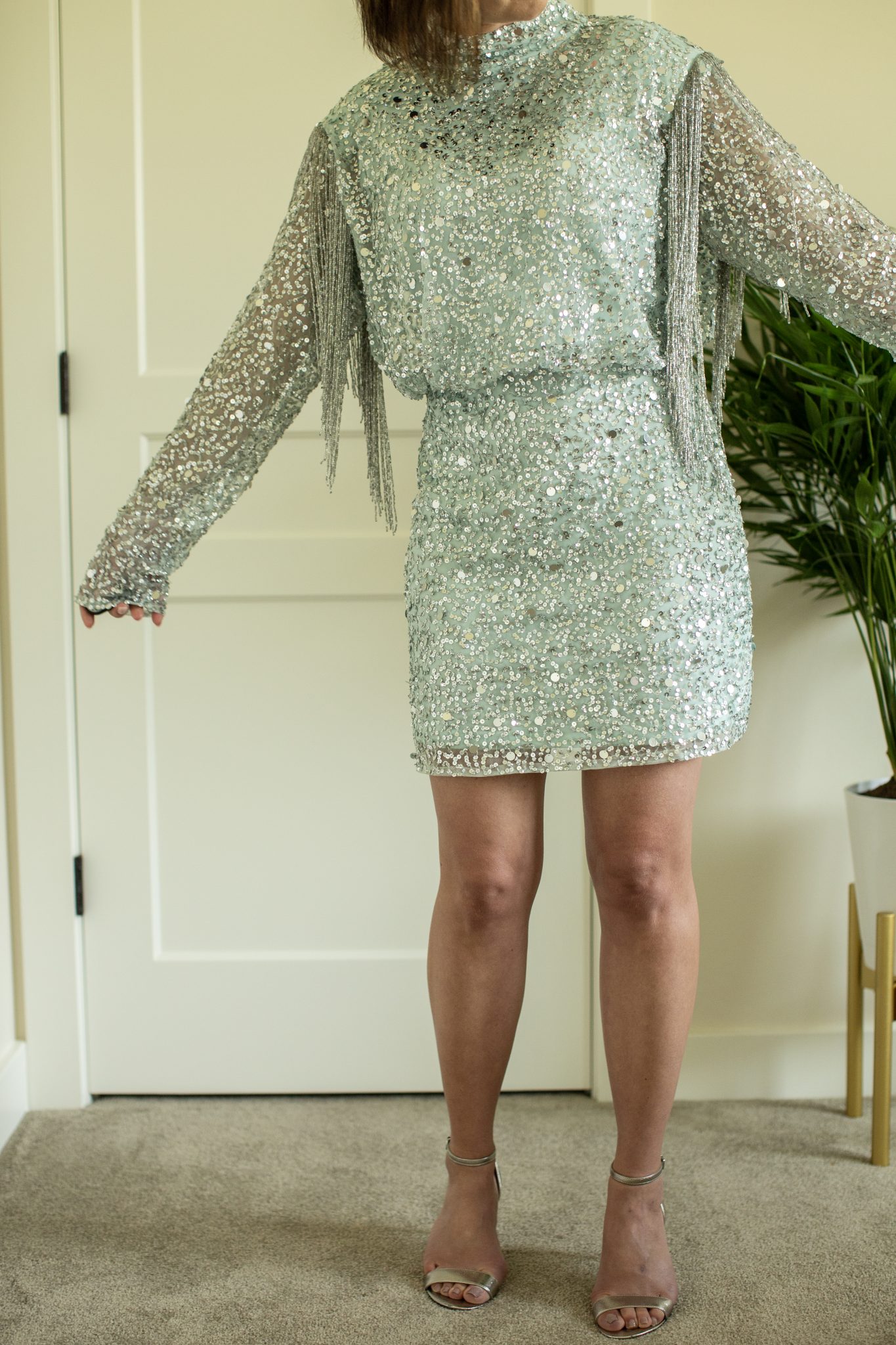 However, this dress I just can't bring myself to wear. It's also NOT cheap. This dress was over $100 even on sale. While I wouldn't say the quality of this dress is bad, I just don't think this looks like a $100+ dress. (It looked way cooler in the product photos than it does on me!) I think I am going to return this dress to Nasty Gal.
Nasty Gal Accessories Quality Review
Heart Shaped Cat Eye Sunglasses
So, I had ordered these sunglasses because I have a bachelorette party this summer where we are all dressing up as a "holiday" before we go out. The holiday I chose was Valentine's Day! So, this is the start of my crazy outfit for that outing!
Given that these sunglasses are only $7, I am VERY happy with them. They're comfy and fit well, and for that price, the quality is great. I would also absolutely order more sunglasses from Nasty Gal.
How fun are these koi fish earrings? I think they look awesome, and the quality is great. However, these earrings are SUPER heavy. I do worry that I won't be able to wear them for very long because they are so heavy.
These earrings are only $7 as well. So, again, they are very affordable. However, the site claims that these earrings are "sustainable" because they are made of recycled metal. I question how sustainable these earrings are, though, given how low their price tag is…(it kind of smells like greenwashing to me). Read How to Shop for Sustainable Clothing for more info.
Nasty Gal Shoes Quality Review
Faux Leather Padded Toe Thong Sandals
These sandals were also a bit of a gamble, as they aren't really my personal style. The extra padding is nice – but the shoes are pretty stiff and the toe part rubs a bit. I wouldn't say these are the most comfortable and highest-quality sandals I have ever bought.
I think they also make my already big feet look huge! The price is also about the same as the boots (below), and the boots are WAY better quality. So, I don't think I will be keeping these sandals.
Square Toe Heeled Sock Boot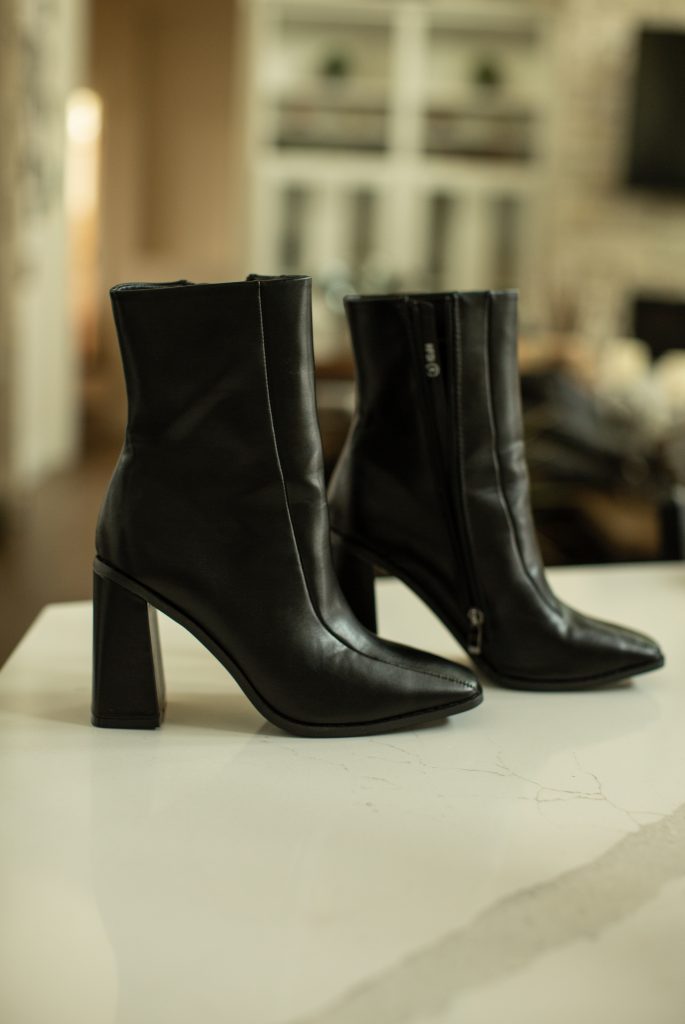 Saved the best for last! I LOVE these boots. They are my favorite part of this Nasty Gal order. These boots were just $30, and they quality is AMAZING for that price. They are quite comfortable and fit my wide feet well too.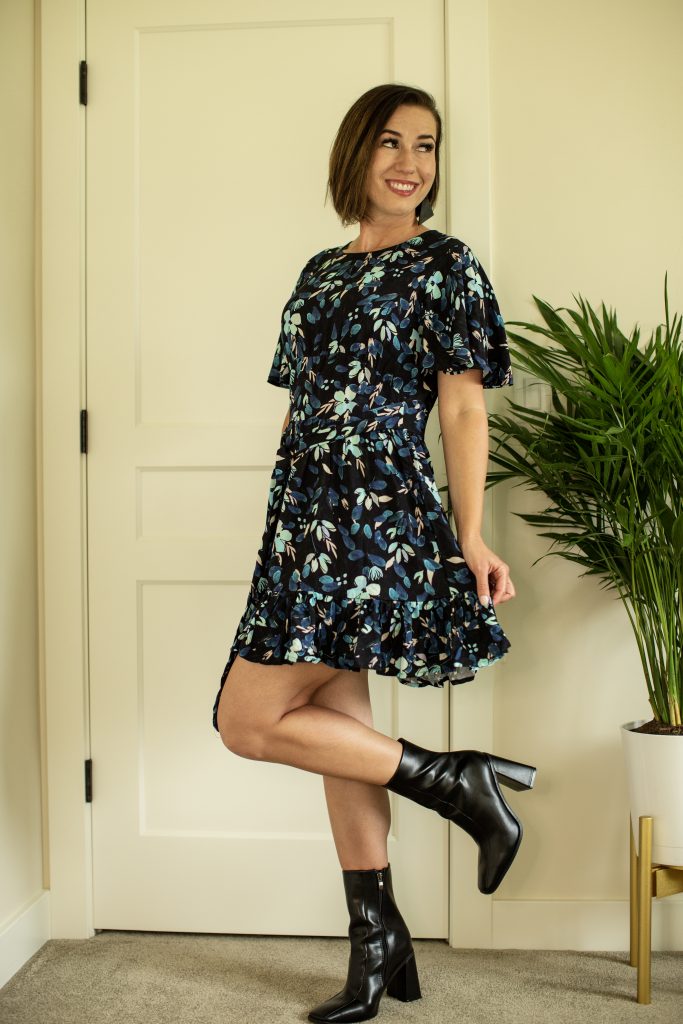 These boots are also super versatile. They work great paired with dresses and skirts, and will also look great in the winter paired with jeans and a sweater. I am VERY excited about these and will absolutely be ordering boots from Nasty Gal again!!
Nasty Gal Sizing
As with any online brand, it's always important to know what your measurements are before placing an order.
Clothing sizes
I am typically a size 6 or a size medium in other brands. Based on Nasty Gal's size chart and my measurements, a size 6 would be too small for me. So, I opted for a size 8 for all of the clothing I purchased from Nasty Gal.
The size 8 fit just right with everything that I ordered. So, the sizes are consistent with Nasty Gal, in my experience.
Shoe sizes
I am typically a size 8 in other shoe brands (I also have fairly wide feet), and I ordered a size 8 in both the boots and the flip-flops that I ordered. Both of these shoes fit me perfectly. So, I would say Nasty Gal's shoe sizes are true to size.
Nasty Gal Shipping Review
Nasty Gal shipping is NOT free. Standard shipping is $11.99 and Express shipping is $14.99 OR express shipping is discounted to $4.99 if you spend over $80.
This changes, though, depending on whatever promotion Nasty Gal is running at the time you place your order. At the time I did my order, my shipping was actually free because I spent over $80. But their sales vary from day to day.
Nasty Gal's return policy
So, I ended up returning everything I had gotten in that second order in my YouTube video. I either didn't need it or I didn't like it… so back it went. Nasty Gal returns are NOT free you have to pay for the shipping back to the UK, and prices will vary from order to order.
For me to send that entire order back to Nasty Gal from the US cost me $6 in shipping through USPS.
It took 1 week exactly for Nasty Gal to get my order processed and to issue me a refund. Overall, that is quite fast in my opinion and the whole process was super smooth – short of having to pay $6.
So, Nasty Gal's return process is pretty decent in my experience.
So, is Nasty Gal Legit?
Yes, Nasty Gal is a legit company and not a scam company. Quality and prices do vary on this site, though.
Returns are also NOT free. (Read the full policy, here.) You will have to pay for the postage to return an item. (For example, to return the dress and the sandals I had ordered above will cost me $4 to return.) Shipping can also be expensive unless you spend over $70 to qualify for discounted or free express shipping.
It is also important to know your measurements before placing an order, as sizes are typically in UK sizes.
Be aware of these things before placing your order and you should have a positive shopping experience.
Thank you for reading this Nasty Gal review. If anyone has any questions about shopping on Nasty Gal or the items I ordered, please reach out in the comments at the end of the post.