Aviator Slim Skinny Fit Travel Jeans Review
When it comes to traveling, comfort is the name of the game. Jeans do not normally fall into comfortable travel attire for me. They're too restricting and don't breathe well enough for my preference.
So, when Aviator reached out to me with a pair of jeans that are designed specifically for traveling – I was very intrigued, but also a little skeptical. Jeans are just not my go-to travel bottoms. But, they certainly look nicer than my old hiking pants!
I received two pairs of Aviator jeans in different colors. I'll share my thoughts on both in the review, below.
Aviator Slim Skinny Fit Travel Jeans Review (Dark Indigo)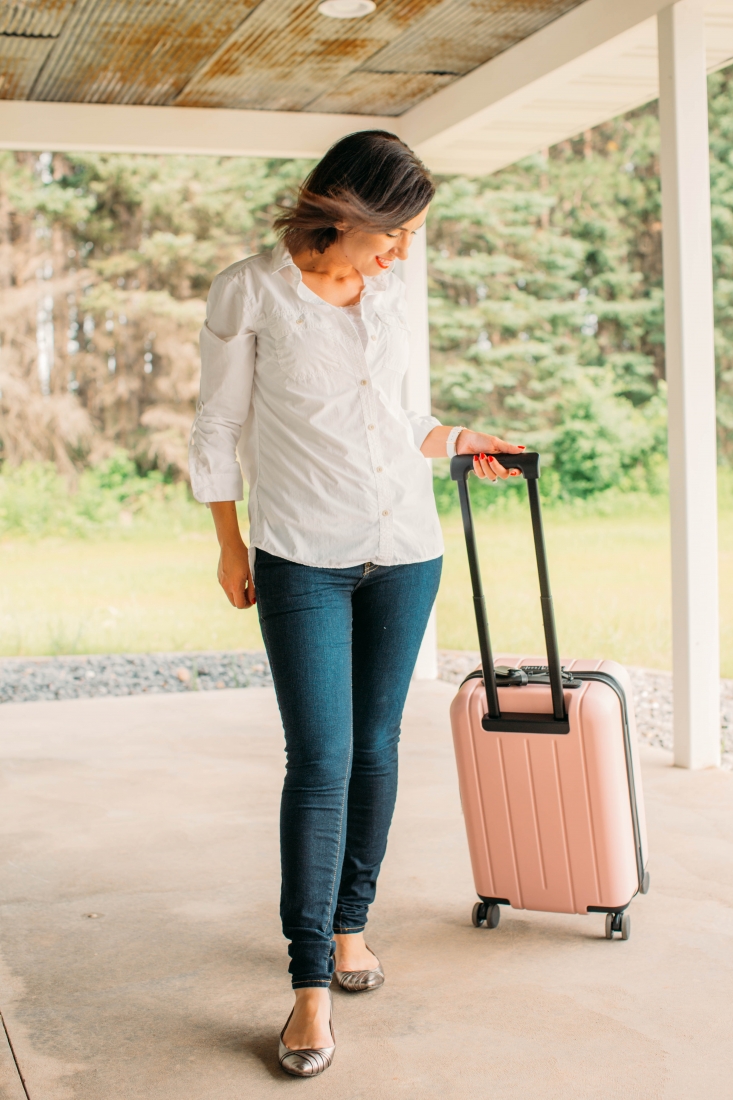 I'm going to be honest – I like the dark indigo wash the best out of the two pairs. The color is more flattering and just looks all around nicer, in my opinion. The dark indigo jeans fit me better too.
The Fit
These skinny jeans have a good stretch to them, but they didn't lose their shape by the end of the day. This is especially important for travel, as I need to be able to wear them more than once without them stretching out.
They were very comfortable to wear as well. (My normal size 28 fit just fine too.)
Now, I have only worn them a couple of times, though. The first time was for a 2-hour drive up to my parents' cabin (and then for hanging out around the fire for the night). The next time was just for a day of running errands and cleaning my house.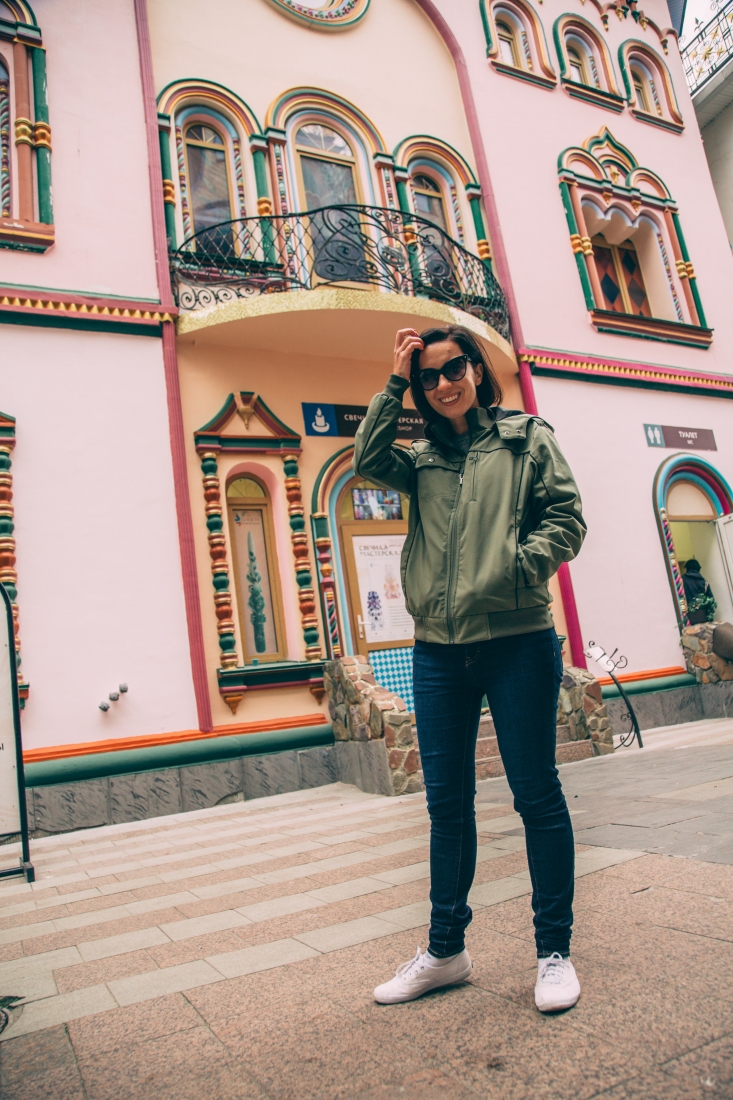 I will be putting them to the test next week, though, when I fly back to Russia. (This is an 18 1/2 hour journey.) I'll update this post after that trip!
*UPDATE: I did wear this pair on my 18 1/2 hour journey back to Russia. They did become slightly stretched out by the end of the trip, but not so much so that I felt the need to wear a belt with them. Overall, I was pleased with how well they kept their fit.
Pockets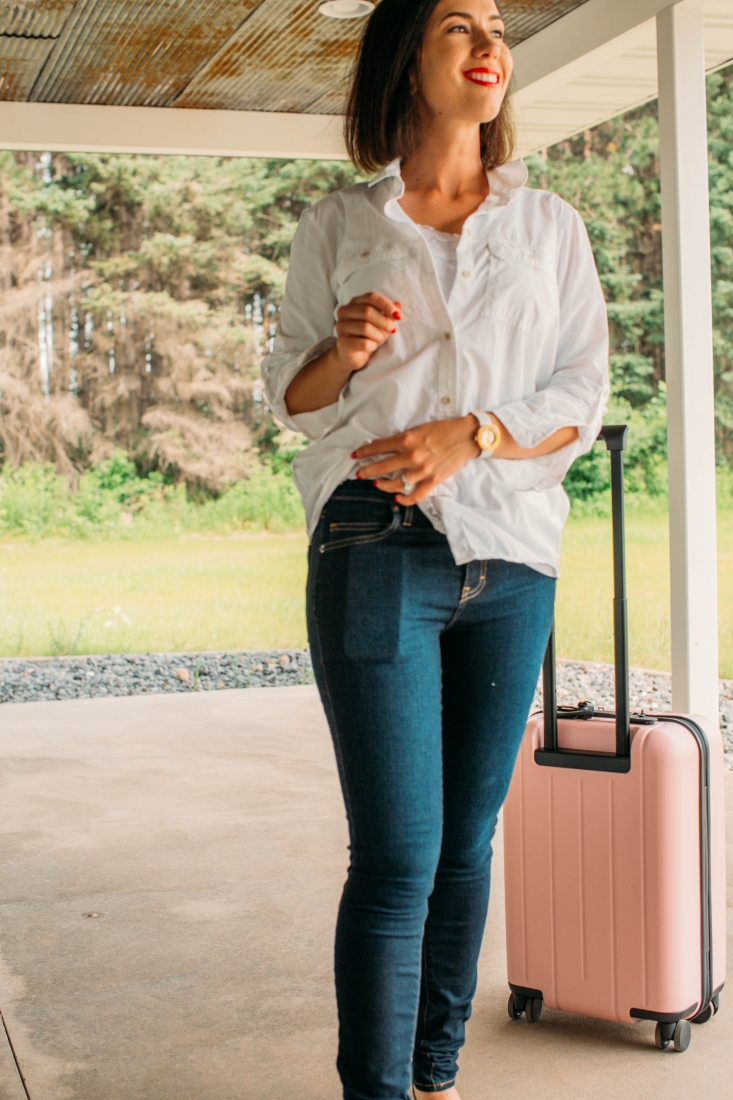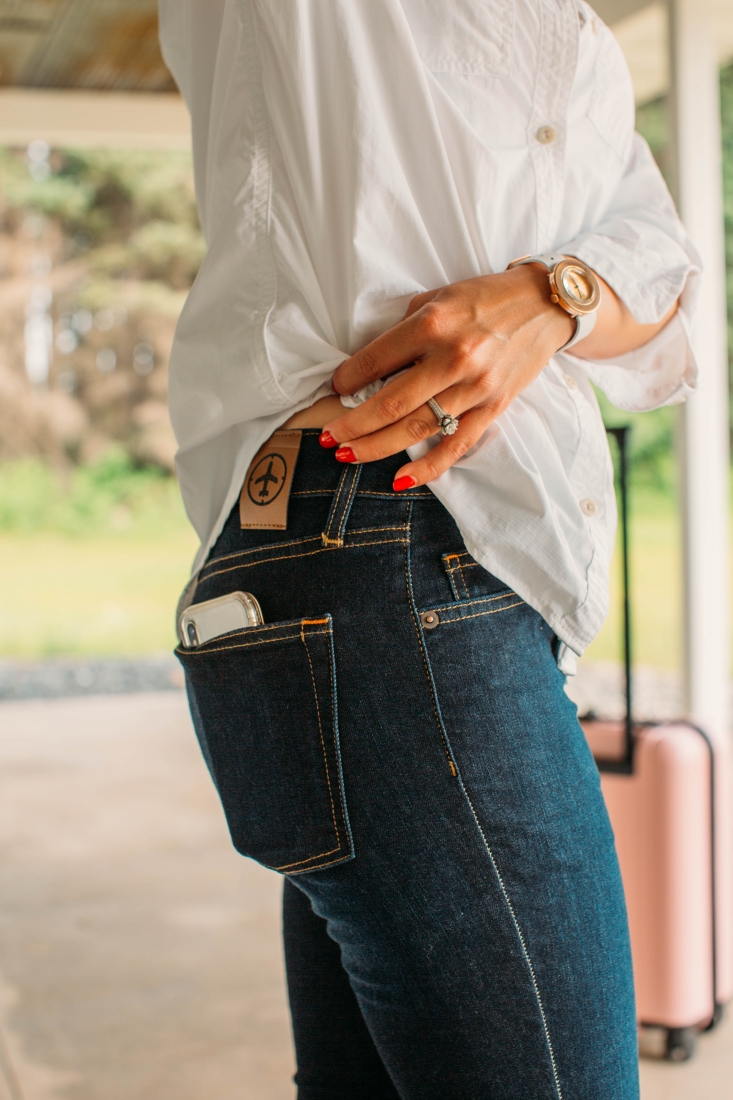 The 5 pocket design is great – and I LOVE that these pockets are actually big enough that I can fit my phone or passport in them. There is also a hidden zipper pocket in the back, that I'll show in the other color jeans.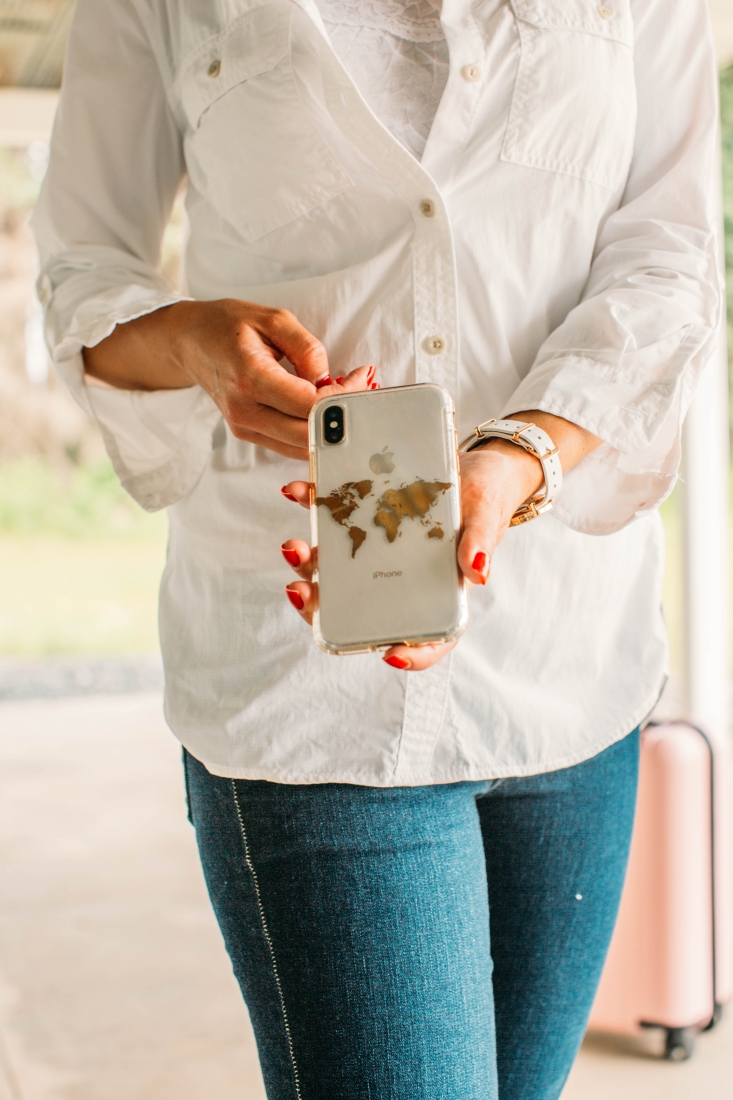 The Quality
My initial impression of these jeans is that they are of high quality. They certainly feel more durable than my other favorite skinny jeans. So, overall, I am very impressed.
*Update: I have had these jeans for over a year now and can say that the quality is great! After washing and drying them at least 15 times, they still look new.
Breathability
I can say that out of any pair of jeans I own, these do breathe the best. However, I'm not convinced these will be as breathable as my hiking pants when it comes to long travel. I will update this, though after I wear them on my flight next week!
*UPDATE: I did wear these on my long flight to Russia! I was impressed with how comfortable these jeans are and how breathable they are. That being said, I don't believe I would wear this particular pair in the dead of summer again. I also had to be walking outside to catch a bus and get a taxi, and it was one of the hottest days we had all summer. Needless to say, it wasn't the best day for jeans…even if they did breathe really well. (They're just a bit too thick in terms of fabric.) I'll definitely be wearing these jeans again for a flight, however, I'll likely wait until it isn't SO hot outside. For the flight itself, though, they worked great!
Where to find it:
Jeans c/o* | Shirt | Cami | Luggage c/o* | Flats (Similar) | Watch c/o* | Phone case
Aviator Slim Skinny Fit Travel Jeans Review (Silver Grey)
I don't anticipate I"ll be wearing this color as frequently as the dark indigo, however, it is nice to have something other than blue jeans in my closet! The material for this pair is also softer, thinner and more comfortable.
*Update: I've changed my tune on this grey pair! They've actually been getting the most use out of these two pairs because they're more comfortable and lightweight for traveling in the summer. I've worn them on three 18+ hour flights now and they were FANTASTIC. Photo below of them in Russia!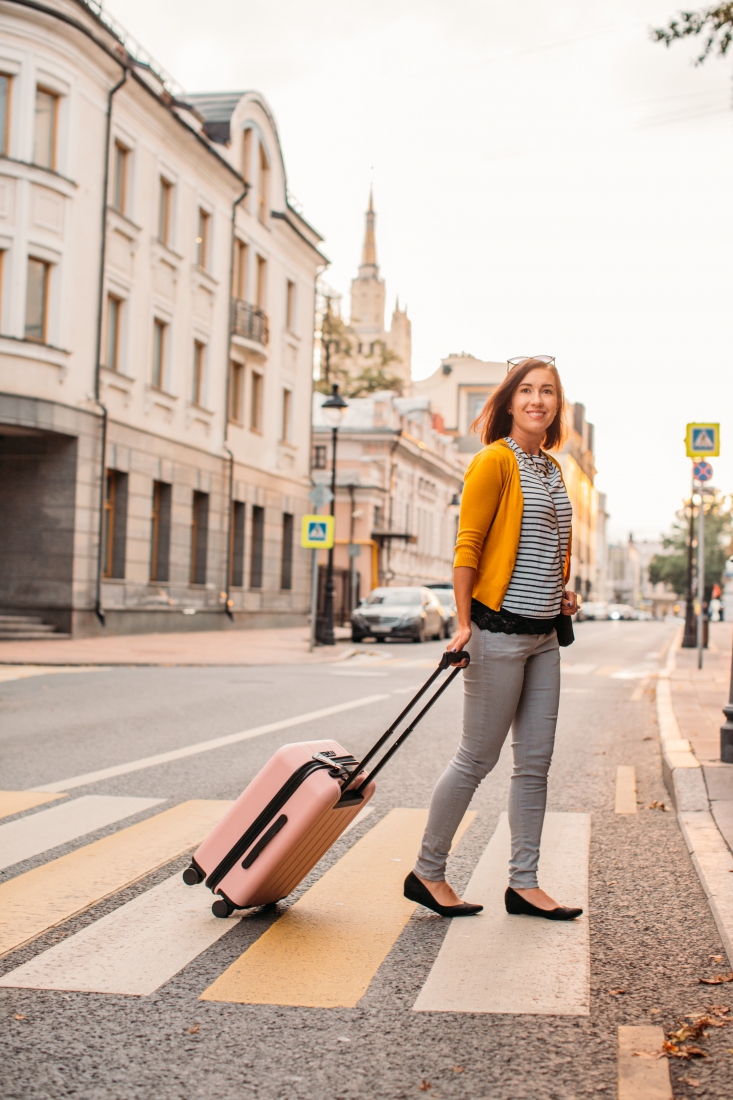 The Fit
I know these are the same jeans, but the fabric is a little different. So, this pair fits just a smidge tighter, and these did get a little stretched out through the waist by the end of the day. That being said, though, they did feel more comfortable and also softer.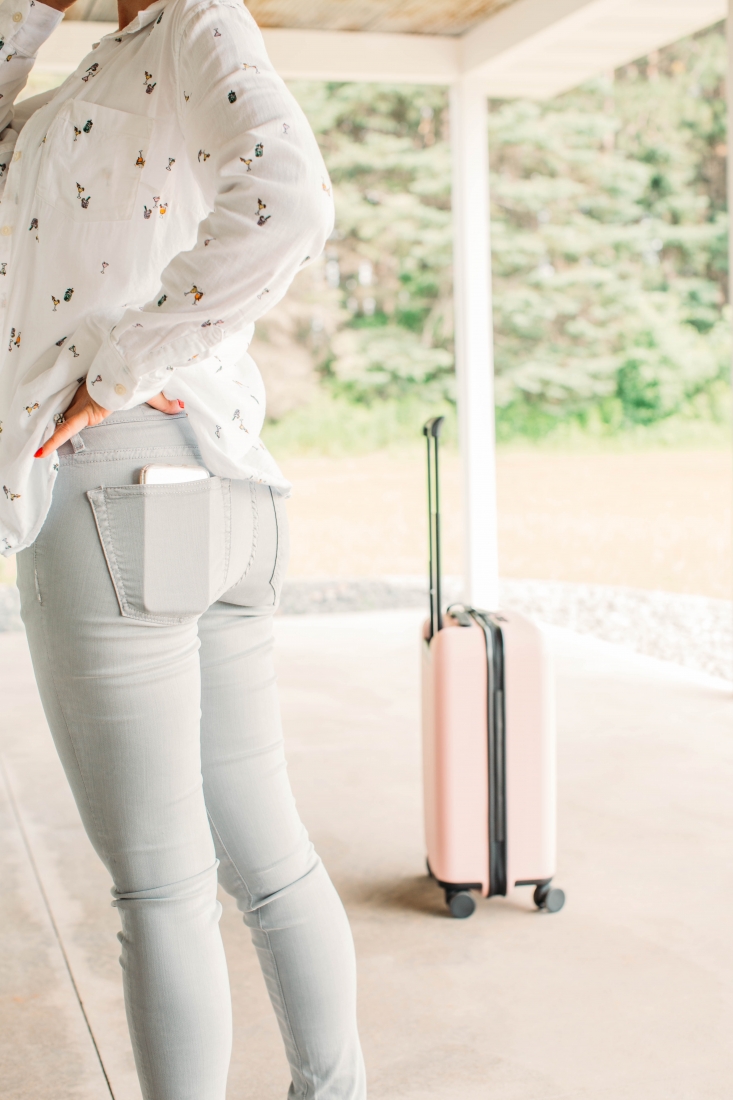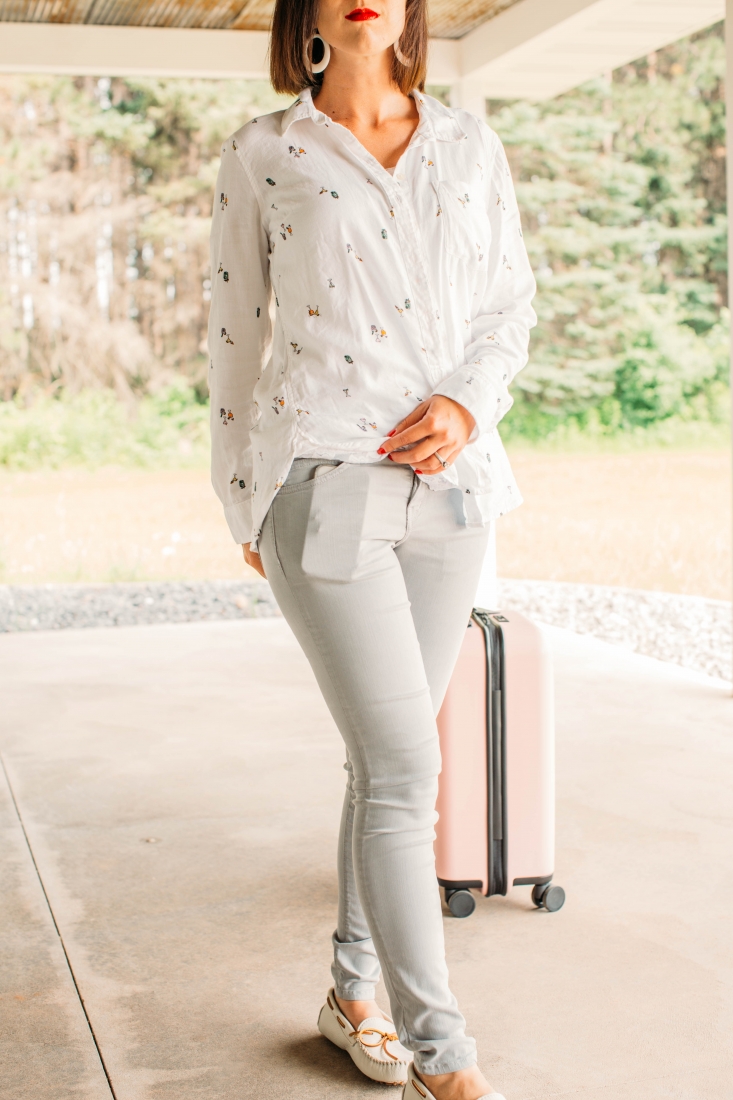 Pockets
Again, these are the same pocket design. However, being that this is a lighter color of jeans, you can see when there is something in your pocket very easily.
Both jeans also have this hidden pocket in the back for credit cards, ID or money.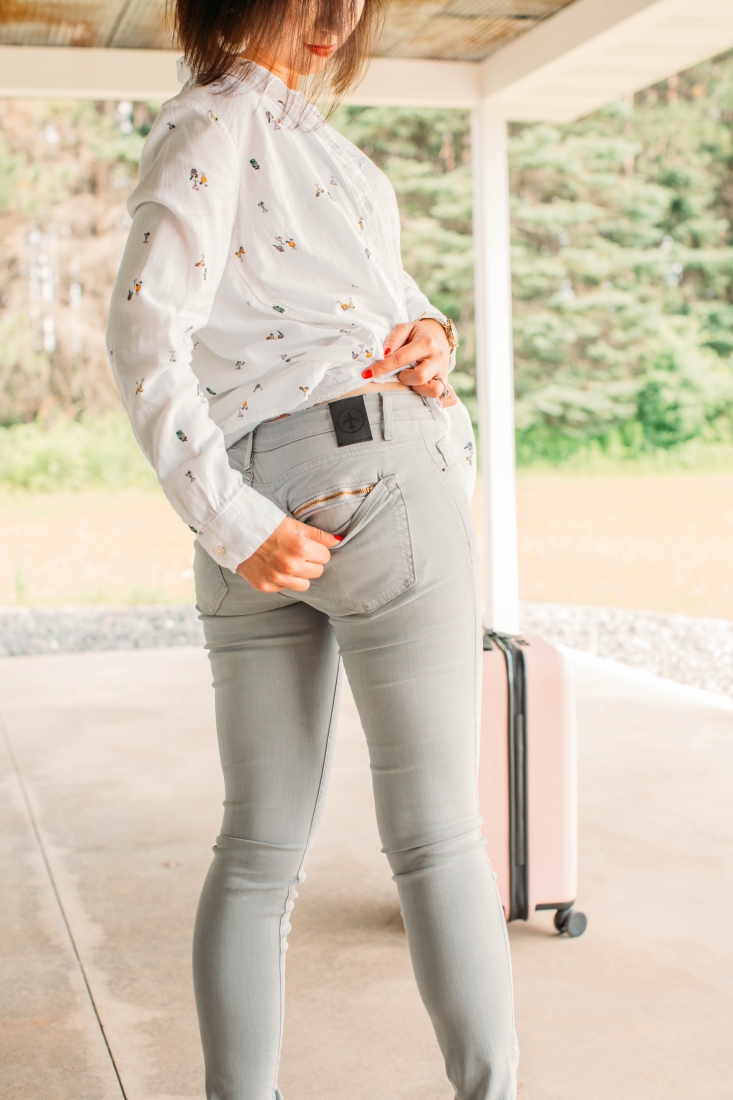 The Quality
Overall, I am pleased with the quality of these jeans so far. However, this pair does feel a little thinner than the dark indigo. I'm not convinced that's a bad thing, though, because….
*Update. I've worn and washed them at least 20 times now and they're in great condition. (These are my favorite jeans by far.) Will keep updating, though. Updated photo of me below looking scary at the airport, haha.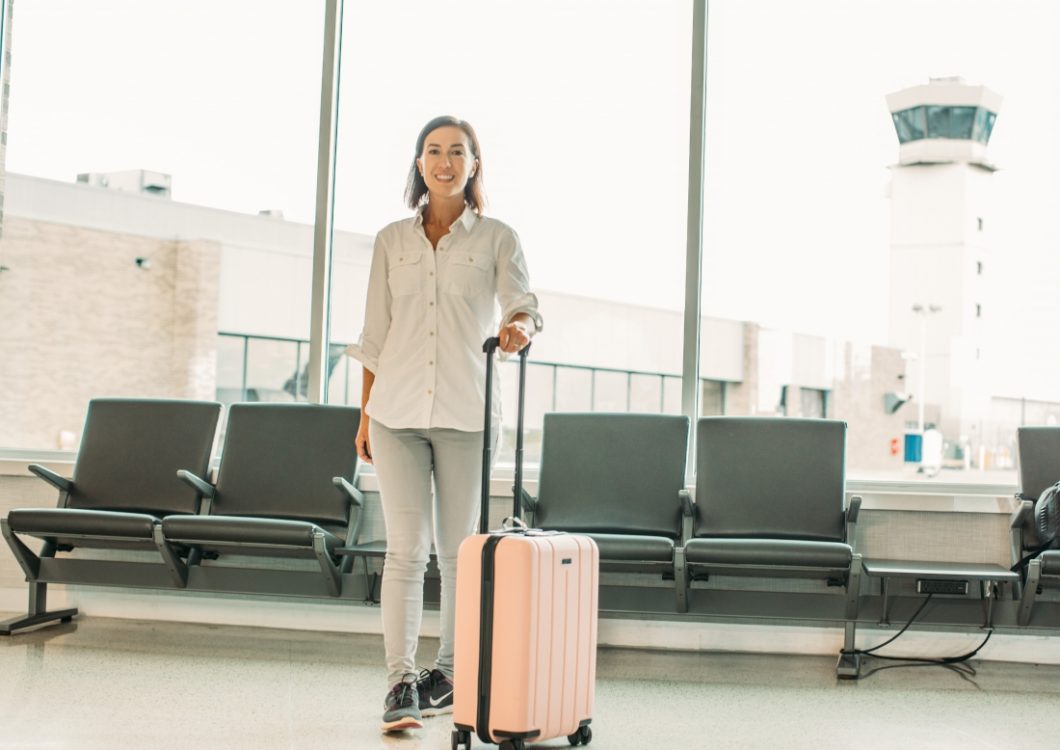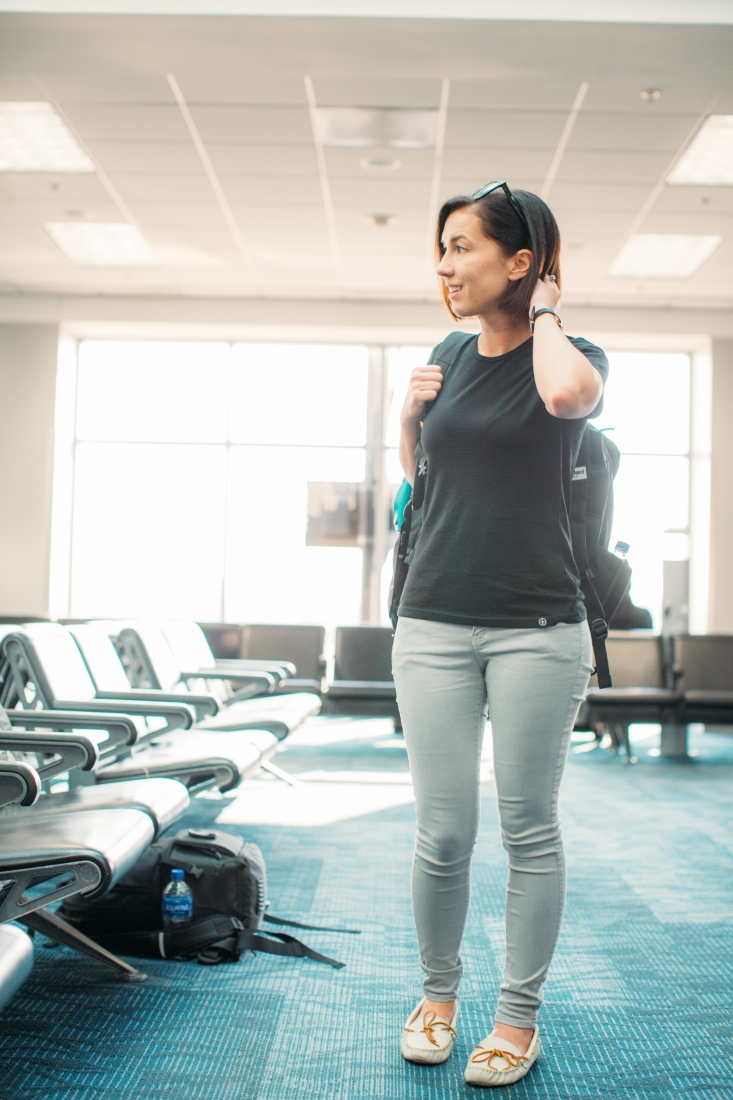 Breathability
…these breathe much better, in my opinion, than the dark indigo pair. This makes me more inclined to wear this pair for my 18 1/2 hour journey next week – because I tend to get super sweaty when traveling (especially as I'll likely be running through O'hare at top speed to make my connection!) and will need a pair of jeans that breathes well and also dries fast. This pair does feel like they dry faster as well.
Where to find it:
Jeans c/o* | Mocassins c/o* | Shirt (Similar) | Cami | Watch c/o* | Luggage c/o*
The Verdict on Aviator Jeans
Overall, I am very impressed with these jeans! They are comfortable, fantastic quality and I like that they have normal-sized pockets. They are still jeans, though…so, they don't breathe as well as my hiking pants when it comes to these long haul flights I tend to take. They do look A LOT nicer, though.
I've worn the grey pair the most out of all my jeans this last year. They are fantastic quality and so comfortable!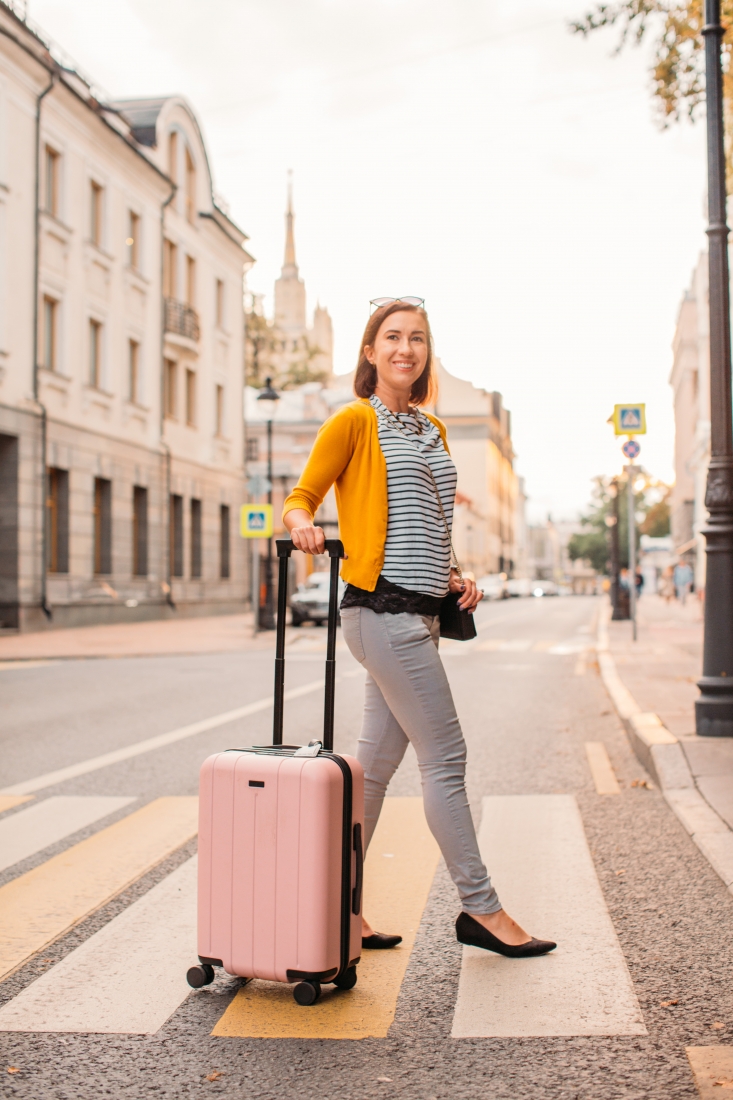 What are your thoughts on jeans for traveling? Are you interested in this new brand of jeans? Let me know in the comments!
*Thank you to Aviator for sponsoring this post. As always, all opinions are my own, and I am not being compensated for a positive review.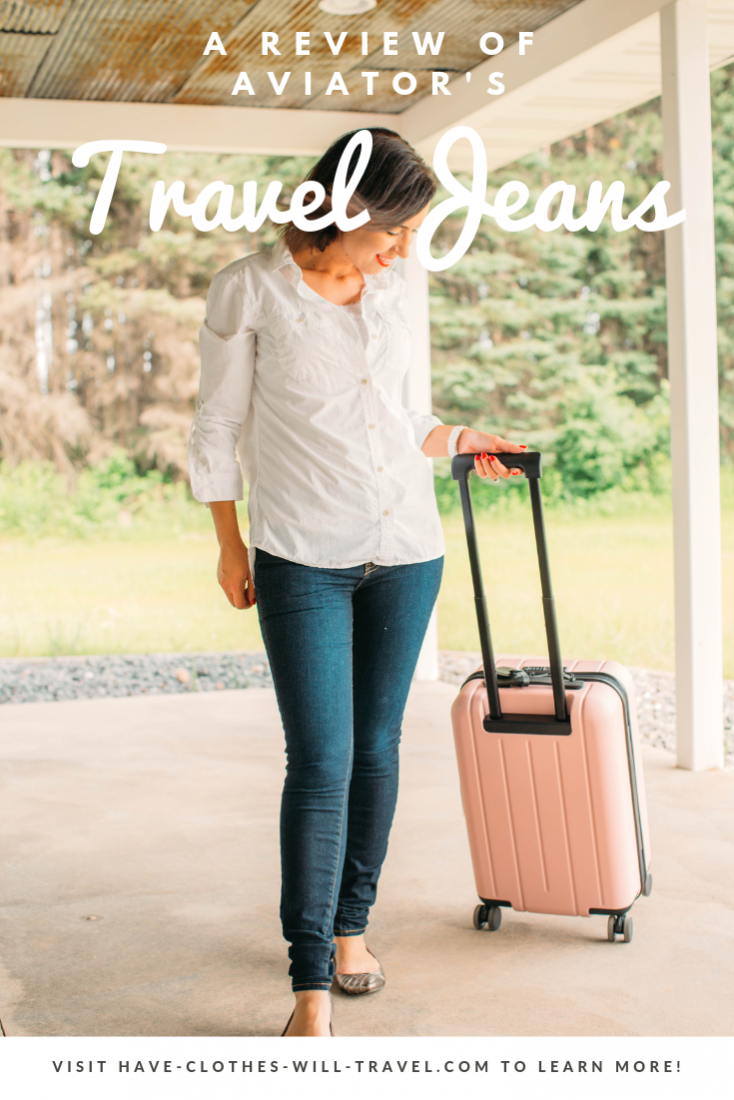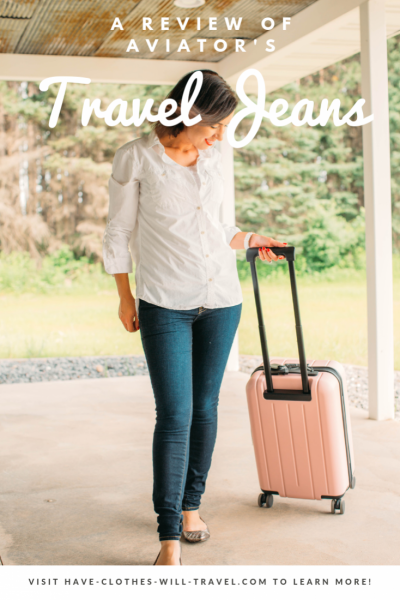 *Disclosure: some of these links are affiliate links. Meaning, if you click a link and make a purchase, Have Clothes, Will Travel gets a very small commission at no extra cost to you. Thank you for supporting the brands that make this blog possible! I am also a participant in the Amazon Services LLC Associates Program, an affiliate advertising program designed to provide a means for us to earn fees by linking to Amazon.com and affiliated sites.
*c/o = courtesy of, meaning the company gave me the product to be used on my blog, and I did not pay for it. All opinions are my own, and I am not being compensated for a positive review.