Honest Review of the Aviator Merino Wool Travel T-Shirt
I'm testing out the Aviator Merino Wool Travel T-Shirt in today's post.
When it comes to travel clothing, I am always intrigued by any company that says their clothes are wrinkle-free and moisture-wicking. I hate ironing my clothes, even if I'm not traveling. Oh, and when I'm in an airport… I sweat profusely, even in the middle of winter (thanks to usually running to catch connecting flights in O'Hare and lugging around a heavy backpack filled with camera goodies).
Needless to say, I was more than happy to put Aviator's new Merino Wool Travel T-shirt to the test! This isn't the first time you've seen Aviator products on my blog either. I recently tested out their travel jeans as well. (You can see that post, here. They're also pictured, below.)
Now, I'll be reviewing the women's cut. However, there is also a men's one. (Click here for the men's shirt.)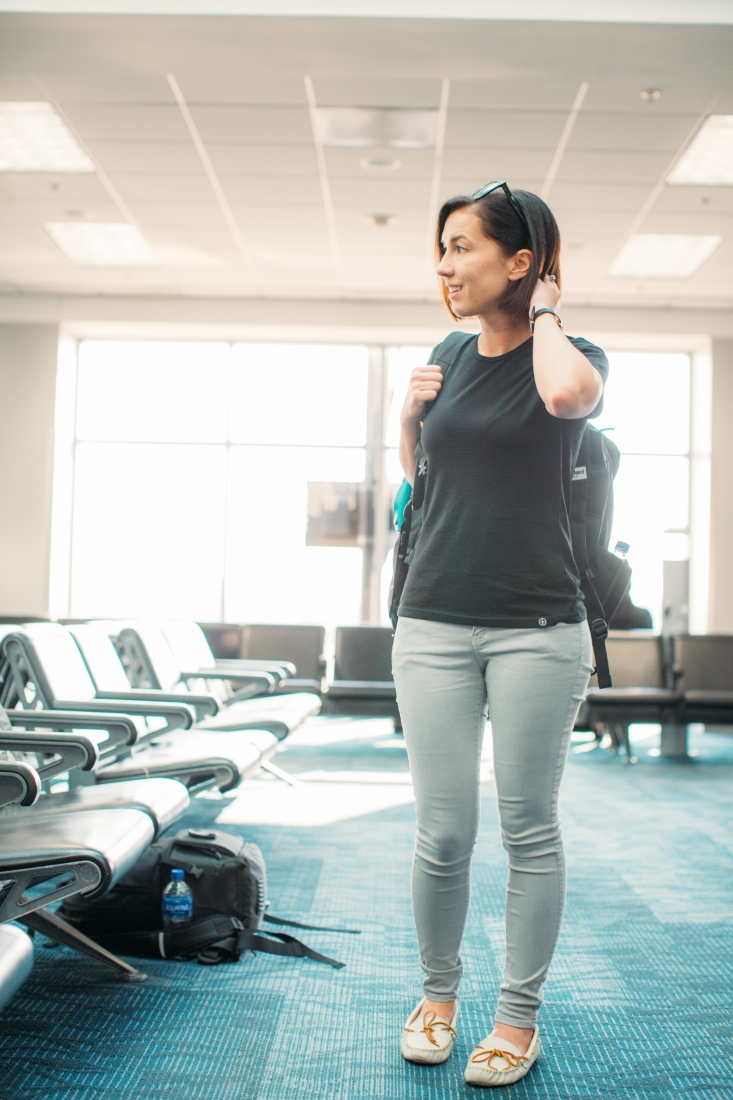 The Aviator Merino Wool Travel T-Shirt Features
So, what's supposed to be so special about this Merino Wool Travel T-Shirt? Here are its claims to fame…
100% Merino Wool
Antimicrobial – said to be able to wear it for weeks without washing it!
Moisture-wicking
Temperature-regulating
Wrinkle-free
Lightweight
Breathable
Comfortable
Fast-drying
I wore it for my recent trip to Jamaica. The beginning of my trip started with near-freezing temps in Wisconsin and ended with humid 80-degree temps in Jamaica. I woke up and put this shirt on at 3 am and didn't take it off until about 6:30 pm that night. That was all nonstop driving and flying – and me being my warm and sweaty self.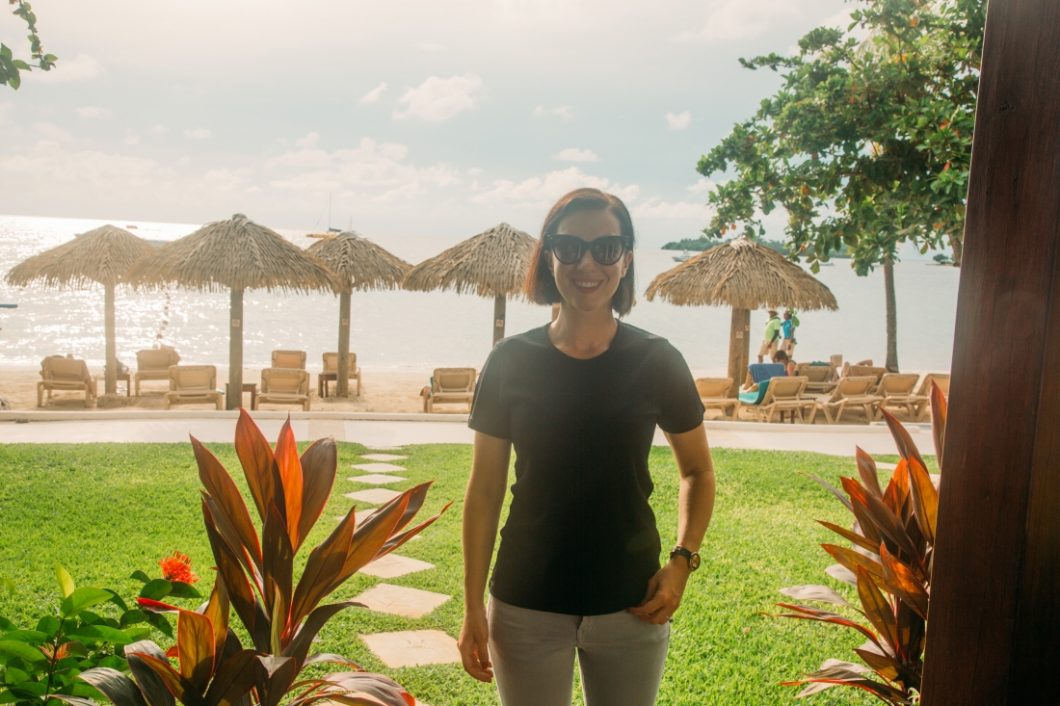 My Experience With Aviator's Air Dry Merino Wool Travel T-Shirt
The Fit
This is a loose-fitting T-shirt – which I, personally, like. When I'm traveling, I DO NOT want to be wearing clingy shirts. I need something that breathes well and is comfortable. I especially don't want to wear a shirt that is constricting my armpit area too much (remember, I'm super sweaty).
The fit gets an A+ from me!
Quality
I've only worn and washed it a few times – so, I can't attest to its durability just yet. However, so far so good! (I'll update as I wear it more.) I've been REALLY careful not to dry this shirt, though. Be sure to wash it on cold water and then let it line dry.
Breathability
This is the most important aspect of a travel shirt for me! I can say, without a doubt, that this is the most breathable shirt I own right now. It's breathable enough that I can even wear it to the gym and be comfortable. (And just being sweaty in normal daily stuff, means I am quite the sweaty sight to behold at the gym!)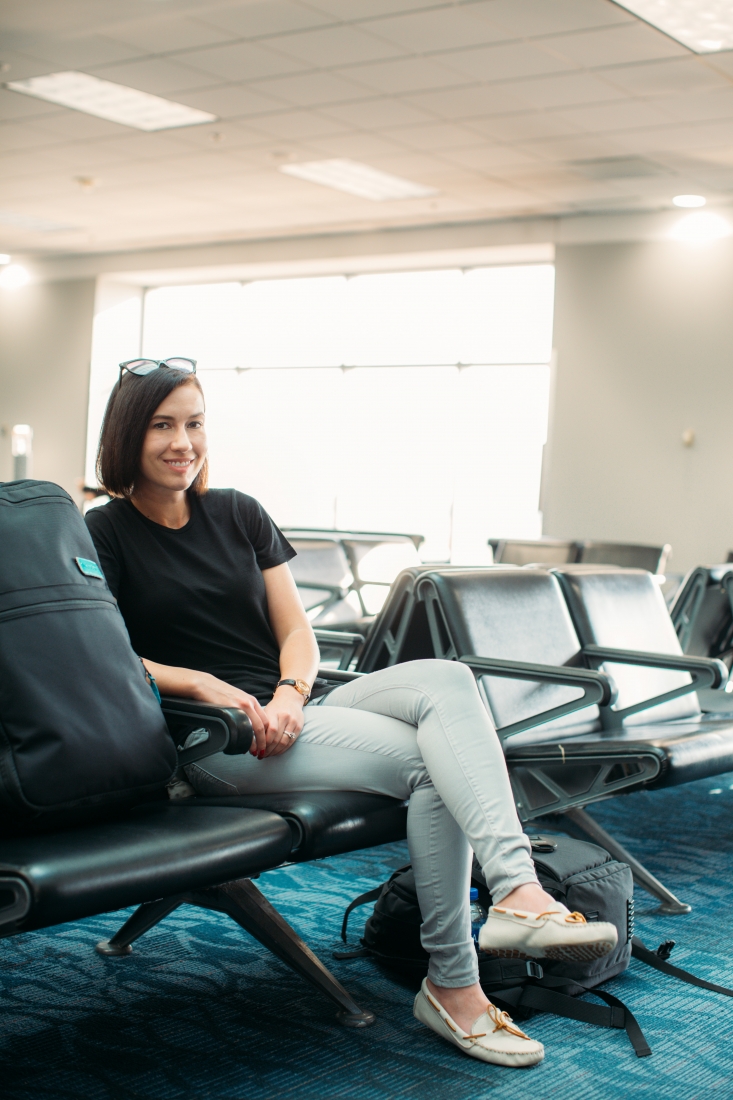 Can You Really Wear It For Weeks Without Washing It??
Ok, so, I'm very intrigued by Aviator's claim that you can wear this shirt for weeks without washing it. However, I can't bring myself to wear it for weeks on end and NOT wash it. (I just can't!) The most I've gotten away with is 3 full wears with this shirt before I caved and washed it. That being said…it hasn't gotten smelly, yet. But I haven't pushed it too hard. I am impressed with anything that I can get more than 1 wear out of, though.
Even if I was camping or unable to wash it in a machine…this is a shirt that you could easily wash in the sink and it would dry in no time. (So, I don't ever foresee myself wearing it for weeks without washing…) I'll update this post if I happen to get myself to not wash it, though, haha.
*Update: I did use this on a hiking trip and after a few intense days of hiking and sweating the pits did get a little smelly. So, I wouldn't say you could wear it for weeks without it getting smelly… unless you're not sweating profusely.
Does It Regulate Your Temperature?
I honestly am not sure on this one. I did seem to be less sweaty on this travel day than normal. However, this wasn't quite as long of a journey as I normally take (like my one between the US and Russia). I also started off in some pretty chilly temps and I didn't fly through O'Hare this time! So, there may have been other factors at play here… I can't really say for sure.
Was It Wrinkle-Free?
Yes! I can say for sure that it is wrinkle-free. I was not kind about how I packed this shirt when I was jumping between resorts in Jamaica – and it did not get wrinkly!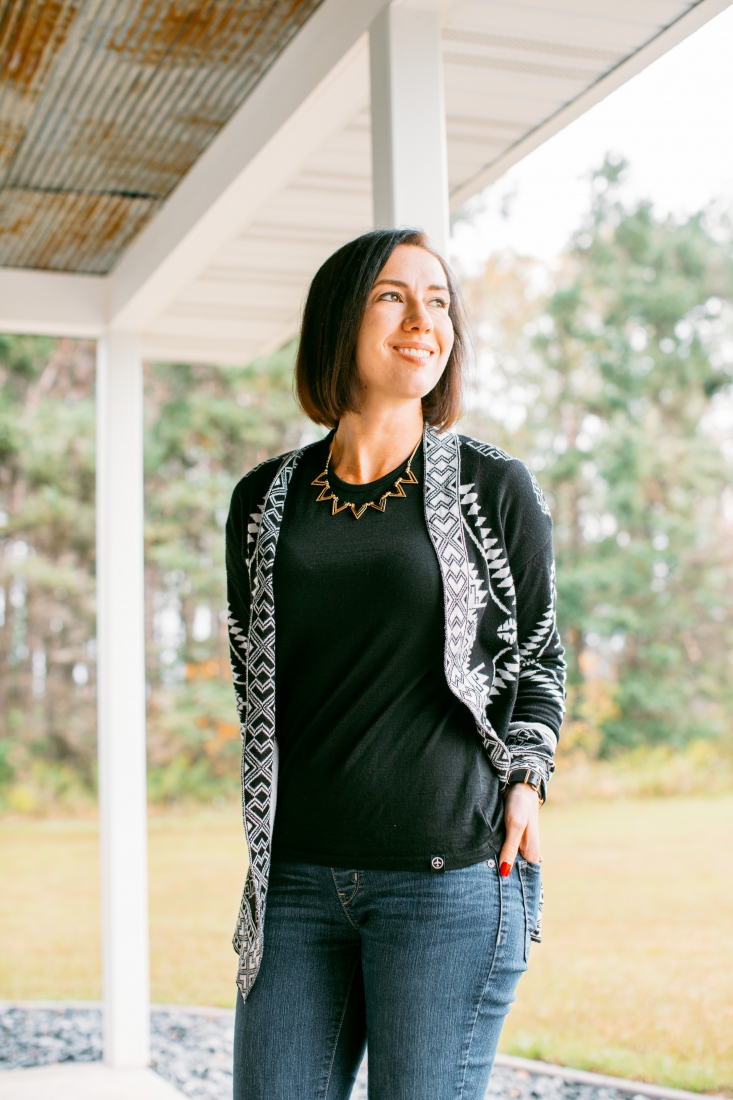 The Verdict on the Aviator Merino Wool Travel T-Shirt
Overall, I am very impressed with this travel shirt! It doesn't look like it would be that much different than any other shirt – but it really doesn't wrinkle and it breathes REALLY well. It's very comfortable! While it's not a flashy shirt, I think it's great for traveling to wear more neutral pieces anyway (so, they match with more things). I've also been using it to layer under my cardigans this fall.
*Click here to check out the Aviator travel shirt. Click here to shop the men's travel shirt.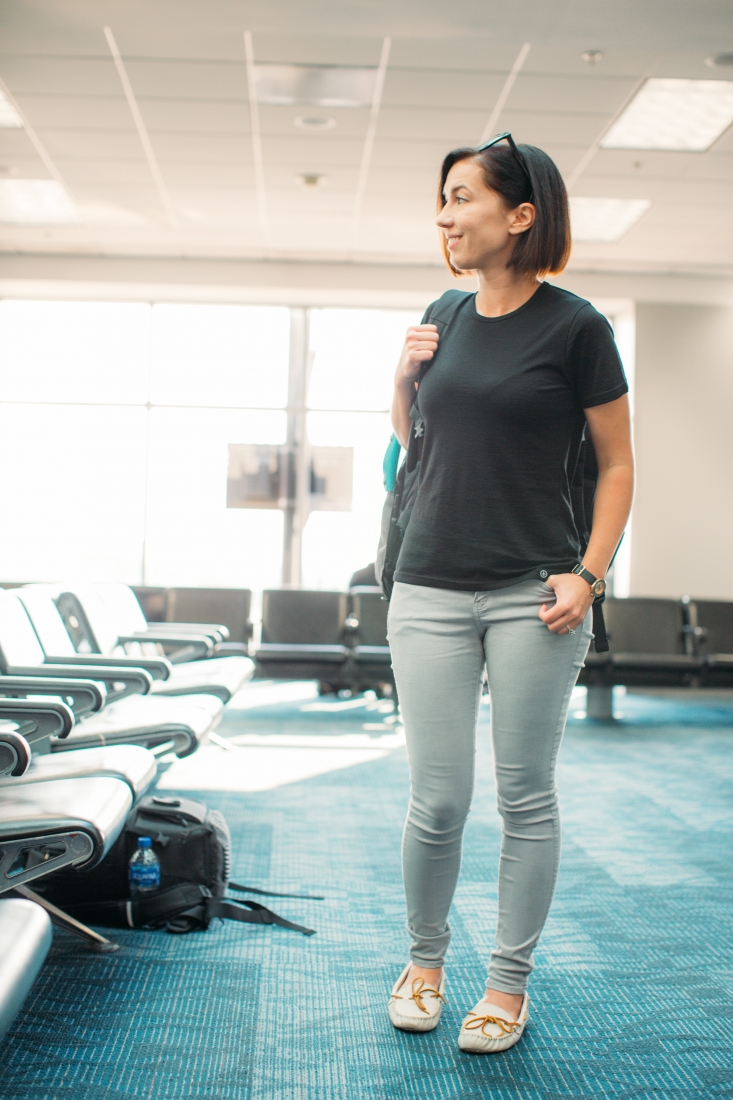 The Rest of the Outfit…
A quick shoutout about the rest of this comfortable travel outfit as well. These grey travel jeans I have been wearing for traveling and daily wear nonstop – I absolutely love them! (Full review here.)
My moccasins are also super comfy for days I'm spending on an airplane or in a car. I just need to get a pair in black now! (Full review of those, here.)
My Standard Luggage has also come along on every trip we've taken since it arrived this spring (full review here), as has my Timex watch (full review here).
Where to find it:
Jeans c/o* | Shirt c/o* | Moccasins c/o* | Watch c/o* | Luggage c/o* | Sunglasses
What are your thoughts on a travel shirt like this? Would you be interested in it for traveling? And would you be able to go weeks without washing it? Let me know in the comments!
*Thank you to Aviator for sponsoring this post. As always, all opinions are my own, and I am not being compensated for a positive review.
*Disclosure: some of these links are affiliate links. Meaning, if you click a link and make a purchase, Have Clothes, Will Travel gets a very small commission at no extra cost to you. Thank you for supporting the brands that make this blog possible! I am also a participant in the Amazon Services LLC Associates Program, an affiliate advertising program designed to provide a means for us to earn fees by linking to Amazon.com and affiliated sites.
*c/o = courtesy of, meaning the company gave me the product to be used on my blog, and I did not pay for it. All opinions are my own, and I am not being compensated for a positive review.