Is Verishop Legit? My Honest Verishop Review + Photos of My Purchases
Are you wondering if Verishop is legit? This post is my honest Verishop review after spending hundreds of dollars with this online retailer. If you are wondering whether Verishop is selling quality clothing and accessories, what their shipping and return policy is, and whether or not I recommend shopping on Verishop… this is the post for you.
What is Verishop?
Verishop is a marketplace for Independent Brands that started in 2018. It's the place to shop if you're looking to discover under-the-radar, unique brands, and designers. They also feature some well-known brands/designers such as Marchesa, Lost + Wander, and P448.
Verishop doesn't own the products it is selling on its website. Verishop works directly with the brands and designers to sell the items on their website, then the brands/designers will ship the products themselves.
According to Forbes, "When a sale is facilitated through Verishop, the platform takes an undisclosed cut and transaction fee." So, Verishop makes money by taking a cut of every sale, that's generated on their website. (Similar to Amazon and Etsy.)
Have Clothes, Will Travel uses affiliate links. Meaning, if you click a link and make a purchase, Have Clothes, Will Travel gets a very small commission at no extra cost to you. Thank you for supporting the brands that make this blog possible!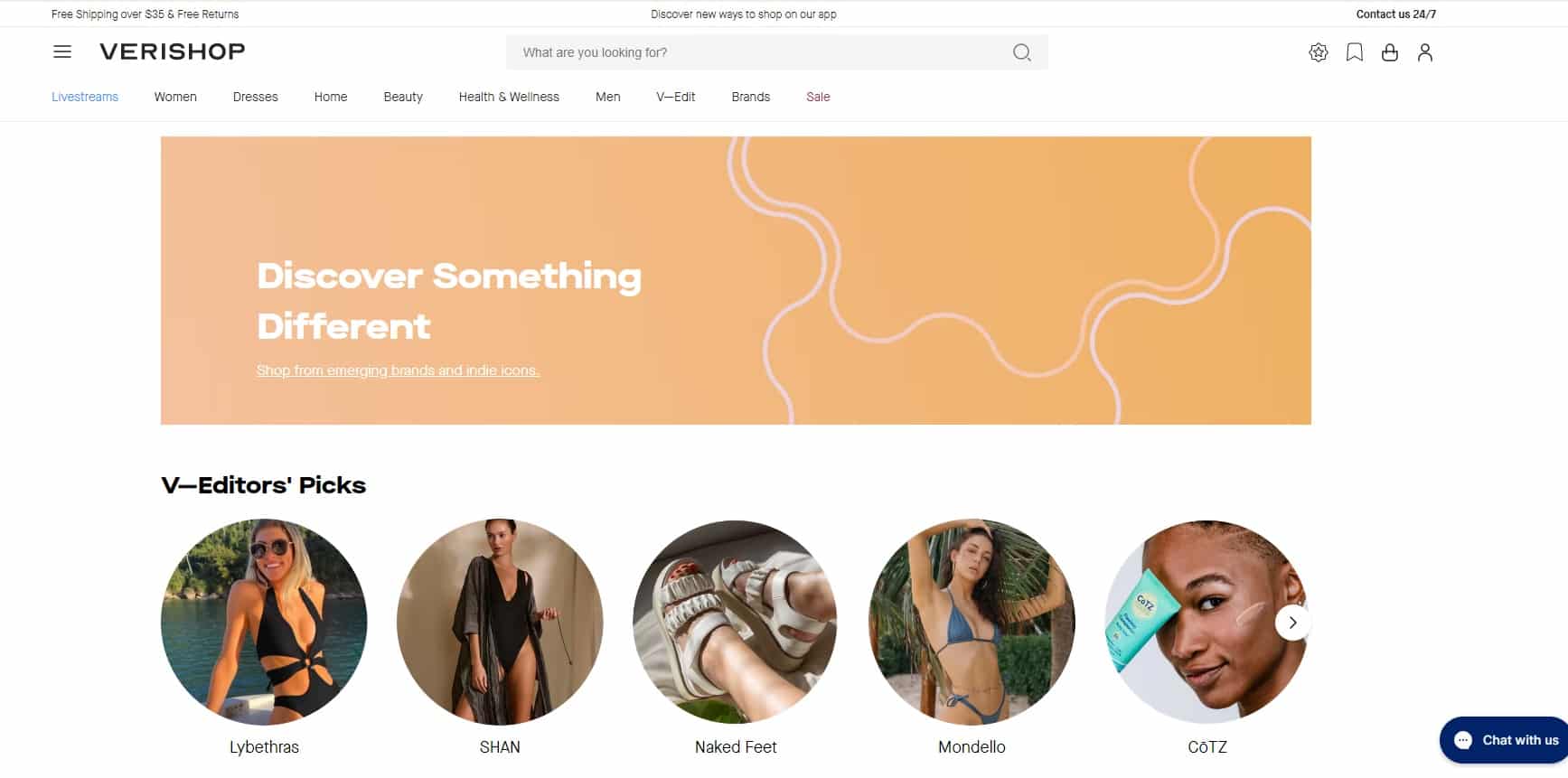 My Honest Verishop Review
I became aware of Verishop because their affiliate program had reached out to me last year about working together on a blog post. The blog post did not end up working out, as the Verishop affiliate program wanted me to buy $500 worth of clothing, and said they would reimburse me after my blog post was published. (Which, in my field, is an extremely shady business practice. Typically, if a brand wants to sponsor you, they will give you a gift card or simply pay you upfront…having to front the cost yourself, and then do the work, before you get reimbursed is a big red flag.)
However, despite their shady affiliate program, I was intrigued by Verishop. They had a great variety of clothing, accessories, shoes, home decor, and beauty products. I spend A LOT of time shopping online, but Verishop surprised me. They had tons of brands and items I had never seen before. Plus, I had already picked out the items I wanted to buy. So, I decided to go ahead and give them a try – without the sponsorship.
I ended up ordering 1 pair of Cariuma sneakers, SOKO Jani Threader Earrings, 1 pair of Vintage Foundry Tall Boots, and 1 pair of Hudson Jeans. (Again, this isn't sponsored. I bought these items myself and did not seek reimbursement. I am doing this Verishop review because I believe my readers will find it helpful.)
How long does Verishop shipping take? And where does Verishop ship from?
Because Verishop is not the one fulfilling and shipping the order, their shipping times will vary depending on the item you order. My earrings shipped from Canada, my jeans and boots were shipped from the US, and my sneakers came from Singapore.
However, Verishop does provide an estimated arrival time for each item. To see this, you have to first select your size, and it will appear beneath the Add to Bag button (pictured below).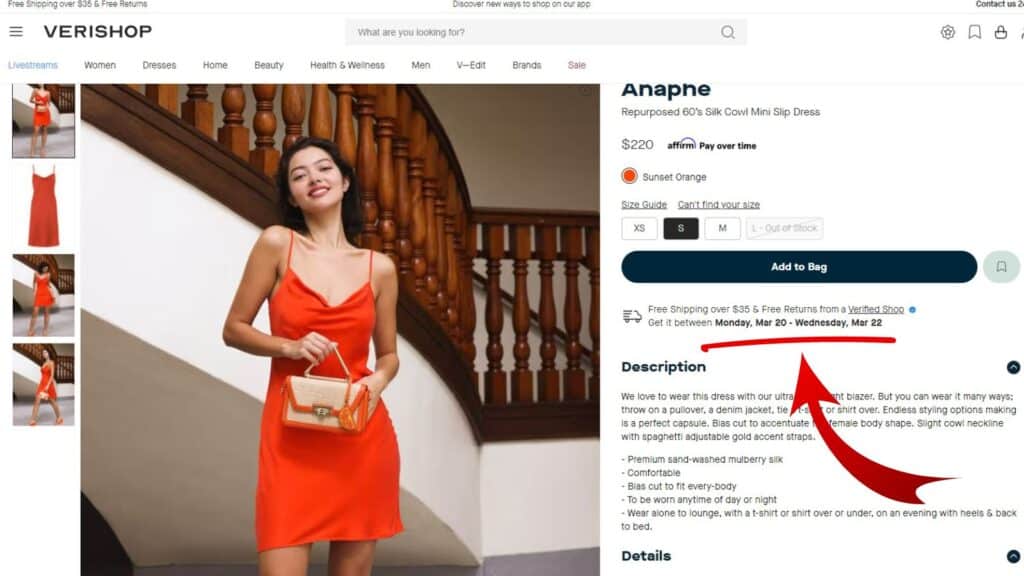 The ship times were accurate in my experience. None of the items I ordered took longer than that estimated time.
The items' ship times did vary, though. Some of the items only took a few days to arrive at my address, whereas others took a full week. The distance they had to travel didn't seem to make a difference either.
The sneakers I ordered, which came from Singapore, only took 4 days to reach my address in the US from the time I placed my order. The jeans I had bought, which came from California, took a full week to reach me in Wisconsin.
The international orders did not require me to pay any extra fees or do anything with customs either.
Shipping is FREE if you spend over $35.
The Items I Ordered from Verishop
All of the items I ordered were from new-to-me brands. I didn't know what to expect in terms of quality or fit, and I had just ordered based on my measurements and normal size.
Vintage Foundry Co Boots
The boots (above) ended up being WAY too small. I couldn't even get my foot in them, despite ordering my normal size 8. This was super disappointing because they were really beautiful boots and were exactly what I was looking for.
Cariuma Catiba Low Suede Accent Sneakers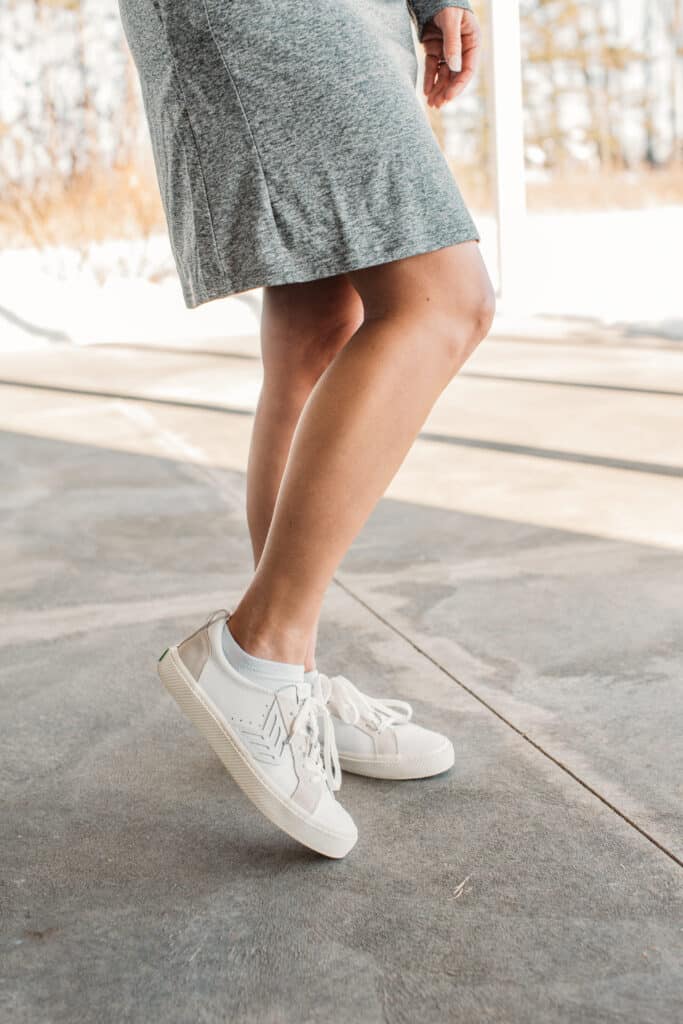 The sneakers, on the other hand, fit perfectly and are the most comfortable pair of sneakers I have ever owned! I have pretty wide feet and also have a bunion, and these sneakers fit perfectly and feel as though I am walking on clouds. I will be buying nothing but Cariuma sneakers going forward.
Nico Mid-Rise Straight Ankle With Slit Hem
The Hudson jeans I ordered were again, beautiful jeans, but my normal size 28 was far too small for my comfort. I really liked the jeans, but I would order a size up if I ever bought from this brand again. (Sorry, I do not take a pic of these, because I could hardly button them!)
SOKO Jani Threader Earrings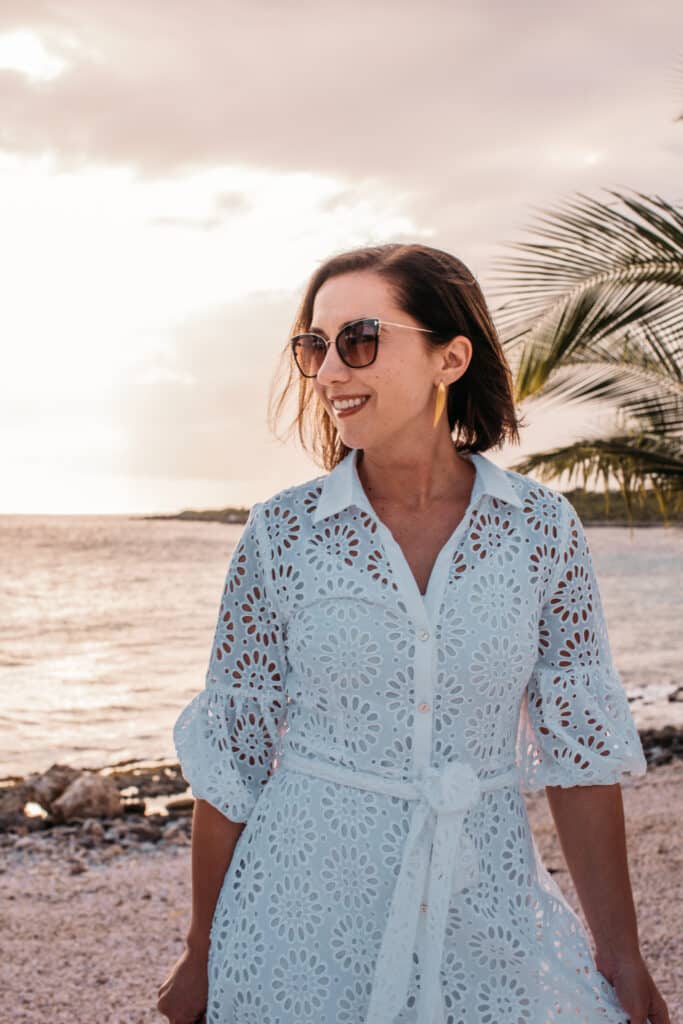 Lastly, my SOKO earrings have become my most-worn earrings so far this year. I don't think I've even bothered to wear another pair of earrings since they arrived 5 months ago. They go with everything and are incredibly well-made. I love them and will be ordering more jewelry from SOKO in the future.
Verishop Return Policy, and My Experience With It
I did end up having to return the boots and the jeans because they were too small. Verishop does have free returns. However, Verishop does NOT offer exchanges, unfortunately. (And by the time I went to return these items, the next size up was sold out anyway.)
The items had to be returned within 30 days of receipt, and of course had to be unworn with the tags still attached.
Requesting a return with Verishop was very simple. They emailed me my return labels almost immediately after I requested the returns.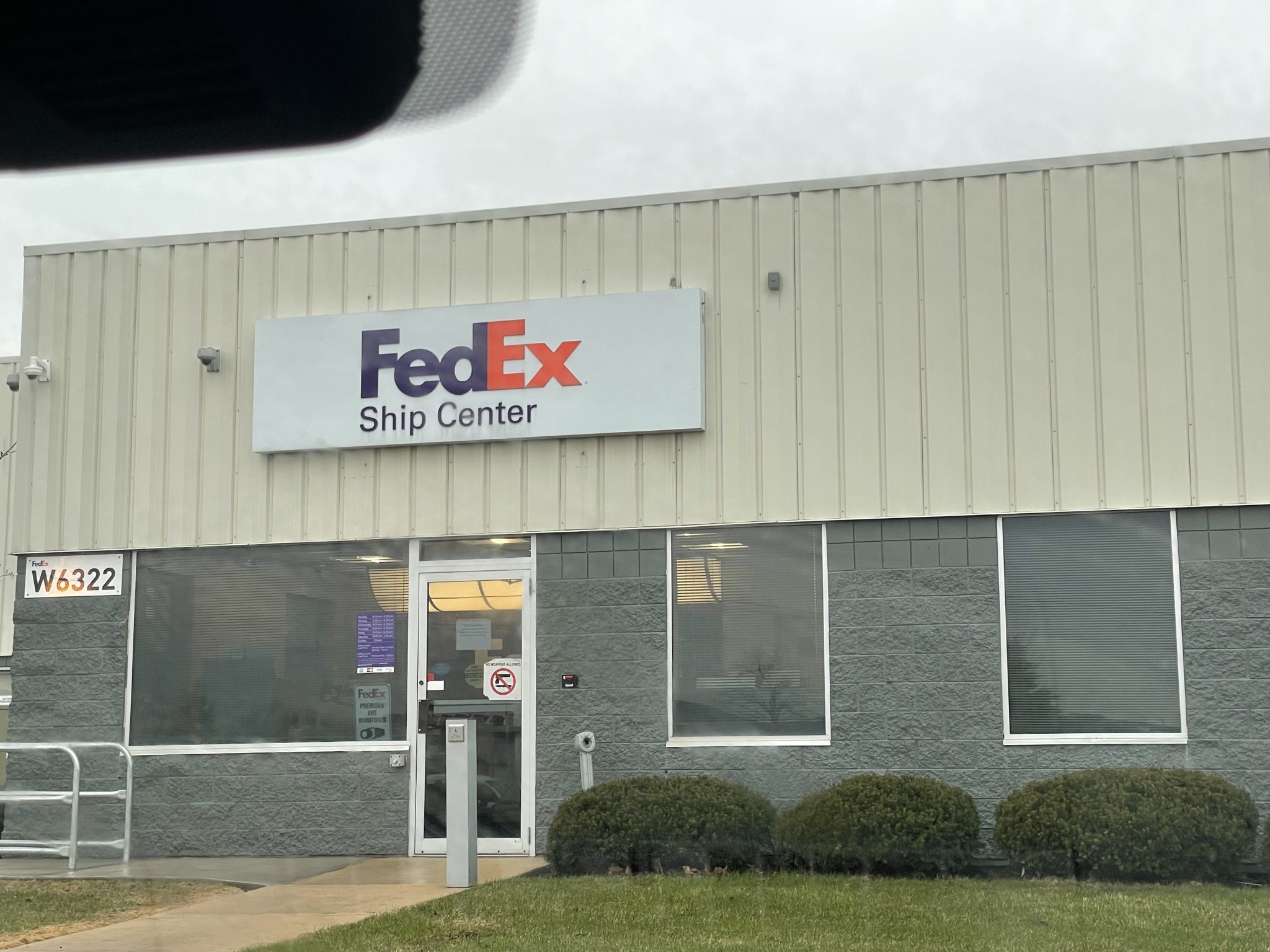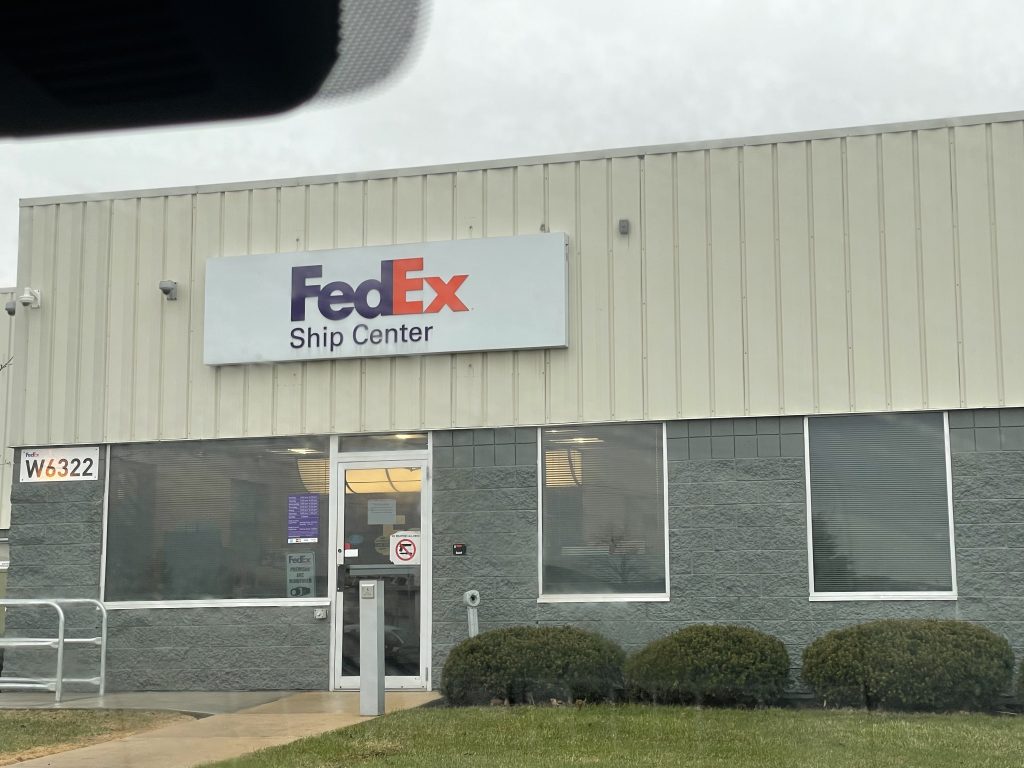 Because these items shipped from different stores, they used different shipping methods. The jeans I had to return using USPS. Whereas the boots, I had to return with FedEx.
I got an email with a tracking code shortly after I dropped each item off at their respective shipping facility. Then, once the items arrived to their respective stores a few days later, I received a refund for my boots 4 days later. It took over a week to get refund from the jeans, though.
Overall, I felt Verishop did a good job of making this process as painless as possible. You just have to go into this knowing, that you may be running to different shipping providers, and how long it takes to get reimbursed will vary from item to item.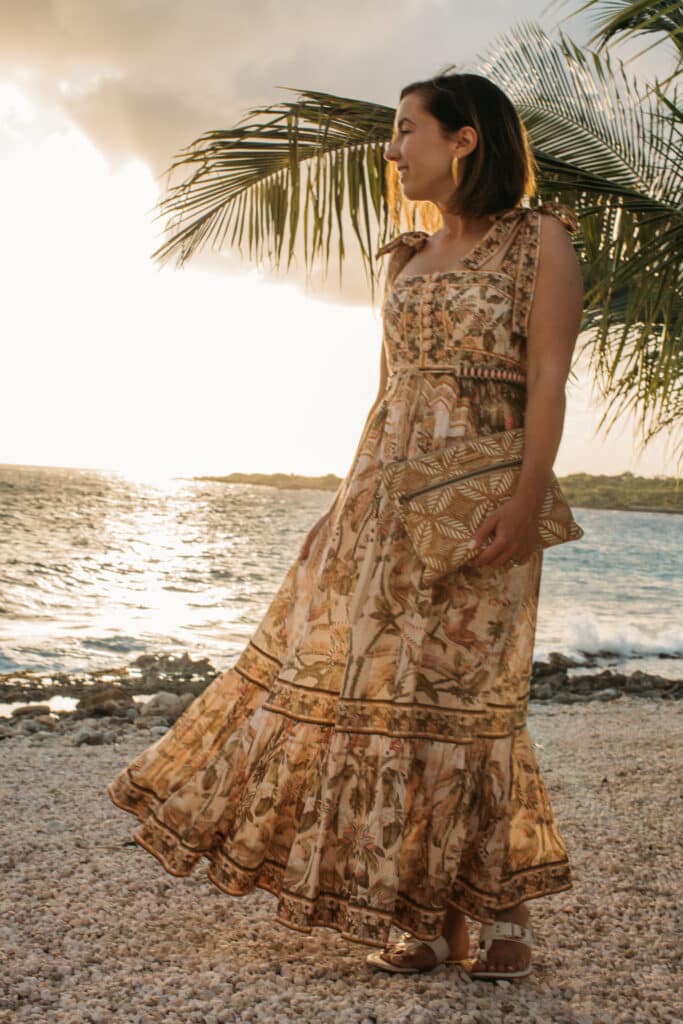 Final verdict: Is Verishop Legit?
Because I had such a poor introduction from their affiliate marketing team, I really did not have high hopes for Verishop. However, my order with them was very smooth, and despite the sizing issues I had with some items, I was very impressed with the site over all.
Shopping on Verishop was a great way to discover and try different brands that I had never heard of, and get items that not everyone else is wearing. I am SO excited about my sneakers and my earrings. I've had them for almost 5 months now and have been wearing them nonstop.
Despite the rocky start, I am very happy with Verishop and will be ordering from the again in the future. This is going to be my new go-to website, when I'm trying to find a unique piece to add to my wardrobe or my home.