My Brutally Honest Sandals Curaçao Review: MUST-READ Before Staying Here
This post is my BRUTALLY honest review of our stay at Sandals Royal Curaçao – a new all-inclusive, luxury resort. All photos in this post were taken by my husband and me. NO stock photos or Resort photos were used in this post.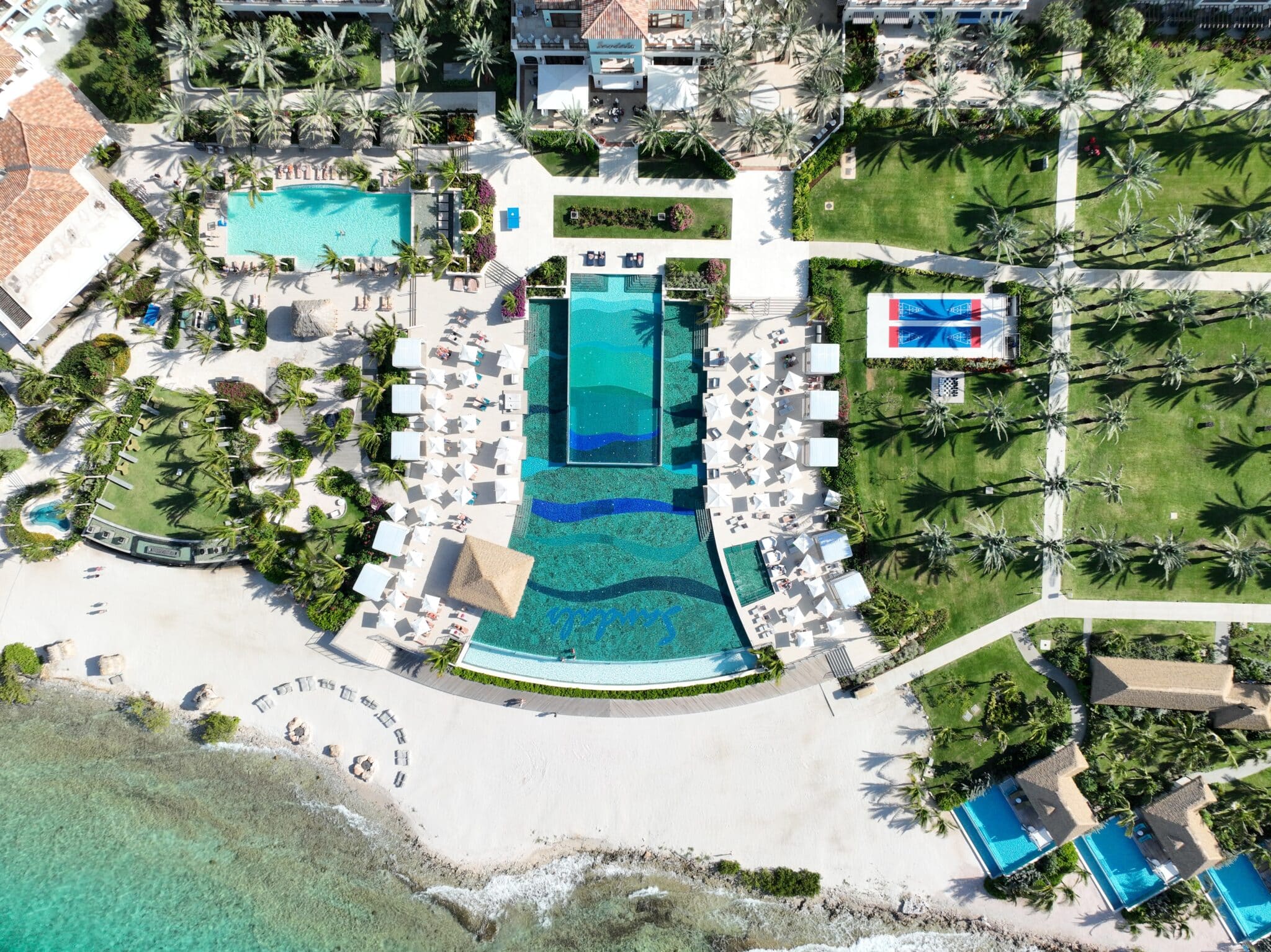 My husband and I just returned from a 5-night stay at the new Sandals Royal Curaçao. We decided to stay here because we were intrigued by this new Sandals Resort, and the fact that there are currently no first-hand accounts of staying here by other bloggers on Google, despite this resort being open for 8 months now. There are tons of Tripadvisor reviews, and they are decidedly, very mixed! So, we wanted to see what the deal was with this resort for ourselves…
This post is sharing absolutely everything you need to know about the new Sandals Curaçao and whether we recommend staying here. I'll be covering everything in this post… the good the bad, and the downright ugly.
Spoiler: we're so disgusted with Sandals after this experience, we won't be staying at another one of their resorts again.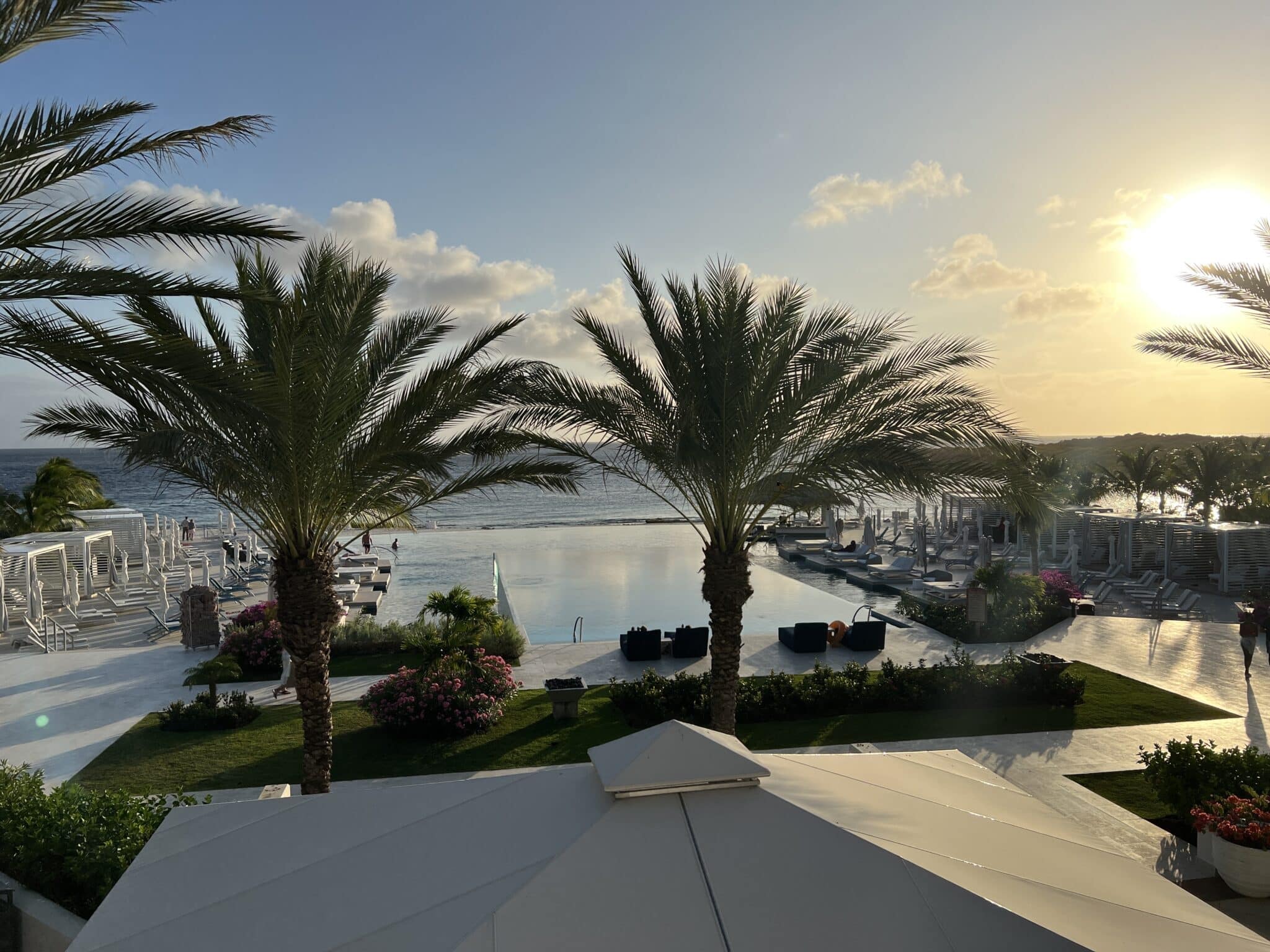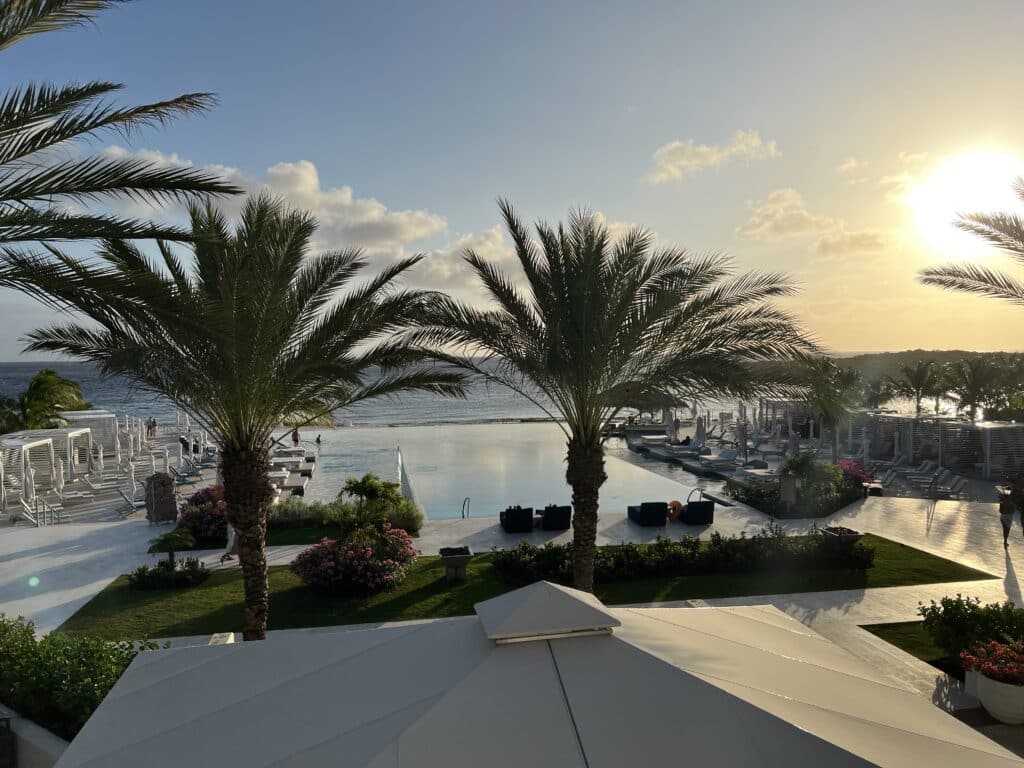 My Sandals Curaçao Review Youtube Video:
Disclosure: Have Clothes, Will Travel uses affiliate links. This means, that if you click a link in a post and make a purchase, Have Clothes, Will Travel gets a very small commission at no extra cost to you. Thank you for supporting the brands that make this blog possible!
Sandals Curaçao was not our first Sandals Vacation…
I do want to mention that this was not our first "Sandals Experience." Our first international trip was to the Sandals La Toc in St. Lucia more than 12 years ago, and we have since had the chance to stay at various Sandals Resorts in Jamaica, as well as the Beaches Resort in Turks & Caicos. We have visited a total of 8 Sandals/Beaches properties, including Curaçao.
We have absolutely loved every Sandals and Beaches experience we have previously had. The service and food are always top-notch, and the resorts themselves are spectacular. We even stayed at Beaches in Turks and Caicos when COVID restrictions were still in place, and the resort wasn't fully open. It was still an AMAZING experience.
I really didn't think all of the negative reviews about Sandals Curaçao could be true… or maybe they were just being exaggerated. Sandals and Beaches Resorts have been nothing but amazing for us, and our friends (some of whom have stayed at every single resort, except the new Curaçao location).
However, this review is going to show why you must read the most recent reviews, and not overlook those negative Sandals Curaçao reviews.
I do also feel it's important to be clear that there is virtually no financial upside for me to be honest in this review. My writing a negative review is not a good business move for this blog. Keeping quiet about my experience here, or only writing about the good things is by far the "smarter" thing to do.
That's because one of the biggest ways I make money is via affiliate links. That means when someone clicks a link on my blog and makes a purchase, I get a small commission. However, when something is negative, I have nothing to sell, and the brand can also take away all pending commissions I have with them (and I have thousands of dollars of commissions pending with Sandals).
And to be clear, I am in no way looking for compensation from Sandals for this stay or the services provided.
This blog is built on honesty, integrity, and my experience. I will never publish a positive review of a product or place if I don't believe it to be true. So, you're getting the whole side of this story.
Warning!
In case you couldn't tell, this is a VERY long post, which I know not everyone has the time to read through. I wanted to really dive into the details and tell this story in its entirety. Please use the table of contents below to click on the portion you are most interested in if you don't want to read the entire post.
I also want to point out, too, that this is just our account of staying here. Experiences will vary. Some folks absolutely loved this resort, and that's great! This is not a takedown piece, and I do not write those. This post was written from our point of view to help HCWT readers understand our experience, and make an informed decision with their vacation time. Please reach out with any questions in the comments at the end of the post.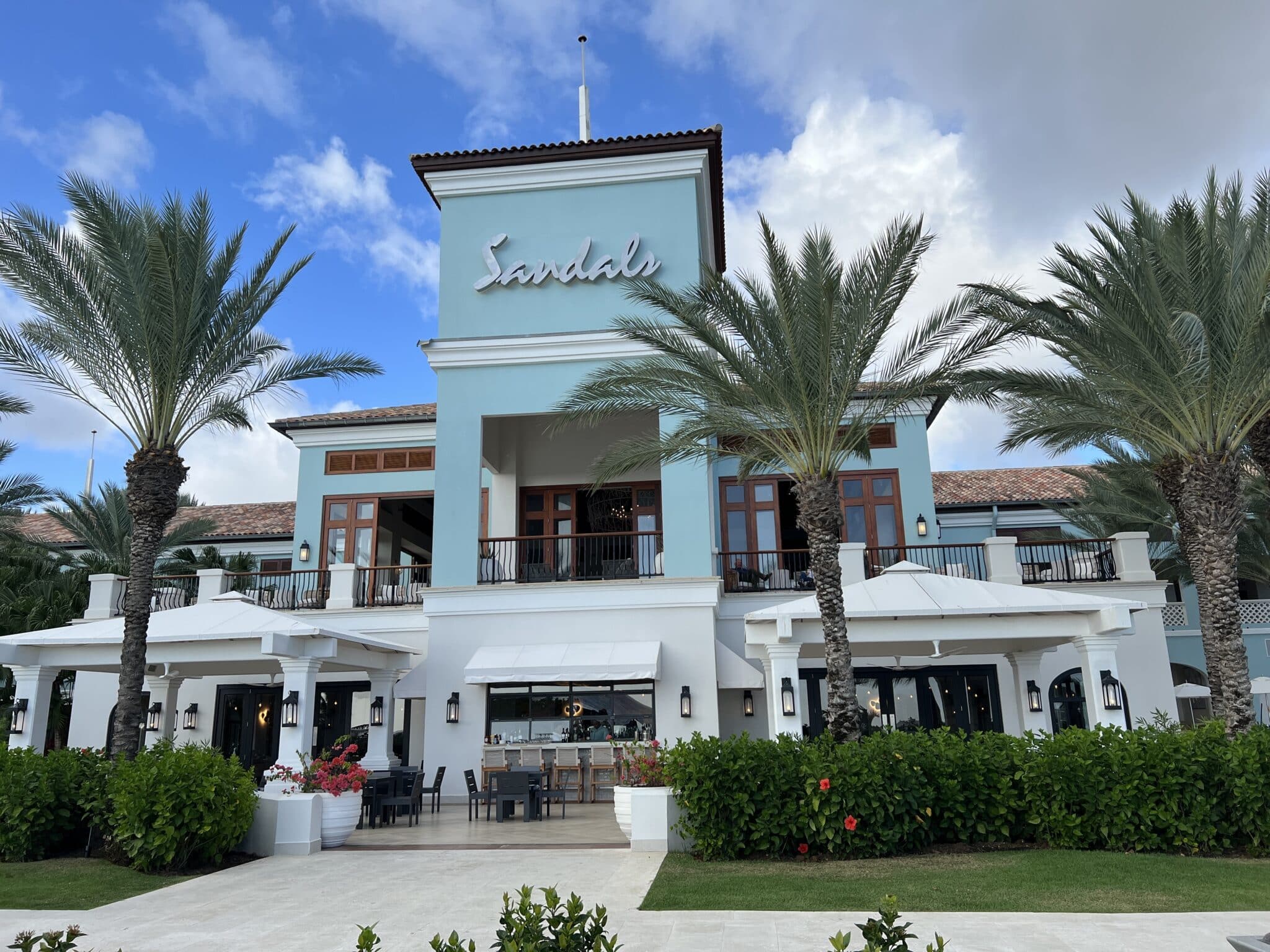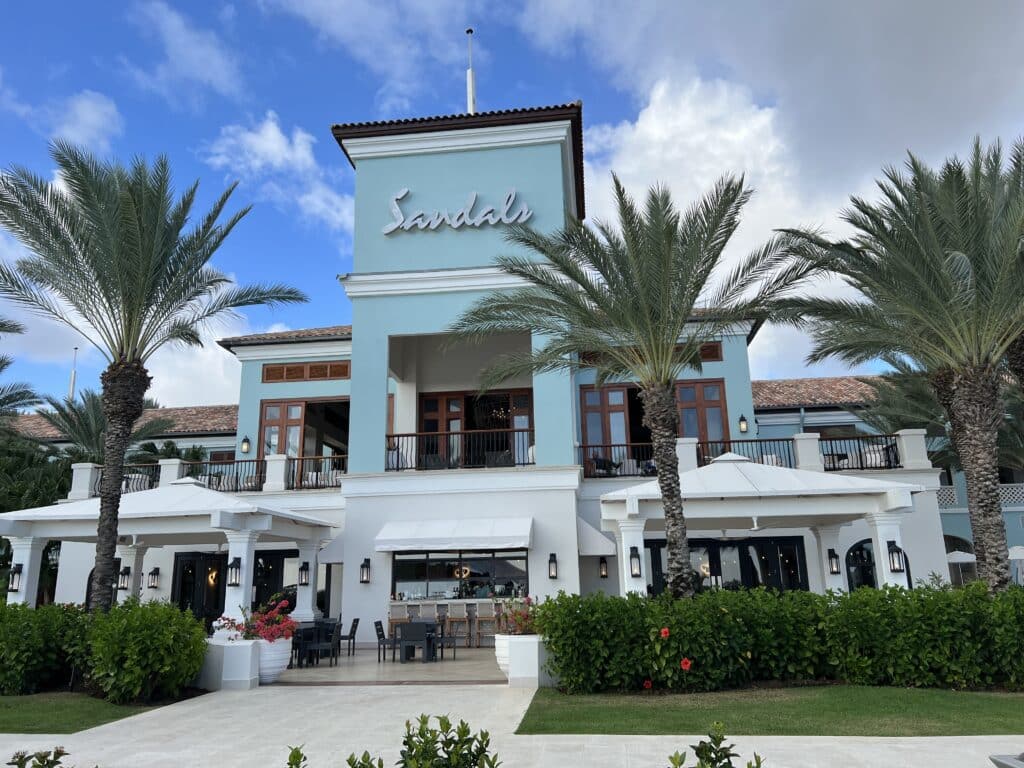 Let's get to know this resort a little first…
Sandals Curaçao Overview
Where is Curaçao?
Curaçao is an island that is just 45 miles north of Venezuela and 70 miles east of Aruba. It is a constituent country within the Kingdom of the Netherlands.
The Sandals Curaçao Resort is located in Newport (aka Nieuwpoort) in the private, gated community of Santa Barbara. The resort is about a 30-minute drive from the old town center of Willemstad.
Curaçao is pronounced, "Cure-ah-souw."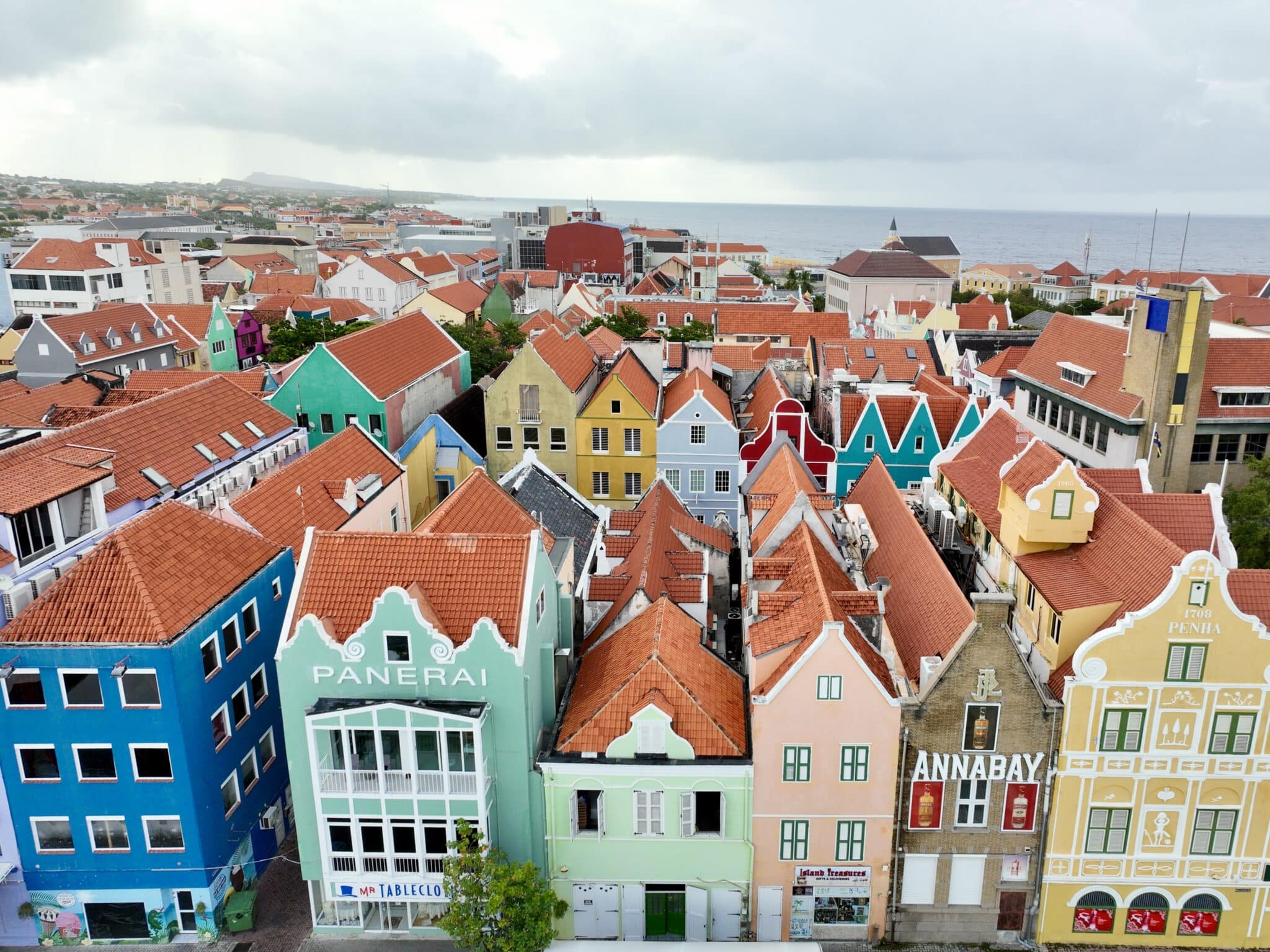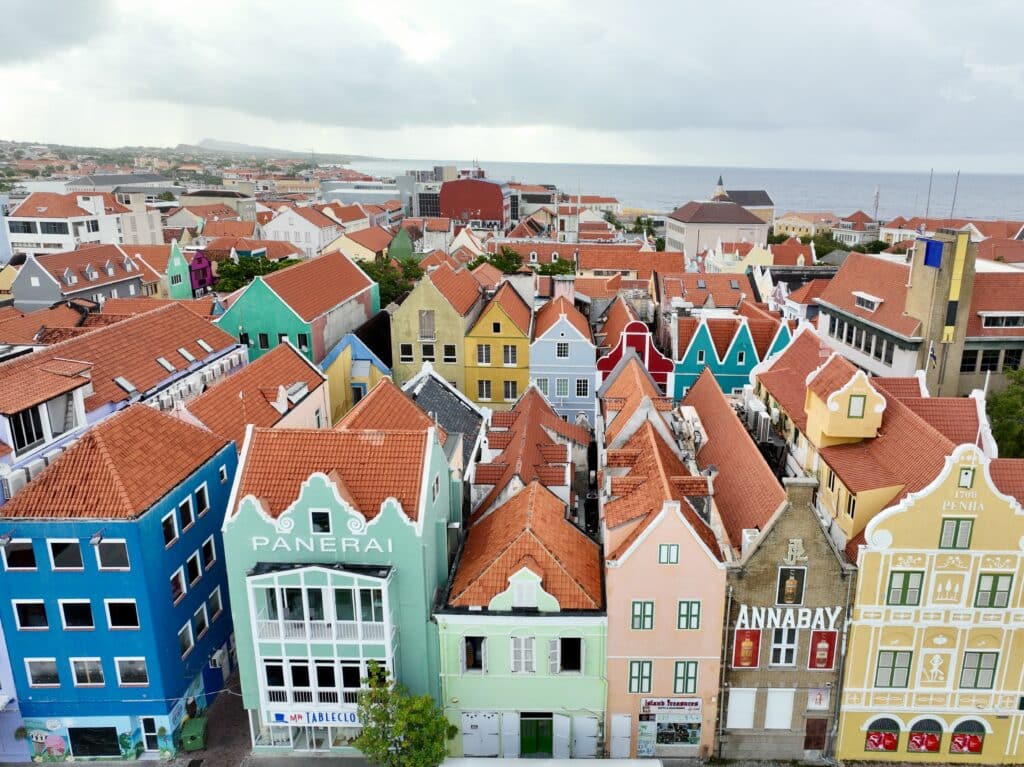 Is Sandals Curaçao a new build?
Technically, this resort is not a "new" build. Sandals Royal Curaçao was once the Santa Barbara Golf Resort. Sandals purchased the Santa Barbara Resort in 2020, which was previously owned by Benchmark Resort and Hotels. (At one point this resort was also managed by Hyatt.)
However, I wouldn't say there is much left of the original resort. Sandals stuck a whopping $72 million into this resort "to complete the 'Sandalization' process", according to Forbes. It is an absolutely stunning, posh, and modern resort. I would definitely say it feels very "new."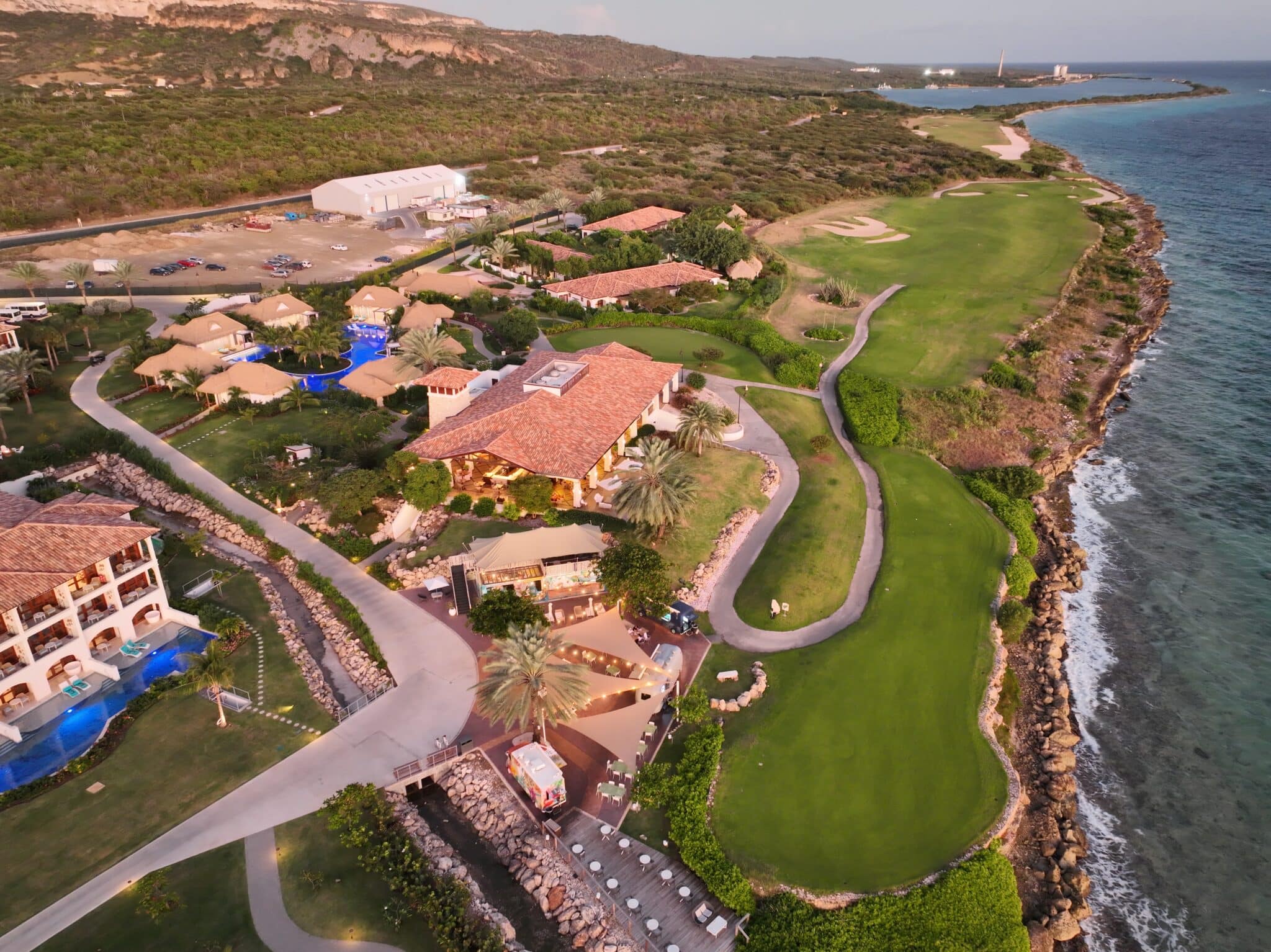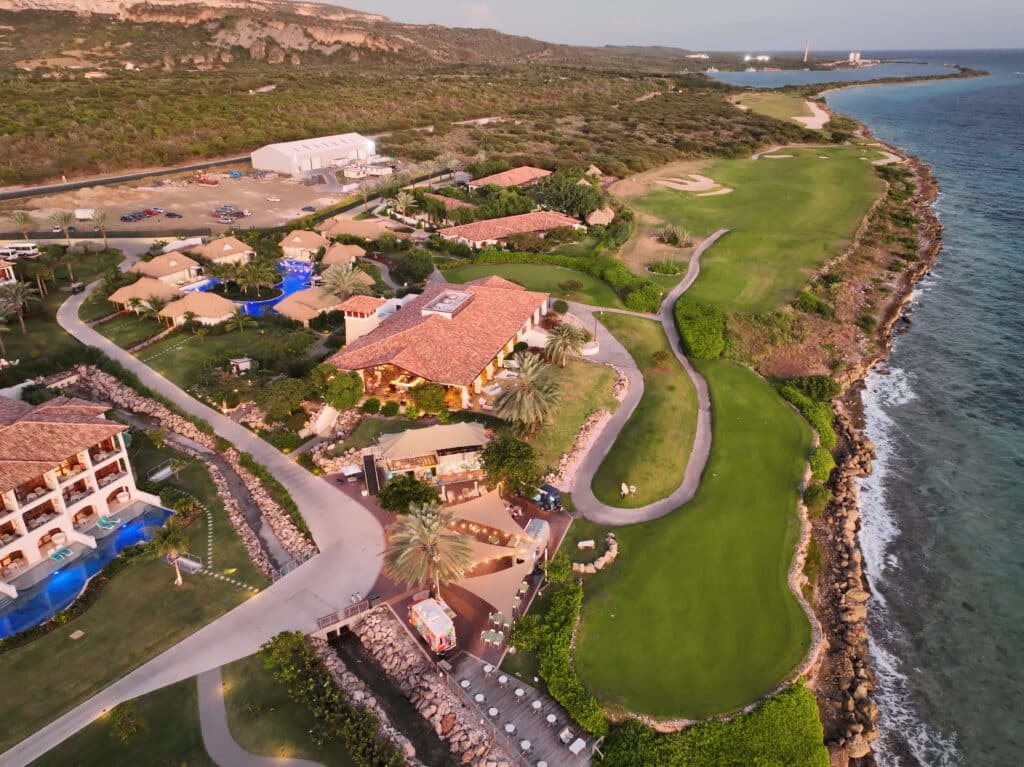 When did Sandals Curaçao open?
Sandals Royal Curaçao opened on June 24, 2022. This is currently the only Sandals resort in Curaçao.
What's Included at Sandals Royal Curaçao?
Sandals Resorts are all-inclusive and adult-only. These are the specific amenities provided by Sandals Royal Curaçao and included in your stay:
Dining at 8 restaurants
3 food trucks
Unlimited alcoholic beverages
13 bars, including a swim-up bar
Stocked bar in every room
Unlimited Robert Mondavi Twin Oaks® Wines
PADI-Certified SCUBA diving and equipment
Snorkeling and equipment
Additional activities, such as guided Hobie cat rides.
Tennis and other sports
Fitness center
Day and night entertainment and live shows
Use of dutch bikes to explore the resort
All tips, taxes, and gratuities
Roundtrip airport transfers
Wifi
Free wedding for stays of 3 nights or longer
How far is Sandals Curaçao from the Airport?
The Sandals Royal Curaçao is about a 40-minute drive from the Curaçao International Airport, which is the only airport on the island. Sandals does provide shuttles to and from the airport as part of your stay.
However, we had been staying at the Renaissance Resort prior to staying at Sandals and needed to arrange our own taxi to take us to the resort. The included transfers are only to and from the airport.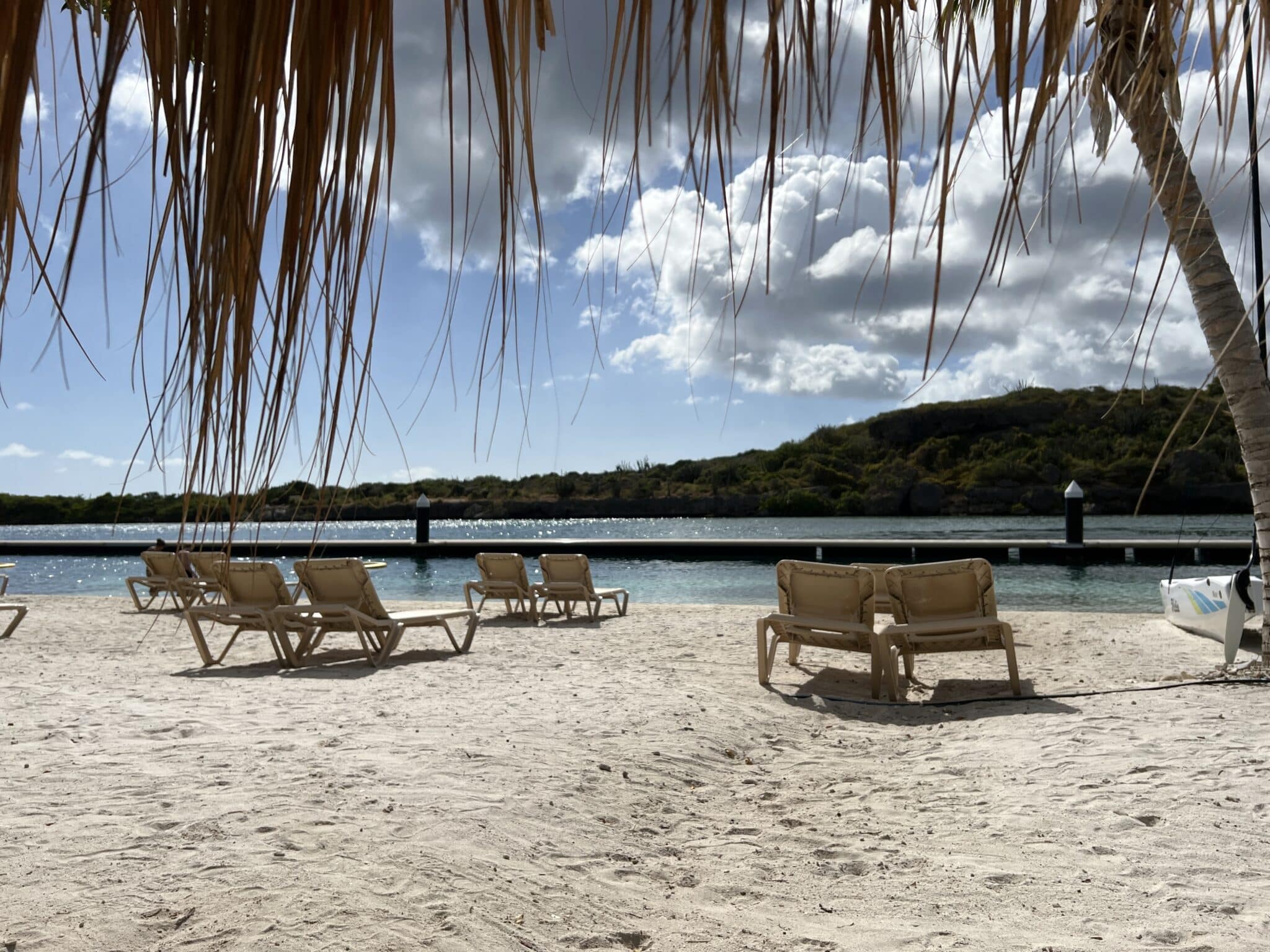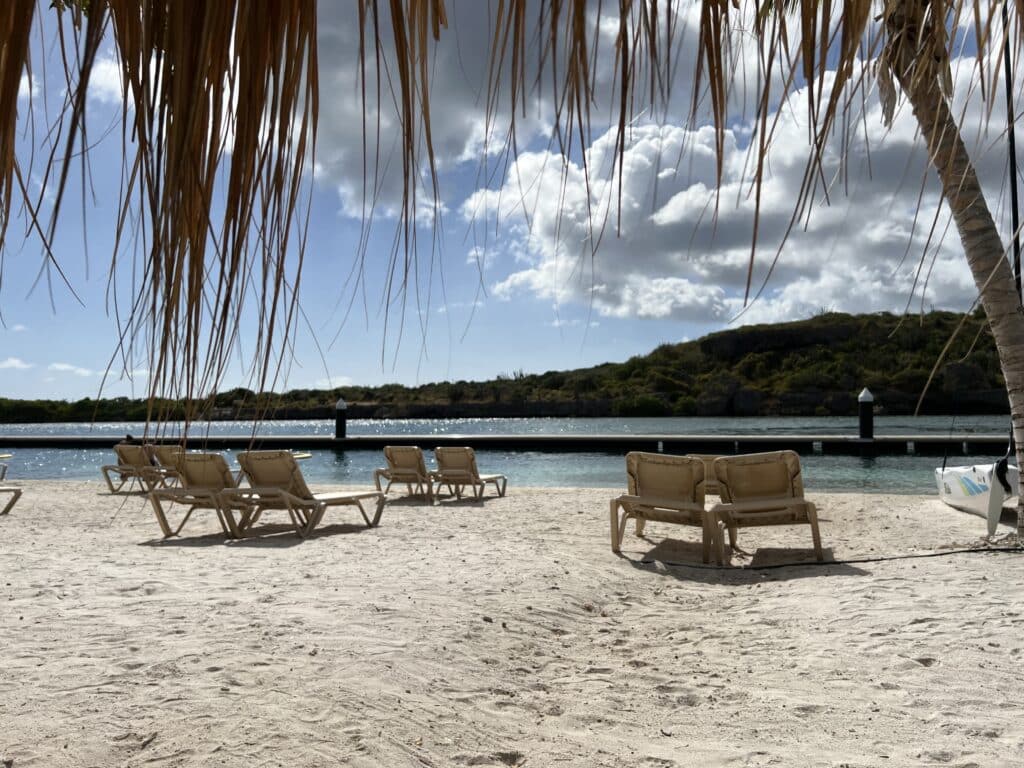 Does Sandals Curaçao have a nice beach?
So, this depends on what your definition of nice is… Sandals Curaçao does have a rather small, sandy beach, that is on a canal, and protected by a large dock. There won't be any waves on this beach unless it's from a passing boat. It's not your typical "Sandals beach."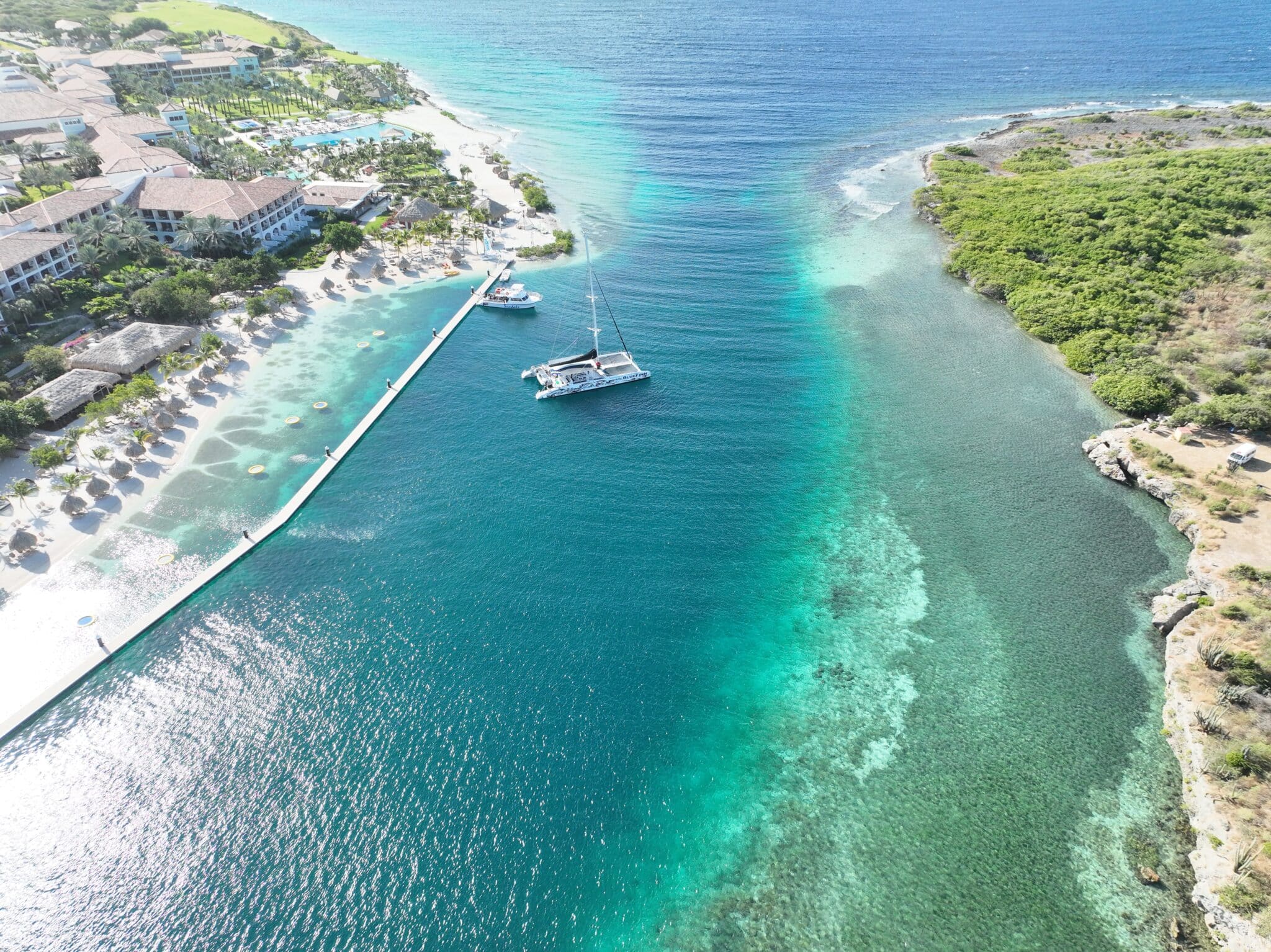 Personally, I liked the beach area just fine. It was very quiet and I never had any issues finding a chair.
Just note, there is another beach area, which is just off the main infinity pool. This area is VERY rocky and rough. It's not recommended to swim here.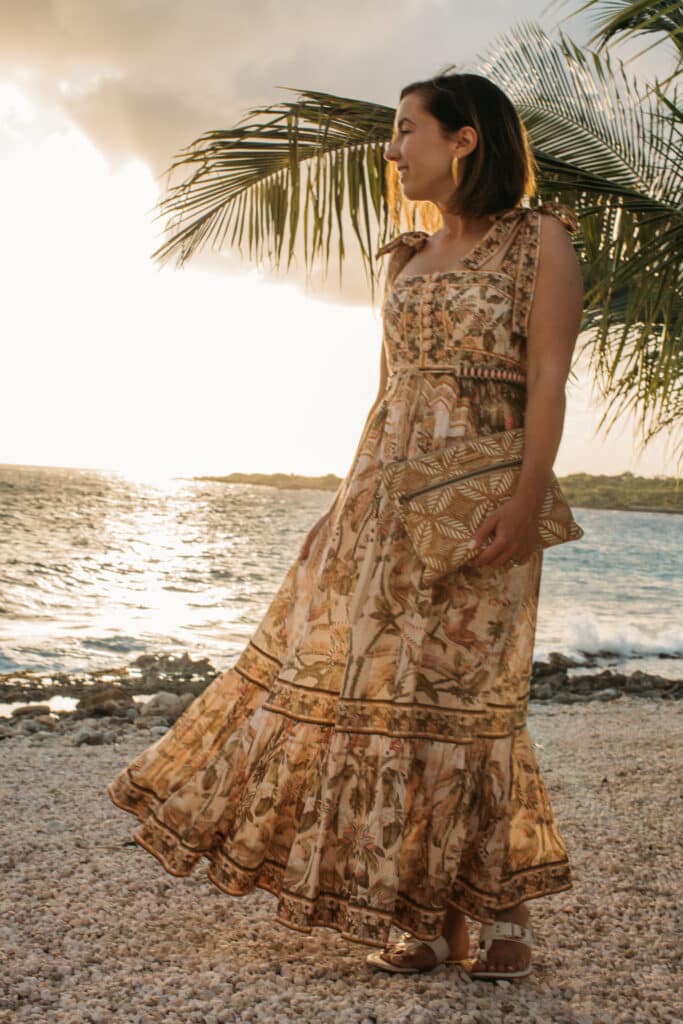 Does Sandals Curaçao have a swim-up bar?
Yes, there is a swim-up bar in the infinity pool. I spent absolutely no time at it, though, because it was very busy during the day, and I preferred hanging out by the ocean….not at a bar where the person next to you is likely peeing themselves.
Are there a lot of bugs at the resort?
So, Curaçao is almost always windy. There are pros and cons to this, of course. One of the pros, though, is that there were very few bugs to deal with as a result of the never-ending breeze. I would say this was the least "buggy" tropical vacation we've ever had.
That said, I have read Sandals Curaçao reviews that said the bugs were absolutely horrible when there was no breeze. So, to be on the safe side, pack a little bottle of bug spray!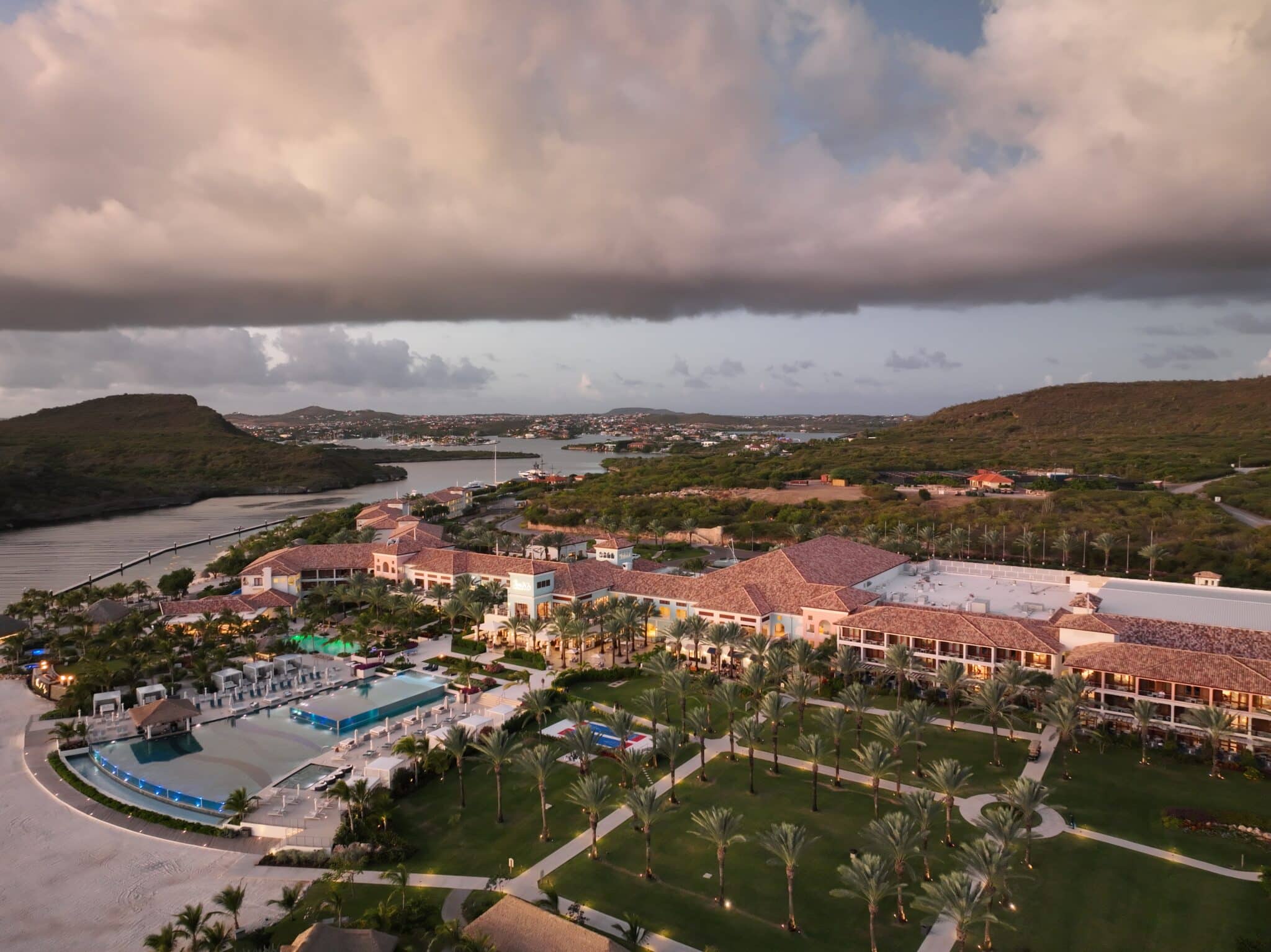 My Honest Sandals Curaçao Review
So, now that we have a little better understanding of the new Sandals Curaçao Resort… let's dive into my personal experience staying here in February 2023.
Our Checkin Process at Sandals Curaçao
My husband and I arrived at the resort at about 4 pm. Check-in at the resort was at 3 pm. We had been staying at the Renaissance Resort in Willemstad, Curaçao prior to coming here, and had to arrange our own transfer to Sandals. (Transfers are included with your rate if you're coming from the airport.) So, it was just us checking in at this time.
The gentleman who greeted us and took our bags was incredibly kind and attentive, as was the gentleman who brought our drinks. (He greeted us with a glass of champagne and then made my husband a mocktail, as he does not drink alcohol.)
However, the woman who checked us in… I believe it must have been her first day on the job. She greeted us by going over a few points. #1 was NO smoking in the rooms or on the balconies or we will be charged some really big fee. Kind of an odd way to start off a greeting, but okey dokey. The whole check-in with her was very awkward.
She then took us to our room, without telling us anything about the resort, where things were, when breakfast was, etc. She showed us our room but didn't show us any of the features, other than the mini-bar (which she explained is included in the stay).
This was an odd check-in experience, but oh well. She seemed new! (And Sandals Montego Bay had forgotten about us for nearly 2 hours when we tried to check in… so, it's not always smooth.)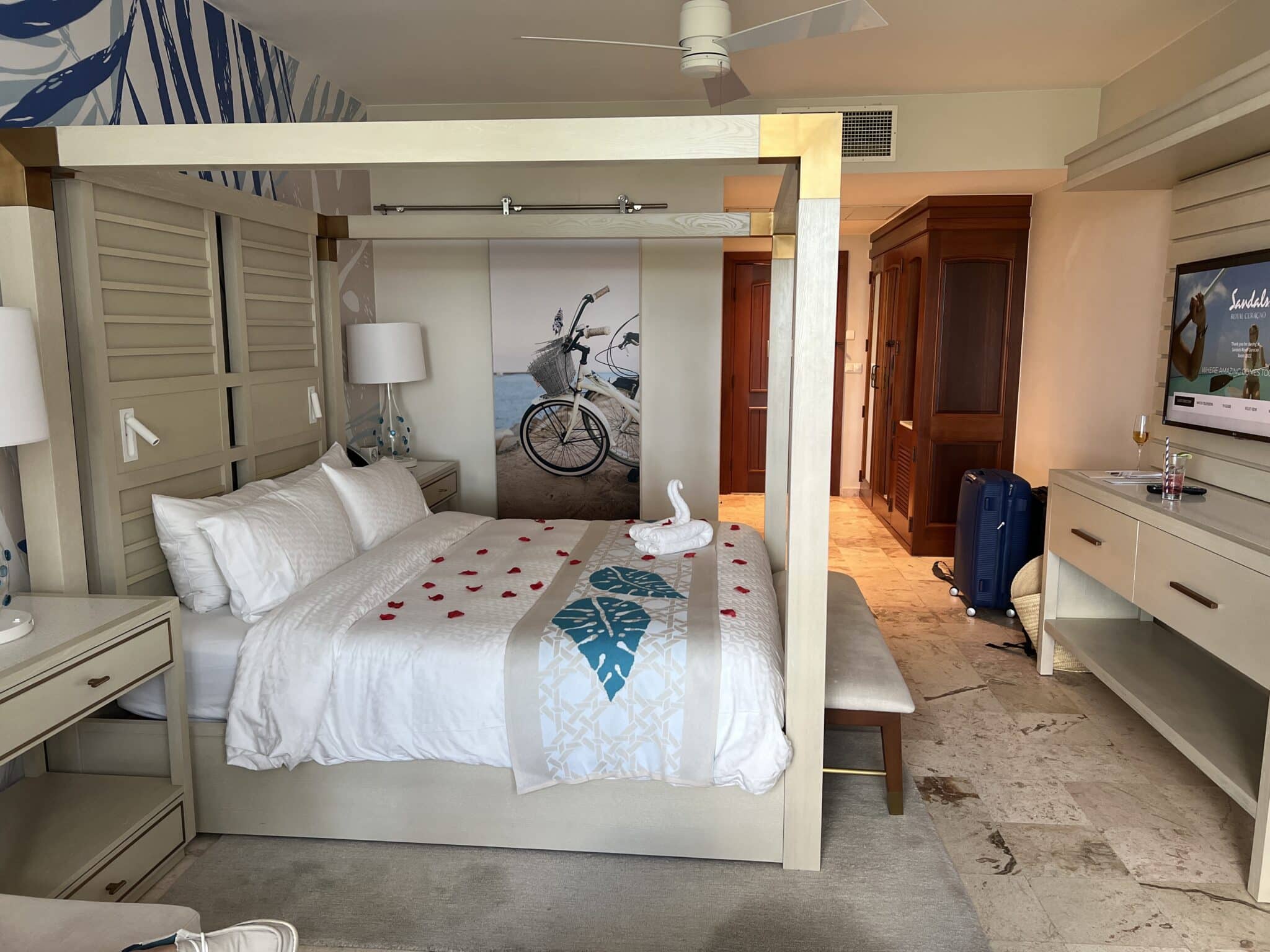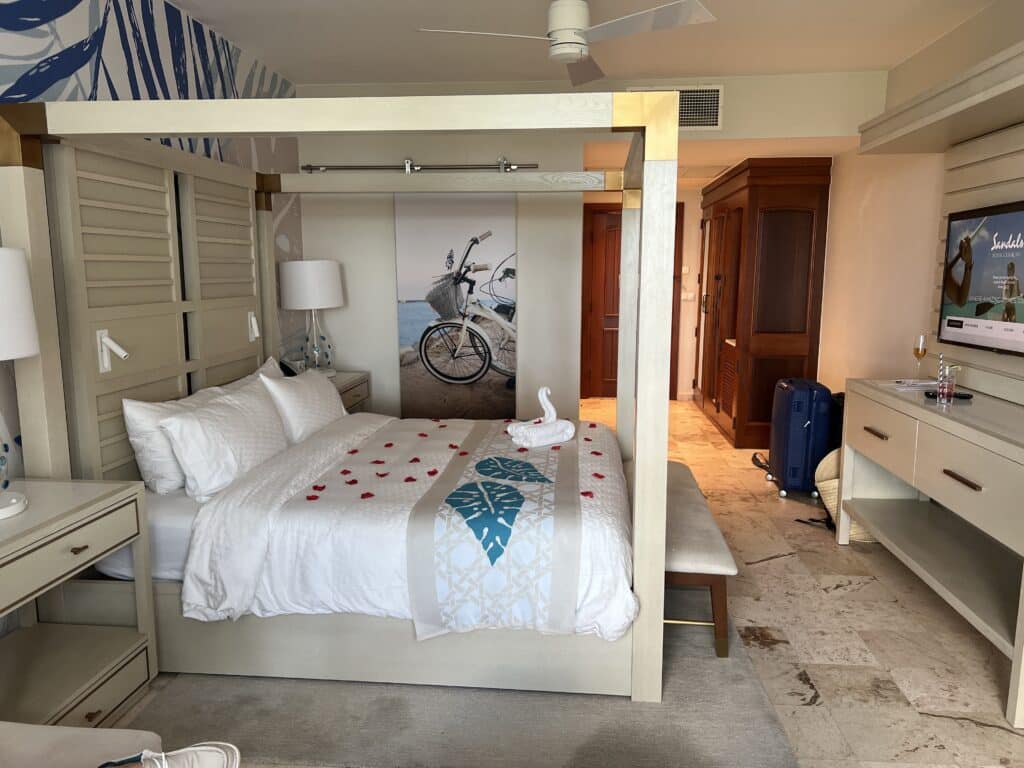 Our Room at Sandals Curaçao – The Subi Premium
I had opted to stay in the "Subi Premium" room with a view of the garden. This is one of the most affordable rooms you can stay at here. Our room was 2322, which is located in the middle (meaning there were people above and below us). I'll walk you through it in detail below, but suffice it to say… I don't recommend it!
I chose this room, because I know from the past resort reviews I've written, that these are the rooms my readers are most interested in seeing. My husband and I also don't spend very much time in our room when we are at these resorts, so spending an arm and a leg on a premium suite has never really been worth it for us. We had also stayed in a room very similar to this one at Beaches Turks & Caicos and loved it!
The room itself has a very new and modern feeling. It was also the cleanest room I've ever seen in all my travels. (Hats off to the housekeeping staff here!)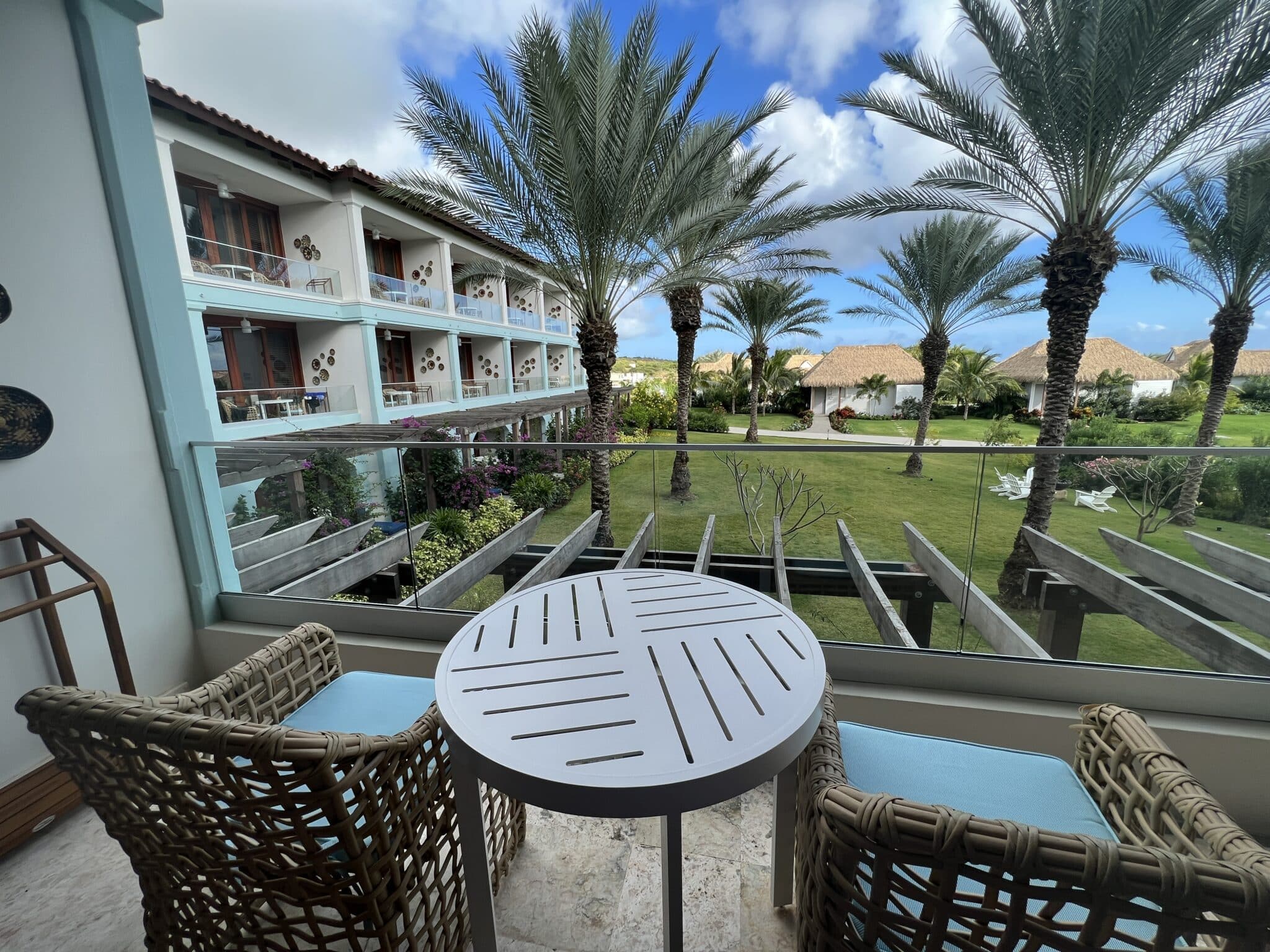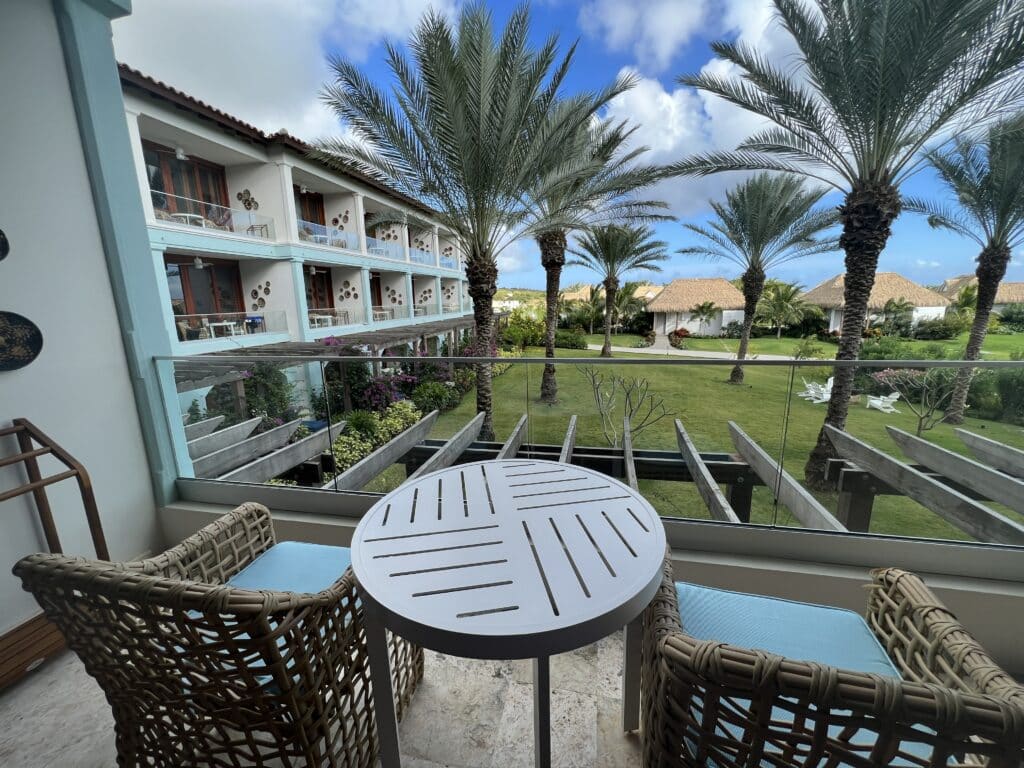 The view was pretty, but as you can see, we were also looking right into our neighbors' windows from the balcony. So, there wasn't much for privacy. And the "blinds" were these big wooden doors you had to close and the "blinds" had 4 separate areas you had to close. It was a process to get any privacy!
The photos below can you give you a little better idea of what this room looks like.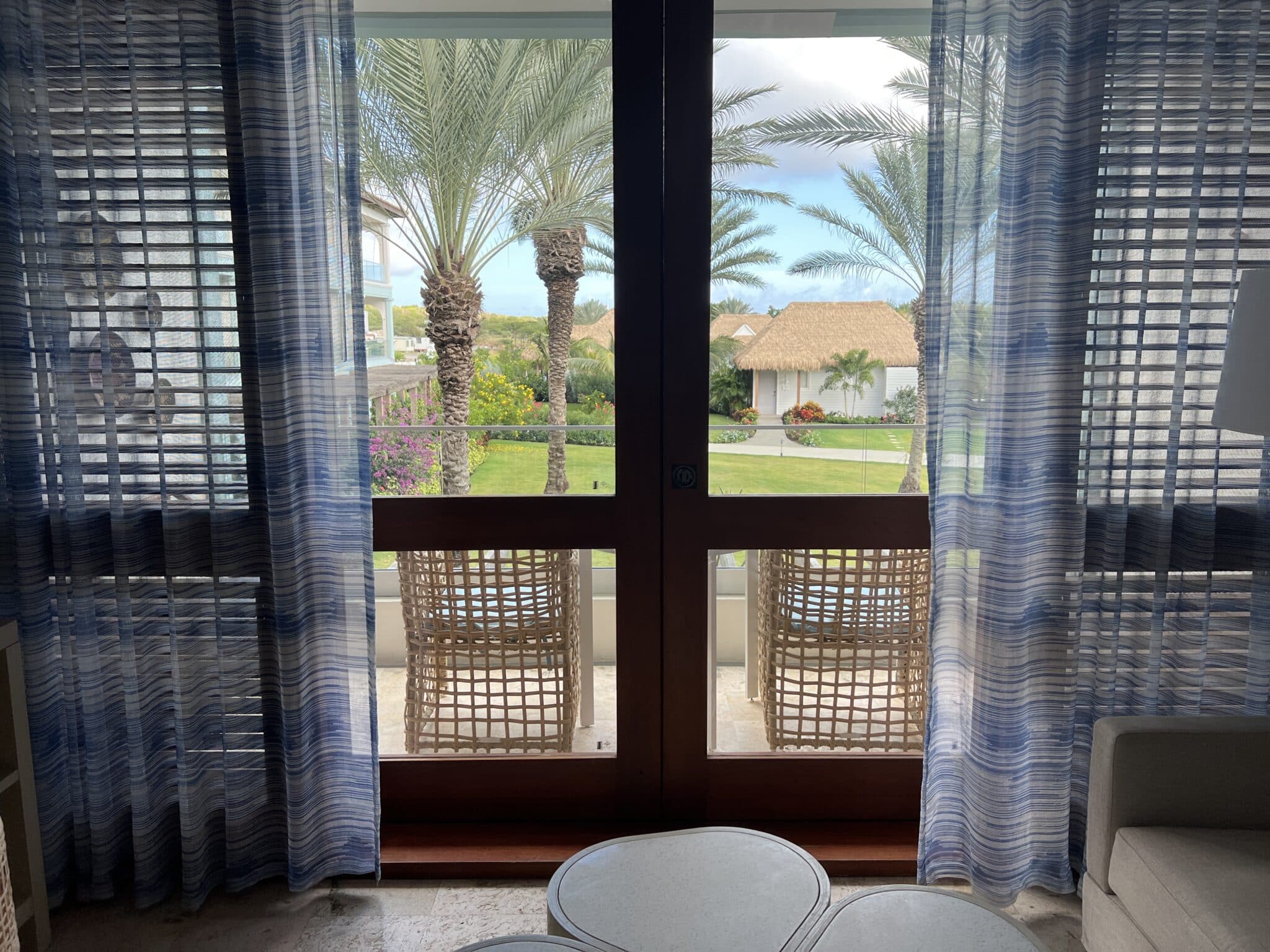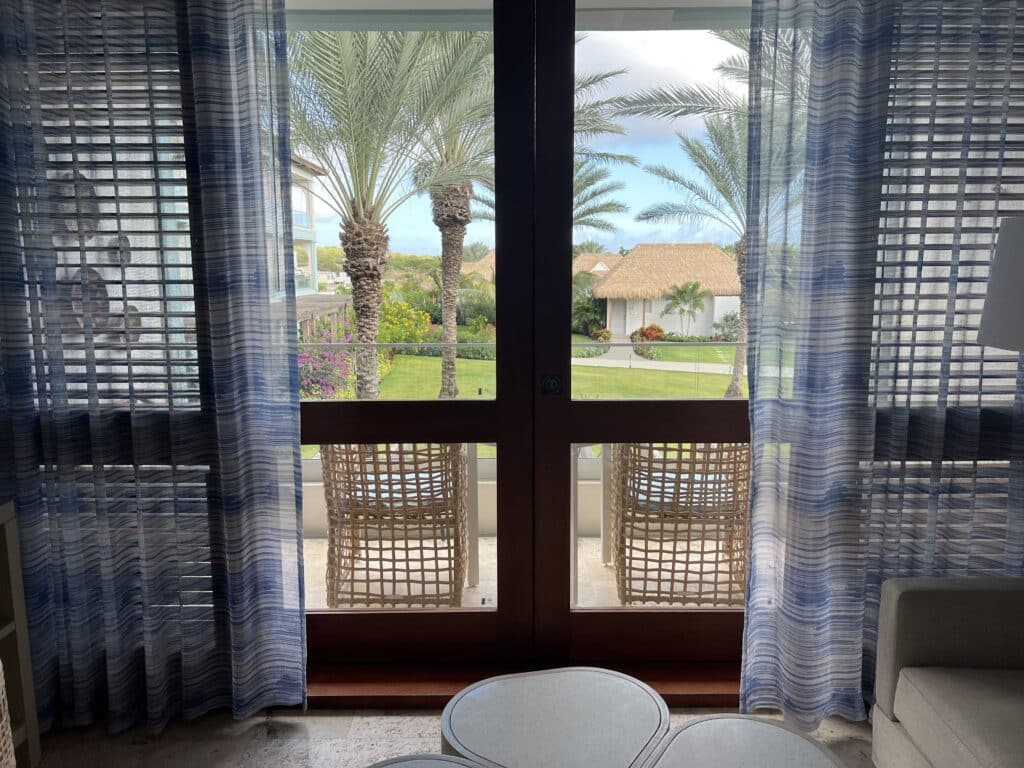 More negatives about this room…
Why I don't recommend this room is because it is SO LOUD. You can hear everything that happens in the hallways and outside. You can also hear your neighbors above you. My husband and I hardly slept a wink while we were here.
The first night we could hear the room service cart bouncing down the hallway filled with glass bottles until well past midnight. Then our upstairs neighbors were outside talking on their balcony at 1 am. They weren't arguing or anything, just talking, but we could hear them in our room.
And other nights the fire alarm went off in the middle of the night…without any explanation from the staff as to what happened. To be clear this happened more than once. You could also hear very drunk people running down the hall at all hours.
And before 8 AM, you could start to hear housekeeping and the carts on the tile floor again. Needless to say, this is the most exhausted and sleep-deprived we've ever been while staying at an all-inclusive resort! (Again, we had stayed in a similar room at Beaches Turks & Caicos and did not have any of these issues.)
Note: I do realize this sounds nitpicky. However, even though we stayed in the least expensive room at this resort for 5 nights… it cost $5,621 without flights or any additional services. For more than $1,000 a night, it doesn't seem crazy to expect to get a decent night of sleep!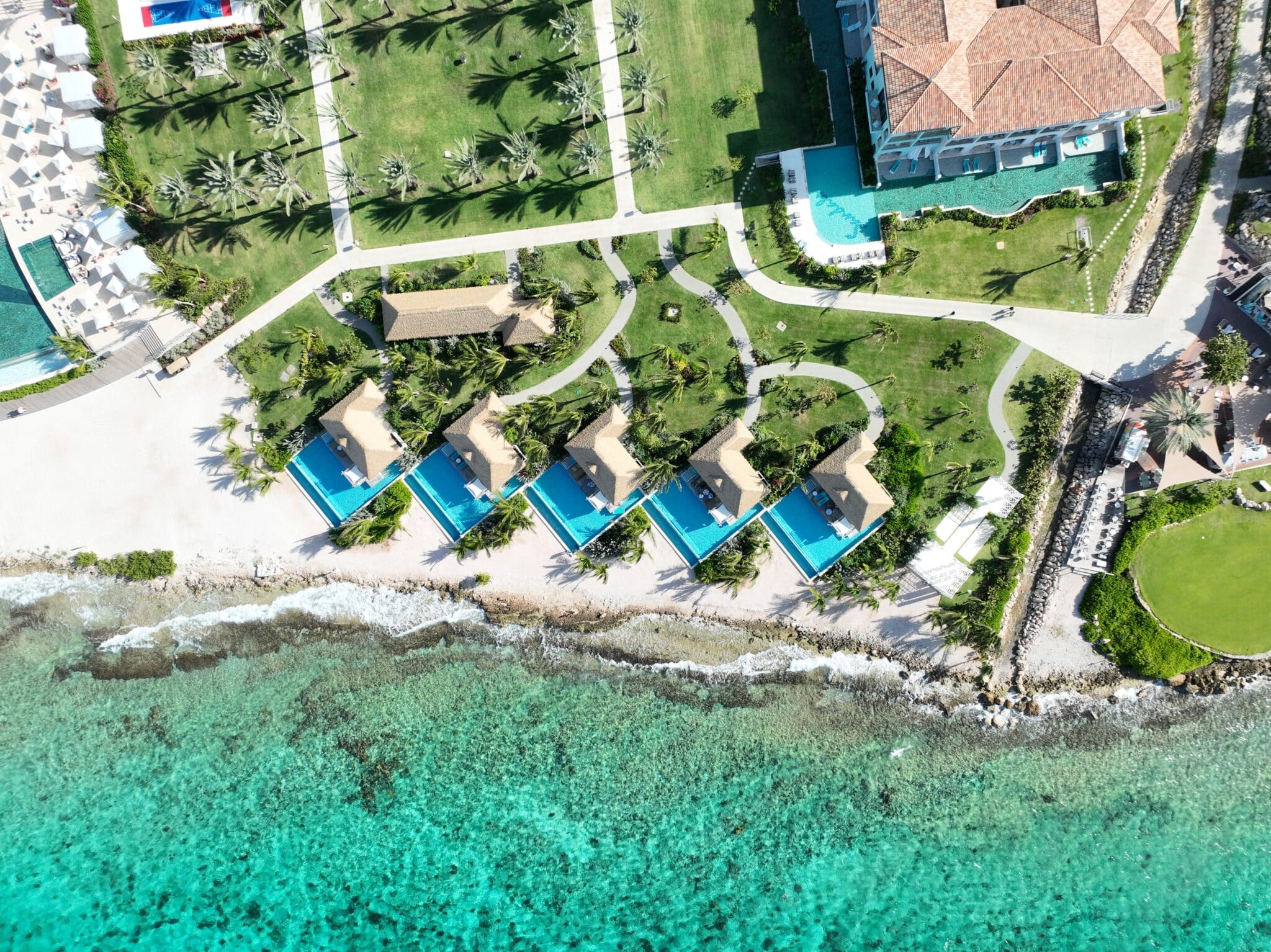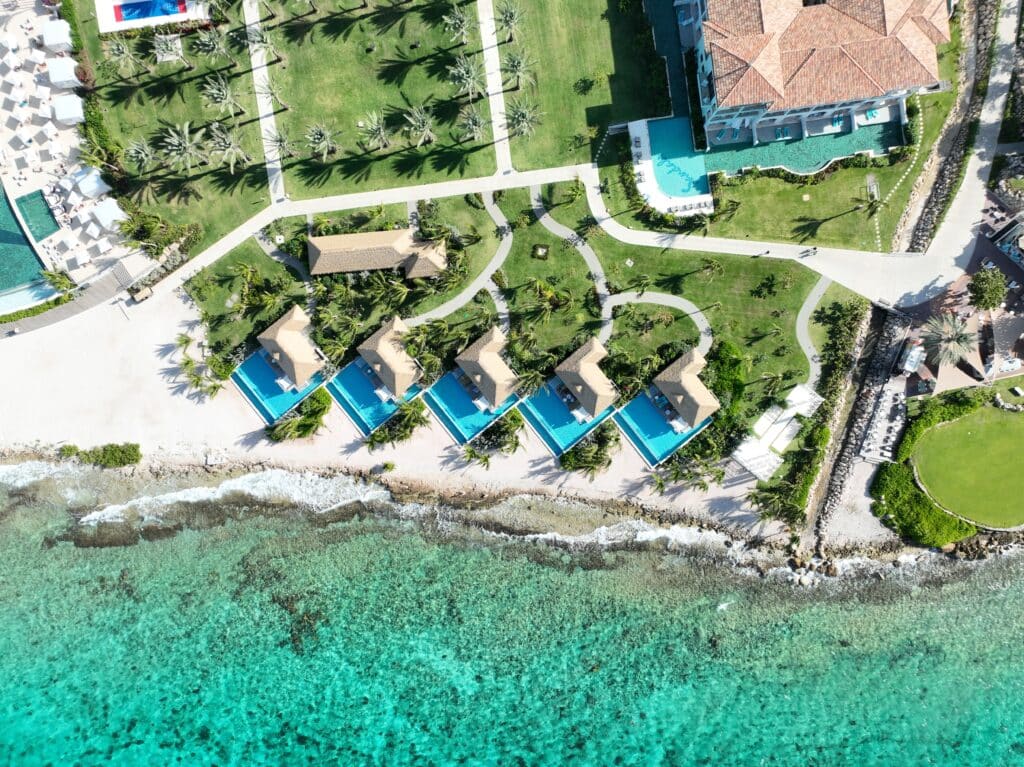 The Service at Sandals Curaçao is overall quite TERRIBLE
I alluded to this a bit during the check-in process. But the overall, service at this resort is quite bad. There were a handful of employees who were really spectacular, but the majority were either, I would guess, brand new (despite this resort being open for 8 months now), or just didn't care. Shout out to Kim at Gatsu-Gatsu and the lovely host at Vincent, whose name I am sorry but I cannot remember (he is a very tall, slender man) – you two were amazing.
I would describe the general vibe here as being an "unwelcome guest at someone's home." It's a weird vibe for a Sandals Resort. In all of our past Sandals experiences, the staff were all outstanding and went out of their way to make sure we were having a good stay and felt welcomed. Here I felt like I was constantly being a burden to the staff when ordering food, drinks, services, etc.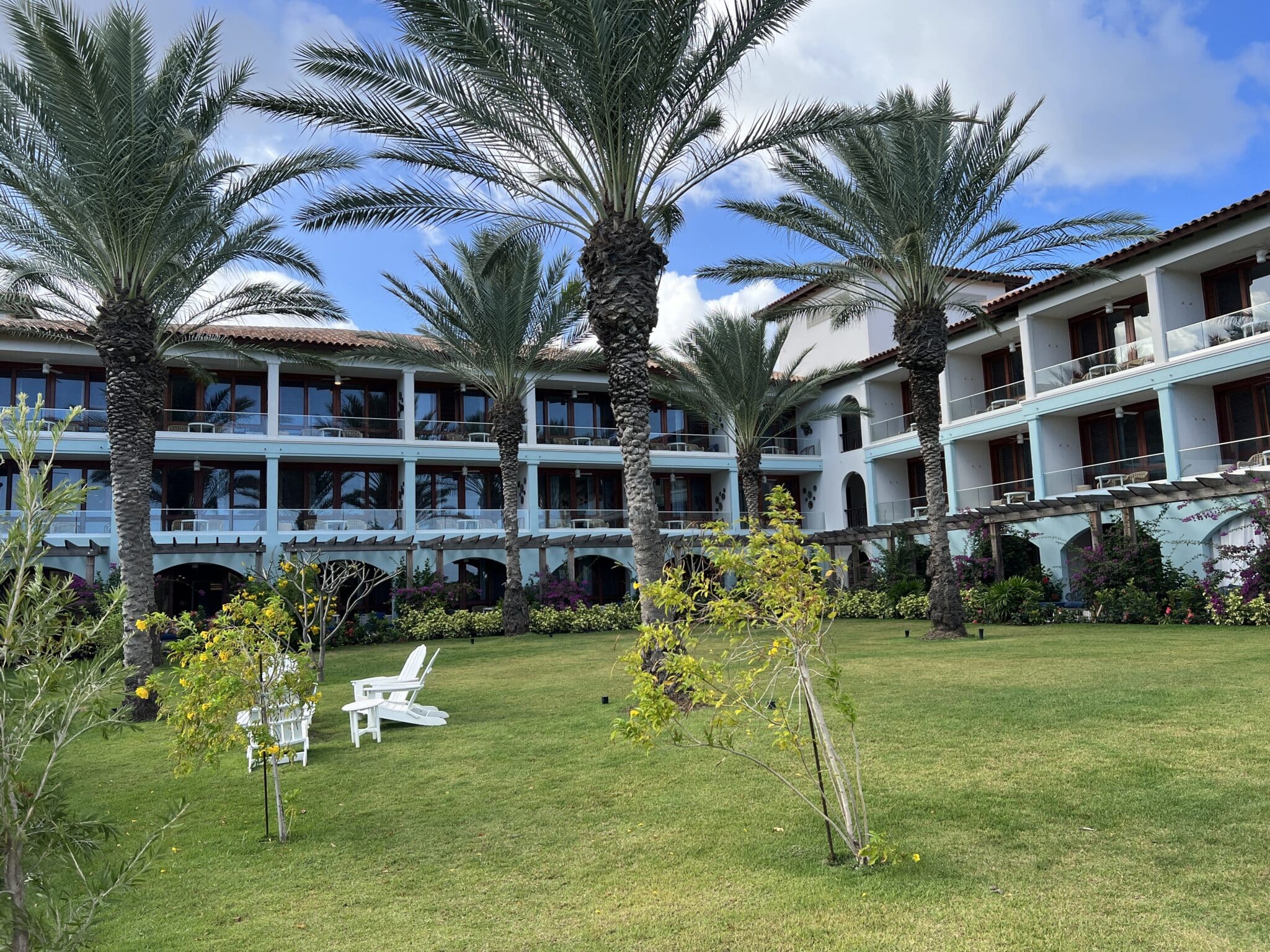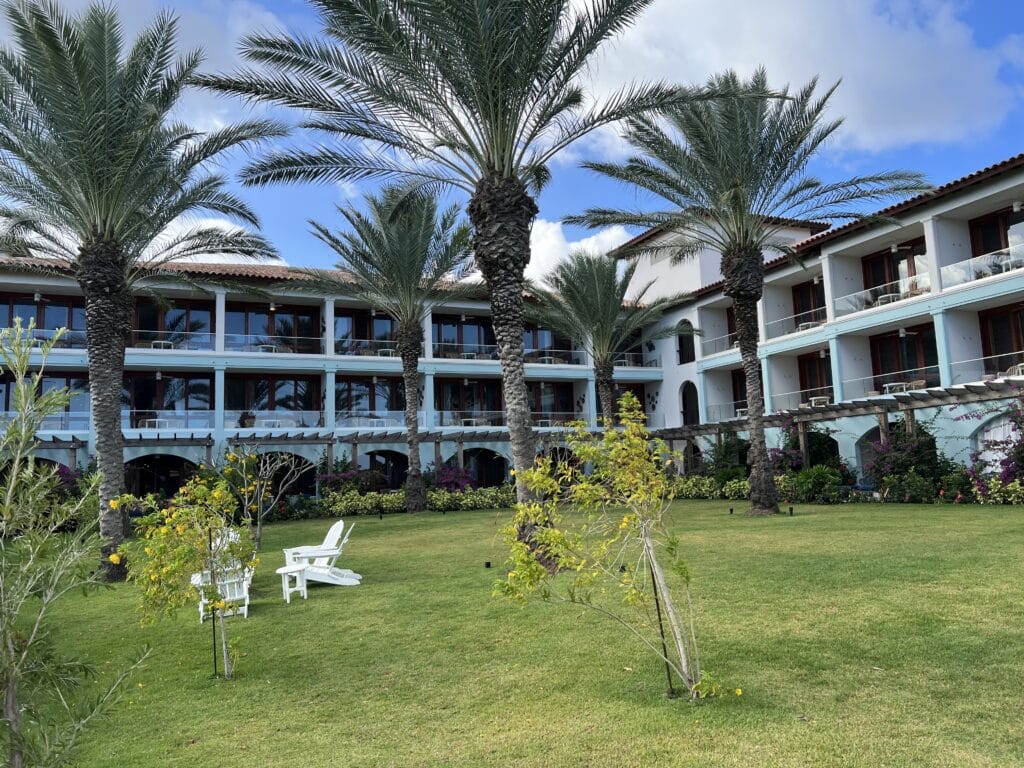 We did eventually talk to a manager about this (more on that debacle at the end of the post), and they admitted they were having a lot of issues. They said it was cultural differences between Sandals and the Dutch island of Curaçao… and they were still trying to figure out how to work out the kinks. They were actually bringing in quite a few staff members from other Sandals resorts and injecting them into this resort to boost the service!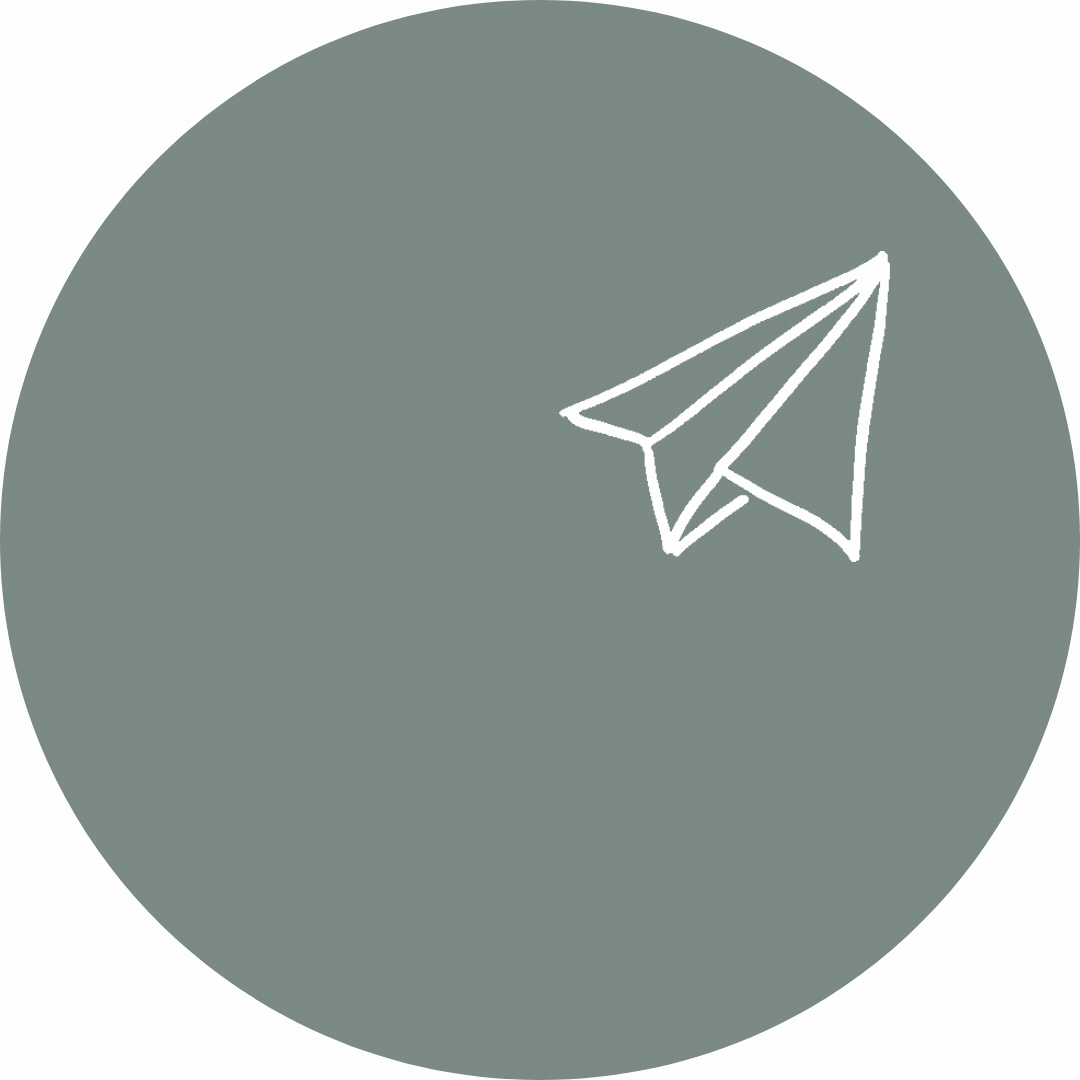 You also, weirdly, cannot access Tripadvisor while you are connected to the Sandals Curaçao Resort's Wifi. The management says "this is an issue with Tripadvisor and Tripadvisor is blocking the guests from using it…but they are working on getting it fixed. " However, I reached out to Tripadvisor support, and they were truly baffled by this, and asked me to have the resort management contact them…Personally, it appears to me, that Sandals Curaçao is blocking Tripadvisor via their Wifi, so you don't leave a bad review while you're still at the resort.
There were small things, like the towel bins by the pool and beach area being empty more often than not… so getting a towel was always a bit of an ordeal. For example, you would be at the end of the property and walk past more than several water features and more than 7 empty towel bins before finding a towel. It feels like no one is actually working to help guests, and it adds up.
The butlers also would block off chairs on the pool and beach for their guests, but I would say less than half of those chairs were actually being used by anyone, which was kind of annoying.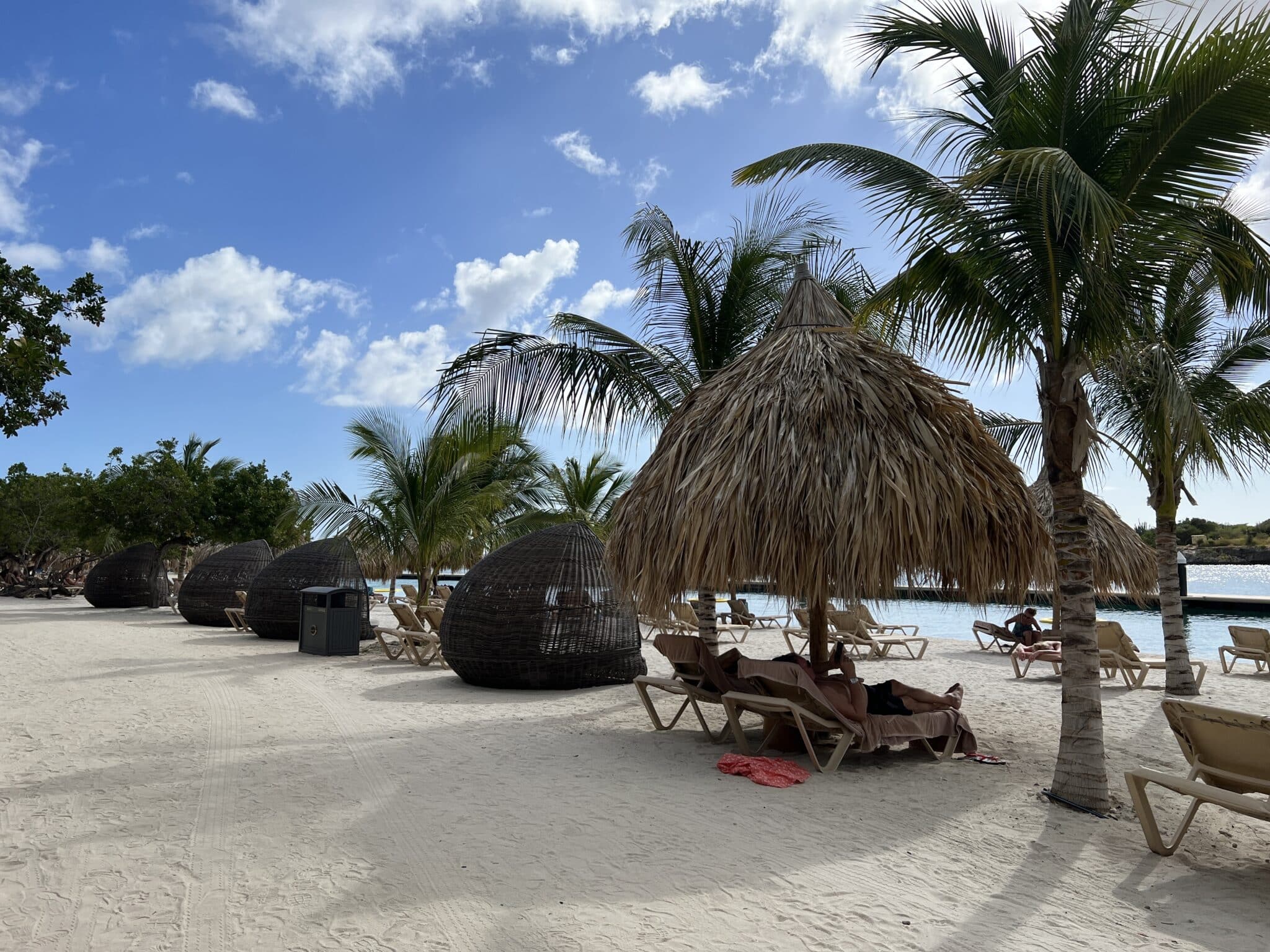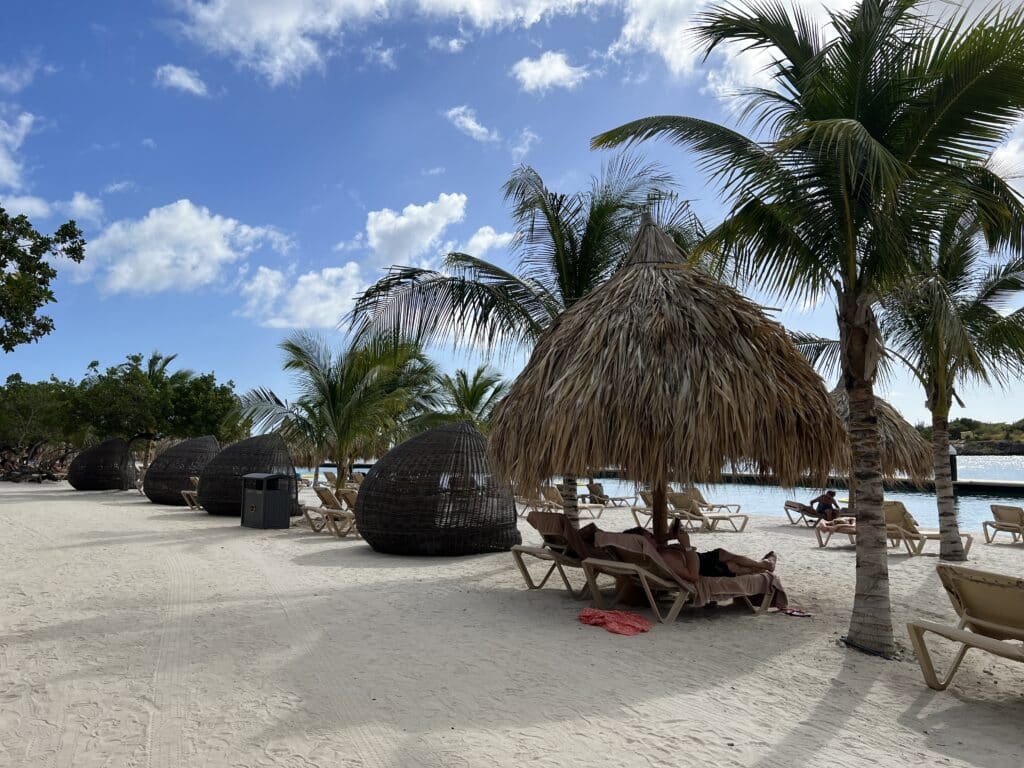 Here are a couple of other examples of times that were less than amazing…
1.) Front Desk Insisting to Our Tour Operator We Had Checked Out, Multiple Times – We had arranged to take an offsite tour on our own via Viator. (It was a great tour to snorkel with sea turtles in Playa Piskado!) When the tour operator came to pick us up, he went to the front desk to let them know he was there to pick up two guests and then gave them our names.
The front desk told him, "Sorry, but they have already checked out!" He said that could not be possible as he had just spoken with me last night. The front desk was vehement, though, and said they had personally checked us out and we were no longer there.
Fortunately, the tour operator had my number and just called us…instead of leaving.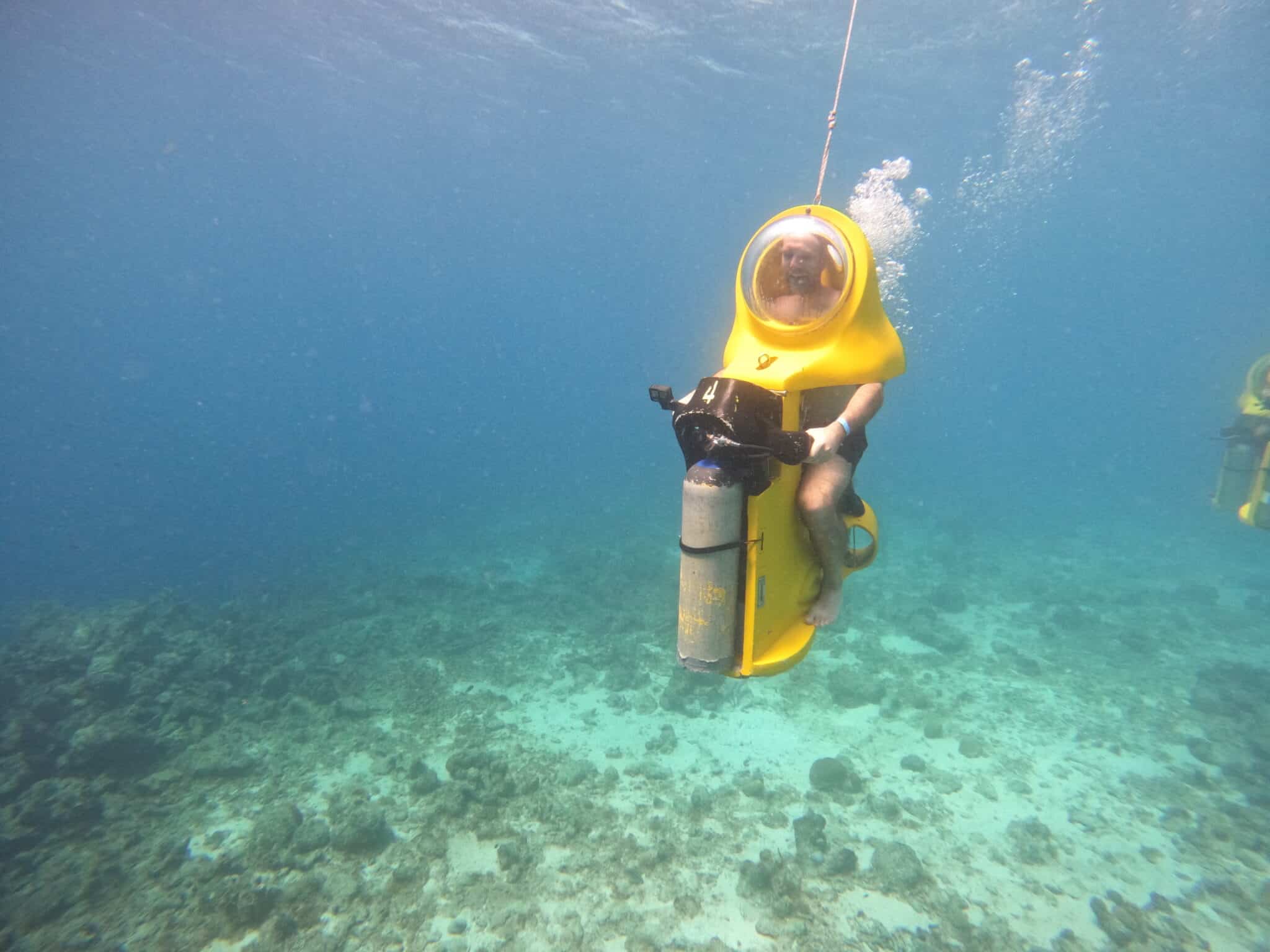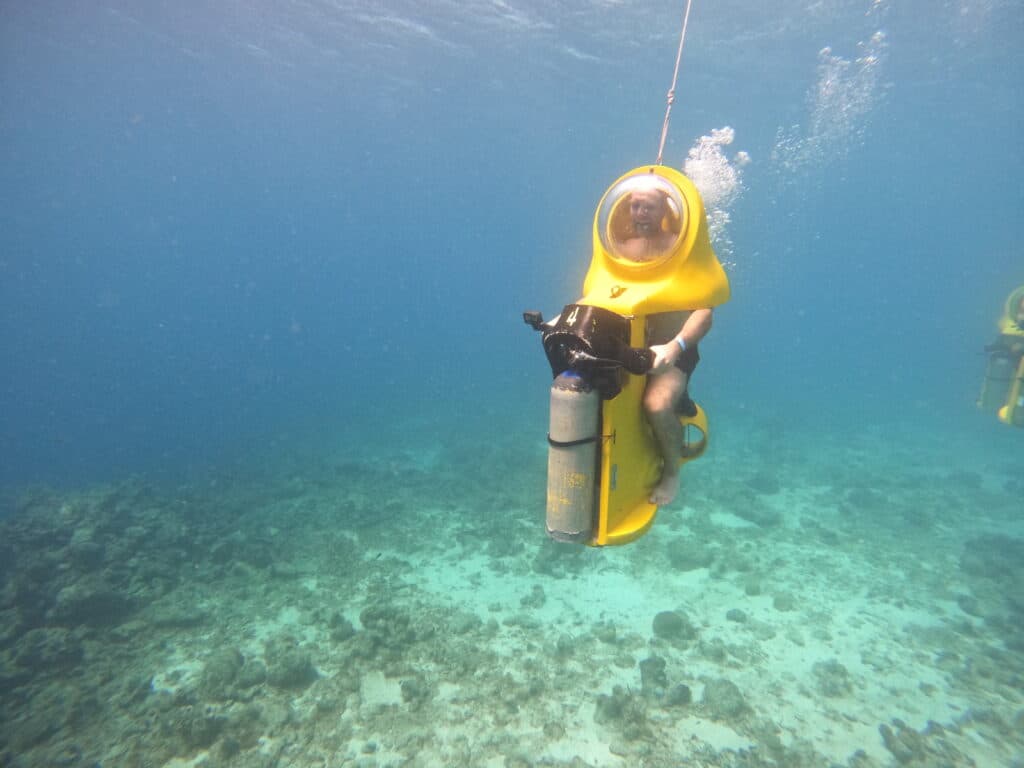 2.) Dinner Reservations Were Not a Great Experience – Vincent's and Butch's are the 2 restaurants that require you to make a reservation when you check in. However, because we had such a weird check-in experience, we weren't able to make reservations until the next day…even though my husband had asked repeatedly if he could make the reservations while we were doing the check-in process.
Despite having 4 nights left at the resort, the lady at the guest services desk said they were completely booked and could not accommodate us at either restaurant.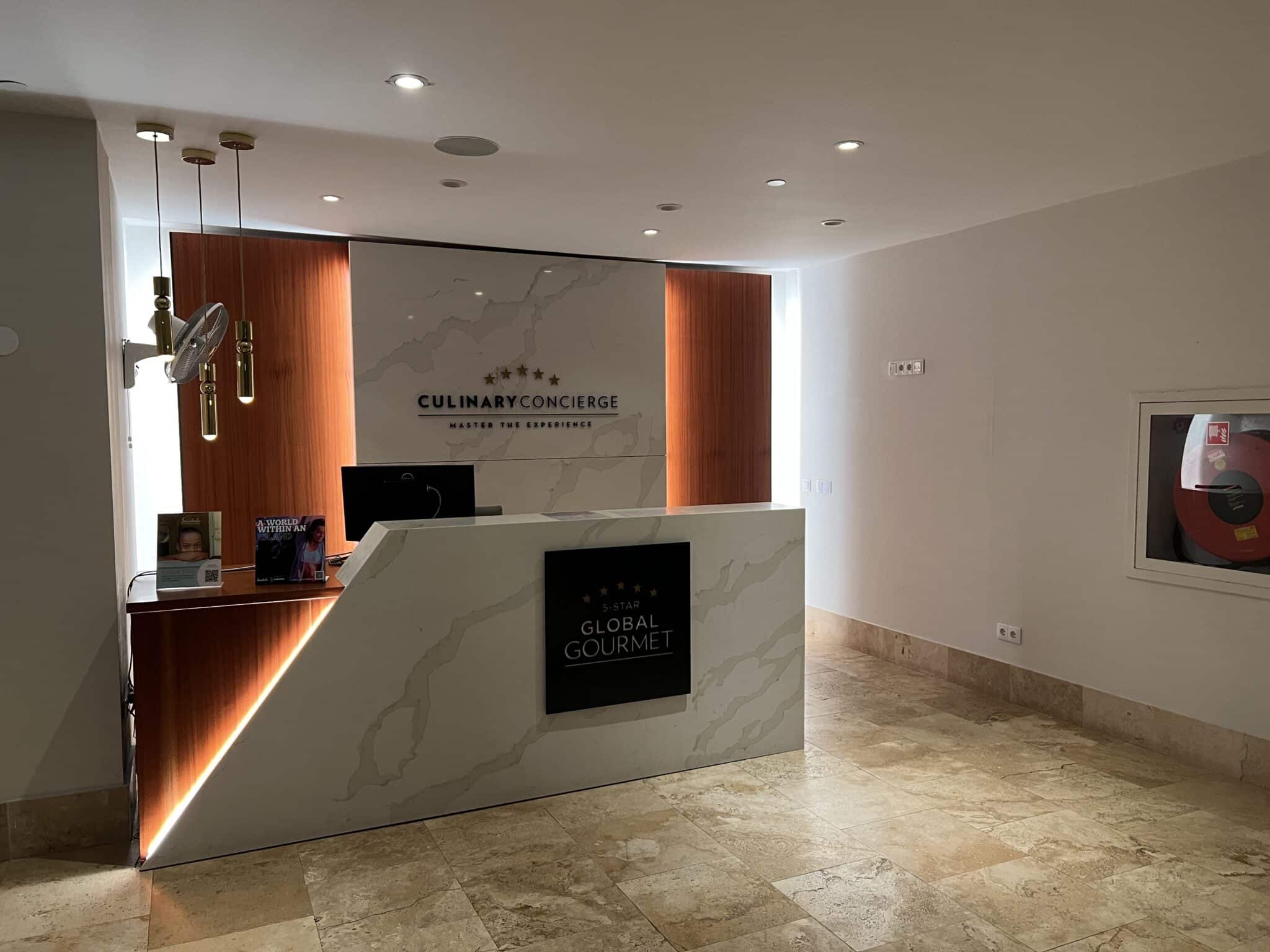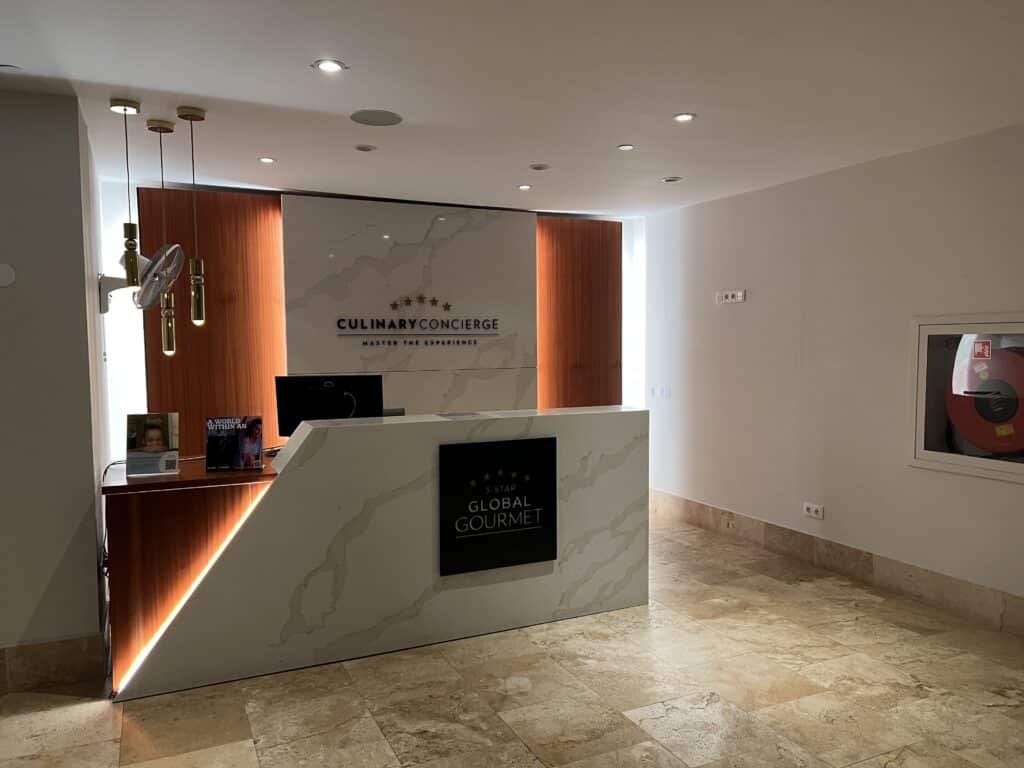 My husband asked if there was anyone else we could speak to about this, as we really wanted to be able to try each restaurant at the resort during our stay. A manager did eventually get involved and allowed us to have an 8:30 pm reservation at Butch's on our last night at the resort. My husband said we were very disappointed we were not able to try Vincent's, and she said to stop by the desk later that day, as she was going to speak with a manager to try to find us a table.
We stopped back later and she said she had availability for the next evening, anytime we wanted! We opted for 7 pm and were very excited.
I'll get into the whole Vincent's dining experience in the food section of this review, but the woman at the guest services desk never communicated this new reservation with Vincent's staff. They were totally booked and had no idea we were coming! We felt very silly… but fortunately, the host at Vincent's handled the situation very well.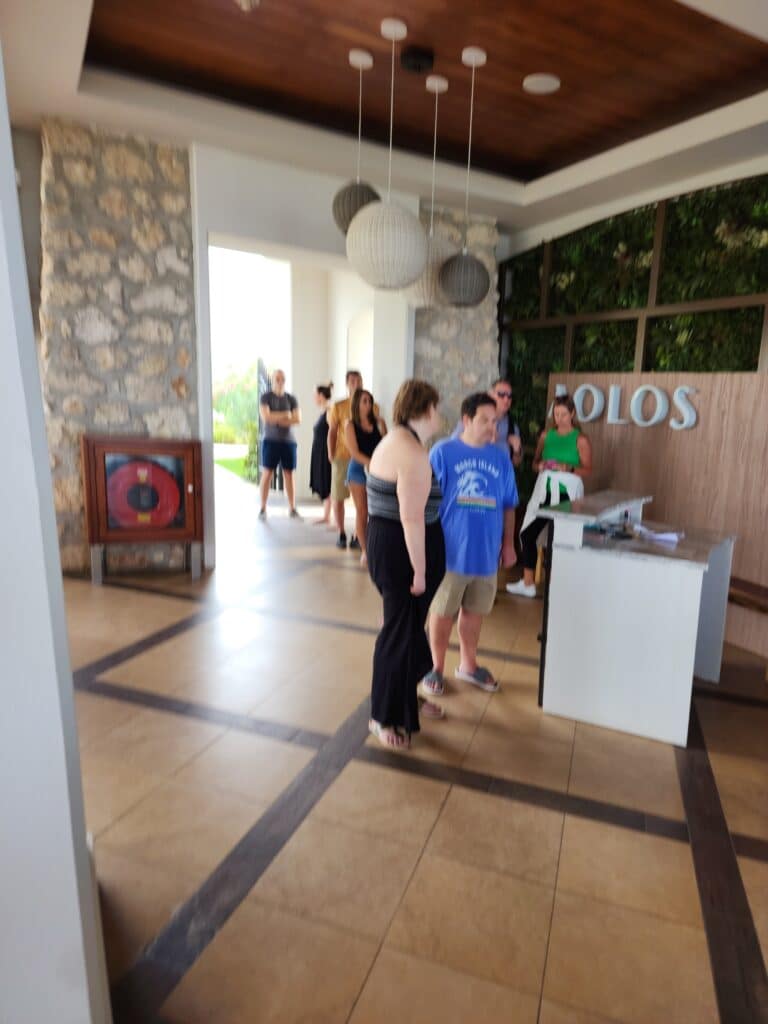 3.) Ordering food and drinks was almost always an ordeal (and the orders were frequently wrong) – There were very few dining experiences at this resort that didn't result in a very long wait, mass confusion, cold food, and rather inattentive, odd service all around.
Here are some quick examples:
Vincent's, ignored my husband's drink order, 1H:40M to get the main course, cold steak and seafood, so bad we just left!
Pizza, ordered, told 15 minutes, waited 30 minutes, husband came over and another 15 minutes passed – went in and no one was there. Another guest came over and told me the pizza oven broke yesterday.
A manager at Strand asked about the service, we responded honestly "Hasn't been great." He ignored us and smiled and said, "That's great." Then walked away.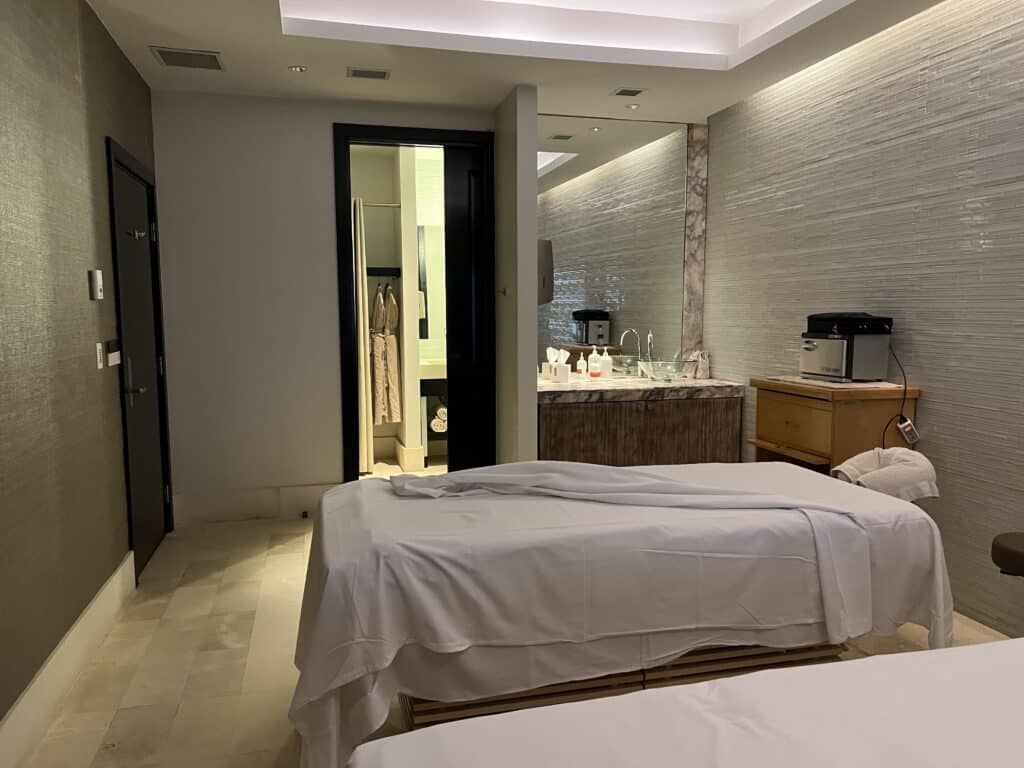 The Spa at Sandals Curaçao – The worst we've ever experienced!
My husband and I had booked a couples massage for in the spa. They do also give you the option to have the massage done in a cabana on a beach, but we had done this while at Beaches Turks & Caicos and didn't enjoy how you could hear the party happening at the pool and the commotion on the beach.
The outdoor setting might have been better, though, as the spa at Sandals Curaçao was really not impressive, based on where the spa is located. You could still hear the party happening at the pool while in the spa… and noisy drink carts being pushed above. There is no concept of relaxation here.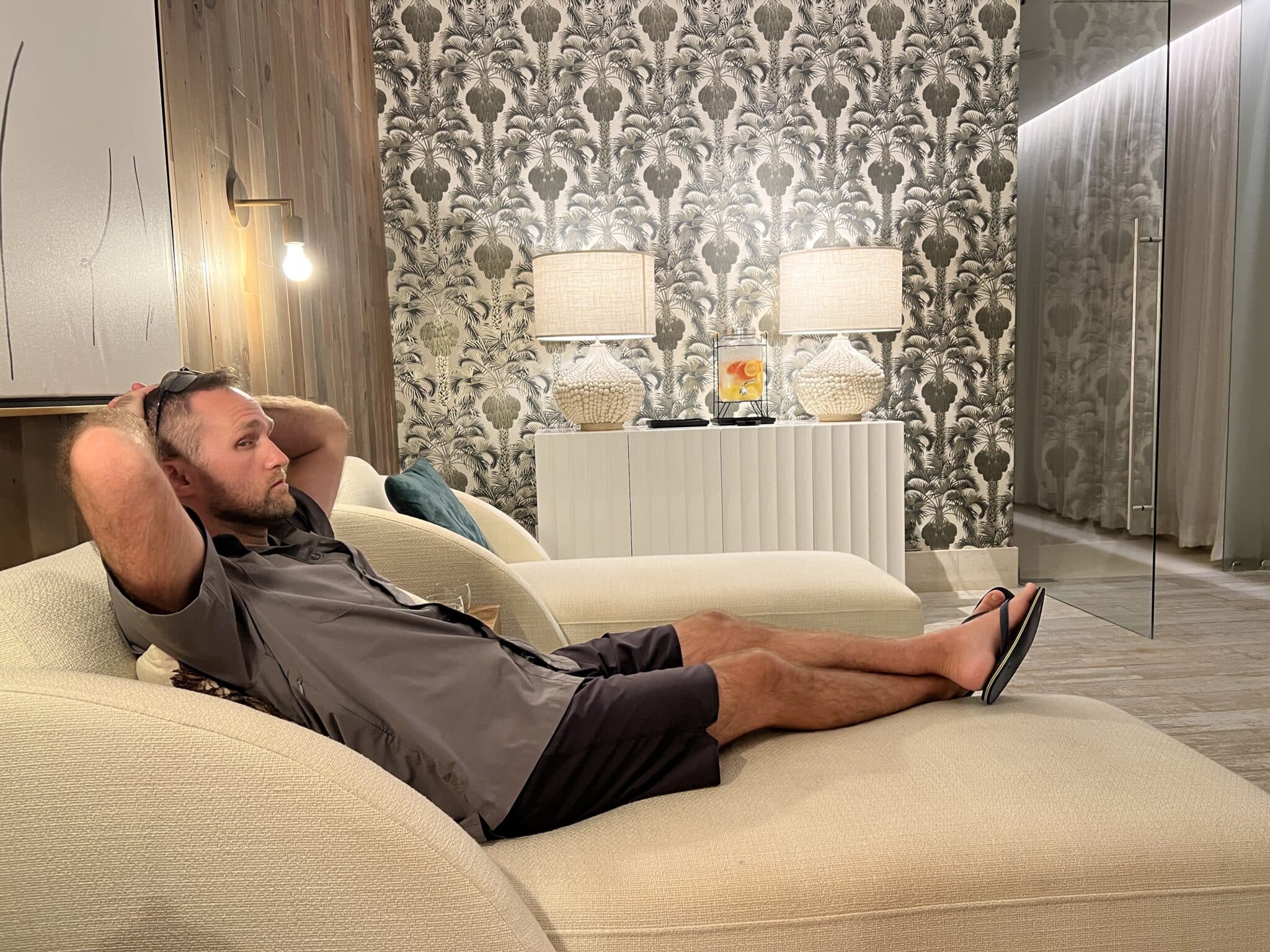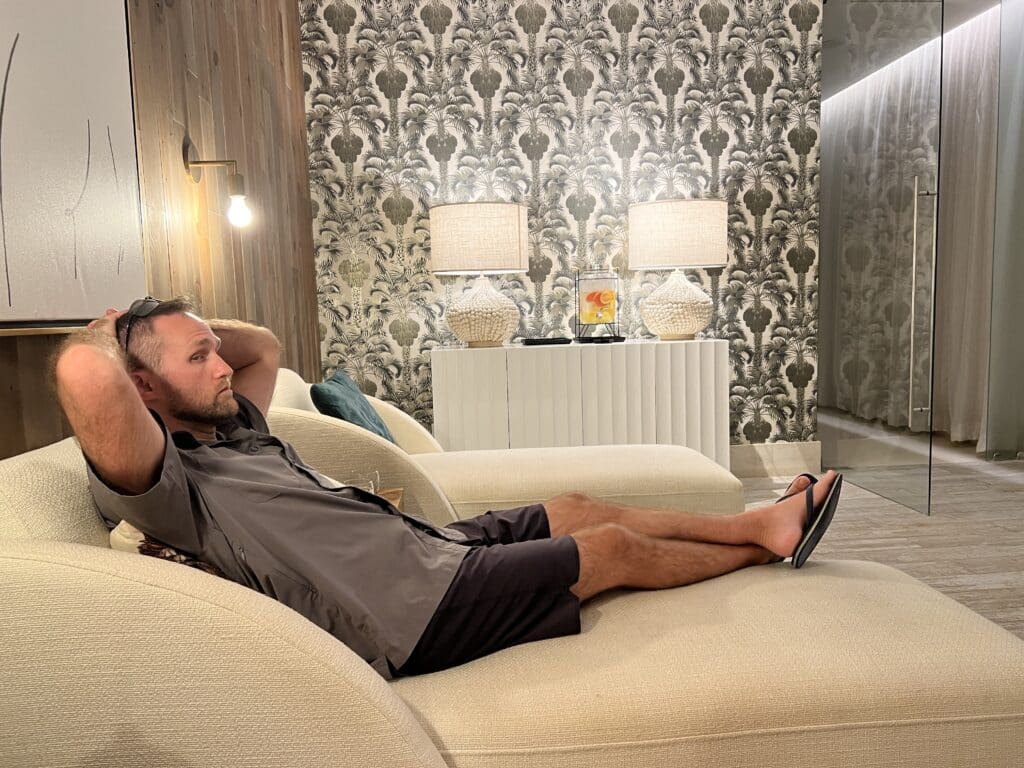 They also have you sit in a "tranquility room" after you fill out your massage forms. This is to "relax" and drink some infused water. Except, there were no water glasses when they brought us in, and the doors to the room were open so you could hear all of the conversations at the spa entrance. We also didn't have the option to shower/rinse off before or after the massage. And there is no sauna or hot/cold plunge pools. It was bizarre.
We later found out the outdoor spa area for massages is way on the other end of the resort by the "quiet pool" and an area of the beach that gets no foot traffic. It was actually a very peaceful area.
Although, having a different setting would have only improved the experience slightly. The massages themselves were the worst my husband and I had ever had.
My husband had opted for a deep tissue, and I had a Himalayan stone massage. We've both had these types of massages multiple times in the past at spas around the world. And this was hands down the worst massage either of us has ever had.
My husband's deep tissue was far too hard and his masseuse was using his elbow at times to get even deeper. It seemed more like Rolfing than a deep-tissue massage. My husband was in pain for days after this one.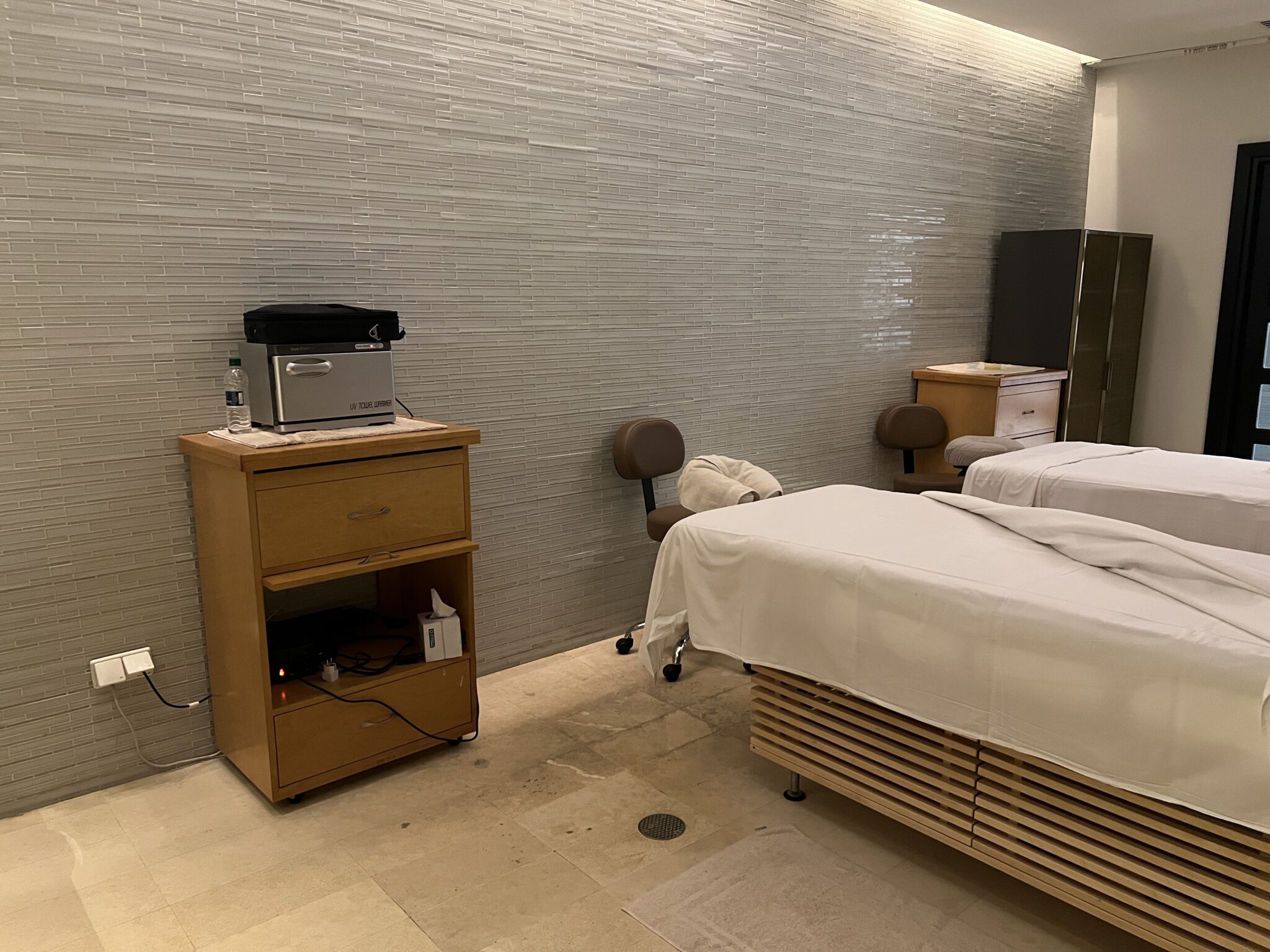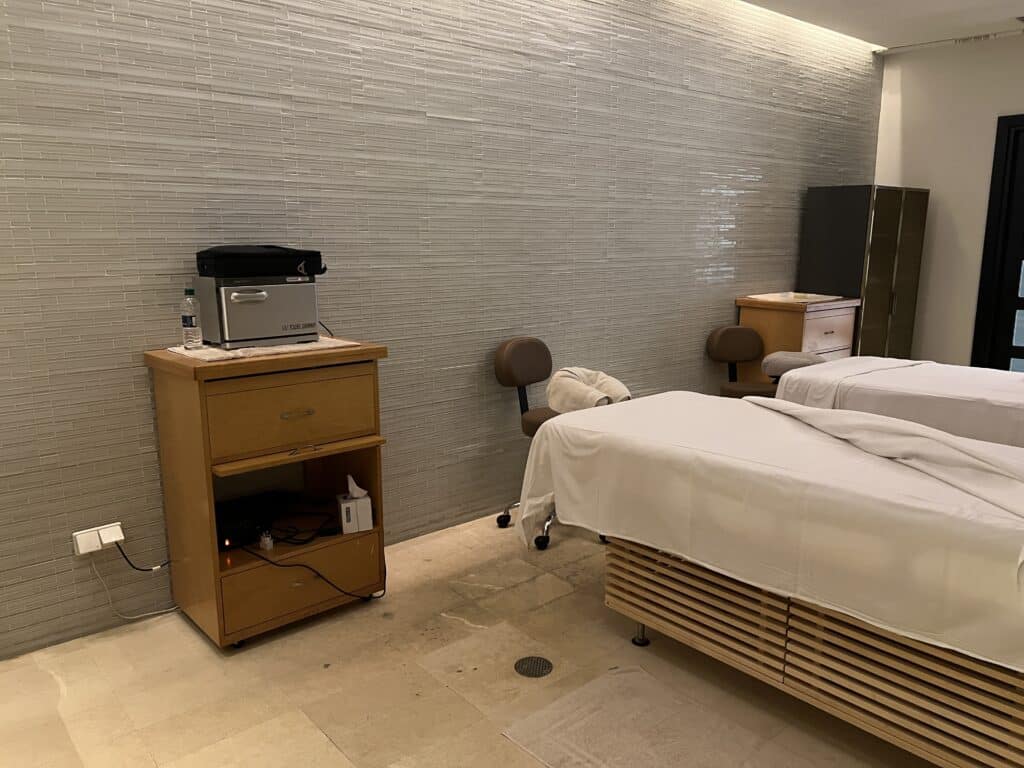 Mine was exactly the opposite. It was the first time I had to repeatedly ask for the massage to be harder because I was feeling absolutely nothing… I was just getting really oily. My masseuse would go harder for a minute or two after I asked, and then revert back to dumping oil on me and calling it a massage.
Mine was also supposed to be a hot stone massage. This was also the first time I had ever had a hot stone massage where the stones were painfully hot. I think because the masseuse had gloves on, she was not able to feel just how hot they were until I yelped! The temperature was not adjusted with the stones though, and they were too hot every time she used them… which was only a couple of times.
This was 1 1/2 hour massage and the stones were maybe only used for 10 minutes of it. (Which, given that they were so hot, I guess was maybe for the best.)
My husband and I both agreed if we had been alone for the massages, we would have gotten up and left, as it was more relaxing to just sit at the beach. But we both stayed hoping the other was enjoying it. Doh!
This couple's massage cost $495.
Dining at Sandals Curaçao – It needs improvement!
Eating at the different restaurants around the resort was SO hit and miss in terms of food quality… service was consistently pretty bad everywhere, with the exception of Gatsu-Gatsu and Stranded. We did have good luck at both of those restaurants.
On a positive note, though, I was very impressed by how every server at every restaurant asked us if we had any food allergies. We don't, but I do appreciate the steps this resort is taking to accommodate those who do.
I'll go through each restaurant below, but if you aren't interested in reading about the different restaurants, skip to the amenities section using the table of contents below.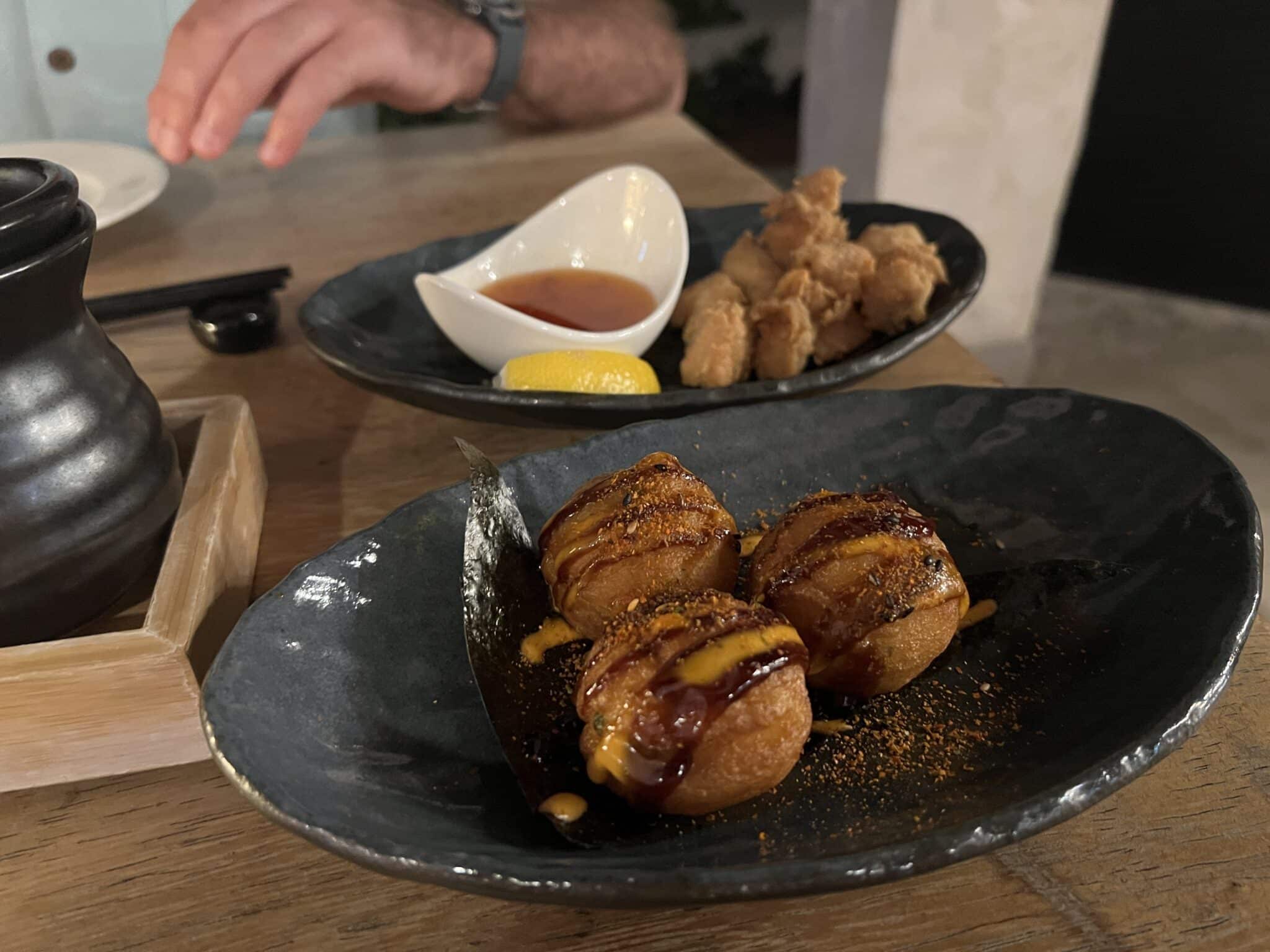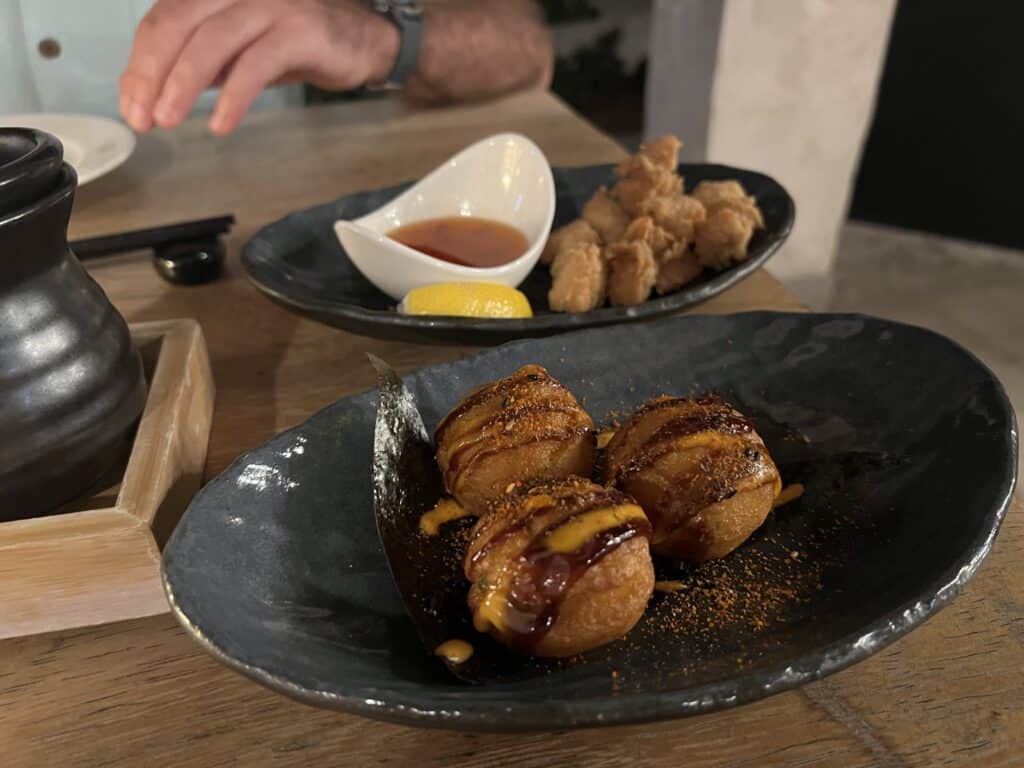 Gatsu-Gatsu (Sushi)
Gatsu-Gatsu was our favorite restaurant at the resort. We loved Kim and, really, everyone we interacted with was very nice here. Plus, the food was delicious. The Nigiri Sushi was very fresh and tasty. We also loved the specialty rolls we tried (the Dynamite, Seared Tuna, and Champagne Lobster). We had eaten here on our first night at the resort and it really set the bar high for every other dining experience!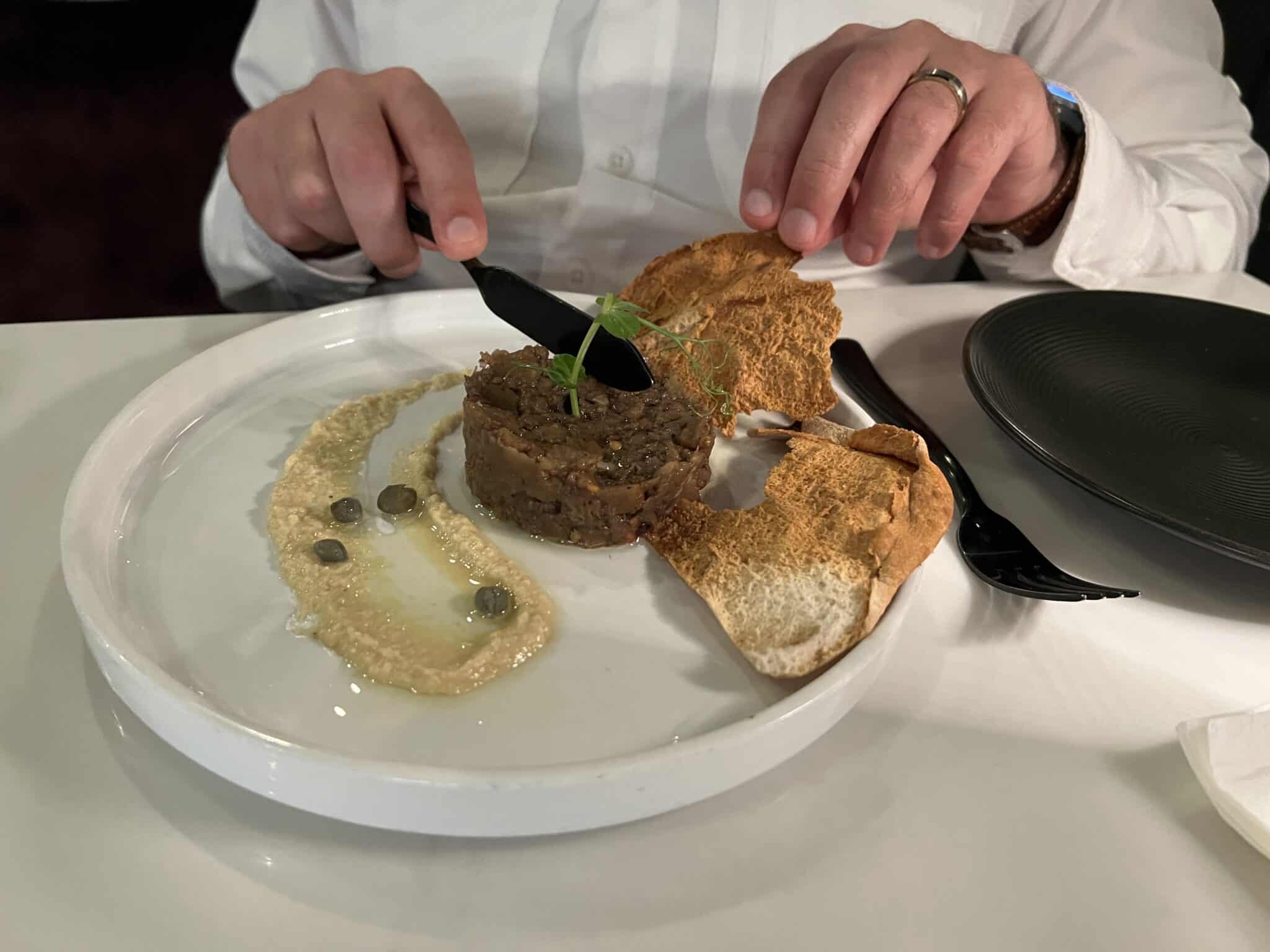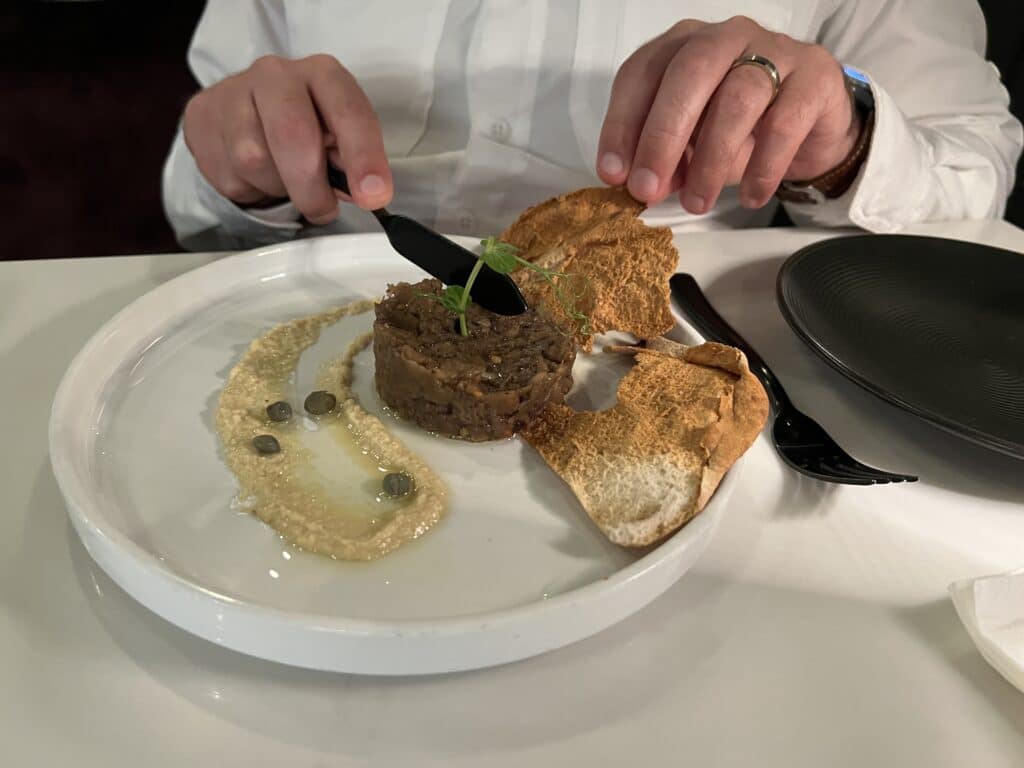 Vincent (Modern European)
Now, this restaurant is the one you need a reservation for… and the lady from guest services apparently did not communicate our reservation because the host did not have us on the schedule. It was quite embarrassing! However, the host at Vincent's was so kind and really cared about the guests here. He handled the situation very well and had us wait at the bar while he figured out a table for us. Our server at Vincent was overall quite nice, too.
We had ordered escargot for an appetizer, which was quite good and the best part of the meal. We had also ordered Aubergine caviar (aka eggplant). This was a great vegetarian option to have on the menu, and tasted better than the real thing, in my opinion.
My husband had ordered on mocktail here, and the request was ignored. It also took us (and all of the other tables around us) over an hour to get our entrees after the appetizers. Which, wouldn't have been a big deal… but the food came out cold. My husband had steak (which resembled hamburger), and I had mussels… and this was all served with french fries. Needless to say, we just ate some of the fries, and we left because it was so bad. We then went to the dessert station by the pool!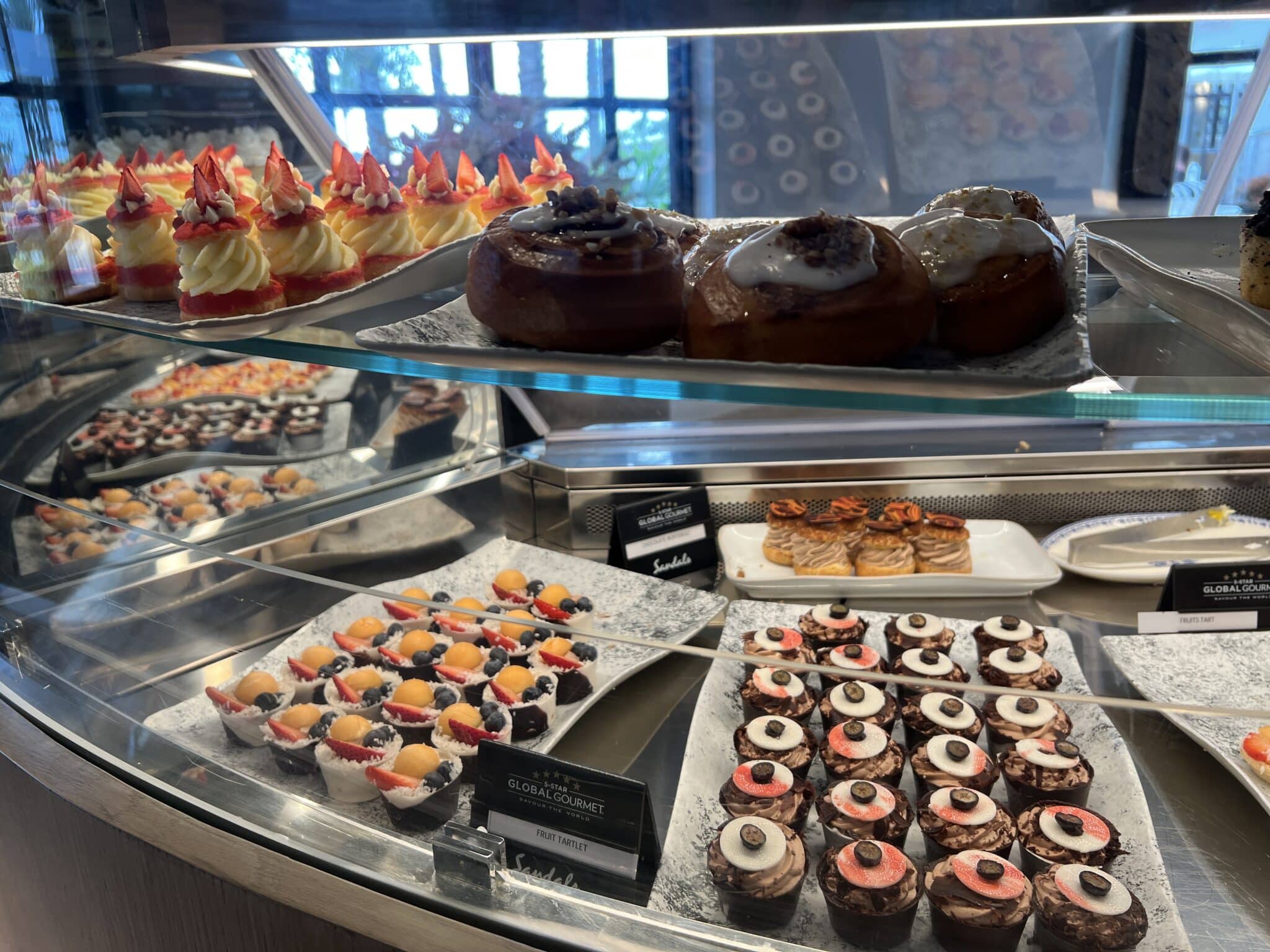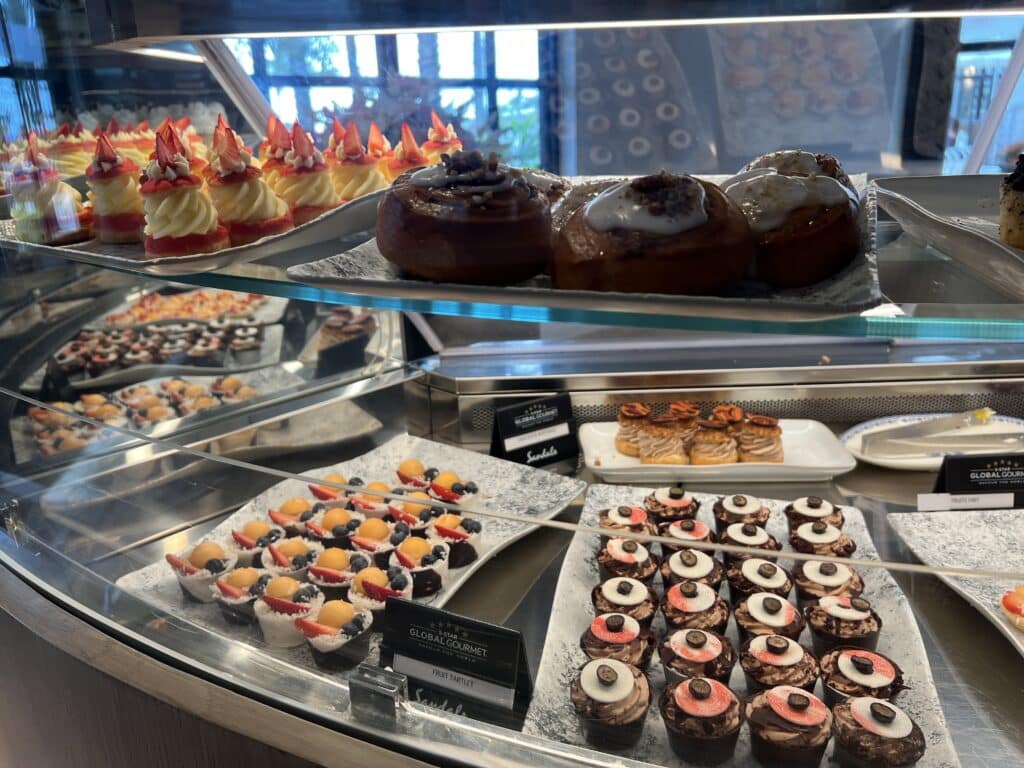 Kanaal (Cafe/Dessert)
This is the cafe/dessert station that had delicious coffee and treats at all hours of the day. We were living off the desserts here, as the food was so hit-and-miss. Fortunately, Kanaal always delivered some super tasty treats. All of their cheesecakes and fruit tarts were to die for! The staff here was always helpful too.
Pietra (Italian)
Pietra serves a buffet breakfast in the morning and Italian food in the afternoon/evening. This restaurant was a hot mess every time we went to it.
The buffet breakfast was almost always out of random breakfast pieces (such as they would have tons of bagels and toast, but no jams or cream cheese to put on them). And I already detailed the whole pizza/lunch fiasco above. Getting service here was always quite a challenge as well.
Needless to say, we never tried dinner here, as it didn't seem like it would be a good experience.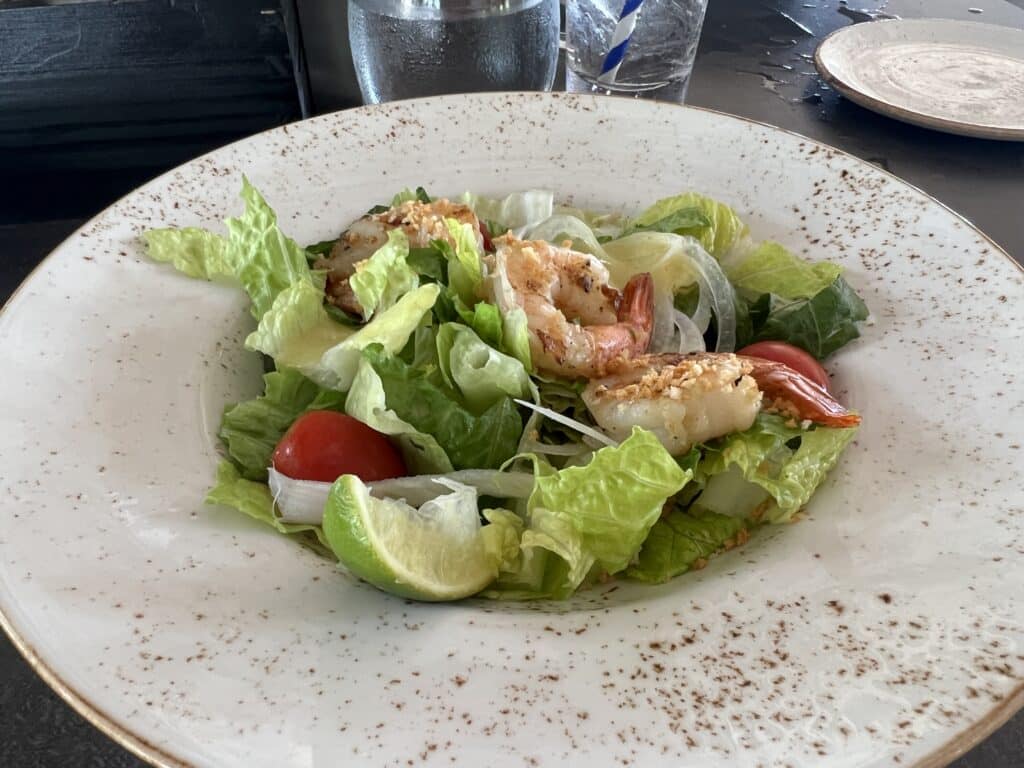 Strand (Seafood)
This is the restaurant we ate at the most because it was closest to the beach. I really liked the atmosphere here. The service was awkward most of the time, and the food was hit-and-miss.. but you can't beat being on the beach.
The shrimp salad was some Romaine lettuce and 3 shrimp… I would say to pass on this one. The fish sandwich was a good piece of fish but could have benefited from having a larger bun, and better condiments. My husband's jerk chicken was really moist and had a wonderful seasoning!
We also had dinner here one night, which was steak and lobster. This was our best meal at Sandals Curaçao by far. The steak was very tender and prepared perfectly. The lobster was cooked perfectly as well.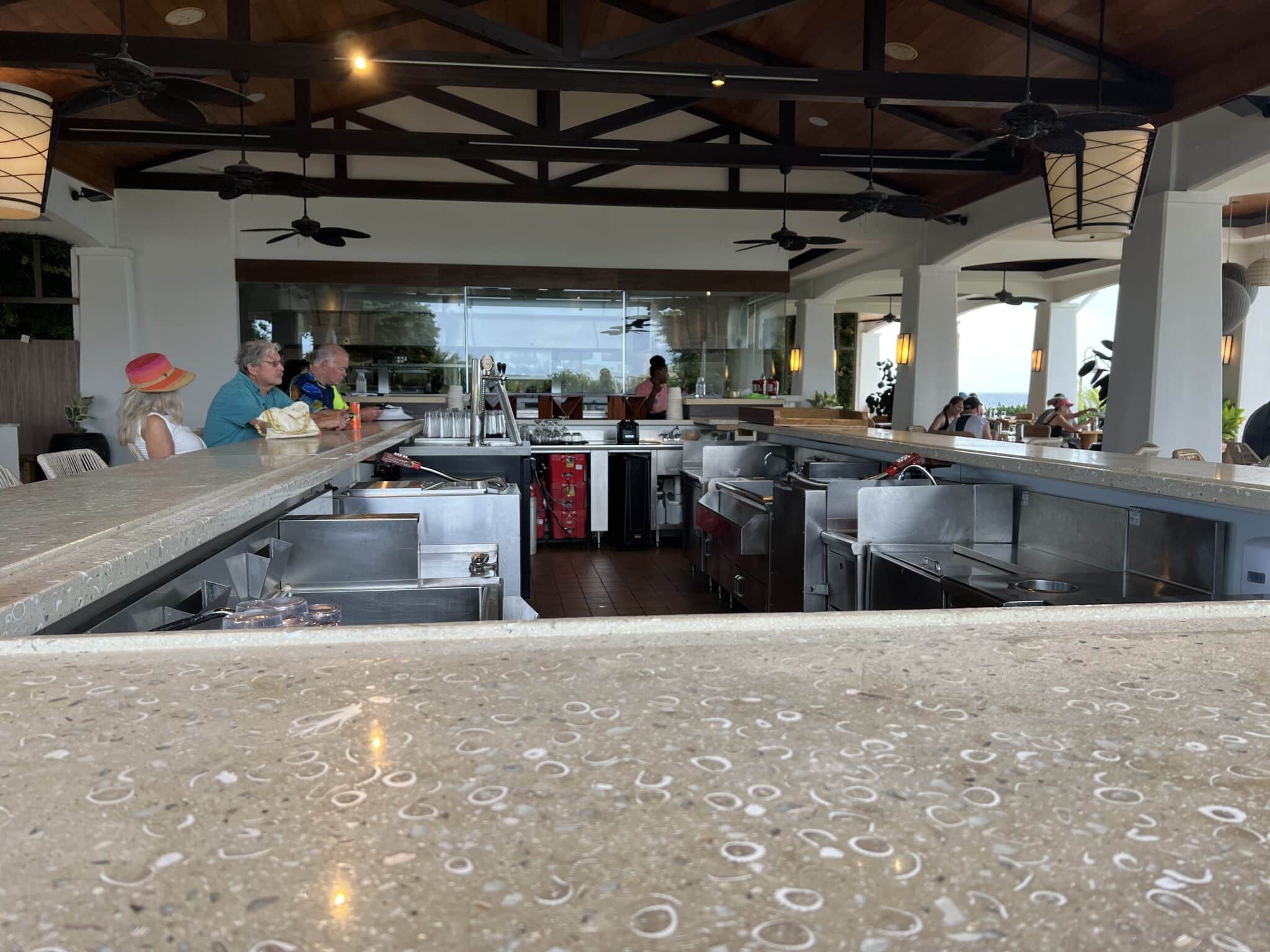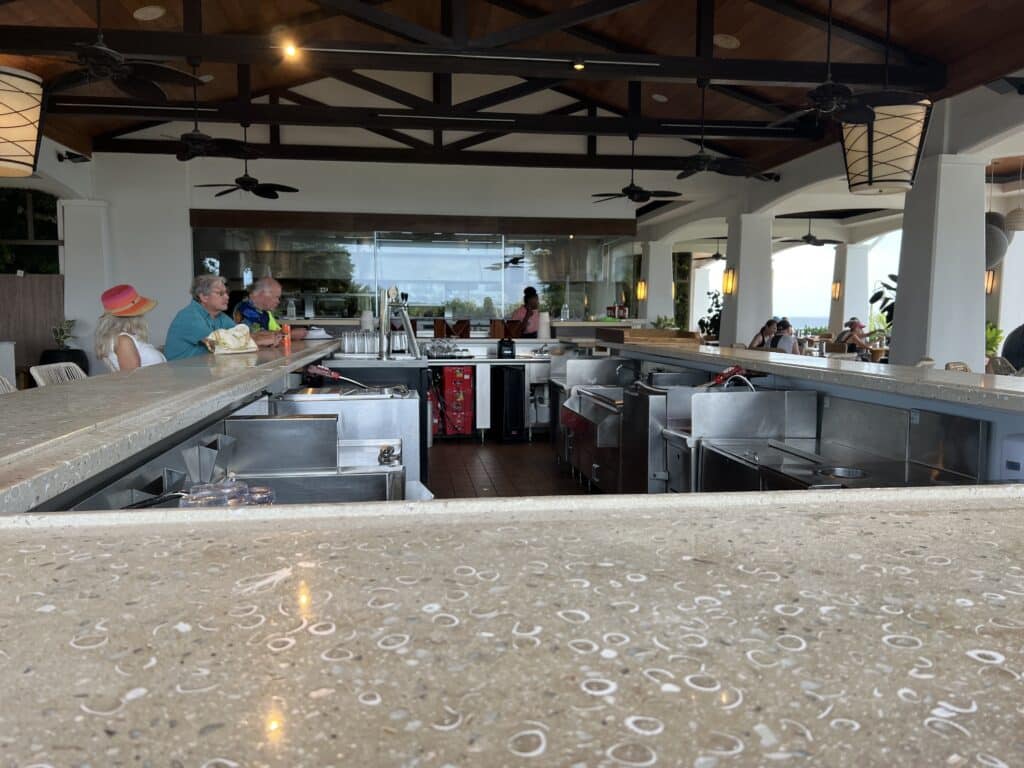 Aolos (Mediterranean)
This was a different take on breakfast for a Sandals resort. This was a spot where you could have a sit-down breakfast in the morning. I'm not too fond of breakfast buffets so I was super excited to have this option in the morning.
However, this place is still working out some major kinks. There was always a line to check in here. Then once you checked in, you had to sit at the bar until they called you to a table. And the bar had no one servicing it. So, if you hadn't brought your own beverage with you, you didn't have the option to so much as get a water or coffee while you waited at the bar… which was typically between 15-20 minutes.
Service here was quite bad, to say the least. Getting served extra water or coffee took a really long time every time we were here. (Why not just leave a small pitcher of water at each table?!)
However, despite the service, we came here almost every morning because of the food. Seriously, this restaurant had the best French toast we have ever had. The pancakes and eggs benedict were amazing as well. It was worth the waiting and crappy service. Plus, the view is really nice here. I wish we would have tried dinner here.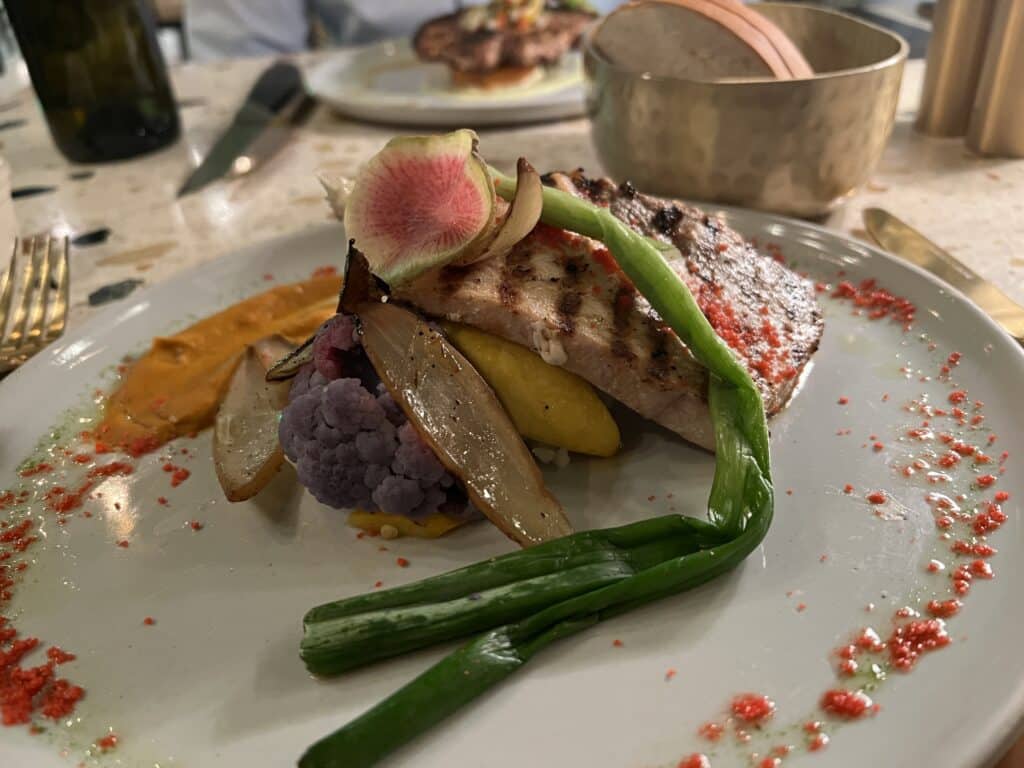 Zuka (Latin Fusion)
Our waitress here was very nice and really made an effort to make sure we had a nice night – I really appreciated her. However, the atmosphere in this restaurant was just odd. The food here was also pretty "meh" and overcooked.
We had ordered the ceviche as an appetizer, it was a pretty bland ceviche and didn't do justice to some of the incredible Peruvian dishes that are served in Curaçao. (Seriously, Curaçao does Peruvian food almost as well as Peru…but not at Sandals.)
The fish I ordered for an entree was really overcooked and resembled a chicken breast.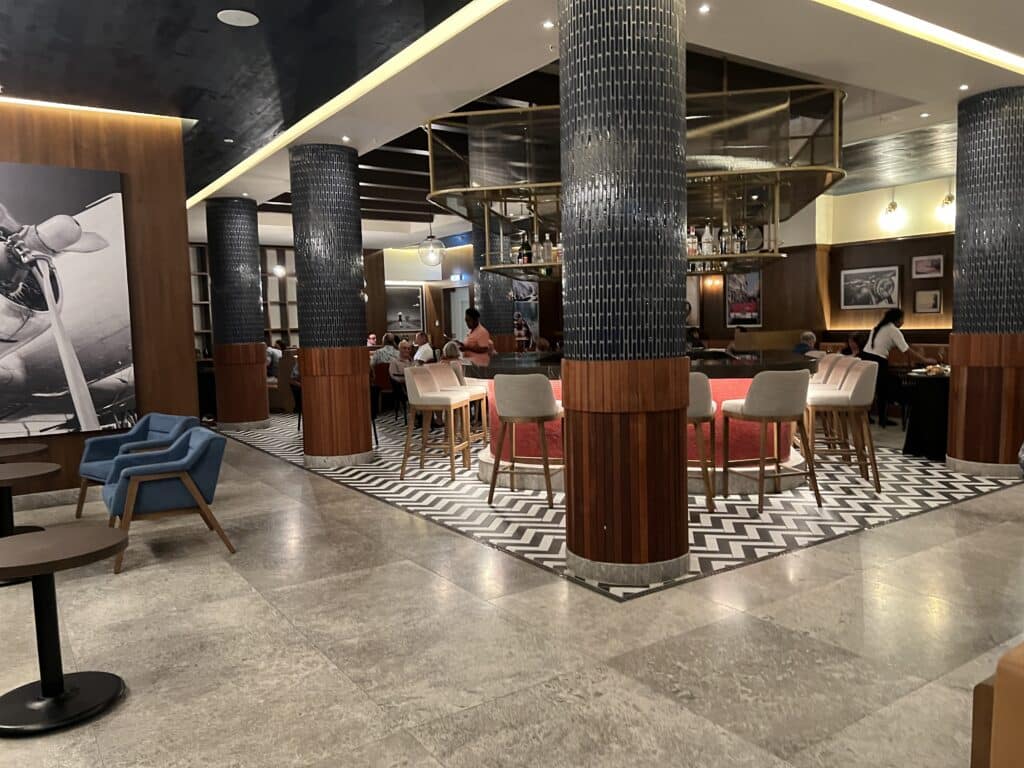 Butch's (Steak House)
This is the other restaurant that required a reservation. We've tried Butch's at other Sandals Resorts and have always enjoyed them.
Again, we had rather awkward service here. It felt like we were intruding on someone else's party while we ate here. But the food was very good. I had the goat cheese salad, and it was the best salad I had while at Sandals Curaçao. We also both had the surf and turf here and really like it (although, I would say Strand was better).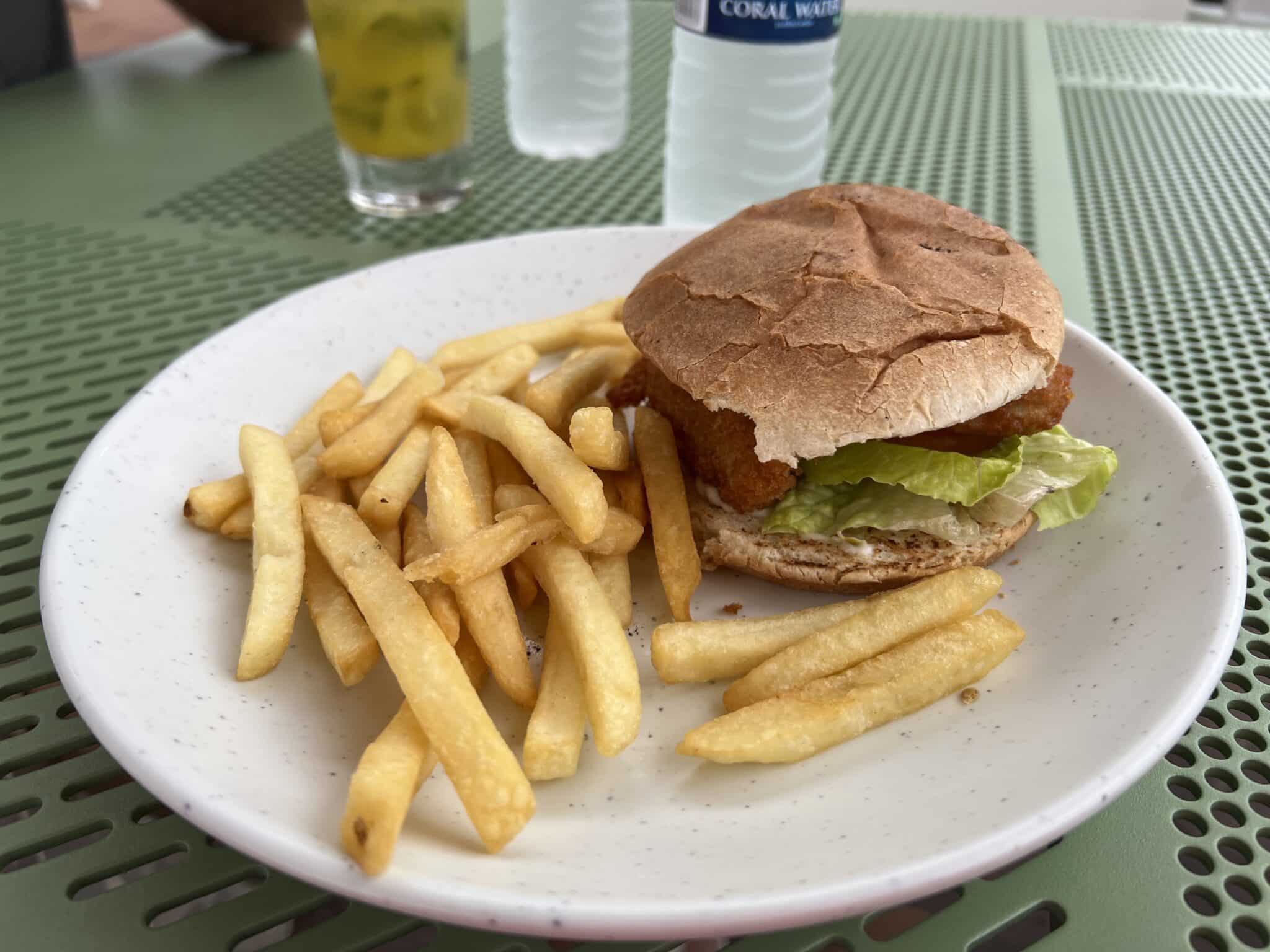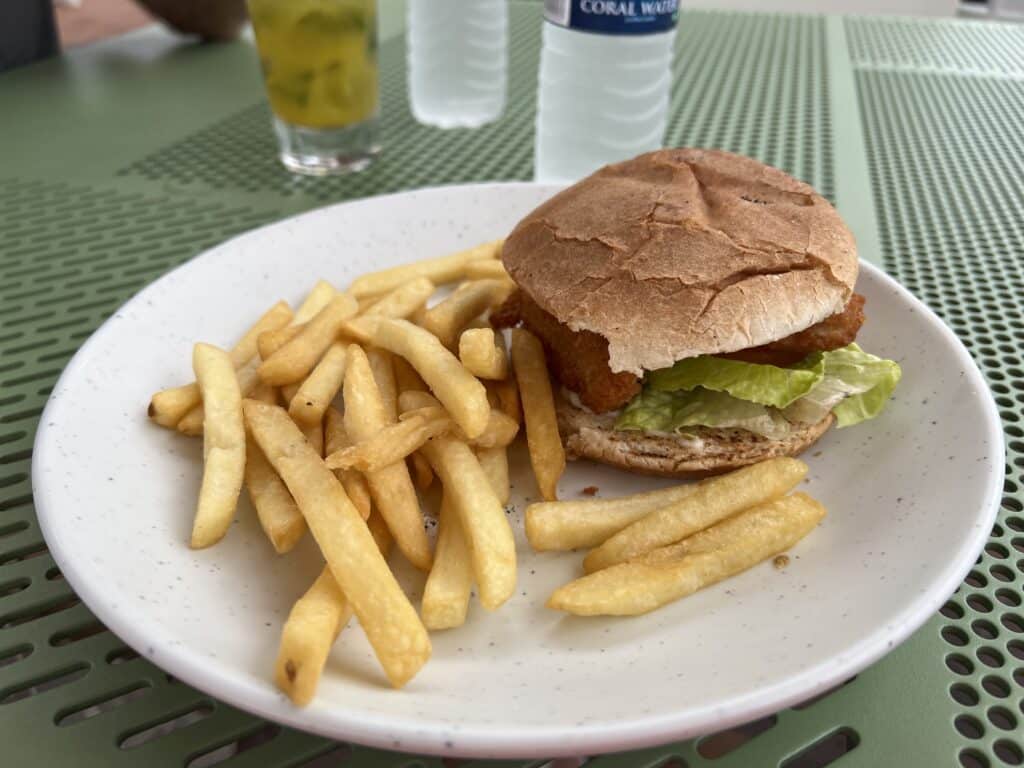 Food Trucks
These were a nice addition to the resort. It was a nice place to grab a drink or a snack during the day. They were on the opposite side of the resort that the beach is on, though. So, we only ate here once. (We were always by the beach during the day.) The beef croquettes were a tasty snack!
The Gym at Sandals Curaçao
I never ended up using the gym while I was here, unfortunately. Hanging out by the beach was just too nice!
However, the gym here was very nice. They had a great selection of free weights, kettlebells, a squat rack, and a ton of cardio equipment. They also had a rowing machine and a Stairmaster, which are not normal to find at most resort/hotel gyms. I apologize, I didn't take any photos of the gym because there were always people using it no matter what time of day I walked by… and I don't want to make anyone uncomfortable while they are working out.
The Activities are Amazing!
The activities and entertainment are where Sandals Curaçao really excels. I thought they did an excellent job with everything they offered and the nightly events they put on.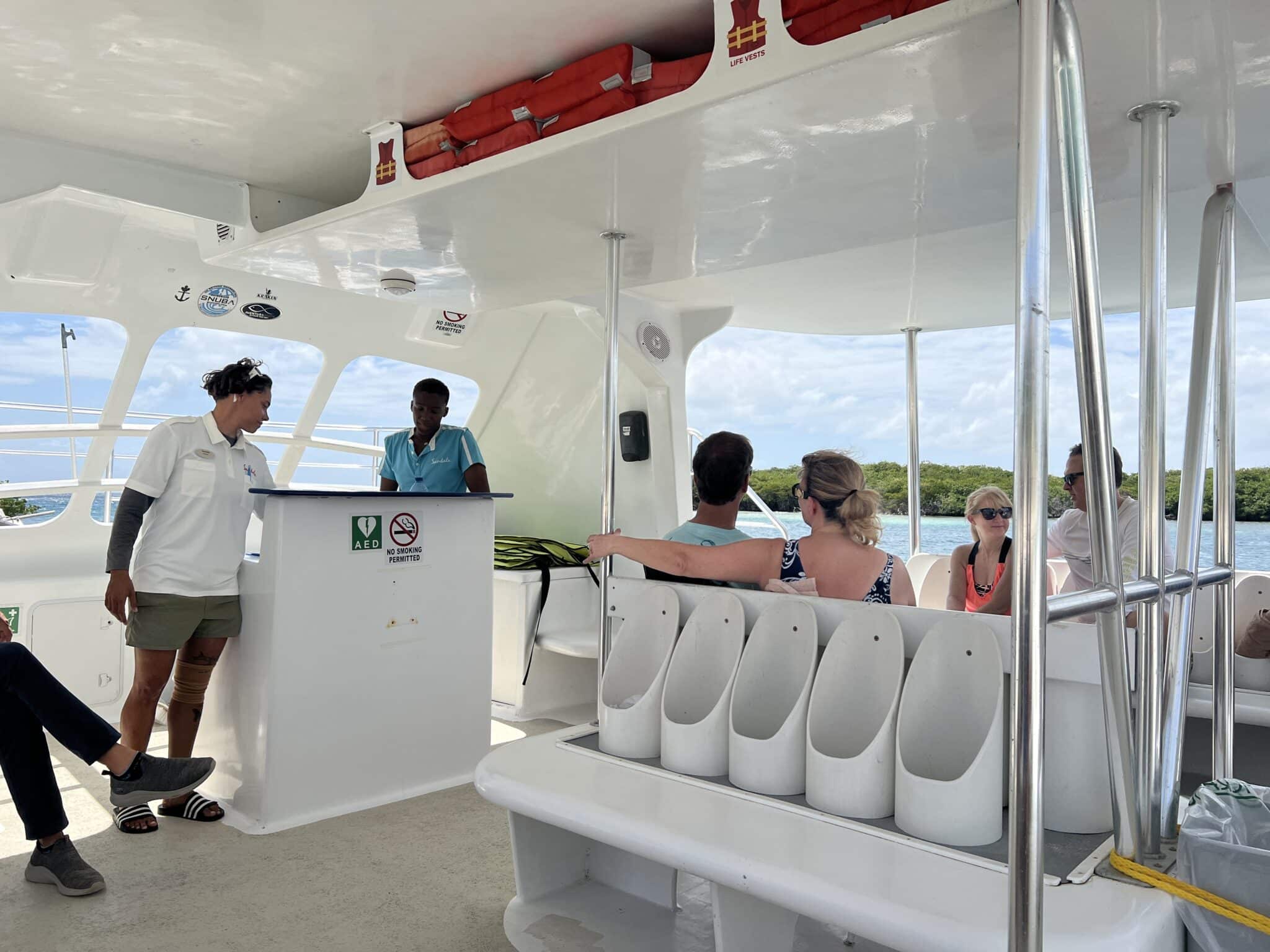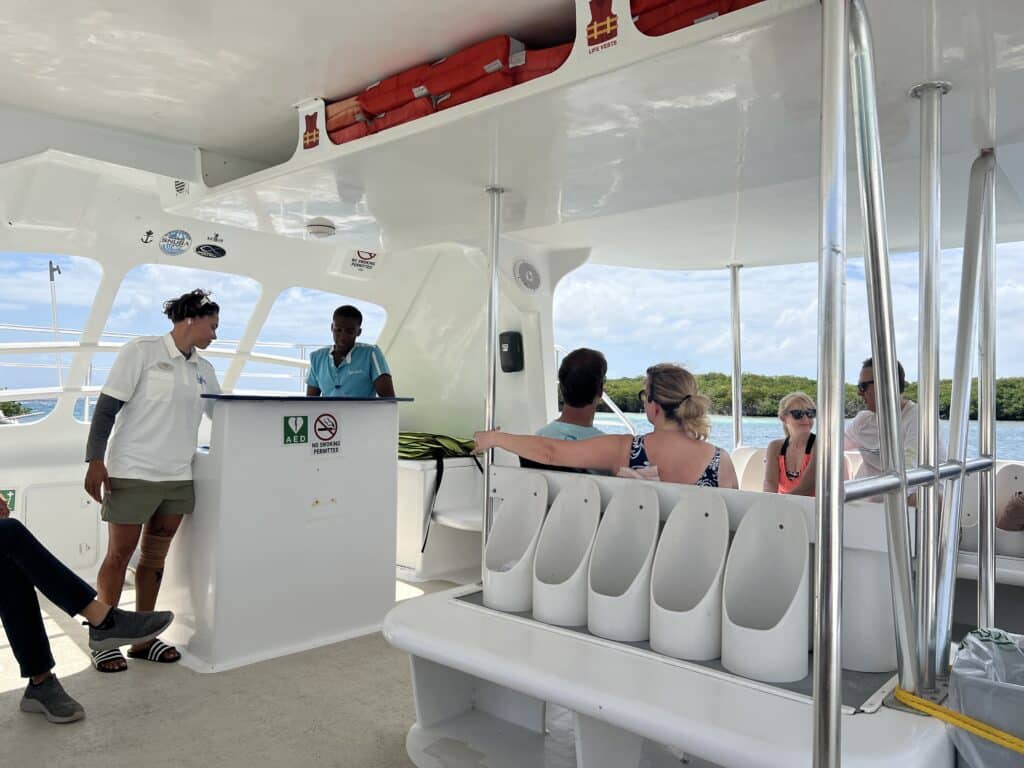 Snorkeling
Snorkeling is included with your rate and it is fabulous! There are 2 snorkel sites, depending on the day, you'll go to one or the other. The water is super clear and there are a lot of varieties of fish to see. The crew that takes you snorkeling is incredibly kind and fun too! Some of the people we talked to at the resort were going snorkeling every single day they enjoyed it so much.
Scuba diving is also included with Sandals Resorts – which is a fantastic perk. Unfortunately, I'm claustrophobic and can't bring myself to dive. So, I can't attest to how it is here. I would suspect it's great, though, based on the snorkeling experience.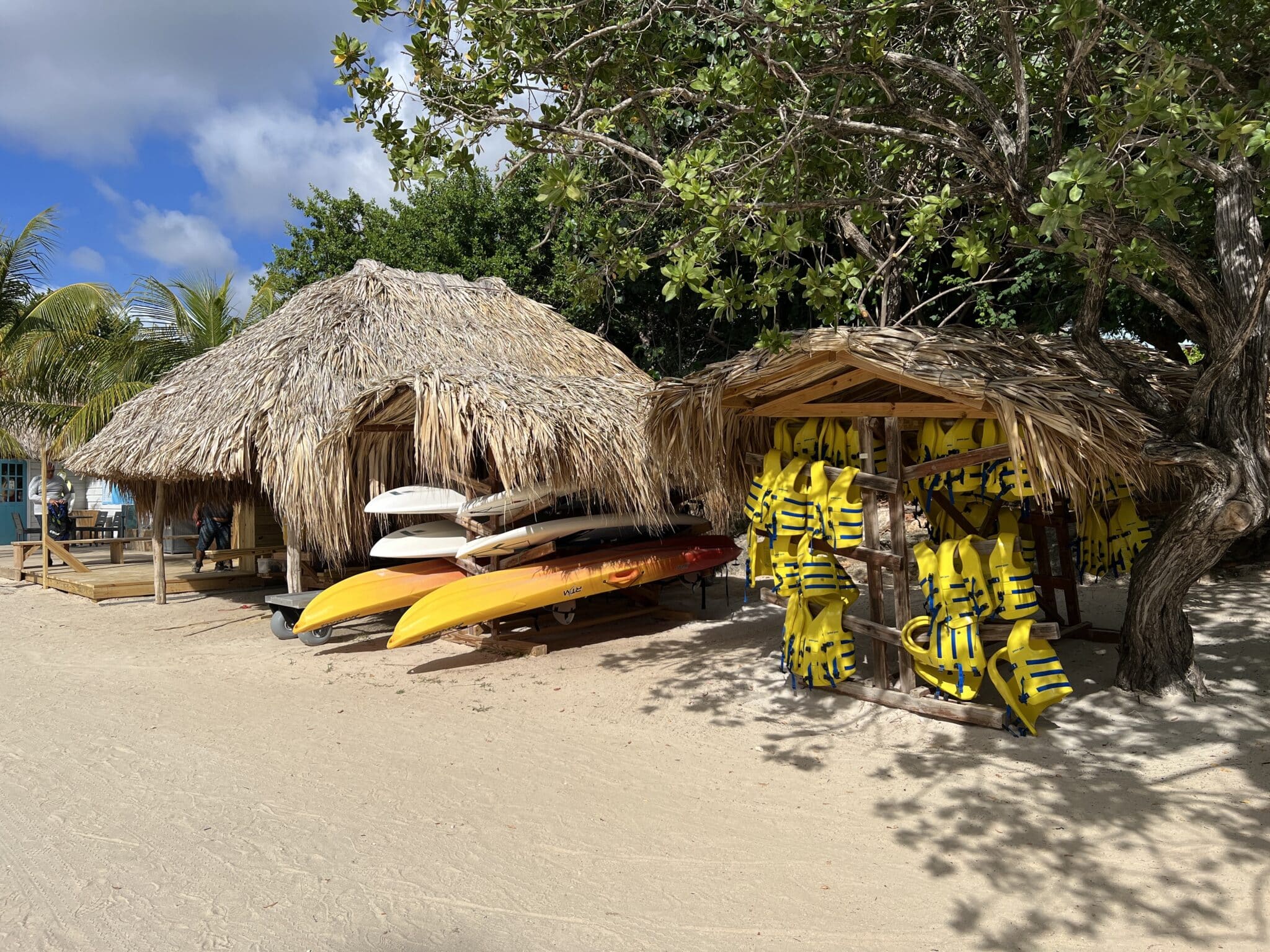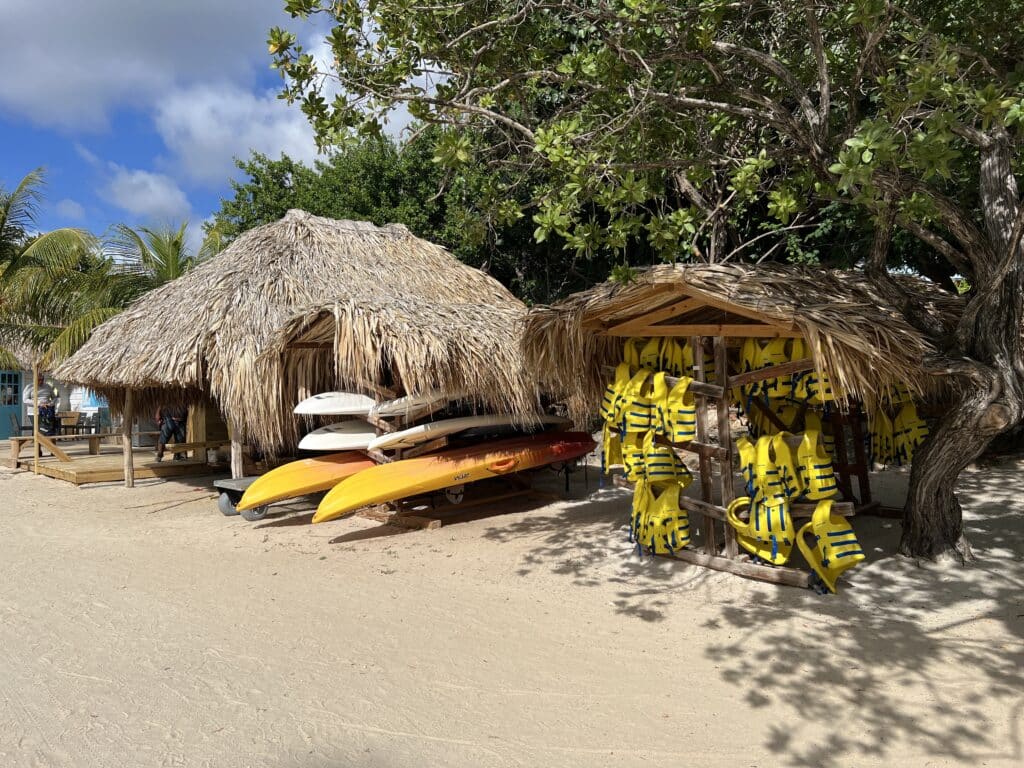 Hobie Cats
Many Sandals and Beaches resorts let you take the Hobie Cats out on the water by yourself. Much to my relief, though, at Sandals Curaçao, they have guides who take you out. It is just too windy here to go by yourself. The guides do a really nice job too!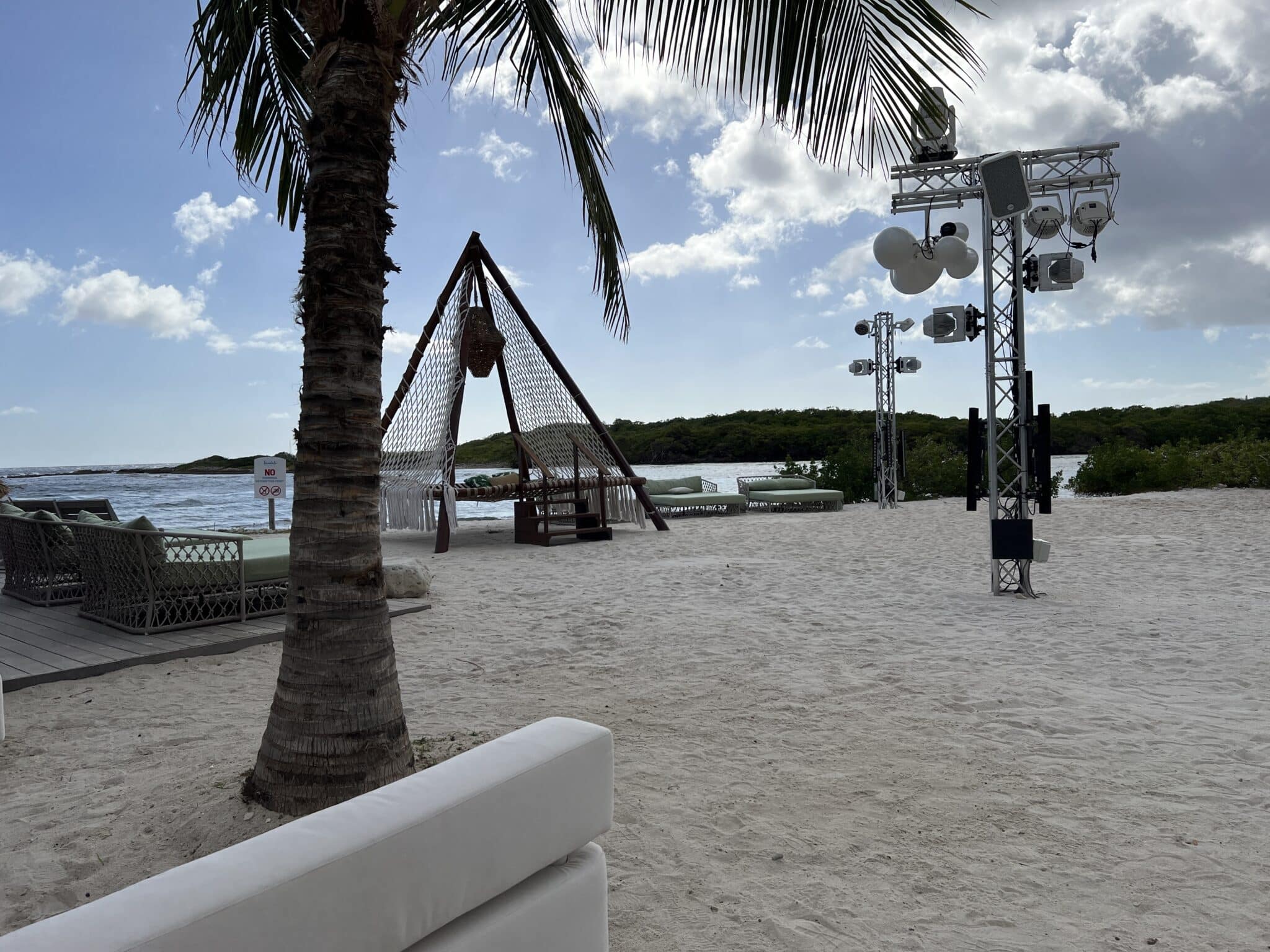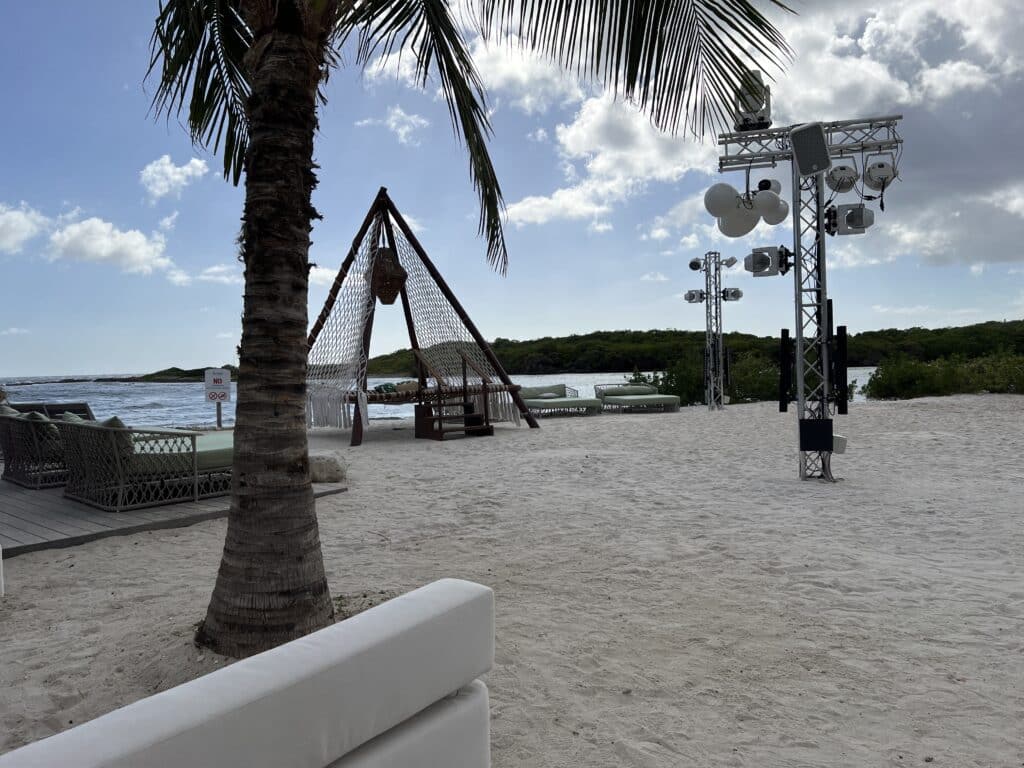 Nightly Entertainment
I have never cared one bit about the nightly entertainment at any resort we have ever stayed at. However, at Sandals Curaçao… my husband and I were both making sure we were done with our dinner at 9 so we could see what the entertainment crew was doing! They were PHENOMENAL at every single event they put on.
The first night was an extravagant Valentine's Day party complete with horse-drawn carriages, roses, chocolate fountains, and live singers and dancers who were super talented.
The next night was incredibly talented fire dancers – seriously, I would have happily paid extra to attend that show. They were fantastic.
One night was a silent disco party. Which, isn't really my thing… but the staff really did a great job, and we had a lot of fun!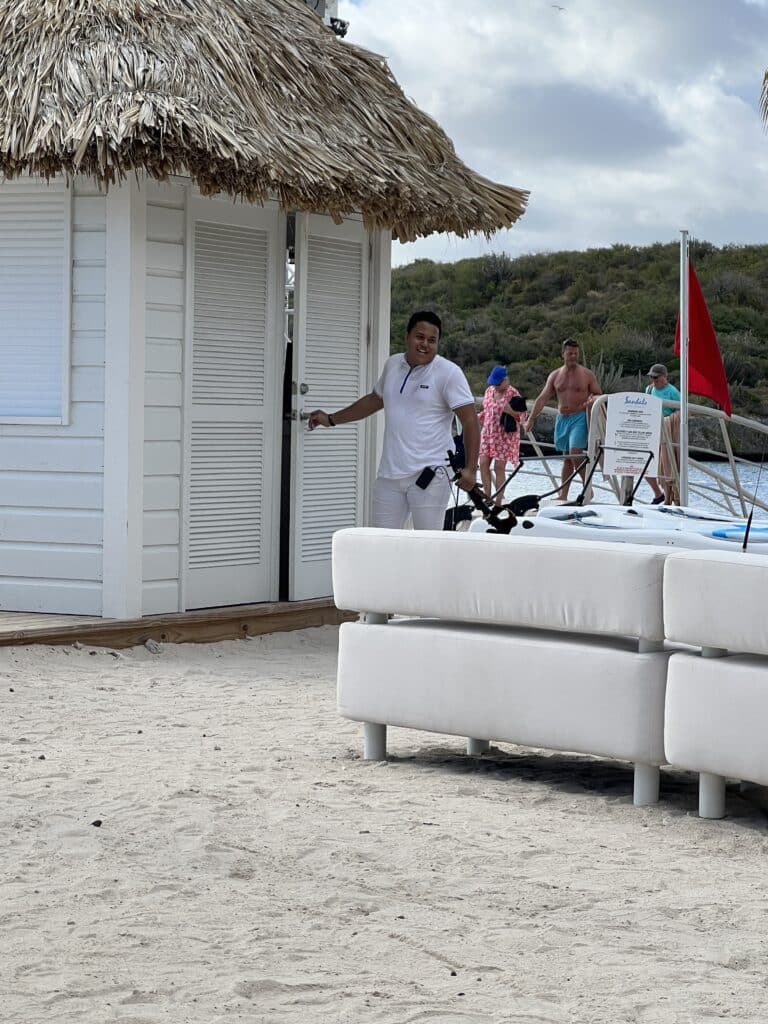 One afternoon, while we were relaxing on the beach, the most AMAZING violinist began playing. He played for over an hour! Again, we would have absolutely been happy to pay extra to watch/listen to this gentleman perform. I encourage you to check out his Instagram – @CJ_Opus. He is so talented!
They have such a talented entertainment crew at Sandals Curaçao!
Our Experience With the Management at Sandals Curaçao… and Why We are Never Staying at Another Sandals Resort
So, if we would have never had spoken to the management at this resort. I would have ended this review by saying that this resort is going through some growing pains and doesn't currently live up to the Sandals' brand standard, but it has a lot of promise. I think if you wait until 2024 to stay here, they'll have the inconsistent staff and food issues worked out, and you'll get to stay at a very beautiful and posh resort in Curaçao. But I wouldn't recommend going right now. Sandals has a lot of fantastic resorts that will offer far better experiences than what you will currently receive at Sandals Curaçao.
However, that's not how this review is going to end. After we finished our awful massages we did speak with a member of management named Selina. She was helping out from Sandals Antigua. She was really kind and listened attentively to the different issues we spoke of. We also told her that we were here for the purpose of writing a blog post (we were here on our own dime and not sponsored by Sandals for this stay), and given our experience, we have seen enough to know we won't recommend people stay here yet.
We exchanged Whatsapp numbers with her and ended up meeting up with her and a director named Ravi – he was helping out from Sandals La Toc. They were both very kind and listened attentively to the issues we spoke of and took a lot of notes. We were glad they were taking the things we were pointing out to heart. It gave me faith they were going to work out these kinks, and this would eventually be a great resort!
Then, they apologized for the issues we experienced and offered to invite us back to the resort at a later date to see how it has improved. They wanted to offer us a voucher, for the amount we had spent at Sandals Curaçao, to use within the next 18 months.
Ravi confirmed our thoughts, that it would be best to wait at least another year before we come back… as he said the problems we experienced won't be fixed in 3 months, or 6 months, Sandals Curaçao needs more time than that.. However, we also weren't obligated to use the voucher at this resort, we could use it at any of the Sandals Resorts, but it would be great if they could show us the improvements they had made at Sandals Curaçao.
We told them we needed a moment to think about it and that we would let them know before the end of the business day what we wanted to do.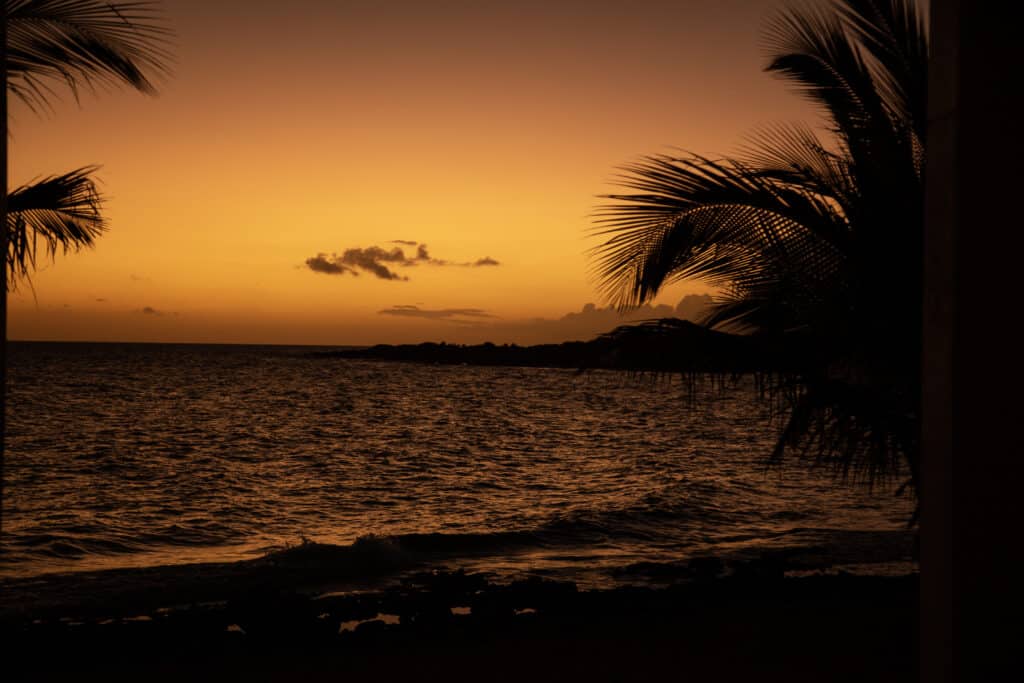 After we got back from the beach, we went to our room to change. We had our instructions for checkout. The staff had the wrong flight number for us and the wrong check-out time (we had to leave very early). They also had our bill, which had a dry cleaning charge (which I had sent a shirt in to be cleaned earlier in the stay), but the spa service had been removed.
We texted Selina about the wrong flight number and she said would get it all sorted out for us.
We then decided we would like the chance to come back to this resort and update this review next year. So, we told Selina we would take her up on the voucher to come. She then asked us to come to her office to sign some papers and pick up the voucher.
This is where things went off the rails.
See, they weren't offering us a voucher in good faith. They were offering this voucher to "settle a claim." The fine print of the contract they presented us for the voucher had an NDA disclosure in it that stated if we took this voucher we would then never be able to speak of or write about our experience at this resort. WHAT?! That was the whole reason we had come here! And we had explicitly pointed that out when we spoke with them.
I mean, when a hurricane hits your house, you can settle an insurance claim with an NDA, so you don't share details about the settlement, but it is extensive in nature to ask people to NOT acknowledge the hurricane happened. The same applies here.
This NDA was not obvious at all in this contract either, rather it was snuck in with some very convoluted wording at the end. My husband reads through contracts like this daily for his job, so he caught it right away, but I honestly probably wouldn't have.
When he asked Selina about this, she said, "Ravi had made this clear at the meeting, that is how it would work." My husband said, "Ravi did say he would settle this 'claim' by presenting a voucher, but an NDA attempting to cover our experience is different than an NDA that covers the claim settlement details – that's unacceptable."
Needless to say, we went back and forth for a while and eventually gave the contract back, as we would not sign it. I wish I had kept a copy, but I was so flustered I handed it right back over like it was a venomous snake.
Later that night, we requested a copy for our legal team to review, after being instructed that the claim offer does not appear to meet the Curaçao Civil Code of Conduct. Sandals wanted to "set up a call" with us… but we requested all further contact be in writing. After that, all responses from Sandals stopped.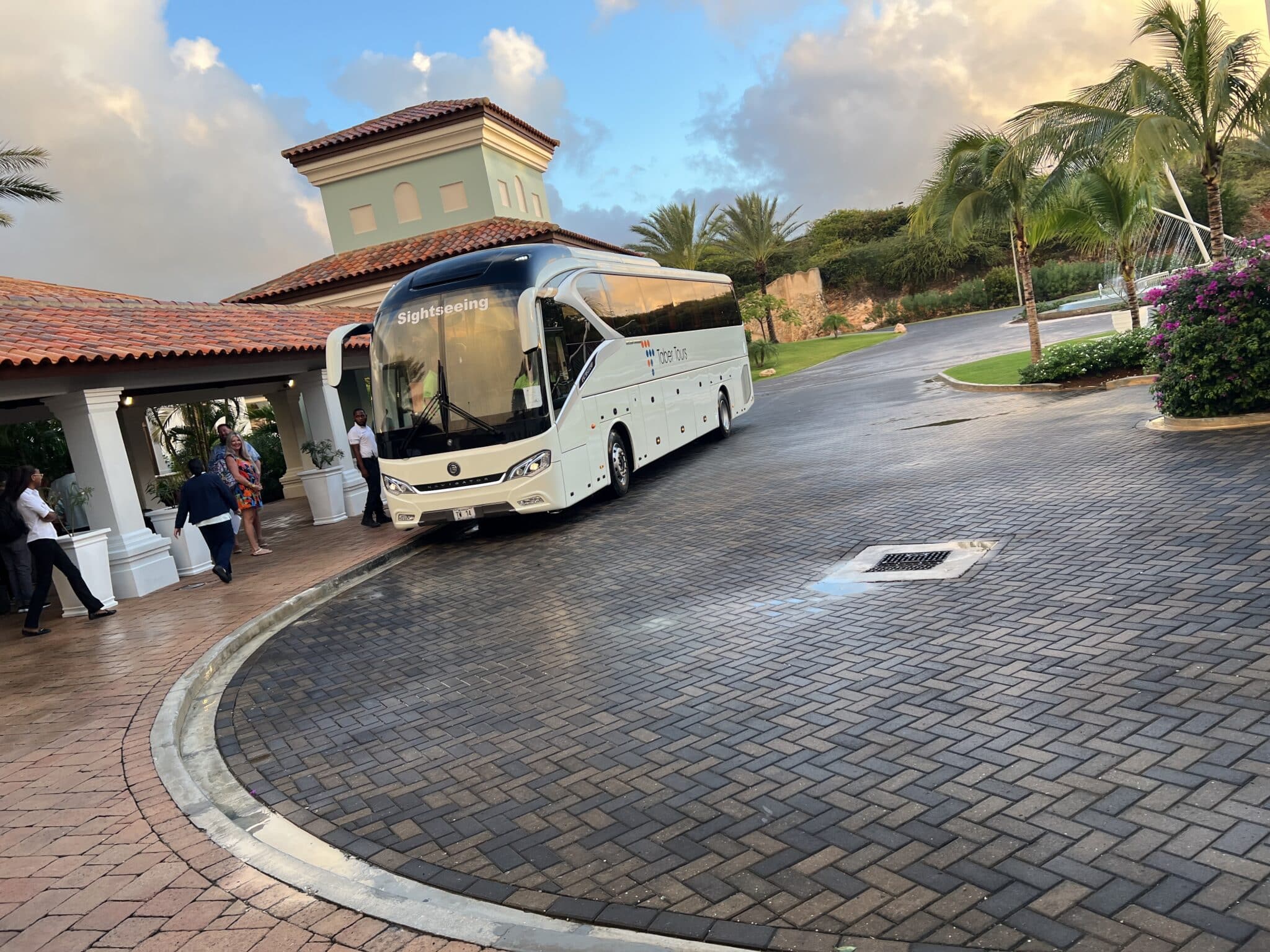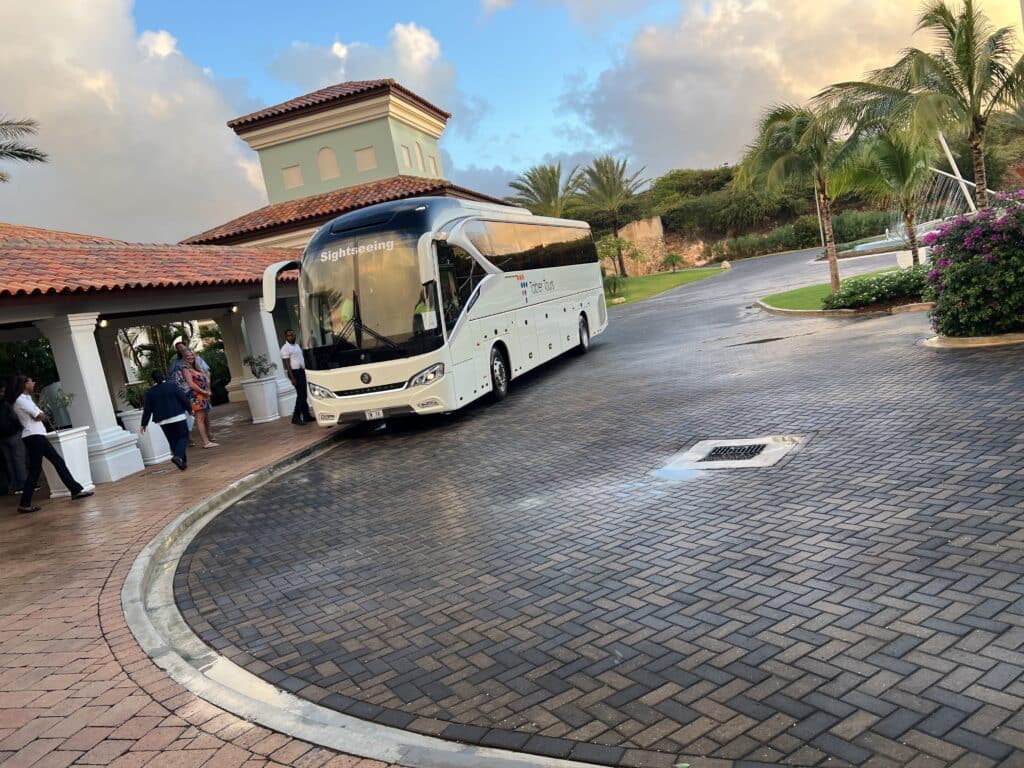 Then, the next morning, when we went to get on the shuttle for the airport, we were stopped from getting on the shuttle because we had not paid our invoice. Huh? Turns out, the spa charge ended up back on our account, now that we weren't taking the voucher. So, we were holding up the airport shuttle bus by settling our tab for those god-awful massages! It was really the cherry on top of this wild resort experience.
We also messaged Selina regarding the charges and received no response.
Just to clarify, we did pay for this entire stay + the spa services ourselves. We did not accept the voucher or contract that was offered.
Needless to say, our next all-inclusive resort stay will be with Marriott and not Sandals. I won't continue to write about brands who try to buy my opinion.
My advice for my readers is, if you are still die-hard Sandals fans, I'm not here to tell you to never go back to a Sandals Resort (that is just my personal stance) but rather, avoid Sandals Curaçao for at least the next year. Go to any other resort except this one. Sandals La Toc is a favorite among us and our fellow-resort goers. I suspect Sandals Dunn's River would be a better choice if you are looking to try a new Sandals Resort. This is because Sandal's headquarters is located in Jamaica, and they already have 6 other resorts there that are doing well there.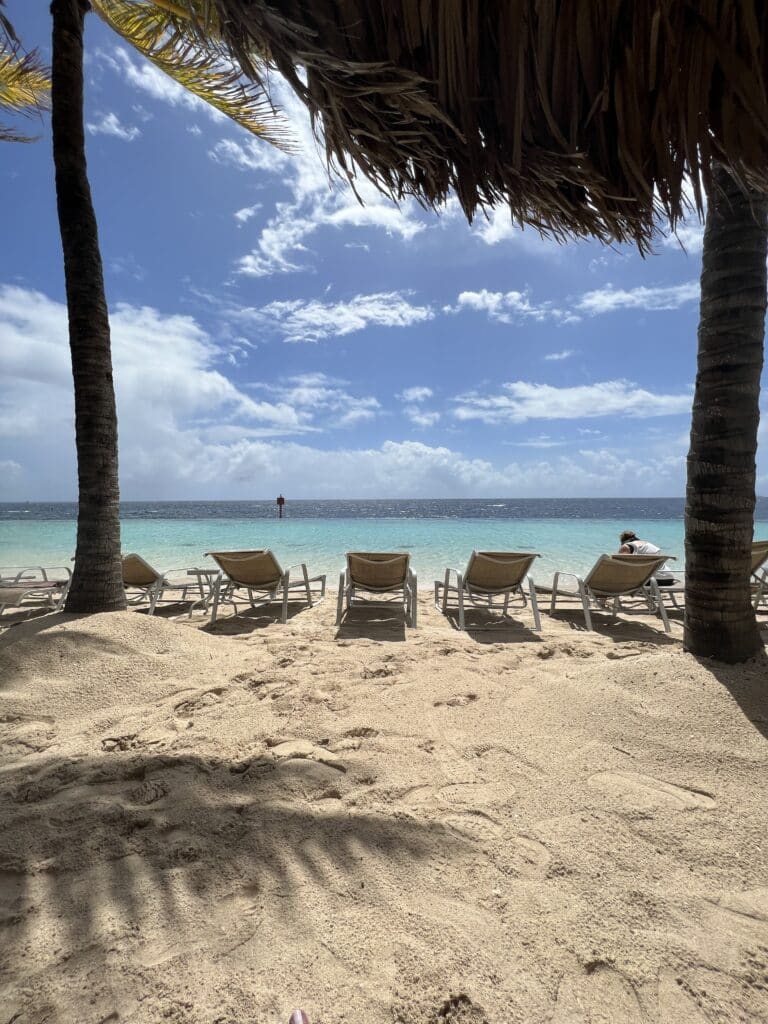 I, also, do highly recommend coming to Curaçao! I would just recommend staying at a different resort right now. We had a great time at the Renaissance Resort in Willemstad!
This island is my favorite Caribbean destination so far. It is so beautiful, and safe, and has fantastic food and incredible activities. I'll have an entire section on my blog and YouTube dedicated to travel guides for visiting this incredible island… stay tuned!
If you're looking for even more information about our stay here, I am also putting together a YouTube video about our experience. I invite you to subscribe to my channel to see that. (UPDATE: Please find the video, below.)
More photos of Sandals Curaçao can also be found below. Please feel free to click on them to make them full-sized.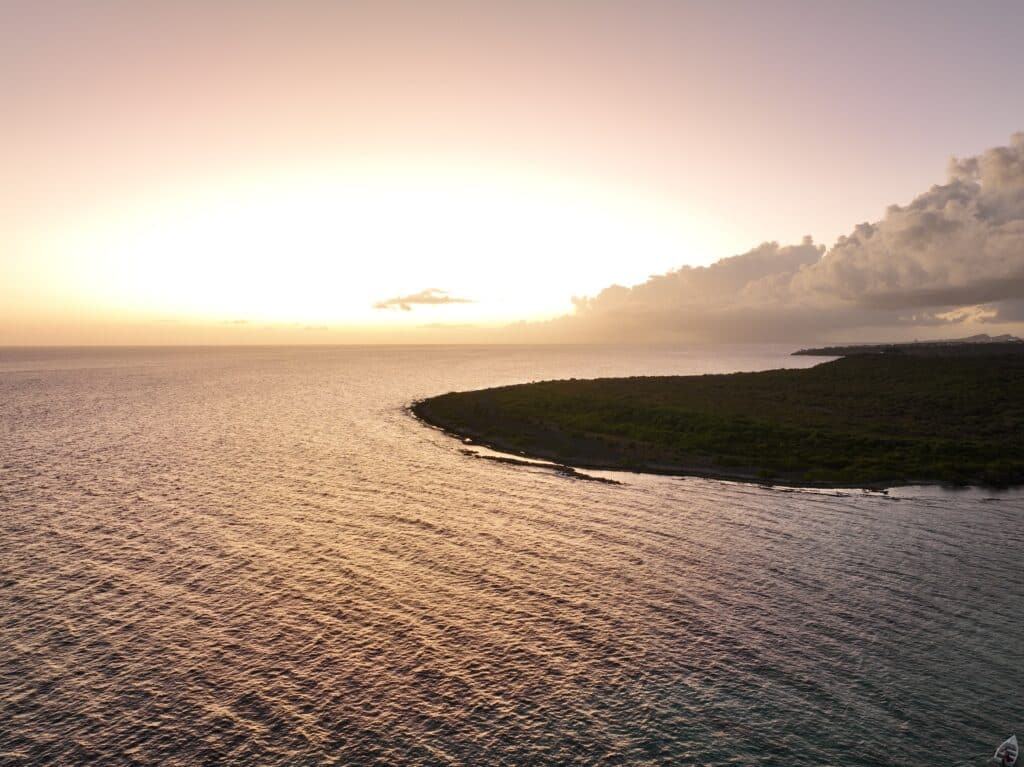 Using a VPN When Traveling
VPN is short for "virtual private network." A VPN (like IPVanish) sets up a private connection between your device and whatever network you are connected to – so, no one can see your browsing data. It is important to use a VPN anytime you are connected to public Wifi (such as at a restaurant, resort, hotel, cafe, airport, etc.). This is because when you connect to a public network no matter where you are, you run the risk of a hacker grabbing your unencrypted data. Trust me, speaking from experience here…this can put a real damper on your trip if your banking, phone or email get hacked while you're traveling!
VPNs can also help you save on domestic flights, help you watch Netflix shows not available in certain countries, and more! You can read more about using a VPN in my post "Why I Use a VPN When Traveling and at Home (And You Should Too)."
Need a house sitter while you are gone?
---
I, personally, recommend TrustedHouseSitters if you need to find a housesitter/someone to watch your pets while you are away.
How TrustedHousesitters works is they connect home and pet owners with trustworthy, verified sitters who won't charge to look after your pets, in exchange for a unique place to stay. They have sitters and homes all over the world!
It's a fantastic way to find trustworthy people to watch your home and pets while you are away. (And on the flip side, it's a cool way to stay in different areas of the country and world without having to pay for accommodation! I have a friend who literally didn't own or rent a home for years, and only used TrustedHouseSitters to find the next spot she was going to stay.)
Travel Insurance
---
Squaremouth is the only site that currently lets you filter travel insurance policies for COVID-19 coverage. I, personally, use Squaremouth for finding the best insurance policies for my travels, They're also recommended by Forbes! You can click here to get your free travel insurance quote.