Best Overwater Bungalows Around the World According to Travel Bloggers
While many folks aren't traveling at the moment, there are still plenty of us who are planning our next trip once things start going back to normal. Although, "normal" will likely take a different form when it comes to traveling.
For me, personally, crowded cities and famous monuments are not going to be on my travel list for quite some time. I'm far more interested in being as secluded as possible for my next couple of adventures…ideally snuggled in a unique accommodation (similar to my Treehouse Lodge experience in the Amazon Rainforest).
This is where the idea to research overwater bungalows came in! And I figured I couldn't be the only one who is thinking this way…
So, I reached out to fellow travel bloggers to get the inside scoop on some of the best overwater bungalows around the world! These bungalows range from luxury all-inclusive stays to budget-friendly accommodations (as cheap as $8 a night!) and everything in between. I'll break up their suggestions by each area of the world, starting with overwater bungalows in the Caribbean, then the Nordic Region (seriously!), then the South Pacific and finally, Southeast Asia. Enjoy!
*Disclosure: some of these links are affiliate links. Meaning, if you click a link and make a purchase, Have Clothes, Will Travel gets a very small commission at no extra cost to you. Thank you for supporting the brands that make this blog possible!
Best Overwater Bungalows in the Caribbean
Sandals Royal Caribbean in Montego Bay, Jamaica (All-inclusive)
Sandals Royal Caribbean is what kickstarted my newfound obsession with overwater bungalows and villas. I was able to visit this all-inclusive resort when I was staying at Sandals Montego Bay (the two resorts have a "stay at one but play at both" situation worked out, as they're quite close to one another).
These overwater villas were the first of their kind in the Caribbean…and they are SO cool. They feature see-through glass floors for ocean viewing, a soaking tub for two, an over-the-water hammock for two and a private infinity pool. How incredible is that? Plus, Sandals Resorts are all-inclusive and adult only. So, talk about romantic!
They are connected to a private island, but you'll take a water taxi ride to get there from the main shore. You'll literally be on your own little island when you stay here.
While it'll be tempting to hang out in your bungalow the whole time you're here, you'll also be able to go scuba diving, snorkeling, kayaking, paddle boarding and more (all included in your stay).
Pro tip: if you don't want to shell out the big bucks to stay in an overwater bungalow at Sandals for the entire length of your trip, you can simply book a night or two in a bungalow and stay in a more affordable resort room for the remainder of your trip.
Sandals South Coast in Whitehouse, Jamaica (All-inclusive)
There are actually two resorts in Jamaica that have overwater bungalows! Not far from Montego Bay is Whitehouse, Jamaica, which is home to another Sandals Resort.
The bungalows here are a very recent addition to the resort. These overwater bungalows feature all the same fun things as the Royal Caribbean, with see-through glass floors for ocean viewing, a soaking tub for two, an over-the-water hammock for two and a private infinity pool.
Pro tip: if you don't want to shell out the big bucks to stay in an overwater bungalow at Sandals for the entire length of your trip, you can simply book a night or two in a bungalow and stay in a more affordable resort room for the remainder of your trip.
Sandals Grande St. Lucian, Gros-Islet, Saint Lucia (All-inclusive)
I really enjoyed my time at Sandals Grande St. Lucian and need to get back there, especially now that they have these fancy new overwater bungalows! (I had been to this resort before they built them.)
The beach here at Sandals Grande St. Lucian is a mile-long and absolutely beautiful. It's sheltered and has really calm waters – perfect for romantic walks! The resort itself also has 12 different restaurants to choose from (all included in your stay) as well as snorkeling, water skiing, and more. The snorkeling here is the best I've ever seen in all of my travels (and I've also snorkeled the Great Barrier Reef).
Now, the overwater bungalows at this resort will have all the same fun cool features as the previous two resorts I mentioned, and you'll have the option to not book your entire stay here if you don't want to spend so much money! Just don't wait too long before booking on overwater bungalow here, as they do sell out really quickly.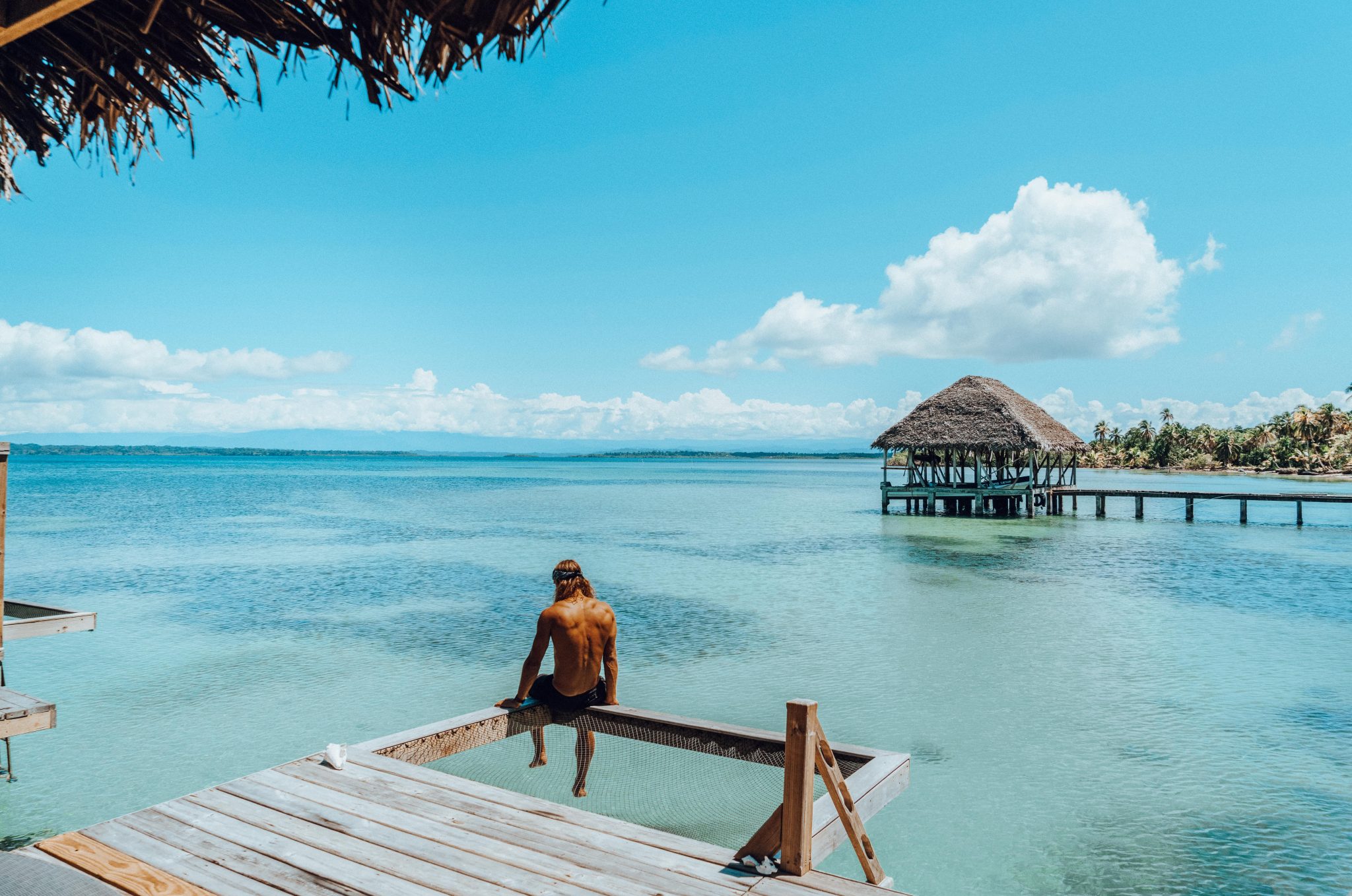 Azul Paradise in Bocas del Toro, Panama
Written by Jackson Groves of Journey Era
Azul Paradise is one of the top resorts in Panama with luxury, over-water bungalows, a remote island location, a high-quality restaurant and an array of incredible water and land activities for guests. The resort is located in Bocas Del Toro and the resort will pick you up in the main town and ferry you on their speed boat on a 20-minute trip to the remote resort location.
The beauty of
Azul Paradise
is that it seems to have it all. The overwater bungalows are laden with all of the amenities you would expect from a luxury resort. A huge bed, modern bathroom, WIFI, and most importantly a private balcony that looks out over the water and even has a net to lay in over the water. This is an amazing little area for sunrise and sunset!
The restaurant is just a stroll down the pier and is situated on land. Each night, we were treated to an incredible meal of fresh seafood such as Lobster and the bar had lots of tropical cocktails ready to go.
Each day the activities were the highlight and some of the best were stand-up paddleboarding over the reef, island-hopping and snorkeling tour and the surfing trip. However, my favorite was definitely the sloth-spotting tour, which took us through the village on a walking tour but also on a small boat through the canal of the island to spot sloths high up in the trees in their wild habitat.
Azul Paradise is great for couples but families could also have a great time here because of all the different activities on offer. This over-water bungalow resort is definitely a hidden gem of Panama.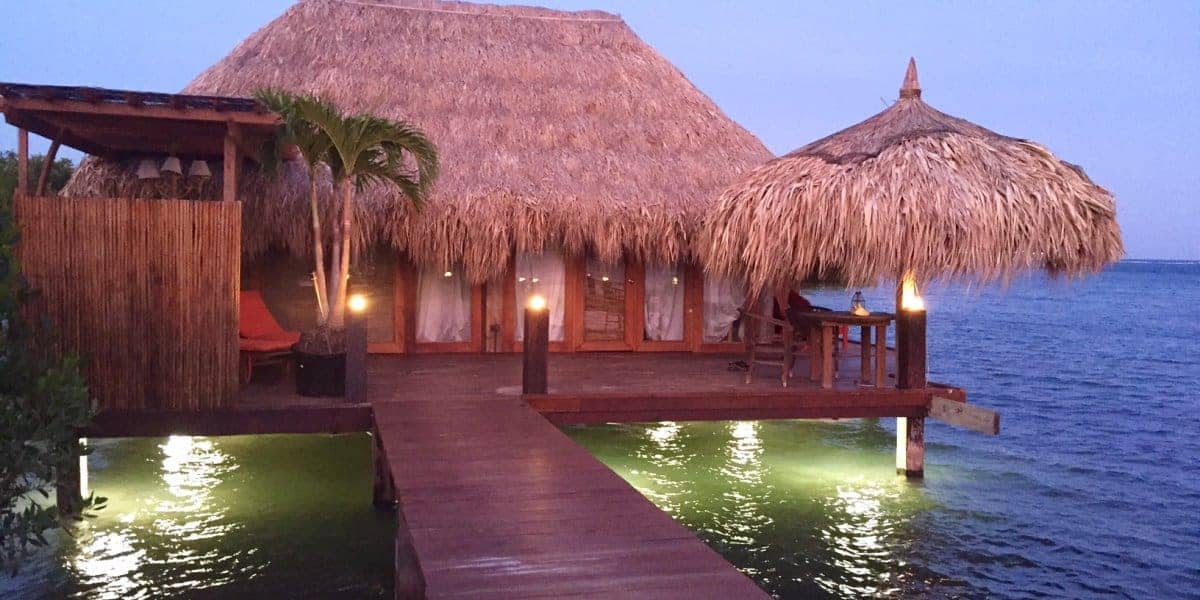 Aruba Ocean Villas in Savaneta, Aruba
Written by Michele Peterson of A Taste for Travel
If you're looking for a fantasy island experience in the Caribbean, this is the place for you! Aruba Ocean Villas is set on a secluded, private beach in the historic village of Savaneta on the Dutch Caribbean island of Aruba. I was invited to stay there by a travel writer friend of owner artist Oysth Henriques, who dreamed up the overwater bungalow concept for Aruba and built this collection of luxury villa hideaways. She named one of the overwater bungalows "Dushi Sue" — which means "sweet" in the local Papiamento language — in honor of my friend.
Each of the three eco-chic beach villas and three overwater bungalows feature thatched palapa roofs, original artwork, outdoor showers and wrap-around decks with lounge chairs, hammocks and 360-degree views of sky, sea and swaying palm trees. On an island best known for its large resorts, Aruba Ocean Villas stands out as one of Aruba's most unique and intimate boutique hotels.
Waking up to the sound of lapping waves and then padding barefoot along the pathway and across the sand to enjoy morning coffee and a gourmet breakfast overlooking the Caribbean was an opportunity to connect with nature that's not possible in a mega-resort. It's an experience that would appeal to free spirits, adventurers and those looking to connect with the quiet undiscovered side of Aruba.
Cool Overwater Bungalows in the Nordic Region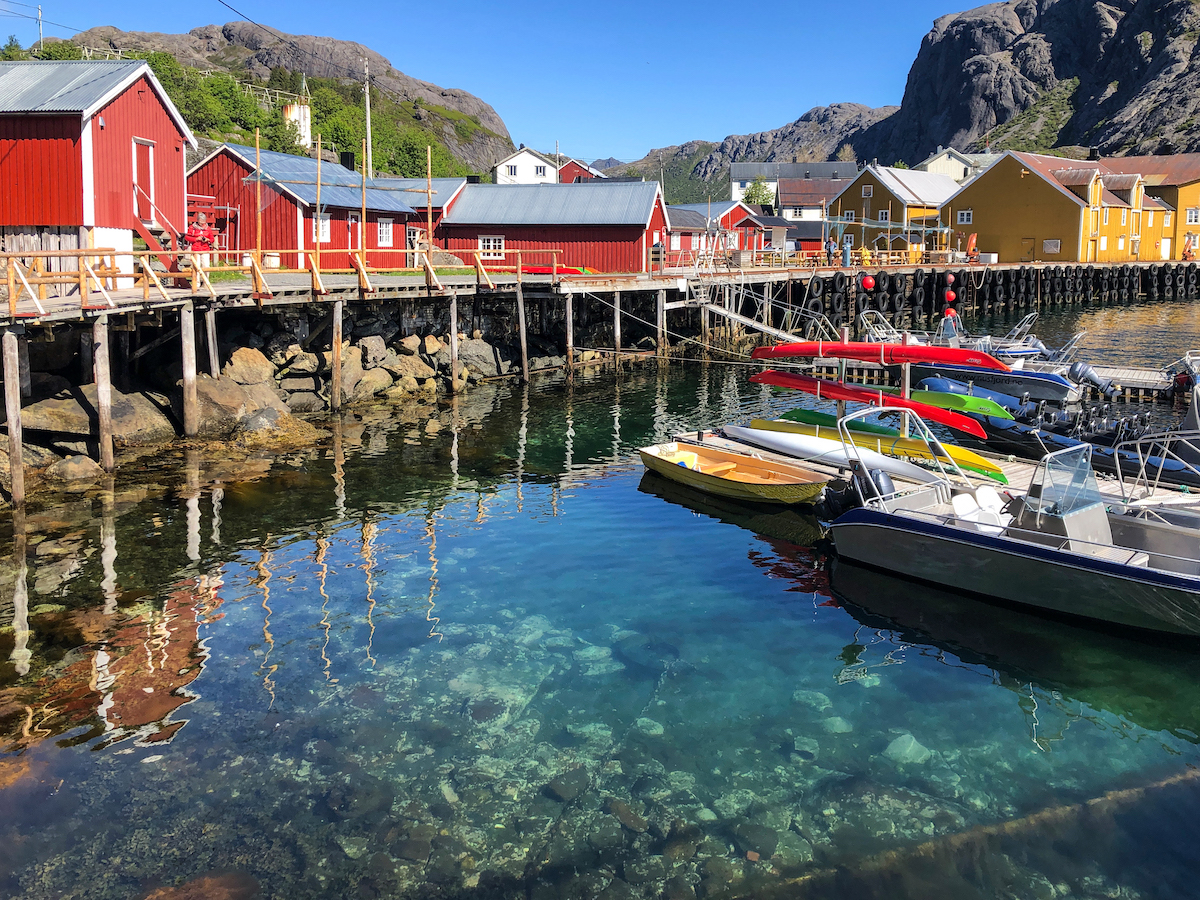 Nusfjord Arctic Resort in Ramberg, Norway
Written by Megan C. Starr of Megan & Aram
There are many stunning tropical, overwater bungalows in the world but many fail to acknowledge that not every bungalow type accommodation is located in the tropics. In the far north of the world in Norway's Arctic, you will find the Nusfjord Arctic Resort, one of the
best Lofoten Islands fisherman cabin
complexes in the renowned islands.
These fisherman cabins in the Lofoten Islands are referred to as 'rorbuer' and they are a famous type of accommodation that offers epic views and cozy, Scandinavian living. While there are a few resorts of them in the Lofoten Islands, the solitude of the ones in Nusfjord makes them extra special.
Nusfjord Arctic Resort
is located in the central part of the Lofoten Islands in Nusfjord, a quiet seaside village that is mainly known for this resort. In order to reach it, one must venture off of the trodden path on a small road for a while out to the sea. Out of all rorbuer in Lofoten, Nusfjord is the most removed from the main highways and is the most peaceful.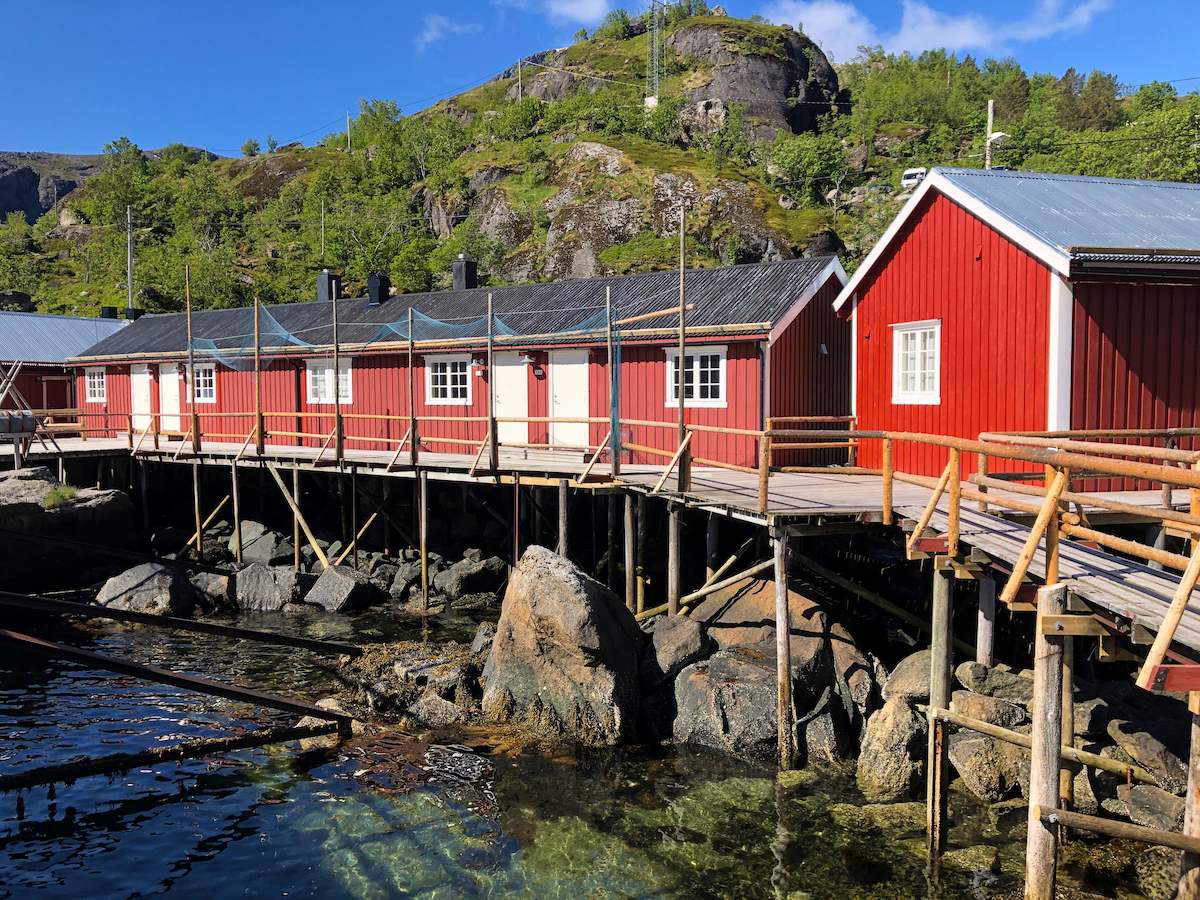 I opted to stay at this resort because of its central location. It is the perfect place to stay to explore this part of Lofoten. If you're staying in the north, you have plenty of options and the same for the south. But, the central part of the islands doesn't offer nearly as many options for accommodation- therefore, Nusfjord Arctic Resort was ideal! I traveled there with my friend Aram, who is also my partner on the blog. We were exploring the islands for the second time.
The pricing is fairly affordable in the off-season (ie: not summer) but can vary at all times of the year depending on the cabin you choose. Our cabin had two bedrooms, two bathrooms, and a living room complete with a kitchen. It is perfect for those wanting to cook and save some money in Norway. However, Nusfjord Arctic Resort has an on-site restaurant, cafe, bar, and more! Prices begin at around $200 a night and go on up depending on the type of accommodation you choose and the number of people you are traveling with.
The reason staying at a rorbuer is so great is that you get to dive into the history of fishing in the islands while there. It also offers a non-pretentious luxurious accommodation in a part of the world that will have you taken aback by its beauty. I highly recommend staying in a rorbuer for your Lofoten Islands adventure!
The South Pacific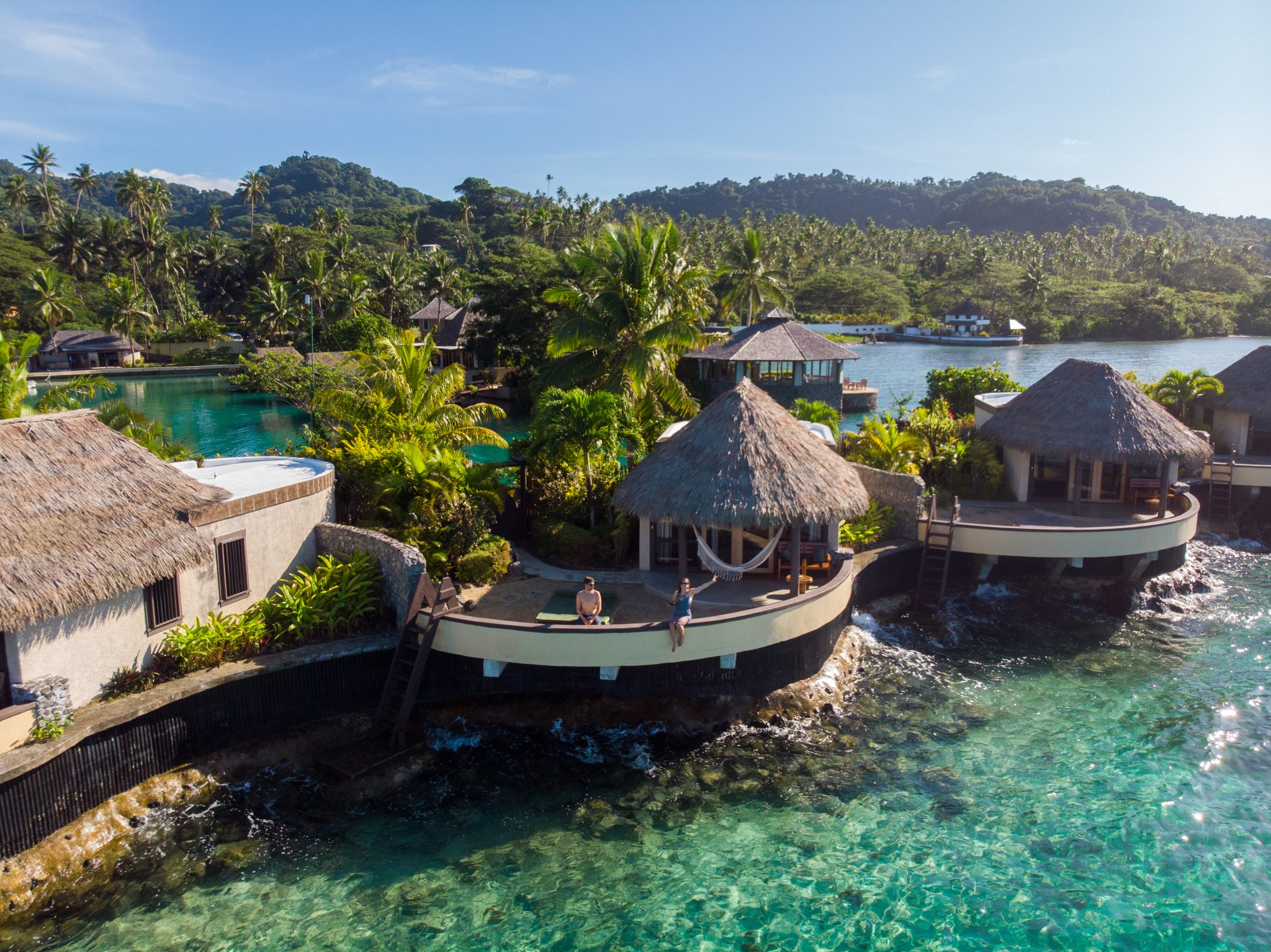 Koro Sun Resort and Spa, Fiji

Written by Chantae Reden from Chantae Was Here
Just outside of the quirky village of Savusavu in Fiji is Koro Sun Resort, a luxury resort with a range of overwater bungalows. Some overwater bungalows float on top of the water and guests are given a personal kayak to dock in front of the resort. For guests who prefer not to rise and fall with the tides, there are also fixed overwater bungalows that overlook the coral reef beyond.
My partner and I decided to go on a weekend escape to Koro Sun Resort, checking into one of the fixed overwater bungalows. We spent our time kayaking, snorkeling, swimming, and getting massage treatments at the resort's rainforest spa. The resort arranged a candlelit dinner for us, one of the most romantic meals we've ever had together. At night, we enjoyed stargazing on the daybed in front of our bungalow. Because this region in Fiji is so undeveloped, there is little light pollution to compete with views of the sky above.
Aside from relaxing and enjoying the water just beyond the resort, guests can go on day trips to waterfalls, participate in cultural ceremonies at the nearby village, scuba dive at some of the South Pacific's best dive sites, and visit the town of Savusavu itself. Because you'll want plenty of time to relax and explore, at least three days at Koro Sun Resort are recommended.
Note that while kids are welcome to stay in the resort's on-island rooms set back from the beach, they are not allowed to sleep in the overwater bungalows. Part of the resort is adults-only while the majority is family-friendly.
Southeast Asia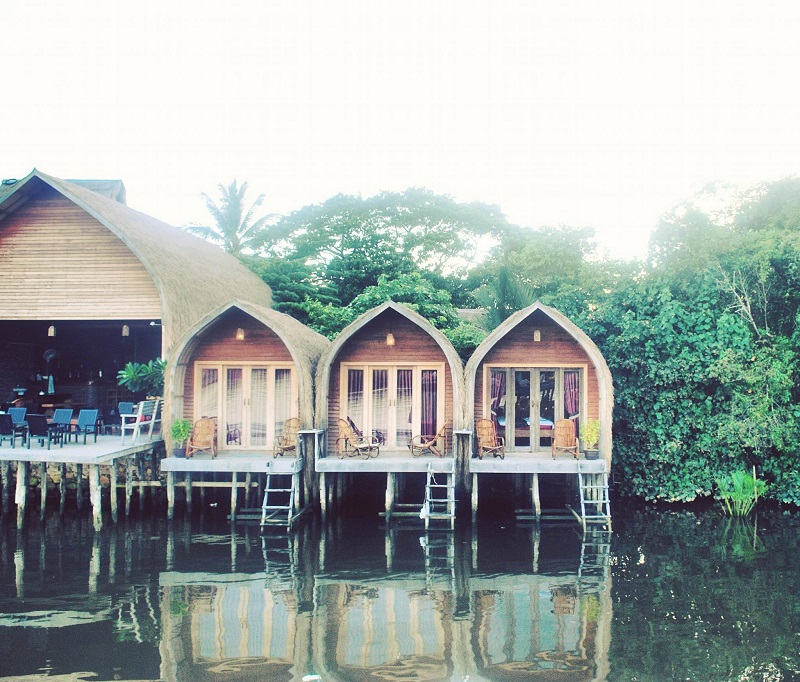 Bamboo Bungalows in Kampot, Cambodia (Budget-friendly!)
Written by Cazzy Magennis of Dream Big, Travel Far
Located right on the shores of the gorgeous River Kampot, our stay at Bamboo Bungalow was incredible! We've seen many of those (clearly very expensive) dreamy water bungalows all over Instagram, but never believed such a thing existed in Cambodia. In fact, as budget backpackers, it was amazing to find that staying here didn't cost an arm and a leg.
Our room had a full-height glass window offering amazing views out over the river at all times, as well as a platform to sit out on, enjoying watching the sunset with a beer or two! We visited here as a couple back in 2017 and it really was very romantic as the resort is located well outside of the main town in a quiet, self-sustained spot.
At night time, they have a bar on the water as well as sunset boat cruises down the river. In the daytime we rented a kayak and went for a long excursion down the river and back up into Kampot itself. We stayed here for 2 nights but would definitely recommend staying for 3 or more as we wish we had more time to relax and enjoy the peaceful nature all around.
Lexis Hibiscus, Port Dickson, Malaysia
Written by Lee from The Travel Scribes
No list of the world's best overwater bungalows is complete without the world record holder: Lexis Hibiscus in Port Dickson, Malaysia.
This exquisite property not only boasts the Guinness World Record for the most overwater bungalows (an absolutely astonishing 522 of them, to be exact) but also for the most swimming pools in a resort, with 643 azure-tinted pools sprinkled throughout the complex.
Laid out in the shape of Malaysia's national flower, the hibiscus, this enchanting property is perched on the edge of the Straits of Malacca, jutting out into the aquamarine waters and offering unparalleled sunrise and sunset views. More than just a captivating concept, the Lexis Hibiscus has a huge array of top-notch activities on offer. From dedicated karaoke rooms for the next singing superstars to a sprawling beach club and water park, from zipping around the walkways on custom e-bikes to games of archery, themed nights and it's own on-site nightclub! The resort has so much to do that you'll be spoilt for choice.
Definitely best enjoyed on a weekend break, the resort offers the perfect break from those spending time in nearby Kuala Lumpur, as you get away from the bustle of that buzzing metropolis. A national landmark and a luxury hideaway all rolled into one, Lexis Hibiscus is definitely one of the most incredible overwater bungalows in the world.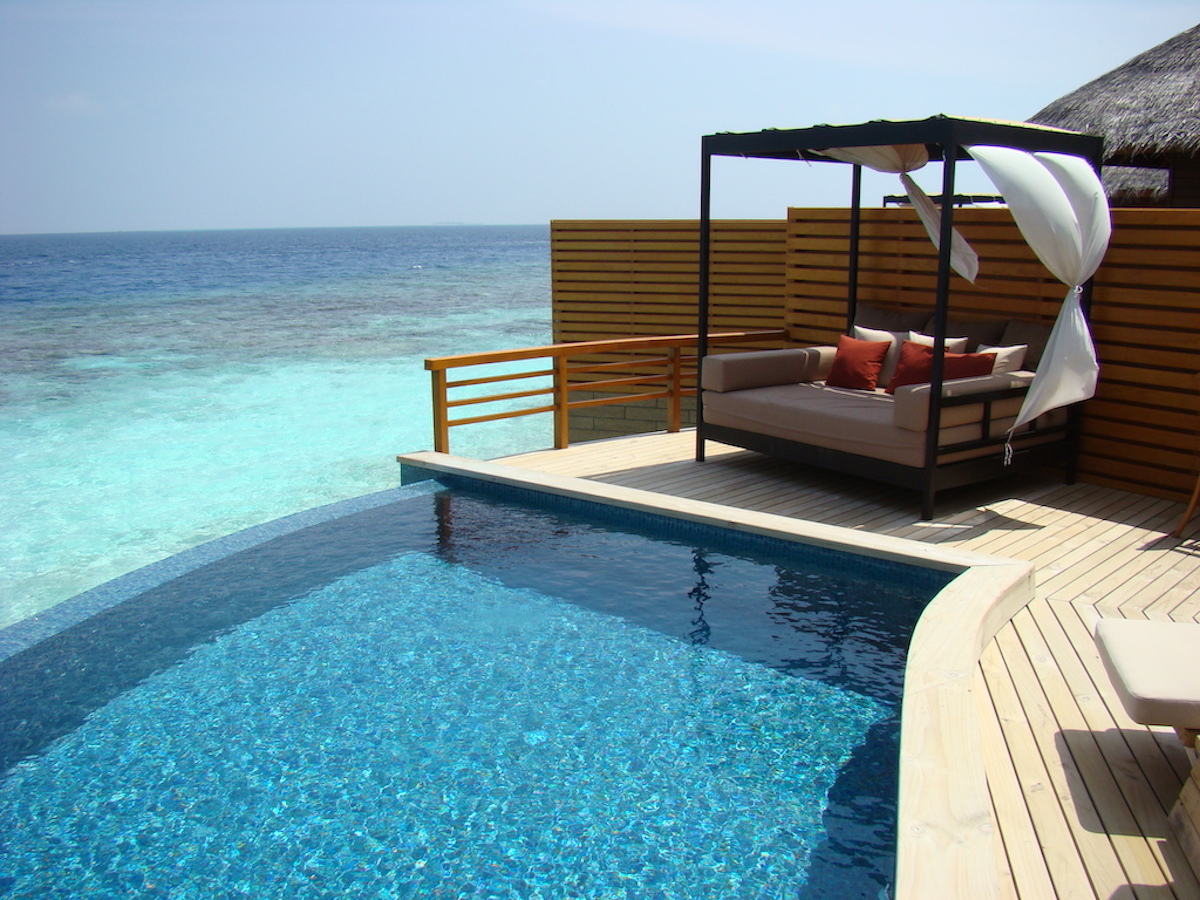 Baros Maldives Luxury Resort in Baros, Maldives
Written by Angela Price of Where Angie Wanders
Baros, voted as the most romantic resort in the Maldives, is nestled in the North Atoll and is a 25-minute speedboat ride from Male airport.
We had chosen to stay at Baros to celebrate our wedding anniversary after reading the five-star reviews of the resort and seeing the online photographs of the enchanting over-water pool bungalows.
Baros lived up to all of our expectations and more – it is extremely expensive but in my mind worth every penny. The accommodation was top-notch, and our over-water pool bungalow certainly gave us the WOW factor we wanted.
The over-water pool bungalow had the most luxurious sleeping area in muted colors looking out to the ocean and that theme continued through to the bathroom and separate toilet – all with full-length windows looking towards the turquoise waters.
The decking had a daybed, luxury recliners and a plunge pool which at night was lit by hundreds of twinkling underwater lights – magical. The staff and the service at Baros made the trip so special. From flip-flops and beach bags in the room to champagne breakfasts by the main pool, it was all so perfect.
Baros is luxury at its finest and I would recommend a trip of between 6 – 10 days to completely relax on this incredible Maldivian island.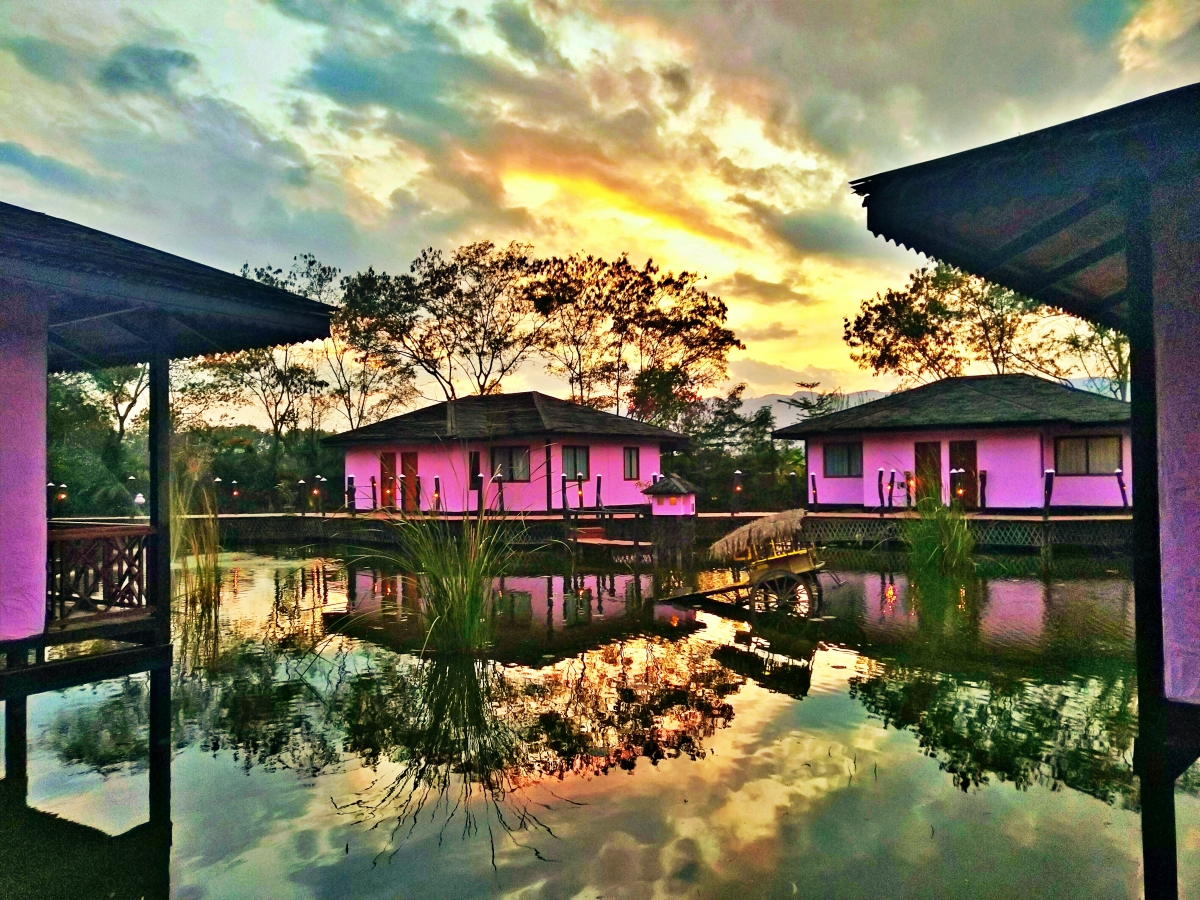 ViewPoint Eco Lodge in Nyaung Shwe, Myanmar (Budget-friendly!)
Written by Arnav Mathur from Eat | Travel | Live | Repeat
When my travel partner and I planned to visit Myanmar for the New Year, little did we know that we would be starting 2020 with staying in a
water
bungalow
. The
water
bungalow
was one of the 21 such
water
villas, built on stilts in a private lagoon at
ViewPoint Eco Lodge
in the city of Nyaung Shwe, which is the gateway to the popular Inle Lake in Myanmar.
The very fact that we were welcomed with a nice refreshing drink, a warm scented towel, to freshen up our faces, followed by a glass of chilled white wine, gave us a glimpse that, it was going to be a delight to be spending the first few nights of 2020, in the lap of luxury. That combined with the fact that all the buildings at ViewPoint Eco Lodge have been built with locally sourced sustainable materials, along with other on-ground sustainable practices, convinced me that ViewPoint Eco Lodge in Myanmar, is indeed one of the best places to experience luxurious travel in a sustainable way, and worth every penny.
In fact, staying at ViewPoint Eco Lodge, is a highly recommended tip in our
Myanmar Travel Guide
, as in a span of 2 days, we had some of the best experiences of our trip to Myanmar, such as, going on a full-day tour around Inle lake in our private boat, having lunch in the middle of Inle Lake on a former rice carrier boat, that had been transformed into a fully equipped floating restaurant. We can't recommend staying here enough!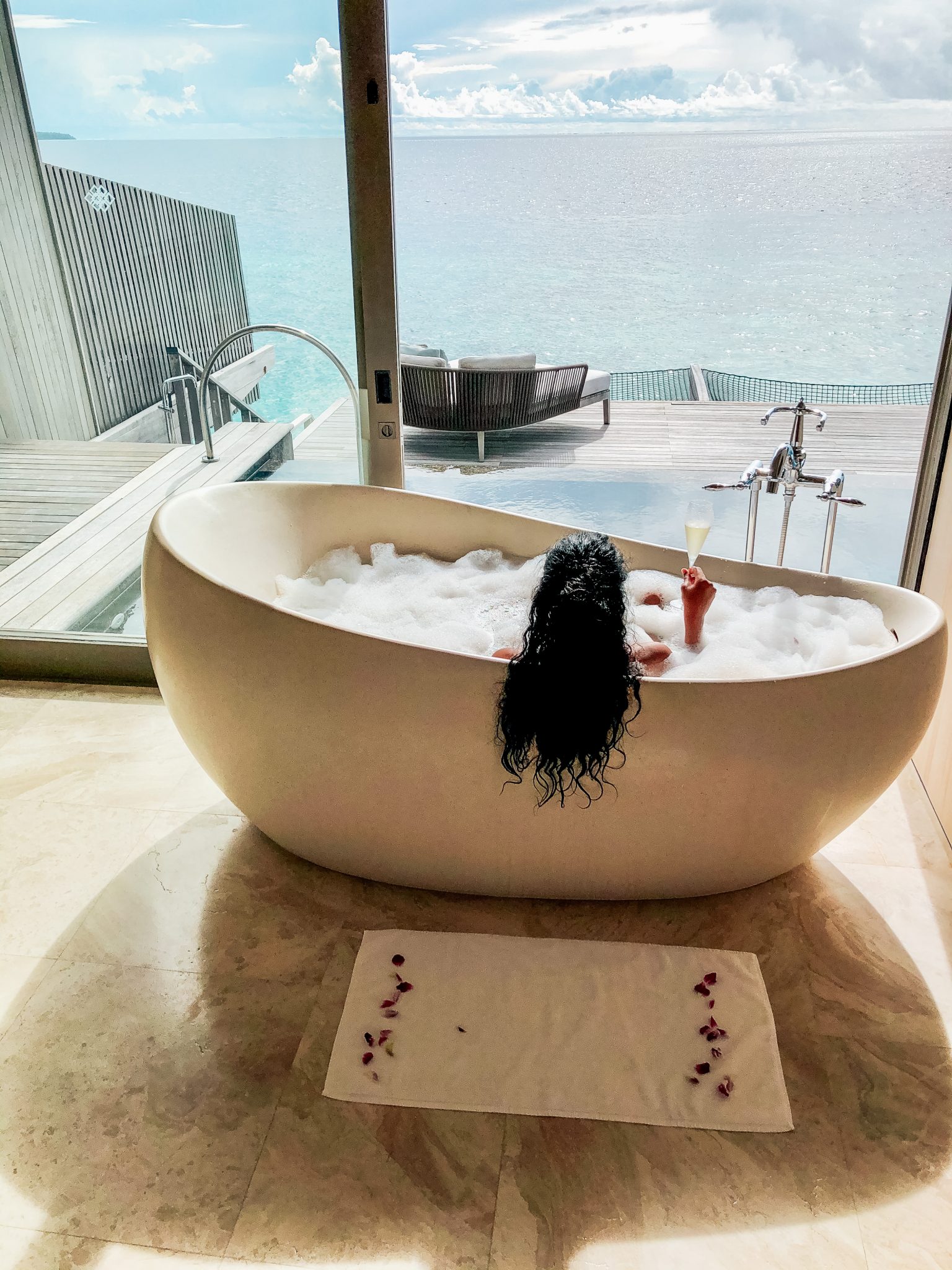 The St. Regis Maldives Vommuli Resort in Dhaalu Atoll, Maldives
Written by Disha Smith of Disha Discovers
Staying in an overwater bungalow is a bucket list item for many people and it feels like an absolute dream come true when you're finally able to cross it off of your list.
After endless research and scouring the web for the best hotels and resorts in the Maldives, we chose The St. Regis Maldives Vommuli Resort. My husband and I decided to stay at the St. Regis for a few reasons. First of all, they have glowing reviews on Google and Facebook. Also, we wanted a full Maldives experience and wanted to be able to take a seaplane to a private island that the resort was located on. We wanted to feel isolated from the main island. Further, I'm a Titanium member with Marriott, and I knew I would get extra benefits such as free breakfast and more.
Our experience here was amazing and we cannot wait to go back. The staff is friendly and they all knew us by name as we stepped off of the seaplane. The resort grounds are in pristine condition and the ocean was the most gorgeous shade of blue I've ever seen. I saw plenty of marine life swimming around us from our living room. My absolute favorite memory of my stay here was jumping into the ocean from our villa with my husband and being surrounded by baby sharks.
We stayed here for five nights, but it felt like a tease. I highly recommend staying at least a full week. In my opinion, our stay was completely worth the price. We will stay here again when visiting the Maldives!
Smiley Bungalows in Khao Sok National Park, Thailand (VERY budget-friendly!)
Written by Chloe & Michael from Nomad And In Love
We experienced our first overwater bungalows at Smiley Bungalows in Khao Sok National Park, Thailand. It's not your typical luxury bungalow accommodation. But its unique, otherworldly surroundings and adventure-packed activities more than make up for it.
Smiley Bungalows floats on Cheow Lan Lake in Khao Sok National Park. It's considered to be one of the most ancient rainforests in the world and a hidden gem in southern Thailand. Its ethereal landscapes are often compared to Guilin in China and Halong Bay in Vietnam but without the tourist crowds.
We decided to stay at Smiley Bungalows so that we could experience our first hike in a water cave and enjoy a jungle safari sunrise tour the next morning. From a practical point of view, we chose Smiley Bungalowsbecause it was the only affordable overwater bungalow accommodation, where the rooms were fitted with their own bathrooms.
As a couple who travels full time, we can forgo luxury if the adventure is worth it. But having access to our own bathroom is a must.
The accommodation is very basic, but if you love adventure, tranquil natural surroundings and unique experiences, then it's worth it. We recommend staying for 2 nights so you have an entire day to explore on your own. Kayak to some of the surrounding islands or laze around in one of Smiley's many floating tubes and soak up the majestic landscapes of Khao Sok.
Find out how to get to Khao Sok cheaply in this Khao Sok National Park Ultimate Guide.
Six Senses Ninh Van Bay in Khanh Hoa, Vietnam
Written by Reshma Narasing of The Solo Globetrotter
Six Senses Ninh Van Bay is located in Khanh Hoa, close to Nha Trang in South Vietnam. It is one of the most beautiful luxury resorts overlooking the sea. I stayed here while traveling in Vietnam alone, which I came across while looking for a luxury bungalow at affordable prices. Nestled between the rocks across the sandy beach, I loved the stay, thoroughly enjoying all the experiences as the place fit the bill.
It was a perfect break for me to relax and recharge myself during the month-long trip within the country. With a private beach among the many luxuries that you can enjoy, Six Senses is a recommended choice if you want to stop for a retreat on your trip. All the luxurious overwater villas with a beachfront come with a private pool. You can choose between a garden terrace or Sundeck. There are four restaurants at the property, giving you plenty of cuisines to choose. And of course, there is a spa, for more indulgence.
You can get to Nha Trang by boat in 20 minutes. The resort organizes many activities like Kayaking, surfing, trekking, Island Hopping tours, cooking classes, romantic cruise and Mud Bath for its guests.
It is worth your money and time, and I'd recommend you to spend at least two nights at Six Senses as I feel anything less than that will not be a justice to this beautiful place!
I'm curious, which of these overwater bungalows sounds the best to you? Let me know in the comments!
Read next: Unique Hotels Around the World for Adventure Lovers
Read next: Staying at the Treehouse Lodge in Peru's Amazon Rainforest
Read next: Mazayen Rum Camp a Luxury Desert Camp with Marian Tents!
Read next: Wake up Next to the Pyramids of Giza at This Luxury Hotel
Read next: Sandals Montego Bay Resort Review – All-Inclusive Luxury Stay With Butler Service
If you liked it – Pin it!