The BEST Great Barrier Reef Tour in Cairns, Australia + What to Know Before You Go
Looking for tips on how to plan the best Great Barrier Reef day trip to Cairns, Australia? This post will be explaining more about which Great Barrier Reef tour to book in Cairns, an inside look at the boat we had taken, whether or not it's worth it to spring for extras (such as a helicopter ride and a stinger suit) and plus some footage of our incredible time snorkeling the Great Barrier Reef!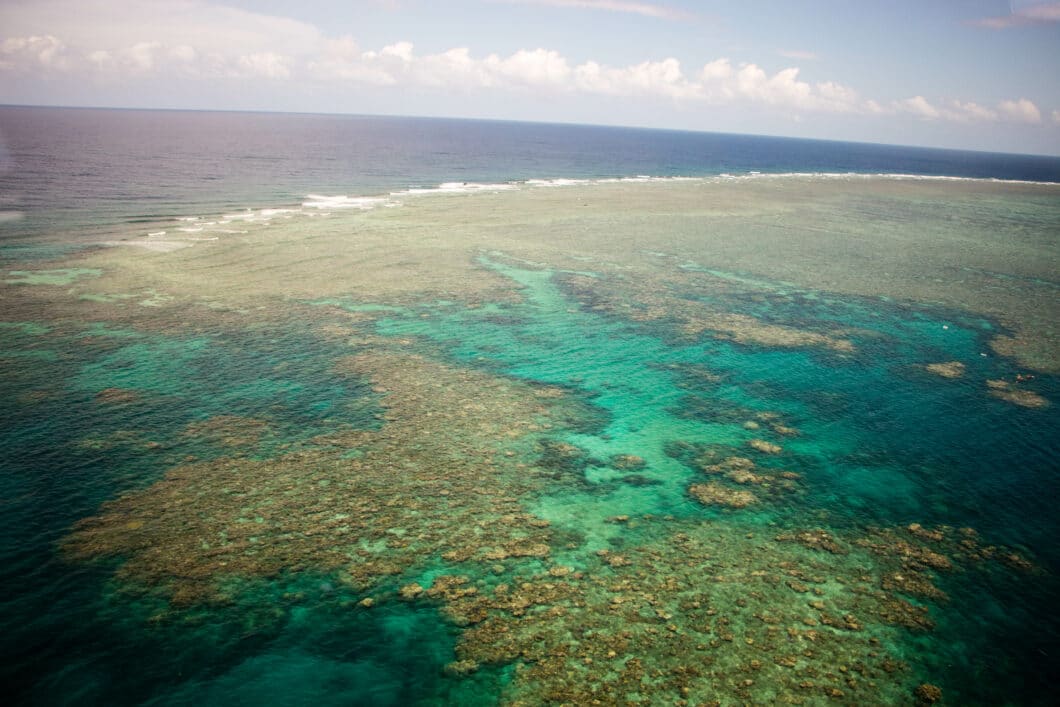 My trip to The Great Barrier Reef in Cairns, Australia was the stuff dreams are made of. I honestly don't feel this post will do the day justice, but I hate to say "you had to be there" in a travel post. Haha. So, I will do my best to show just how awesome this day was…complete with pretty pictures and videos! I'm also sharing a list of what to know to prepare you for snorkeling (or diving) the Great Barrier Reef at the end of the post. Enjoy! And please let me know if you have any questions at the end of the post in the comments section.
Booking the Great Barrier Reef Tour "Evolution" in Cairns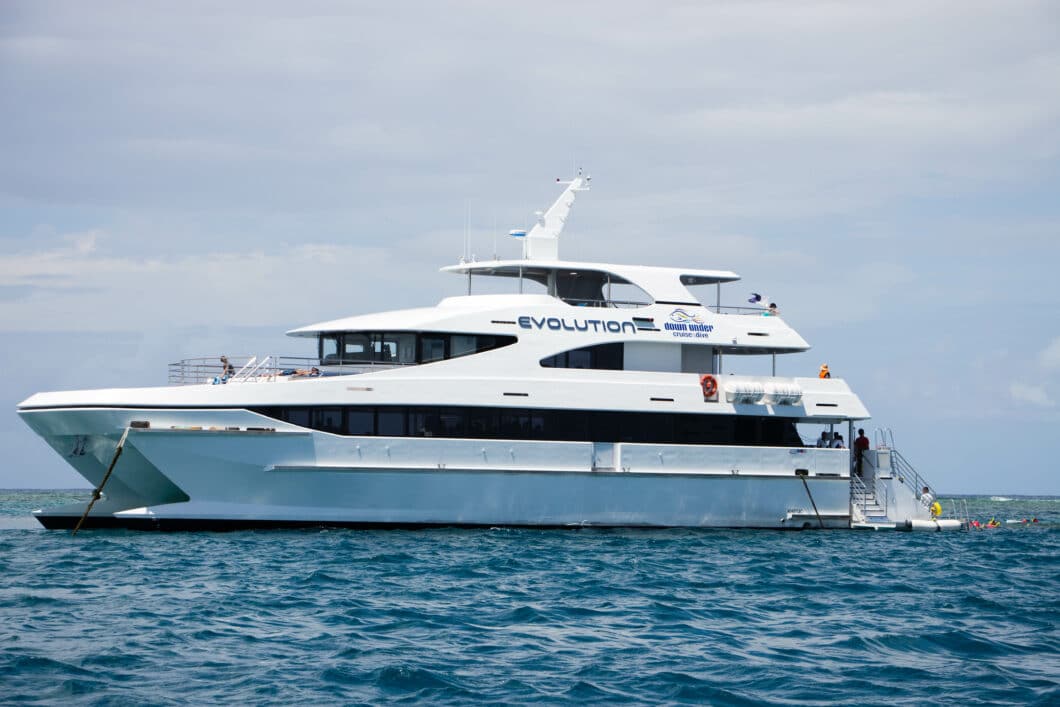 The Great Barrier Reef is over an hour away from Cairns. So, you'll want to make sure you have a comfy boat with a good crew to get you there!
The 3-day tour I had booked for our trip to Cairns included this day aboard "Evolution." However, if you've been following my Cairns posts, you'll know I won't recommend doing the 3-day tour. But have no fear, you can easily book a day on Evolution with Down Under Dive.
"Evolution" and crew were phenomenal. (Shoutout to Kyle – he really went out of his way to make sure our day was awesome. And he even remembered our names, even though there were 160 people on the boat.) I can't recommend Evolution and her crew enough.
Everything went so smoothly this day! And the boat is brand spakin' new, too. They just started using her this summer, and she was easily the biggest boat I had seen on the wharf. And everything was soooo clean! I loved it.
Food & Refreshments onboard Evolution
If you're like me and know you'll be spending a full day out swimming around…your biggest concern is going to be food and water for the day. But I had nothing to worry about. Evolution had a great spread for lunch (which is included in your price) with BBQed steaks and sausages, grilled fish, cold prawns, all kinds of salads, etc. There was also a place to refill water bottles. (Sorry, I'm terrible at taking photos of food…as I don't think to take a photo until after I've eaten it!) We also had complimentary snacks and wine on the ride back to Cairns.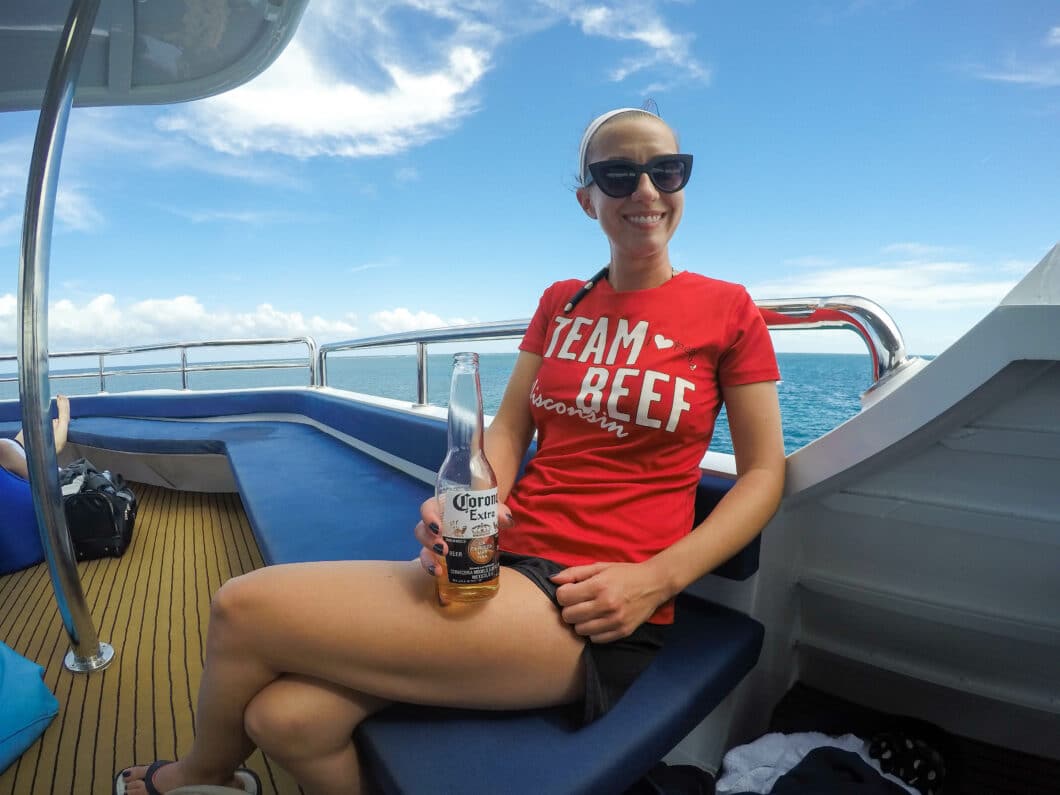 Oh, and you can buy a beer too…if you want to reward yourself after a hard day of snorkeling! Haha.
Funny story about the shirt I'm wearing too…one of the crew members spotted it and specially cooked me a steak because my shirt said "Team Beef." Haha. I thought that was great. (I was sponsored by the Wisconsin Beef Council for a marathon I ran a few years ago – that's the story behind the shirt. Haha.)
What to Expect When Snorkeling the Great Barrier Reef!
This video is our footage from our day snorkeling the Great Barrier Reef with Evolution.
Apparently, the clam at the end of the video can do some serious damage if you were to have a limb in the way when it shut! Yikes! He was huge! But I really loved all the colorful parrotfish. And the jellyfish made me a bit nervous…but I guess those guys won't sting you. (You wouldn't be able to see the ones that do sting because they're so small.)
And the video was from two separate spots on the reef. Unfortunately, the first spot didn't have the best visibility because it was storming out that morning. However, by the time we got to our second snorkeling spot that day – the weather was beauuuuutiful! So, you're able to see the fish a bit better then. (We were still able to see pretty well at both spots – it just didn't show up well in the video. Sorry!)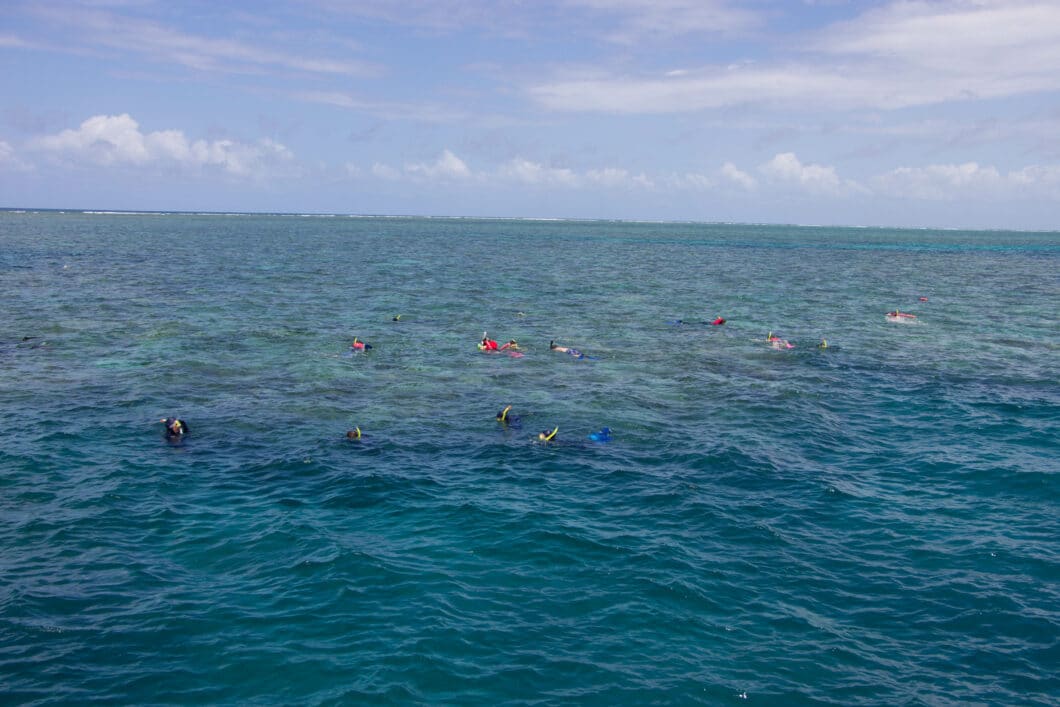 You do have the option to dive or snorkel. I'm quite claustrophobic, so I knew diving wasn't going to be for me. So, we stuck with snorkeling and had a really nice time! (FYI – You don't have to be certified to dive, though, if you're interested.)
There's no need to worry either if you aren't the world's greatest swimmer (like me). "Noodles" and lifejackets are provided, so you can easily float over the reef without any problems. (Also helps so no one accidentally stands on the reef if they get tired.) Face masks and flippers are also provided.
Oh, and you can rent "stinger" suits for $10 AUD to prevent getting stung by a jellyfish. January is jellyfish season, so we thought it would be a good idea to rent some. But after talking to the locals that night, it sounds like it really wasn't necessary – oh well! It prevented me from getting a sunburn at least! Haha.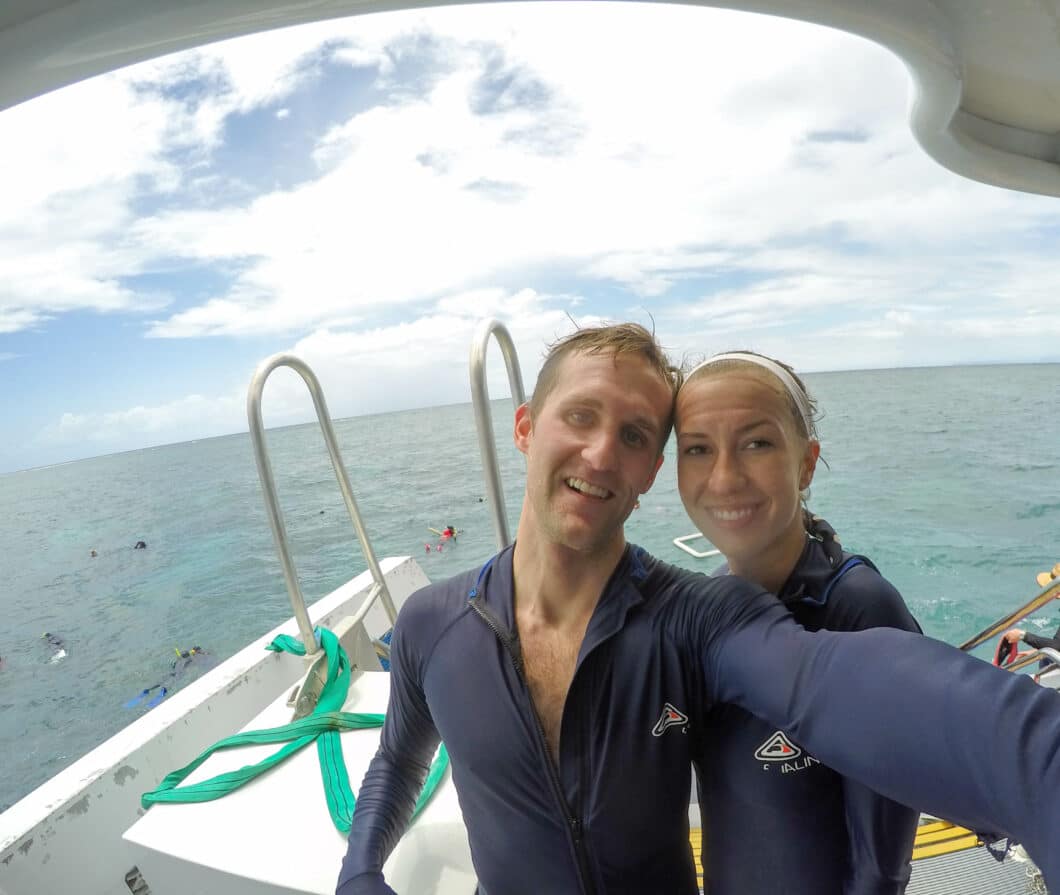 Helicopter Ride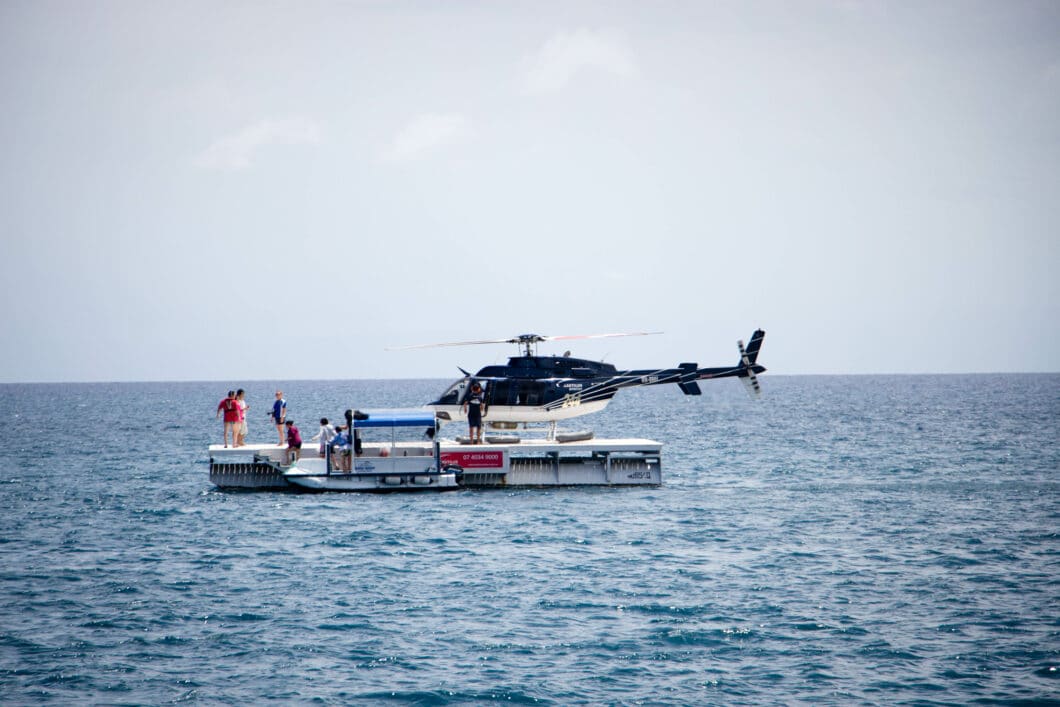 And if snorkeling The Great Barrier Reef isn't enough, you also have the option to buy a helicopter ride over it. It's incredible to see The Great Barrier Reef from above! Check out the views in the video my husband shot below.
The ride we were offered was 10 minutes long, which was fine. However, it was $150 AUD a person. And, in my opinion, that was pretty darn pricey for 10 minutes. If you can afford this, by all means, do it! The views are outstanding, and this was one of my favorite parts of the trip!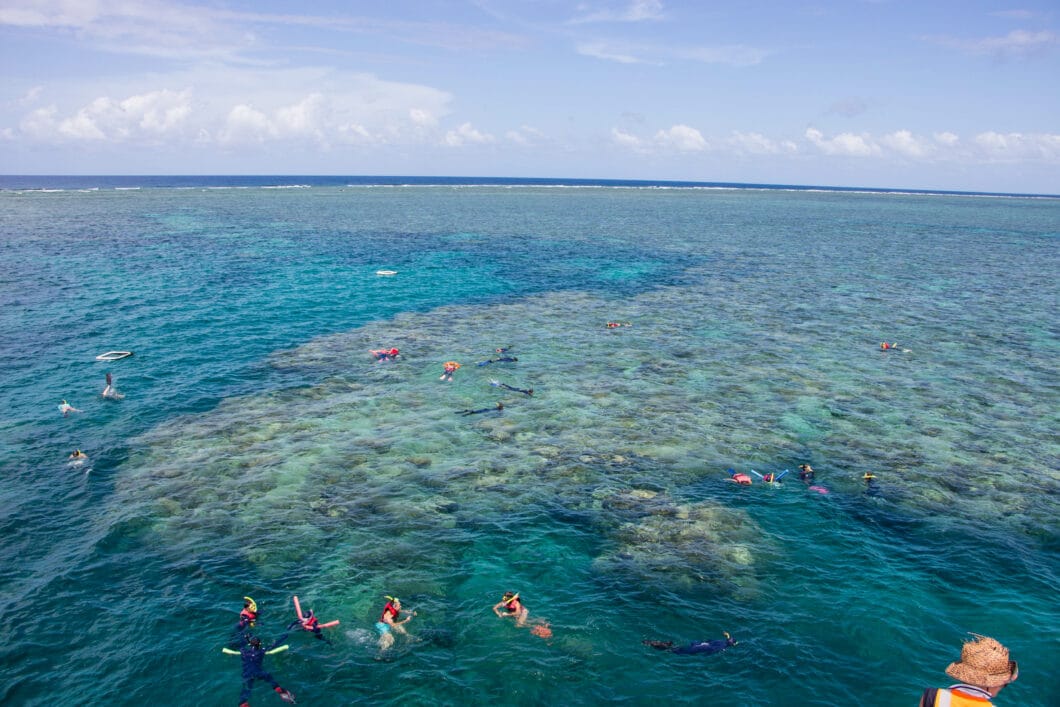 However, if you're trying to be frugal on your trip, I wouldn't say a 10-minute helicopter ride is an absolute must-do. You can get some good views of the reef just by walking to the top of Evolution too.
This was my first time in a helicopter, though…so, I was pretty darn excited! My husband had the honor of sitting in the front by the pilot, as he was the one in charge of filming video and he was the only guy on our ride. Haha.
But I did snap a few photos from my seat in the back!
Things to Know for Your Trip to the Great Barrier Reef in Cairns
Just a few random things to keep in mind too before heading out to The Great Barrier Reef for the day. These will make your trip much more enjoyable!
If you've never snorkeled before, the first 10-20 minutes will be a bit overwhelming until you get the hang of it. There are tons of people around you initially, and remembering to breathe underwater is weird. But once you get the hang of it – you'll have a great day! Just don't let those first few minutes discourage you!
If you're not sure whether or not you get sea-sick – just take the Dramamine! And be sure to take it before you get on the boat, as you can't do anything once you're sick. (Dramamine is preventative – not a cure.) And there were lots of folks barfing on the boat…
But, if you do start feeling sick just walk outside and look at the horizon – you'll feel a million times better!
Bring towels. There are no towels for you on the boat – be sure to grab some extras from your hotel.
You will get burned to a crisp if you don't cover your skin or wear sunscreen. Trust me, I saw people who forgot the next day and it was BAD. Don't be that person! Haha.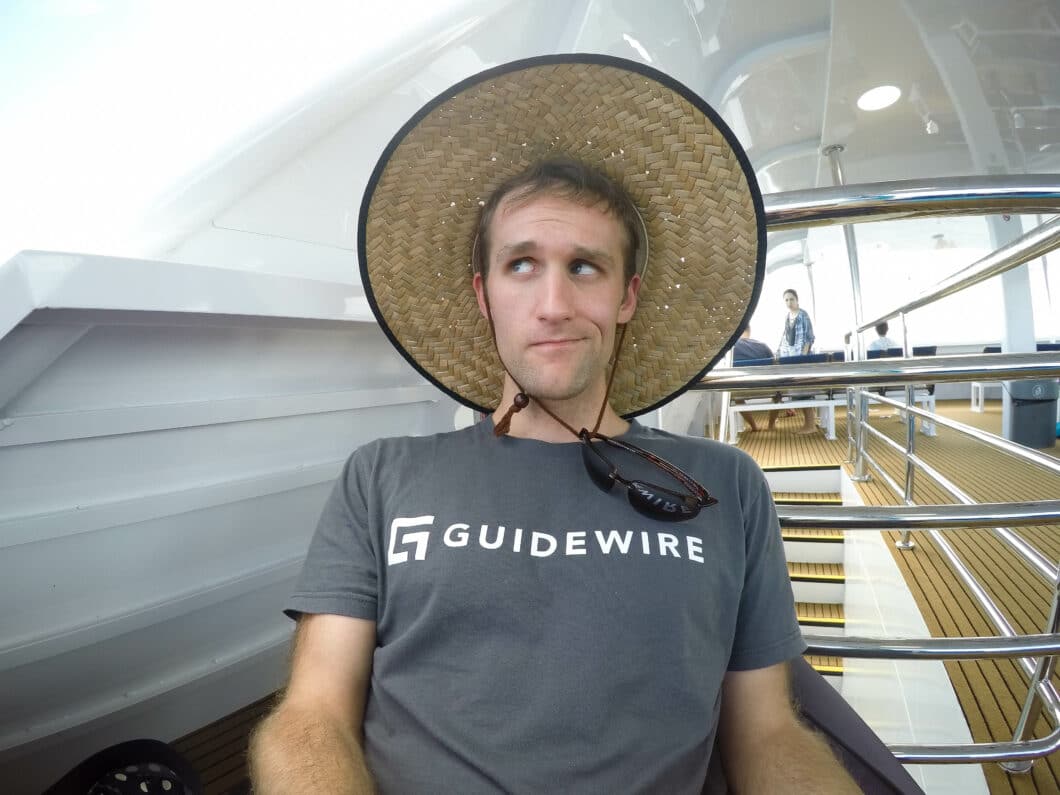 There are also crew members fluent in Mandarin on this boat if you have any Mandarin-speaking friends looking to book a trip too!
I can't say enough good things about this day! Seriously, if you're going to Cairns just book a trip with Evolution, and you'll have a fabulous time! Click here to book your tour.
Do you like diving or snorkeling? And would a helicopter ride be something you're interested in? Let me know your thoughts in the comments!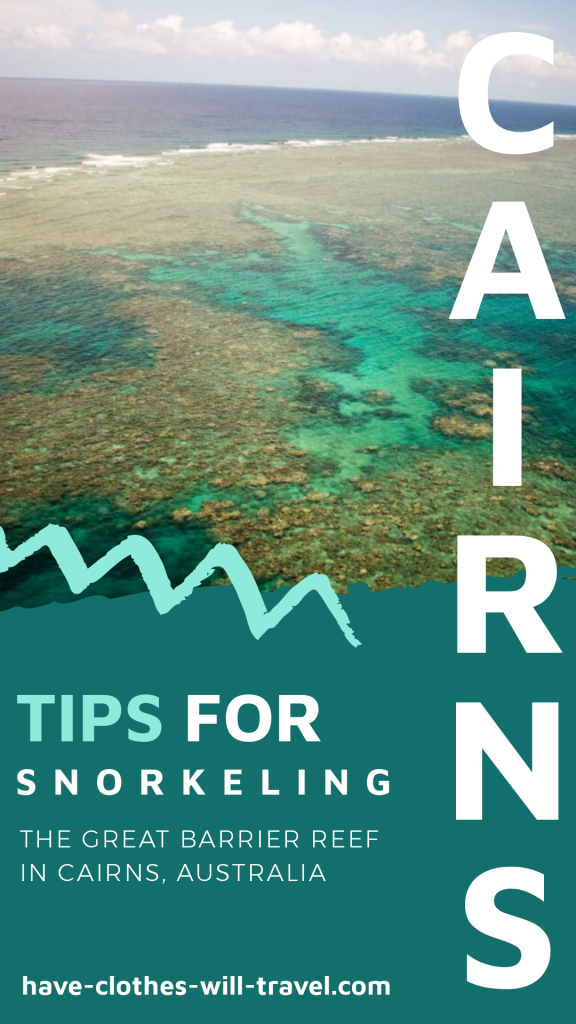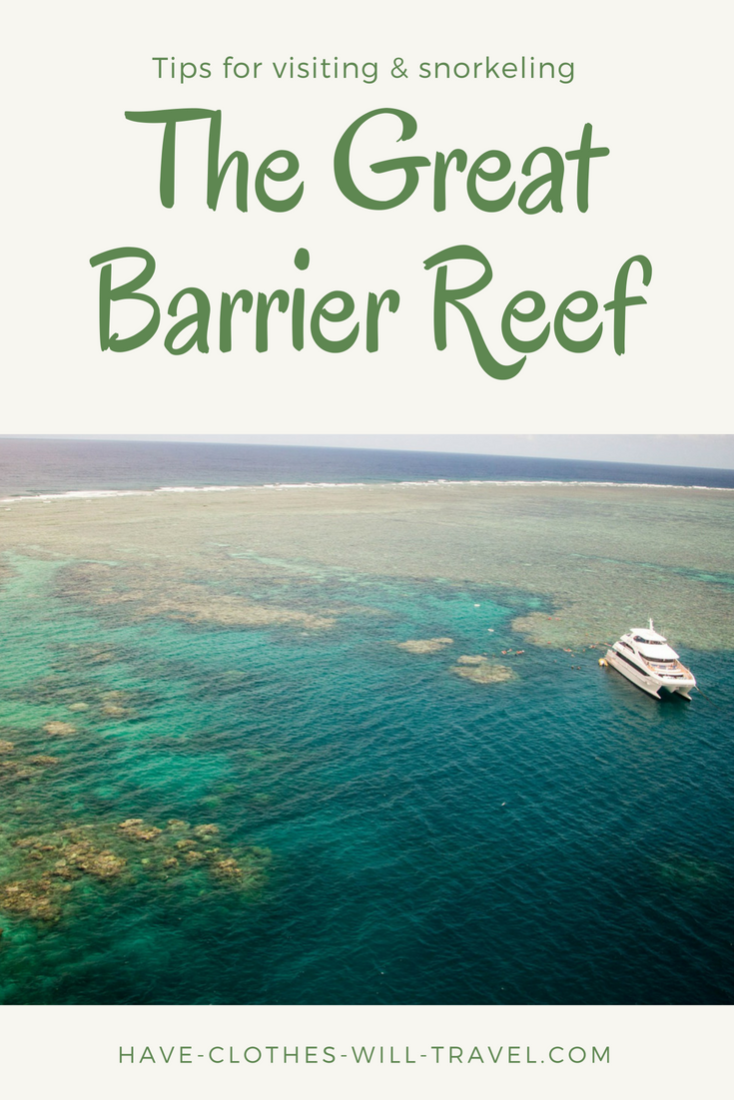 *Disclosure: some of these links are affiliate links. Meaning, if you click a link and make a purchase, Have Clothes, Will Travel gets a very small commission at no extra cost to you. Thank you for supporting the brands that make this blog possible! I am also a participant in the Amazon Services LLC Associates Program, an affiliate advertising program designed to provide a means for us to earn fees by linking to Amazon.com and affiliated sites.