DON'T Waste Your Time Booking This Tour in Cairns, Australia
I hate to keep being such a Negative Nancy on the blog (two Mondays in a row – sorry!), but I really don't want anyone else to make the same mistakes I did if I can help it. And I promise next Monday's post will be all rainbows and sunshine-filled with a giveaway! But before we get to that, I'm first going to do my best to convince you why you shouldn't waste a precious day in Cairns, Australia doing this tour (and it's very easy to get suckered into it).
Daintree & Cape Tribulation Safari – DON'T Do It!
The main reason folks go to Cairns is to snorkel the Great Barrier Reef. Which was exactly why we went there. However, there are quite a few awesome attractions near Cairns that don't include snorkeling, and I had quite the list of things I wanted to see and do while I was there: Great Barrier Reef, Kuranda, hold a koala, ride the Scenic Railway, Daintree Rainforest, Port Douglas, see a crocodile in the wild..the list goes on.
But I only had 3 days to do all this. So, this 3-day tour I booked on Travastar seemed to be the answer to everything I wanted to do! It had it all: snorkeling, Kuranda, koalas, the Scenic Railway, Daintree Rainforest, crocodiles – it was perfect. Except for the fact the 3rd day, "The Daintree & Cape Tribulation Safari" was a complete waste of a day!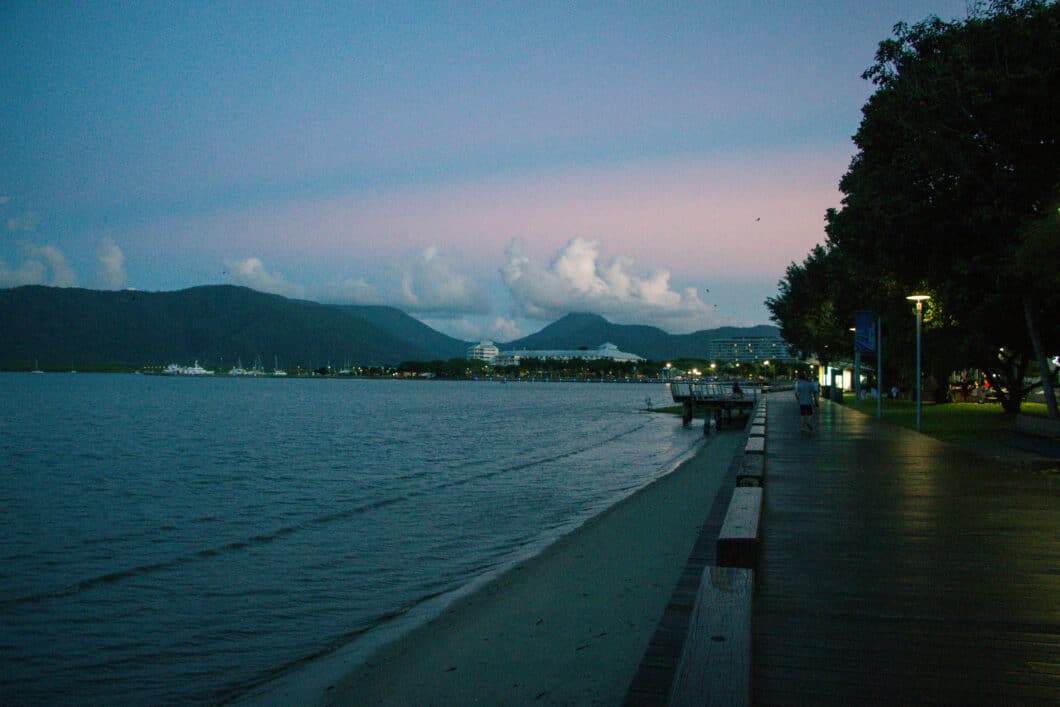 And here's the real kicker, I had actually read fellow travel blogger, One Chel of an Adventure's post on this tour. Let's just say her day was even a bit worse than mine, and I did not heed her warning about this tour. Instead, I hoped my day would just be better. BIG MISTAKE.
Here's Why…
The day started off with the bus driver telling me I couldn't bring my coffee on his bus (and dear god, do I need coffee in the morning). There was a reason for this, however. Once we sat down on the bus it had to have been the bumpiest ride I have ever been on in my entire life. My goodness, do they need to invest in a new tour bus (or at the very least new shocks and struts)! I was honestly getting motion sickness.
Oh, and there was zero legroom on this bus – not cool for nearly an 11 hour day!! Oh, and after 20 minutes of driving…our bus driver realized he forgot to pick someone up. So, we had to turn back around and pick this girl up. (Who had been waiting outside her hostel as the bus drove by the first time – she must have been so panicked!)
That being said, though, our bus driver/tour guide was actually a very nice guy and did his best to make the day enjoyable…despite this tour being such a turd. (If you read One Chel of an Adventure's post, though, her tour guide was not so nice or professional – so it was really the luck of the draw!)
Wildlife Habitat
Our first stop was the Rainforest Wildlife Habitat. This was a wildlife park very similar to Featherdale Wildlife Park. I did enjoy this part of the trip! However, I had already had this same experience at Featherdale and it wasn't really necessary to repeat it. (But who doesn't love petting kangaroos and wallabies and seeing pretty birds?)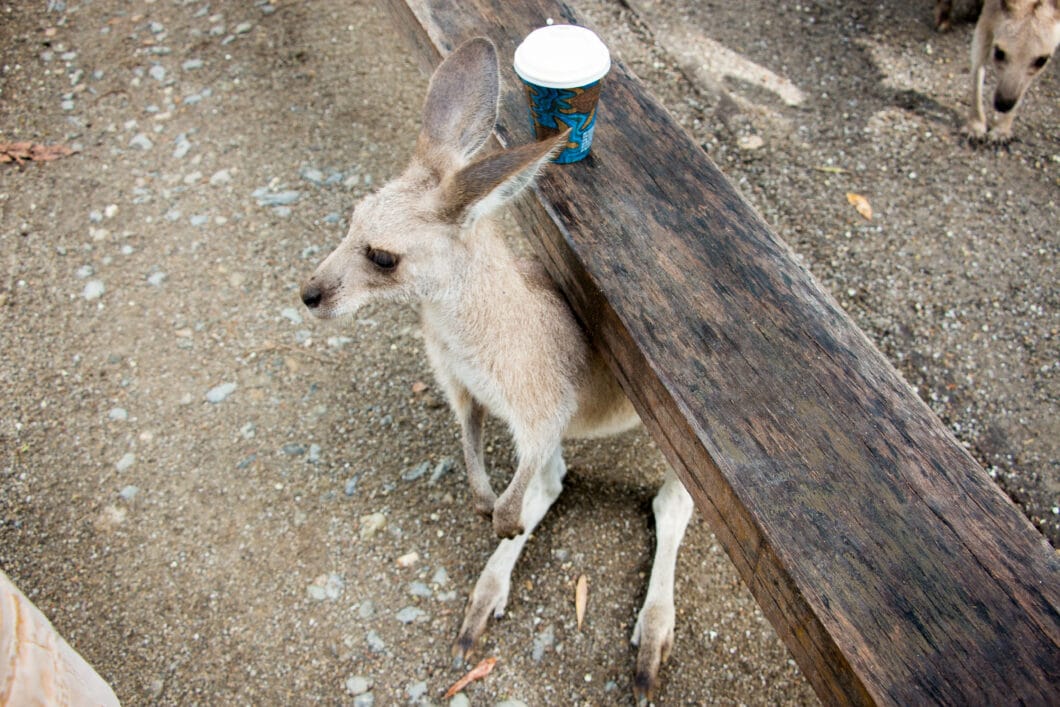 We had an hour at the wildlife park to hang out with all the critters before we hopped back on the bus. (Going to the wildlife park meant we didn't get to see Port Douglas too FYI.) Our next stop was the Daintree Rainforest & Mossman Gorge.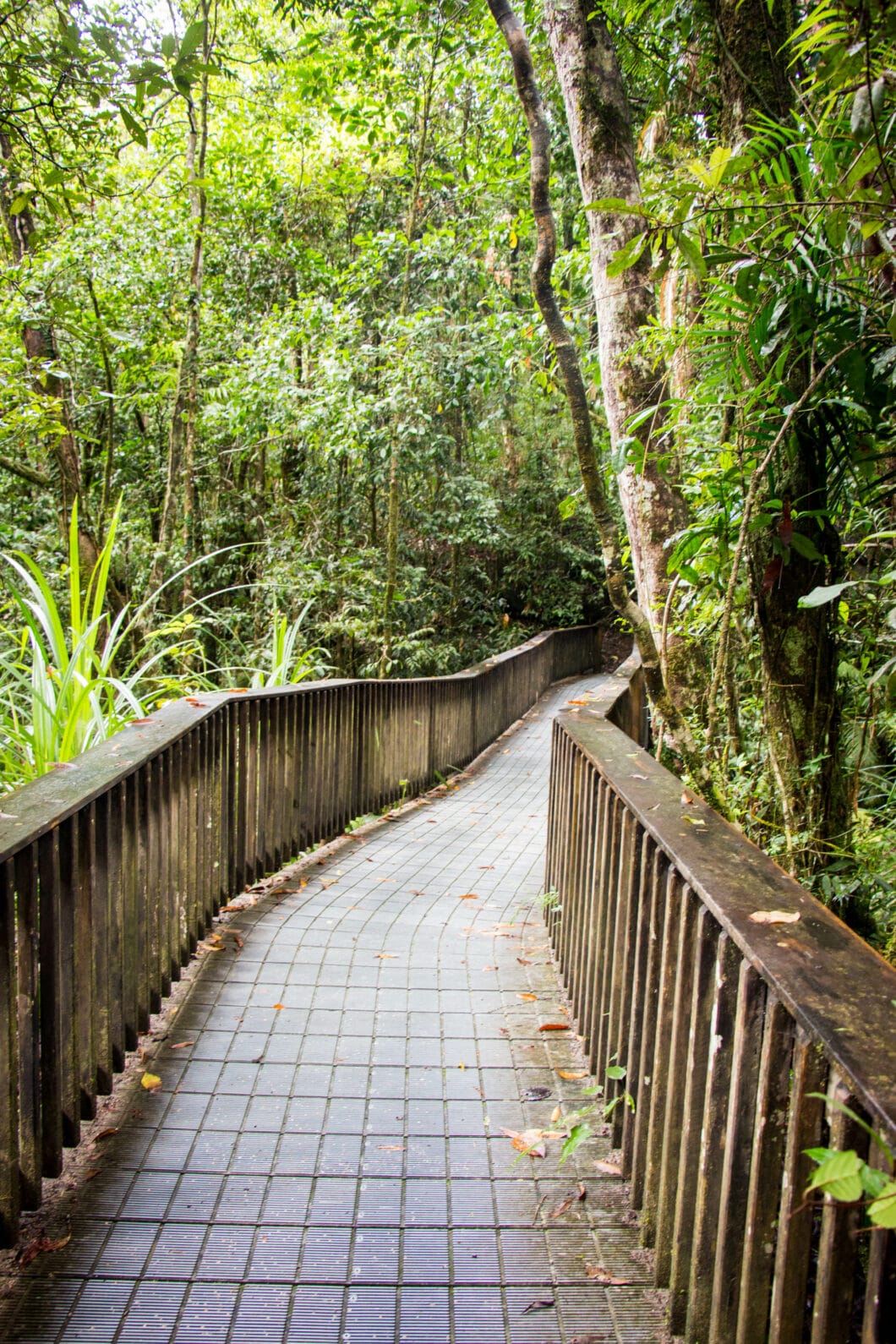 Daintree Rainforest & Mossman Gorge
This had to have been the biggest disappointment of the day. I had really been looking forward to "hiking" through the Daintree Rainforest and seeing some unique plants and possibly wildlife. This "hike" was a 20-minute walk on a boardwalk through the forest (athletic shoes not required, I just left my sandals on). There really just wasn't much to see, at all.
I'm not trying to discourage you from visiting the Daintree Rainforest by any means. I just think it's something that needs to be explored for longer than 20 minutes to really get the experience (otherwise, don't even bother).
The tree above was the only cool thing we had seen in my opinion. It's actually a parasite tree (can't remember the name) that wrapped itself around another tree, killed it, and continued growing on top of it. Really mean bugger of a tree – but it looked cool, nonetheless.
I was really stretching trying to make my photos interesting. This had to be the most disappointing tour ever. I can't stress that enough!
Cape Tribulation Beach
Next stop was lunch at Cape Tribulation Beach. It's quite remote..and I know that photo above is pretty, but it really wasn't worth the hour + drive to get there. Mostly because the waters are infested with crocodiles! Therefore, you shouldn't do more than dip your toes in the water or risk being eaten. (Kind of defeats the purpose, right?)
And the lunch was just kind of, meh. I appreciated the fresh fruit they had out for us and the fact I could buy a beer at this point. But the place was nothing to write home about, and like I said the beach was pretty…but all the beaches are pretty in Australia, and aren't all infested with crocodiles..soooo, yeah. (Insert big shrug and sigh.)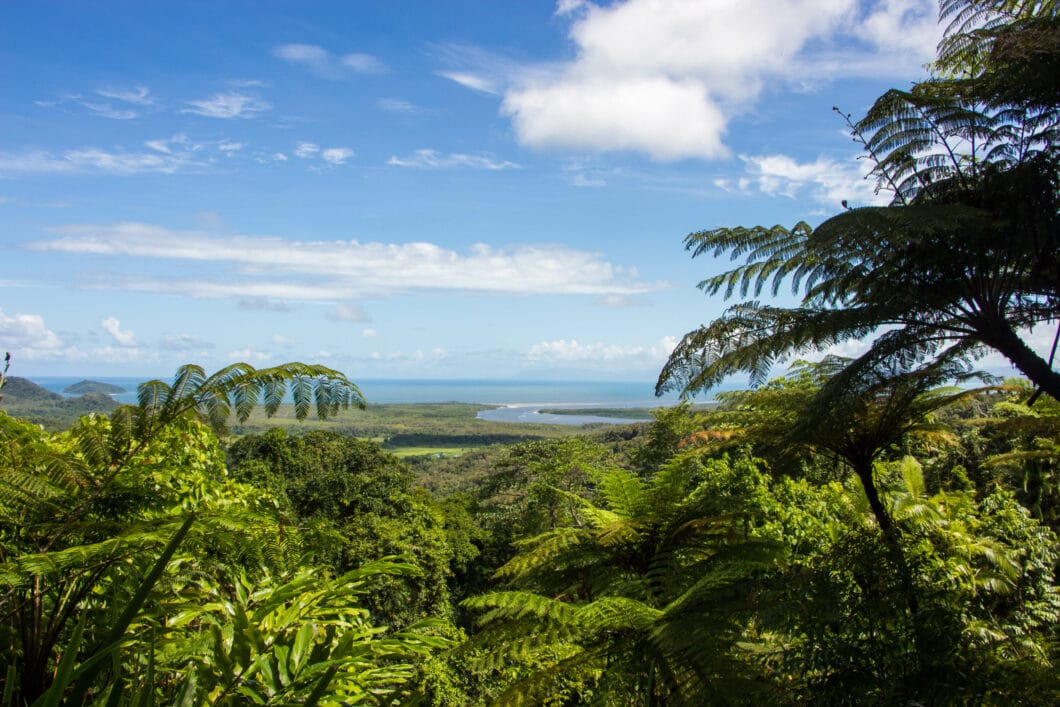 Had a quick stop at a pretty lookout point before heading to our next location. Apparently, the island off to the left is where Steve Irwin was killed. So, that's uber depressing.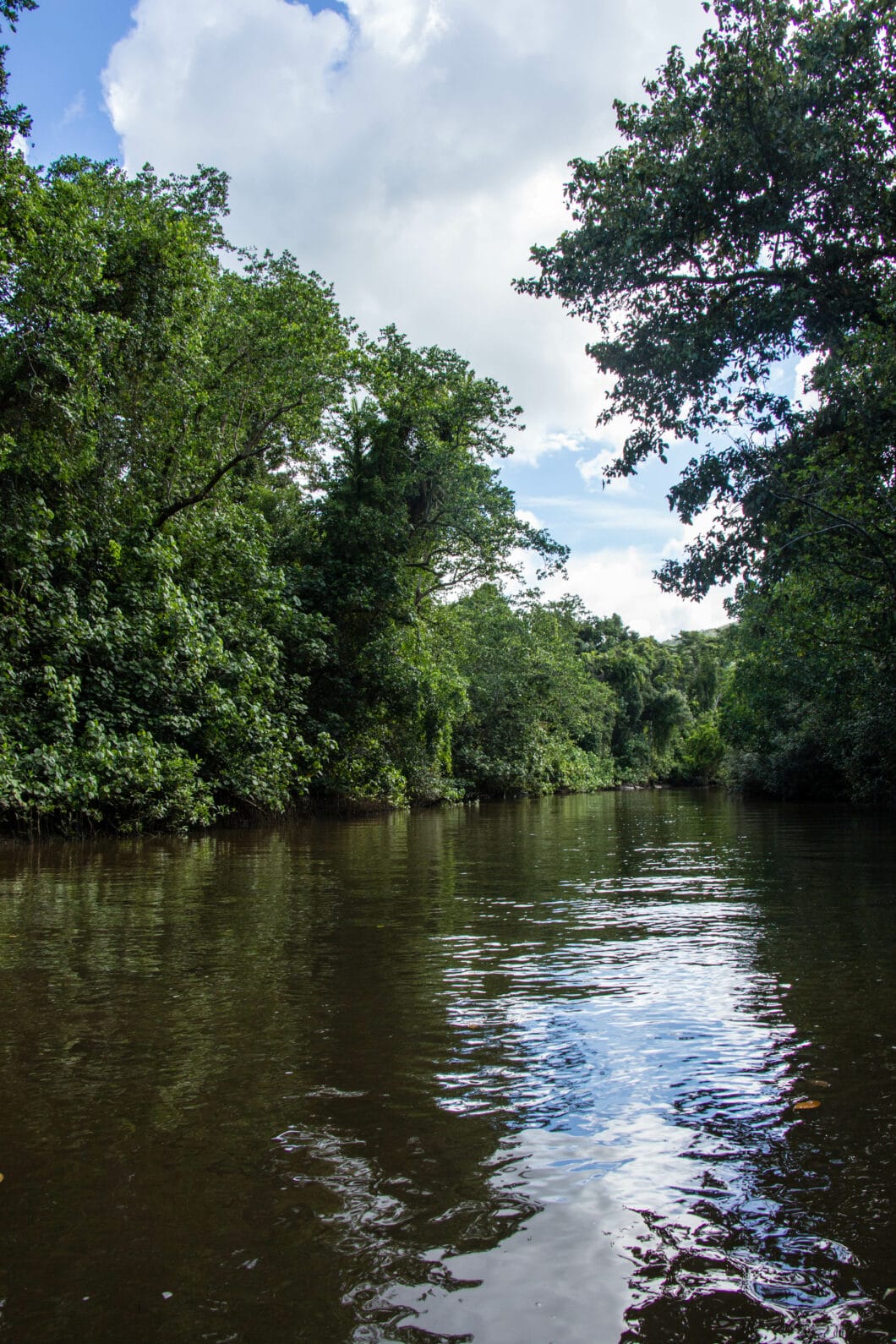 Daintree River Wildlife Cruise
I do feel bad about being negative about this one, but gosh, this was another waste of time. Again, our guide for this portion was really nice, which is why I feel bad…but we didn't really see all that much. This, however, was to be expected. Summer is not the time to see crocodiles, as the water is warm and therefore, they like to stay in the water and not come onto shore to sunbathe.
Also, it's illegal to bait crocodiles here (unlike by Darwin), so you would just have to happen on one in the wild. Needless to say, we didn't see any crocs.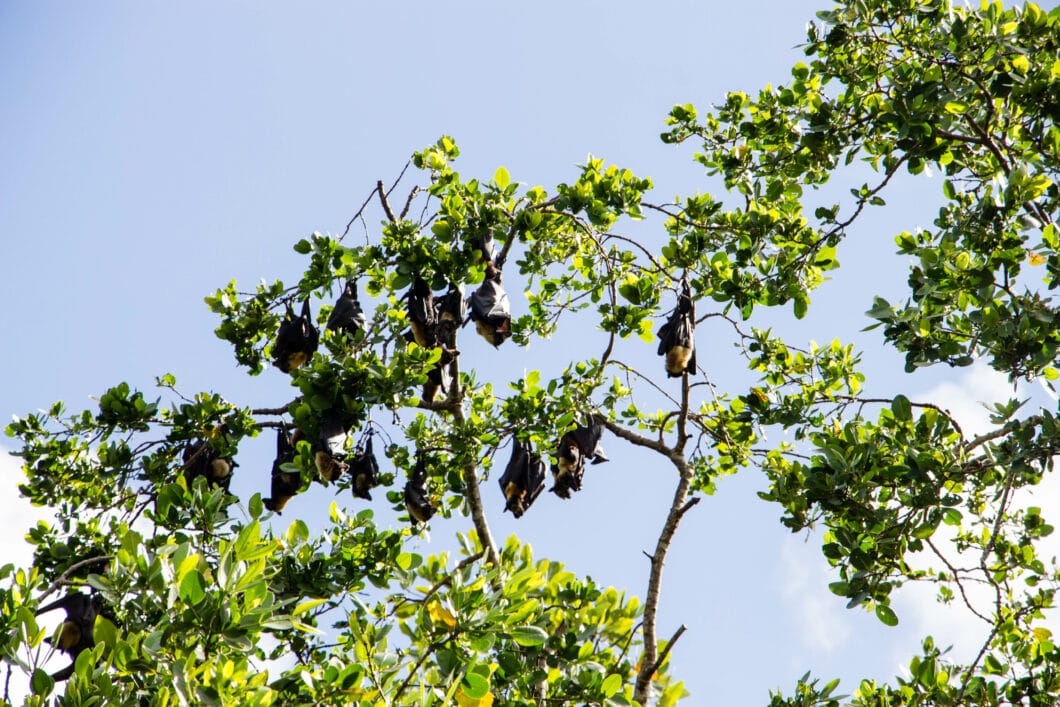 We did some huge bats, though! But before you get too excited, you can see huge bats just about anywhere. (Cairns is crawling with them…and I'm currently looking out my window in the middle of Sydney watching some huge bats swoop by my window.) So, not really necessary to take a river cruise to see them.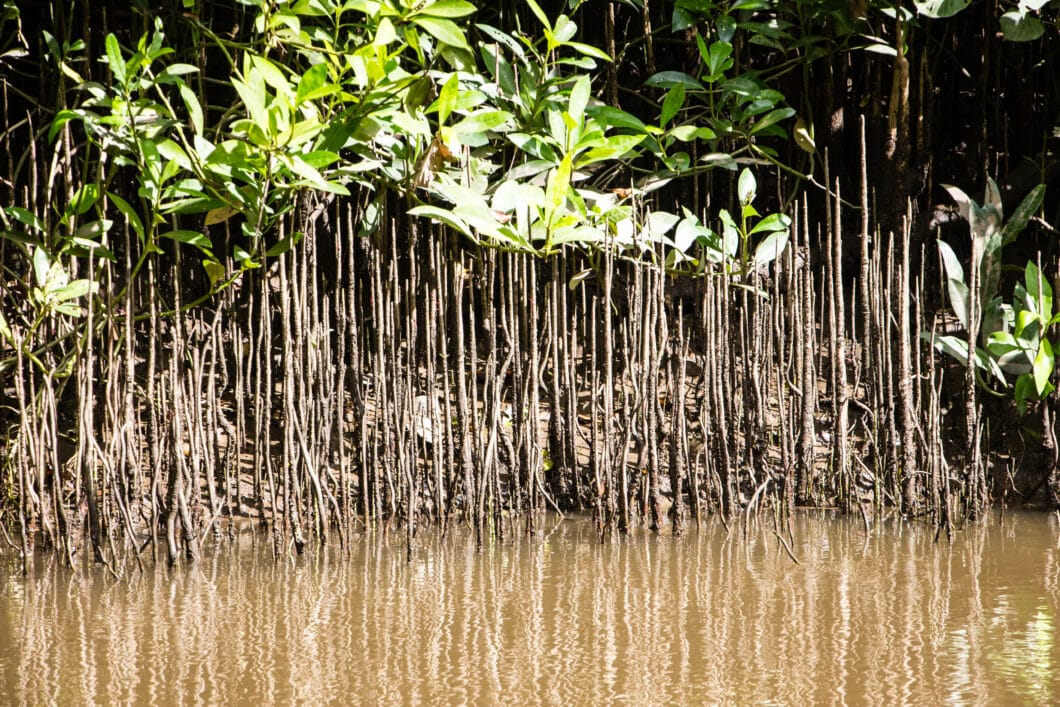 Oh, and we saw some roots growing straight up out of the water. That was actually quite interesting. But tree roots being the highlight of the tours isn't really a good thing…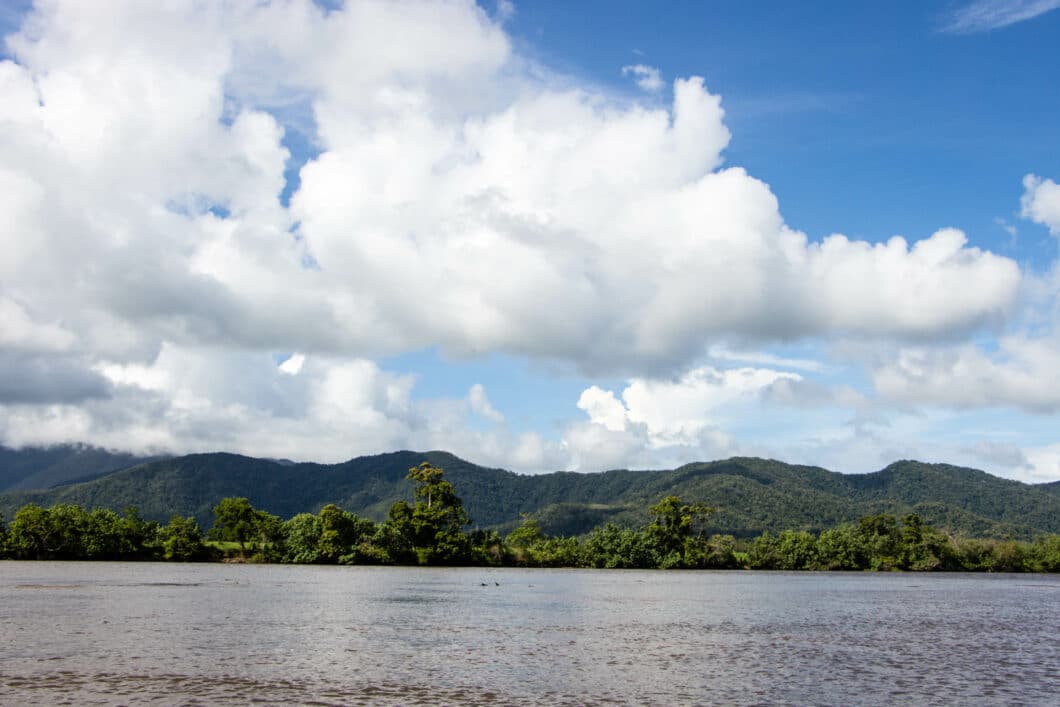 I'm sure if you take this cruise in winter it's a ton of fun, though. But my gosh, it is just not worth your time in the summer!!
Rex Lookout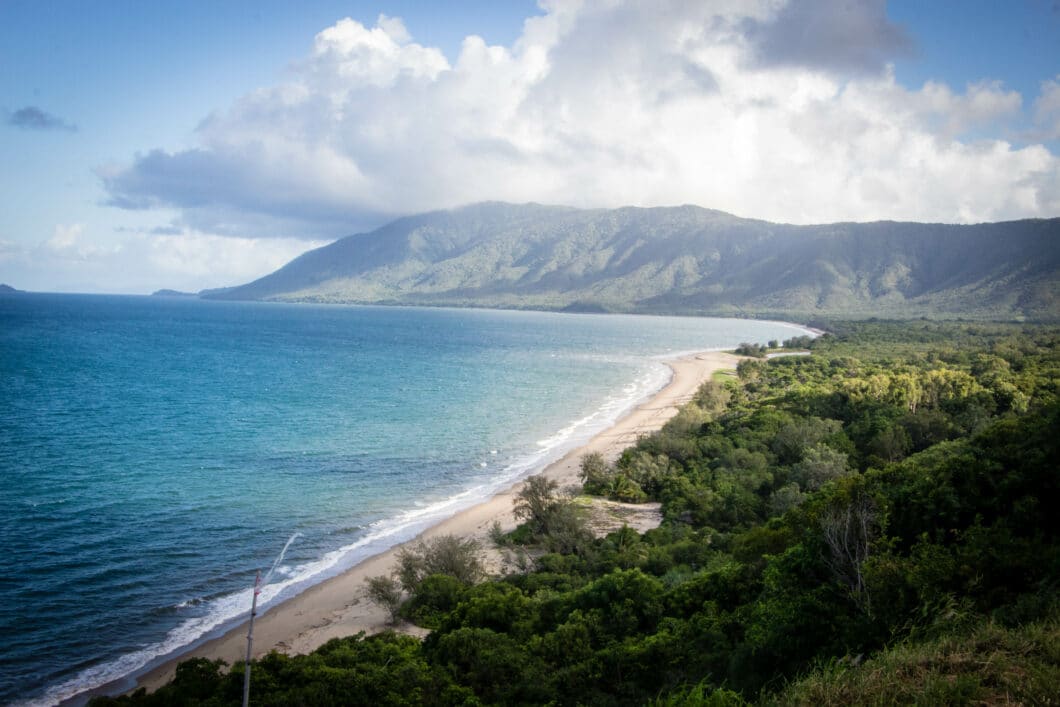 The last stop of the day was a brief break at Rex Lookout to take that photo you see above. Not much else to say on that subject. Pretty view, but at this point, I just wanted to get back to Cairns to get some water…because, no one mentioned the last time I would see water was at lunch.
I just had (stupidly) assumed I could refill a water bottle at the croc cruise place. NOPE. That was a long time to go with only one bottle of water between two people in this heat (90 degrees and super humid). Granted, I should've just been prepared, and had more water on me…but, I was still surprised that so many tourist spots had no water bottles for sale or spots to fill one up.
But, oh well, I survived! And if I didn't convince you that this tour was a waste of money and time, I really encourage you to read One Chel of an Adventure's post! Her day was a bit worse than mine, but overall, our experiences were very similar. (Click here to read it.)
What to Do Instead…
And at this point, you may be wondering…"Well, what would you have done instead?" In retrospect, I would've booked this tour to Fitzroy Island to do some more snorkeling and hike at leisure through the rainforest and lounge on a beach not infested with crocodiles.
**Reminder, this three day tour through Travastar is what I had booked. The third day made this entire package not worth purchasing. DON'T do it.
Where we stayed in Cairns
We had stayed at the Rydges Esplanade Resort. The pool and restaurant here are FANTASTIC! It's also in a great location and close to the waterfront and within walking distance of the city centre. Our room was a bit dated, but it was clean and comfortable. I would recommend staying at this hotel.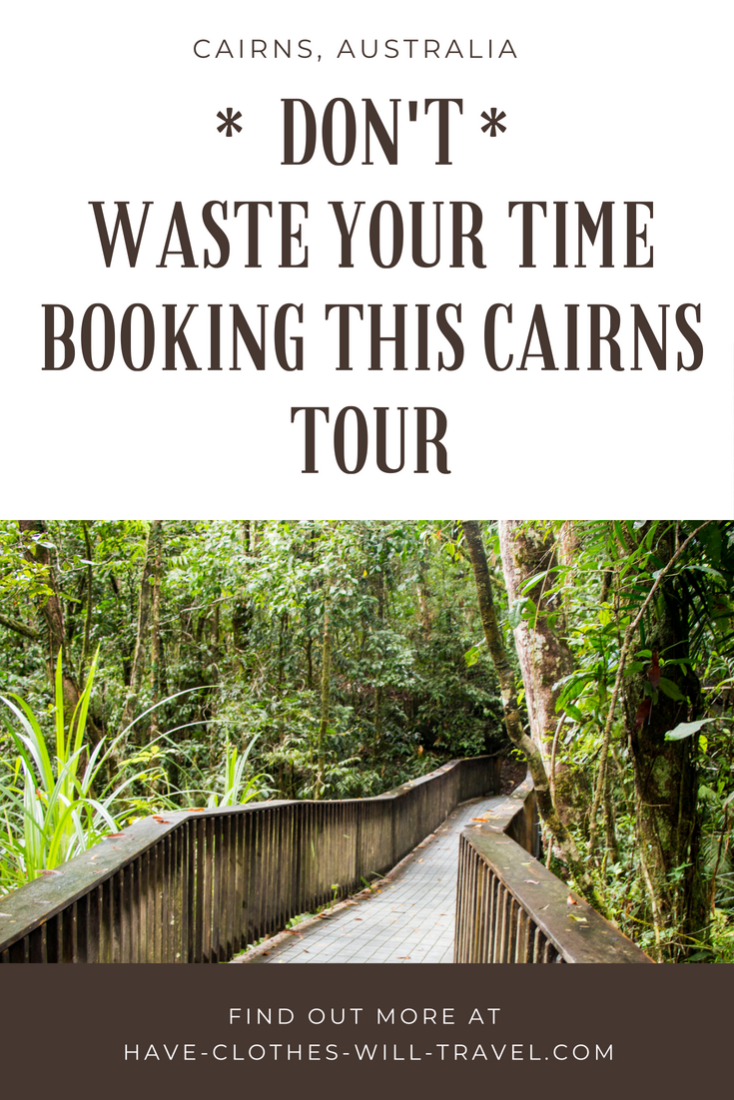 *Disclosure: some of these links are affiliate links. Meaning, if you click a link and make a purchase, Have Clothes, Will Travel gets a very small commission at no extra cost to you. Thank you for supporting the brands that make this blog possible! I am also a participant in the Amazon Services LLC Associates Program, an affiliate advertising program designed to provide a means for us to earn fees by linking to Amazon.com and affiliated sites.