Kuranda Day Trip From Cairns Using Scenic Railway & Skyrail
Day 2 of our trip to Cairns, Australia was amazing! Now, you might have never heard of the town of Kuranda until now. I certainly hadn't until I booked our Cairns, Australia trip…but honestly, this day trip to Kuranda was just as much fun for me as snorkeling the Great Barrier Reef! And I was able to bring coffee with me, so it really started well. Haha.
This post will explain how to get from Cairns to Kuranda (and back), what to do when you're in Kuranda, Australia, tours to avoid booking when planning your trip to Cairns, and accommodation suggestions at the end.
Getting to Kuranda from Cairns (and back)
Transportation options include:
Renting a car and driving (click here for current rates)
Taking an Uber directly to Cairns and then back (roughly $50 each way)
Taking the Skyrail roundtrip (click here for current rates, station transfers not included)
Taking the Scenic Railway one way and then the Skyrail one way (click here for current rates with station transfers included)
It's a roughly 30-minute drive from Cairns to Kuranda.
What we did was take the Scenic Railway to Kuranda in the morning, and then took the Skyrail back that evening. I highly recommend doing this!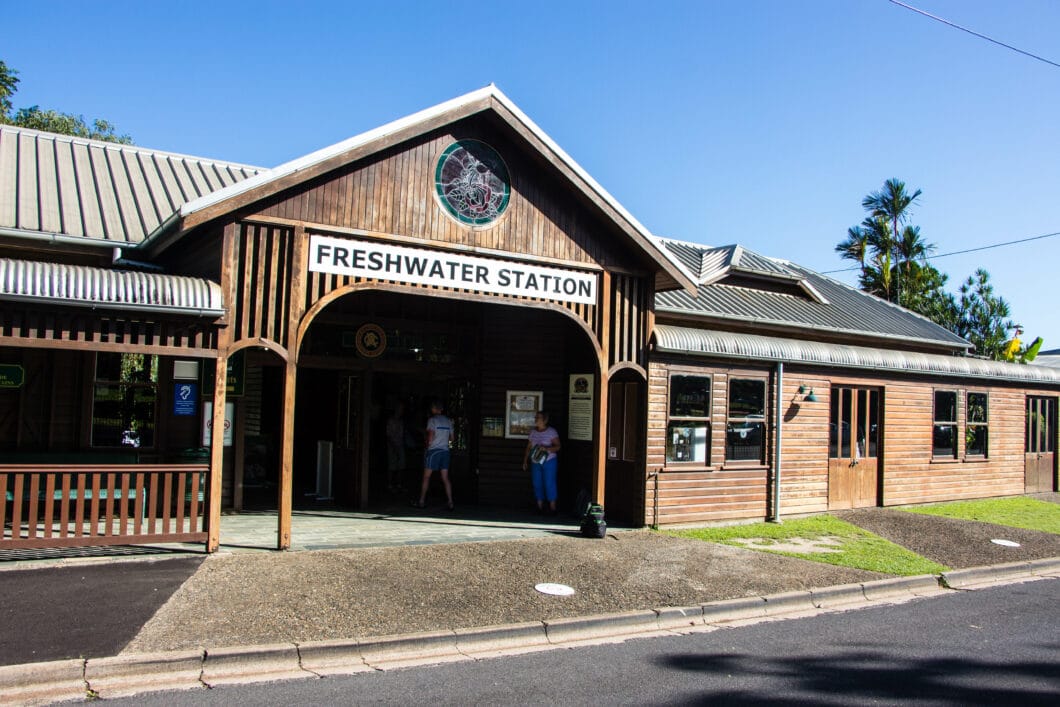 Getting to Kuranda from Cairns Using the Scenic Railway
We started our day with riding the Scenic Railway from Cairns to Kuranda from the Freshwater Station. The Scenic Railway has an old-time train that makes its way up the Macalister Range with breathtaking views of the rainforest and mountains. It's a novel experience!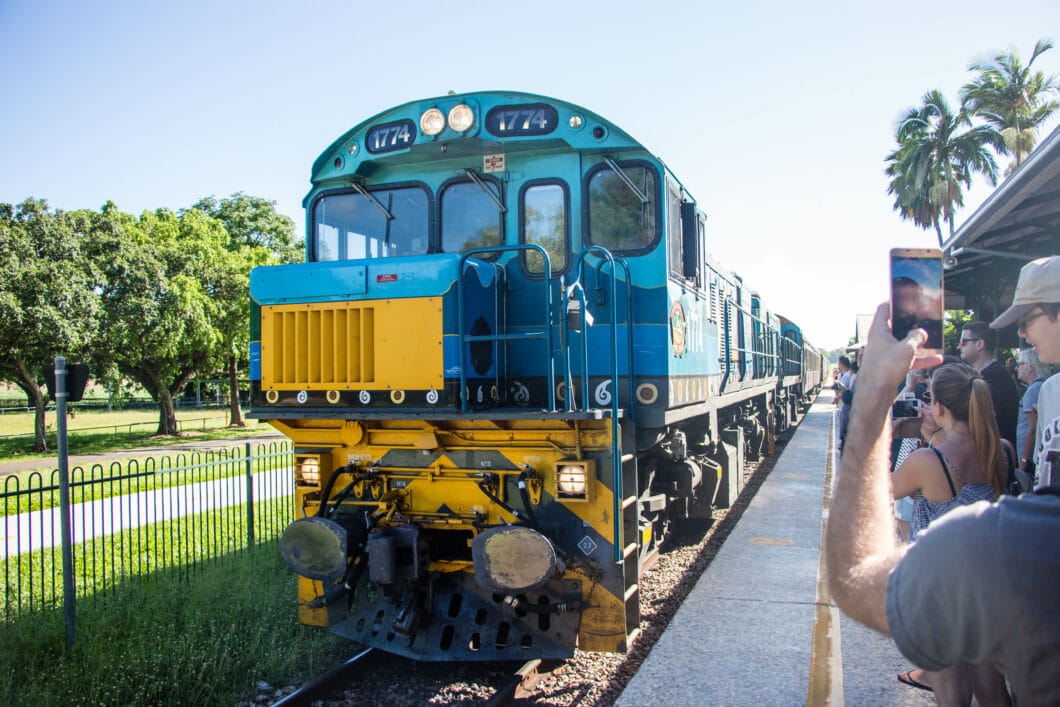 We spent nearly an hour at the train station before we boarded our train. (Our package included transfers from our hotel .) So, that gave us plenty of time to also look at the little museum and gift shop at the station and get another coffee! (Yay!)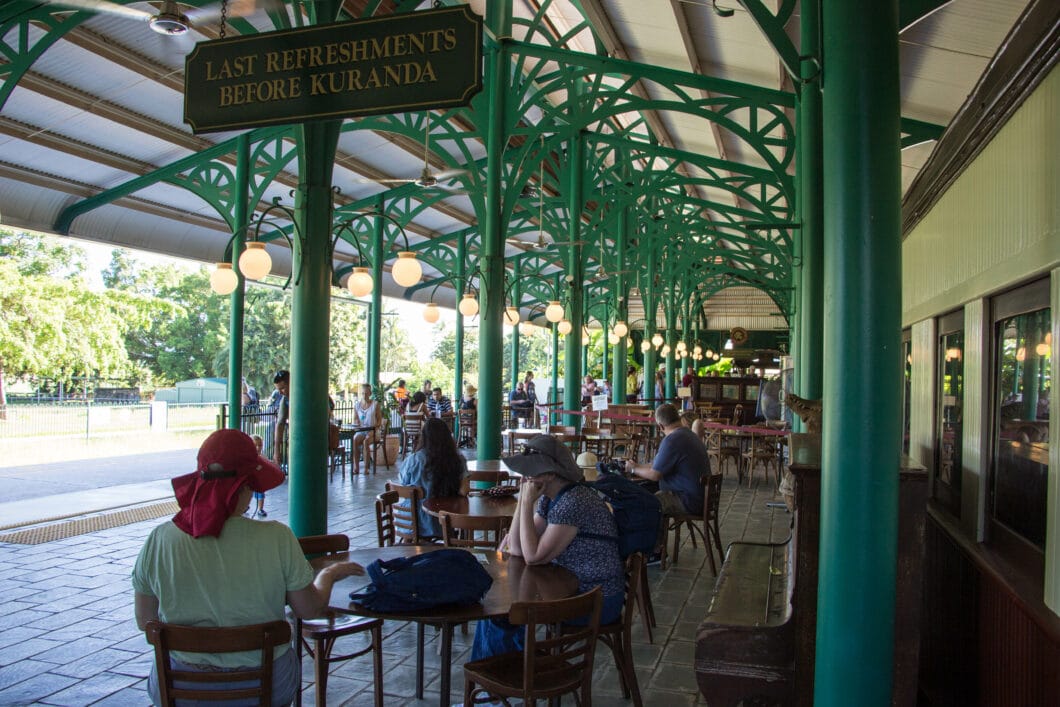 The journey itself takes about 1 hour and 45 minutes but is absolutely stunning. The windows are open, so you can even smell the rainforest as you make your way through the mountains.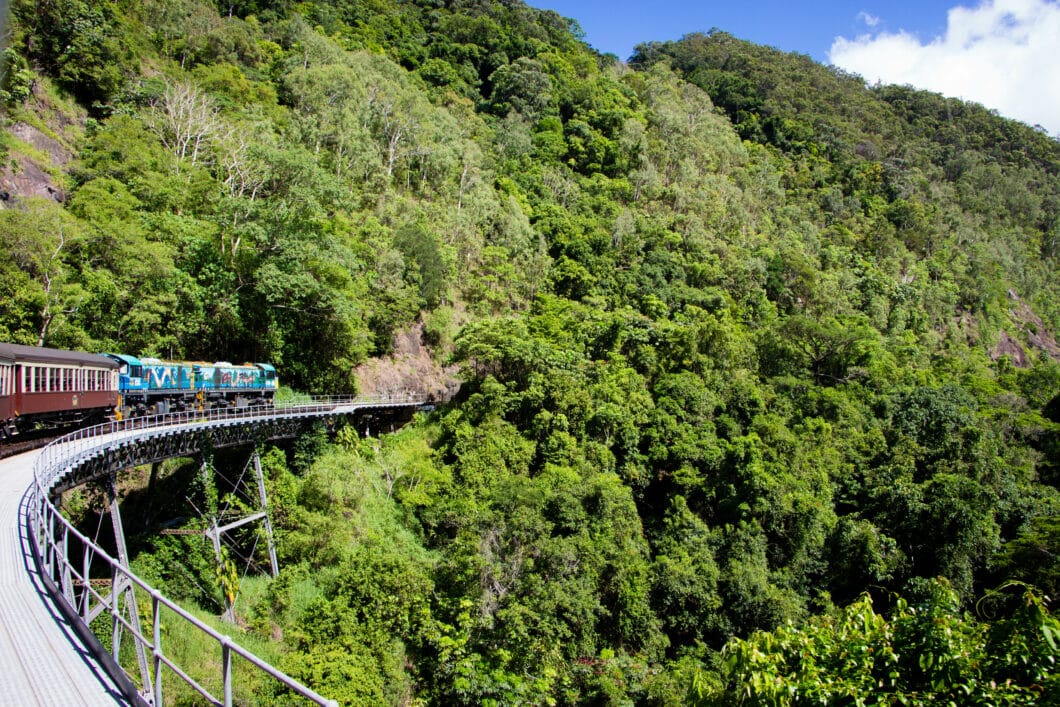 The hour and 45 minutes flew by as we admired the views of the mountains, rainforest and even Barron Falls. And if you happened to not get the greatest picture of Barron Falls as the train goes by – don't worry! There's also a 10 minute stop at a lookout, so you can get the perfect photo.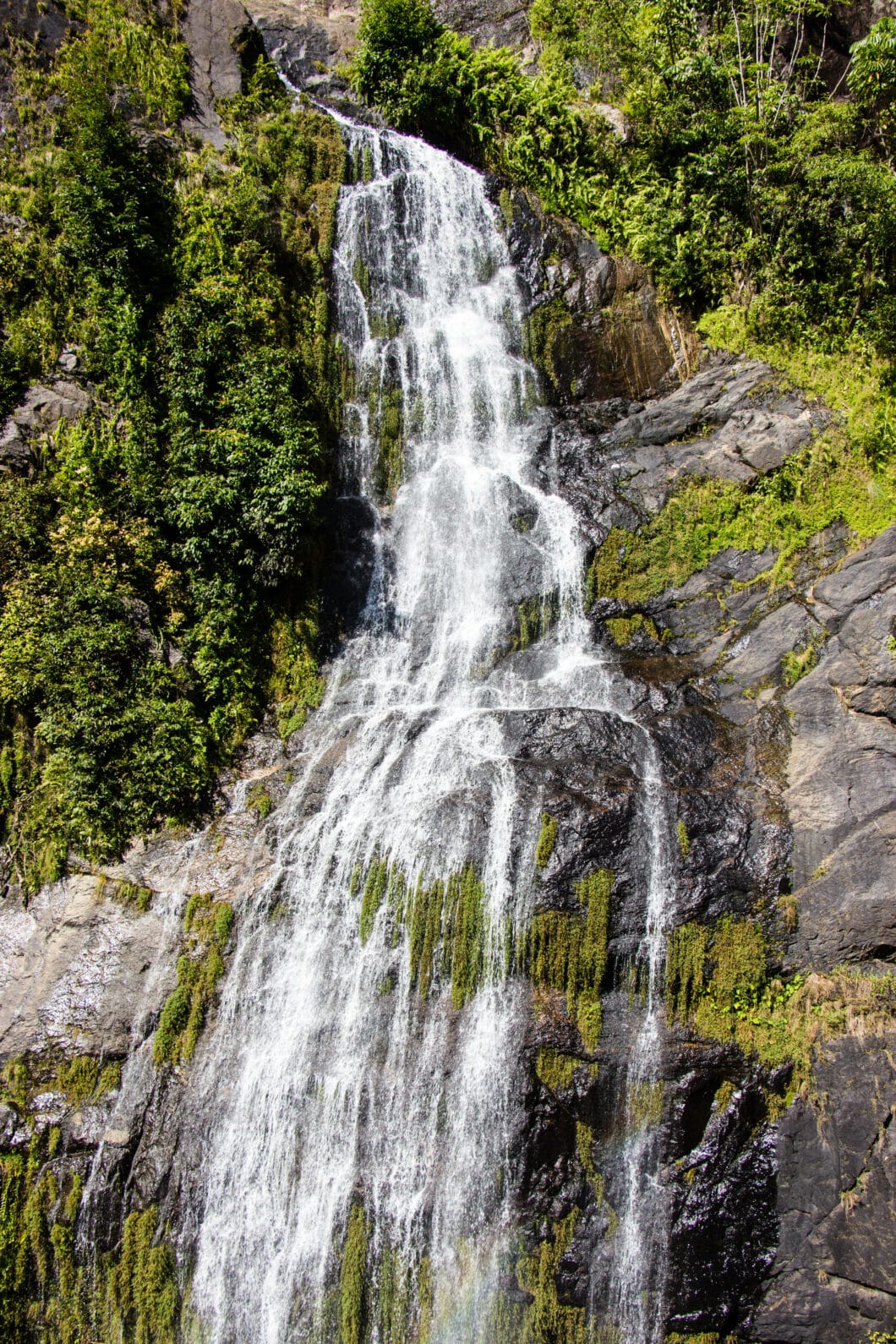 Trains don't really make me all that excited – but my goodness, I really enjoyed this journey!
Here are a few more photos I snapped from the train as we made our way to Kuranda from Cairns.
Things to do in Kuranda
The town of Kuranda is a quaint little place nestled in the mountains. It consists of a lot of gift shops, open markets, cute little restaurants and attractions that include:
Birdworld
The Butterfly Sanctuary
Koala Gardens (I would argue that this is the highlight of Kuranda! Keep scrolling to find out why!!)
We had about 4 hours to do what we pleased here before we had to get to Skyrail for our departure time.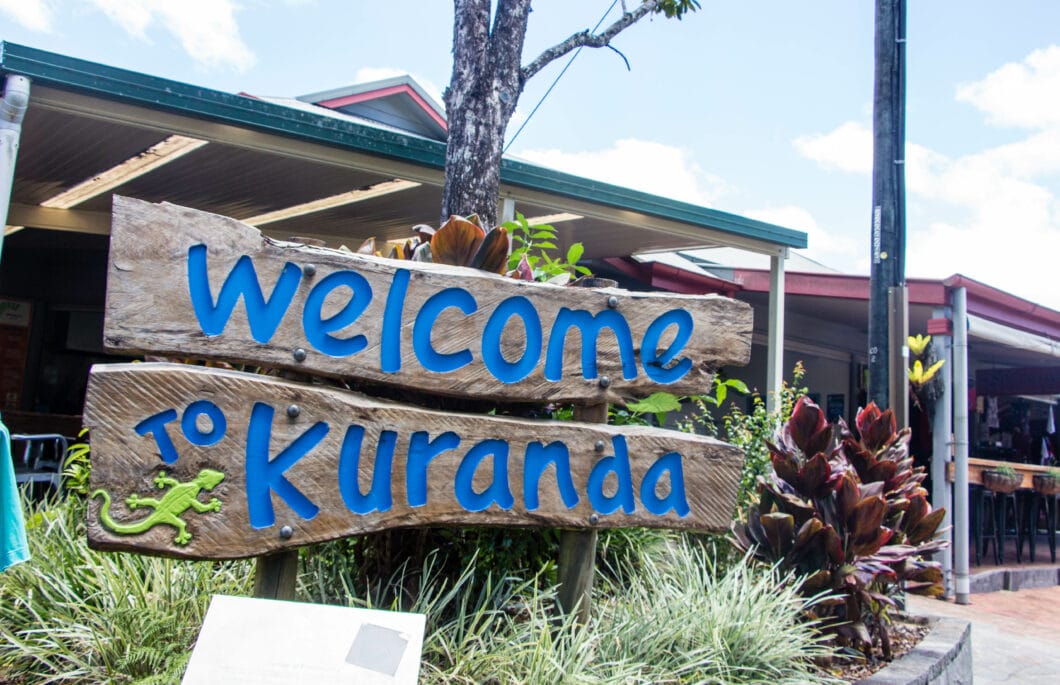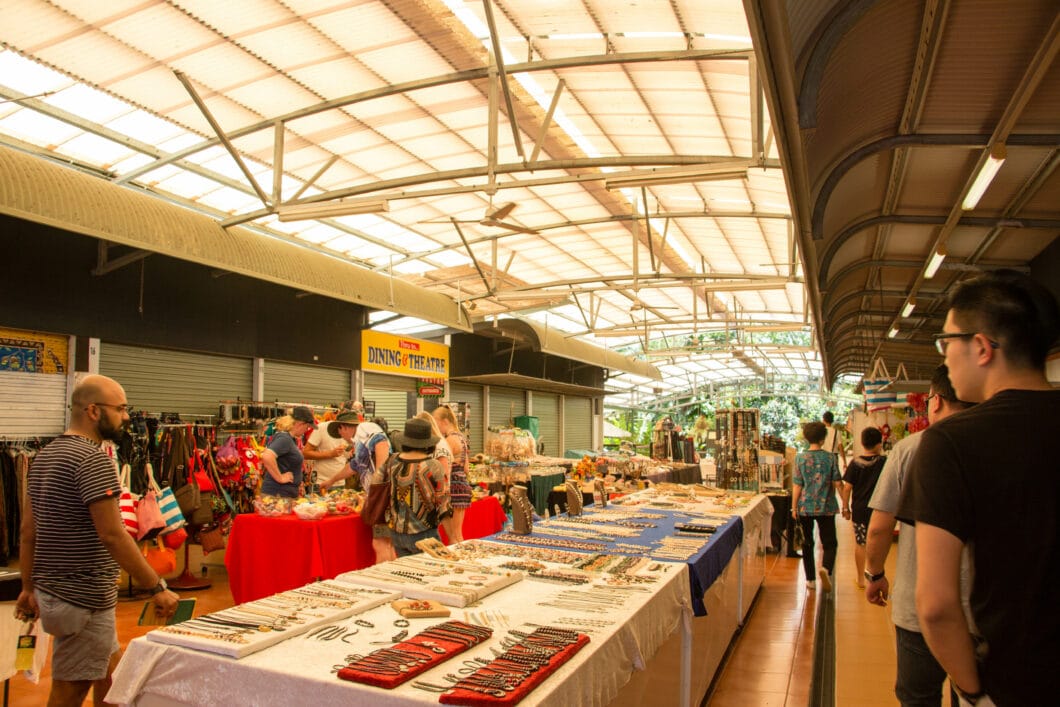 Koala Gardens
Did you think I honestly wouldn't take the chance to get close to koalas again? Haha. The second I got off the train in Kuranda I literally RAN to the Kuranda Koala Gardens! The reason I was so excited about visiting this particular koala sanctuary was because here it is possible to hold one of the little cuddly dudes! And that has been a life goal of mine for quite some time.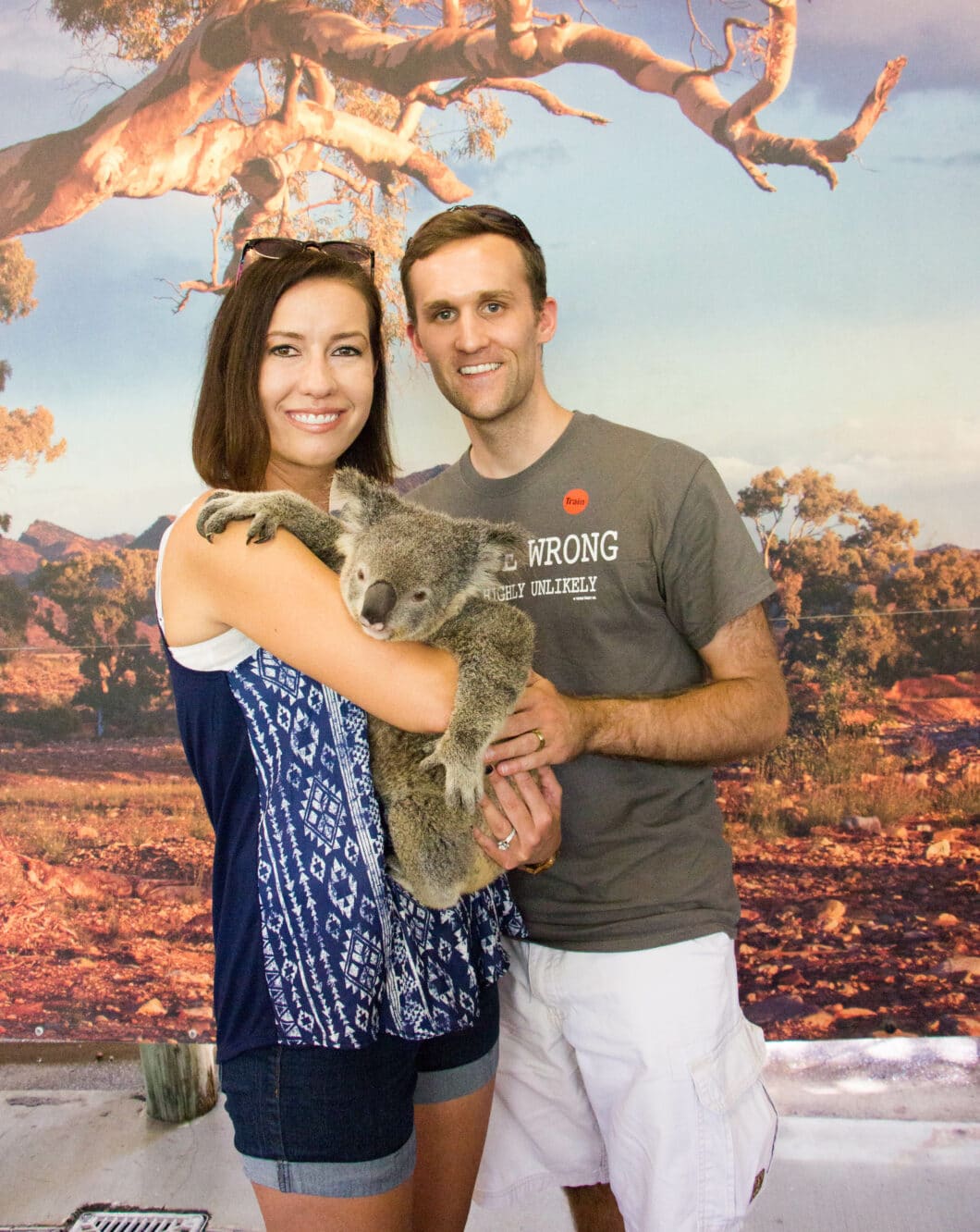 He was so soft! And very calm. Holding him felt similar to holding a baby…a baby with fur and claws (and don't worry, he wasn't scratching me). And he didn't smell bad at all. (I was asked a lot if he was smelly – so I figured I'd clear that up. Haha.)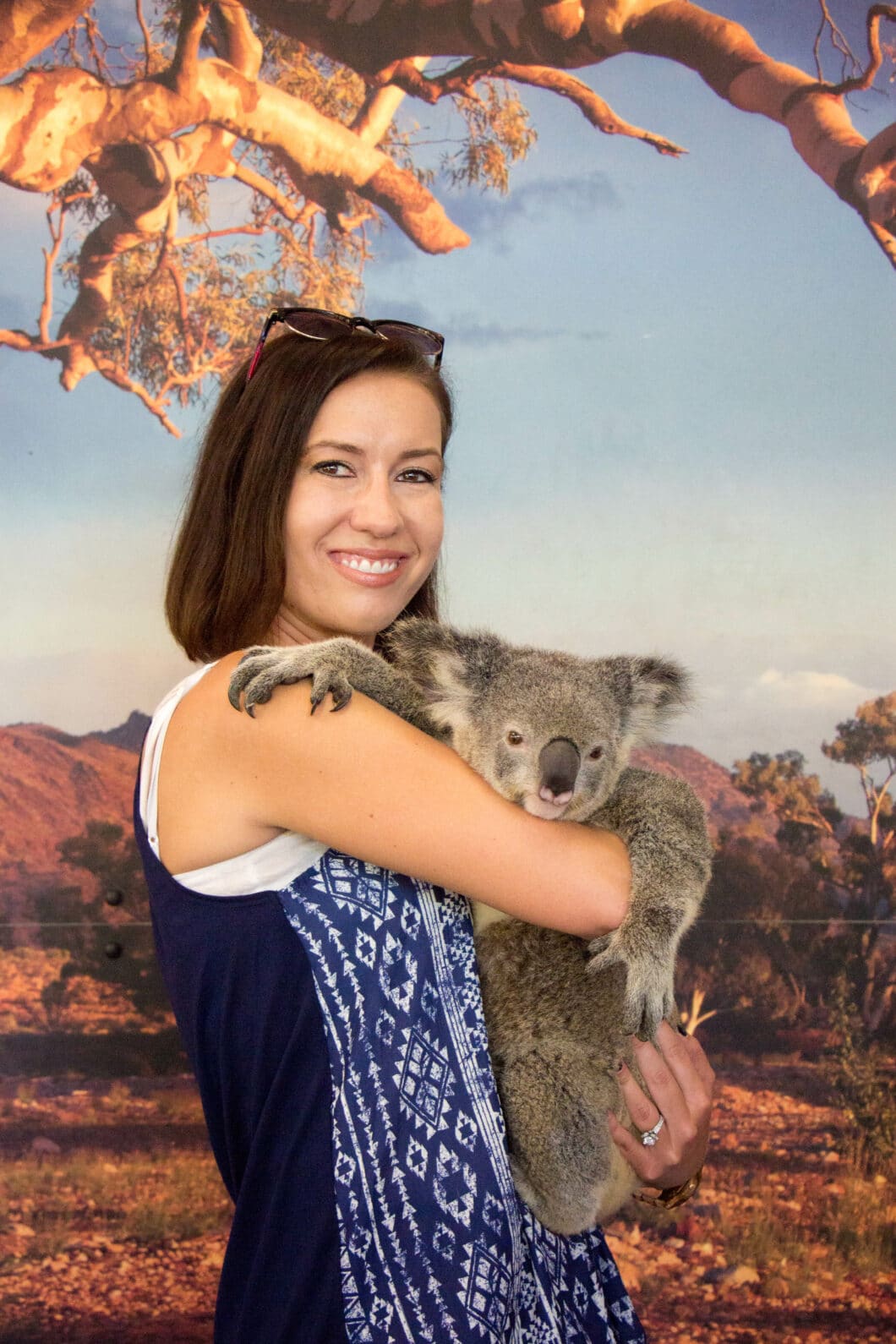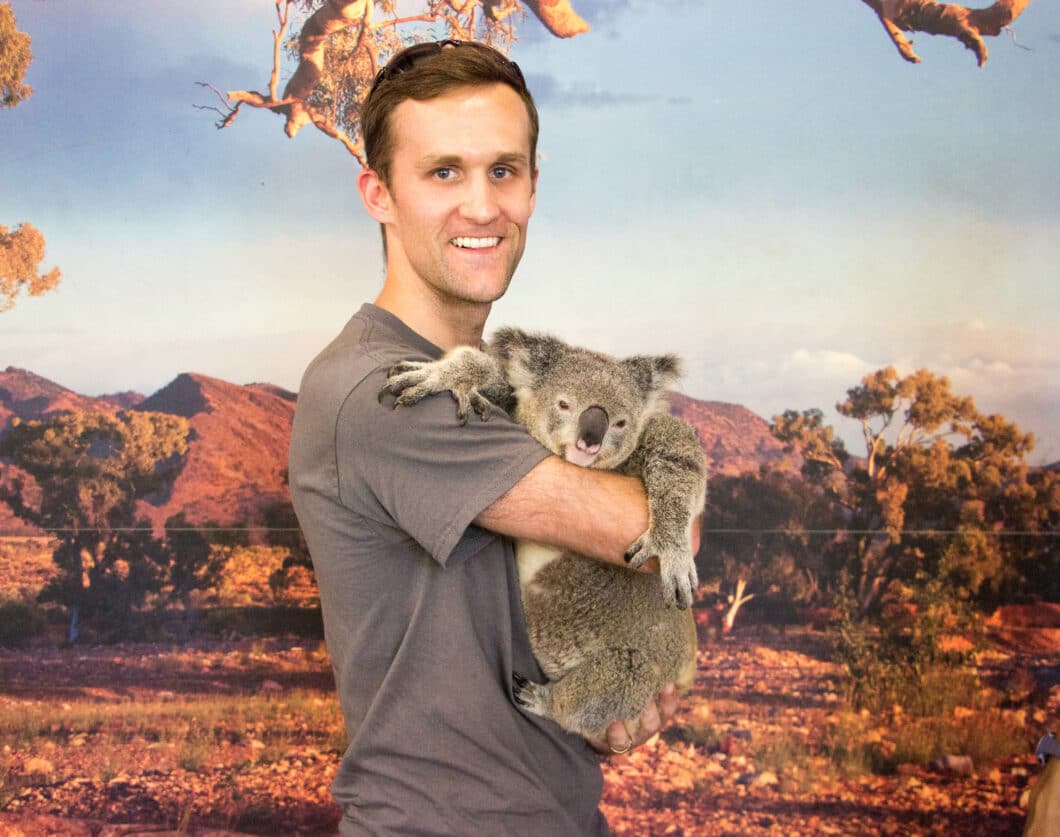 The koala gardens also had a small area with kangaroos and wallabies you could hand feed. However, compared to Featherdale and the Rainforest Wildlife park we visited in my last post…these guys weren't too keen to come up to humans. There was one kangaroo with a baby, though. I had never seen a joey in a pouch before! So, that was really cool!
Just a few more snaps from the Koala Gardens.
Getting Back to Cairns Using the Skyrail Rainforest Cableway
After the koalas, we spent some time wandering through the shops and getting lunch and coffee before heading to the Skyrail Rainforest Cableway. These cable cars span 7.5 kilometers and will take you to Skyrail Smithfield (about a 15-minute drive from Cairns) and dangle you above the rainforest canopy for some spectacular panoramic views.
I know I had mentioned what utter crap a similar setup like this was in The Blue Mountains. However, the Skyrail experience here was AMAZING! Wow!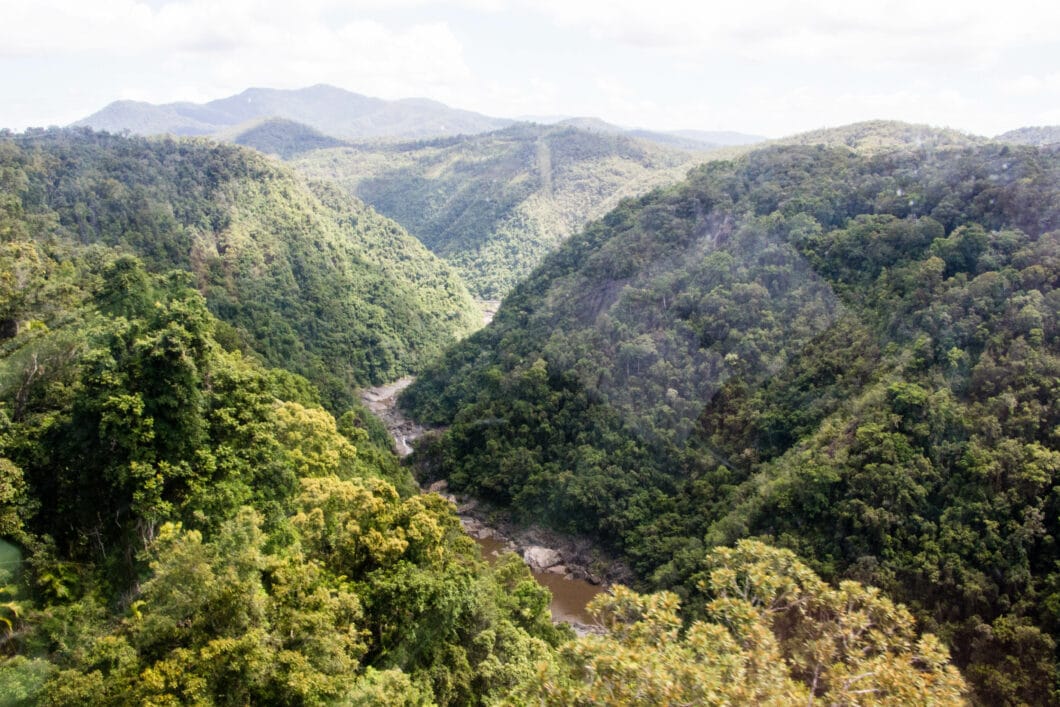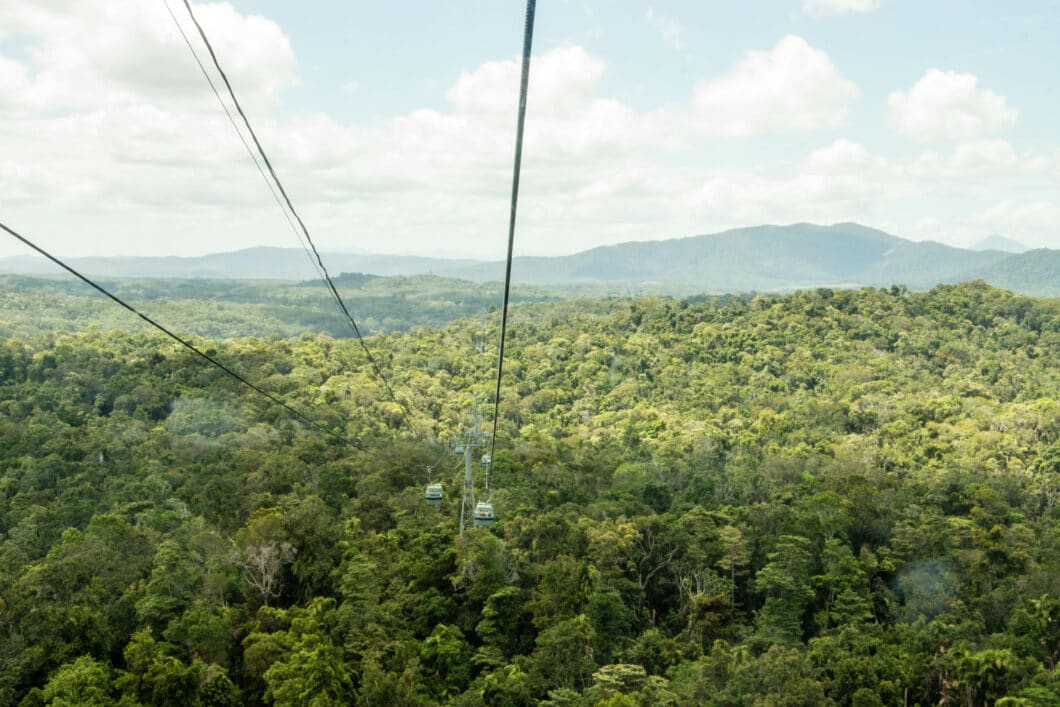 Also, if you're not on a terribly strict travel budget, I do recommend upgrading to the "Diamond" class for $14 AUD. You get a glass floor bottom and more often than not, you'll be the only one who bothered to pay the $14…so, you'll get to breeze through lines and likely get a car to yourself (especially important if you're traveling during the high tourist season in the winter months).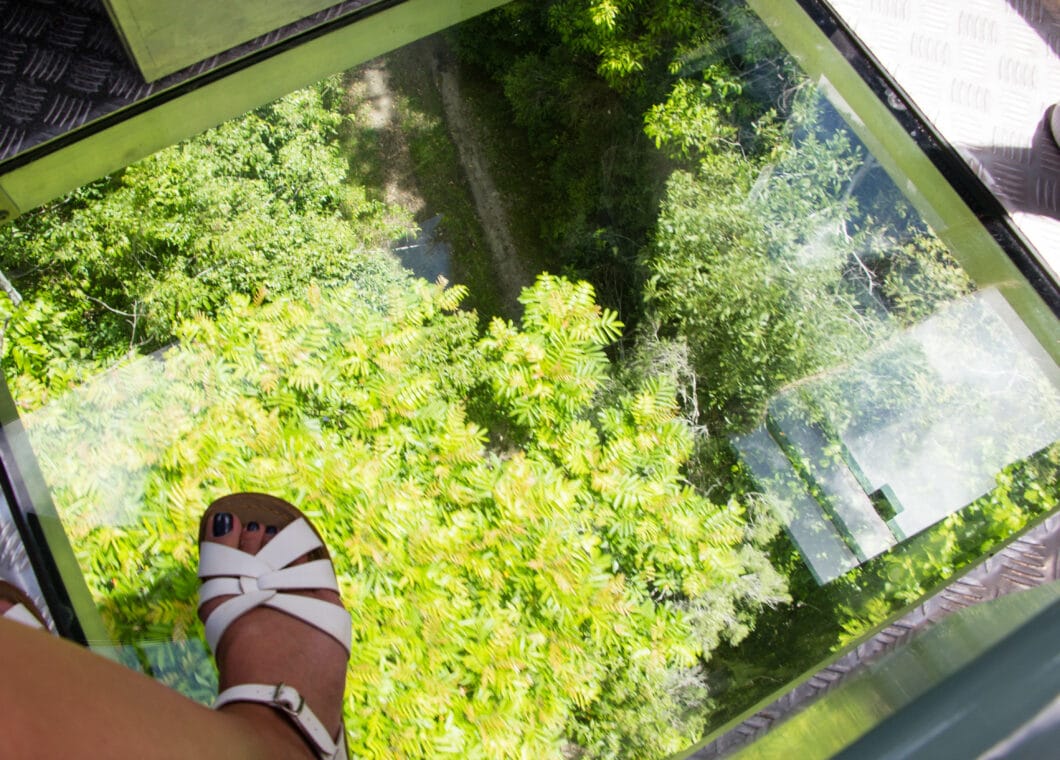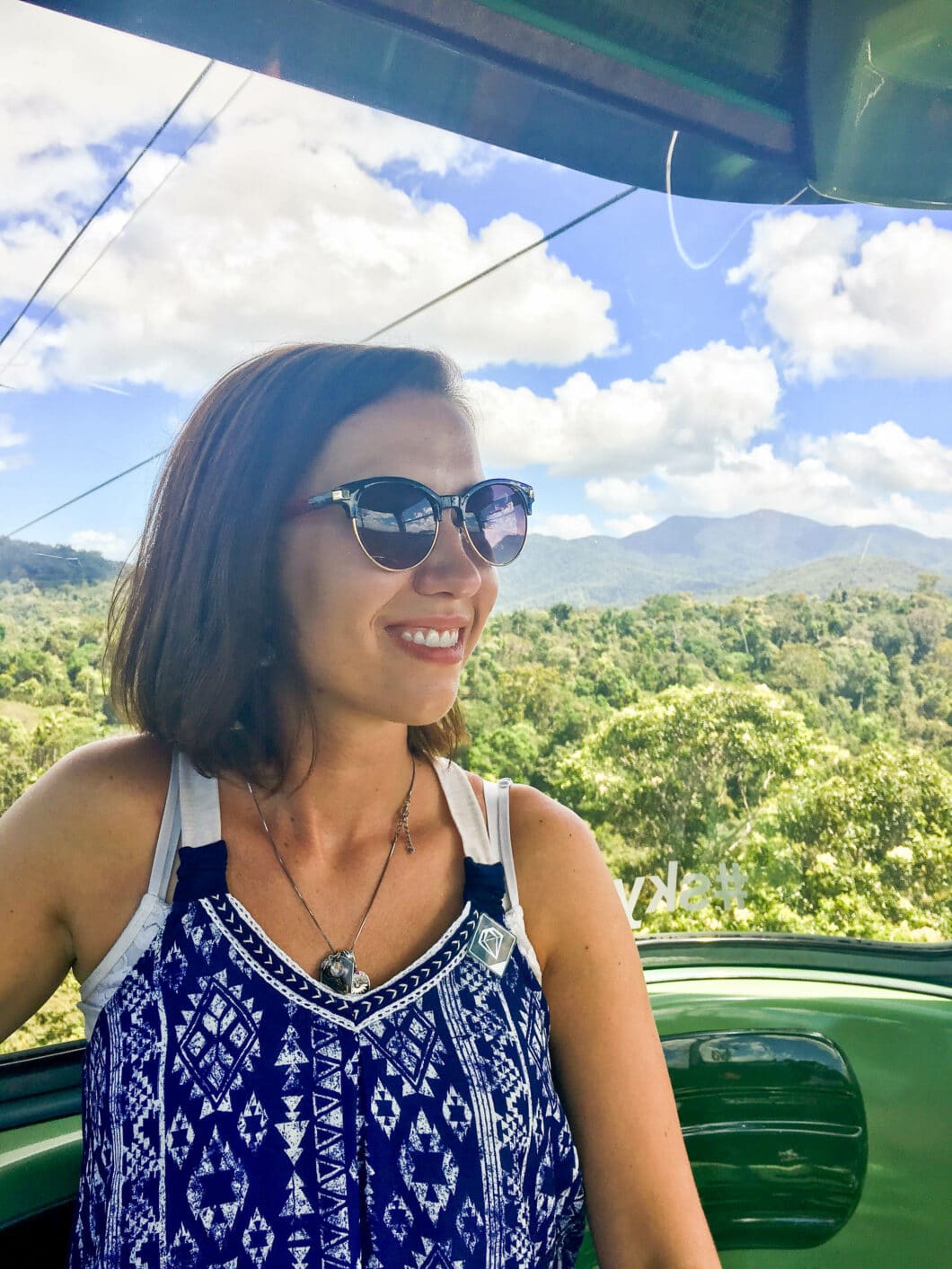 There were also a couple of stops along the way, and you had the option to get out and walk around the rainforest to take photos. I thought this whole experience was really cool!
And look at all these awesome views!
After we got off the Skyrail, a bus transported us from Smithfield back into Cairns to our hotel. I know I've said it a million times in this post – but this was such a cool day!
Now, if you read my previous Cairns post, you'll know that I WON'T recommend you book the 3-day tour through Travstar I did. But you can still get the Kuranda experience without that tour.
I would recommend booking this ticket, which includes hotel transfers and your Scenic Railway ticket + Skyrail ticket.
Where we stayed in Cairns
We had stayed at the Rydges Esplanade Resort. The pool and restaurant here are FANTASTIC! It's also in a great location and close to the waterfront and within walking distance of the city centre. Our room was a bit dated, but it was clean and comfortable. I would recommend staying at this hotel.
If anyone has any questions about this day trip to Kuranda from Cairns, please let me know in the comments at the end of this post!
*If you liked this post, it is now available as a self-guided walking tour via GPSmyCITY. Click here to download it.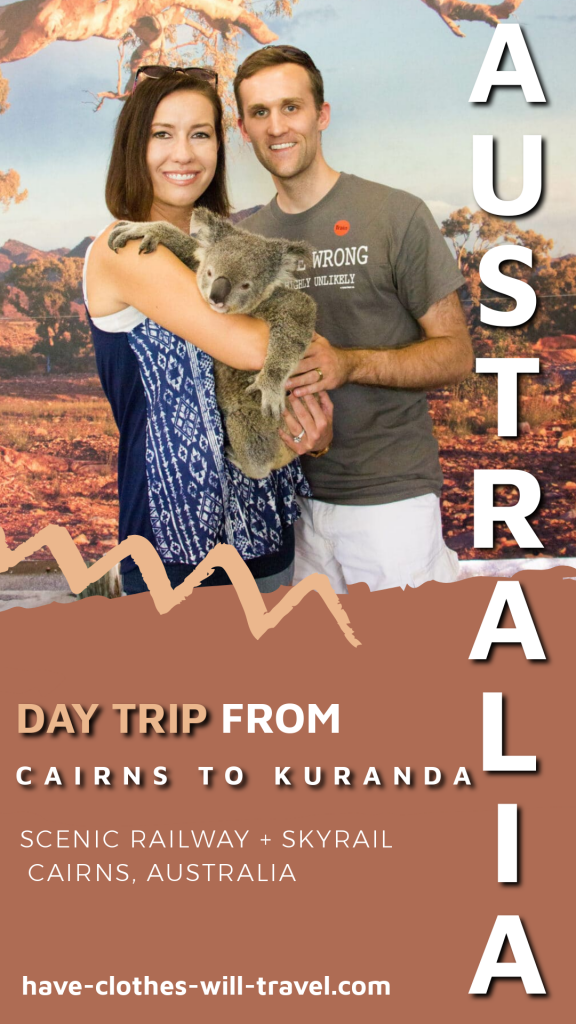 *Disclosure: some of these links are affiliate links. Meaning, if you click a link and make a purchase, Have Clothes, Will Travel gets a very small commission at no extra cost to you. Thank you for supporting the brands that make this blog possible! I am also a participant in the Amazon Services LLC Associates Program, an affiliate advertising program designed to provide a means for us to earn fees by linking to Amazon.com and affiliated sites.