Kangaroos & Views! Visiting Featherdale Wildlife Park & The Blue Mountains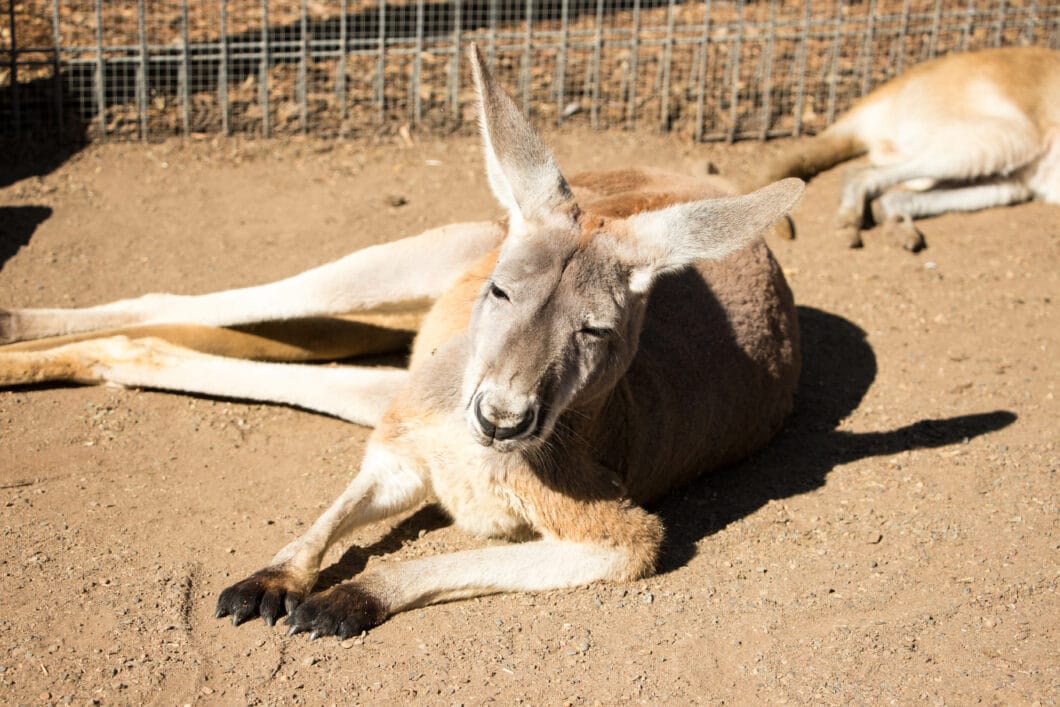 When I think of Australia, kangaroos, wallabies and gorgeous, natural scenery are what comes to mind. And don't get me wrong, I love Sydney, but I've been dying to get close to a kangaroo and see some new views of the outdoors since I arrived here.
So, thanks to our recent holiday weekend, my husband and I finally took some time to get out of the city center and get some fresh air! We took a bus tour from Sydney's Central Business District that went to Featherdale Wildlife Park, into the Blue Mountains for some lovely views, lunch and to do a little shopping. We also went to Katoomba Scenic World and then took a ferry back to Sydney.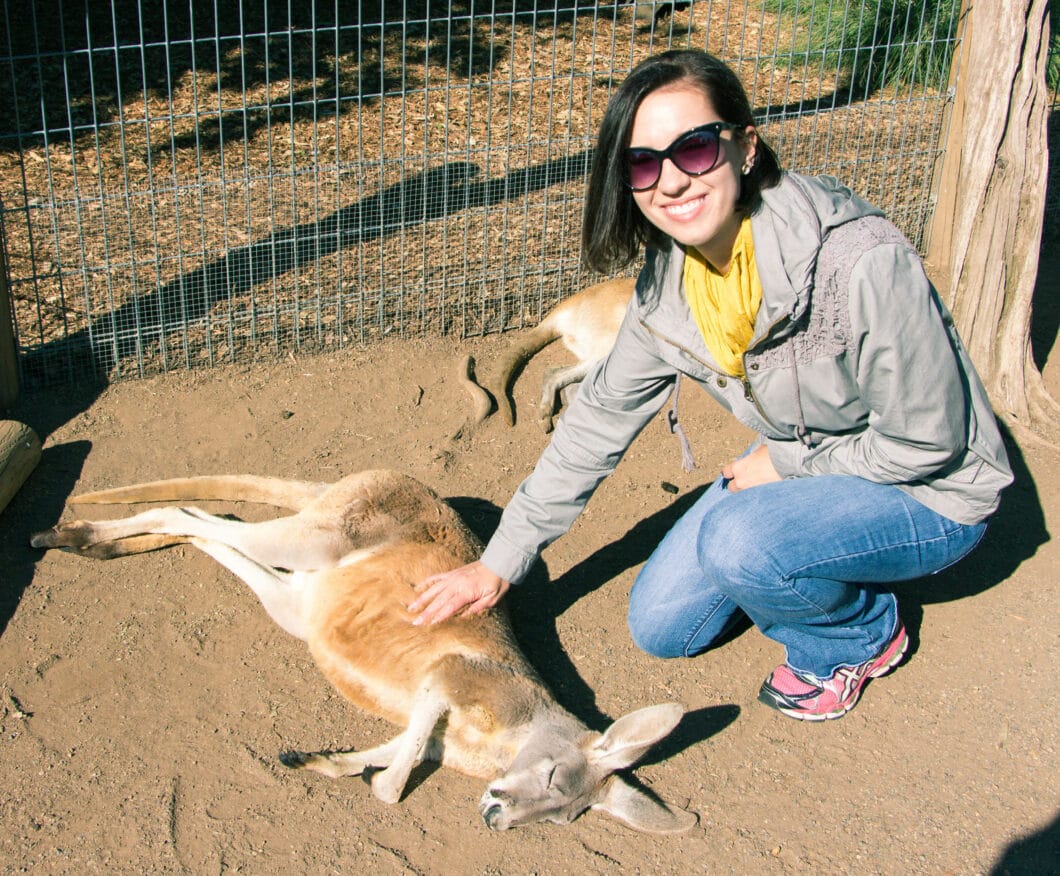 Featherdale Wildlife Park
Our favorite part was hands down, Featherdale Wildlife Park. We were able to get up close and personal with koalas, kangaroos and wallabies! And it was a place where you could tell the animals were well-cared for. Everyone was relaxed (no pacing around nervously in their homes) and the employees were all very friendly and eager to answer any questions about the animals.
You can also carefully touch a koala and get a photo here! (It is illegal to actually hold a koala in New South Wales – just an FYI. So, you'll just be petting him gently on his little bum instead.) The way they had us pose for the photo above cracks me up. I feel like it's a newborn photo shoot or something…"Look at how in love we are with our new baby koala!" Haha.
The park employees were kind enough to take a photo with my camera and not force us to buy a photo from them. But my husband wanted the framed version they sell for his desk at work..so, we also got the digital photo above too with the purchase. Which I thought it was cuter anyways…they even put the little koala's name on the photo for you. We were able to pose with little "Victor."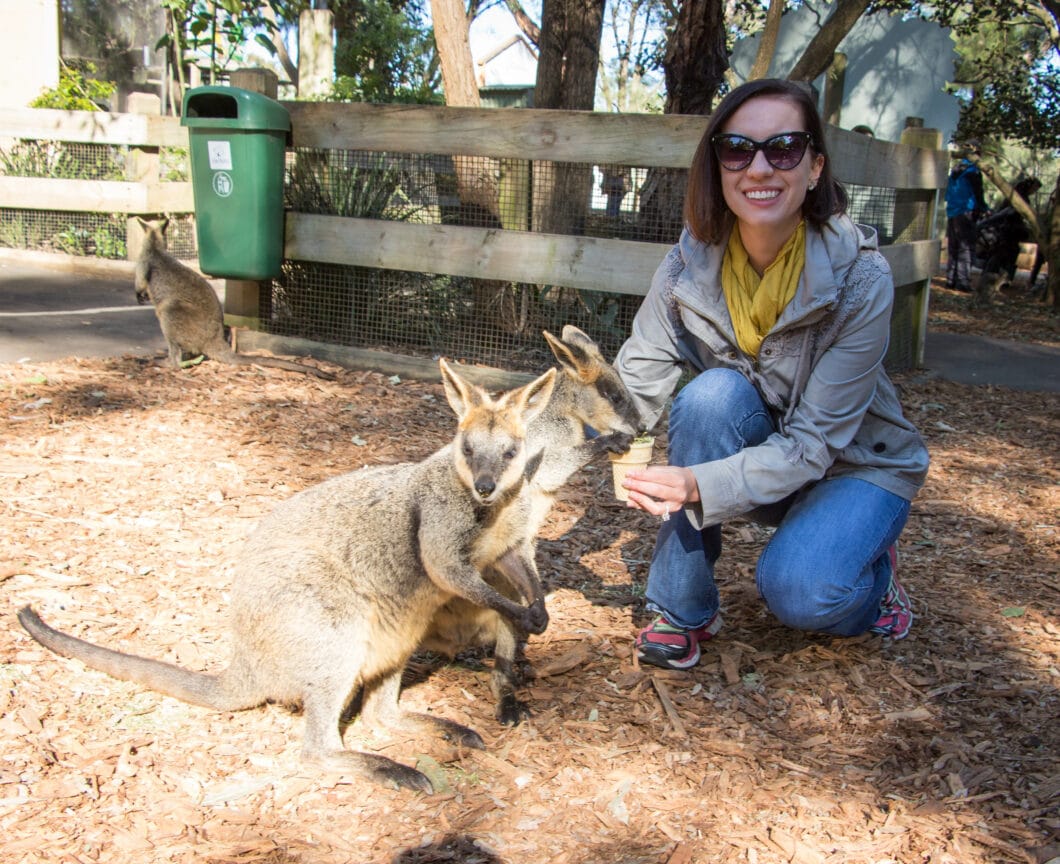 I could've spent hours hanging out with the wallabies! You were able to pay $2 to get a little ice cream cone filled with some sort of grass to feed them. It was so much fun!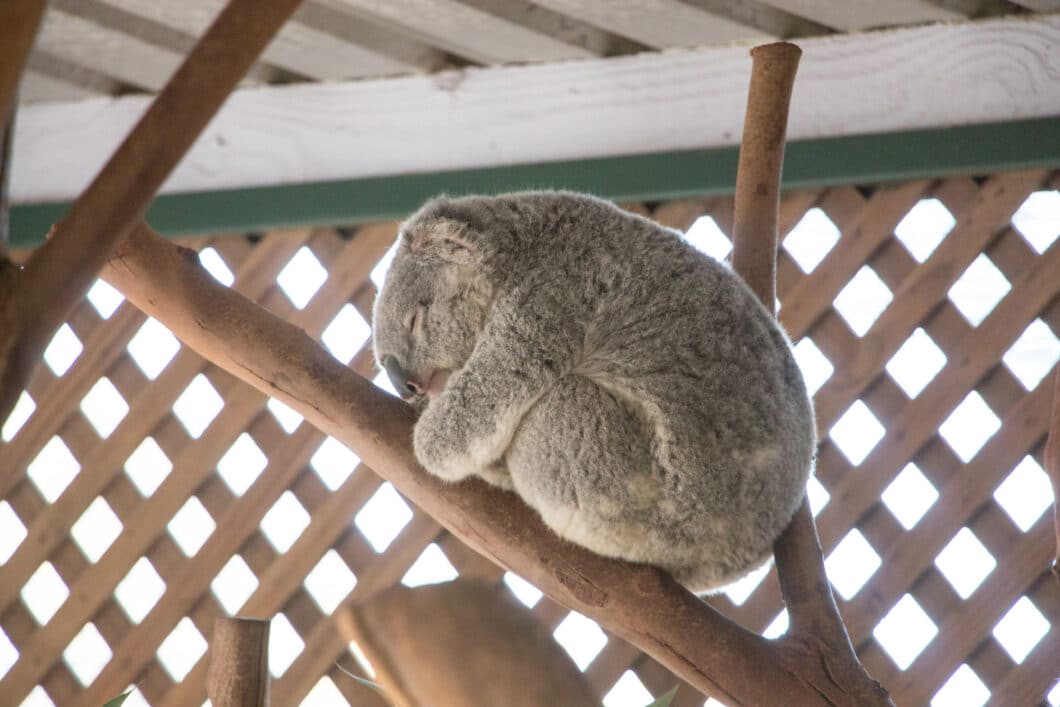 Below are a few more photos of our time at Featherdale Wildlife Park. You can click on them to make them full-sized and to read their descriptions.
The Blue Mountains
The Blue Mountains are just west of Sydney and offer some spectacular views! We went to Lincoln Rock, Echo Point, and one other viewing spot I can't remember the name of (sorry!). It was really beautiful.
Echo Point gives you a good view of The Three Sisters…which is a really famous rock formation in the Blue Mountains.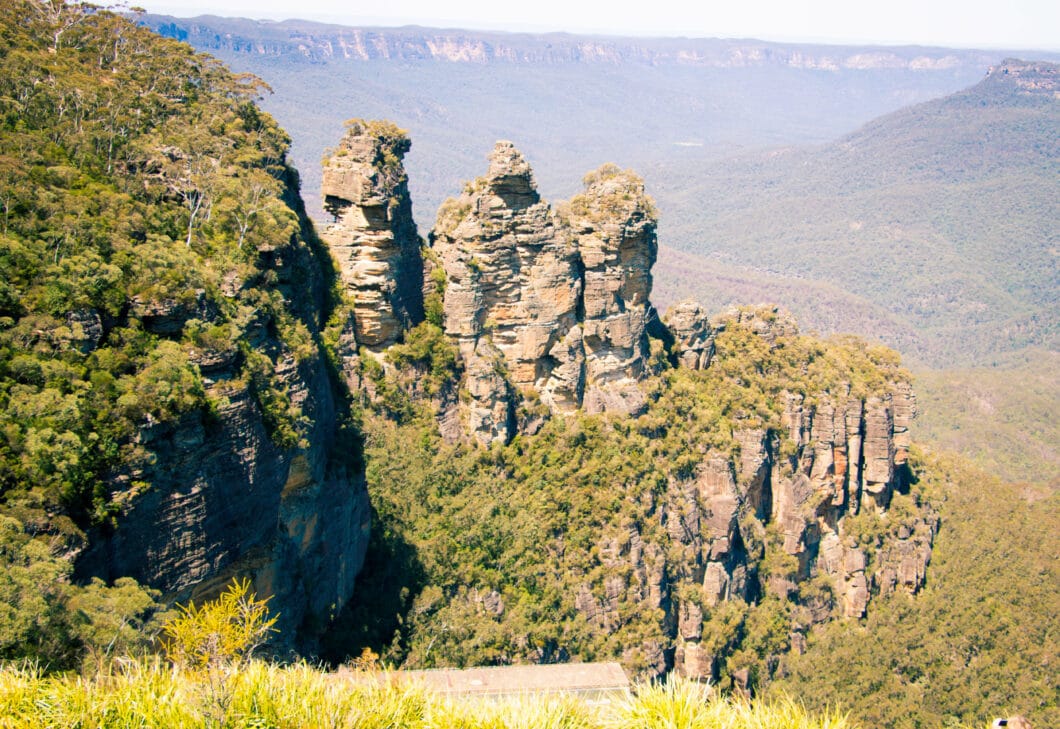 You can see more beautiful views of the Blue Mountains below.
Scenic World
Scenic World was pretty disappointing for us. It's basically a few amusement park type rides that offer some nice views of the mountains…they have a cable car that you can ride from one cliff top to the next and a cable car that is on a 52-degree incline (inside of the ride pictured above). Which is the steepest in the world…While that all sounds fun and cool, I would say to save yourself the $50. (Unless you have young kids with you…who might be more amused by it.) It was really underwhelming for me (as you can tell from the lack of photos). And I felt as though I got many fine views of the mountains from the free viewing points.
If you do the bus tour I did, you do have the option to opt out of Scenic World and save yourself the $50.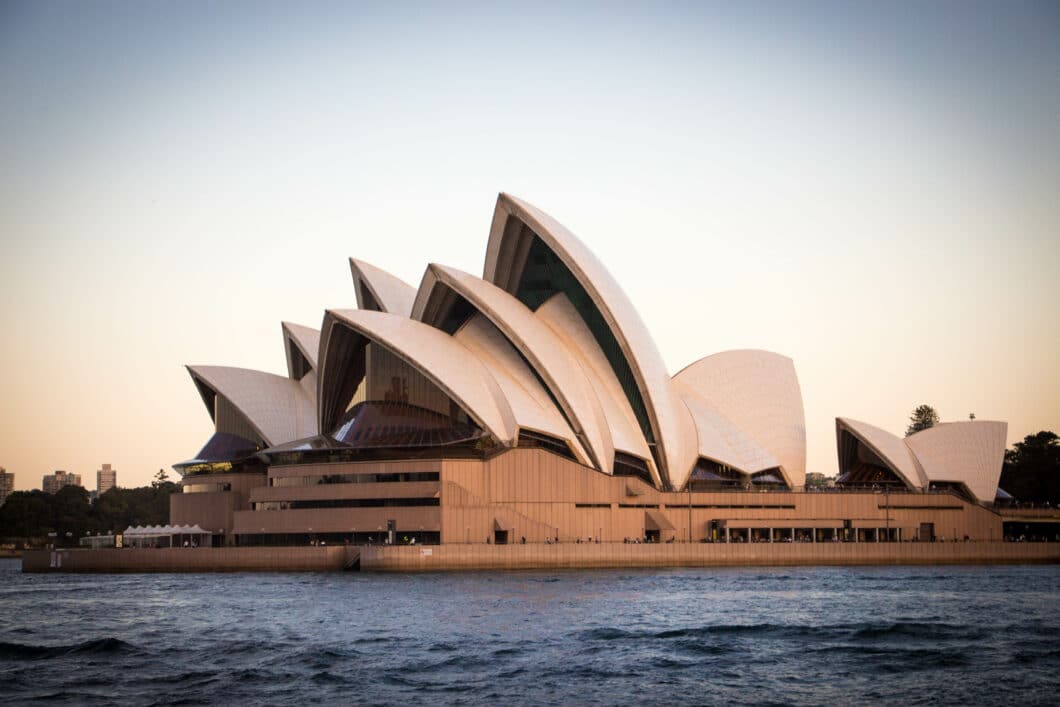 I did enjoy getting to end the day by taking a ferry back to Sydney, though. It was nice to get some new views of Sydney!
You can click here for more information on the bus tour we took. We both had a wonderful day (despite being disappointed with Scenic World) and would recommend it to anyone whose looking to get out of Sydney for the day! (And who isn't familiar with the area…or driving on the other side of the road.)
However, it would also be very easy to replicate this day by just renting a car and going yourself too (if tours aren't your thing). Just be sure to get to Featherdale Park before it opens! So, you can be the first one in there. (They open at 9 a.m.) After the first hour or two, it starts filling up with tour buses and gets a bit chaotic.
Which Australian furry critter is your favorite? Let me know in the comments! Also, feel free to ask any questions about the day in there too!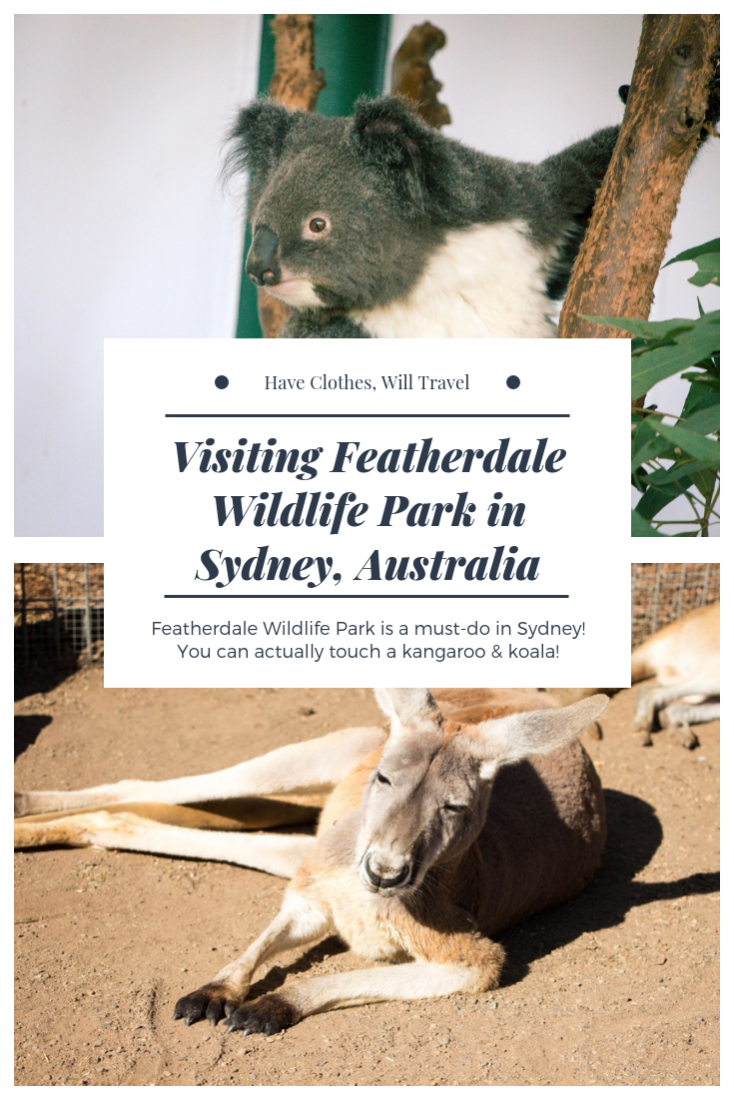 P.S. The jacket I am wearing was a ModCloth Stylish Surprise! I have really been happy with my ModCloth Stylish Surprise Apparell pieces! I linked to some similar options, below.