10 Fun Things to Do in Elkhart Lake, WI in Winter by a Wisconsinite
There are many wonderful things to do in Elkhart Lake in winter! While Elkhart Lake is a popular summer destination in Wisconsin and is most known for its Road America race track, it still makes for a great winter weekend getaway.
With fun outdoor activities, such as ice fishing and snowshoeing, brewery tastings, fish fries, and world-class spa experiences – there's a little something for everyone in Elkhart Lake!
Elkhart Lake Winter Weekend Getaway Ideas – 10 Cool Things To Do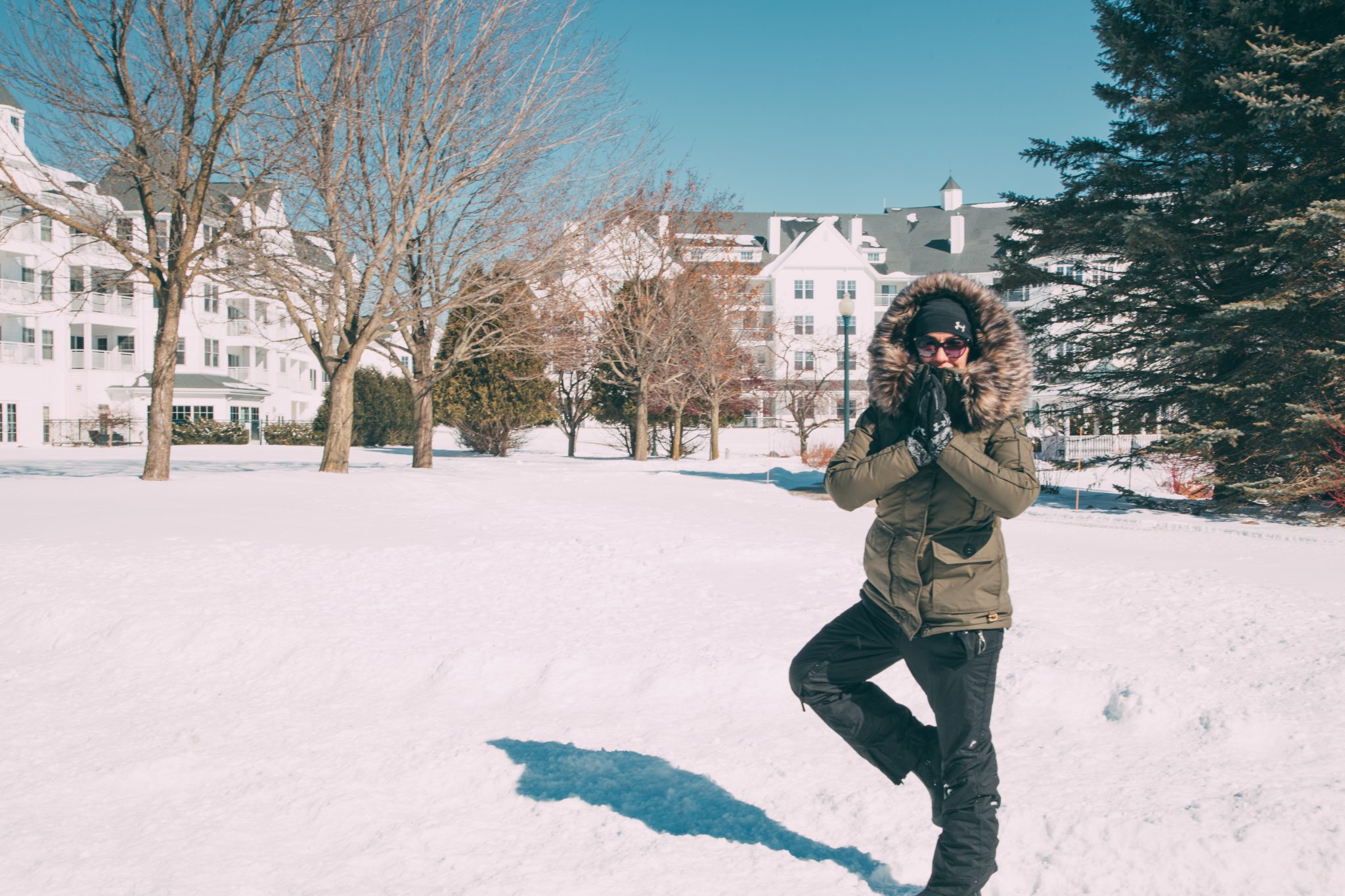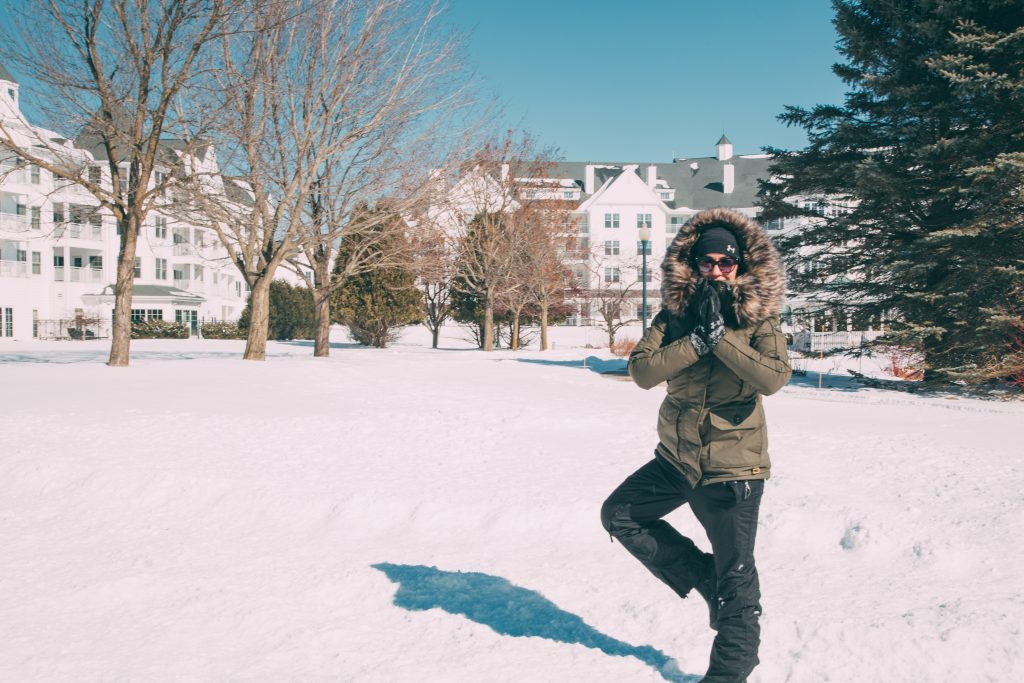 1.) Head to a Fun Annual Event – Such as the Chill-Out Winter Weekend or Old World Christmas Market
There's always something fun going on in Elkhart Lake on the weekends! From live music at The Osthoff Resort to sledding at Road America to the Olde World Christmas Market (which goes for 10 days in December), you'll find a fun event no matter which weekend you visit.
The Chill-Out Winter Weekend, the last weekend in February, is what sparked me to write this post. I had a fantastic weekend getaway in Elkhart Lake!
2.) Do a Brewery Tasting at SwitchGear Brewing Co.
Is there any better winter (or summer for that matter) activity in Wisconsin than enjoying a delicious beer at a cozy brewery? I don't think so! SwitchGear Brewing Co. is located in the historic feed mill in downtown Elkhart Lake and has a beer here for everyone – from IPAs to Sours to Stouts and more. I, personally, love their Nut Brown Ale and Pontoon Pounder. Try a flight of 3 to 6 beers for $2.50 a sample.
During the winter on Fridays, SwitchGear Brewing Co. hosts "Flannel Fridays." This is where if you wear a flannel, you get 1/2 off your first pint OR if you wear a SwitchGear flannel, you'll get your first pint free! Plus, you can get a flight of six SwitchGear beers for just $10!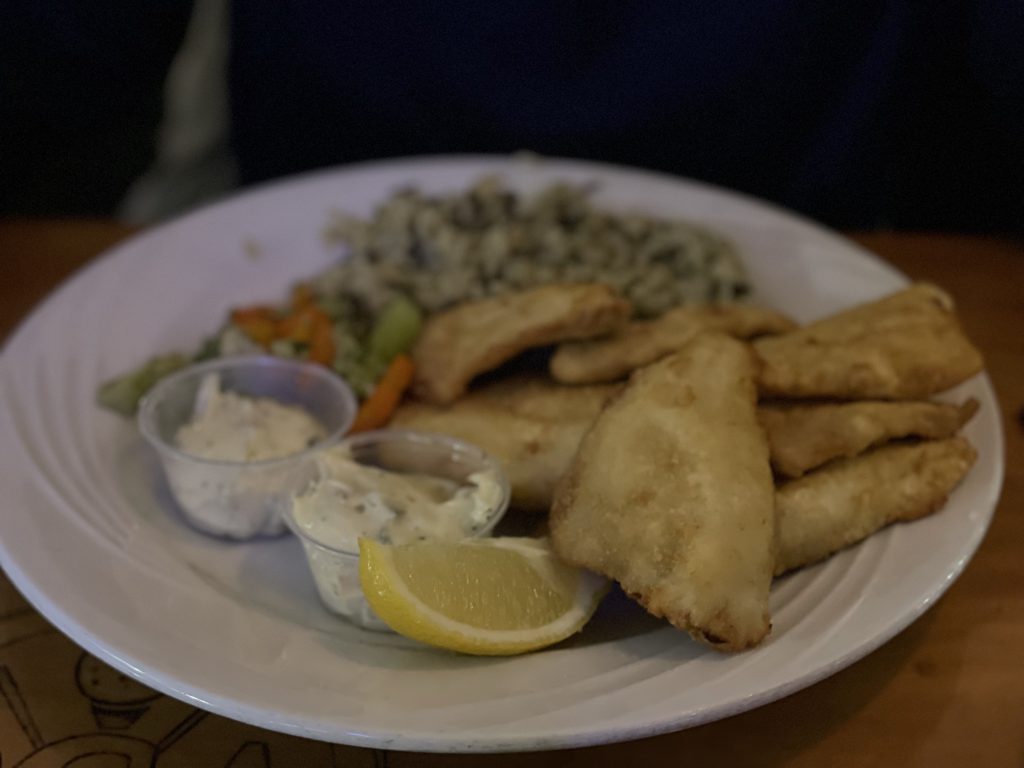 3.) Try a Fish Fry at the Quit Qui Oc Golf Course
Another one of the best winter activities in Wisconsin is to try a Friday Night Fish Fry! In Elkhart Lake, head to the Quit Qui Oc golf course for their Famous Perch Dinner or their All-You-Can-Eat-Bluegill. Be sure to make a reservation, though; their dining room and bar are BUSY – and for good reason! Their food is great and their service is super friendly.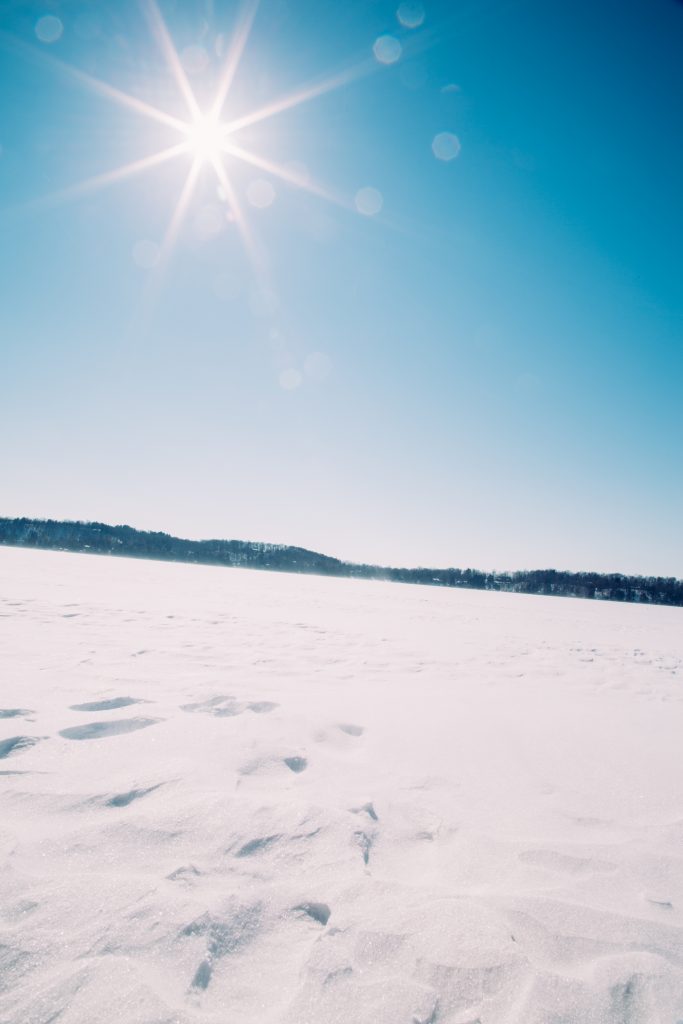 4.) Go Snowshoeing
Speaking of the Quit Qui Oc Golf Course, you can go snowshoeing at the course when the conditions allow. You don't even need to bring your snowshoes – the course offers rentals ranging from 2 hours to the whole weekend.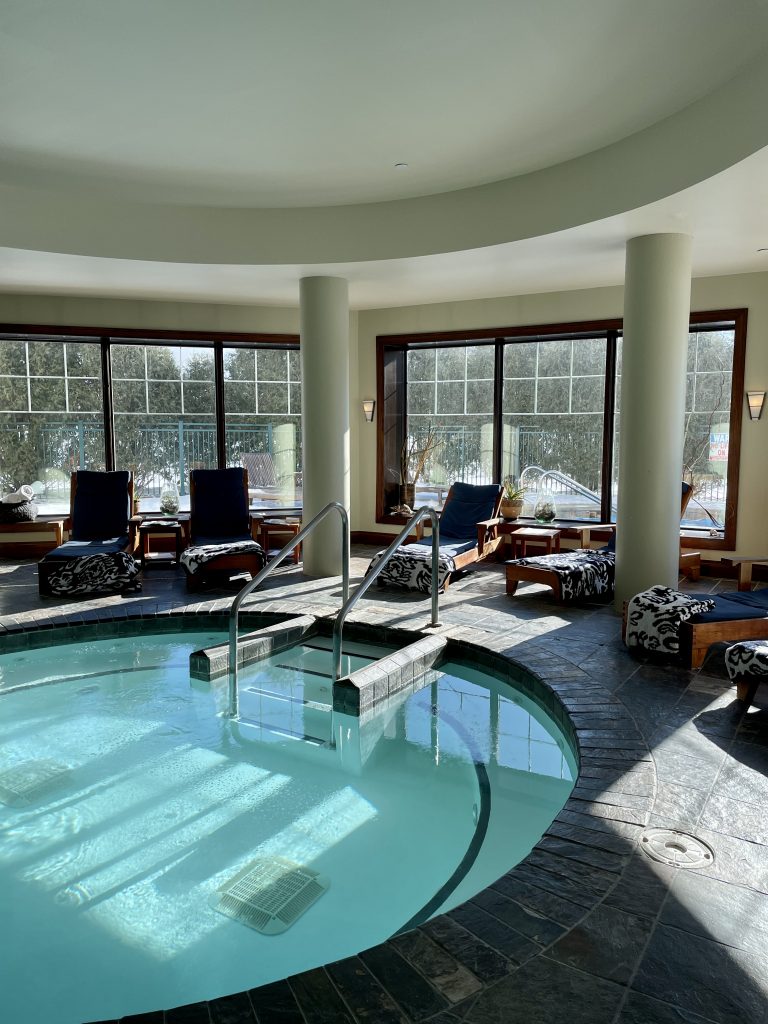 5.) Enjoy a Spa Day at Aspira Spa
Not a fan of freezing outdoors? Head to the Aspira Spa for a cozy day enjoying the hot tubs, sauna, and incredible spa services. You can also grab lunch at the Spa Cafe and order wine & mimosas while at the spa! Yum!
For a romantic winter weekend idea – book a Spa Together package. They also run specials frequently during the winter!
I highly recommend their Cedars Massage Experience. It's honestly the best massage I've ever gotten!
6.) Go Shopping in the Village Square
Shopping in Elkhart Lake is a blast! You'll find everything from fine art to jewelry and clothing to Scandinavian imports to yummy local foods. Vintage Elkhart Lake also has a wine bar that hosts tastings and wine classes.
7.) Grab Lunch at Lake Street Cafe
Either before or after your shopping adventure in Elkhart Lake, be sure to stop in at Lake Street Cafe for a bite to eat. Their food is delicious (love their soups in the winter), plus the cafe itself is bright and cheery, and has a great atmosphere.
8.) Try Ice Fishing on Elkhart Lake
Just because Elkhart Lake is frozen over, doesn't mean you can't still enjoy fishing on it! Grab your fishing license and warmest clothes and test your luck ice fishing. Even if you don't have your own ice fishing gear, you can hire Captain Mark for a day and he'll provide all the equipment you need (including heated shanties).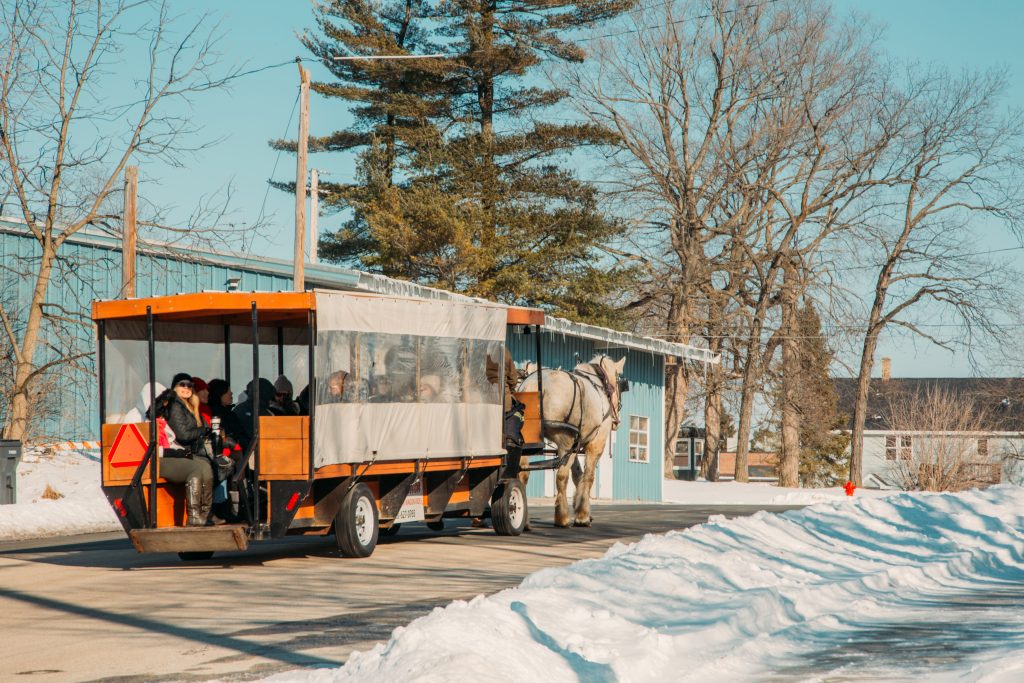 9.) Take a Horsedrawn Wagon Ride
KD Ranch in Cleveland, Wisconsin (less than a half-hour drive from Elkhart Lake) hosts sleigh rides and carriage rides on their ranch. They also have wagon and carriage rides occasionally on the weekends right in Elkhart Lake! It's a fun way to see the city that both kids and adults can enjoy.
10.) Warm up with Coffee (or Hot Chocolate) at Off The Rail
Off The Rail is also located in the historic feed mill. They feature delicious coffee and hot chocolate, as well as a fantastic breakfast and lunch menu. (I'm a fan of the Flying Scotsman Bagel, pictured above). It's a great way to start your day or warm up after an outdoor adventure in Elkhart Lake. They also have a great selection of wine and beer.
Where to Stay in Elkhart Lake
I loved staying at The Osthoff Resort during winter and highly recommend staying here. Not only are the rooms spacious and comfortable but there is also a ton to do at the resort! You wouldn't have to leave if you didn't want. There are several great dining options onsite, as well as The Elkroom bar, which has great cocktails and live music most weekends. There is also a pool, hot tub, and game room that the kids will love. The Aspira Spa I mentioned above is also located within the Osthoff Resort.
What are your favorite things to do in Elkhart Lake during the winter? Let me know in the comments!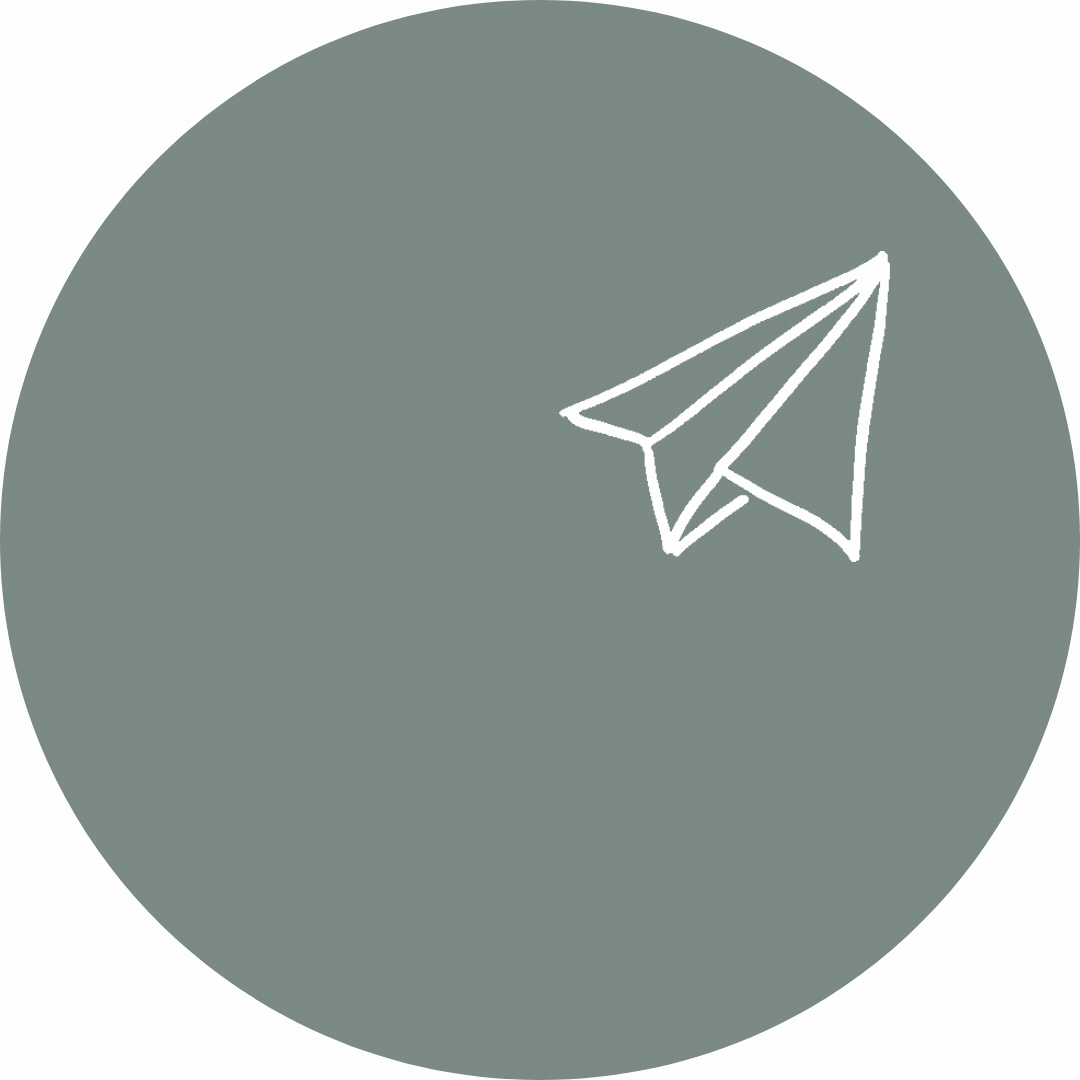 Thank you to the Elkhart Lake Tourism Department for hosting me for the Chill-Out Winter Weekend in Elkhart Lake. All opinions are my own, and I am never compensated for a positive review.