The Coolest VRBO Rentals in Wisconsin Featuring Cabins, Yurts, Mansions, Treehouses & More!
Searching for the coolest VRBO rentals in Wisconsin for your next getaway? I've rounded up the best spots and vacation rentals to guide you on your trip – from luxury cabins and mansions to treehouses and yurts.
With the nice weather we've been having lately, I'm SO ready to take a little weekend vacation and enjoy the great outdoors! Wisconsin has some of the best outdoor activities for adventurers at heart. It's perfect for travelers to go swimming, fishing (and ice fishing), hunting, hiking, snowmobiling, snowshoeing, and more! (Be sure to come back in the fall for our incredible leaf-peeping too!)
One of the many things Wisconsin is also known for is its picturesque Dells area that's ideal for family vacations. Although, I'm personally a fan of Door County for a romantic getaway or a girls' weekend.
Whether you're a Wisconsinite like me, looking for a weekend getaway, or you're driving up from Illinois to escape city life for a bit – you're sure to find a cool VRBO in this post! Check them out below, and let me know which one is your favorite in the comments!
*Disclosure: some of these links are affiliate links. Meaning, if you click a link and make a purchase, Have Clothes, Will Travel gets a very small commission at no extra cost to you. Thank you for supporting the brands that make this blog possible!
The Coolest VRBO Rentals in Wisconsin
Cool VRBO Cabin Rentals in Wisconsin
---
Luxury waterfront log cabin with island views – Eagle River, Wisconsin
Spacious, clean, and inviting, this hand-crafted full log lodge is set in a private park-like setting with stunning views of Catfish Lake and three tranquil islands. With ample privacy, guests get to lavish in the cabin's 10-bedroom set up and luxury amenities!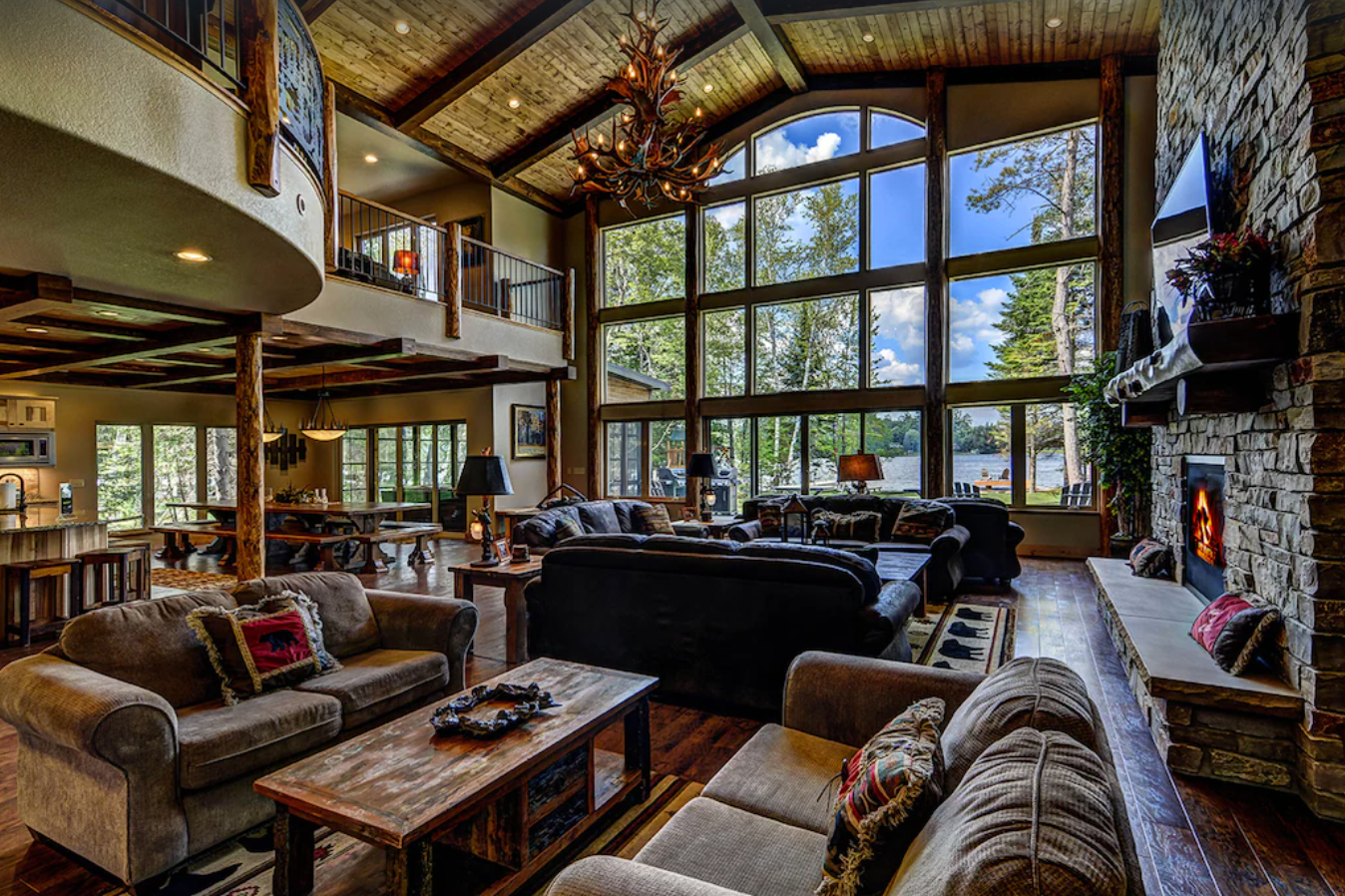 Whispering Pines Lodge with stunning lakefront views – Eagle River, Wisconsin
Wake up to an unforgettable view of Voyageur Lake in this stately pine lodge with over 8,800 square feet of privacy and convenience. Ideal for a family gathering or corporate retreat, the lodge sleeps up to 36 persons and has an expansive common area with 30-foot-high ceilings, an open kitchen, and a fireplace.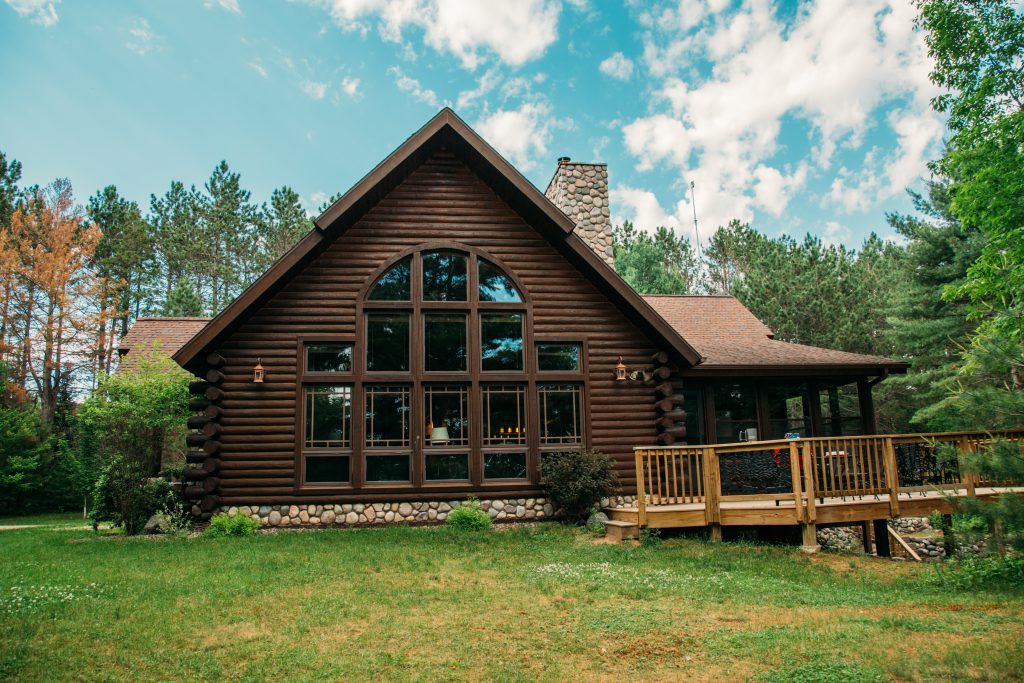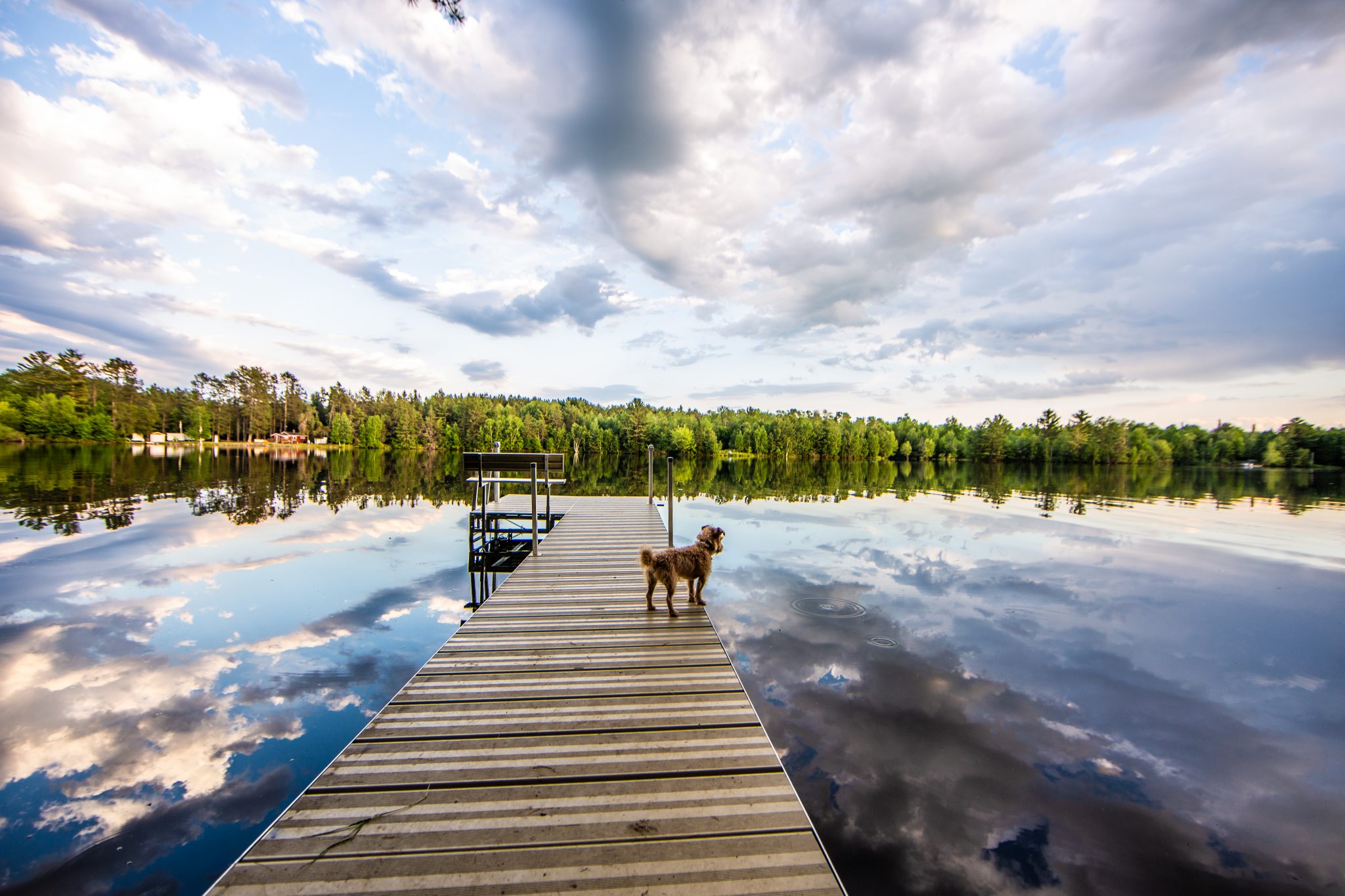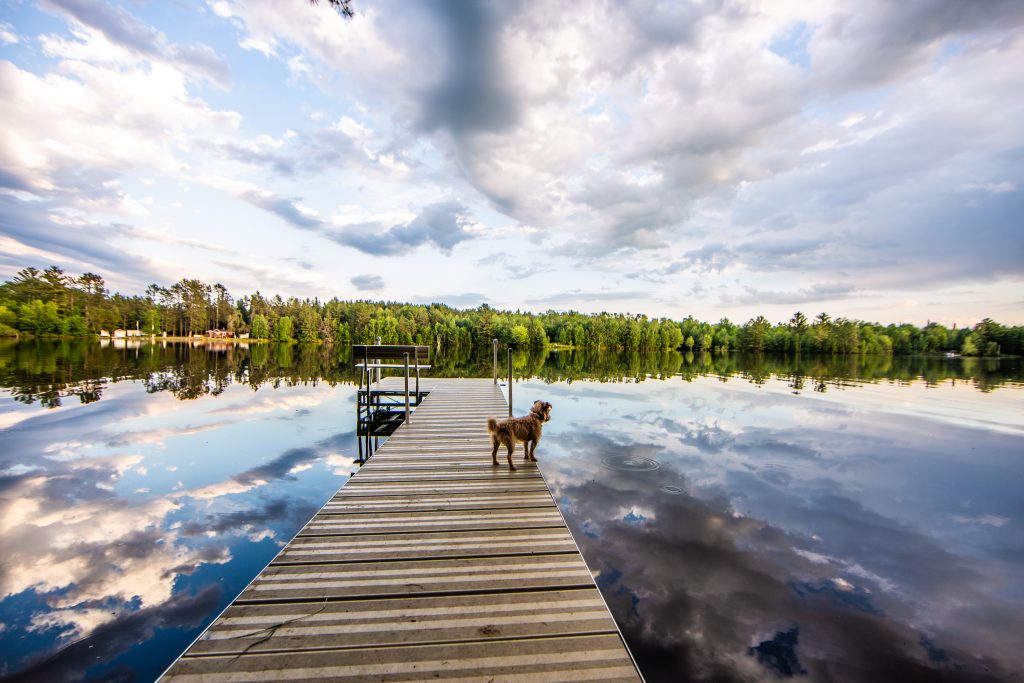 Spacious Lakefront Lodge, Kayaks/Canoes Included! – Tomahawk
I had the pleasure of staying at this beautiful VRBO in Tomahawk over the summer. Seriously, pictures don't do this place justice – it is STUNNING. I also loved that it was pet-friendly and Buddy got to go swimming for the first time (he's pictured above on the dock).
This cabin is nestled on the tranquil Spirit River Flowage, and this stretch of water has almost nine miles of premier fishing, boating, and kayaking (kayaks and canoes included with your stay). We caught perch, bass, and pike off the kayaks. The lodge is 3400 sqft. with a theater room and a screened-in porch. I'm already planning to book this place for next summer!
Luxury rental home with heated pool – Caledonia, Wisconsin
There's always something to do in this VRBO to keep kids and adults entertained! . The 2500 sq. ft. property has 3 bedrooms + 3 bathrooms and is equipped with an outdoor heated pool, basketball court, garage game room (with pool table and ping pong table), and a spacious entertainment area.
Farm-style lake house with heated pool – Twin Lakes, Wisconsin
A fully renovated 7-bedroom farm-style lake house situated in a 1.5-acre of tree-covered grounds overlooking Lake Geneva. It's a secluded shelter for multi-family gatherings and corporate bookings decked with a large heated in-ground pool, on-site parking, 100 ft pier, and a cottage for extra guests.
Luxury log home overlooking Green Bay – Suamico, Wisconsin
This massive, luxury home includes every amenity to make guests' stay a memorable one. Aside from the 3-bedroom, 7-bathroom set up, a large gourmet kitchen and butler's pantry makes for a perfect sit-down dinner with family and friends. Enjoy the pool or hot tub or simply take a walk along the property's 200 ft. of shoreline. (Plus, it's only 15 minutes away from Lambeau Field!)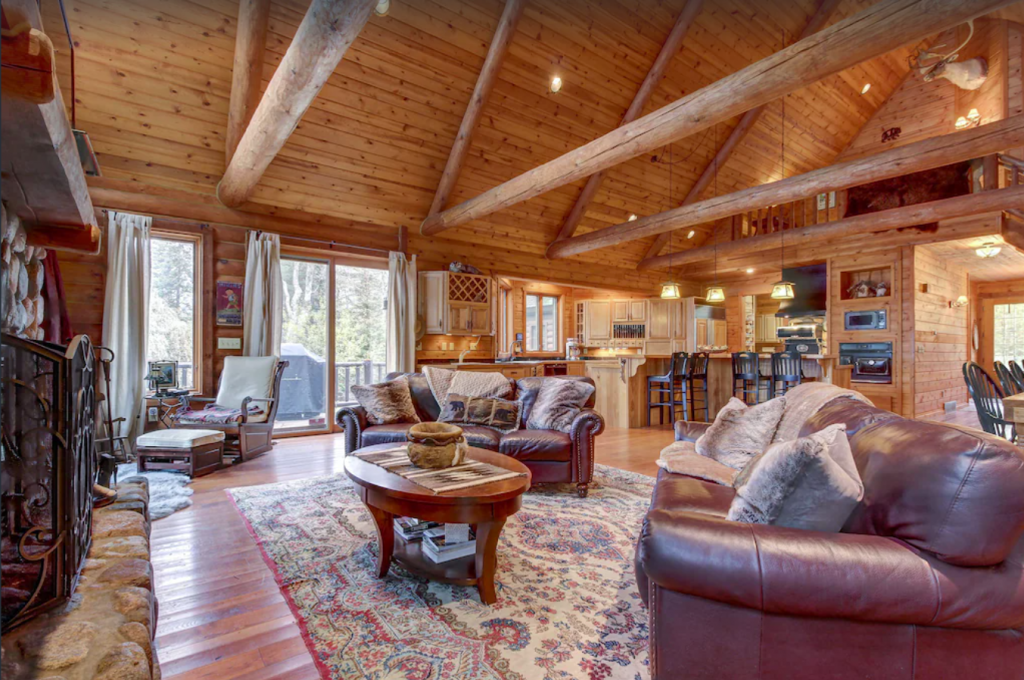 Gorgeous lakefront lodge w/dock, deck, game room & firepit – Three Lakes, Wisconsin
Located on the western edge of Nicolet National Forest, this spacious lodge is built to accommodate large families or events by providing large common areas and five individually themed sleeping quarters. The great room features a two-story, wood-burning stone fireplace bordered with large windows. It's a secluded oasis resting on 600 ft. of beautiful shoreline.
Charming private cabin with pool and hot tub – Adams, Wisconsin
A charming 4-bedroom cabin that's clean, spacious, and full of amenities. Located on a private 9-acre pine forest, guests can frolic around the property, have a picnic at the gazebo, take a dip in the pool, soak in the hot tub, and play pool or volleyball.
Rustic luxury cabin on 44 private acres – Blue Mounds, Wisconsin
Over 44 acres of rolling hills, open prairies, and forests adorn this rustic luxury cabin that sleeps up to 16 persons. It features a 30-ft fieldstone fireplace, antique furnishings, and full amenities. It also has stunning views of the Blue Mound State Park and Brigham County Park (ideal for weddings).
Elegant lakefront lodge – Star Lake, Wisconsin
A 42-foot railroad boxcar converted into a premiere private lodge with six bedrooms and four bathrooms surrounded by awe-inspiring views. Enjoy sunsets in the screened-in porch and take in breathtaking views of Lake Star and the Northern Highland State Forest through the property's wall of windows.
Luxury log and stone cabin 8,500 square feet – Eagle River, Wisconsin
Featured on Travel Wisconsin, Discover Wisconsin, and in the USA Today, this luxury log and stone 6-bedroom cabin rests on a sprawling 8500 sq. ft. of estate with relaxing views of Cranberry Lake and the famous Eagle River Chain. Living up to its opulent vibe, the property features a full kitchen, grand patio, sunroom, and theatre room.
Upscale waterfront cabin – Day, Stratford, Wisconsin
A marvelously decorated 5-bedroom, 3.5-bathroom upscale waterfront cabin located at Big Eau Pleine Reservoire. It features an indoor pool, a private dock, and is near local attractions in the Stratford area.
Glamping/Tent Rental with Amenities
---
Dreamy Lotus Belle yurt with hot tub – Pierce County, Wisconsin
This dreamy 16 ft. glamping tent provides a cheery respite away from the bustling city. Tucked in the woods on a 3-acre property, this yurt-inspired tent has a queen-sized bed, skylight windows for stargazing, and a cozy hot tub to relax in.
Luxury Home/Mansion
---
Luxury east-coast style home – Stockholm, Wisconsin
A 5,500 sq. ft. east-coast style home surrounded by birch trees, native wildflowers, and berries, plus year-round views of the stunning Lake Pepin. The light and airy property sleeps up to 20 guests, has a full kitchen with luxury amenities, and five king bedrooms (with the master suite featuring a spa-like bathroom). It was rated one of the top VRBOs in Minnesota Monthly Magazine.
Historic lakefront Tudor mansion – Oconomowoc, Wisconsin
Memorable vacation awaits guests in this historic, 7-bedroom lakefront Tudor mansion decked with masonry fireplaces, a conservatory, and a sunroom. Enjoy over 330 ft. of refreshing lake views or dip into the property's in-ground pool and sauna. Better yet, make use of the tennis court, playhouse, or media room.
Spacious lakefront home with hot tub and indoor pool – Newton, Wisconsin
A sprawling 9-bedroom lakefront home on a 10 sq. ft. property featuring a two-way staircase (ideal as wedding backdrop), full kitchen, movie theatre, indoor basketball court, pool, and hot tub. Its well-manicured lawn and luxury amenities are just the thing for weddings, performances, and special events.
Unique VRBO Stays in Wisconsin
---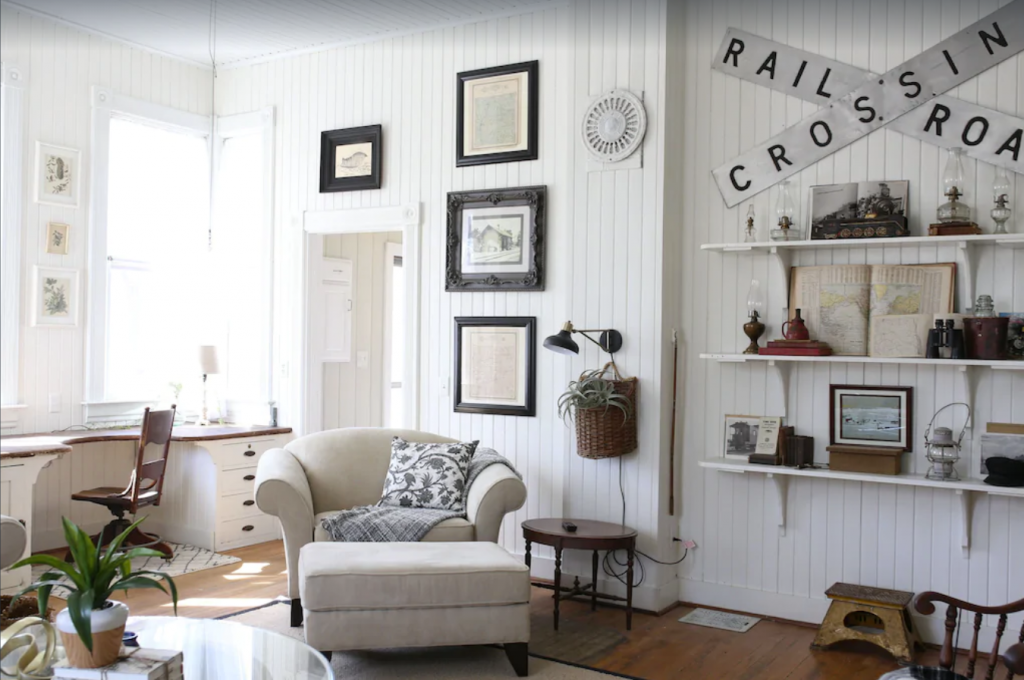 Remodeled cozy cottage (old railroad depot) – Gotham, Wisconsin
Renovated in 2014, this cozy cottage was once an old railroad depot built in the mid-1800s. Guests will get to experience a historic yet homey vibe in this 2-bedroom, 1 bathroom property equipped with a full kitchen, living room, and WiFi.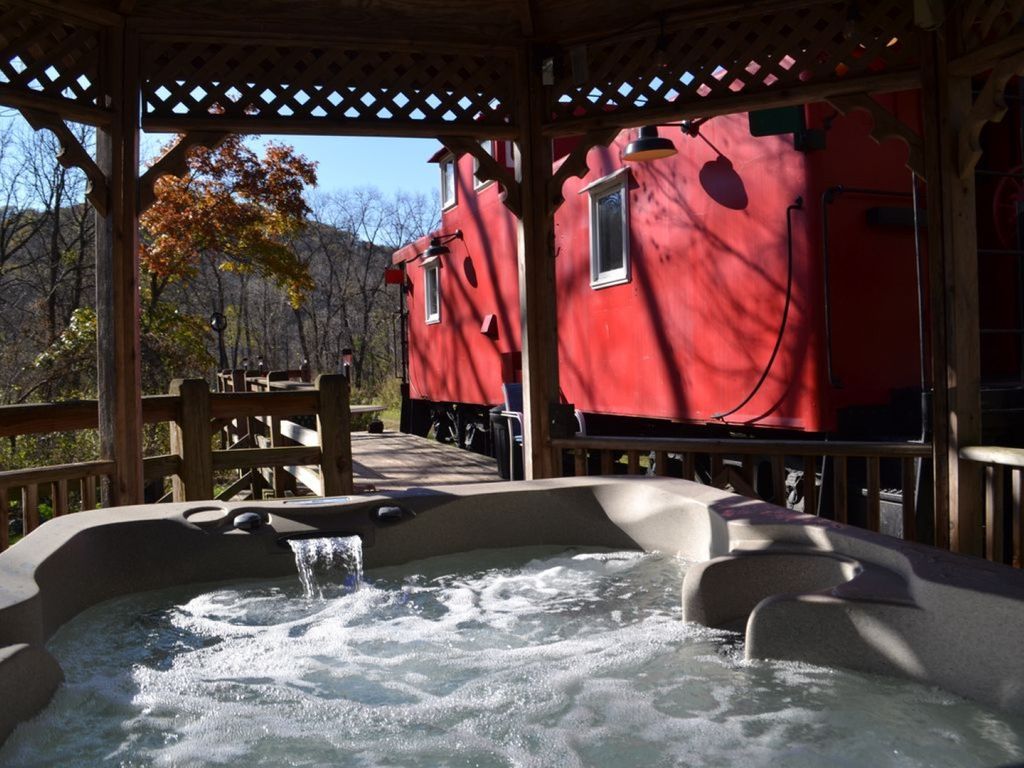 1954 Rail Road Caboose – Ferryville, Wisconsin
Voted the BEST Romantic Get-Away in Wisconsin! This 1954 Red Railroad Caboose provides seclusion on five wooded acres located four miles from the Mississippi River. The Caboose features a conversation area, an updated kitchen, new bath and gas fireplace. A double-size futon and set of bunk beds provide sleeping for up to four people. Relax on the outside deck or in the hot tub while surrounded by nature at its best.
Picturesque treehouse on Rock Lake – Lake Mills, Wisconsin
A place where guests can linger, relax, and just be is made possible in this picturesque 3-bedroom treehouse in Rock Lake. The property is nestled in a grove of trees ensuring full space and privacy for up to eight guests.
Fully-furnished treehouse with deck – Gleason, Wisconsin
A unique treehouse sanctuary that's fully-furnished, complete with a deck, kitchen, and living room for up to four persons. It overlooks a scenic river and also has a snowmobile/ATV trail access to accommodate small groups looking for a fun-filled adventure.
Now, I'm curious, which of these VRBO rentals is your favorite? Let me know in the comments!