Hotel Retlaw in Fond du Lac, Wisconsin – Honest Review of Their Luxury Rooms, Spa & Restaurant
Hotel Retlaw is a recently renovated luxury hotel in downtown Fond du Lac, Wisconsin with nearly 100 years of history. It first opened in 1923 with Walter Schroeder as its original owner. (The name of the hotel is Walter spelled backward!)
The recent renovation has updated the hotel for the modern traveler, but the hotel has kept much of its 1920s splendor with original tiles, ceilings and some of the light fixtures.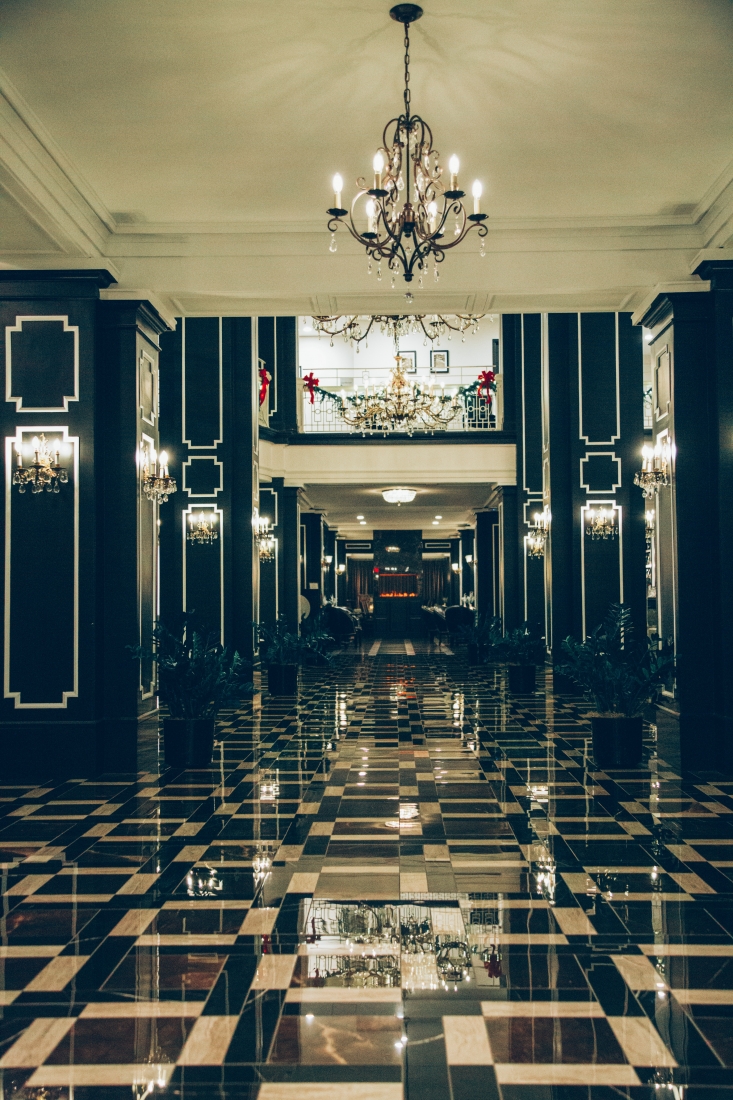 Hotel Retlaw has 121 rooms, a full-service spa, a farm-to-table restaurant, a bar, plus a cafe & wine bar…and it's pet-friendly!
Our Romantic Anniversary Staycation at Hotel Retlaw
My husband and I visited the hotel a couple of days ago to celebrate our wedding anniversary. We have been married for 7 years as of today! How crazy is that?
If you missed the post about our weird wedding day, click here.
We tested out the spa for a couple's massage, as well as a facial and scrub. We also did a little tour of the hotel, and then enjoyed dinner and drinks in the restaurant.
I'll share our thoughts on each of these experiences below, and then give our overall opinion of the hotel at the end of the post.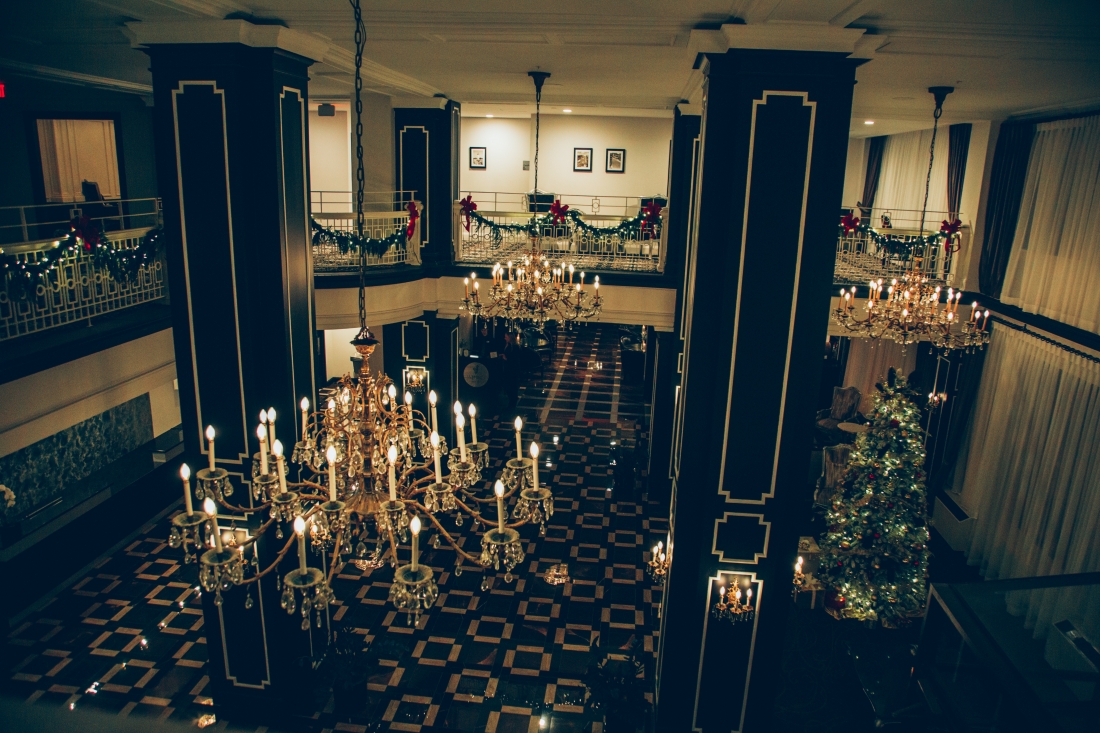 Hotel Retlaw – Quintessence Spa Review of Services
Funny enough, we had gotten a couple's massage the day after we married (so, almost exactly 7 years ago), and I HATED it. I haven't had a massage since. (Unless my Russian banya experiences count?)
I'm not really sure what kind of massage I like as a result. So, for this experience, I chose the "Quintessence Signature Massage." This massage combines Swedish, Reflexology, Deep Tissue, Heated Stones and Aromatherapy… so, you get a little bit of everything.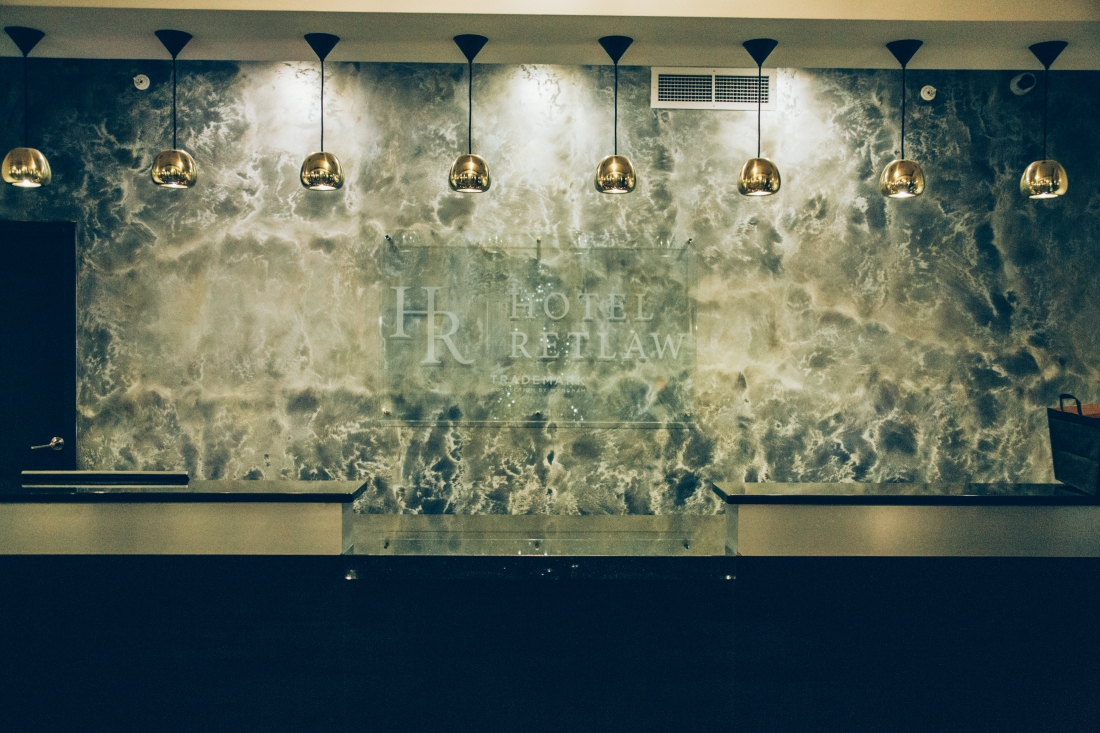 Couple's Massage
After we changed into our robes, we were taken to a dimly lit room to relax and drink water and tea. It was really nice! Then our massage therapists came to introduce themselves and explain how a couple's massage would work.
For a couple's massage, it means you'll each get to choose your own massage, but you'll be in the same room together. My husband likes deep tissue massages, so he was able to have that, while I tried the signature massage. (Sorry, I left my camera in the locker room, and didn't take photos of this portion.)
My husband really enjoyed his deep tissue massage. And I found out that I'm a big fan of stone massages. I had never had one before – and I don't think I ever would have booked a stone massage. So, I'm glad I did this sampling of all the different massages!
Facials
After our massages, we were taken to separate rooms to have our facials. I had opted for the Clear Skin facial and my husband tried the Men's Performance facial.
My husband has never had a facial before, so he didn't really know what to think of this experience. He said it was relaxing, and "they put a bunch of products on his face and took them off."
For me, I would say this is the most relaxing facial I've ever had. I used to have horrible breakouts and did facials and skin peels on a regular basis. (I haven't done this since we started moving abroad, though.) They generally included a lot of painful extractions and uncomfortable skin masks.
After this facial, my skin immediately looked brighter and healthier, and it still looks all nice and glowy today! There were a few extractions, but they weren't too intense. There also wasn't any "recovery" time after this facial for me. (My skin hasn't started peeling or breaking out any worse than normal.) I might have to start getting facials again.
I loved my Clear Skin facial and will likely be getting them on a regular basis again, thanks to this experience. My husband is unsure of facials in general, though. He didn't mind having it done but doesn't think he'll be going for another facial anytime soon.
Body Scrub
We ended our spa experience with a relaxing body scrub. This was a light scrub, which honestly felt more like another massage. And then an application of lotion. It was super relaxing. My skin looks brighter, but unfortunately, it's winter in Wisconsin, and you can't really see the difference, as it's buried under layers of warm clothing!
We both liked the body scrub, but I think this is something that would be great to do before a vacation or in the summer – when you can show off your glowy skin a little!

Hotel Retlaw Tour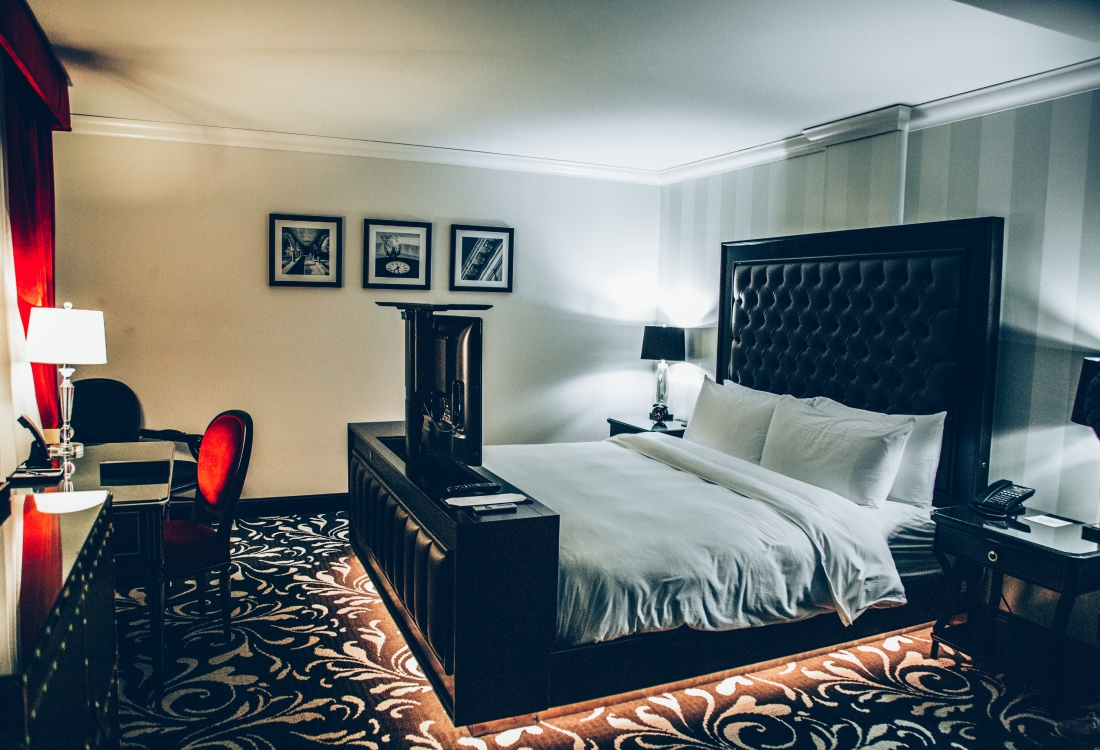 For our hotel tour, Regional General Manager, Jason, and Sales Manager, Joe, showed us through the hotel and explained the different sections and renovations throughout the hotel. They were so kind and passionate about Hotel Retlaw and its success. (After our most recent hotel tour with a snarky sales manager – this was such a nice change of pace!)
You could also tell that the employees (everyone from housekeeping to waitresses and restaurant managers) were happy to be working here by the way they interacted with their General Manager. You could feel how great of a work environment it is!
Deluxe King Rooms
I loved how much thought went into the design of these rooms. From the TVs being built into the beds (to conserve wall space) to the low lighting under the beds, and the mix of modern and antique decor… this is not your average hotel room!
One-bedroom suites
I am beyond impressed by their one-bedroom suites. These are designed for someone who would be staying more longterm. (Although they can also be rented for short-term stays.) And as someone who has lived in rooms similar to this for years on end in both the US and abroad, I am here to tell you, I have never seen anything so nice and accommodating.
These rooms have a full kitchen… with a full-sized stove + oven and a full-sized fridge. (Normally, you don't even get an oven in these types of room and the fridge is usually a mini-fridge.)
There is also an electric fireplace below the TV, a full-sized dishwasher… and there is a washer AND dryer in the room. I have never in all of our travels seen a room that comes with its own washer and dryer. I would gladly live in this room!
We were also given a look-see inside a suite that's not quite ready for the public yet (they're still putting the finishing touches on its furniture and decor), and it's going to be phenomenal once it's done! The bathroom already has this gorgeous tub in it… who wouldn't want to soak in that?!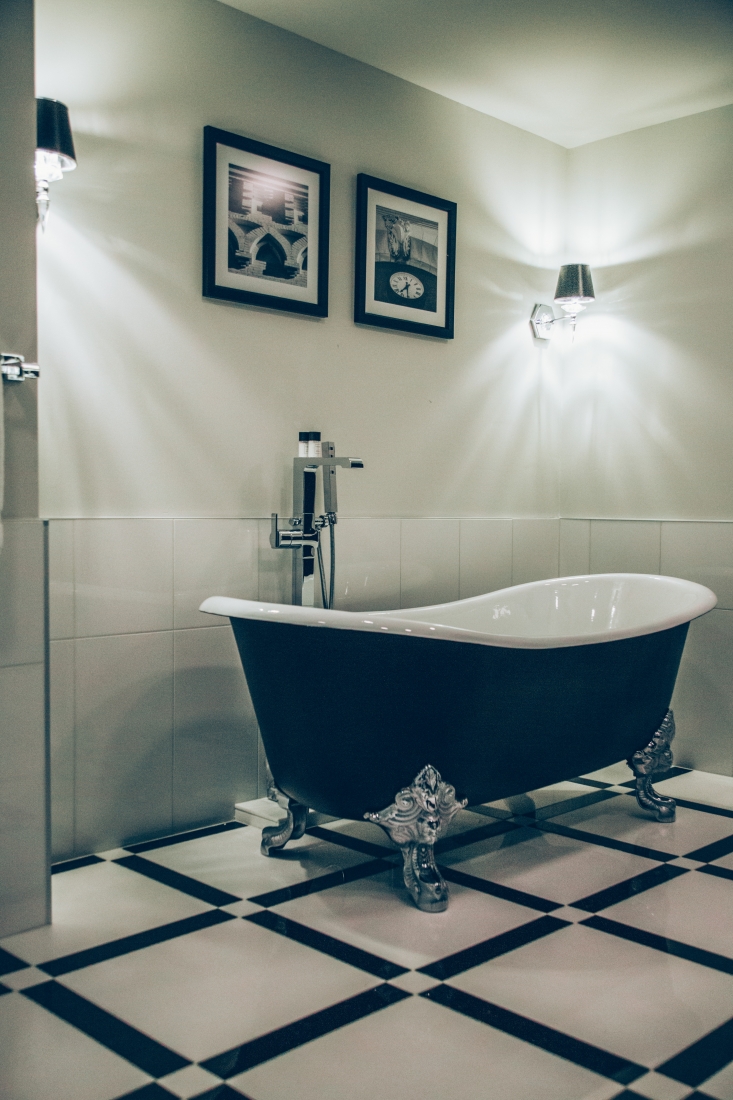 Meeting Rooms
My husband, as a frequent business traveler, was also impressed with how well-equipped Hotel Retlaw is for business travelers. (Usually, boutique hotels similar to this one are not as catered to business travelers.)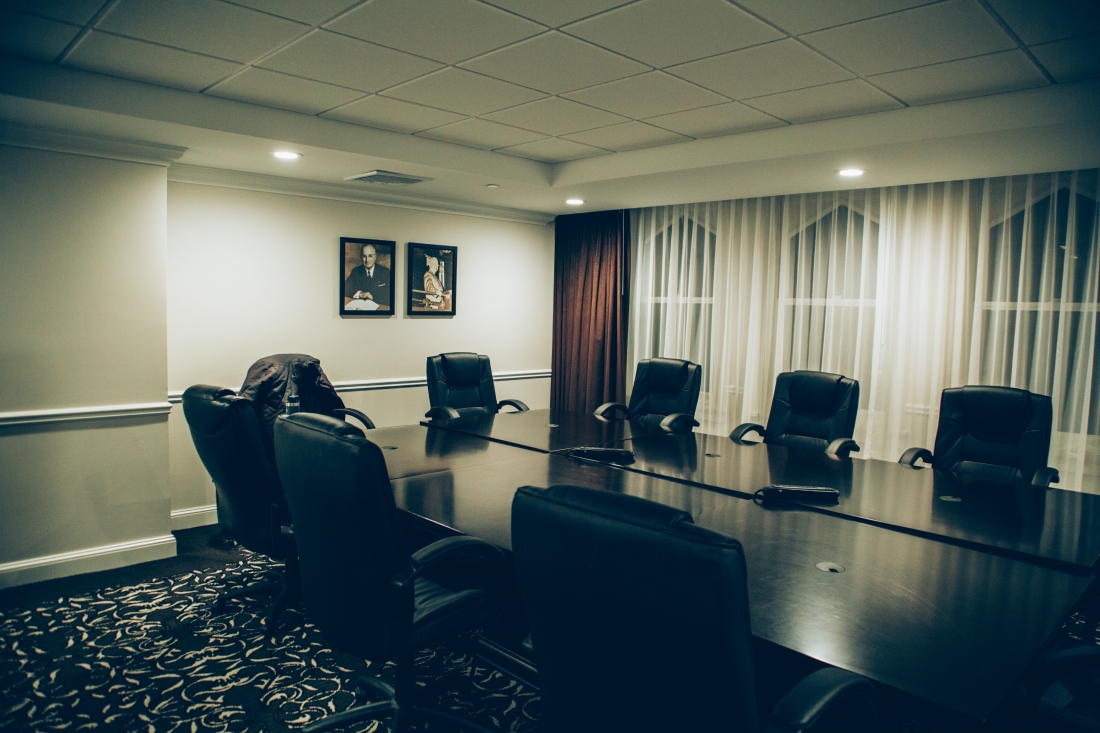 Wedding and Event Halls
There are also many different options for wedding venues here. The photos below are showing how a meeting room was transformed for an intimate wedding reception.
Click here for more info on having your wedding at Hotel Retlaw.
Then, there is also the elegant Crystal Ballroom. Perfect for a larger wedding (around 200 people). They were preparing the room for the New Year's Eve celebration when we were there.
Crystal Ballroom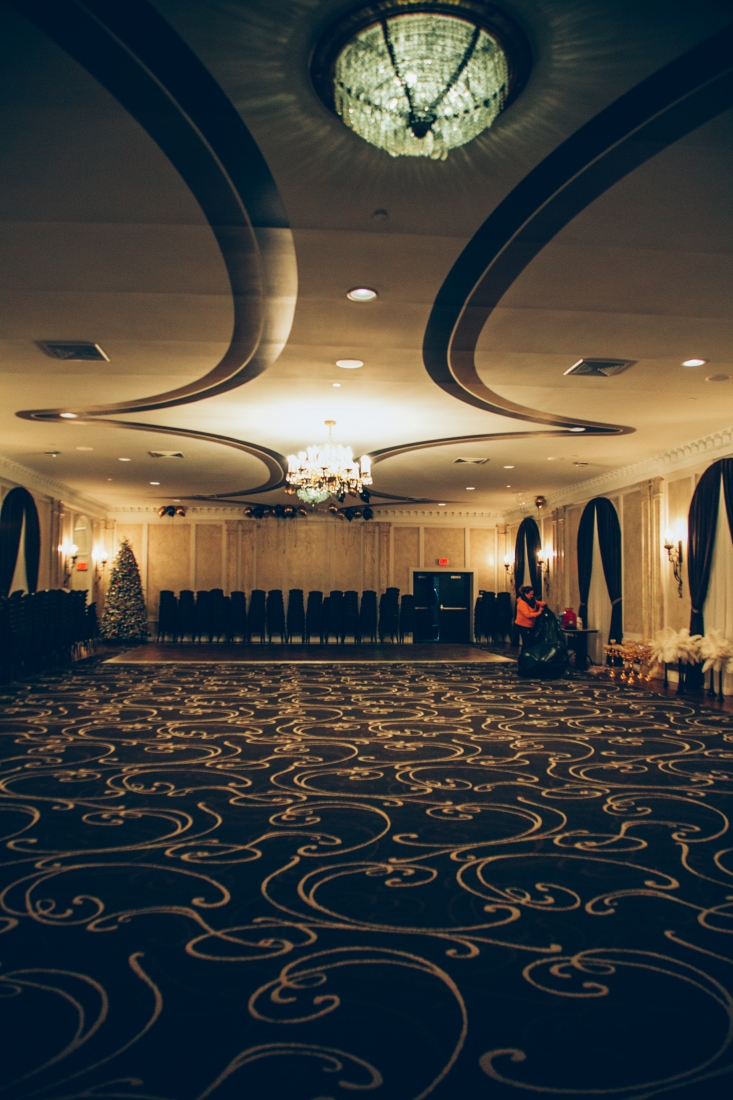 There is also the "Windsor Room" just across from the ballroom, which also offers access to an outdoor balcony. This would be great in the summer months. (But it can also come in handy for those who need some fresh air or for smokers.)
Windsor Room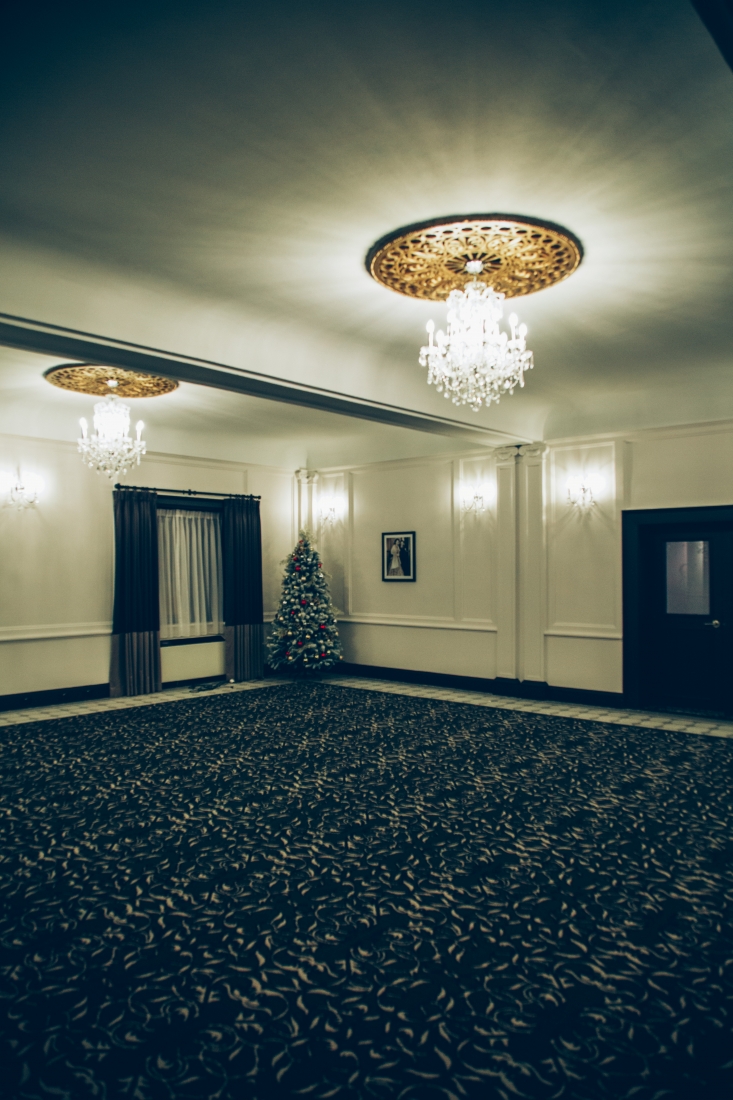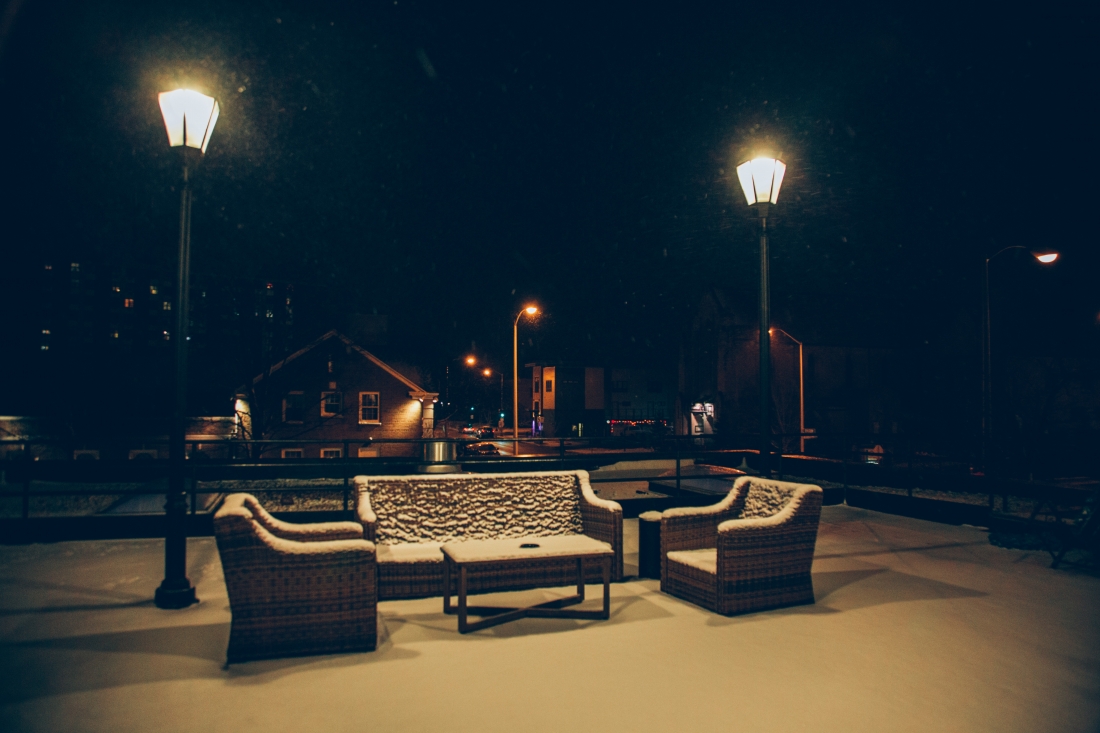 And the grand hallway that leads to these rooms is below. How glamorous is that? The flooring, ceiling and light fixtures are all original!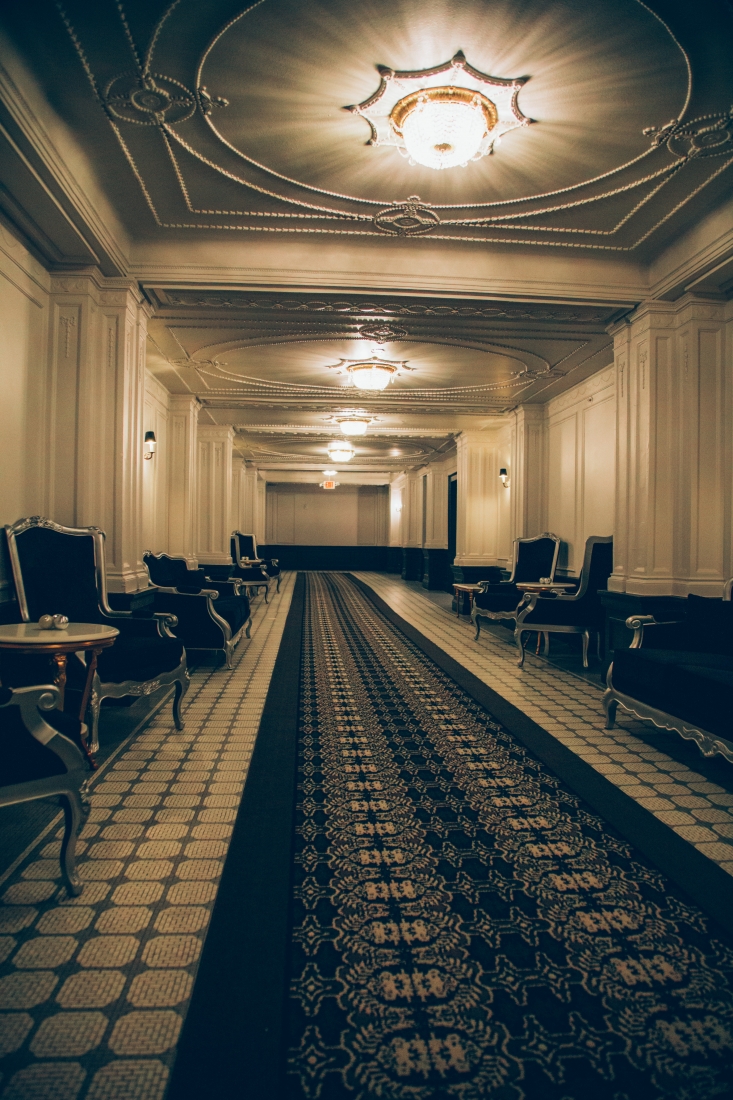 Hotel Retlaw – Jazzmine's Brasserie Restaurant
Our experience was topped off with drinks and dinner in Jazzmine's Brasserie – Hotel Retlaw's onsite restaurant.
The Drinks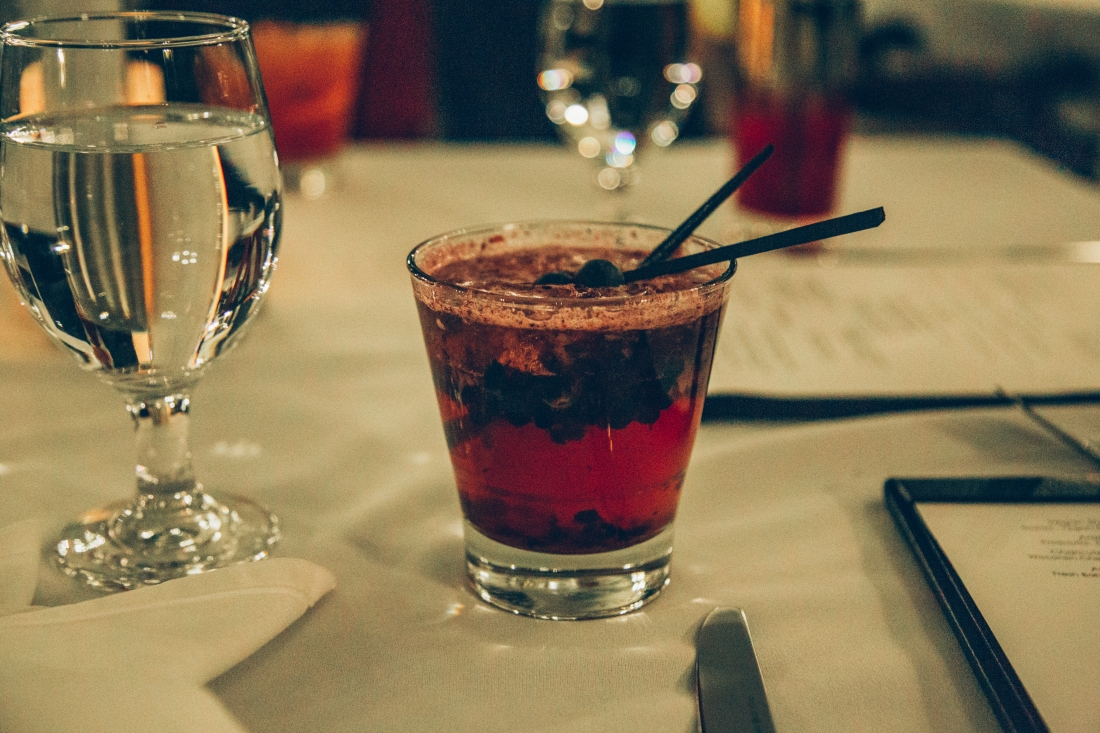 Old Fashioned drinks are a pretty big deal in Wisconsin. And we are very picky and snooty about them! This one that I tried was slightly different than what I normally would drink… which is one made sour with whiskey. This Old Fashioned is sweet and made with blueberries and brandy. But it was SO good. Picky old fashioned drinkers won't be disappointed ordering a drink here!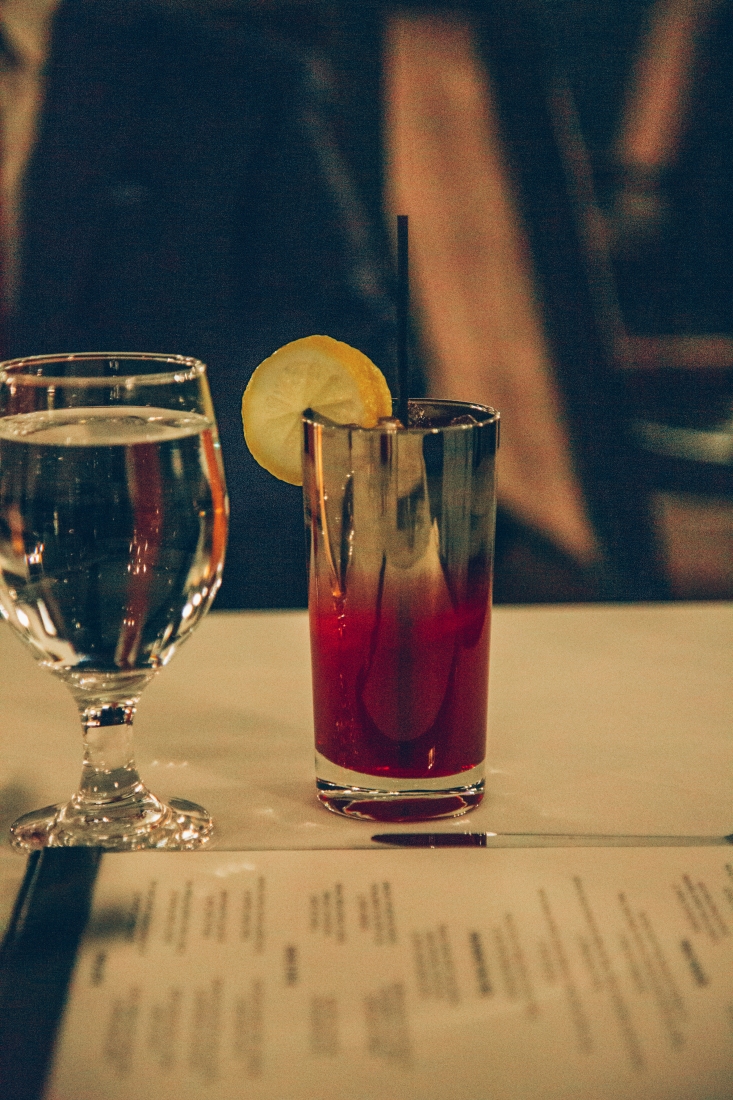 And my husband does not drink alcohol, so he thoroughly enjoyed the many unique mocktails that were on the menu. This one is made with beet juice and was very tasty.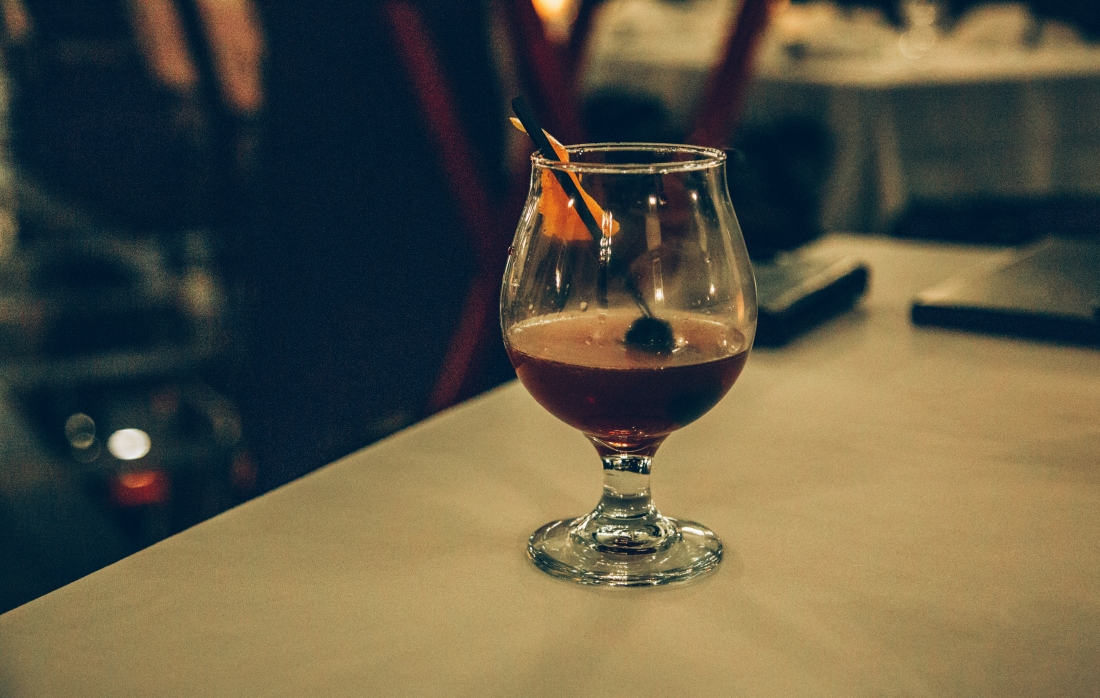 If you're looking for a truly unique drink, though, I recommend the Smoked Manhattan! This drink is quite the process to make… and includes a bit of entertainment, as you can see above.
Food
What we tried:
Charcuterie of Cured Meats
Forbidden Salad
Seafood Melange
Rixen Surf and Turf
The food was ALL fantastic. My husband is also a bit of a Charcuterie snob… and this charcuterie more than lived up to his standards too!
Click here to see the full dinner menu at Jazzmine's.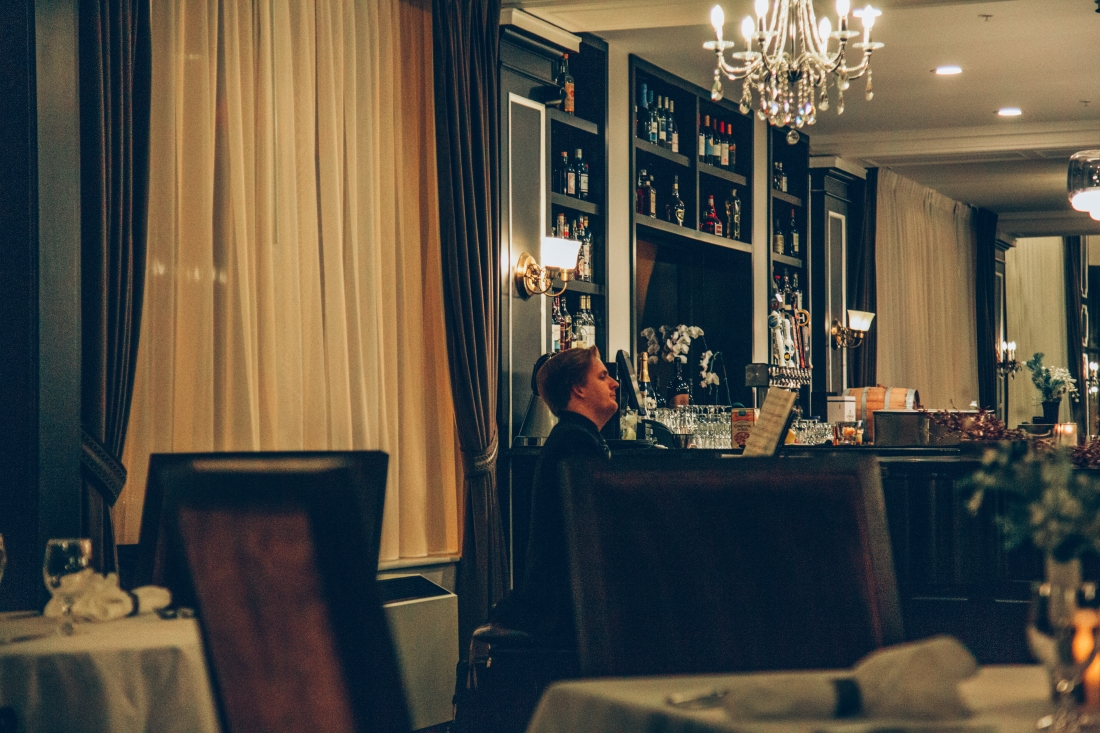 The ambiance in Jazzmine's is also fantastic. The decor is beautiful and there was a very talented live piano performance the entire time we dined here.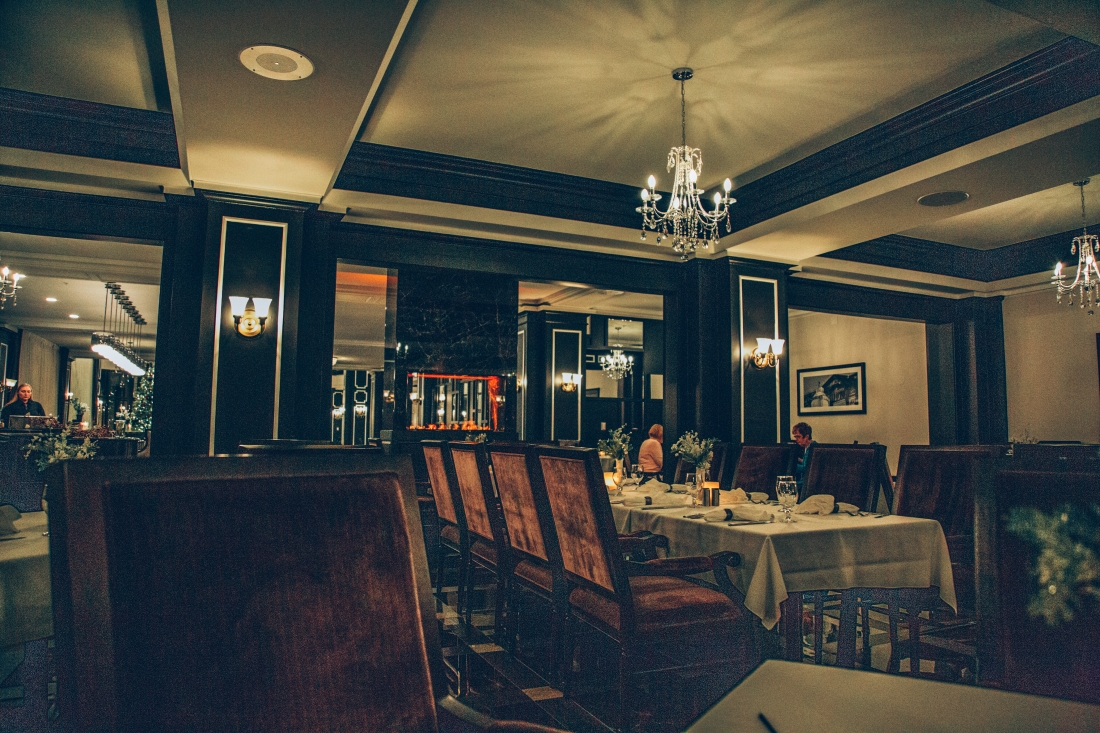 I also was beyond intrigued by the "fireplace" they had. It's actually just a light reflecting on water vapors. It's really cool, in my opinion!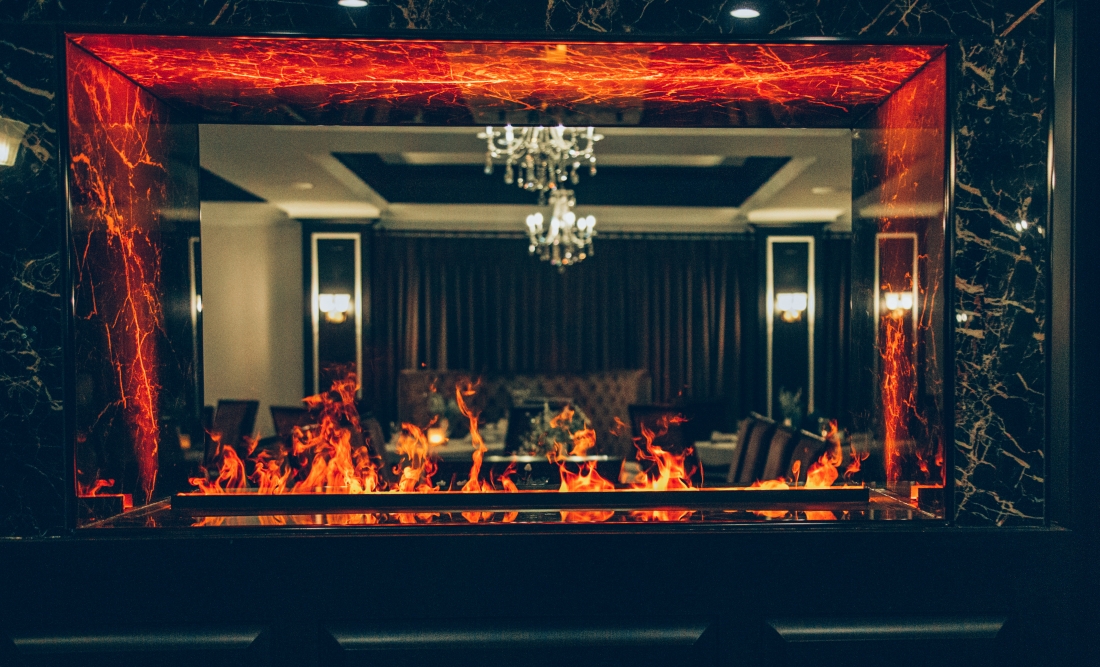 If you are just looking to try some of the fun cocktails and not get a full meal, you can also hang out at The Lobby Bar. It's located just outside the restaurant.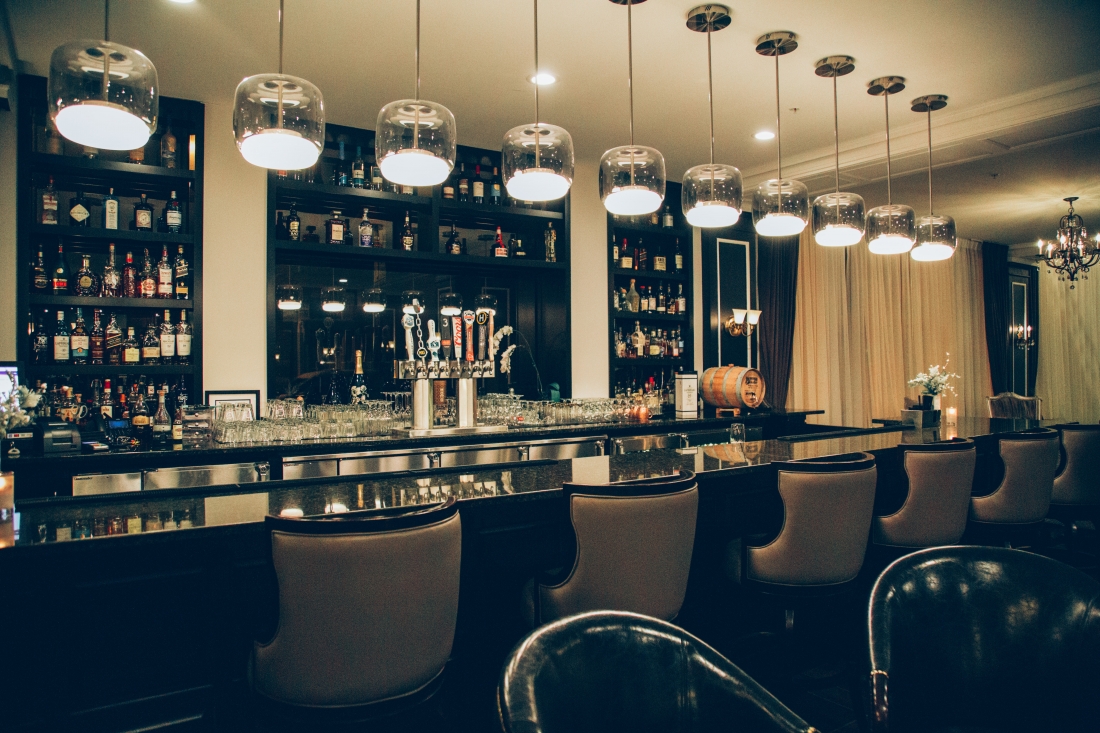 Overall Impressions of Hotel Retlaw – Will We Return?
Absolutely! You don't have to spend the night here to get the full experience either. This was a great way for us to celebrate our anniversary close to home, but feeling as though we traveled a world away.
Hotel Retlaw has all of the amenities and luxury of a big city hotel, without the huge price tag or attitude. Everyone who works here is "Wisconsin nice" and will make you feel right at home.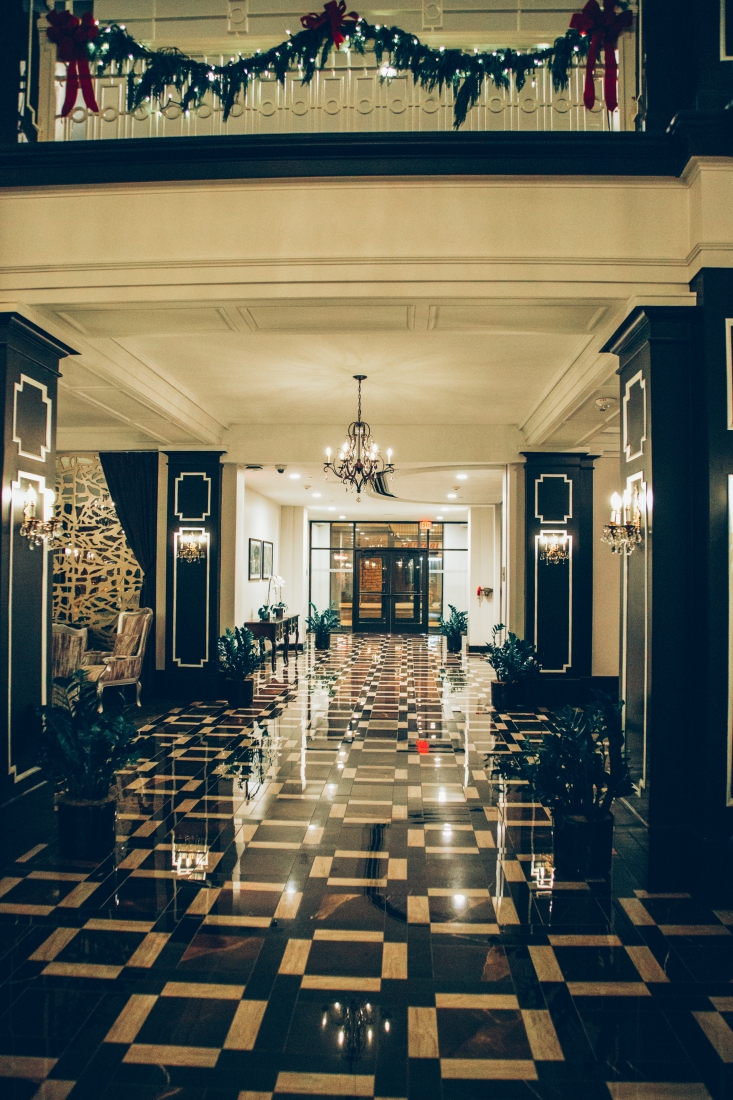 Hotel Retlaw also has a unique program called their "Hotel Retlaw Membership." You pay a yearly fee (either for an individual or a couple), and can enjoy the benefits listed below.
Hotel Retlaw Membership perks:
15% savings in Jazzmine's Brasserie
15% savings in the Lobby Bar, including afternoon high tea
15% savings in the Player's Club Tavern – coming soon!
15% savings in the Espresso Café with complimentary Wi-Fi
15% savings on the luxury spa and hair salon services and products
Monthly complimentary mixers including art exhibits, book signings, and musical venues
Monthly interactive cooking luncheons with host guest chefs
Quarterly lifestyle seminars featuring select guest speakers
Annual member's holiday party featuring live entertainment
Promotional hotel packages at preferred price points
I'll be doing a followup blog post about the membership once I get a chance to try it out more. So, if you do decide to get a membership, you'll likely run into me at the monthly mixers and luncheons!
Click here for more info on the Hotel Retlaw Membership package.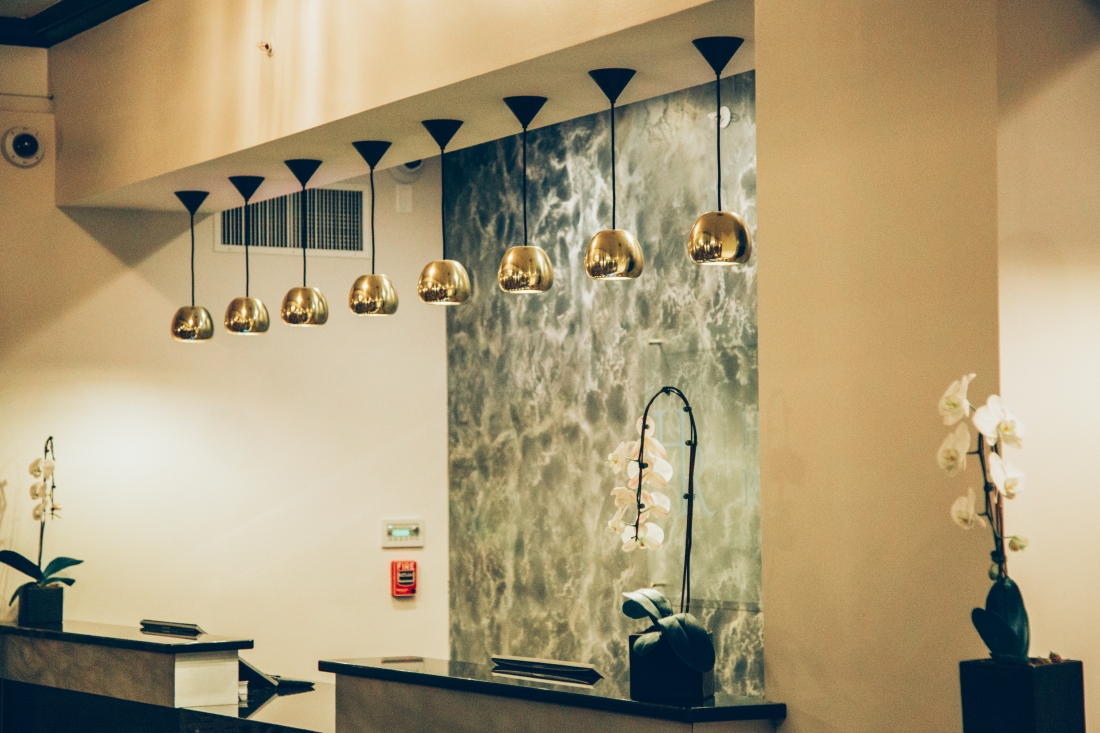 Whether you're a business traveler looking for a centrally located hotel where you can work productively… or you are looking for a romantic night out with your significant other, Hotel Retlaw is a must-try place in Fond du Lac.

I'm happy to answer any questions anyone has about Hotel Retlaw in the comments section at the end of this blog post.
*Thank you to Hotel Retlaw for sponsoring this blog post. As always, all opinions are my own, and I am never compensated for a positive review.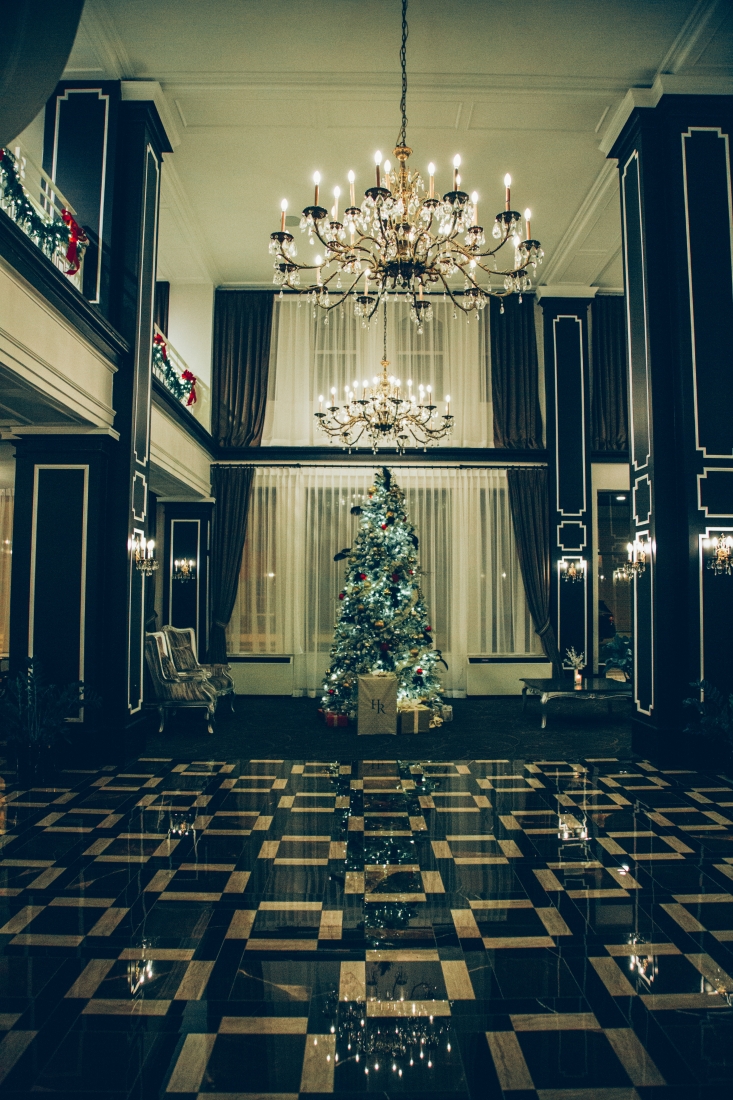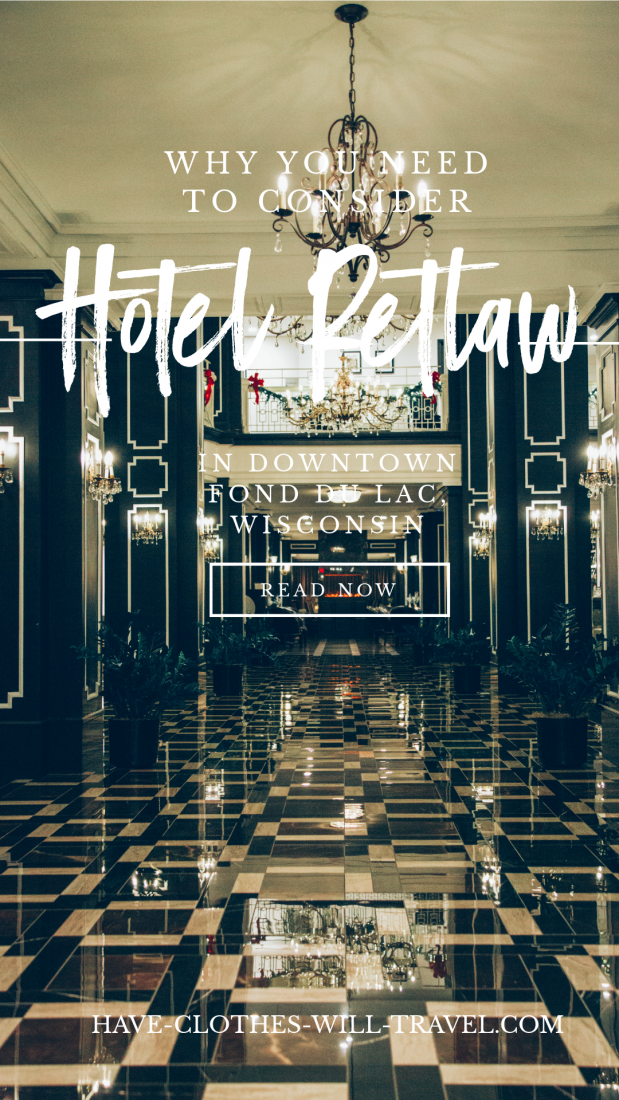 *Disclosure: some of these links are affiliate links. Meaning, if you click a link and make a purchase, Have Clothes, Will Travel gets a very small commission at no extra cost to you. Thank you for supporting the brands that make this blog possible! I am also a participant in the Amazon Services LLC Associates Program, an affiliate advertising program designed to provide a means for us to earn fees by linking to Amazon.com and affiliated sites.