Visiting Sanduny Public Banya in Moscow, Russia – Everything You Want to Know Before Going
*WARNING* – This post might be TMI for some, and it's also written from the perspective of a woman visiting a public Banya in Russia. (Sorry, dudes, I'm not entirely sure what goes on over on your side of the banya.) So, if talking about nakedness, body parts, bodily functions, etc. makes you queasy…you'll want to hit that "X" button now. Otherwise, buckle up!
A Woman's Experience Visiting the Public "Sanduny" Banya in Russia // Everything You Want to Know Before Going
This isn't the first time I've written about traditional Russian banyas (bath houses) since I've come to Moscow. However, this one is going to be a little different. The last banya post was a general overview of what a banya is and why you should try one. And it was focusing more on private and semi-private experiences. (Click here if you missed it.) Public banyas are a slightly different ball game – that I still highly recommend experiencing! It just helps to be a little more mentally prepared before walking into one! Hopefully, this post will put your mind at ease before visiting and prepare you a little more than I was…or, at the very least, give you a little laugh!
What is Sanduny Banya?
Sanduny Banya is the oldest and most luxurious banya in Moscow. It's also conveniently located in central Moscow, not too far from the Red Square. It started thanks to a love story involving Catherine the Great (click here for more on that).
Men and women have separate banya areas and separate "classes" within those areas. (For women – it's "regular" and "VIP.") And if you just type "Sanduny Banya" into your phone it will take you to the men's entrance. The women's entrance is 3 doors down from that entrance and will have a little sign outside the door saying that it's the women's classes.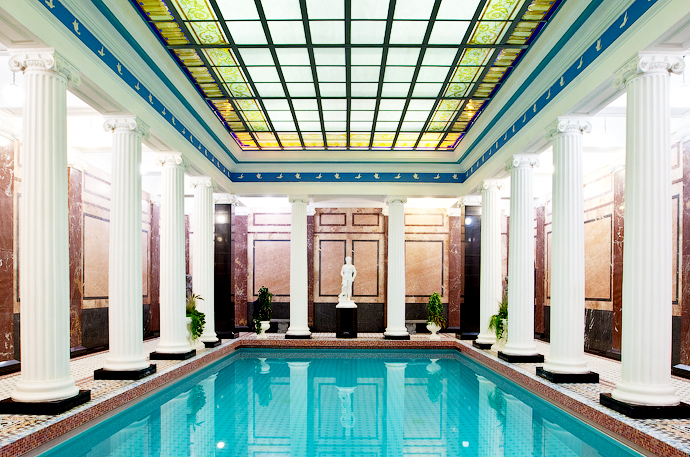 Also, the above photo is usually used to describe this grand banya. However, ladies, I have some bad news. This is the men's side and there isn't anything quite so grand on our side. It's still quite the experience, though! And if you really want to see the men's side, they do tours of the facility on Thursdays at 16:00.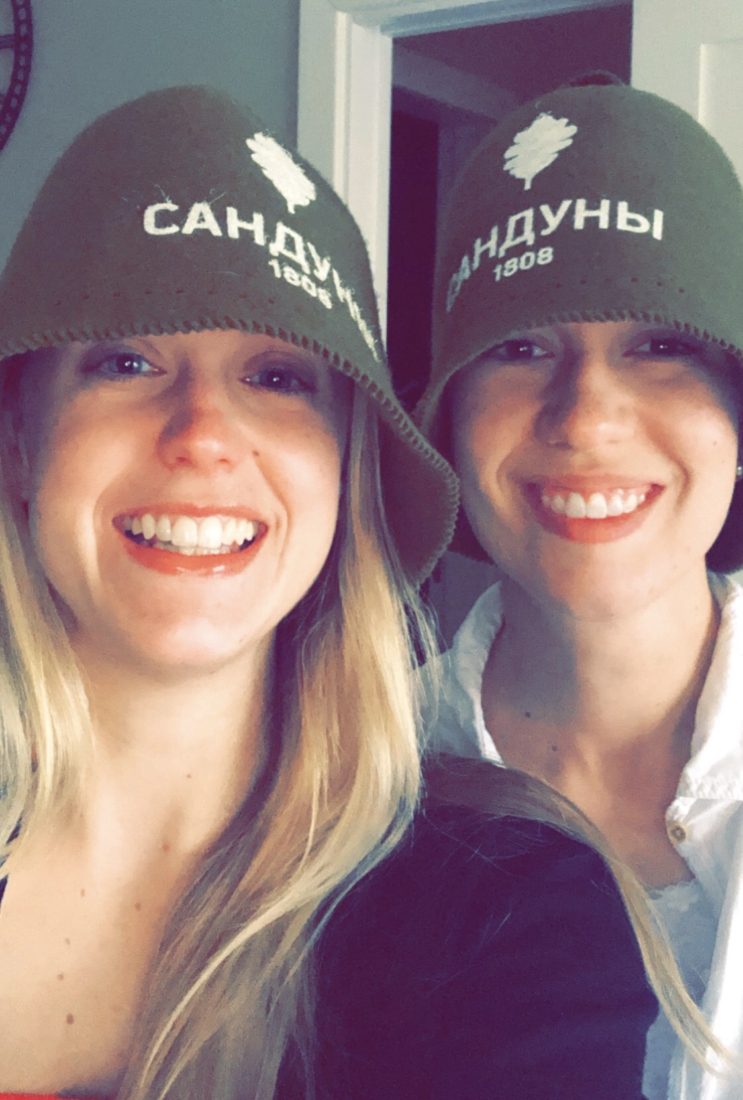 My college roommate came to visit me in Russia last week, so I had to take her to a Russian Banya for the full experience. She was more interested in the public banya because it would likely be a more authentic experience. I was intrigued myself but had never worked up the courage to go alone. So, this was a great opportunity for both of us!
Everything You Want to Know Before Going to a Public Banya in Russia (for Women!)
And until last week I thought I knew all that there was to know about Russian banyas until I found myself lying naked and sweating to death on a table in front of 12 other women (all strangers to me), getting flogged with a couple of birch branches by a kind, but very strong, woman named Olga. And I had actually paid for this beating. It's all part of the experience! (For visual, the branches for the floggings are below.)
I knew when I signed up for this that I would likely have to be naked for this flogging. (I had done it before in a private bathhouse.) However, I didn't expect to be on display for the rest of the banya goers while it was happening! I was envisioning this to be a little more, ah, private? But there I was, naked as the day I was born in front of everyone, getting smacked around by Olga and as she shouted commands in Russian…which I imagine was something like, "Now, flip over! Raise your legs! Scoot your butt down further!" But I had no idea what she was saying. So, she gave up and just started pulling me and moving my body parts to where they needed to be…much to the amusement of everyone in the banya.
The photo below is actually about where they had the "flogging table" setup. This pic is from their Instagram page, for obvious reasons…you can't take photos inside the banya.
View this post on Instagram
In order for you to be a little more prepared than I was… here is absolutely everything you'll ever want to know about this experience. For me, I would have been far more comfortable in that situation above if I had been aware of it going into it! So, hopefully, knowing what you're getting yourself into will help you enjoy your banya experience even more.
Entering the Banya
I knew enough to hand my coat to the coat check. However, when the coat check lady started motioning at my shoes… my first thought was, "She wants me to check my shoes too?" No, she did not want my smelly shoes. She wanted me to step into a little machine next to her that put a shoe cover over my shoes. Ahhhh… That makes more sense. However, I still looked like a doofus using it.
Buying Tickets to the Banya
Fortunately, me being such an idiot with my shoes prompted a lovely Russian lady who had just walked in to help us buy our tickets to actually get into the banya. There is a little ticket booth on the opposite side of the entryway from the coat check. Here, you can get either a "regular ticket" or a "VIP ticket." We opted for the regular ticket. However, you won't actually pay until you're done using the banya.
Getting "Your Spot" in the Banya
You'll then actually walk into the banya area and hand your ticket to the front desk. We lucked out because there was one lady working who did know some English. She explained we would pay for our services at the end and that our ticket allowed us exactly 2 hours in the facility. She then told us to pick a spot to sit and set our things. (Pictured below – photo is from Sanduny's Instagram.)
View this post on Instagram
Figuring Out What You Need to Rent
We were also given a menu that has everything you can ever want to buy or rent for a banya experience. And, luckily, they did have an English menu. We had brought our own flip flops with, but that was about the extent of it.
We ended up renting:
*Terry Cloth Towels (to use after showering)
*"Large" Towels (This served as our "clothes" for the 2 hours we were there.)
*Birch Branches (For our flogging experience.)
We ended up buying:
*Our cool felt hats (You can't rent those, and you absolutely want to wear one in order to protect your hair and regulate your body temperature.)
*Tea and snacks (You can order all kinds of food and drink for your little sitting area.)
*A Flogging Session
Get Naked!
Once you have all that figured out – it's time to strip! Seriously take it all off. Do not wear a swimsuit – you'll look very odd!
You'll then cover up with your large thin towel and head into the shower area.
Unless it's your time of the month... I did notice a couple of girls who had left their undies on (just make sure they're not cotton, as you'll be sweating through them in 2 seconds flat). I really didn't know what to do in the situation of having my period. So, this is something I would have wanted to know ahead of time! You can leave your undies on in that situation, and a tampon would be your best bet…
Shower (You're Going to Shower SOOOO Much During This Experience)
Every time before you go into the steam room, you should rinse off. You don't need to use soap or anything, but rinse your body off in one of the showers.
Put Your Cute Hat On & Go Into The Steam Room for 5 – 15 Mins
In the steam room, you should bring your towel with to sit on (it'll be more comfortable). However, wrapping yourself in your towel (like we did) will make you stick out like a sore thumb. EVERY LADY in here is naked! Just embrace it and you'll be better off. Frantically clinging to your towel will get you more unwanted attention than just letting it all hangout. Seriously, there are ladies of every age, shape and size in here. It doesn't matter! Neither does body hair if you're worried because you forgot to shave or whatever – again, it doesn't matter! Some ladies are hairy and others aren't. Just enjoy the experience!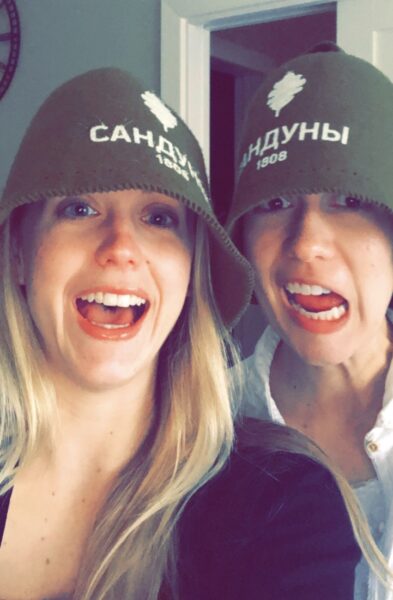 Leave the Steam Room – Take Another Shower!
After you're done in the steam room, you'll rinse off again or dump a cold bucket of water over your head. I don't have it in me to dump cold water over my head, haha. So, I opted for showering.
Jump in the pool or plunge tub.
After showering, you should spend a few minutes soaking in either the pool or plunge tub. They're both cold water and are meant to get your body temperature back down after sitting in the steam room.
Head Back to "Your Spot" for Refreshments
After that, you can head back to your spot and order tea and water and any snacks you want. You'll want to replenish the liquids you lost in the steam room.
You can repeat this as many times as you want during your 2 hours there.
Spa Treatments
If you're coming all the way to Russia, you might as well get the full Russian banya experience….right? I opted for the "steam room sessions service" – which is getting hit with the birch branches. And my roomie also opted for a scrubbing service (where they wash and exfoliate your skin).
We had both been frantically clutching our towels throughout this process. However, when it came time for our "spa treatments" Olga cried "NET!" And ripped our towels away. Ha. That's one way to get out of your comfort zone.
Olga hit/massaged almost every square inch of my body with the branches. She also, mercifully, had me cover my boobs with my hands, so she wouldn't hit those with the branches! (And I was grateful to keep them from spilling into my armpits while I laid naked on my back in front of a room full of people! Haha.)
Once Olga was done, she led me by the hand to the shower area, sat me down and threw a cold bucket of water over my head…and then a warm one, and then another cold bucket. My body was thoroughly shocked after that!
Needless to say, the flogging was a little less relaxing than my previous experiences with it. However, I still felt like a million bucks after it was done, and I will absolutely do it again.
My roomie said her scrub was also not the most relaxing experience, and her skin was pretty raw after it was done. She did get to go into a private room for this treatment, though. We are thinking it would be better to do a "washing" service instead of a scrub if you have sensitive skin.
Settle up the Bill and Go Eat a Big Meal!
Once your 2 hours are up – you'll pay your bill. You can use cash or credit card. It's also not expected for you to tip in a banya.
You're also going to be starving by this point – so, go get yourself a big meal! (Sanduny has its own restaurant or there are many restaurants in that area.)
*There is an area with blowdryers and mirrors if you want to get ready right at the banya as well!
View this post on Instagram
Now, I know after reading this your thoughts are probably somewhere along the lines of "Hell no, Lindsey! I am never coming to Russia and paying to do this!" But I'm here to tell you, this is one of the most memorable experiences I've ever had! Plus, it's one of the most authentically Russian experiences you can have. You can also book a tour guide to help you navigate if you're worried. Or you can simply book a private banya experience (that will be a very "spa-like" environment and very relaxing). Either way, you can't leave Russia unless you have a banya experience!
Travel Insurance
It's a good idea, no matter where your adventure takes you, to have travel insurance. You never know what might happen! Whether you get sick before your trip and can't go, or you become sick or injured while on your adventure – being covered with travel insurance is a must. Some credit card companies do provide this service (check with yours), or you can get a quote from companies such as Squaremouth to find the best plan for you and your adventure. (This is the company I, personally, use. They are even recommended by Forbes!) To get a free quote, click here.
Visa Requirements
To check if your country requires a Visa for traveling to Russia, click here.
*Disclosure: some of these links are affiliate links. Meaning, if you click a link and make a purchase, Have Clothes, Will Travel gets a very small commission at no extra cost to you. Thank you for supporting the brands that make this blog possible! I am also a participant in the Amazon Services LLC Associates Program, an affiliate advertising program designed to provide a means for us to earn fees by linking to Amazon.com and affiliated sites.