32 Best Things to Do in Door County by a Wisconsinite
There is no shortage of fabulous things to do in Door County, Wisconsin. This area has a little something for everyone – from wine tasting to shopping to charter fishing and hiking, biking, kayaking, and more!
Door County is on a peninsula between Green Bay and Lake Michigan. It's a wonderful weekend getaway for us Wisconsinites, as it takes less than an hour to get here from Green Bay or about 1 1/2 hours from Appleton (where I live). Plus, it's just under a 4-hour drive from Chicago.
This is my list of the best things to do in Door County as someone who actually lives in Wisconsin and visits this lovely area frequently! (All photos in this post were also taken by me of Door County, and are not random stock photos.) I know there are far more things to do than even this list, and if I missed one of your favorite things to do in Door County – please let me know in the comments at the end of this post! I am also happy to answer any questions anyone has as well.
*Disclosure: some of these links are affiliate links. Meaning, if you click a link and make a purchase, Have Clothes, Will Travel gets a very small commission at no extra cost to you. Thank you for supporting the brands that make this blog possible!
32 Things to Do & Places to Visit in Door County by a Local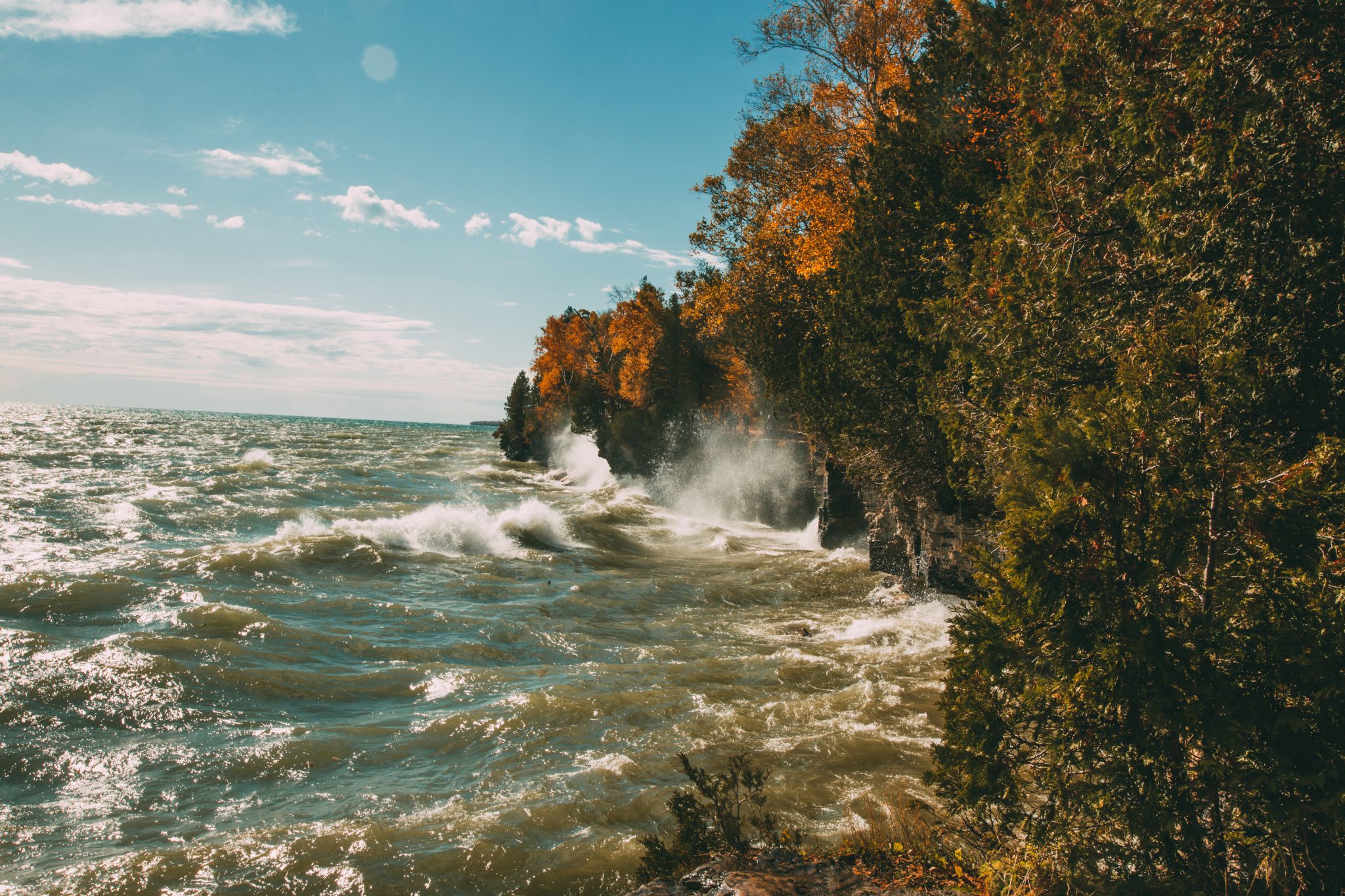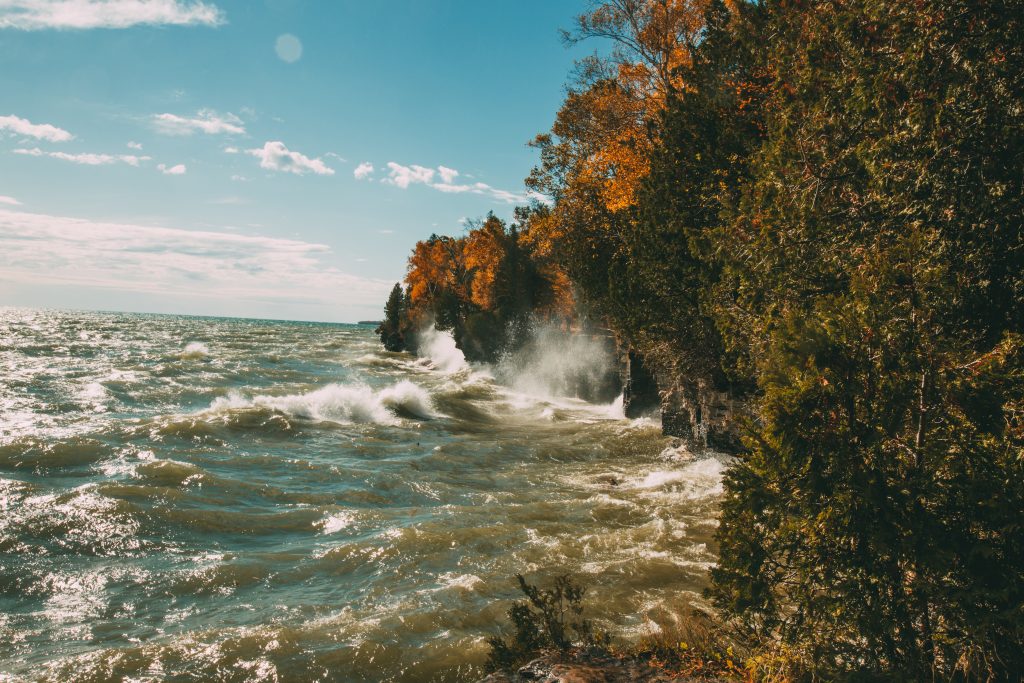 1.) Explore Cave Point County Park and Whitefish Dunes State Park
If you ask anyone what their favorite thing to do in Door County is – they'll likely say, "Going to Cave Point County Park!" It can sometimes slip under the radar of visitors as it's "only" a county park (and not a national or state park). However, don't let that fool you! Cave Point is absolutely stunning. Here, you can hike, bike, picnic, go diving, cross-country ski (in winter) and more!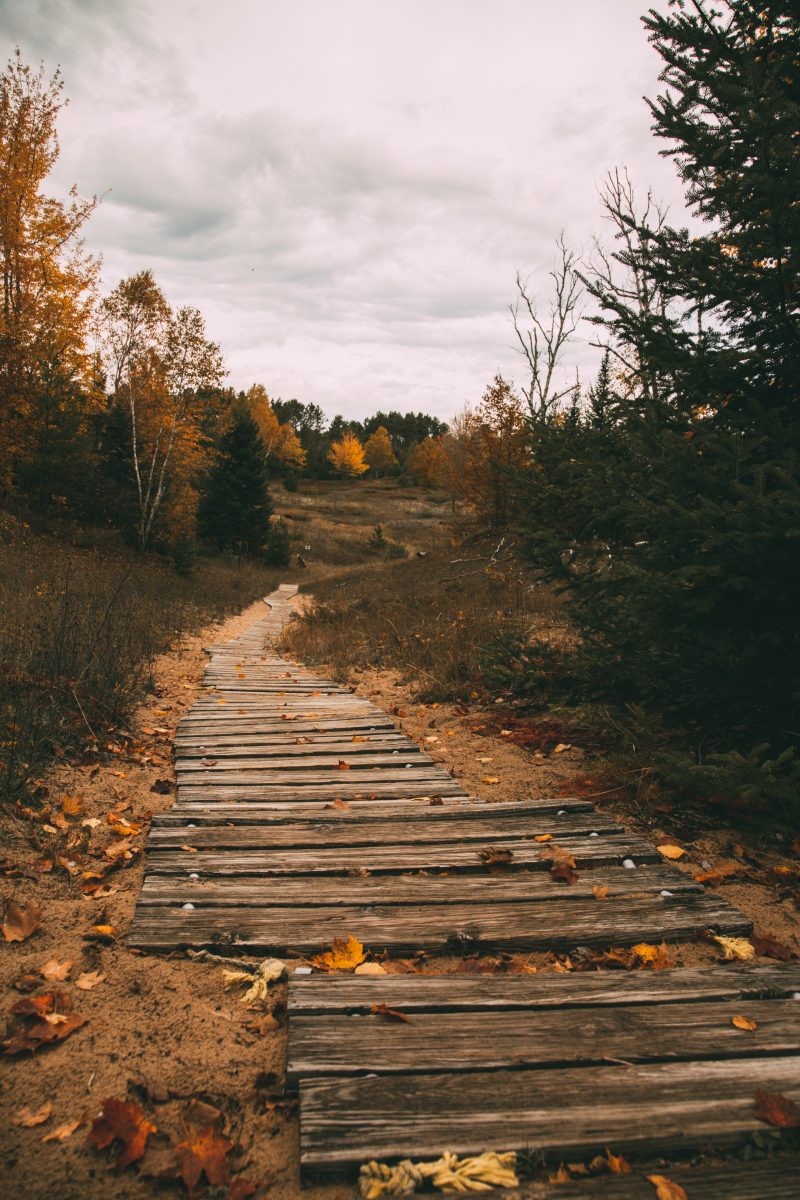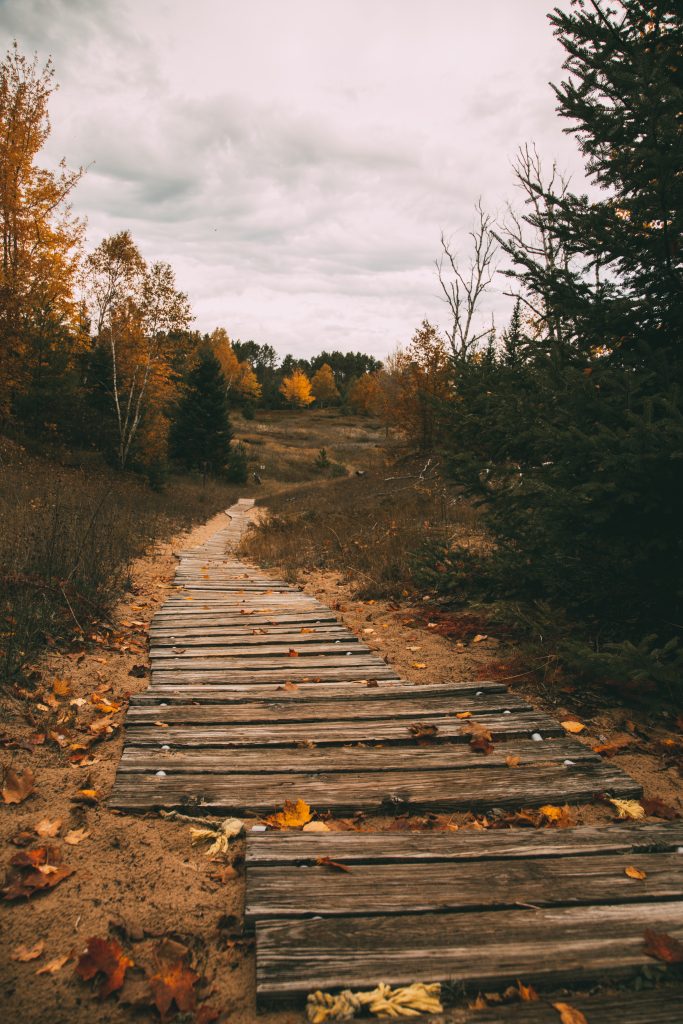 Cave Point County Park is located within Whitefish Dunes State Park. They are both beautiful places to explore. In Whitefish Dunes State Park, be sure to hike the Red Trail, which begins at the Nature Center Park Office. It's about 1.2 miles long, and you have the option to take a short hike to the Old Baldy observation platform for great views of Lake Michigan and Clark Lake. Old Baldy is the tallest dune in Whitefish Dunes State Park!
2.) Go Kayaking
There are several different places to go kayaking in Door County, but one of the arguably best places is out of Cave Point County Park. Kayaking here will give you a chance to explore the beautiful caves and scenic waterways of Cave Point County Park and Whitefish Dunes State Park.
You don't need any experience kayaking either. The company will teach you and guide you, as well as provide you with all the necessary equipment before you go.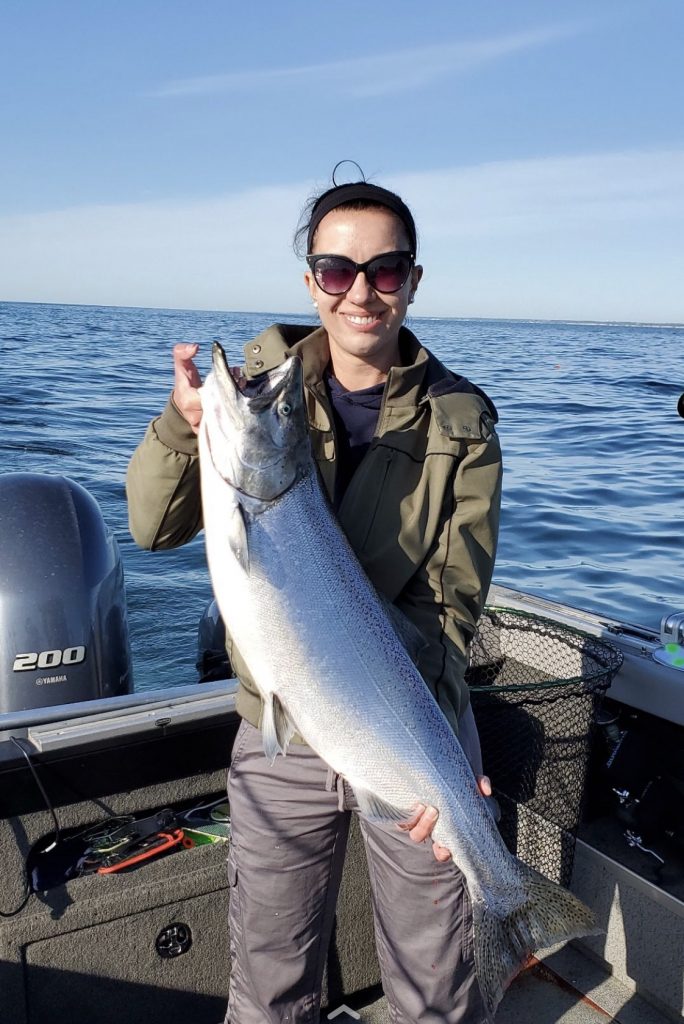 3.) Take a Charter Fishing Trip
This is one of my personal favorite things to do in Door County. Going fishing is a fun way to spend half a day. Plus, we can sometimes fill our freezer with fish for the year! My husband and I went last weekend and now have 48 pounds of salmon in our freezer – and we had a blast doing it!
We recommend booking with Reel Action Charters out of Sturgeon Bay.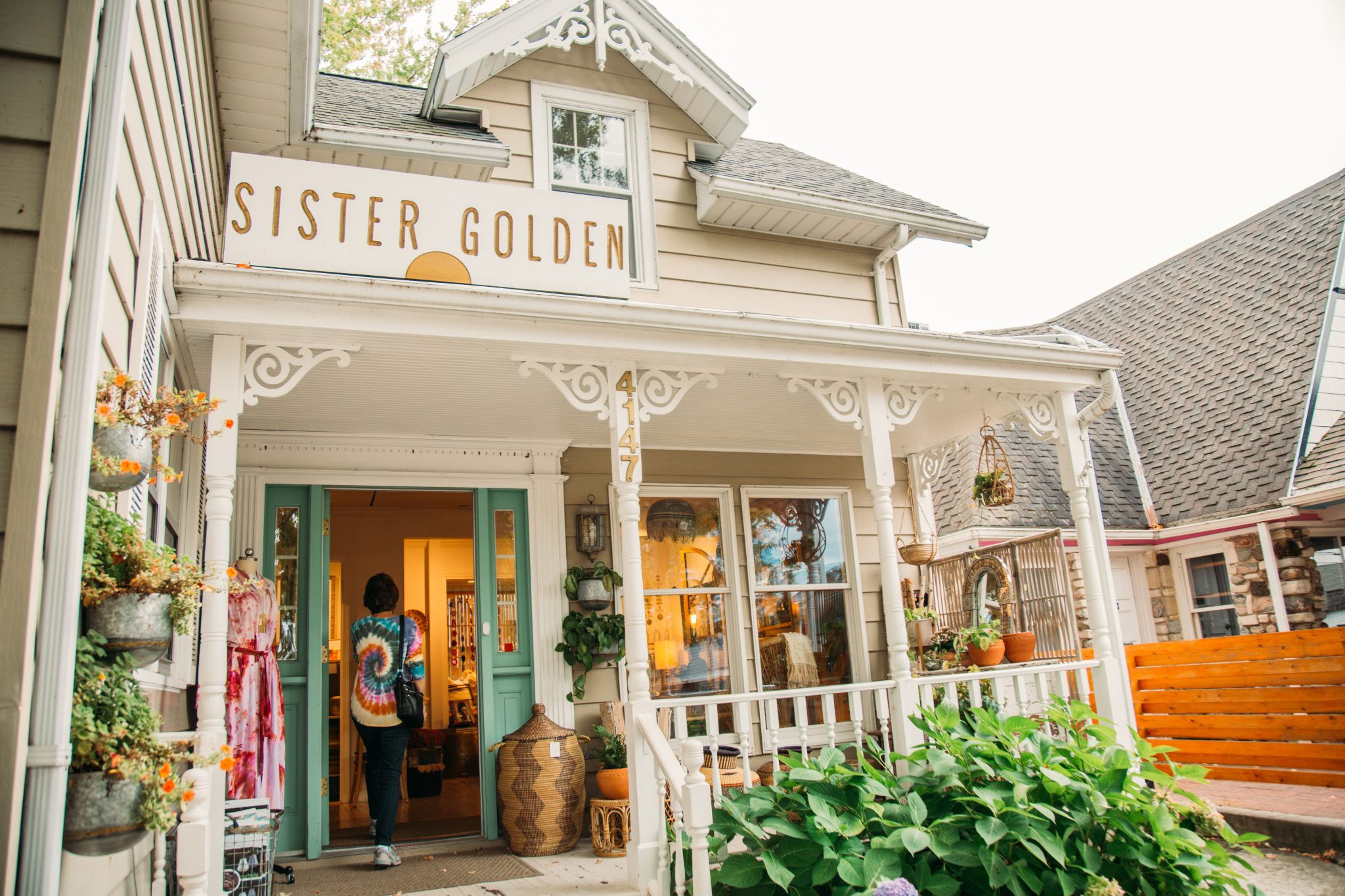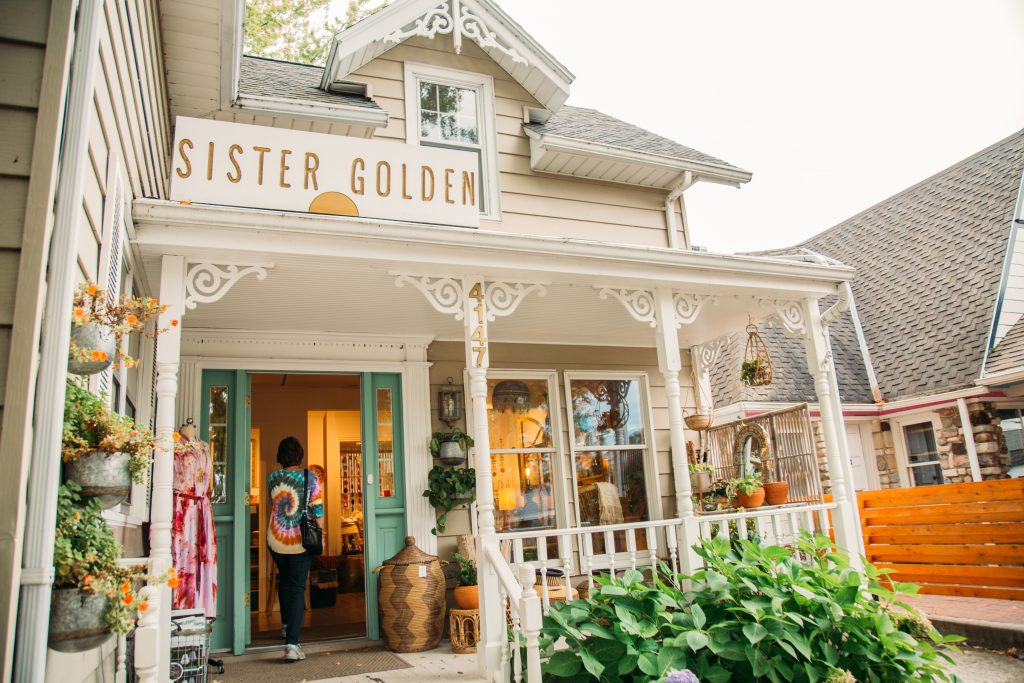 4.) Go Shopping
There are so many cute shops in Door County! I make sure to set aside at least one full day just to wander through all the different mom-and-pop stores in this area. My personal favorite town for shopping is Fish Creek – but I also love Egg Harbor, Bailey's Harbor, Sister Bay, and Sturgeon Bay. Needless to say, there are plenty of shops to choose from!
5.) Sample the Local Wines
Door County is the wine county of Wisconsin. Whether you like wine or not, you can't leave Door County without sampling at least one of its local wines. The area is most known for its cherry and other fruit wines. So, if you like sweet wine, you're in luck!
If you're like me and more a fan of dry wines, then I recommend visiting Stone's Throw Winery in Bailey's Harbor. (I especially like their Merlot.) There are currently 8 different wineries you can visit in Door County.
6.) Take a Trolley Tour!
If you'd like to indulge a little more in your wine tasting and not worry about driving – take a fun Door County Trolley Tour! Taking a wine tour is just one of 16 different tours you can choose from. These trolley tours range from Ghost Tours to Scenic Lighthouse tours to Bloody Marys and Brunch Tours and more!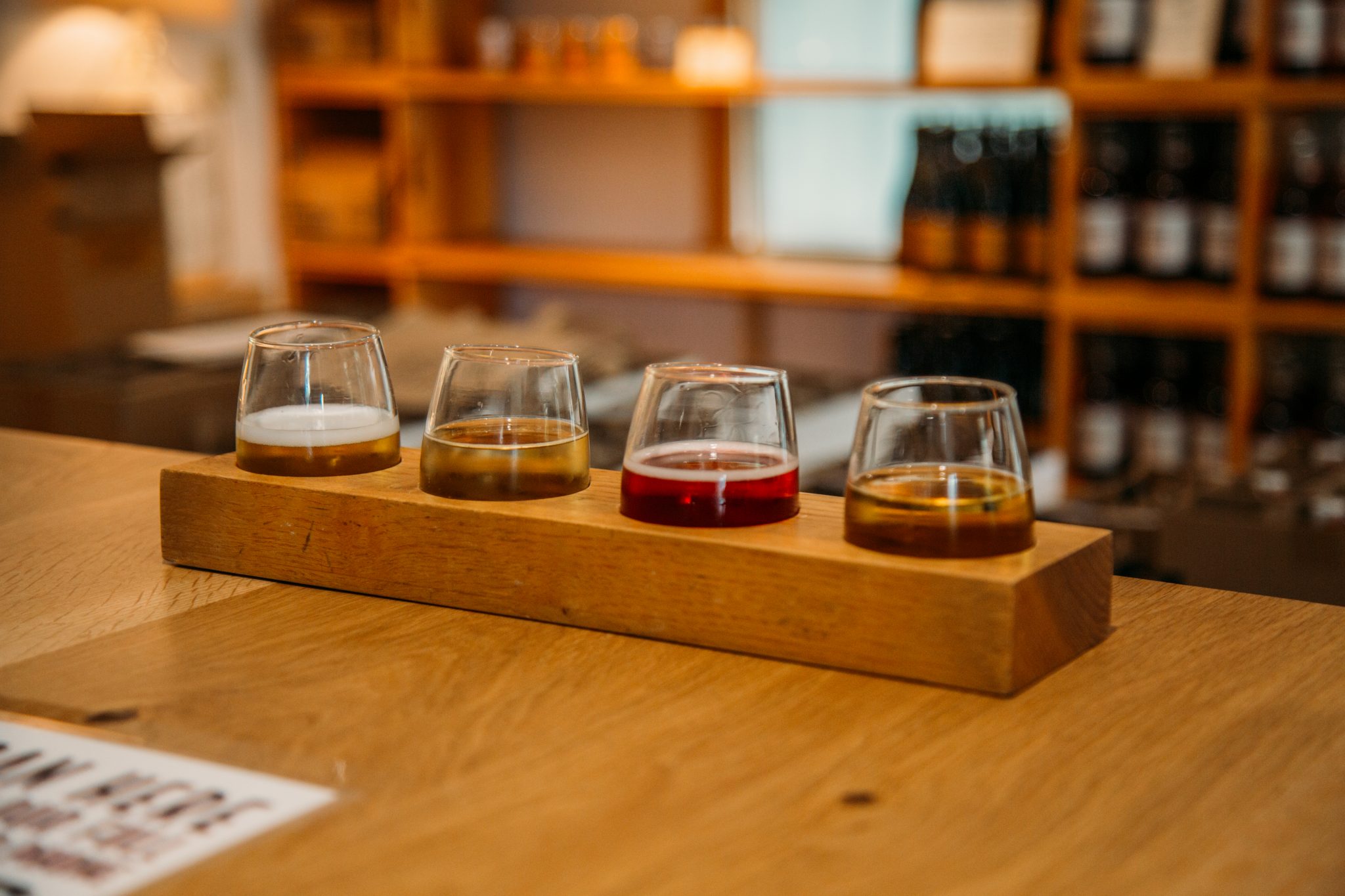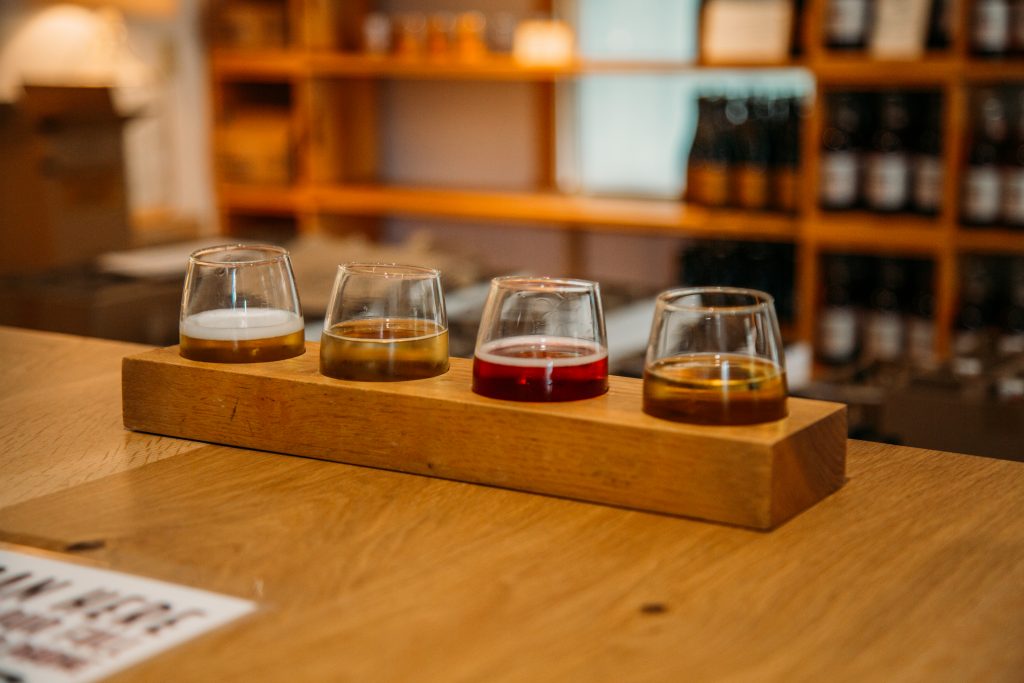 7.) Try a Cider Flight at Island Orchard Cider
While Door County is most known for its wine scene, I definitely recommend checking out Island Orchard Cider in Ellison Bay for their tasty selection of ciders. You can get flights, full pours, snacks, and bottles to go! They have a super cool taproom plus outdoor seating.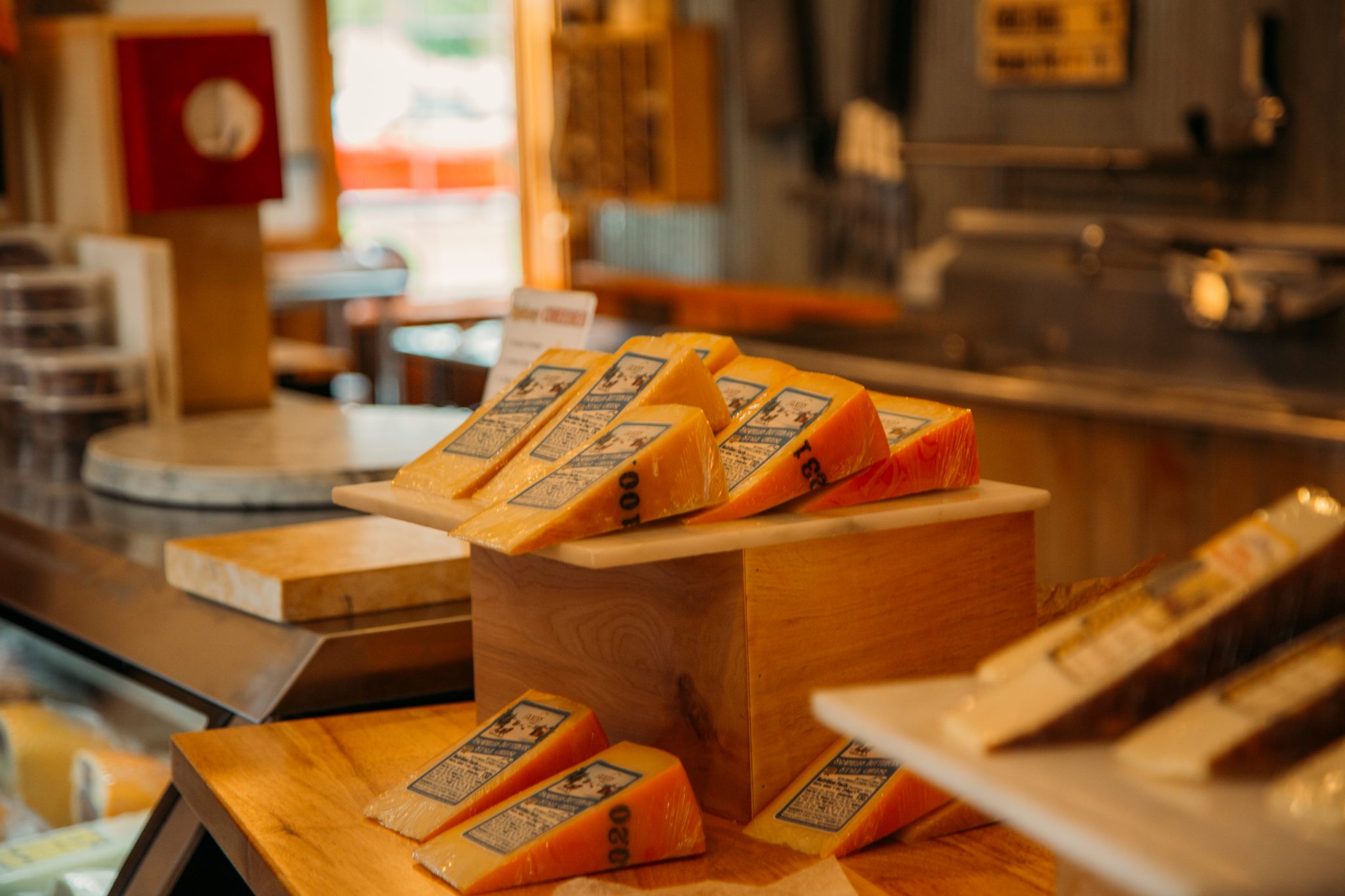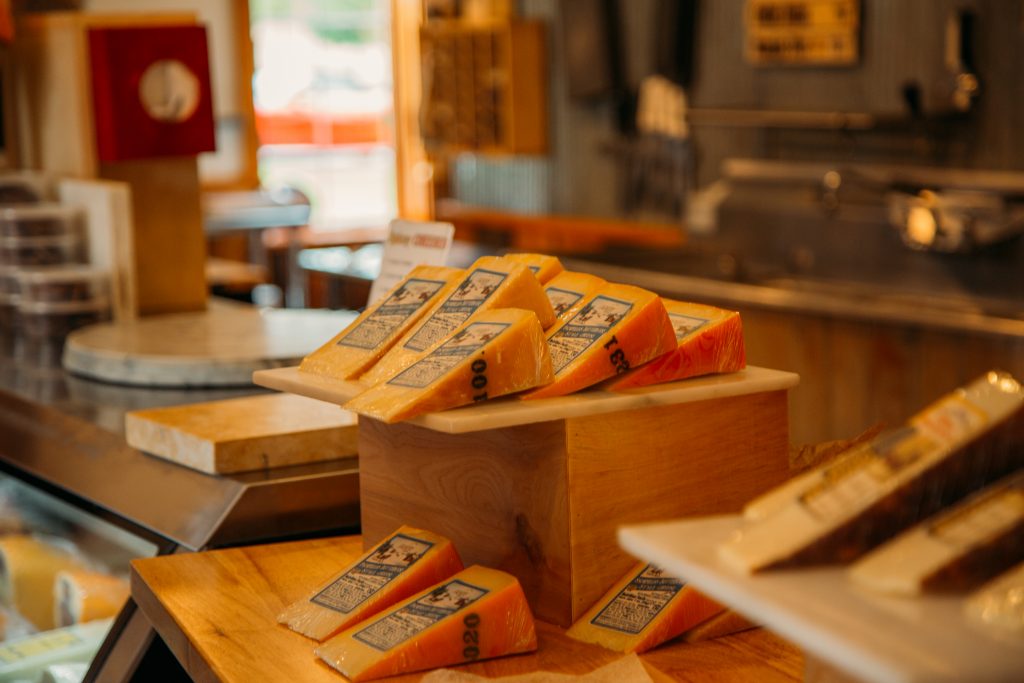 8.) Go Cheese Tasting!
Not a fan of alcohol? Go cheese tasting instead! Renard's Cheese in Sturgeon Bay has been operating since 1961 and is a Door County must. You have to try their cheese curds! I also love Wisconsin Cheese Masters, where you can sample more than 600 kinds of cheese – seriously. (The photo above is Wisconsin Cheese Masters.)
Wondering where to stay in Door County? Check out my guide, here!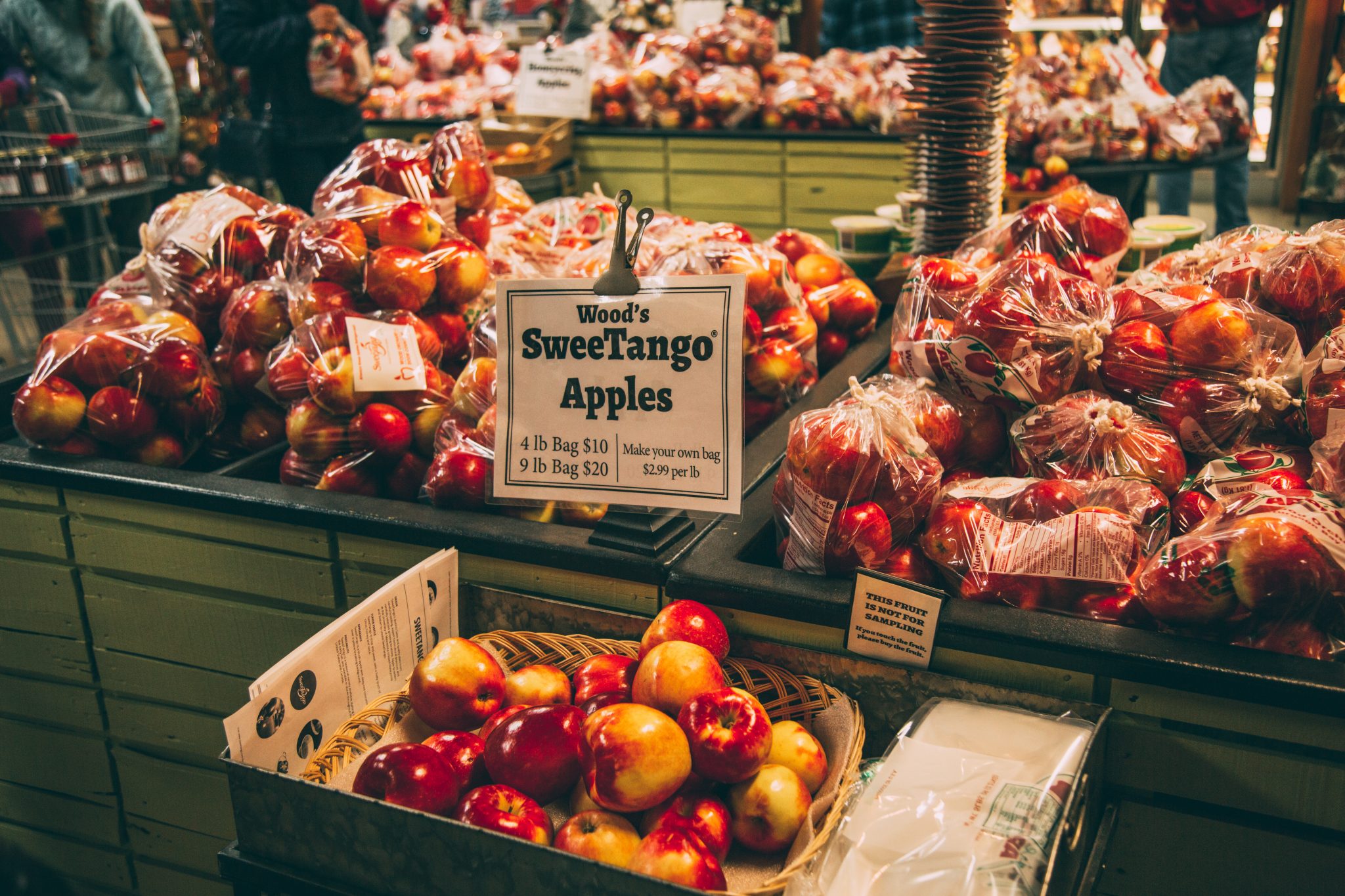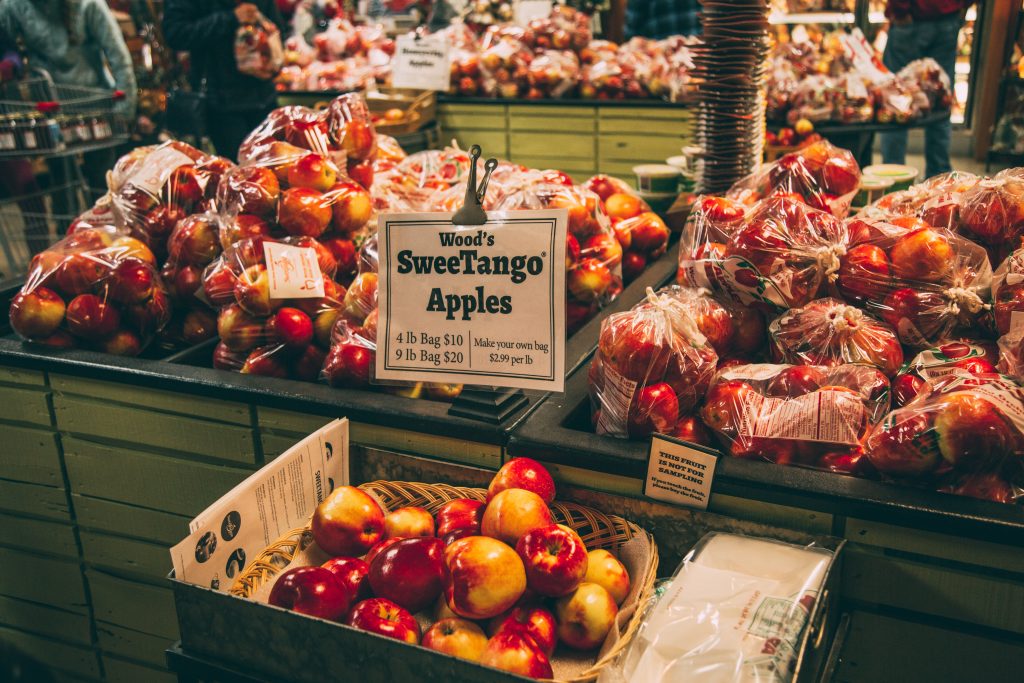 9.) Check Out a Local Orchard
There are many orchards in Door County that grow a variety of fruits. The most popular is, of course, the famous Door County Cherries. You can buy just about any cherry product under the sun here! (Cherry-picking takes place from mid-July to mid-August.)
There are also a variety of delicious apples, which means you can also buy apple cider, apple cider doughnuts, applesauce, and more. (Apples are ripe from mid-September to mid-October.)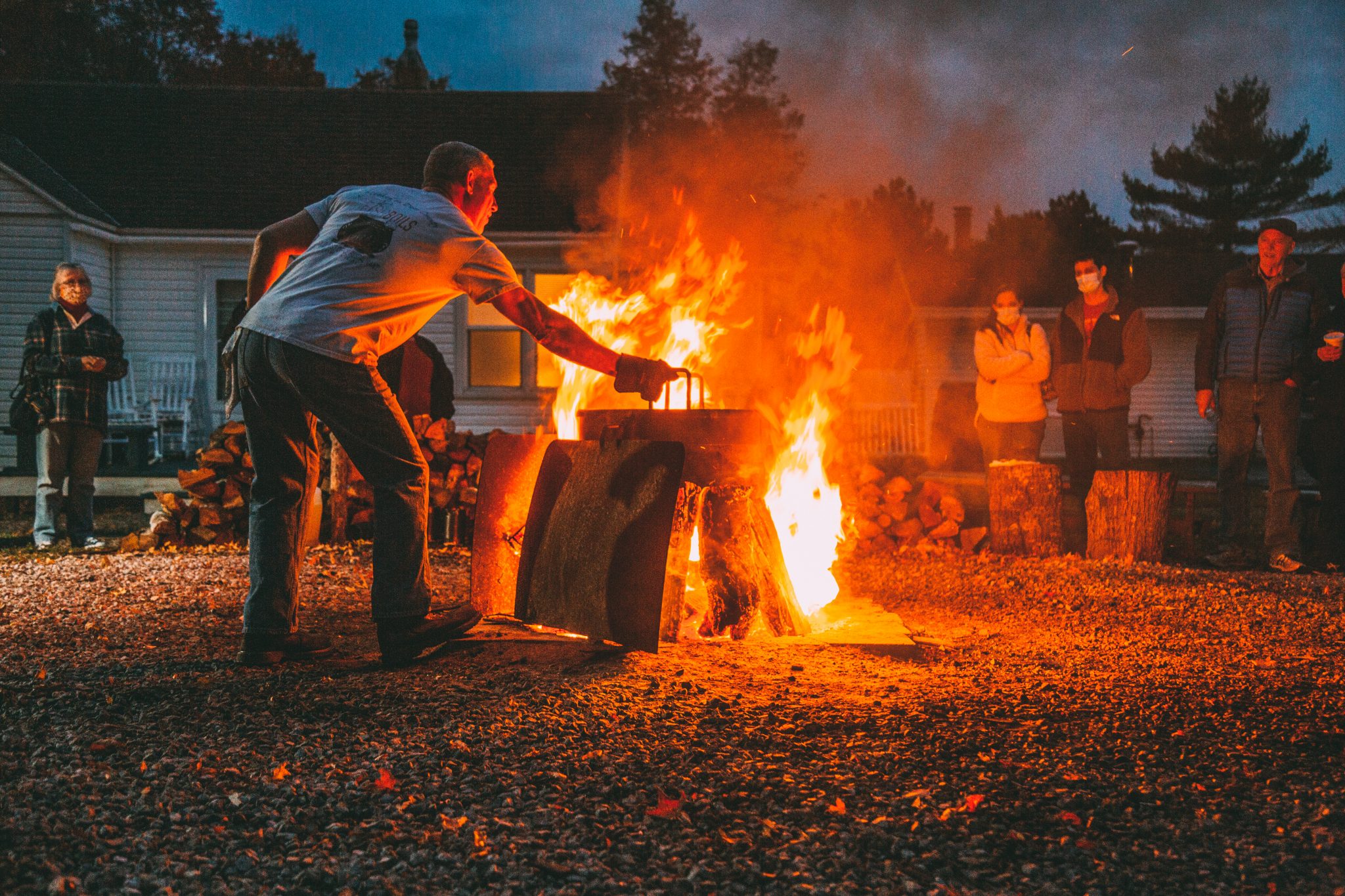 10.) Go to a Famous Fish Boil!
Attending a fish boil is a must-do in Door County! They're not only delicious, but they're also fun to watch. Your boil master will add the ingredients to a large metal kettle and boil it over an open fire. Every fish boil is made slightly differently, but it will always be with white fish, potatoes, and other various vegetables and seasonings.
Now my uncle is the best fish boil master… but he isn't open for business outside of family gatherings. So, the next best fish boil, in my opinion, is at the Old Post Office Restaurant in Ephraim (pictured above).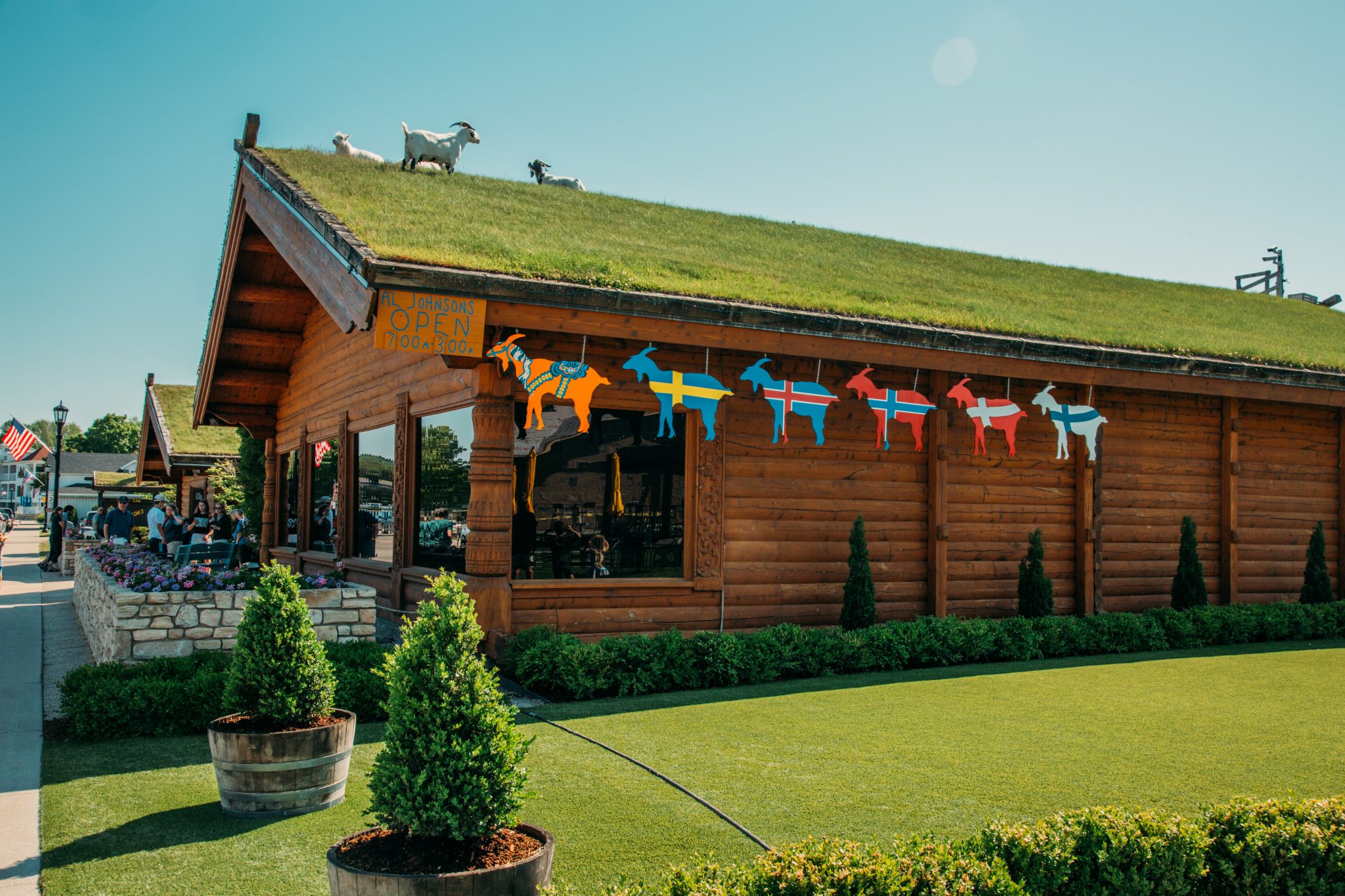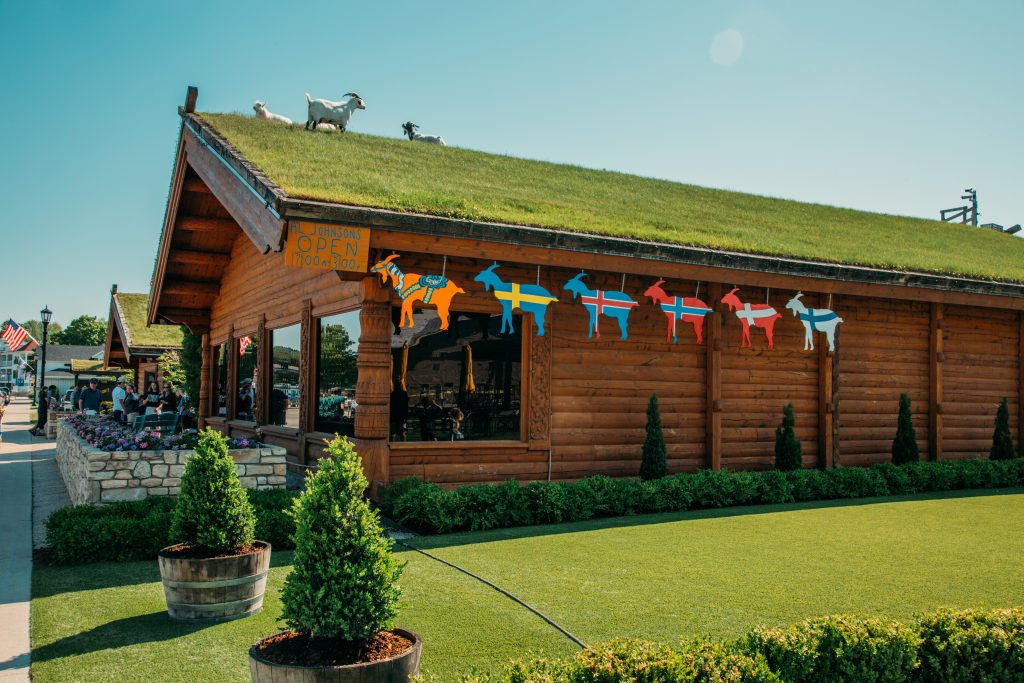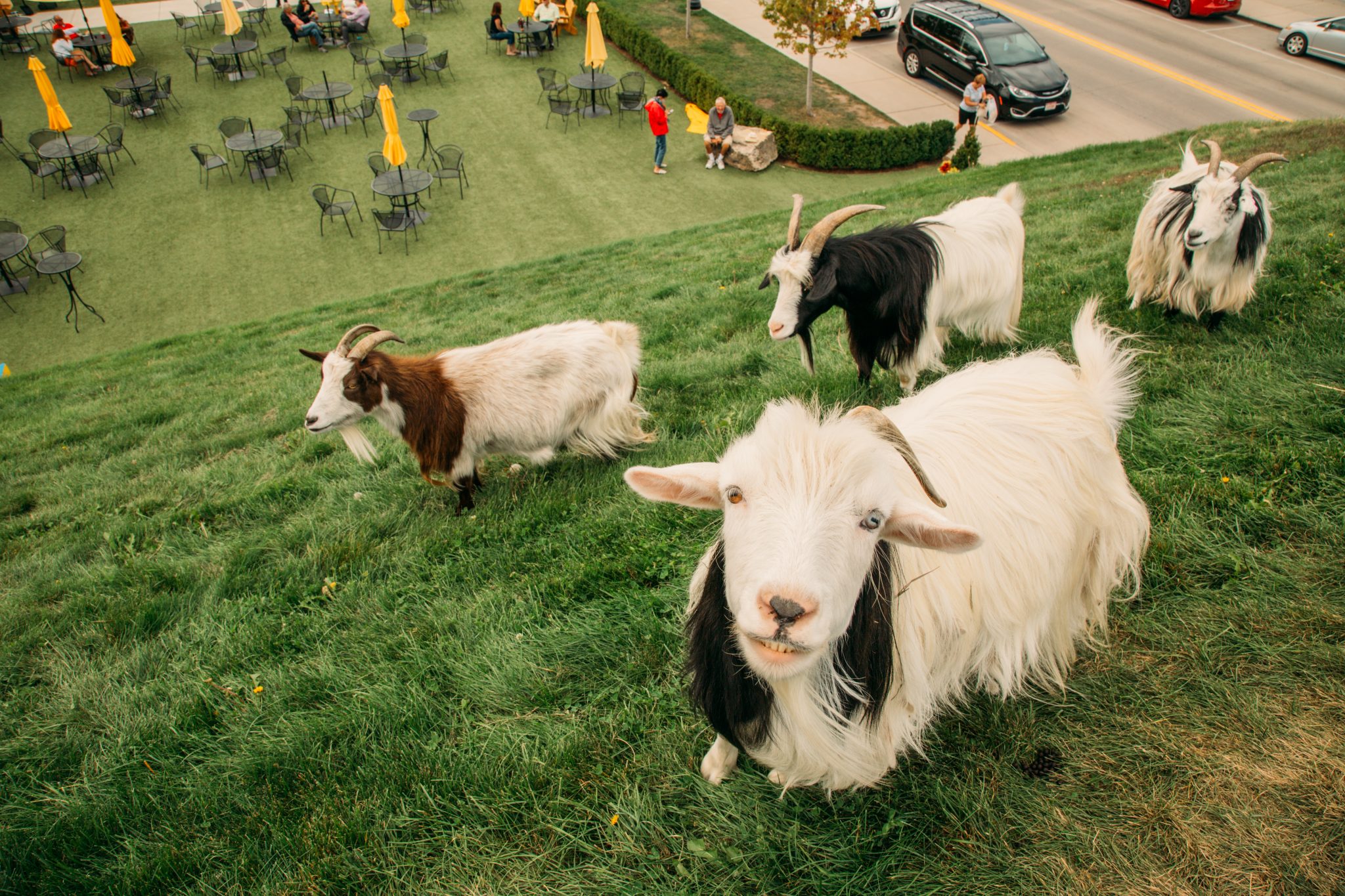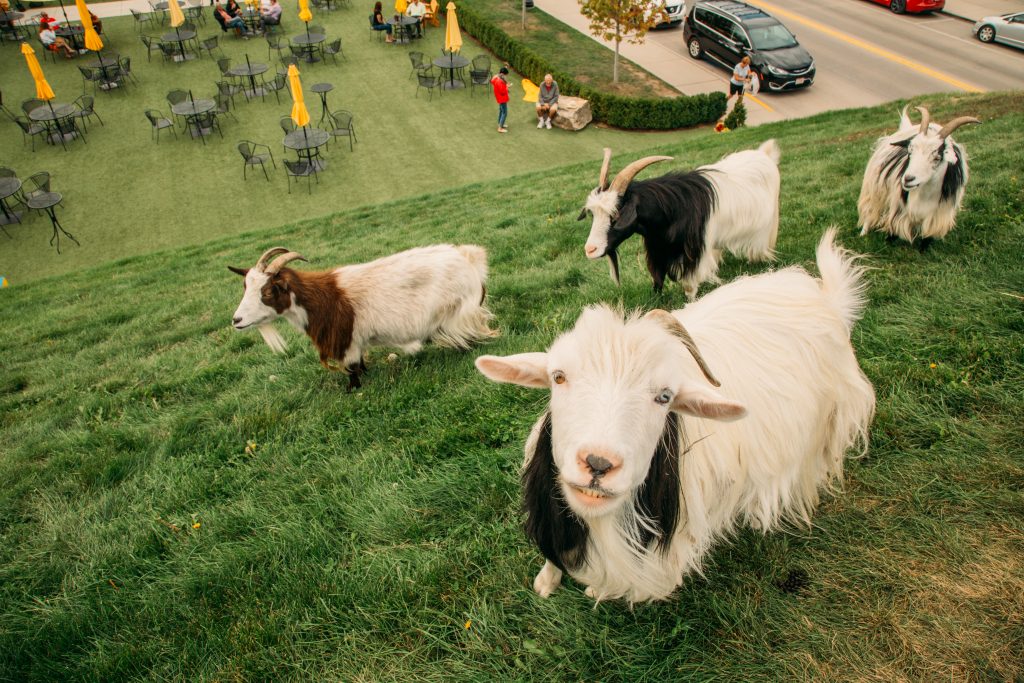 11.) Have Breakfast at Al Johnson's Swedish Restaurant & Butnik
Al Johnson's is most famous for its goats on the roof. The roof is made of sod and has a variety of goats grazing on top of it. The restaurant is located right in the middle of Main Street in Sister Bay – so you can't miss the goats!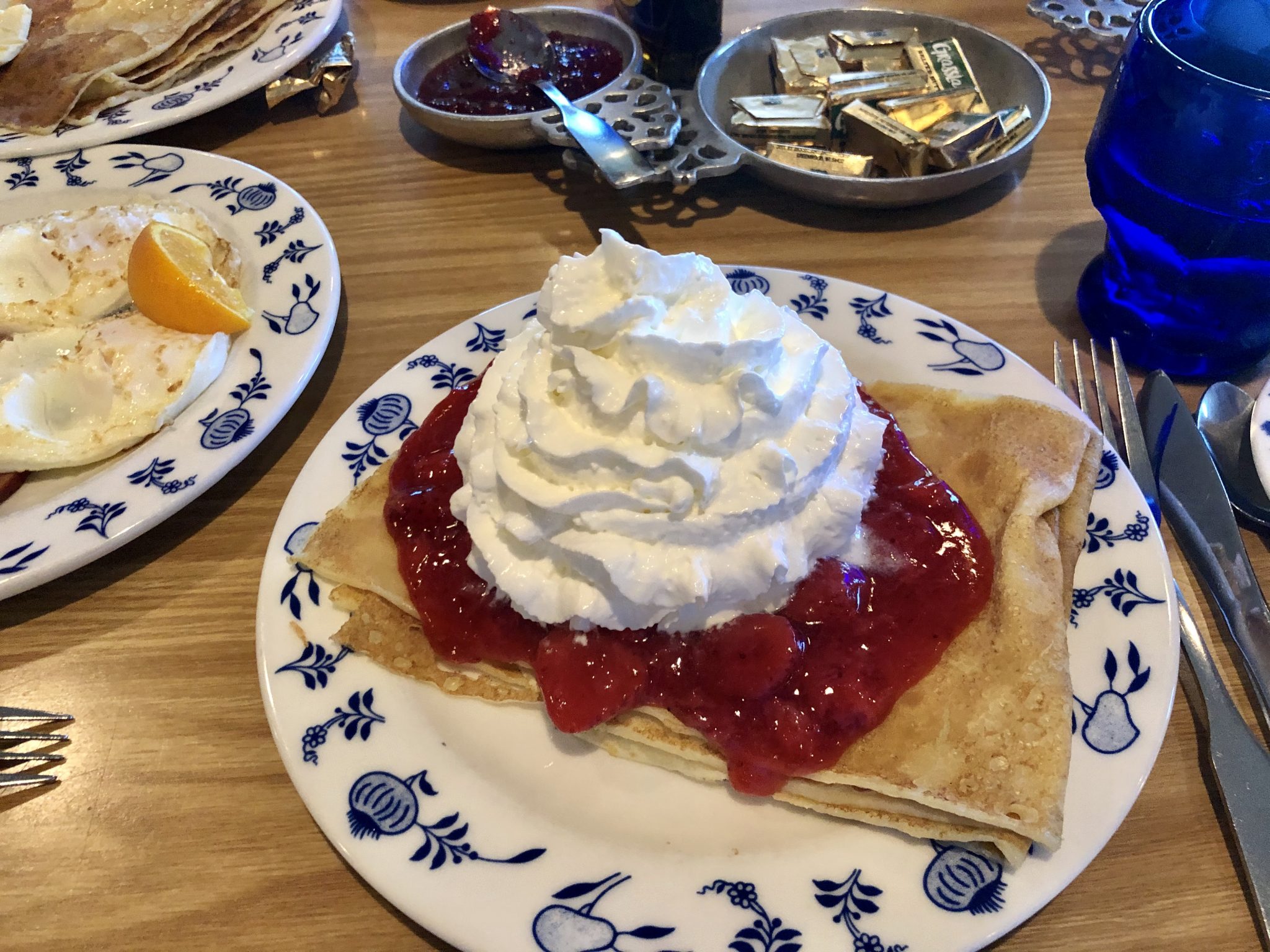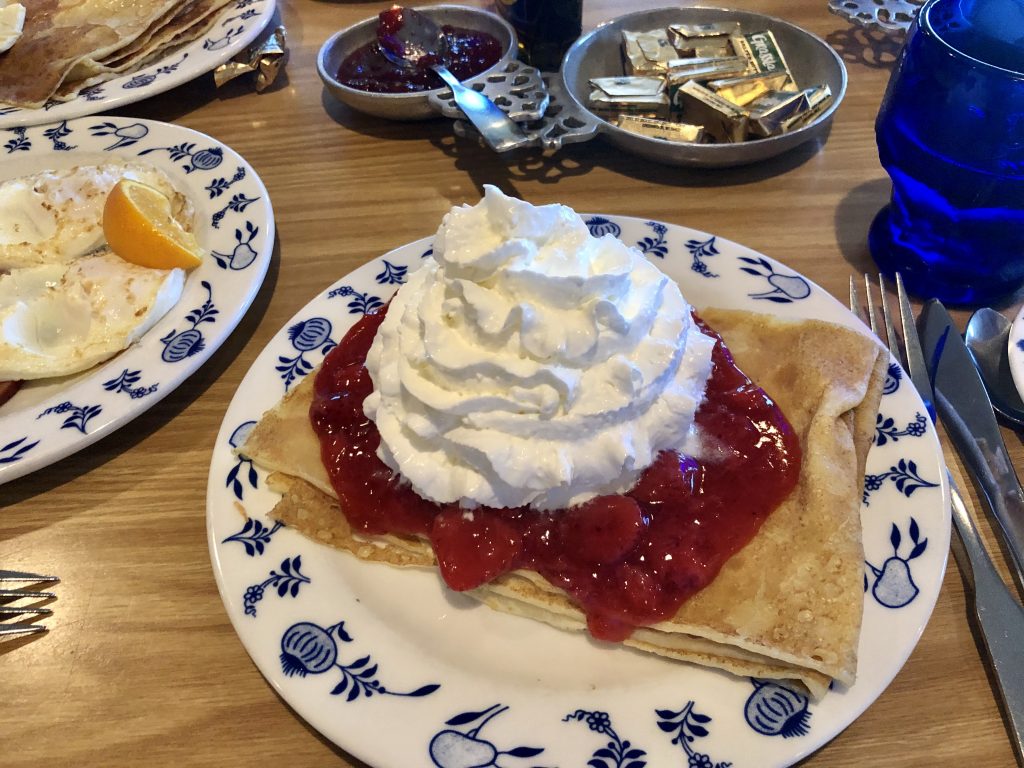 While the goats are the main draw, the food itself is AMAZING at Al Johnson's too. I'm not much of a breakfast or morning person, but I will happily roll my butt out of bed for their Swedish pancakes. They're open from 7 am to 3 pm, but also have a family-friendly outdoor bar that is open until 8 pm.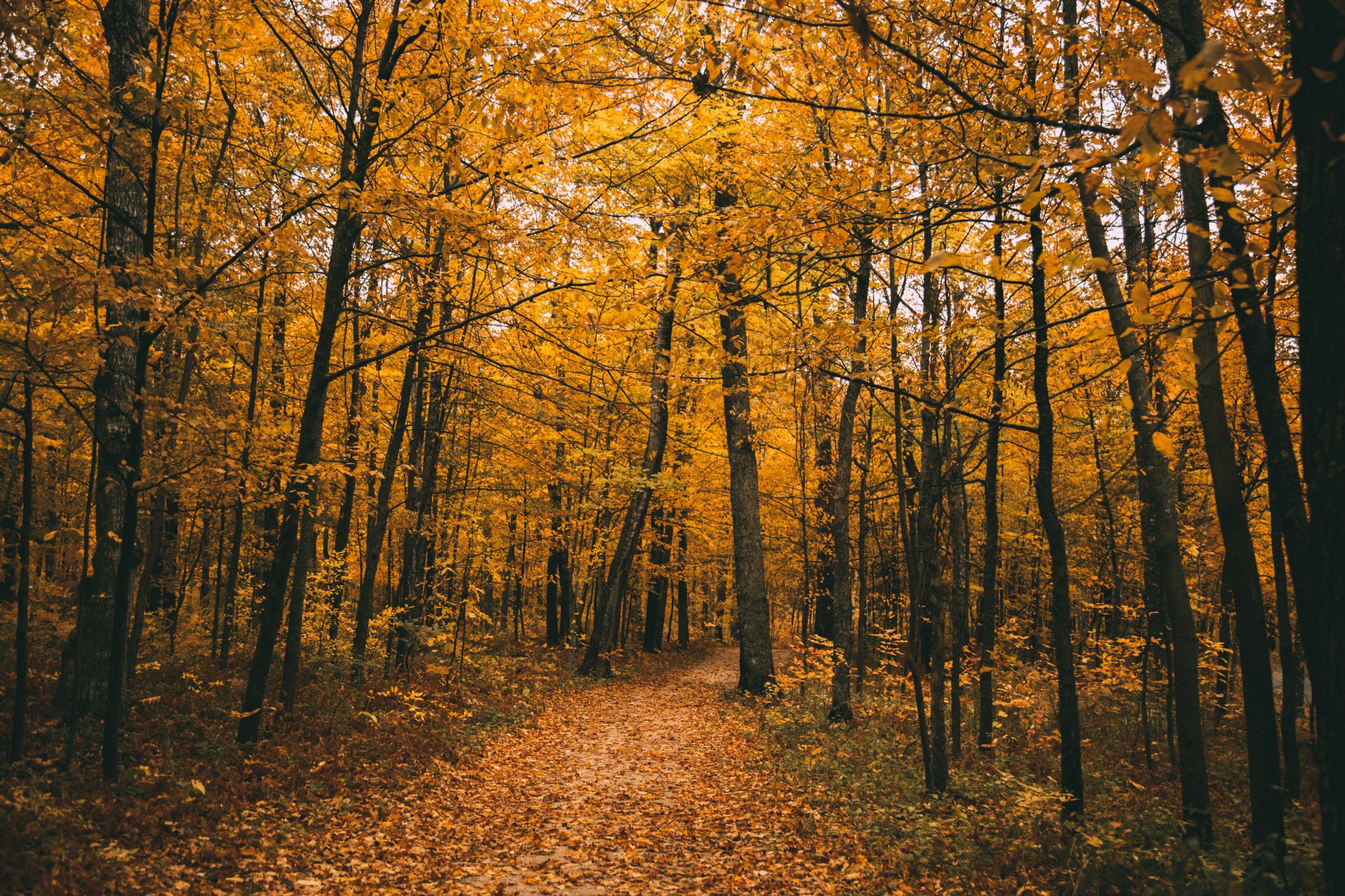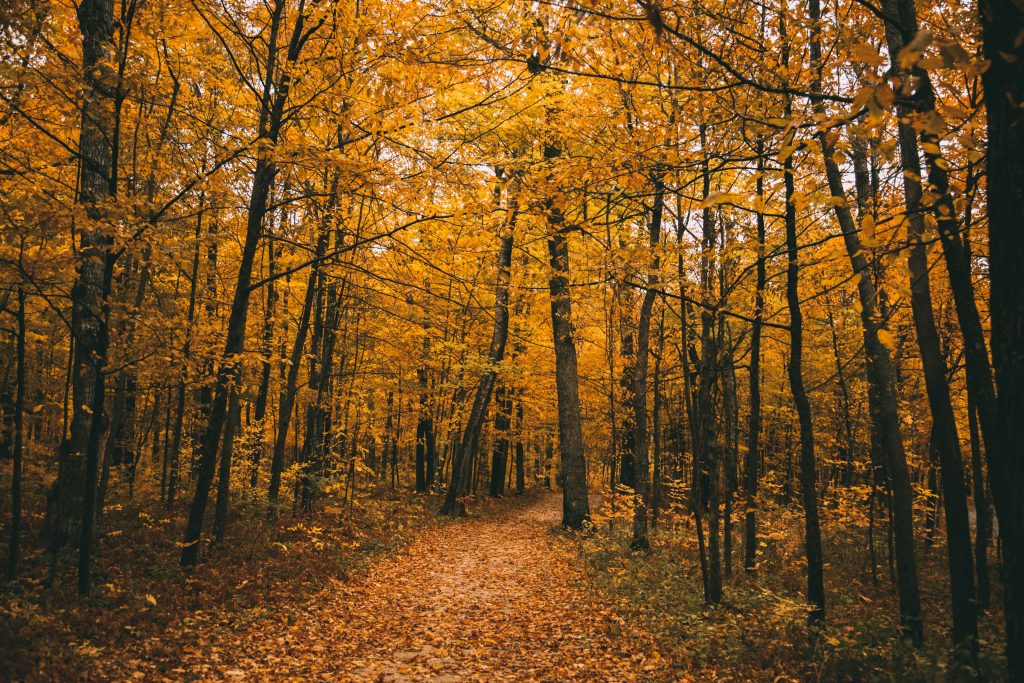 12.) Explore Peninsula State Park
Peninsula State Park is a 3,776-acre state treasure. Here you can hike, bike, boat, fish, golf and swim. And in winter, you can cross country ski, snowshoe, sled, and snowmobile. Camping, nature programs, and sightseeing are also offered year-round. There are five campgrounds with a total of 468 family sites here!
13.) Take the Washington Island Ferry
The Washington Island Ferry is located at the tip of the Door County Penisula at Northport Pier. This ferry will take you and your vehicle to the scenic Washington Island. The official Washington Island Ferry website has current rates and schedules for the ferry.
Pro tip: this is especially cool to do during the fall – when the fall colors are at their peak! This is usually from late September to mid-October.
Read next: 40 Photos of the Fall Colors in Door County, Wisconsin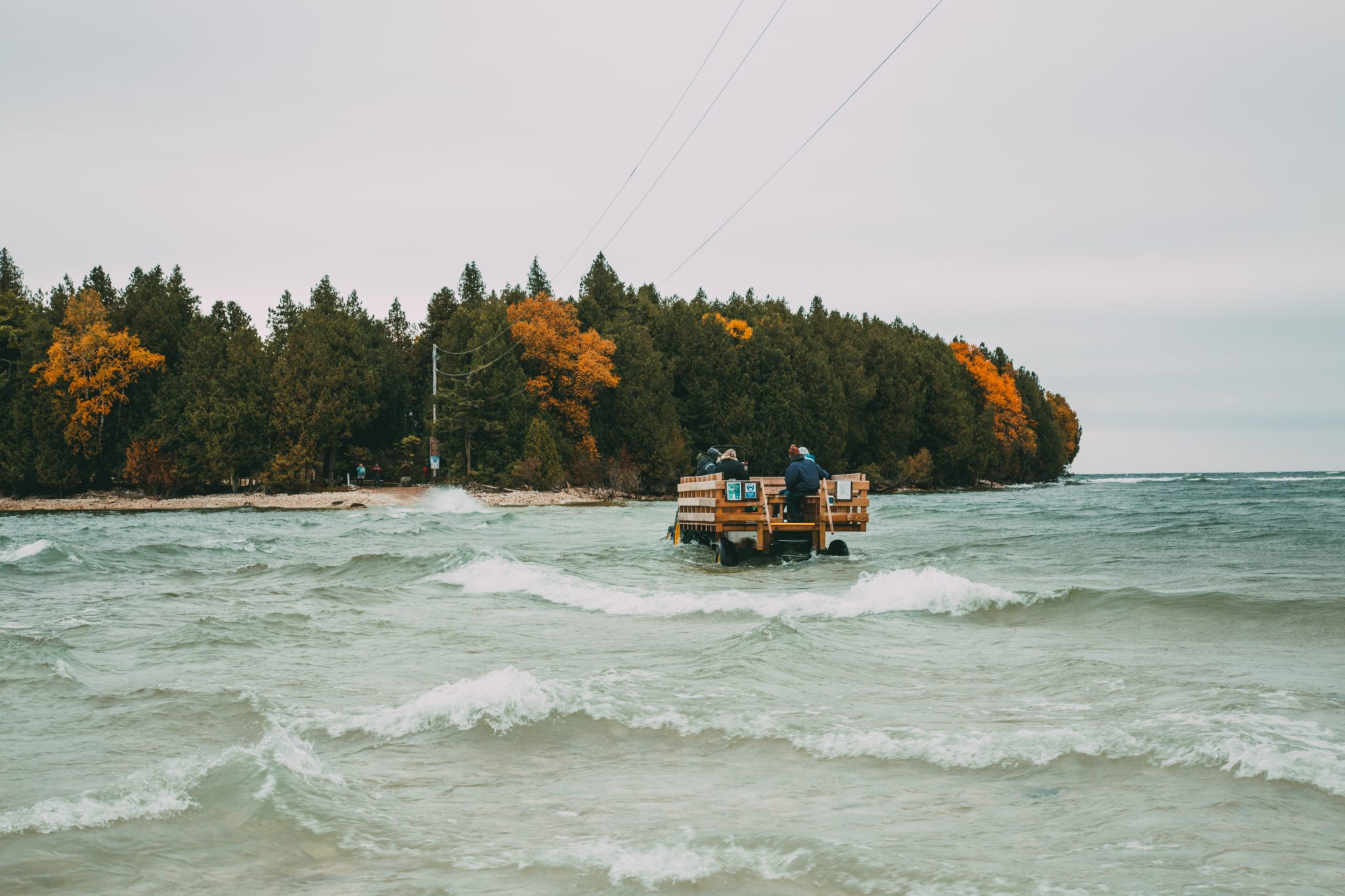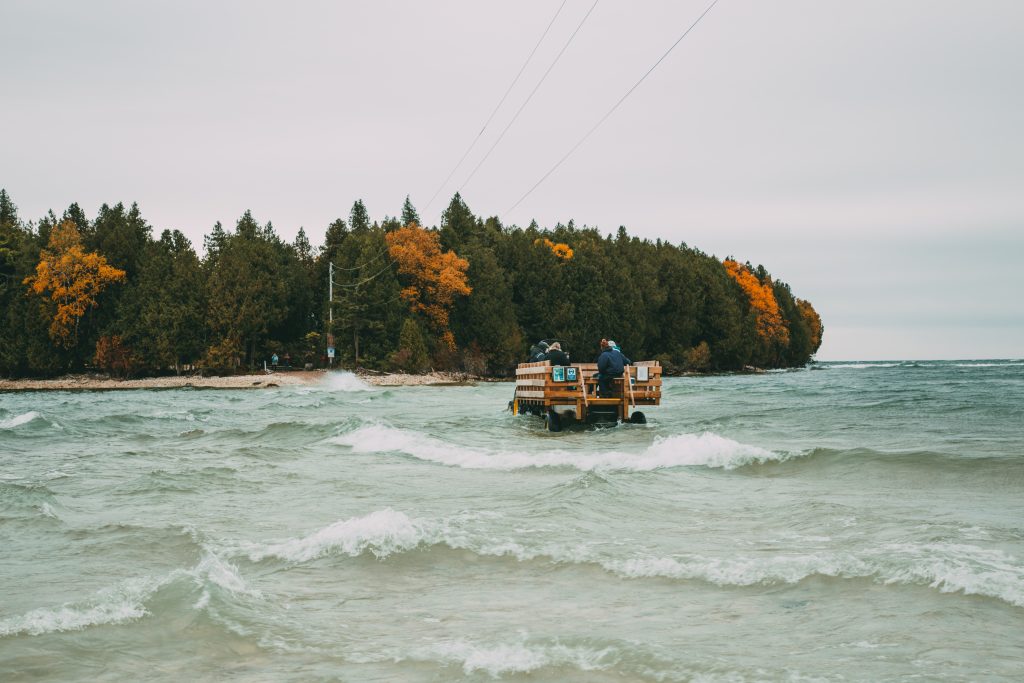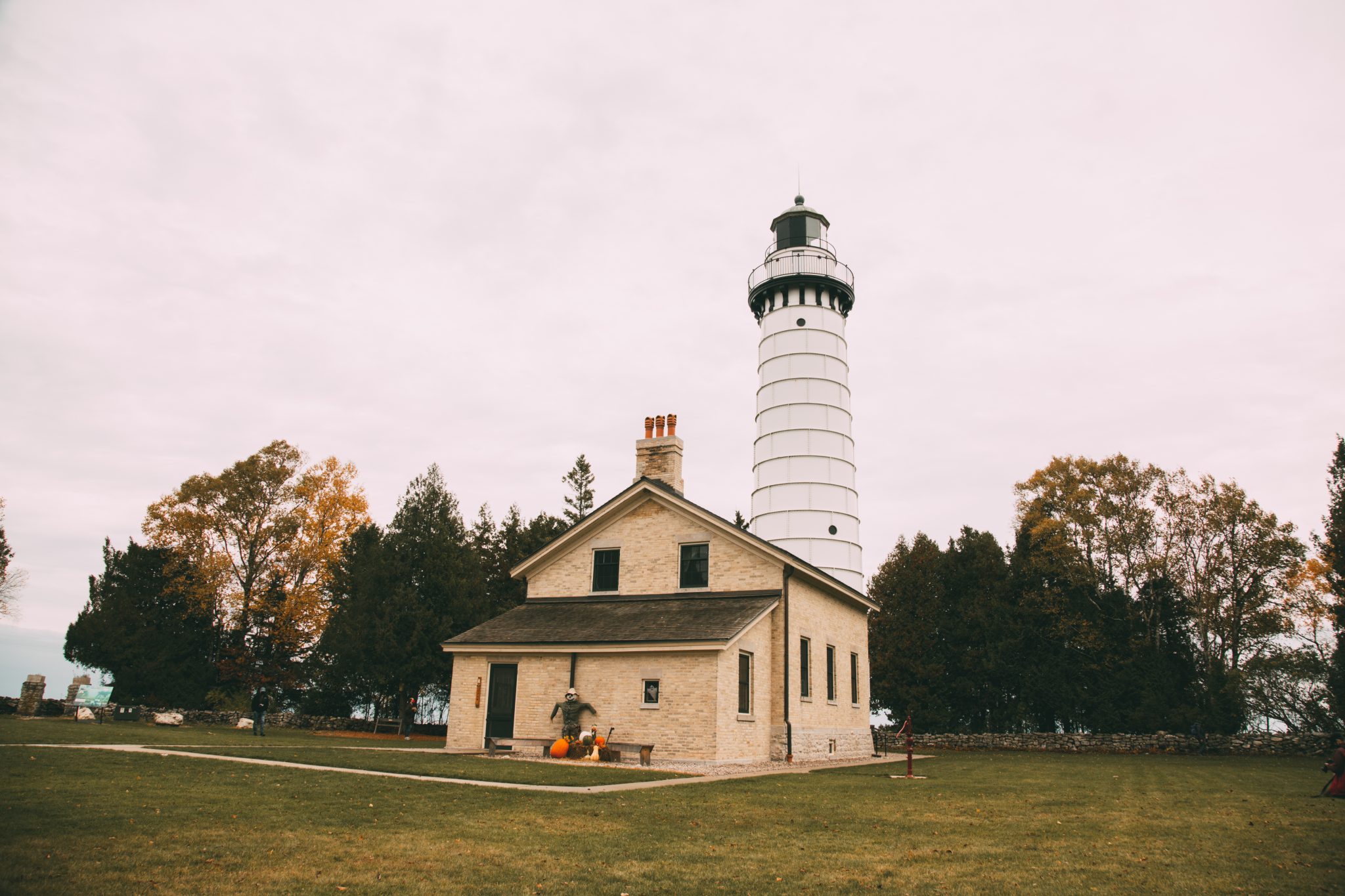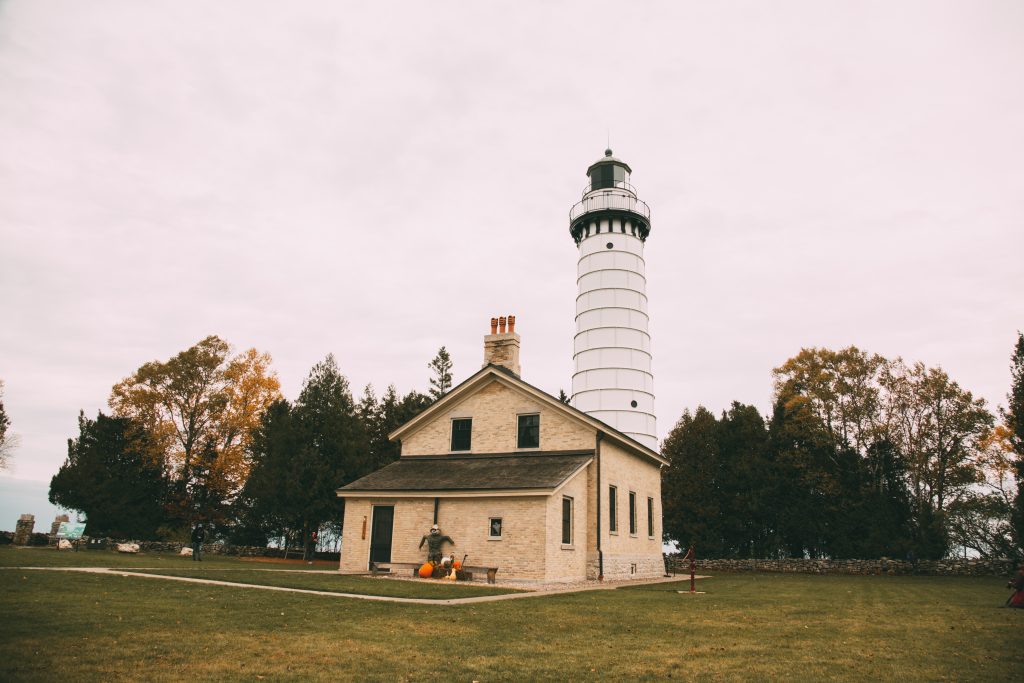 14.) Visit the Cana Island Lighthouse
The Cana Island Lighthouse is Door County's most iconic lighthouse. You can climb 97 steps up the tower's spiral staircase to look out its gallery deck and see sweeping views of Lake Michigan and the Door County peninsula. In 2020, the water was so high – they were using a tractor and wagon to transfer you across the causeway! It's quite a cool experience.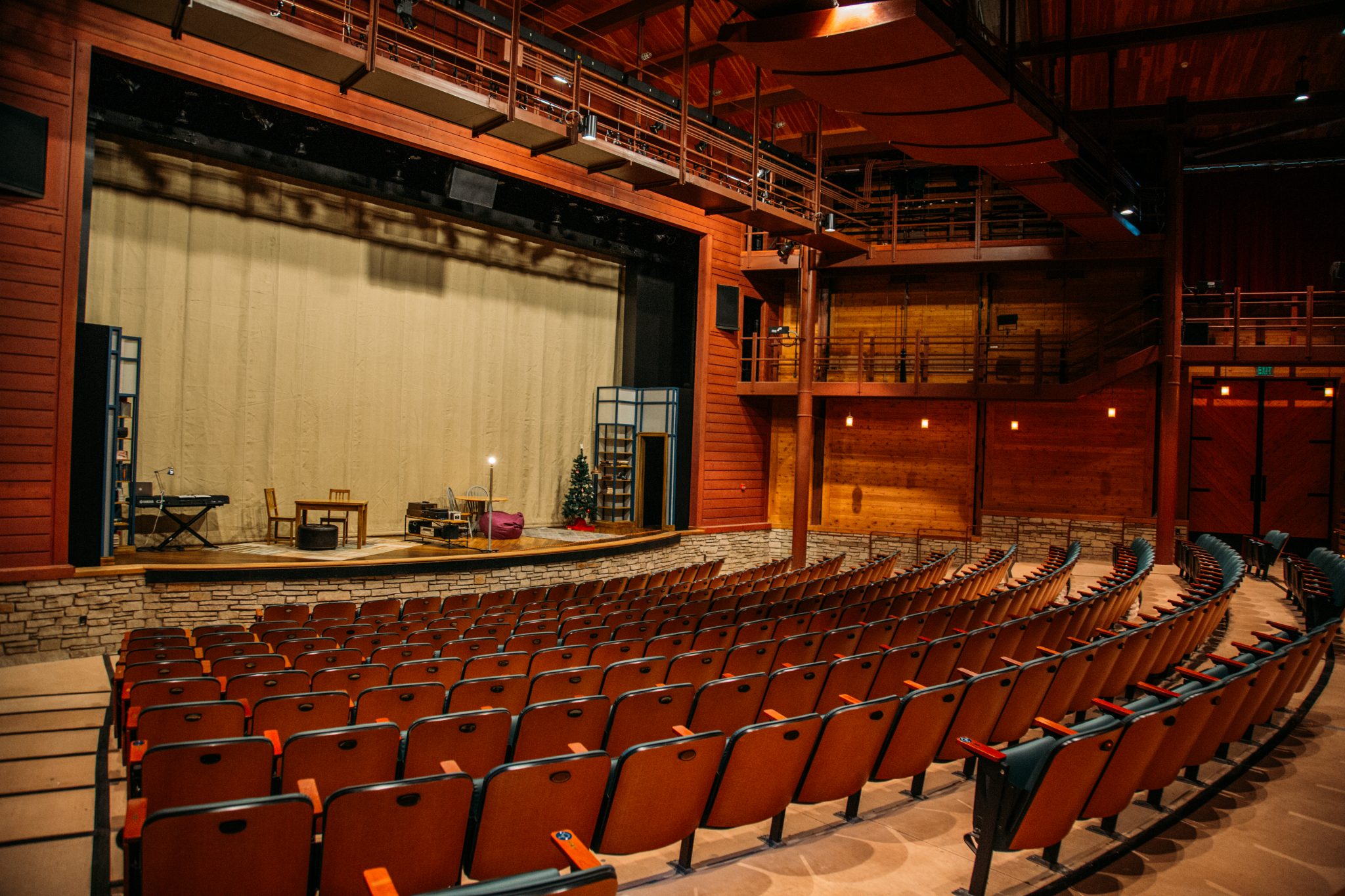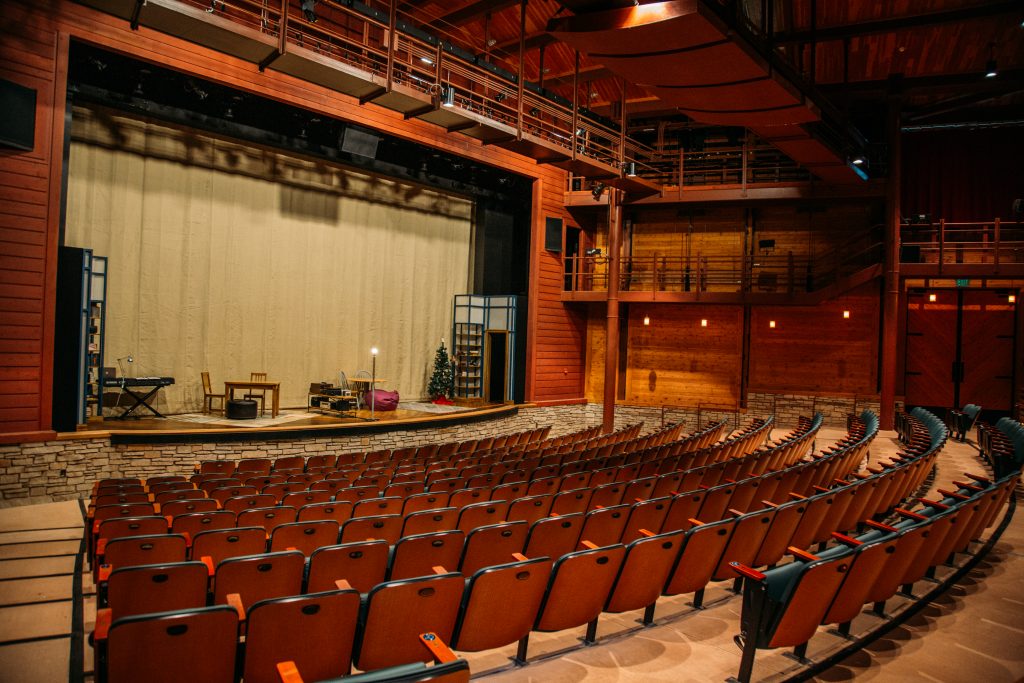 15.) See a Play at the Peninsula Players Theatre or Northern Sky Theatre
Door County is home to some unique playhouses that feature some incredible shows! The Peninsula Players Theatre in Fish Creek is a lakeside theatre, pictured above, that has been staging shows since 1935 and recently got a HUGE makeover. The sides of this theatre also open, so you can get a cool summer breeze while you watch the show.
Pro tip: be sure to arrive early so you can enjoy beverages and snacks from the outdoor bar by the lake, which is under strings of twinkly string lights. It's such a beautiful experience!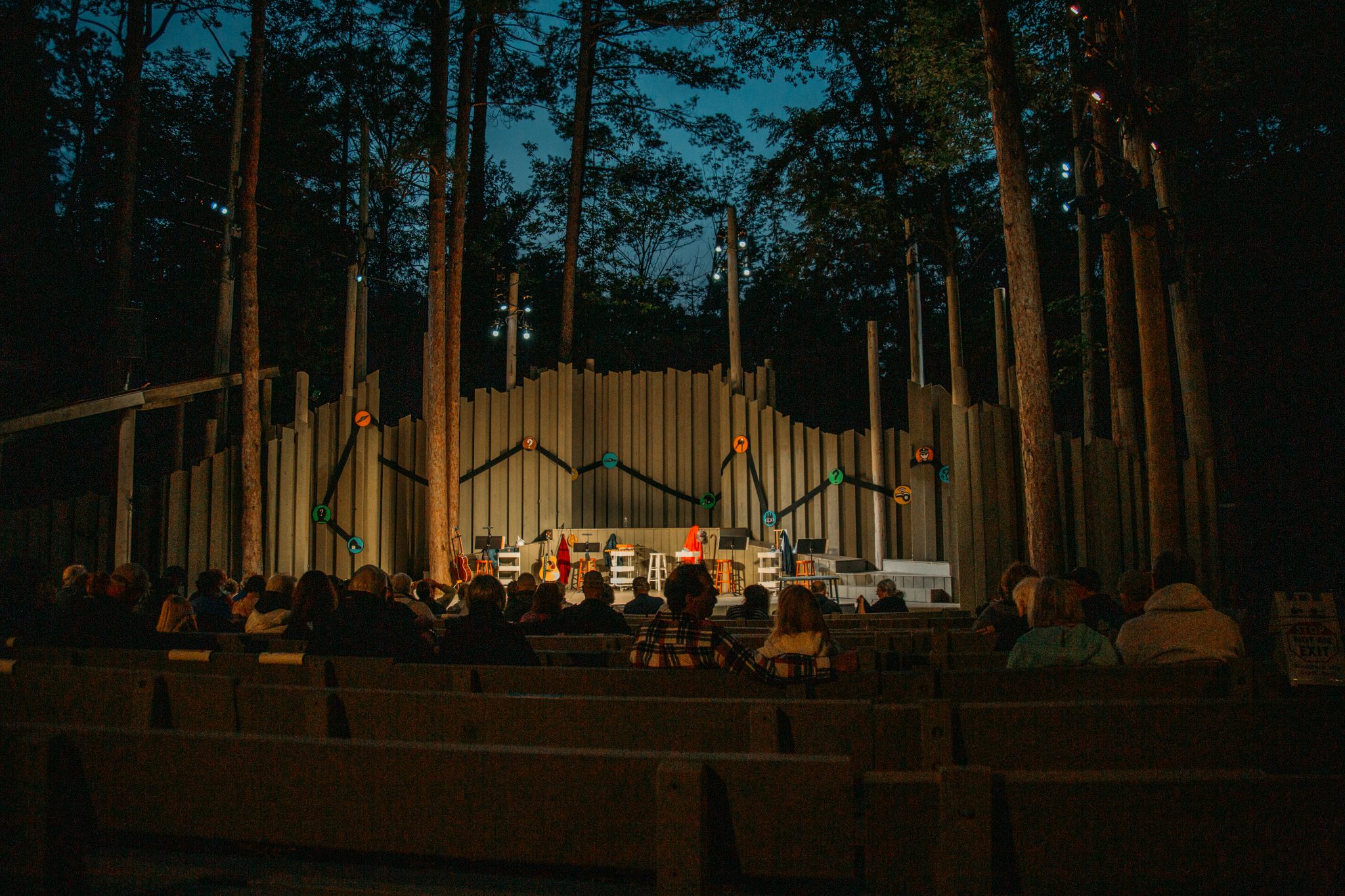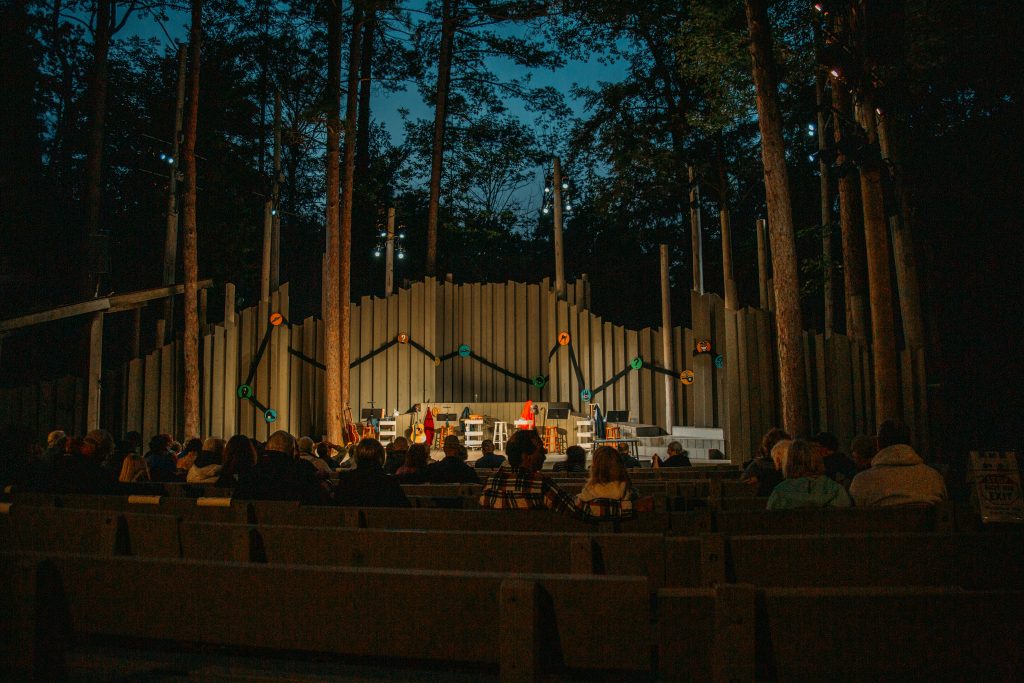 The Northern Sky Theater in Fish Creek features both an indoor theater and also an outdoor theater. I, personally, love the outdoor theater. It's such a unique experience to watch a play under the stars. (It's even dog friendly!) Just be sure to bring some bug spray!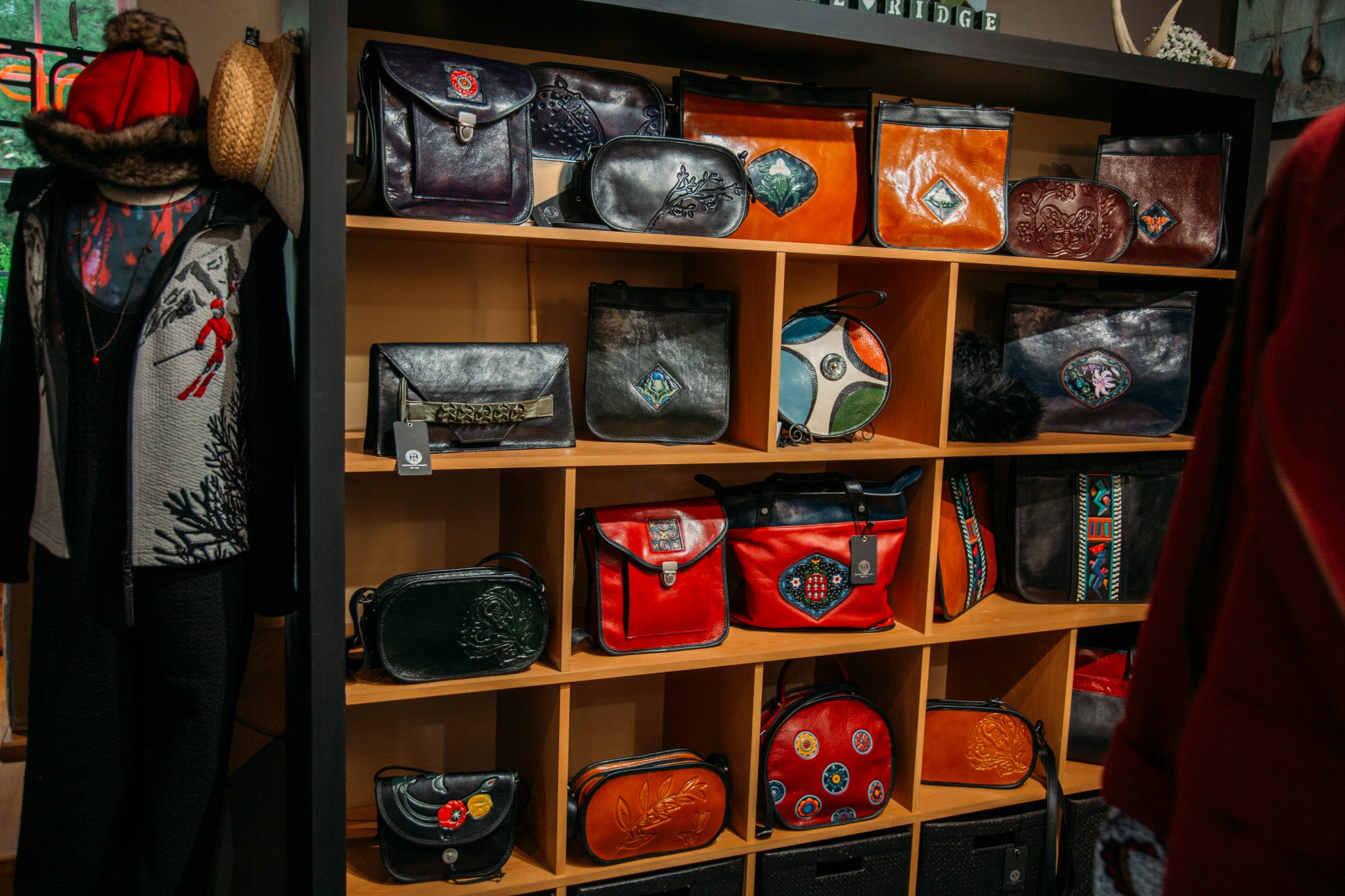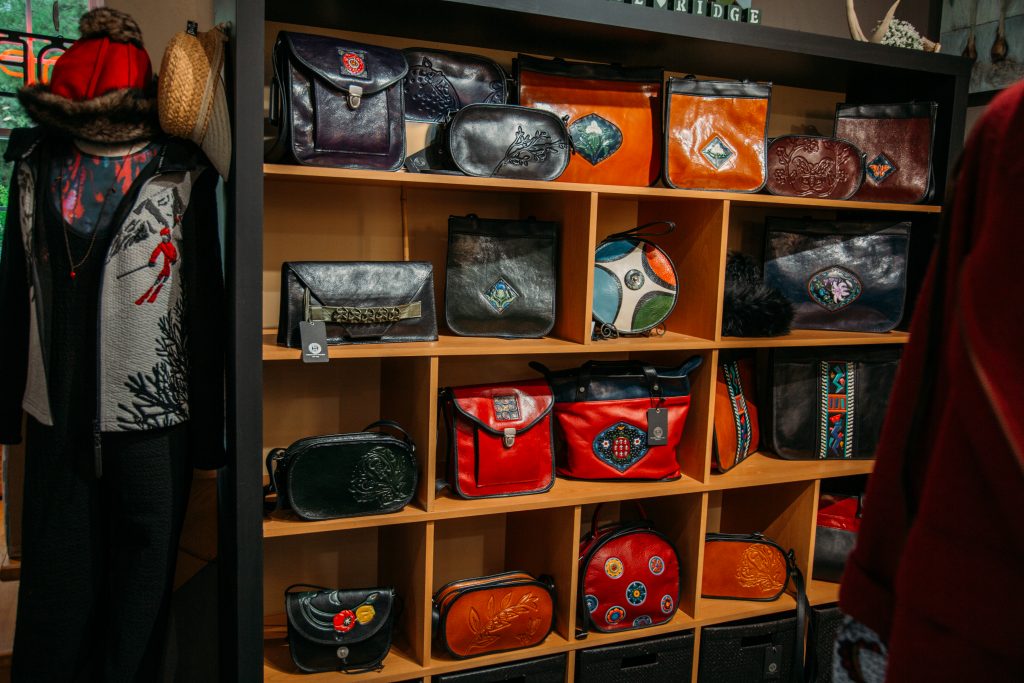 16.) Take a Purse Making Class
Turtle Ridge Art Gallery in Ellison Bay, Door County offers Art Camps for private groups. This is such a fun thing to do! You can actually make your own leather handbag – no sewing skills required! The lovely ladies at Turtle Ridge Art Gallery will walk you through the process, and you'll have a unique handbag that you can say YOU made when someone asks where you got it from. Talk about a fun girls' weekend getaway idea!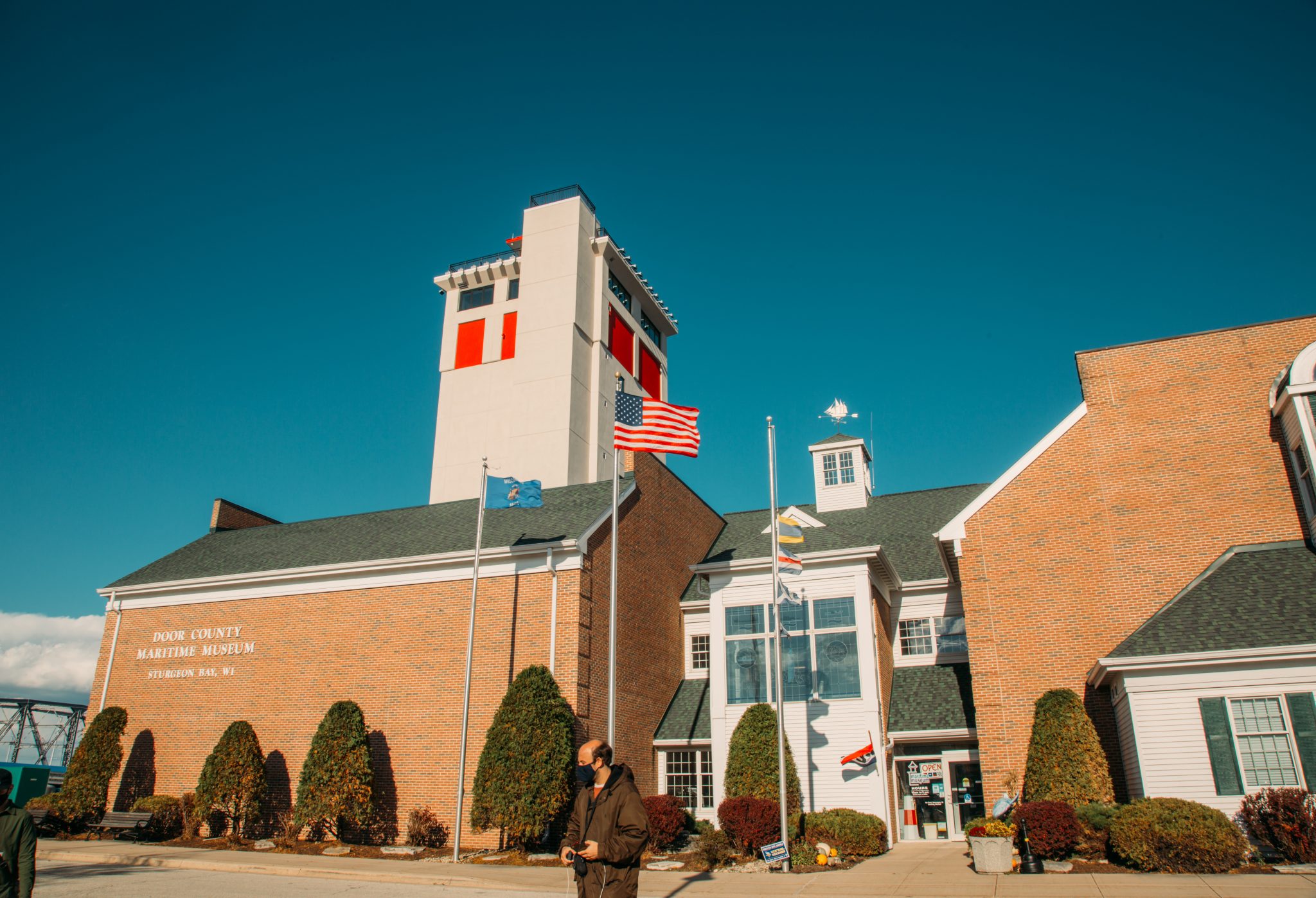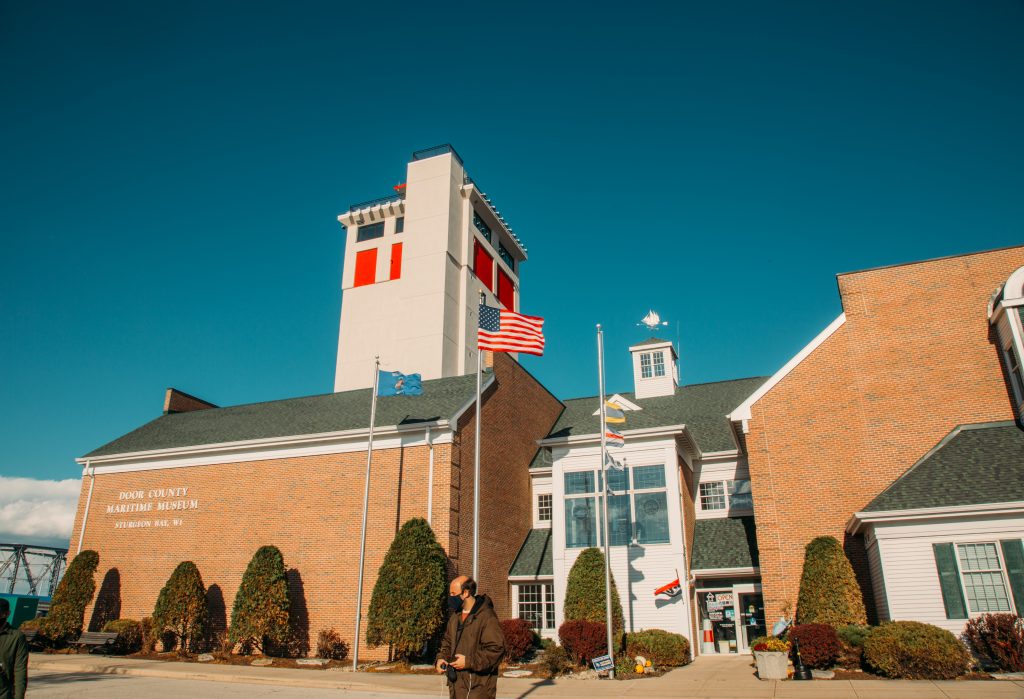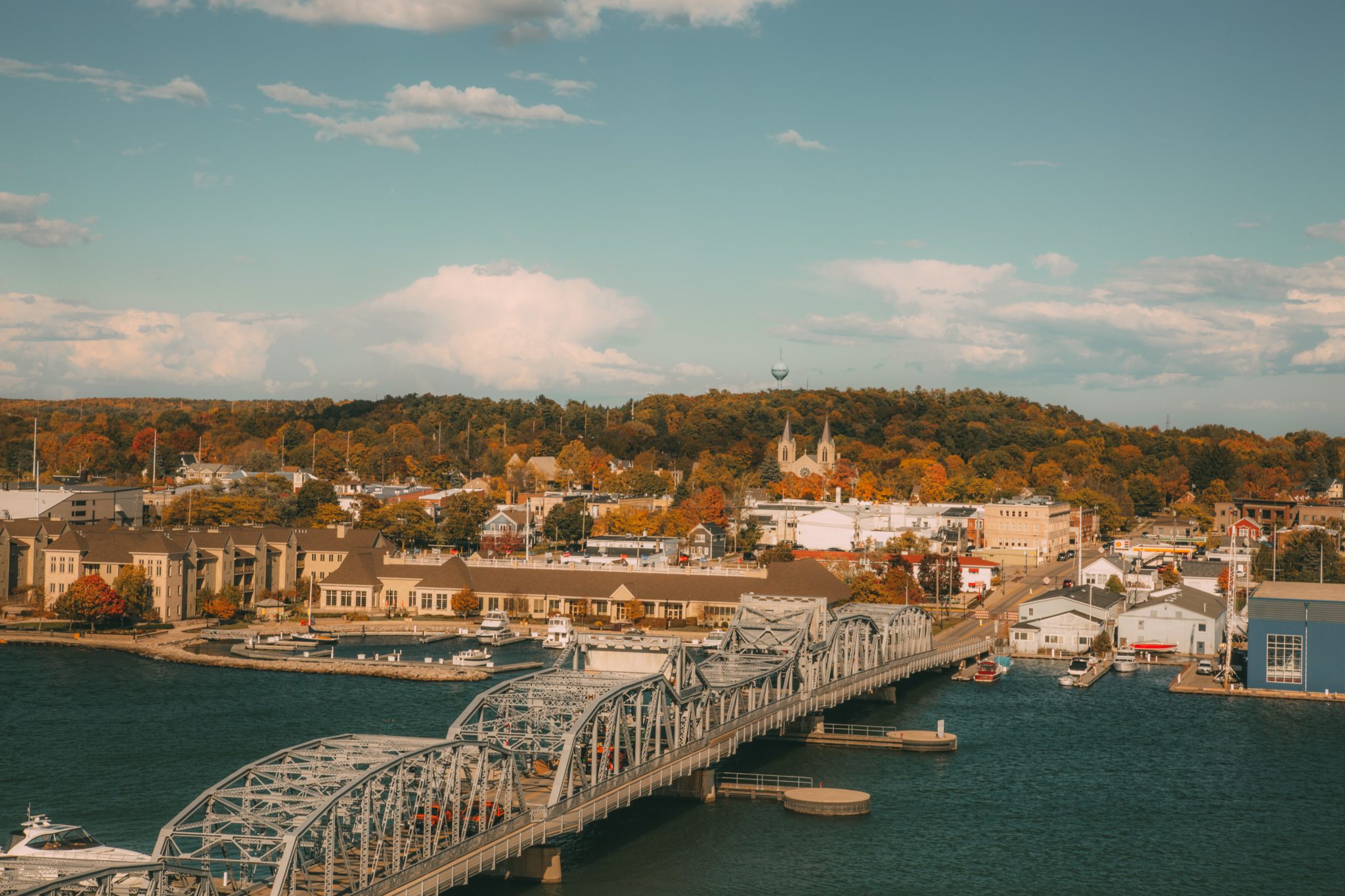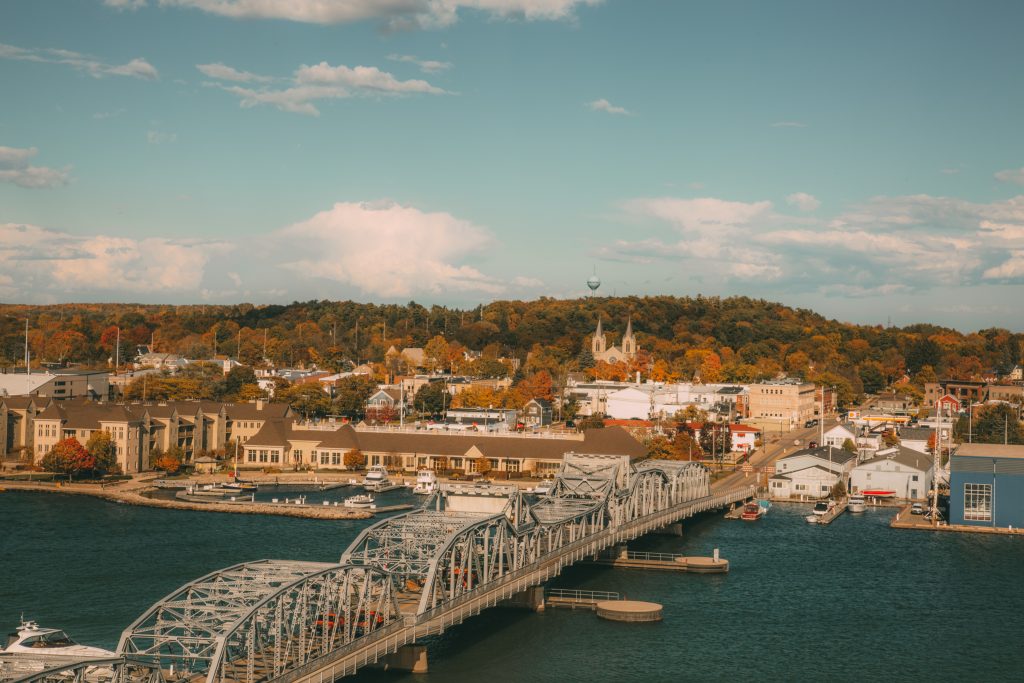 17.) Check out the Maritime Museum in Sturgeon Bay
The Door County Maritime Museum is located between the downtown bridges on Sturgeon Bay's working waterfront. It features four large exhibit galleries and the restored tugboat John Purves built in 1919. There is also the brand new Jim Kress Maritime Lighthouse Tower that offers sweeping views of Door County from its observation deck, plus 10 floors of interactive educational exhibits that highlight the maritime history, people, and industries. It's really well-done and is worth visiting for the views alone!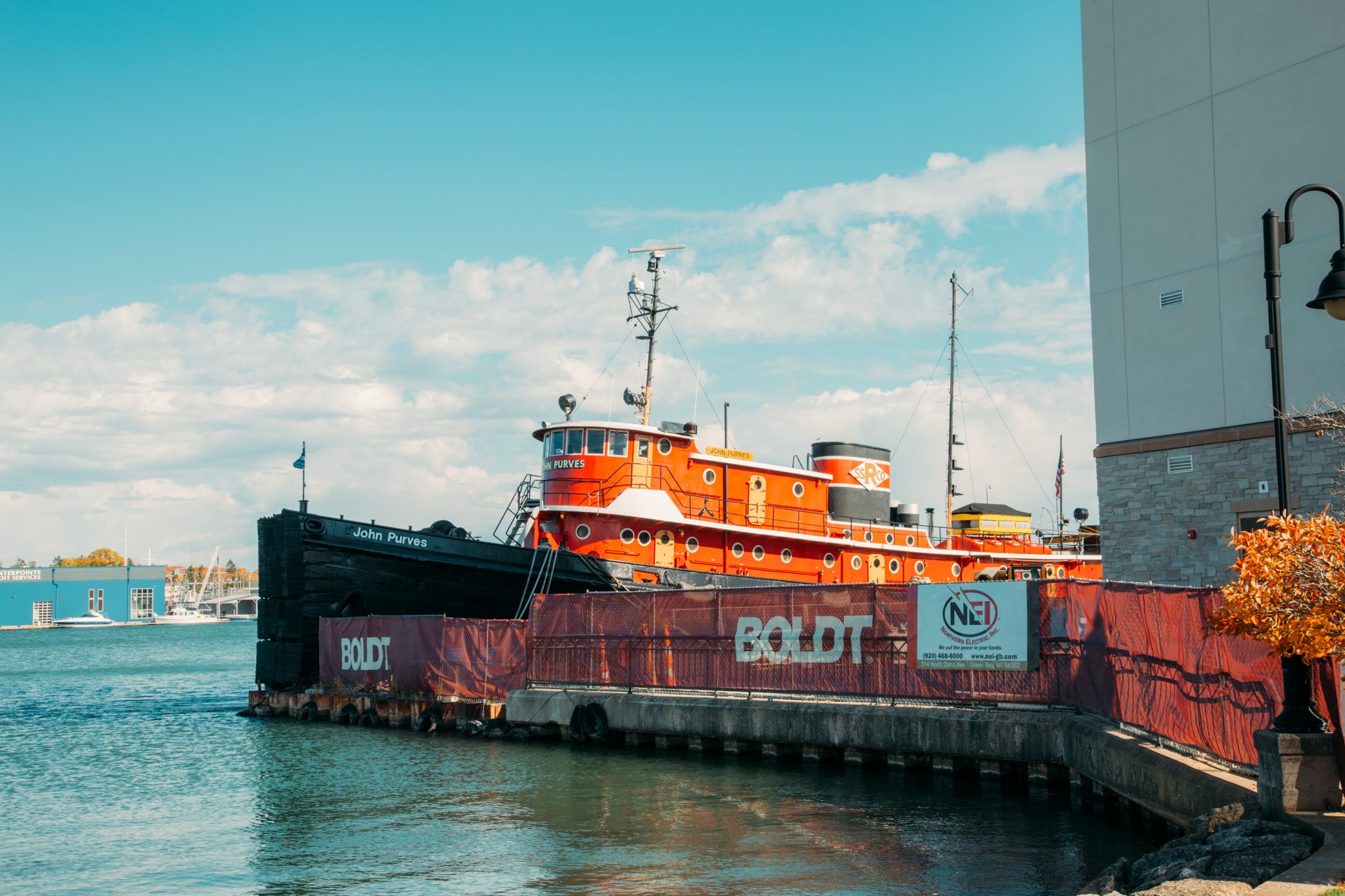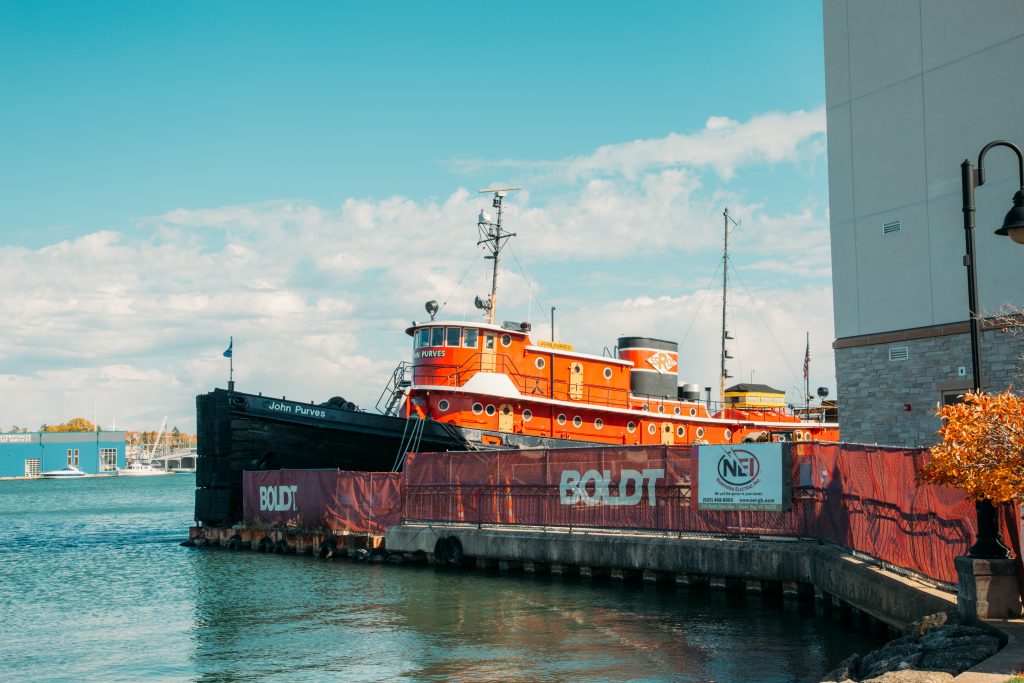 18.) Take a Tug Boat Tour
Speaking of the Joun Purves tugboat, this beautifully restored boat actually has its own tours. There are 3 different 40-minute guided tours a day of the John Purves tugboat. The most up-to-date tour times can be found, here.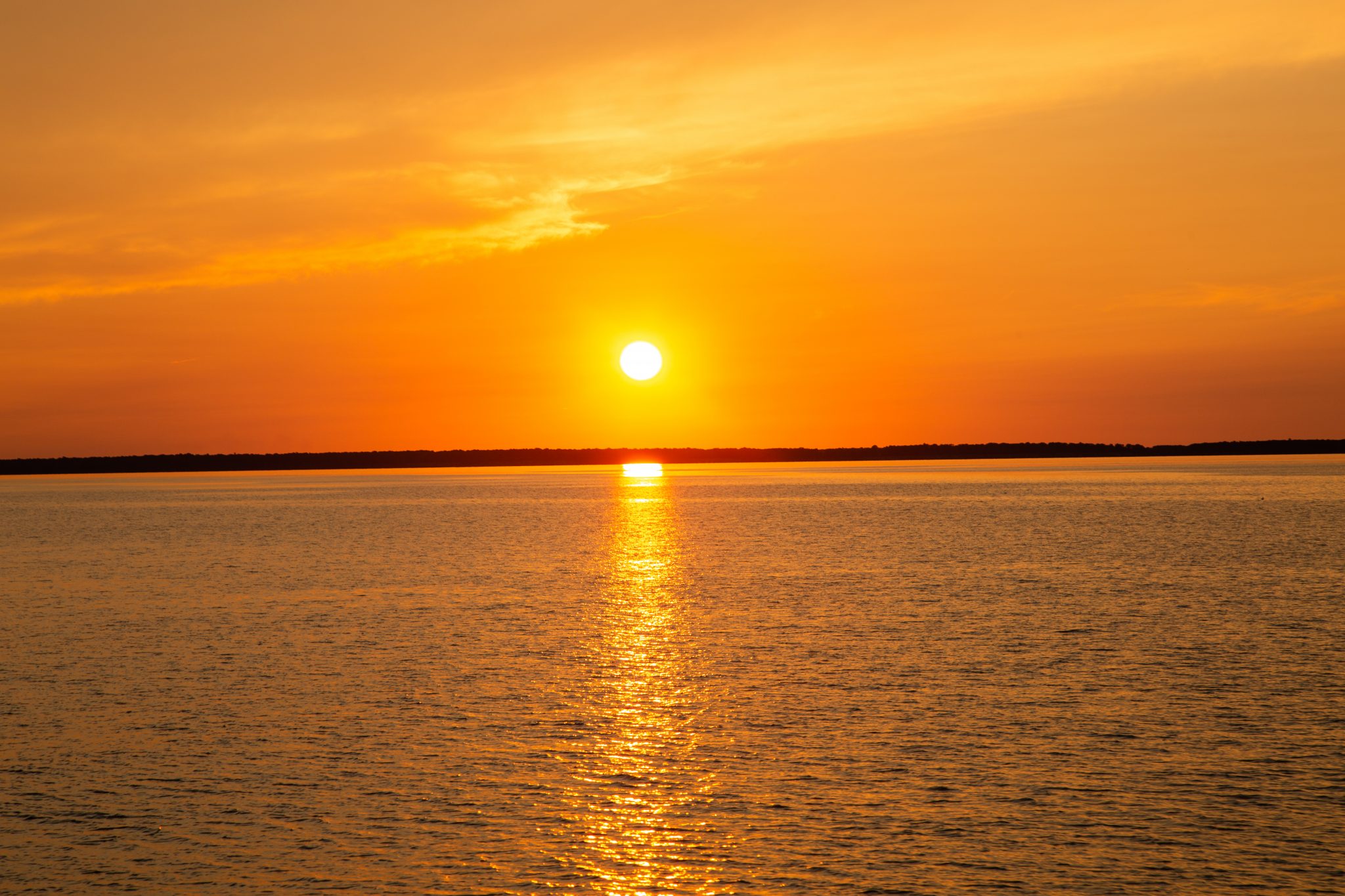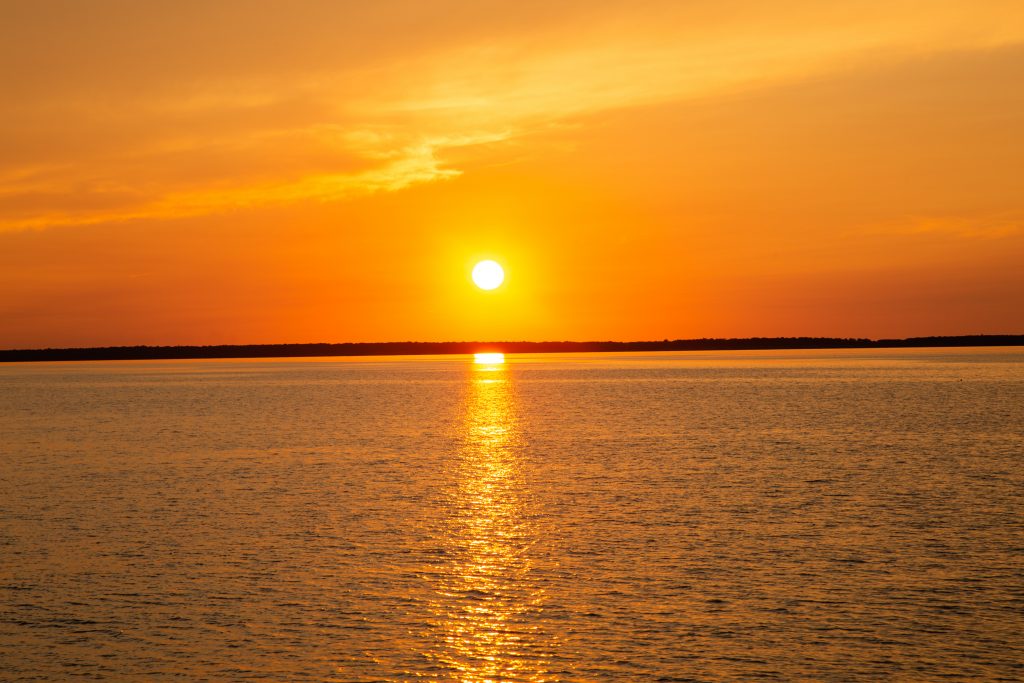 19.) Cruise Along on a Sunset Boat Tour
You can cruise aboard a 63-foot tour boat in downtown Sister Bay and enjoy the scenery! Sister Bay Scenic Boat Tours offers daily narrated tours to Eagle Bluff Lighthouse, Death's Door, and the many islands, bluffs, and beaches surrounding Door County.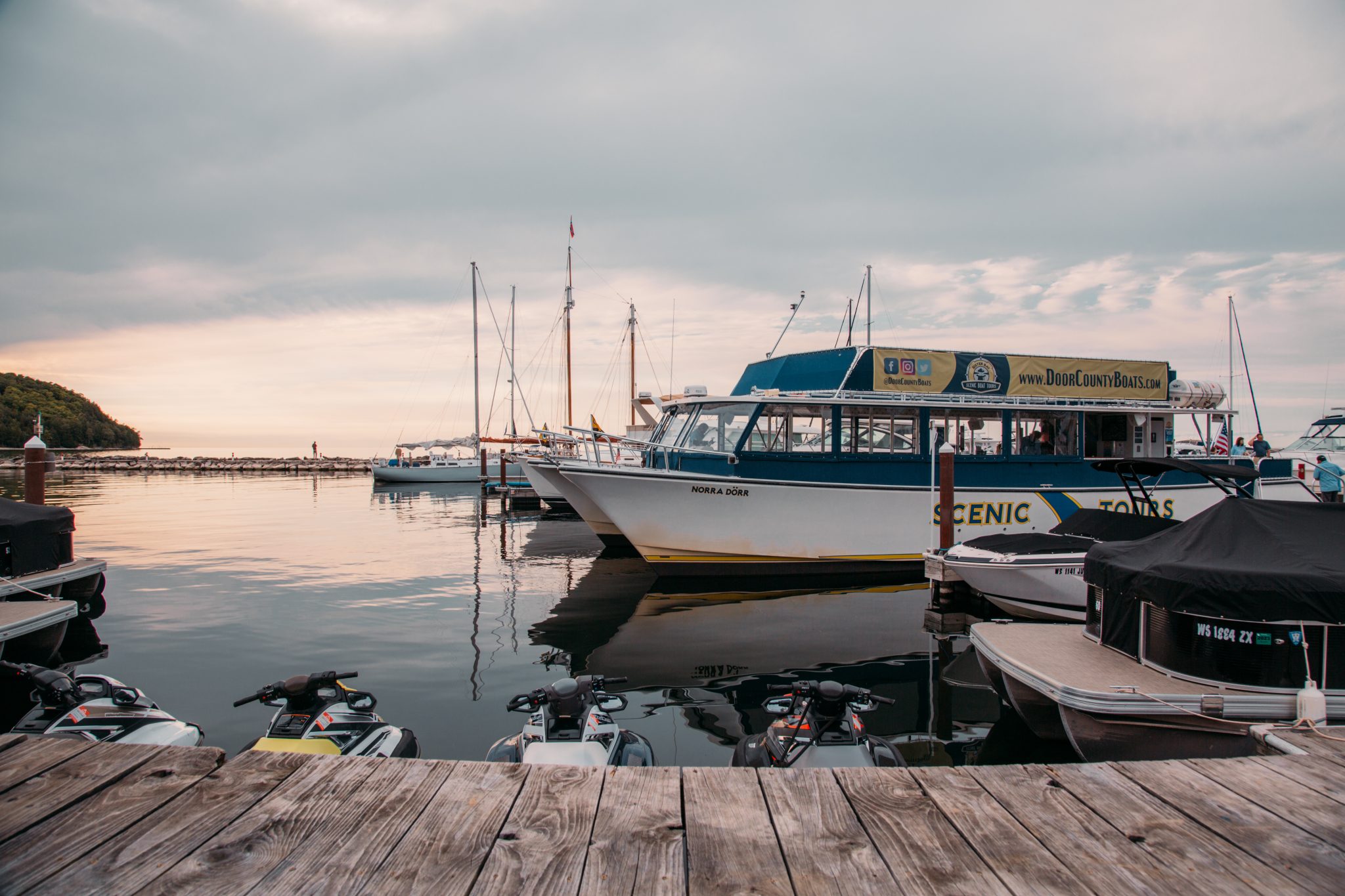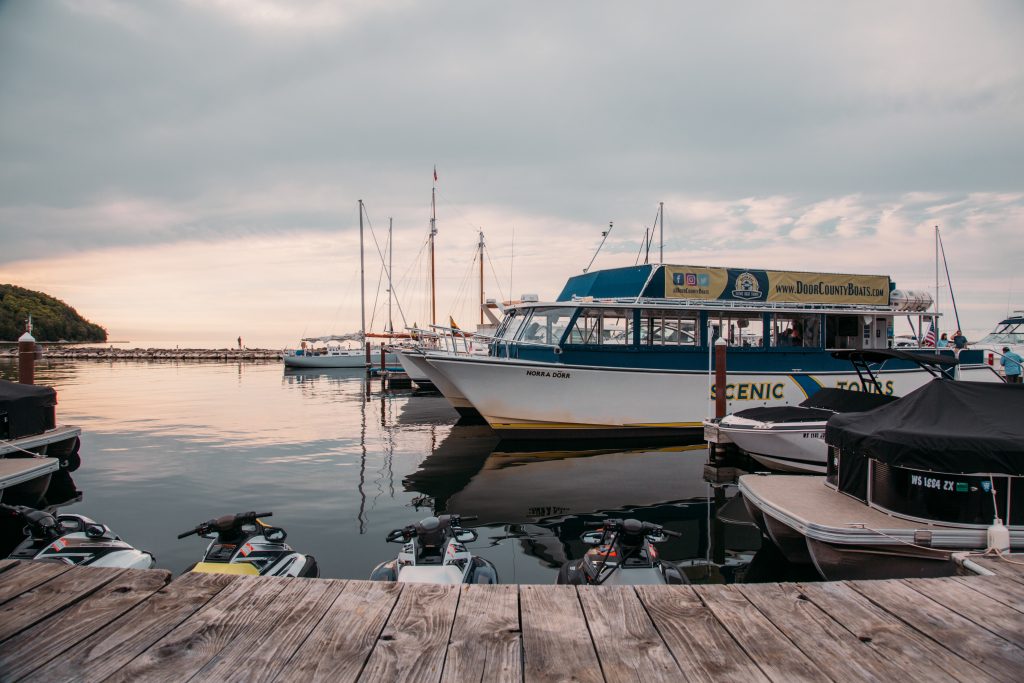 The upper level of the boat is a sun deck with plenty of seating, but you'll find shade and refreshments (including beer!) on the lower bar deck. The nightly sunset cruises also feature live music. It's a must-do in Door County!
20.) Explore the Many Shipwrecks
There are around 240 known shipwrecks in the waters of Door County! Many of these shipwrecks can be seen just by looking from a kayak or boat, and even more can be seen and explored with proper diving equipment. If you're not an experienced diver, though, then I recommend taking a boat or kayak tour.
21.) Try Ziplining
There are actually a few different places to try zip lining in Door County! Lakeshore Adventures Zip Line Tours LLC has panoramic views of Moonlight Bay and Cana Island before diving into the forest canopy. Rowleys Bay Resort in Ellison Bay is a cool canopy tour. And Door County Adventure Center has the highest zip line out of Sturgeon Bay.
Wondering where to stay in Door County? Check out my guide, here!
22.) Take a Segway Tour
If kayaking, diving, and ziplining all sound a little too crazy – then a segway tour is another great option to see Door County at a more relaxed pace! These tours will leisurely show you tucked away scenic views.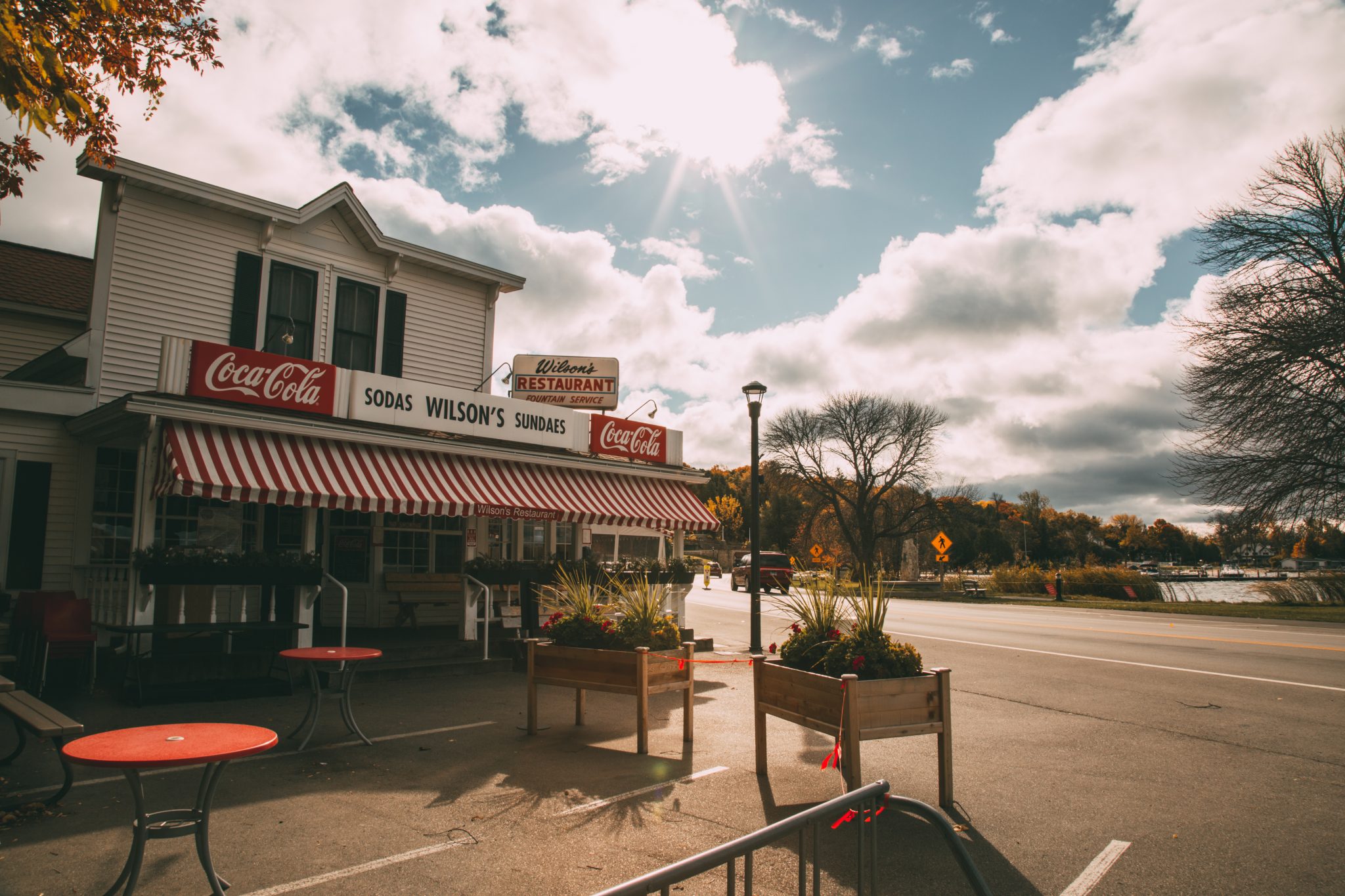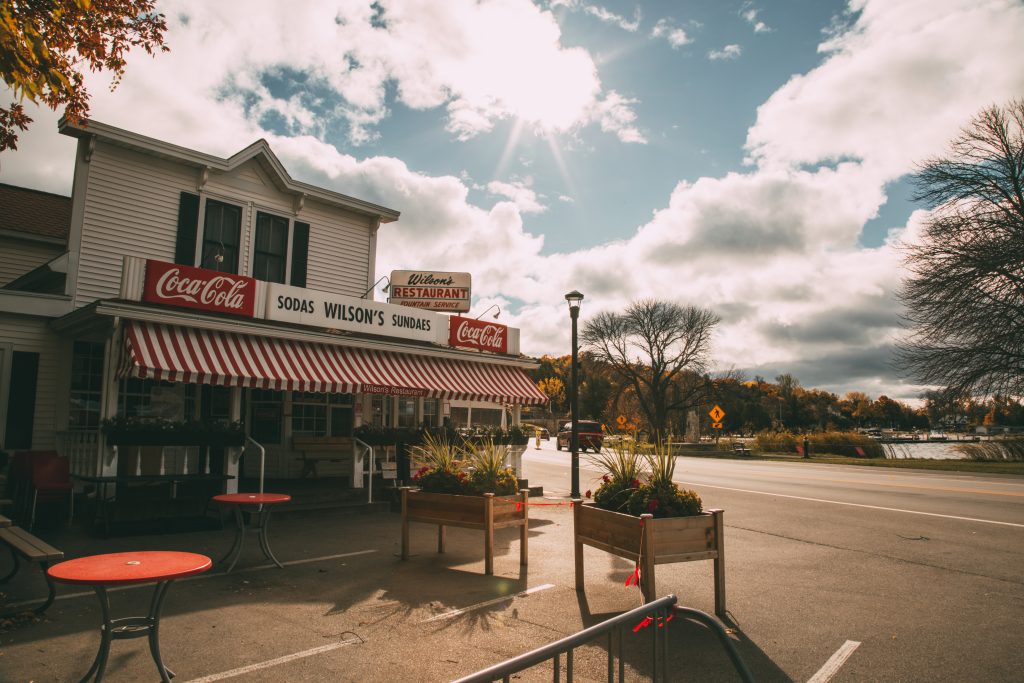 23.) Get Ice Cream at Wilson's Restaurant and Ice Cream Parlor
Wilson's is arguably the best ice cream in Door County. Plus, it's located in a beautiful location in Ephraim just across from Eagle Harbor (ice cream and a view!). It's been serving up ice cream, root beer, and burgers since 1906!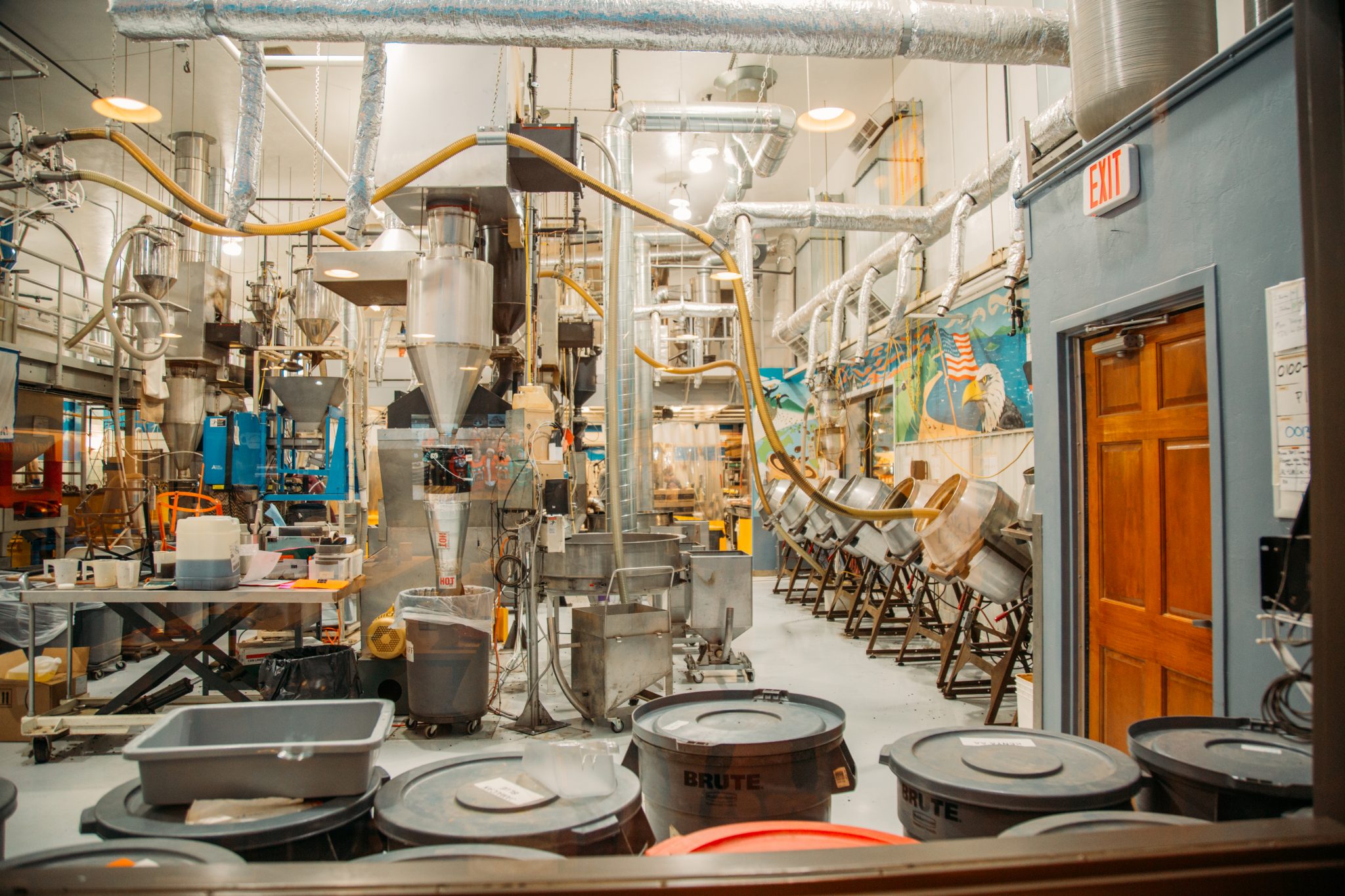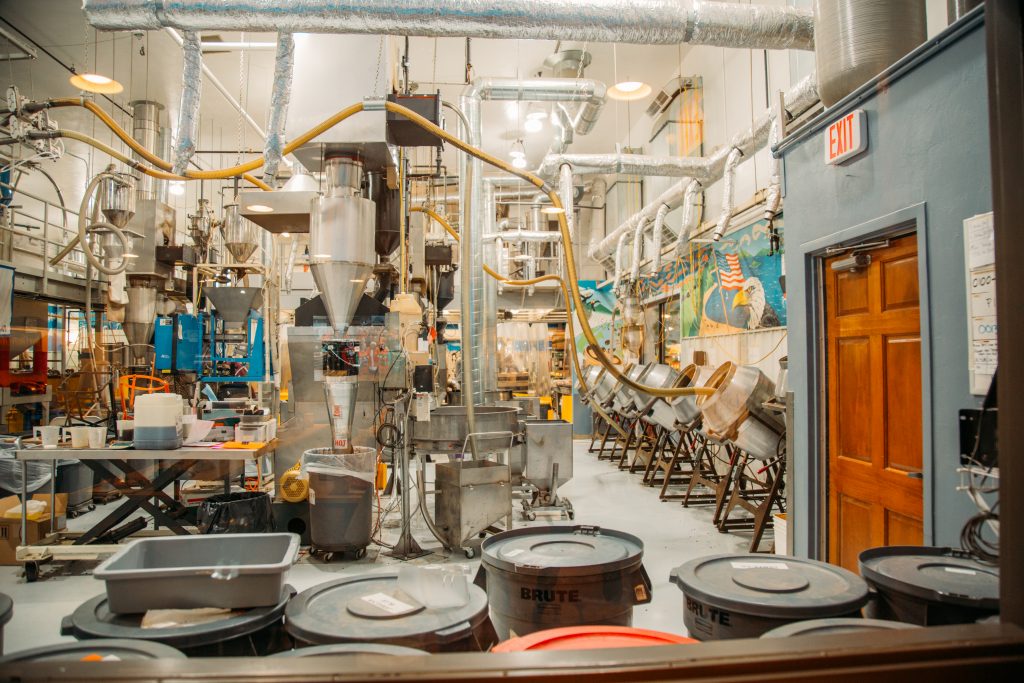 24.) Get a Cup of Coffee at Door County Coffee & Tea Co.
Whether you're just beginning your trip or heading home, make sure to stop into Door County Coffee for a cup of their gourmet flavored coffee! It's located on Highway 42 in Sturgeon Bay, and you'll likely see it at either the beginning or the end of your Door County adventure. While sipping your coffee you can also view their production area and look through their gift shop!
25.) Try a Flight of Beer at Shipwrecked Brew Pub and One Barrel Brewing Company
I can't write a post about things to do in Wisconsin and NOT mention beer. I think it's against the rules! So, in true Wisconsin fashion, be sure to sample the local brews at Shipwrecked Brew Pub in Egg Harbor! They have a great lager and pale ale, but their most known for their Door County Cherry Wheat beer (which I am not personally a fan of, but everyone else loves it).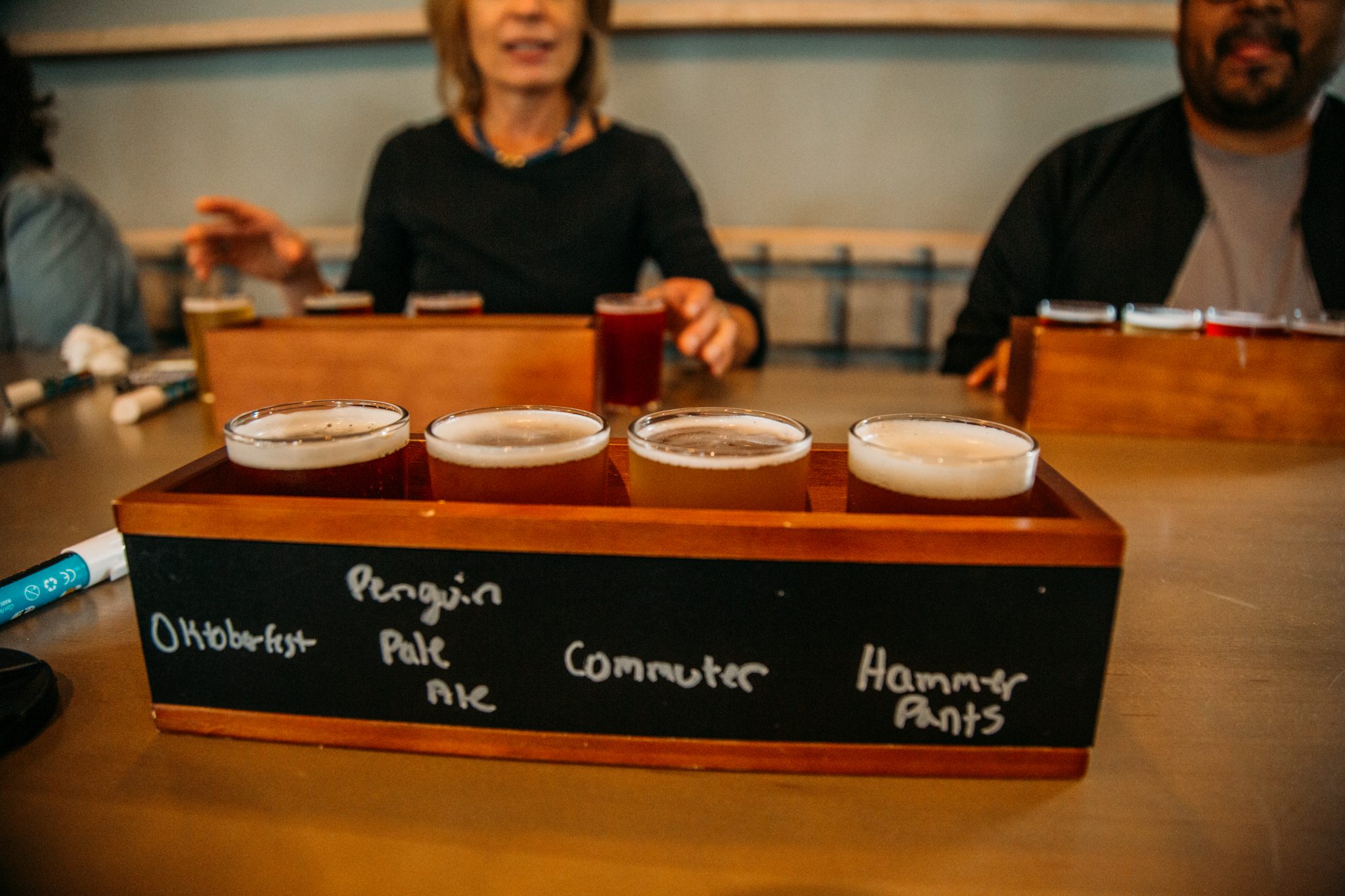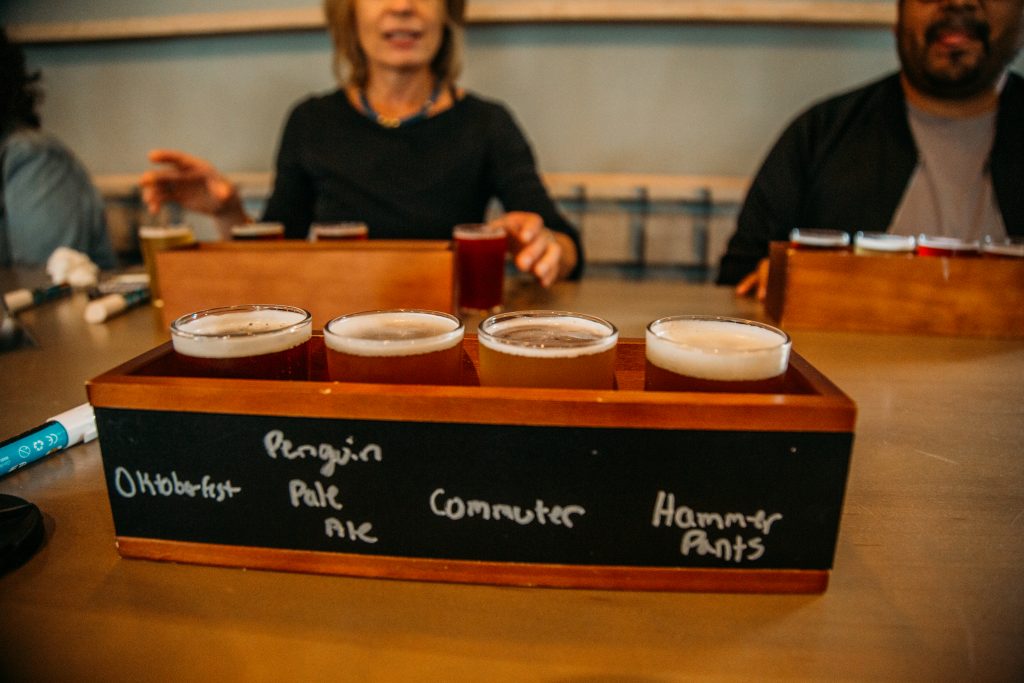 Right down the street from Shipwrecked is a rather new brewery – One Barrel Brewing Company. I LOVE this brewery. It's great in the summer because they have a ton of outdoor seating and a great selection of games you can play while you sample their brews. You can also get a delicious wood fire pizza here!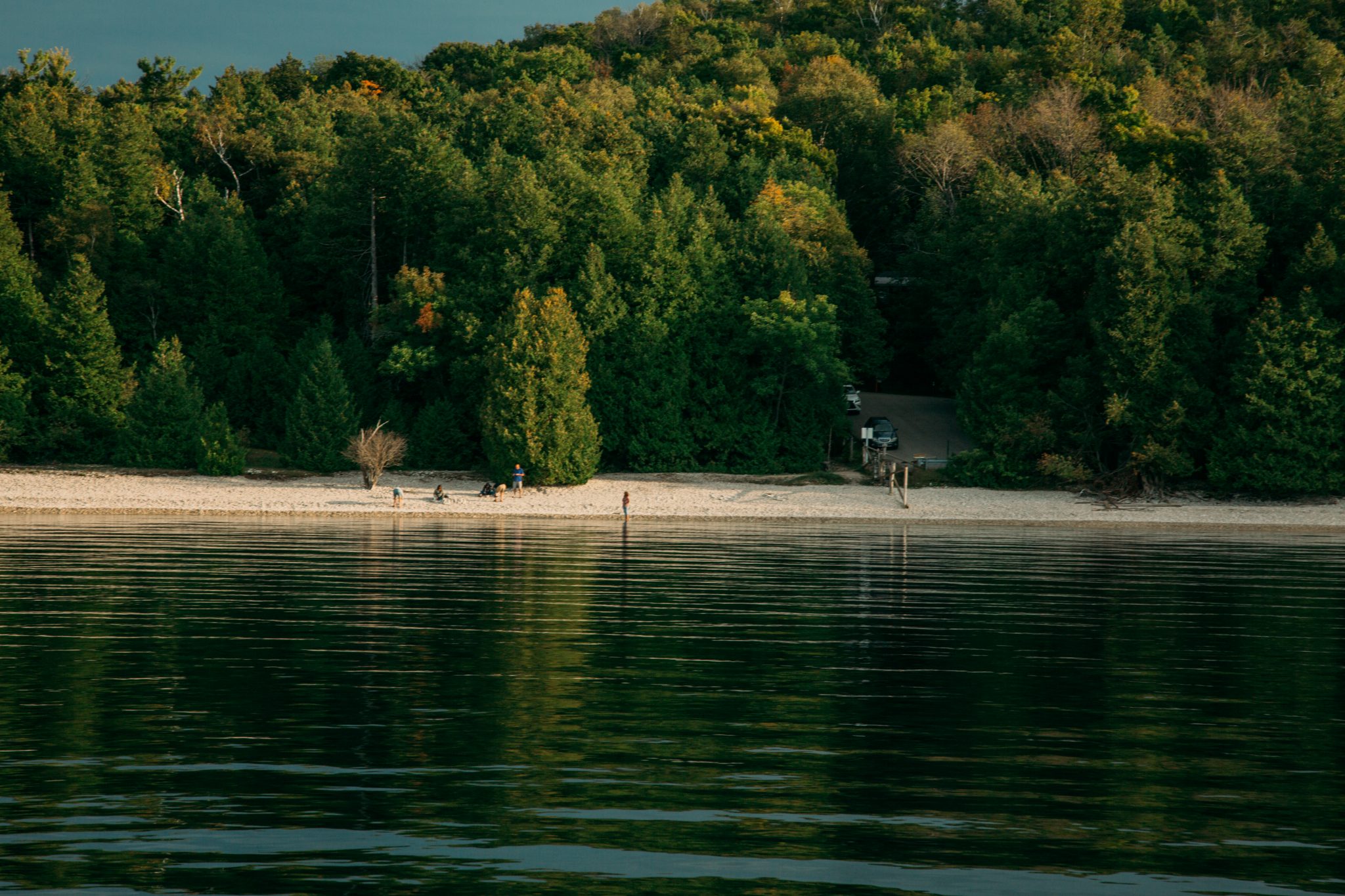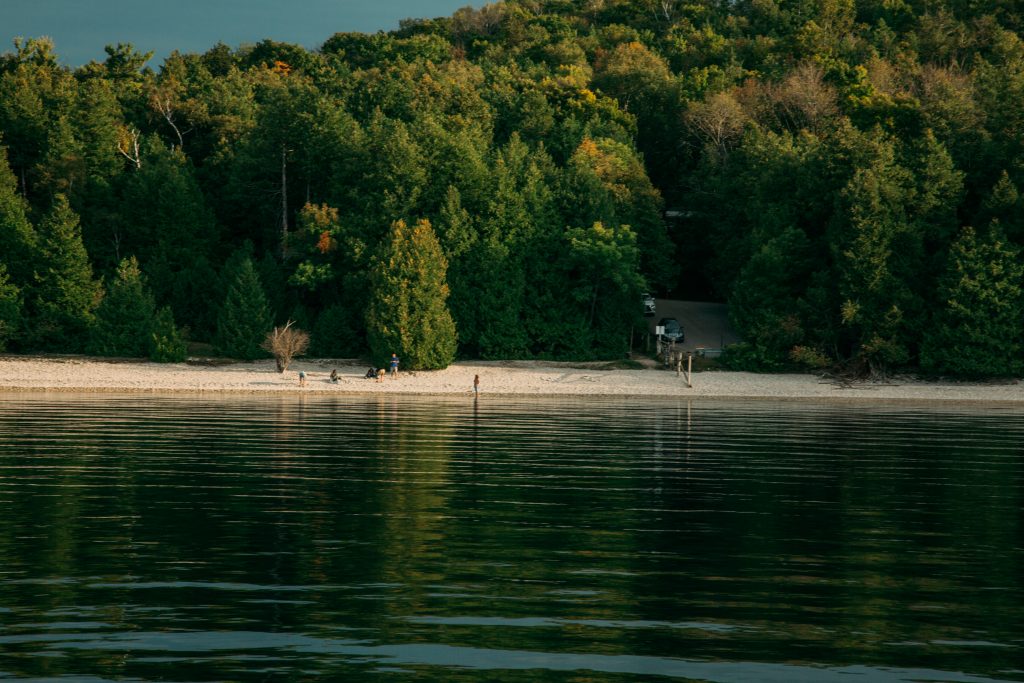 26.) Relax at the Beach
Door County has TONS of beautiful beaches! It would be a shame to not spend a little time relaxing on one. From kid-friendly beaches to hidden gems, you can find a complete list of Door County beaches here.
27.) Go Parasailing
But if relaxing at the beach isn't your thing, then buckle up and go on a parasail ride! I only recently found out this is something you can do in Door County! You can ride solo, double, or in groups of 3. Talk about an exciting way to see Door County!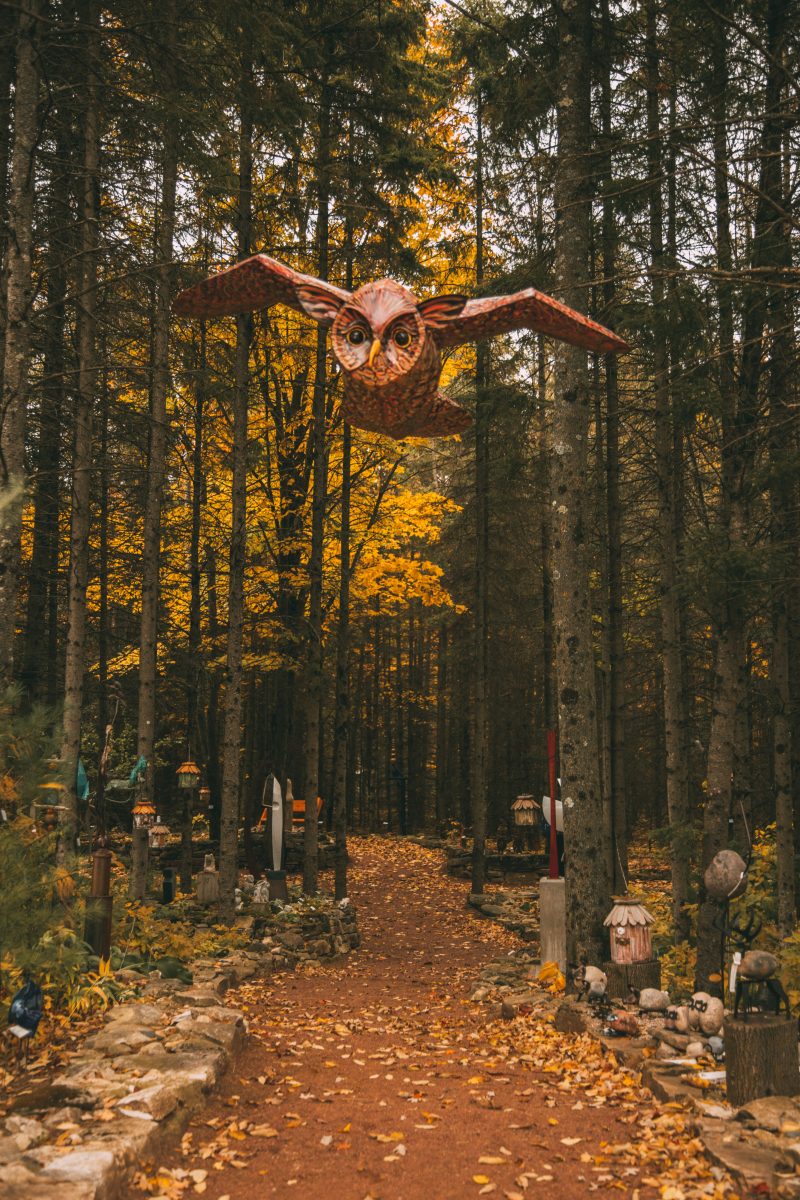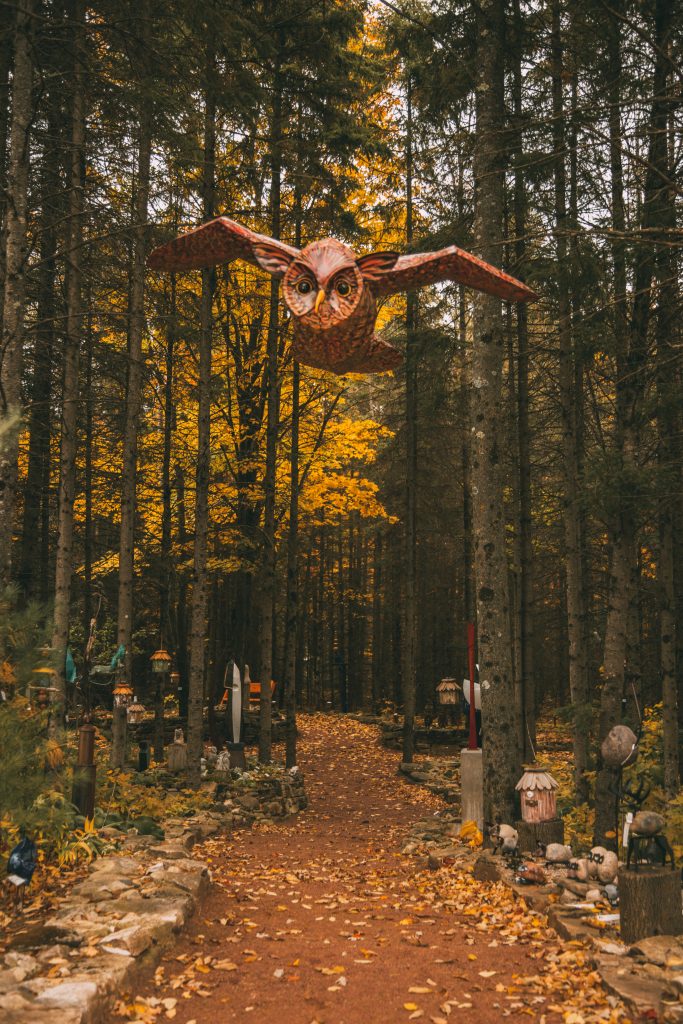 28.) Check out Edgewood Orchard Galleries
A third-generation family-owned and operated art gallery that opened in June 1969 – Edgewood Orchard Galleries represents over 150 artists from across North America and shows their original paintings, jewelry, sculptures, glass, furniture, wood, and clay in a beautifully restored century-old barn and award-winning sculpture garden. It's especially beautiful to visit during fall. (See more photos here.)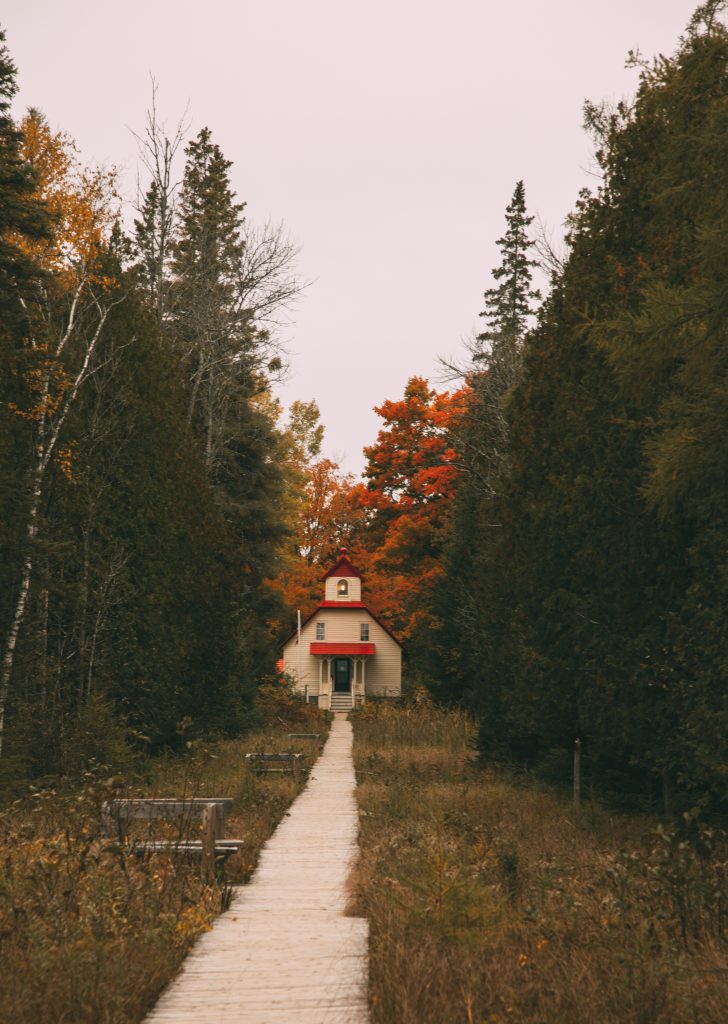 29.) Visit the Ridges Sanctuary
The Ridges Sanctuary is a 1,600-acre nature preserve and land trust in Baileys Harbor, Wisconsin. It is listed as a National Natural Landmark, Important Bird Area, and Wisconsin State Natural Area. No matter what time of year you visit – you'll be awed at the natural beauty of this nature sanctuary! (The wooden boardwalk is also very nice to walk for all fitness levels.)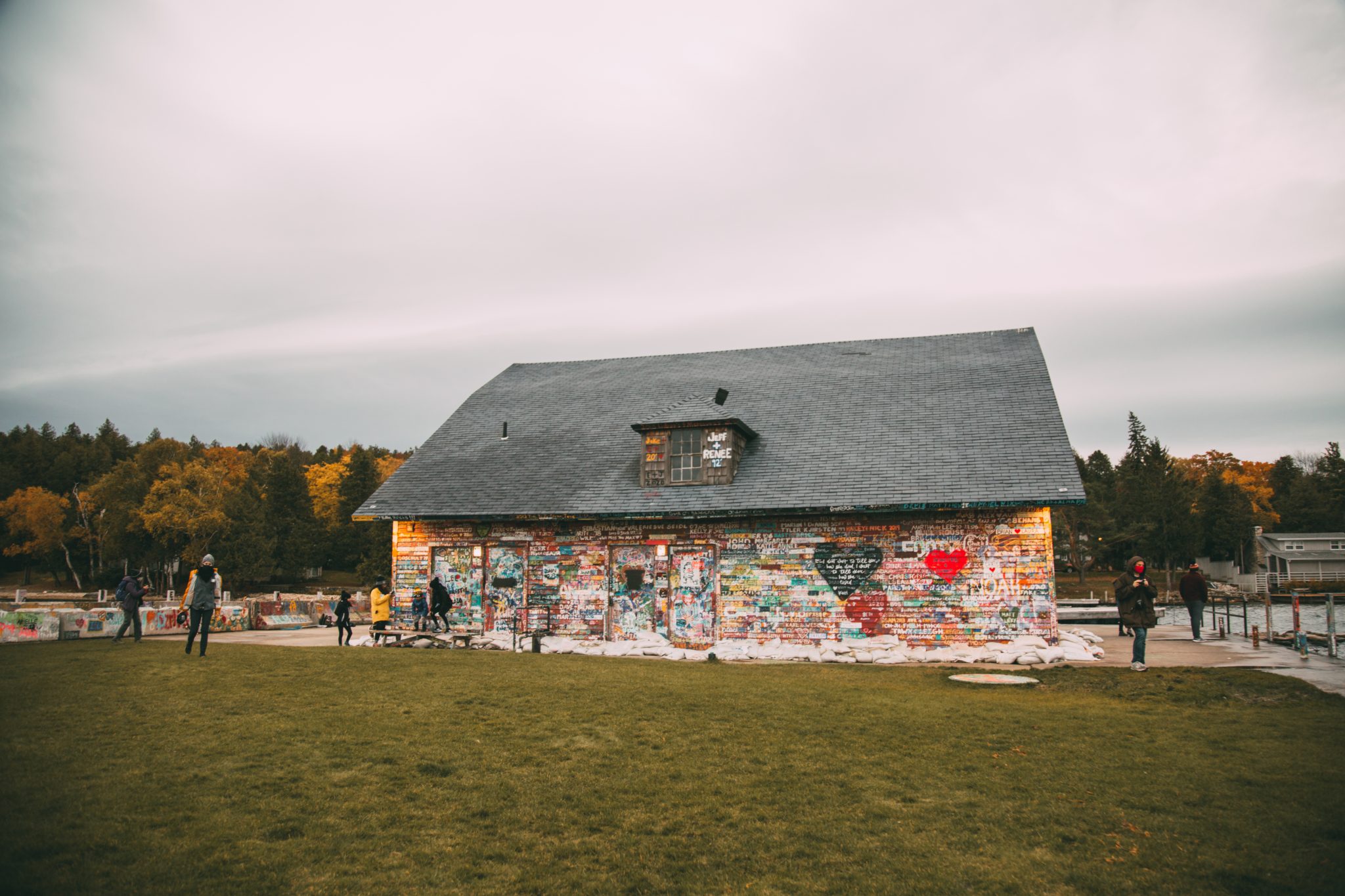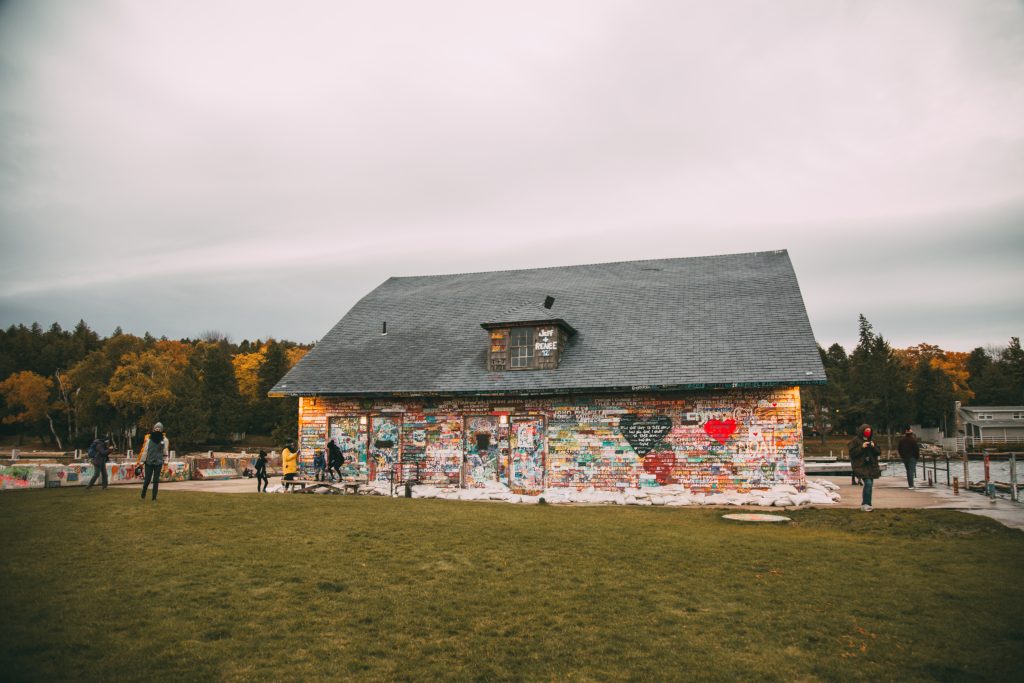 30.) See the Graffiti at Anderson Dock in Ephraim
Boaters have "signed" this dockside warehouse walls for years with their boats' names and the year that they docked. It's a neat place to see! Plus, the inside is actually an art gallery that features a wide variety of work from local artists.
31.) Explore Potawatomi State Park
Potawatomi State Park is a 1,225-acre Wisconsin state park northwest of the city of Sturgeon Bay, Wisconsin in the Town of Nasewaupee. It is located on Sturgeon Bay, a bay of the Bay of Green Bay in Door County.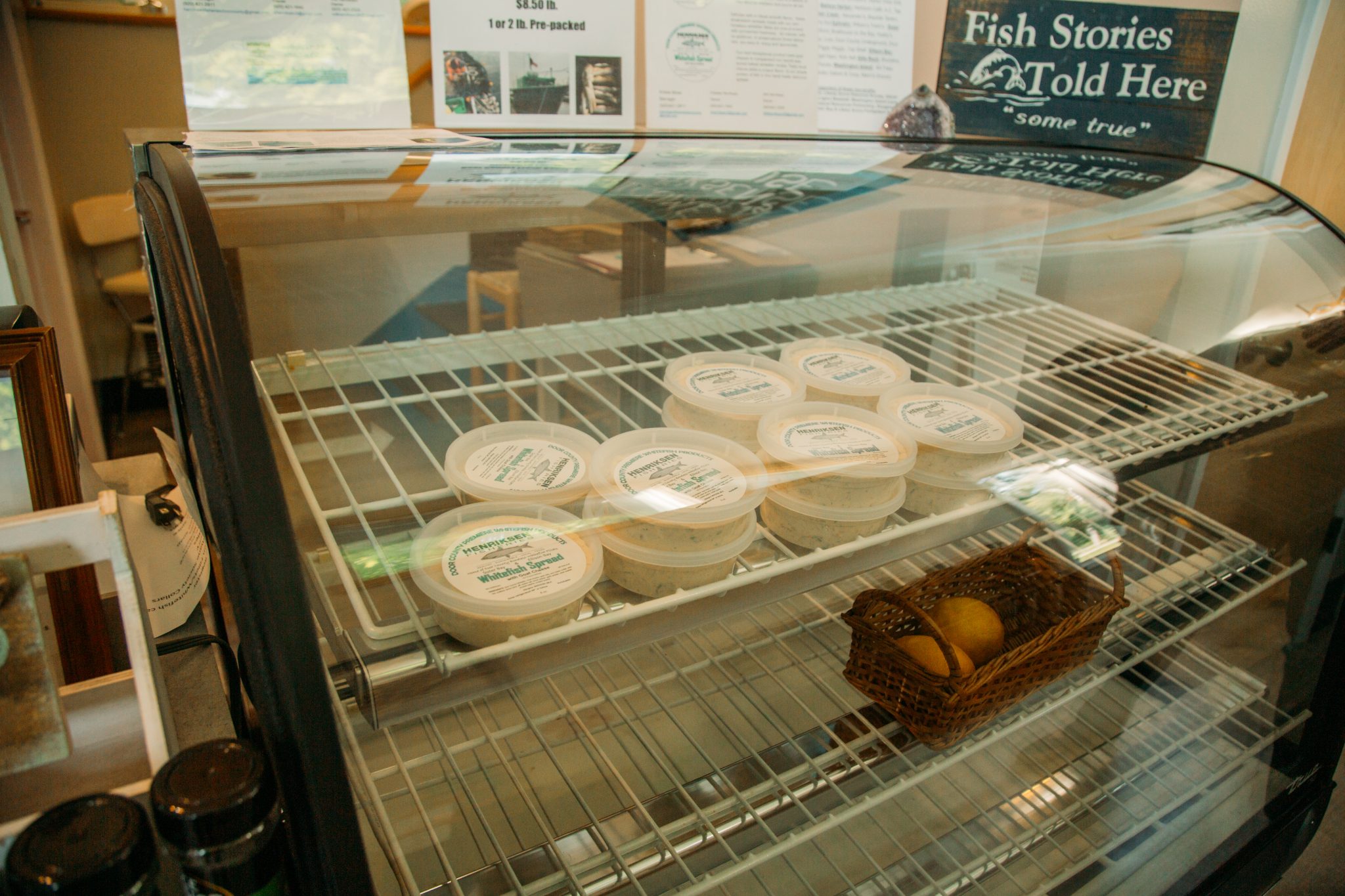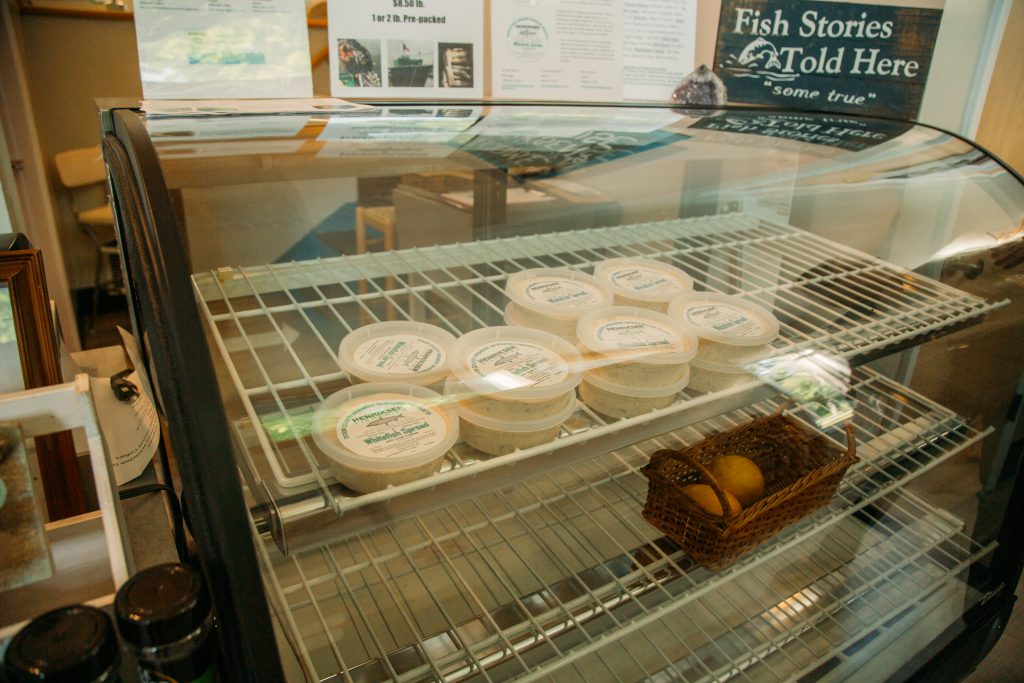 32.) Get Some Premier Whitefish Products from Henriksen Fisheries
Henriksen Fisheries is a family-operated business in Ellison Bay that started as a small-scale fishing operation for area businesses. (I highly recommend reading their origin story, it's really lovely.) They have since expanded to direct consumer sales, and now, you can buy their delicious products right in their Ellison Bay store. They feature fresh whitefish fillets, whitefish cakes, whitefish spreads, a special house seasoning, and even all-natural doggie treats! (My Buddy loves his dog treats from here.) You can't leave Door County without stopping in here!
I'm curious what are some of your favorite things to do in Door County? Let me know in the comments!
Need a hotel in Door County? Click here for a list of available hotels! Or better yet, click here for cabin rentals!
Looking for More Fun Tours in Door County? Check Out These Tours:
Not a fan of tours? Book your own bikes or kayaks instantly!
Need a house sitter while you are gone?
---
I, personally, recommend TrustedHouseSitters if you need to find a housesitter/someone to watch your pets while you are away.
How TrustedHousesitters works is they connect home and pet owners with trustworthy, verified sitters who won't charge to look after your pets, in exchange for a unique place to stay. They have sitters and homes all over the world!
It's a fantastic way to find trustworthy people to watch your home and pets while you are away. (And on the flip side, it's a cool way to stay in different areas of the country and world without having to pay for accommodation! I have a friend who literally didn't own or rent a home for years, and only used TrustedHouseSitters to find the next spot she was going to stay.)
Travel Insurance
---
As of 2022, many destinations require travel medical insurance that covers COVID-19. Squaremouth is the only site that currently lets you filter travel insurance policies for COVID-19 coverage. I, personally, use Squaremouth for finding the best insurance policies for my travels, and I have already used them for trips planned in 2023. They're also recommended by Forbes! You can click here to get your free travel insurance quote.